Having bigger hips gives you feminine curves, but it can also make you look bottom heavy and create challenges when you are looking for dresses. Your goal should be to wear dresses that hugs your curves elegantly, while also balances out your full figure, especially in the bottom half.
Since I have a petite clothing line, I style models of different sizes and shapes, for example, Wendy, who is a 36D and has very curvy hips.
This is a complete guide with 8 best dress styles for women with wide hips, and 4 types of dresses you should use caution or stay away from.
A-line dresses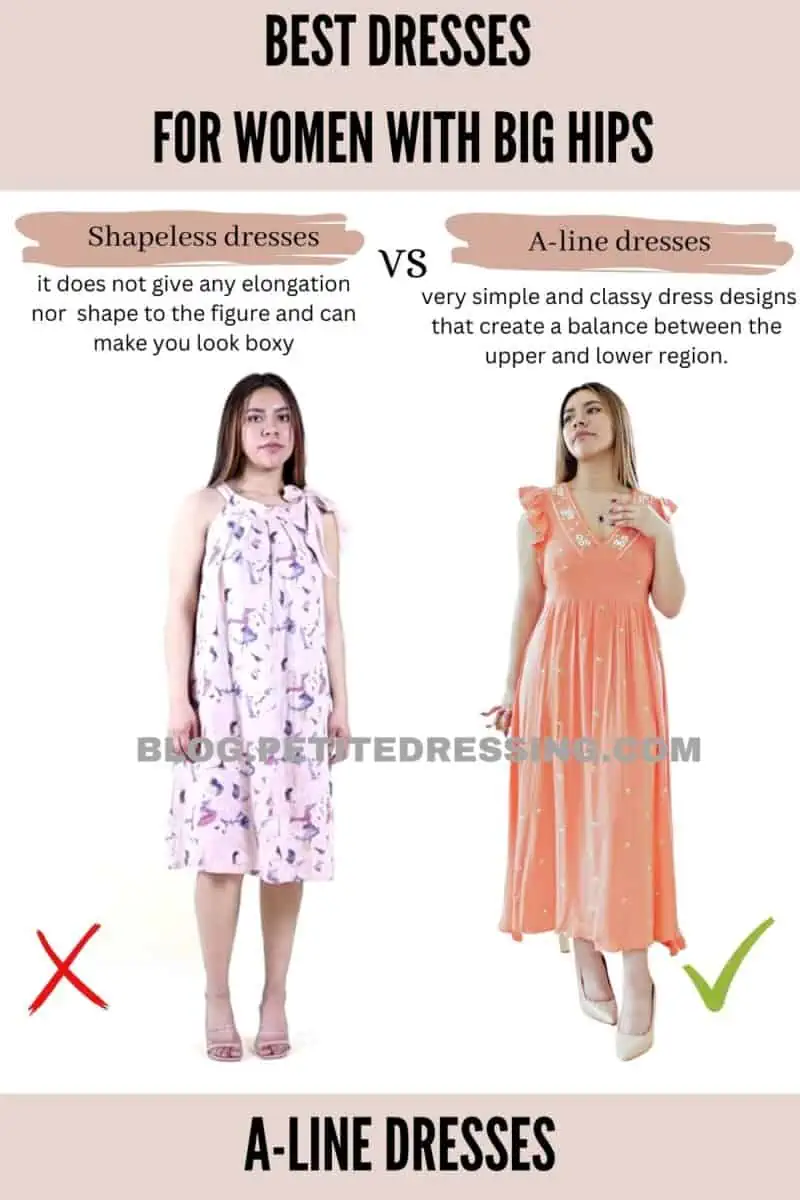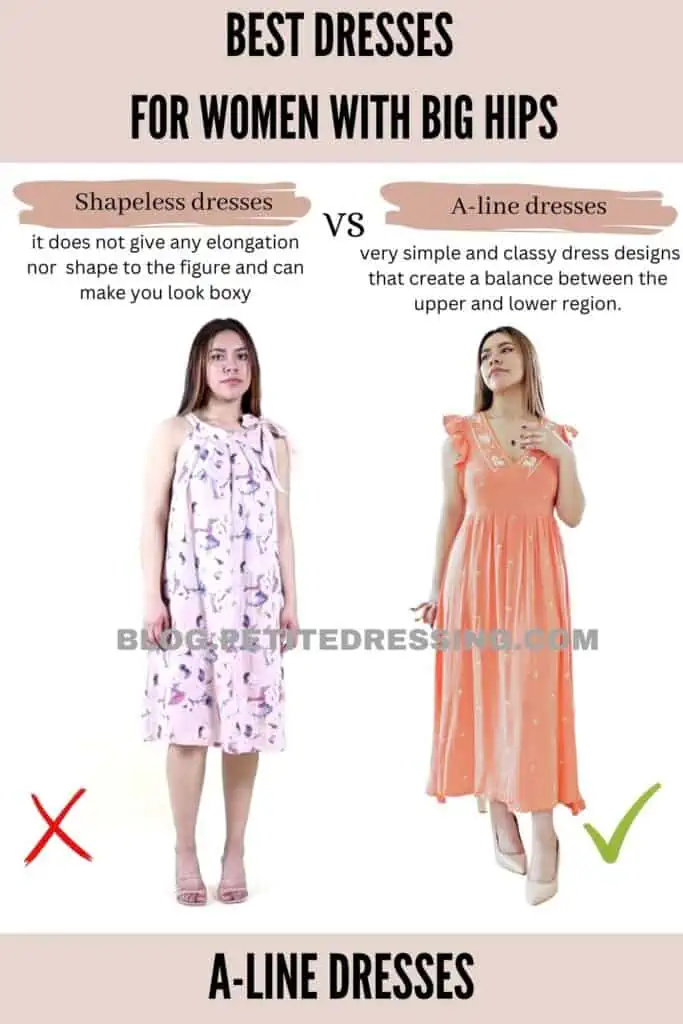 In doubt as to what might suit your big hips, then the A-line dress is an excellent go-to option for your shape. It does not cause any form of discomfort around your hips but lays beautifully on your overall figure.
A-line dresses are universally flattering on your shape with a silhouette that cinches the waist and covers the wide hips. They are very simple and classy dress designs that create a balance between the upper and lower region.
The dress is easy to style and elegant to wear for any occasion with a fit that also helps to add length to your overall figure. Big hips are a part of your figure so appreciate them by wearing an A-line dress that helps you feel sophisticated and elegant.
Wrap dresses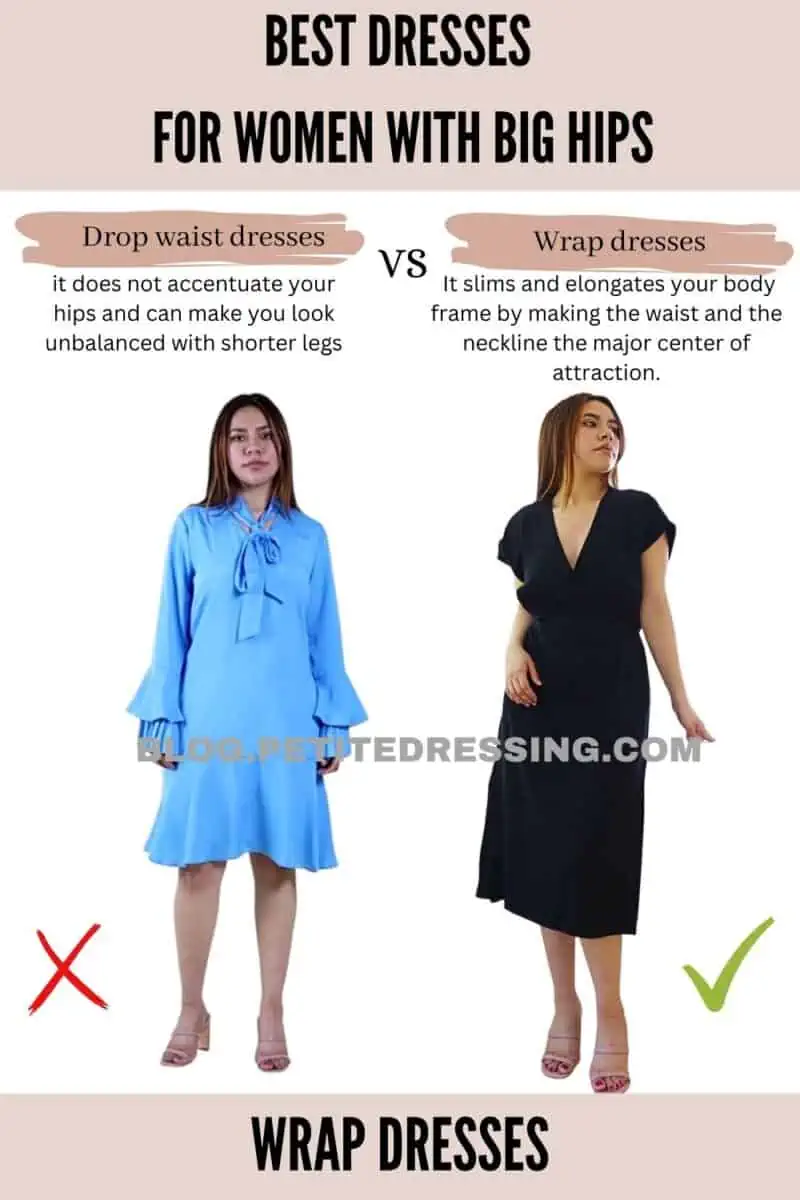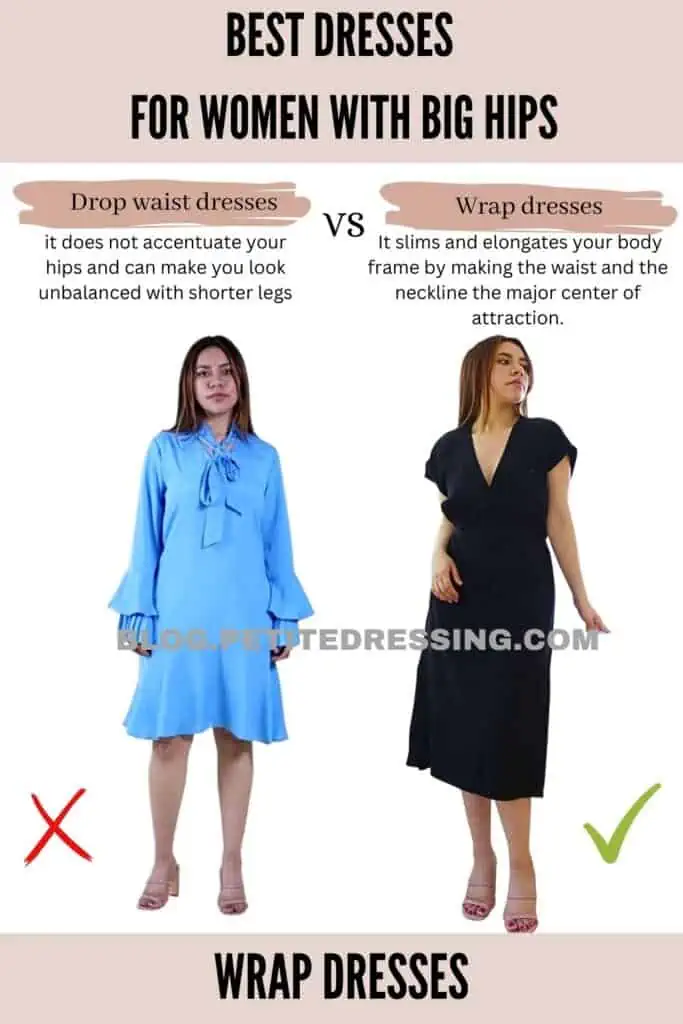 An ultimate dress for big hips is the wrap dress suitable to emphasize a smaller waist in comparison to the hips. The dress also has a flattering neckline and a wrap that hits right at the smallest part of your waist.
The wrap dress flatters your figure and does not draw the focus of the eyes directly to your big hips. It slims and elongates your body frame by making the waist and the neckline the major center of attraction.
Wrap dresses are feminine dresses that bring out the uniqueness in your figure and uplift your overall figure. Make them a special dress for your shape by adding them to your wardrobe and style them for various occasions.
Fit and flare dresses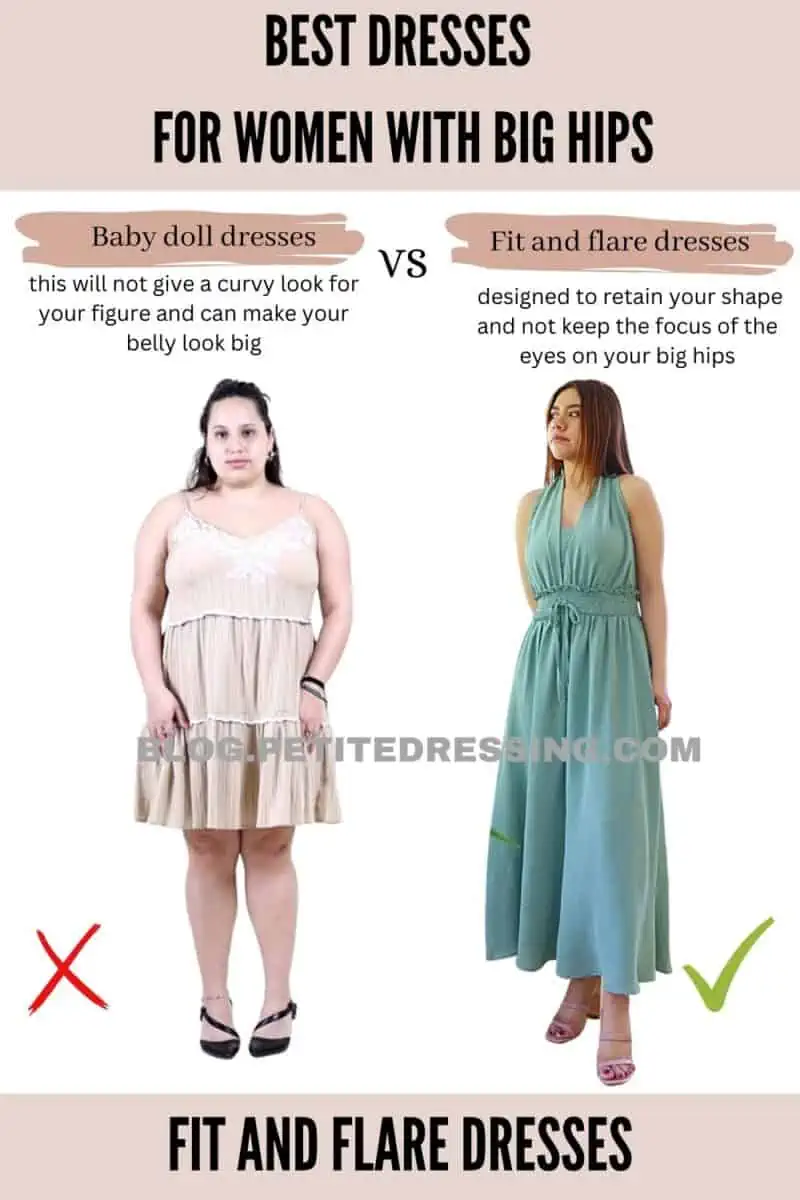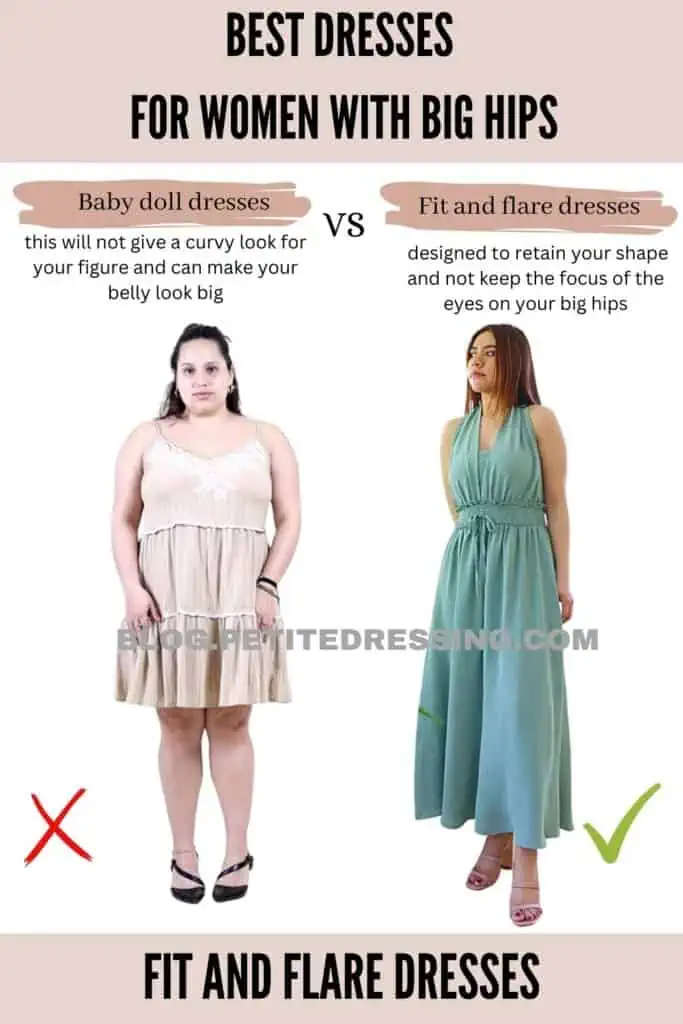 Dress for big hips should skim over the hips as that is a way to reduce attention on the lower body. The fit and flare dress nips in the waist and flares out over the hips without causing any form of discomfort to your shape.
This dress is designed to retain your shape and not keep the focus of the eyes on your big hips. It is a very simple dress that can be worn for varied occasions but makes sure the waist of the dress sits appropriately on your waist.
With a defined waist in the fit and flare dress, the torso appears shorter and helps create a balance with the volume of the hips. If you are therefore too conscious about the appearance of your hips, then you should opt for the fit and flare dress.
Dresses with belts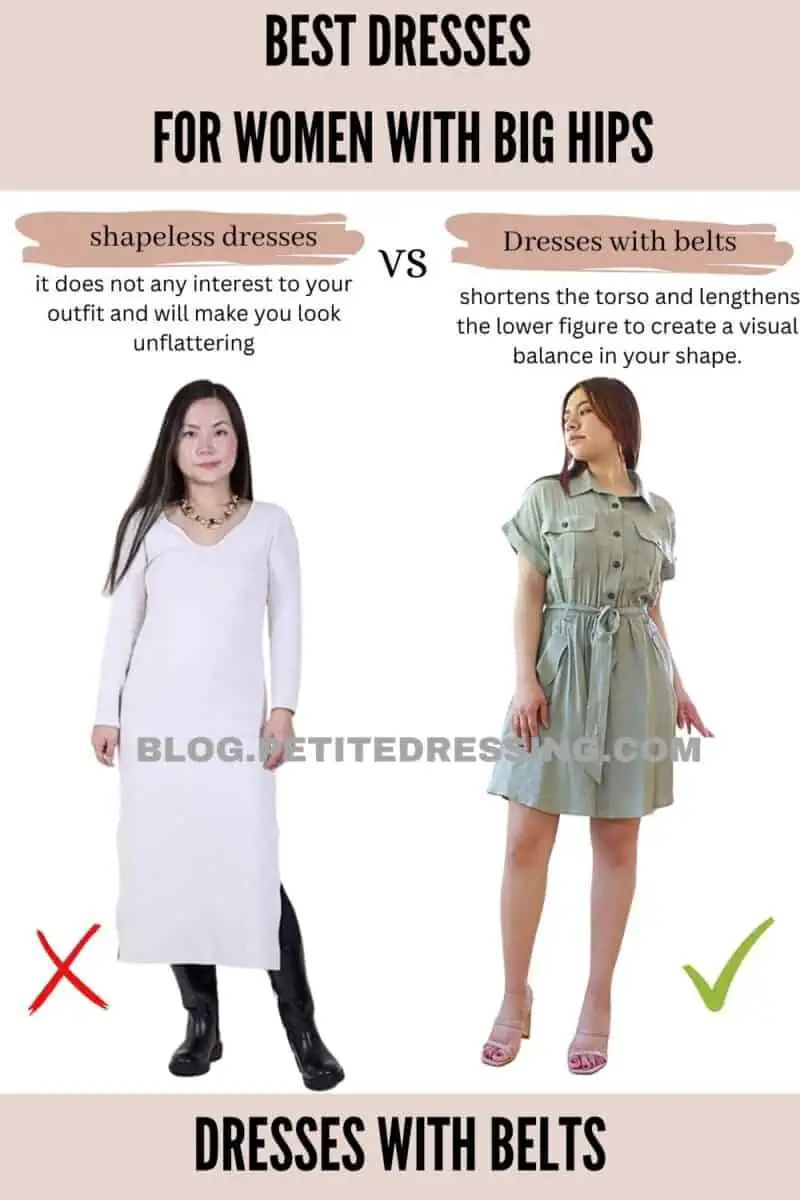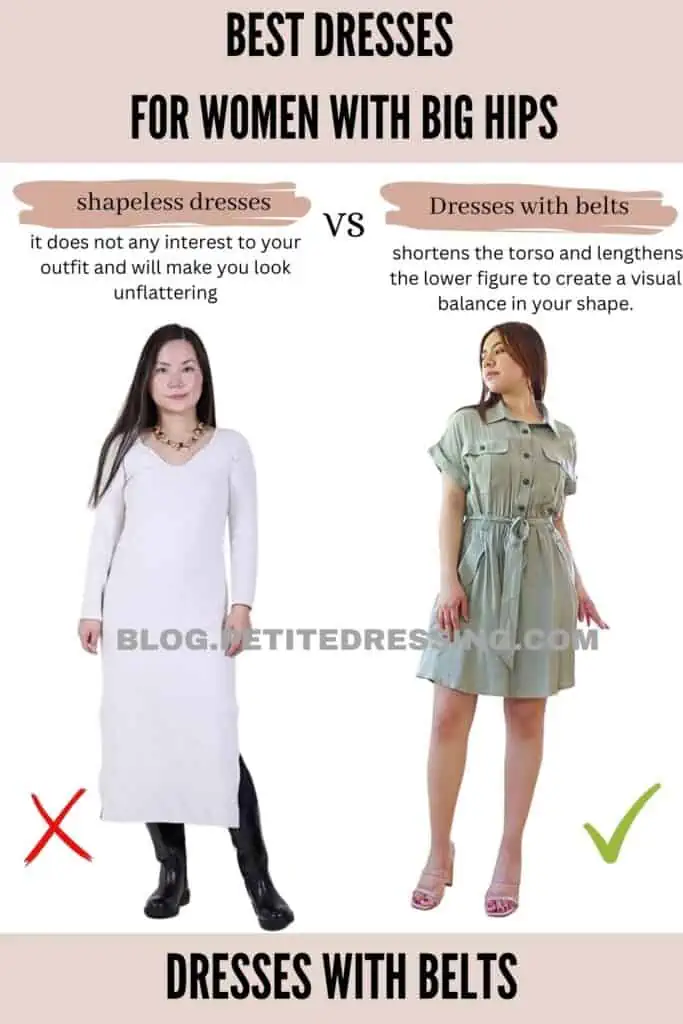 Belted dresses are also a very good dress option for your figure because they are specially designed to cinch in the waist and divert the focus of the eyes from the hips. The belt should be wide and also have a contrasting color from the dress to make it more noticeable.
The belts should lie a little above the natural waistline as that would create a slimmer silhouette for your big hips. So, accentuate your waist and create a balance in your wide hips by making the most out of a belted dress.
Style your belted dress with the right shoe so it could have an amazing effect of length on your figure. A belted dress shortens the torso and lengthens the lower figure to create a visual balance in your shape.
Vertical striped dresses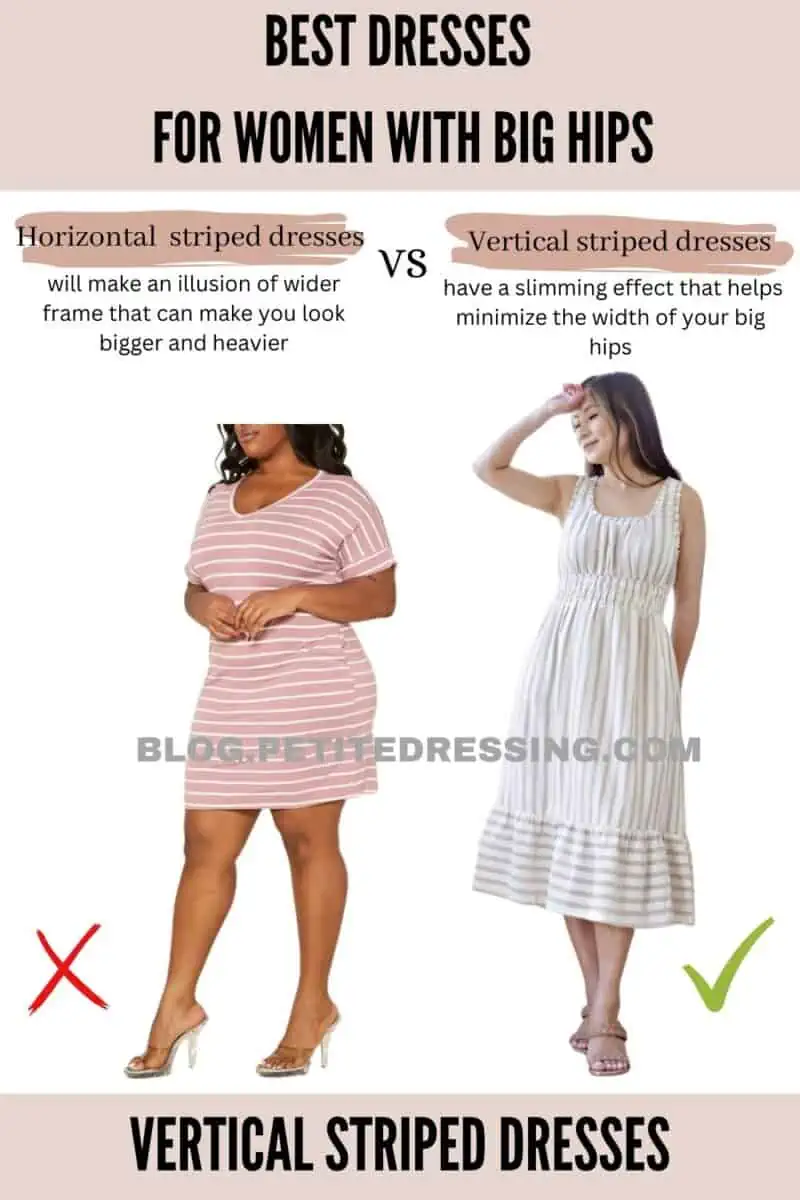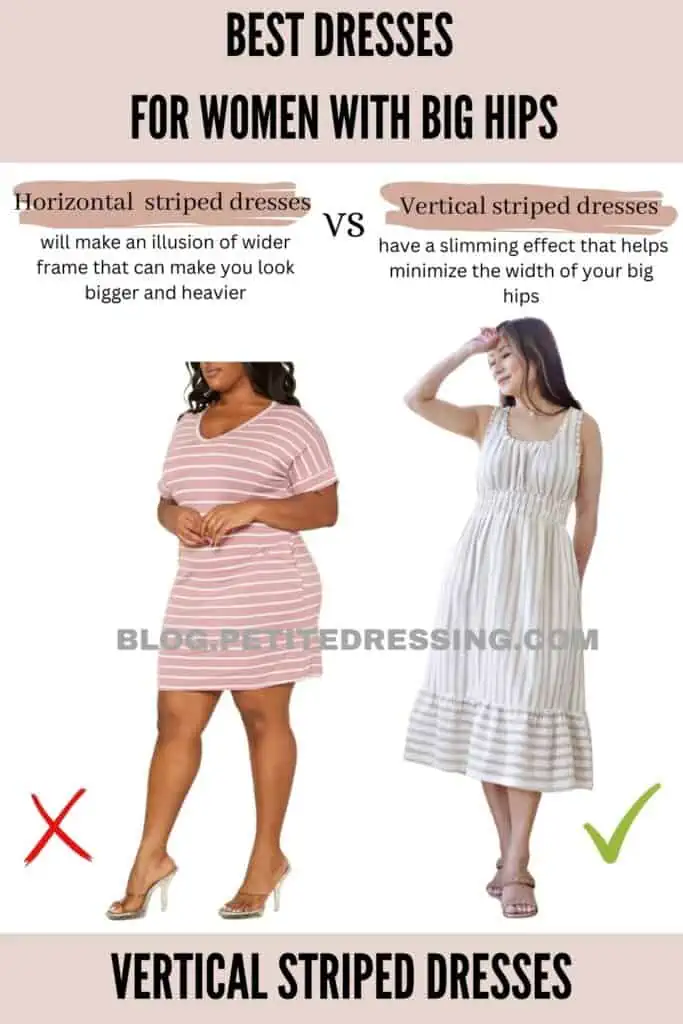 Dresses with vertical stripes are universally flattering and gorgeous on big hips because they would efficiently create a balance in your overall figure. They do not focus the attention of the eyes on your concerned area giving you more reasons to embrace your shape.
Vertical striped dresses have a slimming effect that helps minimize the width of your big hips. Having a collection of vertical striped dresses is a unique idea that should not be ruled out.
Your gracious figure is uplifted in the dress and you don't have to be so conscious of how wide your hips are. Also, the stripes must be small in size for the most efficient slimming effect.
Well-tailored dresses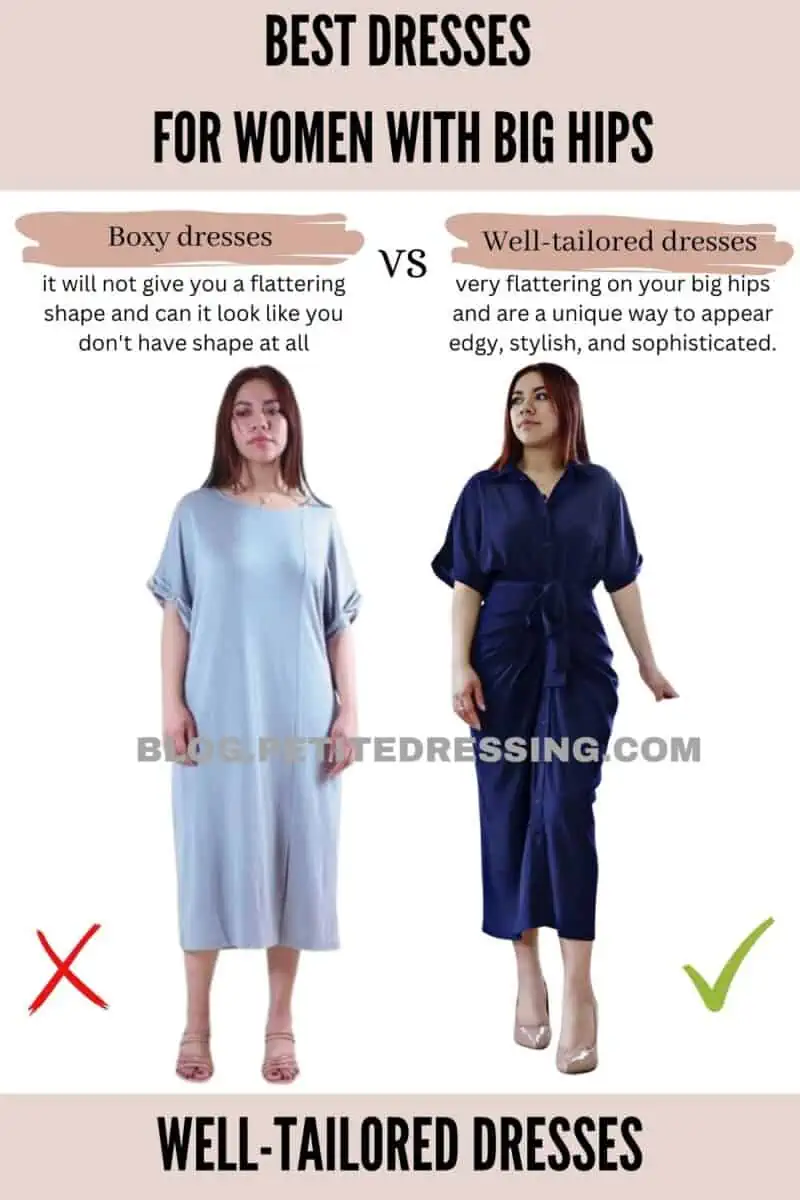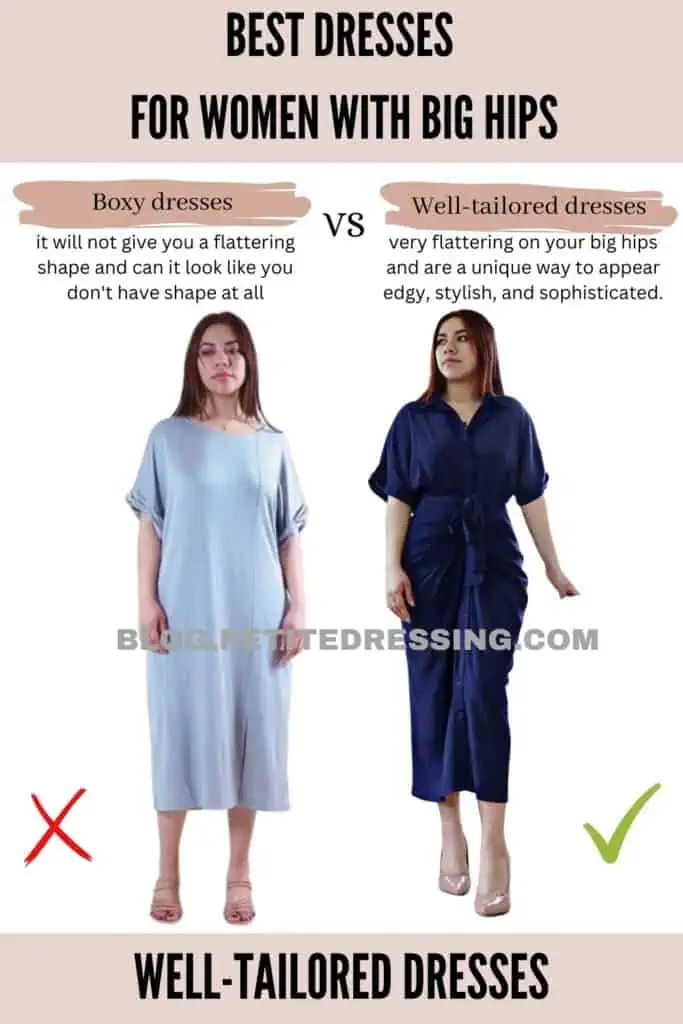 The most frustrating encounter that one could face is getting the perfect dress for the body shape. This can be a very challenging experience for a woman with big hips and the best way to deal with this is by wearing a well-tailored dress.
This way you would have dresses that are your size and are perfect for your shape without having to worry about the dress sagging on your figure. Dresses that are well-tailored to your size are very flattering on your big hips and are a unique way to appear edgy, stylish, and sophisticated.
A well-tailored dress is a part of the most appropriate dress to wear if you have big hips because it would reduce the stress of getting the right dress for your shape. Get a tailor to take your measurement before stepping out to purchase dresses.
Off-the-shoulder dresses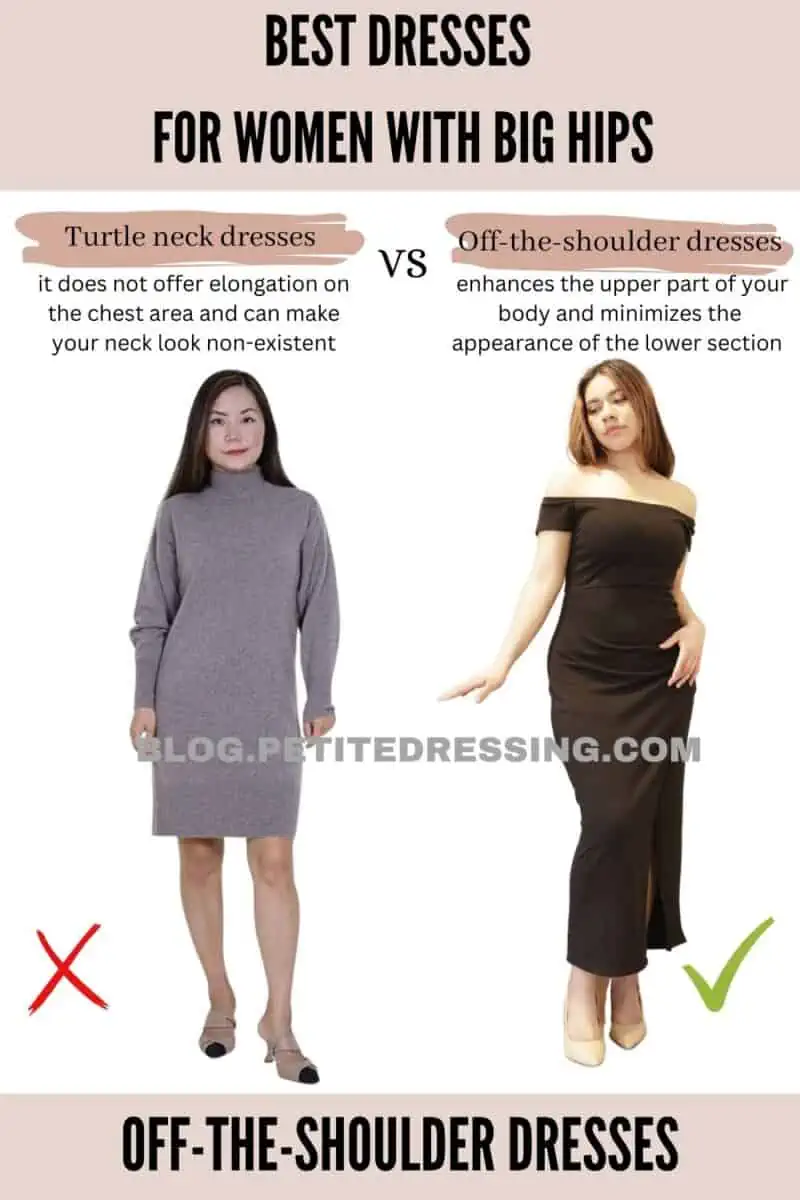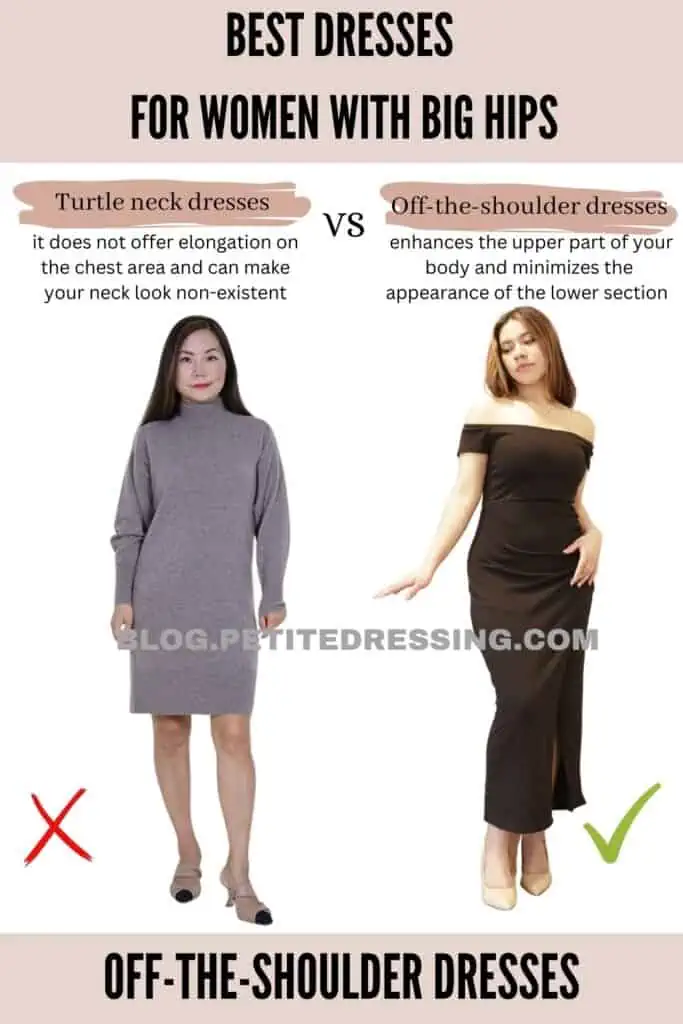 This dress pattern is flattering for big hips because it draws the focus of the eyes to the upper part of your body. Though there are various necklines that are perfect to make your big hips appear smaller, the best neckline dress is an off-the-shoulder dress.
The neckline hits at the side of your shoulders to create a horizontal balance with your big hips and this way the hips appear less noticeable. The off-the-shoulder dress enhances the upper part of your body and minimizes the appearance of the lower section carrying the concerned region.
The skin revealed around the shoulder makes your figure appear sexy and beautiful with a feeling that helps you scream sophistication. Off-the-shoulder dresses are pleasing and very classy to be worn by a woman with wide hips for varied occasions.
Dresses in dark colors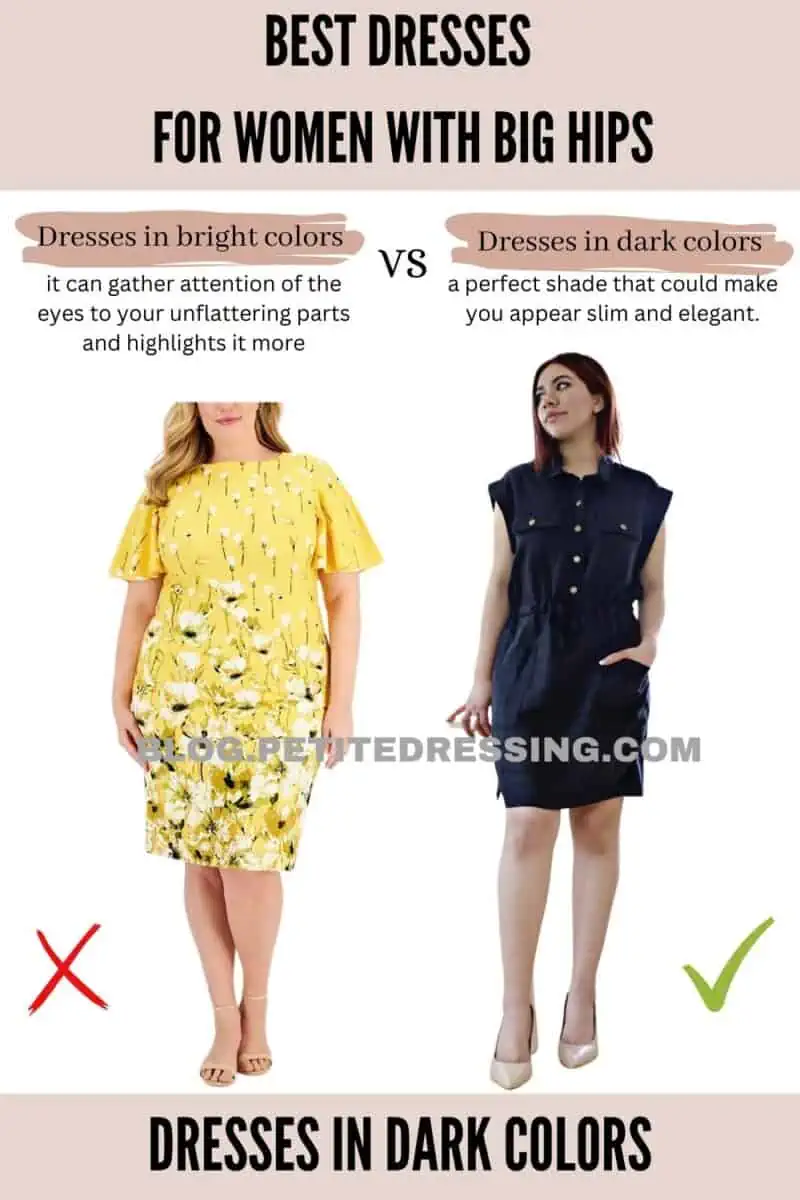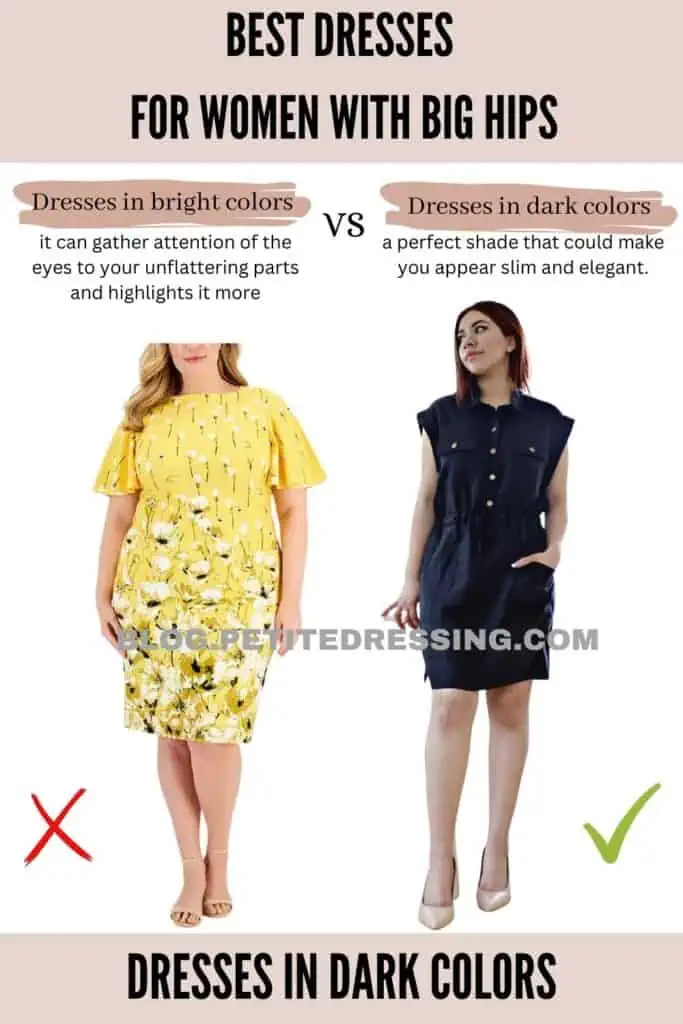 Visually slimming out your big hips should be a major focus for you and the simplest way to go about this is by wearing dresses in dark colors. Dark colors have a natural effect that could give the eyes the illusion that your hips are not as big as they seem.
They are the perfect color choice for your shape so be certain that you would never go out of style while having them on. Dark-colored dresses also have a feel of class that would give you reasons to appreciate your figure.
Dark colors are the most flattering colors for your big hips with a perfect shade that could make you appear slim and elegant. They should be your best pick because they help embellish your personality to make you feel confident and appear presentable.
Avoid sheath dresses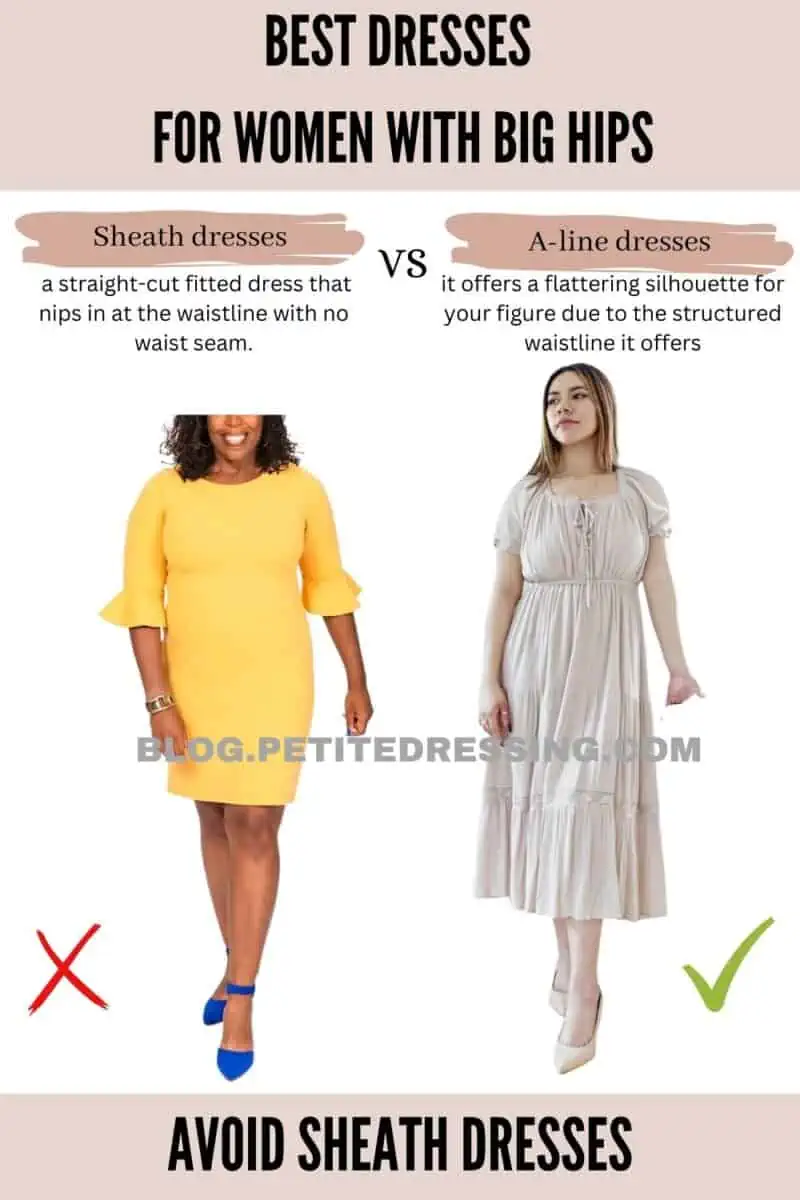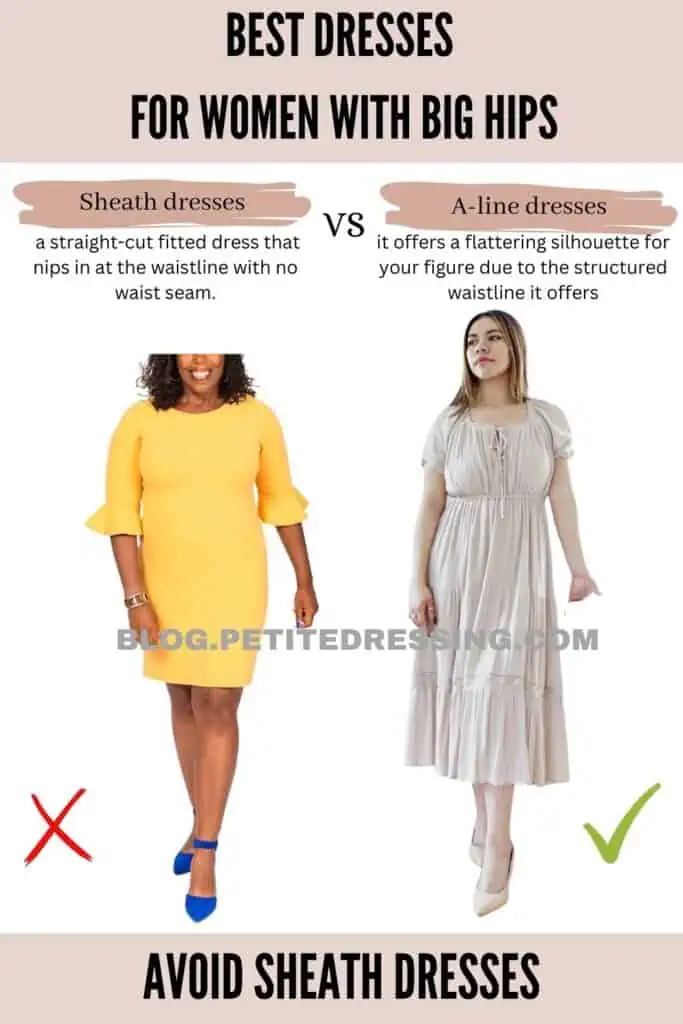 No matter how classy a sheath dress can be, do not attempt wearing it on your figure because it would highlight the big hips and cause a visual imbalance in your bottom half. The sheath dress is a straight-cut fitted dress that nips in at the waistline with no waist seam.
The straight cut in the dress would make it difficult for a sheath dress to sit comfortably on your figure because of the big hips. They are not the most flattering dress design for your shape and wearing them is not the best option.
Avoid slip dresses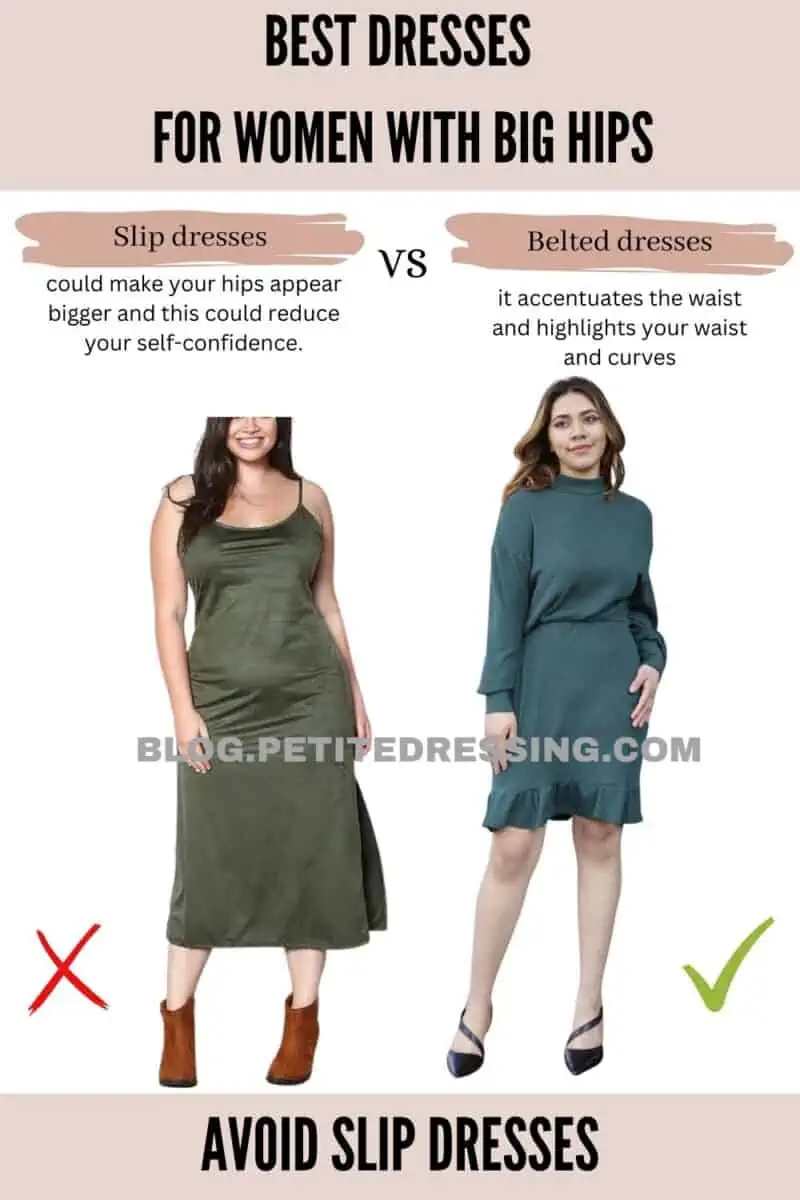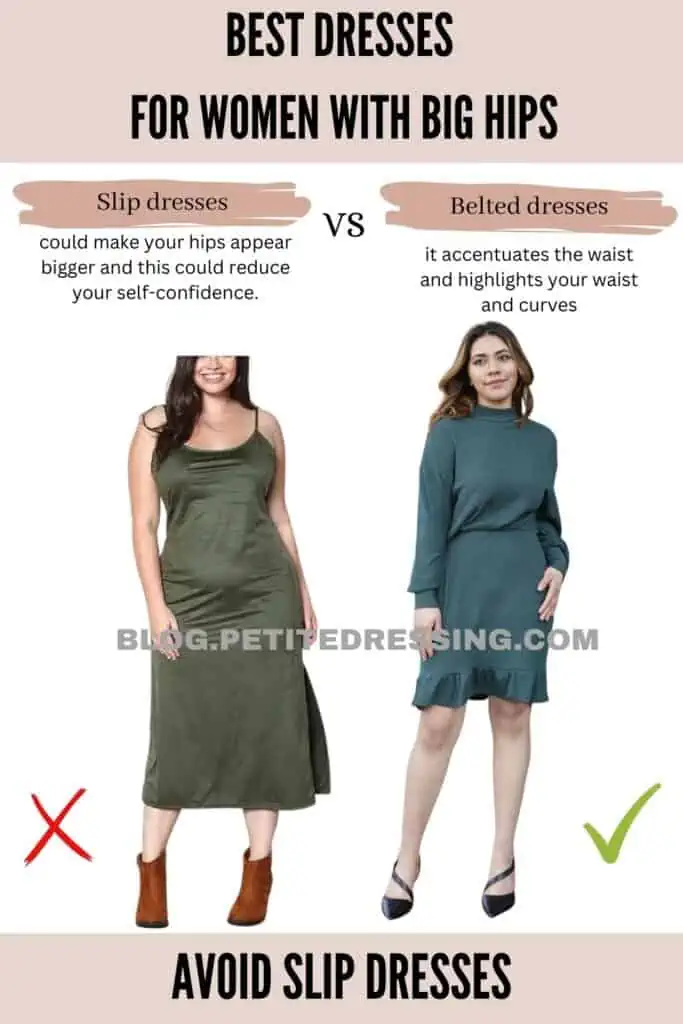 You should always appear classy and elegant by not following the trend of wearing a slip dress. A slip dress exposes so much of your figure and accentuates the big hips.
A slip dress is not the most appropriate dress to help you appreciate your figure so stay off them and keep them out of your wardrobe.
They are also designed to have spaghetti straps and reveal your concerned area so it is not advisable to wear the slip-off dress. The way it sits on your figure could make your hips appear bigger and this could reduce your self-confidence.
Avoid horizontally striped dresses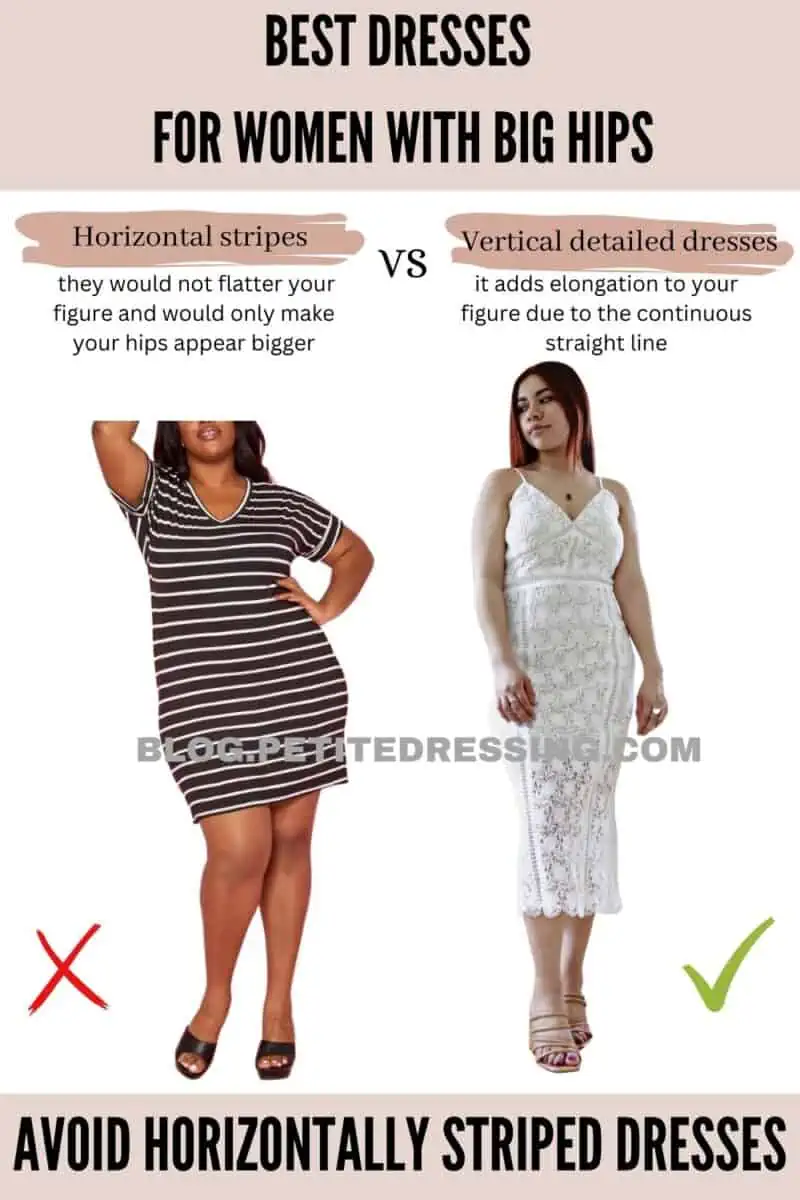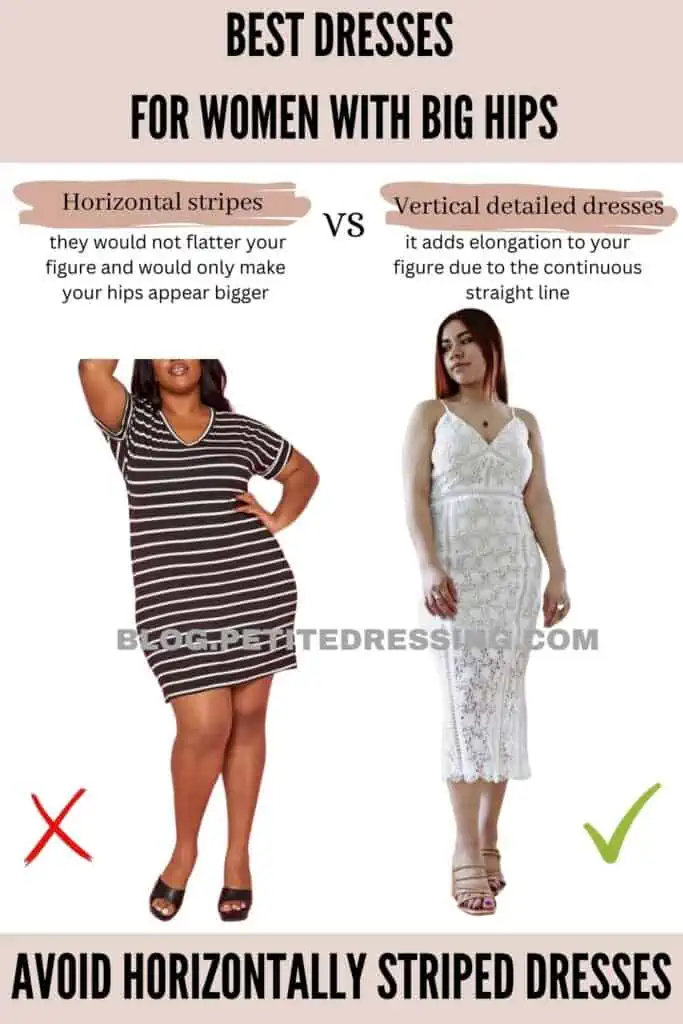 The pattern of stripes on your body is very important in choosing the right dress for your big hips. While wearing striped dresses be mindful of those that would add width to the lower part of your body because it would not help your figure balance out.
Horizontal stripes on the figure of a woman with big hips would make her appear wider, especially on the lower section of her body. Since the lower part has your concerned area, you don't want to visually create an imbalance there.
Avoid dresses with horizontal stripes because they would not flatter your figure and would only make your hips appear bigger. No matter the size of the horizontal stripes on your dress, you should avoid them because they are not great pieces for your big hips.
Avoid bodycon dresses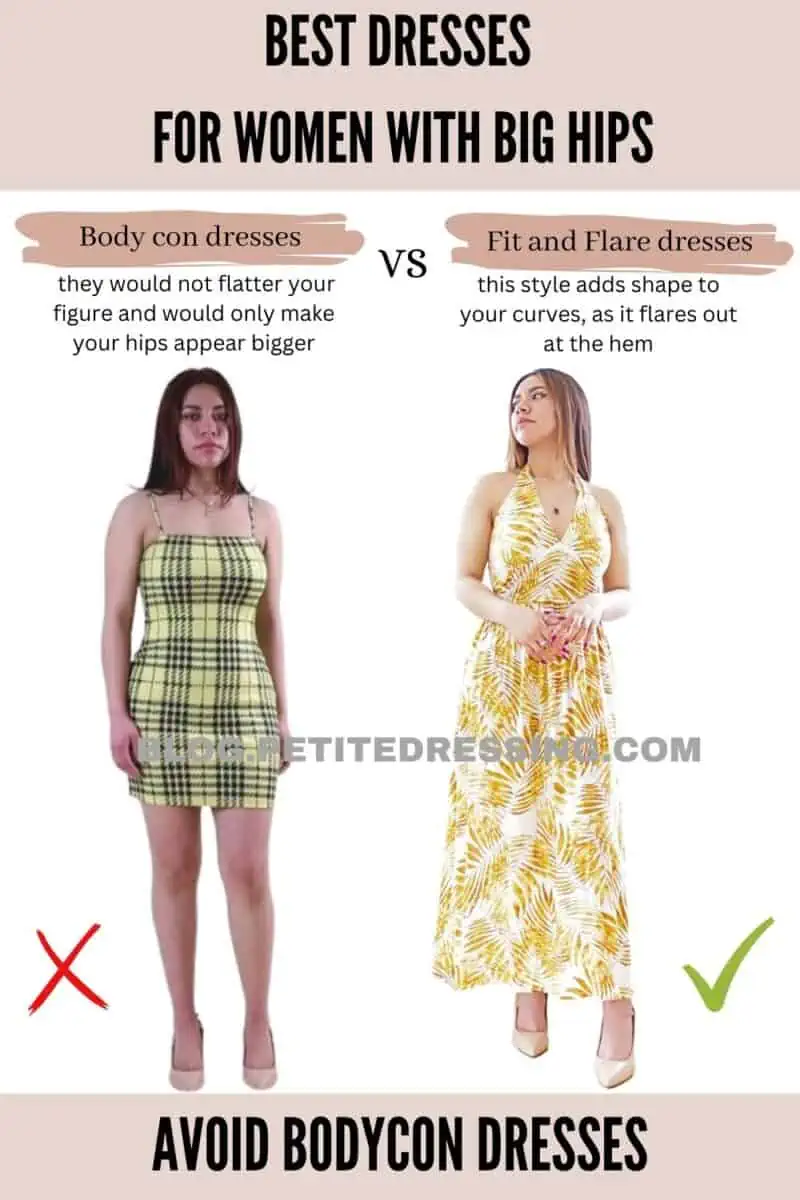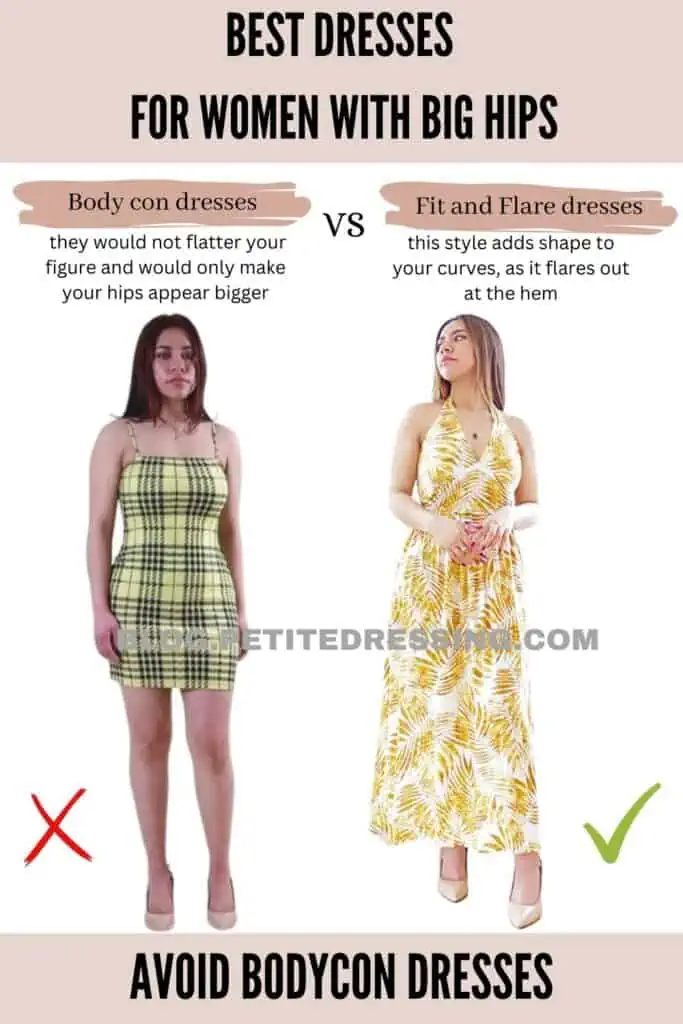 Avoid wearing bodycon dresses on your figure because they would not flatter you as they should. They would also highlight any lump in your body and not give you the best structure to appear classy.
Dresses that are too tight on your figure would not only limit your movement but may tend to also be too provocative.
Bodycon dresses are not the prettiest and most fanciful dresses for your shape because they would keep the keen attention of the eyes on the wide hips.