Shopping for coats and jackets isn't always a walk in the park and it can get more tasking if you have a short torso. Coats and jackets can be quite overwhelming for short torsos especially if you go for the ones with thicker and heavier structures.
But picking a coat or jacket for your body shape shouldn't be something that you have to greatly worry about because with the right style concepts, you'll totally rock the coat and jacket of your choice. We're here to guide you on how to work around your outerwear pieces as a girl with a short torso.
Styling Goal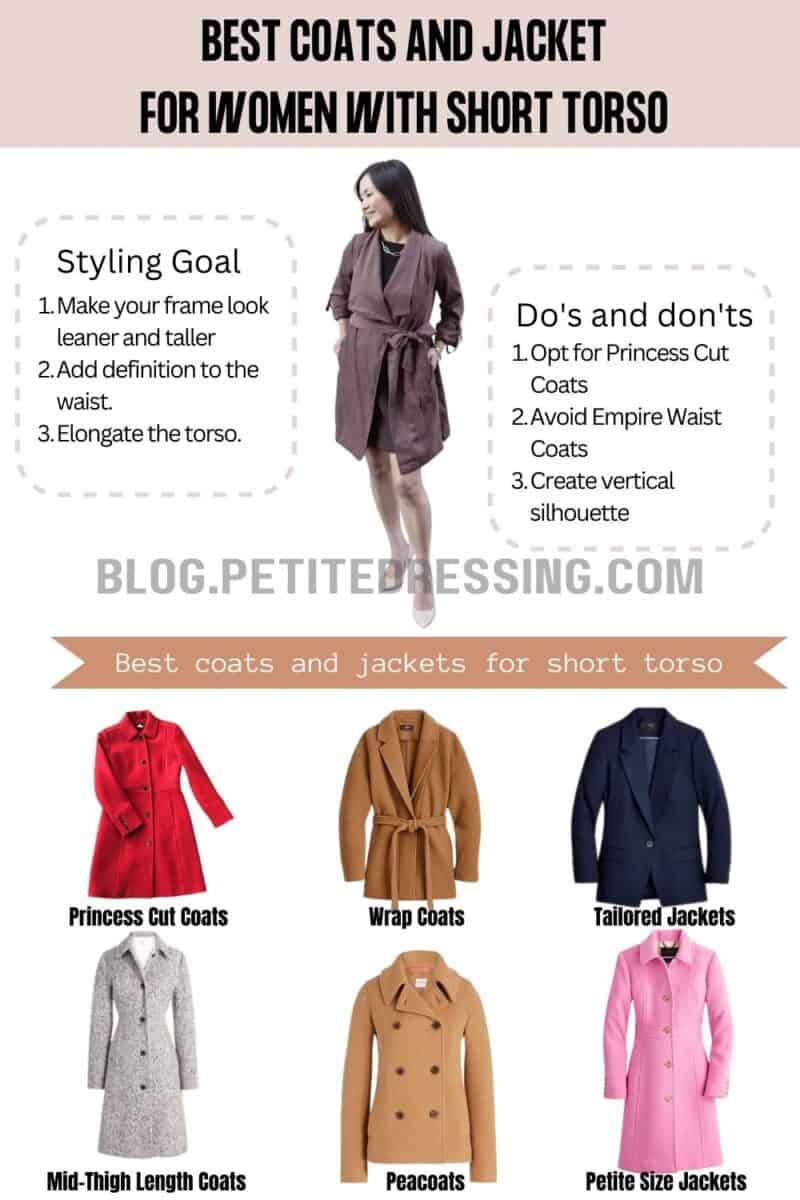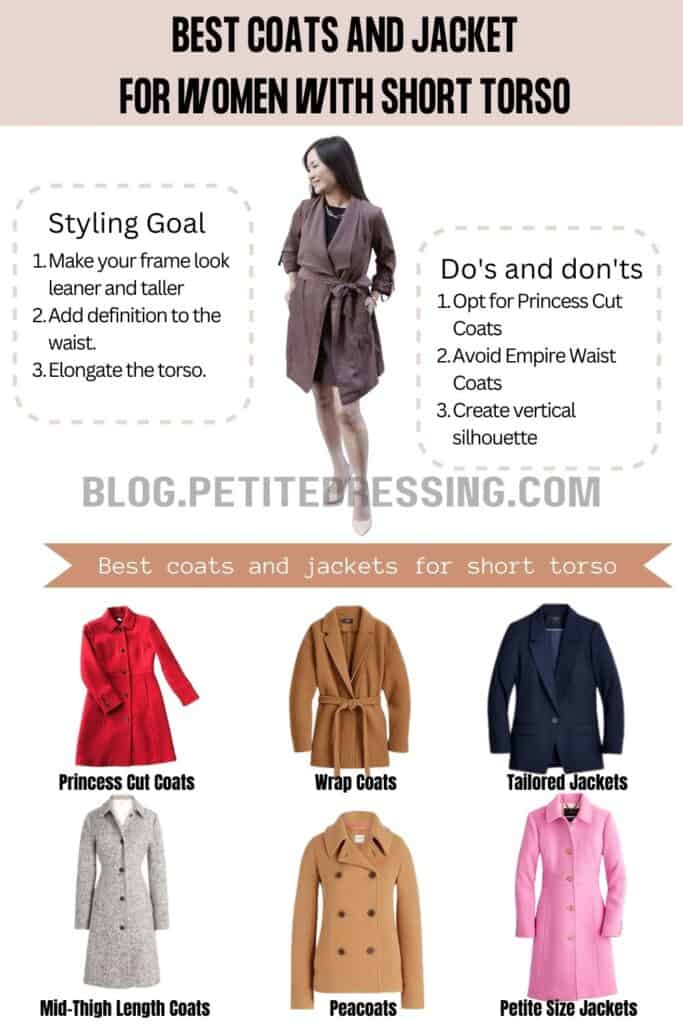 Always look for structures that have a continuous silhouette. This is to keep the eyes looking vertically from top to bottom and minimize the obvious difference in the length of your torso and lower body.
Elongating patterns and designs can help make your frame look leaner and taller. If you'd like to spice your wardrobe a bit with prints and patterns, stick to the ones that go vertically.
Avoid horizontal details such as wide belts, seam lines, or patchwork that are placed on the mid-waist section or higher. Such details will create a distinguishable line that separates your torso from your lower body and therefore making your short torso more obvious.
These three key styling points can help you find coats and jackets that will flatter your short torso. Below is the list of the specific styles that you can check out.
Princess Cut Coats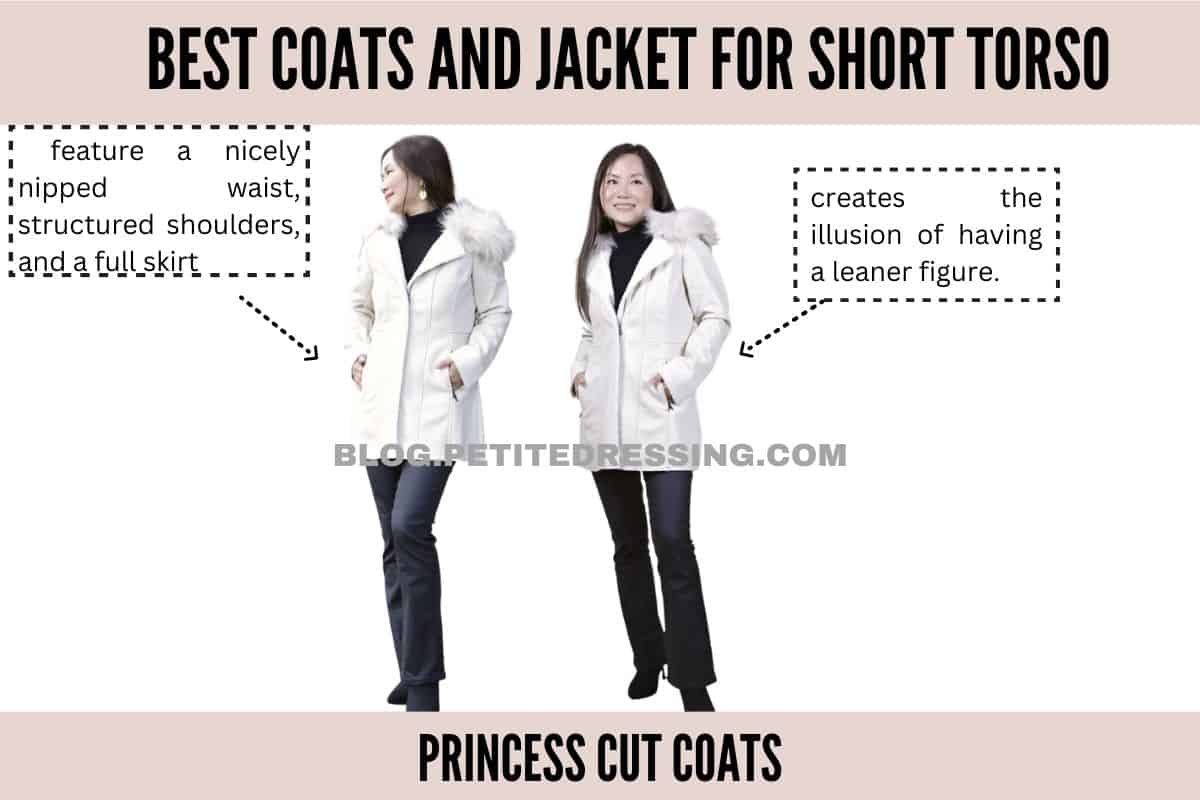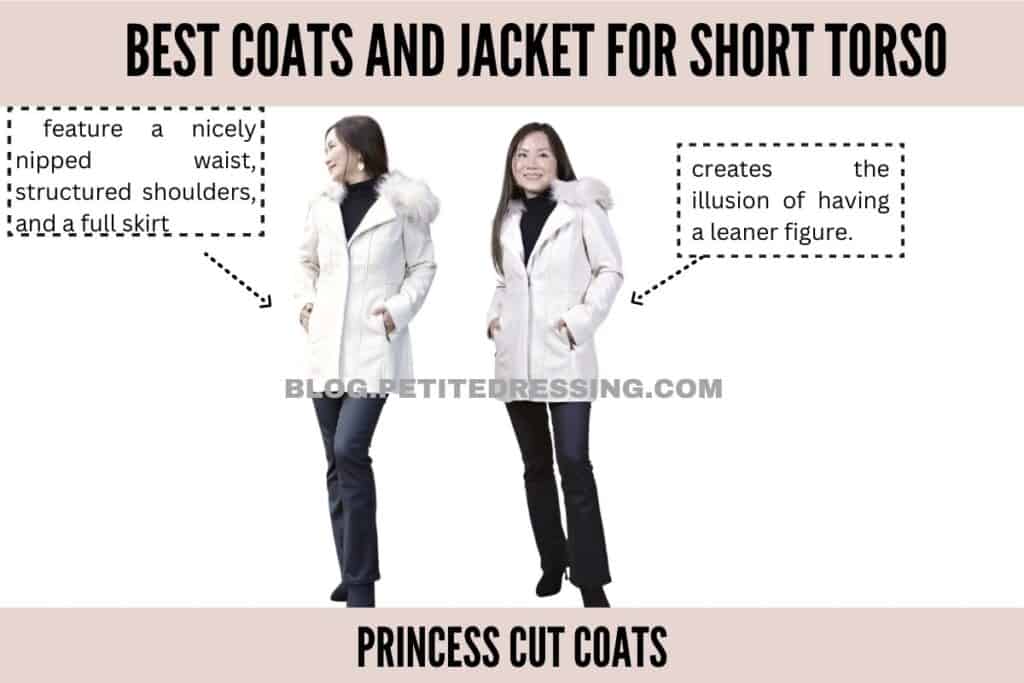 If you are looking for something that screams vintage glamour, you'll love the fit of princess cut coats. Not only does this look quite elegant, but it's also deemed very flattering on ladies with short torsos.
Princess cut coats feature a nicely nipped waist, structured shoulders, and a full skirt that create the illusion of having a leaner figure. Since the upper body is neatly seamed and structured, it makes the torso look longer and the waist more defined.
Wrap Coats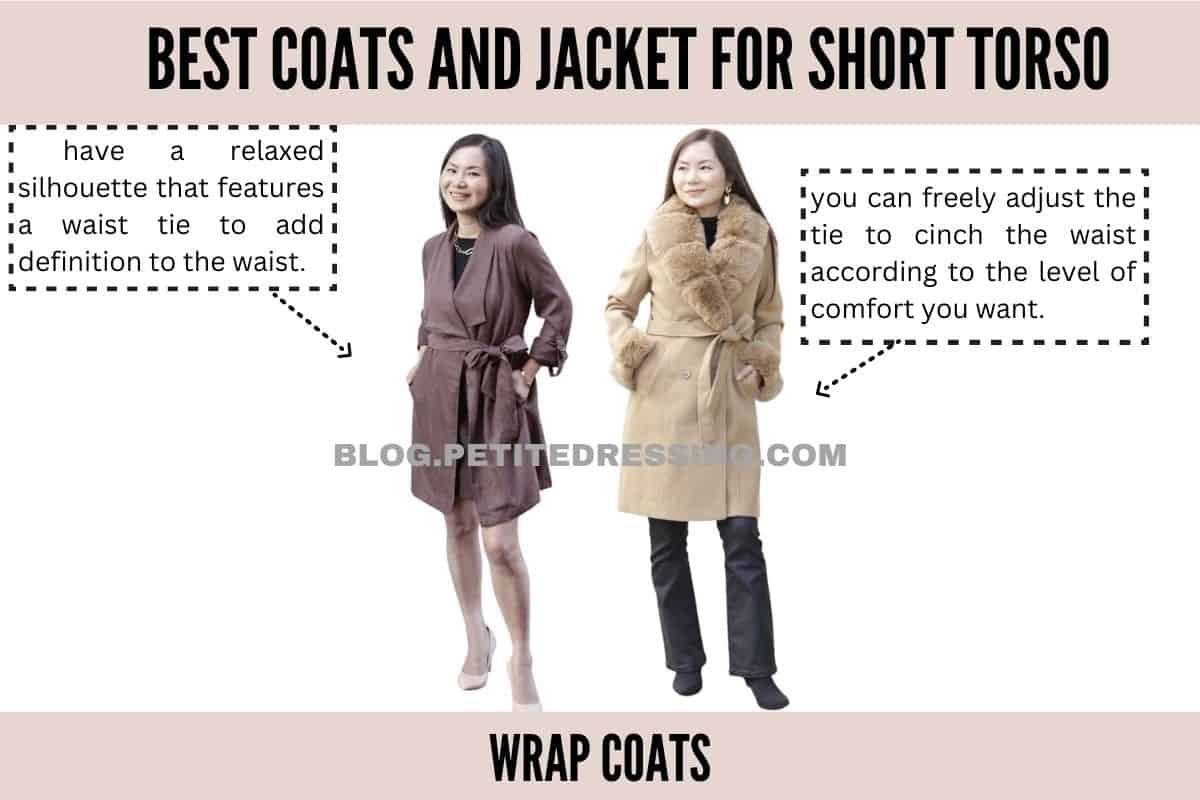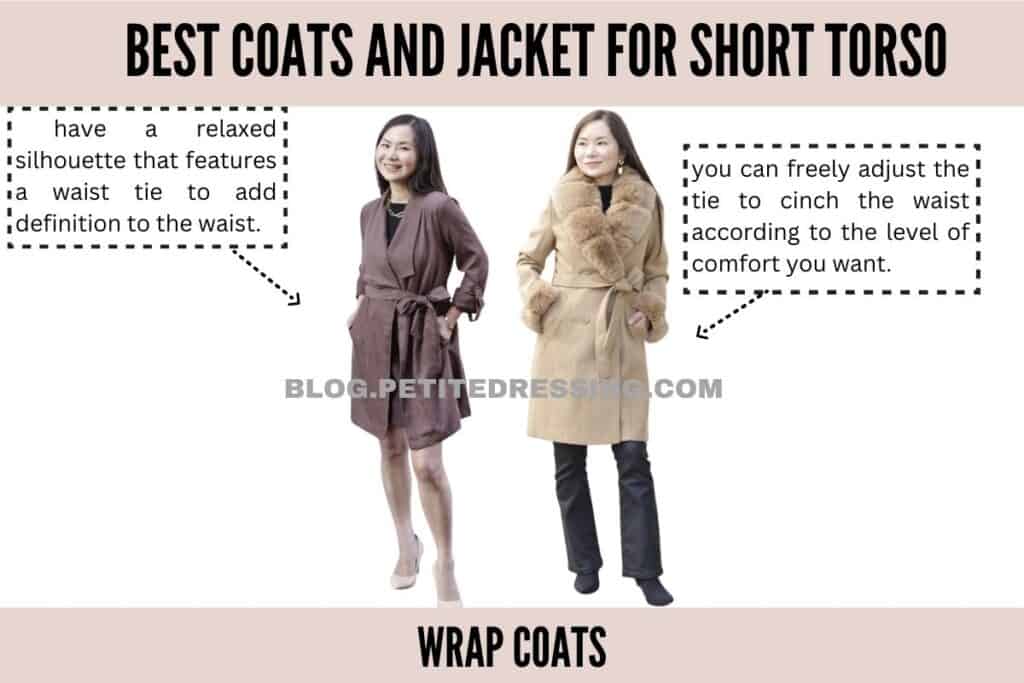 Wrap coats are universally flattering as they look good to almost all body types – including women with short torsos. They have a relaxed silhouette that features a waist tie to add definition to the waist.
Waist-hugging clothing styles are always ideal in terms of elongating your frame and this is exactly what a wrap coat does for ladies with short torsos. What's great about wrap coats is that you can freely adjust the tie to cinch the waist according to the level of comfort you want.
H-Shape Coats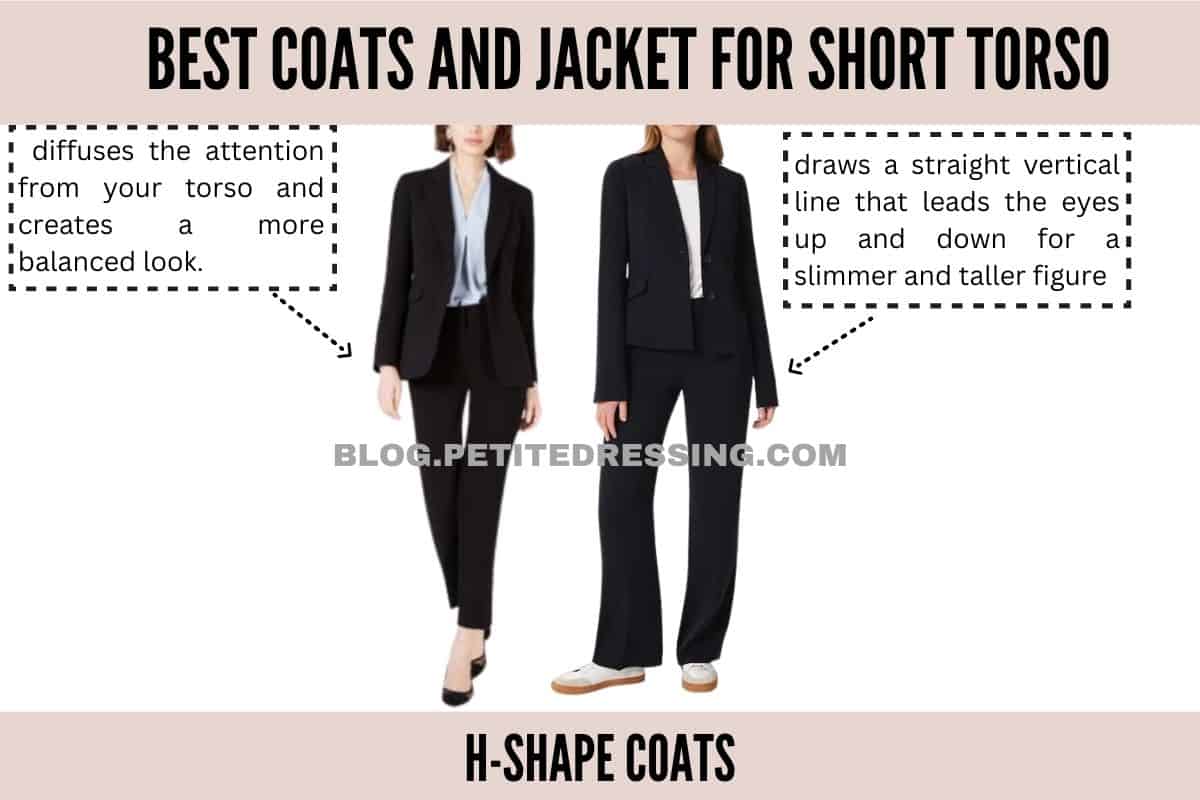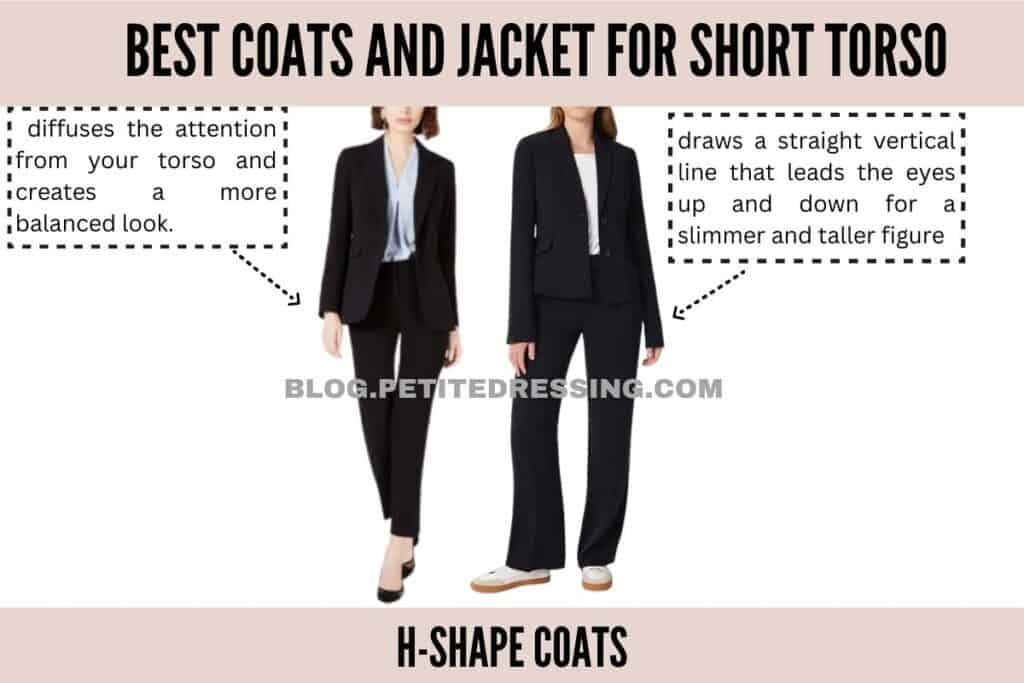 H-Shape coats also do a very good job at drawing a straight vertical line that leads the eyes up and down for a slimmer and taller figure. This silhouette has a long straight line that subtly diffuses the attention from your torso and therefore creates a more balanced look.
However, H-shape coats usually don't have a snug waist cinching like princess cut and wrap coats. If you like a coat with a more laid-back or androgynous vibe, this could be a great option for you.
Mid-Thigh Length Coats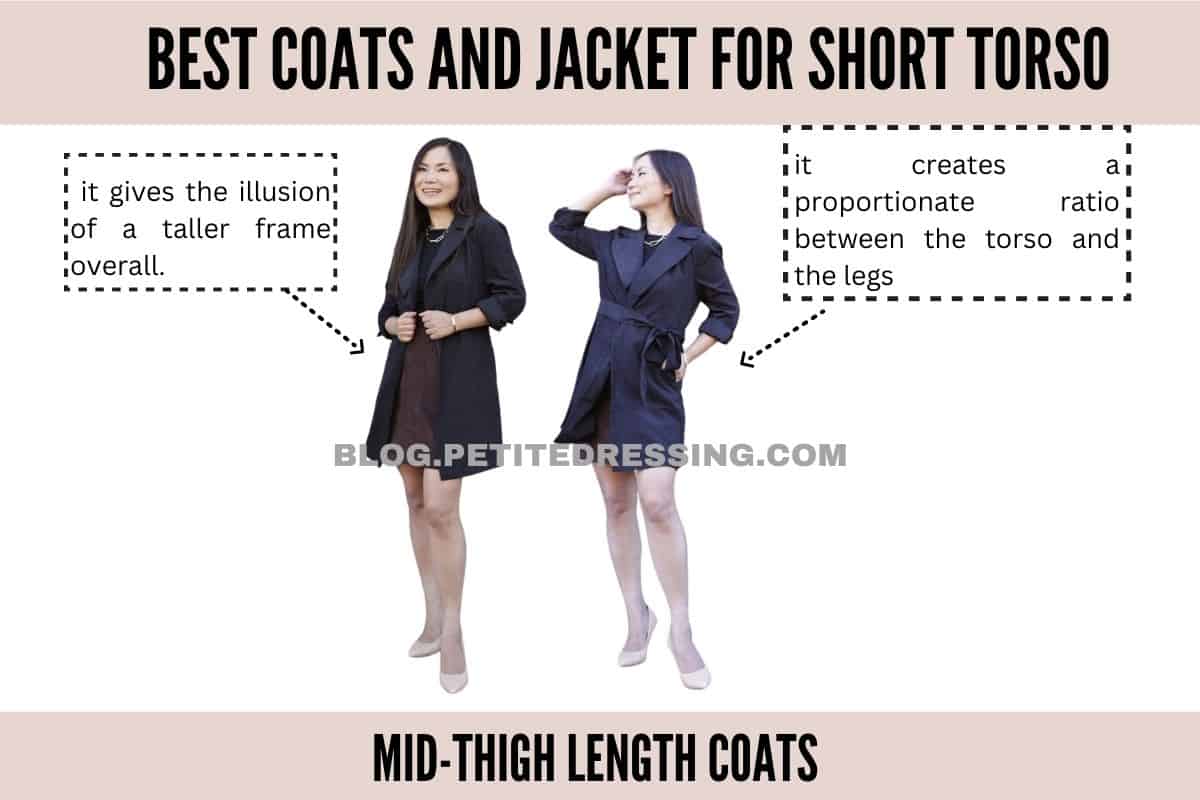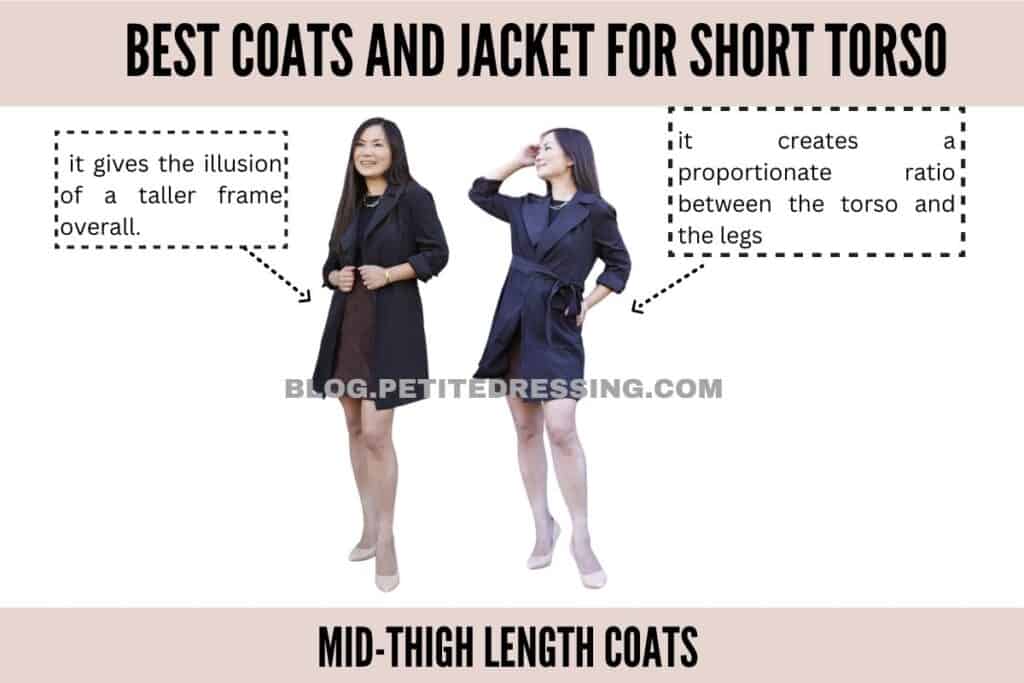 Length is also a very important factor when it comes to properly styling body figures with short torsos. Coats that go to the level of your mid-thighs can be very flattering as it gives the illusion of a taller frame overall.
As the coat or jacket ends on the level of the mid-thighs, it creates a proportionate ratio between the torso and the legs. Short coats and jackets can only highlight your short torsos so it's best to avoid these outerwear pieces with short lengths.
Peacoats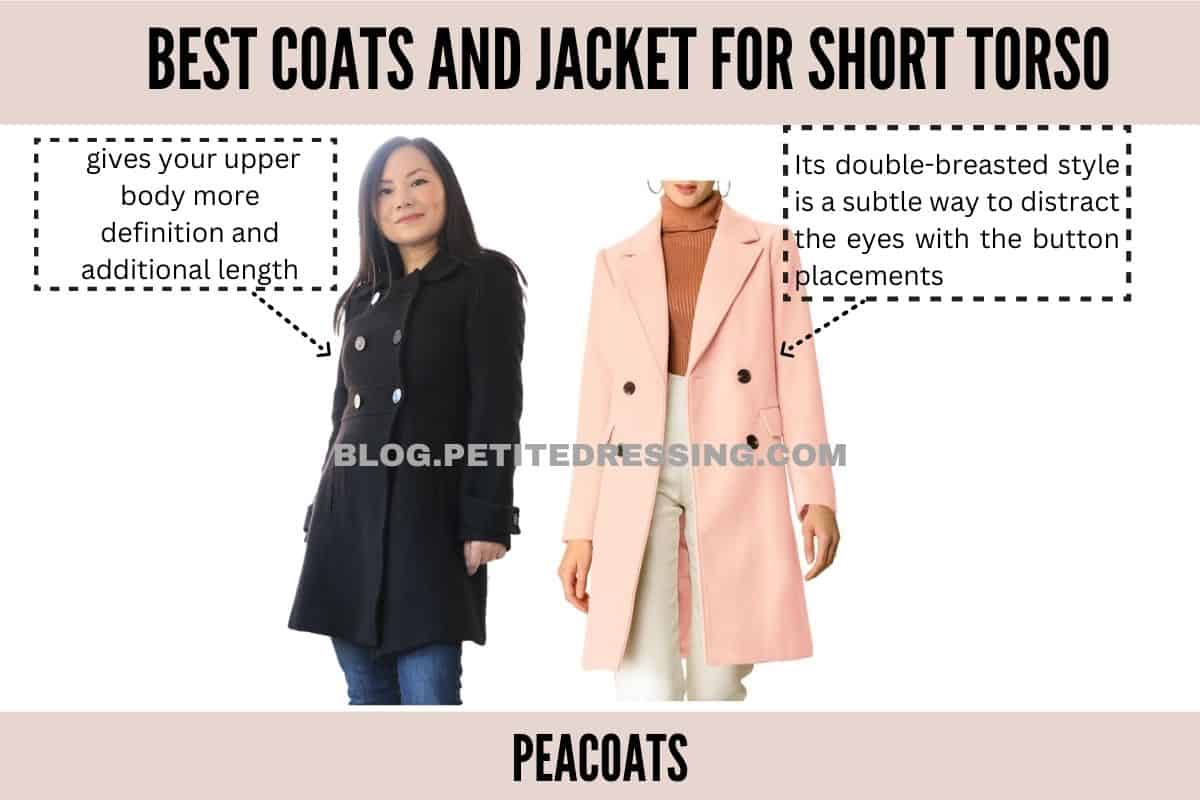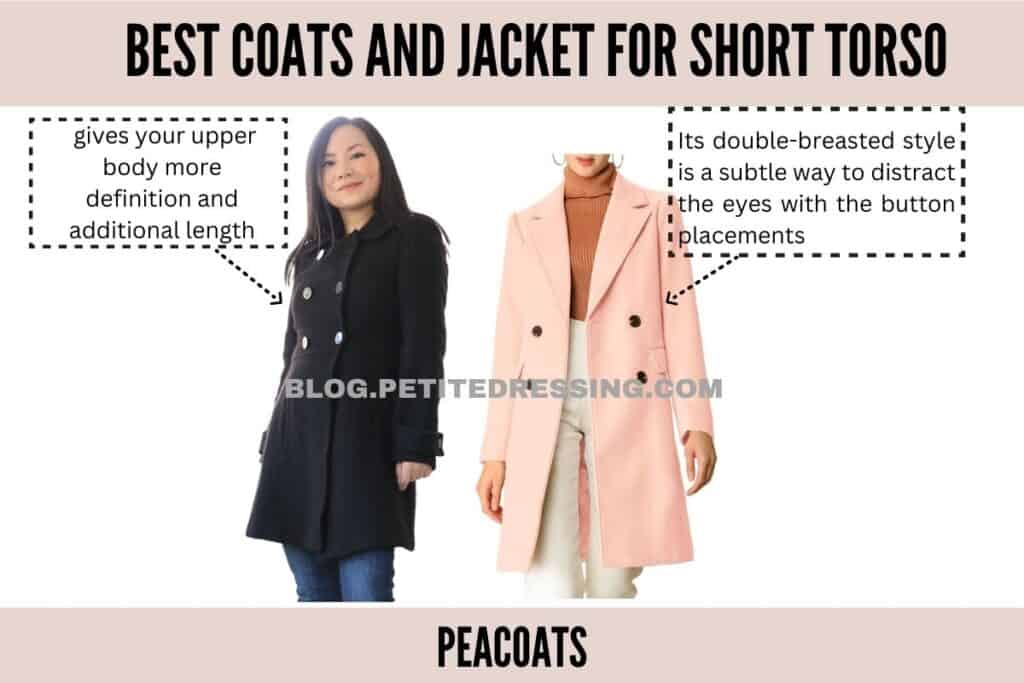 Peacoats usually come in mid-thigh lengths which also makes it an ideal coat style for girls with short torsos. Its double-breasted style is also a subtle way to distract the eyes with the button placements and therefore make your short torso less obvious.
The oversized lapel collar not only gives a stylish touch to your look but also gives your upper body more definition and additional length. Peacoats would look great with your mid-rise jeans and front-tucked plain T-shirts.
Petite Size Jackets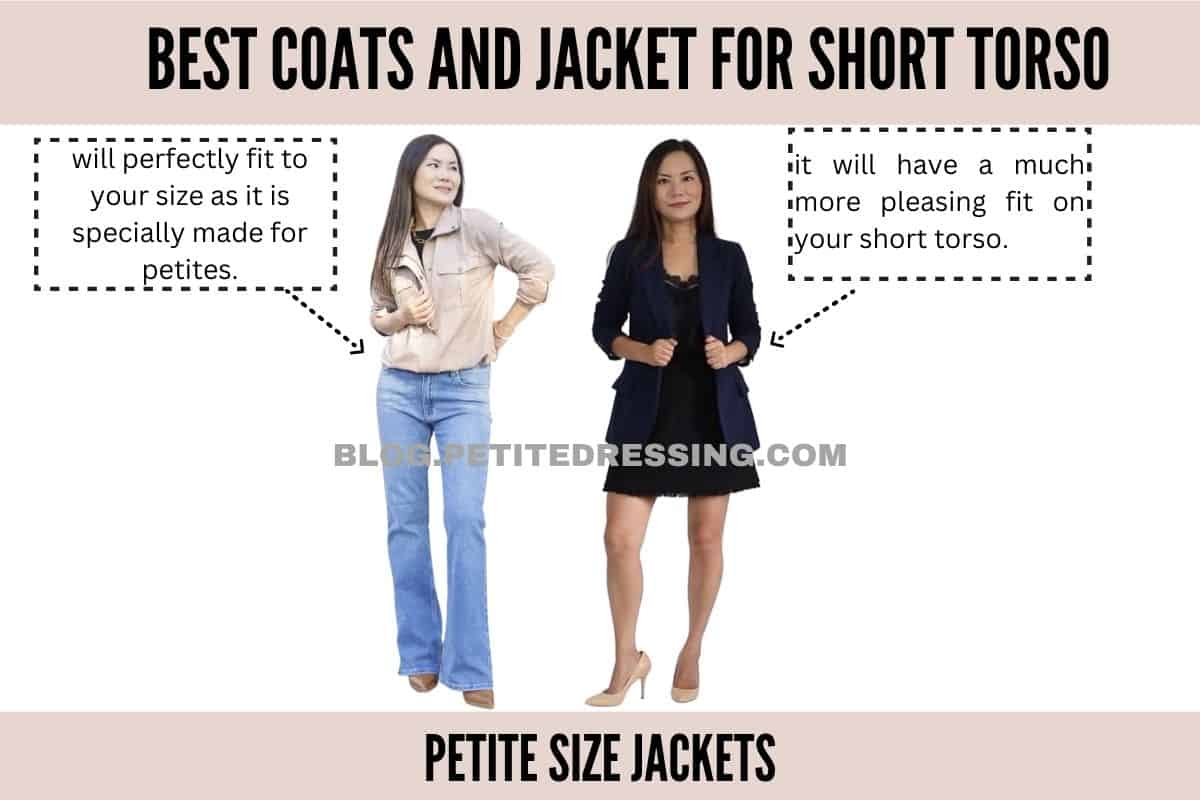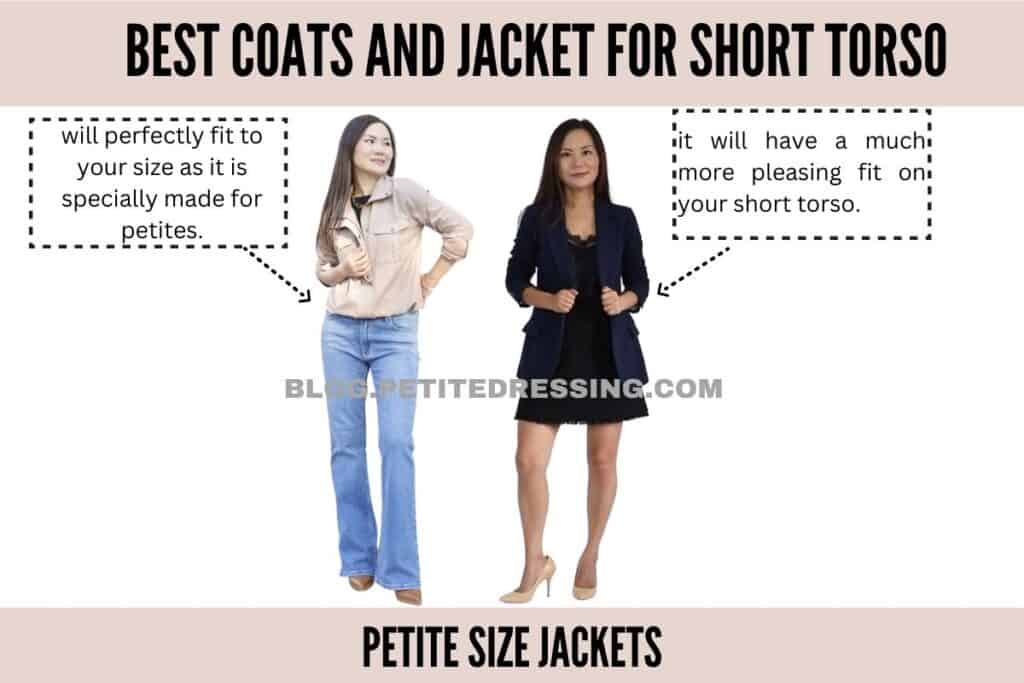 If you find it very tricky to get a coat that suits your short torso in the usual ladies' rack, then try the petite section! Even if you're a tall girl with a short torso, jackets from the petite section can look flattering, especially since you're only dealing with the upper part of your body.
Of course, this will still depend on your specific measurements but since they are originally designed for petite women, these jackets will be shorter than the usual ones. With that said, it will have a much more pleasing fit on your short torso.
Tailored Jackets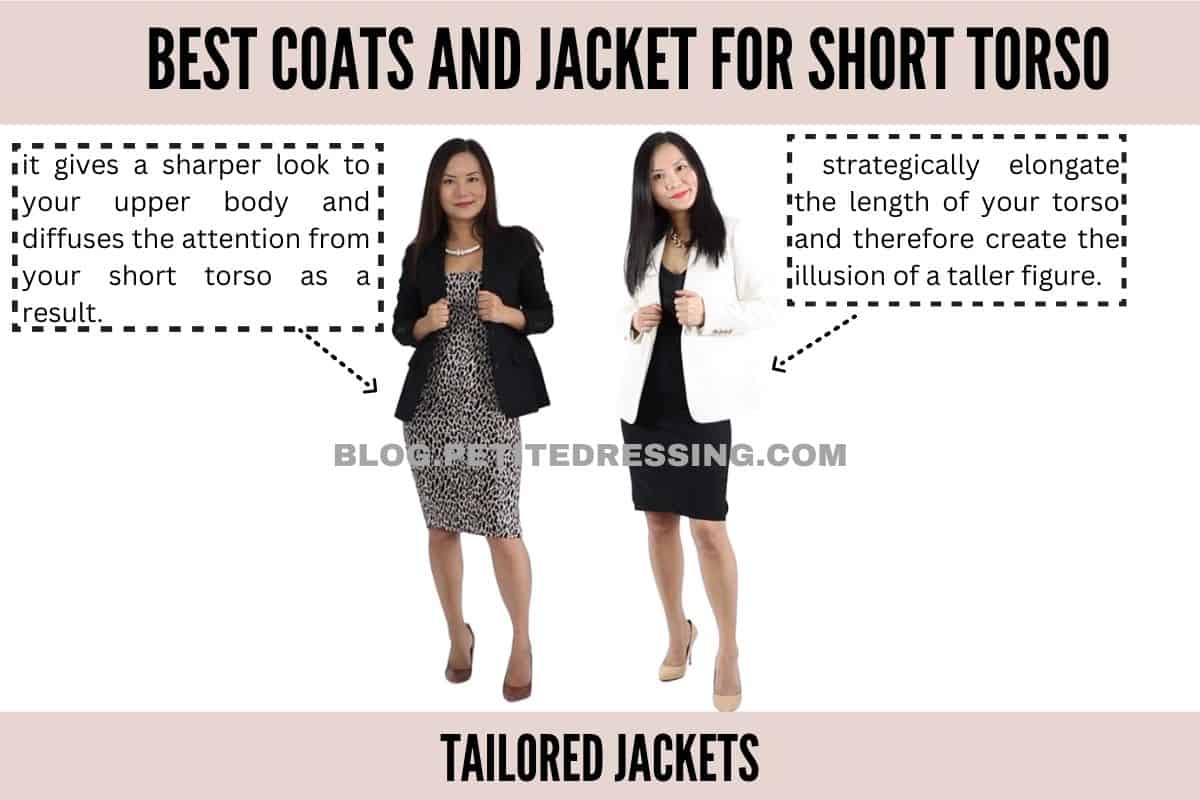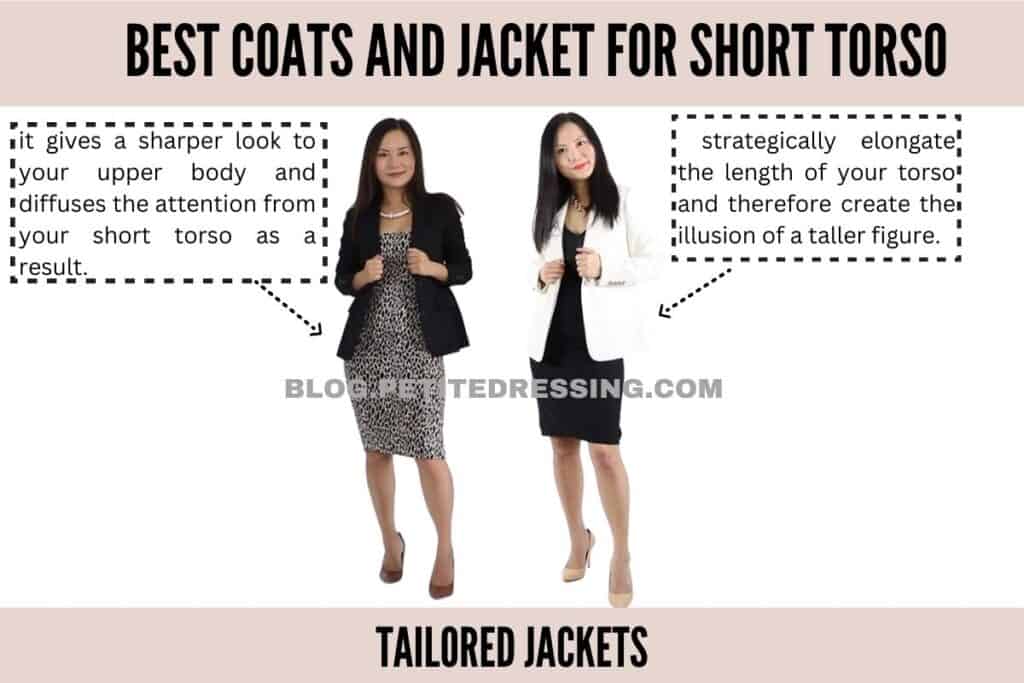 Tailored or structured jackets have a snug fit that perfectly contours the body. As this jacket style focuses on the shoulder seams and waist, it gives a sharper look to your upper body and diffuses the attention from your short torso as a result.
More than the exact fit, another key in finding the best-tailored jacket to flatter your short torso is to a length that goes past your hip bone. This is the best length you can have for your jackets to strategically elongate the length of your torso and therefore create the illusion of a taller figure.
Caution with Belted Jackets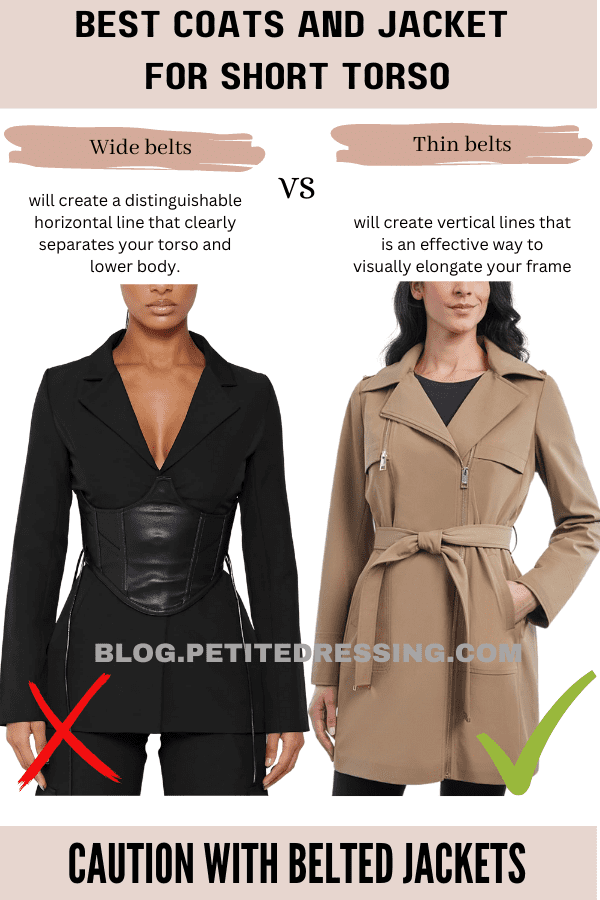 We tend to love belted jackets a little too much because of their ability to make the waist look smaller and more defined. And while a nipped waist is also an effective way to visually elongate your frame, it can be a bit tricky for women with short torsos.
A belt that is too wide will create a distinguishable horizontal line that clearly separates your torso and lower body. Apart from the visual distraction it causes, wide belts will also take so much space on your short torso and therefore end up making it look way shorter than it actually is.
Avoid Empire Waist Coats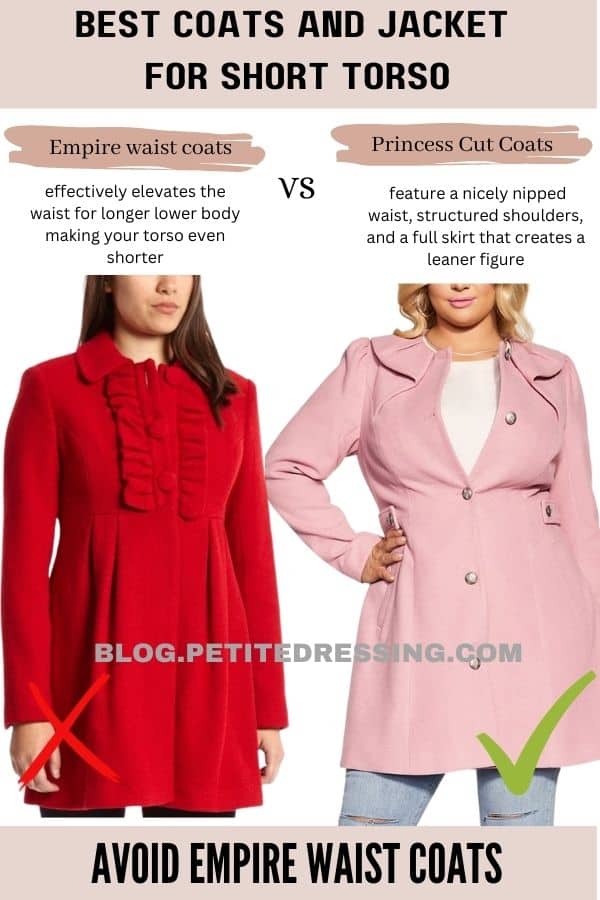 Coats and jackets that have the empire waist style are deemed quite unflattering for ladies with short torsos because of their bodices that feature a seam line just right under the bust line. Such a silhouette effectively elevates the waistline for a longer lower body but at the expense of the upper half of your body.
Because of this, empire waistcoats and jackets will visibly make your short torso even shorter. This will not only make your overall figure look immensely imbalanced but can also pull your visual silhouette sideways, making you look shorter.
Avoid Crop Jackets
Crop jackets are definitely not your friend because this will only highlight your short torso. As the hem of crop jackets ends just right above the hip bone, it sets your torso apart by making it look more distinctive.
Instead of crop jackets, go for those that go longer lengthwise. Preferably jackets which go past by the hips.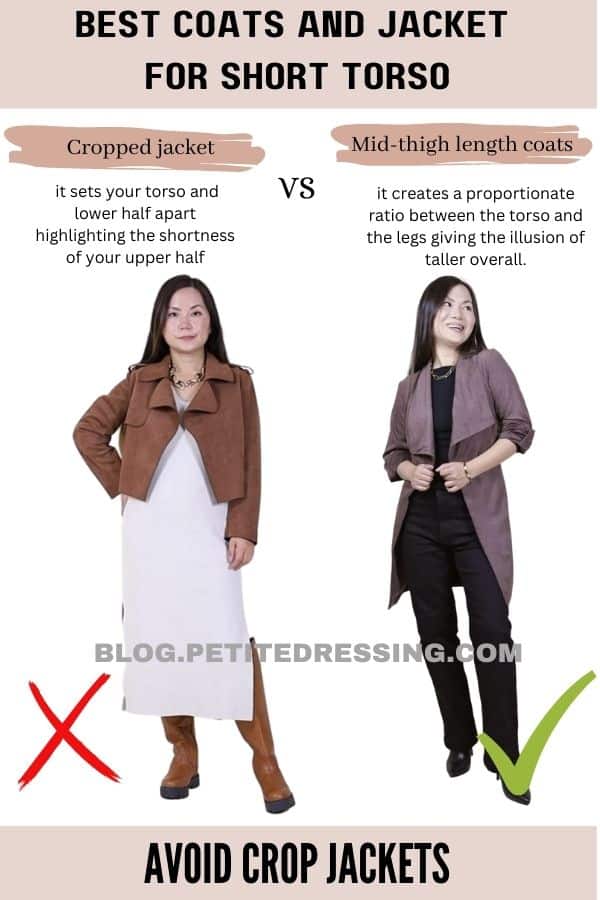 The Key Takeaway
Coats and jackets will always be a wardrobe must-have so it's important to know which particular styles will suit your body type. Styling a short torso is all about the overall visual balance.
To achieve such balance and ideal body ratio, you need to take the length of your coats and jackets into careful consideration.