It's time to party but do you have the right dress that will give you a flattering feminine silhouette and make you stand out without worries? Check out this party dress guide for short and chubby women to help you make the best choices for your body type.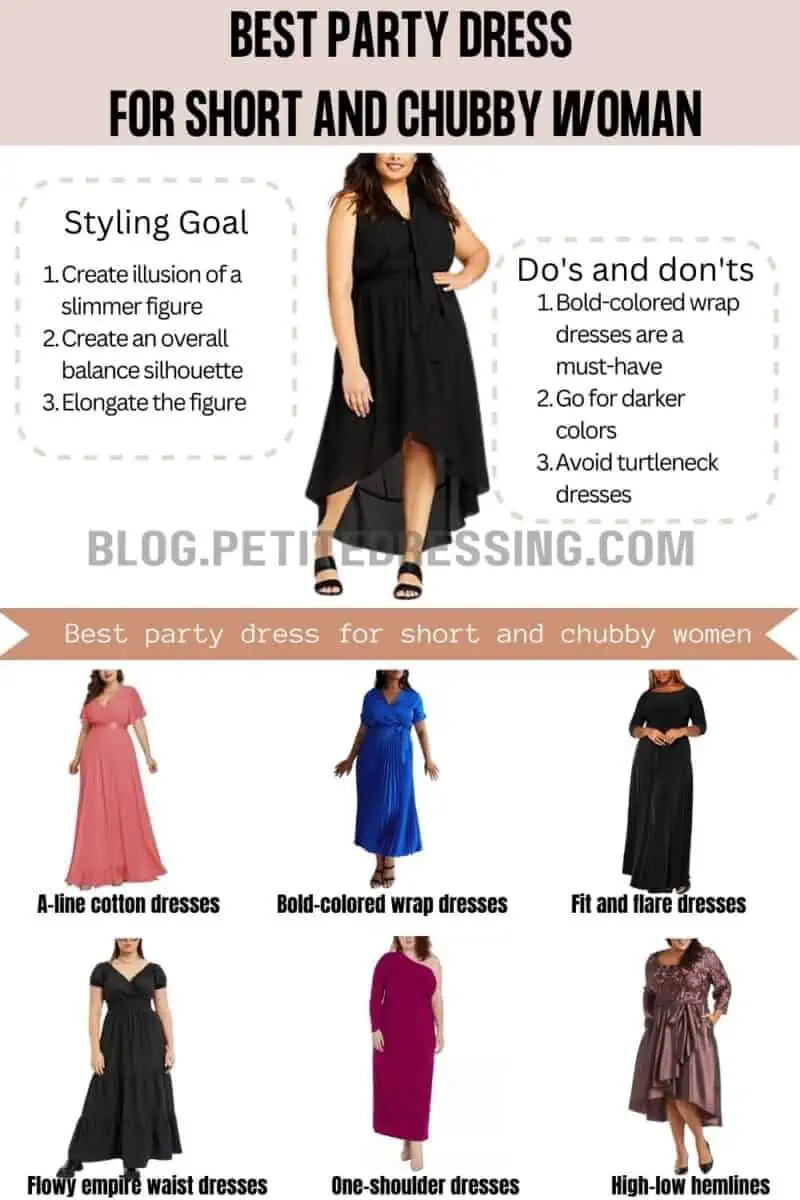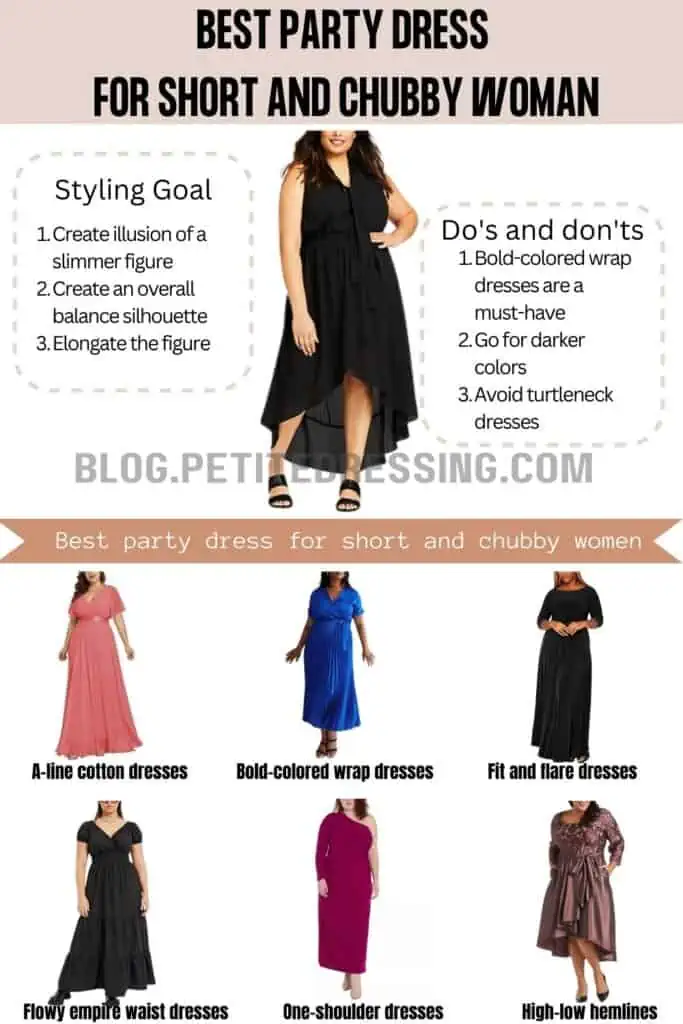 A-line cotton dresses
A-line cotton dresses create the illusion of a slimmer and elongated figure which is a very flattering silhouette for short and chubby women. This leaner figure helps to create an overall balanced look when your upper and lower body are in proper proportion.
This proportionate look is thanks to the gradual flare-out design of the A-line shape from the waistline to the hemline of the dress. It's easy to hide wider thighs and hips this way, and the effect spreads to concealing tummy bulges as well.
A huge advantage of the A-line cotton dress is that it draws the eyes downwards rather than sideways, which is great for elongating the appearance of short women. Also, the cotton dress style offers more breathability and that means maximum comfort even if you have to wear this dress all day.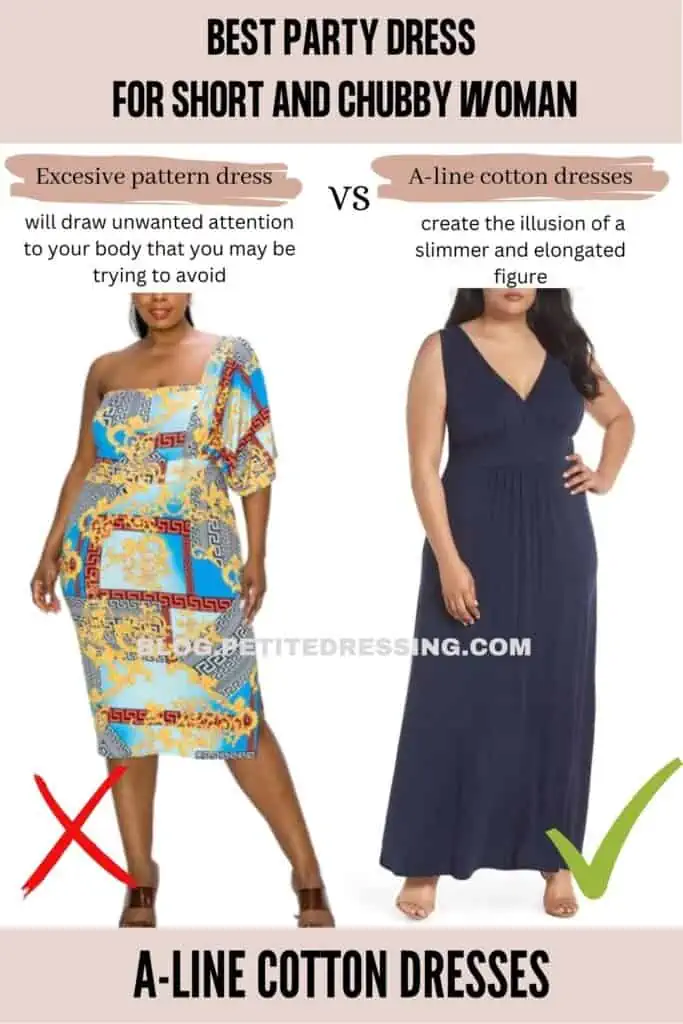 Bold-colored wrap dresses
Another party dress style that creates an elongating and slimming effect is the bold-colored wrap dress. As a short woman, it's always a huge plus to wear clothing styles that make you appear taller rather than those that have a shrinking effect.
The bold-colored wrap dress is one style that does this seamlessly. Apart from flattering your waistline, the wrap style doubles as the perfect way to balance out your body proportions and create a cinching effect on the waist.
This will create a flattering hourglass silhouette that looks as natural as ever. The bold color of the dress creates a visual focal point on your dress which also adds to the effect of making you appear taller.
Just like wrap tops, wrap dresses are easily adjustable until you get the perfect fit. So, feel free to play around with this. However, it's important not to make it excessively tight as this will only hug your figure in areas that you don't want a lot of attention on.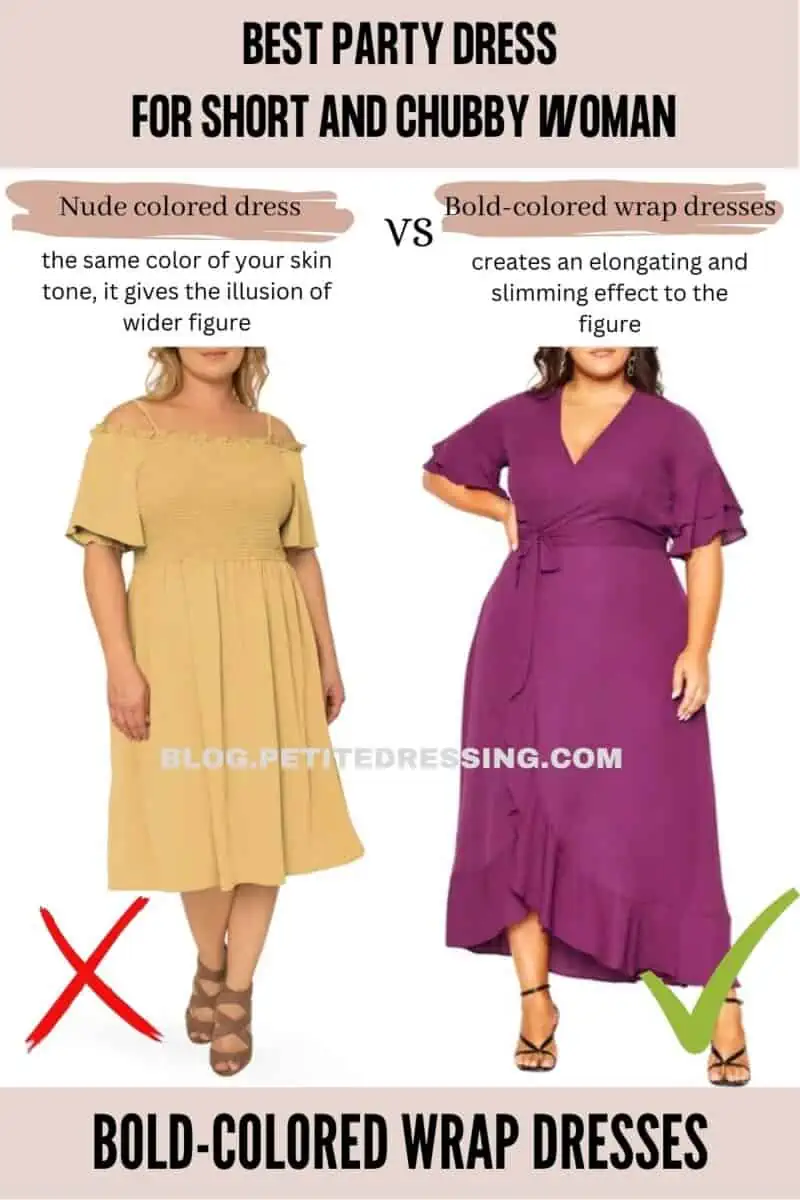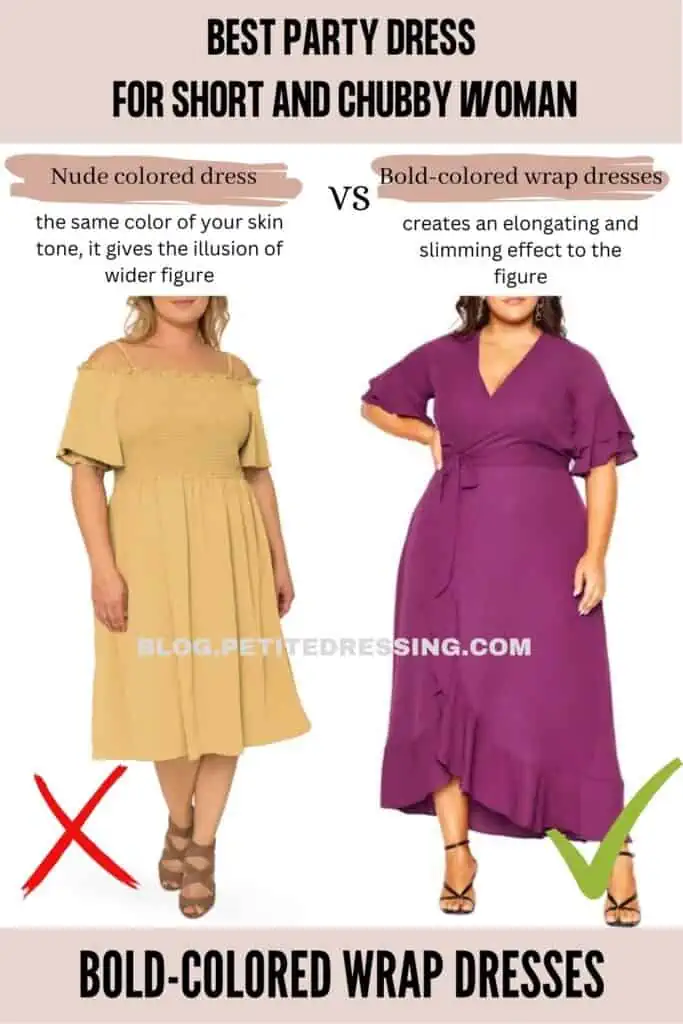 Fit and flare dresses
Fit and flare dresses usually start with a fitted bodice that hugs the waist and hips before flowing out into a delicate flare that gives the visual impression of a slim body. This style of clothing proves that party dresses don't have to be over-the-top to rock them to the fullest.
The flare of this dress is great for creating a proportionate figure where your hips don't appear larger while they are perfectly balanced with your thighs and upper body. Another reason to love fit and flare dresses is that they give the illusion of adding a few extra inches to your height.
For short and chubby women, this is fantastic. It's a good idea to consider including this in your wardrobe as you'll love the flexible and comfortable fit of this style of party dress. If you're feeling adventurous, a pair of heels will be the perfect way to complete this ensemble.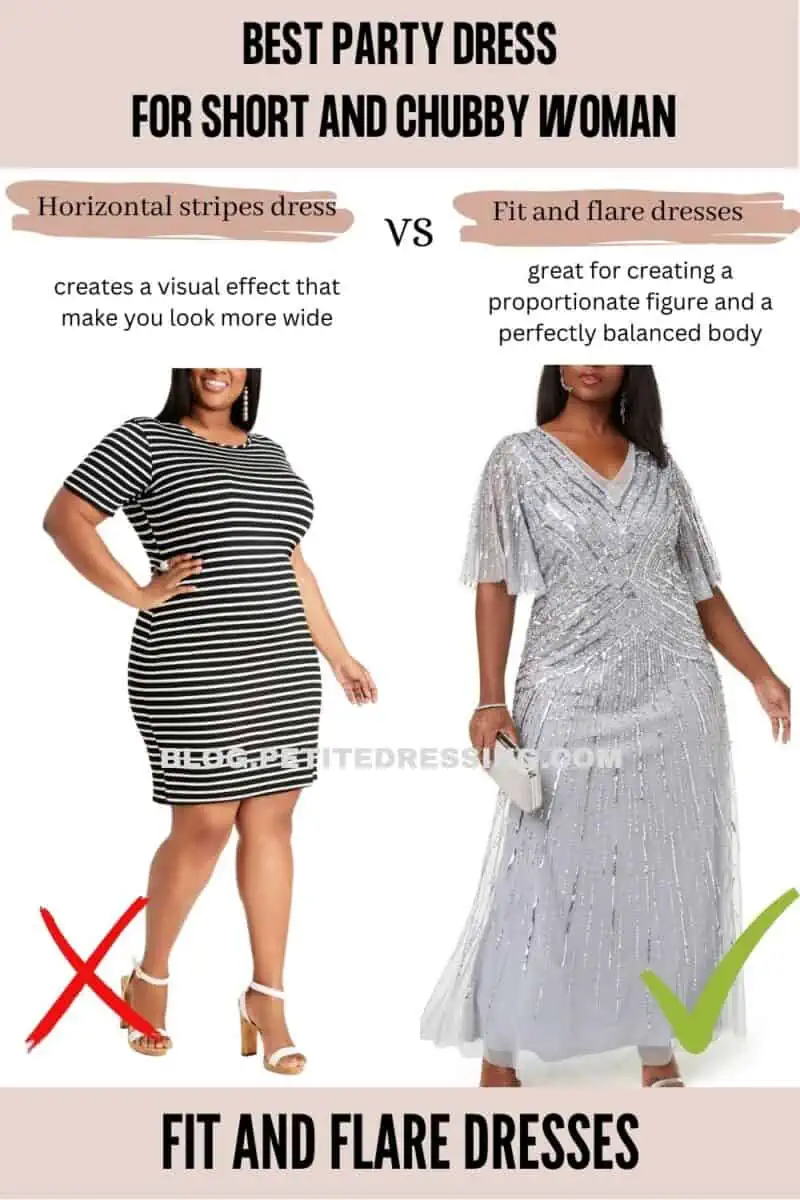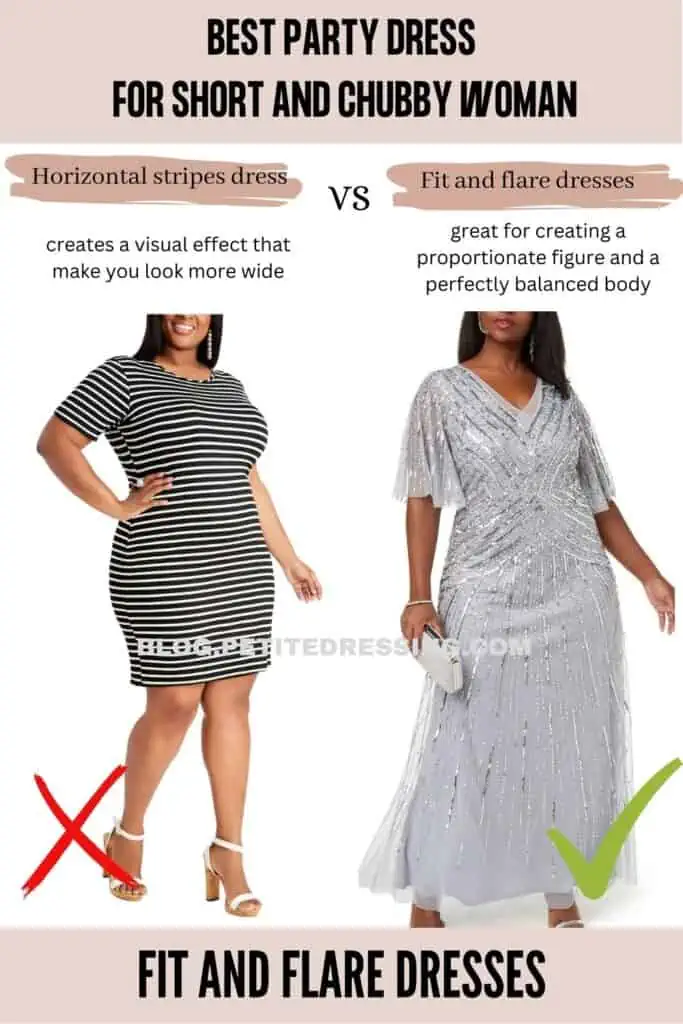 Flowy empire waist dresses
A huge advantage of flowy empire waist dresses is how they create a slimming silhouette while your body frame is visually elongated to make you look taller. So, what's the unique feature of the empire waist dress?
Usually, this style has a raised waistline falling just below the bust area. Due to this raised waistline, you can successfully create the illusion of a leaner and longer figure as your torso looks elongated.
We also think the flowy style of the empire dress is a huge plus because it provides a loose yet comfortable fit as it skims delicately over your hips and thighs. So, you don't have to worry about the dress restricting your movement, and that's a graceful look to have when you're out partying with friends.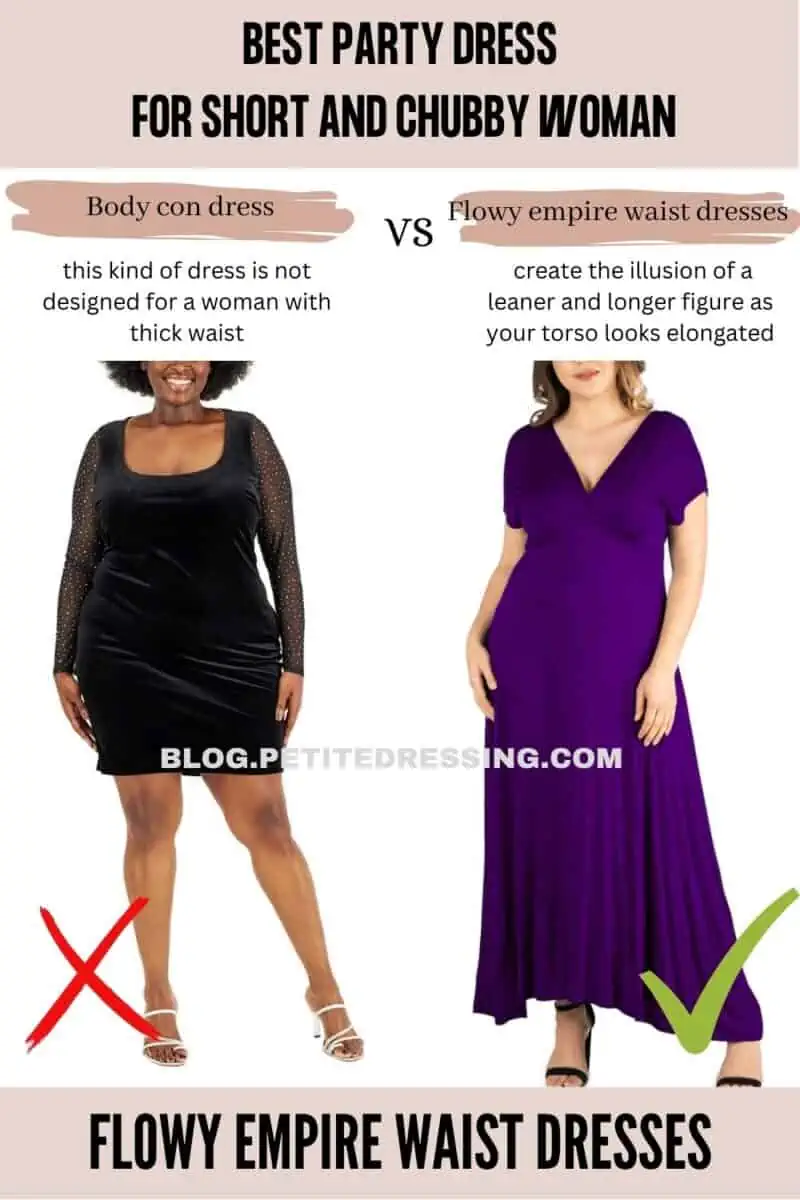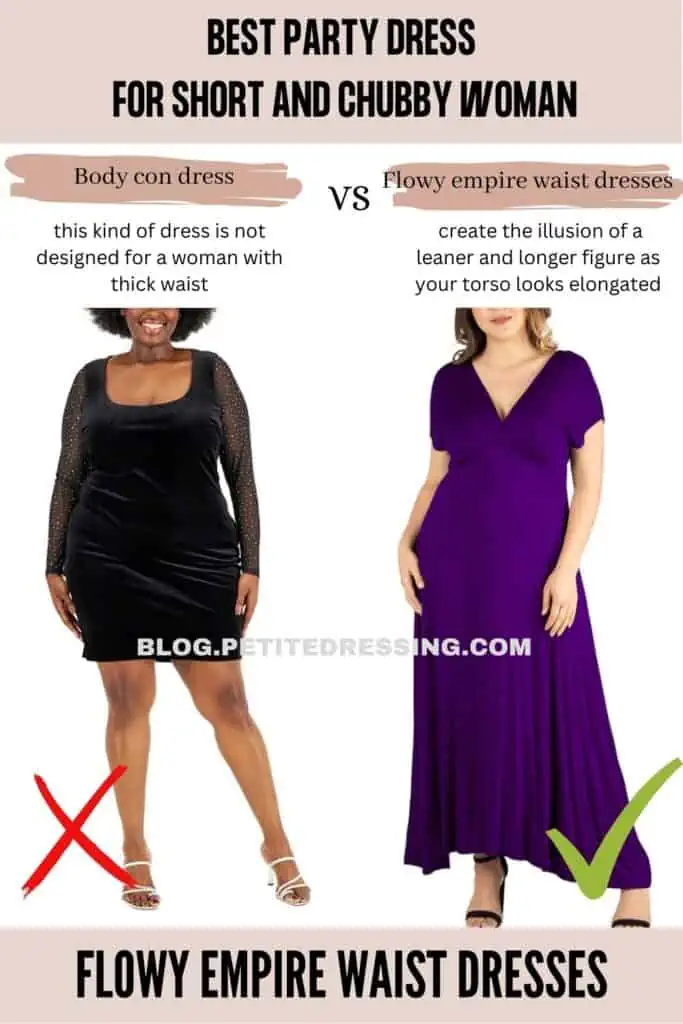 One-shoulder dresses
Are you a fan of one-shoulder dresses? If you've always thought that this won't look good on you as a short and chubby woman, we've got news for you. One-shoulder dresses are super great at creating a balanced and flattering silhouette.
This means that you should consider including them in your wardrobe as the go-to party dress for various occasions. One-shoulder dresses are great because they have an asymmetrical neckline that draws the eyes upwards rather than sideways.
As the eye is drawn vertically towards the face and neck, this translates into an elongation effect that creates the illusion of being taller. One-shoulder dresses are also incredibly stylish. So, if you want to look different from the norm and completely eliminate boring dress styles, one-shoulder dresses are the way to go.
You can also adjust the fit based on your body shape, as your comfort matters the most. Also, be sure not to over-accessorize as this can erase the positive effect of the dress style.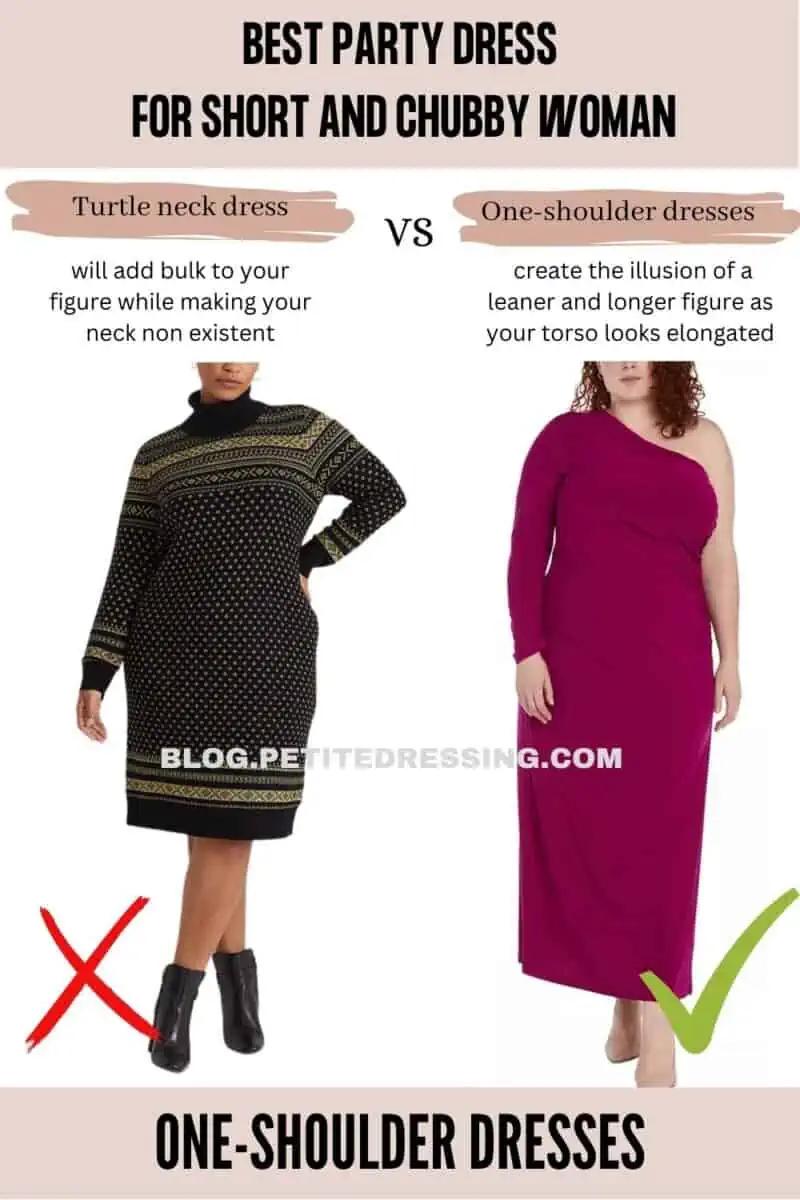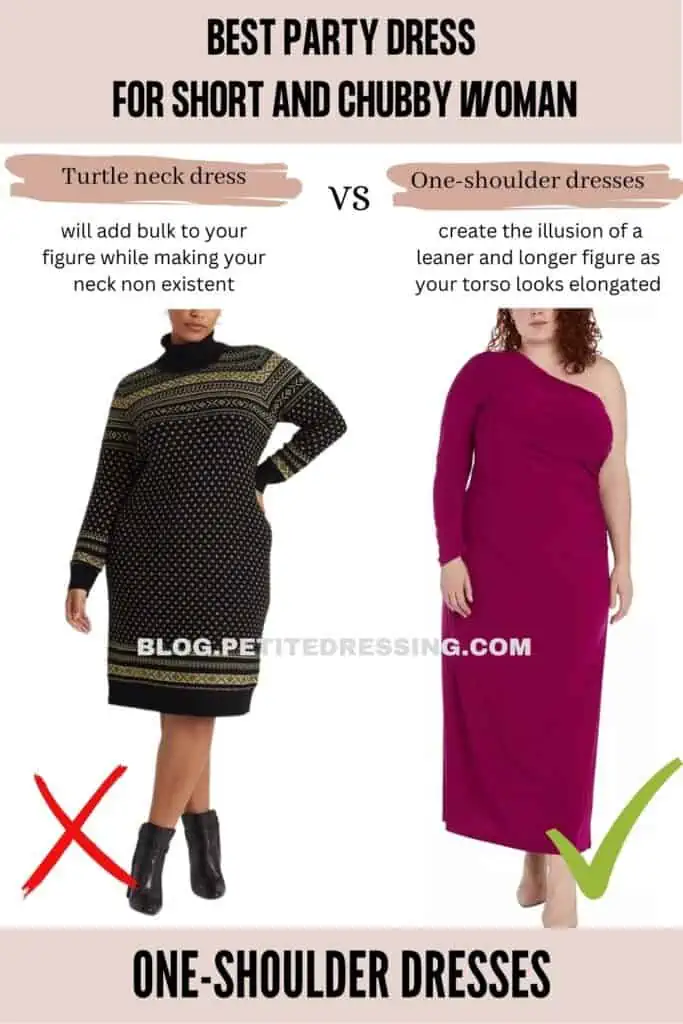 High-low hemlines
With high-low hemlines, you don't have to worry about your height for several hours while you rock this party dress to the fullest. We absolutely love how stylish this dress is, adding a genuine touch of elegance and sophistication that will make you stand out in the most beautiful way possible.
Usually, this type of hemline is shorter towards the front and longer toward the back. This creates an asymmetrical look that flows outwards and balances your body proportions perfectly.
So, if you're looking for a party dress that will flatter your figure, elongate your legs and make your wider hips or thighs not so obvious, the high-low hemline is the ideal choice. As always, black will make this style of dress pop plus every woman needs a killer black dress. This is a trendy choice.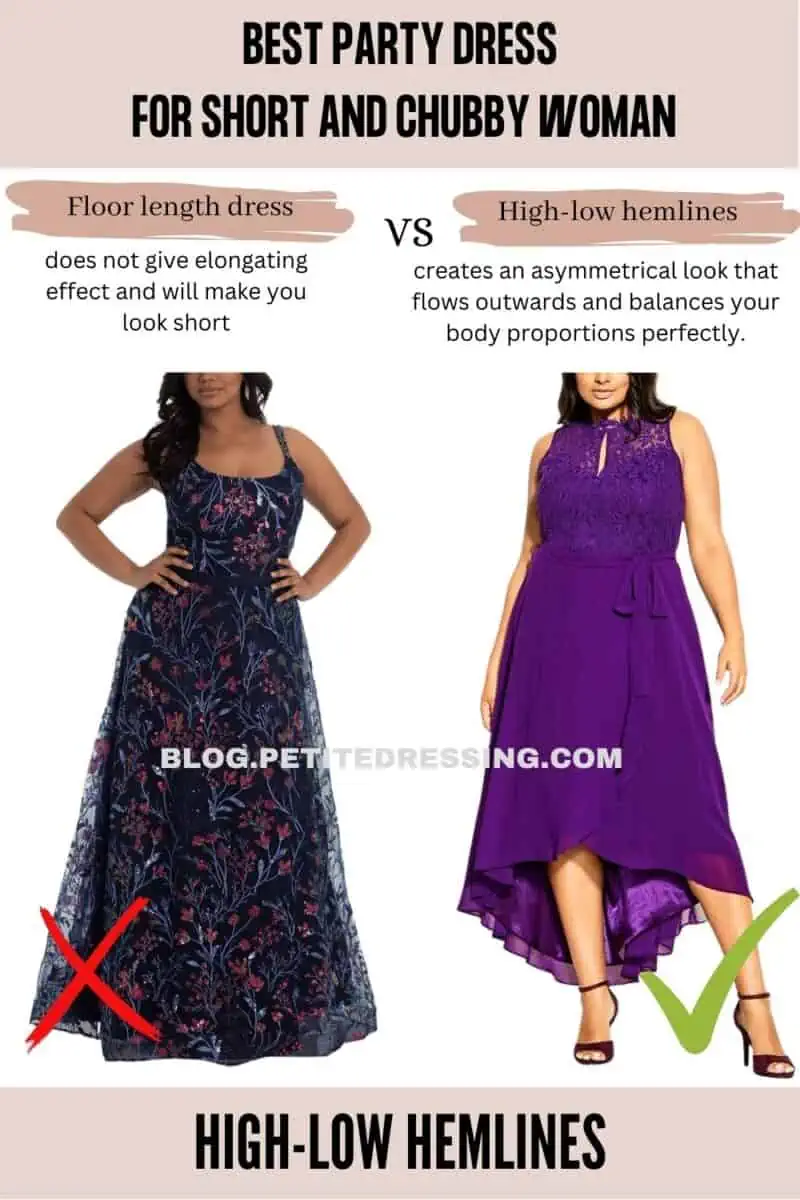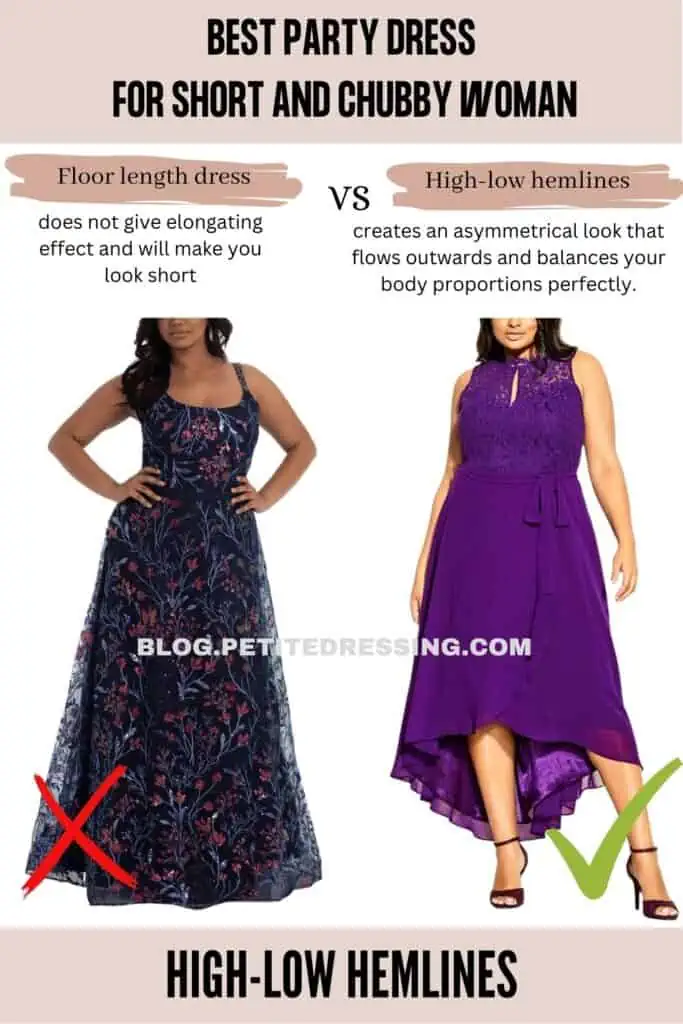 Dresses with dark solid colors
It's a universal rule that clothing in dark solid colors creates a slimming effect. This rule also applies to dresses and it's an amazing effect for short and chubby women. So, whether it's in black, dark grey or navy blue, these are all darker colors designed to shrink the boy visually.
For short and chubby women, this will create a slender and streamlined look where your wider hips look more proportionate with other parts of your body. Another plus is that the dark solid color creates an unbroken continuous line which is perfect for creating the illusion of extra height.
For short women, this elongation effect is absolutely elegant. So, explore the timeless style that's the result of a dark solid color dress. This could be wrap dresses, shift dresses or even a simple A-line dress.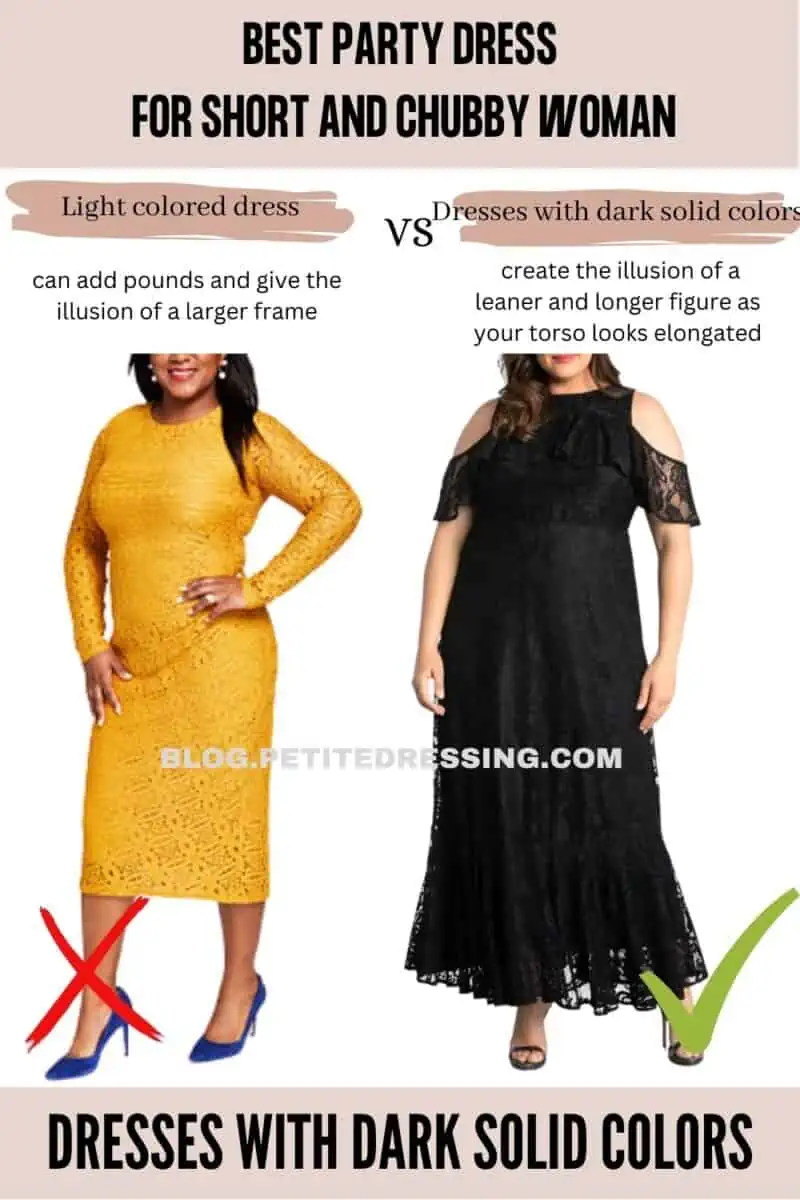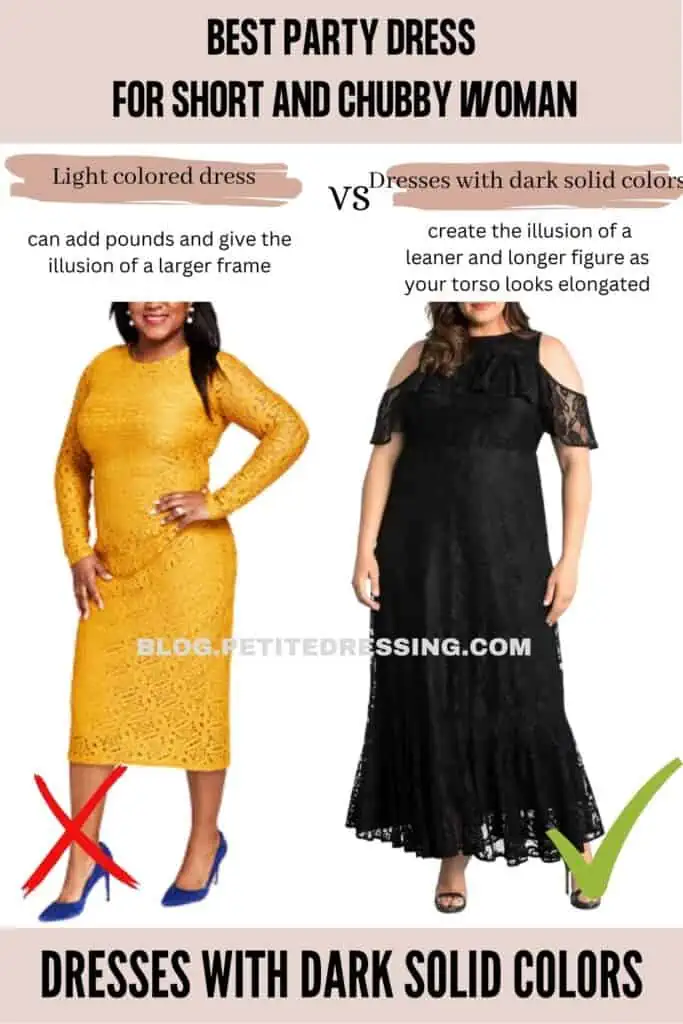 Off-the-shoulder dresses
Enjoy the advantage of a balanced and visually elongated silhouette with off-the-shoulder dresses. This works by drawing the eye upwards towards your exposed neck and shoulders, which kicks the elongation effect into gear and makes you look taller.
For short and chubby women, off-the-shoulder styles can add a flirty touch to your outfit while making you look absolutely elegant for a vast range of occasions. The good news is that the fit of this dress is not rigid.
With a few tweaks, you'll find a comfortable fit for your body type. Pair this with statement earrings to take the style factor on your off-the-shoulder dress up a notch.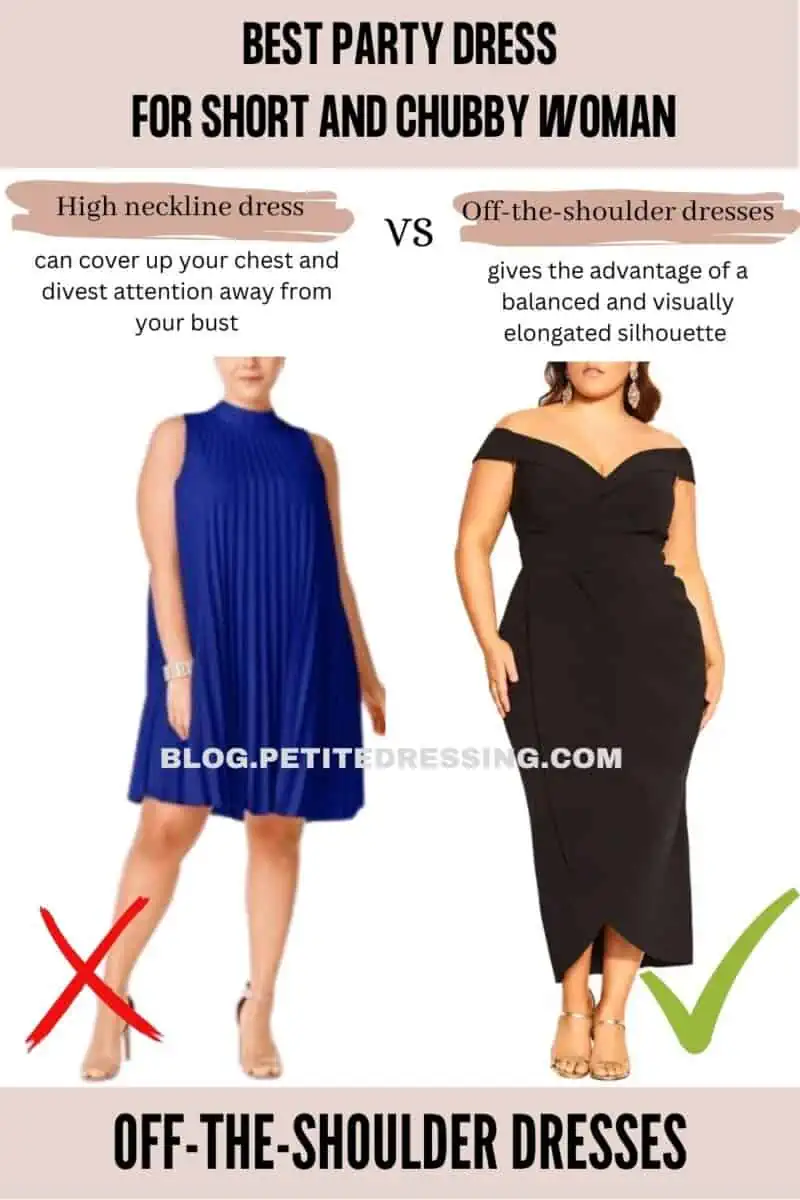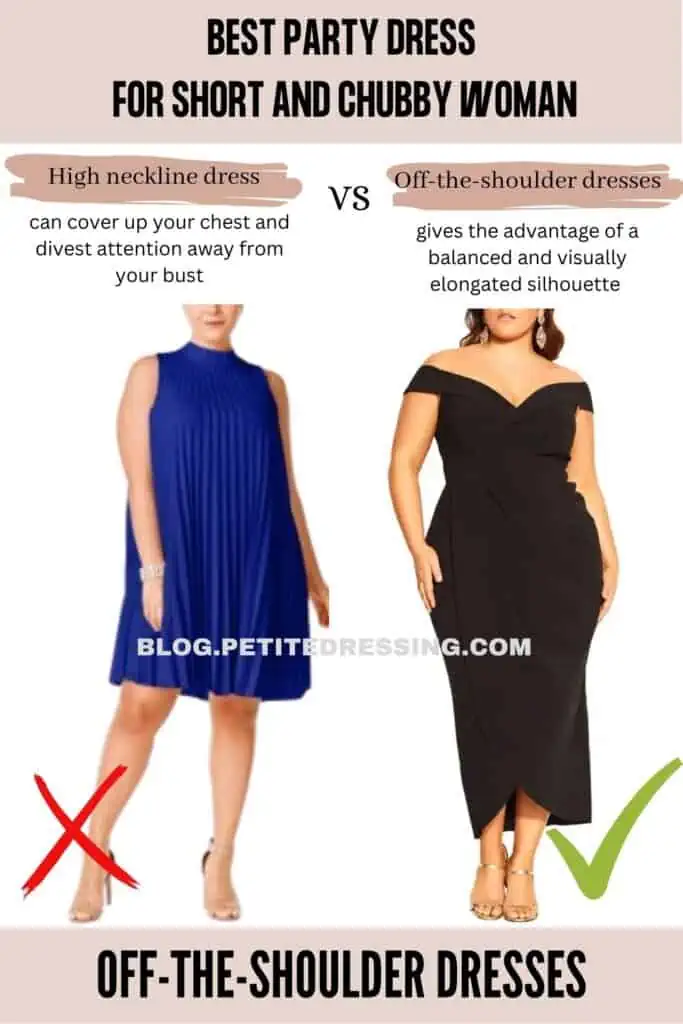 Avoid turtleneck dresses
With the constriction around the neck that turtlenecks cause, this is not a good idea for short and chubby women. The huge disadvantage of this style of dress is that they create bulk around your neck area which will make you appear shorter.
Therefore, if you want to create the illusion of being taller and elongate your neck, turtleneck dresses are not a cool choice for party dress. Also, most turtleneck dresses have a close-fitting design that will highlight your wide hips.
While every woman's style is unique and your comfort remains a priority, we don't recommend turtleneck dresses for short and chubby women.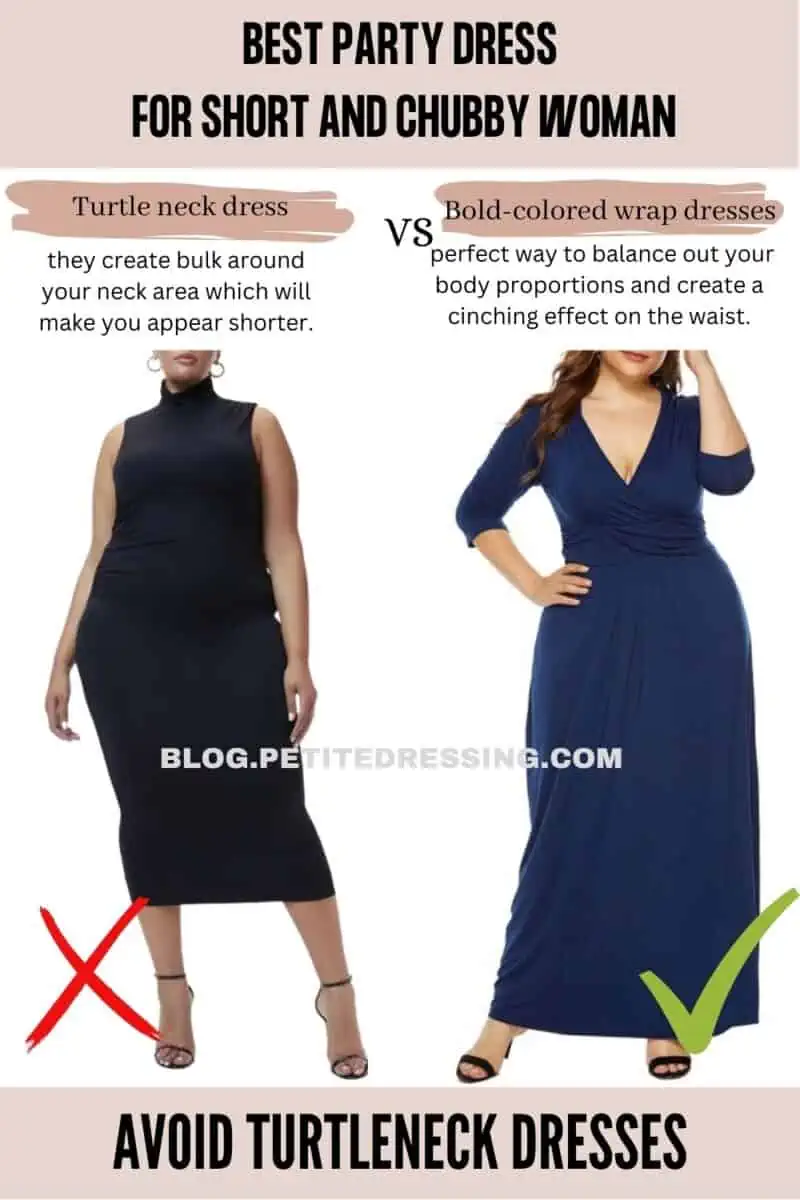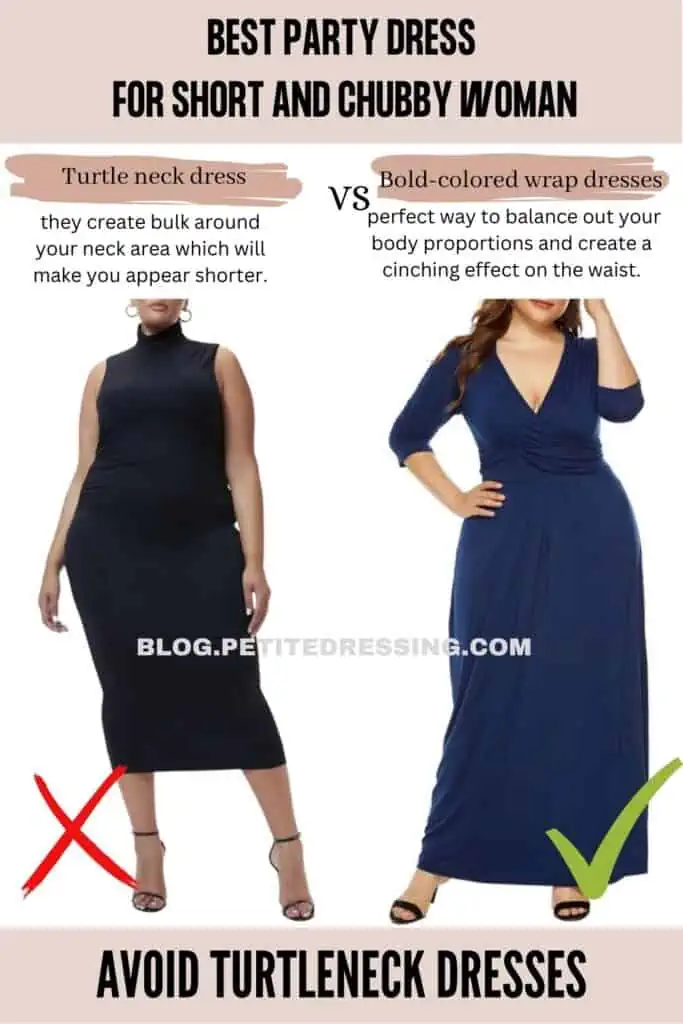 Avoid busy prints
Dresses with busy prints may work for some women but there's a higher chance that it won't look flattering on short and chubby women. Prints are great on dresses but when they become excessive, they can instead be distracting and overwhelming for your small body frame.
It has the adverse effect of drawing more attention to your body and away from your face. So, if you want that slimmer silhouette, this can be problematic. Busy prints will also make your body look wider, which is not flattering for your short and chubby frame.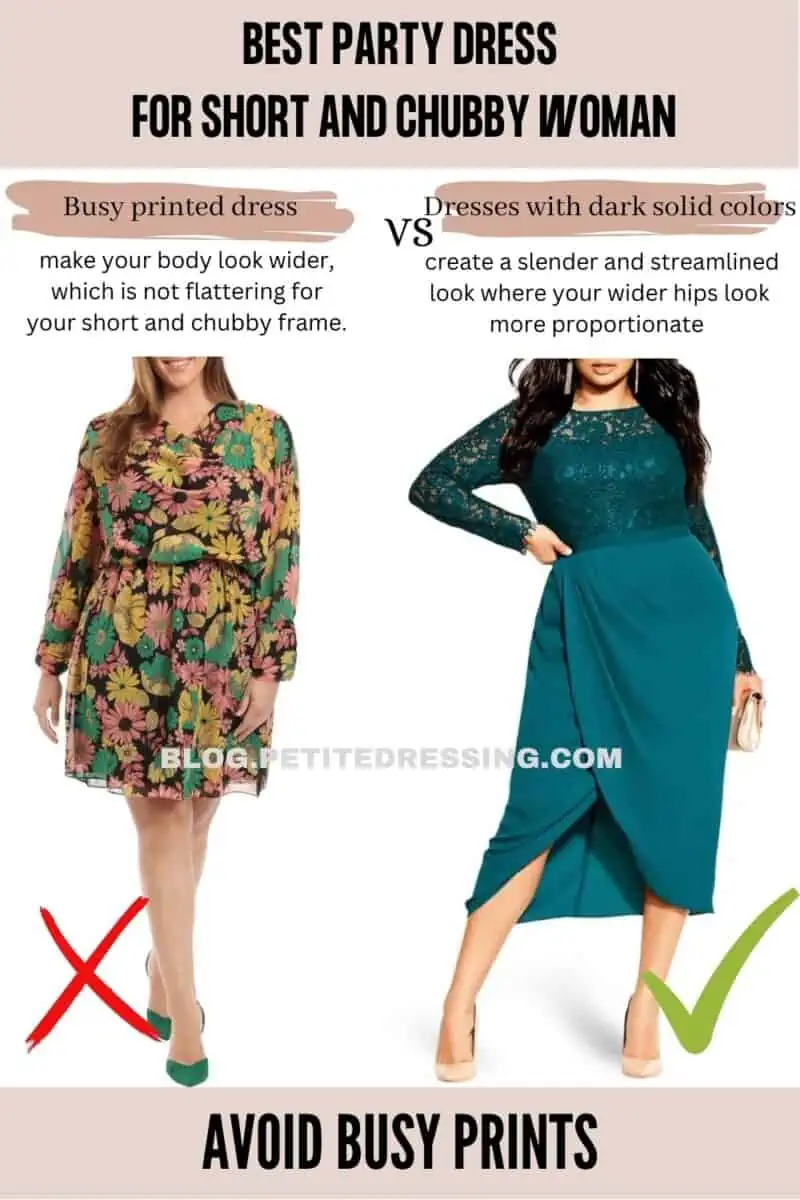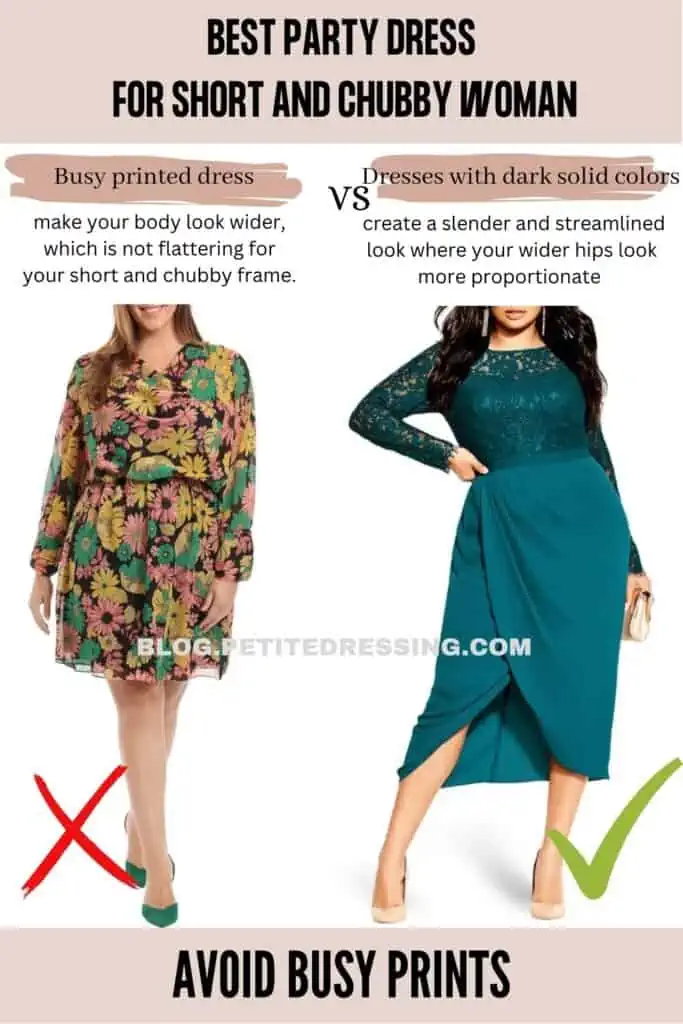 Getting a sleek and streamlined look with party dresses is not as complicated as many people think. These tips will guide you on looking your best.