Once in a while, you would love to step out for casual occasions with the best style without going over the top. This casual wear guide for short and chubby women will take you through a lot of amazing options to make you look more beautiful than ever.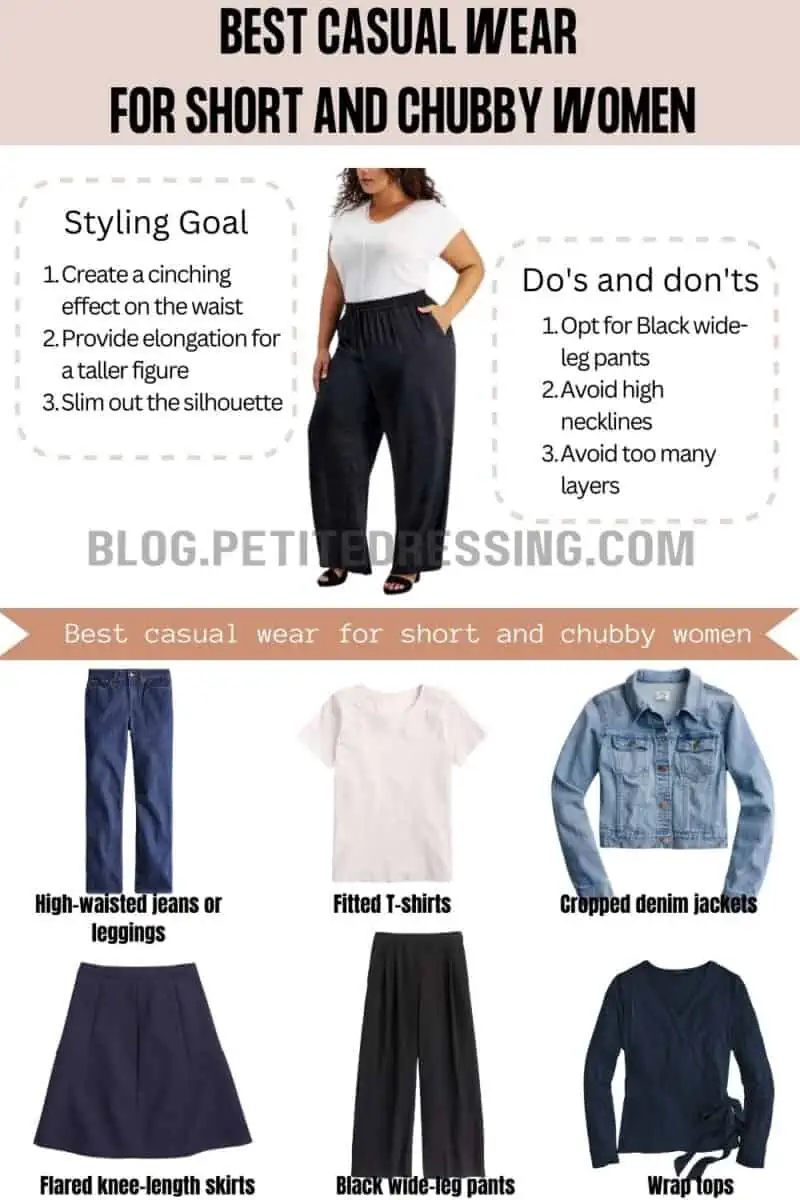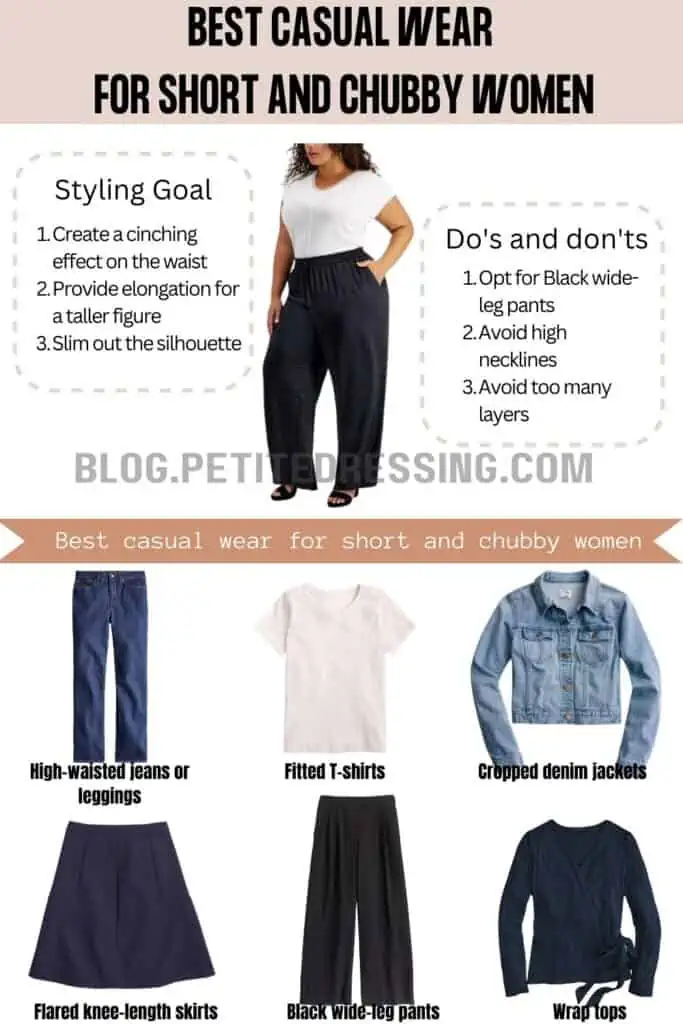 High-waisted jeans or leggings
One of the best options out there for short and chubby women is the high-waisted jeans which offer lots of impressive features that can flatter your body shape. Since high-waisted jeans sit at your natural waistline, this is perfect for creating the illusion of a taller appearance as they help in elongating the legs.
So, if you're quite self-conscious about your height, high-waisted jeans can help in cushioning that effect. Thanks to the high waistline, you'll experience a smoother effect on your body, which effectively camouflages any muffin tops or bulges.
The result is a streamlined silhouette that will give you an overall sleek appearance. Apart from creating the illusion of a more defined waistline for short and chubby women, high-waisted jeans also create a cinching effect at the waist which balances out your body proportions.
Therefore, they draw more attention to the slimmest part of your body, emphasizing your hourglass figure and giving you a flattering feminine look.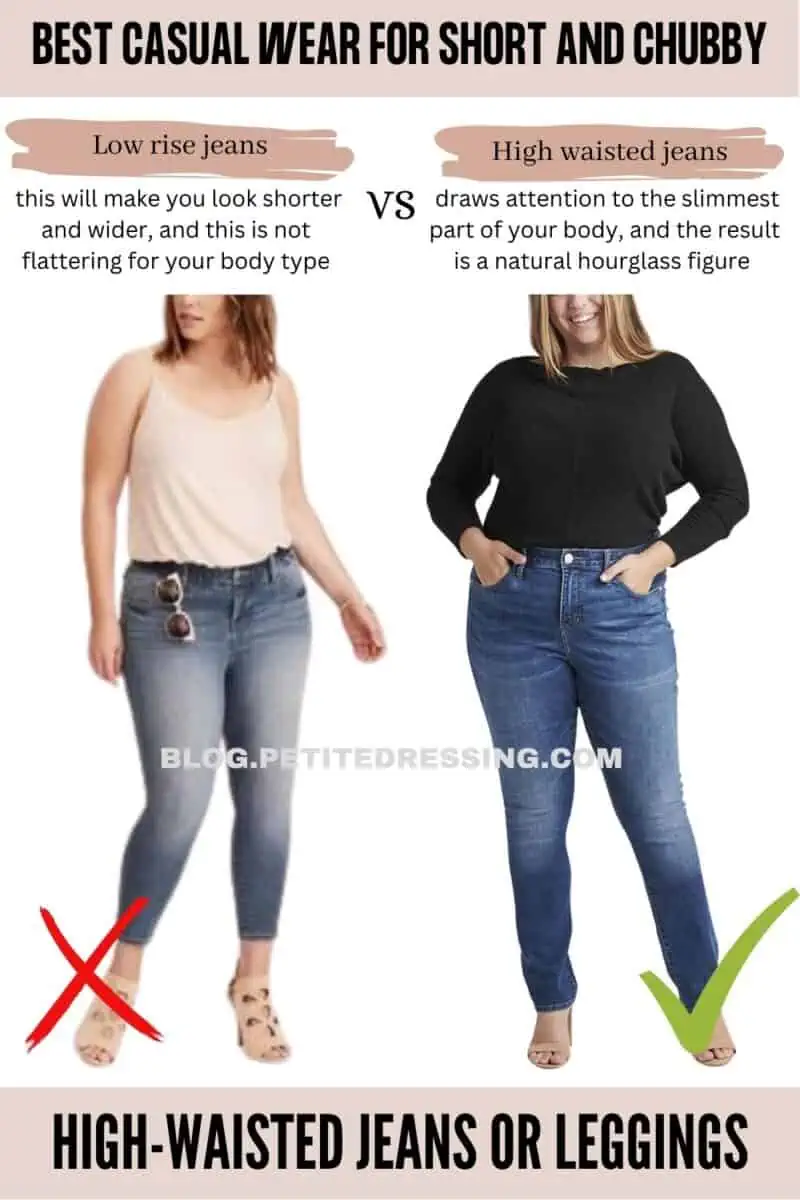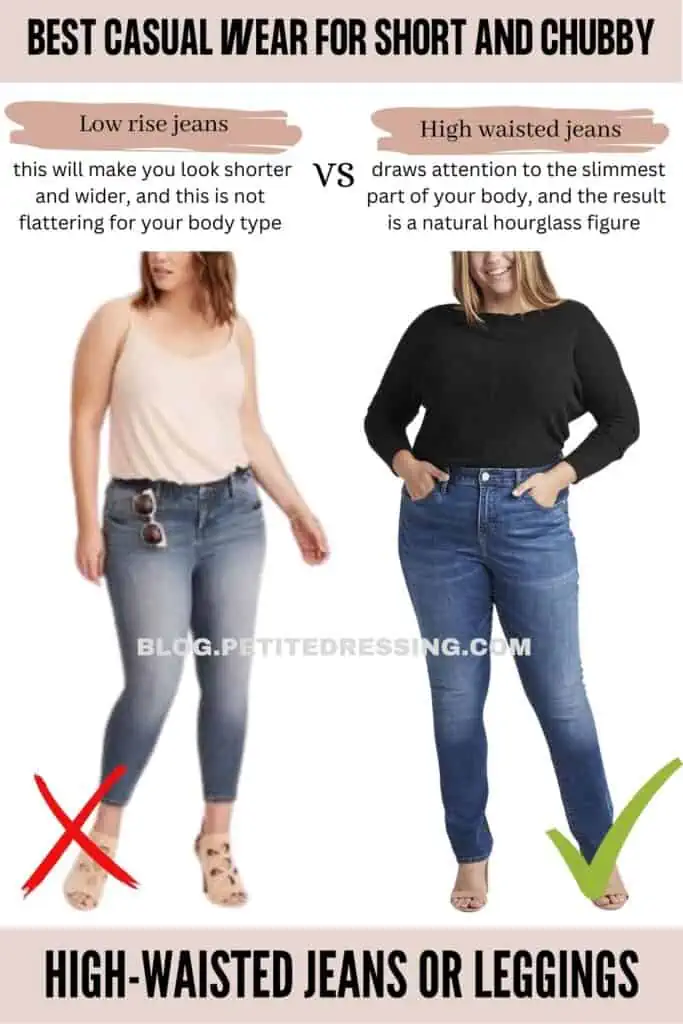 Fitted T-shirts
Fitted t-shirts are great for flattering and enhancing the best features of your body shape. Rather than going for clingy clothing that can get very uncomfortable, fitted t-shirts are more figure-hugging in a way that creates a streamlined silhouette. 
This fitted style smoothens out bulges and effectively hides muffin tops. Overall, you'll have the perfect slimming effect. Of course, it's worth noting that fitted tops can make you appear taller as they elongate the body.
To fully enjoy the benefit of a clean and polished look when you put on fitted t-shirts, we recommend going for darker colors, especially black tops. This will truly embody the effect you'll love it to have on your body shape.
Fitted t-shirts are perfect as casual wear for short and chubby women. However, you can also switch it up, and it will be dressy enough for a more formal occasion.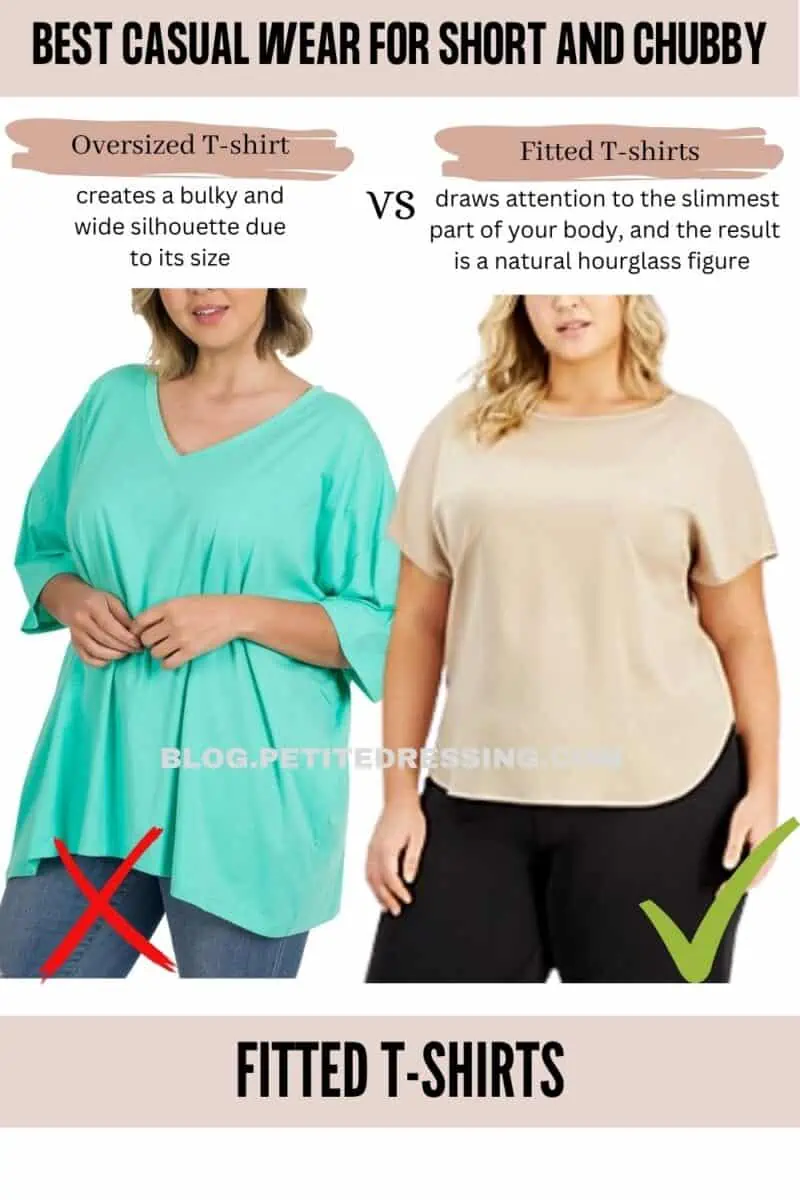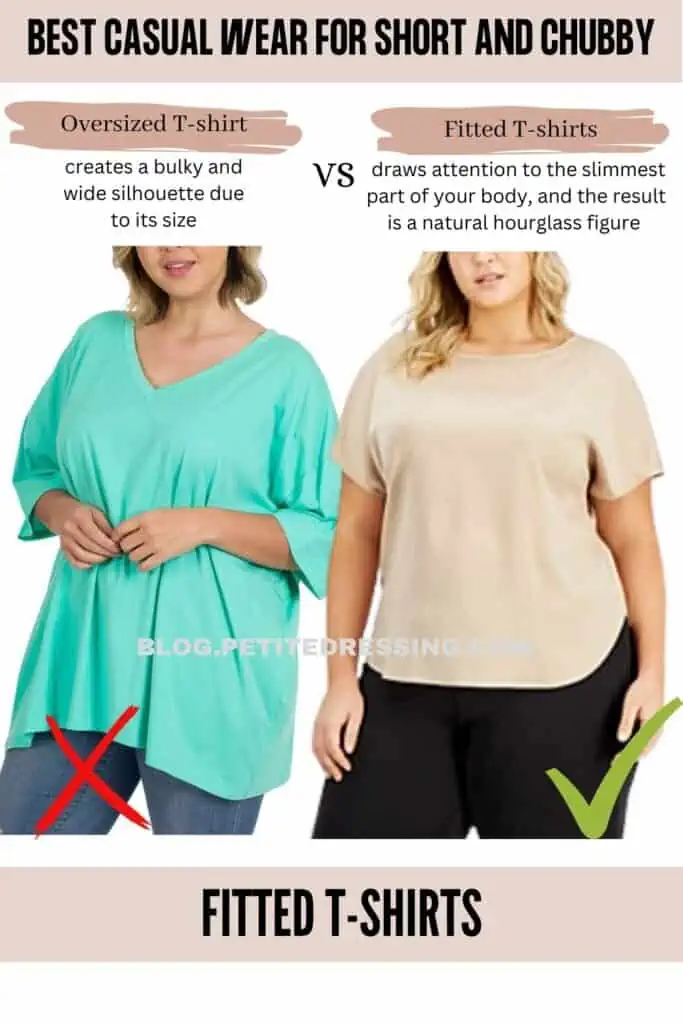 Cropped denim jackets
Short and chubby women will love how cropped denim jackets flatter their body shape, making them feel beautiful and confident. This is a great way to have a more polished look, especially with this incredibly versatile denim material.
You can pair this with high-waisted jeans and a fitted top, which will create a stylish outfit. The cropped denim jacket is also great for creating the illusion of a longer torso, which blends easily with the rest of your body frame. 
You can create an hourglass figure with this simple wear, as you can easily throw this on for any casual outing, and you'll stand out beautifully.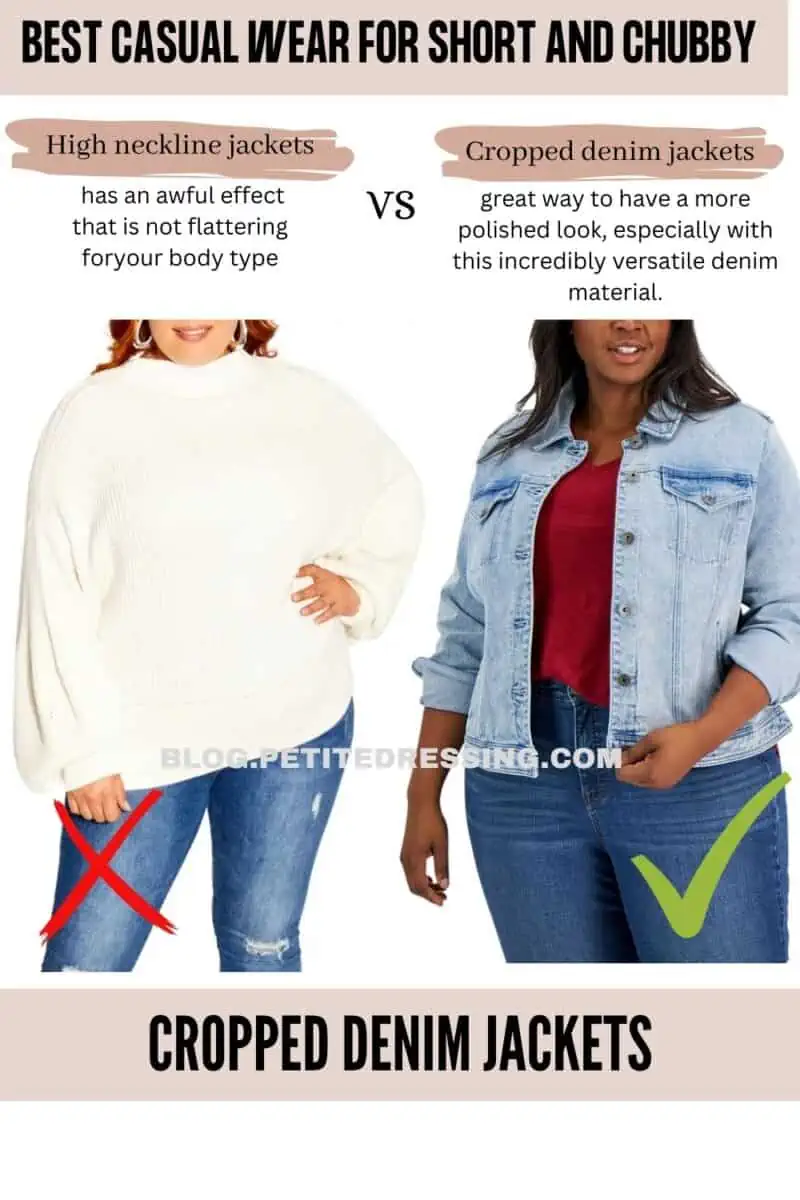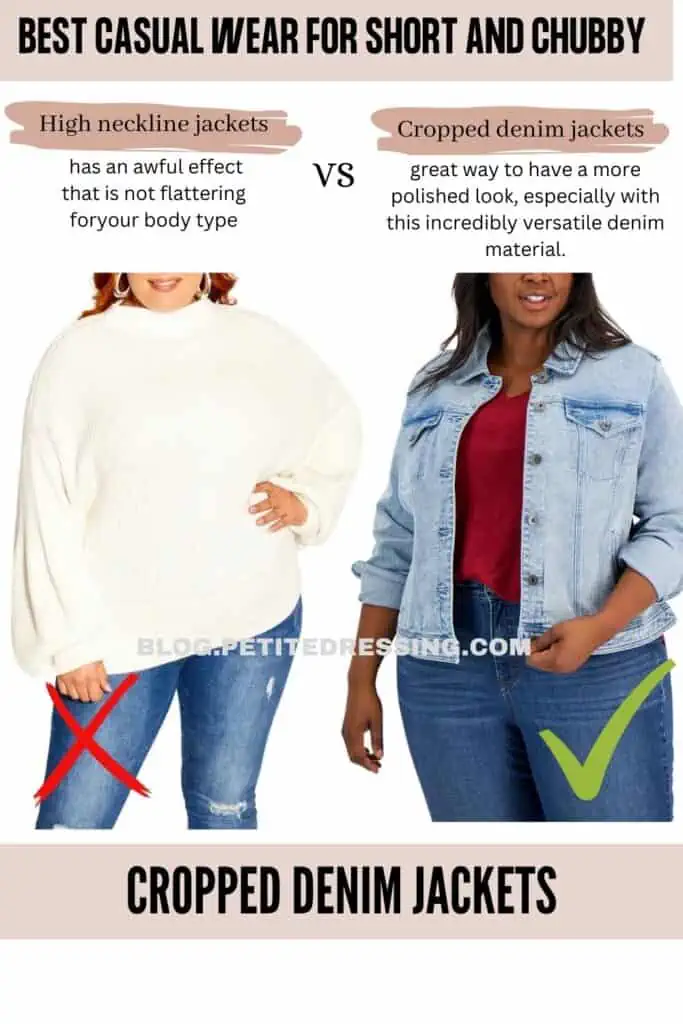 Flared knee-length skirts
Flared skirts work great for drawing attention to the slimmest part of your body, and the full, flared hemline also creates a cool feminine silhouette that's perfect for short and chubby women.
Since it would be disastrous to wear skirts that are baggy and too long, the flared style of this skirt, which stops at the knee, is great for creating a taller appearance as they elongate the look of your legs.
Overall, flared skirts create a feminine and playful look that inspires a lot of confidence in the wearer. With the right top, preferably a v-neckline, you can dress this up or down, as this versatile collection will be great in your closet.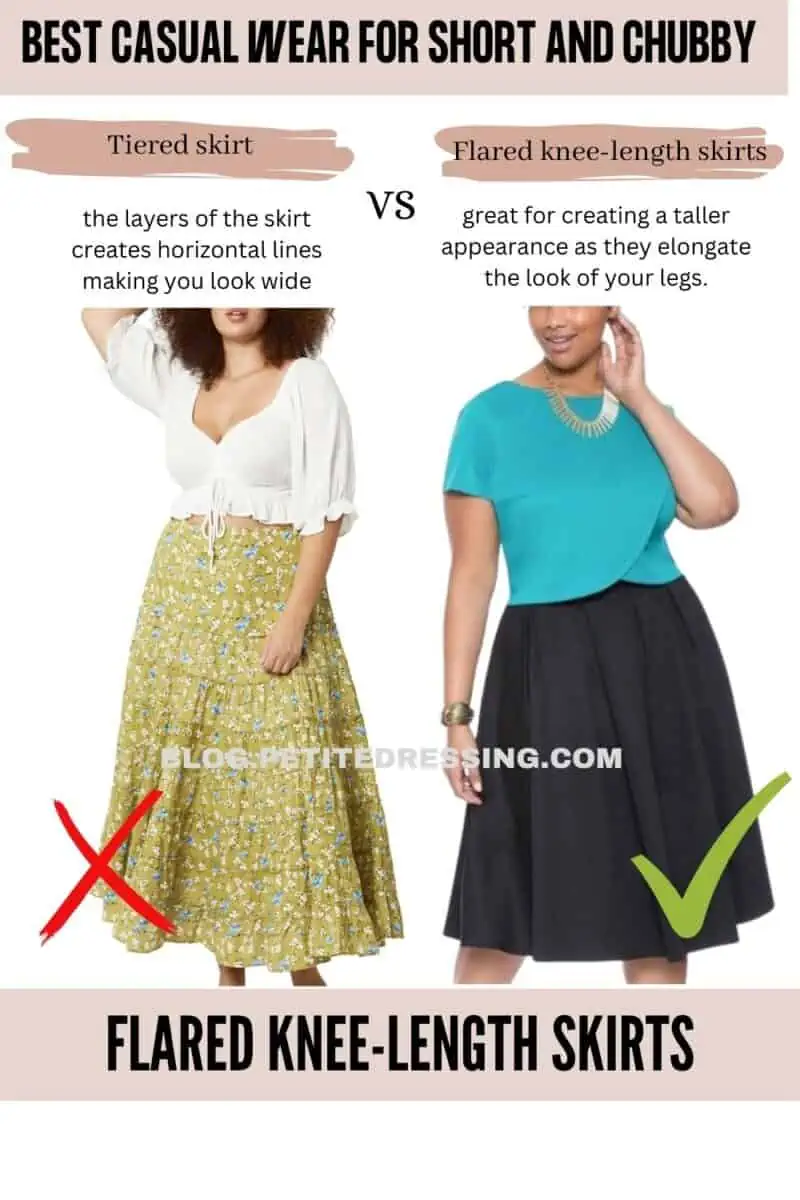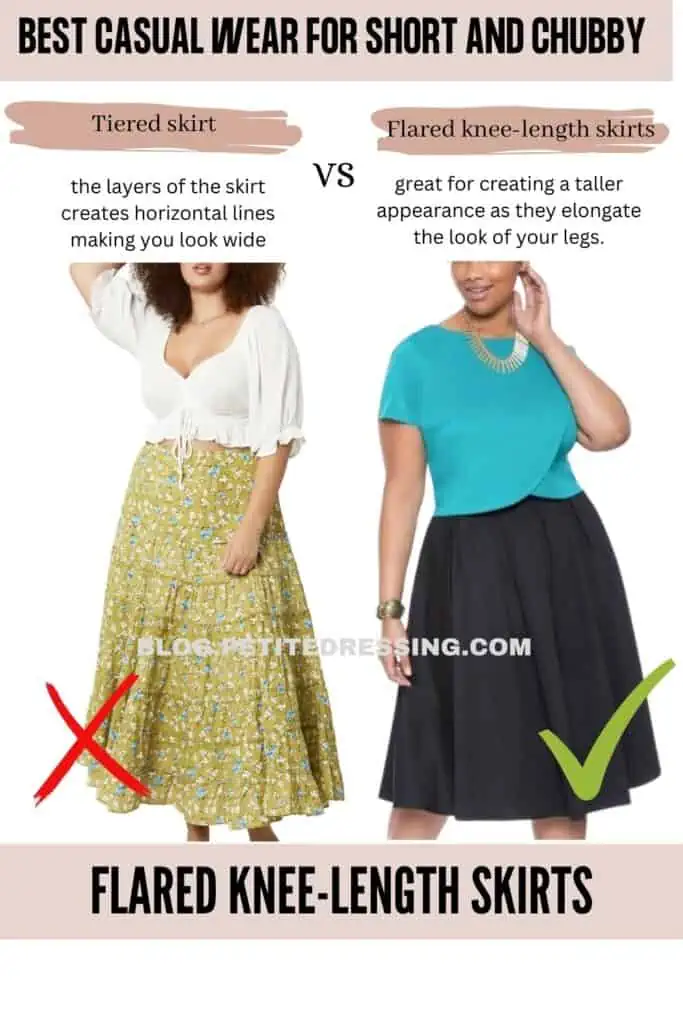 Black wide-leg pants
Black wide-leg pants create the illusion of a taller appearance as they elongate the legs and make short and chubby women appear like they have added a few extra inches in height. This is accompanied by a slimming effect that helps to create a chic and sophisticated look.
Wide-leg pants are also incredibly versatile. So, we'll absolutely recommend playing around with tops that tickle your fancy to see which one fits you best. These could be formal blouses or casual t-shirts; both work great. 
So, if you're looking for a stress-free way to achieve a flattering image with clothing styles that enhance your unique body figure and elongate your legs, you should seriously consider including black wide-leg pants in your wardrobe.
As mentioned earlier, black has a slimming effect. Combined with the wide-leg style that has an elongating effect on the body, you have the perfect ensemble for short and chubby women.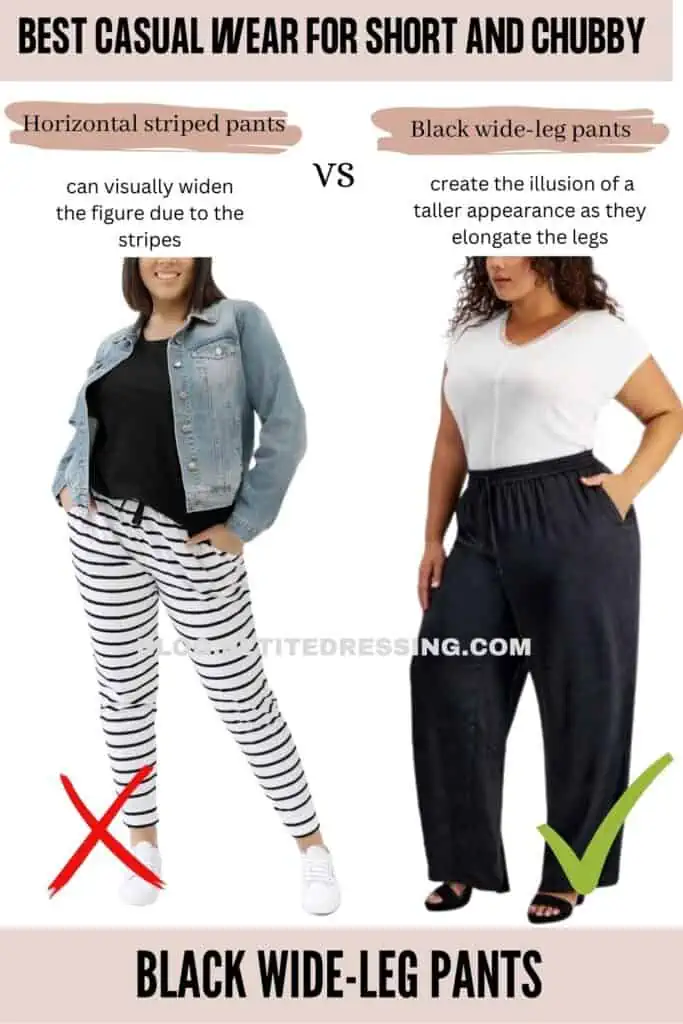 Wrap tops
The beautiful thing about wrap tops is that it offers the freedom to style as you wish. First, let's talk about the cinched waistline. Short and chubby women can definitely benefit a lot from a top that creates a snatched waistline without being too clingy.
Even better, the wrap top offers the perfect camouflage for muffin tops. So, if you have a bit of bulge in your tummy area that you would love to be less visible, invest in a wrap top, and you won't regret it.
Therefore, on those days that you're just not in the mood to squeeze into shapewear, wrap tops are a handy alternative. The wrap style of this top draws attention to the slimmest part of your body, and the result is a natural hourglass figure that will make you the cynosure of all eyes.
You can get a comfortable and customized fit with wrap tops, creating an overall more flattering silhouette. Feel free to pair this with high-waisted jeans for a stylish look.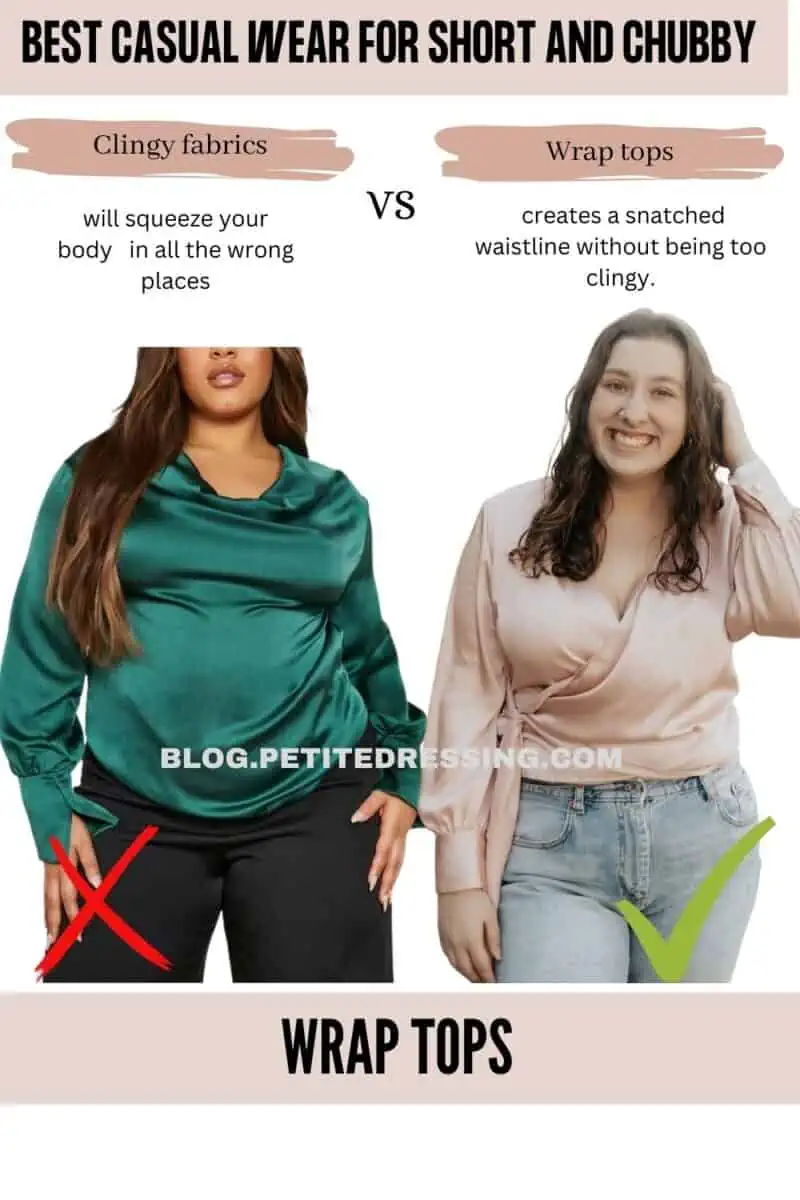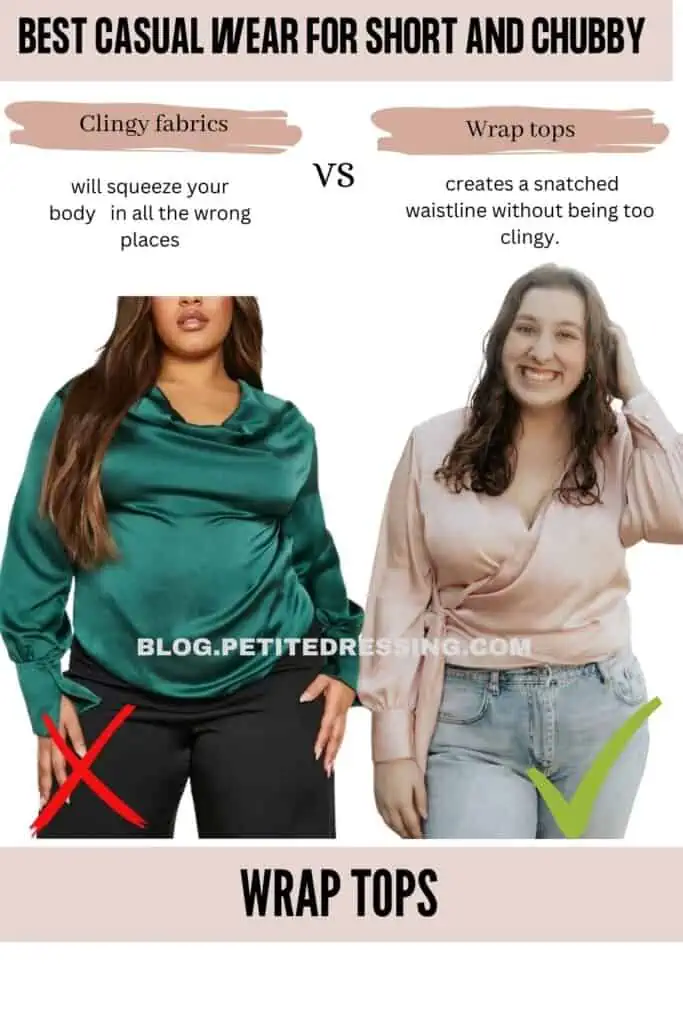 Dark color peplum tops
What exactly are peplum tops? Well, if you're not familiar with this style of top, here's a brief breakdown. Peplum tops usually have a flared ruffle sewn around the waistline of a blouse which is perfect for accentuating the waist.
This flared hemline is perfect for adding more volume to your hips. While this may sound like a bad idea, this extra volume works directly in proportion with the rest of your body, and the result is a flattering hourglass figure.
This is great for short and chubby women that need a quick fix for hiding the bulge in their tummy area by drawing attention more towards the hips and away from the midsection area. On the plus side, peplum tops also create an elongated effect as they lengthen the torso while they are perfect for creating a playful look.
Pair your peplum tops with flared high-waisted skirts to get a near-perfect feminine look.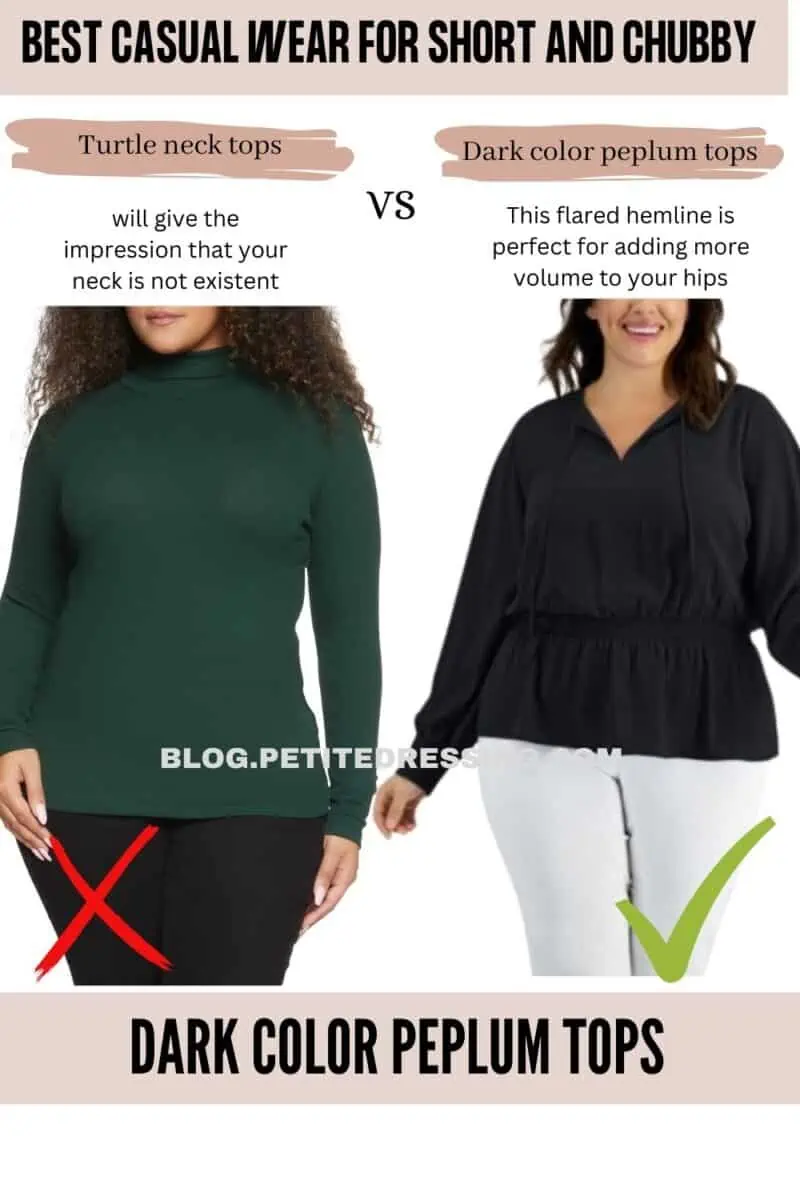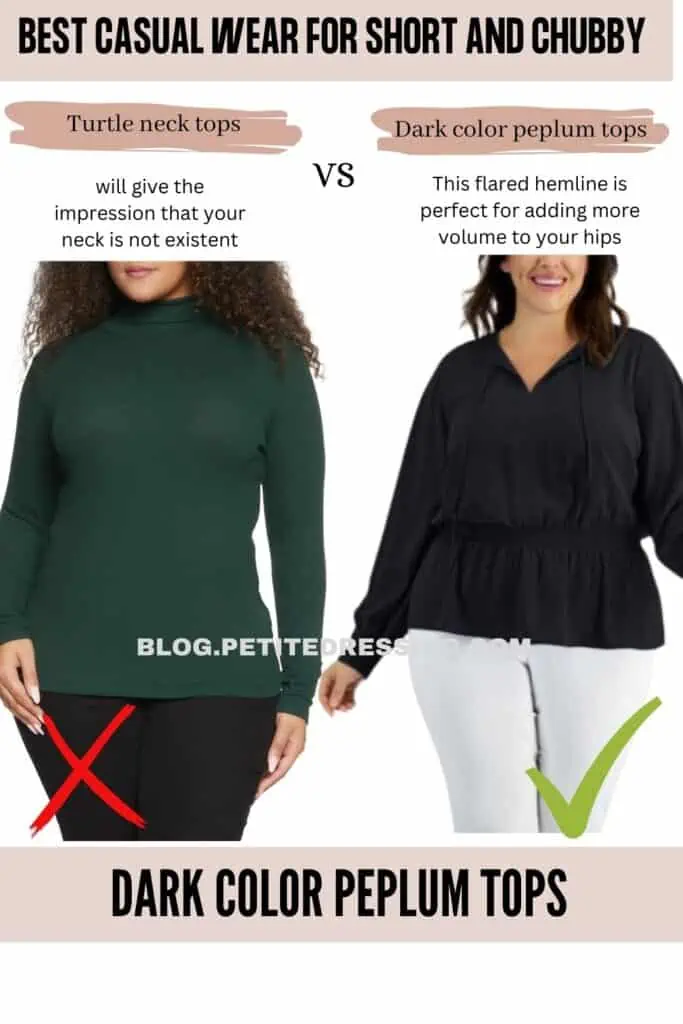 Avoid high necklines
High necklines may seem like a good idea, but for short and chubby women, this has an awful effect that is not flattering for their body type. Rather than create a feminine silhouette, high necklines can make your body look wider and shorter.
This is far from the result you would admire in short and chubby women. They shorten the appearance of the torso and neck, so rather than have a taller appearance, this can make you look several inches shorter. This is especially noticeable in short women, which is why it's not a good idea for this body type.
This neckline can also add more bulk to the upper body, especially the neck. Therefore, it adds more width to your overall body structure. Apart from this, high necklines can be quite uncomfortable and restrictive, especially for women who wouldn't want to wear clothing that causes a great deal of discomfort by limiting airflow. A great alternative is the v-neckline.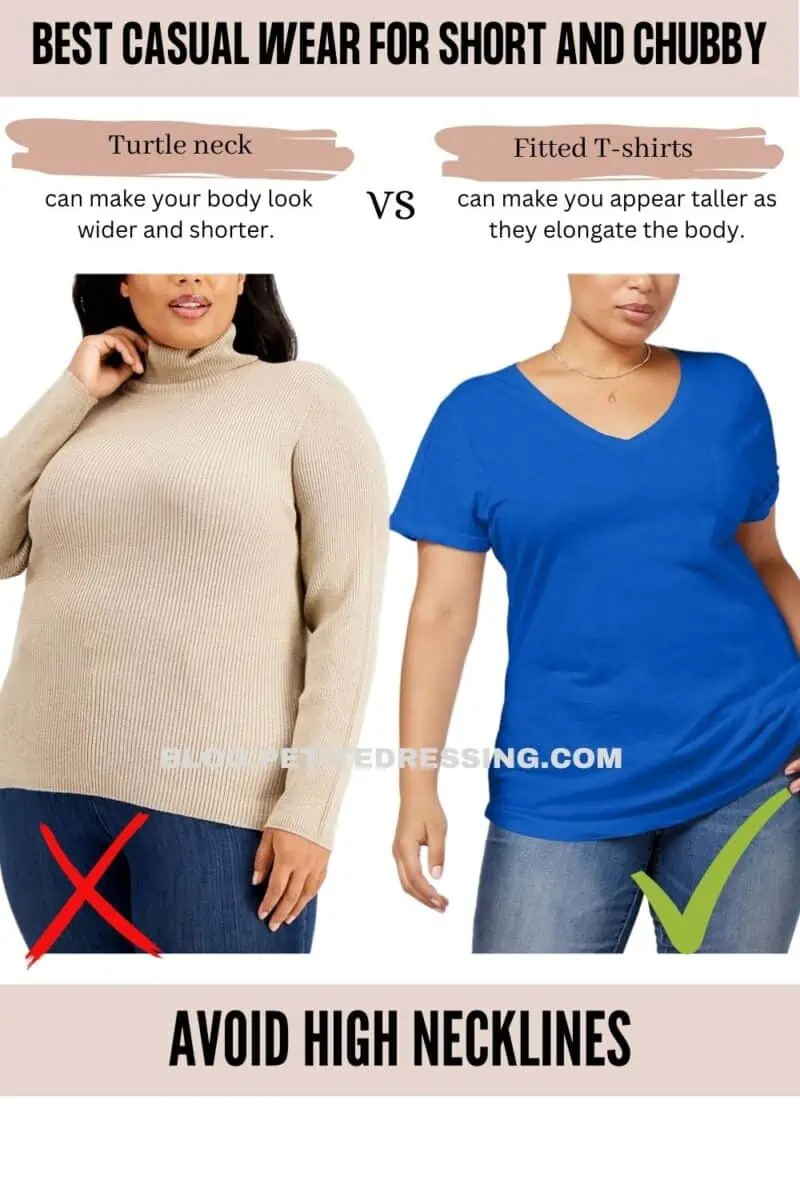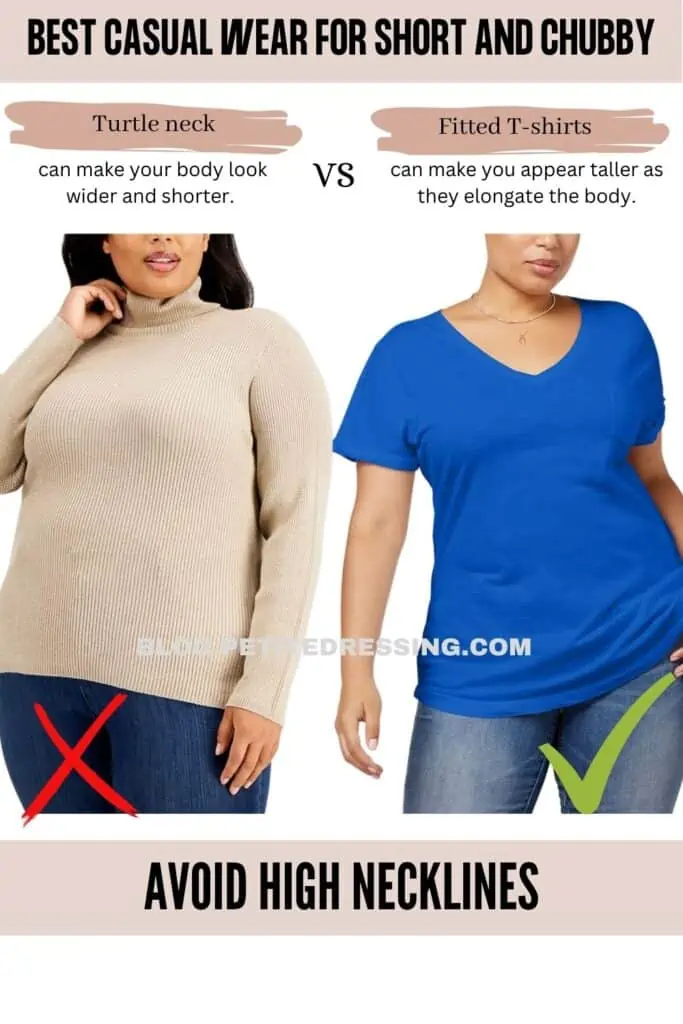 Avoid too many layers
Too many layers on your clothing can add more bulk to the body of short and chubby women. Therefore, this will make you look shorter and wider, and this is not flattering for your body type.
Layering can look amazing, but not for short and chubby women who don't want to look heavier. With extra layers on your body, it can be more difficult to figure out which clothing styles are flattering for your body and will fit properly.
In this case, less is more. You don't have to put on so many layers to look great as a short and chubby woman. This will only shorten the appearance of your torso, making you look shorter and hiding the curves that are meant to make you more attractive.
Added layers in the summer are also an invitation to trap more heat within your body, and that can get really unpleasant.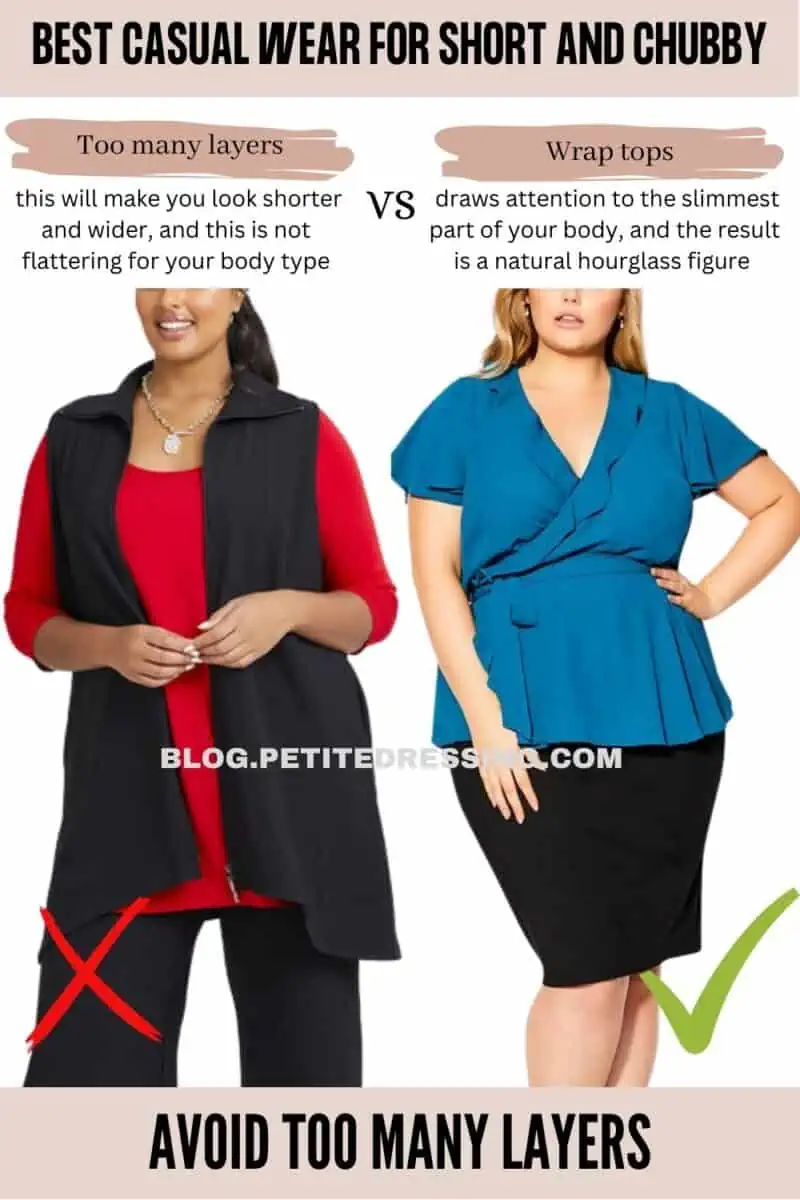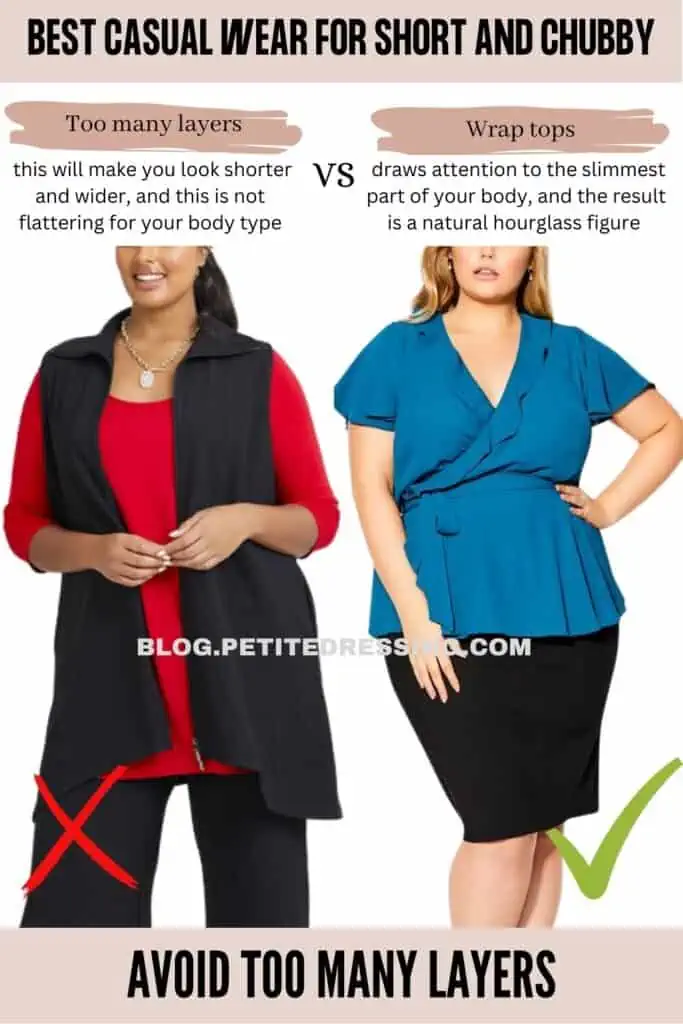 So, it's time to throw in some stylish wrap tops, peplum tops, high-waisted jeans, and flared skirts to your closet, and you have the perfect ensemble for those casual evening hangouts with friends and family.