I'm 5'2″, and when I was younger, I had a lot of insecurity about my height. One of the reasons is that pop culture seems to admire women with "perfect" figures, which include not only feminine curves but also long legs. After I turned 30, I finally came to embrace my height as a petite woman, and appreciate the unique perspective (or even advantage, hey, we do look younger!) it affords me. I've put together this guide to help those of you who are still facing the struggle and here's everything you need know on how to look your very best as a short girl.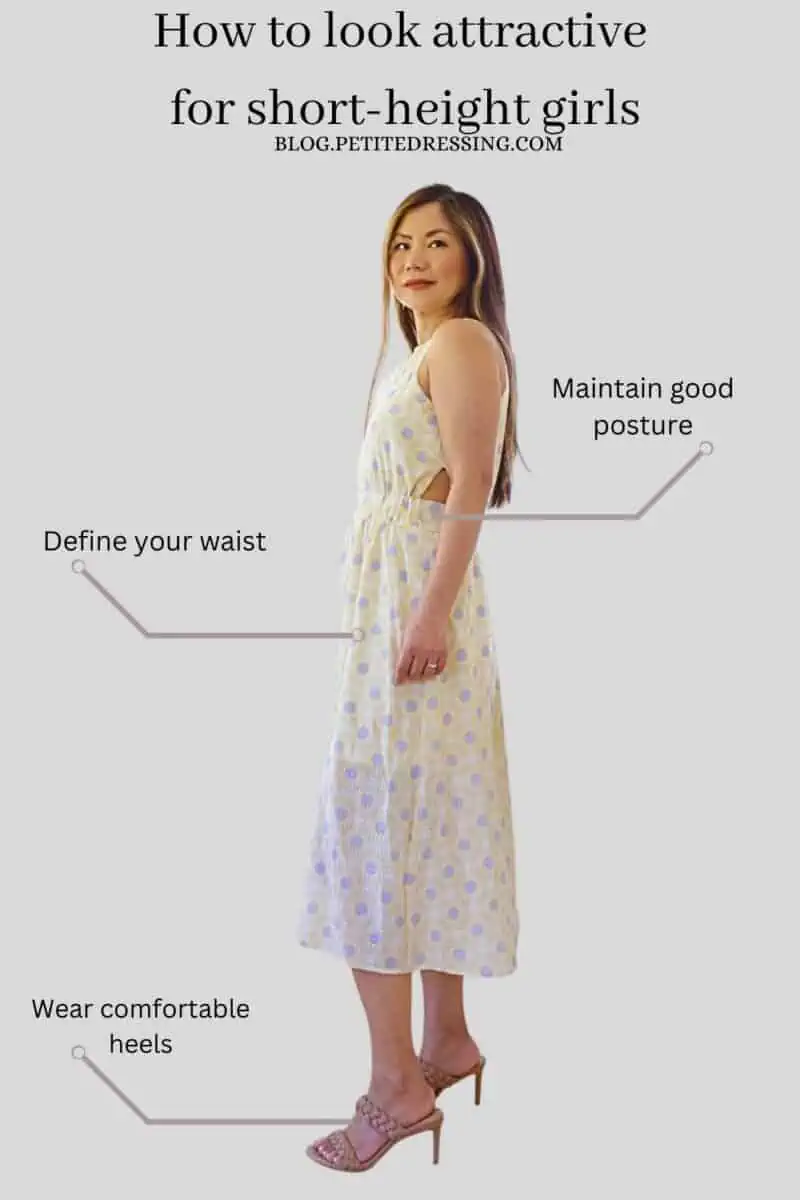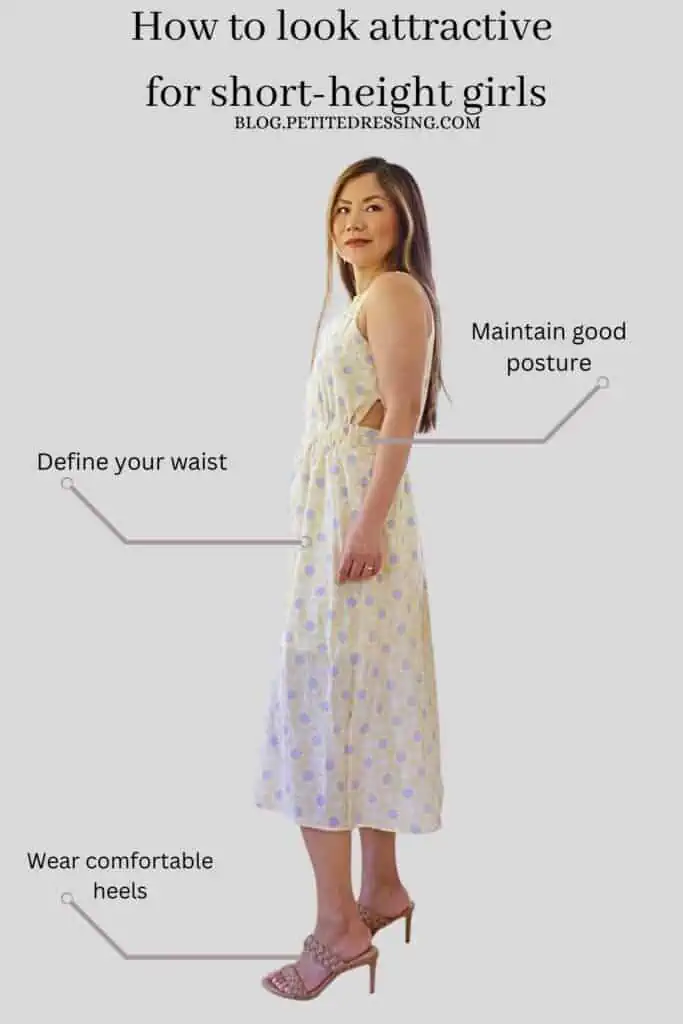 Keep ensembles minimal
As a short girl, having too many clothing details and dramatic accessories can easily overwhelm your figure. After all, you don't have much space on your frame to accommodate all these heavy-looking details.
So one of the best ways to look attractive is to just keep things minimal. There is so much truth in the saying "Less is more" especially when it comes to styling because this allows your features to be effectively enhanced, not overshadowed or hidden.
The beauty of minimal ensembles lies in the fact that the focal point is not just your clothes but YOU, as an individual. Going for classic and well-tailored style pieces enhances your style more naturally and elegantly.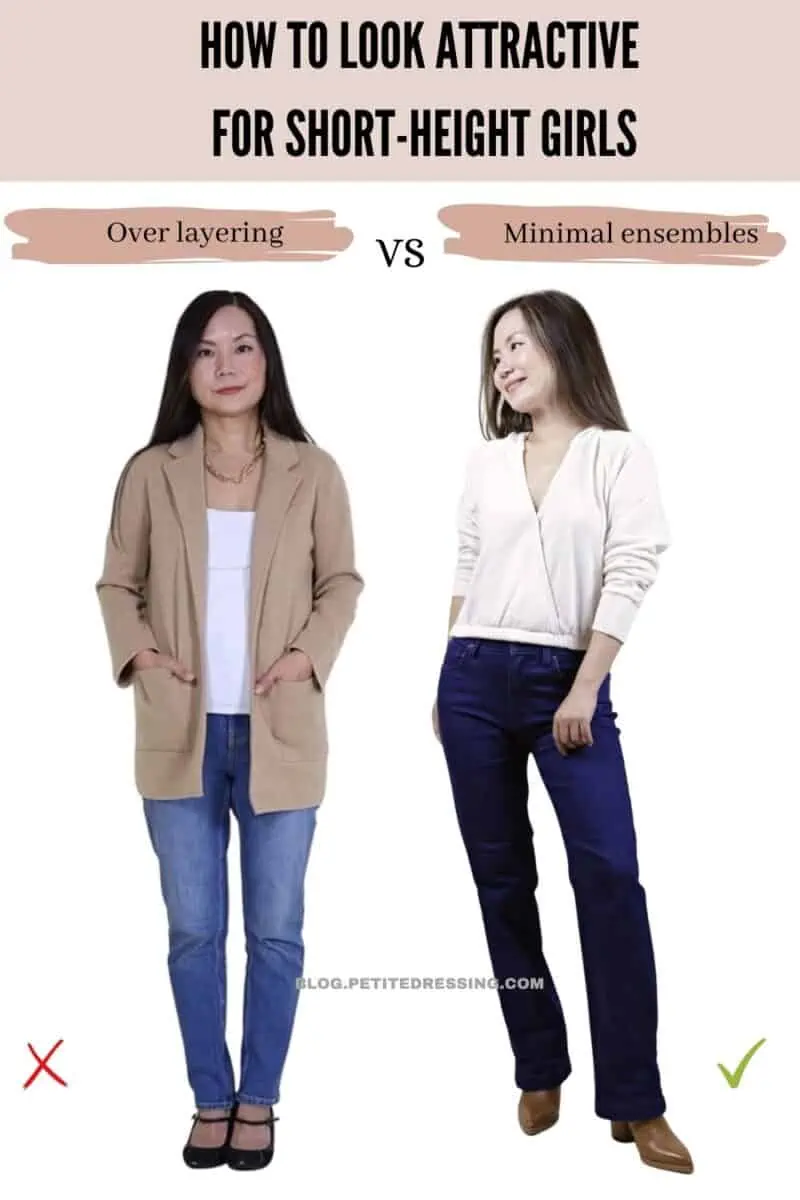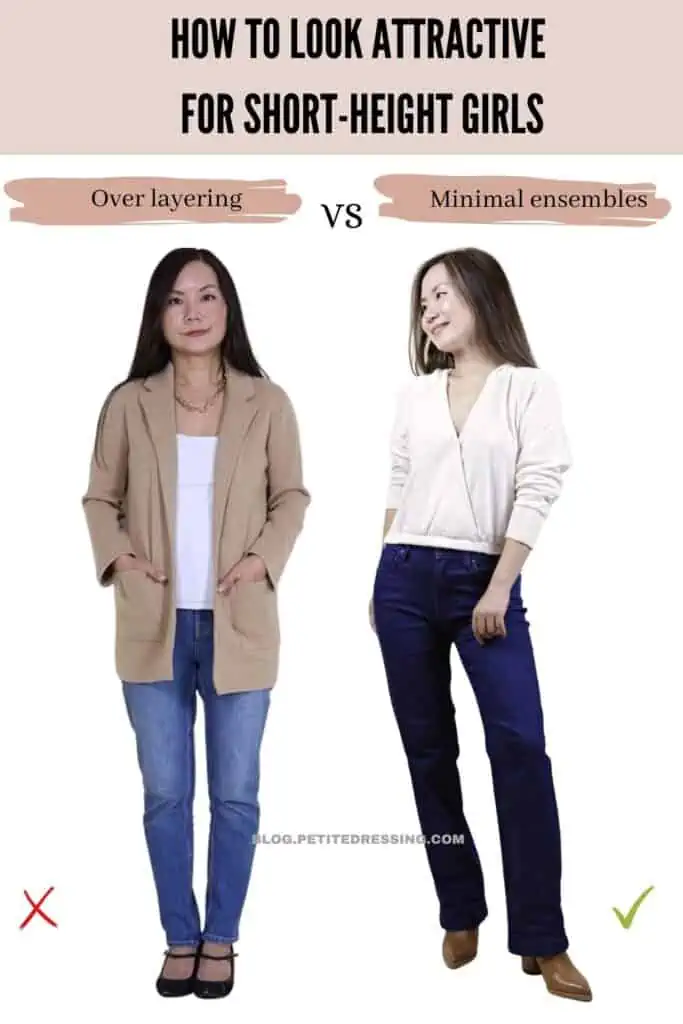 Master styling basics
Plain white T-shirts, jeans, and a tailored jacket are just some examples of basic wear. It's true that wearing them by themselves may tend to look "boring", but if you actually master how to efficiently style them with other fashion pieces, you can easily achieve being a head turner!
Basics make you more attractive when you style them right so it's important to know which works with what. They are meant to look clean and streamlined, so they are more versatile that way.
To master styling your basic pieces, always remember to be mindful of your patterns and textures and try not to match several plain pieces altogether. For instance, if you want to elevate your plain white T-shirt, layer it with a structured denim jacket for better depth.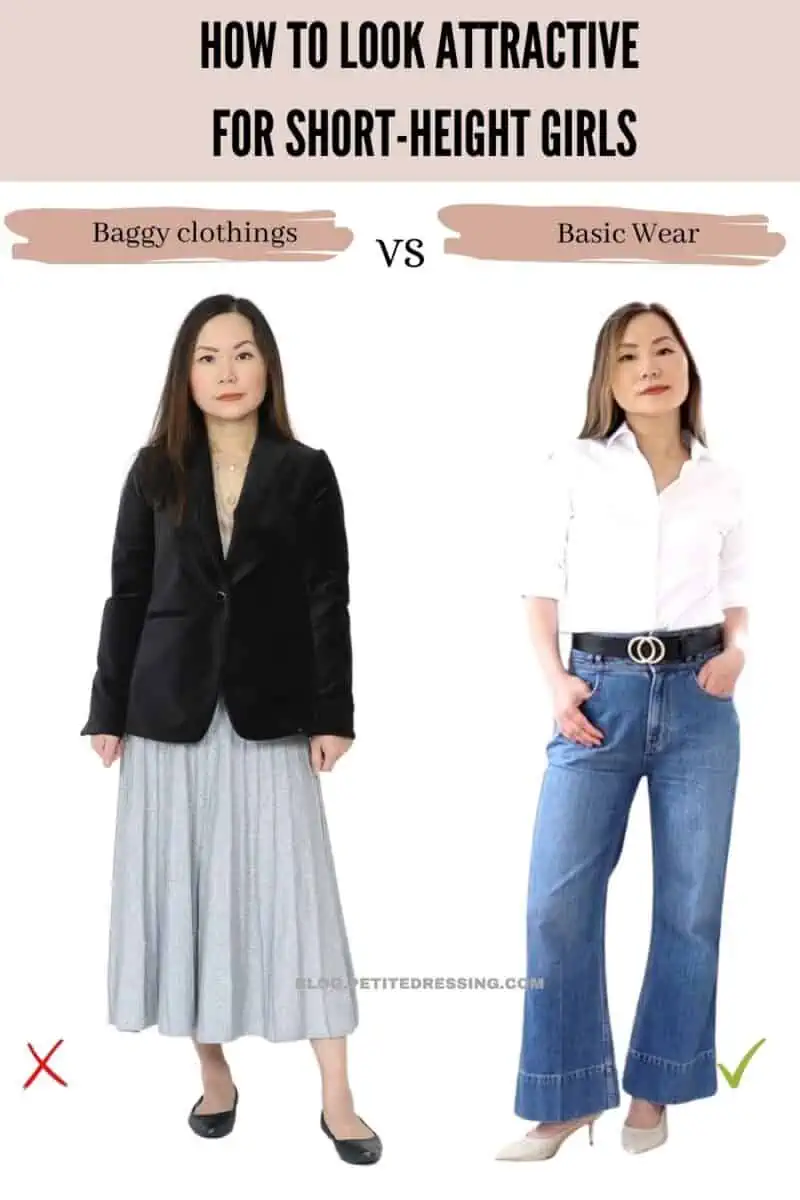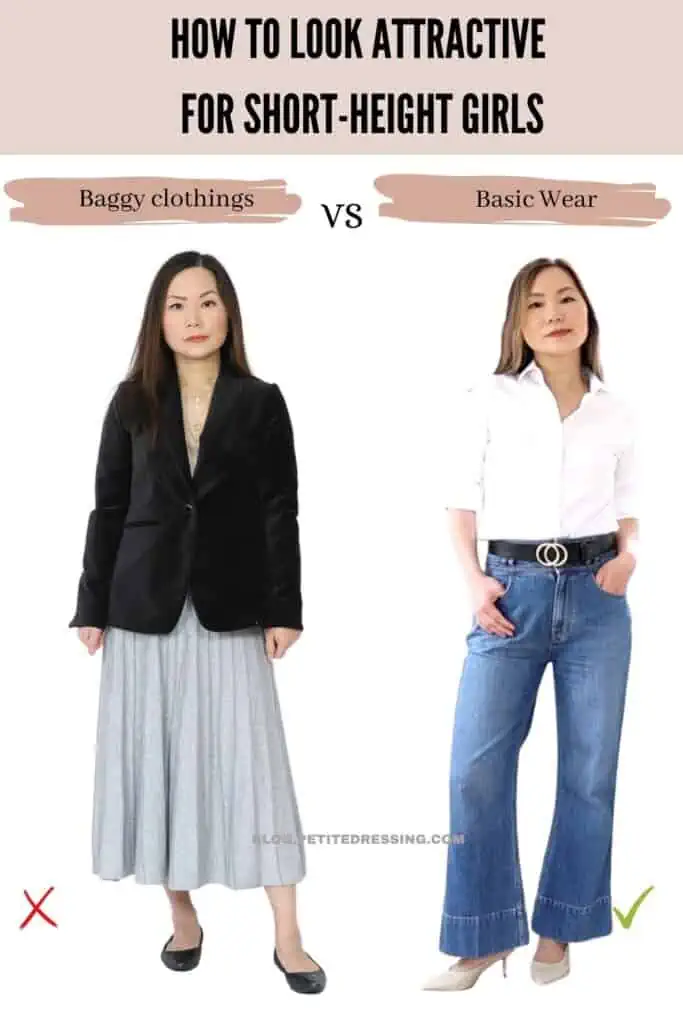 Be mindful of the fit
This may be an obvious fact but I find it very essential to emphasize the importance of choosing clothes that fit you perfectly to look more put-together. The right fit can make a whole world of difference to your overall look in order to look more attractive, even as a short girl!
Clothes that don't fit well can significantly overwhelm your short height, most particularly those that are too loose and baggy. Baggy clothes usually create creases that add to the horizontal lines of your petite figure, making you look wider and heavier.
So ensure you're getting the best fit possible, know your exact measurements, and understand your body shape well. You may also go for clothes that offer adjustable features for a flexible fit, such as waist ties on wrap dresses, belts on coats, and stretchy waistbands on trousers.
Keep accessories in proportion
This means styling your accessories with proper ratio and balance in mind. You may be wondering what this exactly means: but worry not, this is not as complicated as it seems!
There are minimalist accessories and there are statement accessories, both of which can perfectly complement each other when styled right. As a short girl, going for too many statement pieces can look very bulky and will absolutely overwhelm your figure – we obviously need to avoid this!
So to have your accessories in great proportion, opt for just one statement piece if you really feel like you have to wear one. Otherwise, try to stick to minimalist accessories or jewelry because these are enough to amp up your look and draw the eyes to your best features.
Layer strategically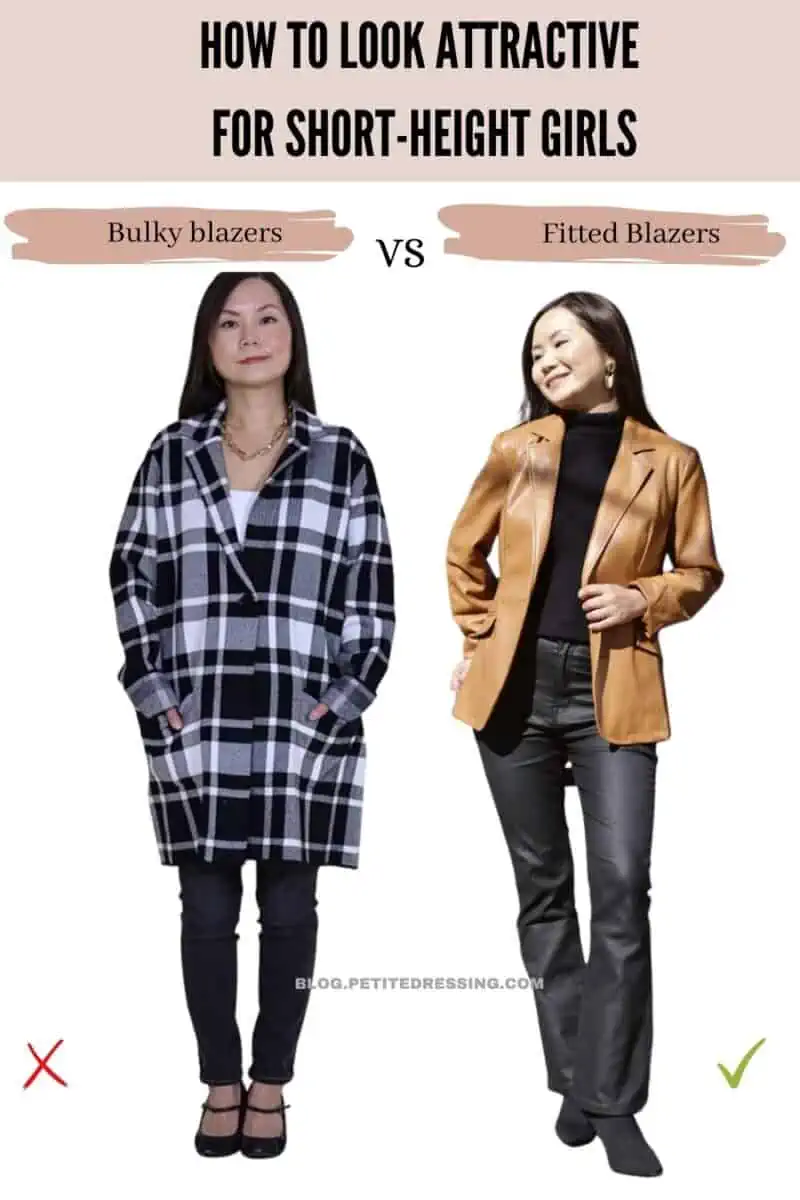 The goal for this is to create more visual depth on your short stature with the help of different styles of clothing. Layering may tend to look too bulky when not done right and overwhelming your petite frame is a huge no-no.
To do this, you have to know how to work with your fabrics by starting with a lightweight piece as the base, to cozier and warmer pieces as you layer on. This will prevent you from looking too bulky as this can really put more weight on your overall look.
It's also important to incorporate different lengths, textures, and prints into your outfit. It's nice to experiment with your personal style but always remembers to consider styling strategies to keep a polished and balanced look.
Opt for high-waisted bottoms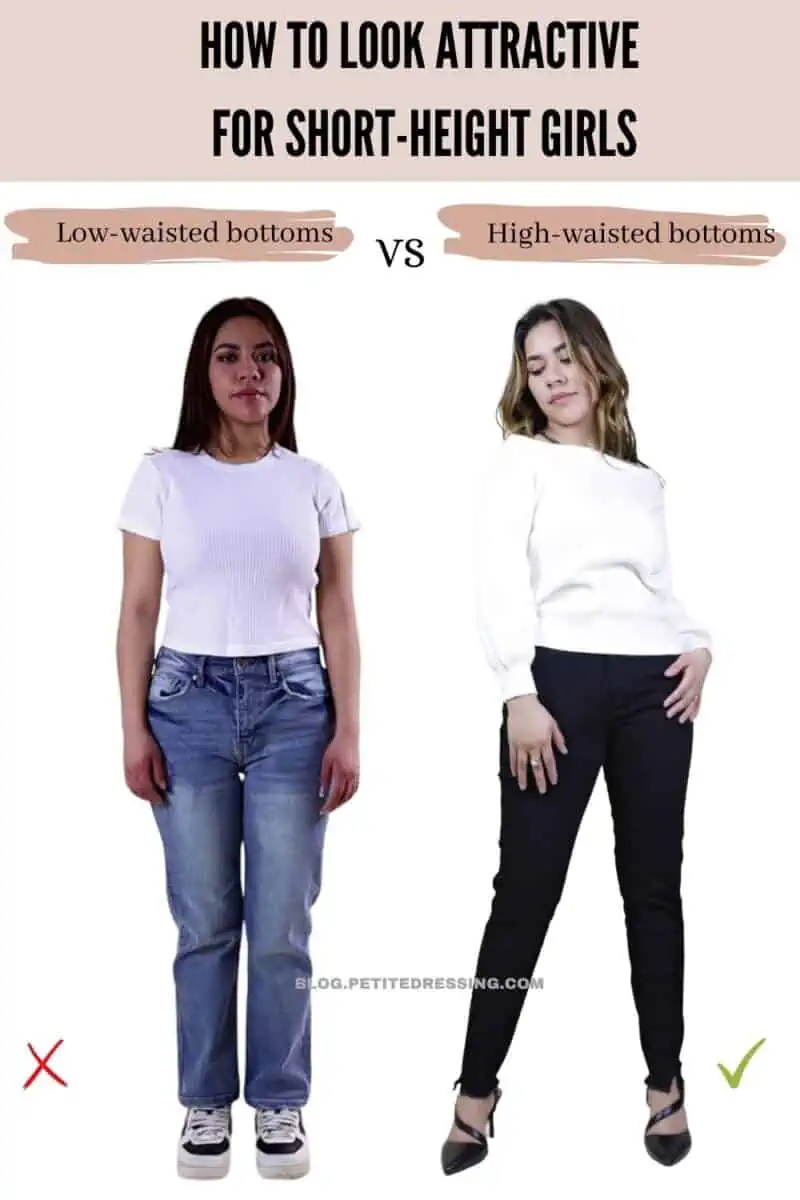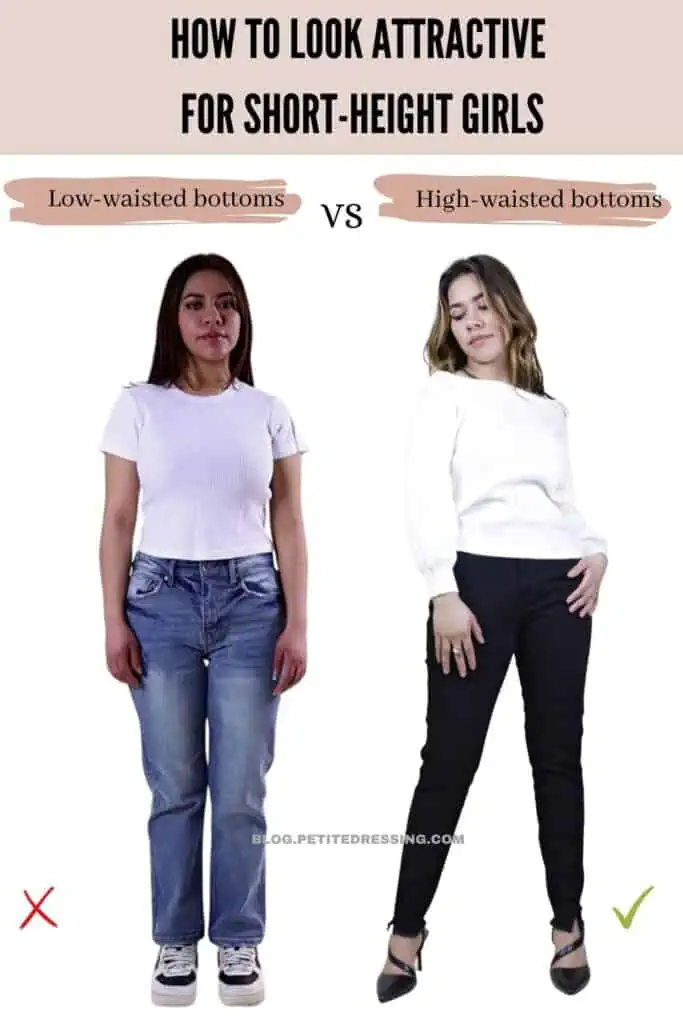 Everything high-waisted is a very well-known visual shortcut for an instant illusion of height. This is why high-waisted bottoms are every short girl's must-have.
One effective way to give your short height the illusion of having longer legs is by wearing high-waisted bottoms. The elevated waistband that sits a little higher than your natural waistline stretches the length of your lower body and therefore visually elongates the legs.
They also help create a slimmer silhouette as high-waisted bottoms also have the function of fully concealing a potentially heavier midsection. They smooth out any bulges while also keeping your frame's vertical visual line uninterrupted, resulting in a much taller appearance.
Wear vertical prints and patterns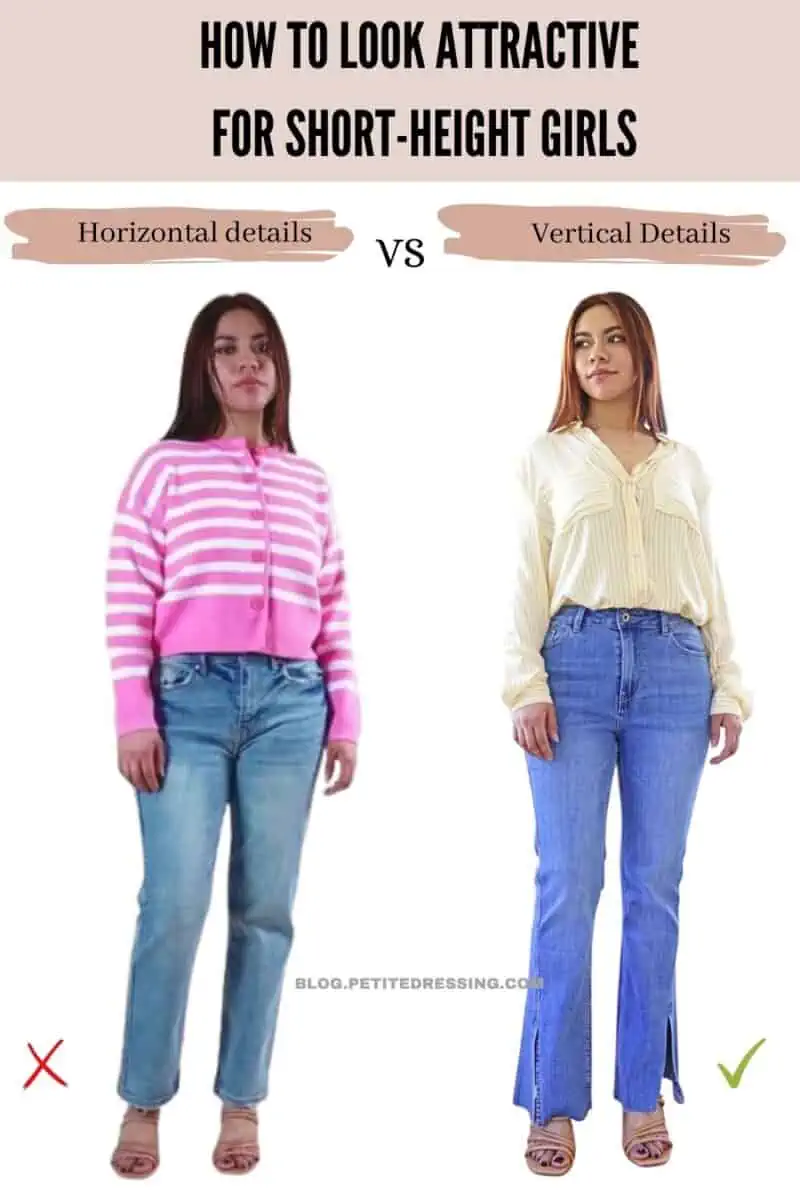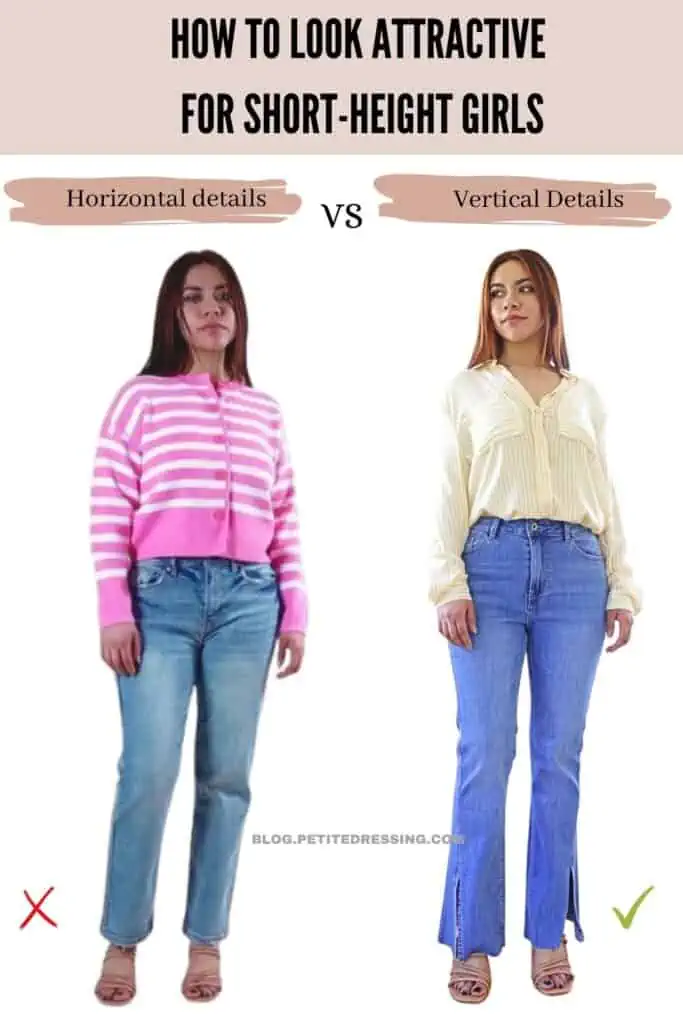 Of course, vertical prints and patterns should always have a space in your wardrobe! As many of us already know, vertical details draw the eyes up and down, which creates a continuous visual line that tricks the eyes into the illusion of length.
This can be in the form of bright vertical prints and patterns. However, if you want to keep things muted or minimal, you can go for light-colored pinstripes for that subtle look.
Define your waist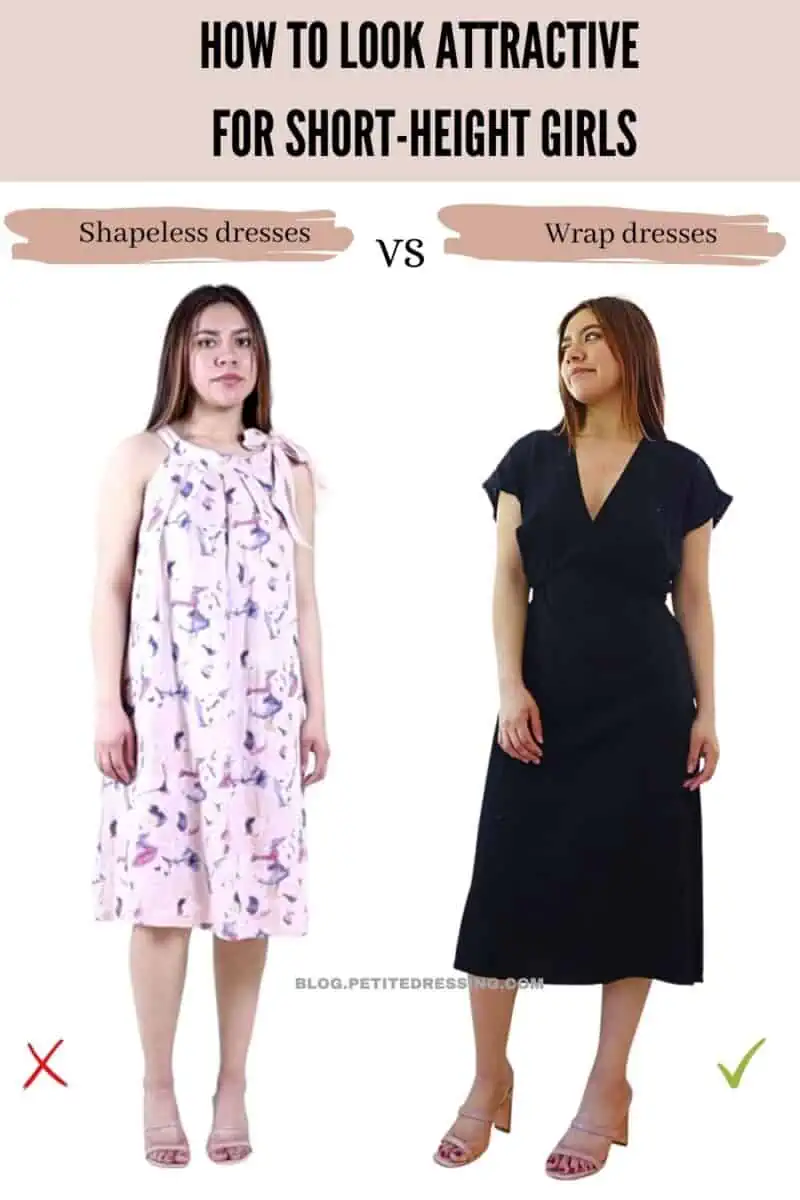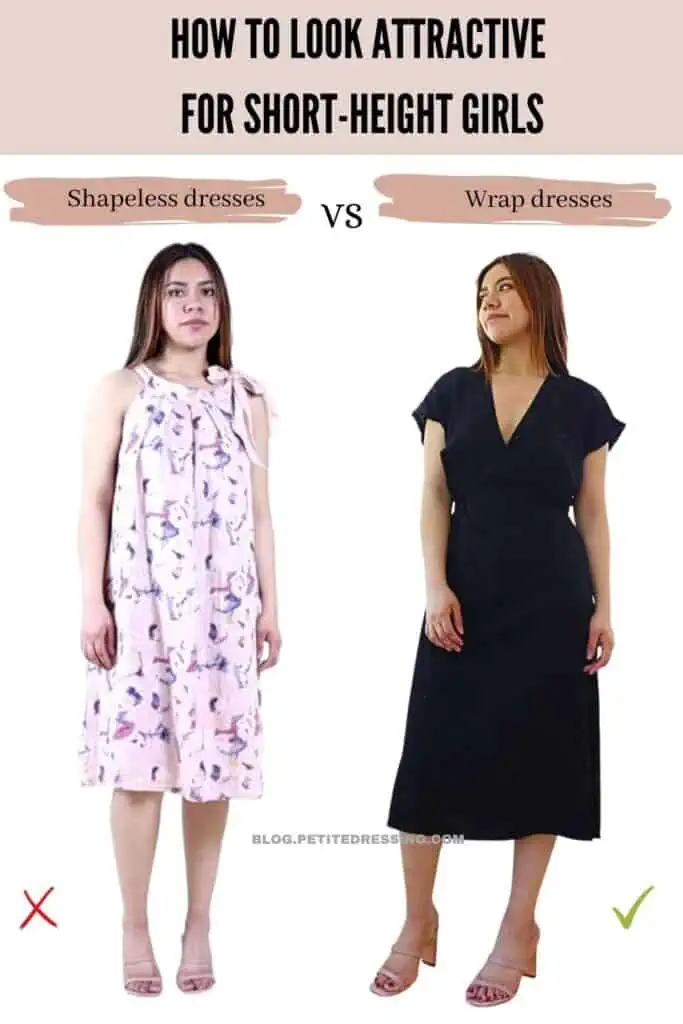 Defining your waist is a very effective way in bringing your upper and lower body into balance. It visually creates a more symmetrical overall look that brings your entire ensemble all together.
Cinching your waist also helps draw attention to the narrowest part of your body to look leaner and taller. With this effect, a well-defined waist detracts attention from your short height.
You can bring definition to your waist by looking for wardrobe pieces that nip in the waist, may it be with the help of a belt, waist tie, or a snug seam. Just make sure that the cinch isn't too tight, otherwise, it may look uncomfortable and may even produce an unflattering tummy bulge.
Wear open necklines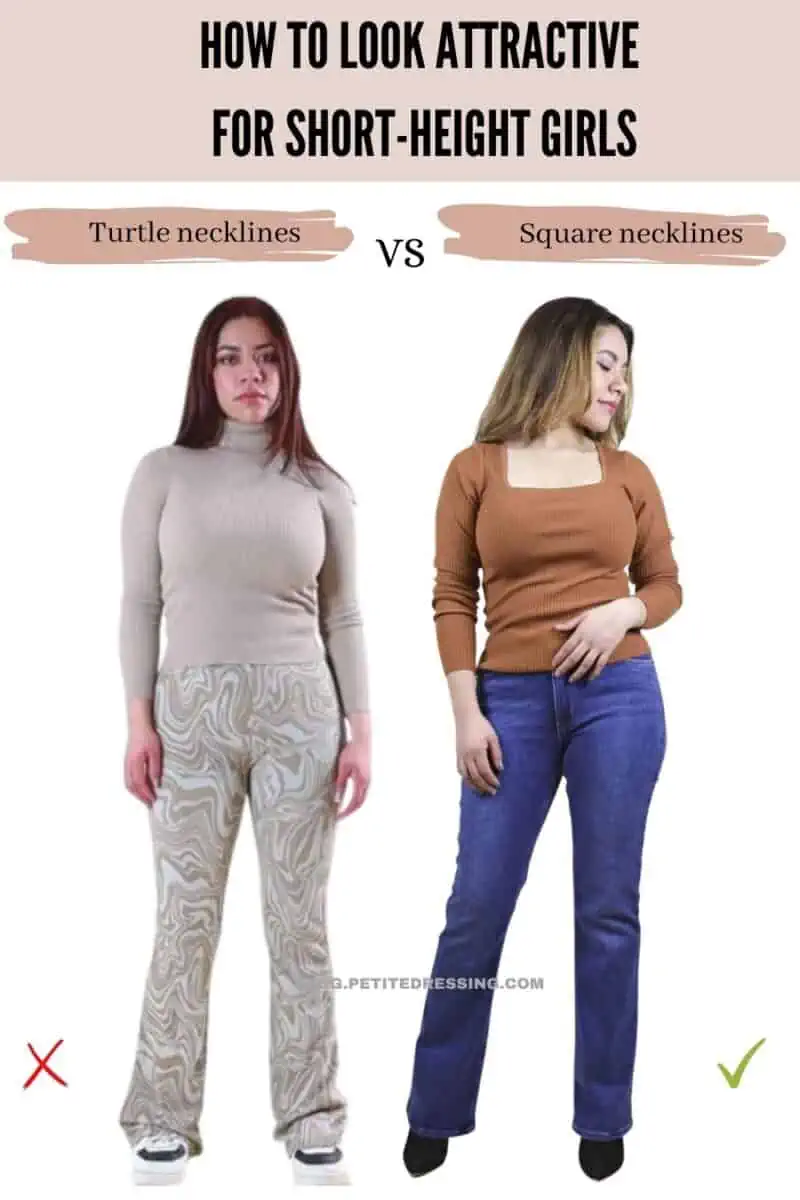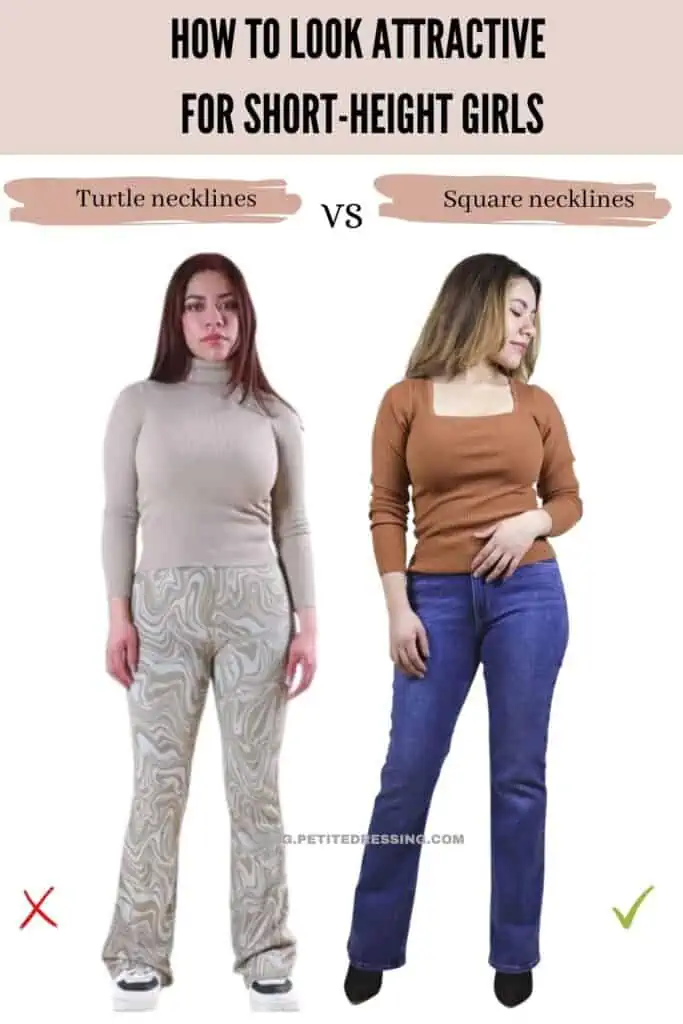 Open necklines such as V-neck, scoop, square, and off-the-shoulder help create space on your upper half. This exposes your decolletage and makes your neck look longer.
Showing more of the skin on your neck and chest area gives the illusion of height to make you look slimmer and taller. It's also a good way to have the eyes drawn to these great features instead of your height.
Go monochromatic
Wearing clothes in matching colors creates a sense of continuity to your silhouette. This uninterrupted line that goes from head to toe elongates the body and by avoiding stark color contrasts, your look is more cohesive.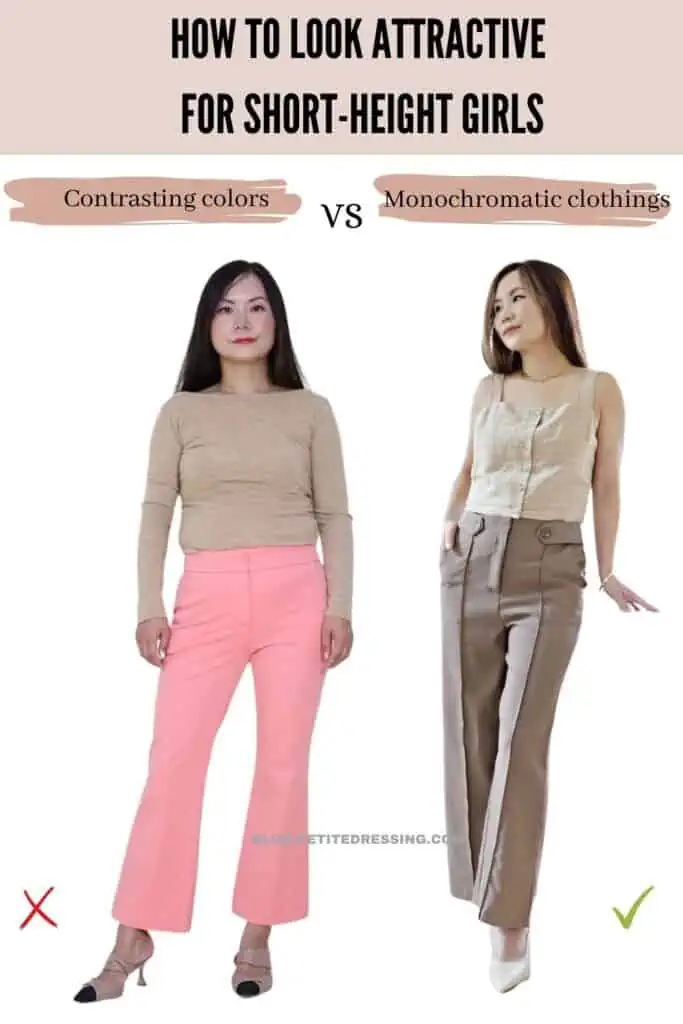 On the other hand, wearing ensembles that have stark color contrasts, you'll end up breaking your visual line and can even make you shorter than you actually are! The simplicity of a monochromatic outfit directs the eye's focus along the vertical line of the body, rather than being broken up by different colors or patterns.
Wear comfortable heels
Heels will always be a foolproof option when you want to look instantly taller. But we have to admit that they're not always the most comfortable option and it's hard to imagine walking in stilettos for hours!
Well, that can be solved simply by going for more comfortable options like wedges and platform heels. As these types of heels feature an even distribution of elevation, the feet feel more leveled to the ground, making it much easier to walk around.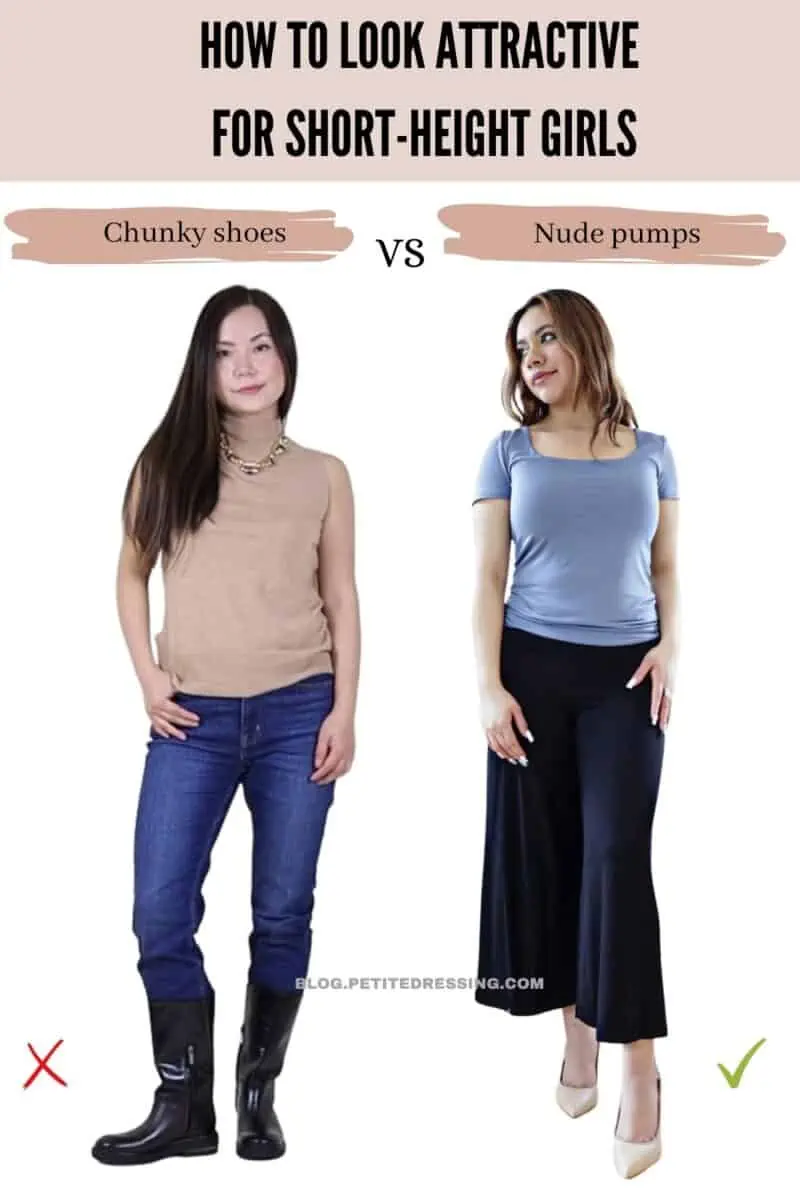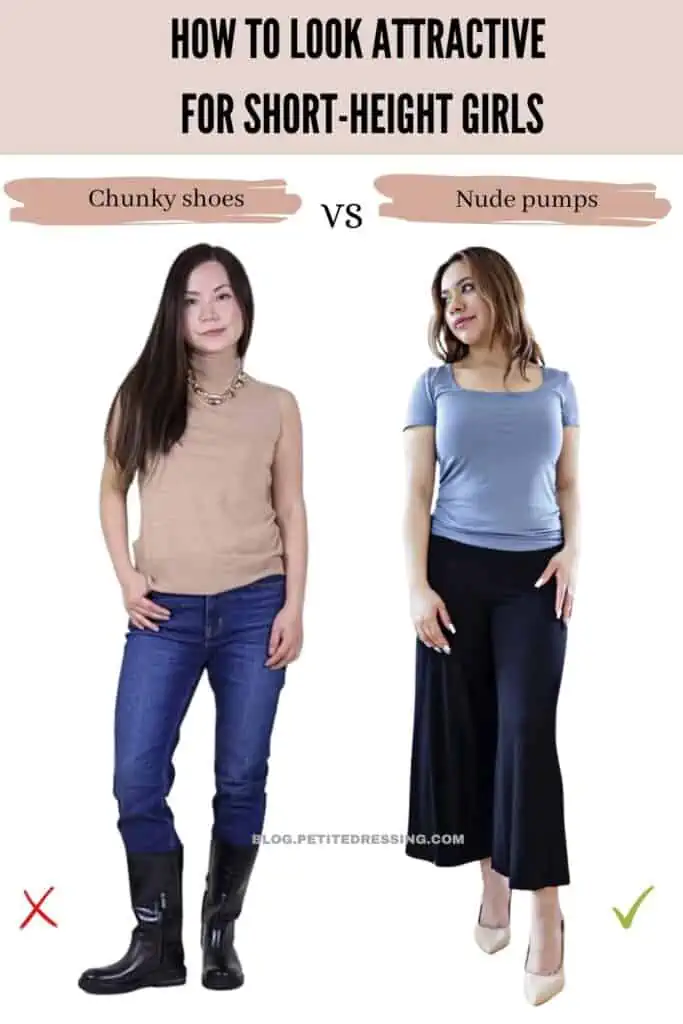 Wear nude-colored shoes
Are you still not convinced about wearing heels? Then don't worry at all because there's another footwear option that can make you look taller – even without heels!
This is when you wear nude-colored or skin-tone shoes. Whether they're flat or have low heels, the fact that the color of the shoes is close to your actual skin color gives your legs longer visuals.
This is because the nude color of the shoes blends seamlessly with your natural skin color. This creates a sense of continuity as your visual line remains uninterrupted.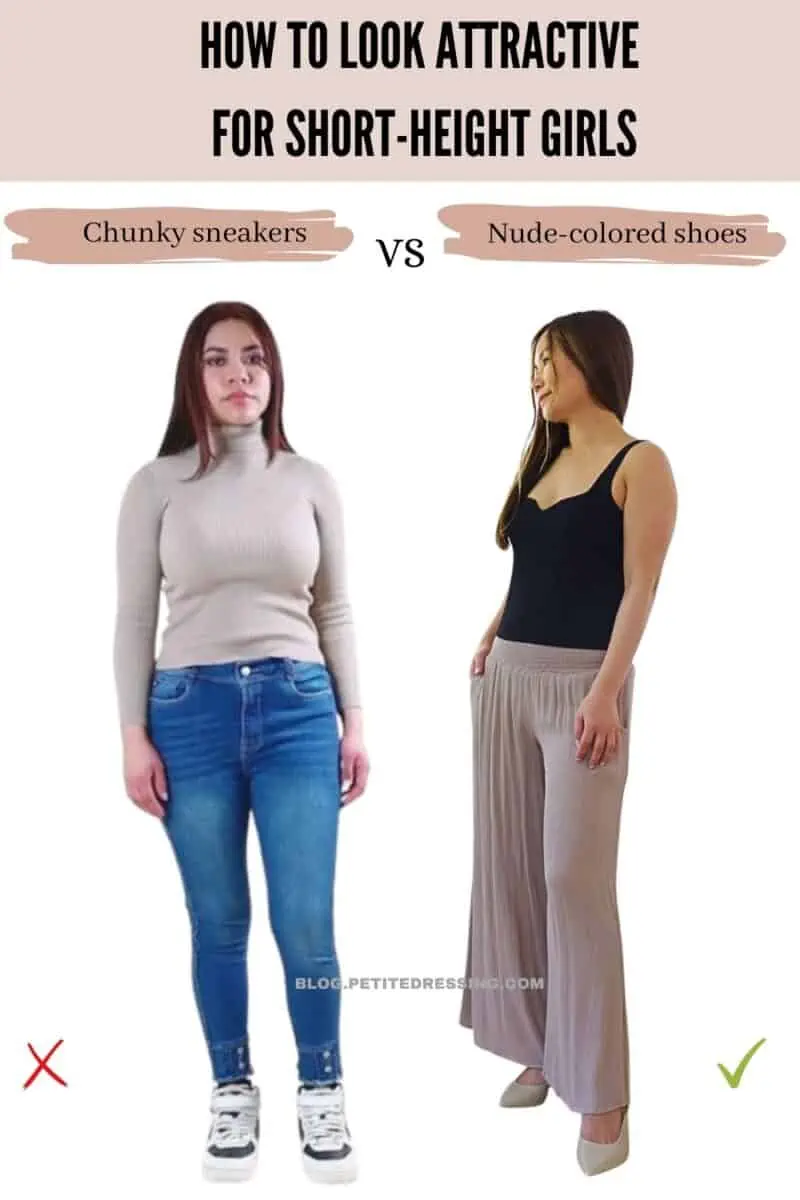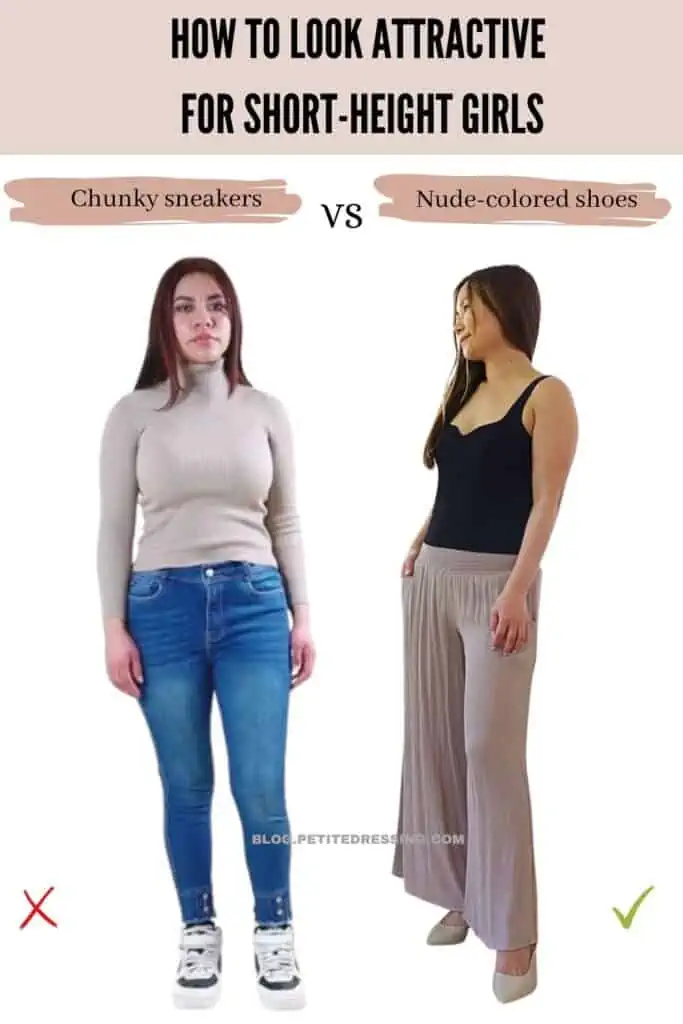 Embrace updo hairstyles
When you have long hair and you always have it down, it can cover up your frame-elongating features such as your neck, shoulders, and collarbone. Having your hair in a high ponytail or a cute bun updo can instantly make you appear taller.
You may be wondering – how does this work exactly? It shares the same visual effect of tops with open necklines as updo hairstyles create more space on your top half by exposing more of your decolletage.
Updos are not just great for creating the illusion of height, they also look stylish and neat which are also good attributes if you're trying to achieve a more attractive overall look. If you have stronger facial features that you're quite conscious about (like a very defined jawline or a wide face), you can absolutely still manage to rock updo hairstyles by creating a bit more volume or donning a fringe.
Invest in tailored outerwear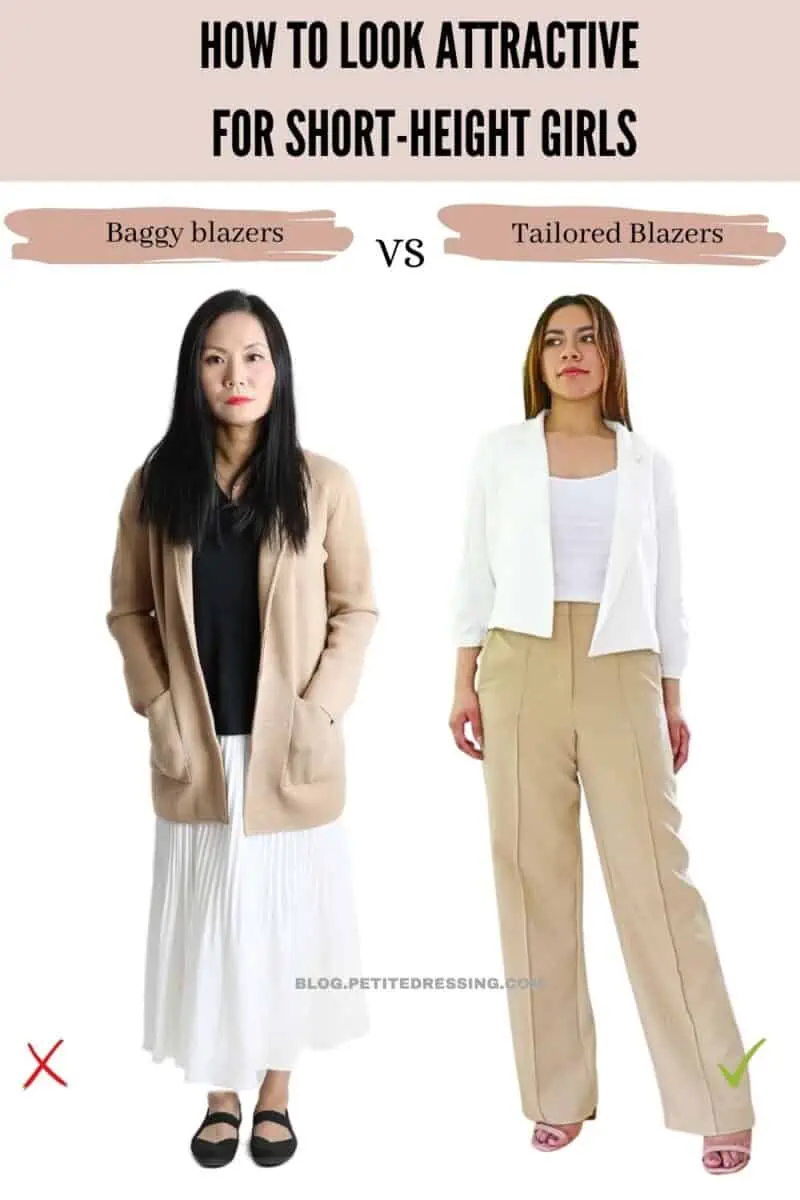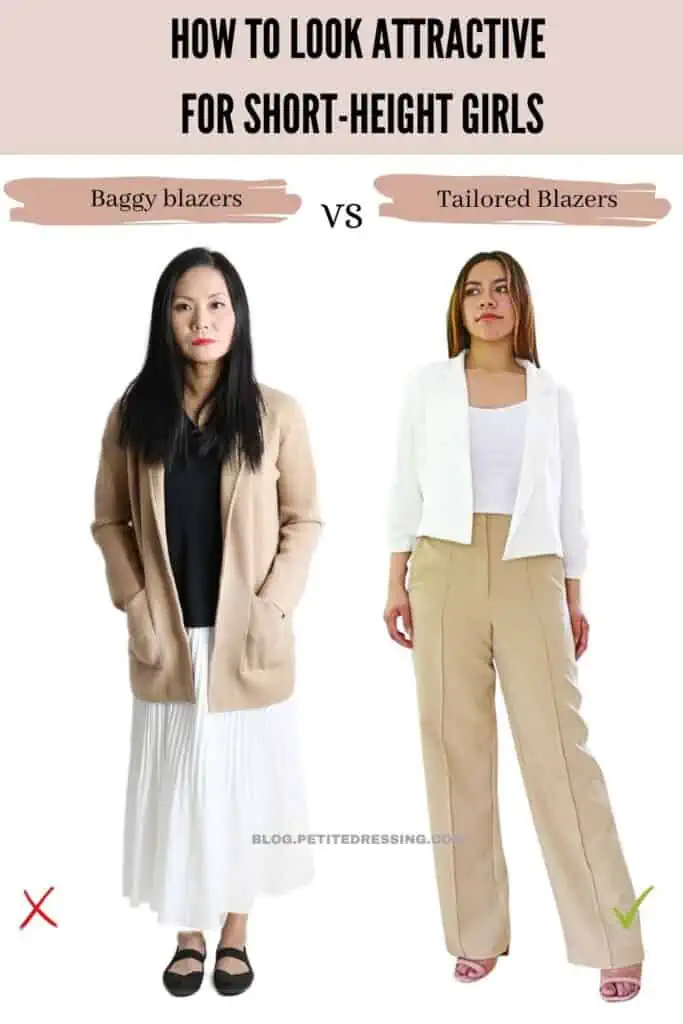 There are loads of outerwear options out there for petite ladies like us so it's not really that difficult to find coats or jackets for our short frame. However, there's still a very distinct charm that tailored pieces have that's still quite unmatched.
Outerwear for short girls can be quite tricky as certain structures, details, and even the size itself can overwhelm your figure. On the other hand, tailored outerwear specifically embraces your measurements so its bespoke fit can hug your figure in all the right places!
Investing in tailored outerwear is surely worth it, but if you're on a tight budget, another option is to just find the closest fit through the petite section. If it happens that you have a natural imbalance in your body shape, you may opt to have your existing outerwear altered to suit your size.
Maintain good posture
The best way to instantly look more attractive as a short girl is to maintain good posture. The magic it gives to how your height is enhanced is just instant because of the way it can bring more depth to your figure and outfit as well.
As a short girl, hunching or slouching not only makes you look shorter but also makes you less confident. Hunching your back and shoulders are one of the most common posture problems many women possess regardless of their height and it can be due to a number of reasons.
Some feel more conscious of their body shape, height, or in some cases, having big breasts causes them to slouch. However, it's very important to remember that you're attractive whatever your body shape is; so stand straight and flaunt it!
To prevent slouching, try to pull your shoulders back to not have them hunching forward – just remember not to overdo it. The goal is for you to have better overall balance, create the illusion of height, as well as allow you to move with more grace.
Maintaining good posture also means improving your facial projection by having your chin up to emphasize the length of your neck, which can also be very helpful in making you look taller. When you always keep your head down, this gives the impression of having a lack of confidence and it can even create the appearance of an unflattering double chin and undefined jawline.
Maintaining good posture also means improving your facial projection by having your chin up to emphasize the length of your neck, which can also be very helpful in making you look taller. When you always keep your head down, this gives the impression of having a lack of confidence and it can even create the appearance of an unflattering double chin and undefined jawline.
Be Confident in your own skin
Confidence is the key to making you look attractive. This involves understanding your body, accepting your flaws, knowing what styles flatter you the most, and experimenting with your personal style choices.
As a short girl, one of our biggest insecurities would be our height and this sometimes leads us to resort to insanely elevating high-heels that are not just uncomfortable, but occasionally quite pricey as well. But think of this: no matter how high and expensive your heels are, if you walk out of your door with zero confidence, everything pretty much goes down the drain.
With this mentioned, one of the major sources of confidence is to fully embrace your body shape – both its assets and flaws. This is quite essential when it comes to choosing your clothes because this will help you determine which areas of concern should you neutralize and which best features should you enhance.