If you are bottom heavy, that means you carry weight in your lower body instead of upper body. Typically you have bigger hips and thicker thighs, and possibly narrow shoulders. Many bottom heavy women have the pear shape body, but it is also possible you have other body types. The key to dress the bottom heavy body is to draw attention to your face and chest, and in the meantime avoid anything that fit too tight on your buttocks and legs, as they are only going to make it more obvious.
Go with Higher Waistlines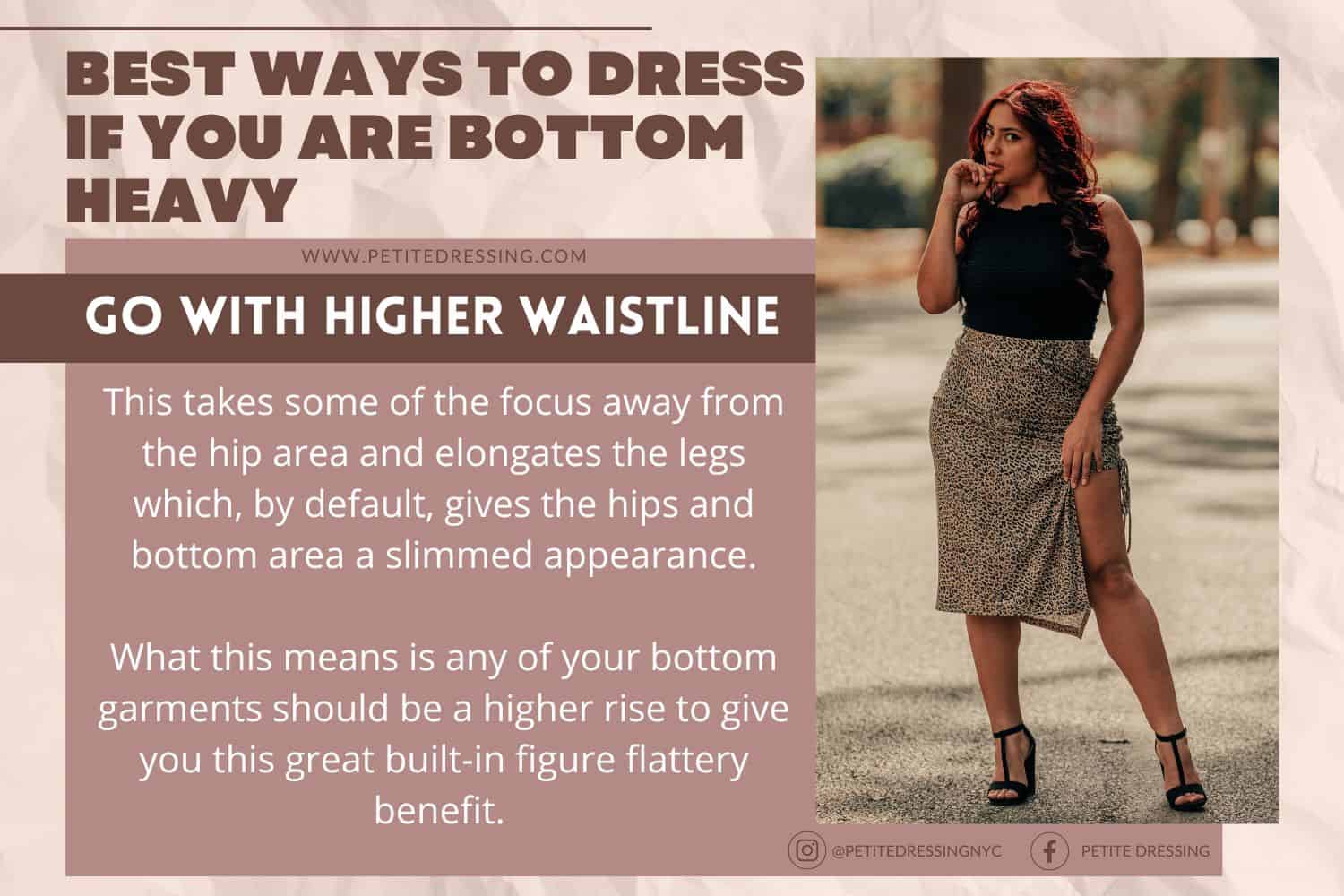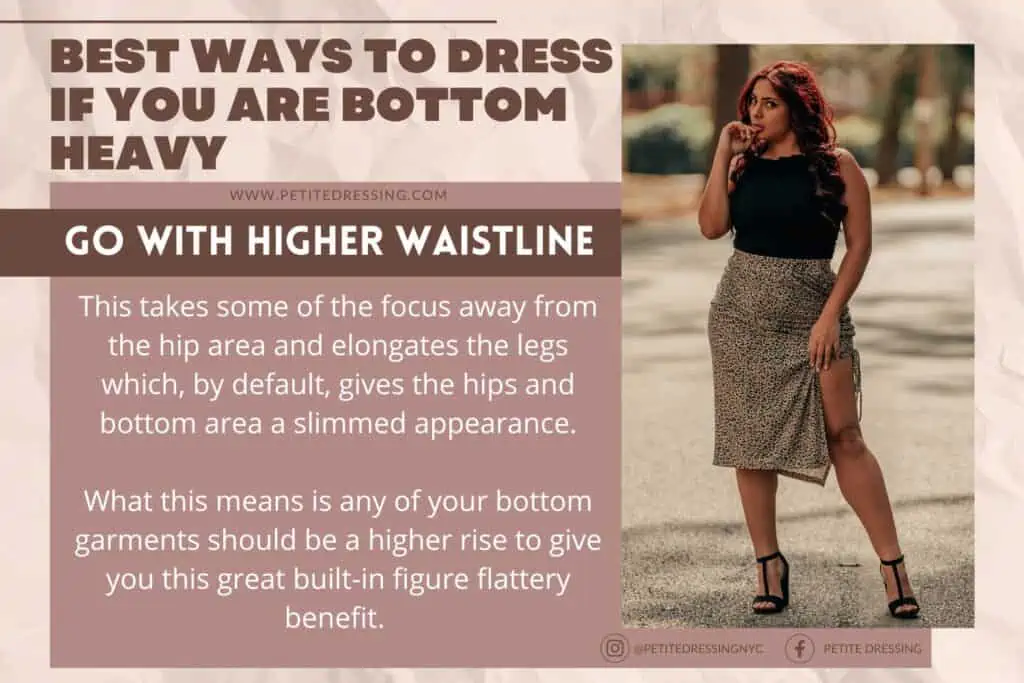 High waist jeans is the best friend for women with a heavy bottom. Raising the waistline of pants and skirts is a great way to enhance a pear shaped figure. This takes some of the focus away from the hip area and elongates the legs which, by default, gives the hips and bottom area a slimmed appearance. What this means is any of your bottom garments should be a higher rise to give you this great built in figure flattery benefit.
If a true high rise isn't your thing, or you're not comfortable in it, mid-rise is another fine alternative. Just be sure to avoid low-rise at all costs! This may sound dramatic but low rise bottoms aren't great for bottom heavy body types. The main reason being low rise fits rest at the widest part of the hips – making that area look wider than it is naturally.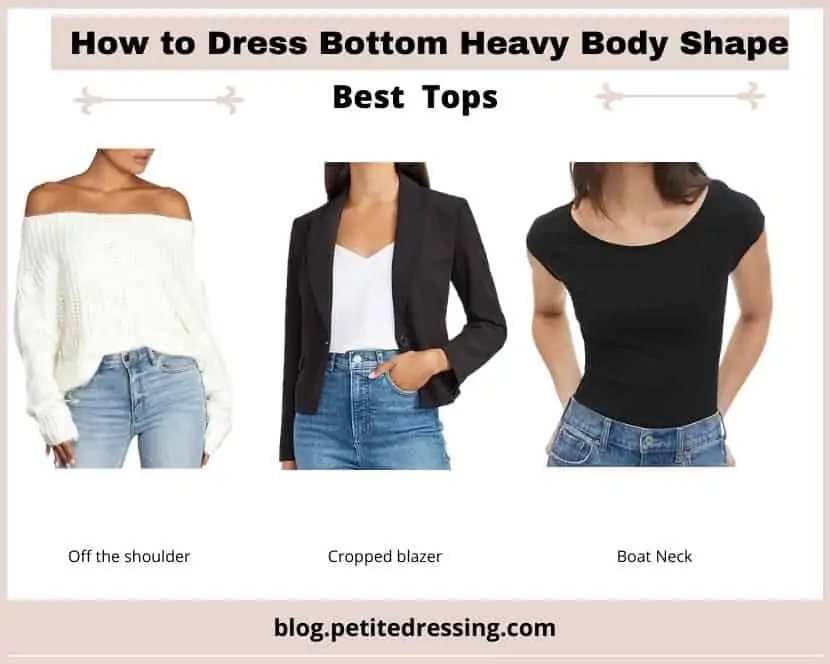 Wear Lower Necklines
Lucky for you, because a main styling tactic for bottom heavy figures is drawing the eye upwards it gives you the opportunity to play around with different necklines.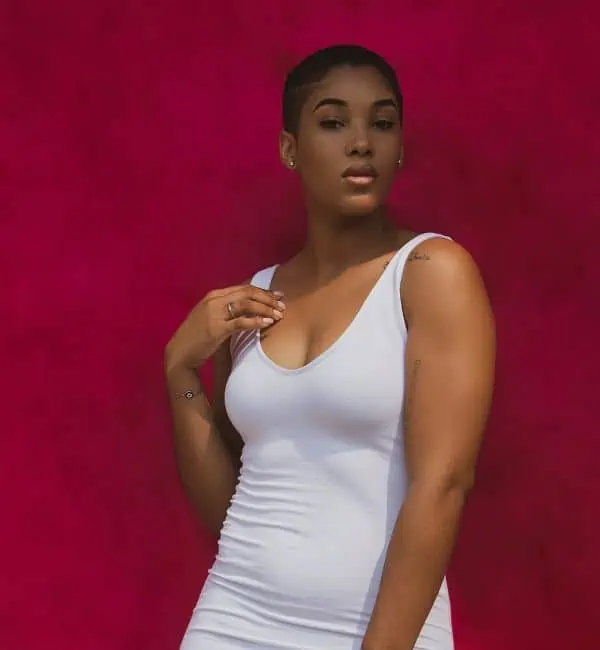 How to Choose the Best Neckline
Again, anything that has a fun pop or detailing on the top half is your friend. This means just about any trendy, unique neckline is something to try out.
The options are endless, think necklines like sweetheart, halter, scoop, etc. Just to give you a few fun ideas to get started with.
Wear Off the Shoulder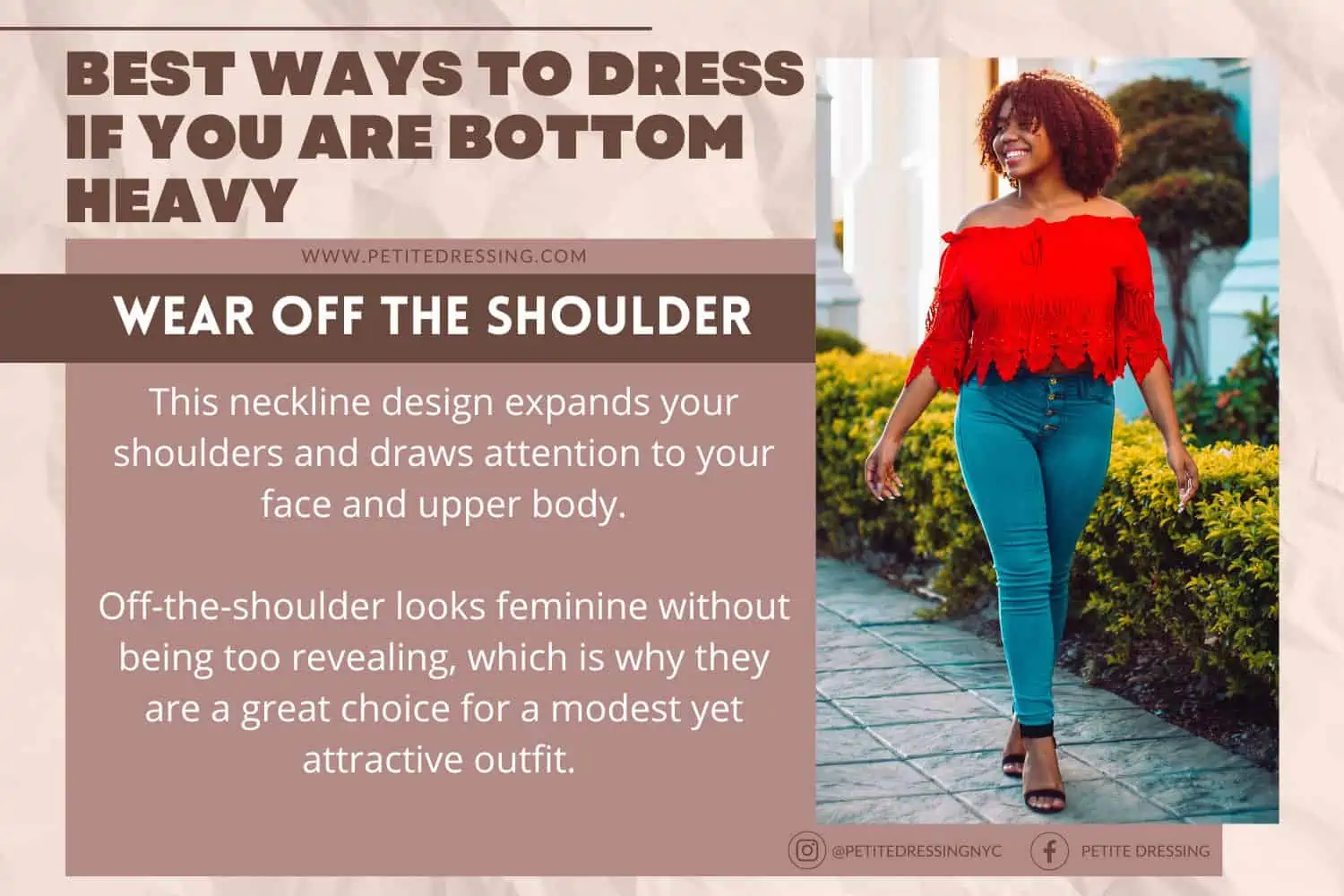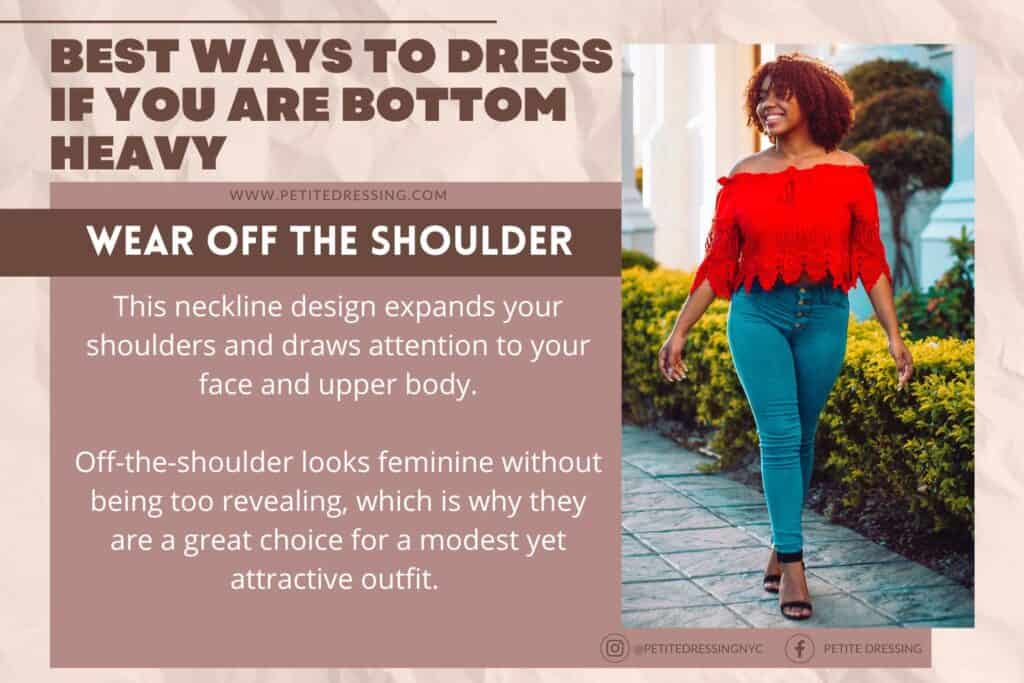 Off the shoulder tops or dresses look great on someone with a heavy bottom because this neckline design expands your shoulders and draw attention to your face and upper body. Besides, off-the-shoulder looks feminine without being too revealing, which is why they are a great choice for a modest yet attractive outfit.
Wear Boat Neck
One of the most flattering necklines for bottom-heavy body types happens to be a boat neck.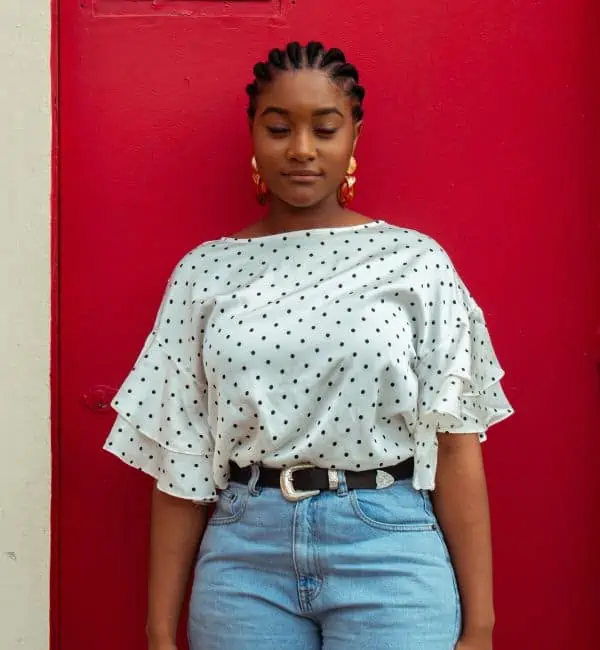 Why you should opt for a boat neckline
The reason this is worth mentioning is because of the way this neckline, in particular, creates this visual expansion to the neck and shoulder area, which balances out with your heavier lower body.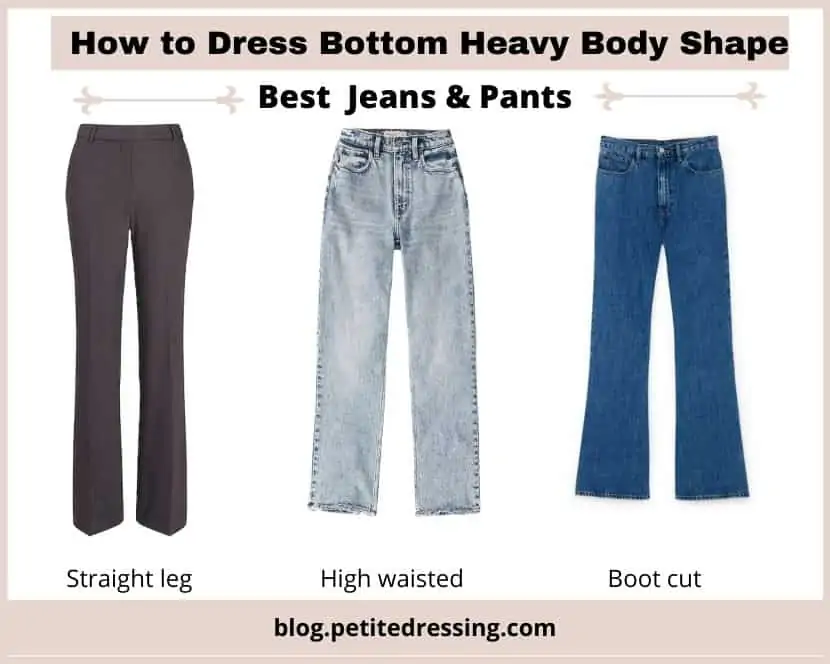 Bootcut Jeans are Ideal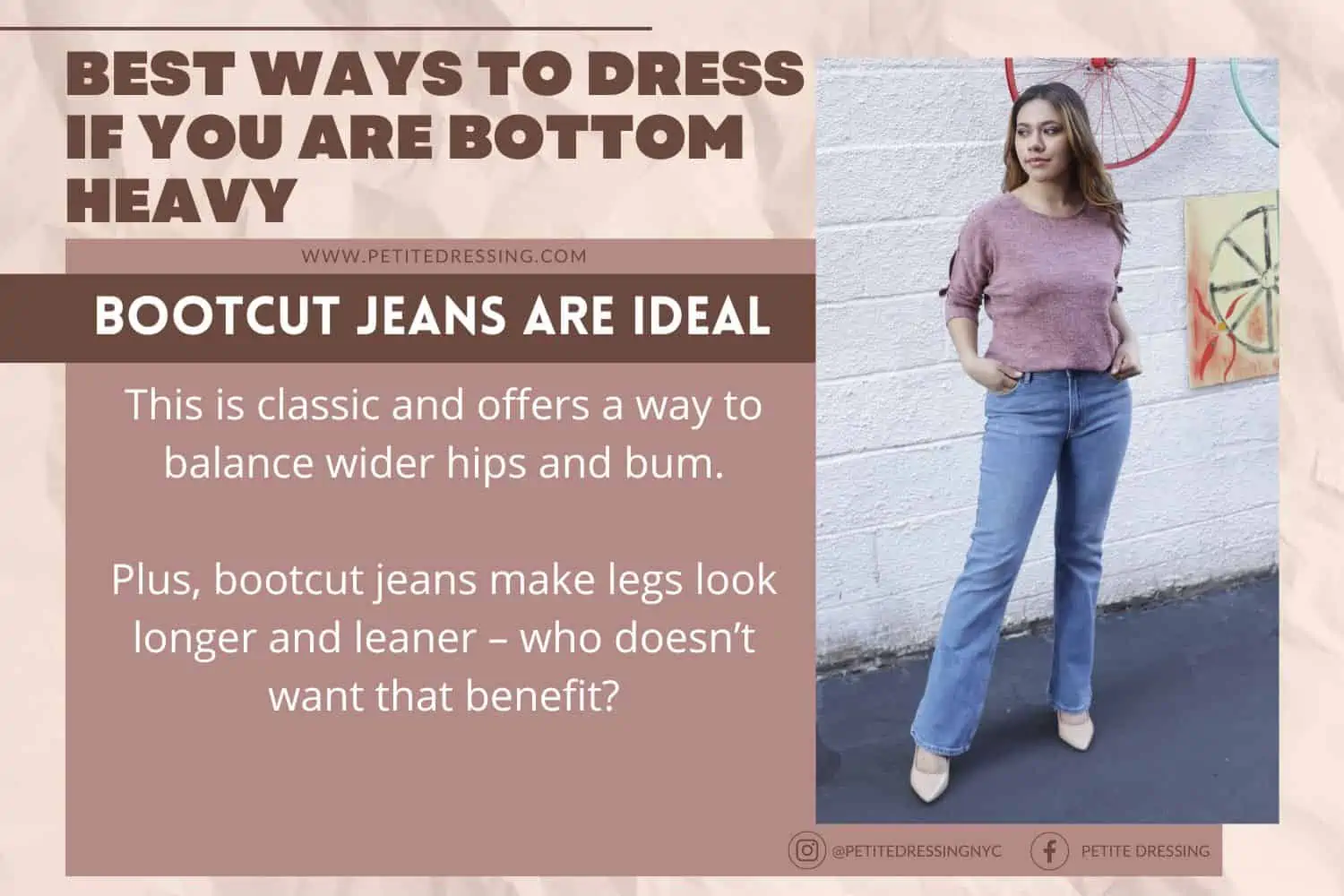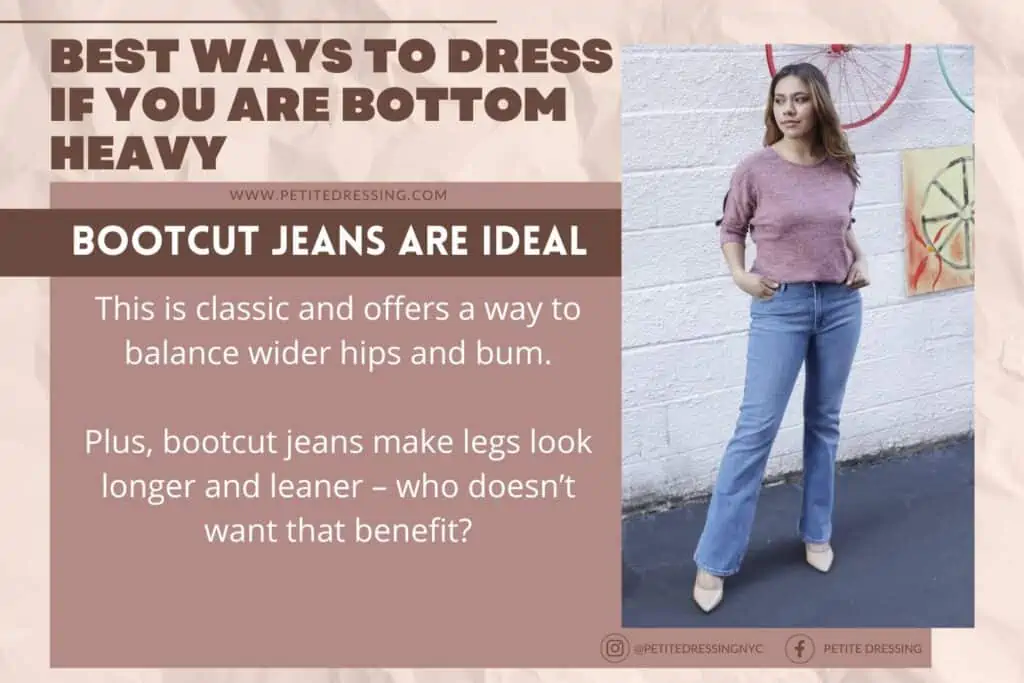 One of the best silhouettes for jeans you can always count on is bootcut. Bootcut jeans are well fitted from your butt to your thighs, and start to widen below the knee, which makes it just wide enough to accommodate a boot under them and thus the name "boot-cut".
This is the classic and offers a way to balance wider hips and bum. Plus, bootcut jeans make legs look longer and leaner – who doesn't want that benefit?
Avoid Skinny Jeans
If you have a heavier bottom, you need to be very careful with anything that clings to your buttocks and thighs. That means that the ever-popular skinny jean isn't your best friend.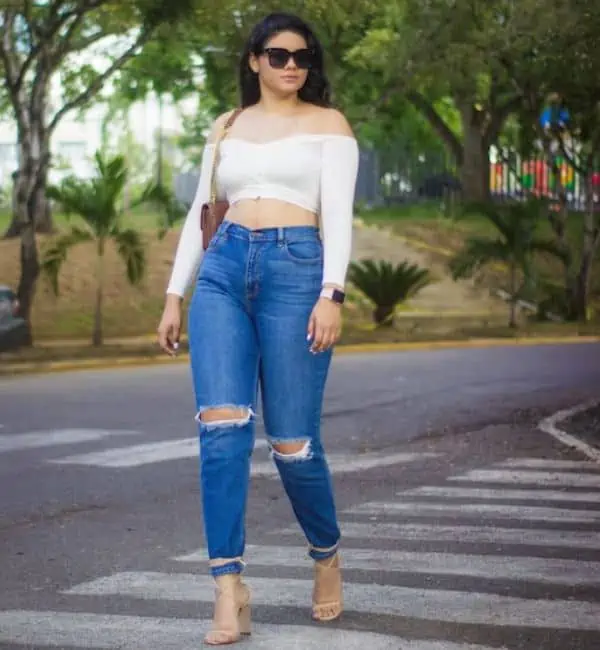 Why you Should Avoid Skinny Jeans
While wearing whatever you enjoy is the most important factor, skinny jeans are tricky to wear for a bottom-heavy shape.
The problem that comes with skinny fit is that it has a way of emphasizing a pear shape in a way that makes the hips and thighs appear larger.
Instead, go for straight leg jeans, which can balance out your shape much better.
Wear Straight Leg Pants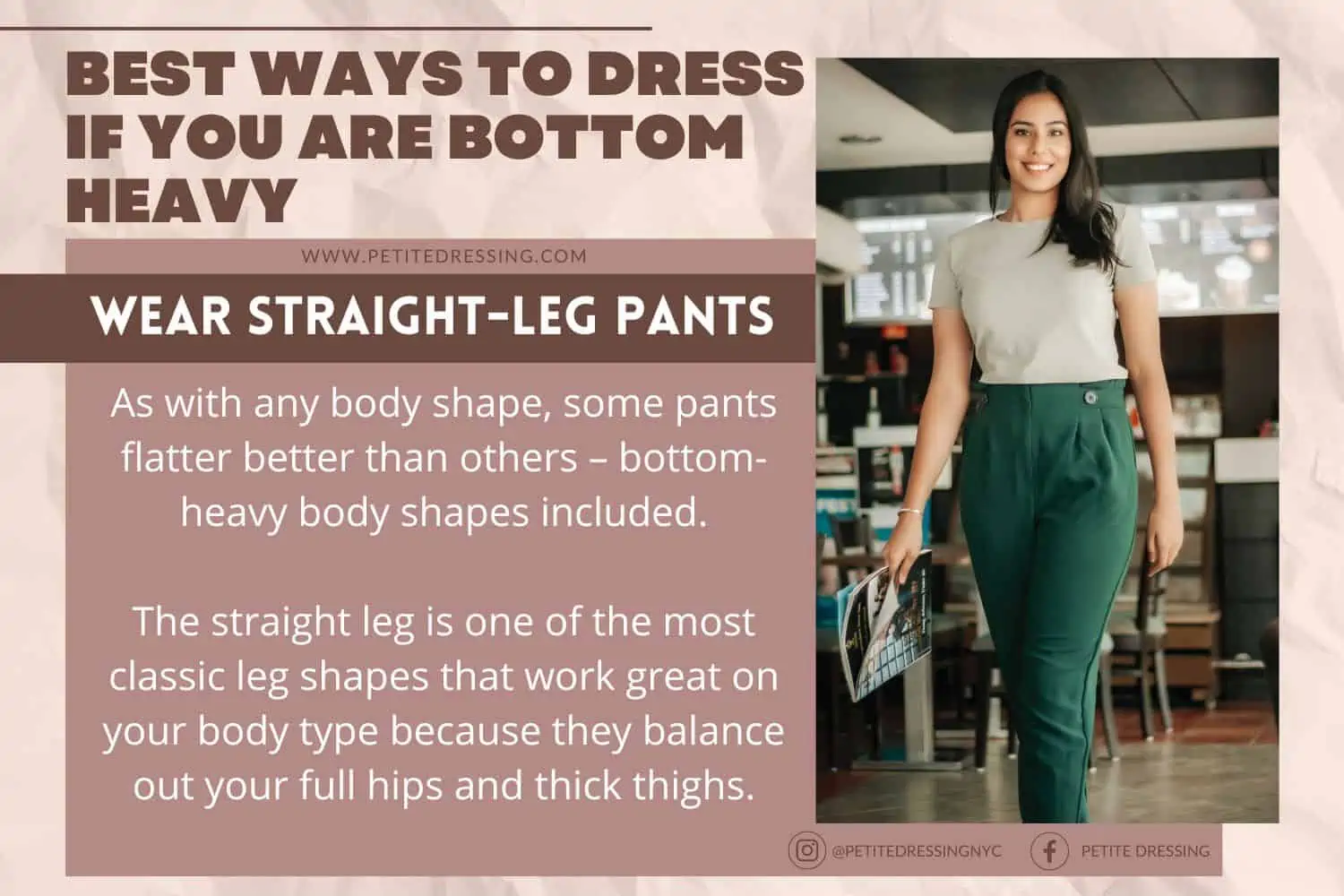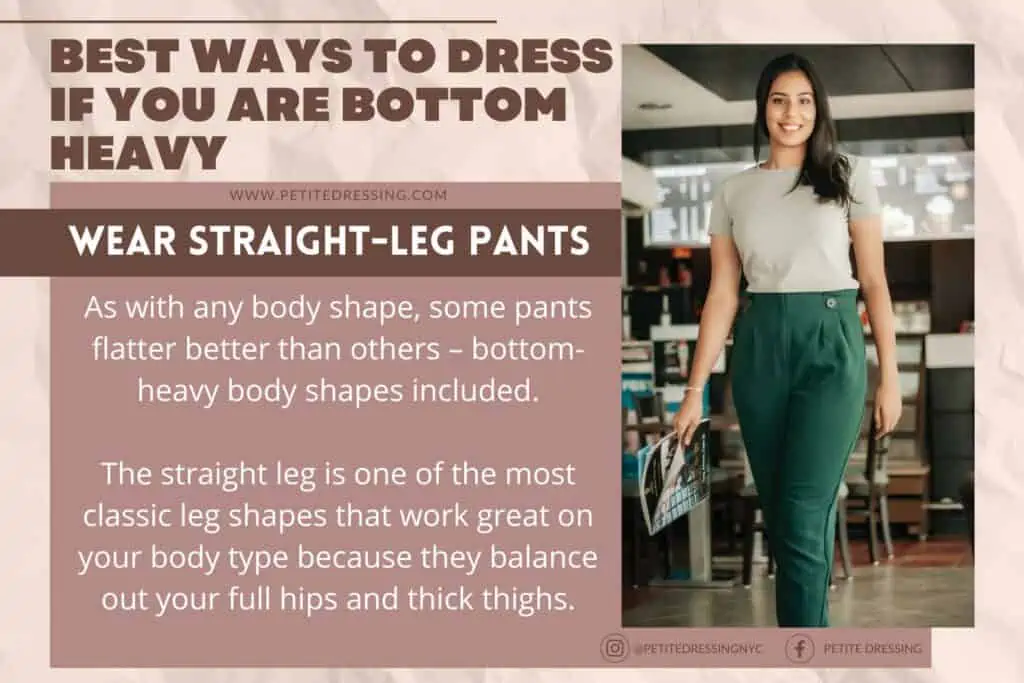 As with any body shape, some pants flatter better than others – bottom-heavy body shapes included. In fact, as someone with a bottom heavy figure you may have noticed different style pants make an even bigger difference in creating balance. The straight leg is one of the most classic leg shapes that work great on your body type because they balance out your full hips and thick thighs.
Avoid Detailed Pockets
While on the topic of pants and bottoms, pockets are something to pay close attention to as a woman with a bottom heavy shape. Always keep in mind that wherever there is something that makes a statement, adds detail, etc. in clothing is where the attention is drawn on the body.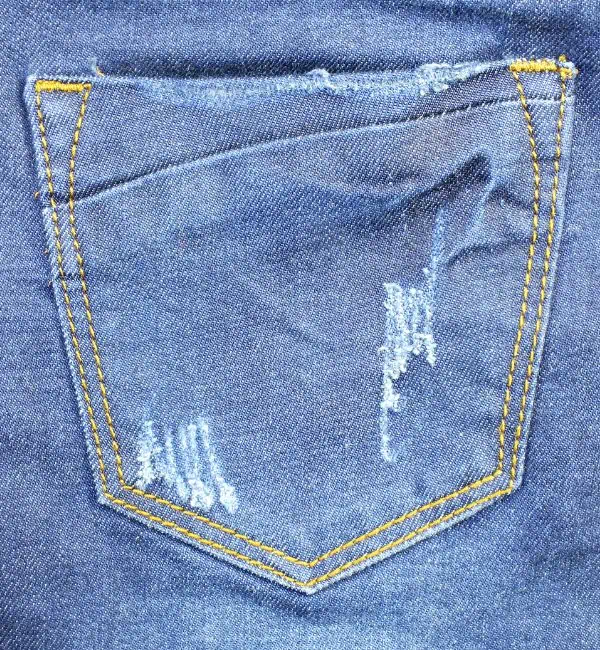 What are Detailed Pockets mean?
This means, pockets on bottoms that have a lot of detailing draw the eye towards the hips/bum/bottom area of the body.
With a bottom-heavy shape, it's often best to opt for bottoms that are really minimal in detailing on the pockets.
This means avoiding a lot of embroideries, embellishments, and even excess buttons around the pockets that are commonly found.
Wear Prints On Top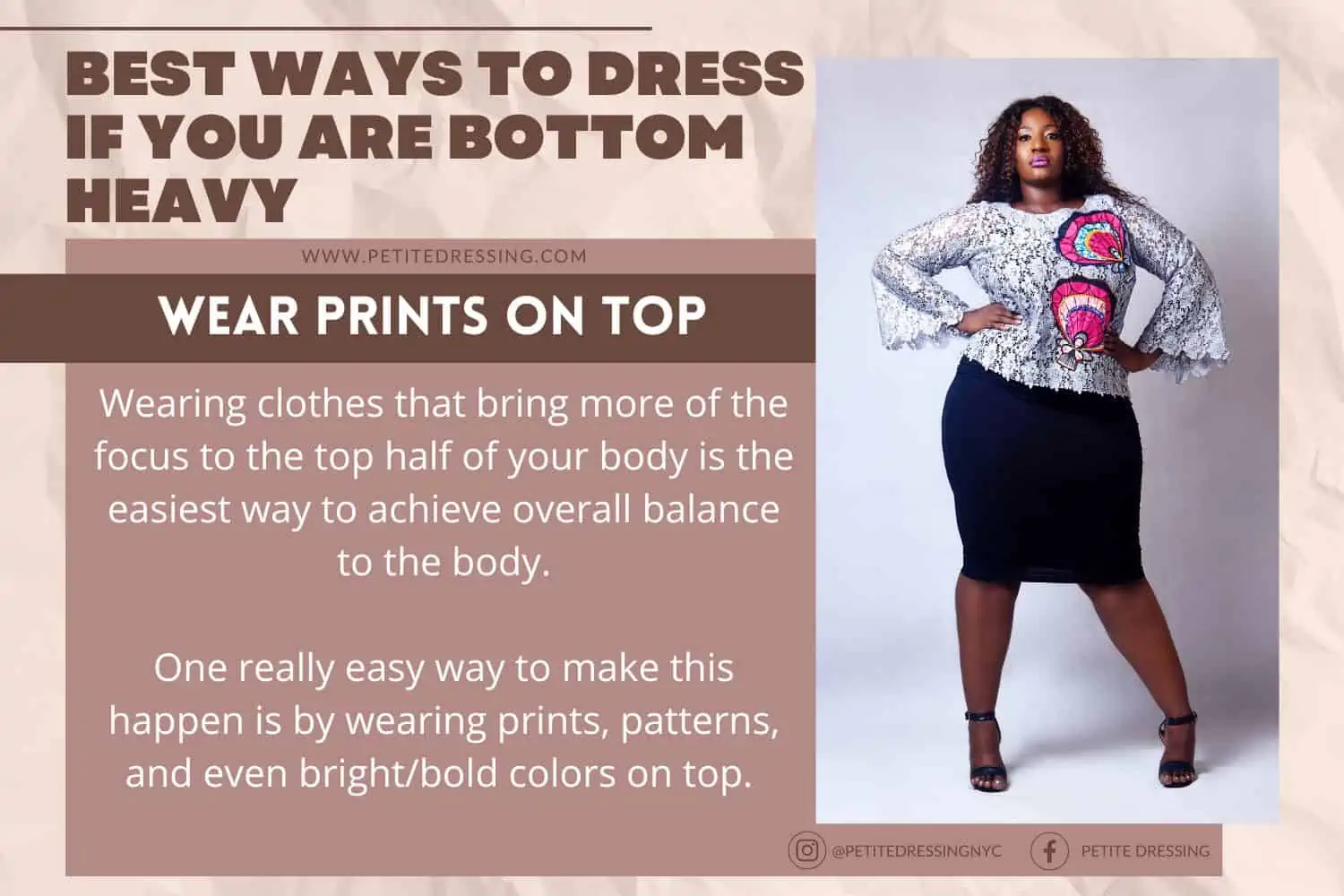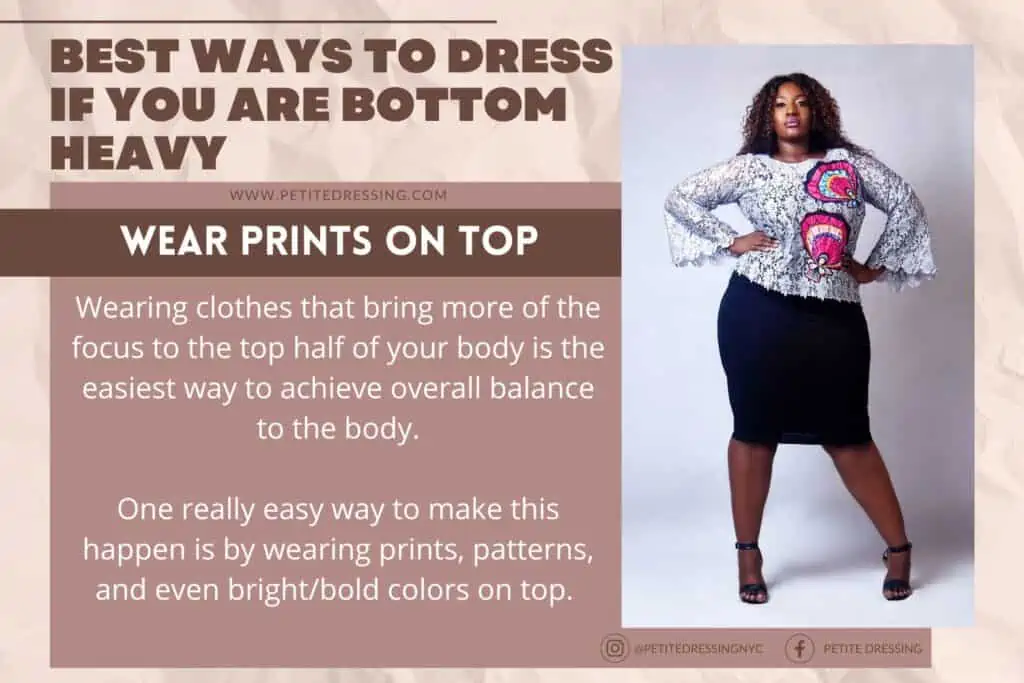 Wearing clothes that bring more of the focus to the top half of your body is the easiest way to achieve overall balance to the body and give your shape more of an hourglass look. Yes, even when you're bottom heavy! One really easy way to make this happen is by wearing prints, patterns and even bright/bold colors on top. Keeping the bottom half neutral and simple makes the top half pop and be more in focus which is what gives that subtle balance.
Even if bold colors or patterns aren't your thing, you can achieve this styling hack in so many different ways. For example, if you're an all-neutral wearing kind of woman adapt this trick by wearing a white top with a black skirt. The white top is lighter so it becomes more in focus, while the black skirt is more subdued.
Steer Clear of Long Tops
Top lengths play a major role in how flattering something looks and, not so surprising, it greatly depends on your unique body shape. If you have a pear shape, then you'll want to avoid tops that are too long in their length. Anything that's classified as 'too long' for you will be any top that rests at the widest part of your hips or below.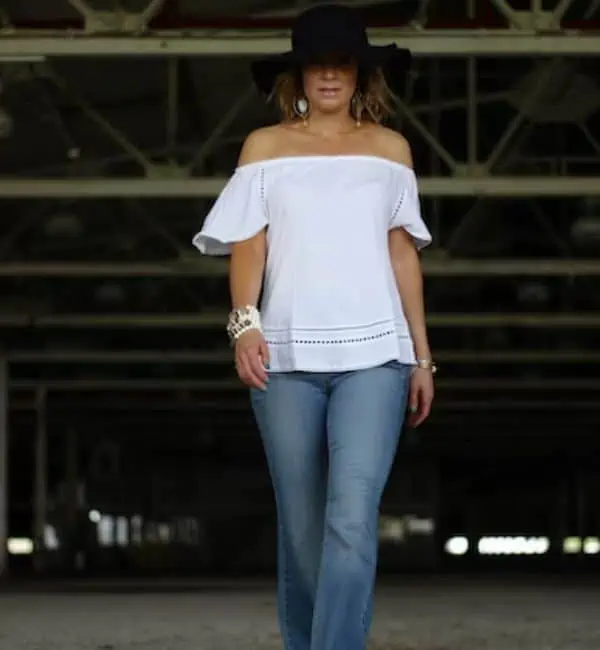 Why you Should Avoid Long Tops
These longer top styles draw all of the attention towards the bottom half of the body, particularly curvy hips and thighs which is (likely) not what you're trying to achieve.
The better options are going to be tops that rest right above the widest part of the hips, and above.
These lengths make legs appear longer which aids in the bottom half (as a whole) looking slimmer and longer.
Wear Prominent Sleeves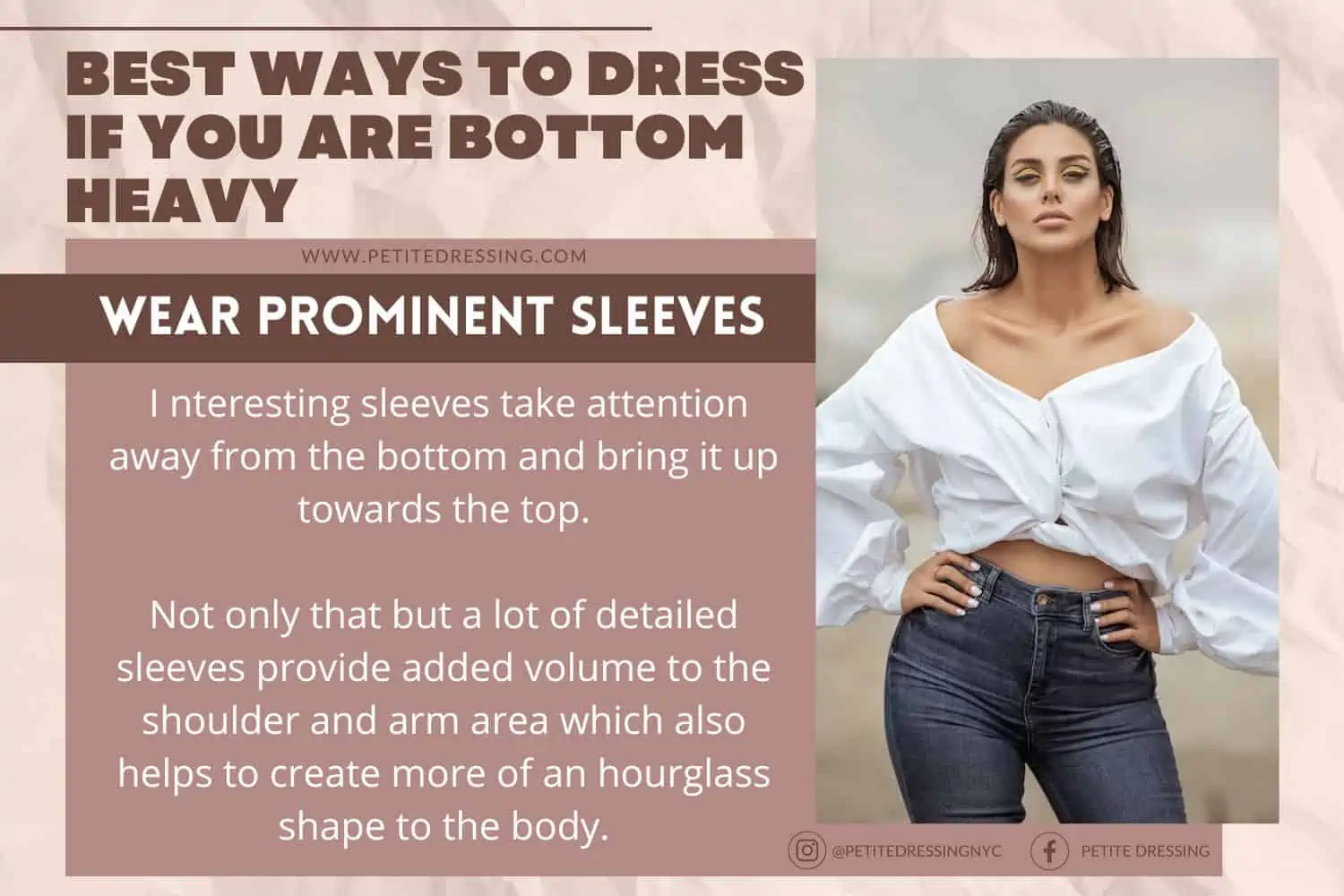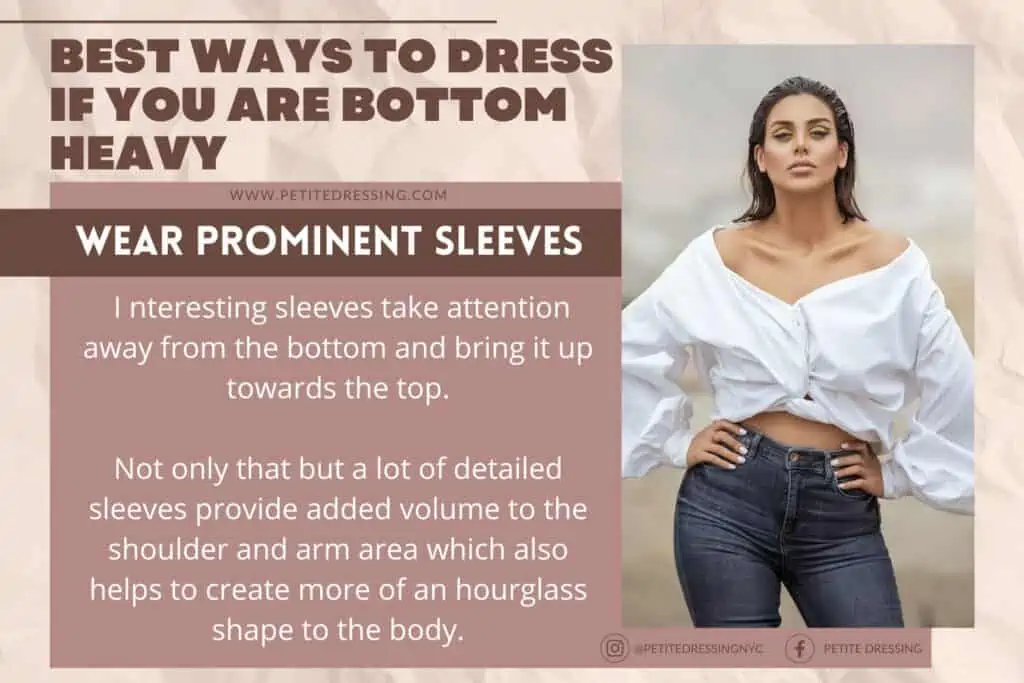 Tops and dresses with unique sleeve styles aren't always the 'easiest' to wear, but they're something to try out with a bottom heavy shape. As you may have guessed by now, interesting sleeves take attention away from the bottom and bring it up towards the top. Not only that but a lot of detailed sleeves provide added volume to the shoulder and arm area which also helps to create more of an hourglass shape to the body.
Cropped Blazers
Cropped style layering pieces can be tricky for many to wear, but they're a heaven-sent if you're a bottom-heavy shape.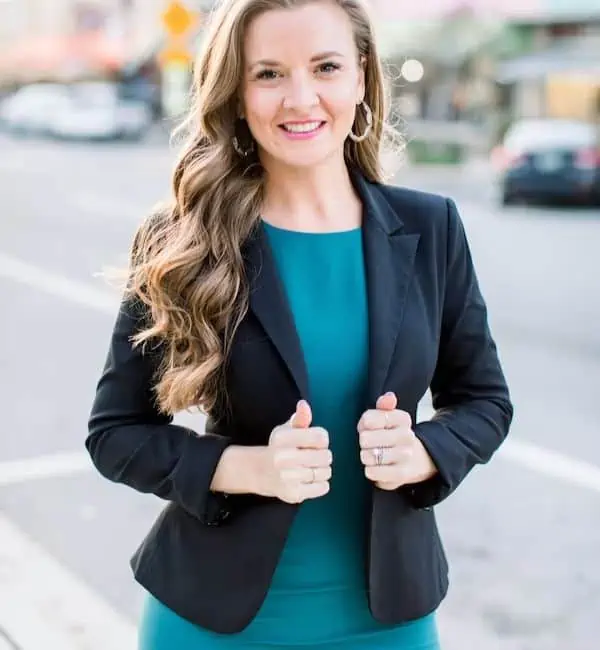 Why Cropped Blazers Flatters your Shape
First and foremost, the cropped shape brings all of the focus towards the face and shoulder area which gives this expansion benefit to the top half.
Second, the placement of a cropped blazer brings more attention to the smallest area of the waistline which makes legs look longer and the waist appears thinner – both major styles win.
Cropped Cardigans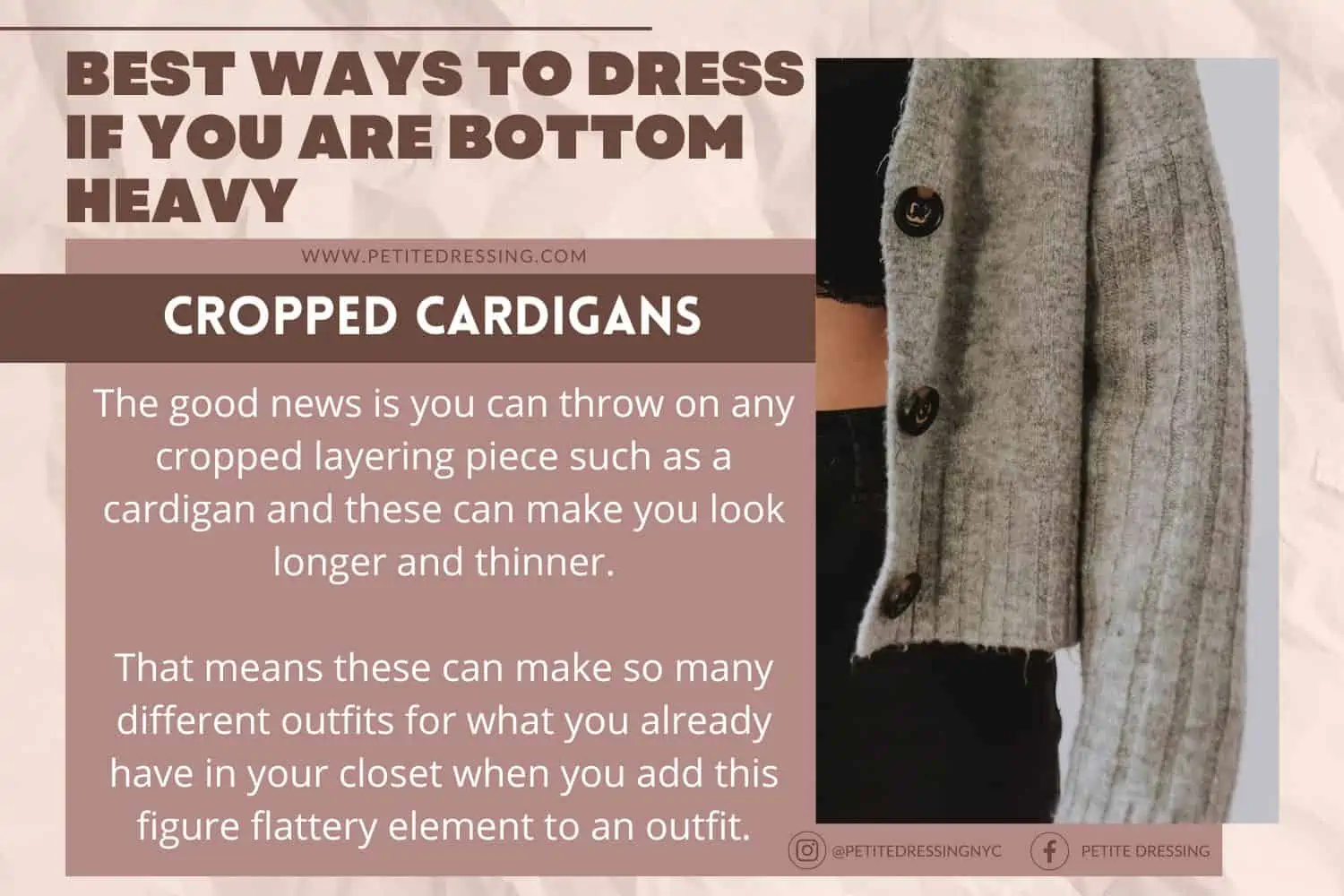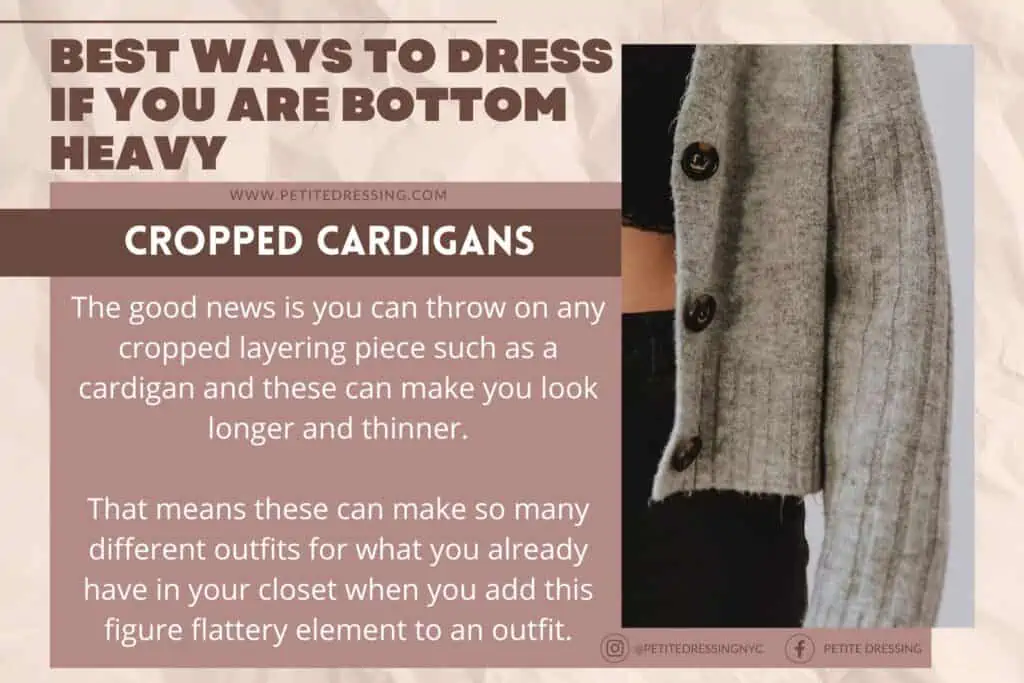 Not only cropped blazers work great for your shape, the good news is you can throw on any cropped layering piece such as a cardigan and achieve a similar result. That means these can make so many different outfits for what you already have in your closet when you add this figure flattery element to an outfit.
Define your Waist
This has been mentioned a bit throughout the previous tips, but defining your waistline is an absolute must when dressing a bottom heavy figure.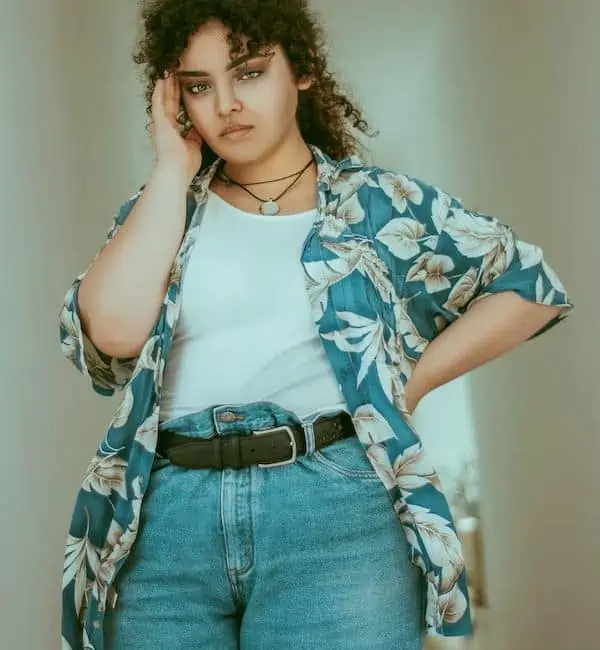 How to Define your Waist
Anytime you have the ability to bring more focus to the most slender area of the waist it's a style win.
Fortunately, there are a lot of strategic ways in which you can define the waistline of your body utilizing clothing.
A few examples include empire waistline dresses, peplum tops and dresses, and wrapping a belt around the waist.