Dressing an hour glass shape is harder than most people think, especially with causal wear.
Because the hourglass figure typically has larger chest, slender waist and full hips, that makes it easier to dress the hourglass in more formal clothes that highlight the curves such as a cocktail dress.
However, when it comes to causal clothes, many hourglass shaped women find it challenging.
When the hourglass shape chooses causal wear, they typically want to tone down the impression of their ultra feminine curves and therefore they go for those that "hide" their shape. That will only make the hourglass look frumpy.
The best way to dress the hourglass causally is to wear well fitted clothes for everyday wear, because they contain the structure to flatter the curvy figure of the hourglass shape. This includes well-tailored jackets or blazers, coats with a belt, and causal dresses that are fitted at the waist. In other words, the best everyday style for the hourglass is the "smart casual". Contrary to the common belief that causal clothing equals loosely fitted outfits, the hourglass shaped women should never wear anything oversized or shapeless, because those will only create bulkiness and make you look bigger than you are.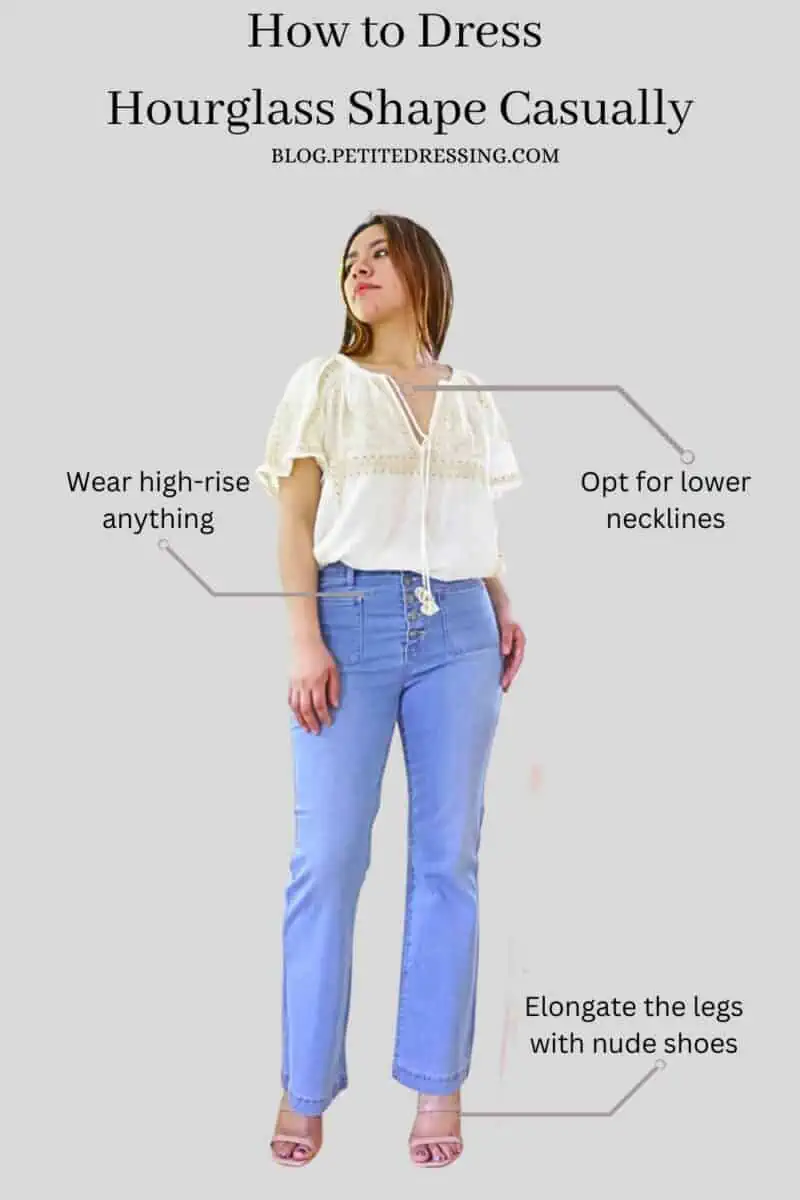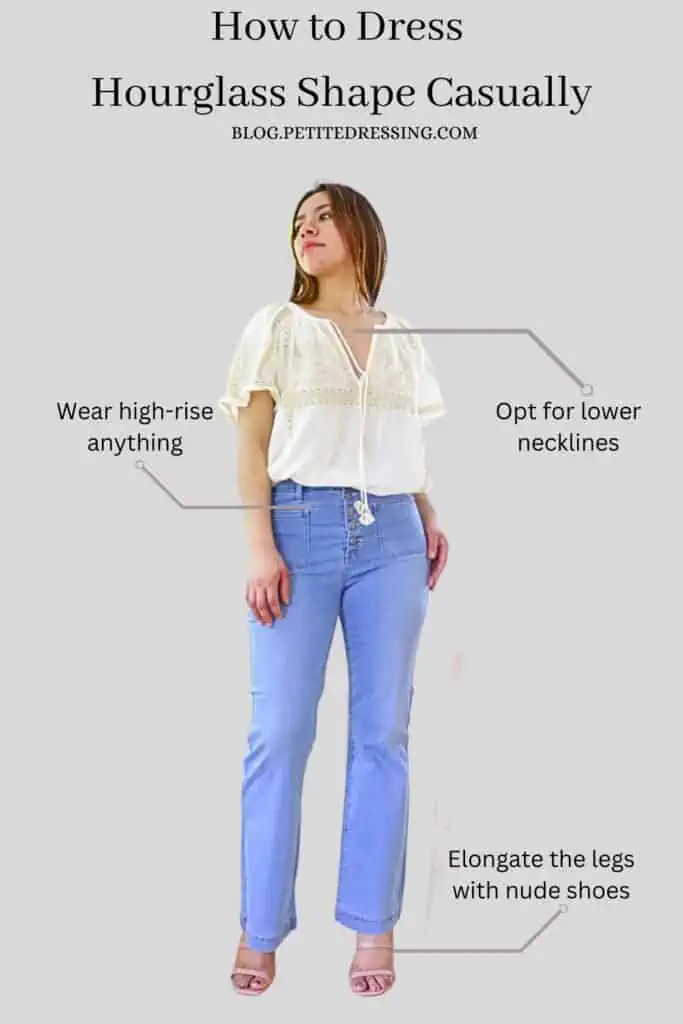 The unique challenge of casual clothing for the hourglass
The hourglass shape overall comes across as fleshy instead of bony. Even when you are thin, you still don't look skinny, compared with women of other body types.
Since most causal wear such as T shirts or cardigans tend to be loosely cut, it is easy for them to make the hourglass look heavier than they actually are.
Because the hourglass shaped women tend to have shorter waist, that combined with your big breasts can make it easy you to look pregnant in a casual top.
Jeans are especially hard for the hourglass, because what fit your slender waist will typically be too tight on your full hips. Vice versa, if the jeans fit your butt, they tend to be too loose for your small waist.
To best understand what looks good on the hourglass shape casually, I will now take a deeper dive in every category with details on what are the best and worst tops, bottom, outerwear and shoes for the hourglass shape.
I also highly recommend you read my other post on the "Ultimate Guide to Dressing an Hourglass" which touches every aspect of this body shape.
JEANS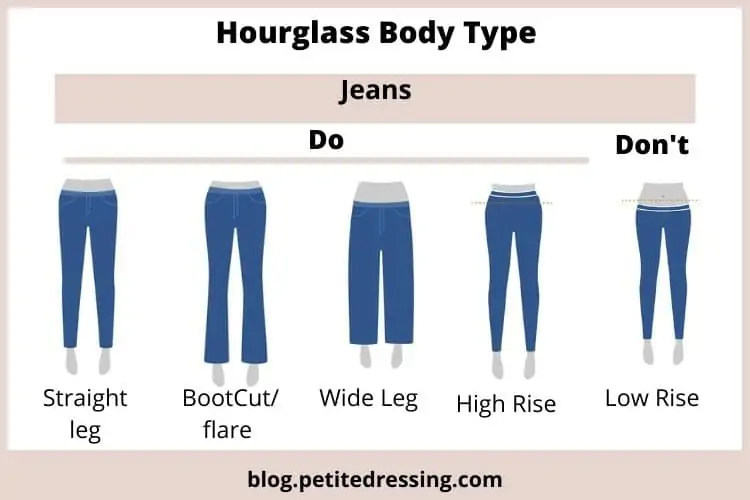 The best jeans style for the hourglass are those that do not cling to your legs but still has a defined shape. Straight leg or bootcut jeans achieve a good balance and is a great choice for the hourglass.
A very common challenge for the hourglass is it's hard for you to find jeans that fit your hips without gaping on your waist. Therefore, I highly suggest you check out the "curvy fit" jeans which are introduced by more and more denim brands. These are best jeans for the curvy figure because they are cut with narrower waist and wider hips, exactly what the hourglass shape girls need!
It is common for the hourglass shape to have generous thighs.  If that is you, then the wide leg jeans are most flattering to you because they skim over your hips and drape beautifully underneath.  If you go with the wide leg, then it is best to wear them with block heels.  You should choose the length of the jeans that is long enough to cover part of your heels, to create a longer and leaner silhouette.
Skinny jeans emphasize the curves of your butt and legs. They are not your best friend if you are an hourglass with full thighs, because they do have the risk of making you look heavier. If you are an hourglass with slender legs, then skinny jeans can work for you.
You should avoid boyfriend jeans that are too loose. They do not define the shape of your butt and adds too much bulkiness to your bottom half.
Many hourglass have a shorter waist and longer rise. If that is you, then a high waisted jeans is the most comfortable for your daily wear. If you happen to be short (under 5'4") with an hourglass shape, the high rise jeans are the most flattering for you because they can make your legs look longer than they are.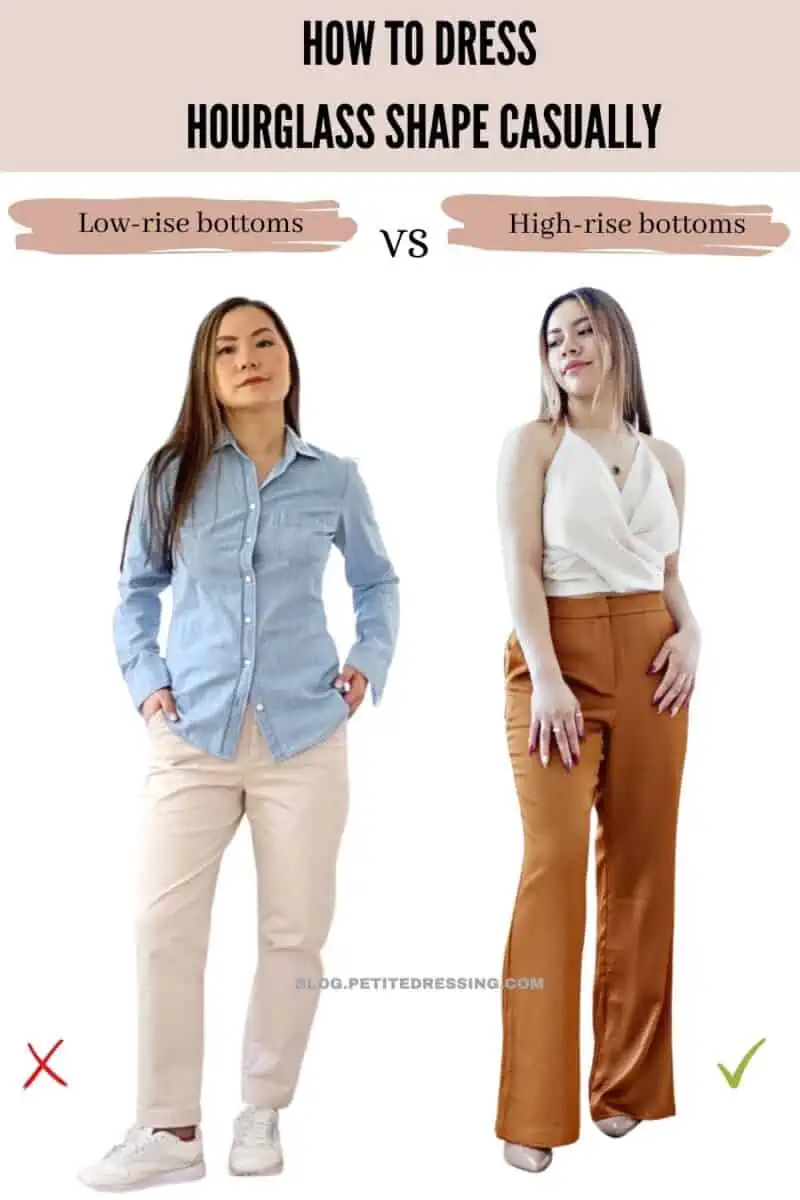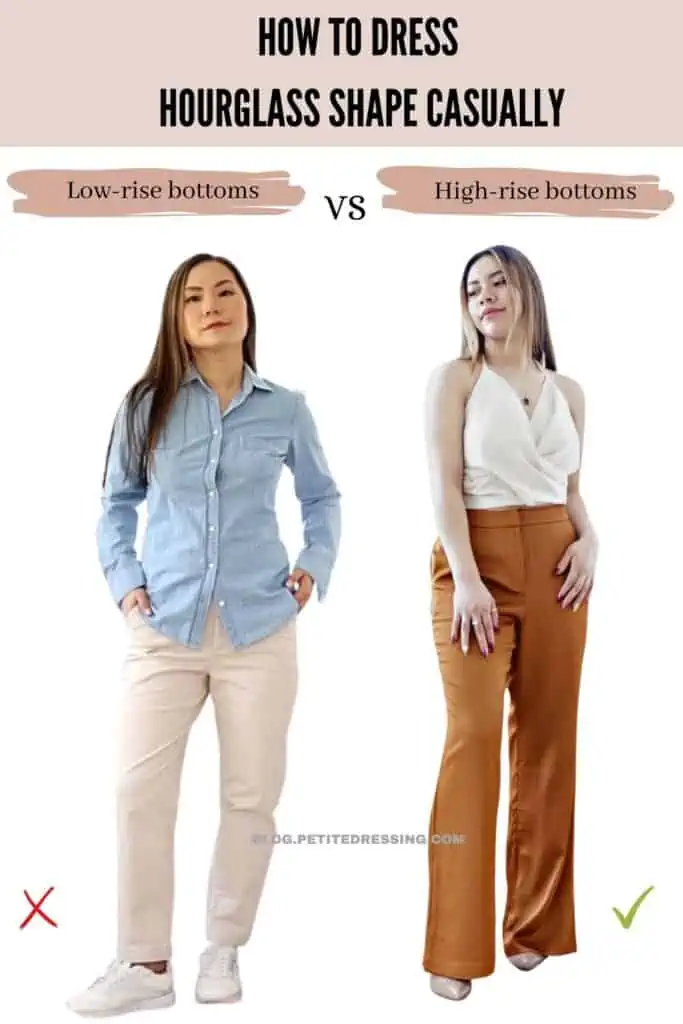 Black jeans or dark wash are the best color jeans for the hourglass because of their slimming effect.
Since it is hard for the hourglass shape to find the jeans that fit both your waist and your butt nicely at the same time, your best strategy is to choose your size that fit your butt and then take it to the tailor to make the waist smaller in order to fit your waist.
The hourglass should avoid low rise jeans because they will make it look like your belly are spilling over. They do not look good on any body type, and especially not flattering to the hourglass' full curvy figure.
DRESSES
Because the hourglass shaped women tend to have shorter waist, you need a dress that can elongate your waist and highlight your slender waist.
Fitted dresses are the best silhouette for the hourglass figure for casual wear. A line shape with modest flare are universally flattering to the hourglass ladies.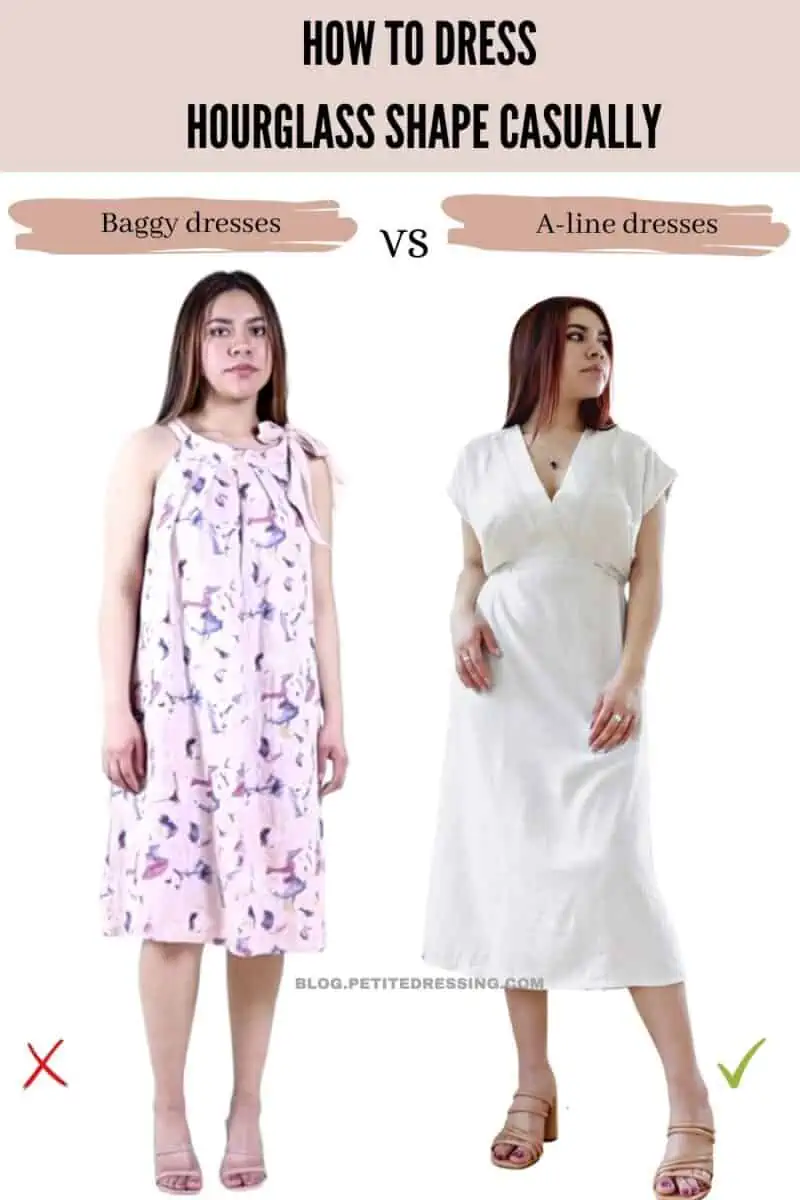 Avoid very busy and big prints. The hourglass already have the most feminine curves, so any big floral prints or big patterns will come across as "too much" on the hourglass body.
I highly recommend you also read my post on the "Best Dresses for the Hourglass".
TOPS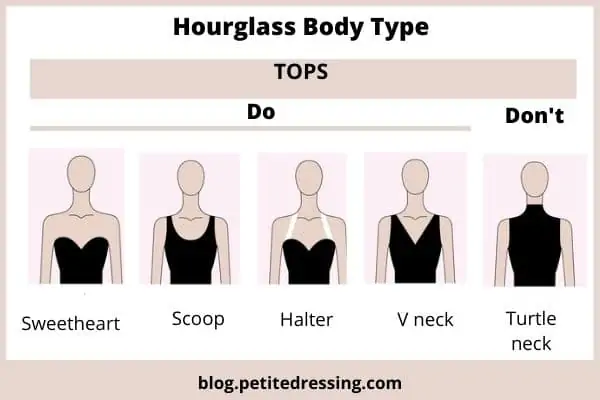 The best casual tops for the hourglass are those with a simple cut and fitted at the waist, such as a fitted T-shirt or blouse.
Casual tops with lower necklines such as sweetheart neck, deep v neck or U neck are the best for the hourglass because they break up your large chest and make your upper body look more slender.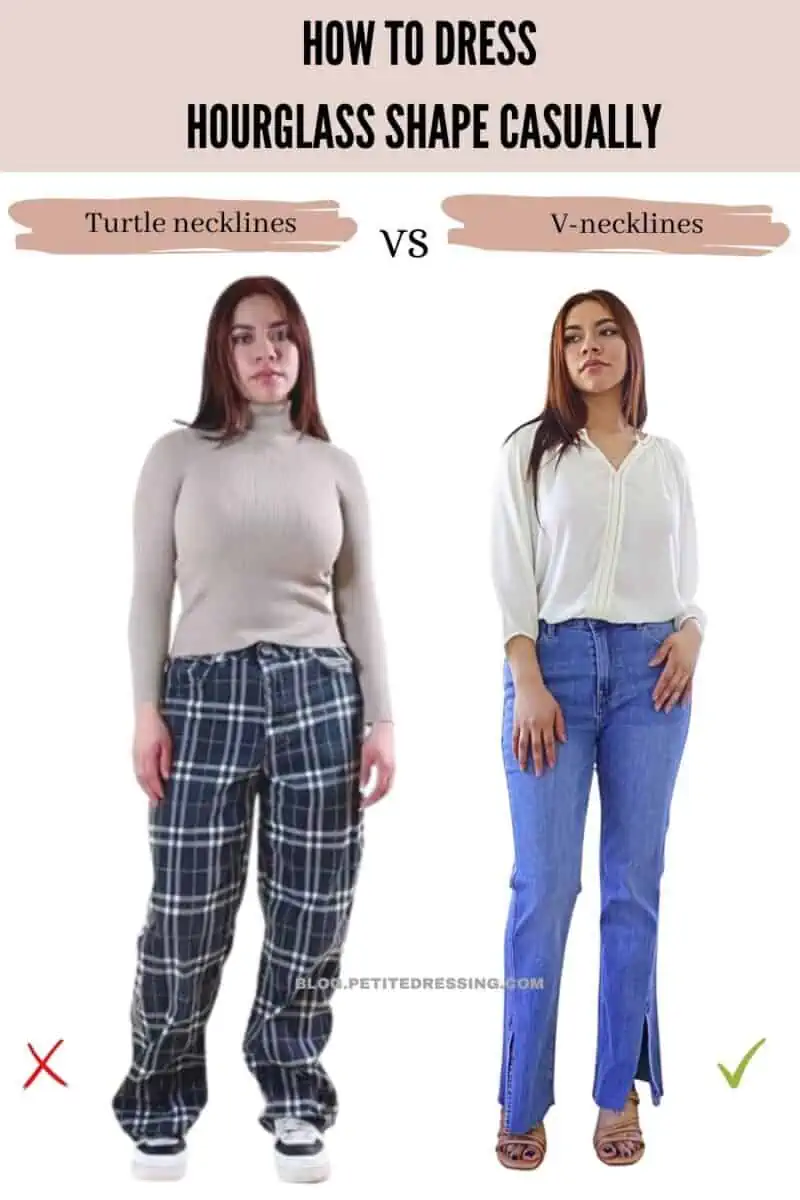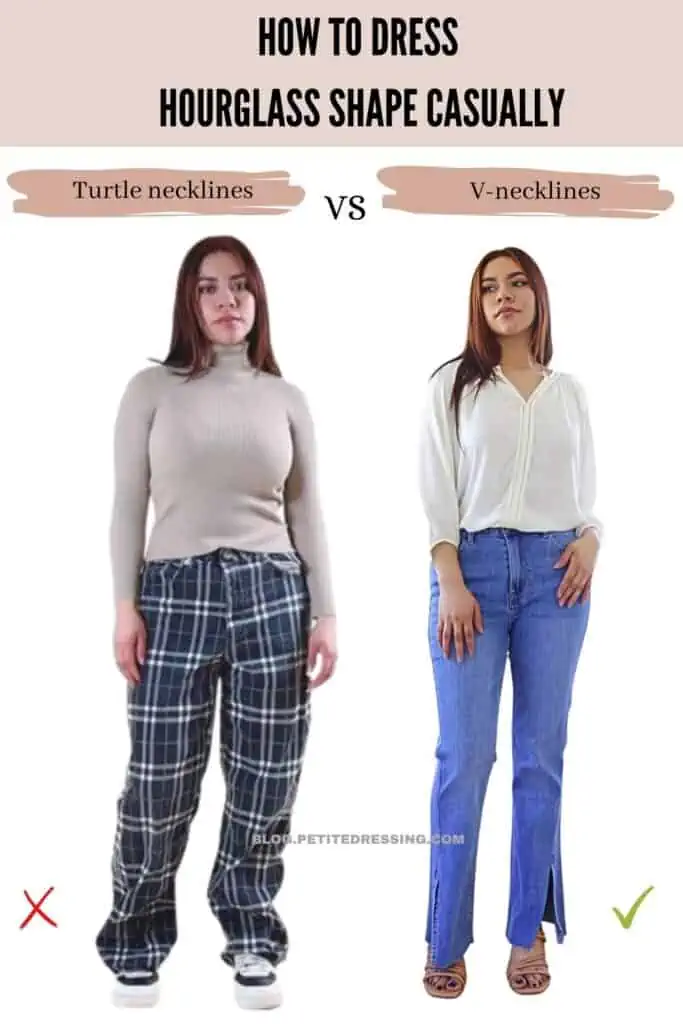 Sometimes when the hourglass want to look less "sexy" in their causal look, they would go for a higher neckline trying to cover up their full chest. The result is quite the contarary, because high neckline such as the turtle neck or even the crew neck will only bring all the attention to your big breasts.
The hourglass should avoid big decorations and girly details such as ruffles in their tops. Those add too much volume to your already luscious curves. You already look feminine without those, so they are not necessary to begin with.
Any casual tops with smocked design are not flattering to the hourglass. Those design only make the hourglass-figured women look bulky and heavy.
SWEATERS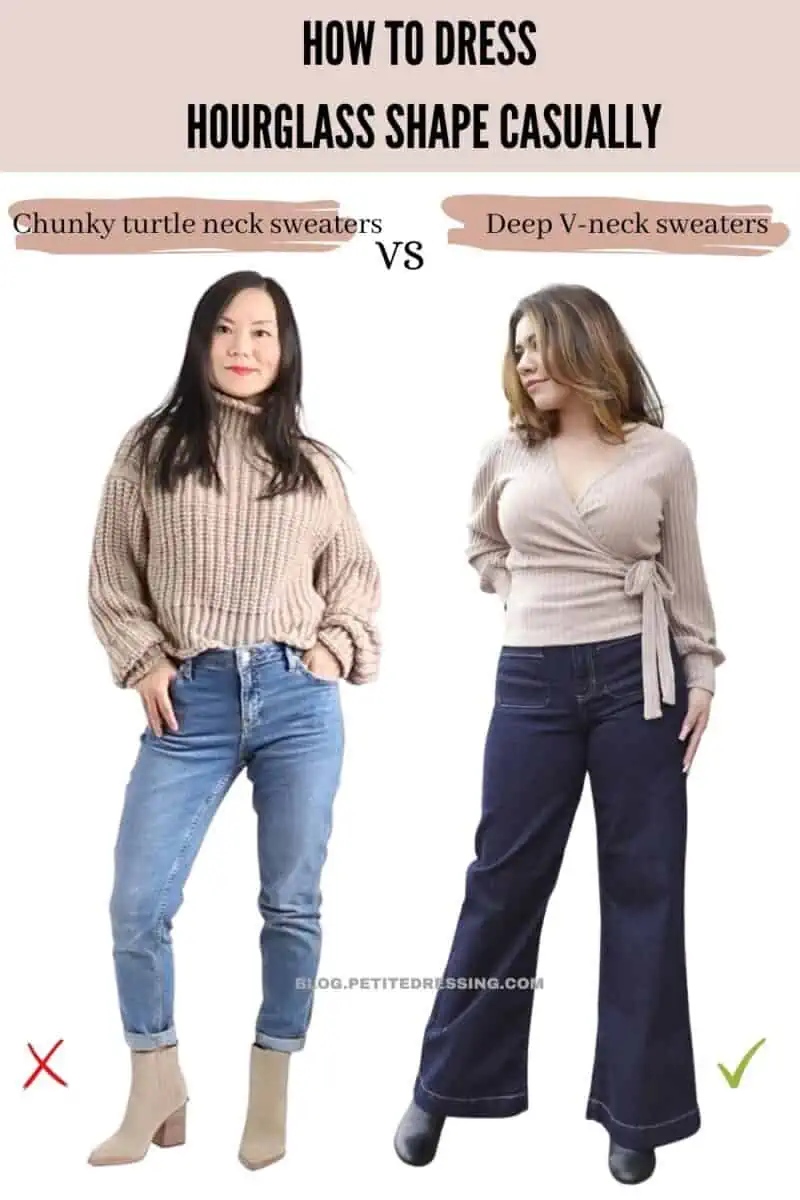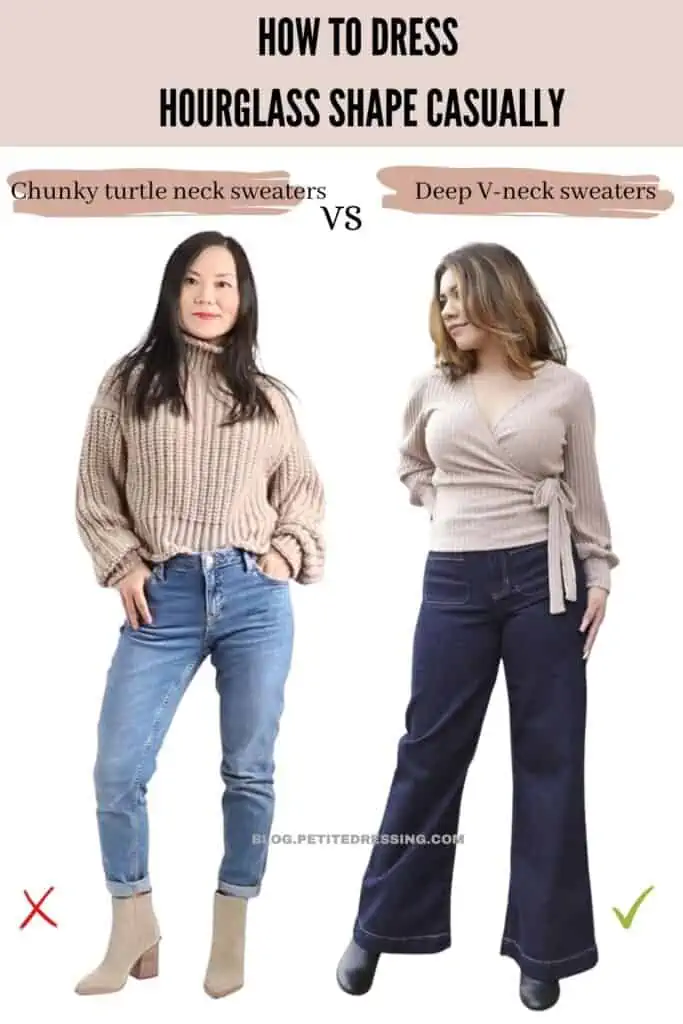 Best sweaters for the hourglass body type are deep V-neck fitted cardigans.  These are not only comfortable, but also they define your upper body nicely without being overly sexy. If you have a short waist, a cropped length will be your best choice.
The hourglass figure should have multiple cardigans like this in different colors and fabrics that you can wear year round to accommodate the weather change.
The hourglass shape should avoid chunky sweaters by all means. Even though the oversized sweaters are quite on trend, they only add more bulkiness to your body are not flattering to the hourglass figure.
JACKETS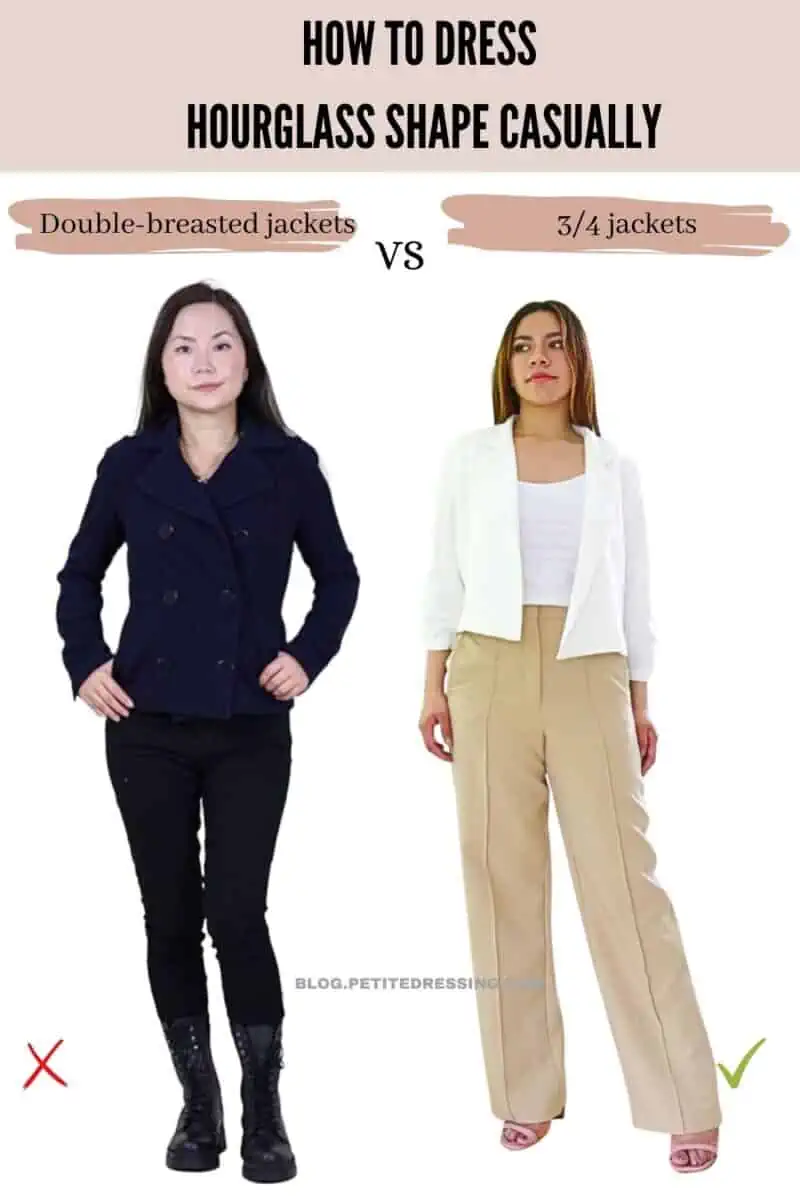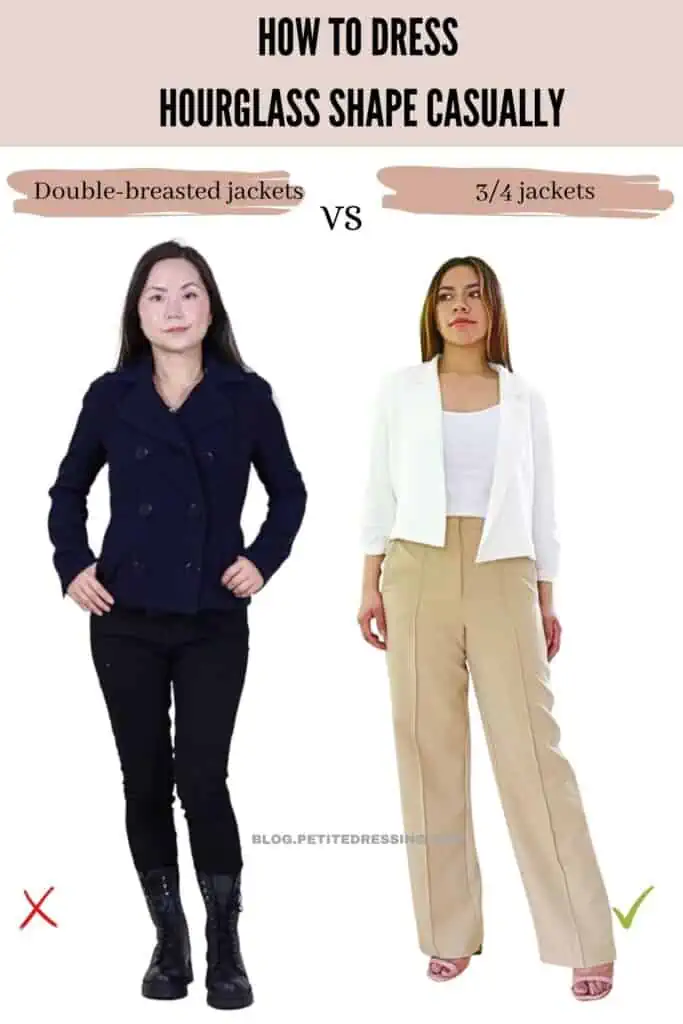 The best jackets for the hourglass are those with deep V neck and two buttons in a single row.
Go for a 3 quarter-sleeve jacket in the fall because they show your slender wrists and make your frame come across as more delicate overall, balancing out the fleshy impression of the hourglass figure.  
The hourglass shape should avoid double-breasted jackets, because will only expand your front and add more volume to your top.  They are especially not flattering if you happen to be a petite women with hourglass shape.
COATS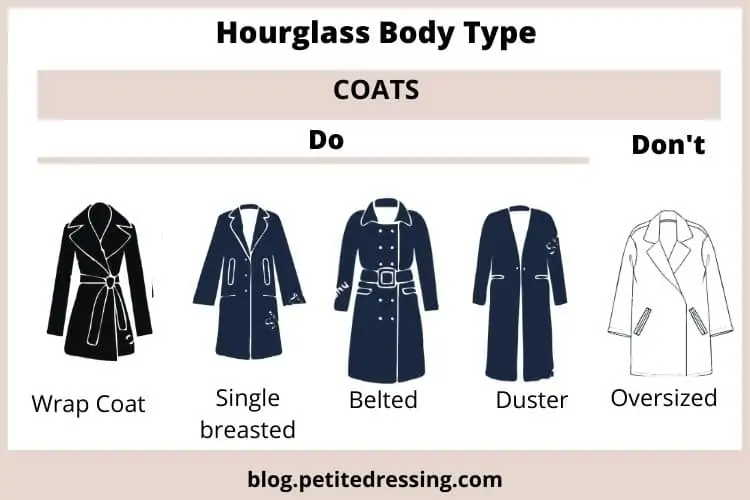 The best coats for the hourglass are the fitted coats with a deep v neck. This style emphasizes your biggest assets, the slender waist and flatter the curvy shape.
Coats with a belt look very well on the hourglass, because they can draw attention to your beautiful curves.
Wrap coats are a great choice for the hourglass, because they flow naturally with your curves. Besides, the wrap can be adjusted to accommodate your big chests and small waist, without causing you to feel restricted in the front.
The hourglass shape should avoid the current trend of oversized coats. Those are shapeless and will only make your already flesh frame look even heavier.
The hourglass looks the best in single breasted coats than in double breasted, because the single breasted coats, especially those in darker colors have the most slimming effect, which can balance out your curvy shape overall.
SHOES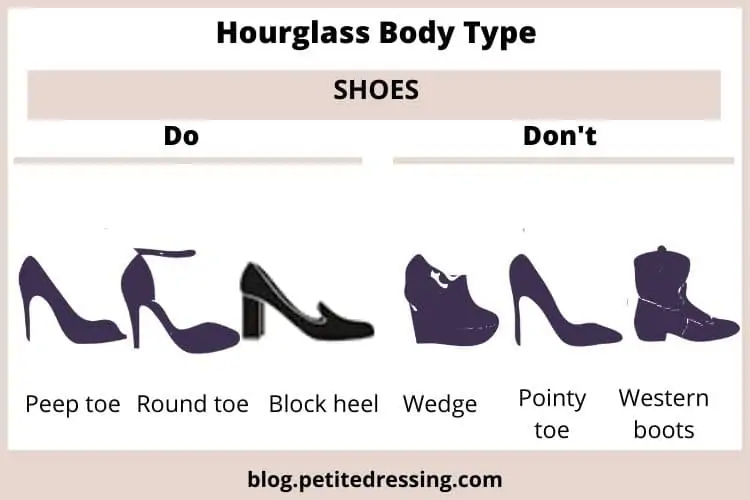 The best shoes for the hourglass are the peep toe pumps. By showing a bit of the toes, these pumps are most in harmony with your curves. Besides, they also make your legs look more extended. That is especially critical if you are a petite hourglass figure.
Rounded toe can also look good on the hourglass shape, because anything round goes with the overall full figure of the hourglass.
Even though I do not recommend using girly details such as a bow or ruffles anywhere else on the hourglass, they can be very flattering for you if they are on the shoes.
Flats don't look as good on hourglass as heels.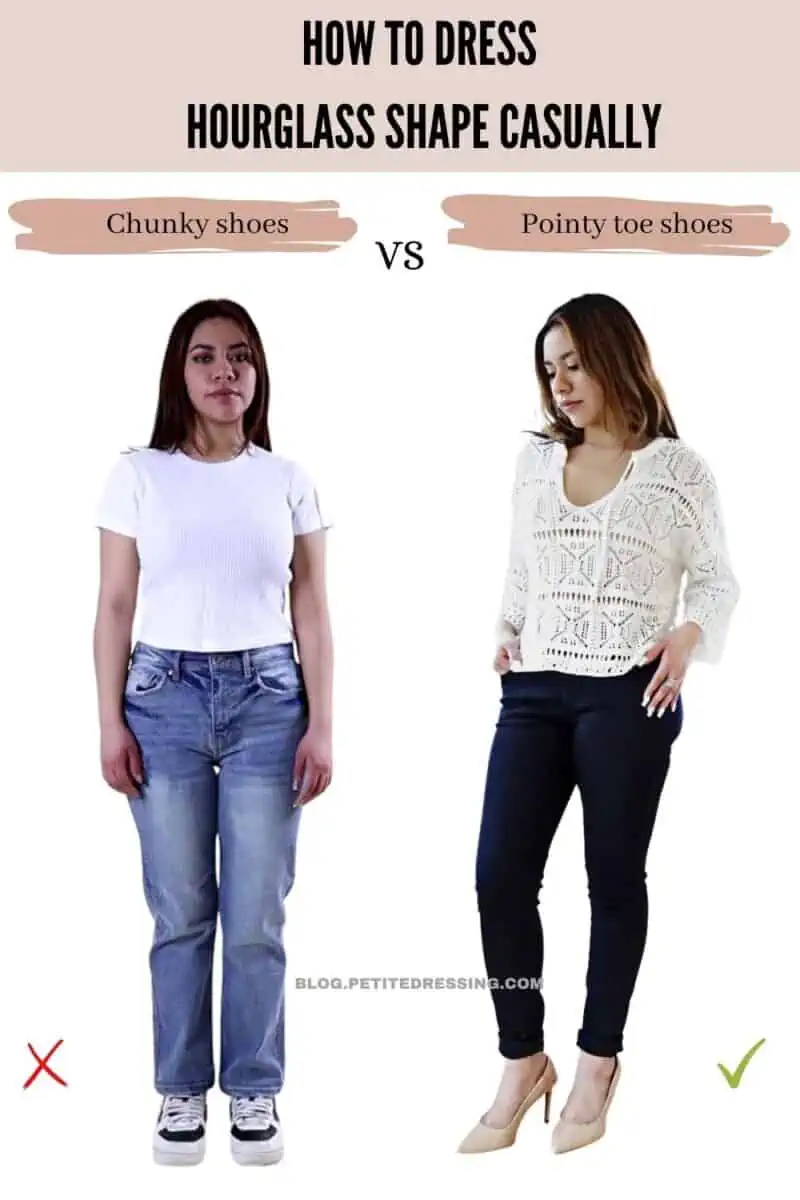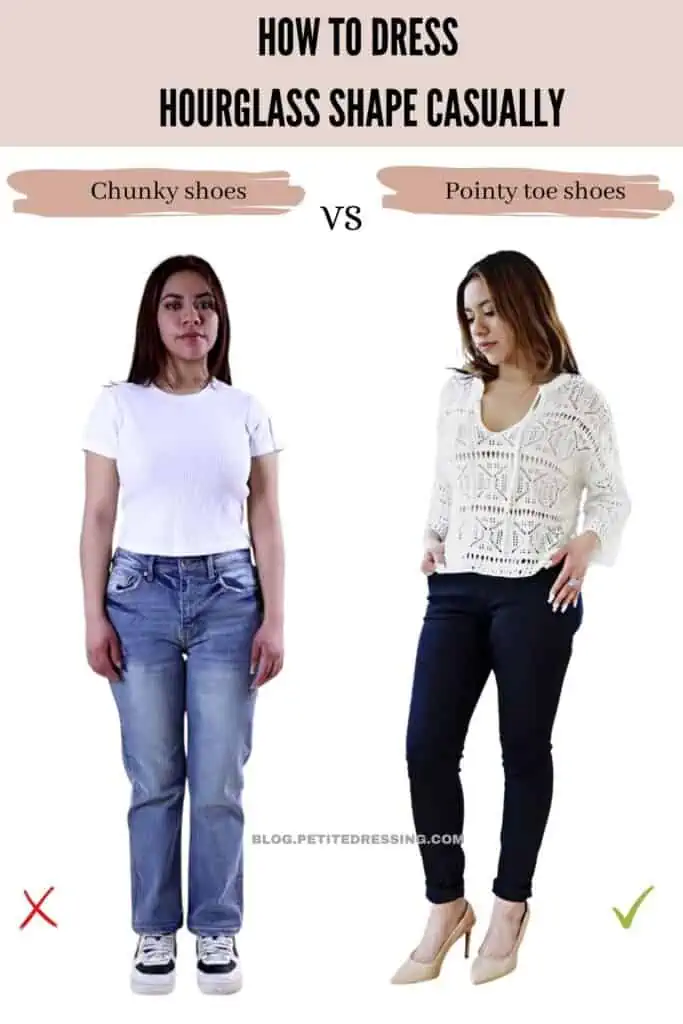 Stilettos with super skinny heels and pointy toes are not the best choice for the hourglass.
Any cowboy boots will only make an hourglass bigger than they are. If you are petite with an hourglass figure, these boots will also make your legs look cut-off. They add too much volume to your feet, therefore not flattering to the hourglass shape, which already got luscious curves.