The right kind of dresses will make you look slimmer, while the wrong kind can make you look bigger than you actually are. After many years of trial and error, I discovered these 14 types of dresses that will immediately make you look thinner and leaner!
V-neckline dress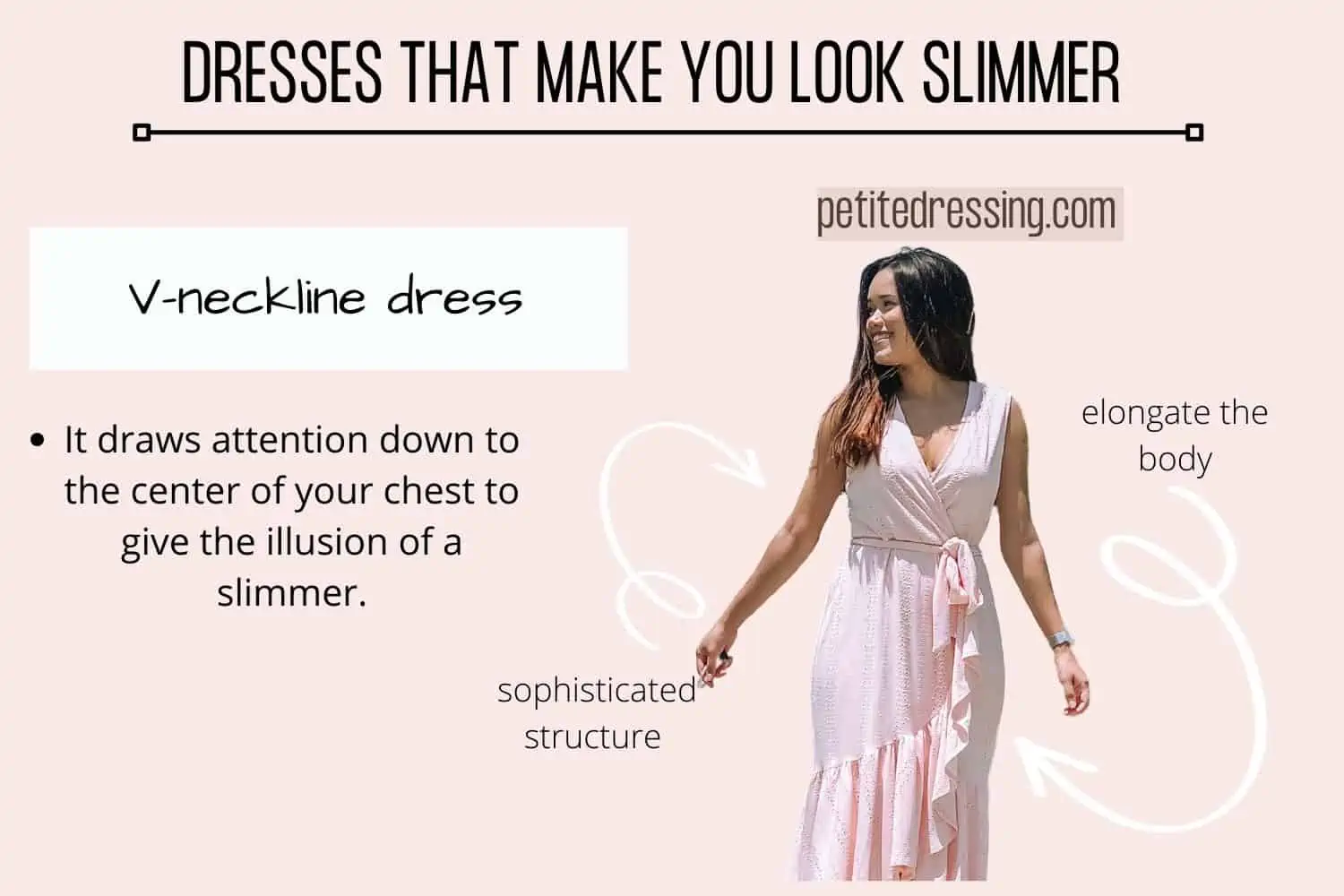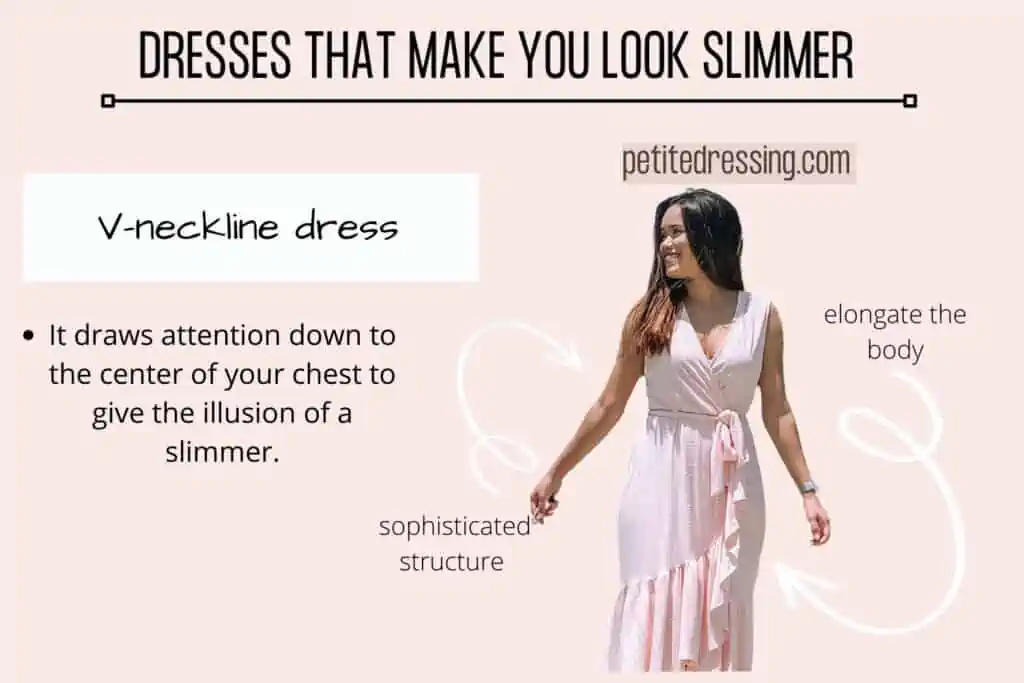 The v-neckline dress is structured in such a way that it draws attention down to the center of your chest to give the illusion of a slimmer look that aims to give elegance and poise to your figure. It is one of the most flattering necklines that is a very comfortable and soothing style of dress that is designed to elongate the body for a leaner effect.
It is a unique style of dress that is almost perfect for every shape and gives a vertical impression to one's look making you look longer and leaner. It remains that one piece of style dress that you can never go wrong with because of its simple and sophisticated structure making it an even more recommended wardrobe staple piece for the leaner look you want for your body.
Sheath dress
It is an elegant, simple, and versatile dress that remains a reliable option of dress style to highlight your curves and incredibly elongate your body. A sheath dress bears a slim, narrow, and streamlined fit that occupies a straight figure-hugging shape.
They are classy, give the right proportion and stretch the silhouette upwards making it a great choice of style that is perfect to give a slim or leaner structure to your body.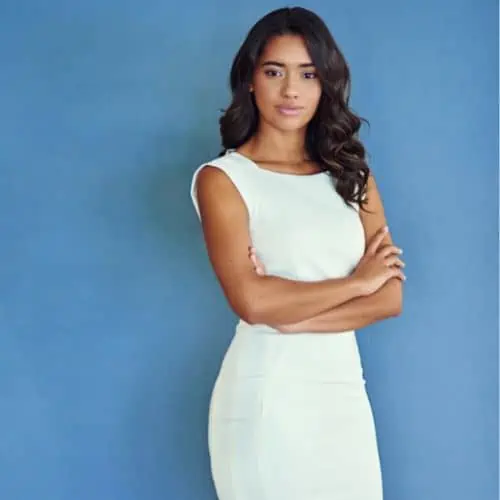 What Sheath Dress can offer?
Sheath dresses are typically taken in at the waistline to accentuate the contours of the silhouette, therefore creating quite a feminine, sleek, and sexy look.
This style of dress is designed to have a slit at the front to give your figure not just a slimming fit but also a comfortable structure for your body.
Ruched dress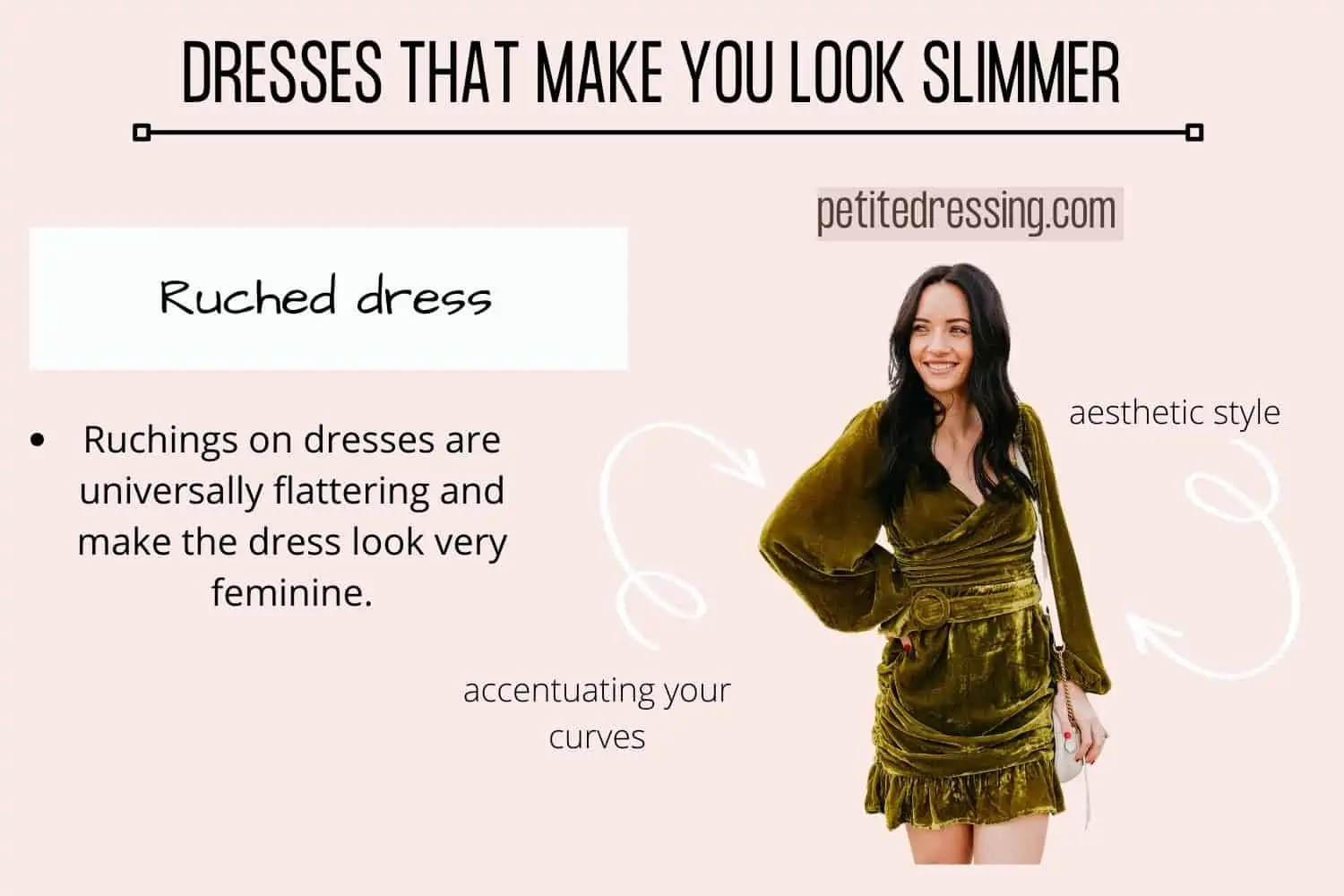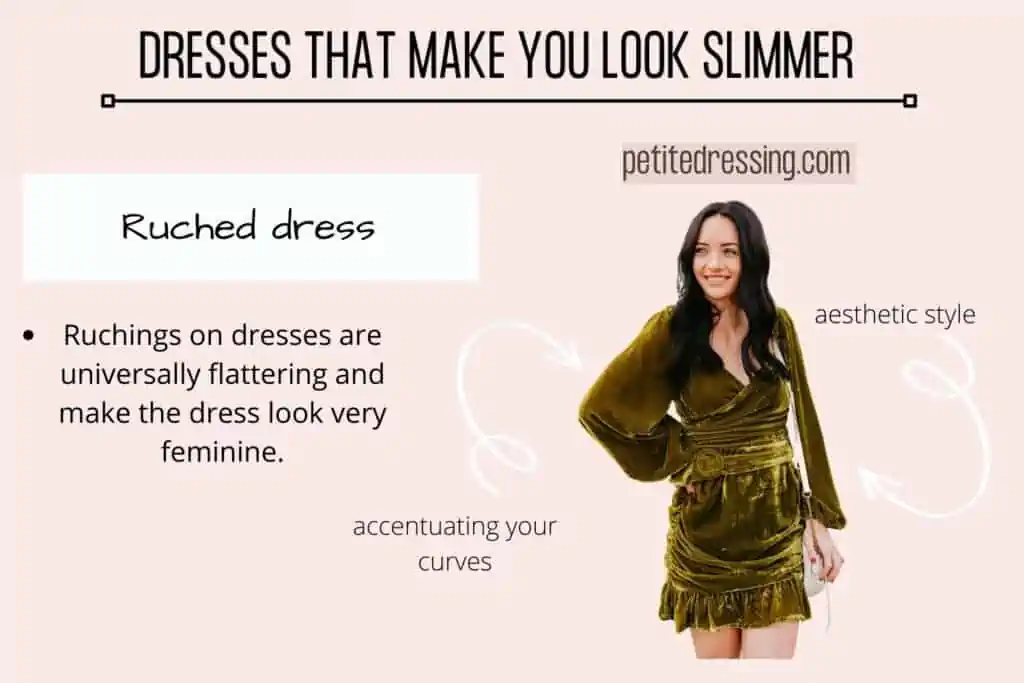 Dresses are designed in different ways and the ruched dress is an amazing aesthetic style with ruchings that help hide figure details without ruling out the special effect of giving a slimmer effect to the body as it draws the eyes towards the narrow part of the body.
Ruchings on dresses are universally flattering and make the dress look very feminine as it helps you get a sleek look that is perfect for every size and remain a very stylish choice of dress for a slimmer look. It is a figure-flattering silhouette piece for your body structure and getting one into your wardrobe is a great idea.
The dress does so well in accentuating your curves and is also a very comfortable piece of dress.
A line-cut dress
This design of dress cinch around the waist and widens from the waistline to the hem giving your body a unique structure that aims to lengthen your body.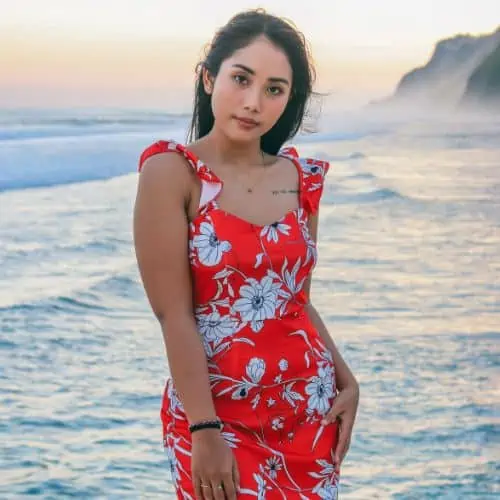 What is an A-line Dress?
One of the most flattering dress styles for any body type that is used to create the illusion of a narrower waist and lengthy body is the A-line pattern dress.
Corset style dresses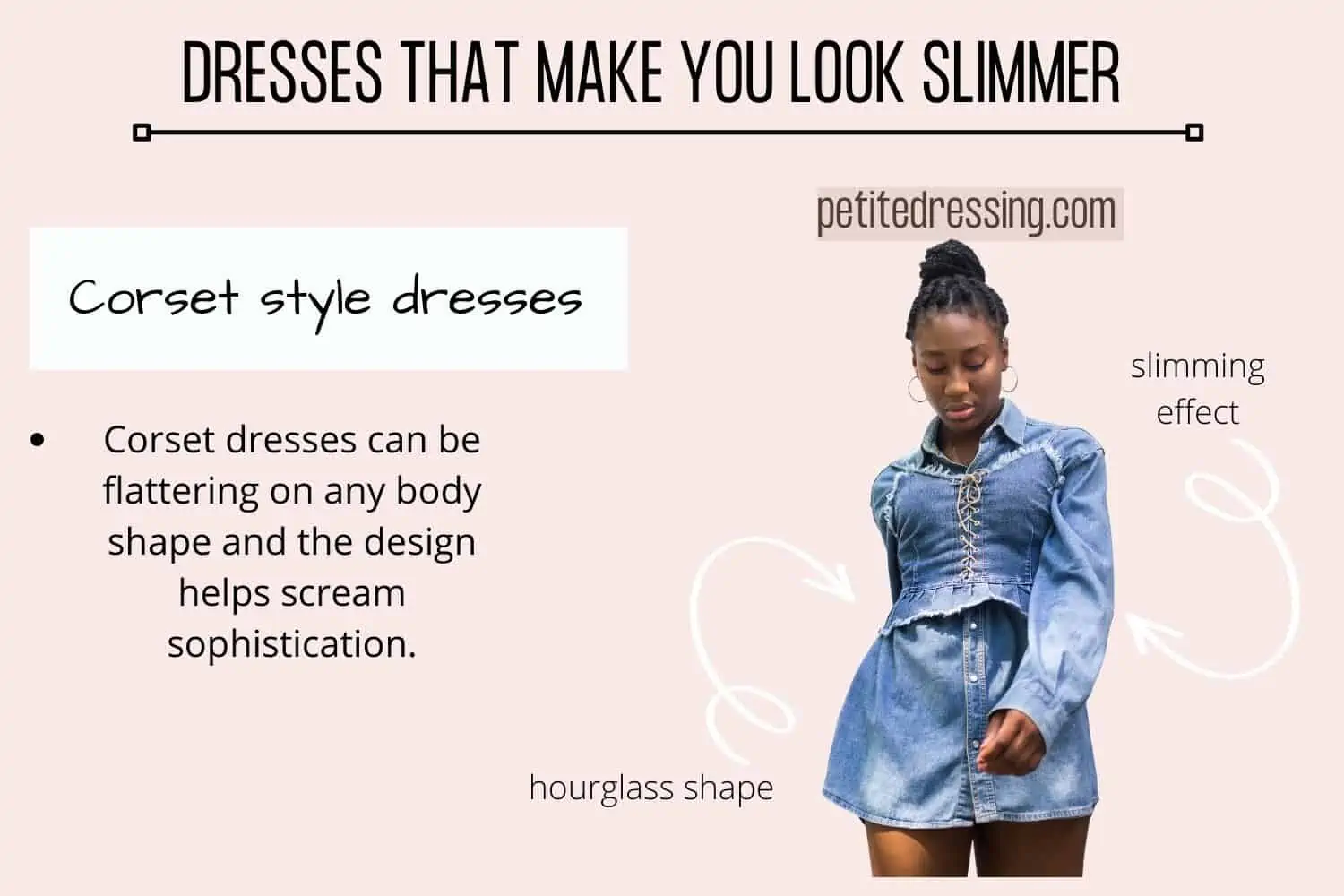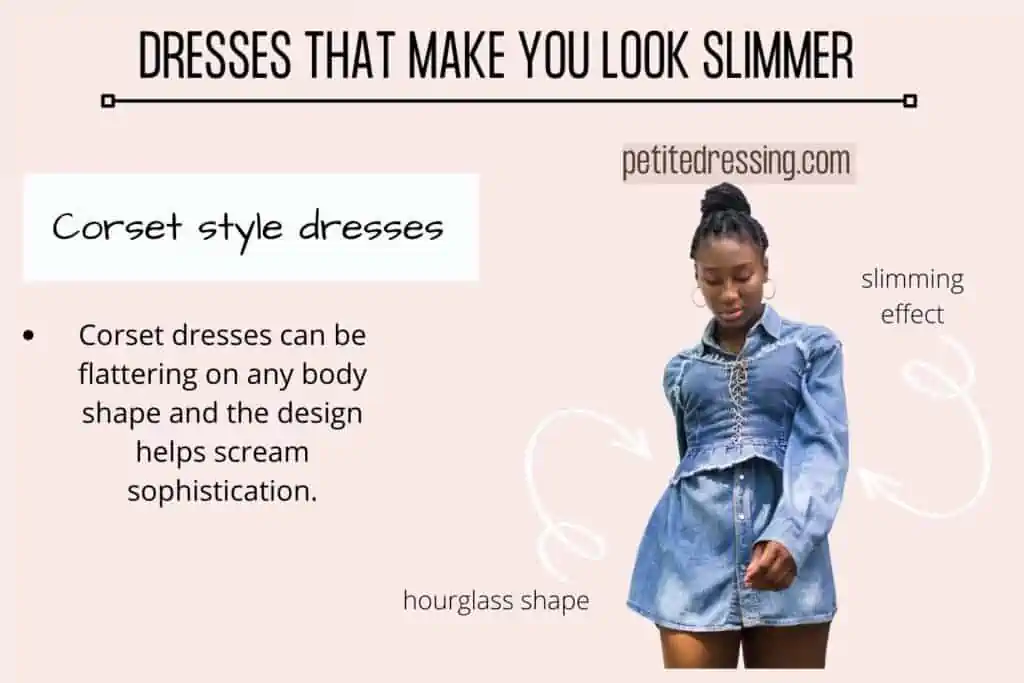 Getting the slimming effect desirable for your body shape is achievable if you choose the right dress and as such the corset style dress is a great option to add a slimming effect to your body. Corset dresses are designed to sit beautifully on your body and cinch your waist to give you the illusion of a slim body.
Corset dresses are a trendy and classy design that has a great effect on your midsection to give your body an hourglass shape. If you do not desire shape worn underneath your clothes then well-tailored corset-style dresses are the best fit for you.
Corset dresses can be flattering on any body shape and the design helps scream sophistication and add poise to your figure.
Dresses with vertical stripes
Stripes are designed to have a special effect on your body but the vertical line stripes are the most preferred and unique design that would make you look longer. They are often the go-to dress option to achieve a leaner look and as such it's best to avoid any form of horizontal striped dress.
Also, more narrow lines tend to create some sort of visual balance by drawing the eyes upwards and are more slimming.
It is also important to note that when wearing vertical stripes it is best to opt for styles where the vertical lines remain straight. This will assure a nice outcome, and your silhouette will look thinner.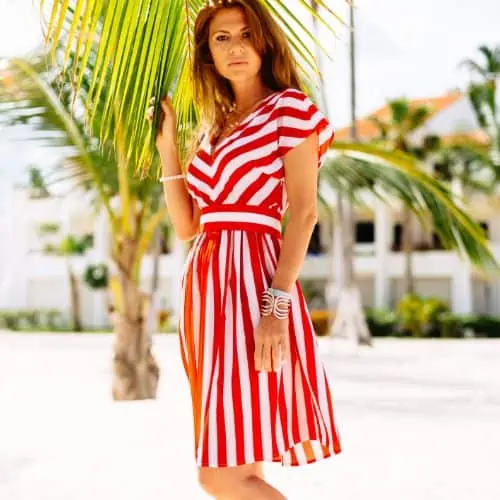 Why use a Dress with a vertical line?
Stripes are designed to have a special effect on your body but the vertical line stripes are the most preferred and unique design that would make you look longer.
They are often the go-to dress option to achieve a leaner look and as such it's best to avoid any form of horizontal striped dress.
Wrap dress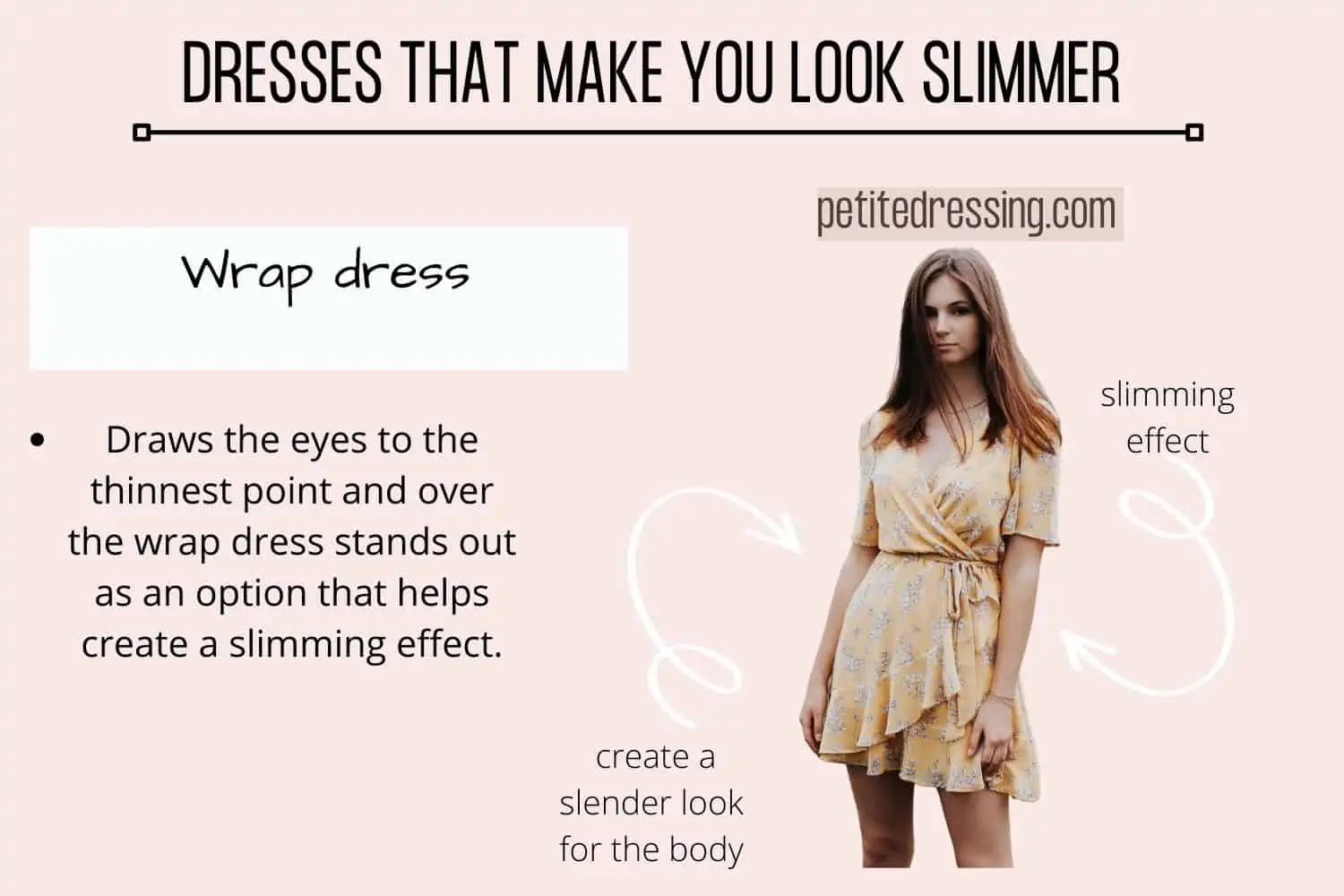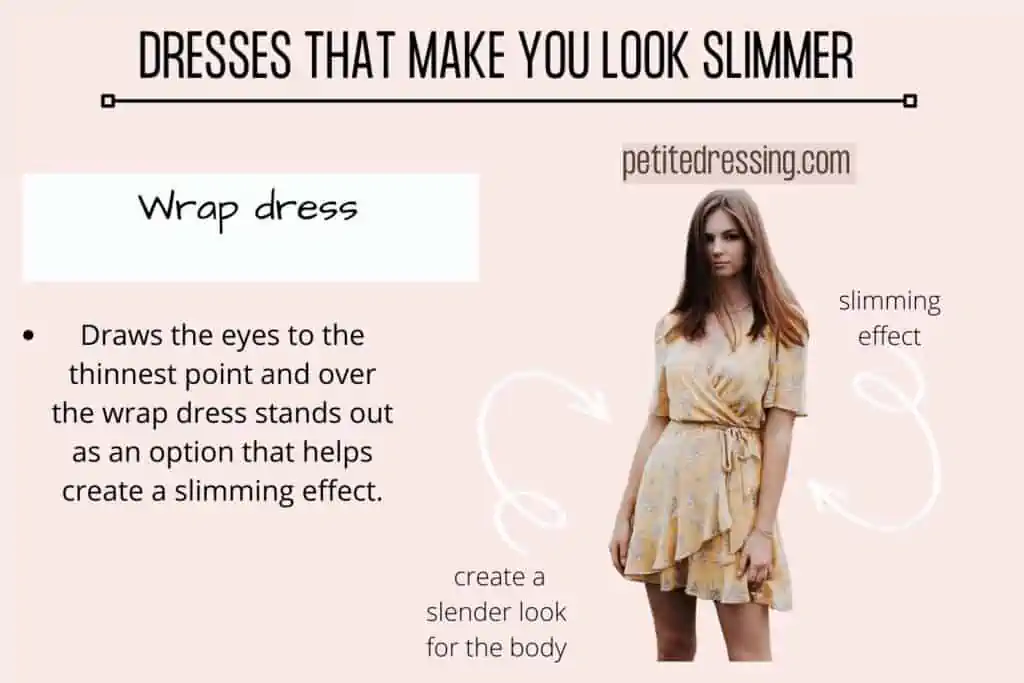 Dresses that cinch in at your natural waist draw the eyes to the thinnest point and over the wrap dress stands out as an option that helps create a slimming effect. They are universally flattering and can be worn by any body shape.
They define the waist of all body figures and with a wrap around the waist that cinches on the slimmest portion of the torso, the wrap dress gives an ultra-slimming effect. Paired with a v-neckline, the dress enhances your bust and slims over the hips.
The wrap dress is an elegant and forgiving style that oozes class and speaks perfection for one who desires to create a slender look for the body.
Dresses with an empire waist
The empire waist dress is designed to create a very flattering silhouette with a fitted bodice and a high waistline that's usually located right below the bust, most closely around the rib cage which is the narrowest part of the body for many women.
This style of dress is made to highlight the area of your bust and the area near your natural waist. It will make you appear visually slimmer compared to emphasizing the width of your bust and the narrowness of the waist., which is frequently the part of a woman's torso that is thinner than any other.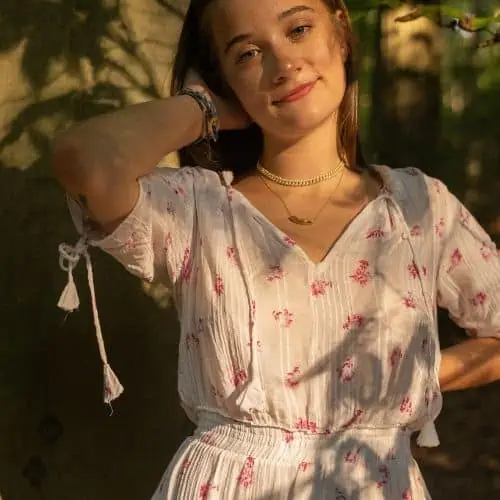 Why Dresses with Empire Waist is a must-have?
It is a very simple and unique dress that is very comfortable and stylish for a desired slimmer effect.
The Empire waistline dresses are a very forgiving style and the high waistline increases the appearance of height.
Belted dresses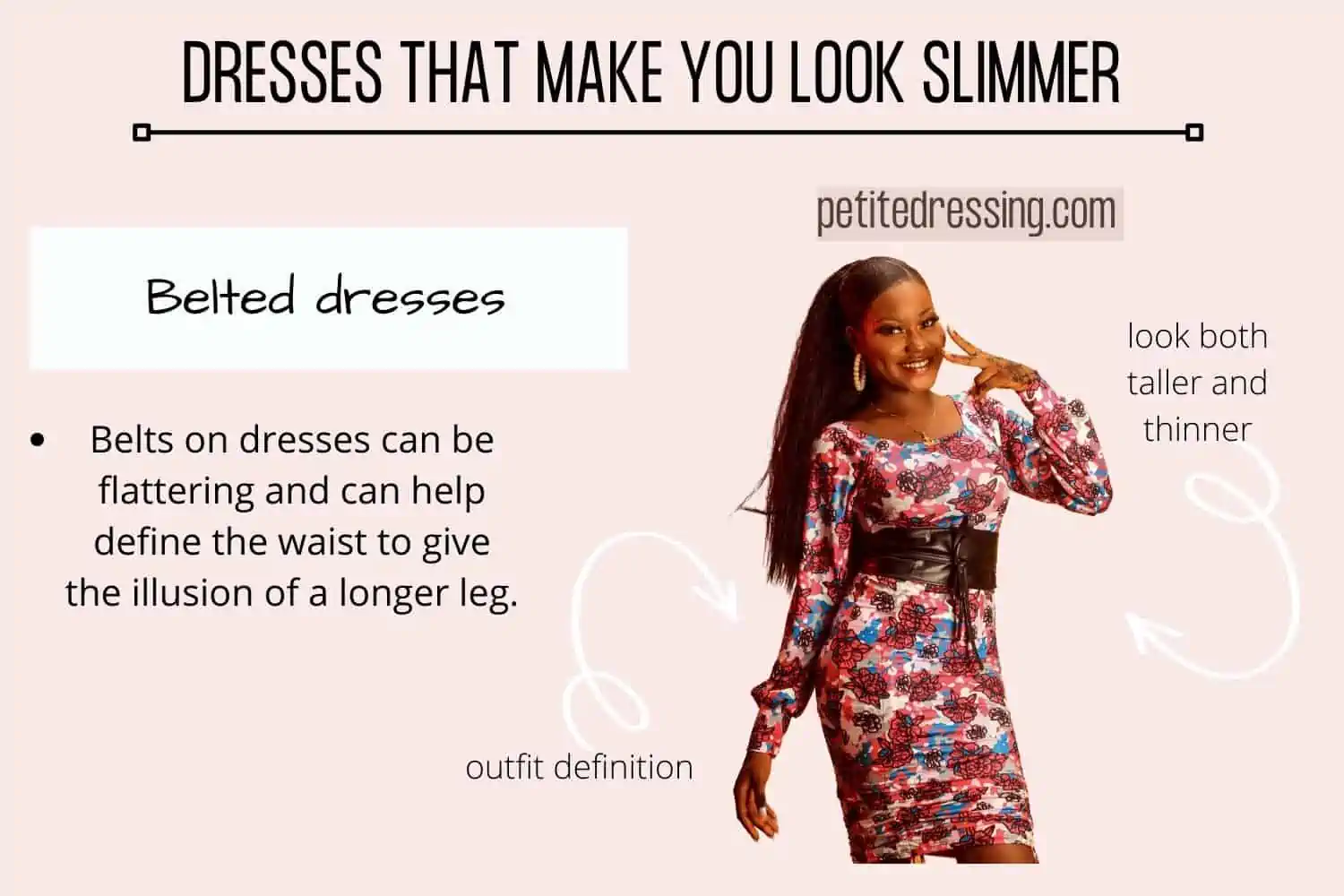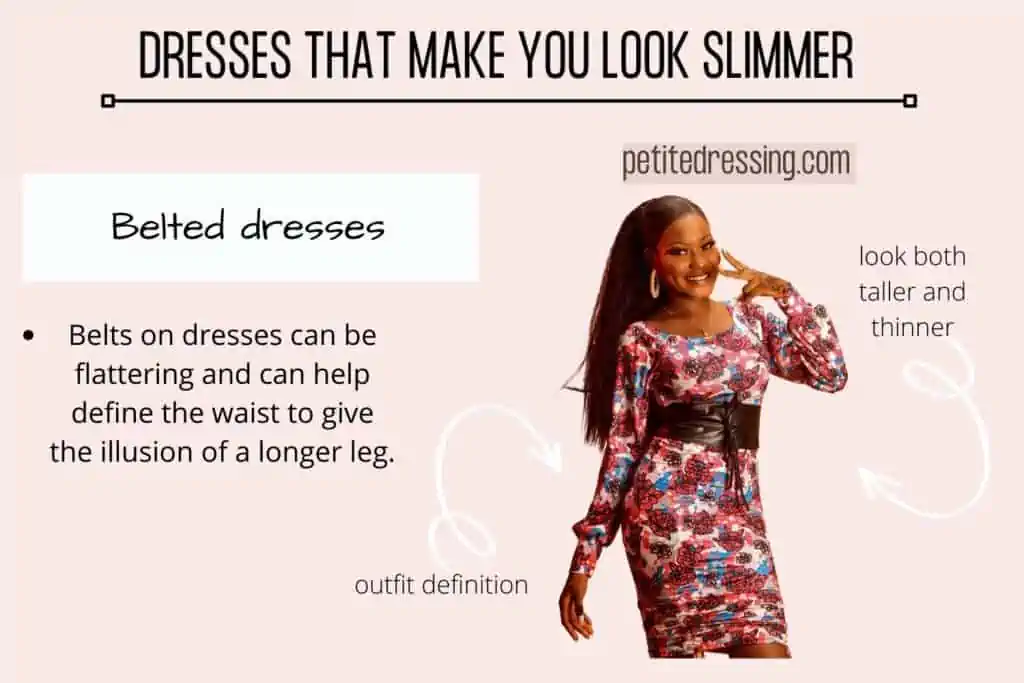 Belts are designed to naturally highlight the waist and this can thus effortlessly create elegance and make the body look slimmer.
Adding a visual cue to focus your outfit helps draw people's attention to your waist and this elongates your legs, gives your outfit definition, and makes you appear slimmer by adding focus to the thinner part of your body.
Belts on dresses can be flattering and can help define the waist to give the illusion of a longer leg. Belts on dresses make one look both taller and thinner, and it is best to match the belt color to your dress as it will give the illusion that your legs are just a little longer.
Wear dresses with small prints
Wearing printed clothes affects your body shape and you should not miss out on getting the right print on your clothes for your body. If you intend to achieve the illusion of a slimmer body, then small printed clothes should be your favorite choice.
Unlike small prints on clothes, large prints are not an option for your body if you want your body to look slim because instead of causing size reduction, large and bold prints do the opposite by causing an increment in body size. In essence, you should pick clothes that have small print designs on them.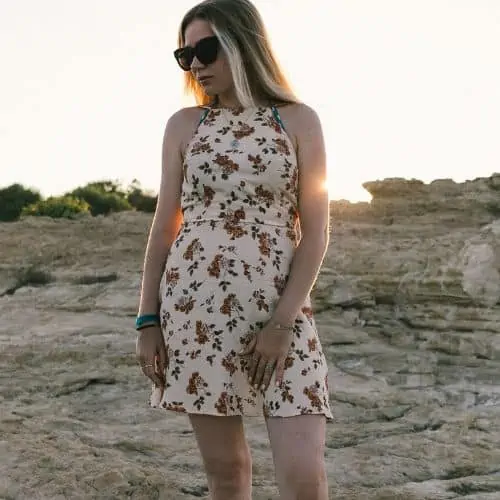 Why it is important to wear dresses with small prints?
Small prints floral dresses and even tiny polka dots are very beautiful designs on clothes that make you look elegant in your outfit, complement your shape and give proportion to your body.
The small prints on clothes can help to create a visual imbalance that easily helps you attain the slimming figure that is desired for your body.
Wear dresses with fitted long sleeves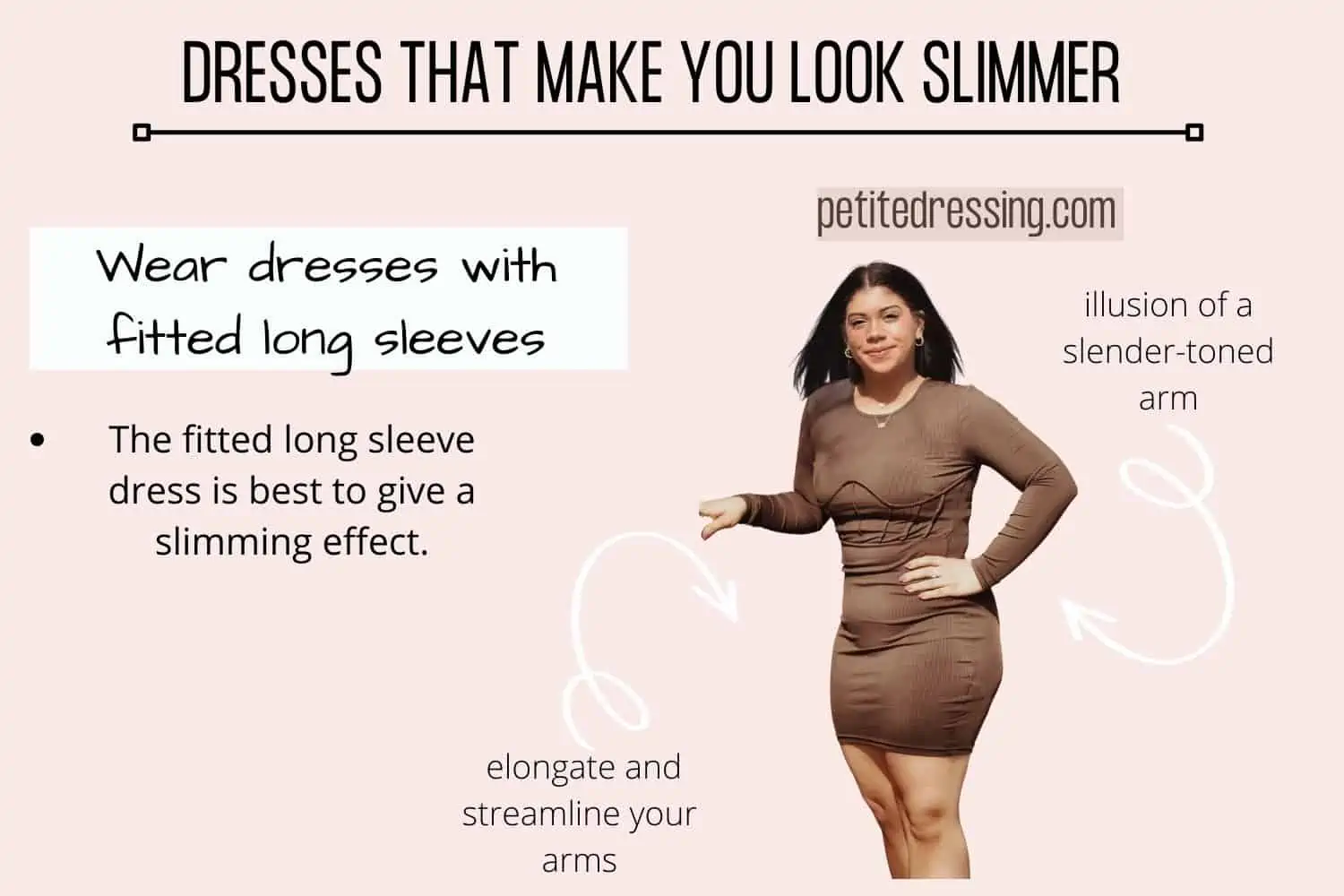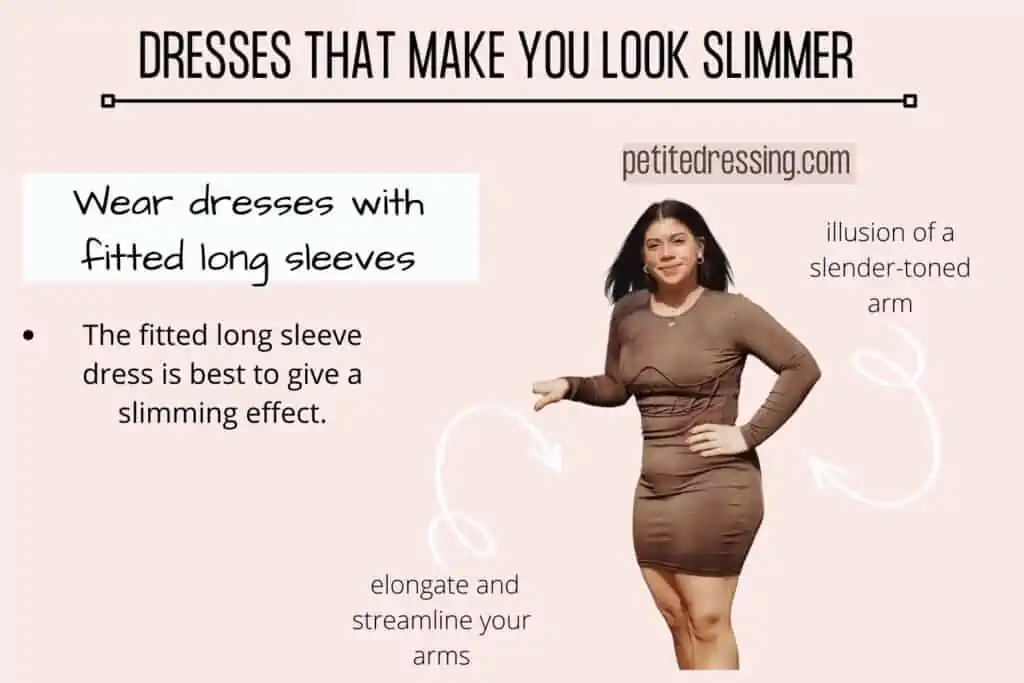 Fitted long sleeve dresses naturally give an elongated and stretchy look, especially on the arms. As much as you can, don't wear cap sleeves as they would hit you at the widest part of your arm thus highlighting that area.
Opt for dresses with long sleeves to the cuff, or ¾-length sleeves that elongate and streamline your arms whilst giving the illusion of a slender-toned arm. Shorter sleeves also draw attention to the size of your bust, your upper body, and any arm flab you might feel awkward about showing causing a less flattering effect around that area.
The fitted long sleeve dress is best to give a slimming effect and it is even more effective if the length of the dress hits right on the knee or just below the knee.
Avoid pleated dress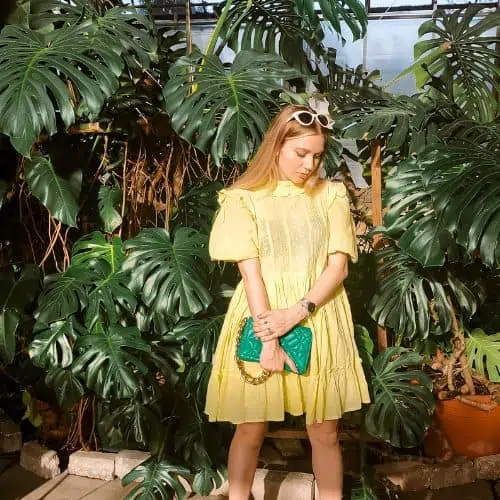 Why you should avoid Pleated Dresses?
Pleats on dresses can be sexy and feminine, and do not add a slimming effect to the body.
That is because the moment pleated dresses begin to part and open up, more volume is added to the body.
Avoid dresses with large and busy prints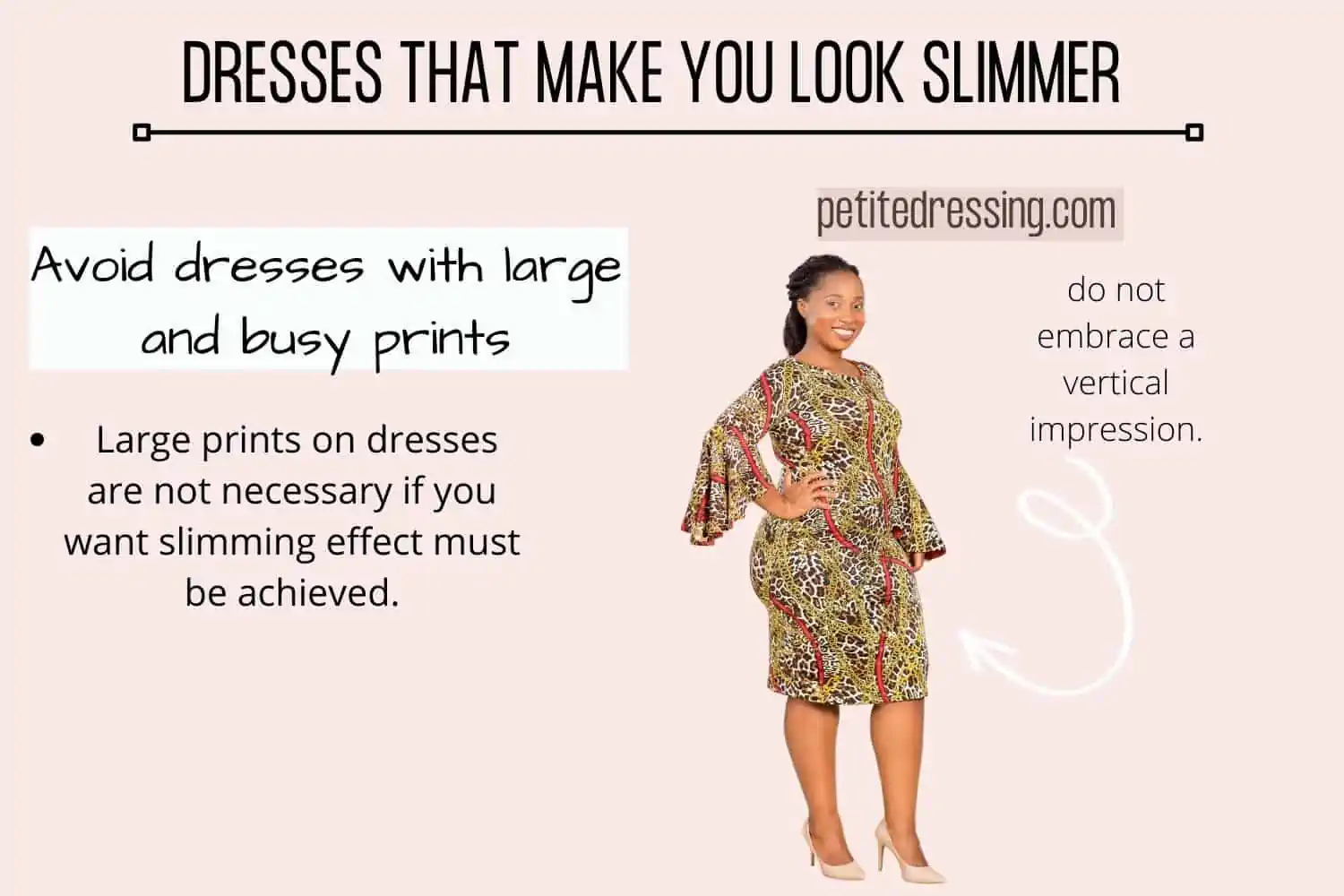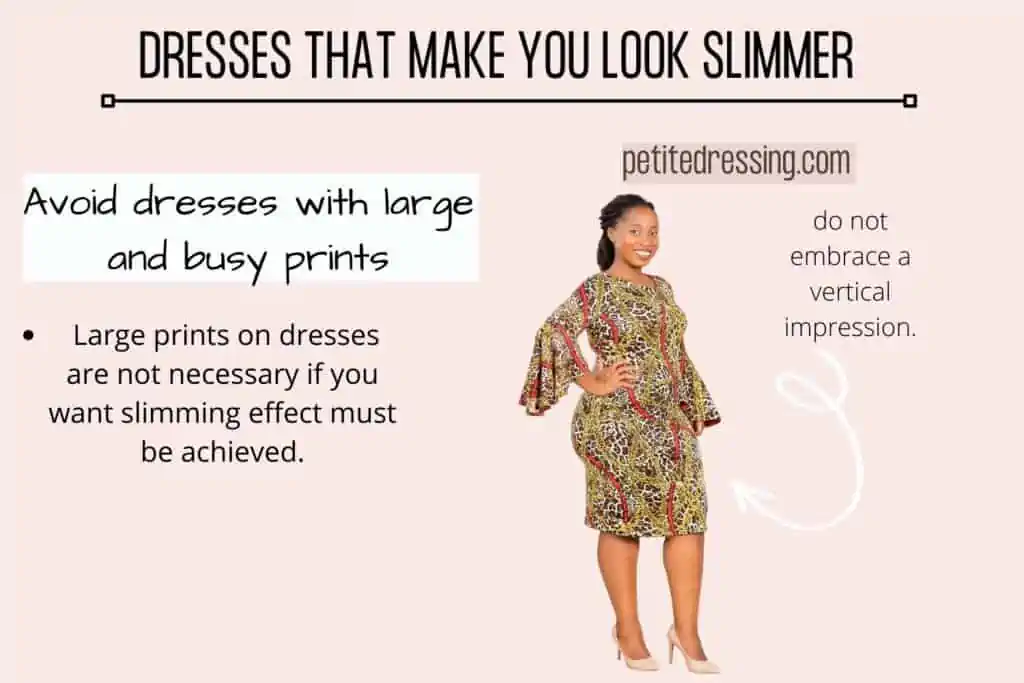 Prints on clothes can be very beautiful but large and busy prints are not essential as they provide multiple places for your eyes to lose focus without giving the desired slender look and this means they do not embrace a vertical impression.
To create a slimming effect there must be focus created on the body of the dress and too busy and large prints on dresses are not necessary if that effect must be achieved.
I hope you find these tips helpful! I am also excited to mention that I am one of Google's paid early testers for their Thank with Google pilot program! Thank with Google is a brand new experimental feature that allows you to purchase a virtual sticker to show your appreciation for content on this website!
You will find different kinds of stickers to select from, and every time you send a paid sticker you can add a personal message to me! Whether you send a paid sticker or a free one, I truly appreciate it. Knowing that my content is helping another woman with her style journey is what motivates me and keeps me going. If you do send a paid sticker, it will help me with maintaining the blog so that I can write more free content for you!
You can find the Thank with Google feature in multiple places on my site. If you try it out, let me know what you think!