What style of casual dresses look good on women with a thick waist, and which ones should you stay away from? This simple guide will answer your questions in the best possible way. We've put together some amazing dress styles that will flatter your curvy shape while hiding your muffin top elegantly.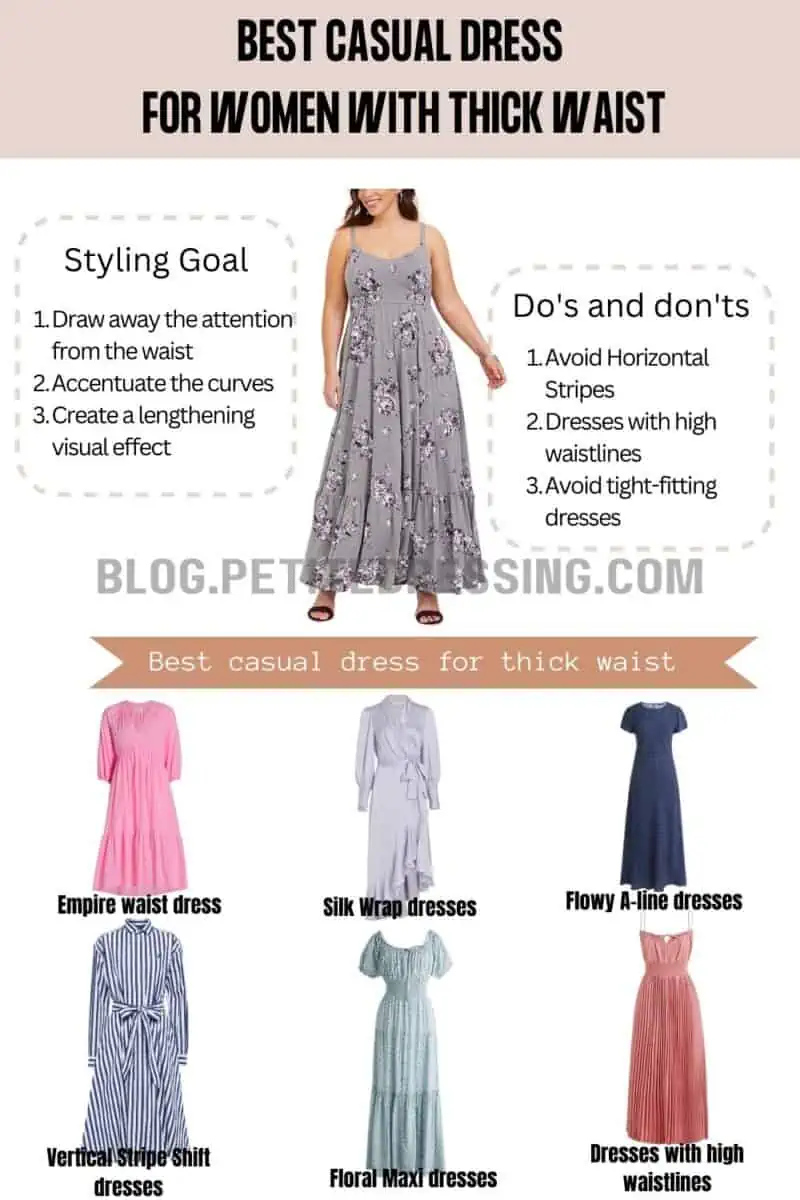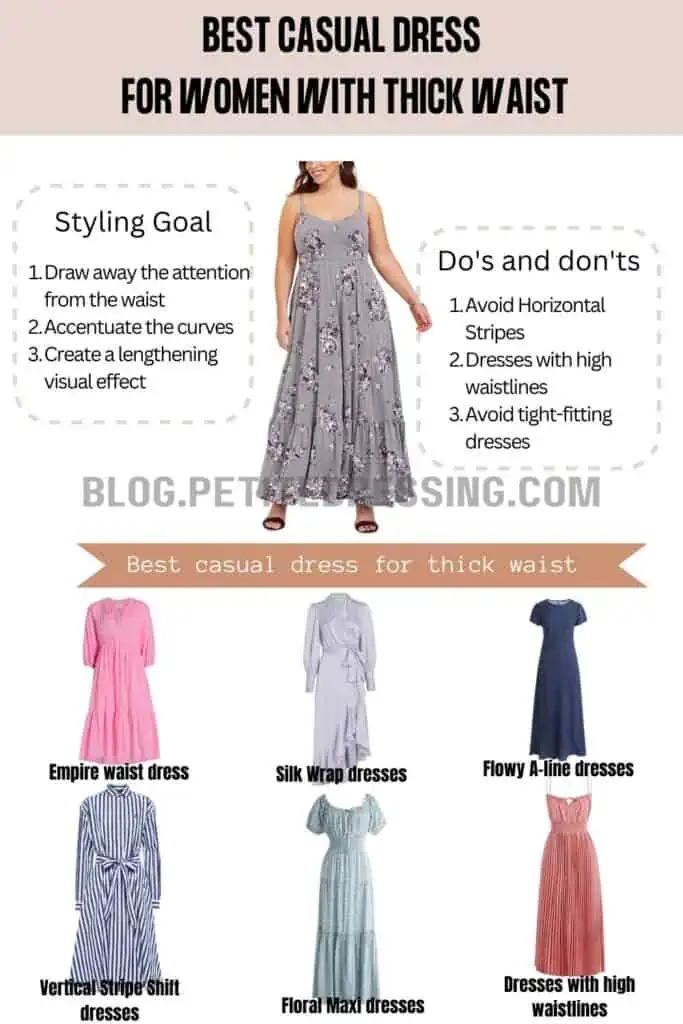 Empire waist dress
One of the best ways to create a balanced and proportionate silhouette, especially for a woman with a thick waist, is with an empire waist dress. The empire waistline works by sitting right under the bust, which helps to draw attention away from the waist while more attention goes to the upper body.
So, if you're a bit self-conscious about your muffin top, you will find this dress style incredibly flattering. Of course, there's the extra benefit of the flowing skirt of the empire waist dress, which works perfectly to hide your thick waist without concealing your lovely feminine shape.
Be sure to go for an empire waist dress made with lightweight, flowy fabric, as this will make this casual dress very comfortable on you. You can definitely pull off an effortless and relaxed look with an empire waist dress that drapes around your body beautifully.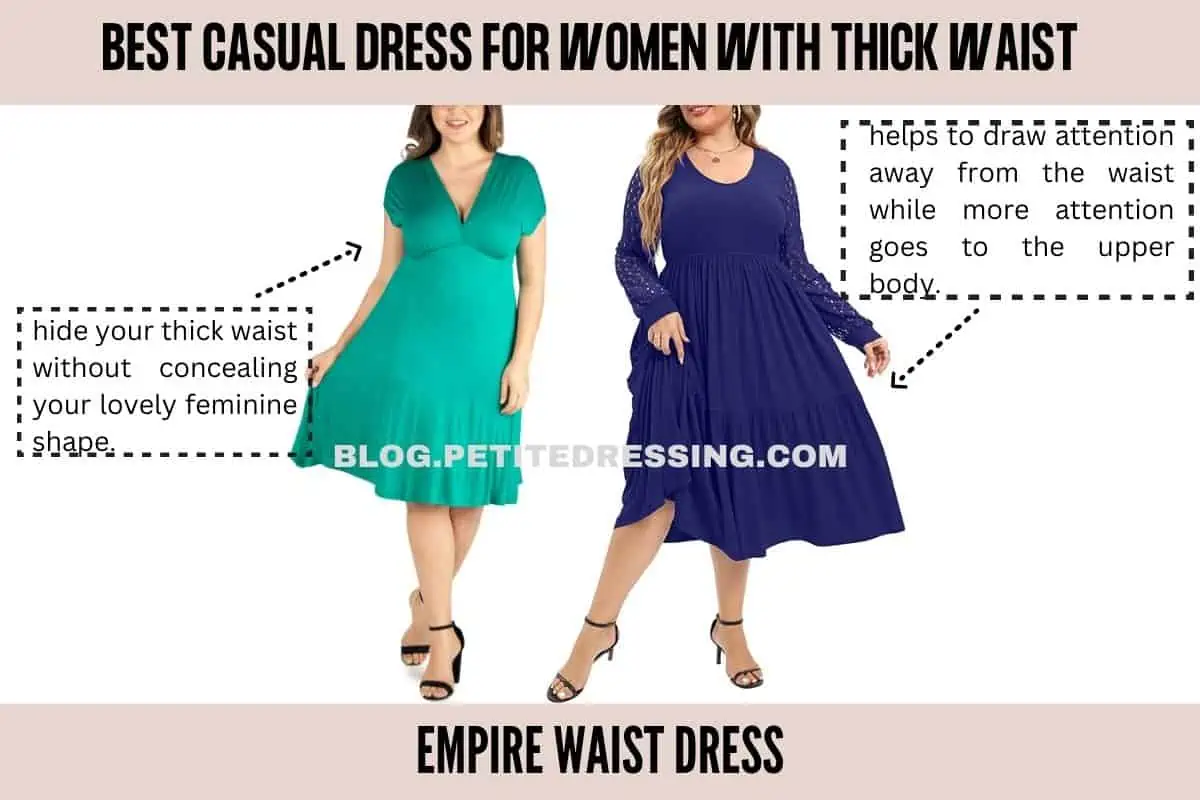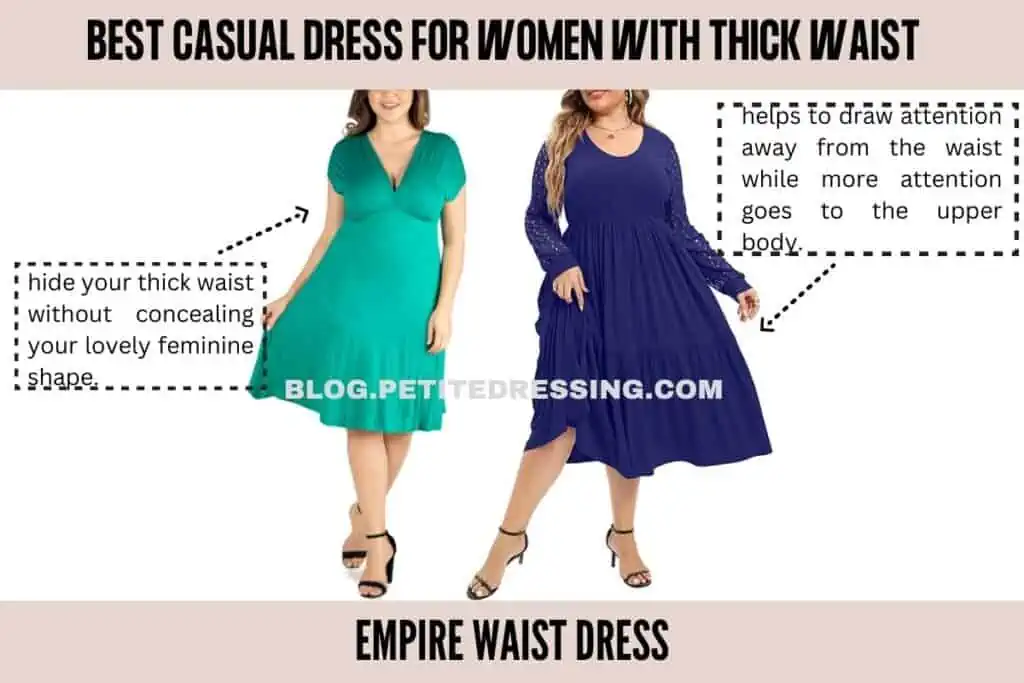 Silk Wrap dresses
Silk wrap dresses are known for cinching and defining the waistline, which creates a flattering silhouette that's perfect for women with thick waists. The wrap style of the dress makes it customizable, so you can easily adjust the dress to suit your body shape.
This means that you can loosen or tighten it seamlessly to accentuate the curves you want more attention on and minimize the waistline just the way you like. The silk material for your wrap dress is best for achieving this.
The silk fabric drapes beautifully over your thick waist, creating an overall elegant and smooth look that will help you rock any casual event to your satisfaction. This material is also comfortable and breathable, making it great for warm weather too.
Silk wrap dresses are versatile, so you can wear them multiple times in various styles by accessorizing them differently. It's a great idea to go for a dress style with a deep v-neckline.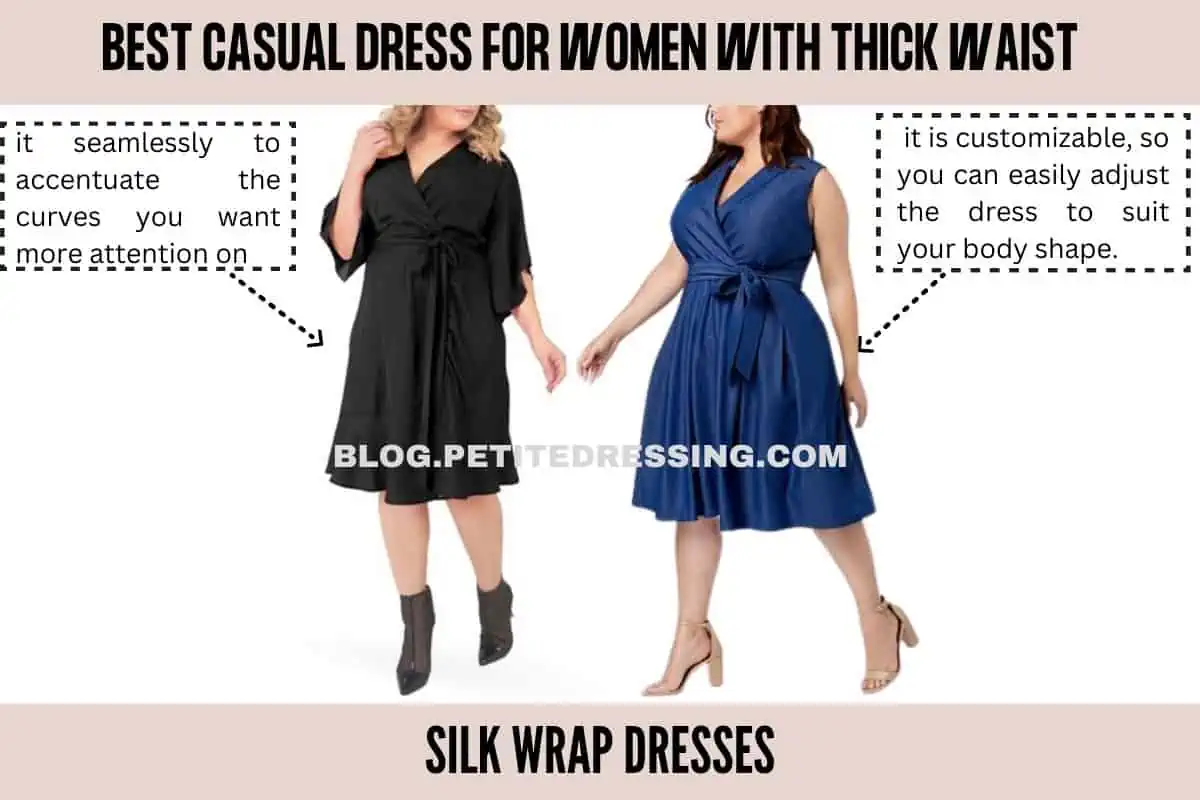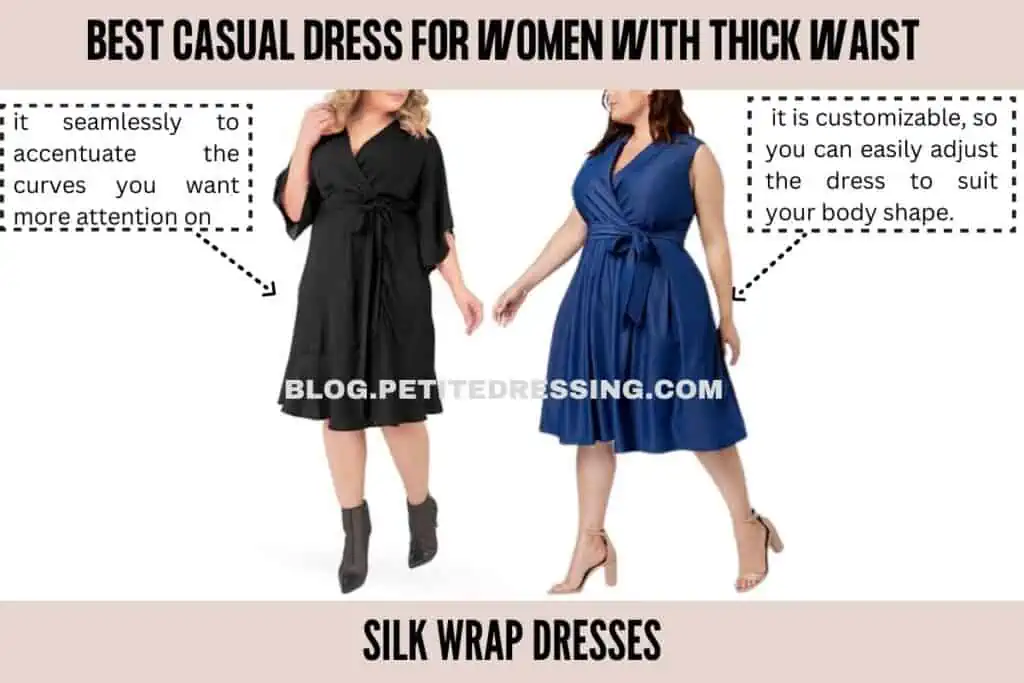 Flowy A-line dresses
Another dress style that creates a proportionate and balanced feminine silhouette on women with a thick waist is the flowy a-line dress. This style flares out from your waist, with the result being a full skirt that hides your thick waist will, providing a flattering curvy shape.
The overall effect is a relaxed and comfortable flowy feel, making it great for everyday wear without hassles. Feel free to experiment with different looks and styles; A-line dresses can handle it.
So, you can pair them with statement jewelry and a pair of heels or even a pair of sandals to pull off a casual, stress-free look. We absolutely love how A-line dresses help to create an effortless look that keeps you free and stylish in warm weather.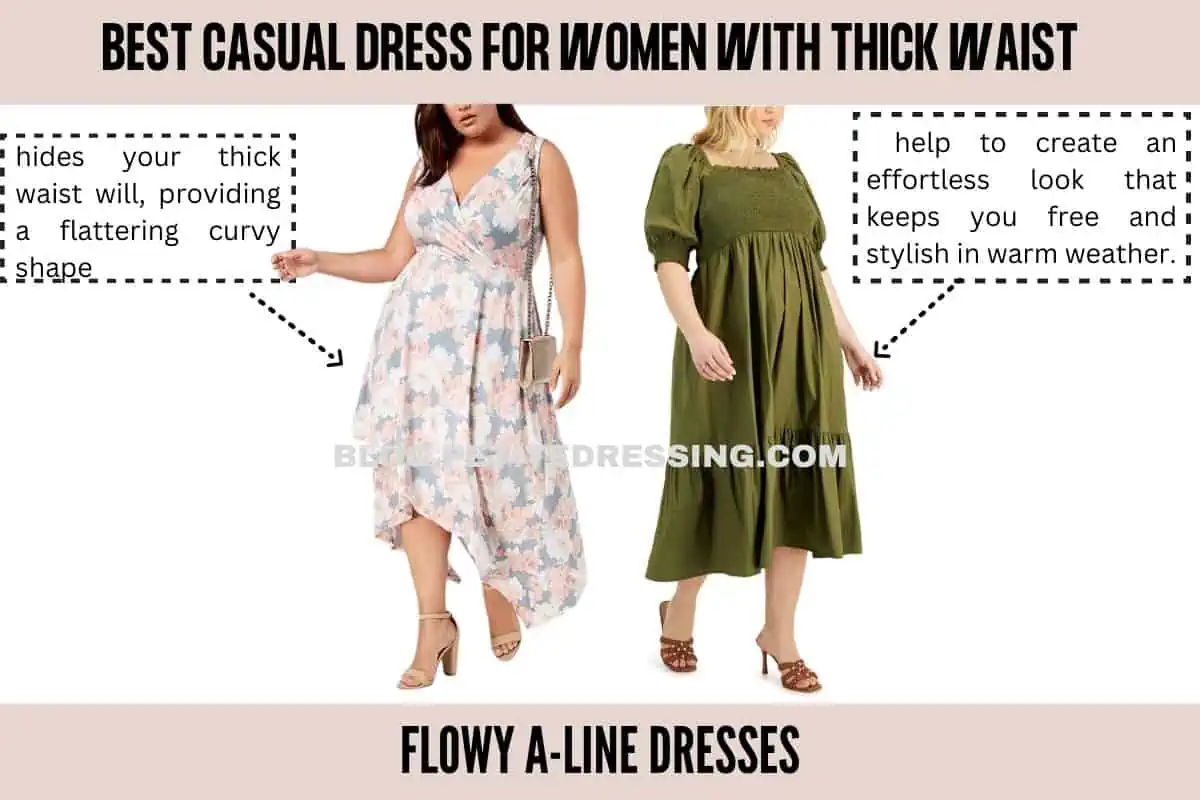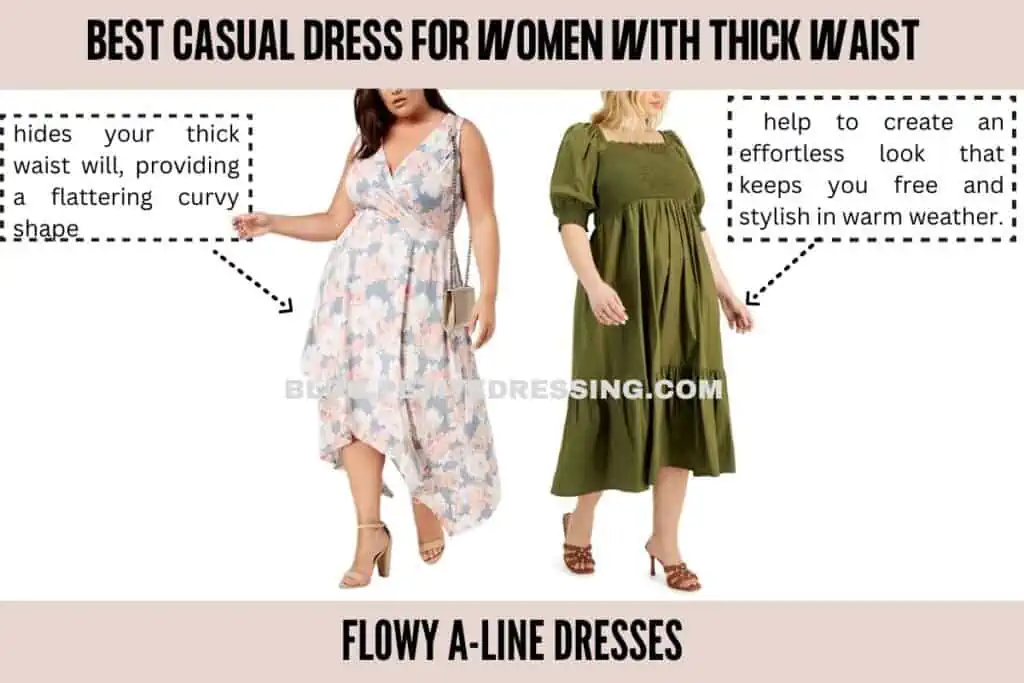 Vertical Stripe Shift dresses
If you have a muffin top, as most women with thick waists do, and you want to conceal it without squeezing into an uncomfortable piece of shapewear, try putting on vertical striped shift dresses.
The advantage of vertical stripes on dresses is that they create the illusion of a slimmer and longer silhouette. This is great for women with thick waists because they draw the eye up and down, which elongates the body and minimizes the appearance of your thick waist.
Shift dresses are also styled perfectly for thick-waisted women as they accentuate the figure without making you look bigger than you actually are. This is the perfect combination for any woman looking for a comfortable dress to wear for a casual night out with friends.
It works great for relaxed settings and can easily be switched up to stylish and professional wear for work.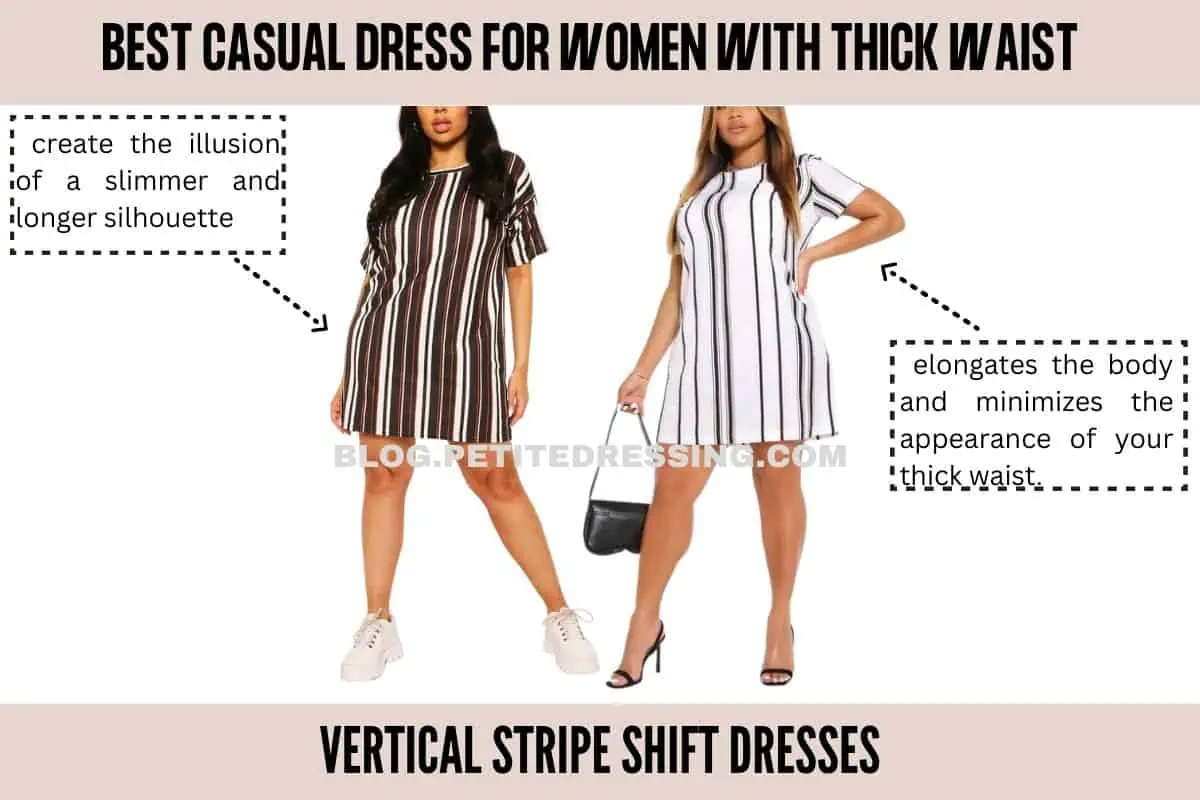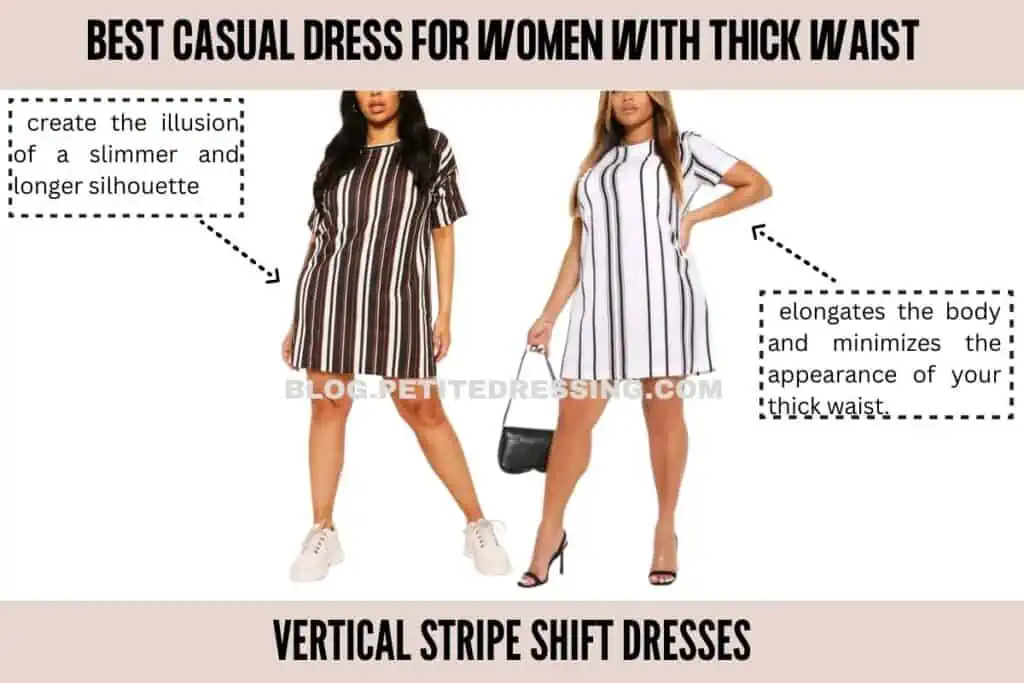 Floral Maxi dresses
Made with flowy and lightweight fabric, the floral maxi dress draws more attention to your upper body, which is great for women with a thick waist that doesn't want this to appear too conspicuous. The full skirt of the maxi dress conceals your thick waist and highlights your curves in a flattering way.
The floral patterns on the maxi dress create a visual effect that draws attention from your muffin top to the upper part of your body. You'll love how easy it is to slip into a floral maxi dress in the summer while not sacrificing your style and comfort.
The best part about this dress is that it also works great for women with smaller busts and larger hips. So, this style is not just limited to women with thick waists. You can choose to take it up a notch with a pair of heels that look elegant on your feet.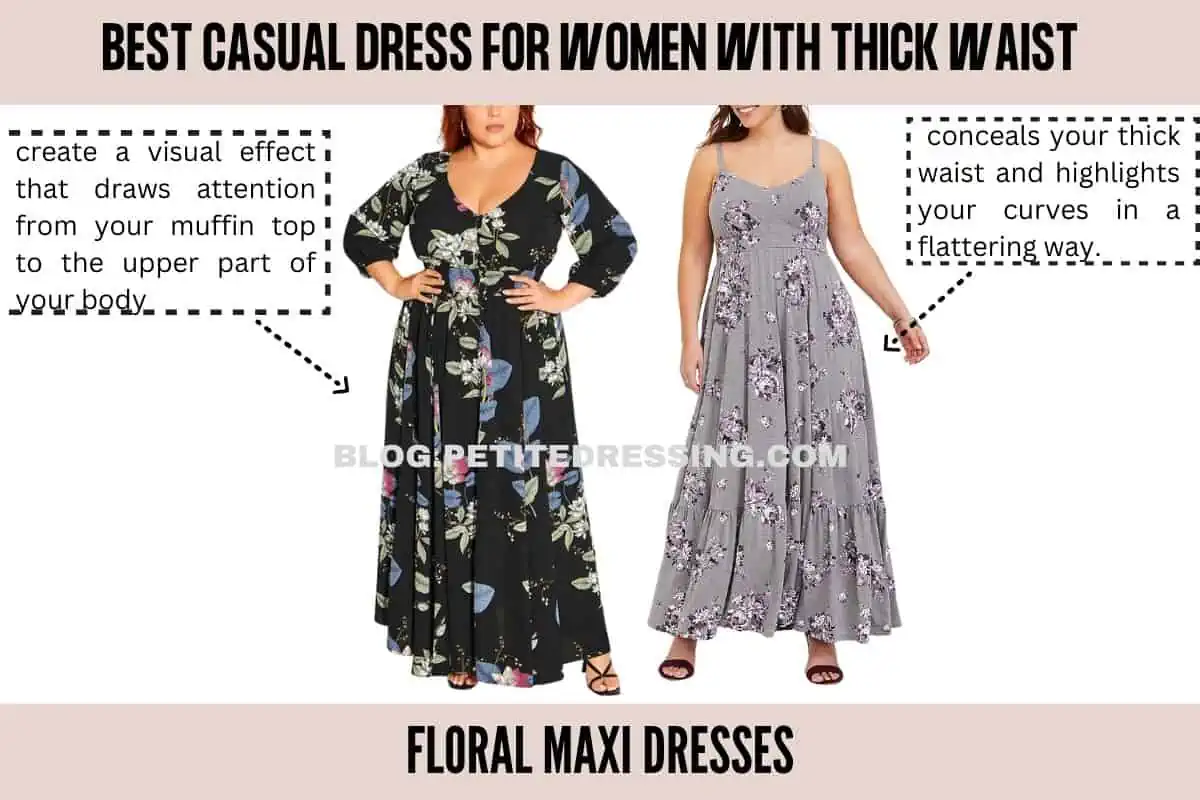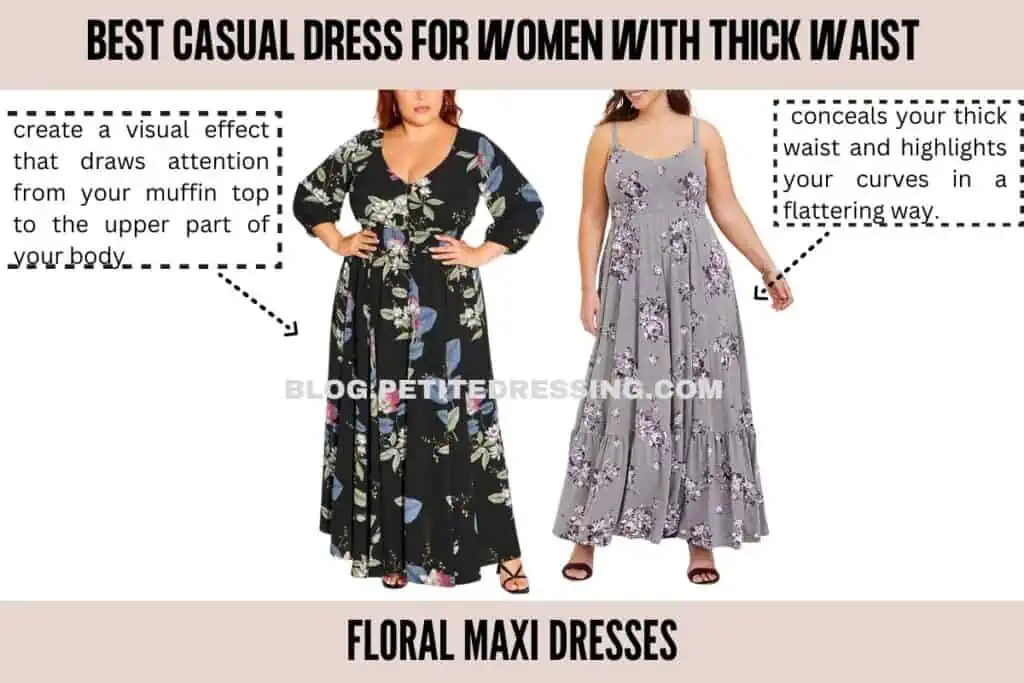 Dresses with high waistlines
Get a more defined and cinched waistline when you wear dresses with high waistlines. Thanks to the waistline that sits at your natural waist, which is the smallest part, it provides a flattering feminine silhouette that accentuates this part of your body to create an hourglass-like shape.
So, if you're feeling a lot self-conscious about your extra belly, dresses with high waistlines help to make this less obvious on your overall body frame. This is a great solution for women with thick waist that has been having some trouble finding the perfect dress for their curved body shape.
Apart from hiding any bulges or bumps around your midsection, dresses with high waistlines come in a wide variety of colors and styles, giving you lots of options to choose the one that fits your personal style.
This is a great way to enhance your curves and look amazing by shifting attention to your shoulders or bust area. These dresses will also make you look slimmer, with an impressive overall outlook for any occasion.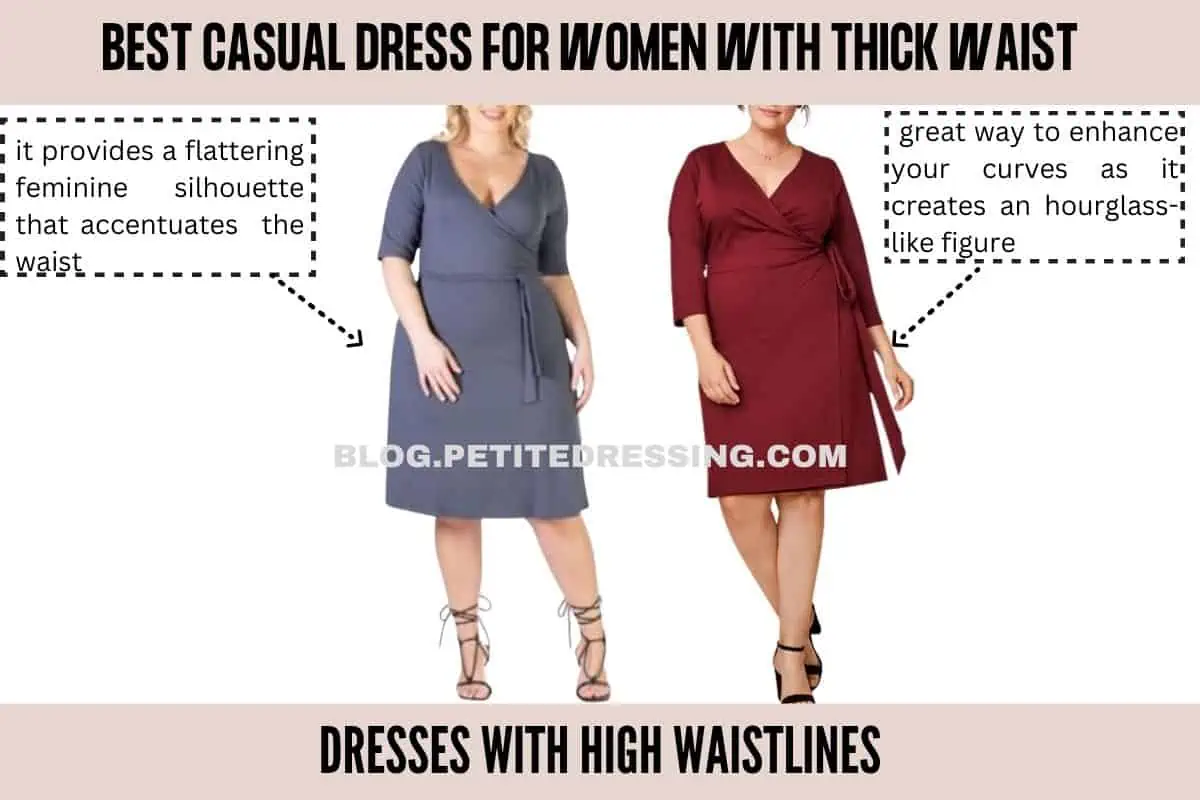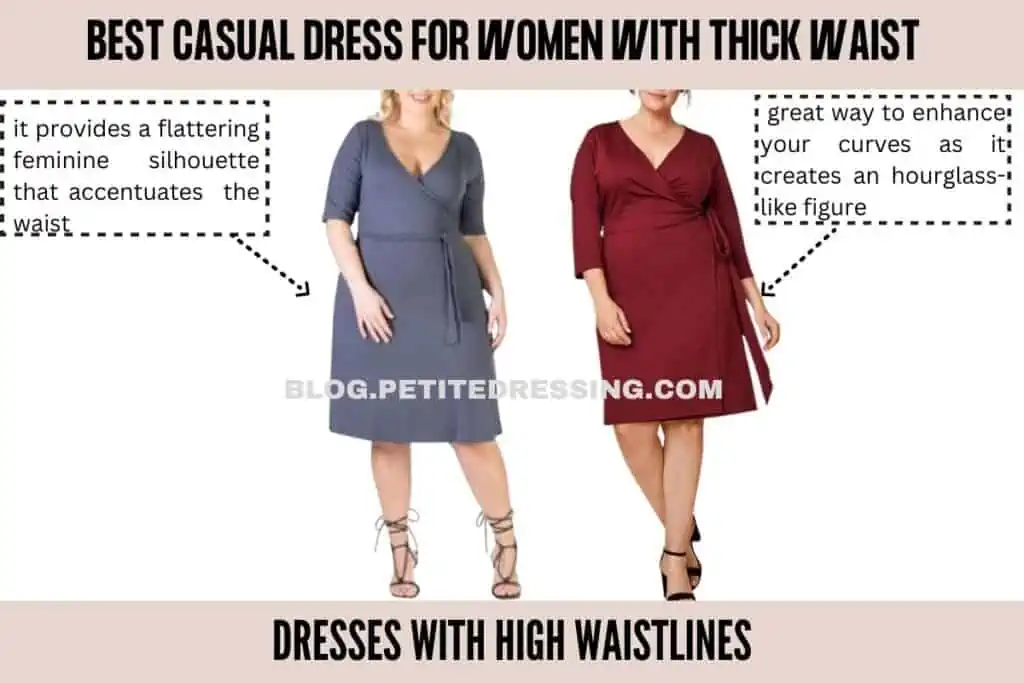 Ruched dress
Ruched dresses can be maxi, a-line, or even pencil dresses that cinch your waistline and create an impressive slimming effect. You don't have to worry about hiding your pretty hourglass shape, as ruched dresses are designed to accentuate your curves while making your thick waist appear slimmer.
Ruching can appear as pleats on the sleeves or bodice of a dress, but we recommend wearing those with the pleats at the midsection area of your body. To stand out in ruched dresses, it's a great idea not to overaccessorize. Keep the accessories at a minimal level with comfy shoes that will be great for casual events.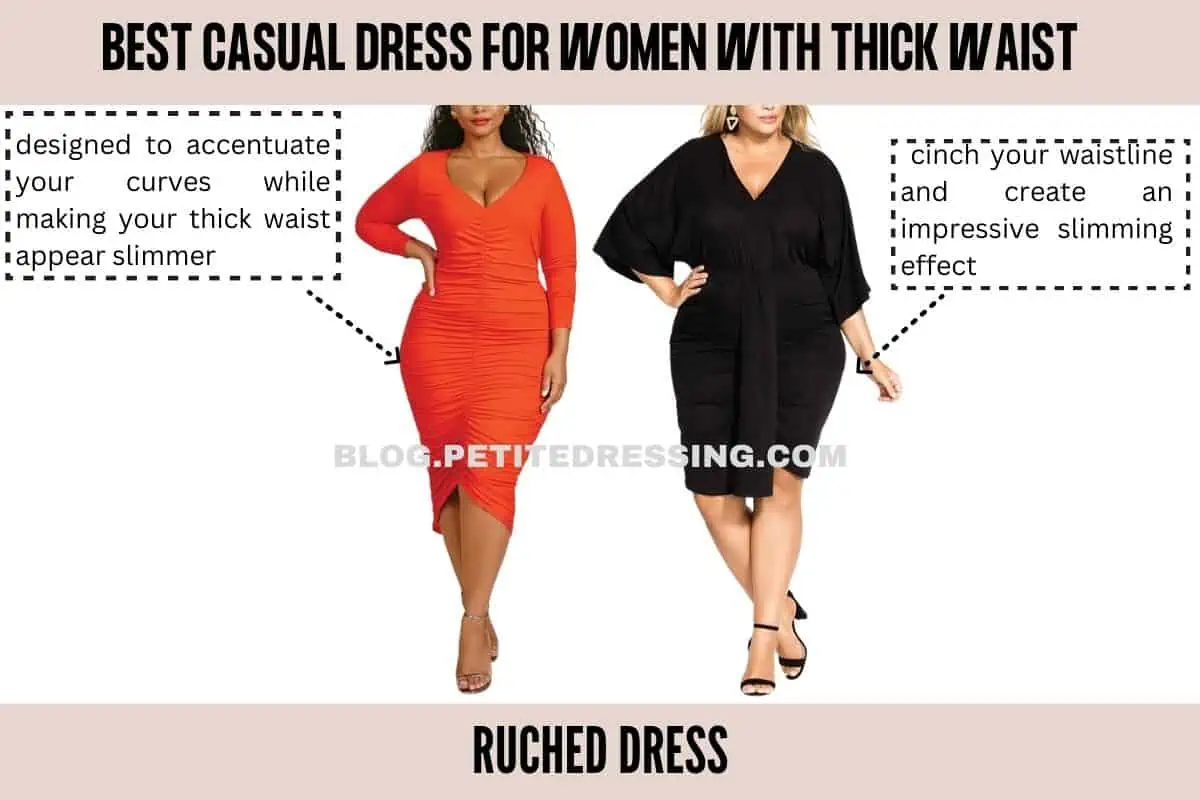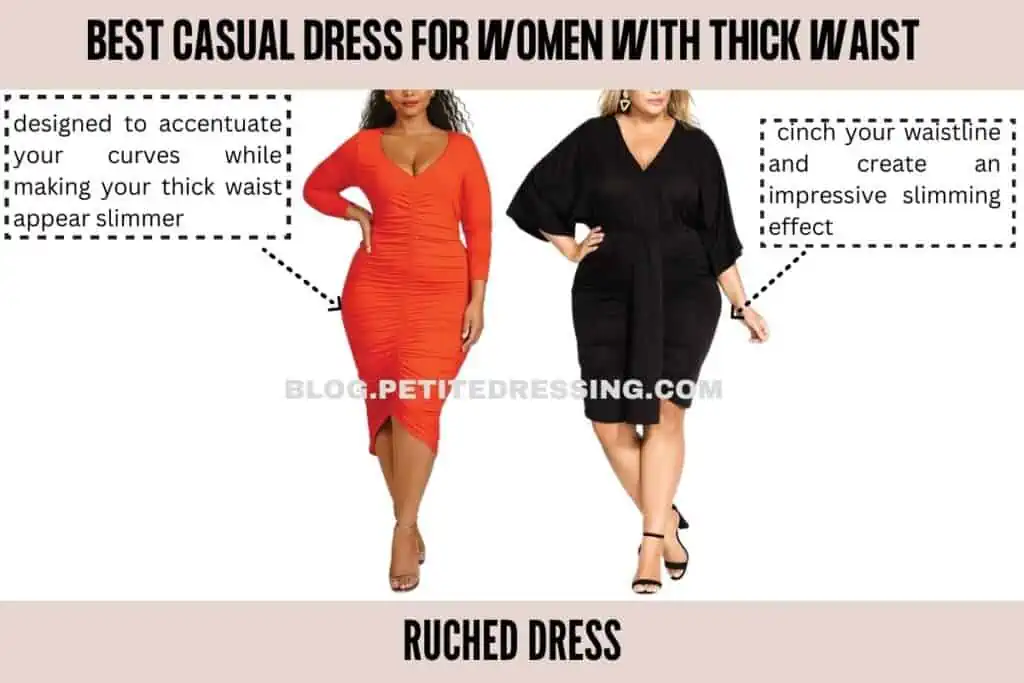 Avoid Horizontal Stripes
Dresses with horizontal stripes are a bad idea for women with thick waists. This is because they create the illusion of width, making several areas of your body appear wider than they actually are.
The overall effect is extremely unflattering, especially if you have a muffin top that you don't want to be too obvious through your dress. With horizontal stripes, they draw the eyes across the body, making your thick waist appear even larger.
Also, you should avoid dresses with horizontal stripes because they don't allow the body's natural lines and proportions to move seamlessly. Instead, they break it up and disrupt the flow of your body such that it appears uneven.
The overwhelming effect of horizontal stripes on your dress makes it appear too busy, especially when you pair them with other clothing materials with patterns. Therefore, you should completely avoid dresses with horizontal stripes.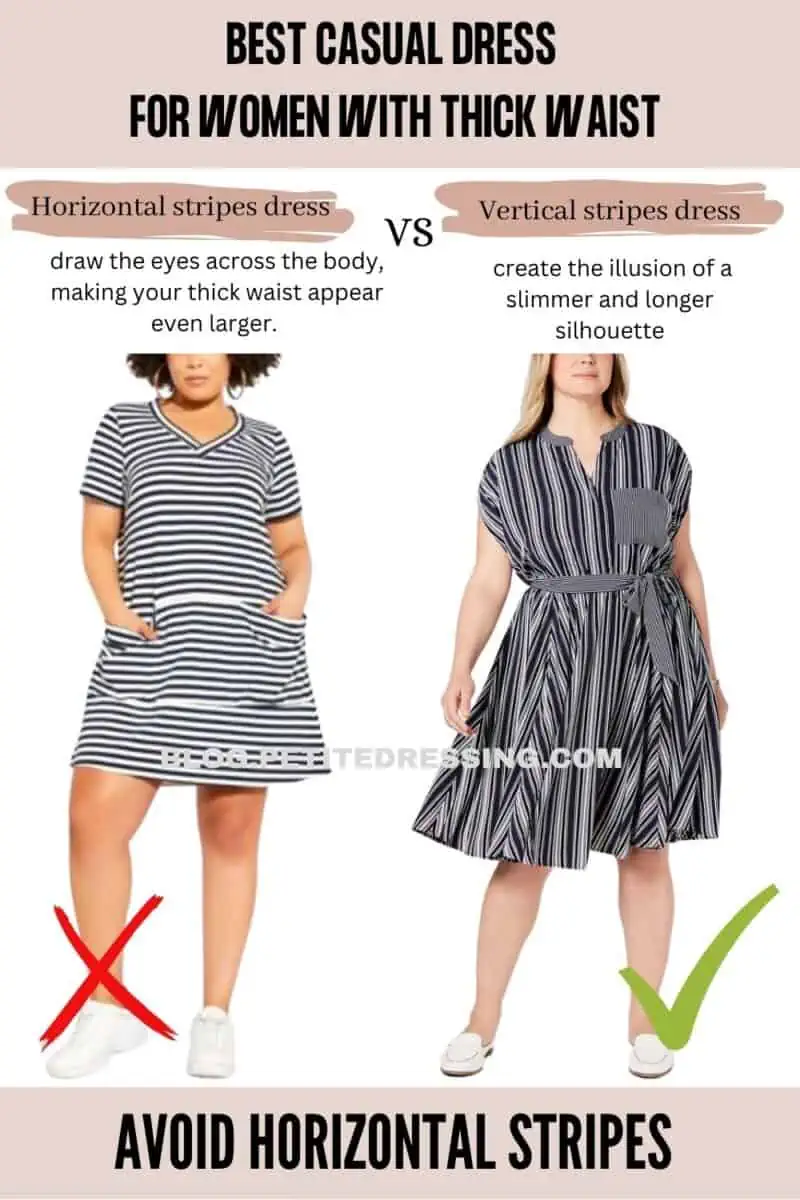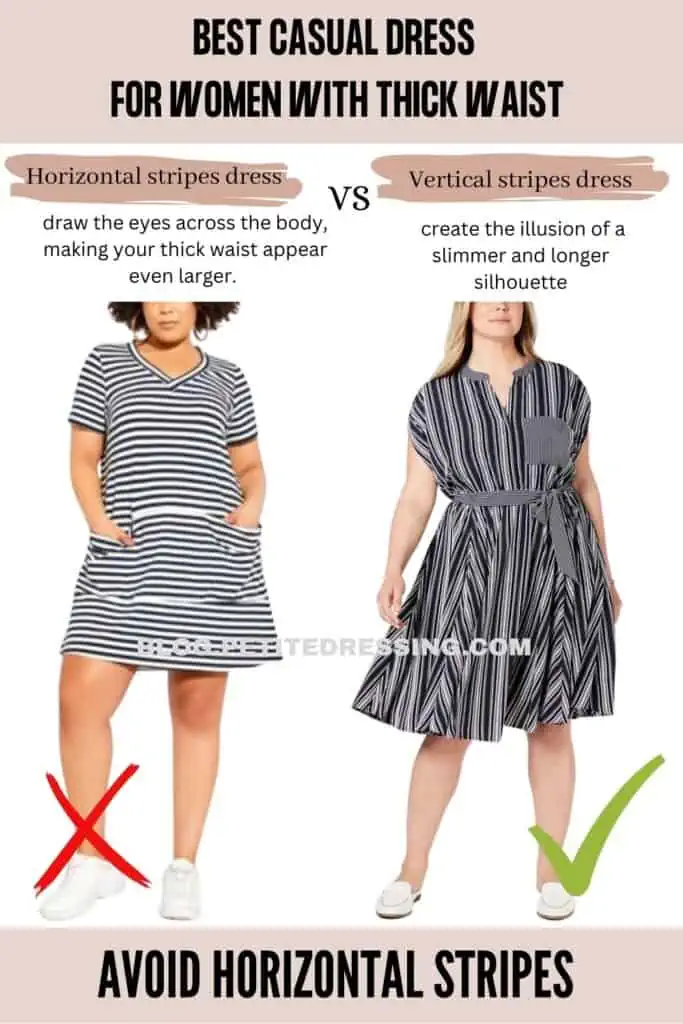 Avoid tight-fitting dresses
There are dresses that flow naturally with the curves on your body without appearing baggy, and there are those that are too tight that they highlight those areas of your body that you may be feeling a little self-conscious about, especially a thick waist.
This is why it's a great idea to avoid tight-fitting dresses, as they cling to the body and emphasize areas of your body that are not slim. They also make your midsection appear large, placing more emphasis on your belly area.
The goal of wearing dresses for casual evenings or daytime events is to be as comfortable as possible. Tight-fitting dresses won't help you achieve this. Rather than flatter the body, they restrict movement and can make it extremely difficult to breathe comfortably when you wear them for a long time.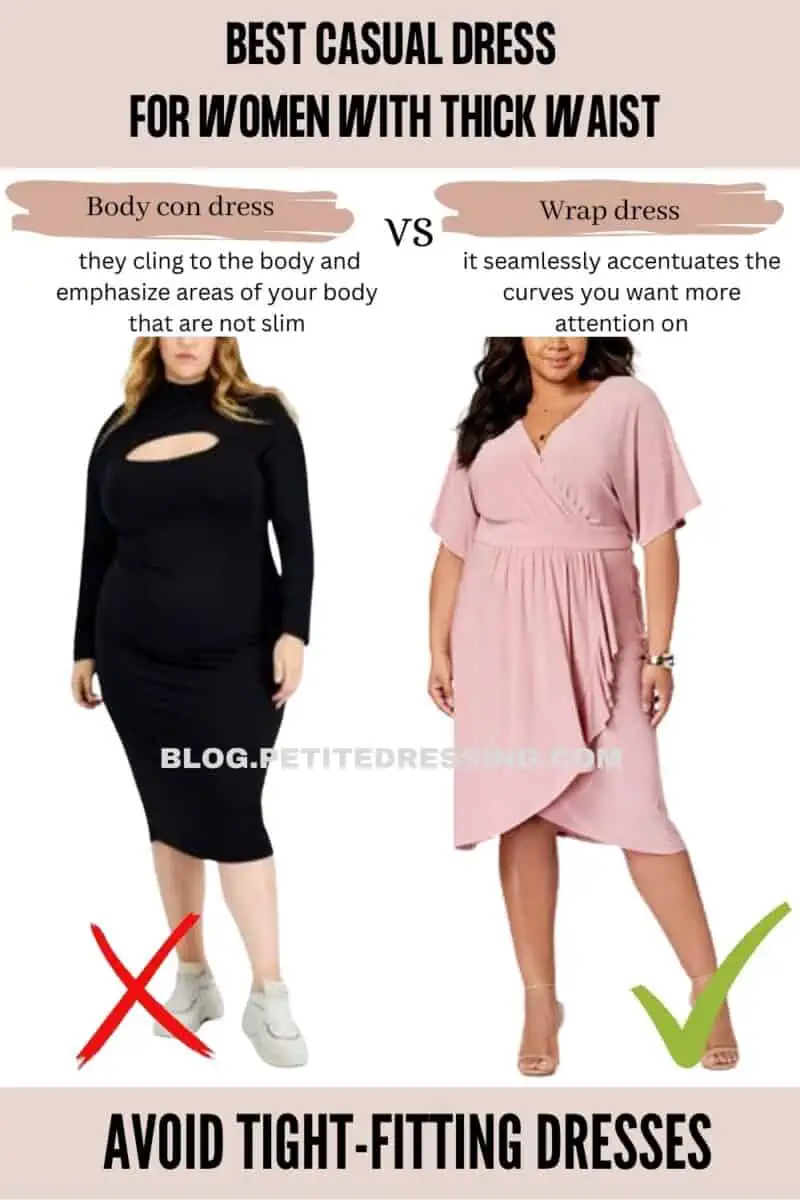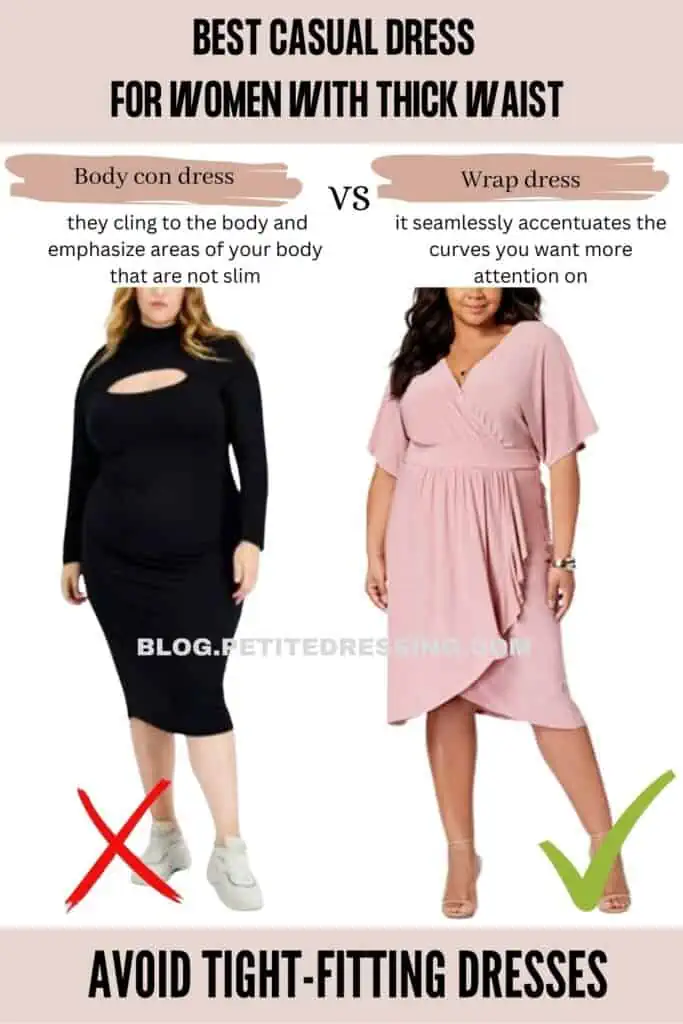 Avoid babydoll dresses
Babydoll dresses are loose, flowing dresses with a tight waistline that creates imbalanced proportions on women with thick waists. Due to this imbalanced silhouette, your waistline will appear larger than it actually is, leaving the dress very unflattering on your figure.
The loose style of this dress adds more volume to your upper body, while the lower part of your body looks larger in comparison. On women with thick waists, this will only make you look larger with extra attention on your muffin top.
The shorter hemline of the babydoll dress will also add more volume to your belly, which is one of many reasons why you should avoid this dress style.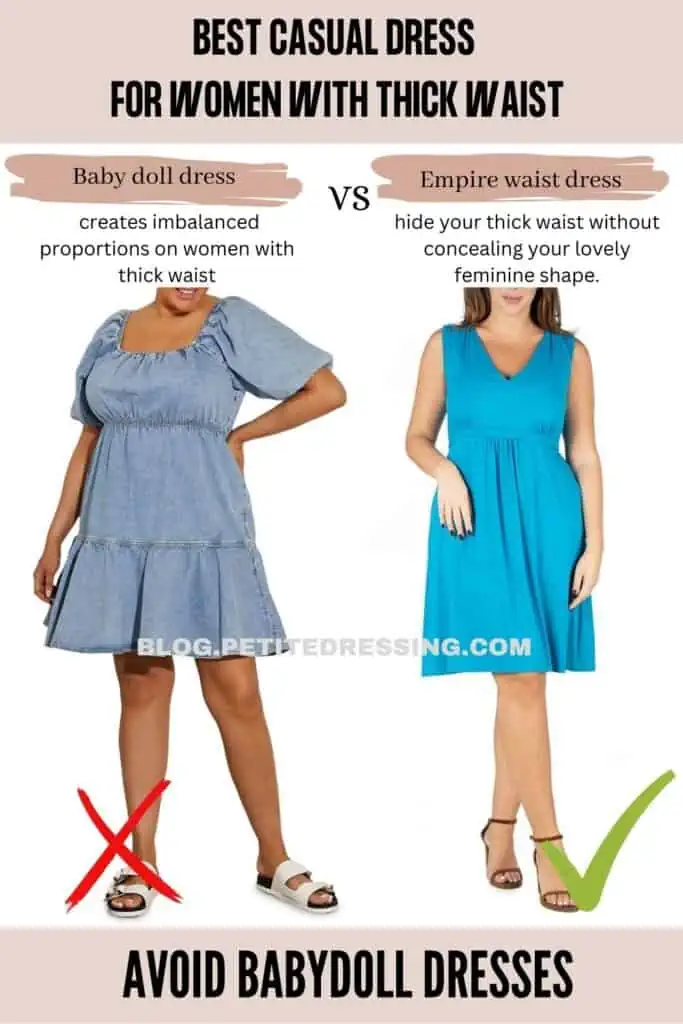 Casual dresses can look good on women with a thick waist if you know the right ones to choose. These tips are a great place to start, especially if you want to stand out in style and sophistication everywhere you go.