Attending weddings can totally be nerve-wracking and just thinking of what the best outfit is to wear would be enough to send us into a panic! Well, finding the best wedding guest dress shouldn't be so complicated if you know which ones perfectly complement your figure.
Short and curvy women may find semi-formal to formal dresses a bit tricky to style because being short and curvy can have some contradicting features. However, it's quite easier than you think!
In this article, since we're covering wedding guest outfits, we'll focus more on semi-formal to formal dresses that perfectly suit the special occasion.
Styling Goal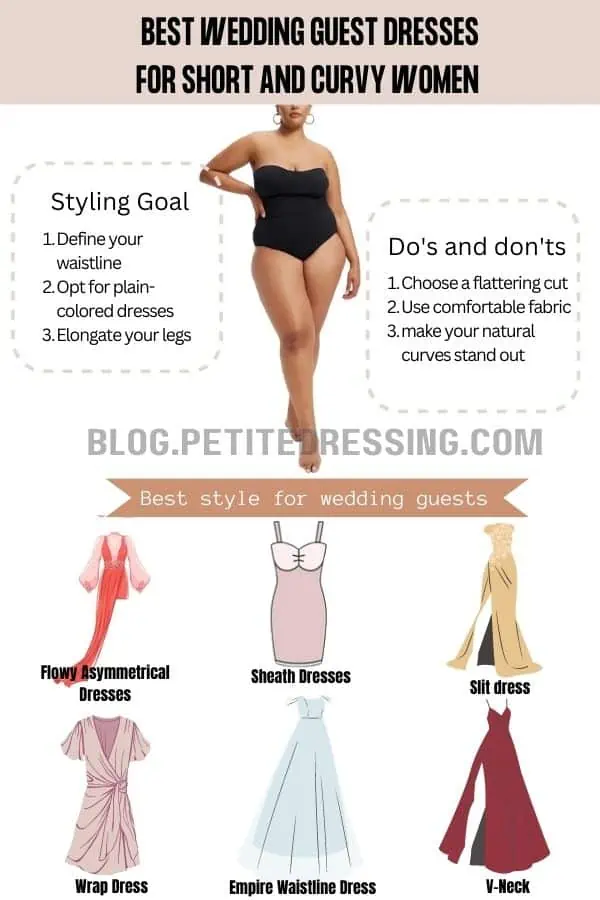 The goal is to define your curves while also elongating your short frame. You need to choose wardrobe pieces that draw attention to your best assets such as your bust line while veering the eyes away from your less flattering features.
This can sometimes be tricky because there are clothes that can highlight your curves but make you look shorter! The good news is that there are strategic style hacks that you can do to give your clothes a nice tweak to make them immensely flattering on your gorgeous petite figure.
Choose open necklines – Giving your upper body more space, especially around your neckline, will give the illusion of a slimmer and taller frame. This will also give more emphasis to your bust area, which is a short and curvy woman's best asset.
Define your waistline – Another apparent asset that short and curvy girls have is their slim waist. You need to make this stand out by choosing flattering structures that hug the waistline well.
Stay away from puffy and voluminous sleeves – Wearing bulky sleeves will only make the upper half of your body bigger and bulkier. They may be cute and trendy to look at but they can be quite a style disaster for someone who's short and curvy.
Opt for plain-colored dresses – monochromatic hues create a straight, flowing line from top to bottom. As the pattern or plain color continuously flows all the way to the hem, this will visually trick the eyes into thinking that you have a very slim body and a voluptuous set of curves!
Belted Dresses
For curvy and short women, slim belts can definitely help create a leaner silhouette as it cinches the waist to add more definition to the midsection. However, it's important to note that dresses that have belt attachments shouldn't be too thick or wide.
Ideally, the belt shouldn't be more than 4 centimeters thick, otherwise, it will take so much space from a petite girl's short torso. Wide belts would also steal the attention away from your curvy body's best feature – your bust.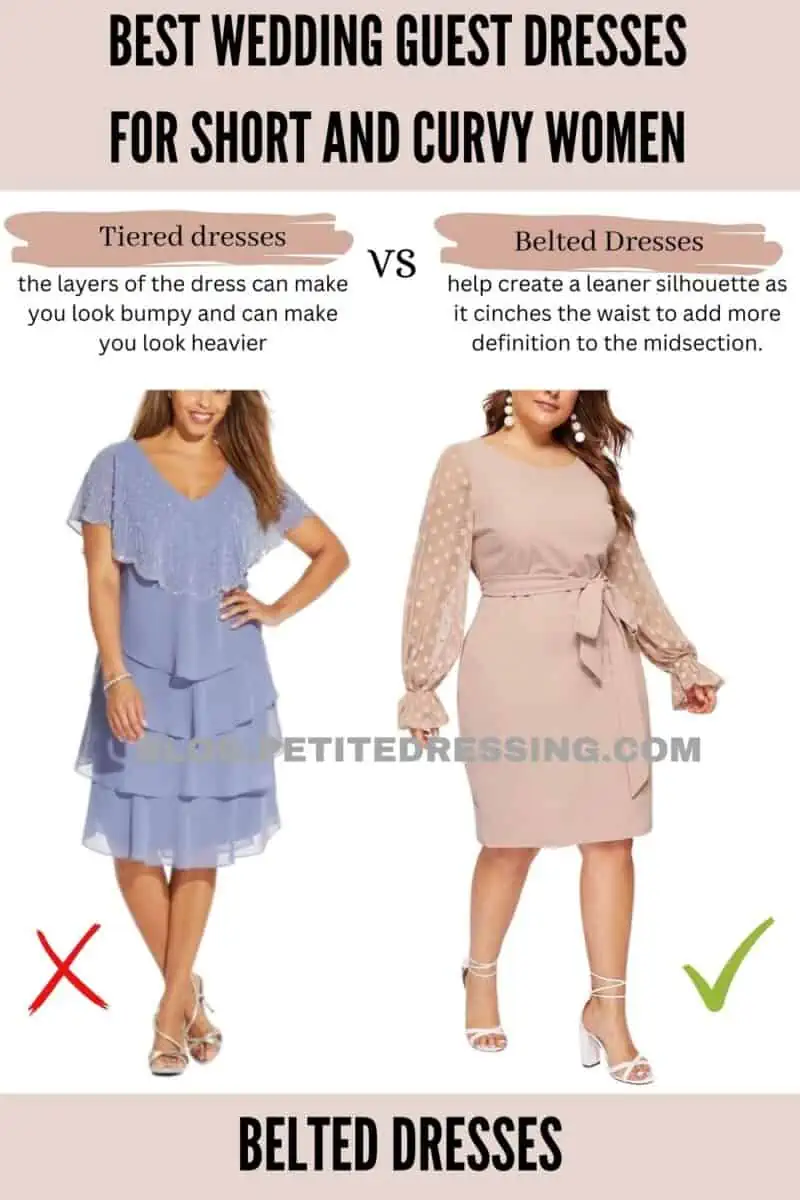 For a belted dress suitable for a wedding, try to go for fancy fabrics such as satin, silk, lace, or soft chiffon as they give a more formal vibe. As a bonus, they also look quite delightful in photos!
Slit Dresses
Slit dresses are not just sexy but also very flattering for short and curvy ladies out there. Preferably, a front slit works much better in elongating your legs for it creates a long vertical line where it exposes a part of your leg.
If you're feeling a bit more adventurous, you can also opt for high slits that go up to a few more inches above your knee. The longer the slit, the more it makes the legs look longer. 
Slit dresses make your legs the focal point of your look so to not draw too much attention in the wedding, keep the upper half of your dress simple. Go for something plain with little to no fabric flounces.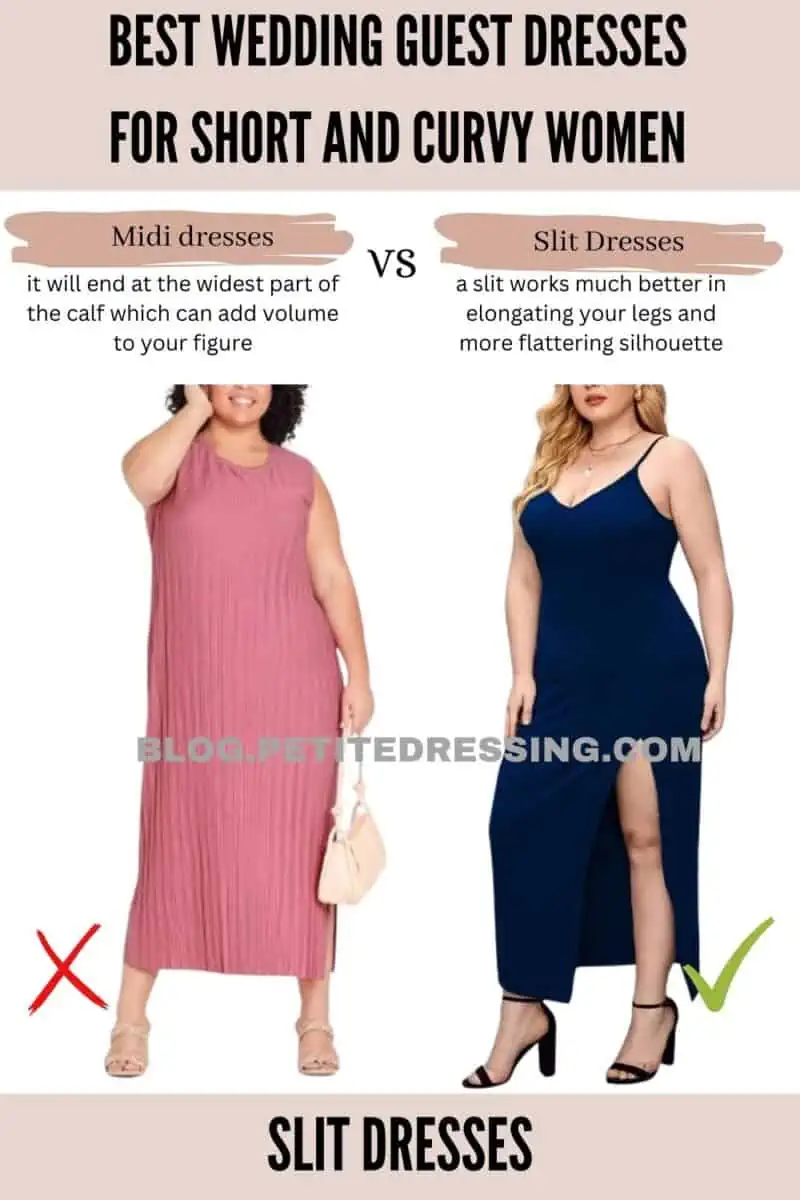 A-Line Dresses
If you're running out of time to grab your last-minute wedding guest dress, here's something that's very easy to pull off for short and curvy girls. An A-line dress is your foolproof style option if you're looking for a dress that would nicely flatter your figure.
Just as we previously mentioned, short and curvy girls take pride in their defined bust shape. Since A-line dresses have a fitted top and flared bottom, this perfectly hugs your upper body to enhance your bust line.
The snug waist fit and flare of the bottom skirt of A-Line dresses bring balance to your short and curvy figure by enhancing the shape of your waist while concealing your more prominent hips and thighs.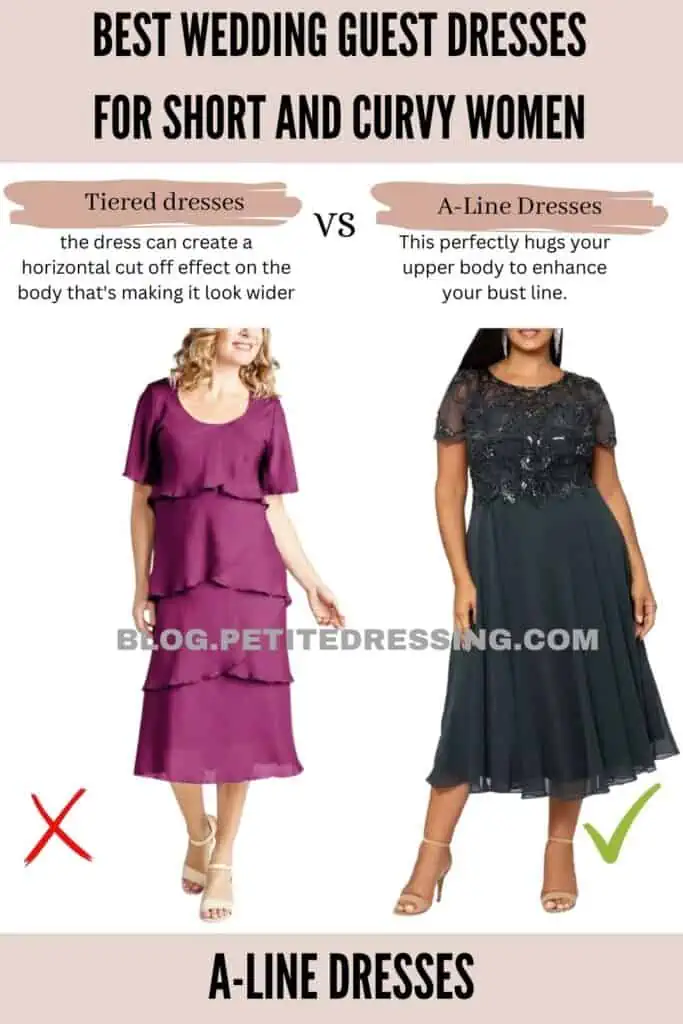 Maxi Dresses
Who says short and curvy girls can't wear maxi dresses? A maxi dress is a classic wardrobe piece especially when it comes to formal events such as a wedding.
Many petite women, especially those who stand 5'3" below, find maxi dresses a bit intimidating because they can drown their figure and make them appear shorter. But you can absolutely rock a maxi dress as it can definitely work with your petite and curvy figure when styled right.
For short girls, find a maxi dress in which the hem still exposes your ankles (around 10 to 15 centimeters from your ankle). Avoid floor-length maxi dresses because this is the type of length you'd like to keep away from because it will really overwhelm your short height.
Now to work with your curves, choose the right fit and structure, most specifically on the shoulders and bust area. Flowy fabrics such as chiffon, satin, velvet, and georgette are appealingly flattering on short and curvy girls.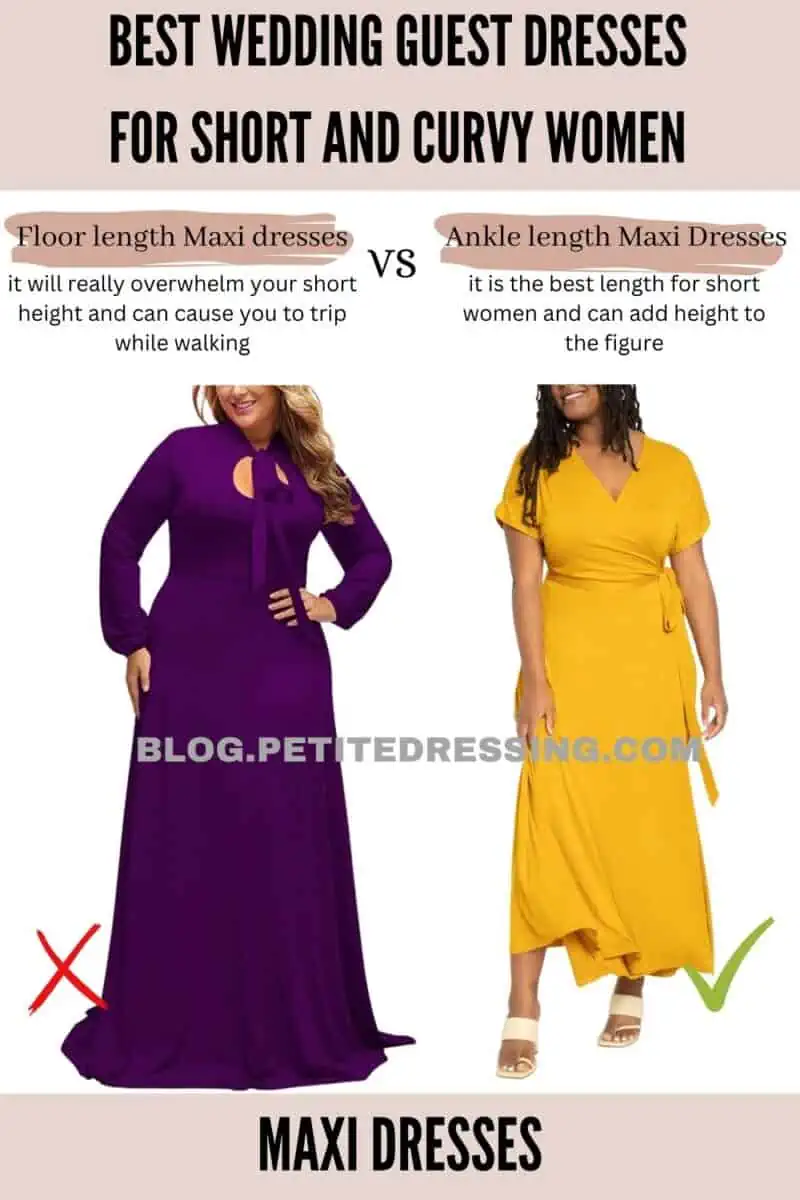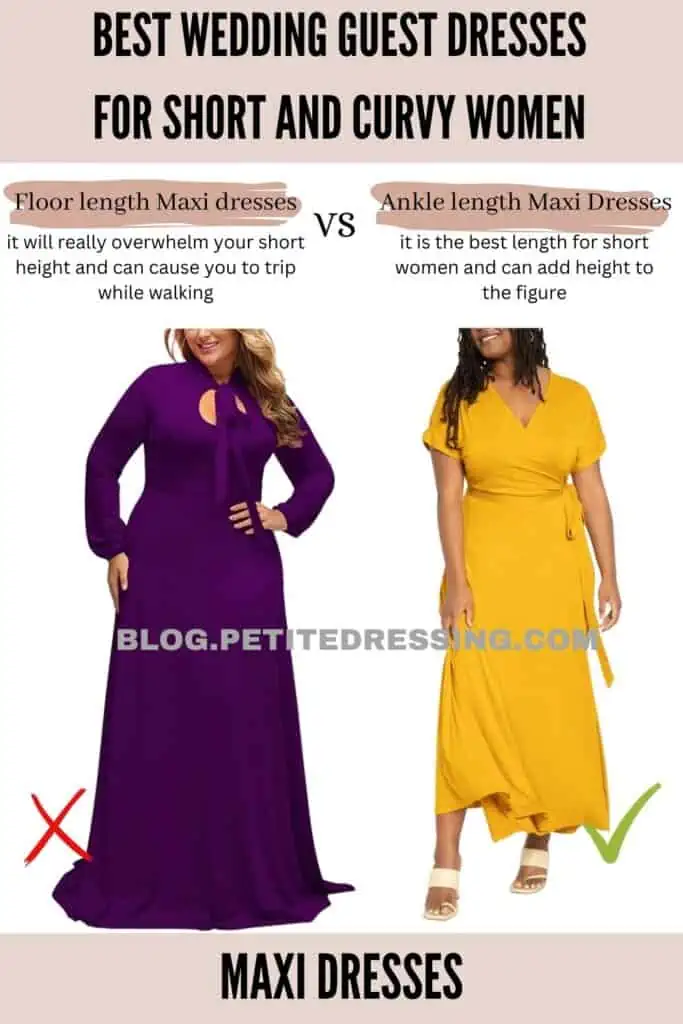 V-Neck
Any neckline that creates space on the upper half of your body is a very efficient way of giving the visual illusion of a longer and leaner body frame. Short and curvy women can never go wrong with V-Neck dresses because it not only elongates your frame but also enhances your bust area.
Curvy ladies should always give emphasis to their bust line because this is one of your best features! But while V-neck dresses can make this happen, deep plunging necklines may look too risque for weddings.
If you want to show a bit of skin, go for a fit that hugs your form naturally without revealing too much cleavage. Choosing light neutral colors would work better too.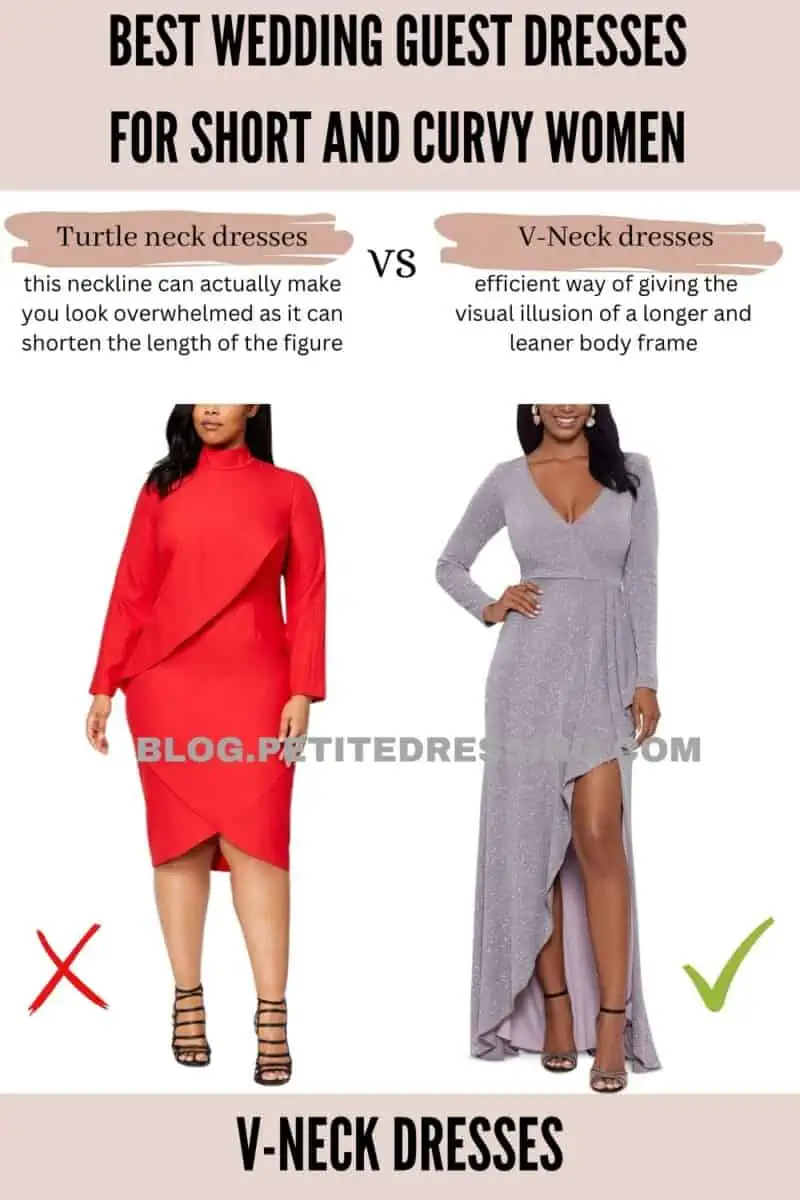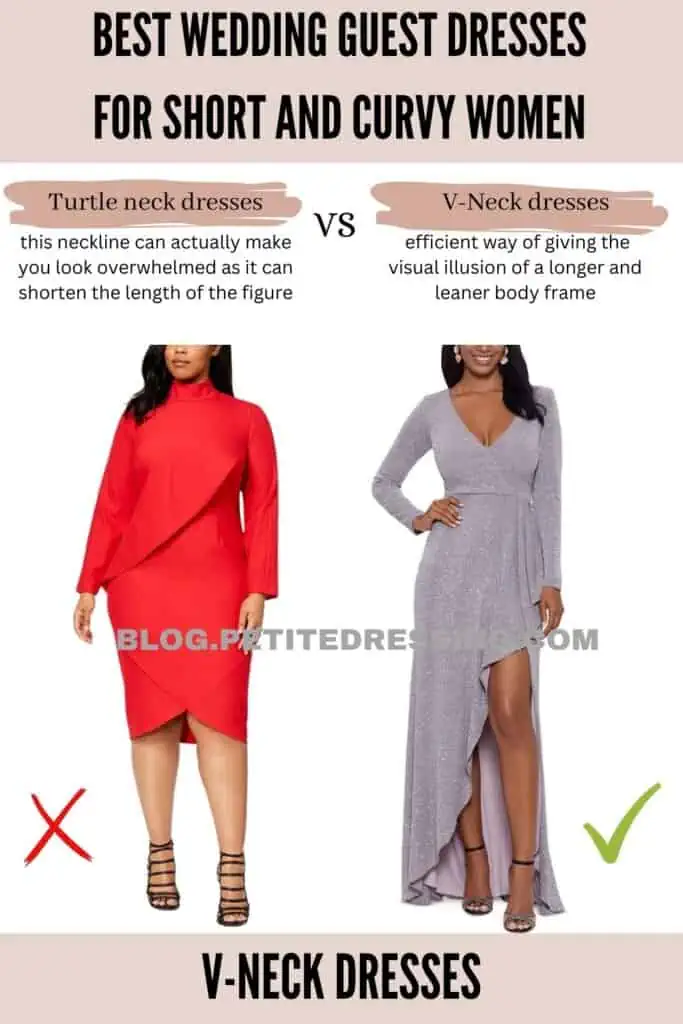 Empire Waistline Dress
Empire waist dresses, especially those that have a draping fabric can look immensely exquisite for short and curvy women. It defines the upper half of your body and creates a high-waisted appearance to make you look taller.
As the bodice features a snug fit around the chest and ends just right under the bust line, it visually enhances the curves of your breasts while giving you the illusion of a longer lower body. The choice of fabric should also play an important factor when it comes to choosing a nice empire waist dress.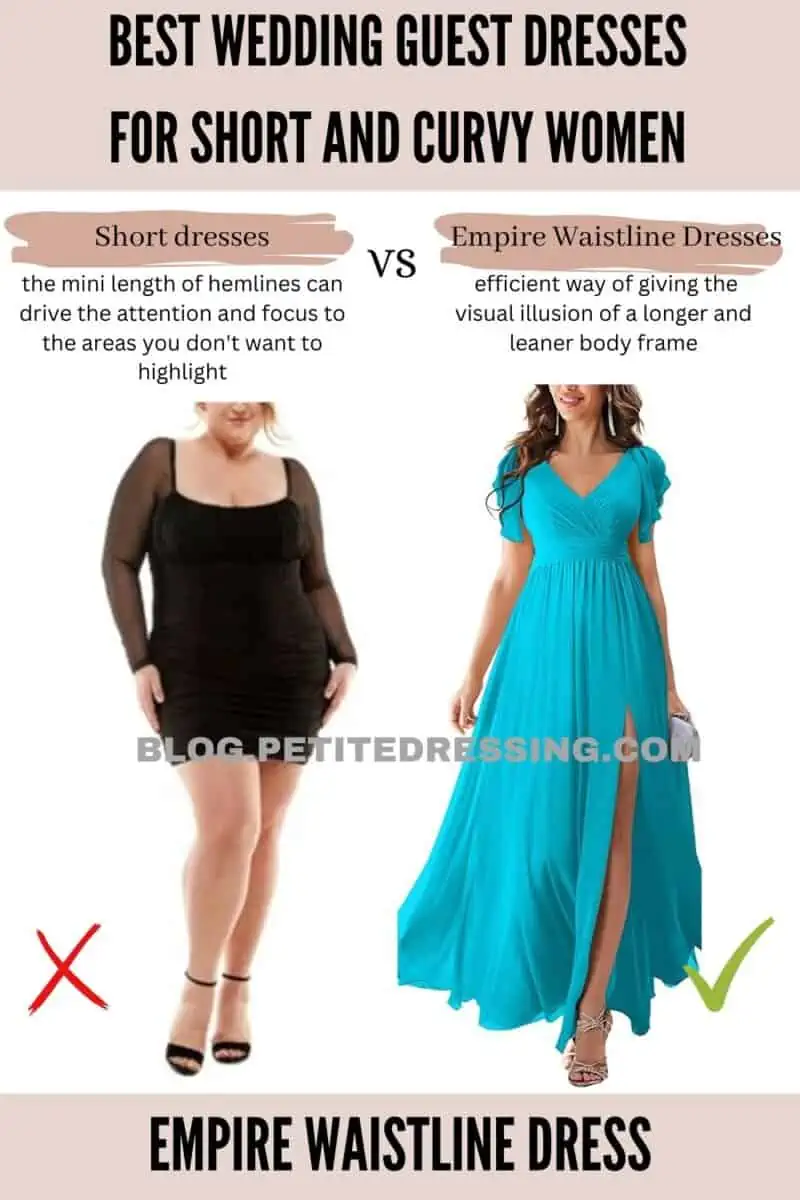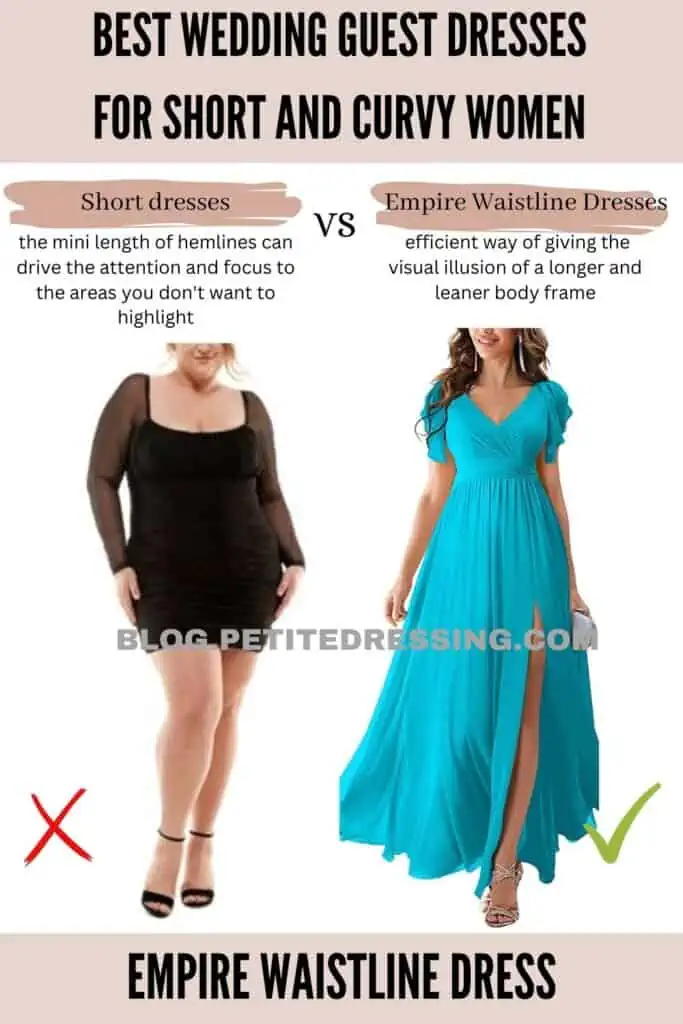 Wrap Dress
Wrap dresses are always a classic choice when it comes to formal occasions such as attending weddings. What's great here is that it's also one of the most flattering dress silhouettes for short and curvy women.
If you're someone who's not too comfortable with tight-fitting dresses, this is the right option for you because it still defines your curves without fitting your body too tight. The tie waist is also a nice accent to the look as it subtly embraces the waist for it to look slimmer.
To keep it dainty and simple, try to stick to minimalist designs to focus mainly on your figure and not solely on the dress design.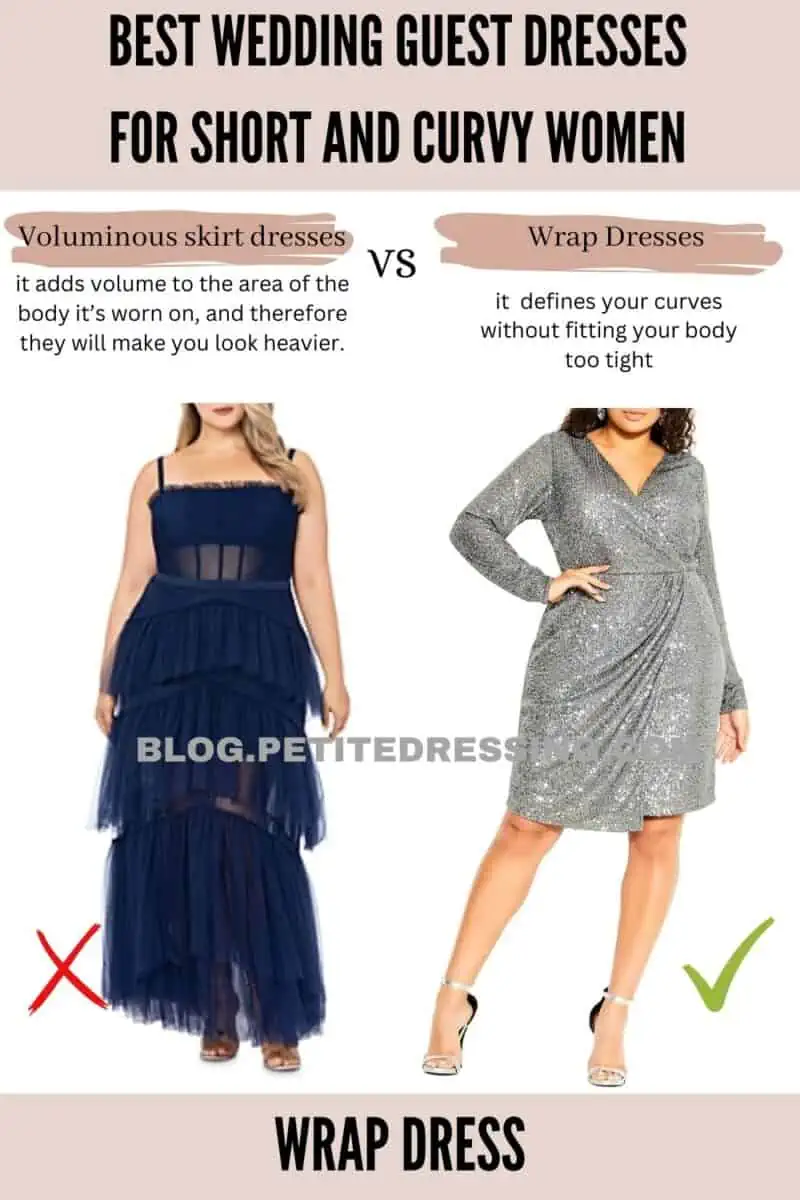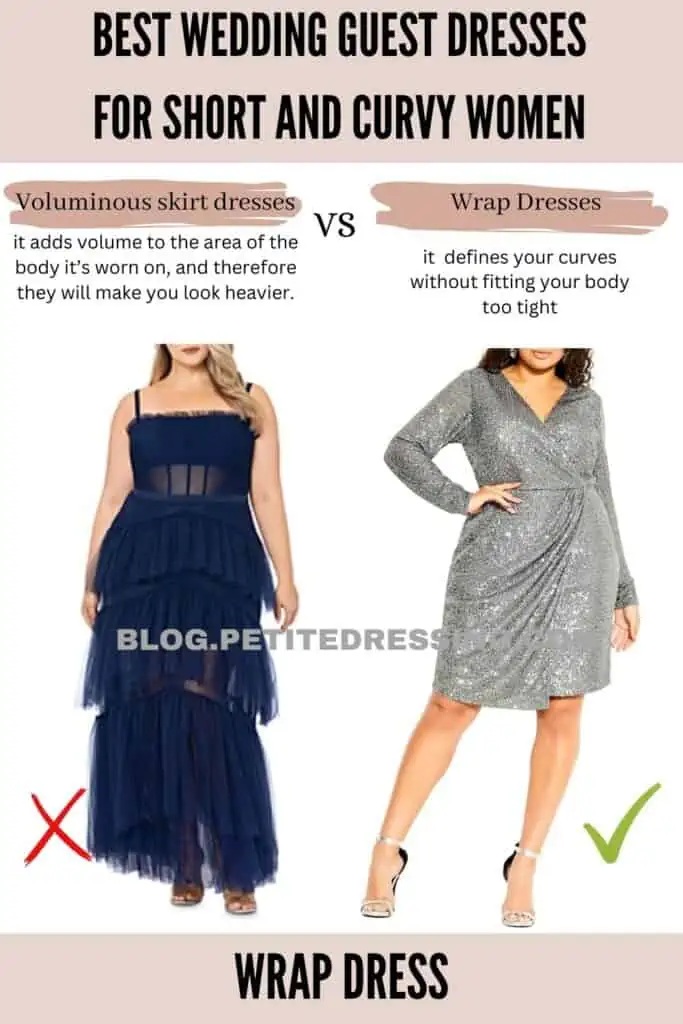 Sheath Dresses
Sheath dresses make a perfect pair for curvy ladies because they feature a form-fitting bodice. Its construction usually doesn't have a waist seam which makes the visual line continuous and flowing from top to bottom.
Some short and curvy ladies have hourglass body shapes and so if you've got a nicely-shaped bust, well-defined waist, and prominent hips, sheath dresses will be the best choice for you. Its straight cut is pretty straightforward so it's much easier and simpler to pull off.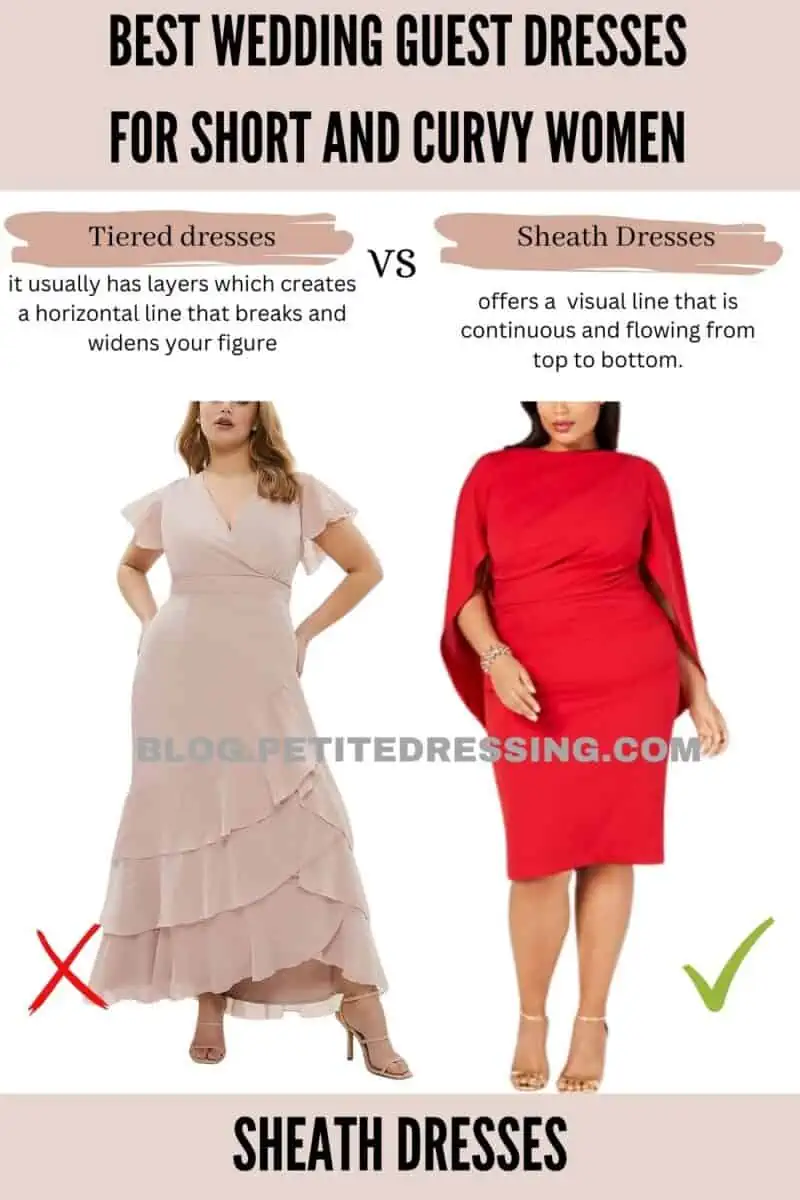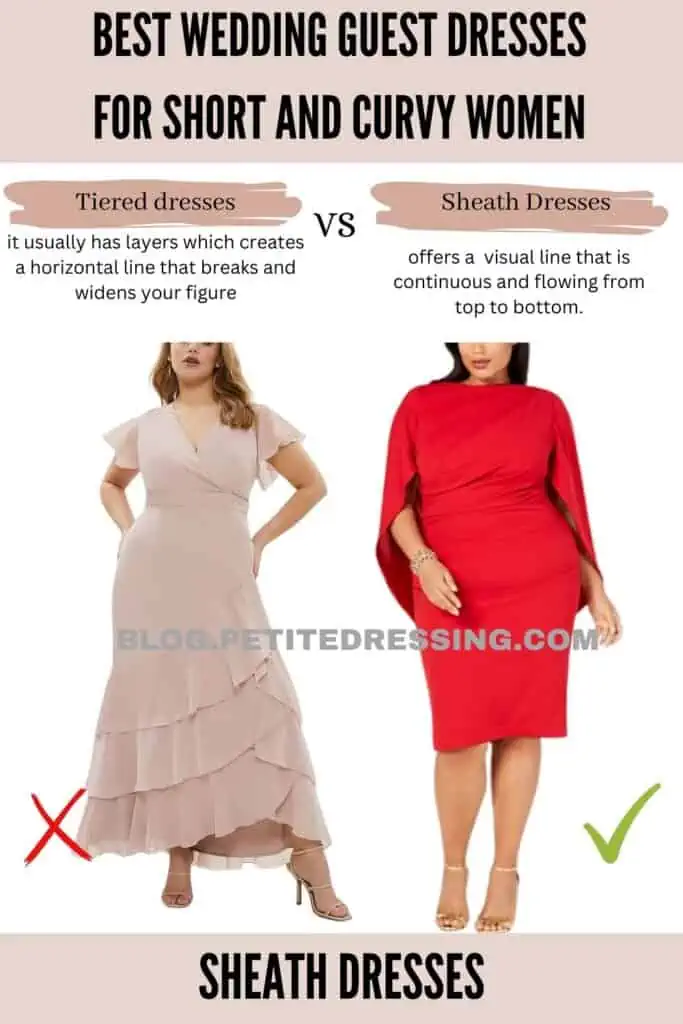 Flowy Asymmetrical Dresses
If you're attending a garden or beach wedding, flowy dresses would totally suit the ambiance. Flowy asymmetrical dresses can feature a slanted cut both at the neckline and hem.
For short women, asymmetrical cuts can visually elevate your look by baring your shoulders and elongating your legs. This will enhance your natural curves as long as you choose the right fit.
Asymmetrical dresses also feature a shorter hem on one side that goes longer as it flows to the opposite side. This high-low hemline, together with the flowy fabric will be the focal point of your look and therefore give you a visually pleasing and balanced silhouette.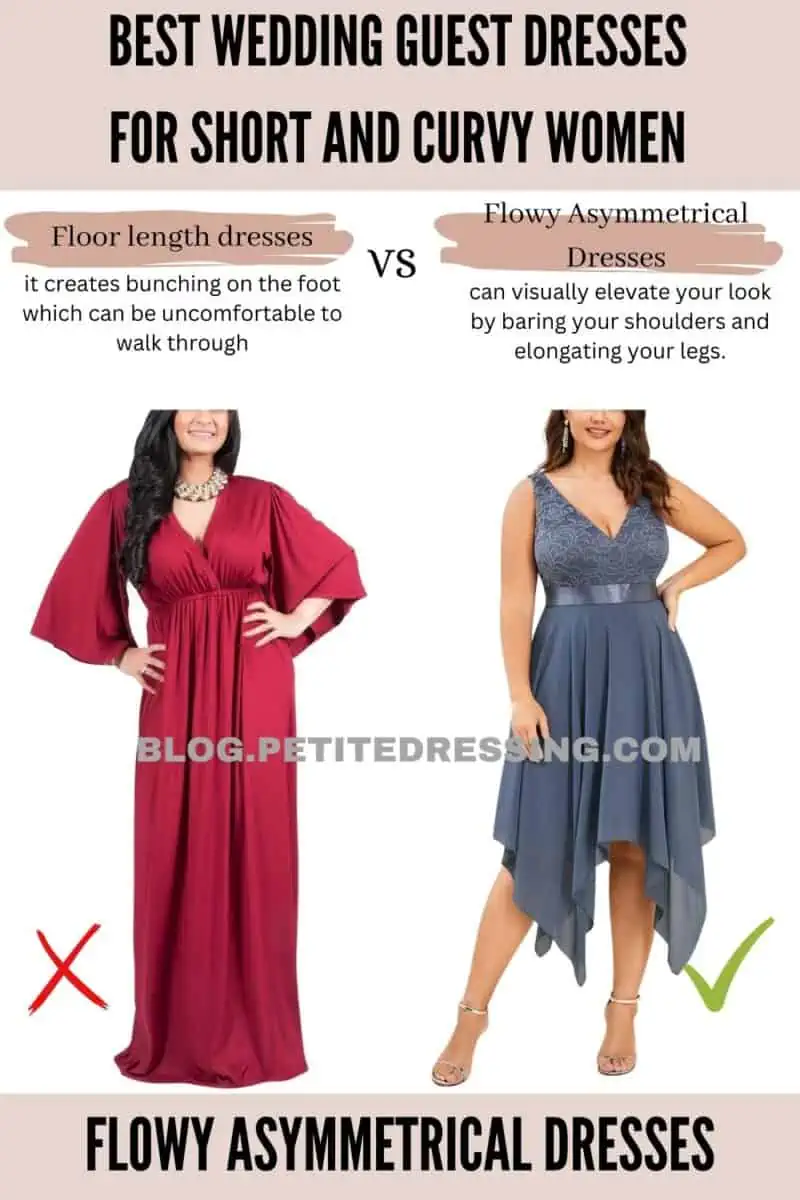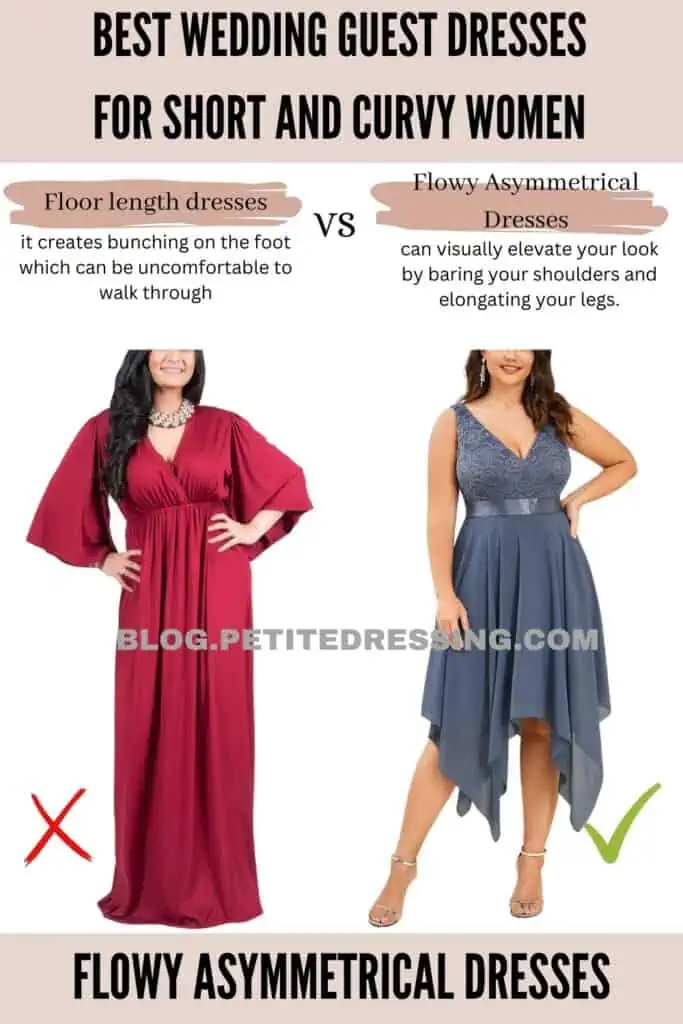 The Key Takeaway
Choosing a wedding guest dress for short and curvy girls isn't as difficult as you think. In fact, you actually have lots of options that you can play around with to make sure your beautiful figure stands out.
Of course, on top of everything else, your wedding guest dress should bring superior comfort since there's a chance that you'd wear it for long hours. Choose a flattering cut, a comfortable fabric, and a bodice that would make your natural curves stand out and you're all good to go!