No matter your body type, size or shape, you should be able to wear clothing that expresses your style and helps you look good everywhere you go. There are hundreds of clothing styles out there that work great for short and chubby women.
However, it's common to make a few mistakes that are not as flattering on your body type. So, here is our detailed guide on what not to wear for short and chubby women.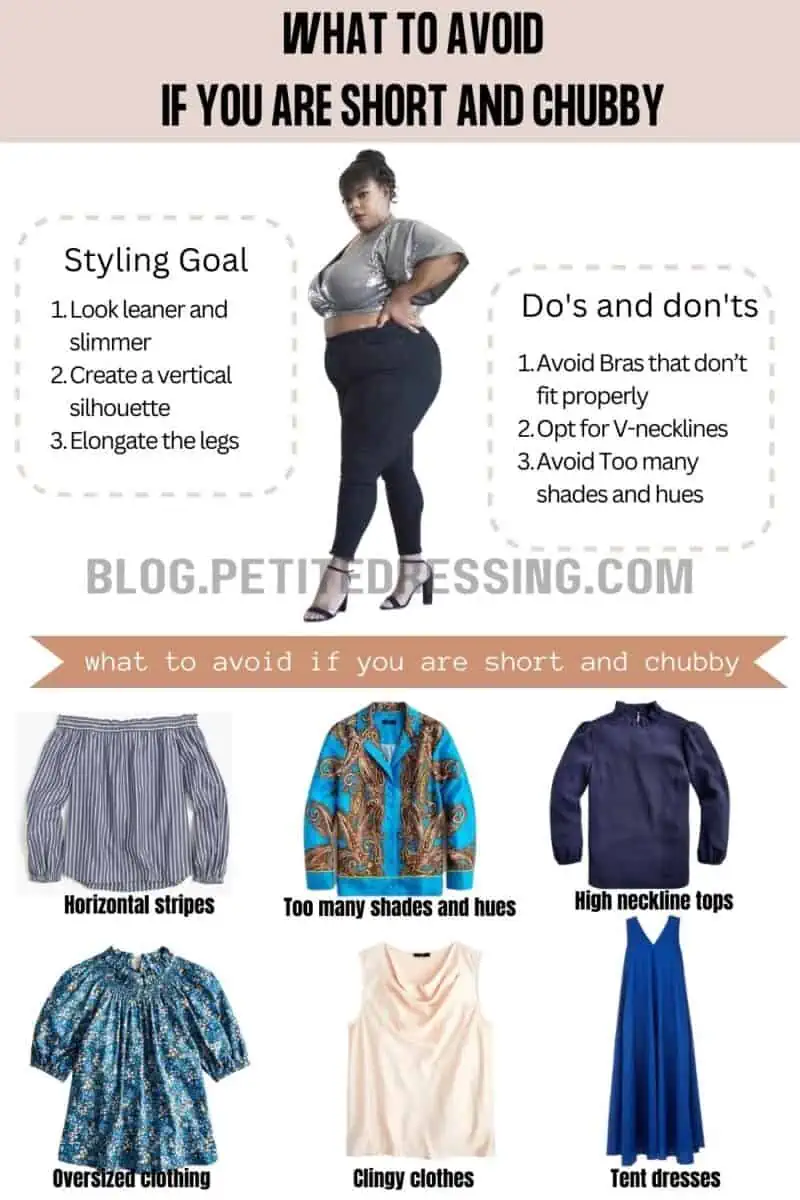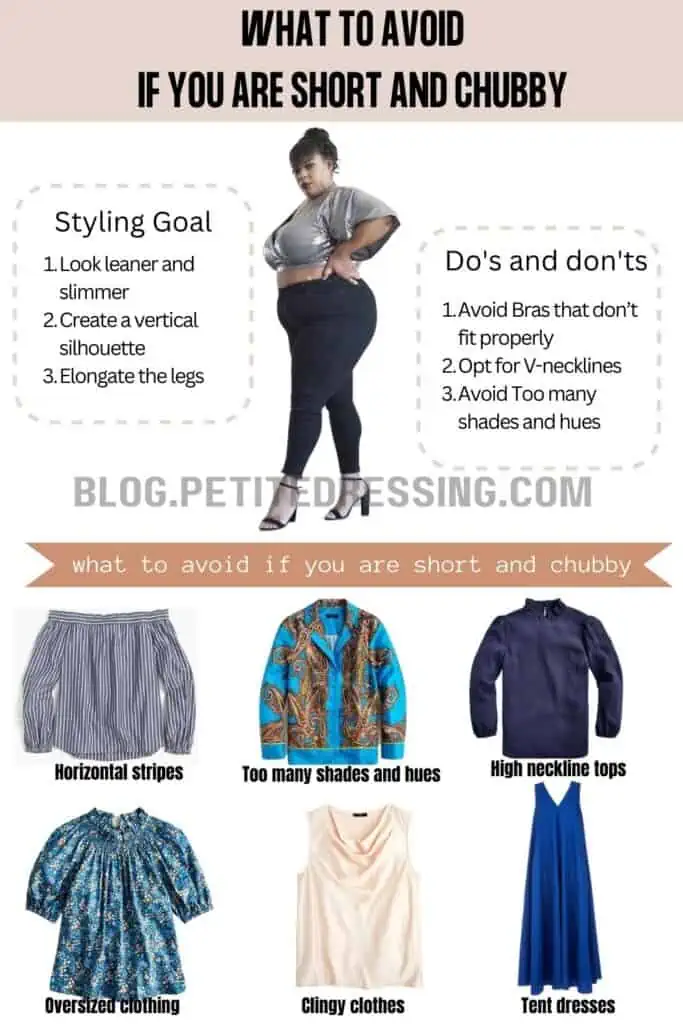 Horizontal stripes
Horizontal stripes on clothes do not have a flattering effect on short and chubby women. This is because they draw the eyes sideways from right to left which places a lot of attention on your body size.
On the other hand, vertical stripes on clothes draw the eyes downwards and this has a slimming effect on the body frame. One of the best ways to apply this style of clothing is with a vertically striped dress, preferably in black with white stripes.
The black color doubles as an amazingly stress-free way to add a more slimming effect to your body frame. Overall, you'll look breathtakingly beautiful with a pair of platform heels.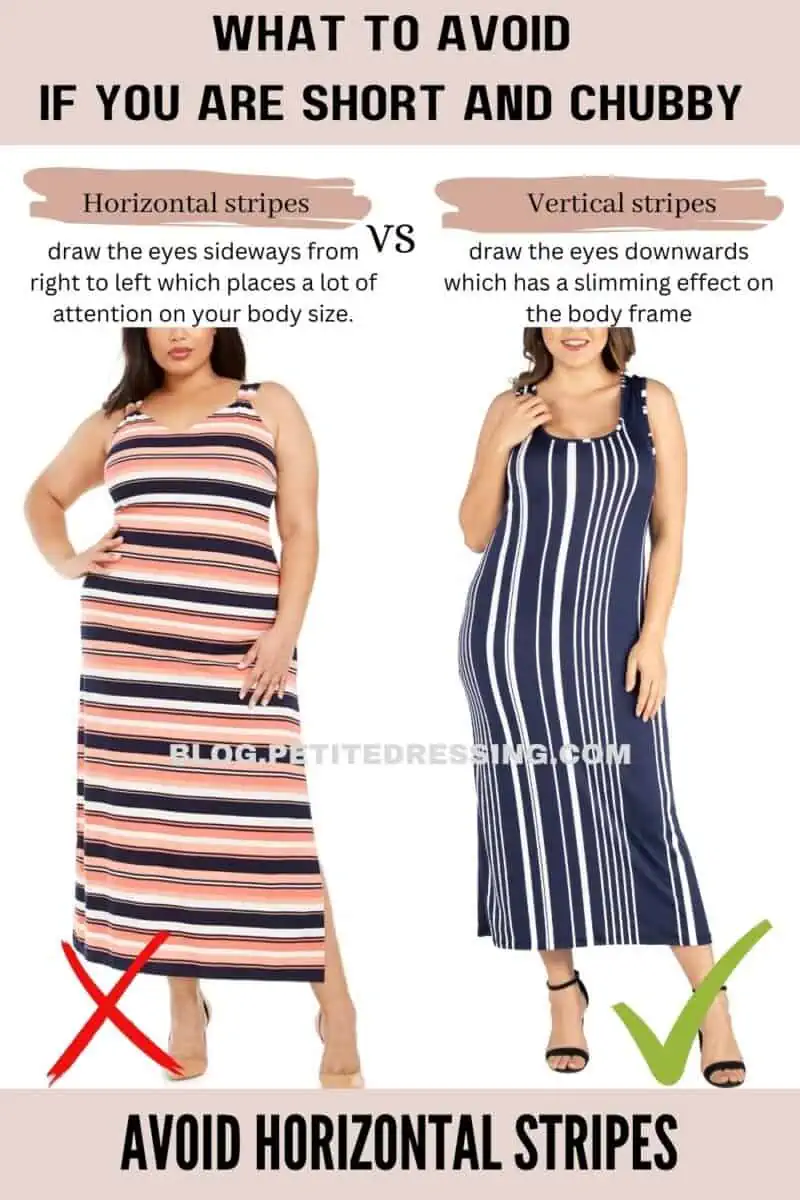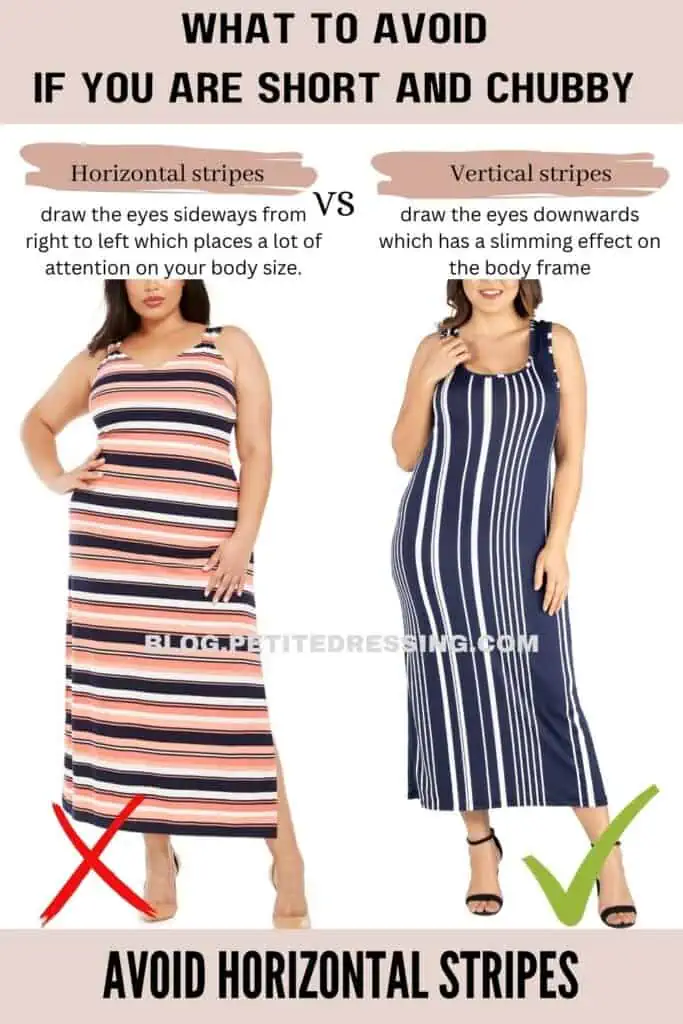 Bras that don't fit properly
A supportive bra is a chubby woman's best friend. However, it's quite surprising that many women put on incorrect bra sizes and you'll feel the difference immediately you put on one that fits snugly.
For short and chubby women, a bra that is too small will only make you look top-heavy while you'll look frumpy with an oversized bra. However, when it's just the right fact, the minimizing effect is heavenly.
So, it's always a great idea to invest in a supportive bra as it inspires a lot more confidence as you go about your day. No doubt about it, they will make your clothes look better.
Too many shades and hues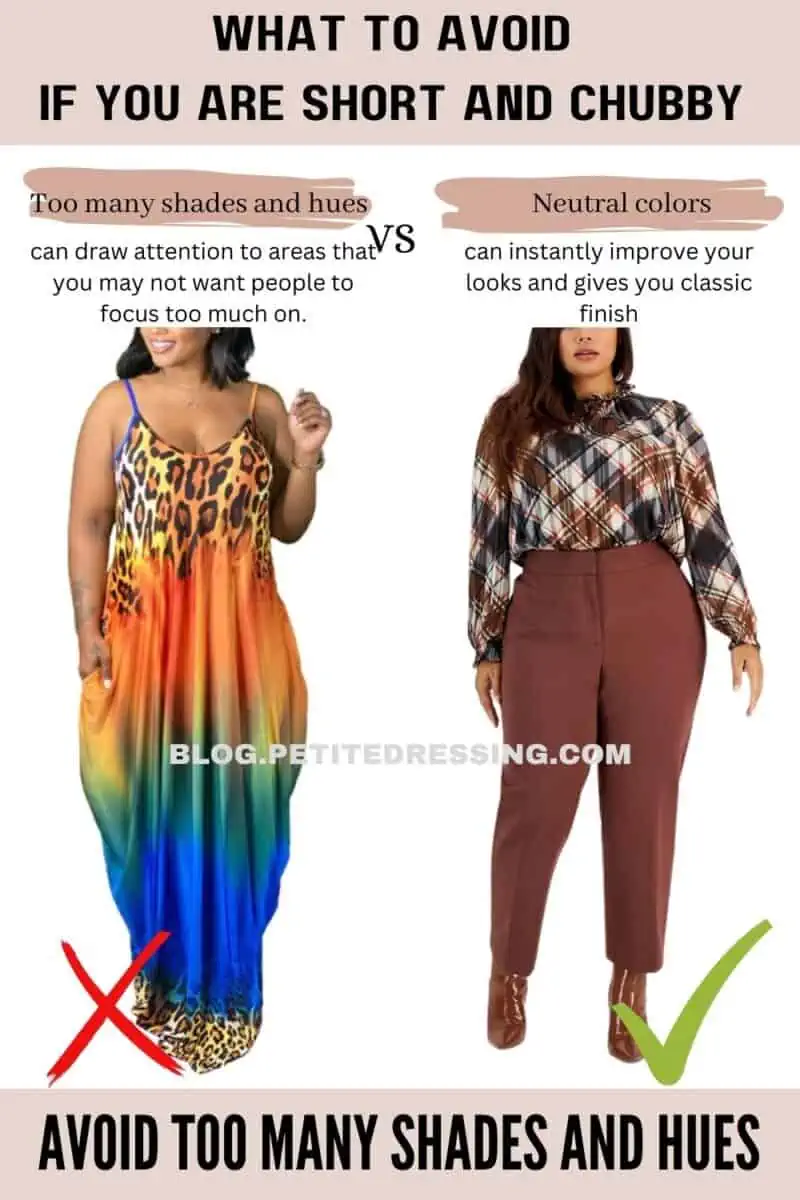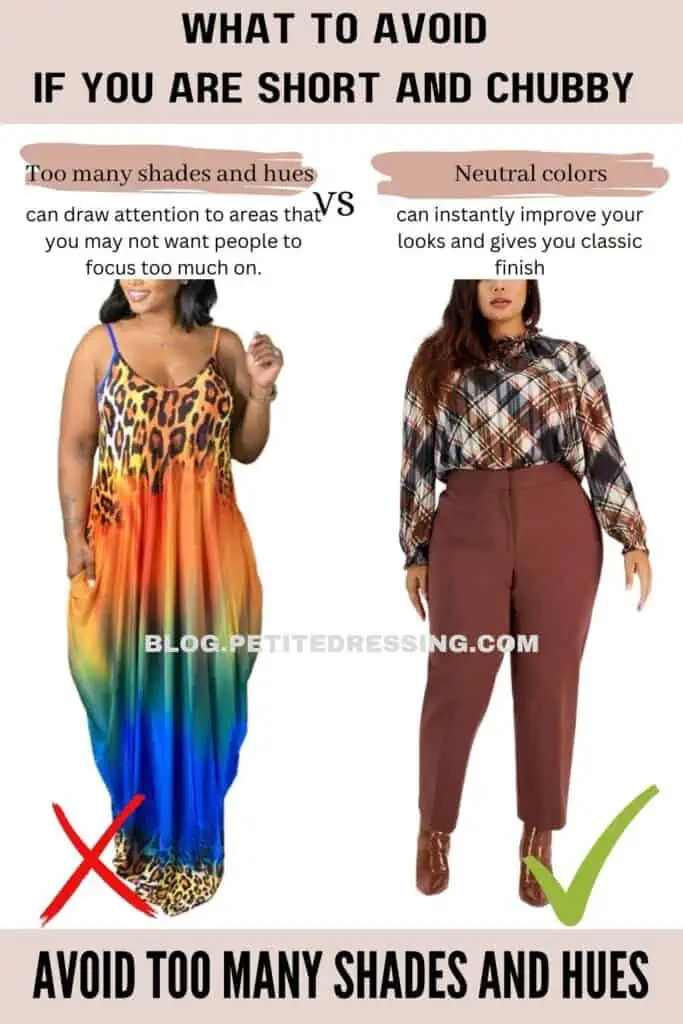 Putting on clothes with too many shades and hues may not have a flattering effect on your body. For a chubby woman, the right color on your cloth matters a lot as this can instantly improve your looks.
Therefore, you should spend a little more time choosing the perfect combination of colors. Our ultimate tip is to minimize how much you combine different colors as it can be difficult to pull off successfully.
Instead, opt for neutral colors that are easy to mix and match. You can include colorful pieces in a scarf or blazer, giving you a classic finish. Wearing too bright colors with various shades and hues can draw attention to areas that you may not want people to focus too much on.
High neckline tops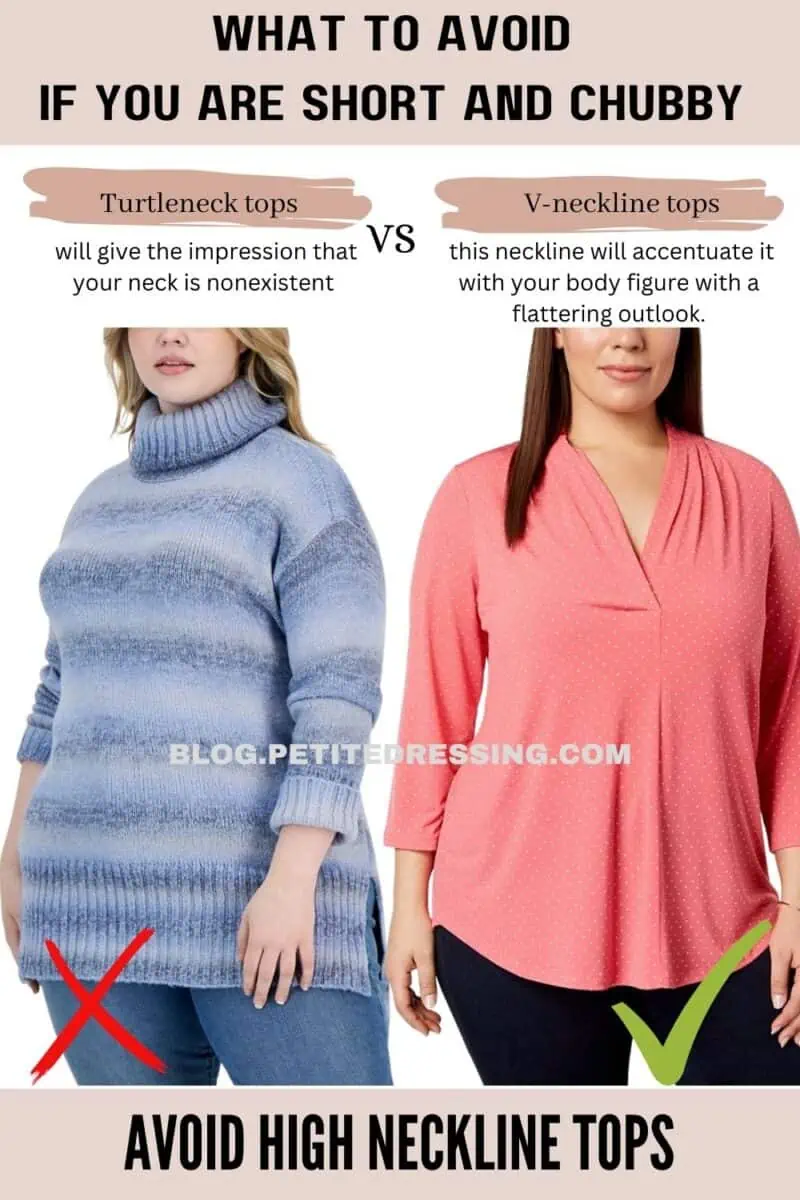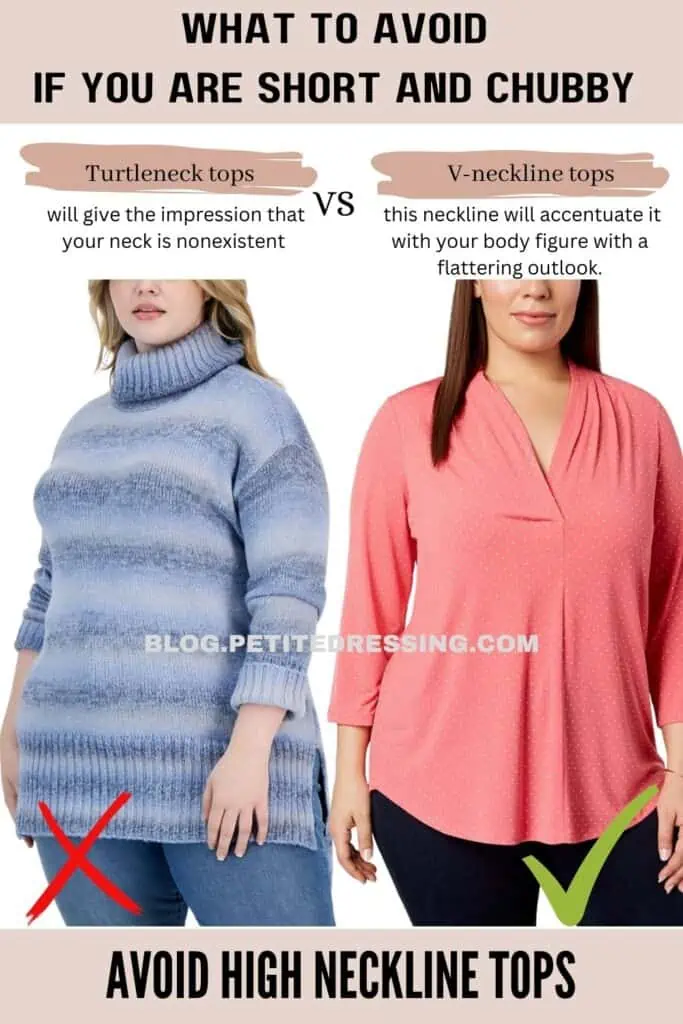 Always pay attention to necklines when shopping for tops. One neckline style you should stay away from is high necklines like turtle necks This will give the impression that your neck is nonexistent, thereby drawing more attention to your bust.
However, blouses, tank tops, or sweaters with U-shaped or V-shaped necklines look amazing on short and chubby women. Whether you have a large or small chest area, this neckline will accentuate it with your body figure with a flattering outlook.
Also, these necklines will draw attention away from your hips or muffin top as it highlights your neck and upper body area, drawing more attention to the best parts of your body. So, if you don't want to appear heavier at the top, avoid high necklines.
Oversized clothing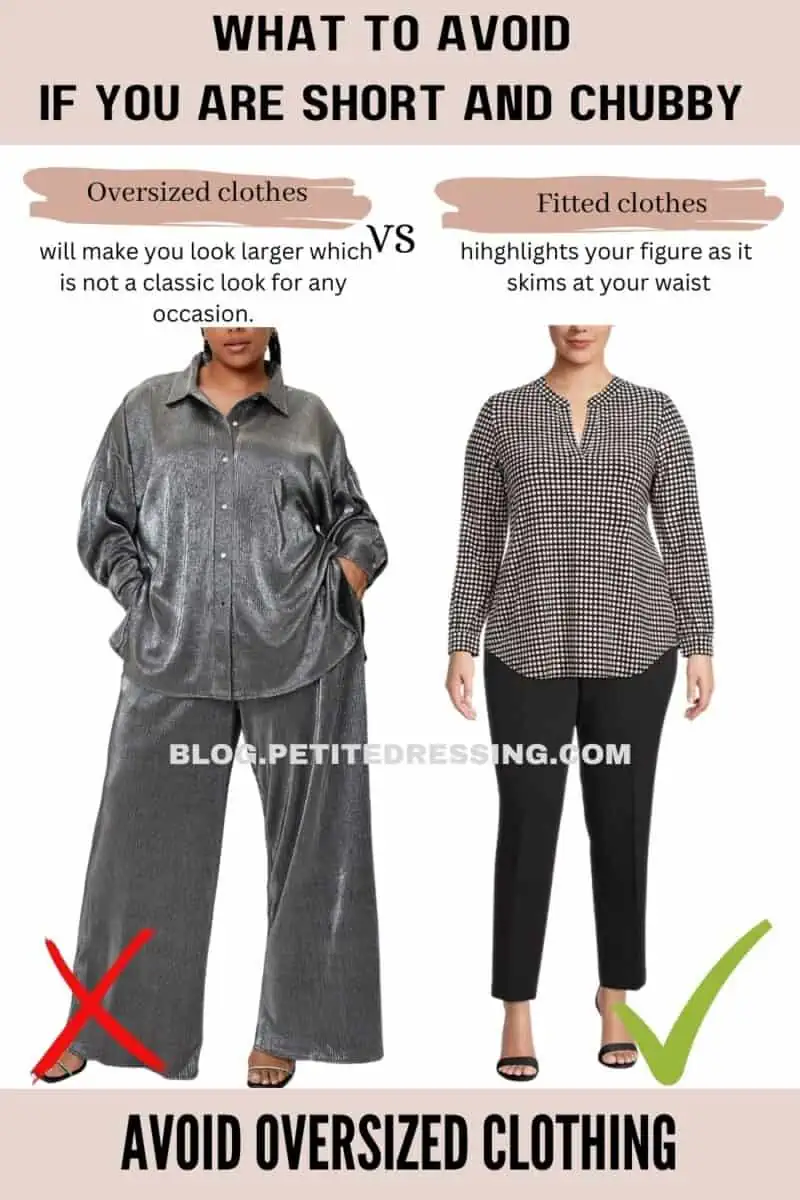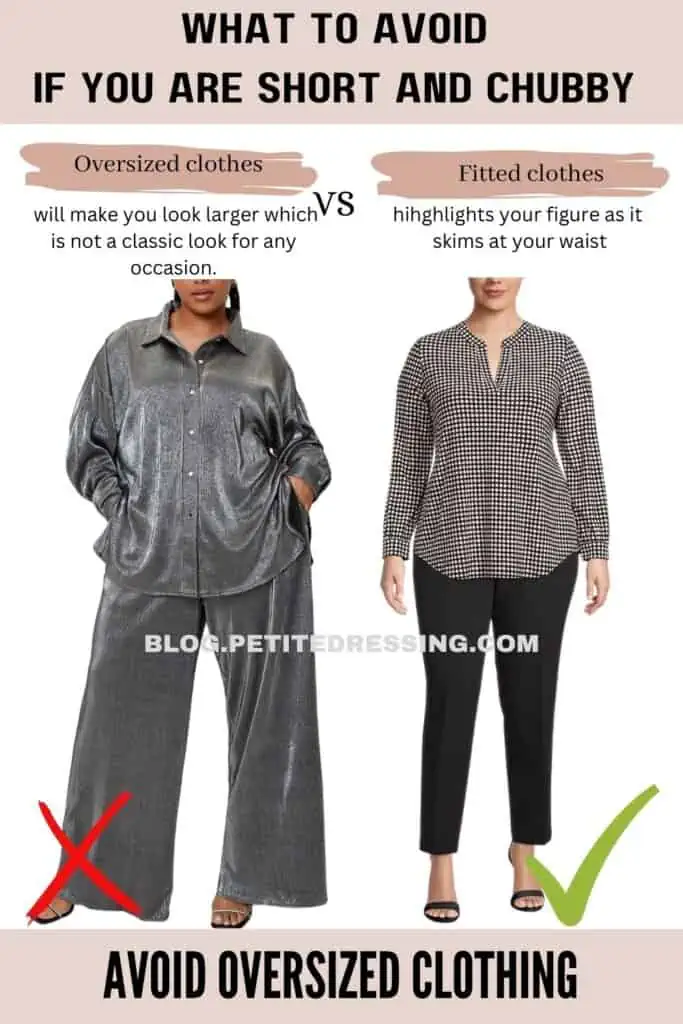 While oversized clothing can feel comfortable on the body, this is not a good choice if you want to appear slimmer, taller, and chic every time you walk into any space. This is especially true for short and chubby women.
Don't fall into the temptation to hide your curvy body shape in oversized clothing as these won't flatter your body. Instead, they will make you look larger which is not a classic look for any occasion.
Just as oversized clothing should be avoided, you shouldn't put on clothing styles that are too tight either. Instead, you should search for items that skim your figure and highlight your figure. High-waisted clothing styles are always a win.
Clingy clothes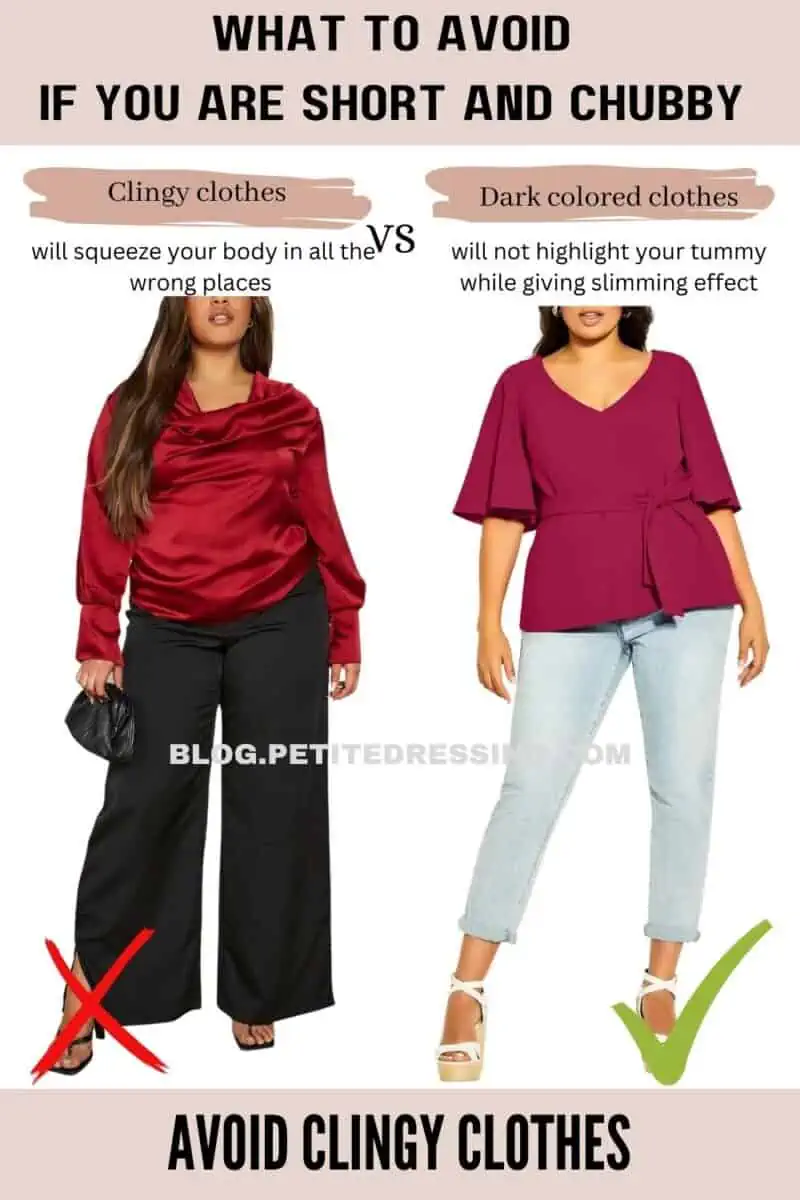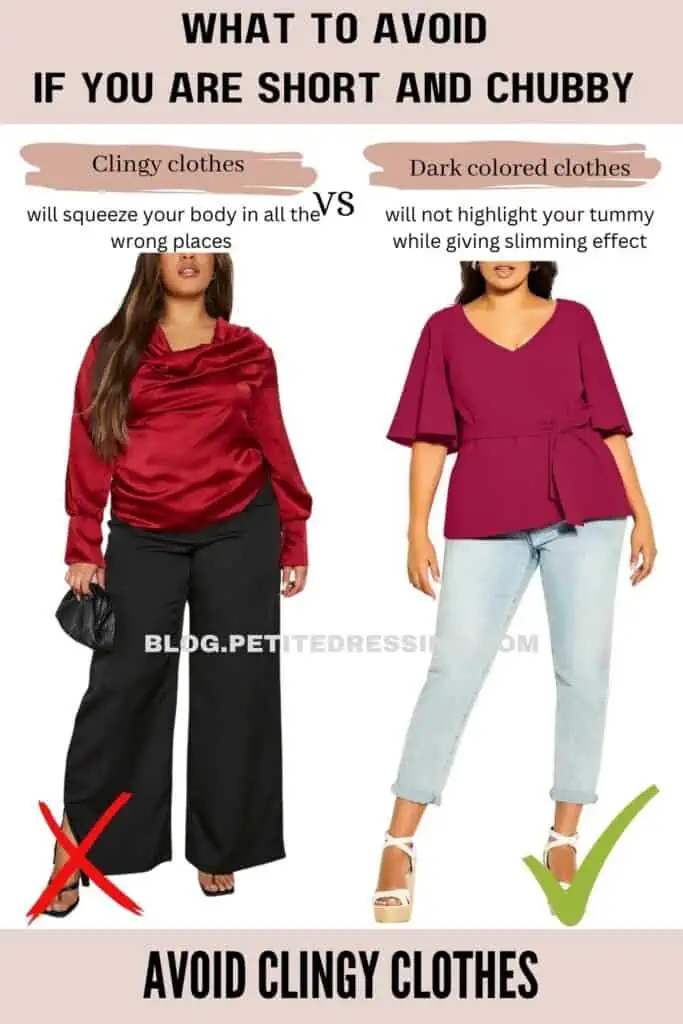 Just as some short and chubby women love to hide their bodies in oversized clothing, clingy clothes are not a better option either. Wearing clingy clothes will squeeze you in all the wrong places, not to mention how uncomfortable they can make you feel.
Rather than wearing dresses or pants that are several sizes down, opt for those with a perfect fit on your body. For pants, go for those with elastic bands as these won't cut uncomfortably into your stomach and cause skin irritations.
Short and chubby women can rock fitted clothes that have a slimming effect, especially those in darker shades.
Wedged boots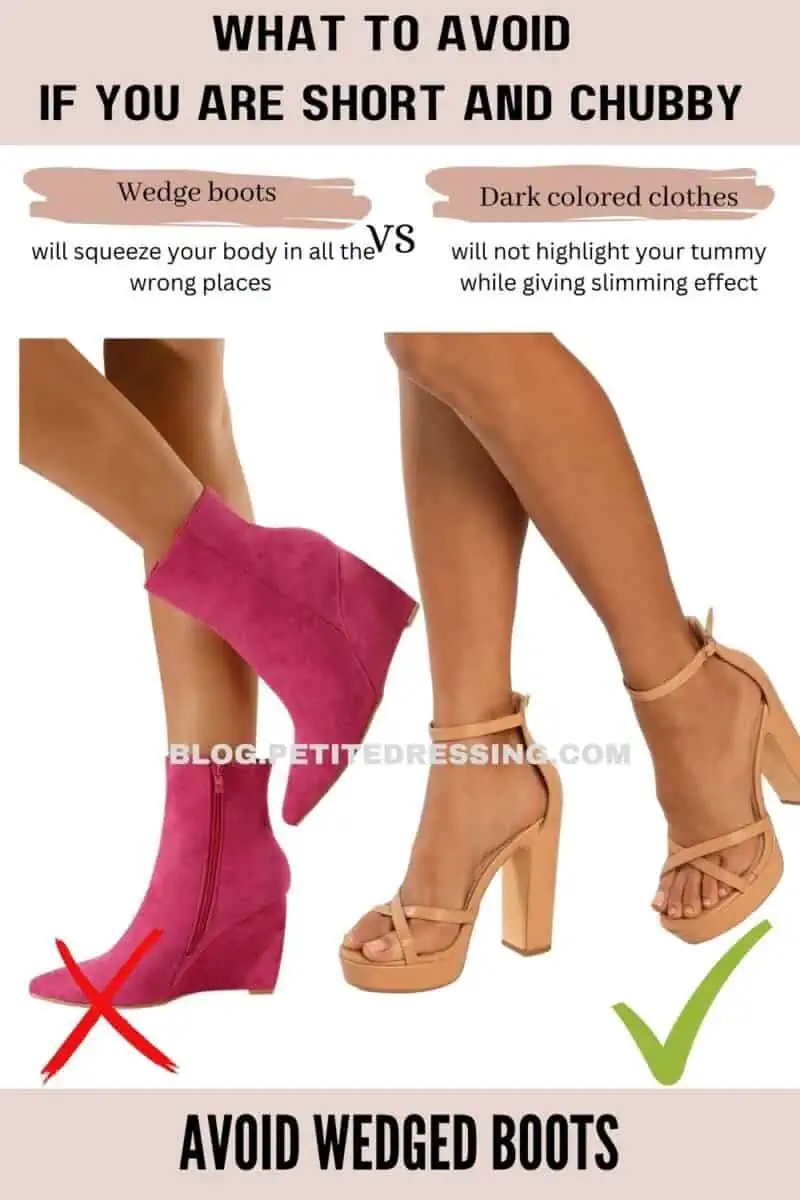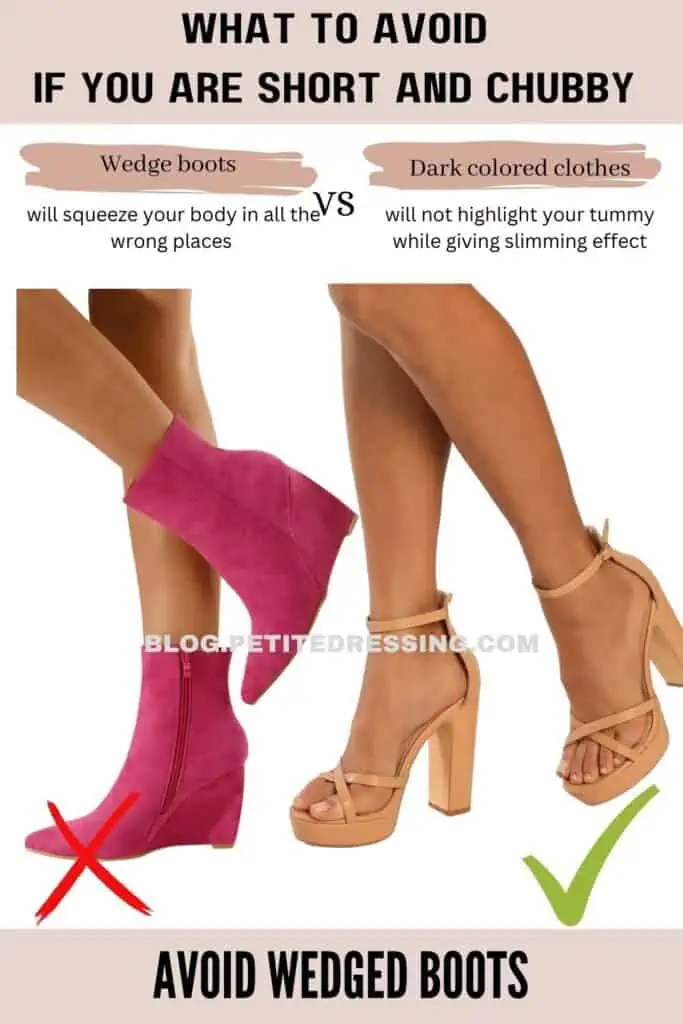 If you're comfortable in heels, you should definitely go for them. However, while heeled shoes do a great job of making women appear taller, wedged boots have the opposite effect. Of course, they add the required inches that any shoe with heels will be able to do.
However, the thick design of the wedged boots doesn't work in your favor. They counter the effects of the few extra inches which will make you look shorter than you actually are. So, rather than elongate your legs, they shorten them.
Wedged boots are also known for making chubby women appear wider because there will be a lot more attention on your curvy figure. Rather than wear wedged boots, we highly recommend nude platform heels on full length trousers which will add extra inches to your feet.
With full-length trousers, it will be difficult to tell where your legs start from, and that will definitely make you appear taller. You don't have to sacrifice your comfort to elongate your body frame.
Tent dresses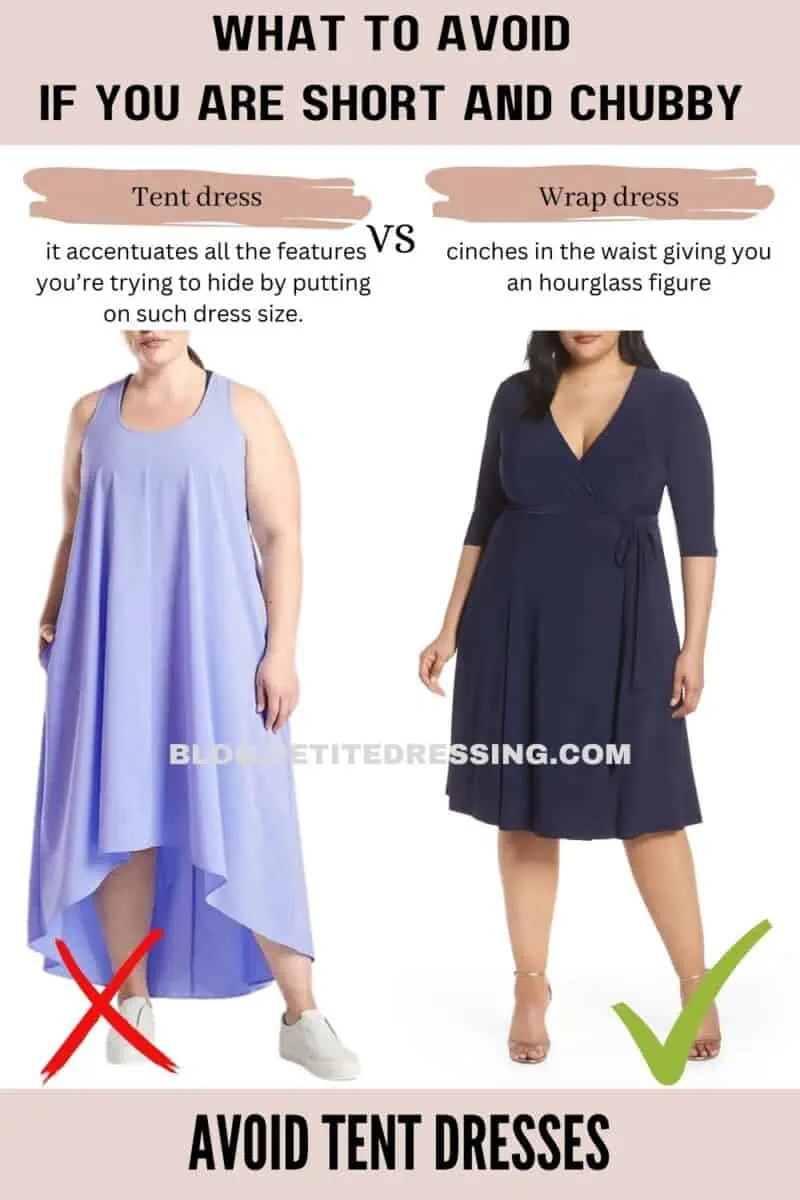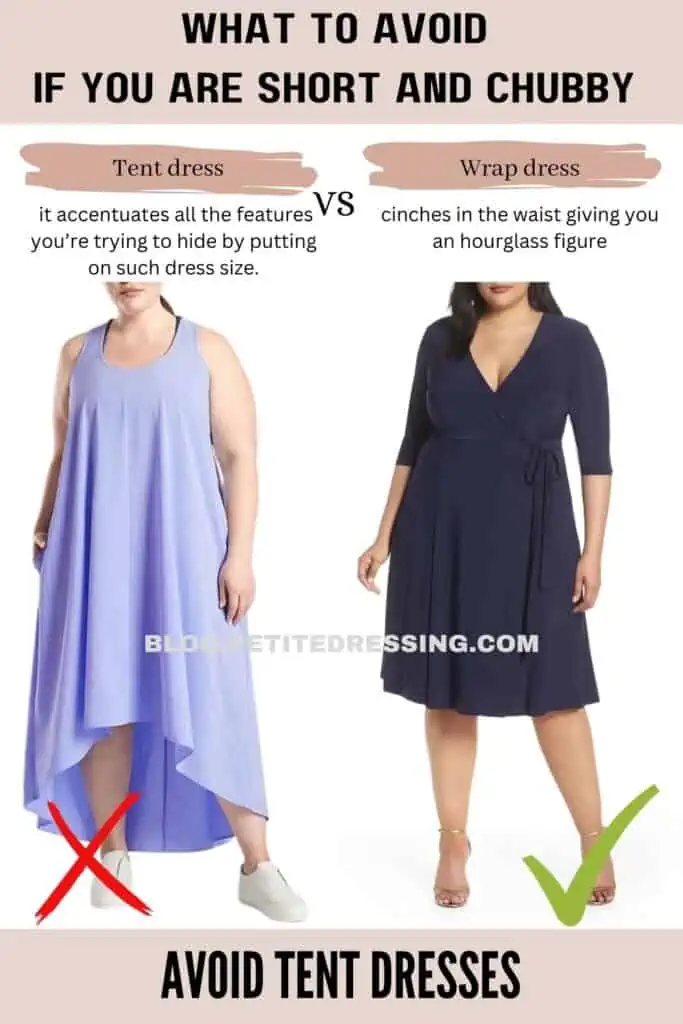 Similar to oversized clothing, tent dresses are an absolute no for short and chubby women. These dresses flare out in an unflattering way, where it accentuates all the features you're trying to hide by putting on such dress size.
The tent dresses also leads to a less distinctive silhouette which will only make you look bigger. Therefore, they do nothing to skim your figure and highlight your curves.
Low-rise jean shorts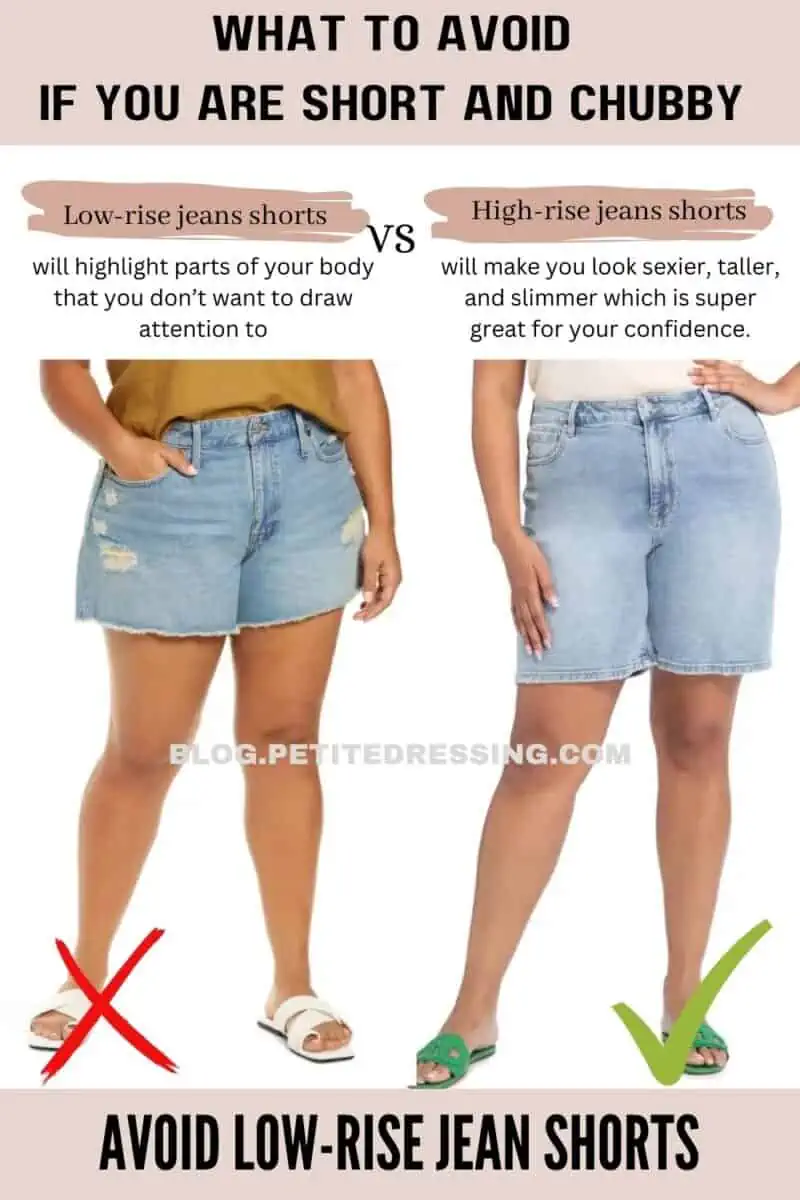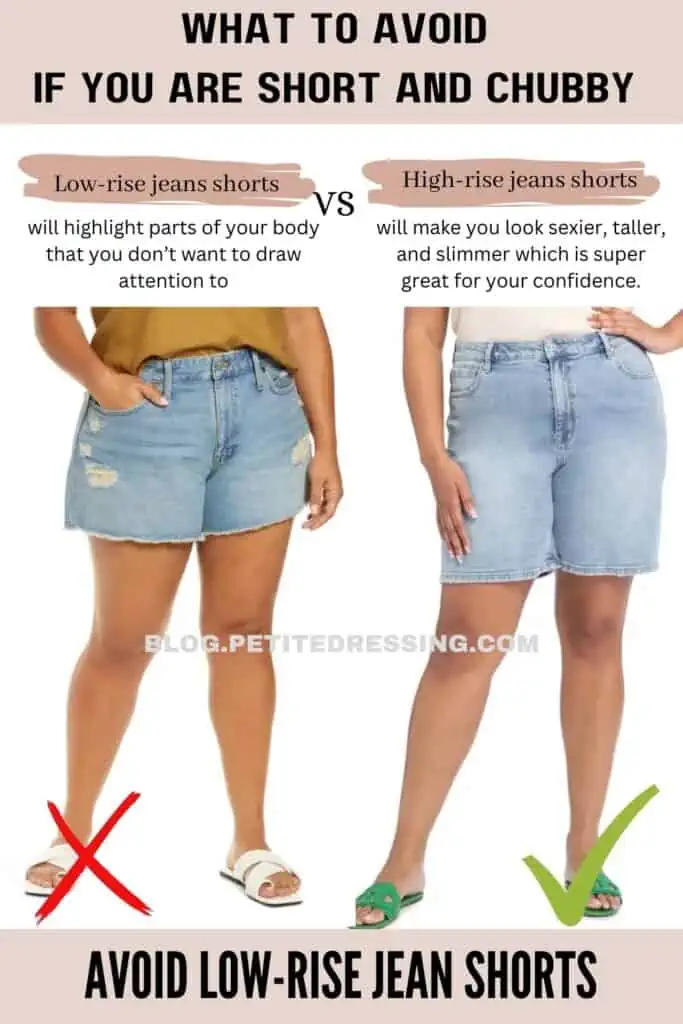 Although low-rise jean shorts have moments where they could seem cool to wear, it's not flattering on short and chubby women. Instead, they will highlight parts of your body that you don't want to draw attention to.
Low-rise jean shorts can also be super uncomfortable, especially if you'll be doing a lot of squatting or bending and don't want to accidentally reveal your underwear in public. Instead, a better option is to stick to high-rise jean shorts which will make your waist more visible while your legs appear leaner.
Also, this can be a great way to hide your belly pouch while your legs appear longer. The overall effect of wearing high-rise jean shorts or pants is that you'll look sexier, taller, and slimmer which is super great for your confidence.
High-rise pants work in almost every occasion, whether you need to wear them for a casual outing or as part of your office wear ensemble.
With these tips, short and chubby women can rock the best clothing without worrying about appearing bigger. So, step out in style as you explore what works best for you.