If you have struggled with letting go of your favorite dresses because you have a tummy bulge that you'll love to hide, we've got some good news for you. There are several styles of dresses that can hide a muffin top perfectly while still ensuring that you don't lose your personal style.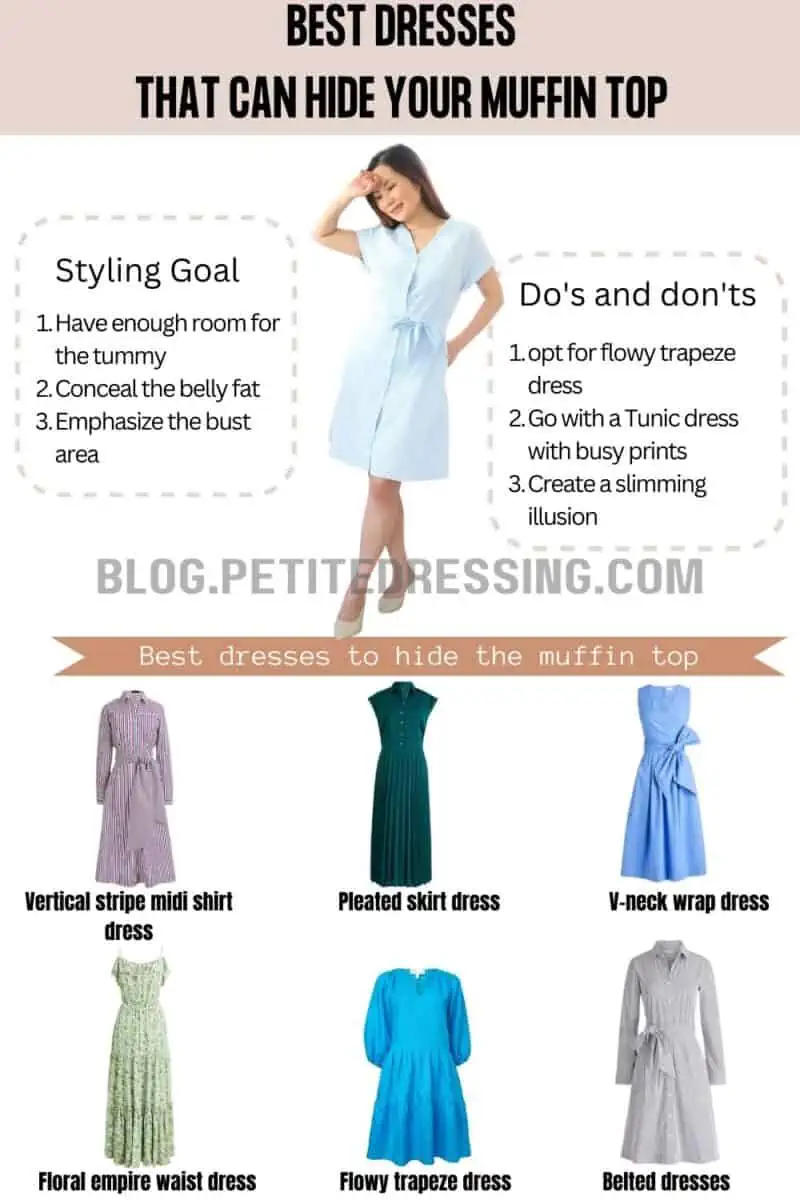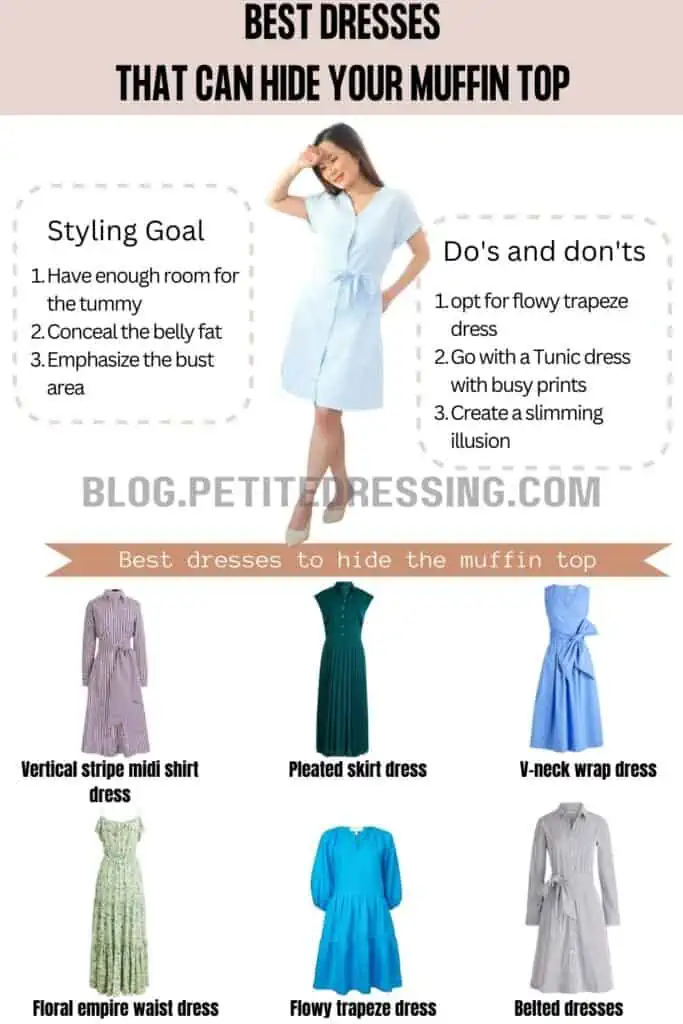 This guide contains some top dress styles that will help you hide your belly while ensuring you look as stylish as ever. Keep reading to find out some of the best options for you.
Vertical stripe midi shirt dress
As shocking as it may sound, a shirt dress is a perfect choice for any woman looking to hide her belly. Here's why. Shirt dresses are usually free-flowing, giving your tummy a lot of room.
With the universally flattering effect in shirt dresses, you know you'll step out looking as elegant as ever. The front-tie option is great because it narrows your shape to a small area where the dress can easily glide over your curves.
Even better, a shirt dress is great as an everyday piece so you can style it for play or work. All it takes is switching up your accessories to modify each look. You can go for a vertically striped shirt dress with the front-tie waist or buttoned down. It's also a great idea to go for shirt dresses with bold colors that bring a pop of brightness on those dreary mornings.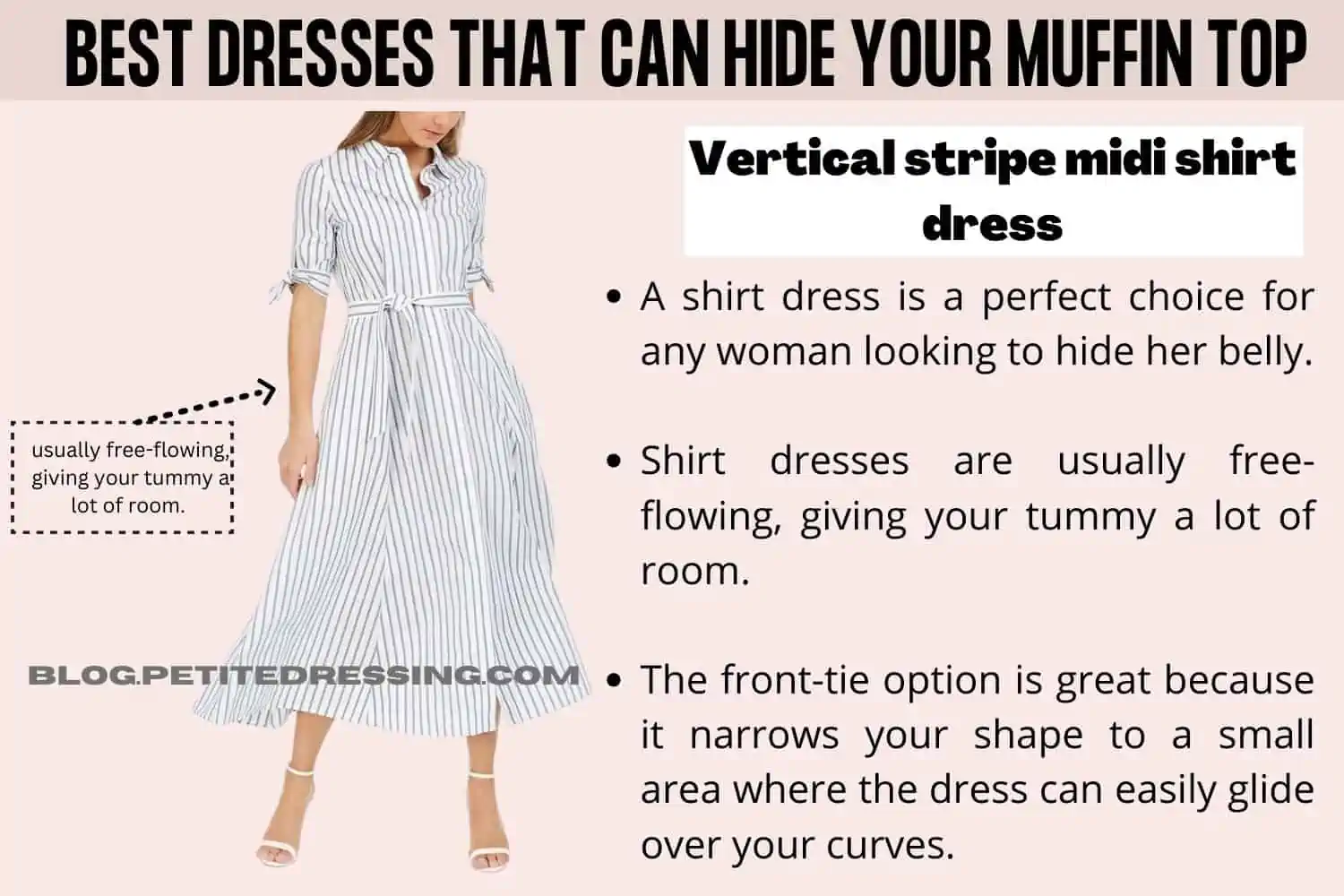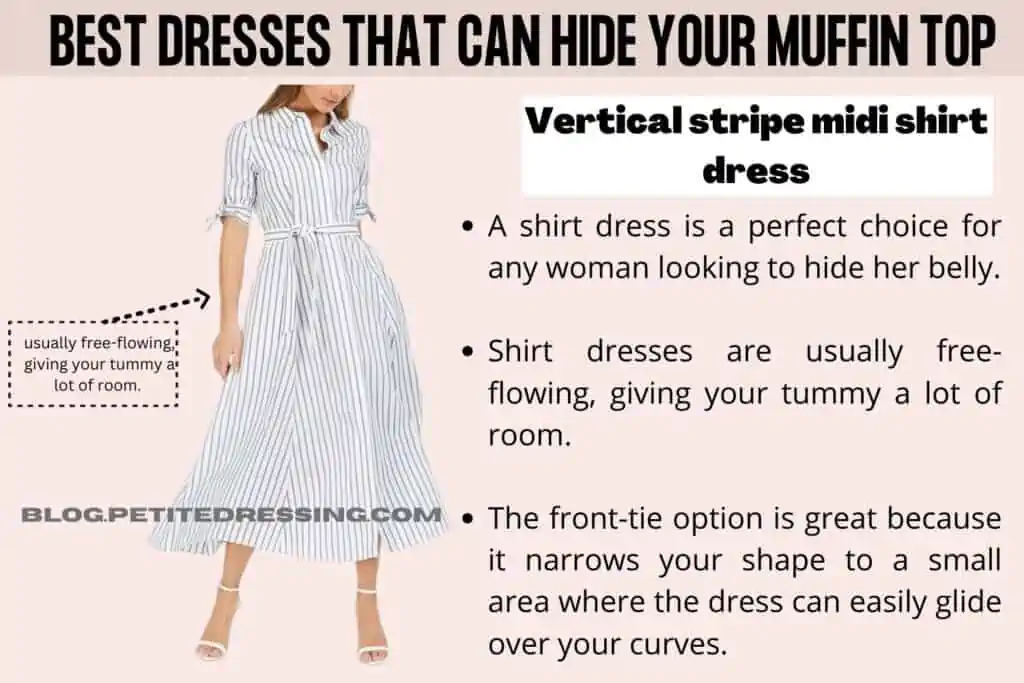 Pleated skirt dress
Need dresses that have many advantages when it comes to hiding a muffin top? You should check out pleated skirt dresses. The beauty of pleats is that they work in dresses that are not close-fitting. 
Thanks to the naturally created vertical lines, your belly appears much smaller than it actually is. Even better, consider going for an off-shoulder pleated skirt dress so you can draw more attention to your shoulders and bust while your waist looks much slimmer.
We love how pleated skirt dresses flatter curvy figures, making them perfect for work wears or occasions. You can also try styles with a knotted front around the pleats, as the knot is a central narrowing point.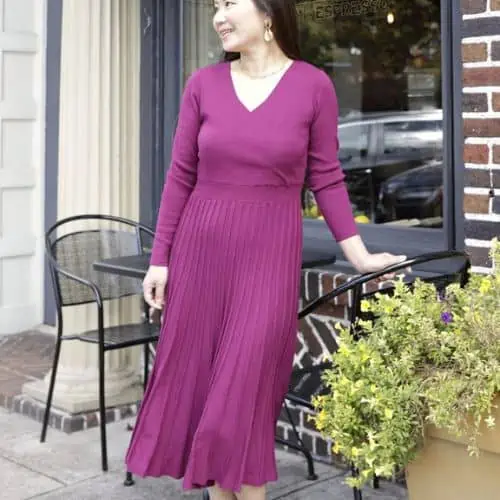 Why opt for pleated skirt dresses?
The great part about this is that it elongates your frame and even lengthens your legs.
So, if you're not a fan of heels, you can rock flats with this dress and still look amazing.
V-neck wrap dress
No matter the shape or size of your body, a v-neck wrap dress will suit you perfectly, even with a muffin top. You also have some freedom to play around with how you want to tie your belt so it hides your belly in a sexy way.
It's not surprising that many celebrities love to rock wrap dresses, even Kate Middleton. A perfectly cut v-neck wrap dress will show your neckline adorned with any necklace of your choice, which flatters the top of your body, while the wrap style itself skims beautifully over your middle.
Whether rocking a smaller cup size or large busts, a deep v-neckline will provide the necessary boost. If you're not a fan of showing many necklines, there are always choices where the V-shape is as modest as you would like.
You can also wear wrap dresses with some neck ruffles for that extra bit of coverage.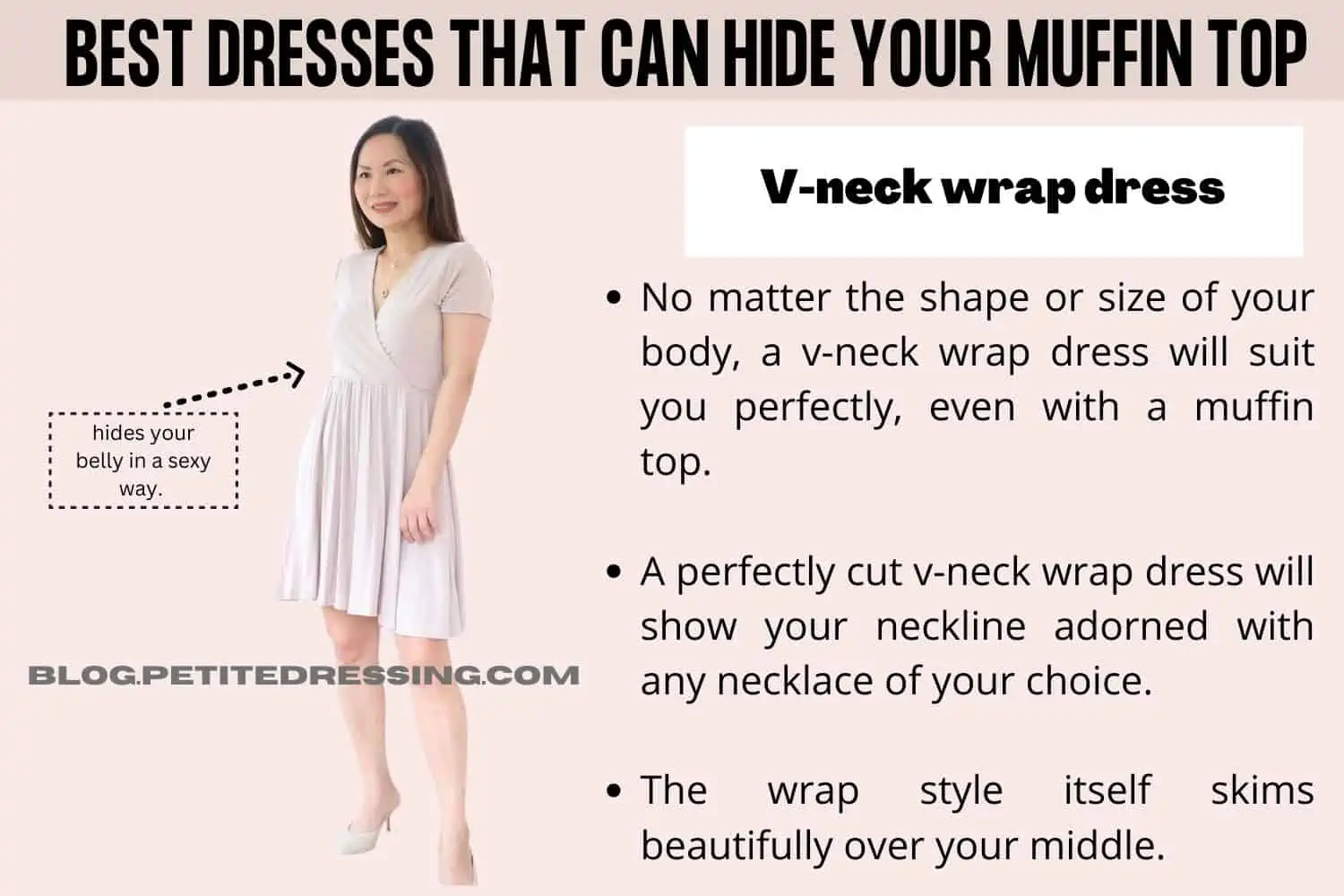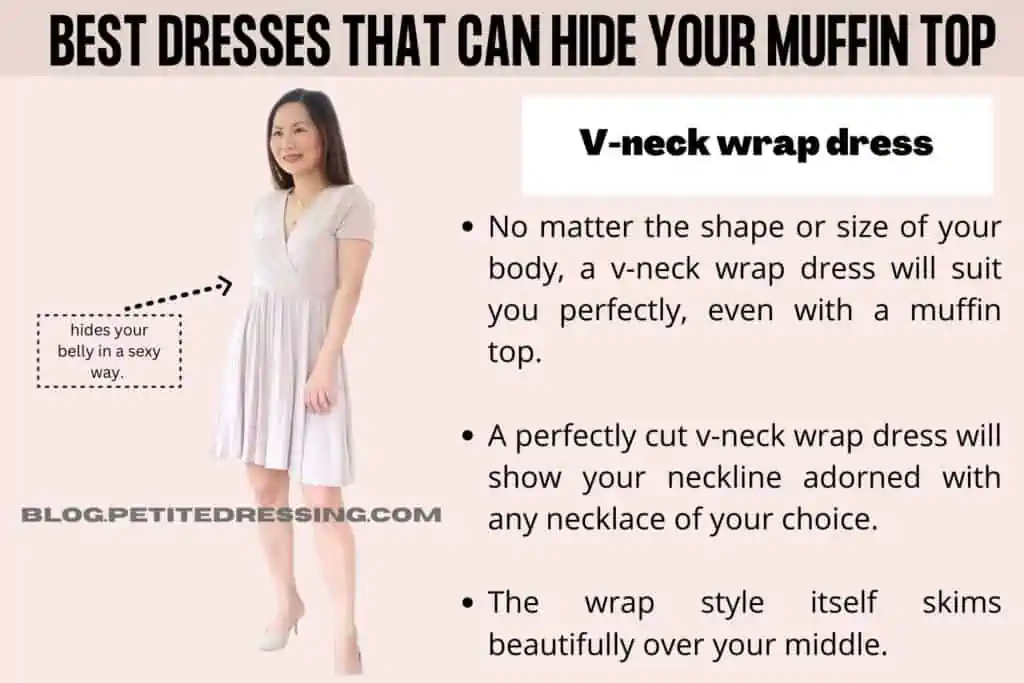 Floral empire waist dress
Empire line dresses are a great choice for hiding your stomach without going over the top. While not all dresses work for hiding a muffin top, you really can't go wrong with this style. It works by drawing attention to the part of your body directly under your bust, which is meant to be the slimmest part of your torso.
By drawing more attention to this region, the dress will skim over your belly instead of giving an uncomfortably clingy effect that will make your muffin top so obvious. So, if you would love to emphasize your bust more, you can do this freely with an empire waist dress.
You'll look nothing short of fabulous in an empire line dress with stripes running across your bust and vertically toward your belly. Alternatively, you can try loose styles that drape well and are not too heavy on the body.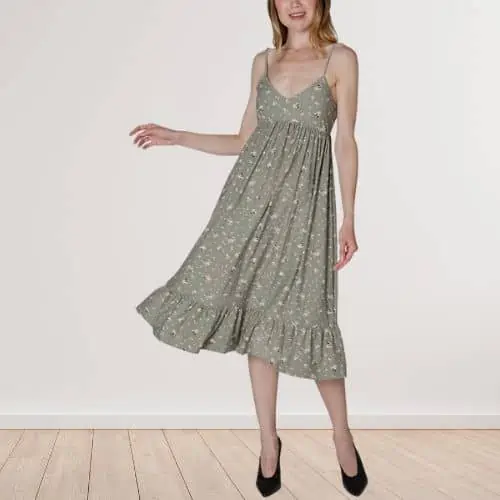 Floral prints are the best, here's why:
Your best bet for stepping out in style is to opt for floral styles.
If it's got a v-neck and ruffled front, that's a huge bonus.
The floral print hides your muffin top while you step out in the gorgeous design that blends perfectly with black ankle boots.
Flowy trapeze dress
At first, the name trapeze can be discouraging because it sounds like a tent, but that's far from the truth. This swing-style dress flows from the area a little past your armpit, giving your bust a little definition before filling it out.
This works great for hiding muffin tops because it doesn't cling to your shape and creates a tight silhouette. Instead, it's extremely comfortable as it skims over your belly. Smaller women should opt for shorter styles that don't go way below the knee, as this will emphasize your petite frame. Knee-length flowy trapeze dresses are just right.
Taller women can try out longer styles. The length of the trapeze dress is important as you wouldn't want to go for an overwhelming style that leaves you feeling like you're wrapped in a duvet.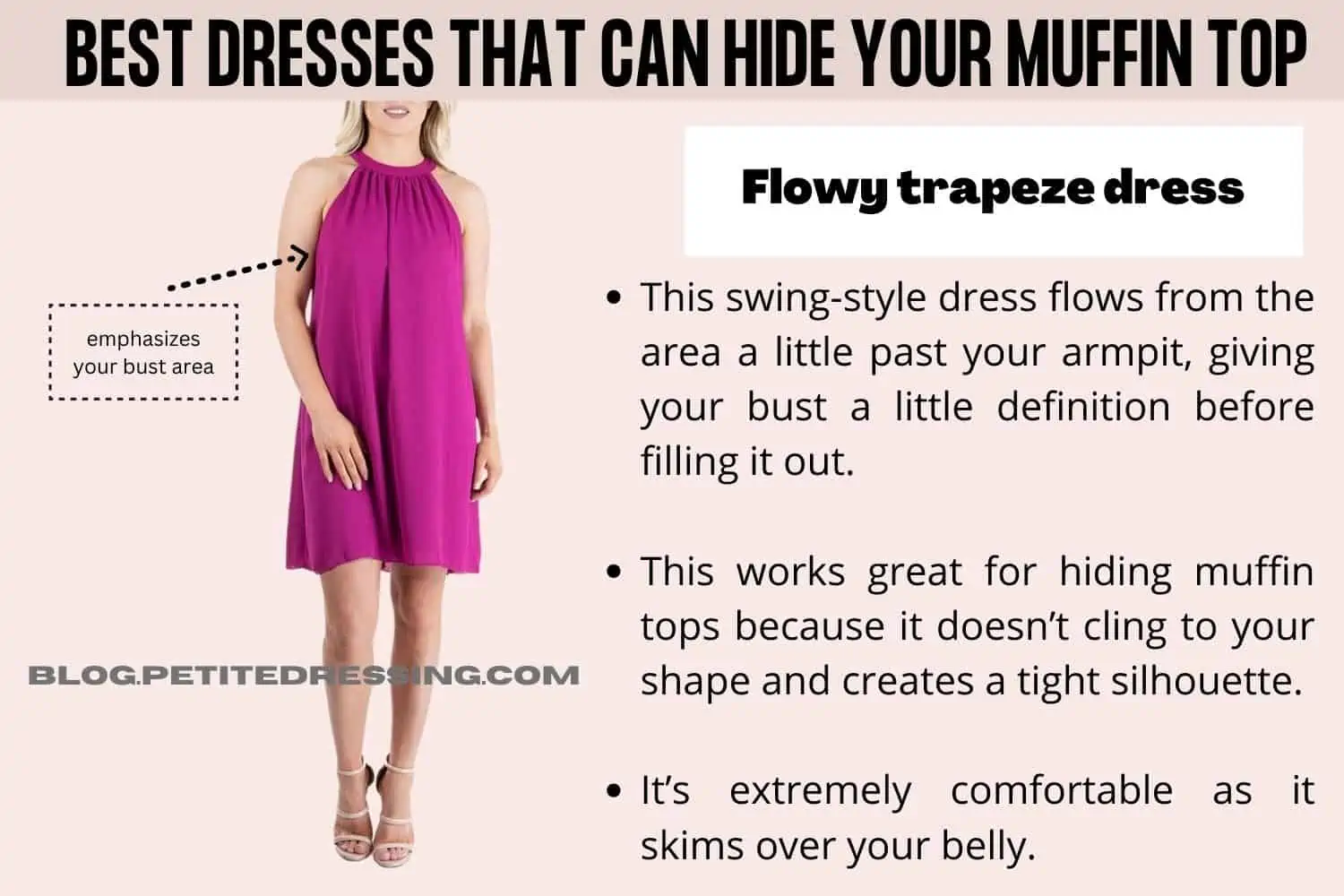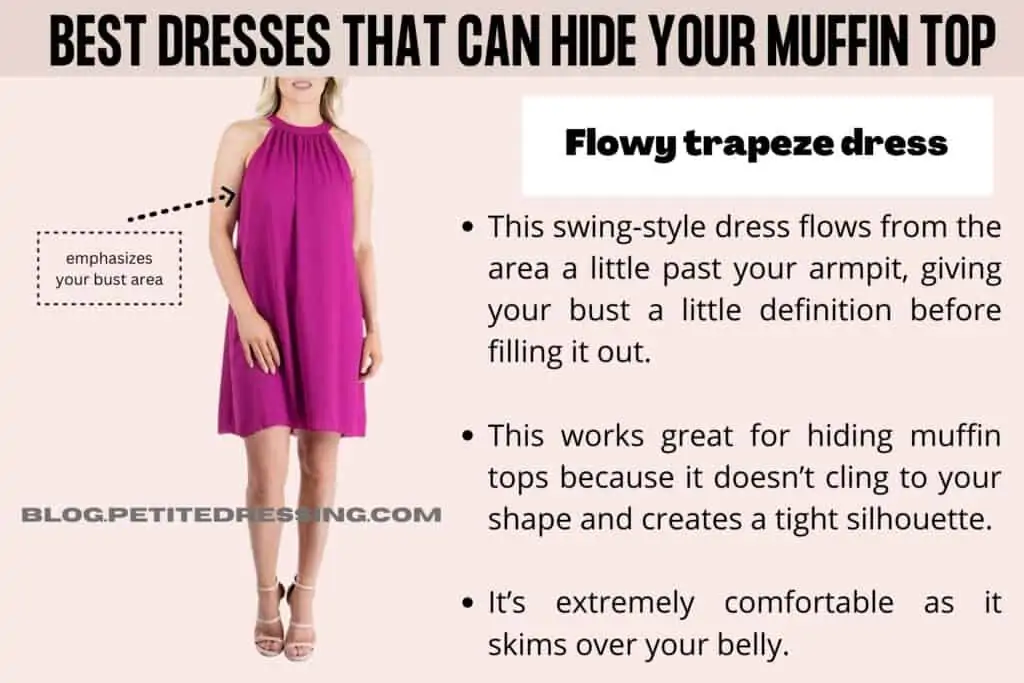 So, if you're feeling a little adventurous, opt for high-low, flowy trapeze dresses that emphasize your legs beautifully. You can also wear your trapeze dresses over jeans if they are way shorter.
Tunic dress with busy prints
A tunic dress with busy prints can work wonders for women that want to hide a muffin top without choosing complicated styles. Don't run away from tunic dresses with busy prints and patterns, especially as they can be a handy camouflage for hiding a muffin top. So, when you're looking to disguise a tummy, wear a stylish tunic dress with busy prints to get it done.
When you choose the right pants, preferably dark leggings, your tunic dress will drape around your tummy without revealing its awkward shape. The result is a more streamlined silhouette that will help you step out more confidently.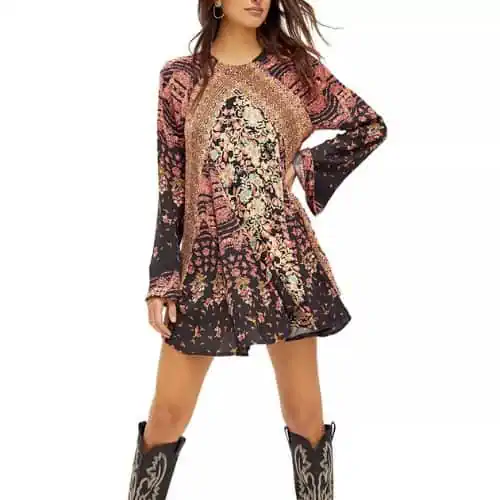 Styles with tunic dresses
Of course, it also helps that prints add a lot of vibrancy to your wardrobe, and it's a handy change from drab, boring colors.
A good way to style your tunic dress is through layering, where you can wear this over pants.
Dark color belted dress
Another great option you should consider including in your closet for every season is a dark color belted dress. It's always an amazing idea to go for dark color belted dresses with a flattering V neckline. Some great color ideas are black, brown, or deep blue.
Women of all ages love belted dresses as they are flowy, stretchy, and soft, just right to cover up tummy bumps that you're not exactly thrilled about. So, dark-colored belted dresses can do the trick if you're looking to hide bumps and lumps, especially in your tummy area.
Of course, there are different places to try belts on your dress. However, the best choice is the slimmest part of your body, which is where you should emphasize more.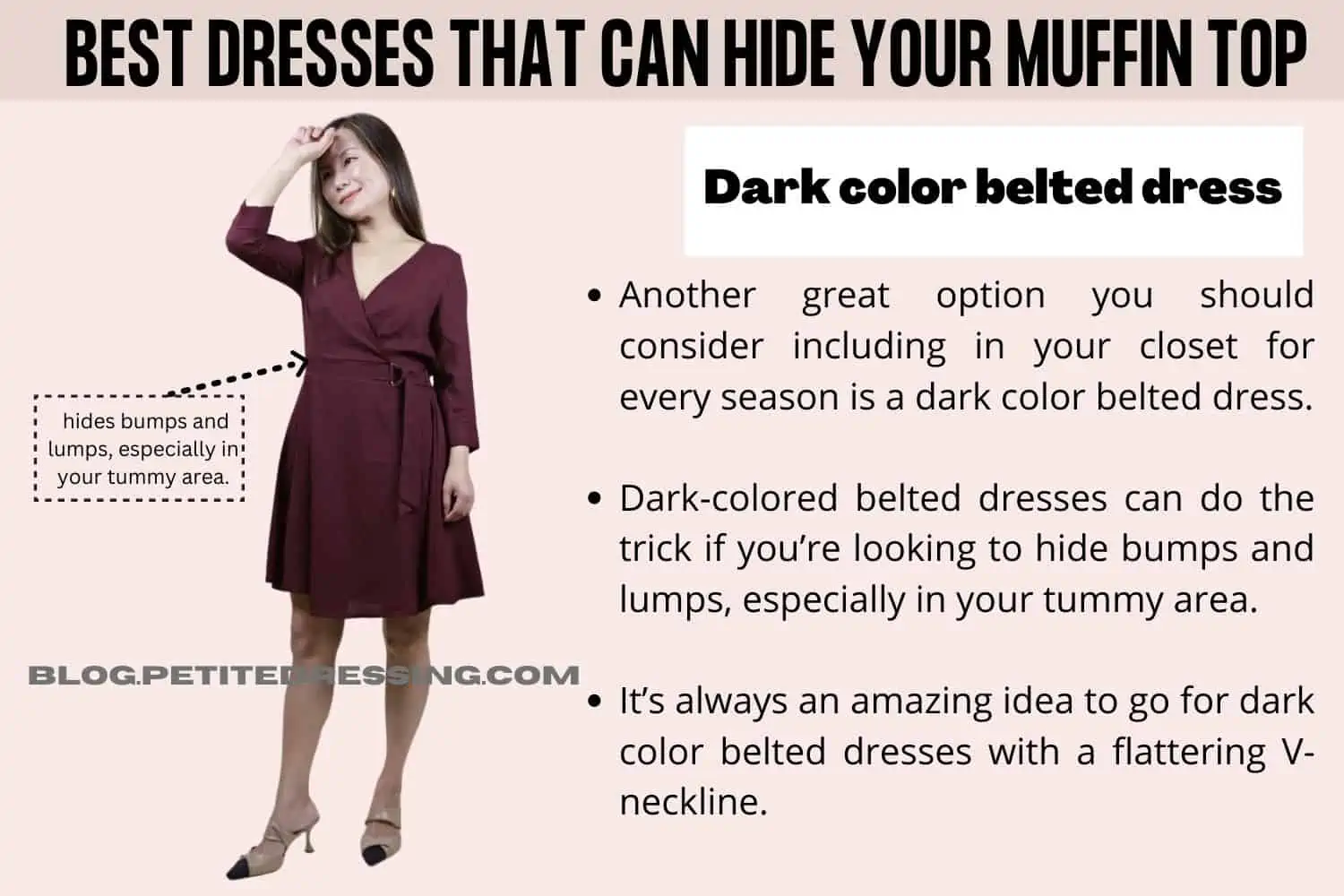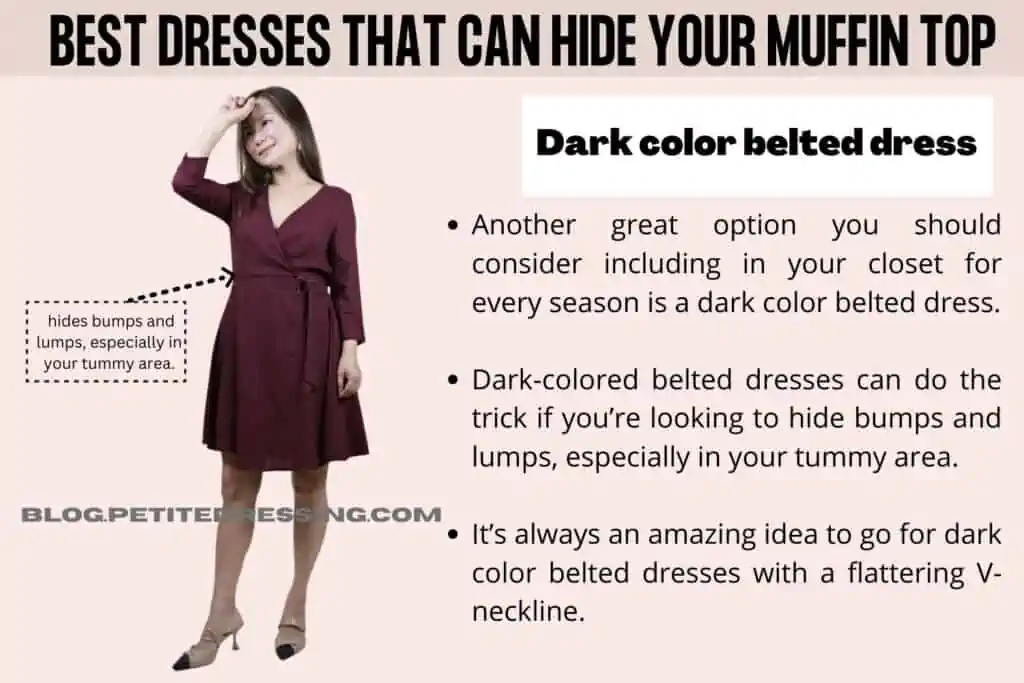 Asymmetric dress
An asymmetric dress can create diagonal and vertical lines, and this makes your body appears slimmer than it actually is. This illusion is what hides your muffin top. It's not a good idea to go for a fitted dress as it would defeat the purpose of getting an asymmetric dress in the first place.
Instead, go for a looser style which you can also pair with dark-colored leggings. This is incredibly flattering for your body.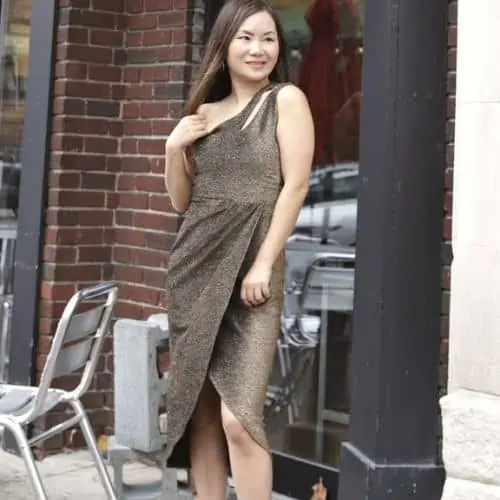 Asymmetrical dresses are a must-have
If you want to hide a little part of your belly or make it as invisible as possible, an asymmetric dress can give you the freedom to create a slimming illusion that fits your personal preference.
Ruched dress
A ruched dress usually has an overlay of fabric that can be pleated together to create a ripple-like effect over your body. Usually, the ruched middle skims over your tummy, making this a stylish way to hide a muffin top.
So, you can rock any ruched dress, as this is a really flattering way to highlight the best parts of your figure while hiding your tummy. The subtle puckering of the dress disguises your belly, and when it drapes from the side of the waist, giving the illusion of a narrow waistline.
It's always a great idea to go for ruched dresses in bold colors. So, don't be afraid to step out in an orange or red ruched dress paired with heels.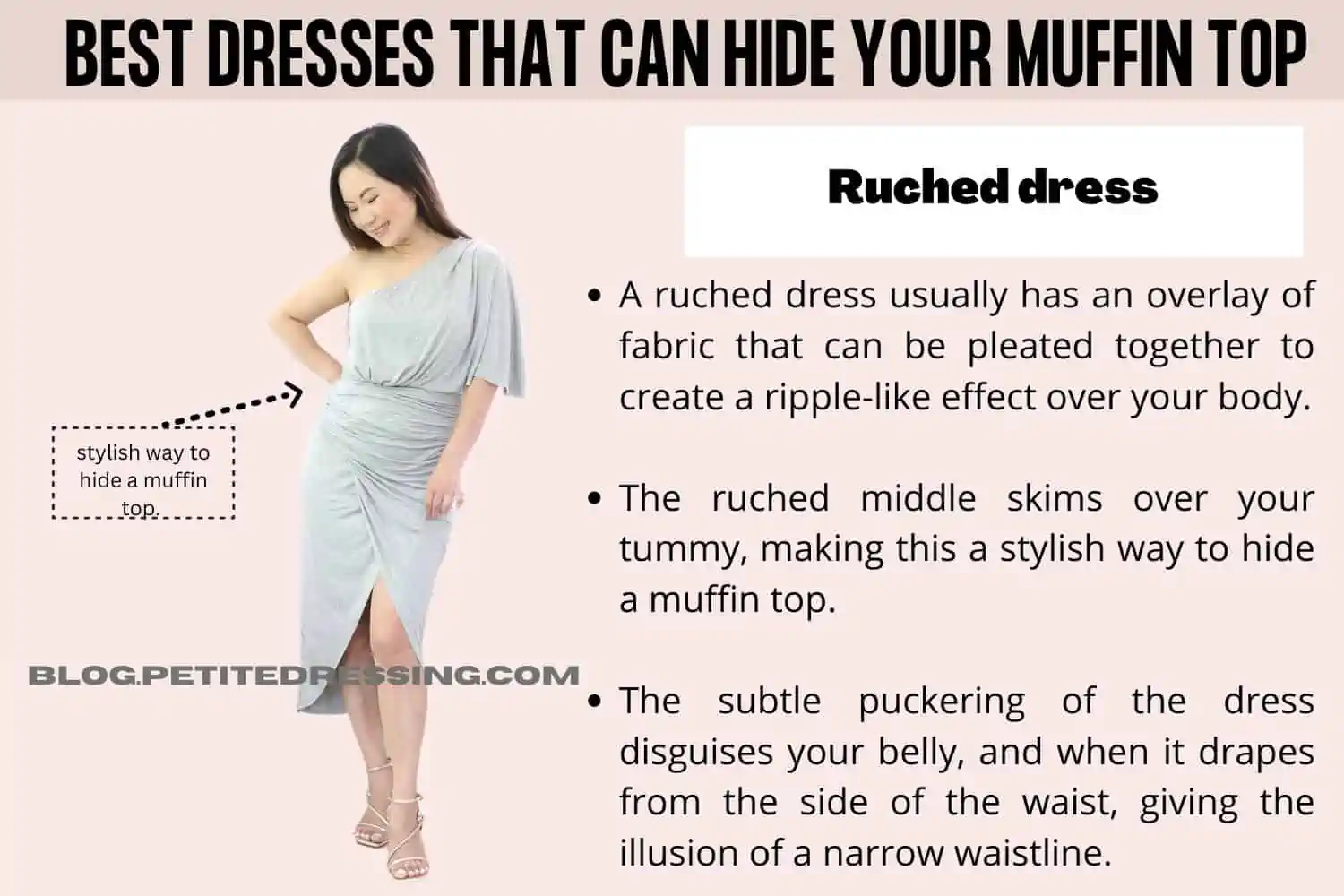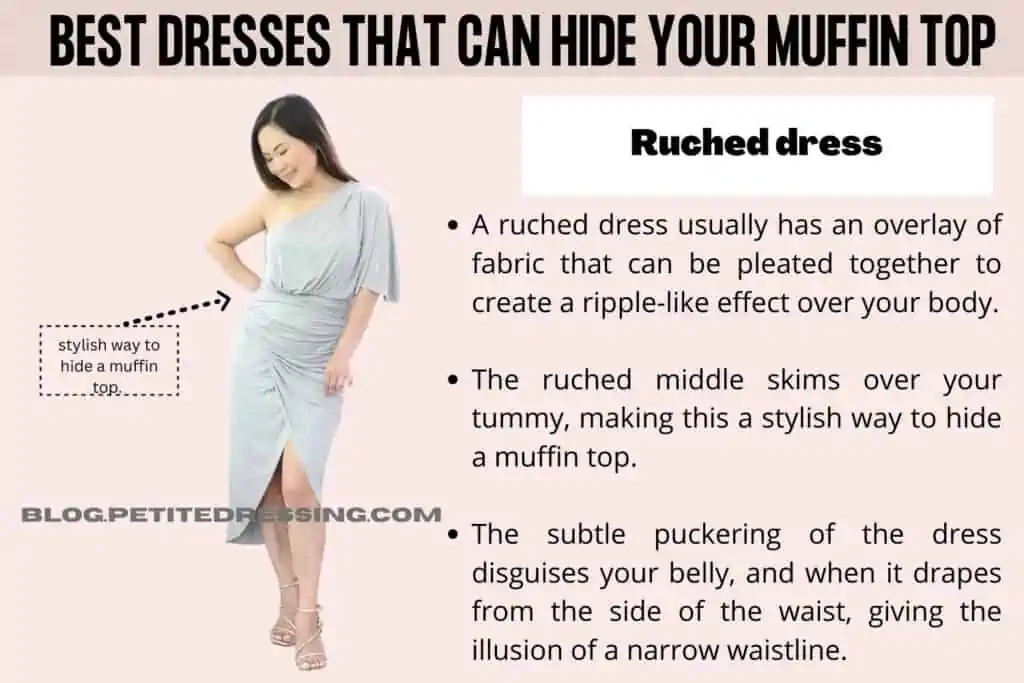 Any of these styles of dresses will do a great job of hiding your muffin top. The best part is that you don't have to spend much money to find the perfect fit for your unique body shape.