Looking for maxi dresses for short girls? You are not alone! Petite maxi dress is one of the most sought after items for petite clothing. The Bohemian style has been such a darling of fashion for many years, and there is no sign that it will fade off any time soon. One of the signature looks is maxi dresses, especially floral maxi dresses. In the summer time when you are hanging on the beach or by the pool, nothing seems to be better than a flowy and sexy maxi dress. When you are packing for vacation at a resort, maxi dresses are the no brainer as they are so light and easy to care for.
Now, the question is can short girls rock the maxi dress trend? Many people have read in fashion magazines or stylist blogs that petite women are better off wearing shorter skirts in order to make their legs look longer. While that is true to some degree, petite girls actually have two choices in terms of the most flattering length. You can either go short or go long, and by long I mean really long (at least ankle length). In fact, maxi dresses for short girls can be one of the most flattering pieces in your wardrobe, if you master the skills of how to wear it. See how our favorite blogger Carly, 5'3″, is wearing the maxi.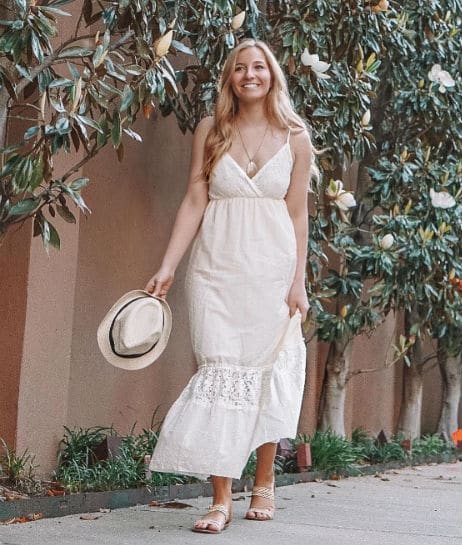 As you can see, because of the length, maxi dresses for short girls can create a single column of color from top to bottom, which effectively elongates petite women and make them look taller. (Read more about How to Look Taller)
Not just petite bloggers, but many petite actresses have demonstrated how to rock maxi dresses. We have seen it on Nicole Richie (5'1″), Mira Duma (5′), Kim Kardashian (5'3″), the Olsen twins (5'2″), Victoria Beckham and the list goes on and on. Among the petite celebrities, Nicole Richie is known to be the queen of Bohemian style, and maxi dresses or maxi skirts are her signature looks.
While the favorites of Nicole Richie and Olsen twins are the flowy and silky type of maxi dresses, that is not the only type of maxi dresses short girls can wear. Kim Kardashian, who is an expert of flouncing her curves, has shown us how maxi dresses made of stretchy fabrics can hug the body of a petite woman look fabulous on a shorter person.
If you are thinking maxi dresses are only good for the pool side parties or resorts, you are missing out. Victoria Beckham, another petite fashion icon, has constantly been photographed in maxi dresses or skirts in a polished look. Years ago when maxi dresses first become a trend, they were made for the casual boho look that most of us are familiar with. Today, however, we have so many more choices and you can definitely dress up for a preppy look in maxi dresses as well. See below the dressy look on our favorite blogger Tamara, 5'2″.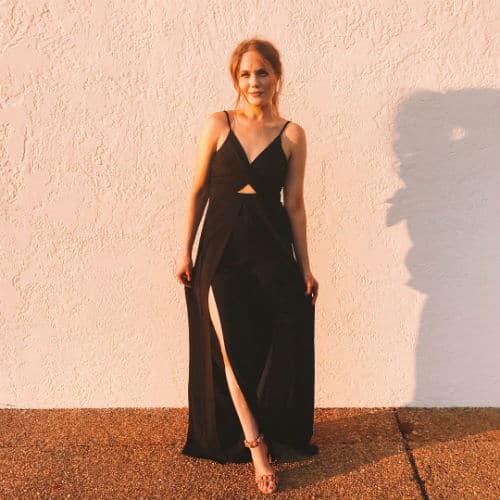 So, depending on your personal preference, there are so many ways to wear the maxi dresses for short girls, which can all flatter your particular personal style and body type. The most important thing for a petite girl to pick the maxi dresses is probably to know what length you want.
Even for petite maxi dresses, there could be different lengths such as floor length or ankle length. Some brands (such as Reformation) even have midi length, which to me should be midi dresses but they put it under petite maxi dresses category and it hits the ankle of the model.
Petite women could be 4'8″ or 5'3″, which is a wide range. The maxi dress that works for a 5'3″ petite girl could very well be dragging on the floor for someone who is 4'8″. Therefore, deciding the length is the first thing you should think about before purchasing the maxi dress. Most brands, however, do not tell you the length of their petite maxi dresses, so there is no way for you to know except to try them on.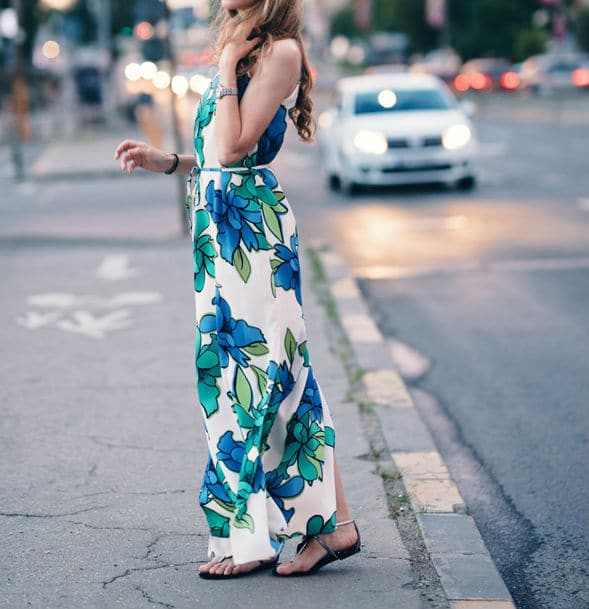 Whether or not you want the petite maxi dresses to be ankle length or floor length depends on your personal preference, the occasion and your height. Therefore, there is no one ideal length that is suitable for all petite girls. If you want to maximize the benefit of the continuous vertical line created by maxi dresses to flatter your short statue, the best is probably to go with floor length or 1/2 inch away the floor. Floor length is best for a romantic and casual look (think Nico Richie and the Olsen twins). On the other hand, Victoria Beckham's signature maxi dress look is normally ankle length.
Of course the shoes you wear with maxi skirts also matter a great deal. If you are wearing 5 inch heels, then you should go for a longer length so that the maxi dress will not make your legs look cut off at your ankle or mid calf. If you decide to par it with flats, then something slightly off the floor when you are in flats is probably ideal. Bear in mind, even though longer dresses make a longer vertical line, you can't overdo it. Simply because you do not want to trip on your own skirt!
So, without a doubt, maxi dresses can definitely work for short girls! Now the next question is where do we find maxi dresses for short girls? Maxi dresses used to be such a privilege of taller girls because stores only carried them in regular length (women at least 5'5"). Maxi dresses for short girls was rarely known or next to unheard of. In the past few years, more and more designers have realized the underserved needs of maxi dresses for short girls and have started to add in their lines petite sizes of maxi dresses. Today, we'll talk about our favorite places to find maxi dresses for short girls, and we hope more and more will be added to this list.
Nordstrom
Nordstrom is one of the most petite friendly department stores in the US, where you can find petite size clothing for almost any category.  They carry different brands of maxi dresses for short girls, and you can find different price point and max dresses for different occasions.  If you are looking for a maxi length dress for a formal occasion such as a wedding guest, you will find some really fashionable brands at Nordstrom in petite sizes. 
Unlike most retailers and brands, who do not specify the length of their maxi dresses, Nordstrom also makes it easy for you.  To find the best maxi dresses that will work for your height, all you need to do is to search by length. 
Another benefit of shopping at Nordstrom is that they have attractive promotions year long, especially their mid year sale and annual sale events.  You can probably find a nice quality petite maxi dress for a reasonable price, and some times you can even find them at a steal price at their clearance event or at Nordstrom Rack. 
Needless to say, you also take advantage of generous return policy of Nordstrom.  Trying on and easy returning to a local Nordstrom store is another benefit of getting petite length maxi dresses from Nordstrom.
ASOS
You will be like a kid in a candy store at ASOS, if you are looking for maxi dresses for short girls that are reasonably priced and trendy.  ASOS has the largest selection of maxi dresses for short girls in a wide price range, most of which are under $100.  You can find a casual black maxi dress of jersey material for as low as $29, and you also have the choice of more formal maxi dresses (if you are going to a wedding) such as the frock and frill petite premium embellished top maxi dress for $245. 
What I like about ASOS is that their models of maxi dresses for short girls are actually short girls! That means you can see what they look exactly on a 5'2" girl and what kind of shoes she is wearing (heels? Flats?), which makes it so much easier to estimate what it will look on you.
Another reason we have picked ASOS as a favorite shop of maxi dress for short girls you can easily find them.  All you need to do is go to their petite dresses section and look under shop by length, and check the maxi dresses.  We also love the fact they have some designs such as vertical strap which are meant to be flattering for petite body frame. 
Of course, everything has its pros and cons.  ASOS is known for the sweet price point and fashionable design.  However, if you are looking for an investment piece that will stay in your wardrobe and you can wear year after year, you might want to check out stores like Anthropology or Reformation which we will talk about shortly.
Reformation
Reformation is not the biggest name in petite fashion, but they are definitely the up and comer. They came to the spotlight as the forerunner of sustainable fashion brand a few years ago and have since been gaining momentum. They started "Don't call me cute" line recently, which has some really chic and cute designs of maxi dresses for short girls. Their design of petite maxi dresses with side split is sexy and very flattering for short girls. By showing some skin through the slit while you are walking, you look taller and less likely to be dwarfed by the floor length fabric. We also love their colors- they are either in neutral solid colors or vertical prints, which are the best friends for a short girl searching for maxi dresses. The last thing a petite girl wants is to wear busy and loud floral prints all over and look swamped by the dress. Their price of petite maxi dresses is $218 and up, which may sound a bit steep for girls on a budget. However, if you are looking for an investment piece that you can wear season after season, their classic design and good quality fabric may be worth the splurge.
Topshop
This is one of the popular places for fast fashion of reasonably priced petite clothing. They are kind of similar to ASOS in terms of the price range, and you can find some cute designs of maxi dresses for short girls here. Some designs are straight from the runway but made with different (hint: less expensive fabrics), so that they are affordable yet trendy. Their price range is under $100 (for the most part), and shipping is fast. If you are looking for affordable yet fashionable maxi dresses for short girls, Topshop is definitely worth checking out. Of course everything has pros and cons. If you are looking to add a classy and high quality piece to your closet, this might not be the best place to find it.