It is very common in the fashion world to want to look taller and elevated. Height adds a certain level of elegance to each outfit. But it can be challenging to build outfits that make you look taller than you actually are. There are many different styles of dresses that will help you create an illusion of height.
Depending on style, length, neckline, and waistline, dresses can be manipulated to give you the shape you prefer. This guide will show you what types of dresses you can wear to look taller, and what you should avoid.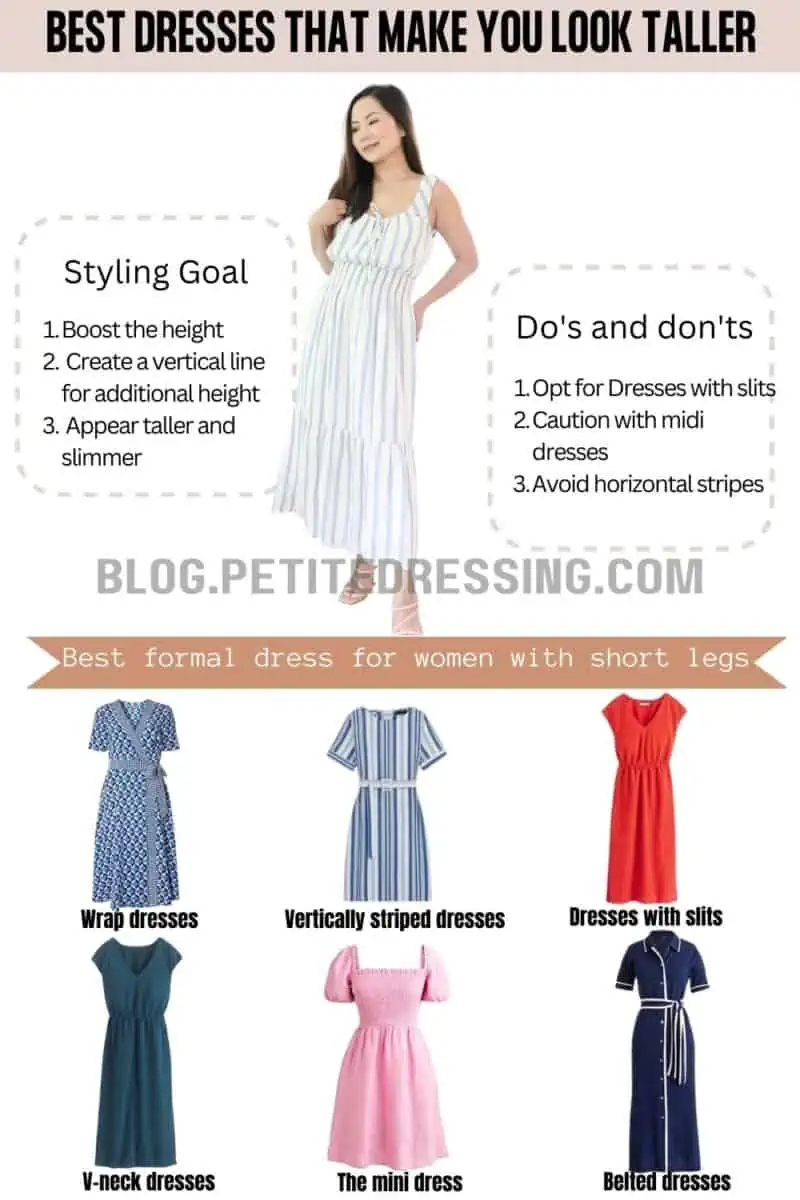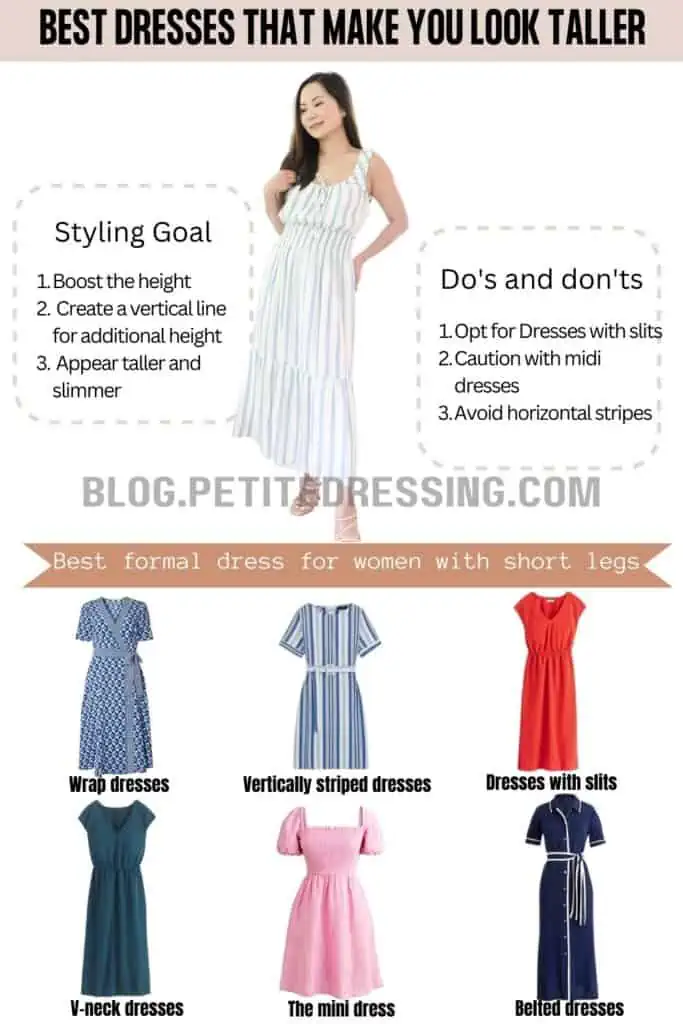 Wrap dresses
Wrap dresses are one of the most moldable dresses made. You get to choose where to tie the knot, which allows you to decide where you want to create the waistline. If you want to look taller, you should create a silhouette where the lower half of your body looks taller than the top half.
In order to create this shape, tie the wrap at the smallest part of your waist, higher above your hips. The dress's bottom half will flow past your hips and onto your legs. The length of the fabric then used for the lower half of your body will make you look tall.
Wrap dresses will have this effect with any length, so it is up to you how long you want to go. The flare will conceal where exactly your hips fall, which will in turn elongate your lower half.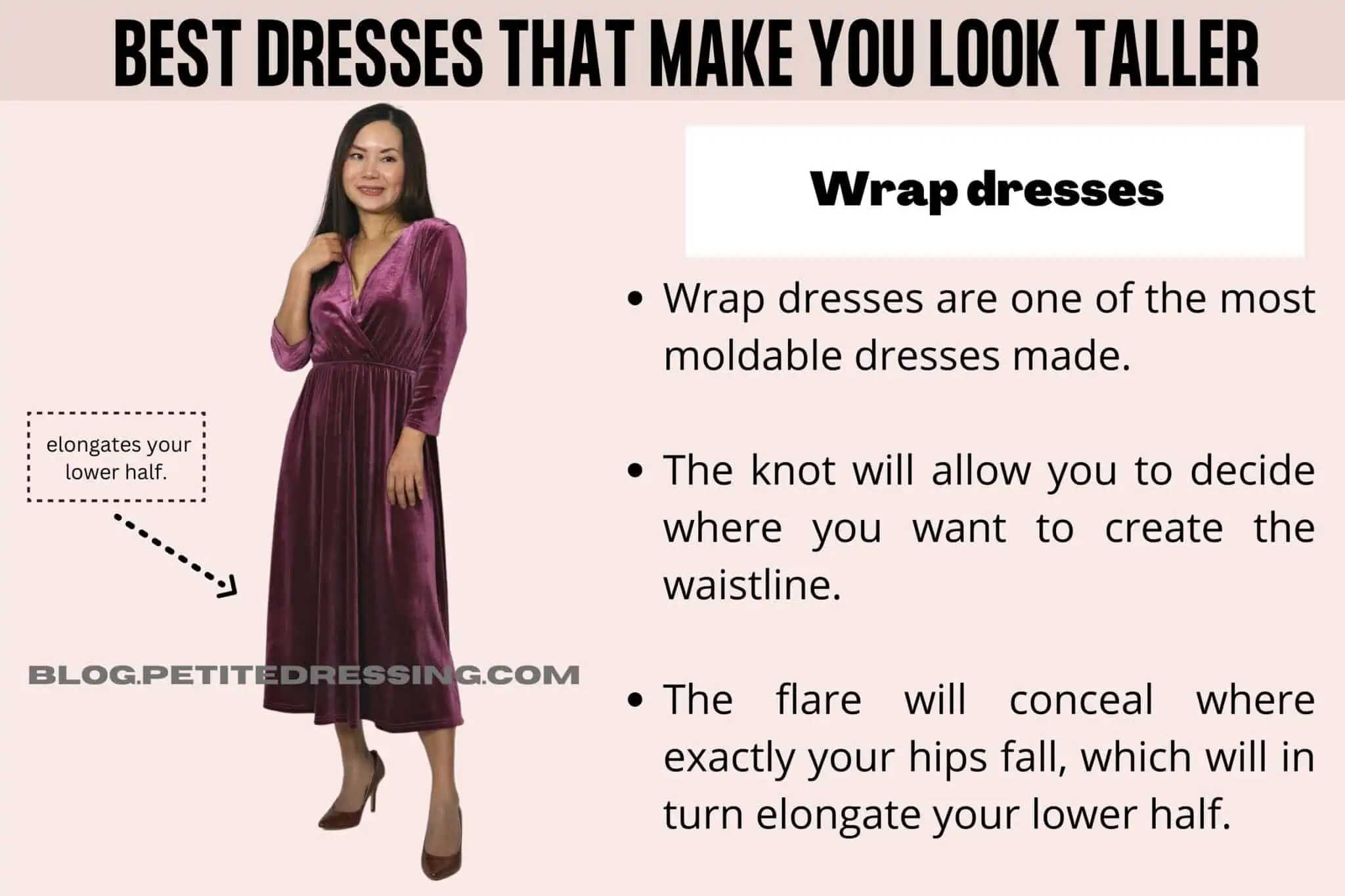 Vertically striped dresses
When these stripes stretch throughout the length of the dress, they create vertical lines that work toward the column method. They will elongate every part of your body that the dress covers. So if you wear a maxi striped dress, the effect will be the strongest.
If you want to make sure that you are utilizing stripes as much as possible, wear a dress that has thin stripes since that will be the most efficient way to create a column shape.
Why opt for vertically striped dresses?
Stripes can be worn on dresses to create many different illusions and shapes.
In order to look taller, you will want to find a dress that has long vertical stripes that go from the top of the dress all the way to the bottom.
Dresses with slits
If you want to make your legs look longer in order to add the illusion of height, you might want to find a dress that will actually show them. Sometimes, if you wear an extremely short dress and show the full length of your legs, it will be obvious that you are short because they are short.
Instead, try wearing a dress with a leg slit on one side of the dress. The slit will allow you to show off some of your legs, which will then draw attention to the lower half of your body and make it seem like that part of you is taller.
A slit that begins at the middle of your thigh would be the best length for this effect so that you show as much of one leg as possible. If the slit is too low, it could end up making you look shorter. The goal is to create long vertical lines throughout your outfit.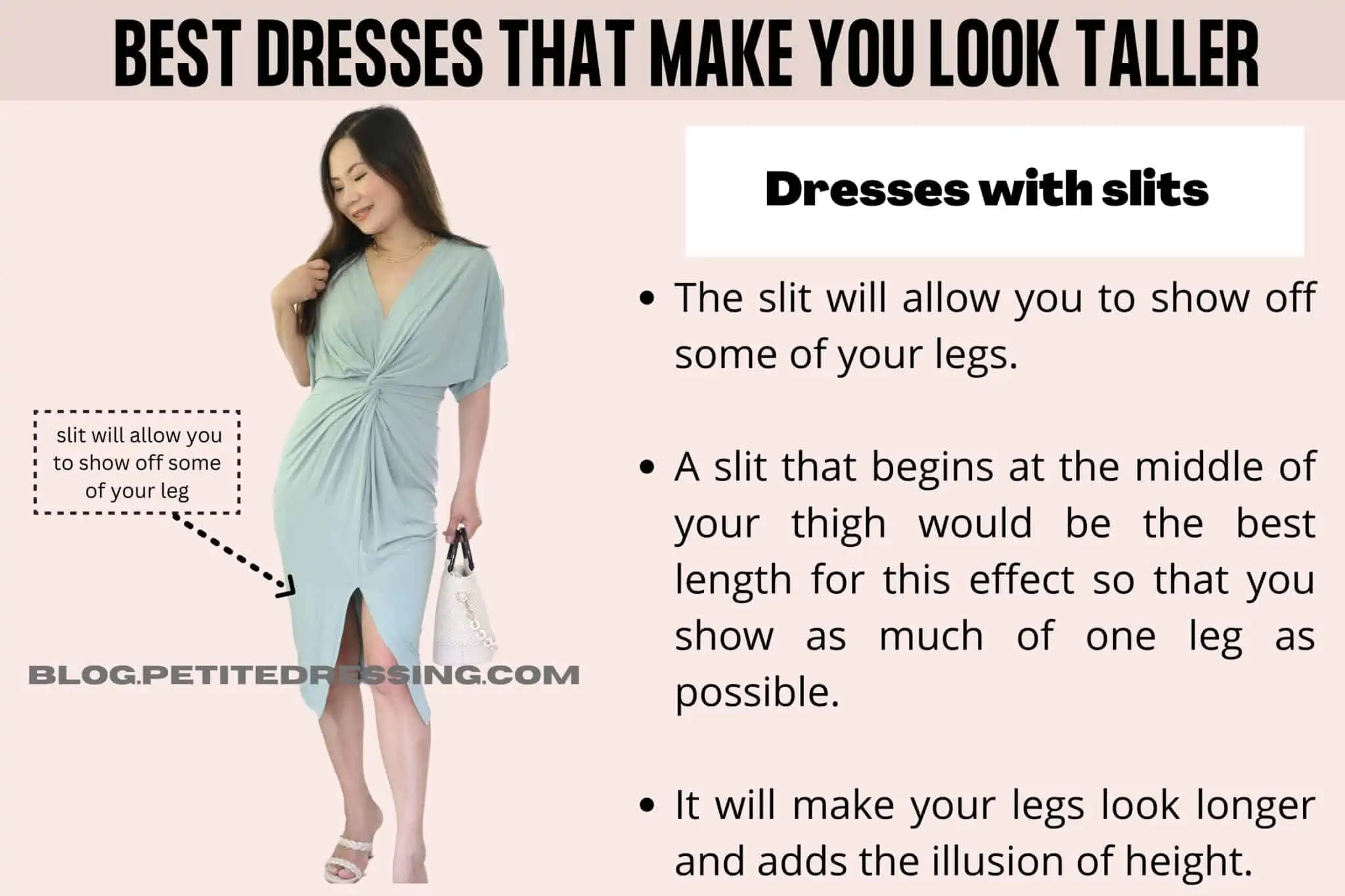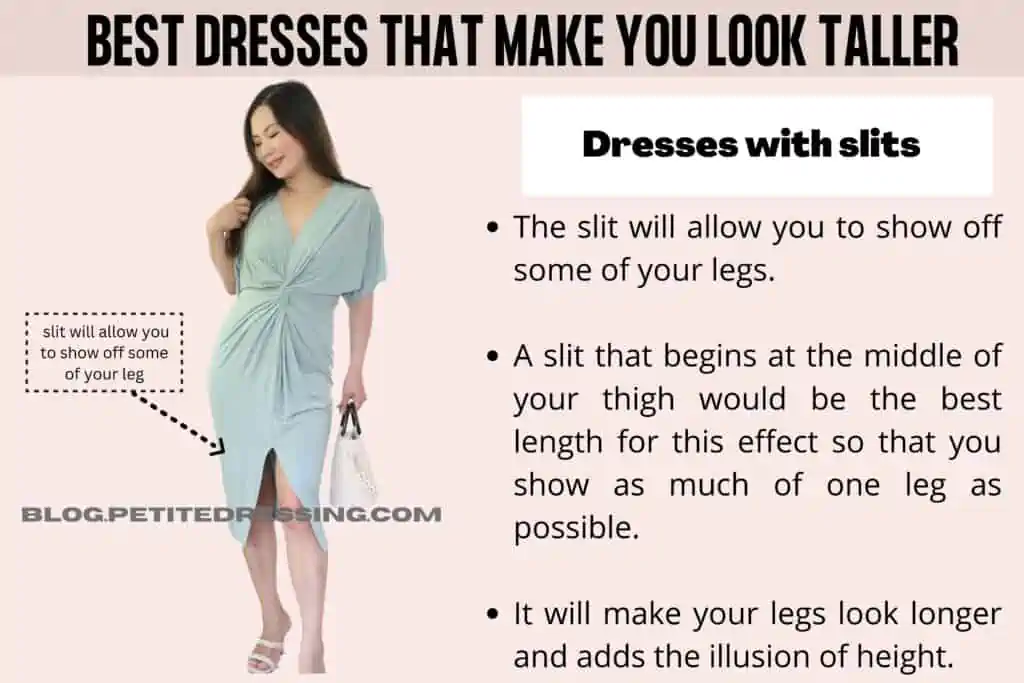 V-neck dresses
Continuing on with the vertical lines method, v-neck dresses are ideal for creating a tall look. The v-neckline will create a visual line and give the illusion of a longer torso. If the top half of your body looks longer, you will look much taller overall.
Looking taller will work most efficiently if you also wear a v-neck dress that has a cinched high waistline. That way you can make both your torso and lower half appear longer, which will then make you look the tallest you could possibly look.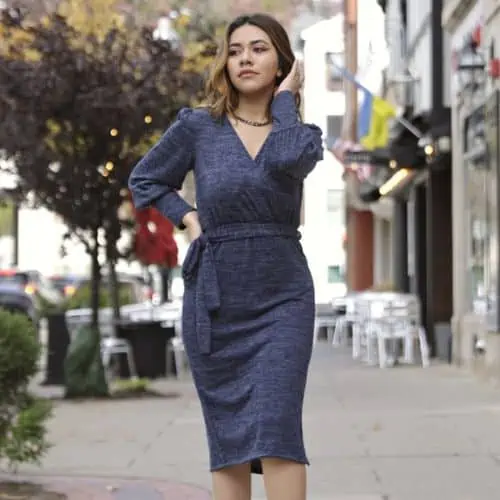 Why are V-neck dresses a must-have?
V-necks are also extremely flattering and provide the opportunity to show off your collarbone and chest if you are confident about that area of your body.
When you create a distraction with something other than your legs, people are less likely to even think about your height.
The mini dress
Many women will automatically lean towards a minidress in order to look taller. This is because the short fabric length is supposed to make your legs look much taller. This technique is an excellent choice for women of all heights.
The mini dress elongates the lower half of your body by drawing attention to your legs. This is the perfect way to make your legs look longer, and it can be fun to show some skin. Mini dresses usually fall right at or just above the middle of your thighs.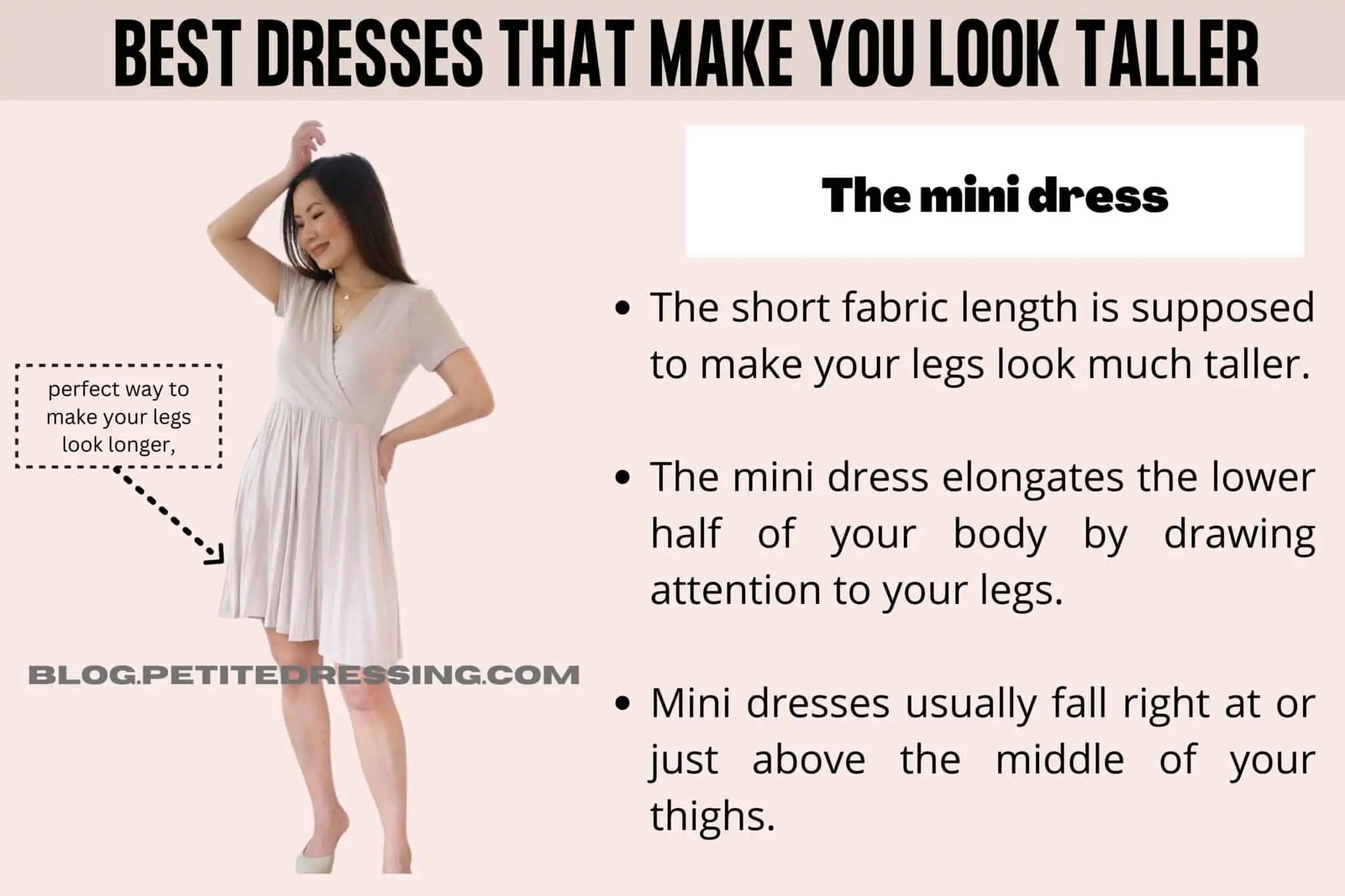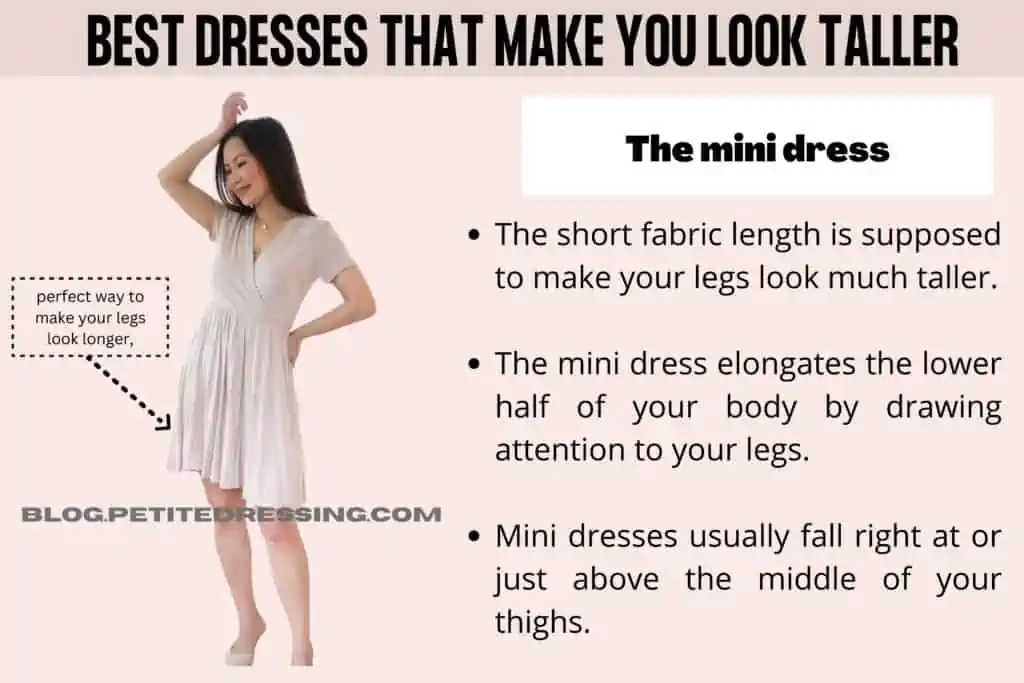 Monochromatic dresses
Since a dress is usually one of the main items you will wear when putting together a more formal outfit, it takes up a lot of space on your body. This means that it is mainly up to your dress to create the height you desire.
Simplicity is one of the most useful tricks when it comes to looking taller. You want to create a column of fabric, which will be easiest when everything is the same. If your dress is all the same color, and you match your accessories in a monochromatic look, you can add height.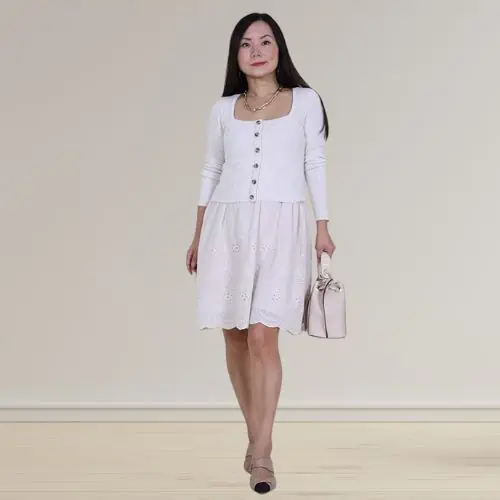 How can monochromatic dress work?
Even if the dress has different shades of the same color, this effect will still work.
When every shade blends in as they all share the same color, it will look like a column of color.
Belted dresses
One of the best ways to add height to your body is to make your waistline fall at the smallest part of your waist. This will be above your hips, typically right on or below your ribs. The easiest way to do this is with a belt.
Dresses with belts can be manipulated to create your ideal waistline. Use the belt to cinch the waist, which will then make the skirt of the dress flare out past your hips. This will elongate the bottom half of your body, making you look taller than you actually are.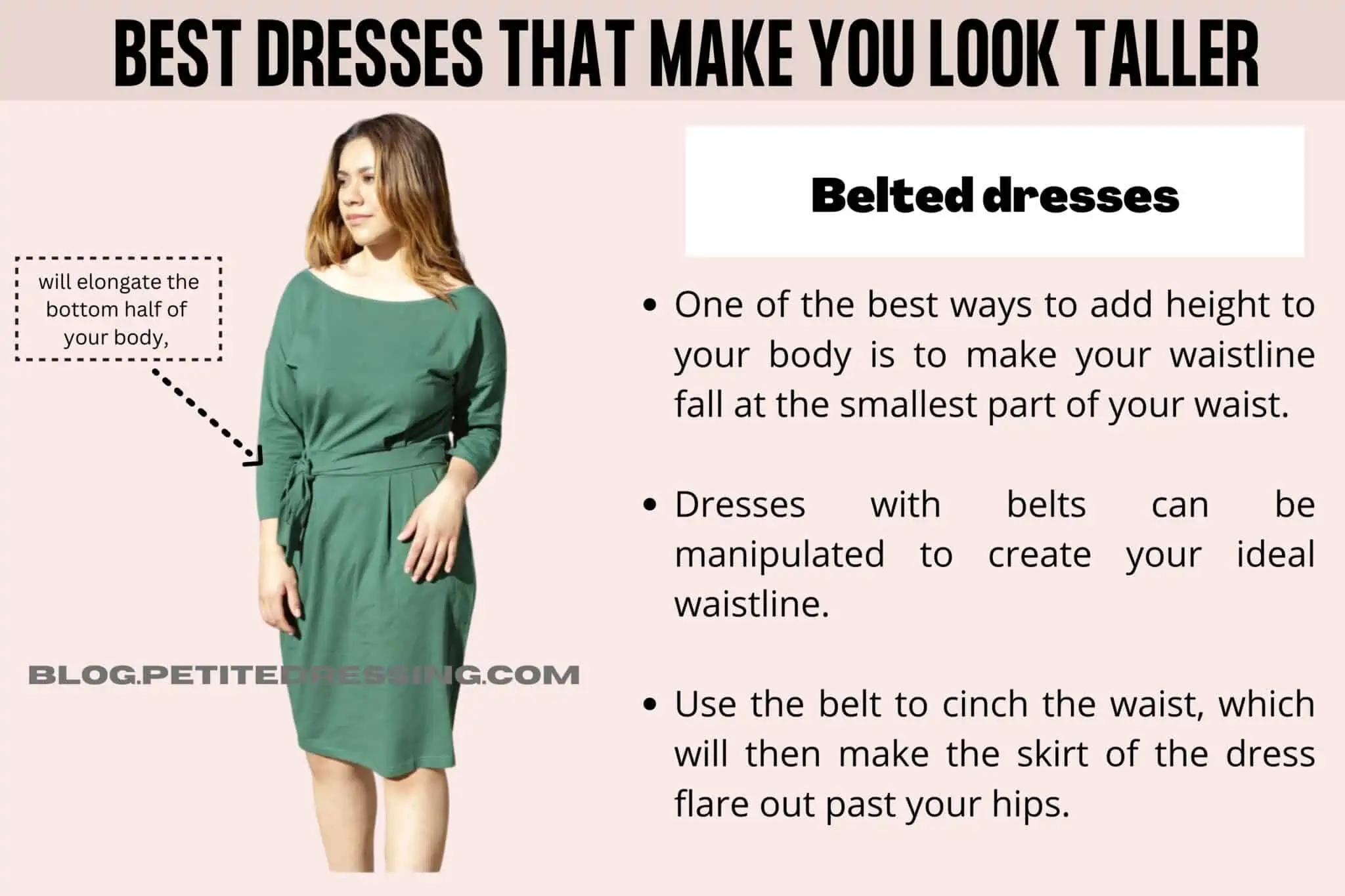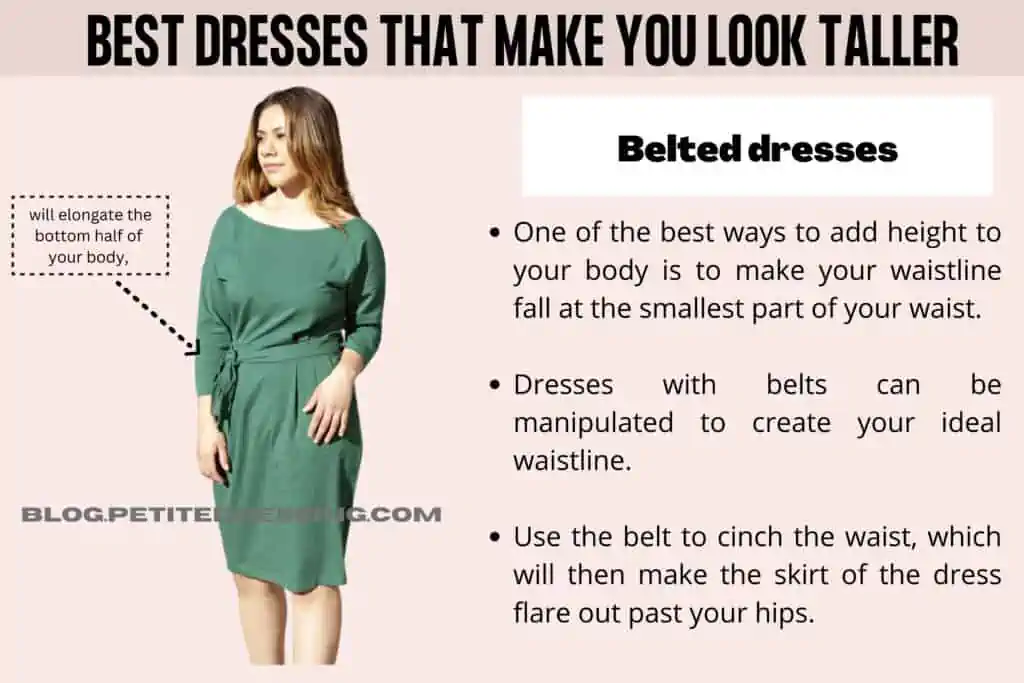 Caution with midi dresses
Midi dresses are a length of the dress that falls somewhere along the middle of your calves. This length can be the awkward length for women who are on the shorter side. Any type of clothing that ends at the middle of your calf will make you look shorter than you actually are.
Since this type of dress is not quite long enough to cover all of your legs, and not entirely short enough to flare out properly, it can just fall flat and make it seem as though you are too short for a skirt that is supposed to fall just below your knees.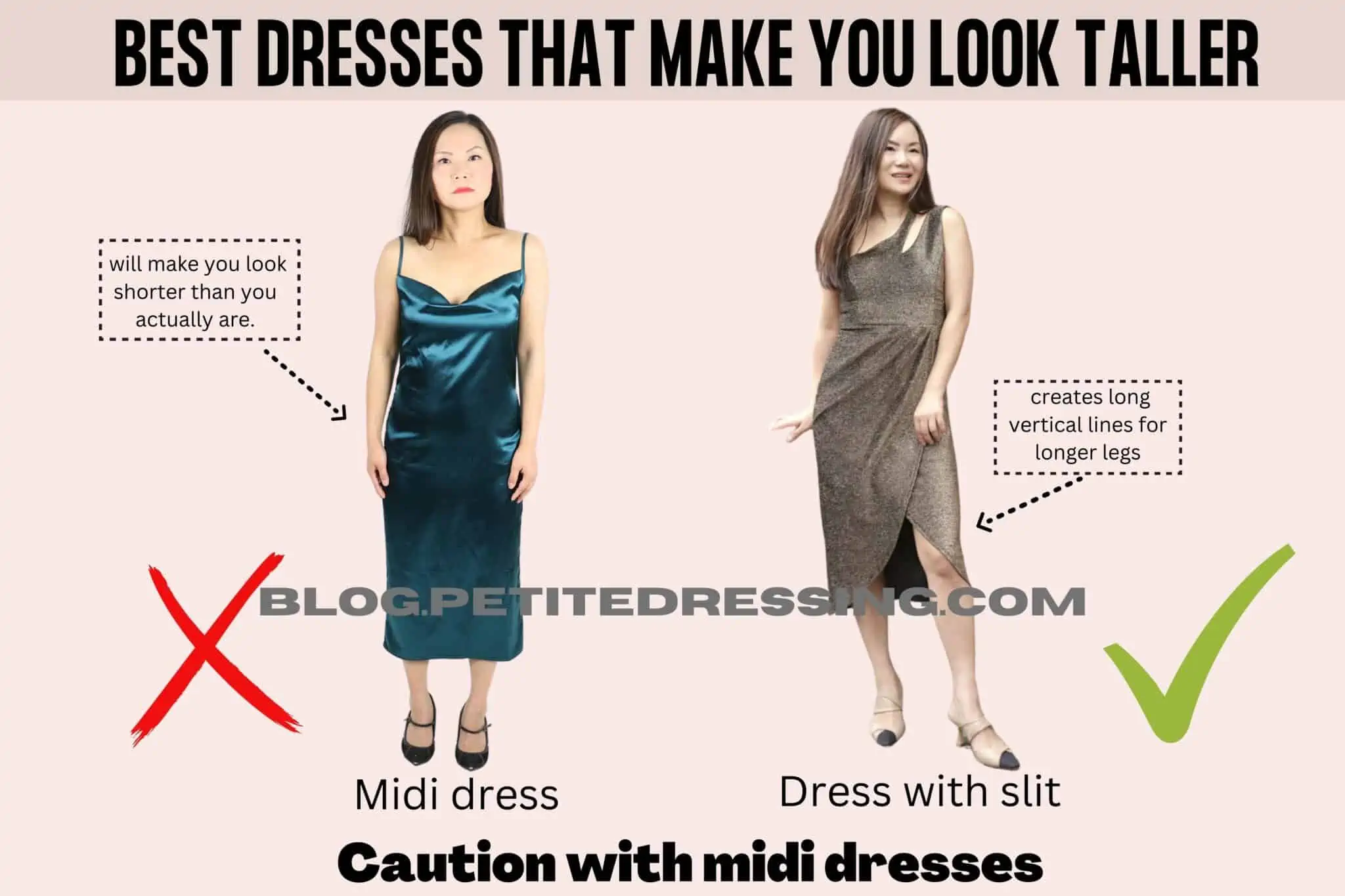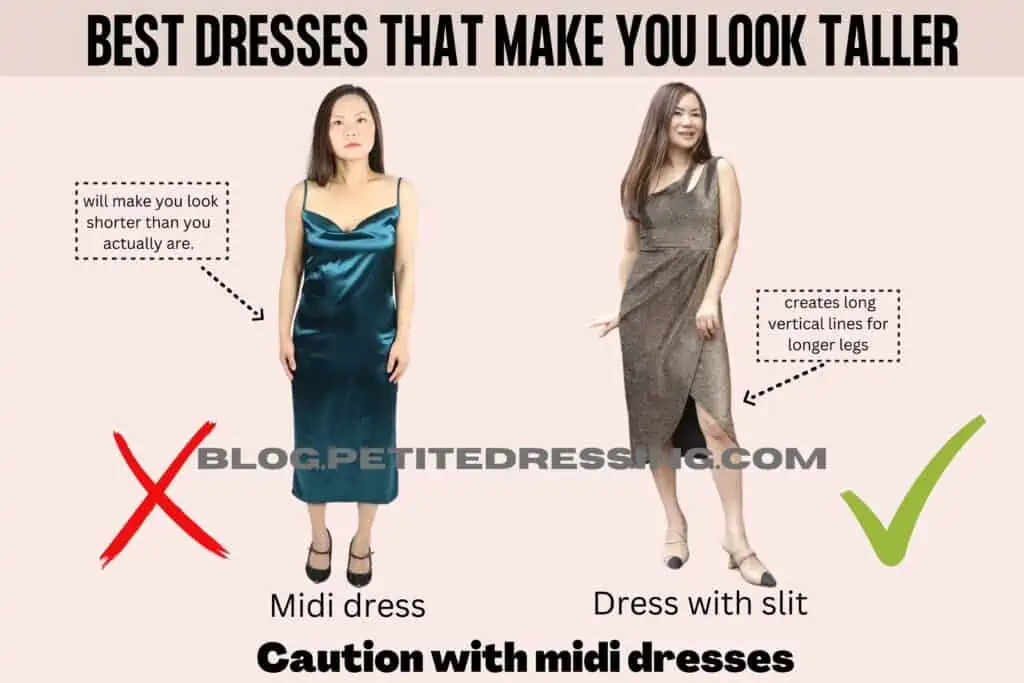 Avoid horizontal stripes
You should never wear a dress with horizontal stripes if you want to look taller. Horizontal stripes will just make your body look wider. Since the stripes stretch from side to side, they stretch your body out in width instead of height.
The thicker the horizontal stripes, the stronger this effect will be. You will want to always avoid thick horizontal stripes on any dress since it will make every part of you appear wider. These stripes can actually make you look even shorter than you are, which is why you should avoid horizontal stripes no matter what,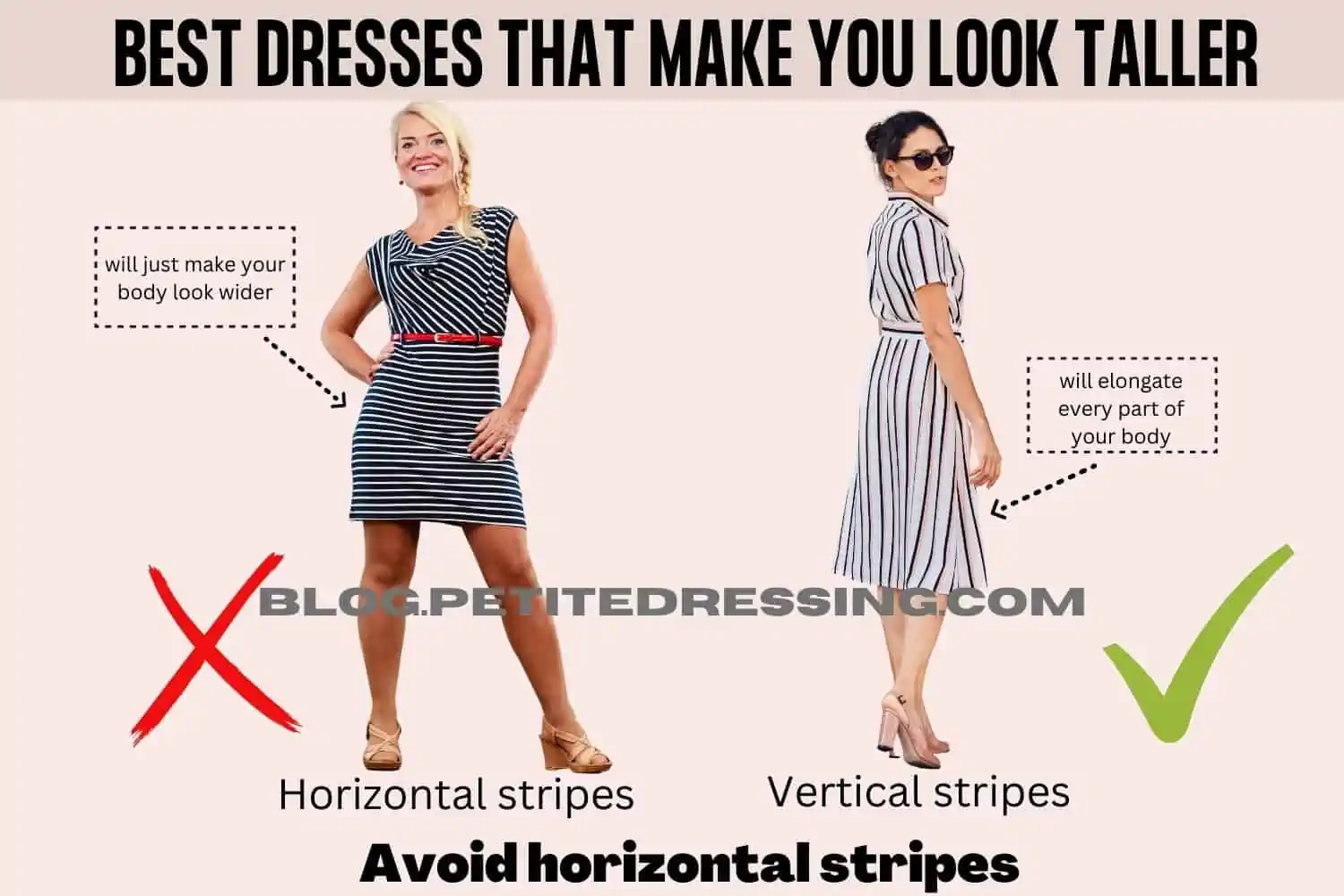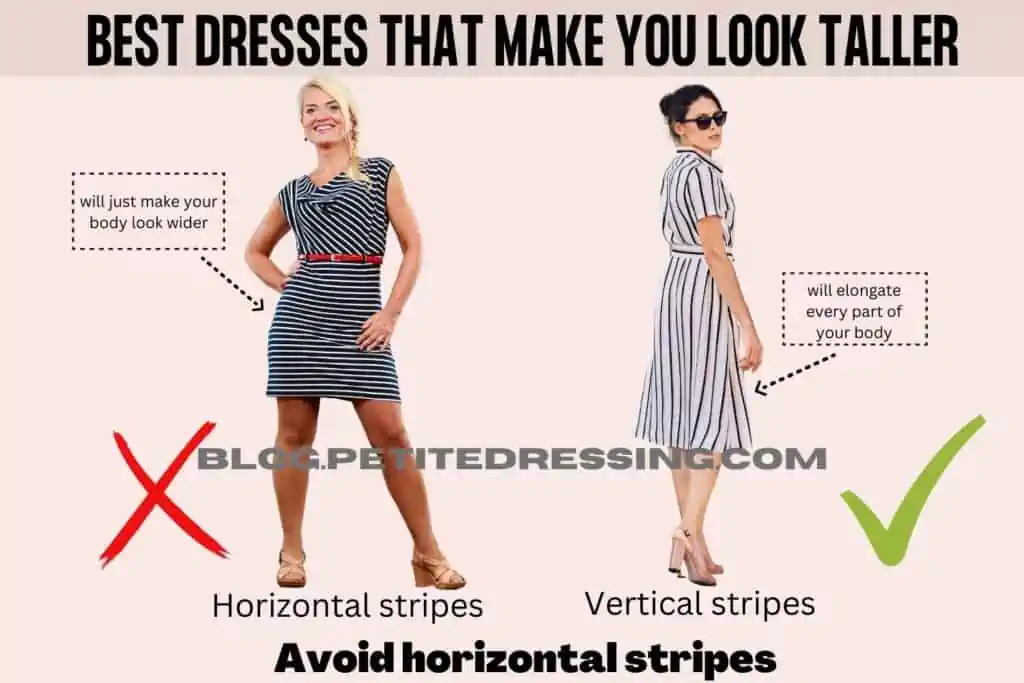 Avoid big prints
When you wear dresses that are full of large print, it can be distracting and ruin any shape you had to elongate your body. People's eyes will be drawn all across your body, instead of up and down. This will cause you to look wider and shorter.
Instead, you should go for dresses that have micro patterns. Smaller patterns make you seem longer since they fill up more space repeatedly. Small prints are also much less distracting, which could help if you want to go with a monochromatic look.
You want to stick to simpler outfits when it comes to elongating your body so that the focus is solely on your height, rather than the surface area of your body. Big and bold prints will always be more of a distraction than a helpful technique to create height.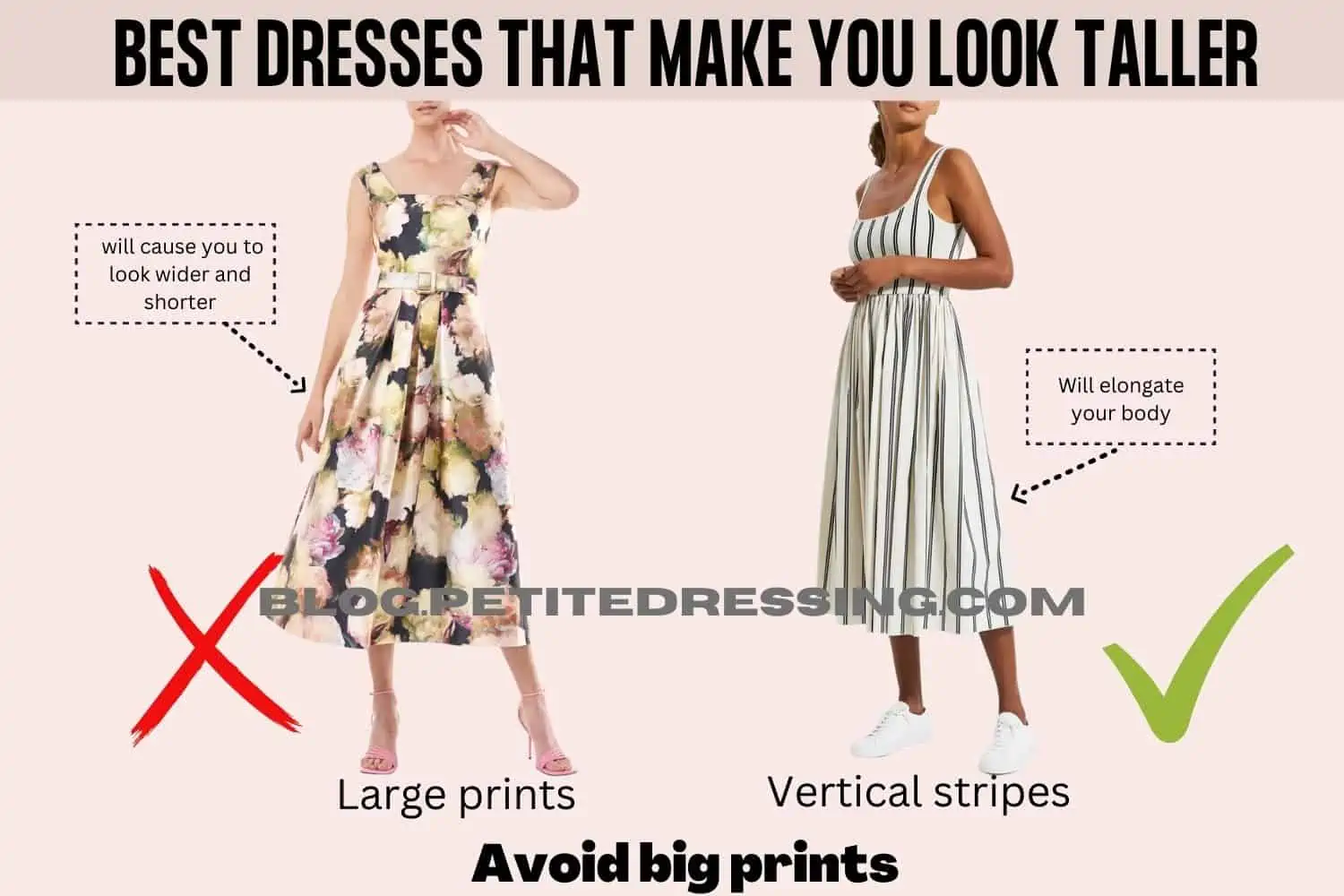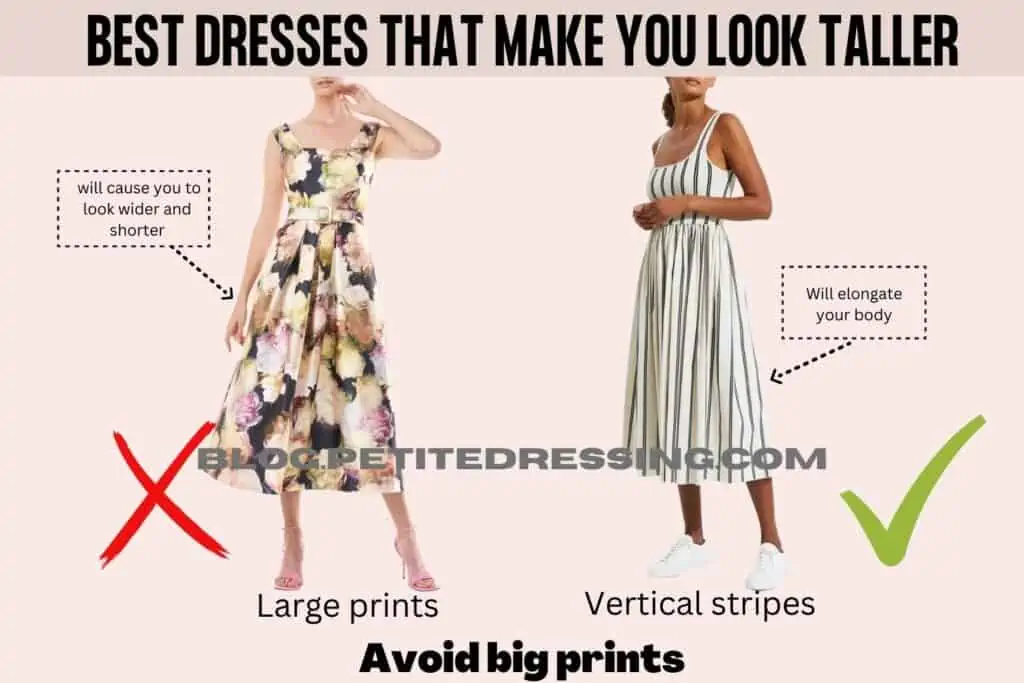 Avoid body con dresses
Body con dresses are extremely tight-fitting and cling to every single curve, crease, and angle on your body. They will show off the exact shape of your body since the fabric is not made to have any structure whatsoever.
When a dress shows every curve like a body con dress, the column method will not work. It is difficult to create vertical lines when your body's shape offsets that illusion. Although you shouldn't go for an extremely baggy dress that doesn't fit properly, you should also avoid body con dresses that cling tightly to the frame of your body.