Many women strive to create outfits that make them look taller, which, in turn, makes them look slimmer. There are plenty of styles of pants that help you achieve this goal, all depending on waistline, patterns, length, and structure.
It can be challenging to know immediately what type of pants to search for. Pants come in all shapes and sizes, along with an array of colors and fun patterns to choose from. You can consider that challenge over, because this guide will show you what pants will make you look taller, and what you need to avoid.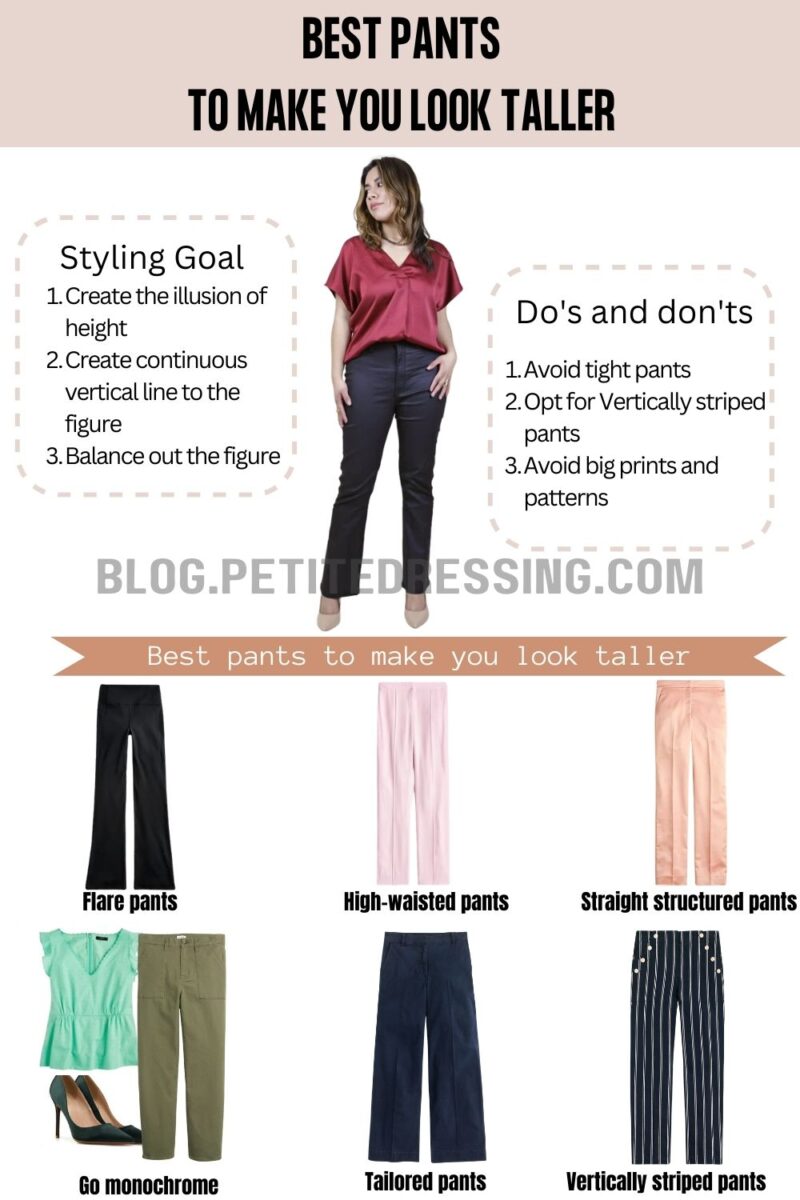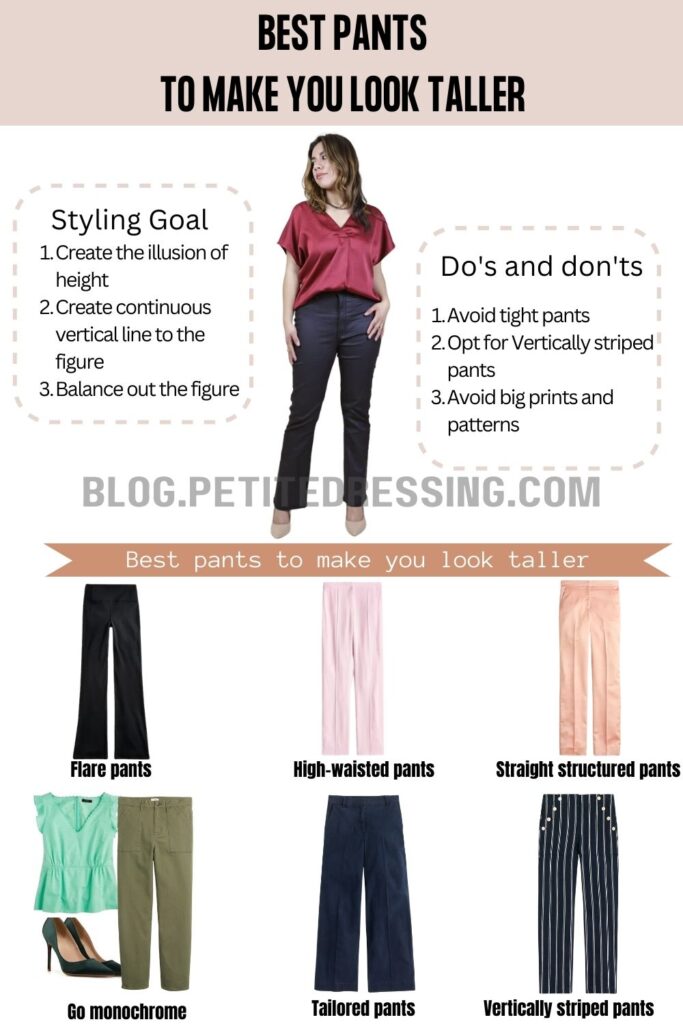 Flare pants
One of the best ways to create the illusion of height is longer flared pants. With long pants, the bottom half of your body will be elongated, making your legs look even longer than they are. But if the pants cling to your ankles, it may show that you are actually not that tall.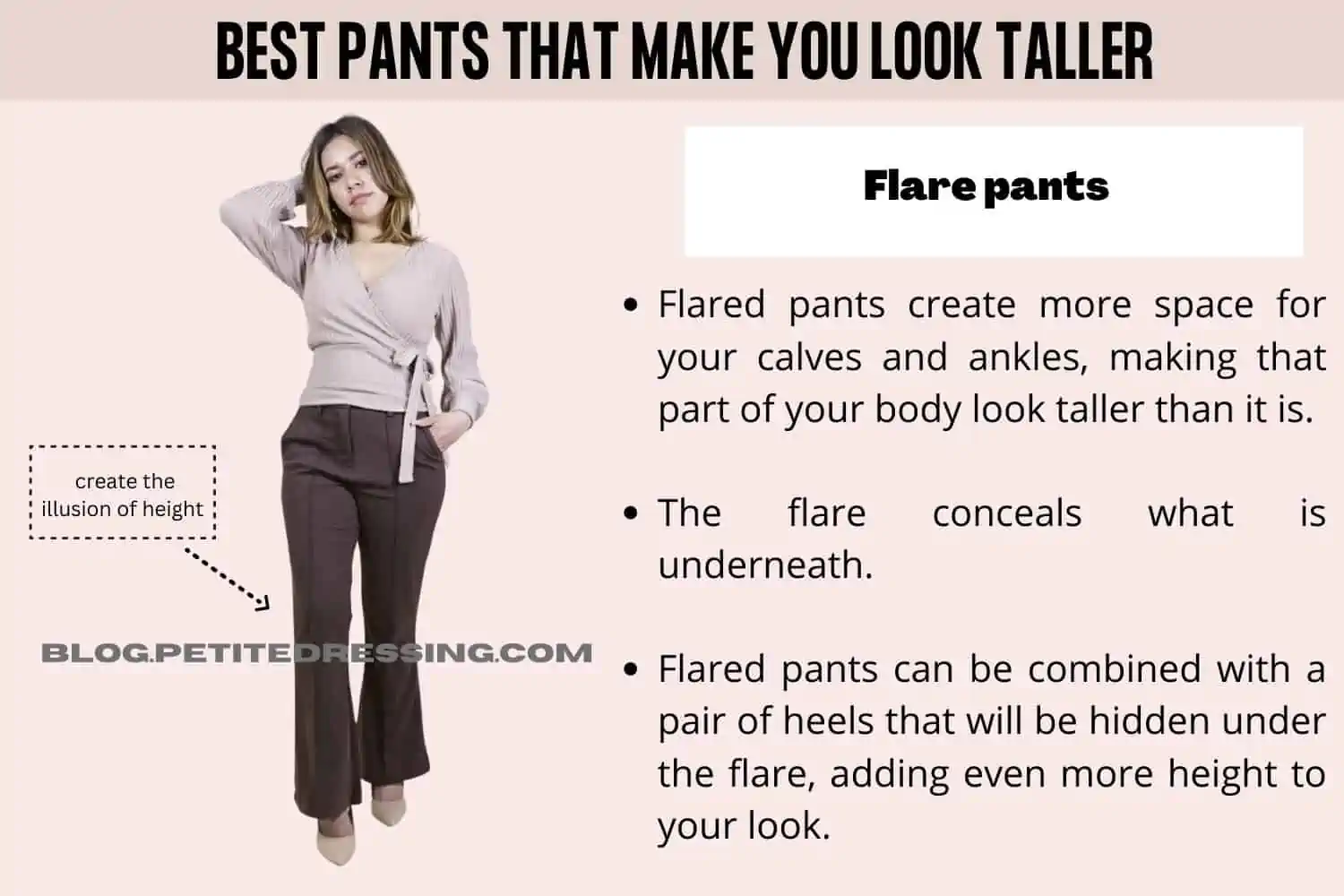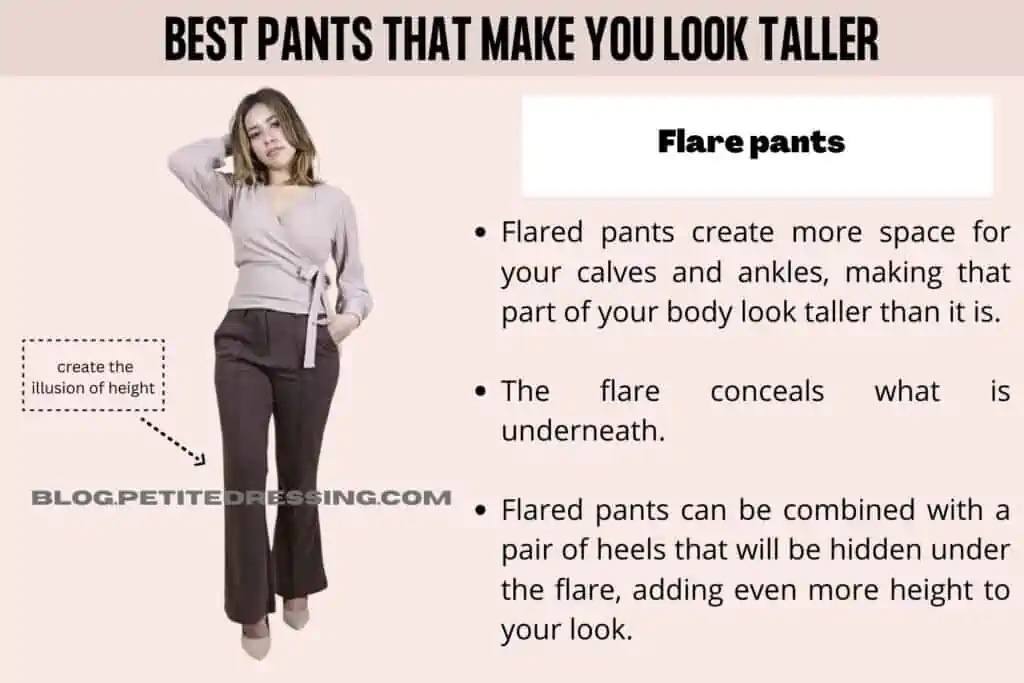 Flared pants create more space for your calves and ankles, making that part of your body look taller than it is. The flare conceals what is underneath. Flared pants can be combined with a pair of heels that will be hidden under the flare, adding even more height to your look.
High-waisted pants
Creating a taller silhouette almost always relies on a pair of high-waisted pants. The waistline hits the smallest part of your waist, making you look slim and creating a lengthier torso.
The waistline will also hit one of the highest parts of your waist, which will then add height to the bottom half of your body. Since so much of your body will be covered by high-waisted pants, your legs will also appear to be longer.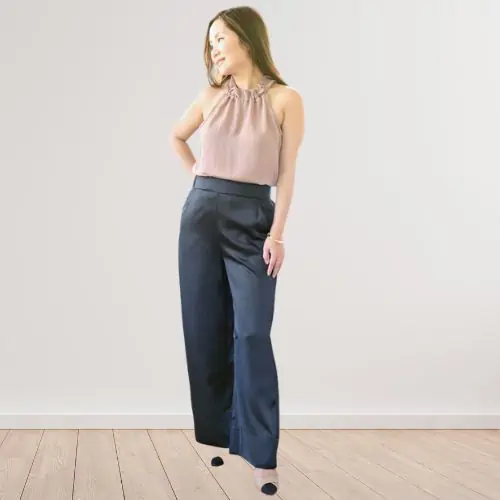 Important reminders when choosing high-waisted pants
It is important to make sure that the pants made to be high-waisted are actually pulled up to the correct place on your body so that the shape flows and the pants can create the look they were designed to do.
Straight structured pants
Using structure to your advantage is an excellent way to build up a shape with your outfit that will create the illusion of added height. Straight-leg pants create a column shape for your body, which is ideal for looking taller.
The column shape method should always be your go-to plan if you want to elongate your body, and straight-structured pants will help you achieve that look effortlessly. Straight-leg pants are often wider around the legs, leaving plenty of room for all types of bodies.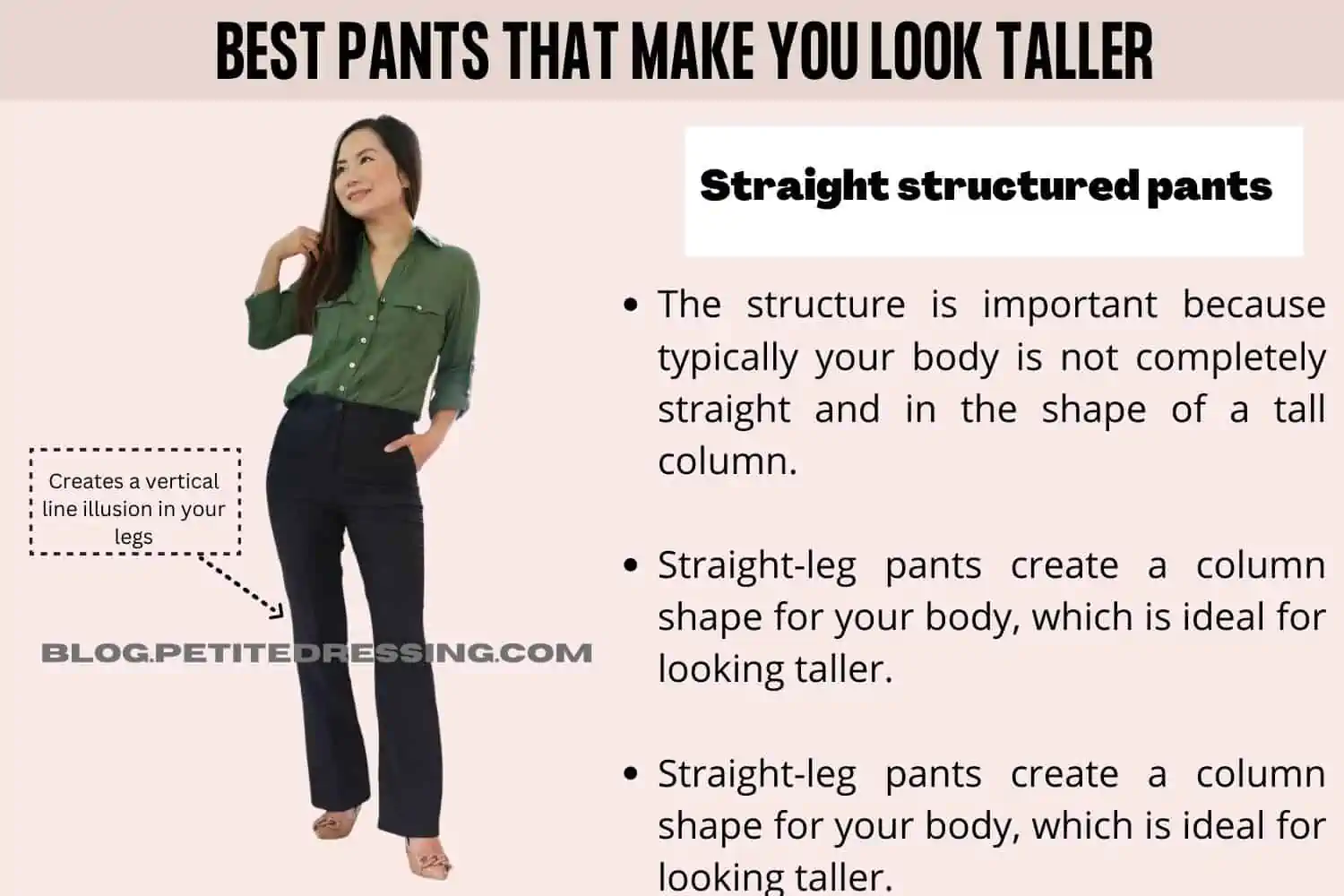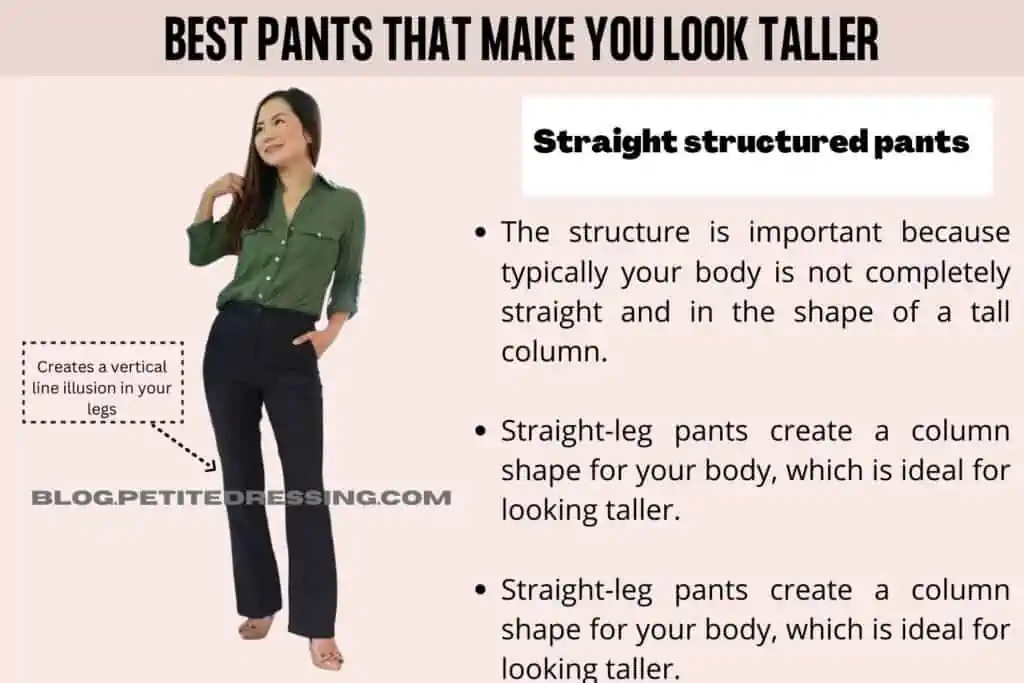 The structure is important because typically your body is not completely straight and in the shape of a tall column. Pants that stick to their form will be reliable for this illusion crafting. Vertical lines should always be your focus when choosing a pair of pants for this method.
Go monochrome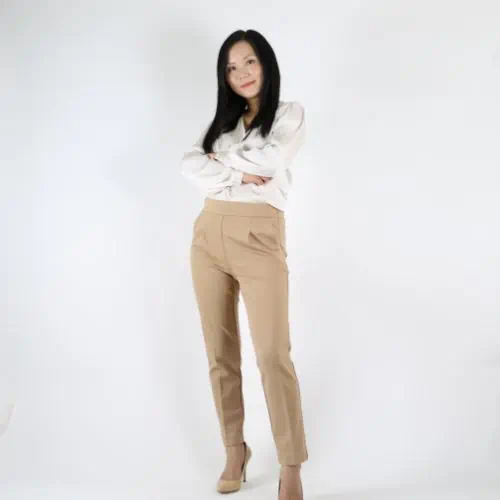 How can monochrome clothes add height?
When your outfit is entirely the same color or shades of the same color, you create a block of one shape.
This applies the same ideals of the column method.
When your whole body is a wall of one color, you will look much taller than you actually are.
The monochrome look has become incredibly popular and trendy over the past few years. What a lot of women don't know is how a monochrome look can make them look a lot taller.
In order to achieve this effect, you need to make sure that your pants are the same shade or similar shade to the rest of your outfit, so that everything matches.
Tailored pants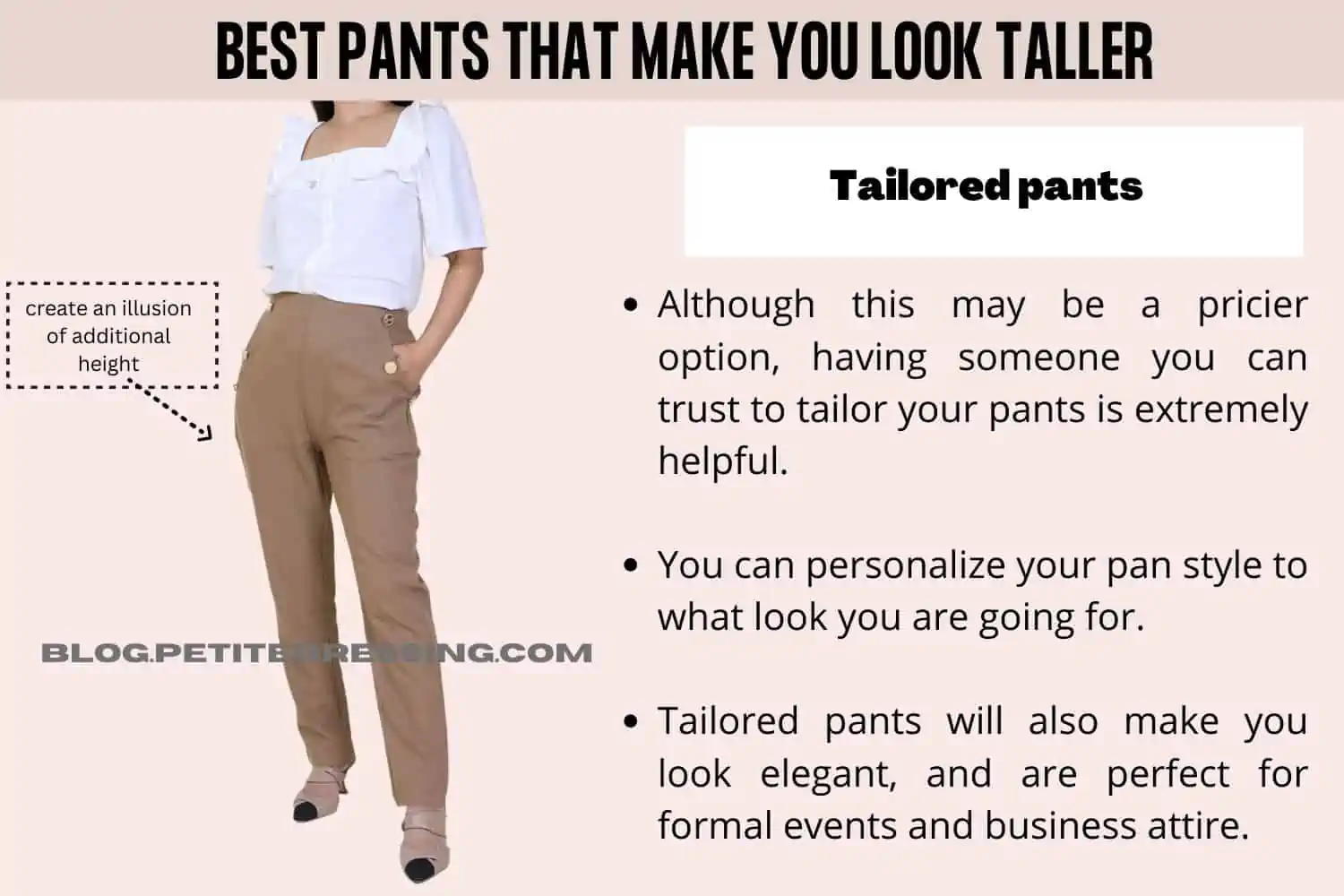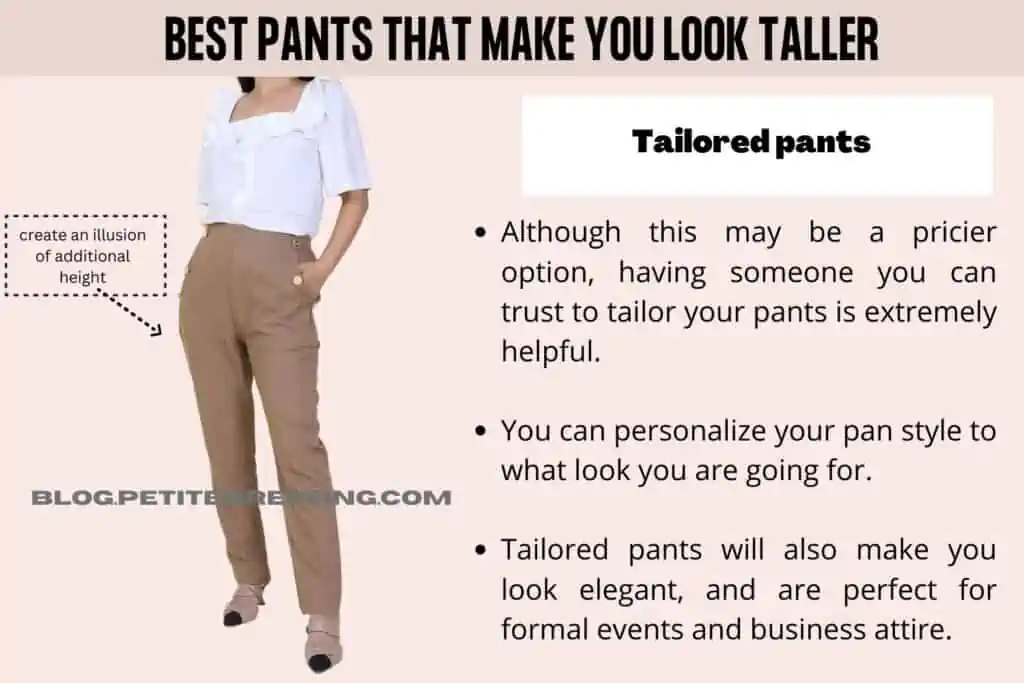 Although this may be a pricier option, having someone you can trust to tailor your pants is extremely helpful. You can tell them what look you are going for, and they can help structure your pants so that they create the illusion of, in this case, additional height.
Tailored pants will also make you look elegant, and are perfect for formal events and business attire. You know that you will look your best because the pants have been fixed to fit you perfectly and accentuate what you want to show off. It is worth spending money on because pants are one of the biggest parts of every outfit you put together.
Vertically striped pants
Sometimes all you need is a certain pattern to achieve the look you are going for. Vertical stripes are an excellent pattern choice if you want to look taller.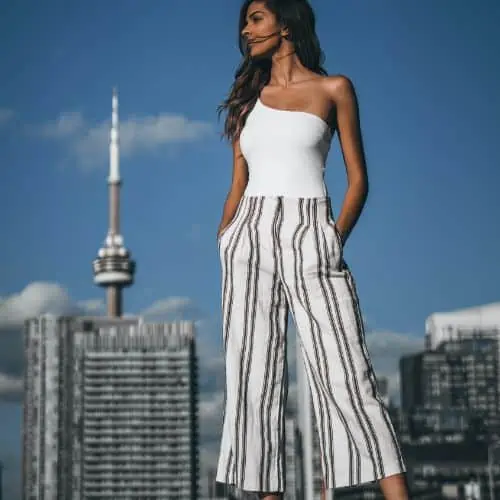 Why opt for vertical stripes pants?
Vertically striped pants stretch from the waistline to the hems of each pant leg.
The lines elongate your body, stretching the length of the lower half of your body and even some of your torso.
The thinner the stripes, the more powerful the effect will be. So if your pants are full of thin vertical stripes, you can be confident that you will look taller than you are.
Avoid big prints and patterns
Although you may want to turn your pants into a statement piece, the bold and big patterns may actually shrink your height. Heavy and full prints that cover every inch of your pants will make the lower half of your body look smaller and shorter.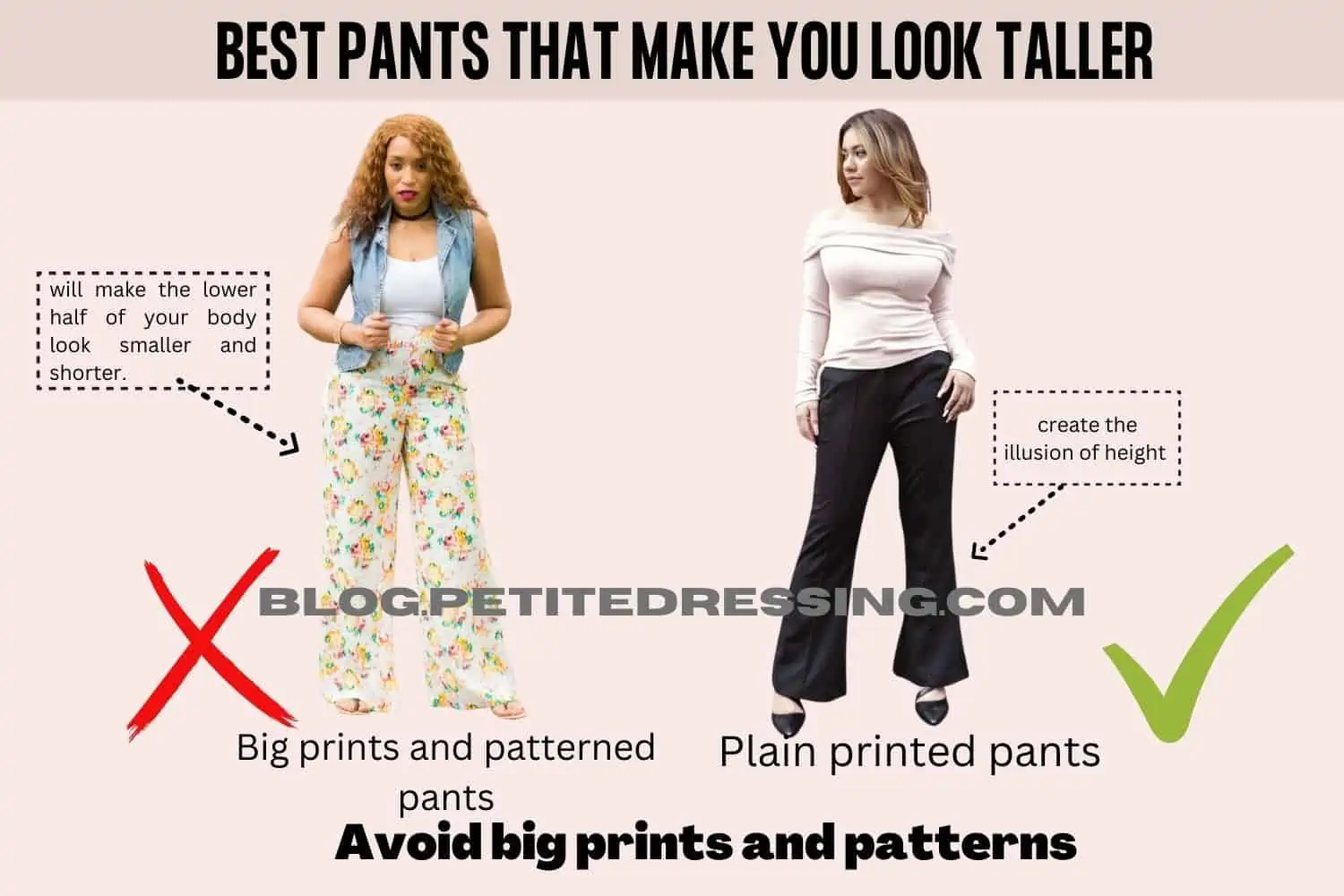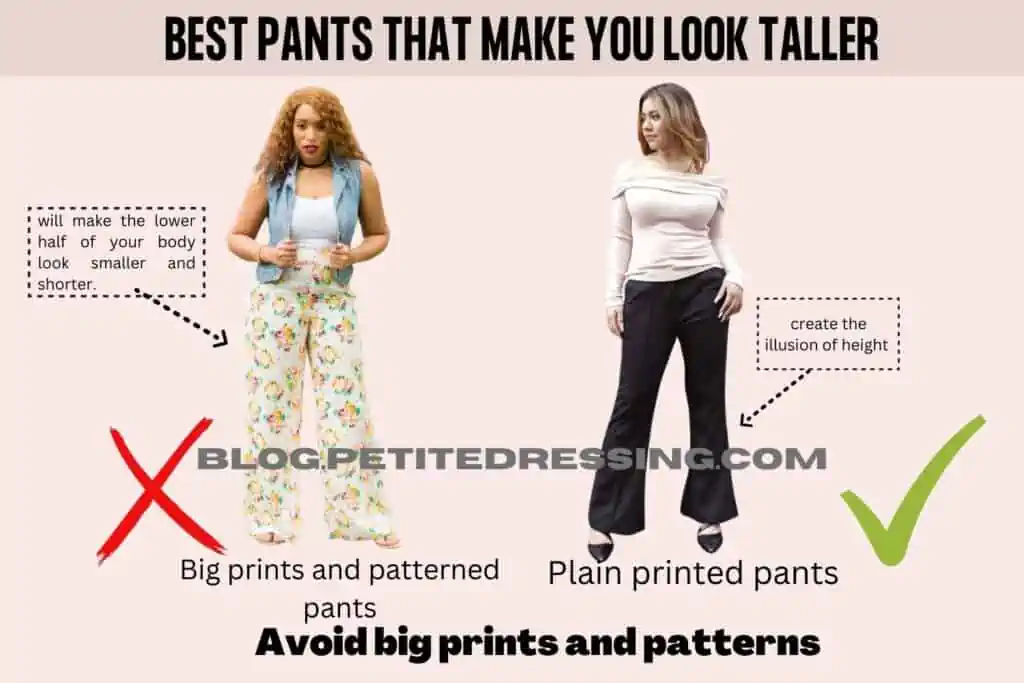 If you still want to stick with some type of pattern for your pants, search for a small print that is less distracting. If the patterns take up less space on your body, it will make you look taller. No matter what, make sure you avoid pants that are big and extensive.
Avoid horizontal stripes
Even though vertical stripes work great for creating the illusion of height, not all stripes fit this standard. Horizontal stripes will actually do the opposite of this goal, making you look shorter than you are.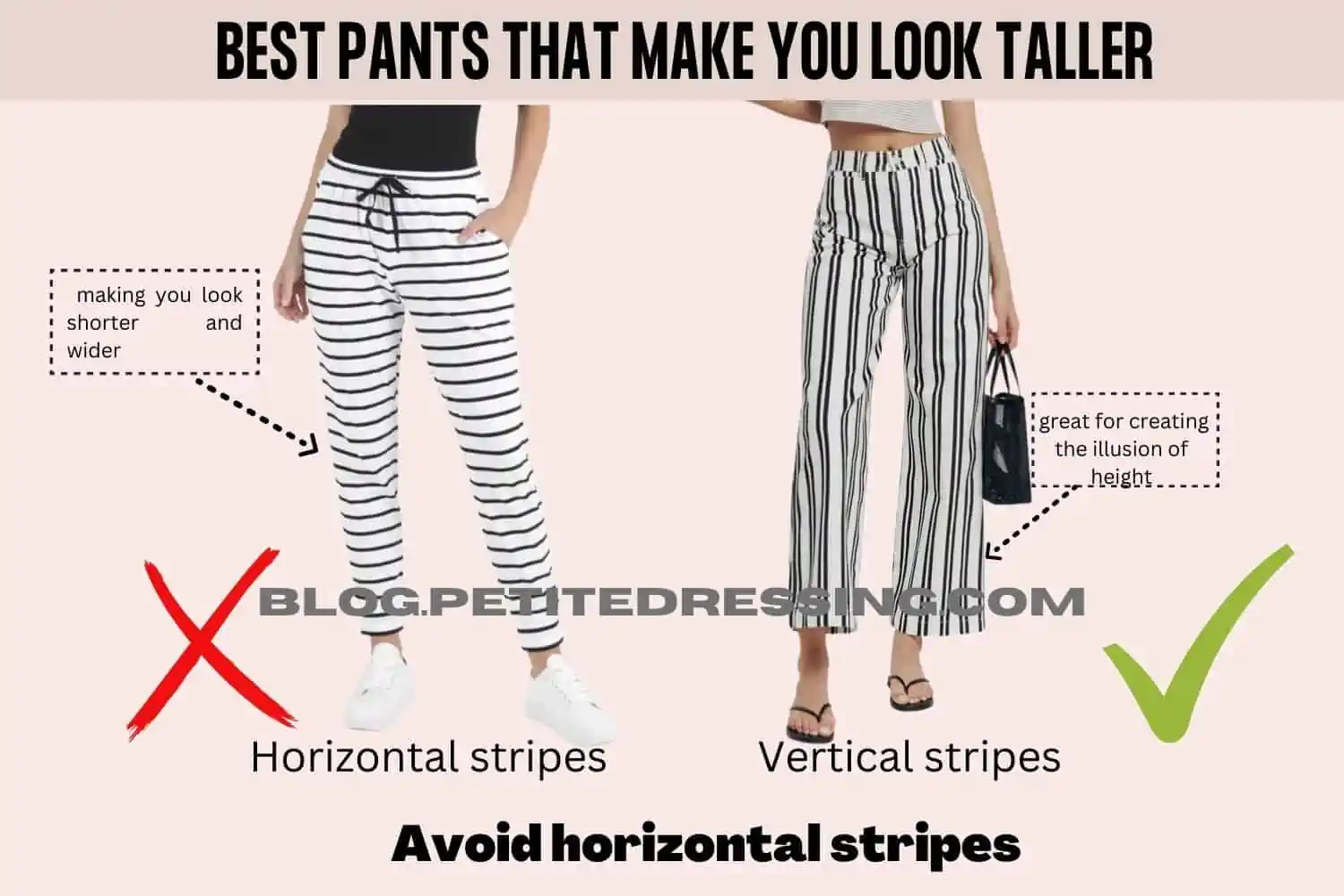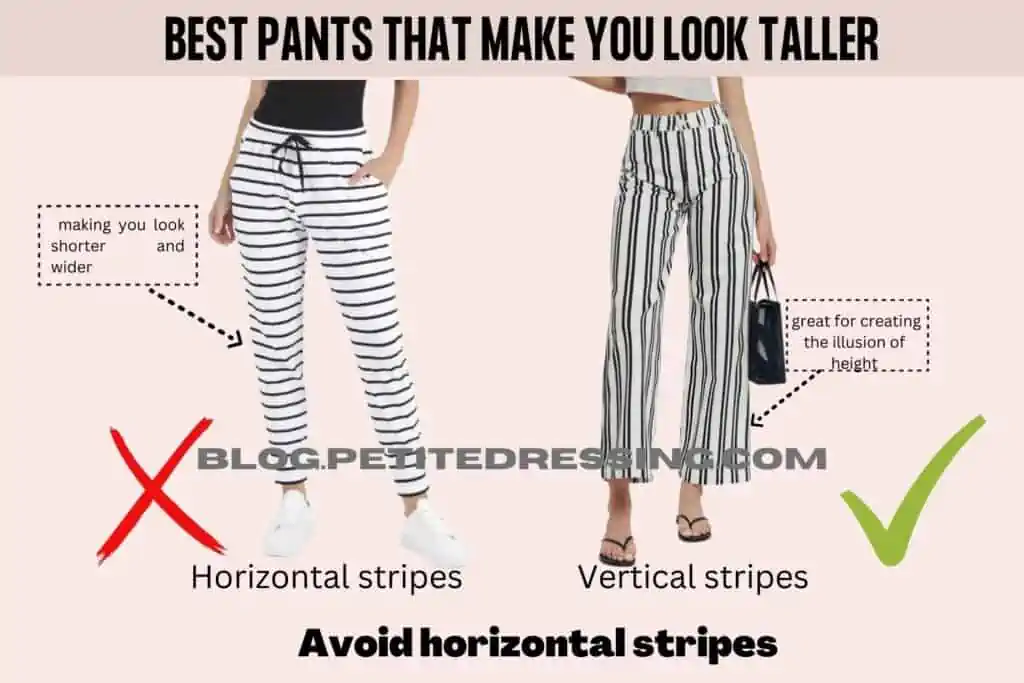 Since the horizontal stripes on pants go from side to side, they make you look wider as well. The thicker the stripe, the stronger this effect will be on your body. When your body looks wider, it also makes you look shorter because you look larger in the wrong direction.
Horizontal stripes will take away from height and add weight to your body, which is something you will definitely want to avoid no matter what.
Avoid tight pants
Many women are drawn to extremely form-fitting pants because they are usually made of a softer fabric that is comfortable and stretchy. But super tight pants can actually ruin any chance you have at elongating your body.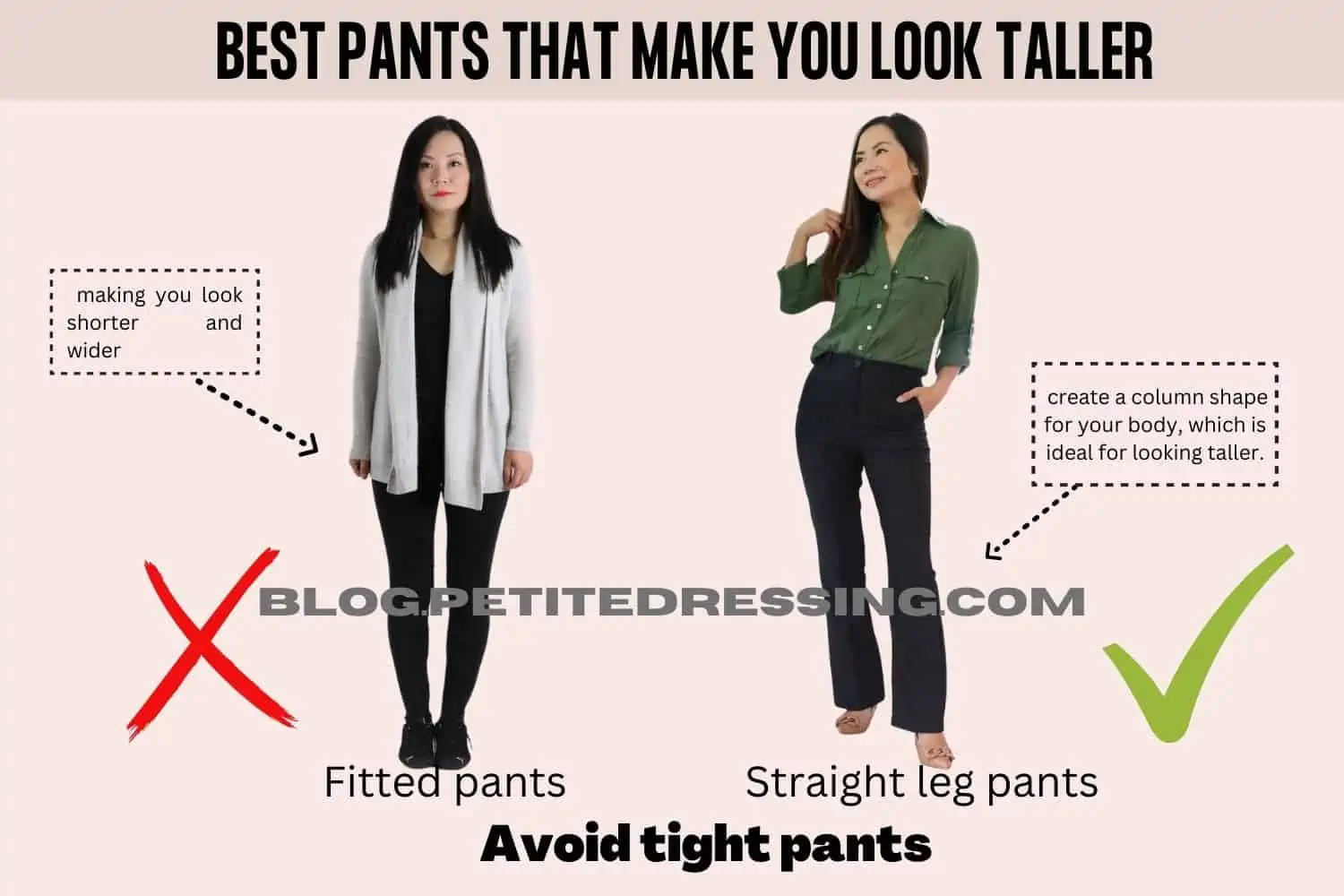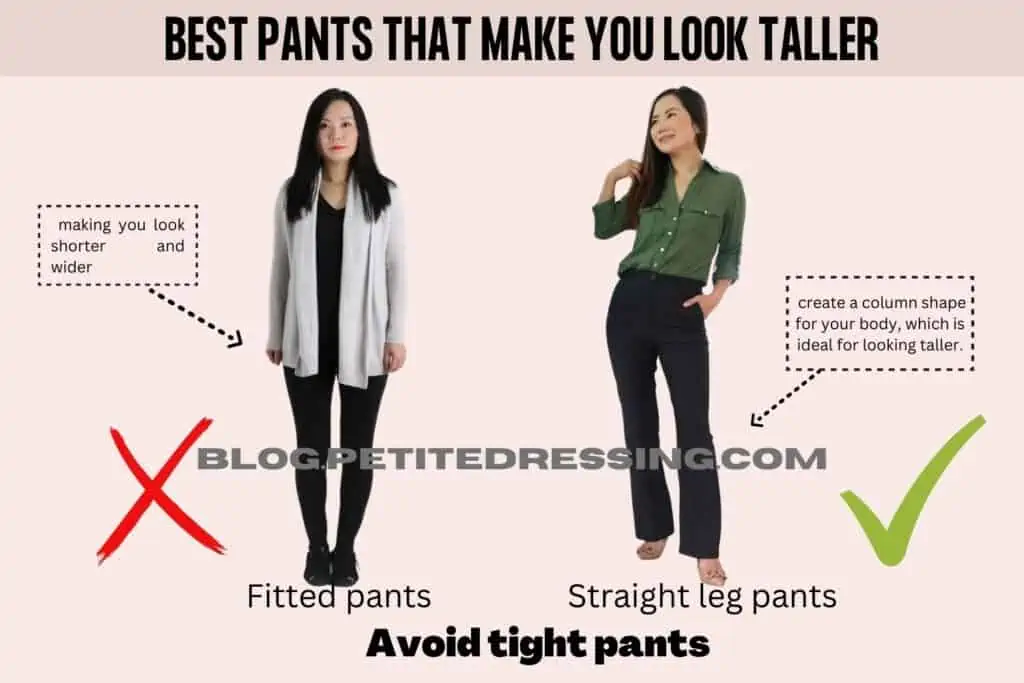 When you wear a pair of tight pants, they cling to every curve and crevice of your body. Essentially, the shape of your body becomes the structure of the pants you are wearing. If you are a shorter woman, it will be extremely obvious, even in photos, if you wear tight pants.
You will not be able to go with the column method, since tight pants show off curves and create a rounded shape for your body. If you want to elongate your body, you should avoid tight pants.
Avoid capri pants
Although capris may be nice for slightly warmer weather, they are not the most flattering style of pants. Capri pants are cropped anywhere from above your ankles to just below your knees. This type of pants is a compromise of shorts and full-length pants.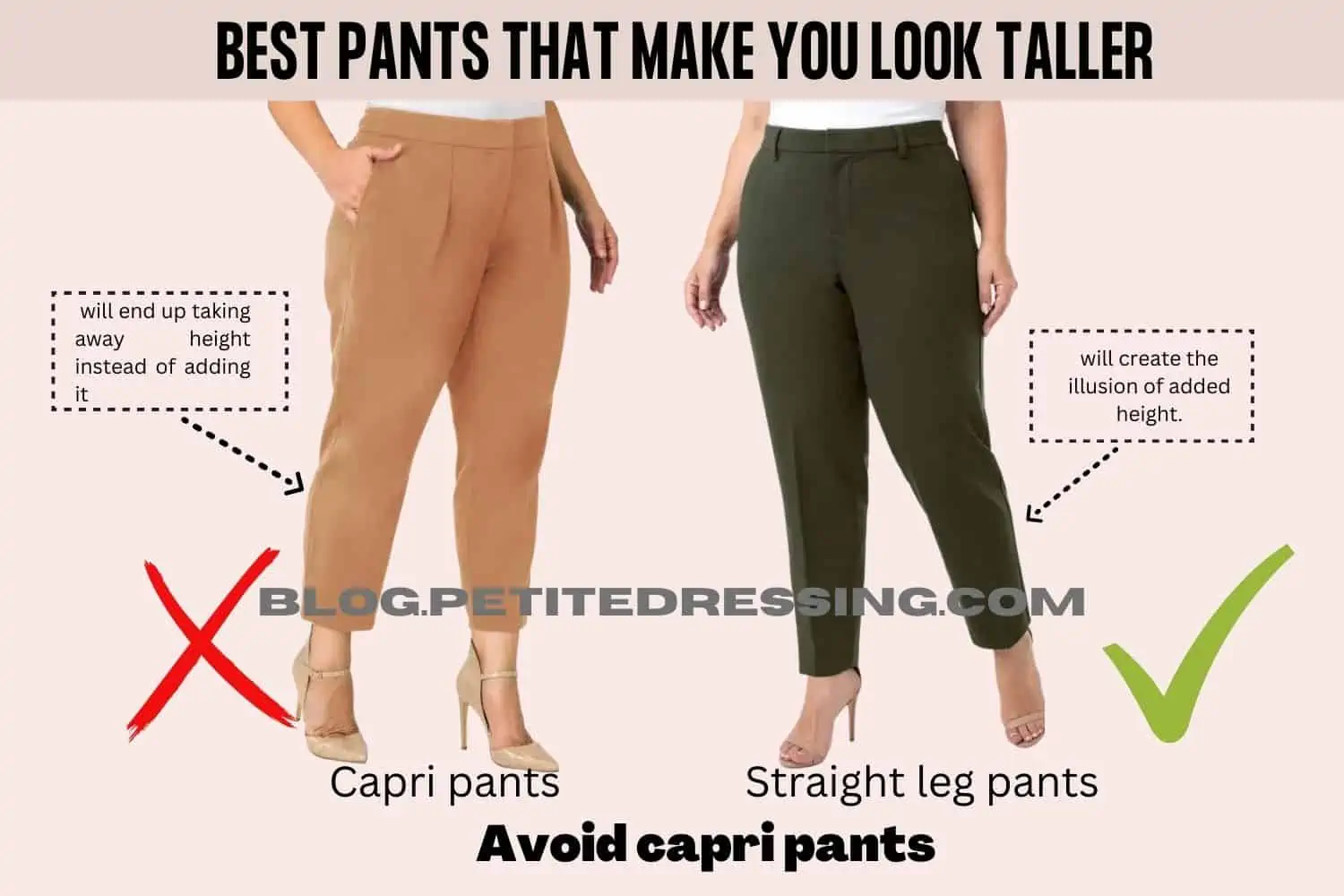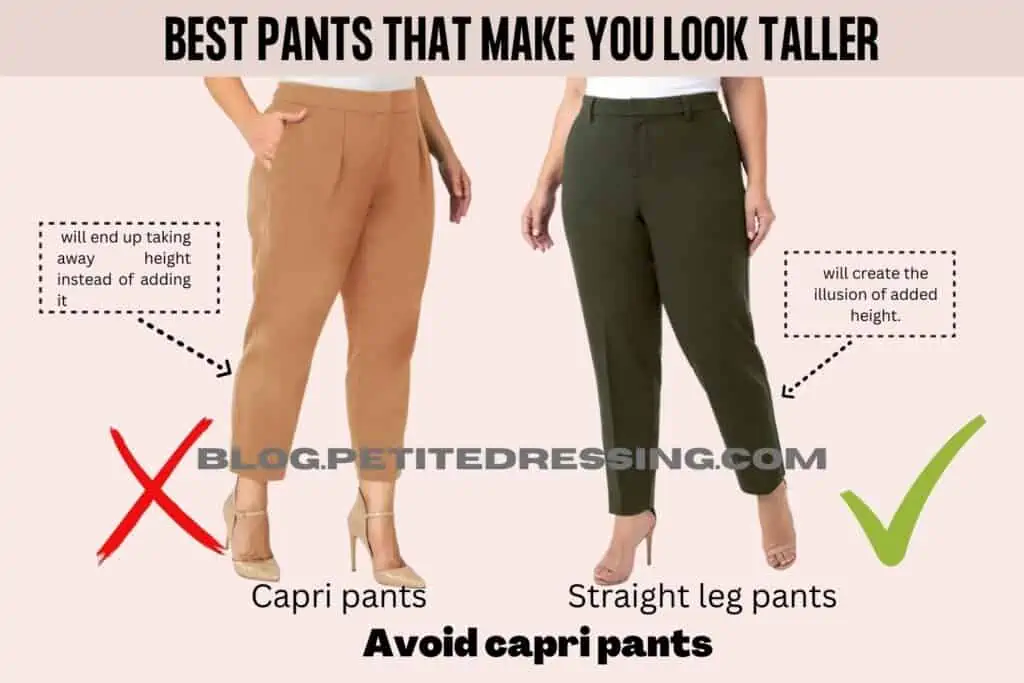 Capris are cropped pants that will end up taking away height instead of adding it. Since they are cropped at such an awkward place, they give off the illusion that your legs are shorter than they are.
Once the lower half of your body looks smaller, your whole shape will lose any illusion of height that you have crafted. Capris should always be avoided when one is looking to appear taller.
Avoid low-rise dress pants
Even if you may be on the search for a more formal pant choice, you will want to avoid any pants that are low-rise. Low-rise pants fall at the lowest part of your hips, adding extra width to your body.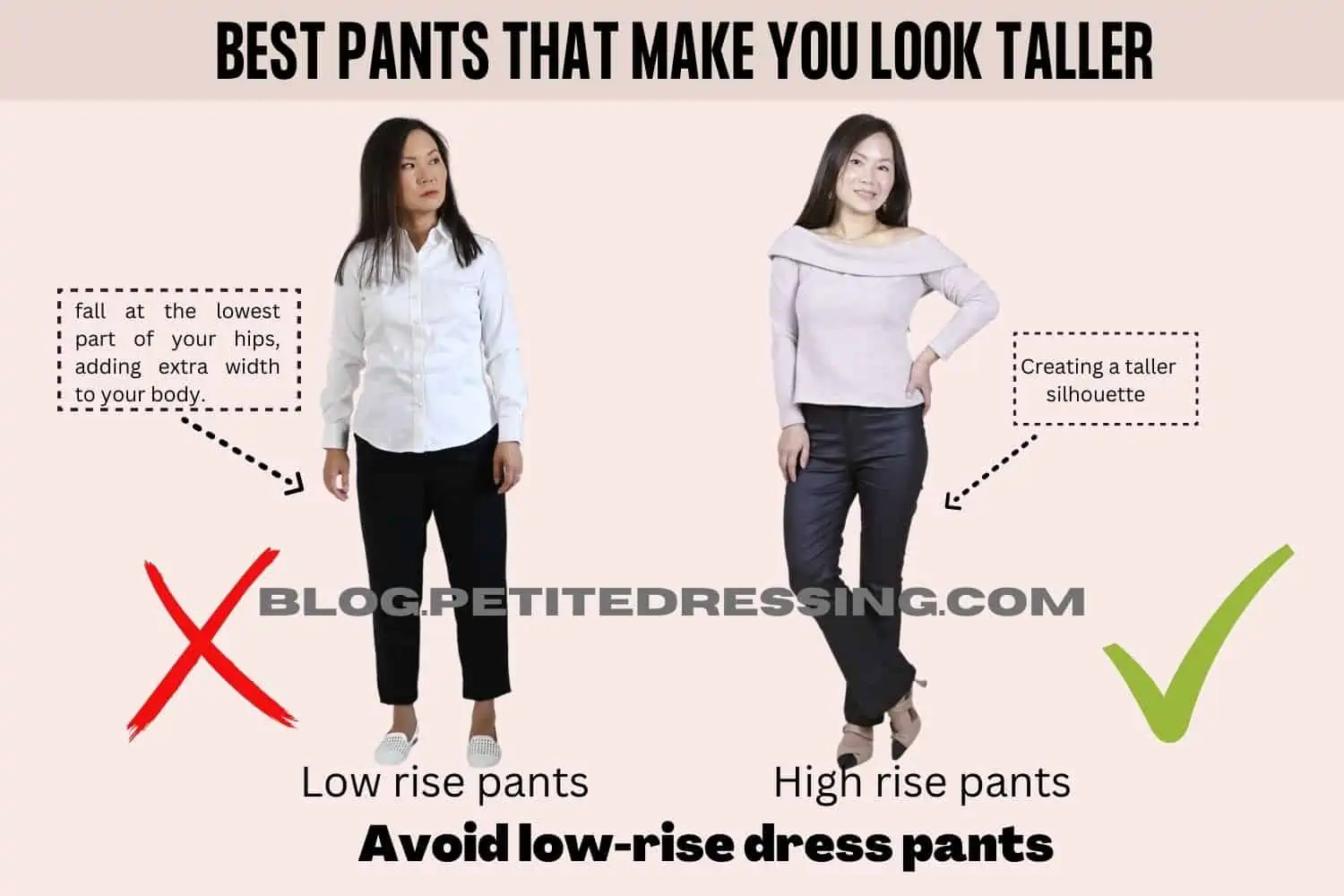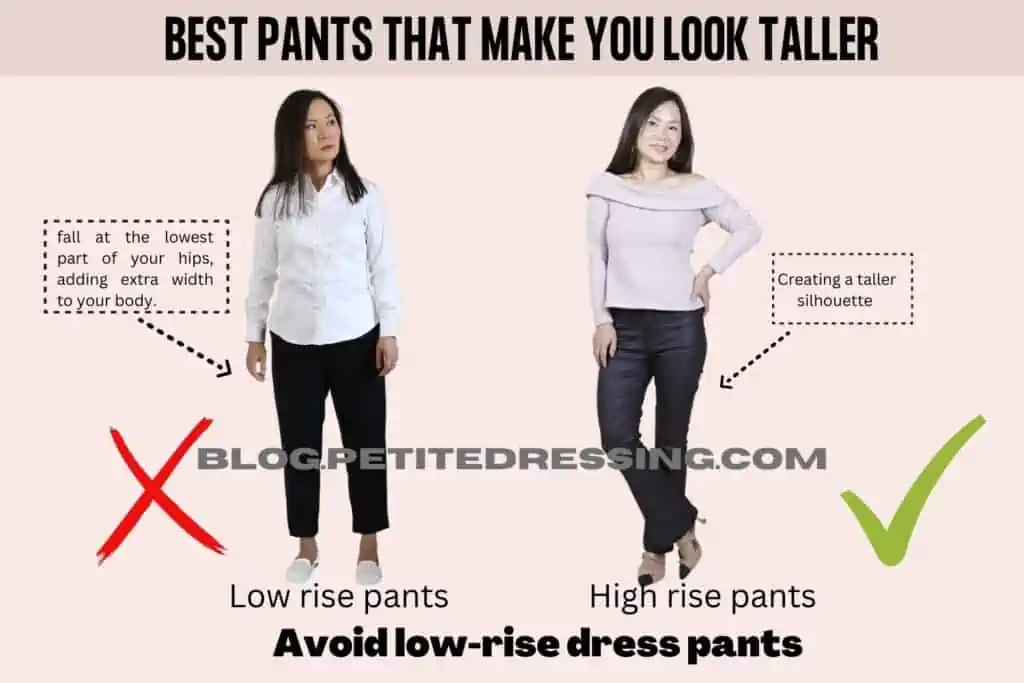 When you wear low-rise dress pants, your legs will look shorter. This is due to the fact that the low placement of the waistline means that less fabric covers your body. The entire bottom half of your body will look shorter than it is, and you will not be able to create an illusion of height.
Avoid baggy pants
In order to create a look of elevation, you will want to avoid pants that shrink your body. Baggy pants will do just that, making you look even shorter than you are.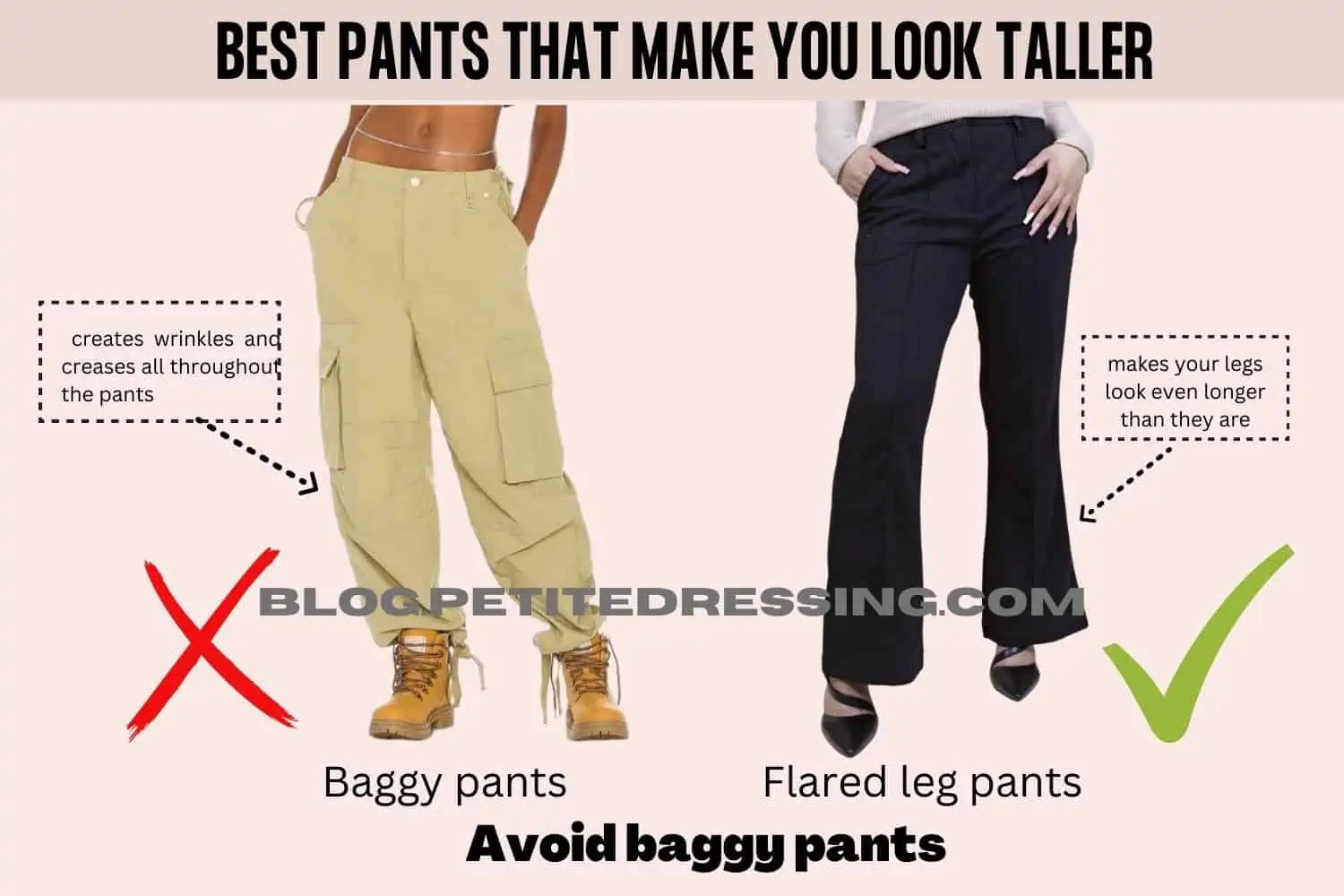 Baggy pants are often too long for the person wearing them, which creates wrinkles and creases all throughout the pants. This makes it look like you are too short for the pants you are wearing, which will make it impossible to add any extra height to your outfit.
Baggy pants also add more width to your body with all of the additional flowing fabric. This excess of material will make your hips, thighs, and calves look wider. When you look wider, it is common for others to see you as shorter as well.