Jumpsuits have been big in the fashion world for quite a few years now. They're a great wardrobe staple because of their ease of wear.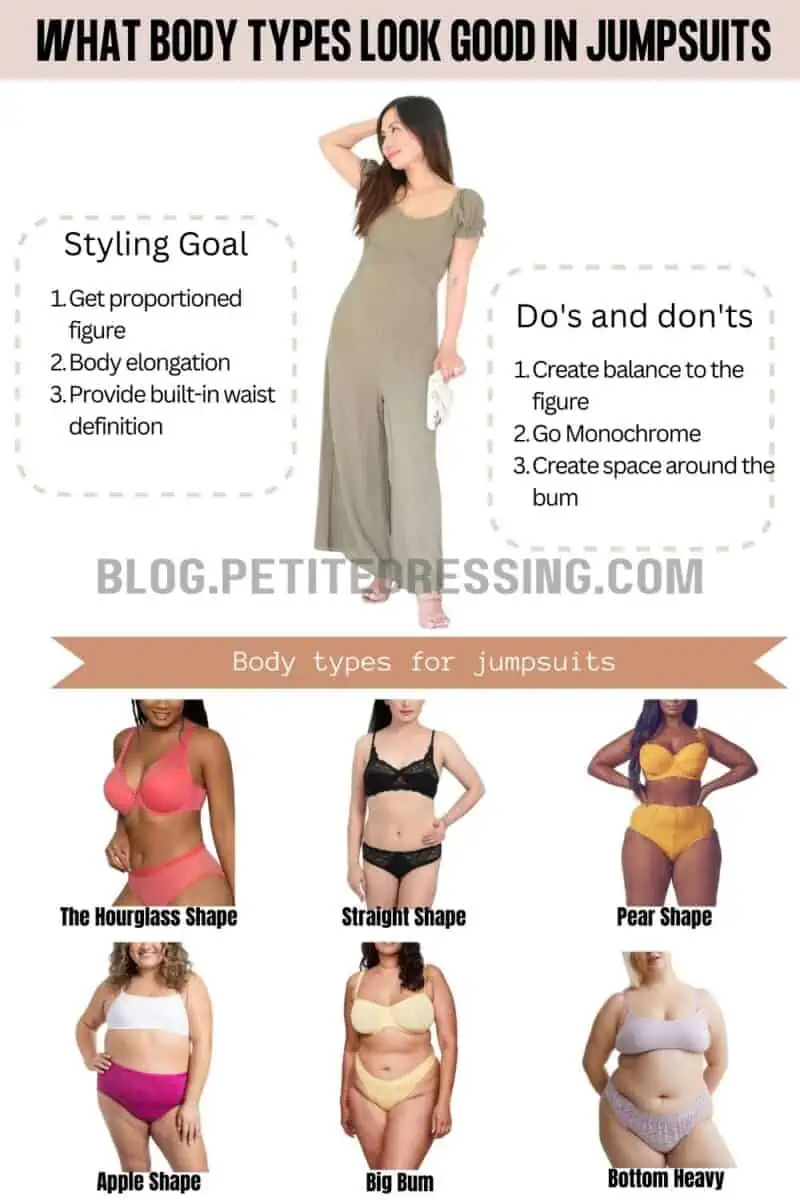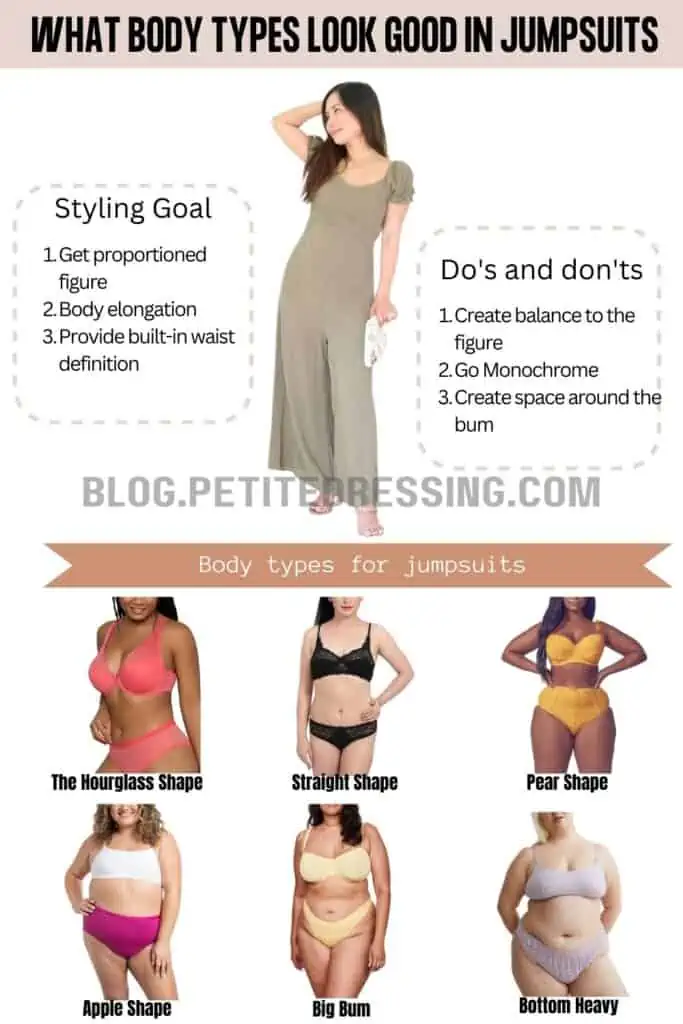 Similar to dresses in the sense that they're one piece, no need to fuss with a lot of separates here. As stylish and easy as they are to wear they've also been an enigma for women for years – so many women doubt whether or not they're a flattering option to choose for their body type.
If that's something you struggle with, continue reading because this is a breakdown of the body types that look good in jumpsuits. Full disclosure, though: no matter your body type if you genuinely enjoy wearing them and feel confident in jumpsuits no list should tell you NOT to wear them.
Confidence is key!
The Hourglass Shape
A true hourglass body shape is determined by hip and bust measurements that are the same (or within 1-2 inches) with a waist measurement that's clearly defined, meaning it's a couple of inches smaller in size. Another way to describe an hourglass figure is being 'perfectly' proportioned and balanced.
Because of the natural balance in an hourglass shape, anyone with this body type is a great candidate for jumpsuits. In fact, if jumpsuits aren't already in your wardrobe, they're definitely an item to begin adding to because they're really figure-flattering for an hourglass.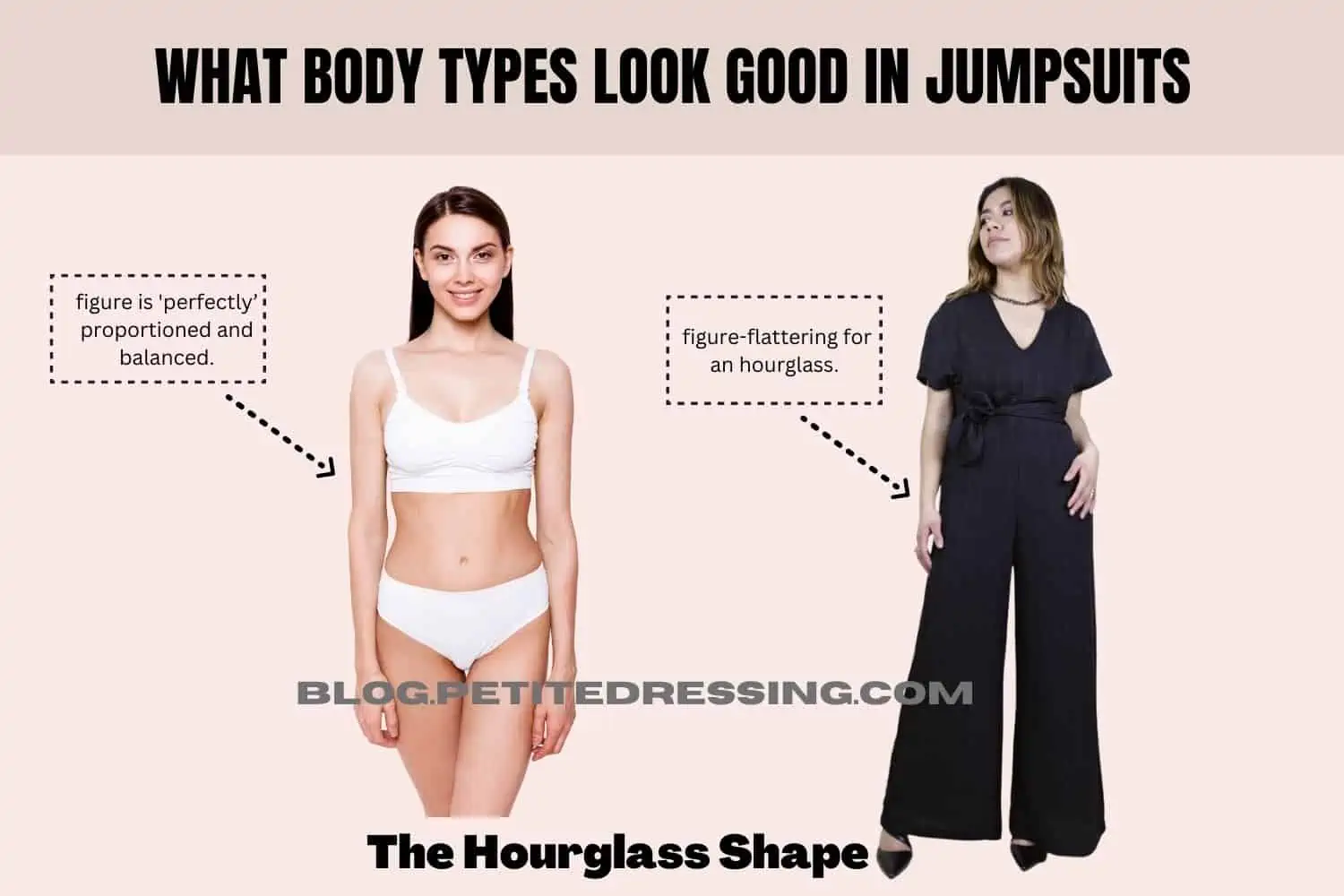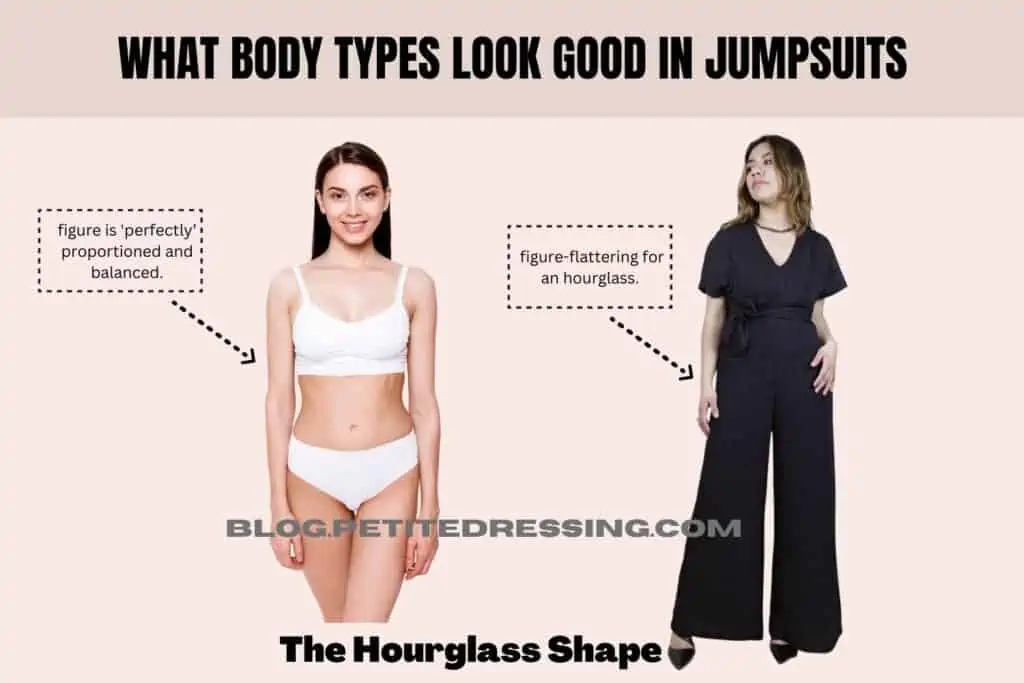 Generally speaking, jumpsuits emphasize a naturally defined waist – which is something an hourglass figure has naturally. Which means it works to your advantage!
With an hourglass shape, it's important to always favor jumpsuits that have some sort of built-in waist definition whether this is with a belt, elastic at the waist, or something else.
Jumpsuits that don't offer this silhouette benefit can 'hide' your figure and cause you to appear bigger.
Short Legs
If you are petite, it's highly likely your legs are shorter.
This is going to effectively elongate your figure and therefore make your appear taller and make your legs look longer.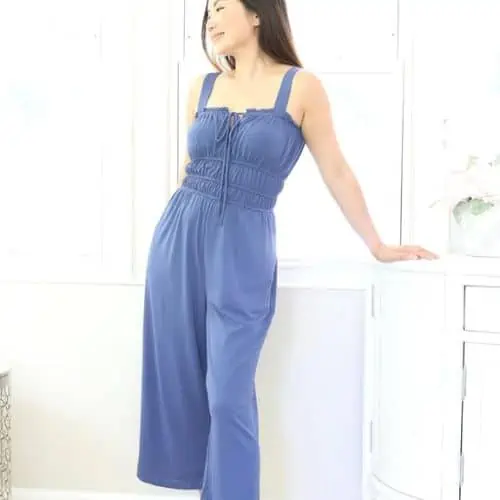 Why opt for jumpsuits?
Jumpsuits are one of the best ways to flatter someone with shorter legs, because they create a continuous column of colors from top to bottom.
The Rectangle or Straight Shape
Believe it or not jumpsuits are a great option for a woman with a straight (otherwise known as rectangle) body shape. This is primarily because jumpsuits can provide the illusion of curves, and a more defined waist, than you may have naturally.
Similar to an hourglass figure, the main attribute to seek out in a jumpsuit as a straight body shape is something that provides built-in waist definition. This is what really creates a figure-flattering appeal to the body shape.
For example, if you want to draw more focus towards the waist or chest area look for jumpsuits that offer interesting necklines or are more form-fitting in that part of the body. Think reverse if you're interested in bringing more attention toward the bottom half.
Jumpsuits are something you can really have a lot of fun with for your body type, simply decide which area of the body – or curves – you want to create/highlight and look for jumpsuits that will highlight that area of the body. Lucky you, a straight body type is actually THE easiest for jumpsuit wear.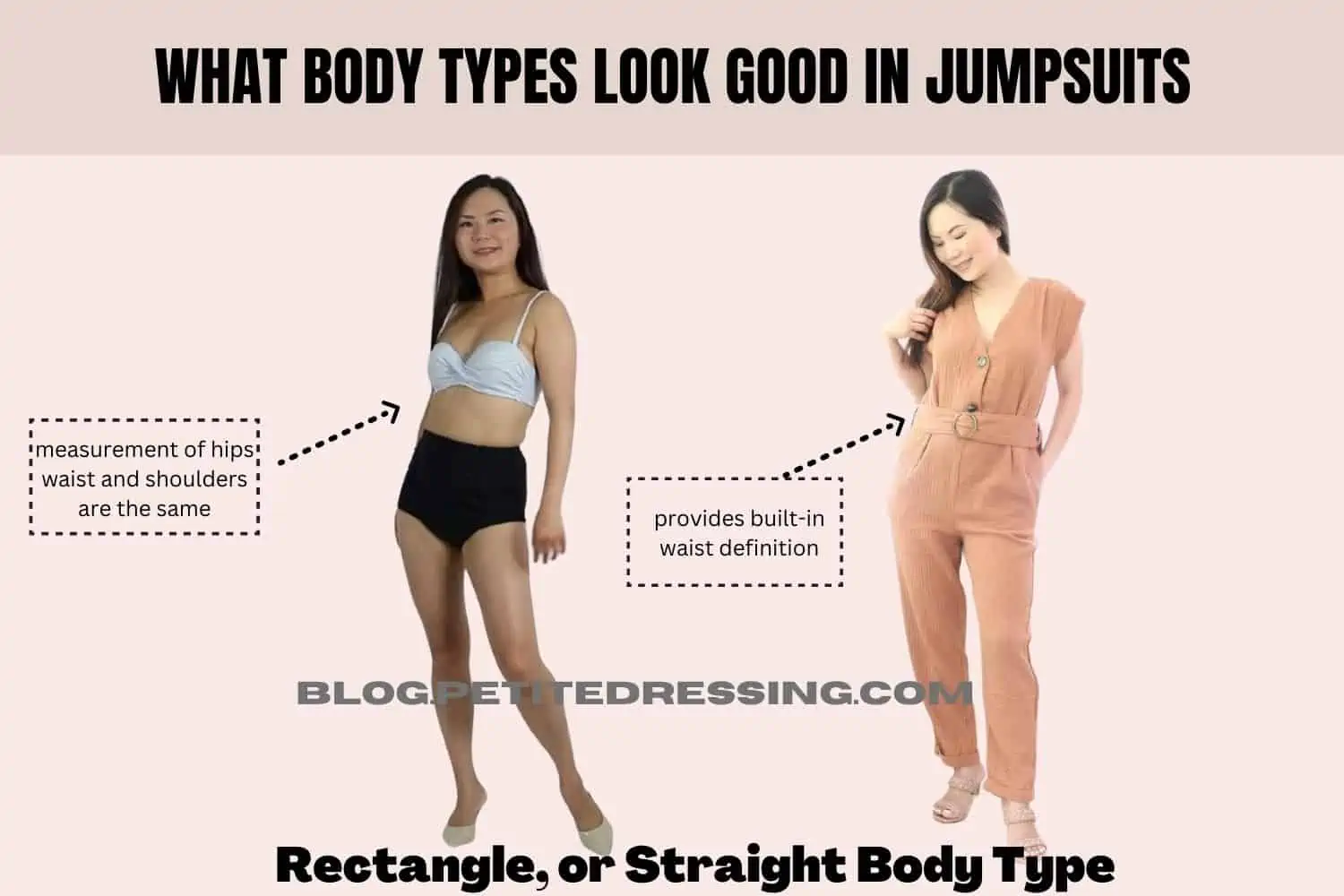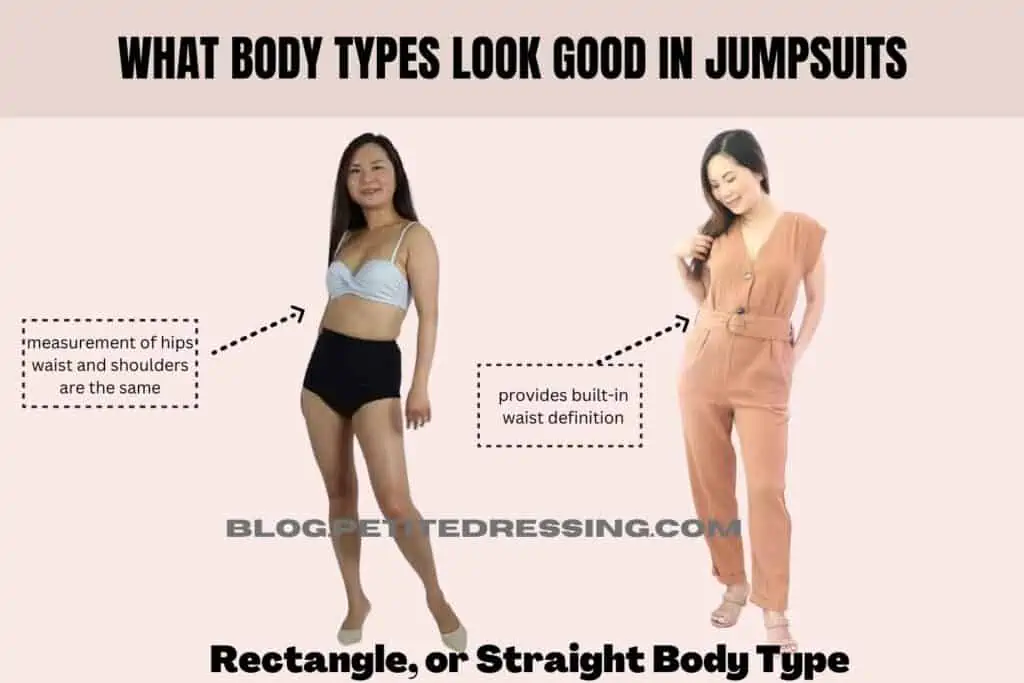 One thing to watch out for when styling jumpsuits is to ensure the options you wear don't overwhelm your body shape at all. While a little flowy detailing in areas can create the illusion of curves, too much flow can overwhelm and add bulk to the body.
The Pear Shape
Believe it or not, jumpsuits can be extremely flattering on a pear body shape. In fact, many style experts favor jumpsuits for pear shapes because of how easy it is to create a figure-flattering look with them.
This is going to instantly flatter a pear shape figure – with ONE garment. Ah – the ease of jumpsuits.
Visual interest can come from a number of different attributes. Anything from an open neckline to exaggerated sleeves, or even a bold color to add contrast to a more neutral bottom half. There are thousands of different ways interest can be adapted, it's just a matter of finding what works for your personal style.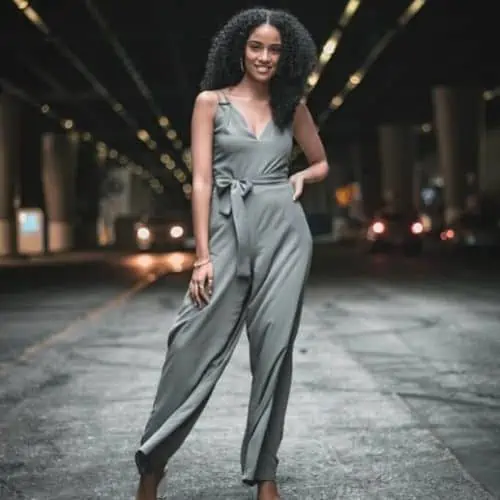 Styling tips on choosing jumpsuits for your shape
Focus on jumpsuits that are rather minimal in detail and such around the bottom half of the body, but offer some visual interest to the top half.
The Apple Shape
Another body type that may not be used to hearing jumpsuits is flattering on is the apple body shape. The truth is, jumpsuits can be an apple's best friend! The main reason for this is that jumpsuits often offer built-in waist definition (as mentioned above).
If you have an apple body shape you likely don't have a naturally defined waistline – that's part of what makes an apple shape an apple after all. This is where jumpsuits come into play.
The one key element that must be present in a jumpsuit with an apple shape is the waist definition. Similar to an hourglass, it can be applied in any way – as long as the definition is present. This is going to create a waistline where there isn't one naturally. All about that illusion!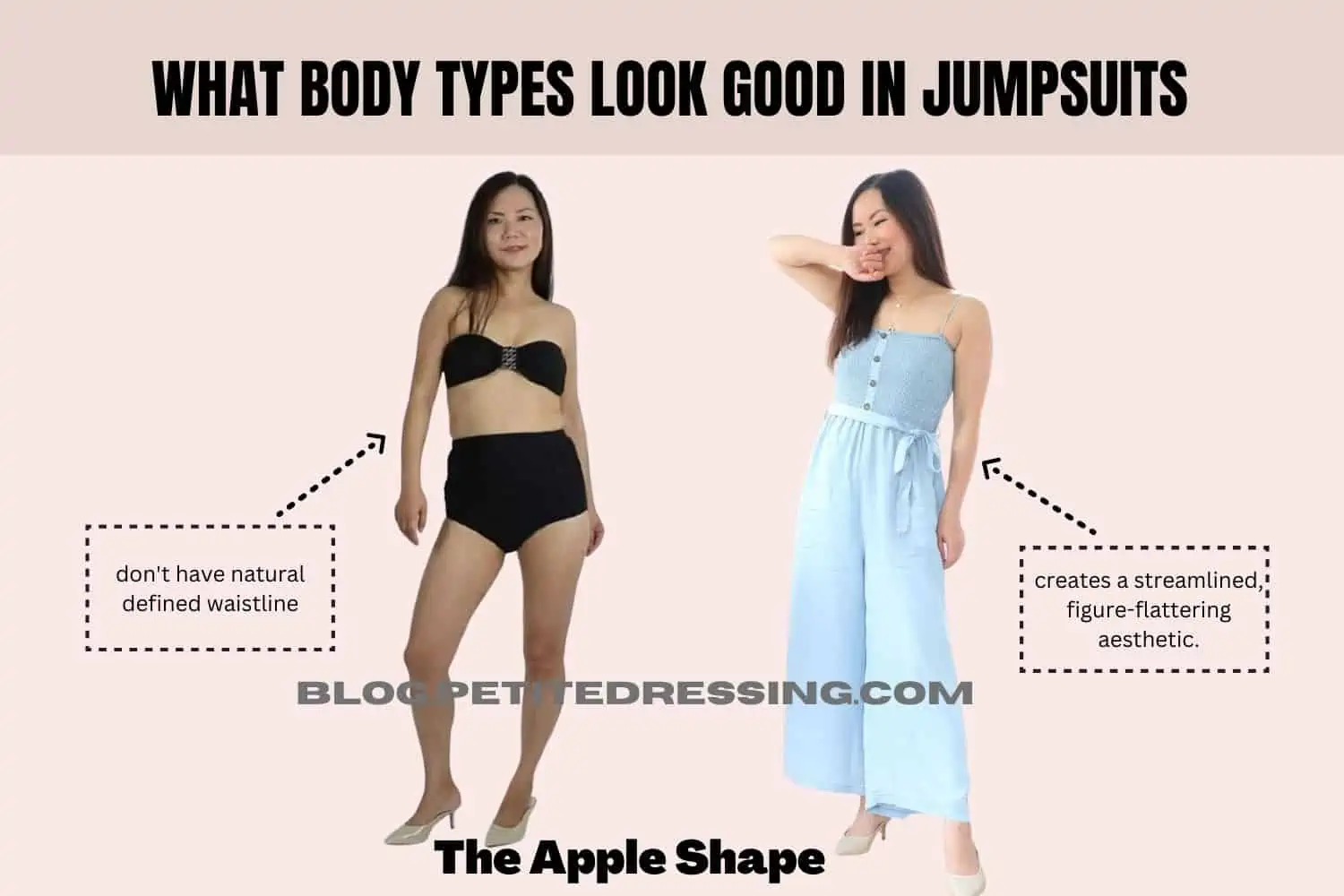 In general, you will also want to keep jumpsuits – particularly around the top half of the body – more minimal in detail and design. This will help keep from adding bulk to the body and ensure the jumpsuit is creating a streamlined, figure-flattering aesthetic.
Big Bum
For that reason the wide leg jumpsuits are wonderful choices for those with wider hips because they drape down from your hips and create a visual balance with your big hips.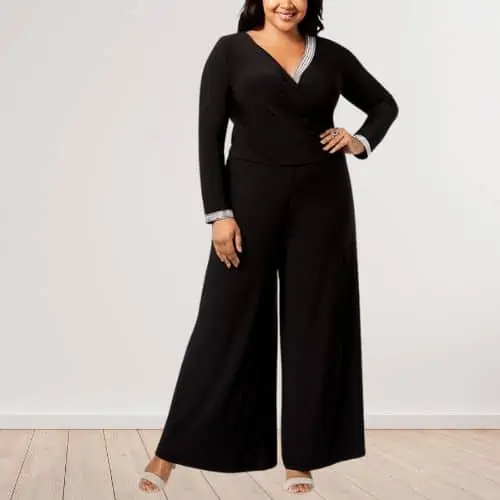 The magic with jumpsuits
If you have a big bum, one of the best ways to flatter your shape is to create more space around your bum by wearing styles that skip your hips instead of clings to them.
Bottom Heavy
Being bottom-heavy means you carry more weight on your lower body than your upper body. Typically pear shaped women can come across as bottom-heavy, but this is not just limited to the pear shape.
Dressing to flatter a body type is all about creating balance and working with proportions. This means if you are bottom-heavy, the goal is to bring more focus toward the top half, to give the illusion of more balance to the bottom half.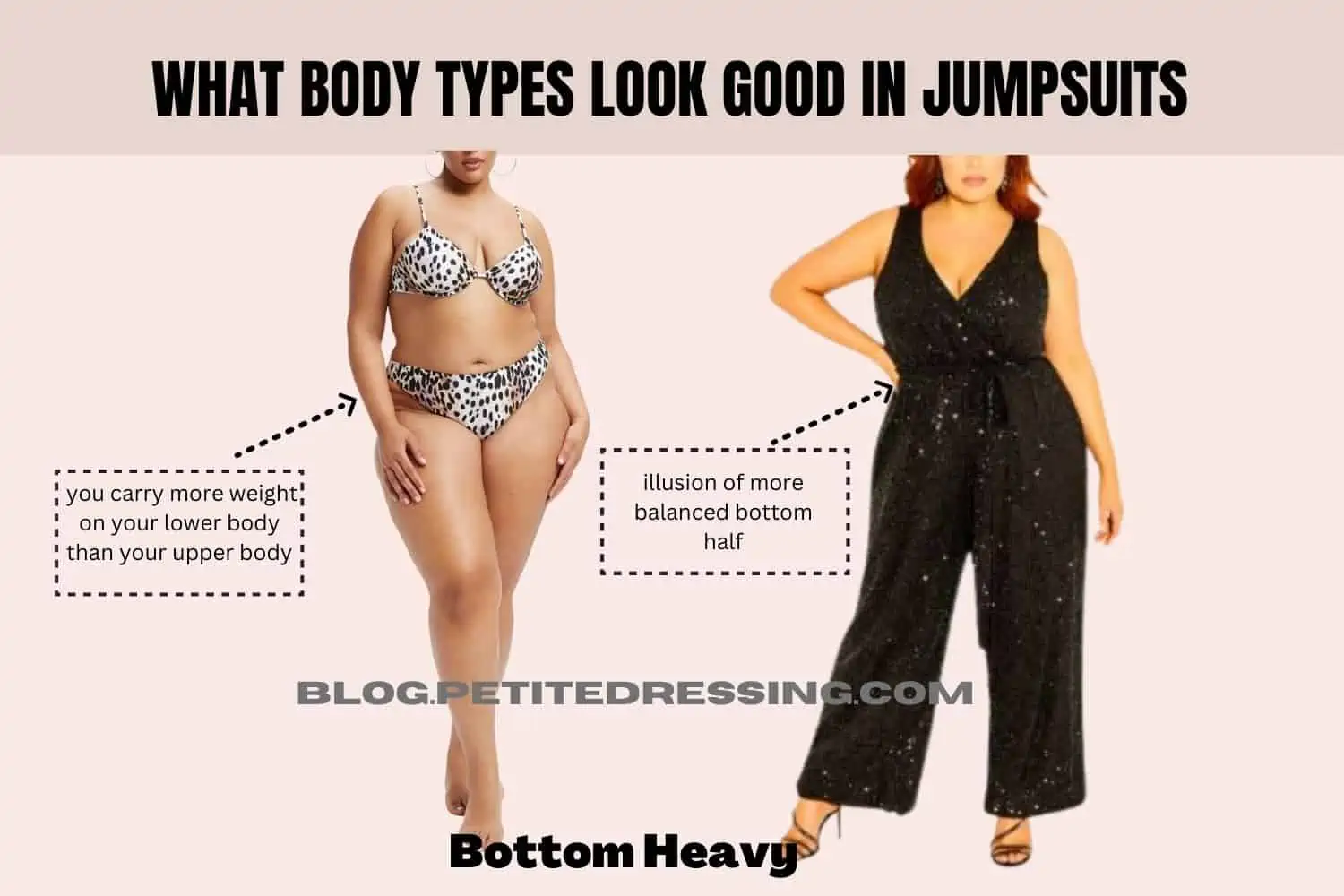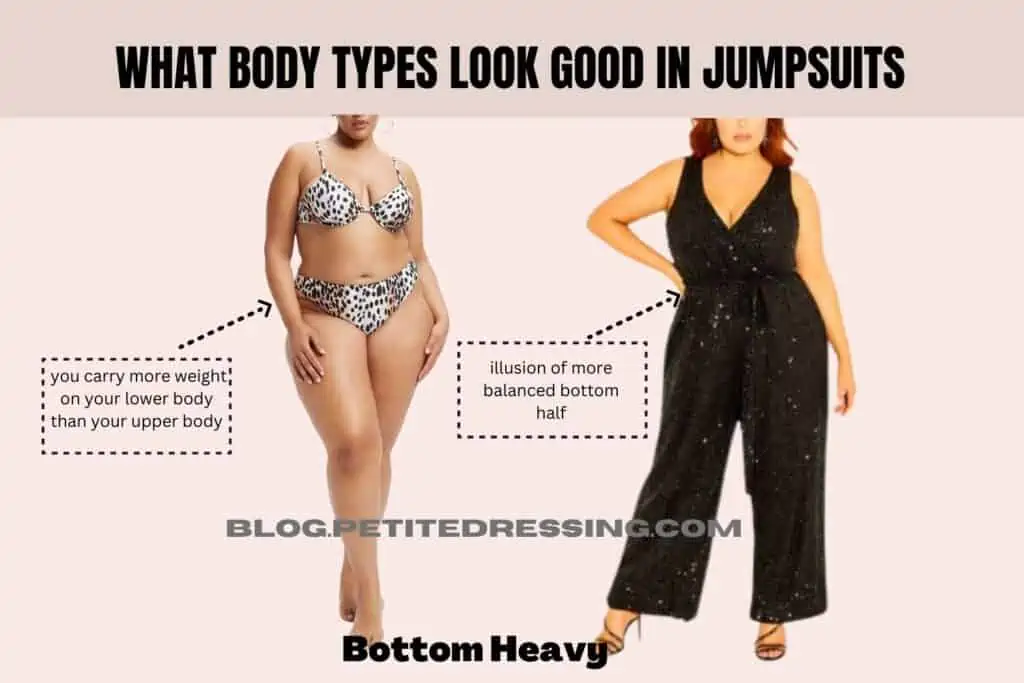 This philosophy is exactly why jumpsuits are something to enjoy wearing!
Long torso
If you have longer torso, the key to dress your shape is to "blur" the division of your torso and legs. When the eye cannot tell where your torso ends and where your legs end, it is not going to notice that your torso is long!
That is why one piece, like jumpsuit, is one of the best ways to flatter your shape.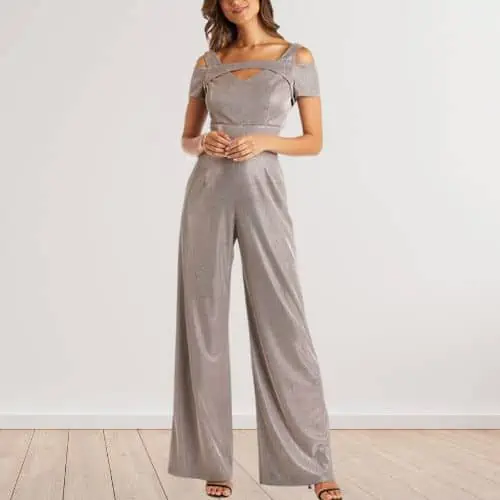 Expectations with jumpsuits
When you wear a jumpsuit, it creates an overall monochromatic silhouette, which is going to make it much less obvious to the eye that you have a long torso and therefore makes your body look more balanced.