If you are short like me, we face a unique set of challenges because of our height! I'm 5'2″, over the years I have figured out these 12 ways that can always make you look amazing even if you are petite:
Rolled Up Sleeves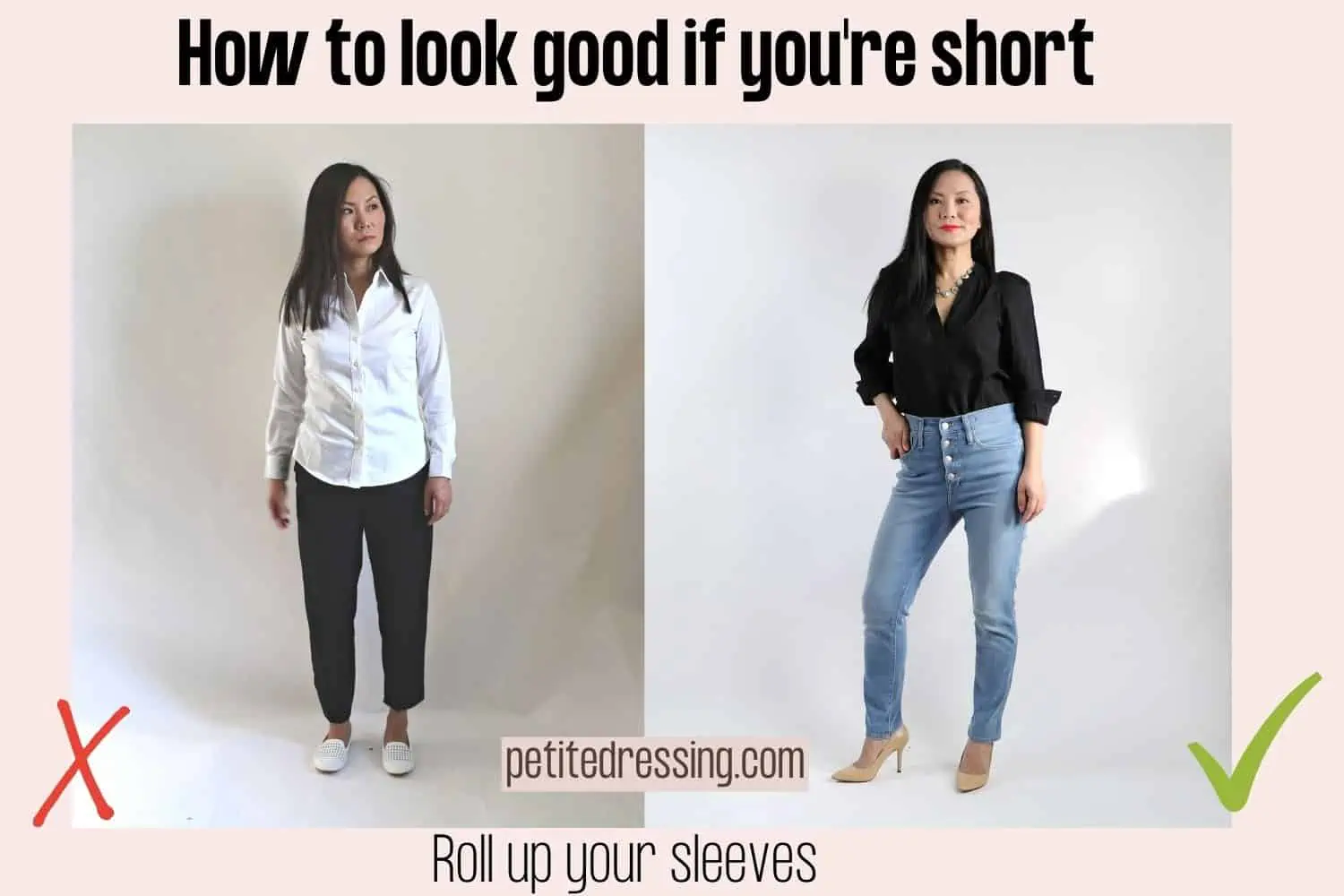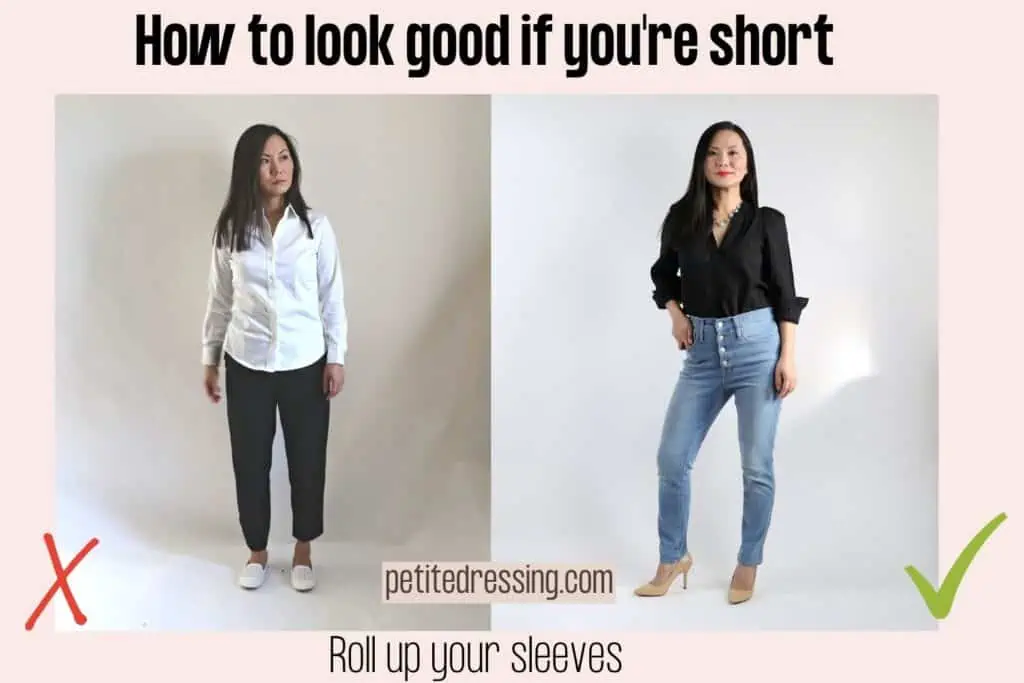 This is a little styling trick style experts use and it makes a big impact on short ladies.
Doing something as simple as rolling up sleeves is a must know tip.
For many short women, it's common for sleeves to look too long and may even appear sloppy.
The simple solution?
Rolling up sleeves.
Not only does it allow your sleeves to lay flat, and be the proper length, but it really helps to create a much more polished aesthetic overall.
Even more than helping aesthetically, rolled up sleeves can help create the illusion of longer arms.
Showing a bit of skin, even with just a simple rolled sleeve, instantly lengthens the body.
When clothes look like they fit properly, especially as a petite, the better the overall look. Roll up sleeves according to the entire outfit.
For example, if you want something that's super sophisticated and polished create neat folds in the sleeves. Instead, if you're going for more of an effortlessly styled look you can roll up the sleeves with ease – even just pushing them up above the elbow.
Always Cinch Your Waist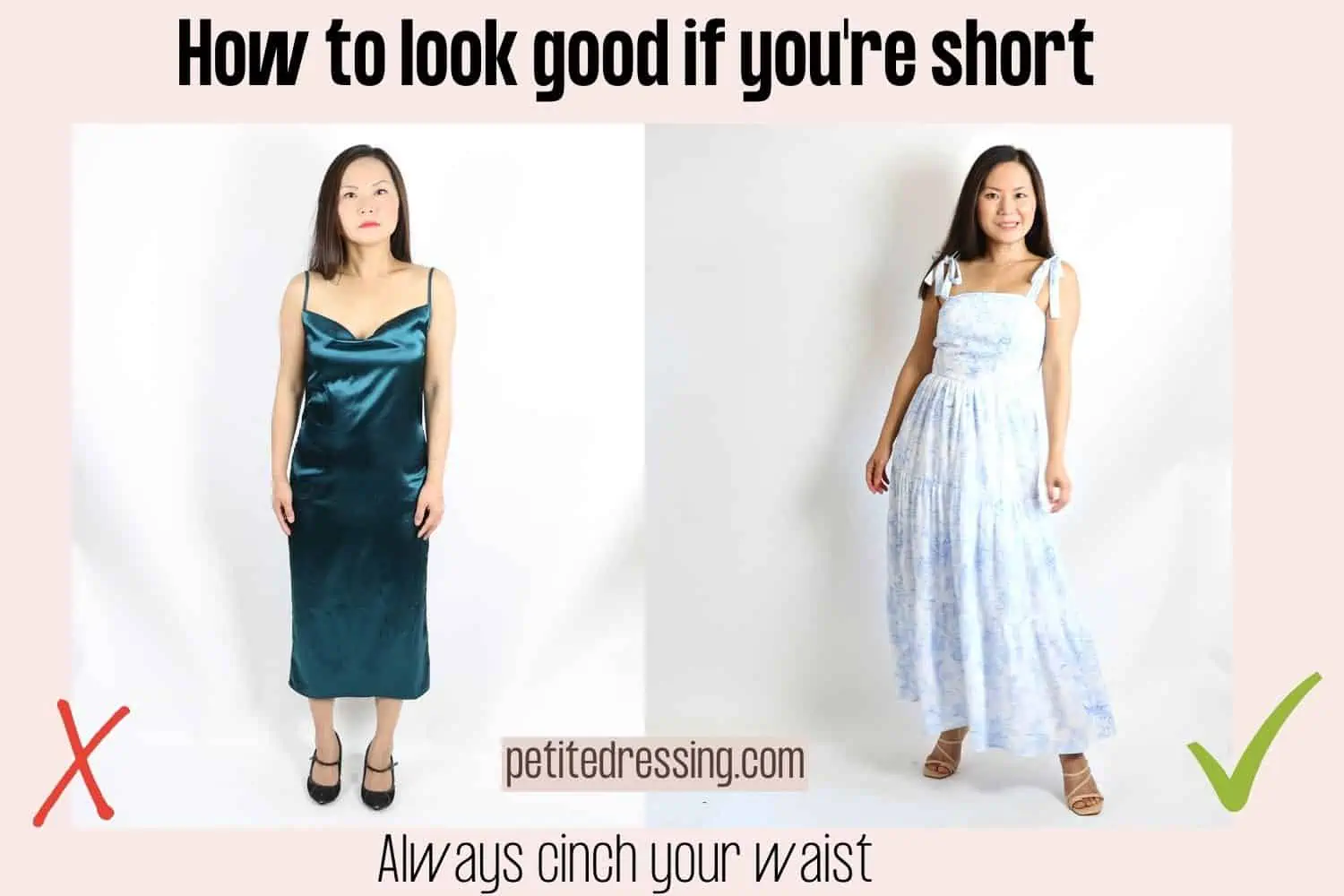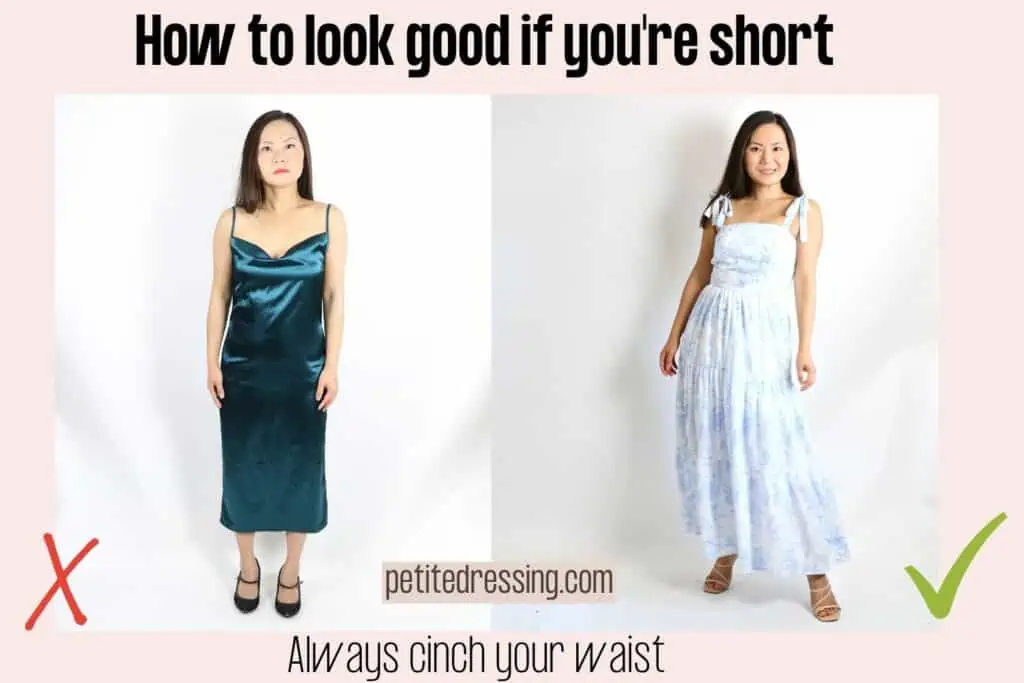 If you only take one tip away from this list, hopefully this is it: always cinch your waist. This is SO important for short ladies.
When you are petite, it's easy for clothes to appear too large, loose and overwhelming on the body.
Cinching the waist is the easiest way to look better in nearly any outfit.
A couple of things happen when cinching the waist.
First, it highlights the smallest area of the waist which instantly slims the body.
Second, when the waist is defined it makes clothes look more tailored to fit your short figure.
Third, it can actually help to make legs appear longer.
This is something many short ladies don't realize but cinching the waist not only highlights that area of the body but it visually lifts where the legs begin making them look longer than they really are.
Favor V-Necklines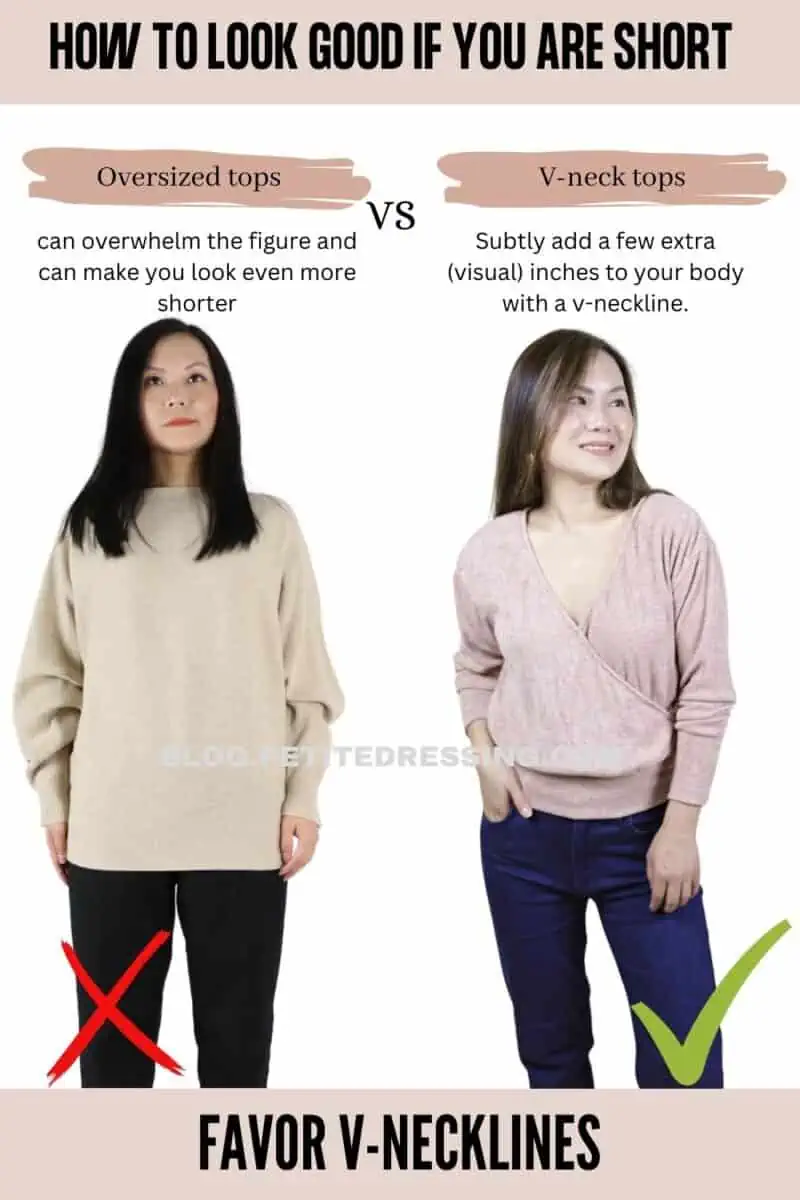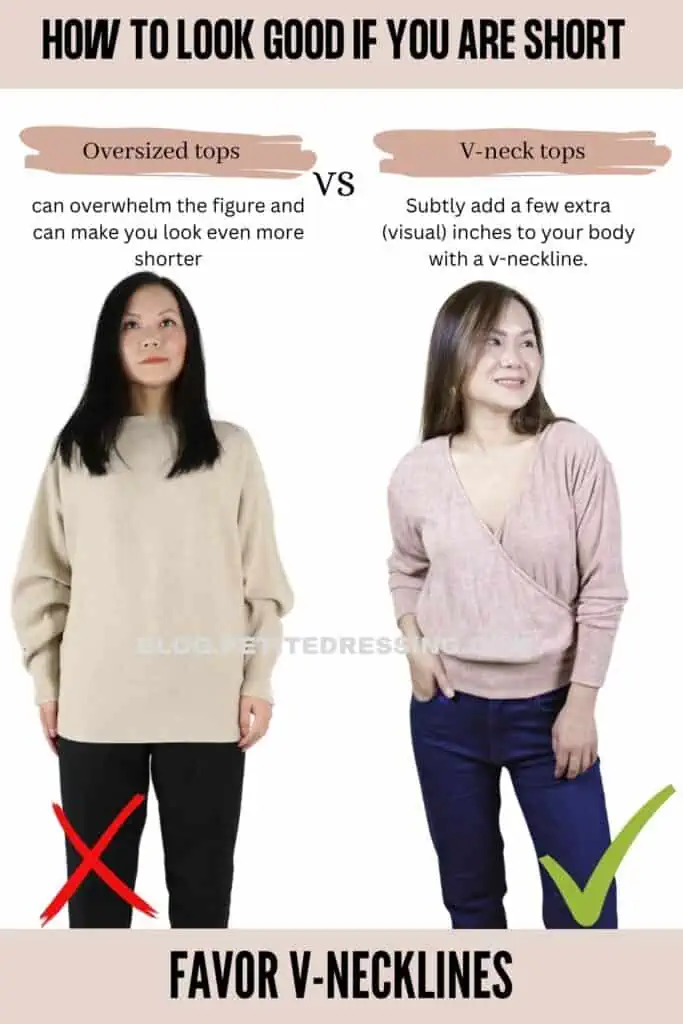 Subtly add a few extra (visual) inches to your body with a v-neckline.
As you've probably gathered at this point, favoring style tricks to add length is the most flattering way to dress as a short woman.
The necklines you wear can add or subtract length. Of all the different types of necklines, V-necklines are something to begin favoring because of the vertical line they place on your body.
Open necklines in general are something to pay close attention to, but v-necklines tend to be the most flattering.
Necklines that establish harsh horizontal lines, like a square neckline, can actually make the torso look shorter so you will want to be cautious with that silhouette.
Above the Knee Skirts and Dresses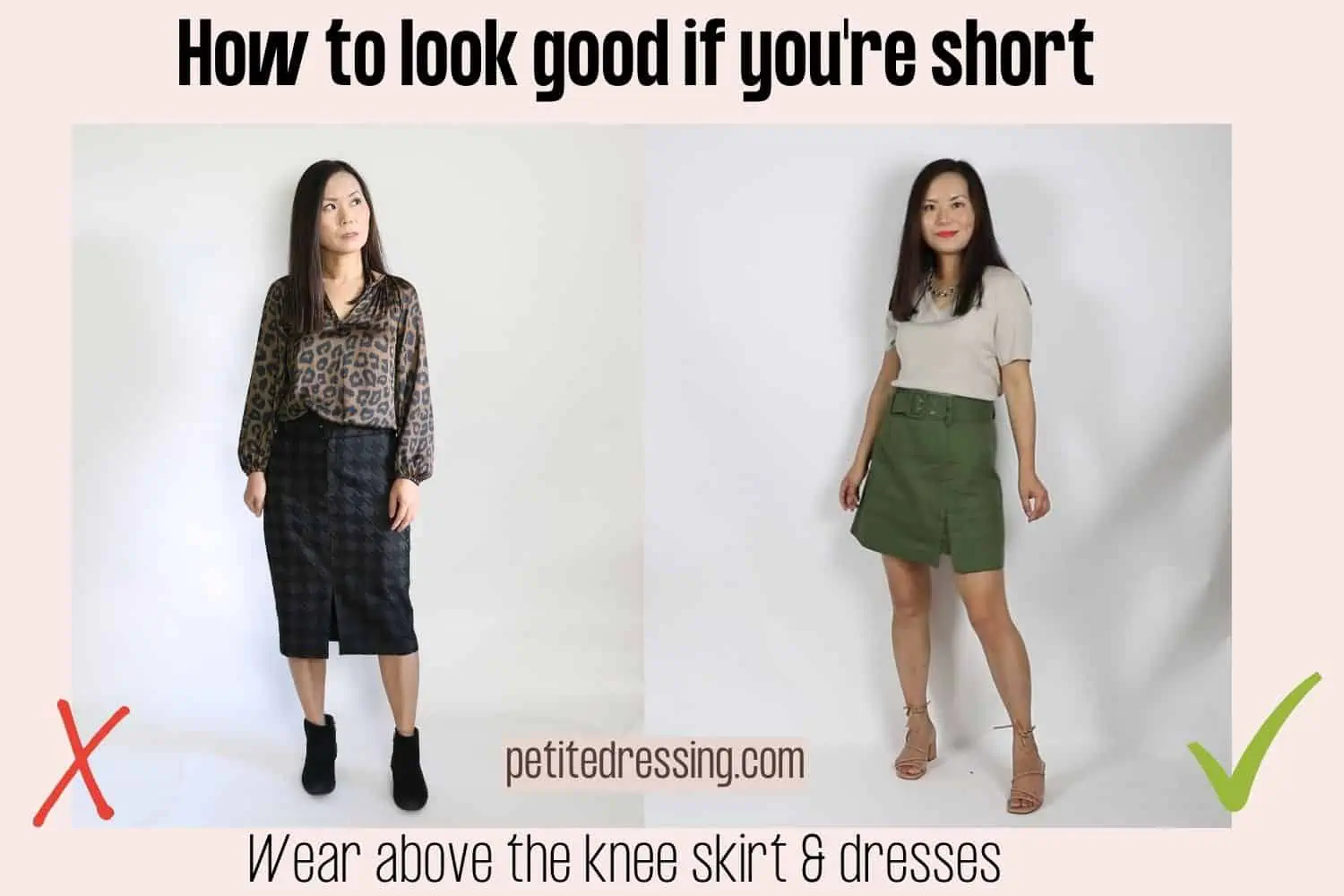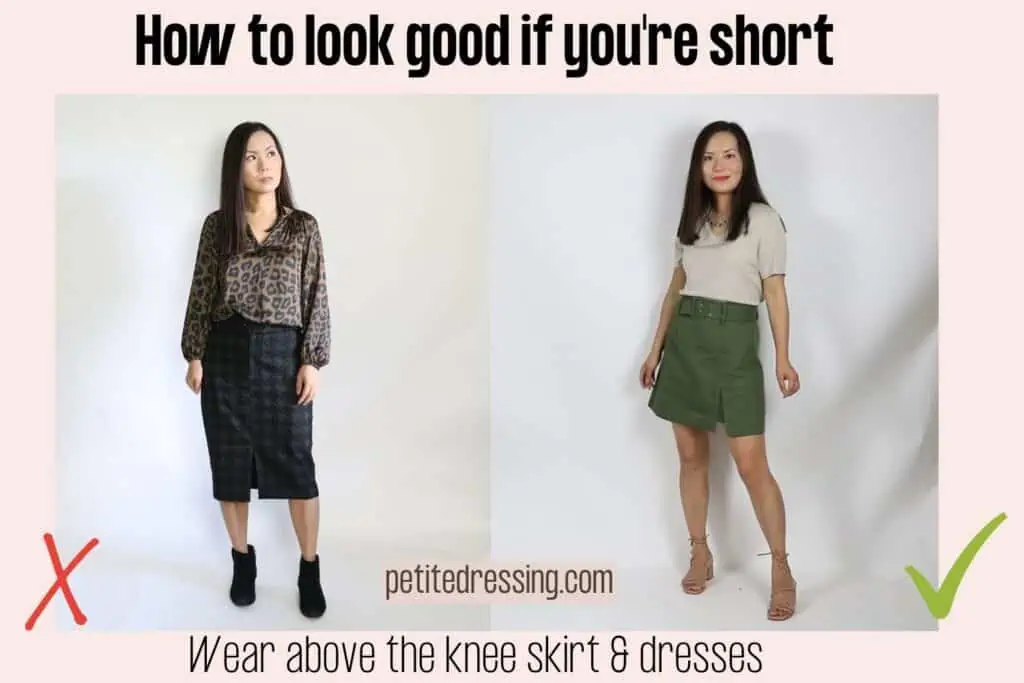 Showing a little leg is more about figure flattery than anything for short ladies.
If you don't already, now is a great time to begin making above the knee skirts and dresses your go-to length choice.
Opting for skirts that rest just above the knee does wonders for adding length to legs.
The more leg you show, the longer legs look.
Of course, this doesn't mean you have to wear super mini skirts – just above the knee will do.
Cropped Tops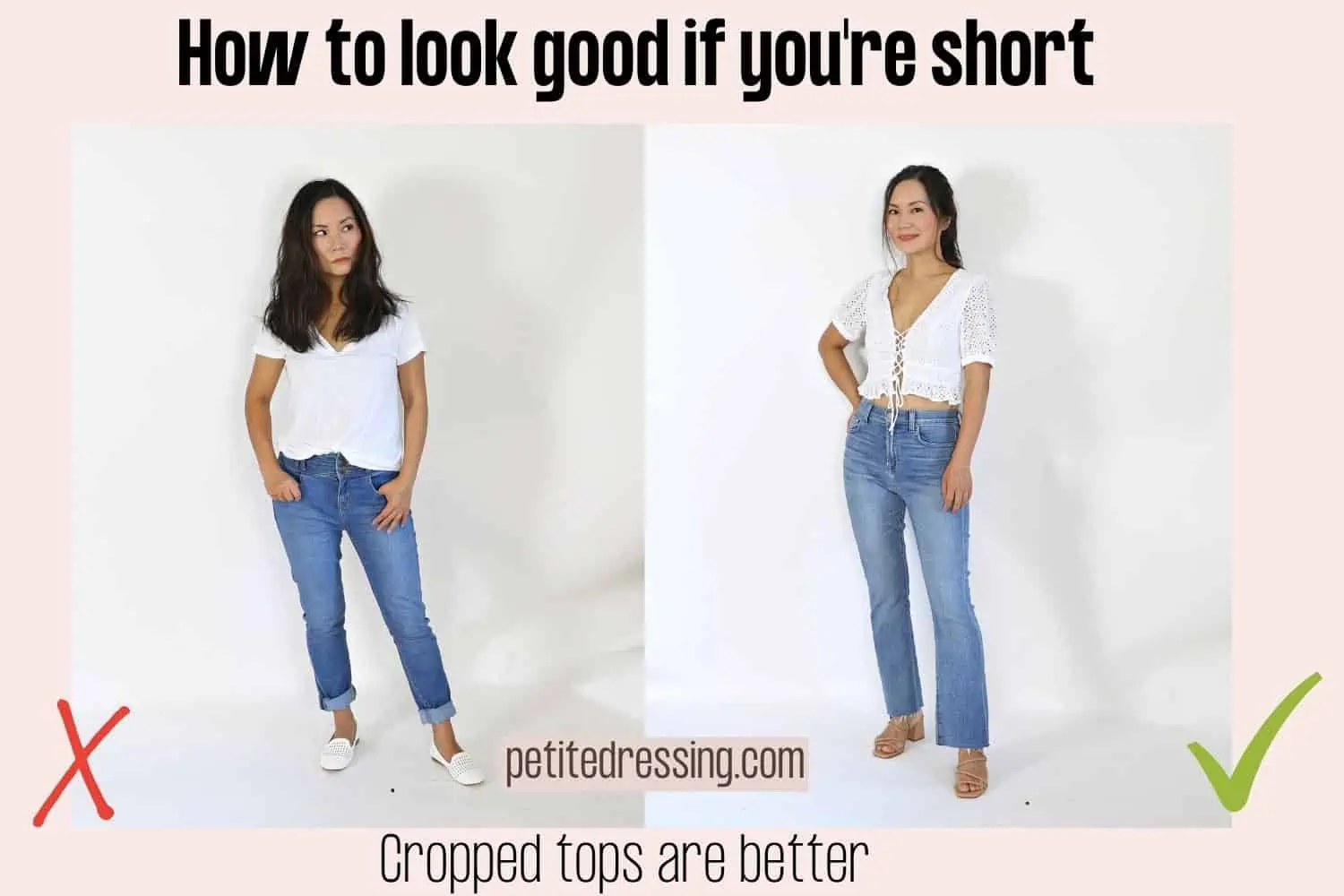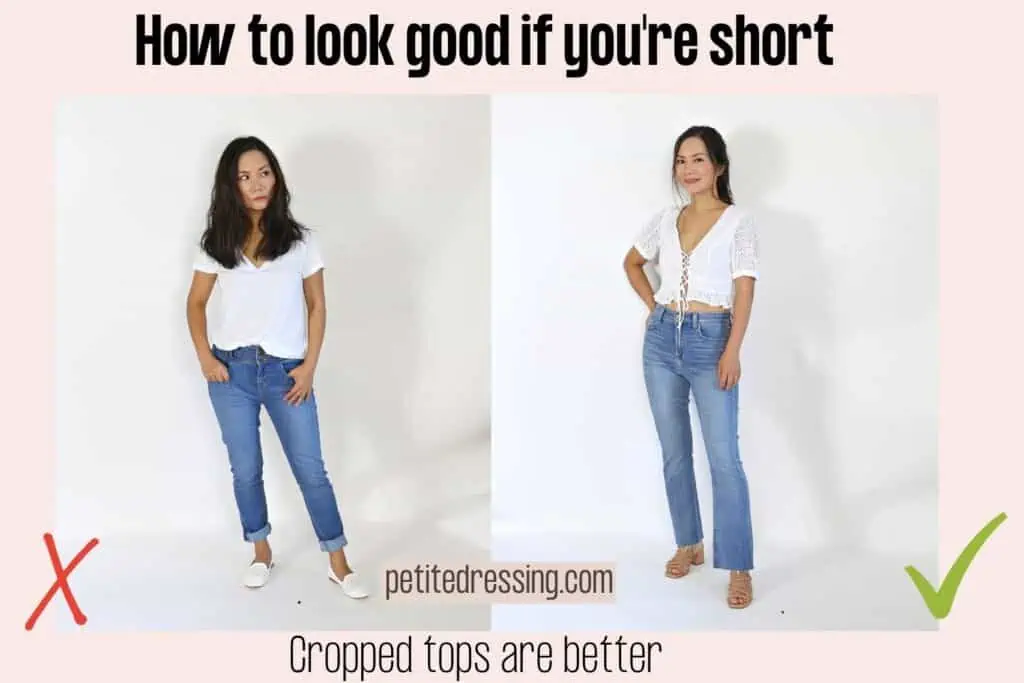 It really is all about elongating the body with strategic clothing pieces as a short woman.
Cropped length shirts are another really easy way to achieve this because a shorter shirt makes legs look so much longer.
This does mean, it's best to stray away from longer length tops. Anything tunic or resting at or below the hip area really fits into this category.
Fortunately, cropped length tops can mean a variety of things especially with the trends happening right now.
It's no secret cropped tops are 'in' and everywhere, but if you notice they range in length from SUPER crop to just above the hips giving you a lot to work with according to your comfort level.
Pair your cropped shirts with high waisted bottoms to highlight the waist a little more and give your body even more length.
Vertical Stripes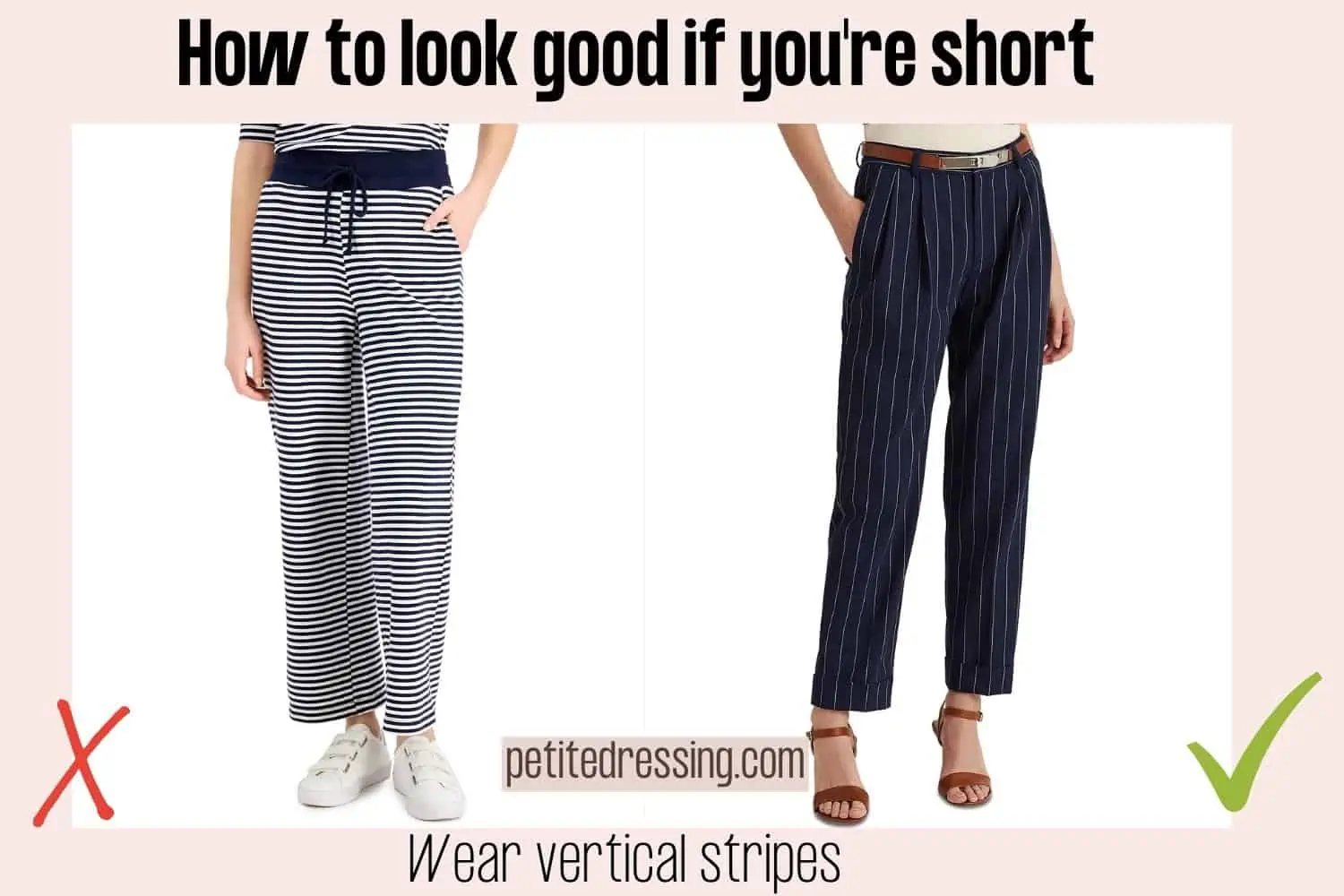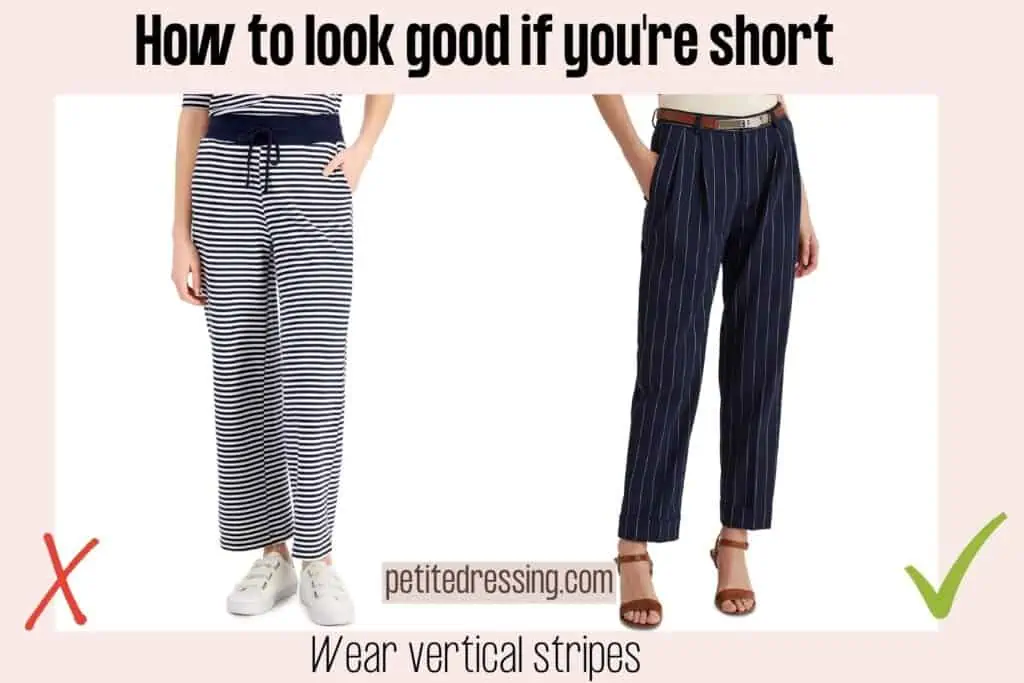 Stripes have gotten a bad reputation in the style world for far too long.
The truth is, horizontal stripes are difficult to wear, because yes…they can widen the body.
However, vertical stripes are something to really have fun with in your wardrobe, especially as a petite woman.
The way horizontal stripes widen, vertical stripes lengthen and that is exactly why they're the perfect go-to for short women.
It's time to start experimenting with vertical stripes to make the most of this styling hack. Even styling one vertical striped piece in an outfit will elongate your body. If you want to go for something a little more bold you may want to try a dress or jumpsuit.
Solid Color Jumpsuits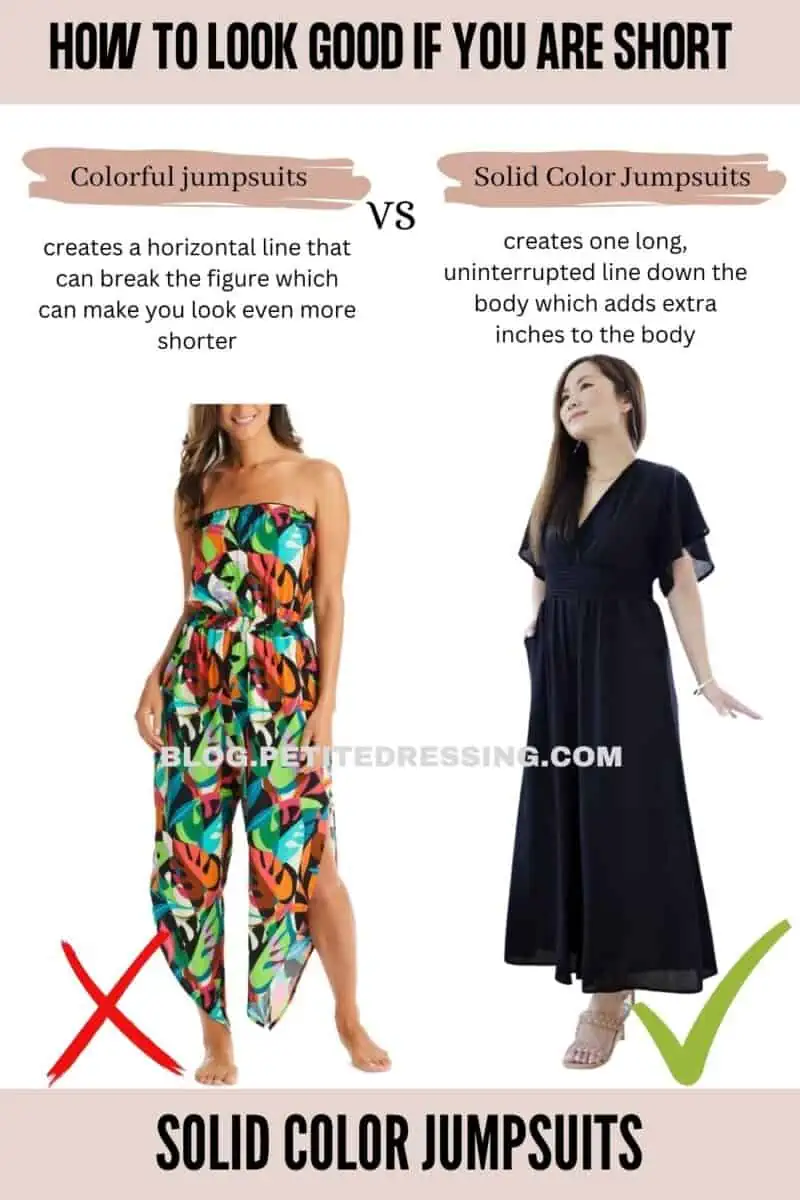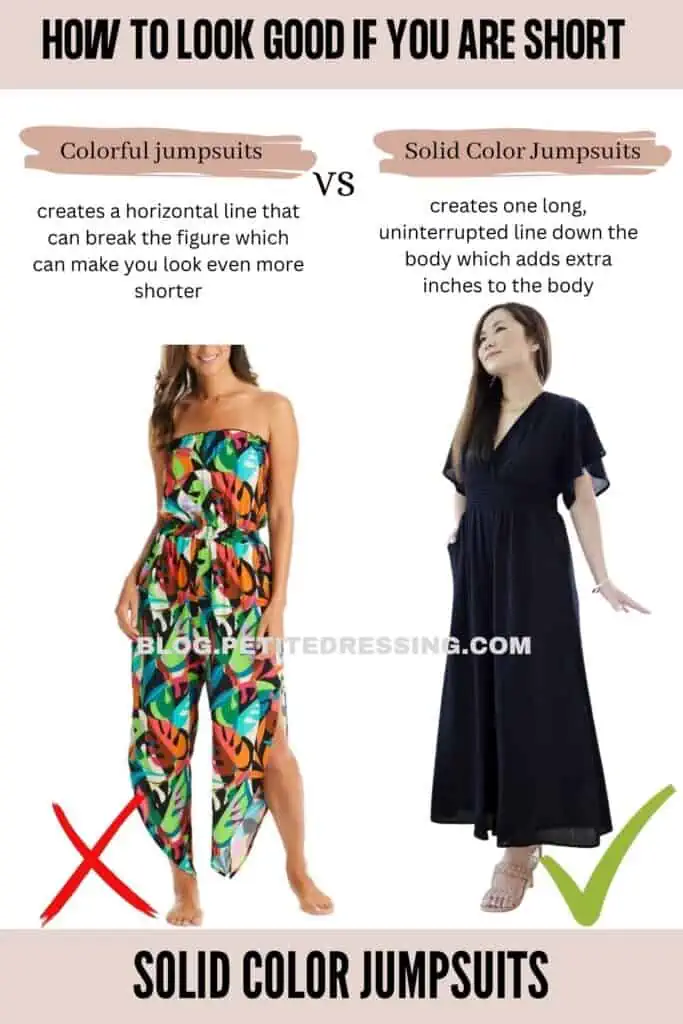 Jumpsuits, specifically solid color jumpsuits, are often overlooked in the petite style world, but it's time for that to change because they look incredible on short women.
When a solid color jumpsuit is worn on a petite frame it's instantly flattering.
There are a couple of reasons behind this.
The first is because of one solid color on the body creates one long, uninterrupted line down the body which as you probably guessed – adds some extra inches.
Another reason is that most jumpsuits offer a defined waistline, the benefits of this were mentioned above.
So solid color jumpsuits are really an overall win for short ladies. Not to mention, they're SO easy to style and look incredibly chic.
Straight Leg Denim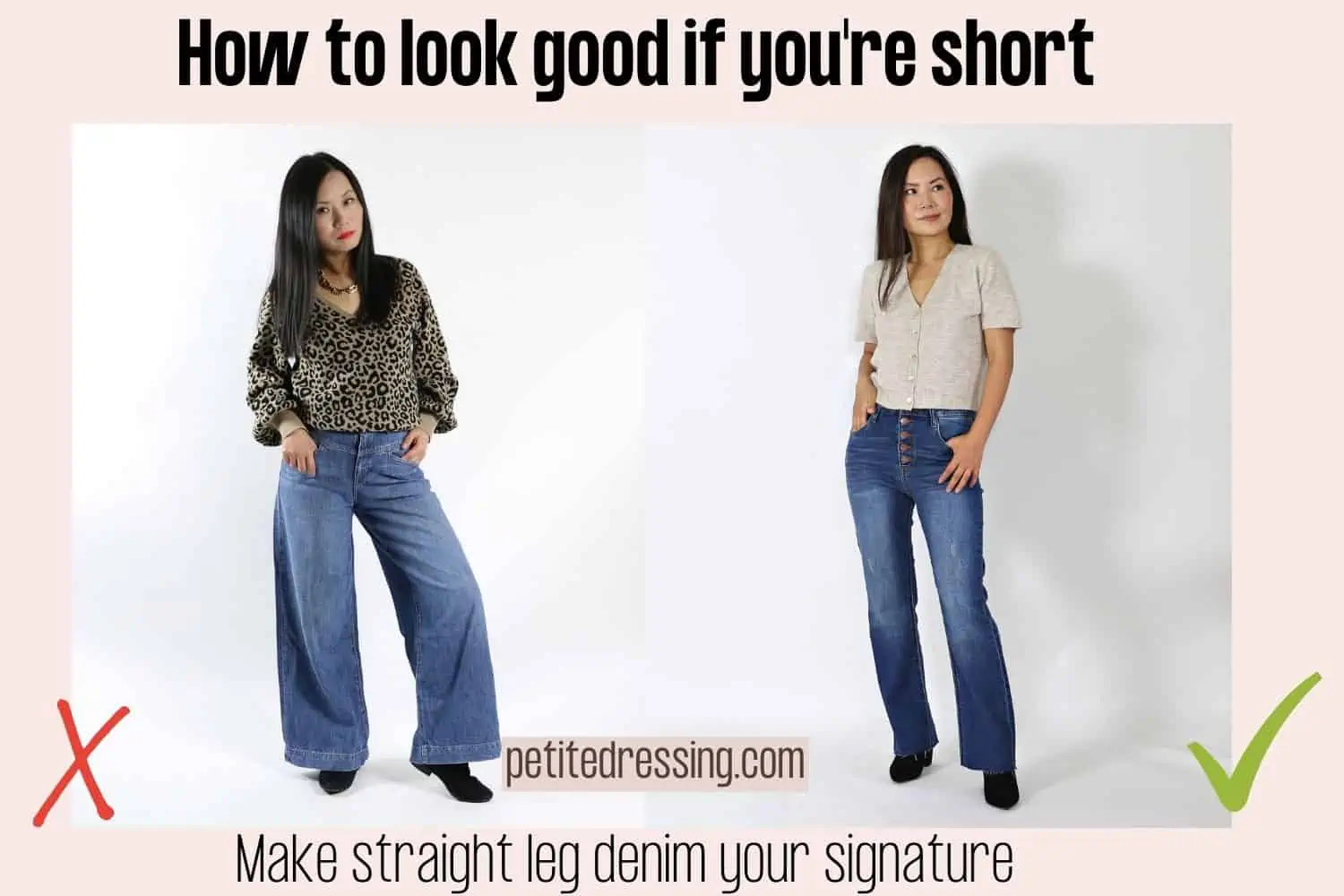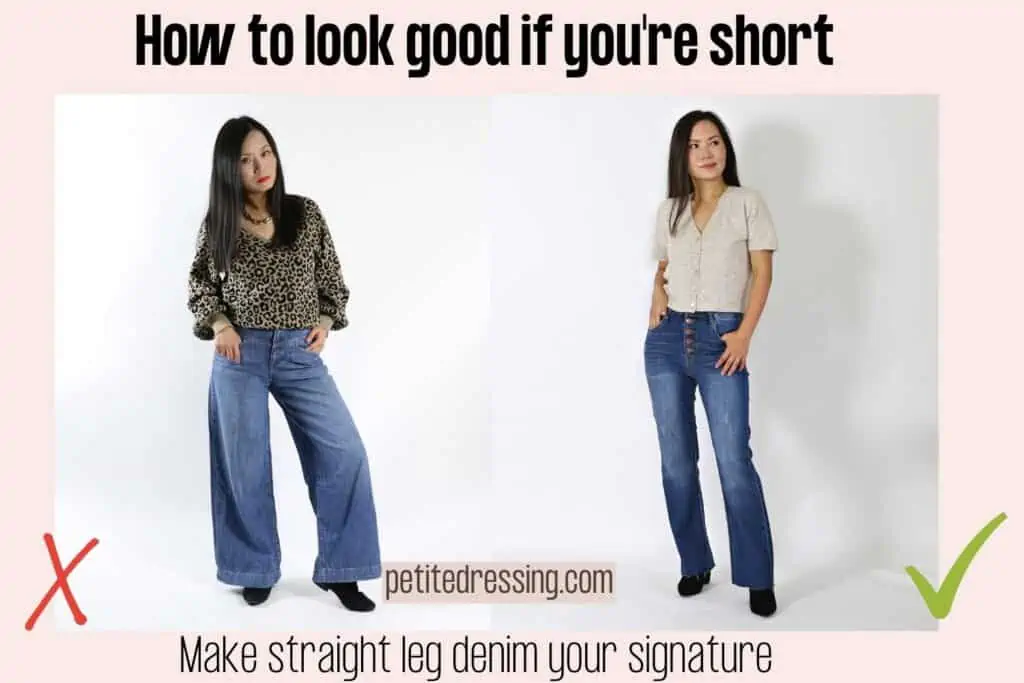 Denim trends come and go, but the silhouettes that flatter your body type are always classic.
For short ladies the classic denim silhouette is, and always will be, the straight leg jean.
Yes, straight leg denim is trending at the moment but it's also the best option for petites.
Straight leg denim lives up to its name by establishing a straight line down the legs, unlike many other silhouettes do.
Skinny fit and loose-fitting jeans are two of the trickiest styles to wear for short ladies because they CAN cut the body off and often shorten the frame.
Ankle Boots instead of Mid-Calf Boots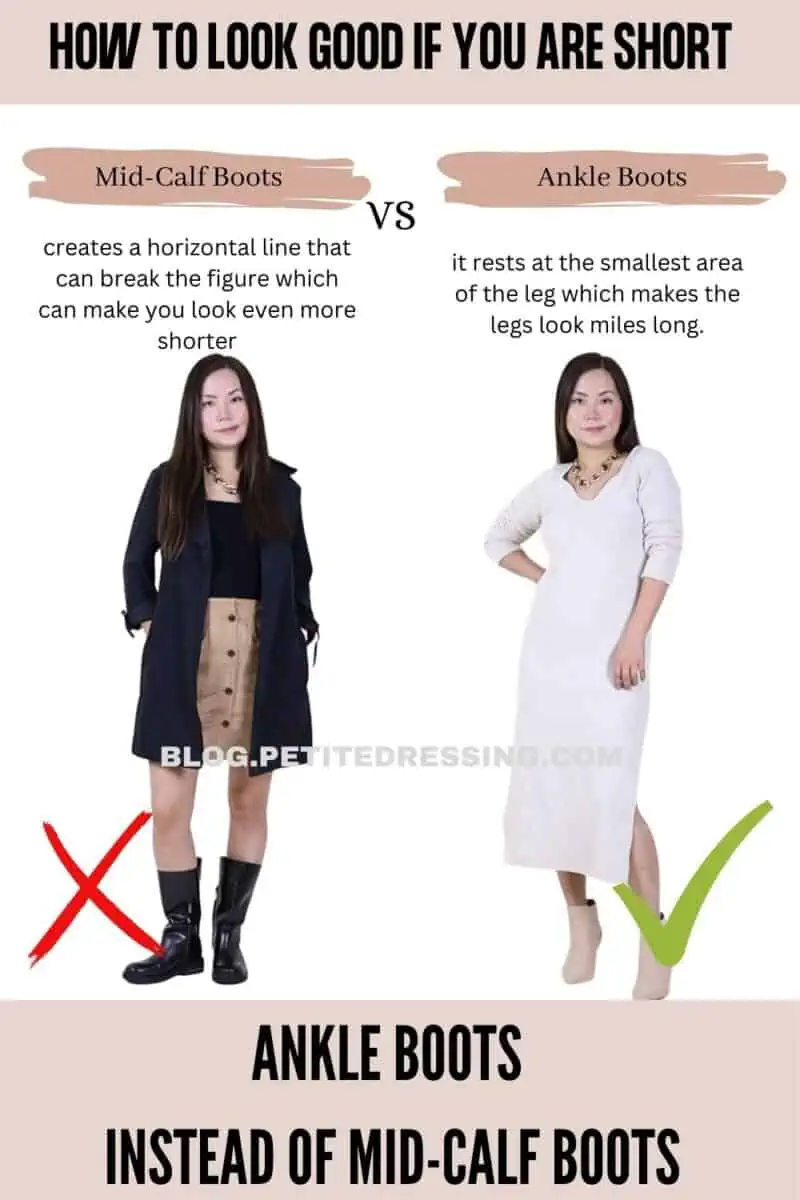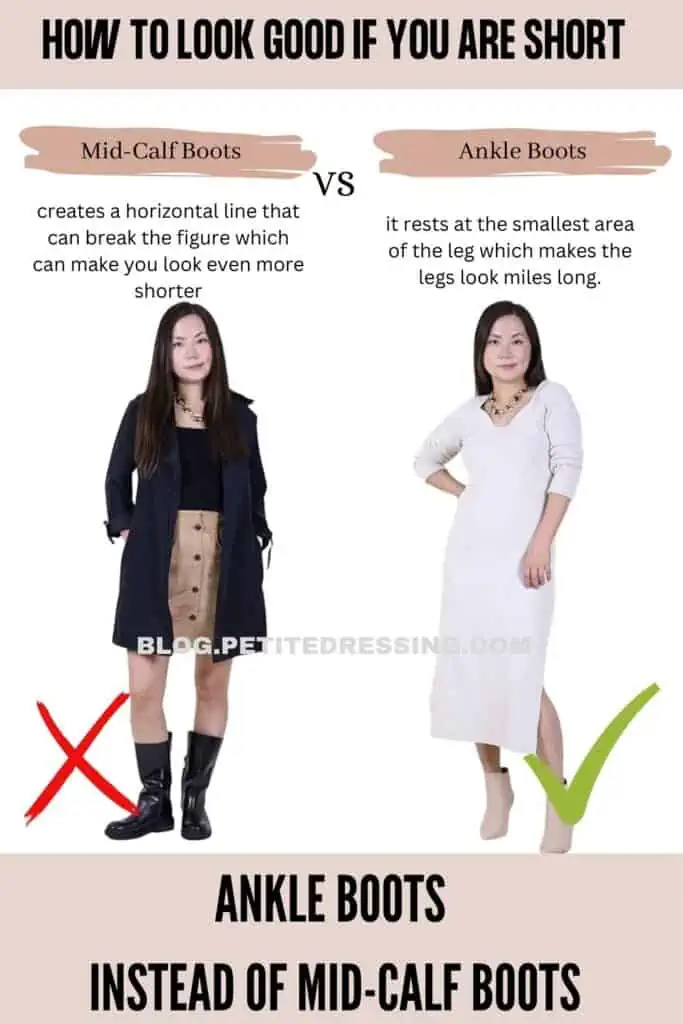 The age old saying 'shoes can make or break an outfit' also applies to how figure flattering an outfit looks on your body – particularly for short ladies.
Boots come in a variety of lengths. Contrary to what you may think, ankle boots are a better option for petites, especially when compared with mid calf boots.
Mid-calf length boots tend to cut the leg off in an odd place, and that often shortens the way legs look.
This is why ankle length is something to switch over to. Because ankle-length boots rest around the ankle (obviously) more of the leg is shown and it rests at the smallest area of the leg which makes the legs look miles long.
Avoid Ankle Strap Shoes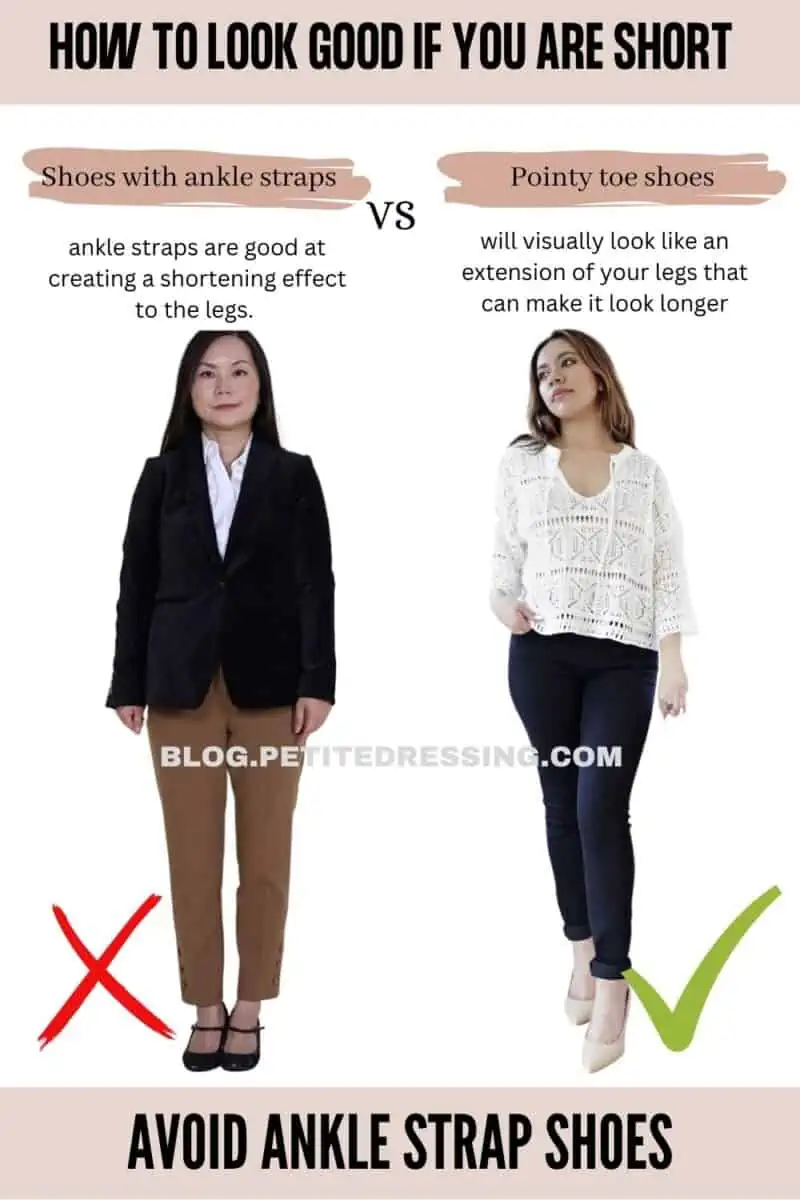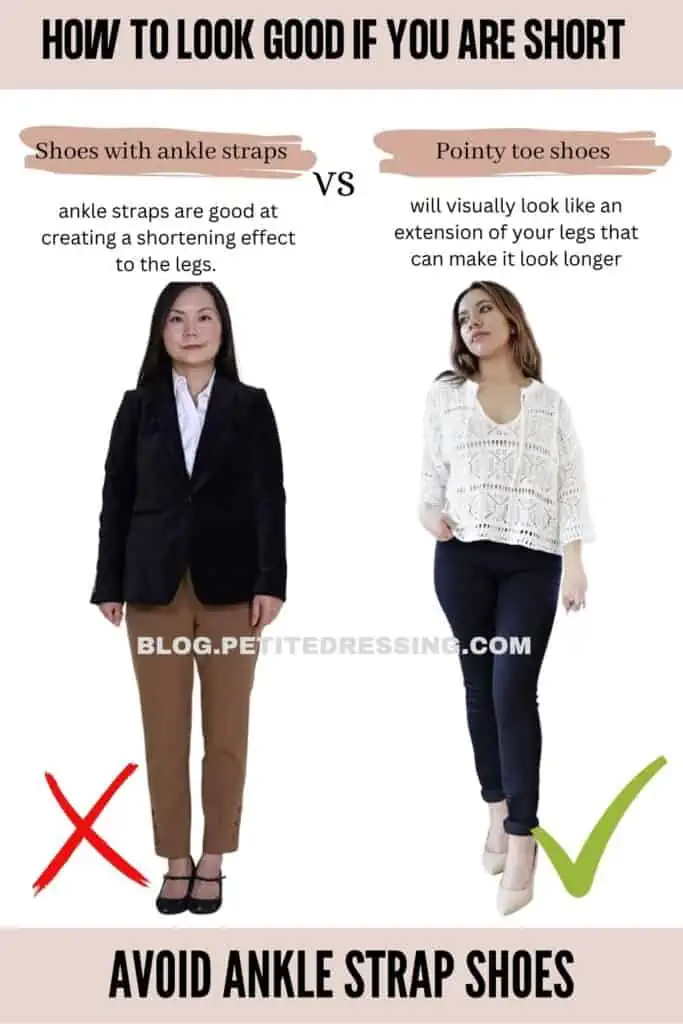 While on the topic of shoes, ankle straps are something that has become quite common in the shoe department.
Unfortunately, shoes with one single ankle strap aren't the best choice for short ladies.
Similar to the way mid-calf boots cut off the leg – ankle straps do the same thing to legs creating a shortening effect.
This is why it's best to avoid ankle straps when it comes to selecting shoes for a petite figure.
Pumps, mules, flats, etc. are all much better options to wear and they won't cut off the leg line.
Monochromatic Outfits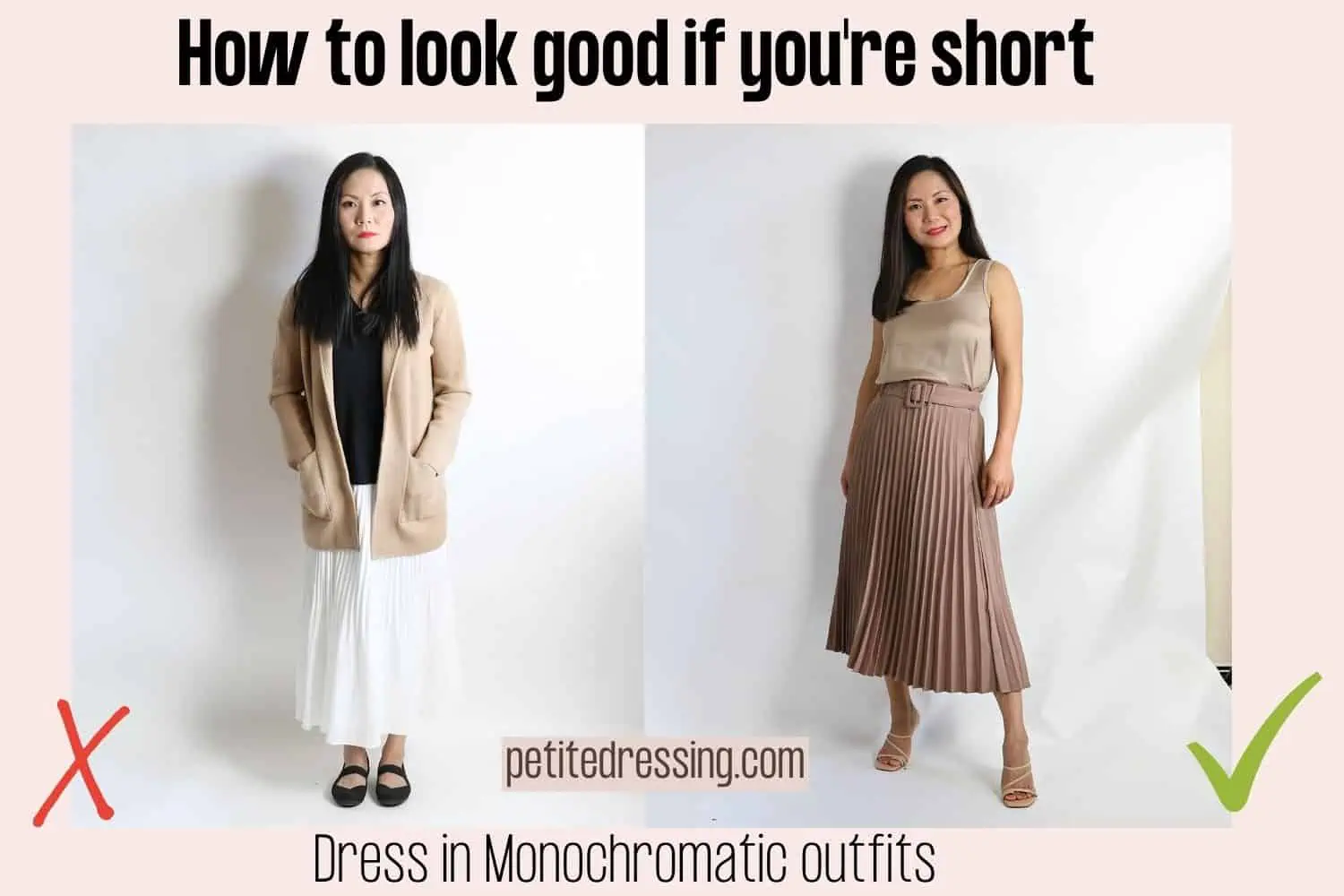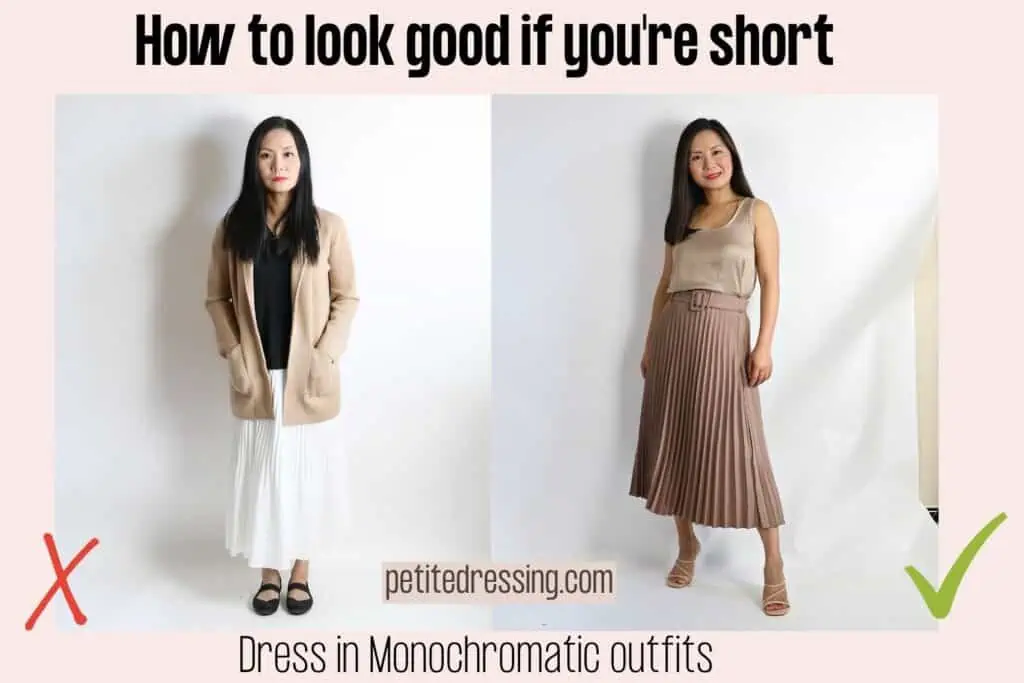 Monochromatic dressing doesn't just look chic, it also has incredible figure flattering benefits for short ladies. Wearing one color in an outfit is what classifies a look as monochromatic.
The pieces can be in various shades of a color, as long as they're the same color.
This is a trick that's highly favored by petite women and stylists all around the world because it allows you to really play around with style and know that it will still lengthen the overall shape in a subtle way.
Small Handbags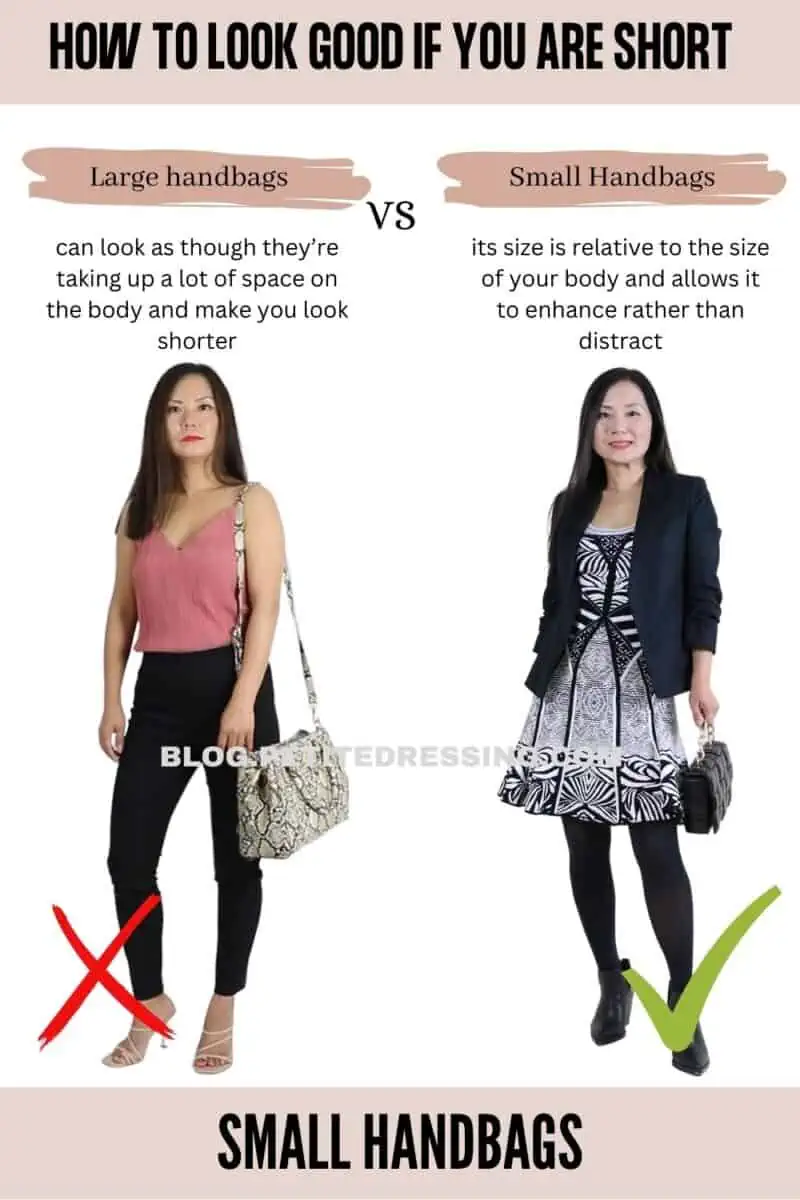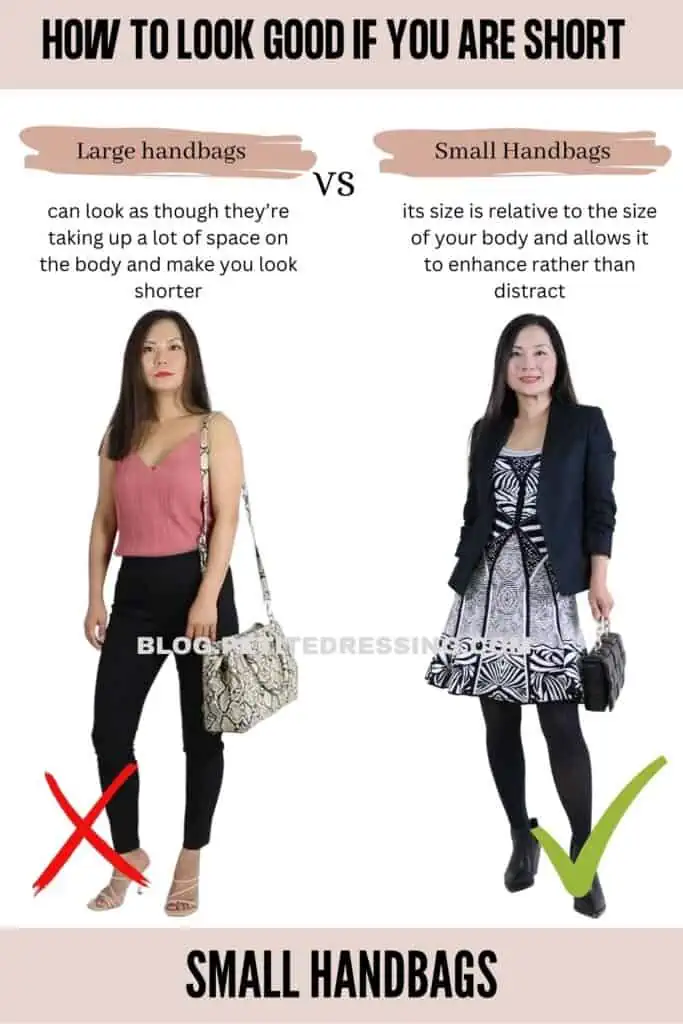 Another petite styling trick that's also a major trend this year: small handbags.
Not many women realize that the size and scale of their handbag can play a role in figure flattery.
This is something that's especially true for petites.
Large, oversized bags tend to be incredibly overwhelming for short ladies because they can look as though they're taking up a lot of space on the body and make you look shorter.
Instead of those large bags, opt for the smaller-sized options for this reason. In general, the size of your handbag should be relative to the size of your body. This allows it to enhance rather than distract.