Boots, whether booties, knee high boots, or thigh high boots, are some of the most functional footwear you can find around. They keep you warm in the colder months but at the same time, they remain highly stylish. The best part is that they do not have to be plain. They are available in different prints, snakeskin being a great example.
Here are some of the best ideas on what to wear with snakeskin boots:
With some mom jeans
Mom jeans were some of the most loved pieces back in the 90s. However, they have become very common and highly popular in recent times, as they are flattering and easy to wear. They give you a break from skinny jeans and can go with different types of shoes such as snakeskin boots.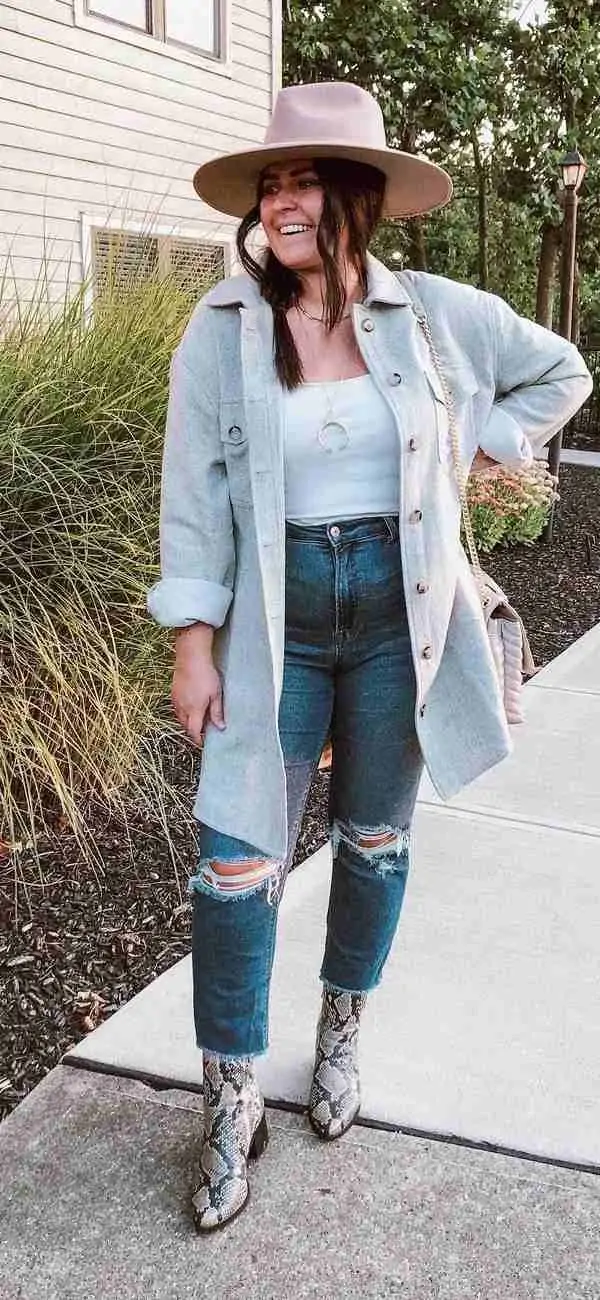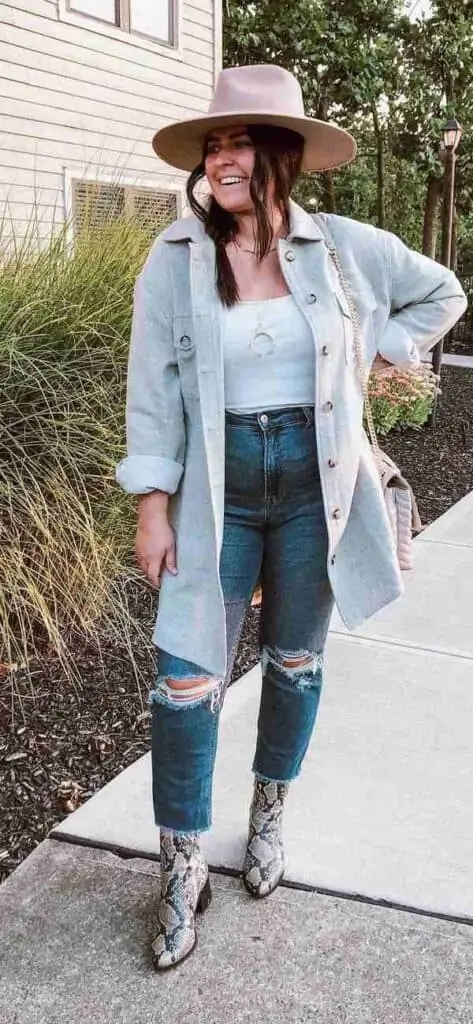 Rachel (above) wore her mom jeans outfit with a pair of snakeskin boots. Going for a rugged pair of jeans makes your outfit even edgier.
Alternatively, the snakeskin boots will look great even when worn with plain mom jeans instead.
With skinny jeans
With skinny jeans, a pair of snakeskin boots stand out even more.
A pair of skinny jeans is a must-have in every woman's closet. These are usually very flattering and are available in different shades for women of different sizes. They are also very comfortable and give you a lot of flexibility when it comes to styling them.
Whether your tall snake skin boots are tall or just ankle booties would work, because the jeans follow the shape of your leg, allowing the boots to easily zip up or get past your ankles.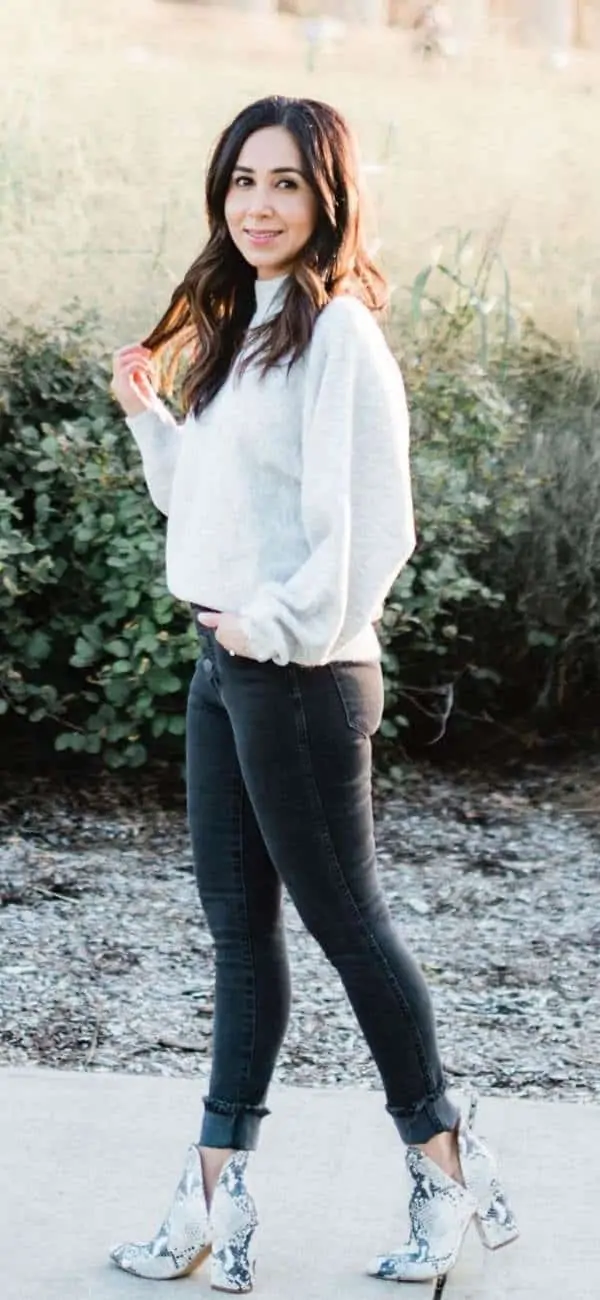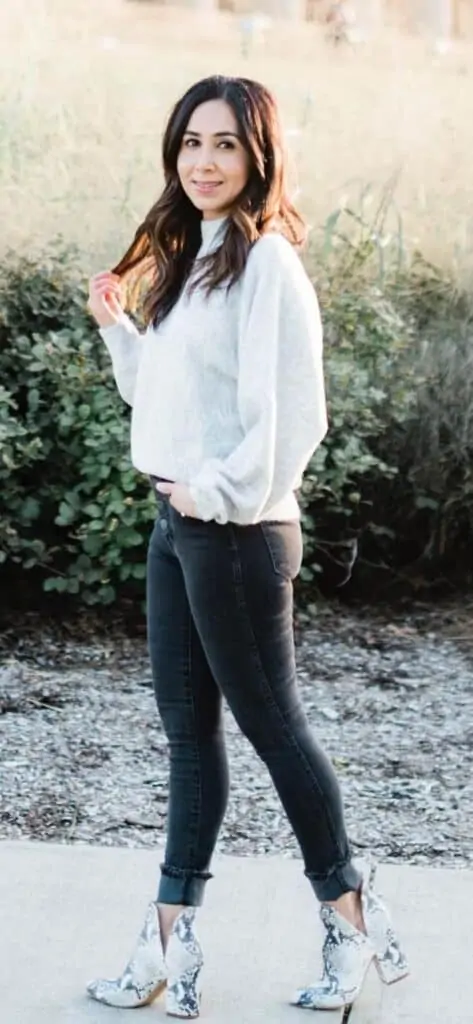 Bina (above) styled her turtleneck top with some skinny jeans and went for snake skin ankle boots.
With a jumpsuit
You can also wear your jumpsuit with a pair of snake skin boots for that trendy fashion blogger look.
A jumpsuit is an easy-to-wear item because it's simply a one-piece.  You do not have to think too hard about what to style yours with. They come in different patterns and designs. Regardless of your figure, you can always find a suitable one for you.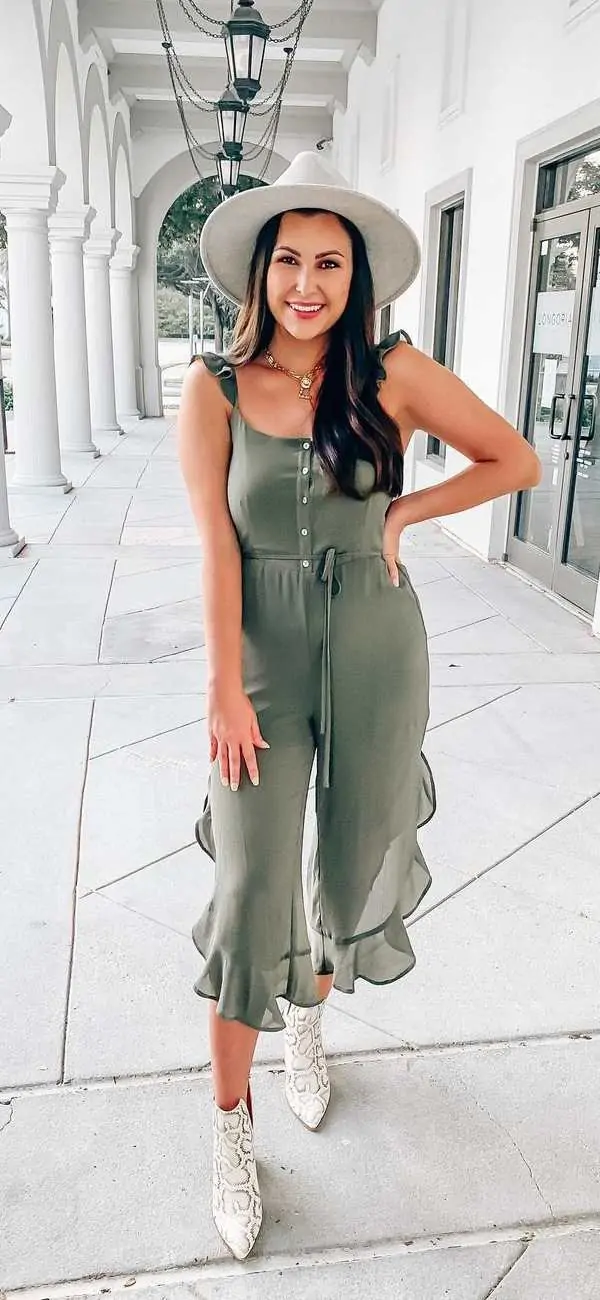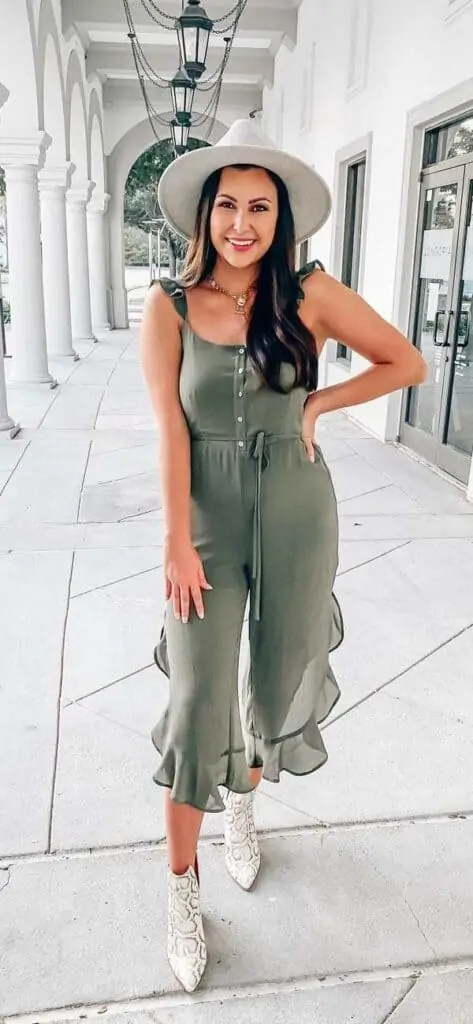 Lyndi (above) wore her simple green jumpsuit with some snake skin ankle boots.
In case you prefer taller snake skin boots, you can go for them but choose a jumpsuit that's fitted all the way down from your waist.
With a pleated midi skirt
Pairing your pleated skirt with some snakeskin boots allows you to wear something that's very feminine with a tougher print. It's always a great idea to mix things up sometimes to achieve a more interesting look.
A midi skirt is always so classy. A pleated one makes you look even more ladylike. Pleated midi skirts are a classic. Every time you wear them, you can be certain that you are wearing something that's in style.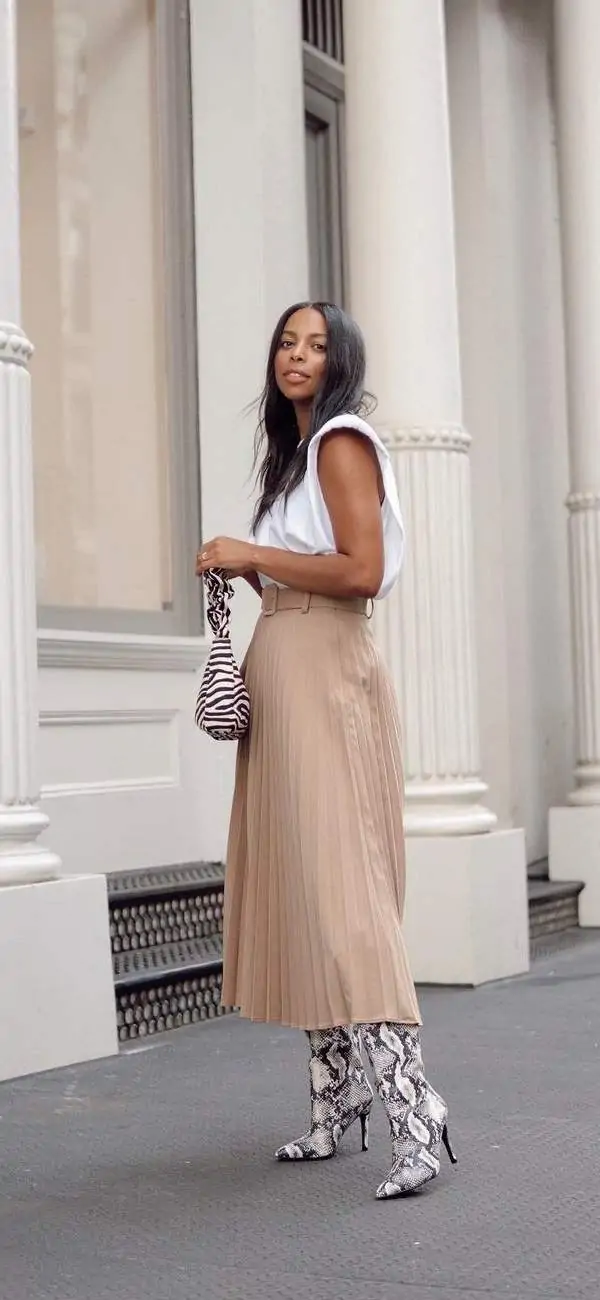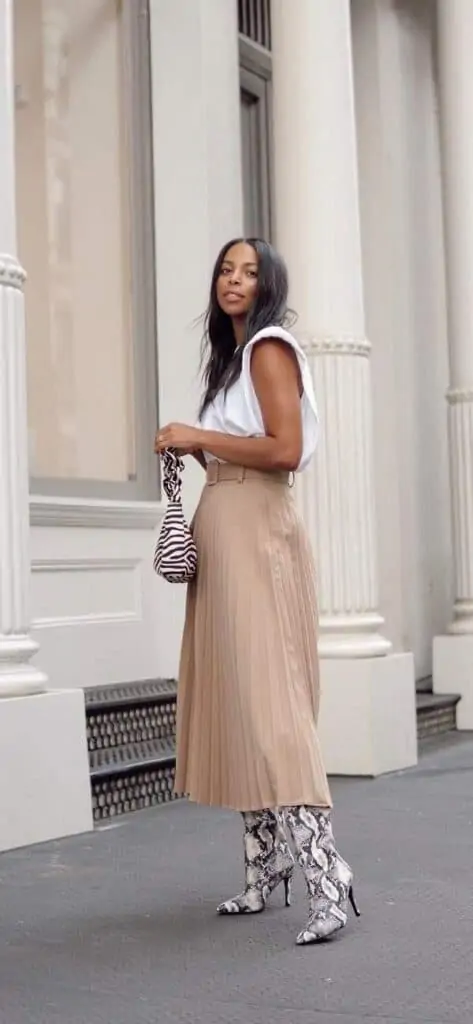 Janelle (above) wore a pleated skirt with some tall snakeskin boots and went for a simple white top. If you feel like the boots are a bit too much because of the skirt length, a great idea would be to go for ankle snakeskin boots instead.
With flared jeans
You can wear your flare jeans with some snakeskin ankle boots. Pointed toe snake skin boots are the best for this look.
Flared jeans were the star clothing pieces of the 80s, but have managed to win the hearts of stylish women in present day. They are flattering and easily give you the illusion of a great hour glass figure.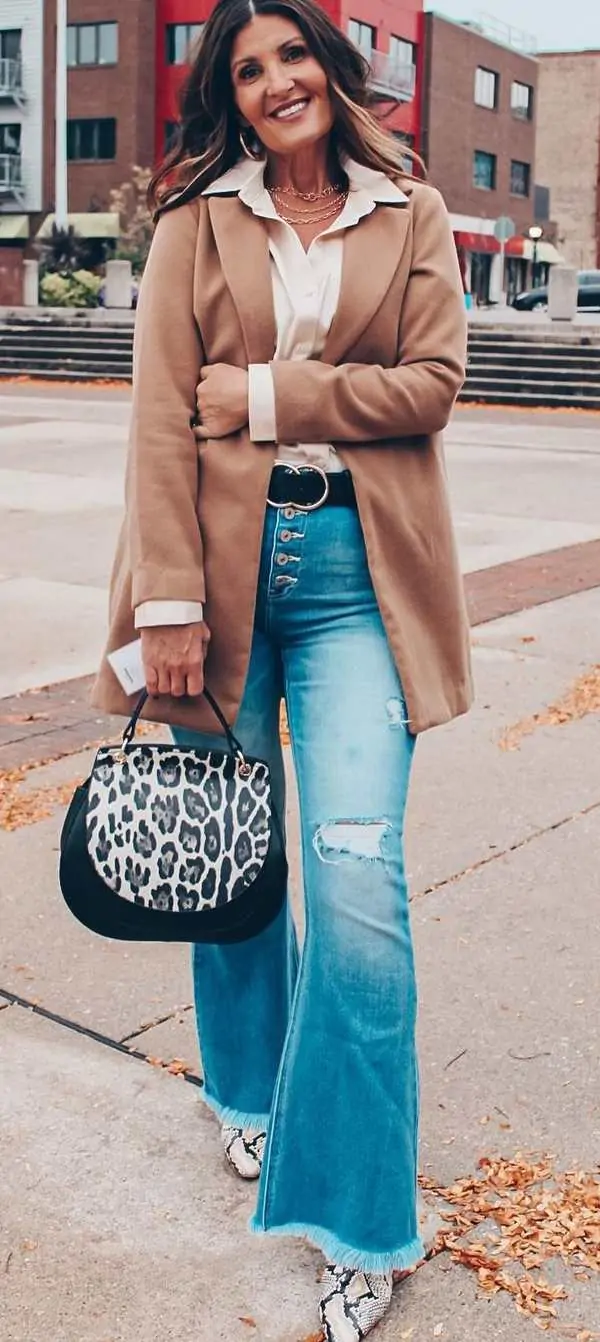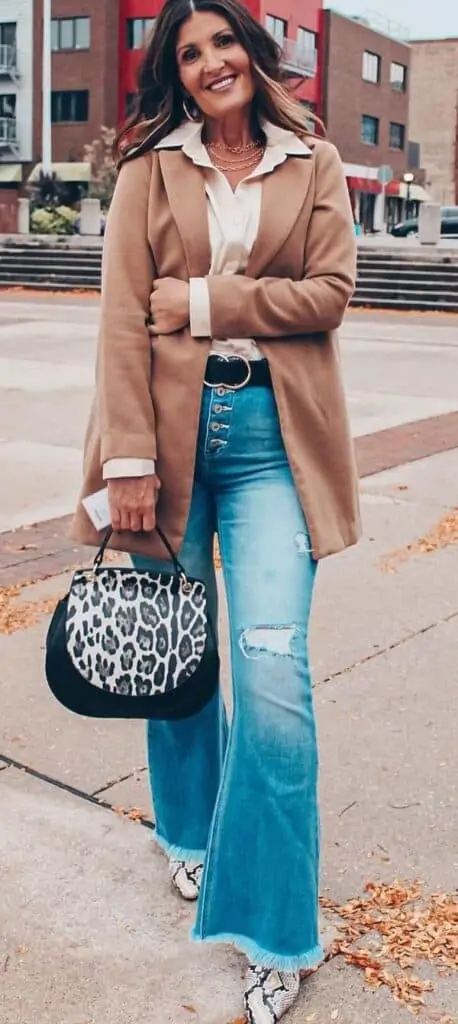 Panache (above) styled her flare jeans with a blouse, coat and some snake skin boots for a casual chic look. The snake print always contrasts so well with blue denim.
With a shift dress
Wearing a shift dress with snake boots is a great way to add a stylish touch to a plain outfit.
Shift dresses are not only stylish but also very comfortable. They are after all meant to be very loose and flowy. While wearing them, you will feel more confident, as your body will not be restricted. These dresses can also be worn with your snakeskin boots to achieve a more elevated look.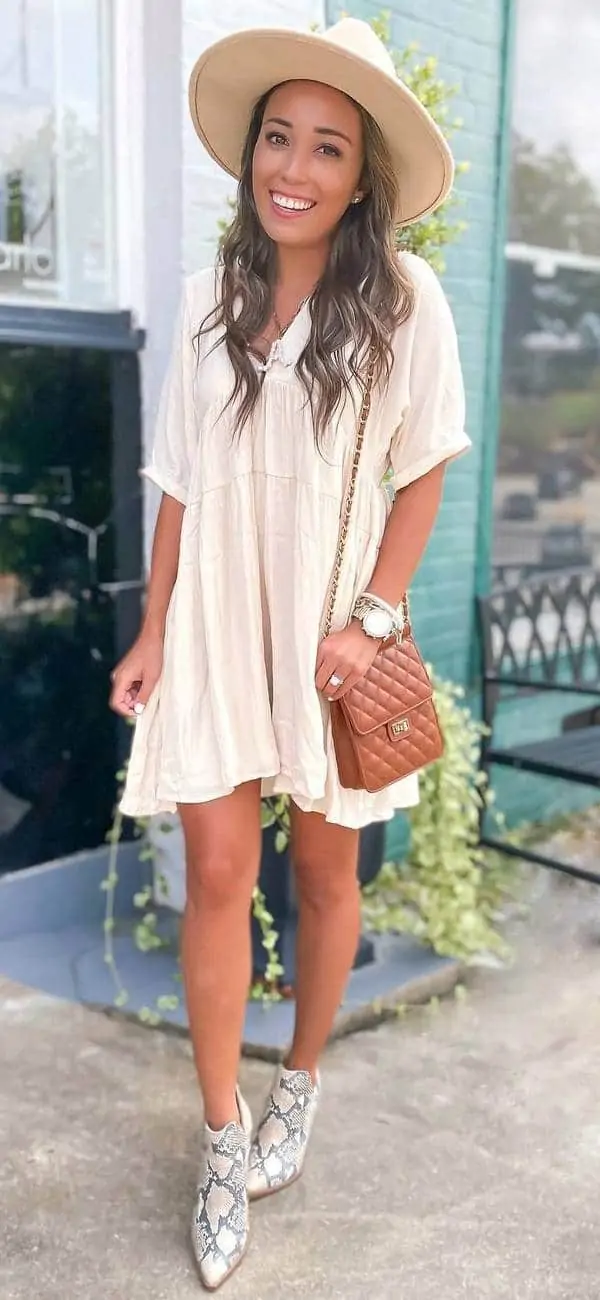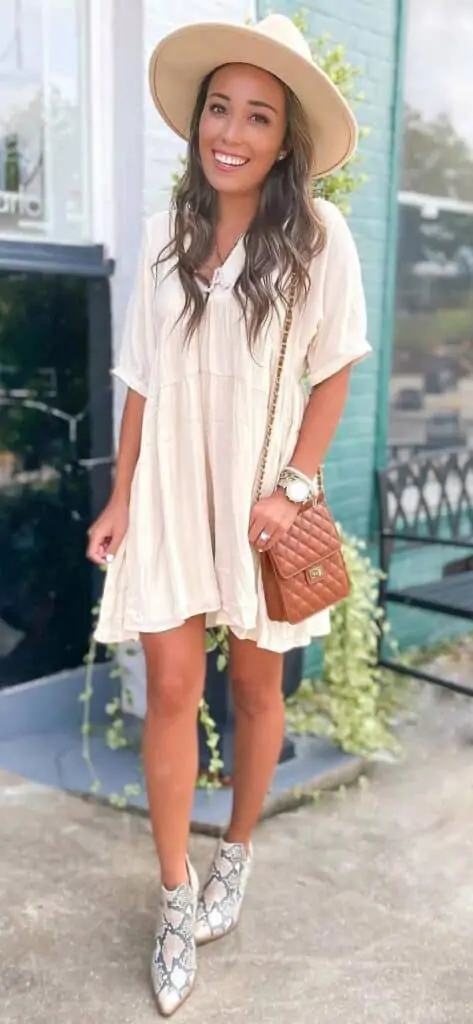 Ashley (above) styled a shift dress with some snakeskin ankle boots. You can choose a shift dress of different lengths.
If you prefer taller boots, for example, knee-high or thigh-high snakeskin boots, a shorter shift dress is better.
With a midi dress
Midi dresses are classy and quite on trend. Just as long as you pick a style that suits your body shape, you will easily achieve a fashion-forward outfit. Picking a pair of snakeskin boots will make your outfit more interesting, considering the length of the dress doesn't allow much of your legs to show.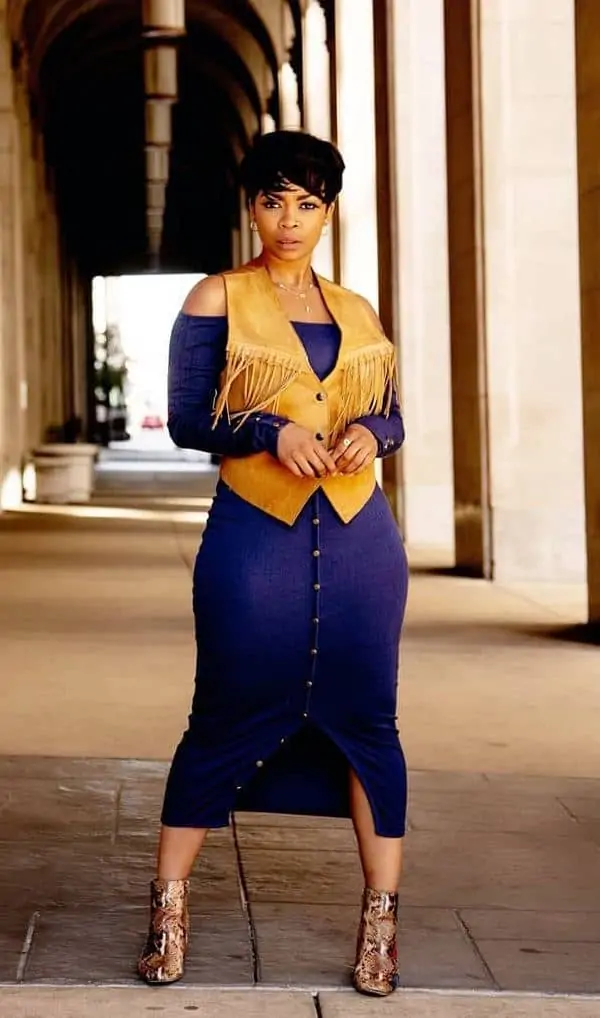 Muhamadt (above) styled her navy midi dress with some brown snakeskin boots. With this combination, you can also add some outerwear such as vests, jackets, and dusters just to name a few, provided they match your snakeskin boots.
With leggings
Leggings are comfortable, making them great for lounging around. However, they can also be worn outdoors, just as long as they are styled right. Since they also follow the shape of your leg, they allow you to wear snakeskin ankle boots, knee-high boots, or even snakeskin thigh-high boots.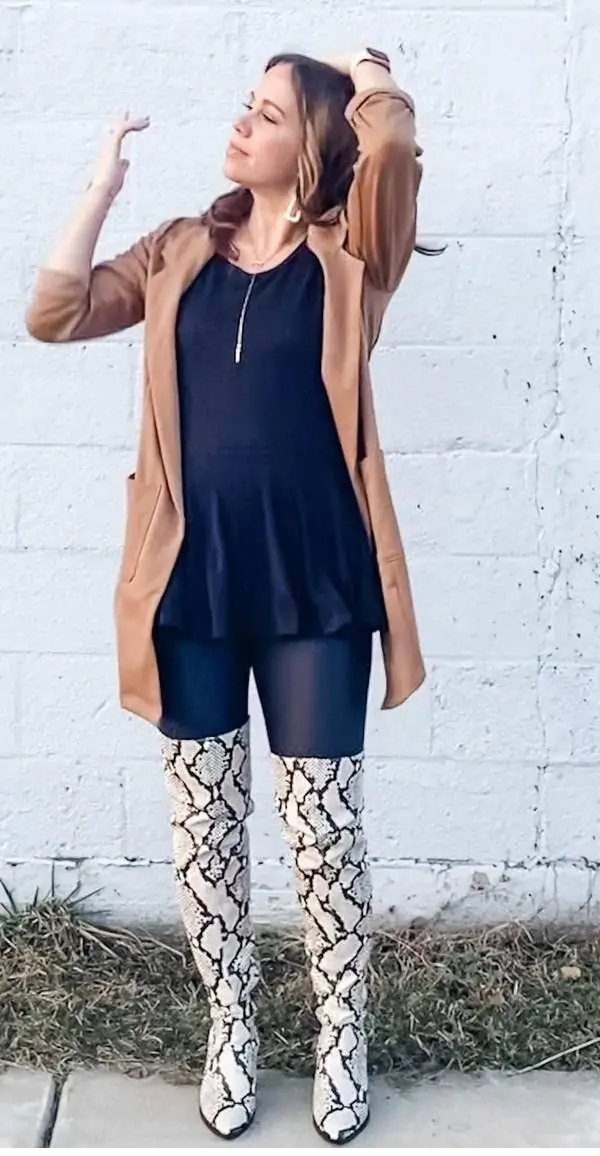 Emily (above) finished off her leggings outfit with some thigh-high snakeskin boots. Since thigh-high snakeskin boots make such a statement, it's always better to keep everything else simple.
With a matching set
A matching set is always so nice and chic. Wearing one of these sets is an easy way to look like you put effort into what you ware wearing, even though it just takes a few minutes, since the pieces all come together. If your matching set is plain, one of the best ways to spice it up is by wearing a pair of snakeskin boots.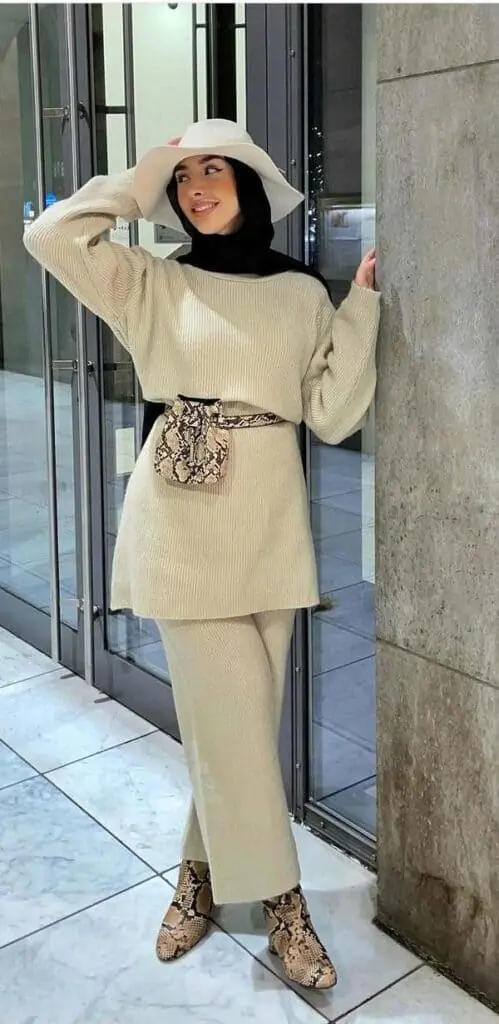 Beyza (above) styled her plain matching set with a pair of snakeskin boots. She went ahead to match her belt bag with her shoes.
The boots make the outfit look more eye-catching, considering the set is all plain and very simple. They add an extra edge to the look.
With a button-down skirt
If you want a trendy outfit, wear your snakeskin boots with button-down skirt.
A button-down skirt is always a great alternative to a plain one, as the buttons at the front act as extra embellishments on the skirt. They are stylish and will often come in a variety of lengths and materials. Some of the popular designs include denim button-down skirts, to knits, an A-line design, or just straight. Wearing a plain one with a pair of snakeskin boots is worth a try as it will give you a trendy look.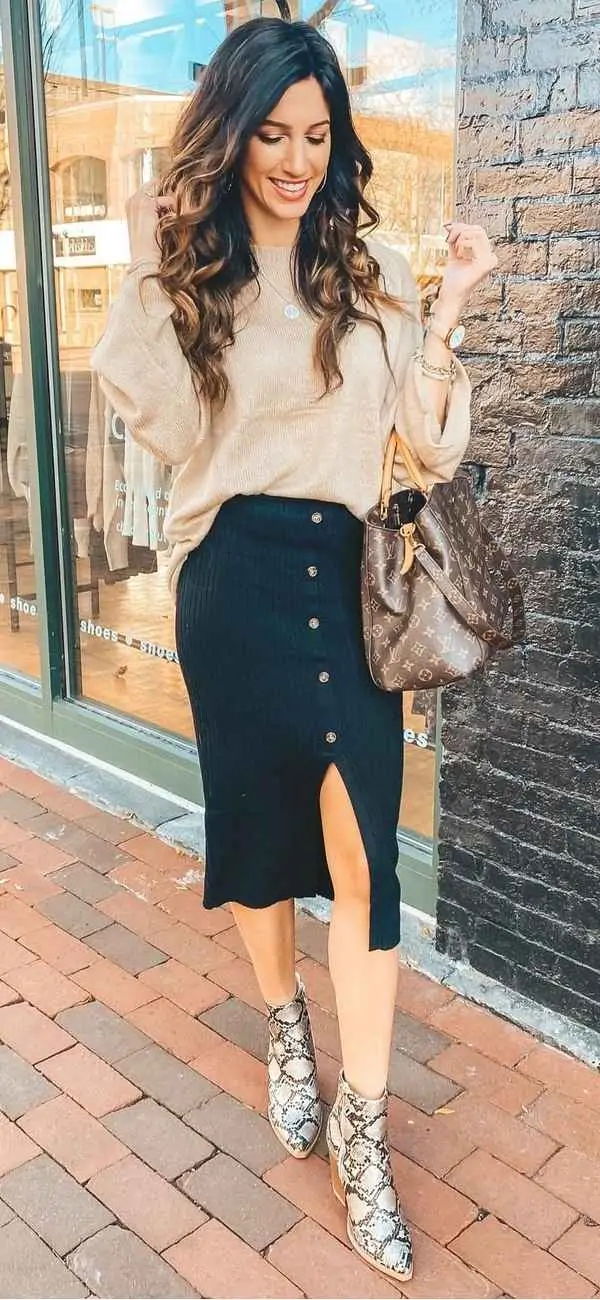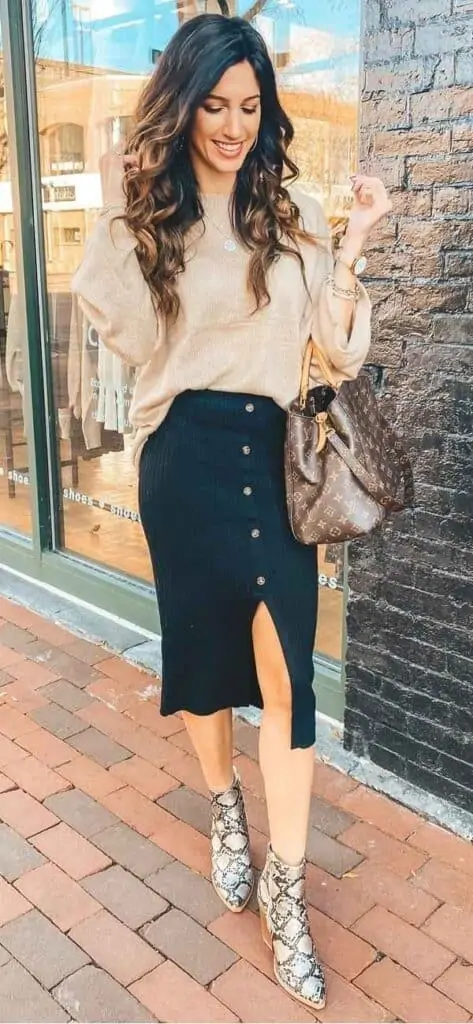 Jen (above) paired her button-down skirt with a nude top and snakeskin boots. To ensure you get the best look with your skirt, go for a plain simple one and a top that also goes with the boots. A plain top is highly recommended for this, although you can go for a printed one if you're good at mixing prints.
With a pair of shorts
You can pick some snakeskin ankle boots or some taller snake print boots for your shorts outfit, a great way to style your boots for the spring or fall.
Shorts are a great way for you to show off your legs. While they are mostly preferred for summer when temperatures are high, shorts can also be transitioned into fall by wearing them with your boots.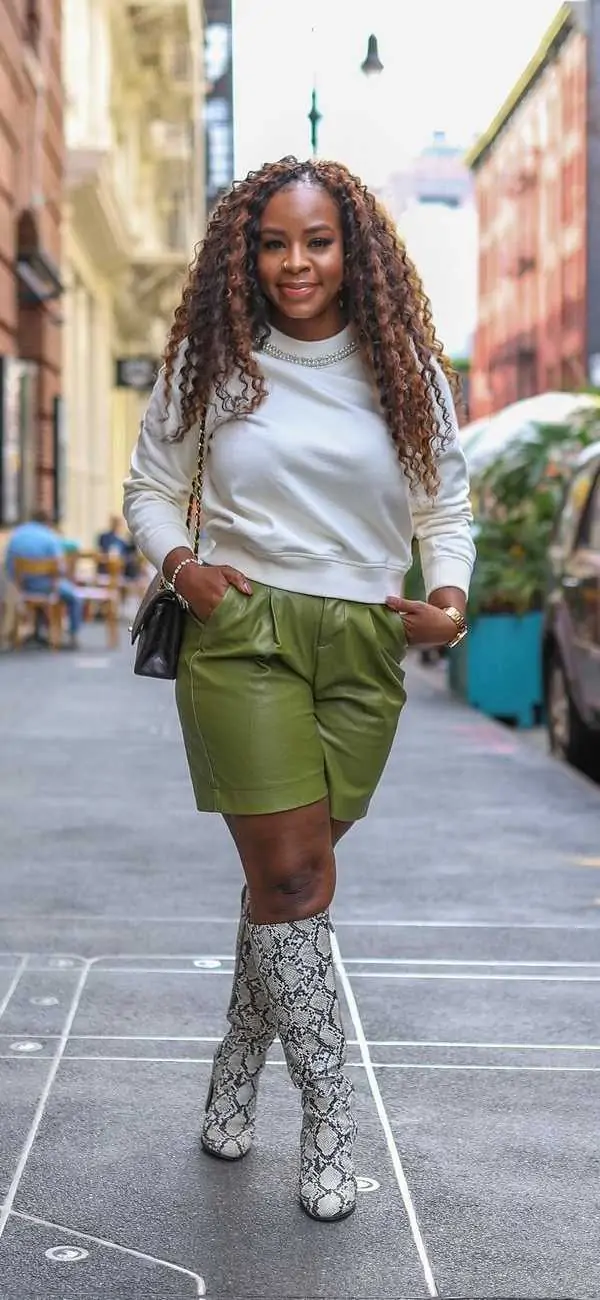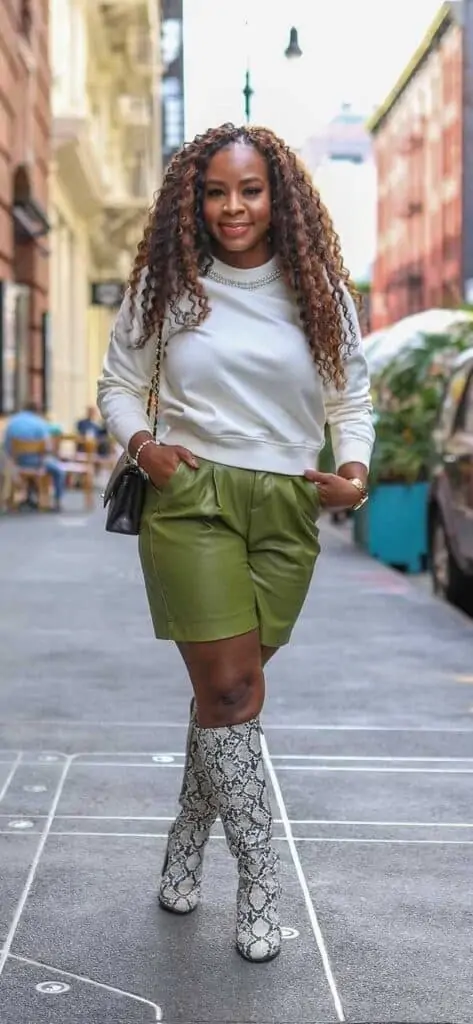 Shanai (above) styled her green shorts with a jumper and some knee-high snakeskin boots. Knee-high boots give you extra warmth and the snake print makes you look more stylish. For cooler months, avoid short shorts as longer ones are more practical.
With a sweater dress
Sweater dresses are some of the most comfortable wardrobe pieces you can wear. Aside from just being snuggly, they are fashionable pieces that can be styled with your snake skin boots during colder months. Being dresses, they allow you to pick snake skin boots of different types.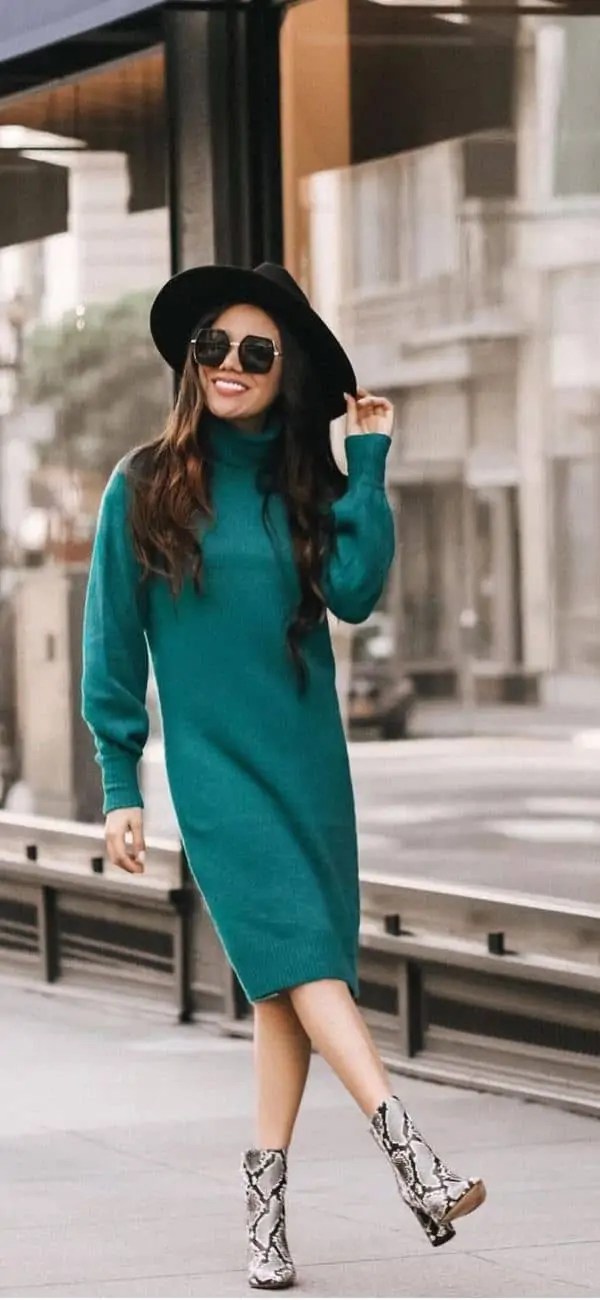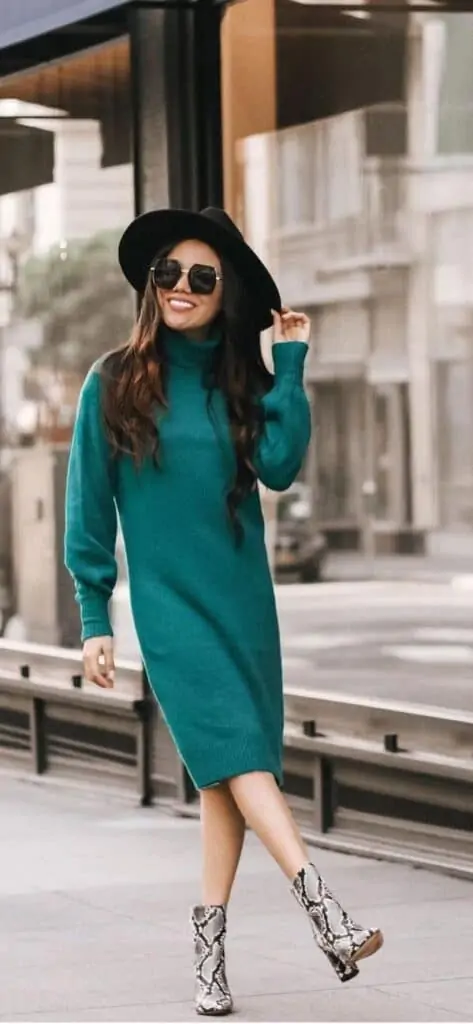 Mariah (above) wore a green sweater dress with a pair of snakeskin boots for the ultimate fall look.
To make this look even edgier, you could add a leather jacket over the sweater dress, as this will go well with the boots and will give you extra warmth in the process.
With a shirt dress
Shirt dresses are mostly smart. However, they can also be very casual chic. You can always go for a shirt dress in denim and go for more fun shoes such as snake skin boots.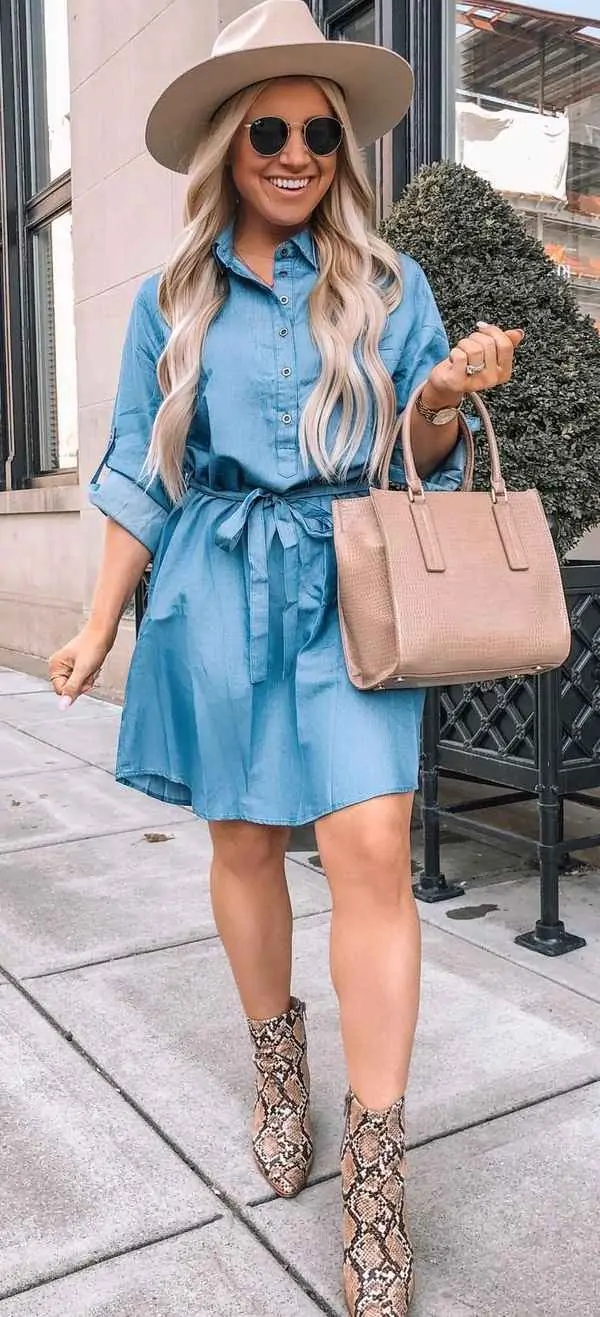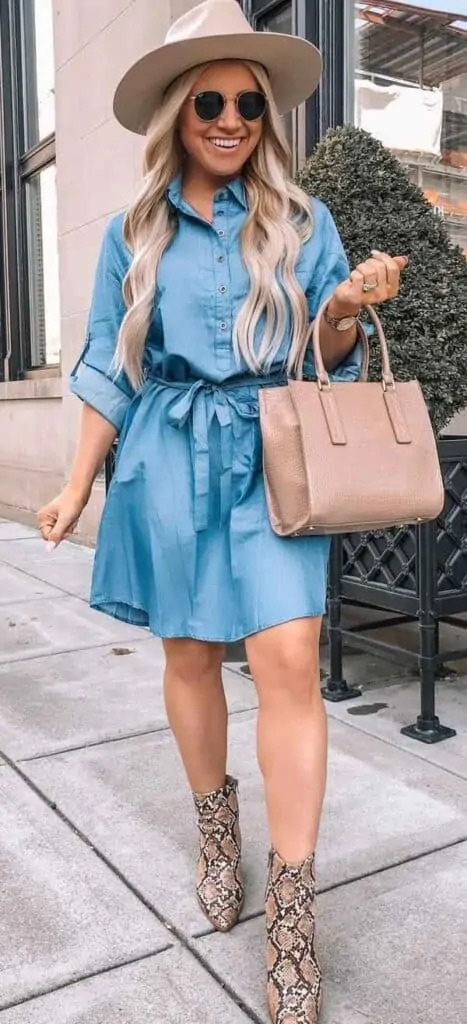 Jackie (above) wore her chambray shirt dress with a pair of snake skin boots and a hat. It's a fun outfit for fall and is suitable for women of different body types.
With sweatpants
Sweatpants were previously seen as pieces meant for lounging around, a better alternative to wearing your pajamas during the day. However, you can dress them up, for example with a pair of snakeskin boots, to make your sweatpants edgier and more outdoor appropriate.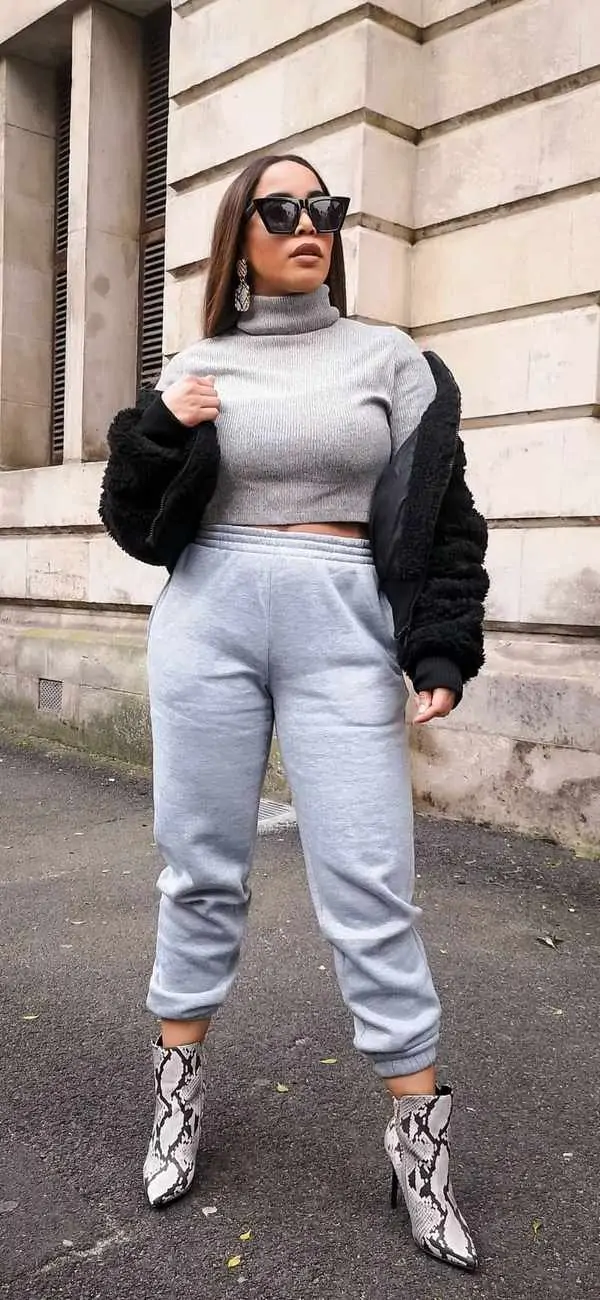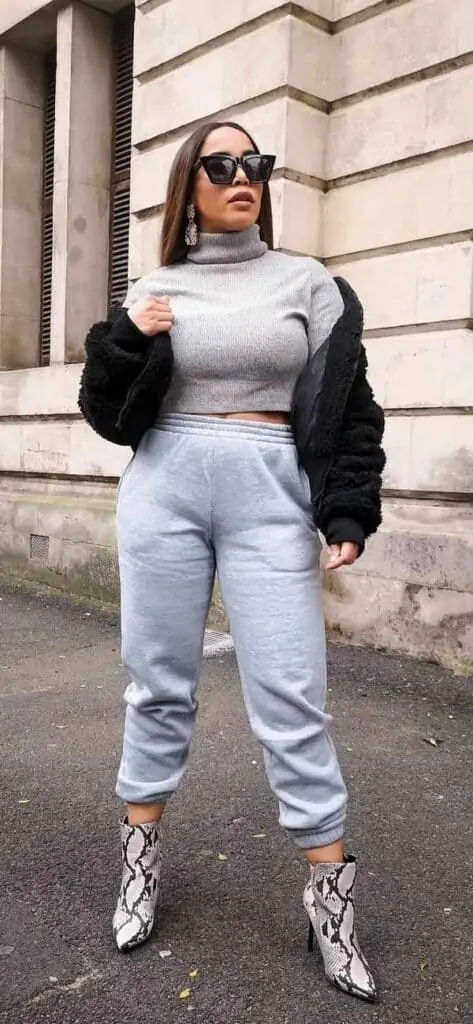 Lameez (above) wore her simple sweatpants outfit with some snakeskin ankle boots. Depending on the kind of top or outerwear you go for, the look could work for different places such as a party, errands, or even a night out.
With a little black dress
You can wear your snake skin boots with your little black dress to make your outfit more casual or edgy.
Little black dresses go with just about every kind of footwear and all sorts of accessories. These dresses are suitable for women of all ages and sizes and all you have to do is pick a style that suits you most.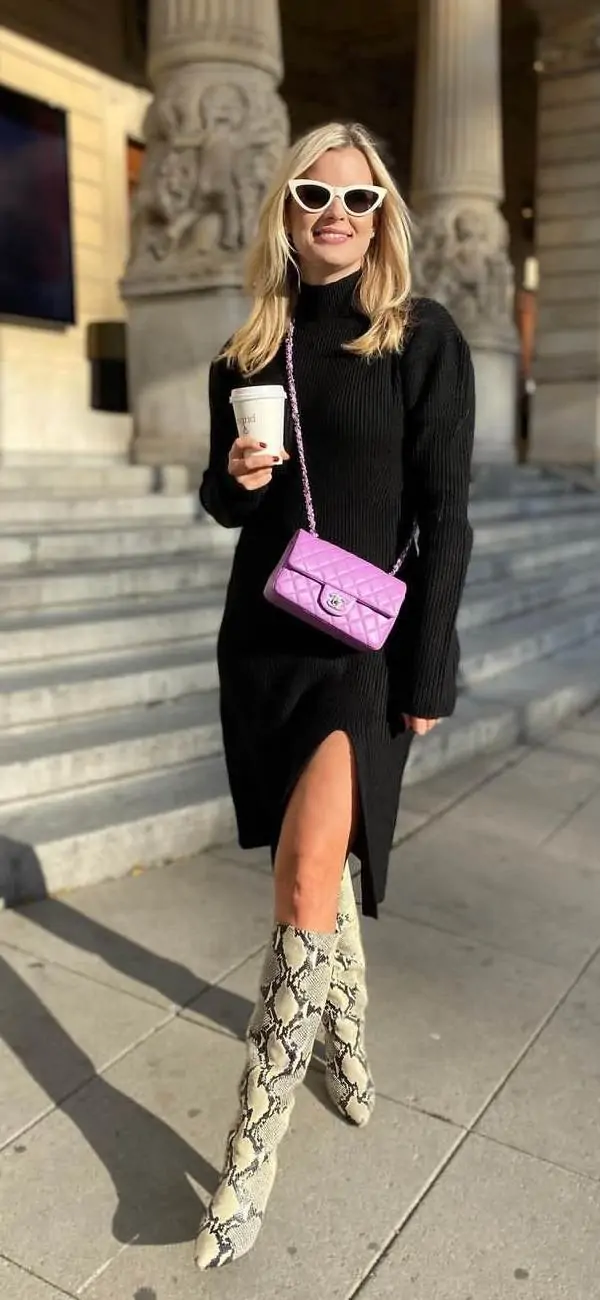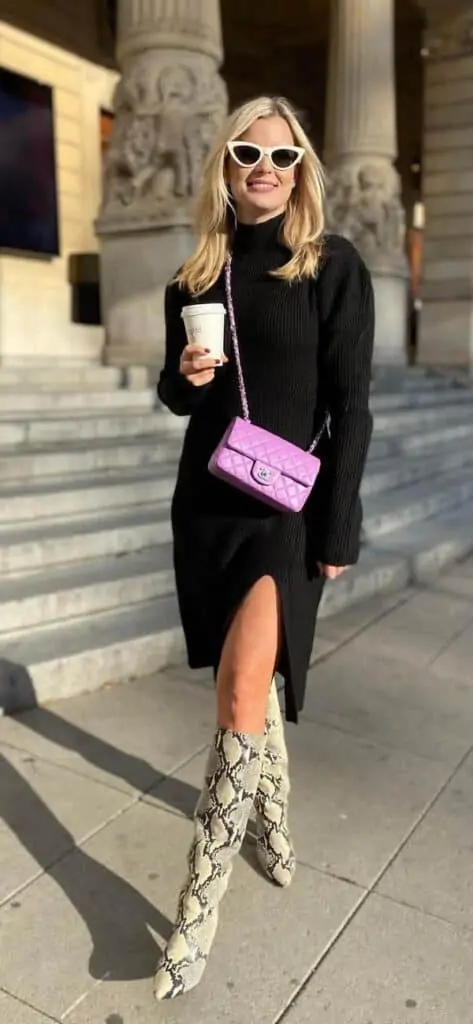 Ingrid (above) wore her black dress with some knee high snake print boots. This is easily the most effortless way of styling boots that come in such a bold print as the black dress allows your boots to stand out.
These 15 outfit ideas should inspire you to invest in a pair or a couple of snake skin boots in different styles. There's so much you can do with them.