I am 5'2″ and have a typical apple features, i.e. carry weight on my tummy even though I am overall thin. If you are a short apple figure like me, you might be frustrated with the muffin top as well as hope your legs could appear longer. Based on my own experiences, as well as feedback from numerous customers of my petite clothing line, I've put together this detailed guide to help you find the best style that make you look taller and leaner.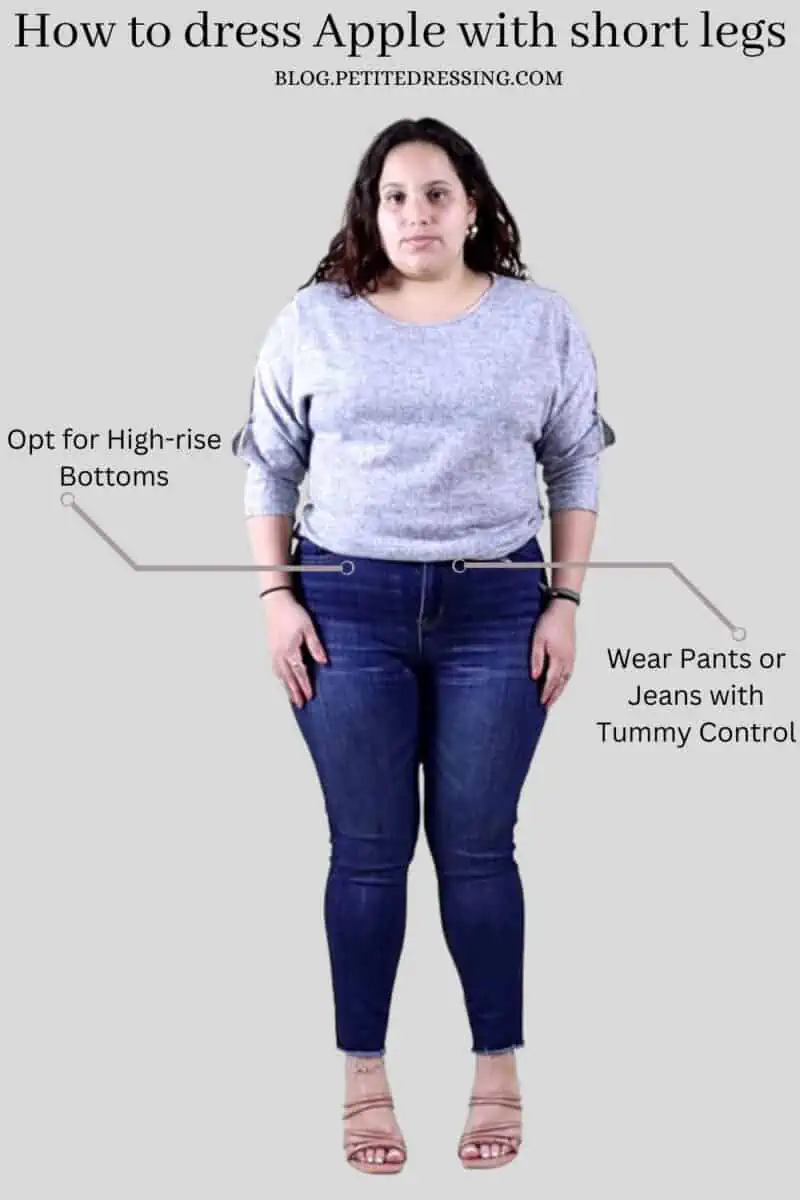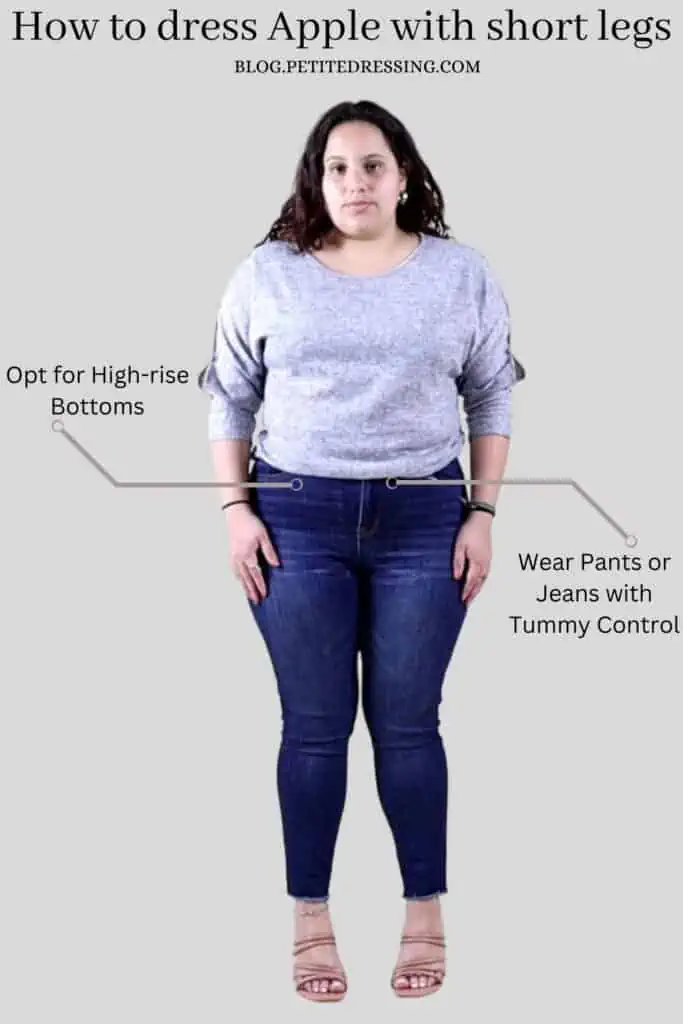 Opt for Wide Necklines
Wide and open necklines draw attention towards the upper body and face which is an effective way to divert the attention away from the midsection. Since apple-shaped women tend to carry more weight on the midsection area, wider necklines help neutralize the gaze to create a more balanced silhouette.
Apart from the fact that it helps deal with your potential concerns, wider and open necklines such as scoop and V-necks help create a sense of verticality to your frame. This helps steer attention away from your short legs and instead gives you a more elongated look.
If you're feeling a bit more adventurous, plunging V-necks can also be a very good way to showcase your beautifully defined bust. This makes your full bust the focal point of your ensemble instead of your heavy midsection or short legs.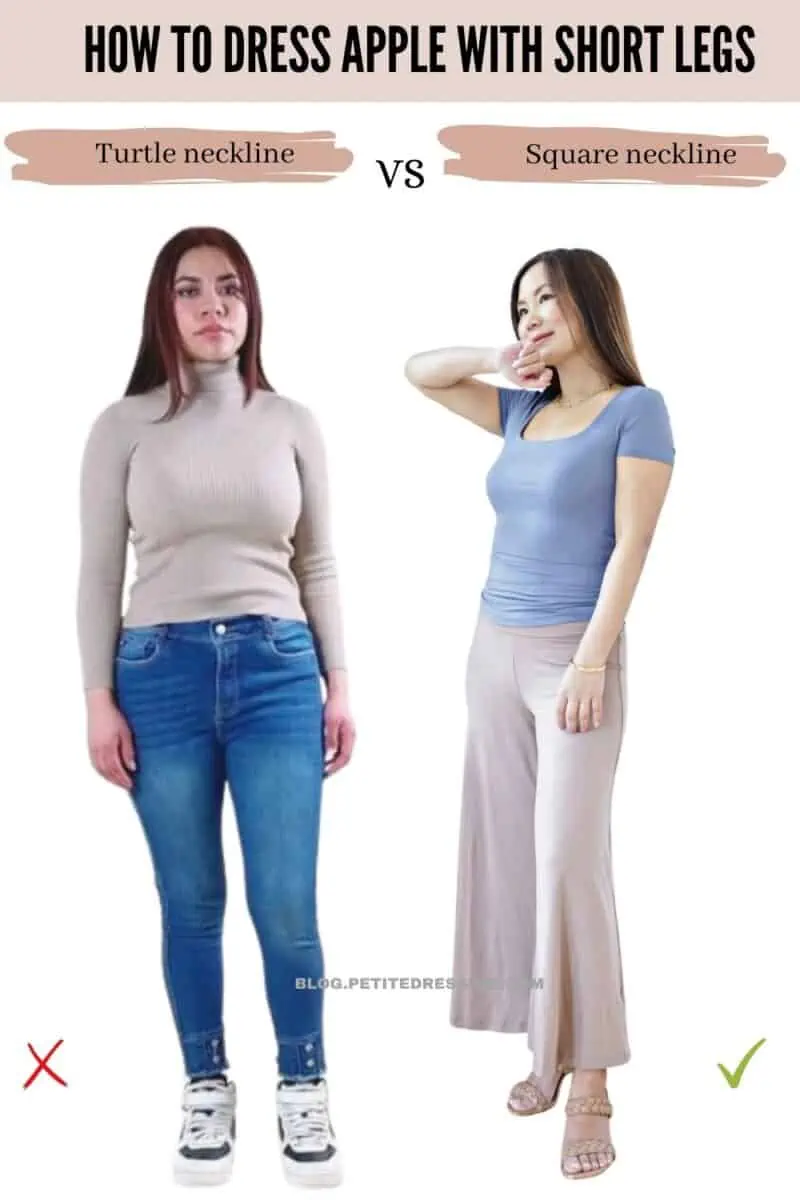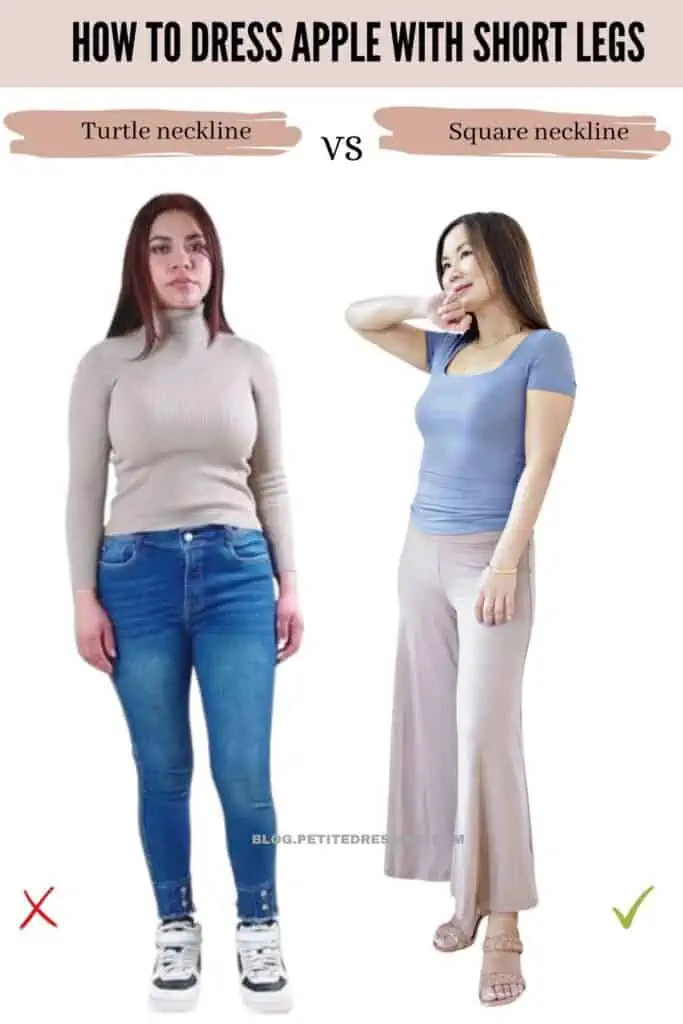 Cinch your Waist
Since your waist has little to no definition at all, it's important to give it a much-needed definition to create balance in your apple figure. It also helps define and highlight the narrowest part of your midsection which can efficiently bring your entire look all together for a more cohesive silhouette.
Also, when you cinch your waist, it creates a distinct separation between your upper body and lower body. This waist definition can visually lengthen your torso and give you the illusion of longer legs.
This helps detract attention from your shorter leg length and creates a more balanced overall appearance. It also helps enhance your curves to make your entire figure more defined and dimensional.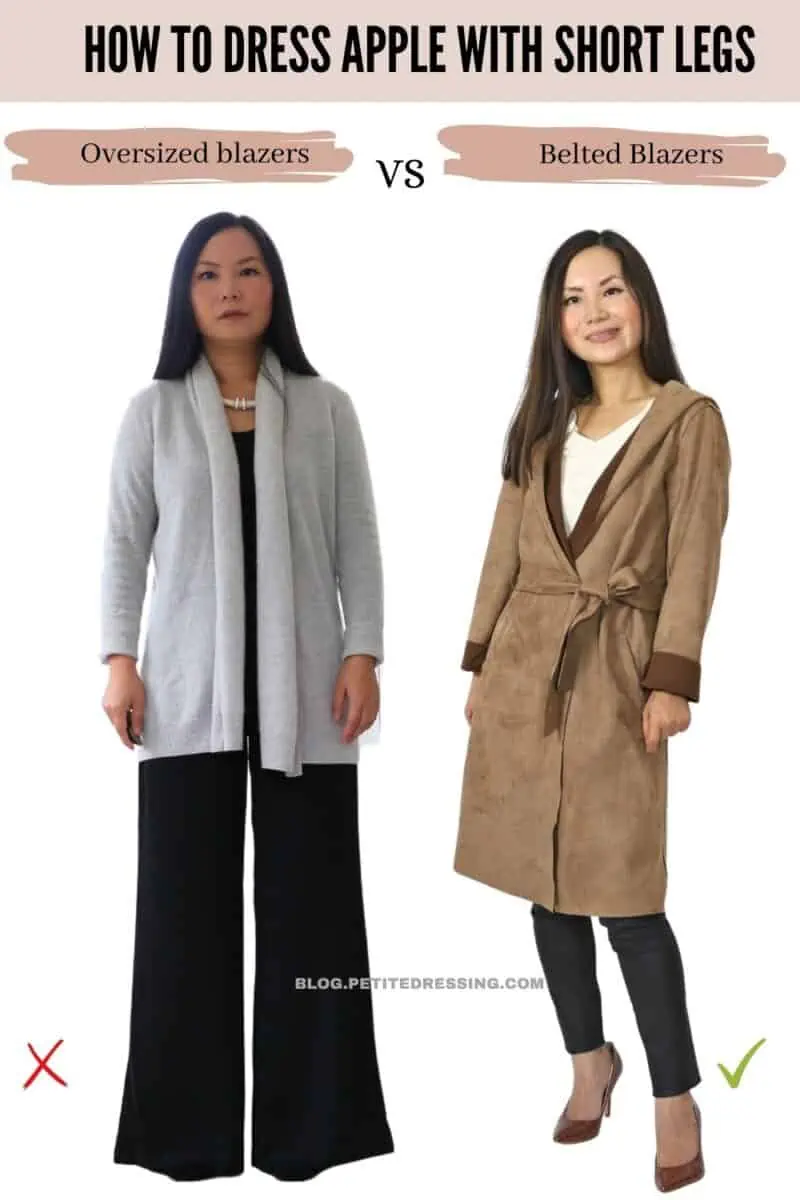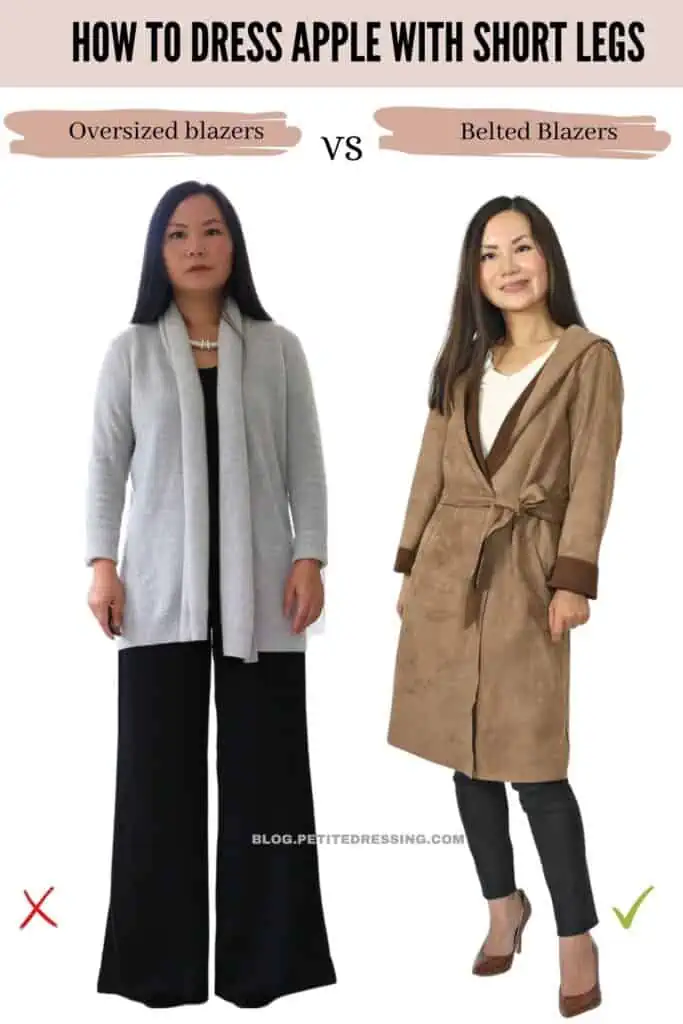 Wear a Statement Necklace
Jewelry pieces that draw the eyes to your neck and decolletage can be very flattering choices for apple shapes with short legs. Because just like wearing clothes with wide or open necklines, certain jewelry can also help draw attention to your best features (proportionate shoulders and full bust).
You can opt for necklaces with a simple pendant if you're looking into something simple and minimal, but it won't hurt to try statement necklaces that will detract the attention away from your areas of concern such as your short legs and heavy midsection area.
Another good example of jewelry that enhances your neckline would be long or dangling earrings. This helps create the illusion of a longer neck and therefore adds more height and verticality to your overall frame.
Wear Asymmetrical Hemlines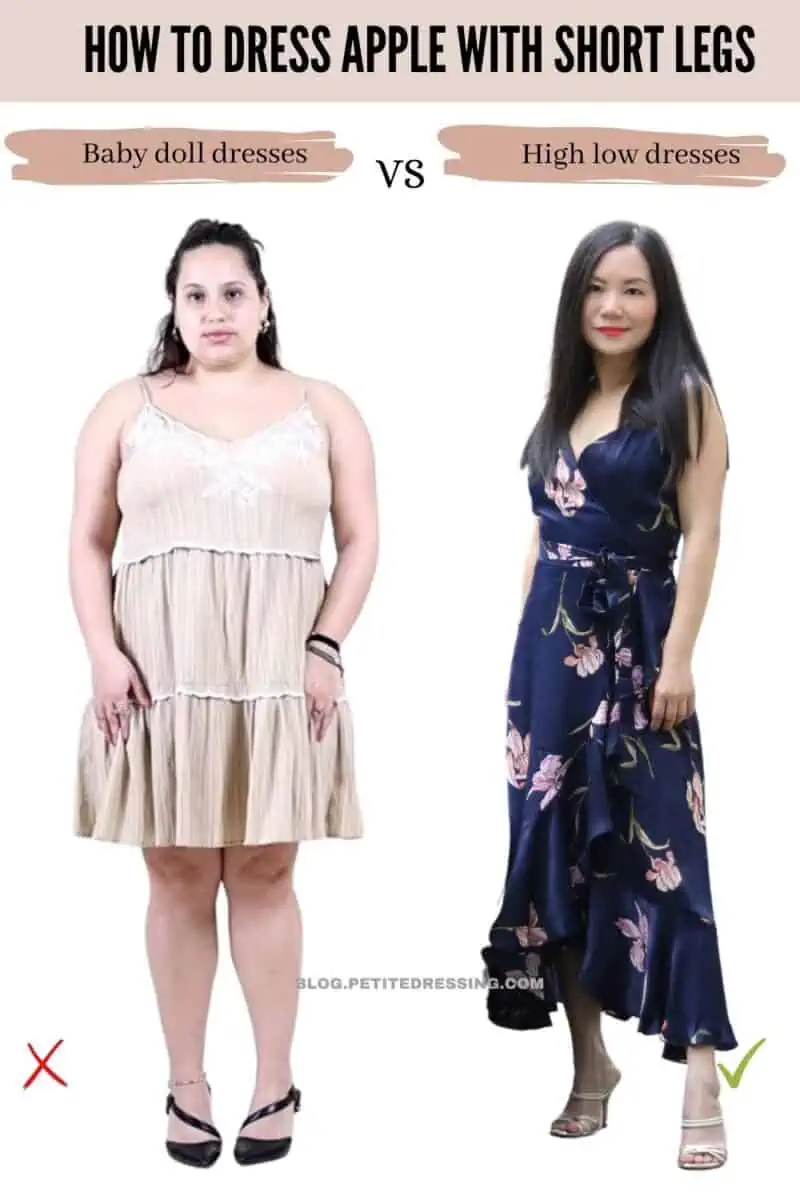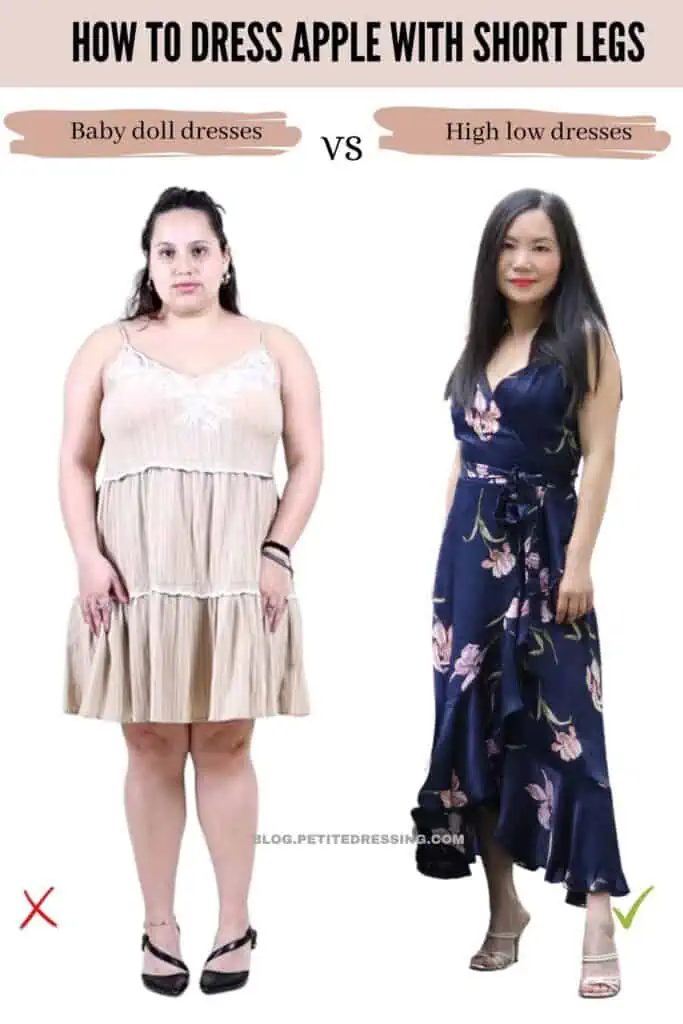 With an asymmetrical hemline that's longer on one side, this type of skirt style offers a dynamic appeal and of course, frame-flattering features. Its asymmetrical design is a great way to totally distract the attention from areas of your body shape that you may be extra conscious about – such as the lack of definition on your waist, heavier midsection, and short legs.
Asymmetrical hemlines really come in handy when you want to tweak the visuals of your legs by making them look longer! That longer one-sided or angled cut gives the illusion of extra length and helps create an ensemble with more balanced proportions.
Consider Solid Dark Colors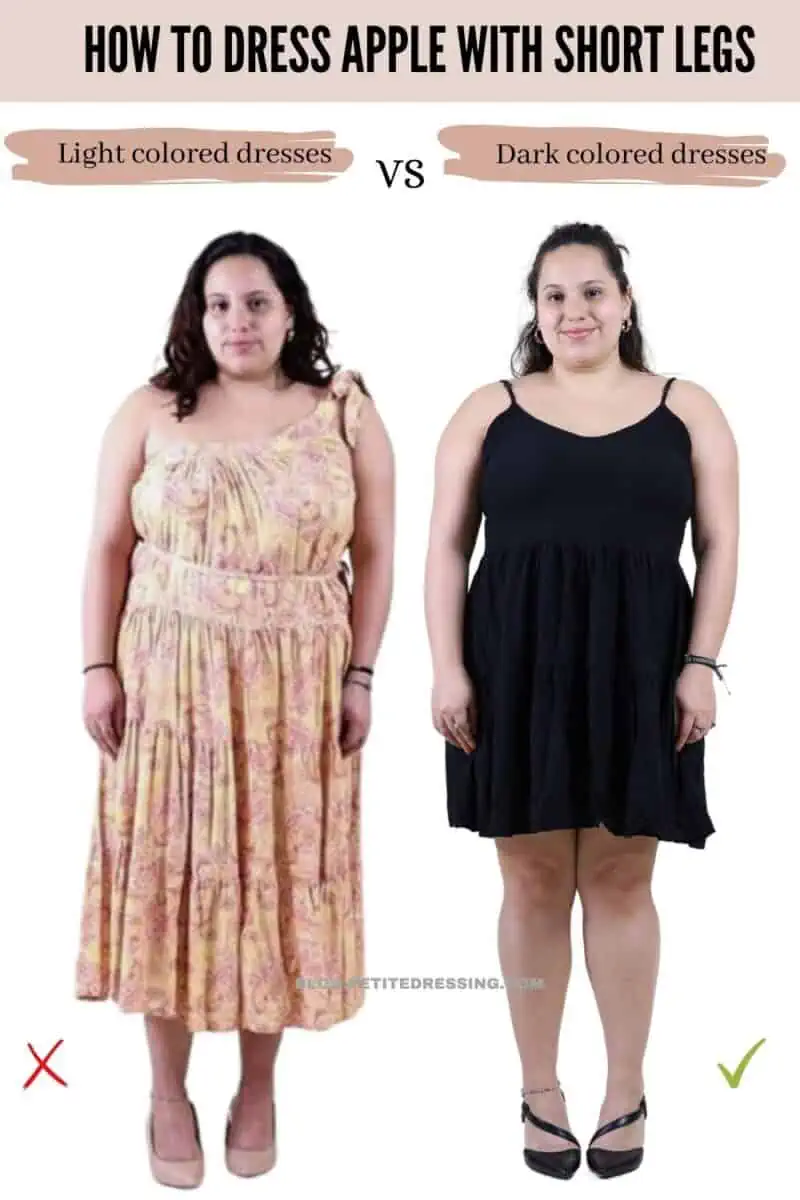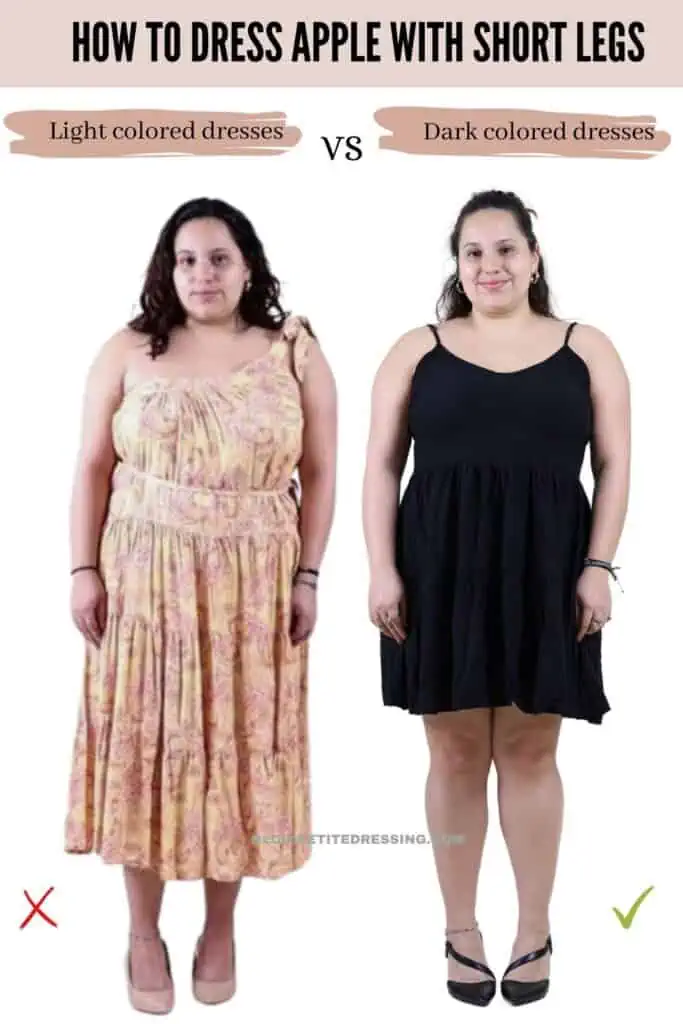 Most apple-shaped women tend to carry more weight in their midsection area which often causes muffin tops to appear. The easiest and most instant way to conceal those bulges around the midsection area is to wear solid dark colors.
Dark colors in general are visually slimming so they help minimize the appearance of bulges. This is because dark colors absorb light and neutralize the presence of shadows which often cause unflattering horizontal lines.
In addition to the fact that solid dark colors help balance out your proportions, you may also want to try wearing monochromatic outfits in these shades. Dressing in monochromes creates a continuous visual line that elongates the body and draws an uninterrupted line from top to bottom.
Wear Peplum Tops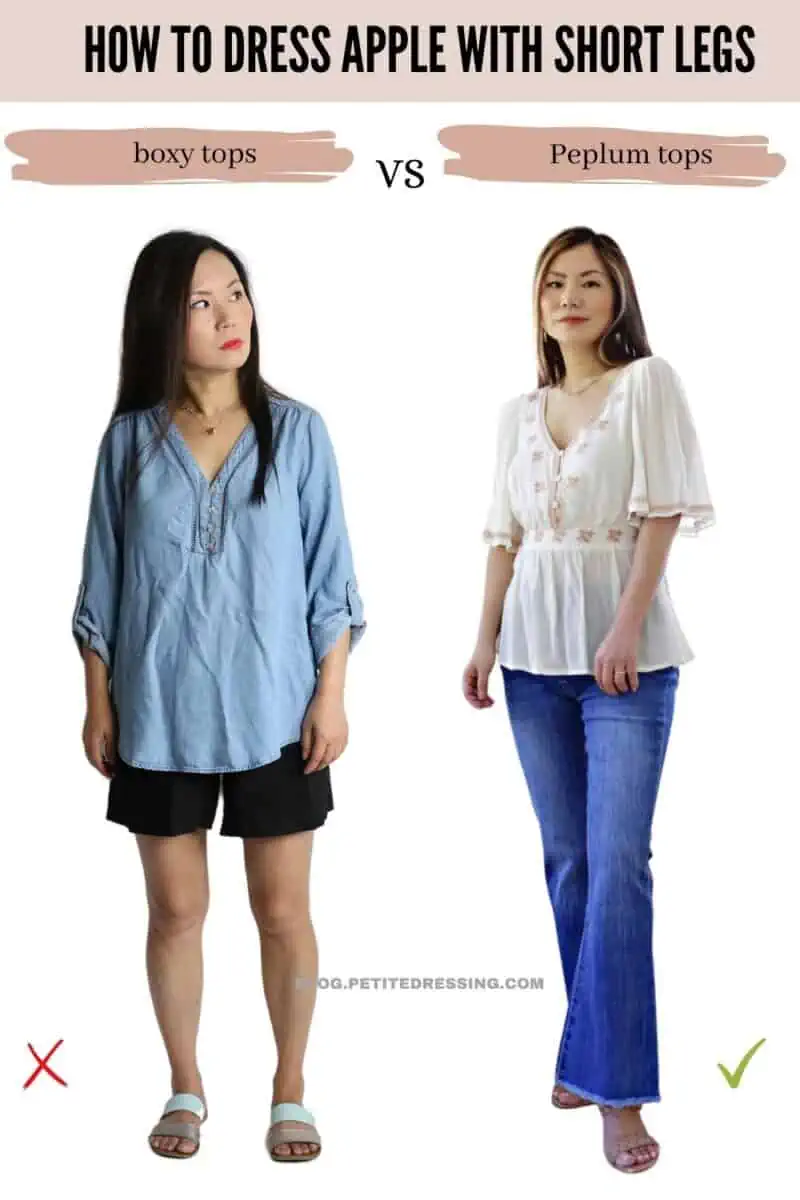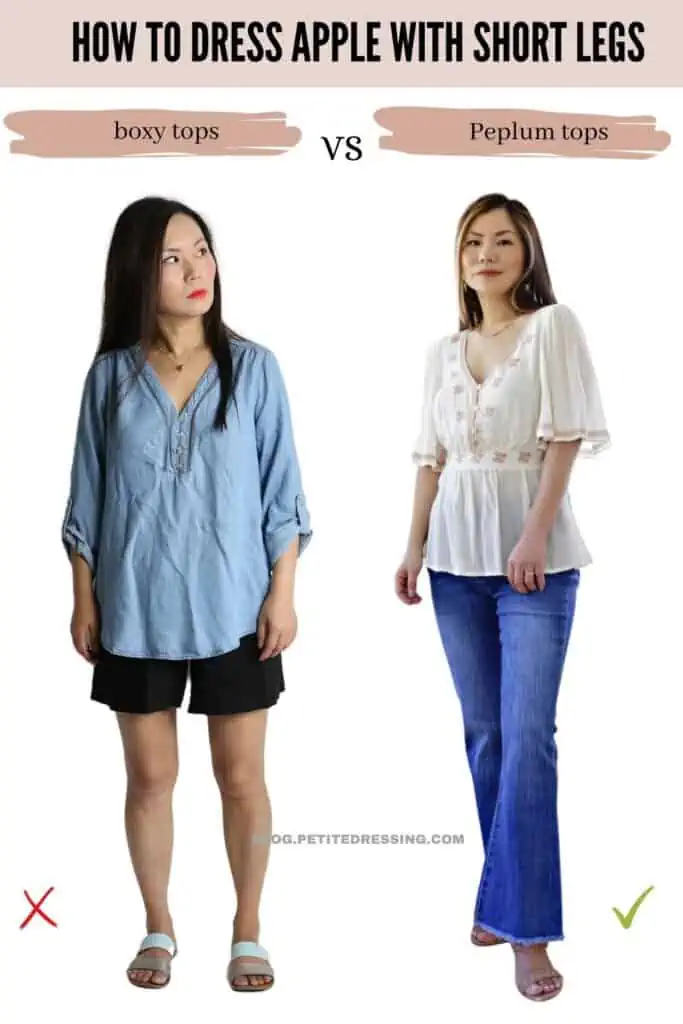 For apple shapes, there are two key features you'd like your clothes to have: waist definition and muffin top concealment. These two things are what peplum tops (or dresses) possess so they can be very beneficial in bringing balance to your body shape.
Peplum tops are specifically designed to cinch in at the waist and then flare out. This structure perfectly accentuates the waistline while the flare gives the illusion of an hourglass figure.
They also typically have a longer length that extends beyond the waistline which provides coverage for your heavier midsection. This also defines the hips to bring better balance between your upper and lower body.
Opt for High-rise Bottoms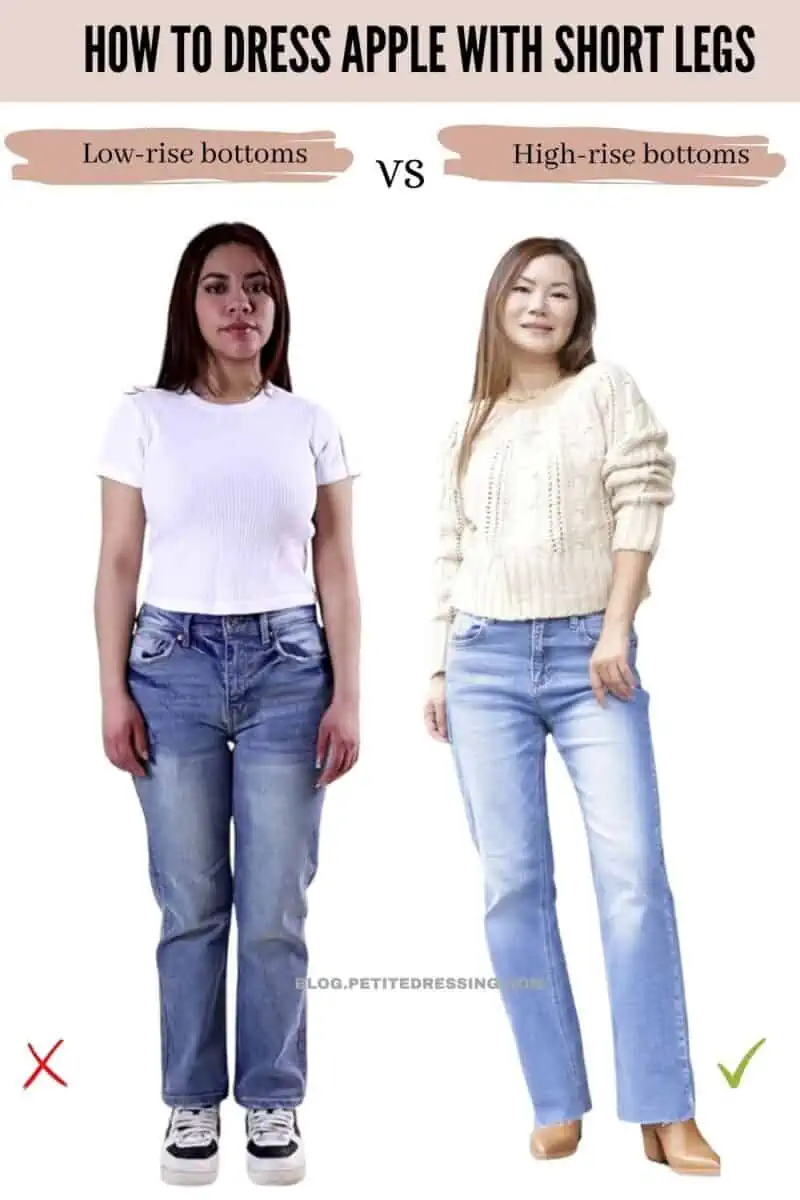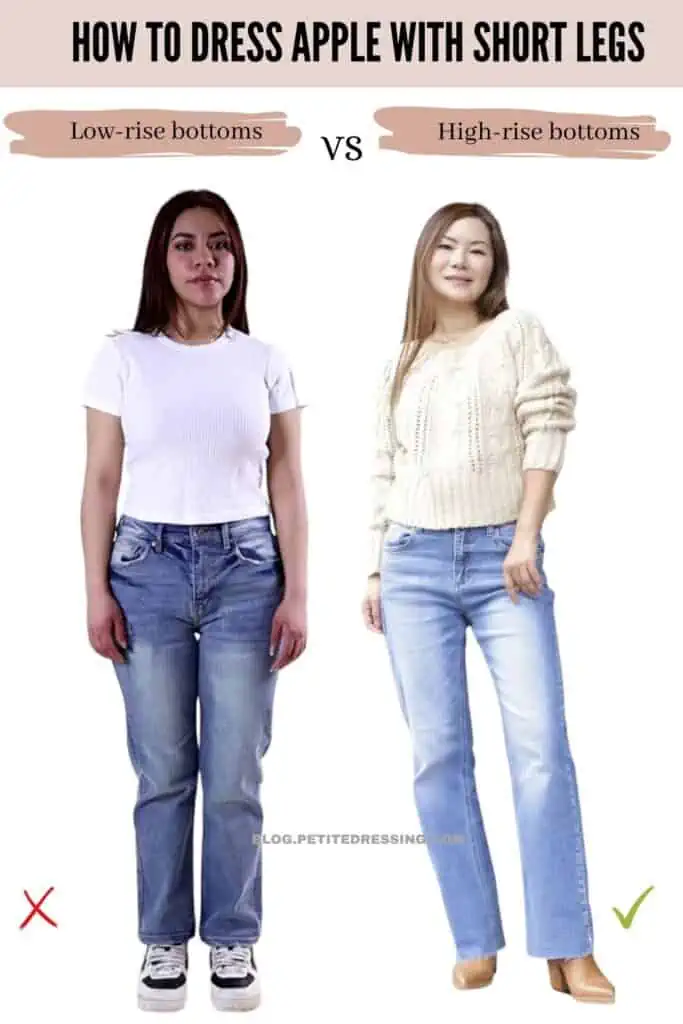 High-rise bottoms create the illusion of longer legs by having the waistband sit slightly higher than your natural waistline. The vertical emphasis created by wearing high-rise bottoms helps to offset your shorter leg length.
Since high-rise bottoms offer full concealment that hugs your entire midsection, it's also a good way to neutralize the appearance of your heavier midsection. They feature a tummy control structure that creates a smoother silhouette by holding in the stomach area and preventing a muffin top from surfacing.
They also help accentuate your waist definition, which is something most apple-shaped girls lack. This look gets more amplified when paired with flattering tops with neckline-enhancing details.
Wear Pants or Jeans with Tummy Control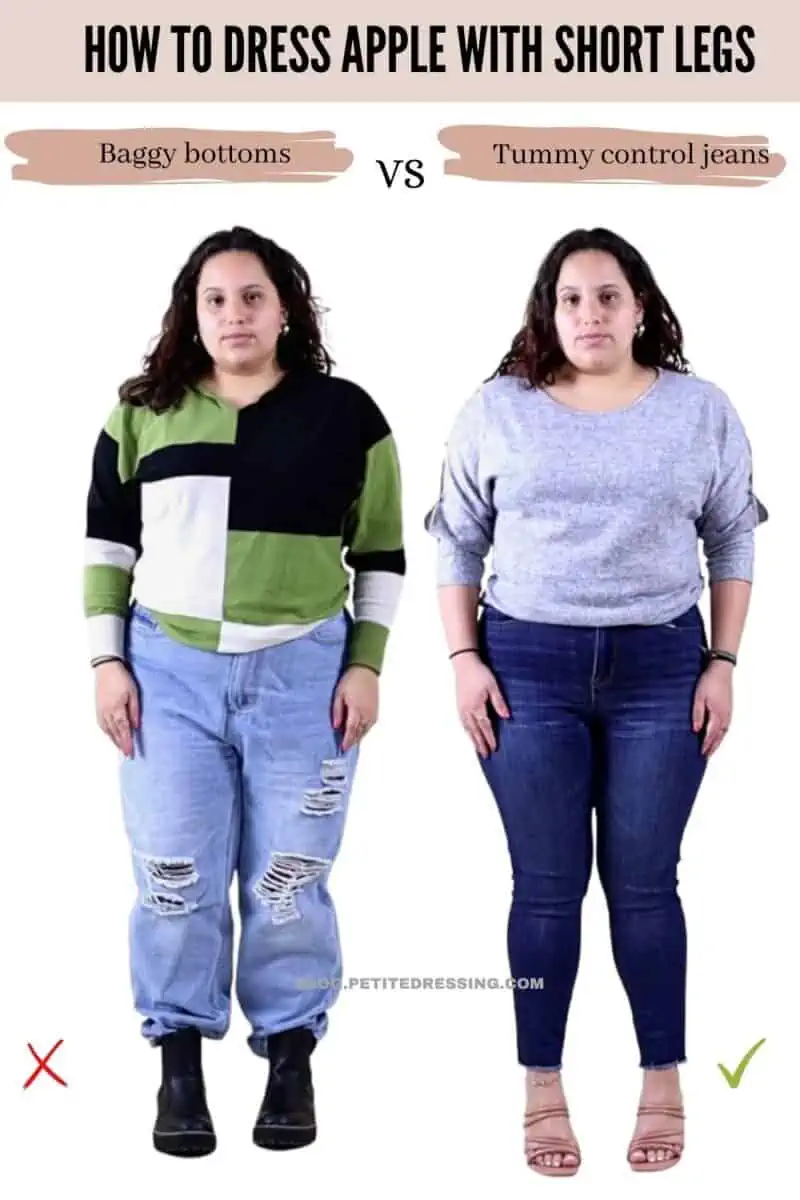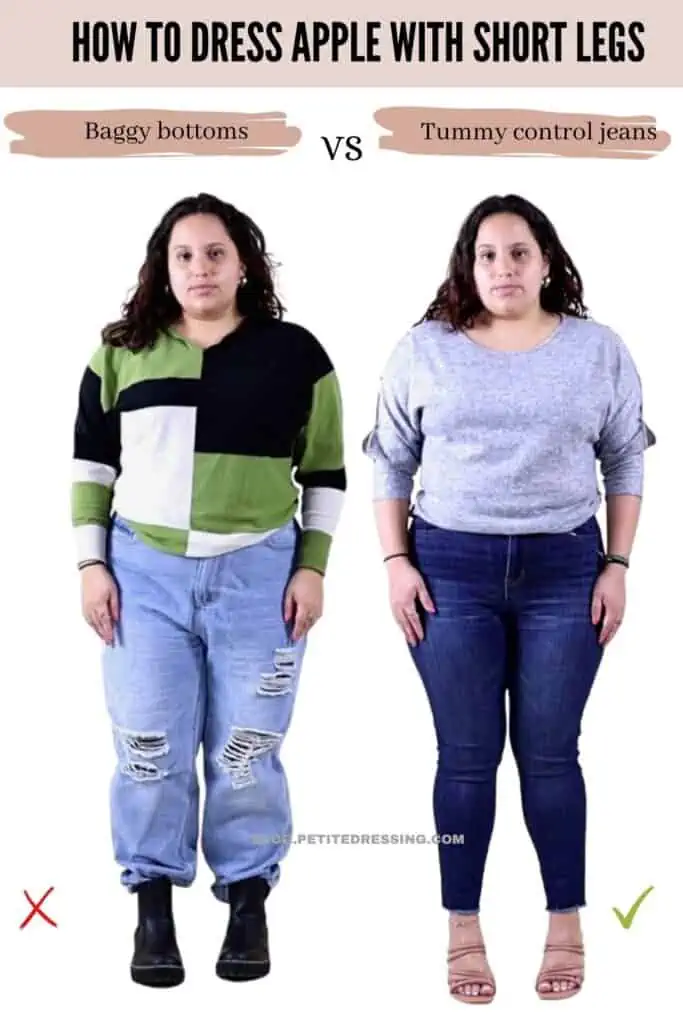 Certain types of fabrics offer tummy control and opting for pants made from these kinds of fabrics can be very helpful in flattering an apple-shaped woman with short legs. Apple-shaped bodies tend to look heavier around the midsection and pants or jeans with tummy control features can help create a smoother and more streamlined overall silhouette.
How do you know if it has tummy-control features? Try to look for pants or jeans with built-in shaping panels that provide gentle compression and support to the abdominal area as this will help flatten the stomach to prevent any tummy spill.
Flaunt Mini Dresses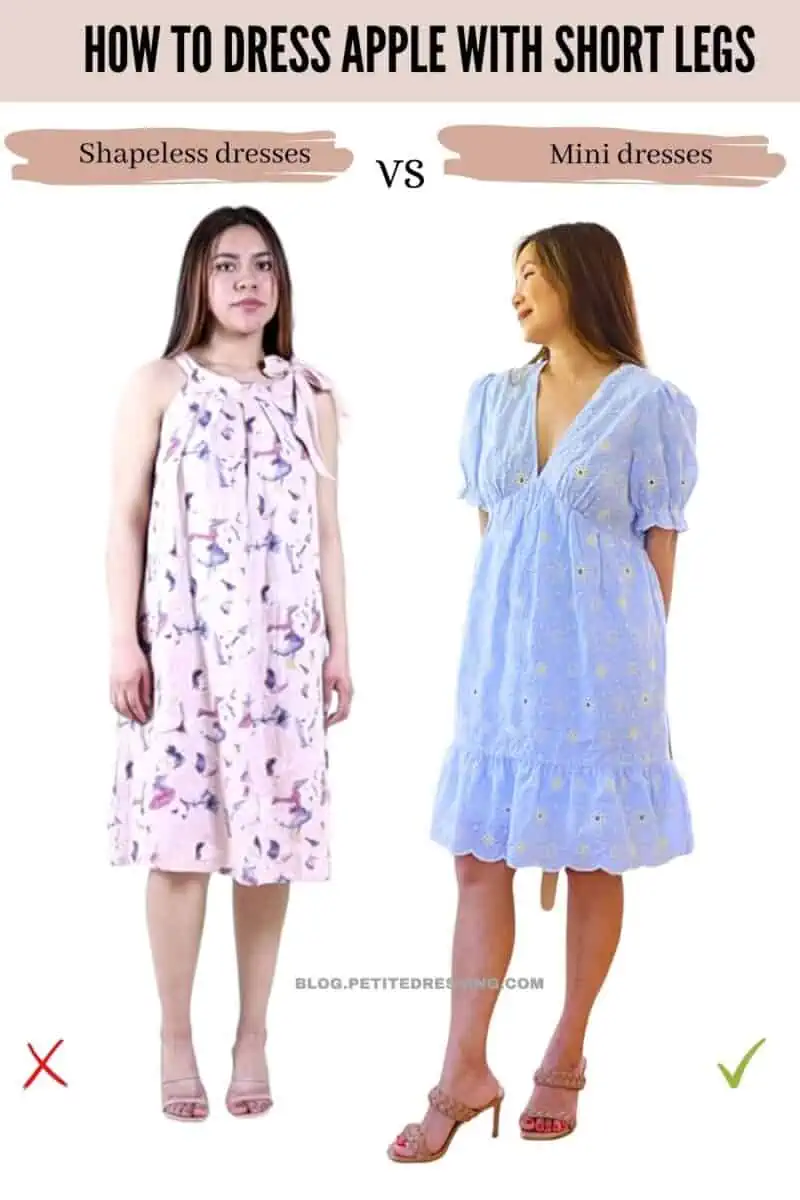 Wearing mini dresses is one of the best ways to make a woman with short legs appear taller and leaner. This is because mini dresses hit just at the right length to expose enough portions of your legs that visually extend your stature.
Apart from the fact that mini dresses make you look taller, they are also especially beneficial for apple-shaped girls. Since the overall length of the dress embraces your petite height, it efficiently draws attention to your visually-extended silhouette rather than your areas of concern such as your heavier midsection.
Just remember that when choosing mini dresses, consider the fit and style that defines your waist and enhances your bust line. Look for dresses with a well-proportioned hemline that hits at a flattering length on your legs to keep your leg line elongated.
Go for Ruched Tops and Dresses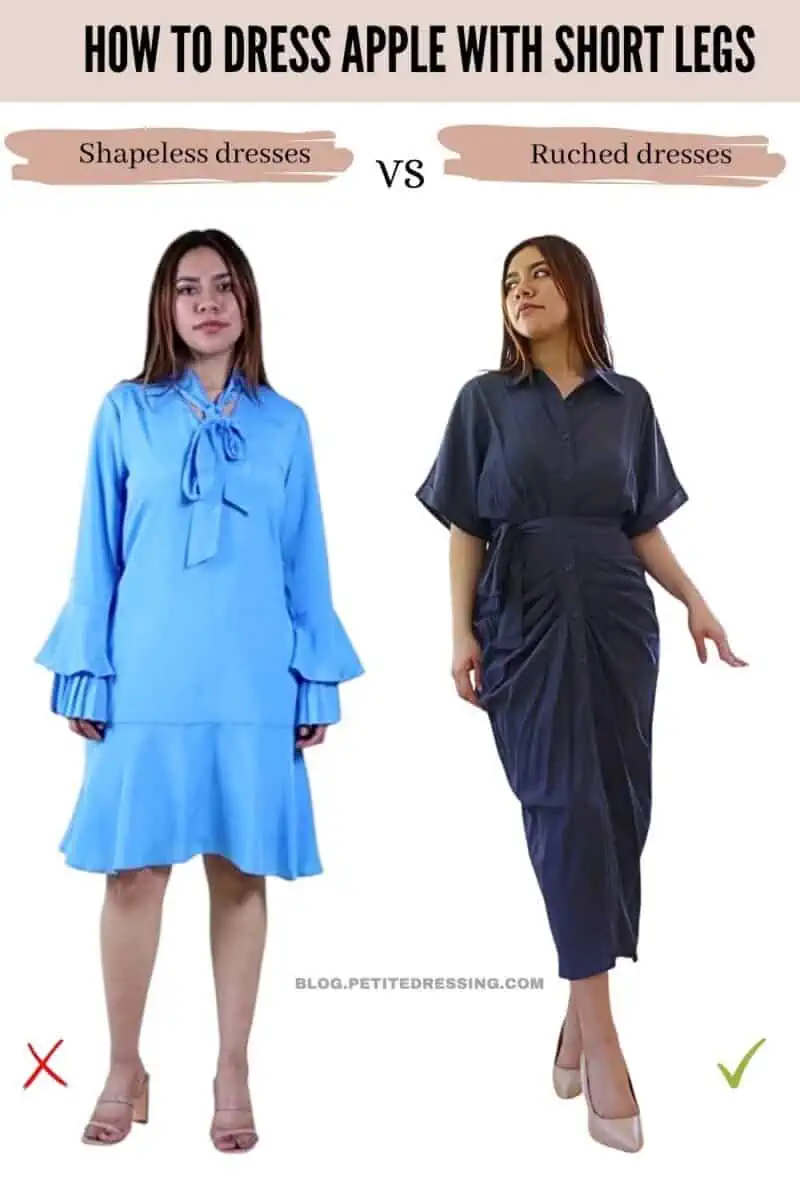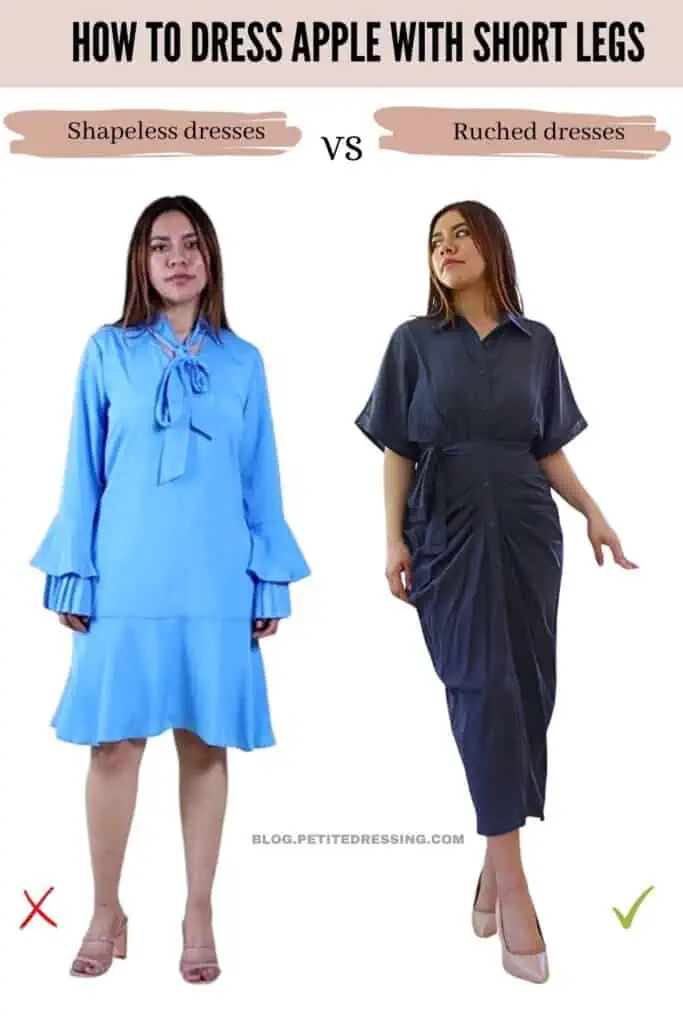 Fabric ruching placed on either the center or sides of your clothing can be very helpful in creating a slimmer and more balanced silhouette. Ruching that's strategically applied to your tops and dresses can help camouflage your areas of concern.
This draws the eyes away from the midsection and creates a more flattering and balanced look. Moreover, since you naturally lack waist definition and may appear boxy, side ruching can create the illusion of curves and enhance the appearance of an hourglass figure.
Wear Sailor Pants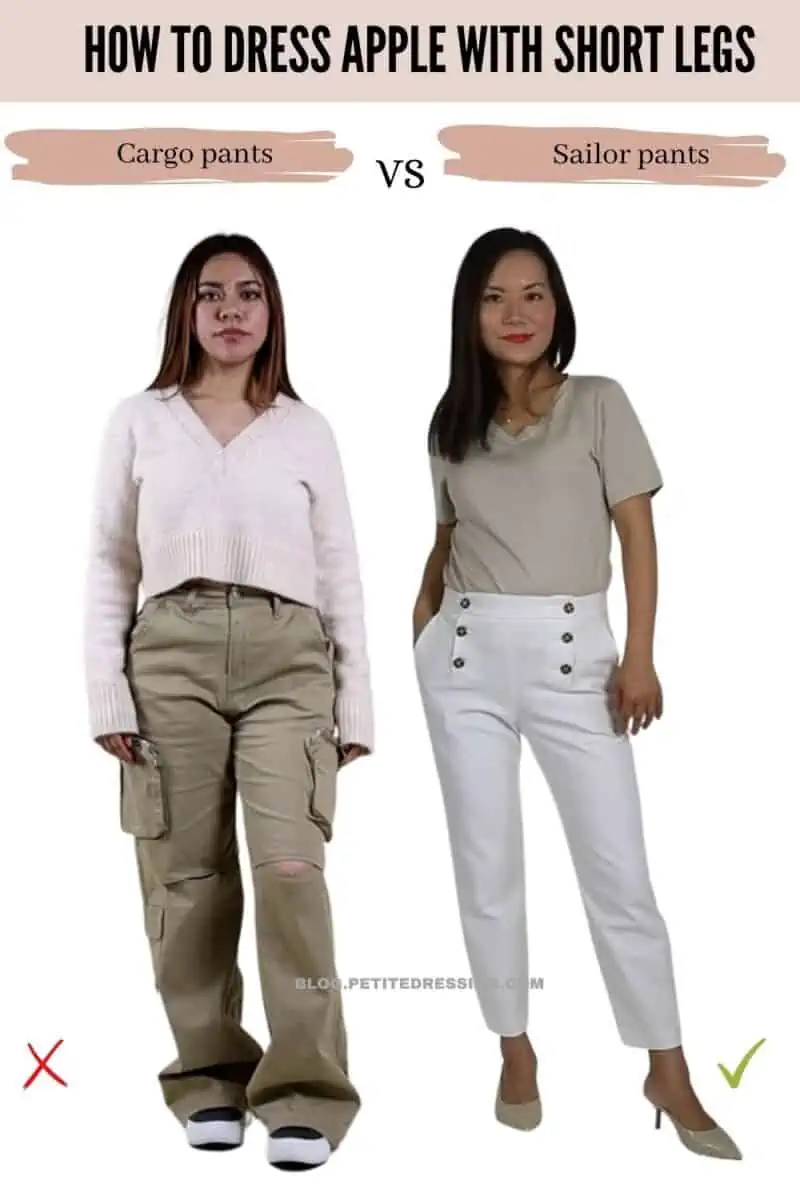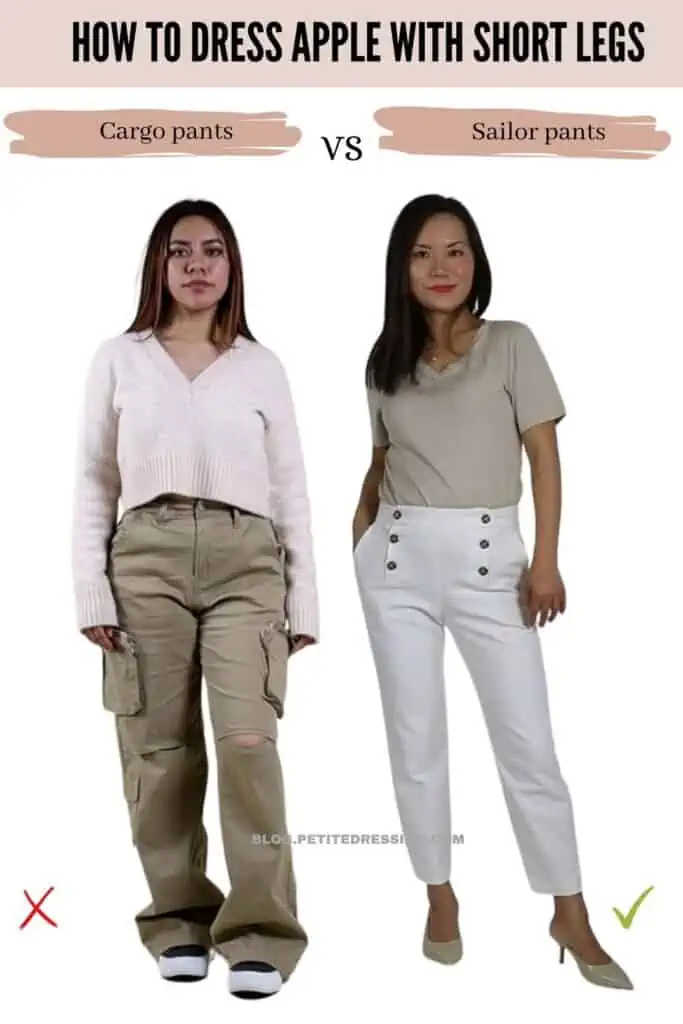 Sailor pants have a very unique waistband design decked with buttons and fetching accents. It's perfect for apple-shaped women with short legs who want a more balanced silhouette because it elongates the lower body and adds definition to your waist.
When wearing sailor pants, consider pairing them with tops that are half-tucked to further accentuate the waistline as this gives a more polished look. Additionally, selecting sailor pants with a slightly flared or wide-leg structure helps bring proper proportions to your frame.
Avoid Wearing Crop Tops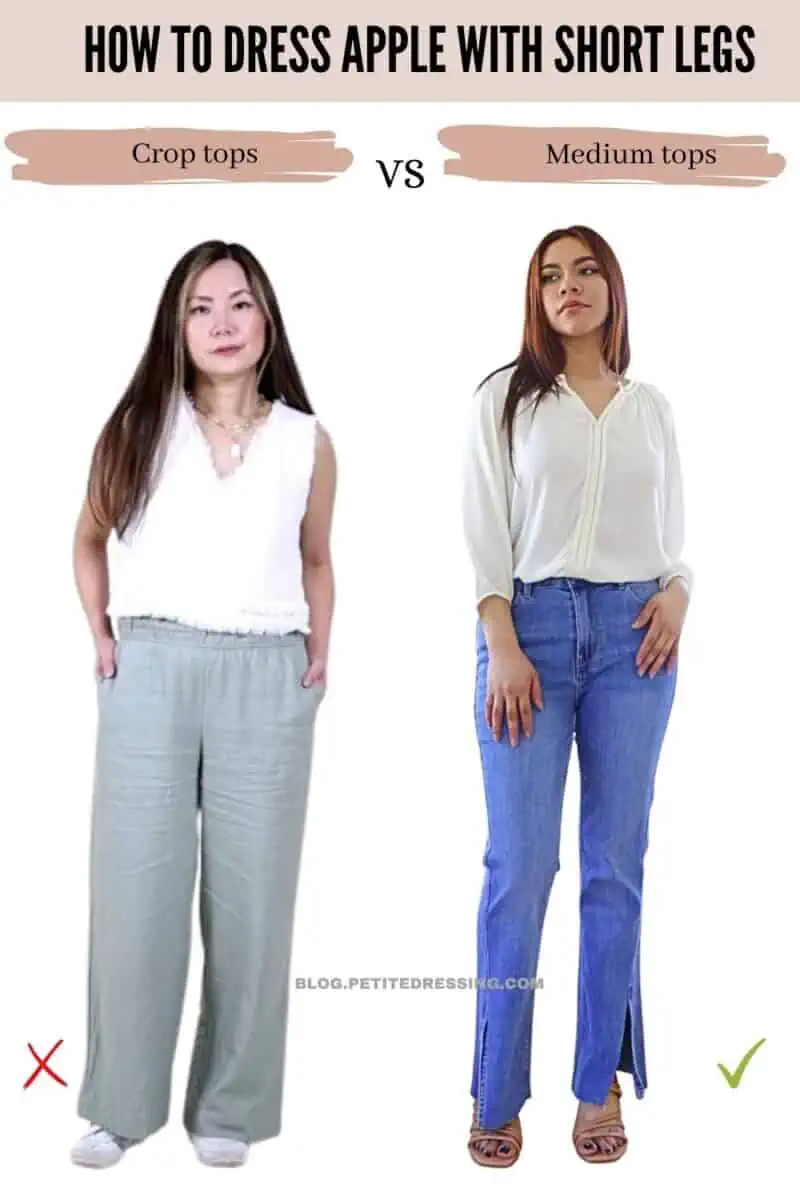 Crop tops, especially those that hit at the midriff area are not really the best style option for apple-shaped women. While crop tops can help give a short girl a much taller look, it's not the case for apple-shaped women as crop tops will expose your areas of concern.
Due to its cropped length, it will expose your heavier midsection area and your undefined waist. In addition to this, since you have a full bust that's relatively bigger than the other areas of your body, wearing a crop top can make you look more top-heavy.
Stay Away from Low-rise Bottoms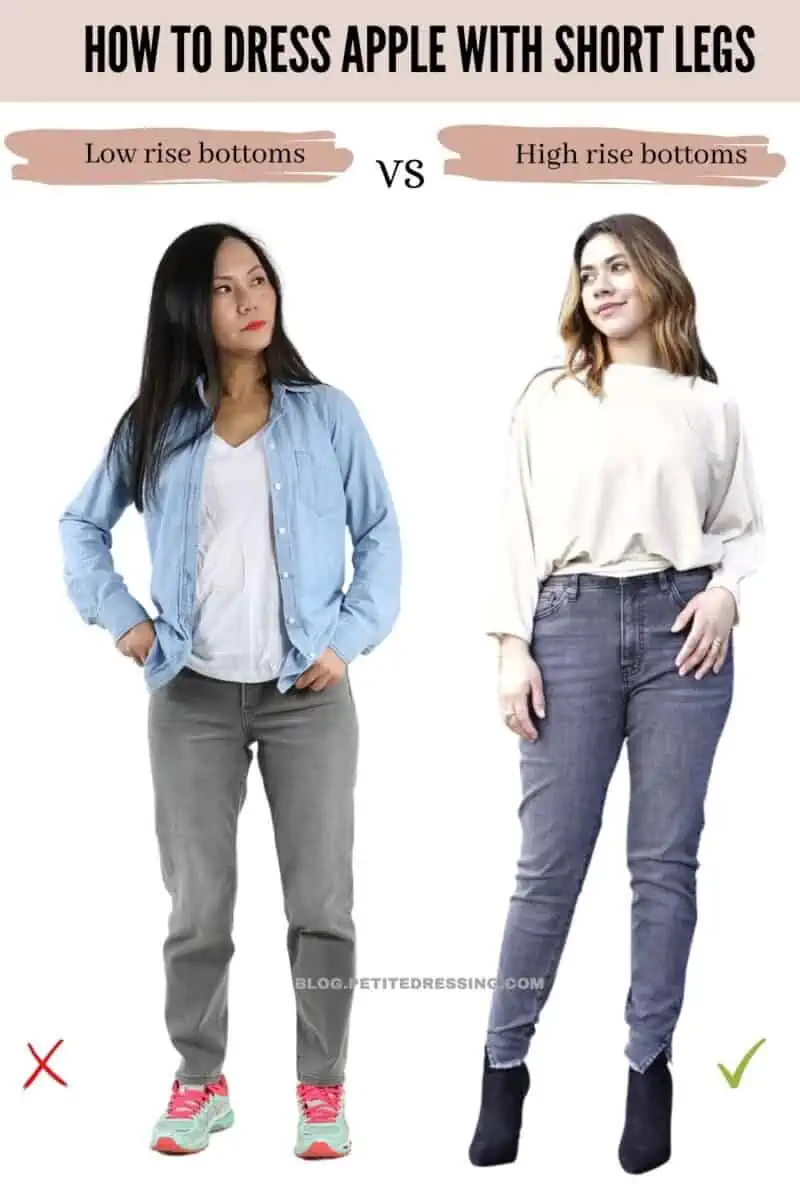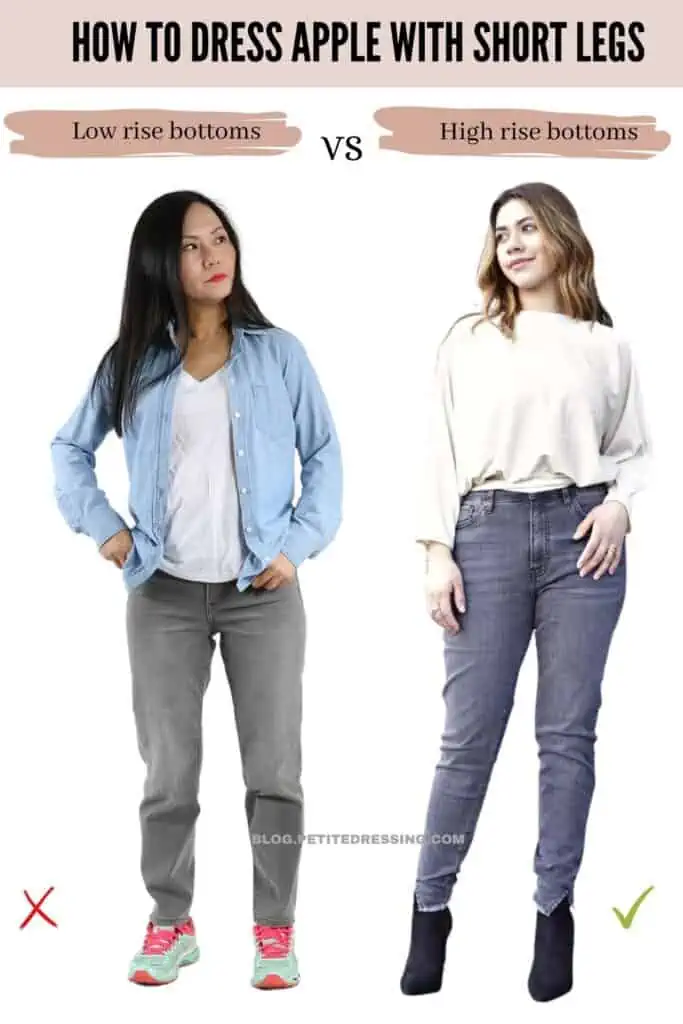 This is an absolute no-no if you're someone who has an apple-shaped body and short legs. The reason why this wardrobe piece is a fashion faux pas is that low-rise bottoms emphasize the appearance of a muffin top and cuts the length of your legs.
Not only do these types of bottoms are out of style, but they also give petite figures an unbalanced look.
Avoid Bodycon Dresses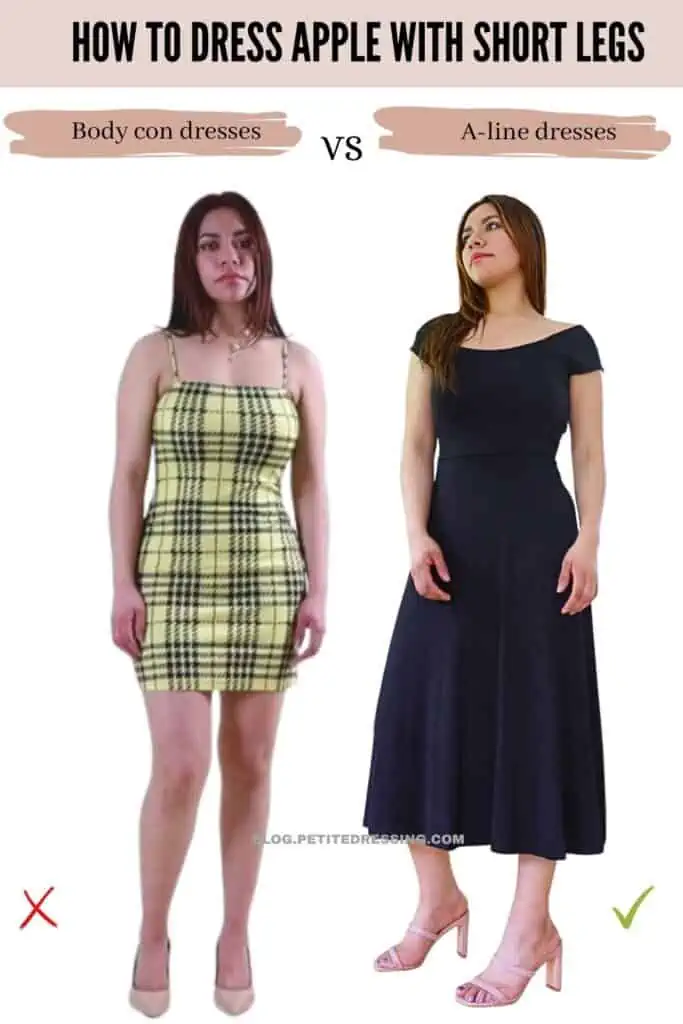 Bodycon dresses are meant to cling very close to the skin and therefore can be quite unforgiving when it comes to the areas that make you extra conscious. This will enhance your muffin top even more and draw too much attention to your waist's lack of definition.
Your body shape features apparent size differences that look unbalanced and the consistent fit of bodycon dresses can accentuate this imbalance. To add to this, the very tight fit can be quite uncomfortable and restrictive.
The Key Takeaway
Dressing up an apple-shaped body with short legs is not always easy. For your ensembles to work, you need to be mindful of your proportions since there may be a natural imbalance in your figure.
But even if that is the case, there are tons of amazing ways to rock your beautiful body shape! I hope all these tips can help you amp up your wardrobe to let you flaunt your figure in full confidence!