Having skin hanging around your upper arms is nothing to be ashamed of. All you have to do is wear suitable styles of tops to make the arms look flattering. Tops and blouses are a must-have in our wardrobe for both casual and formal wear.
You should feel confident in the way your body is and focus more on wearing styles that look beautiful on your body type. Therefore, we have a complete style guide for tops that look good on women with thick arms. You can check out the guide and up your styling game. So, let's get started!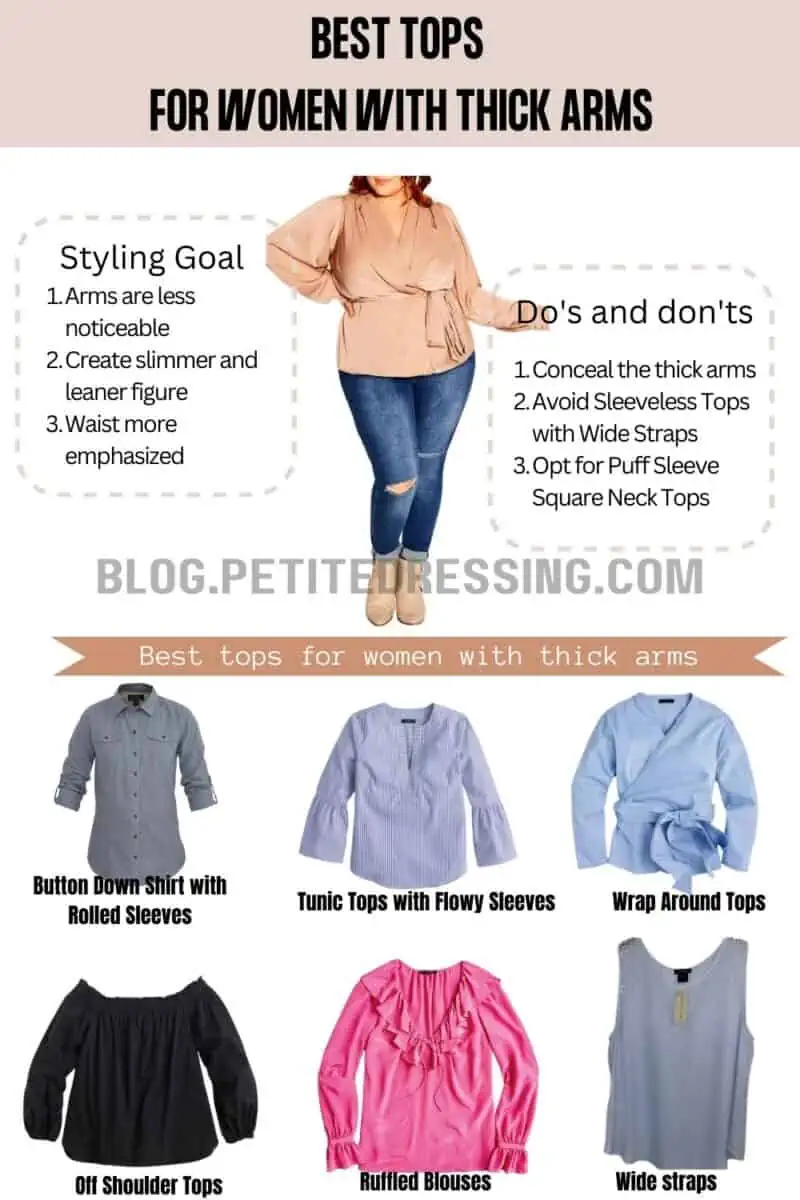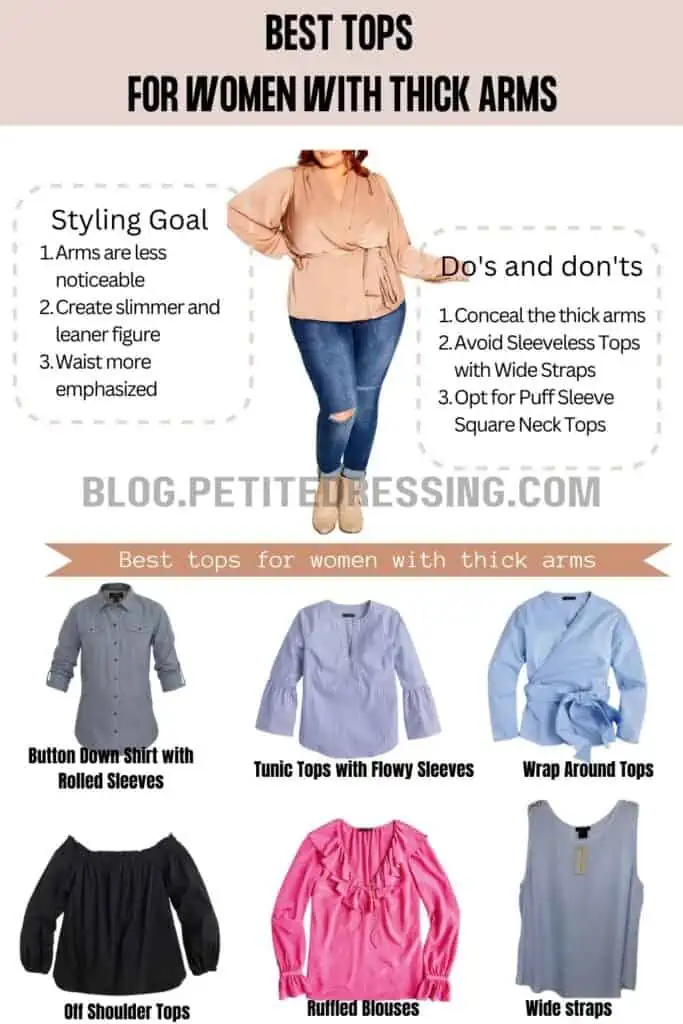 Button Down Shirt with Rolled Sleeves
If you have slim wrists and thick upper arms, button-down shirts are perfect for you. You can roll up the sleeves of such shirts to a suitable length. Roll up the sleeves to your elbow.
It not only hides your upper arms but also showcases the thinner parts of your arms such as your wrists. This style is also very chic and gives out fashionista vibes.
You can pair long button-down shirts with a belt to get that cinched and defined waist. Making your waist look smaller will make your arms less noticeable.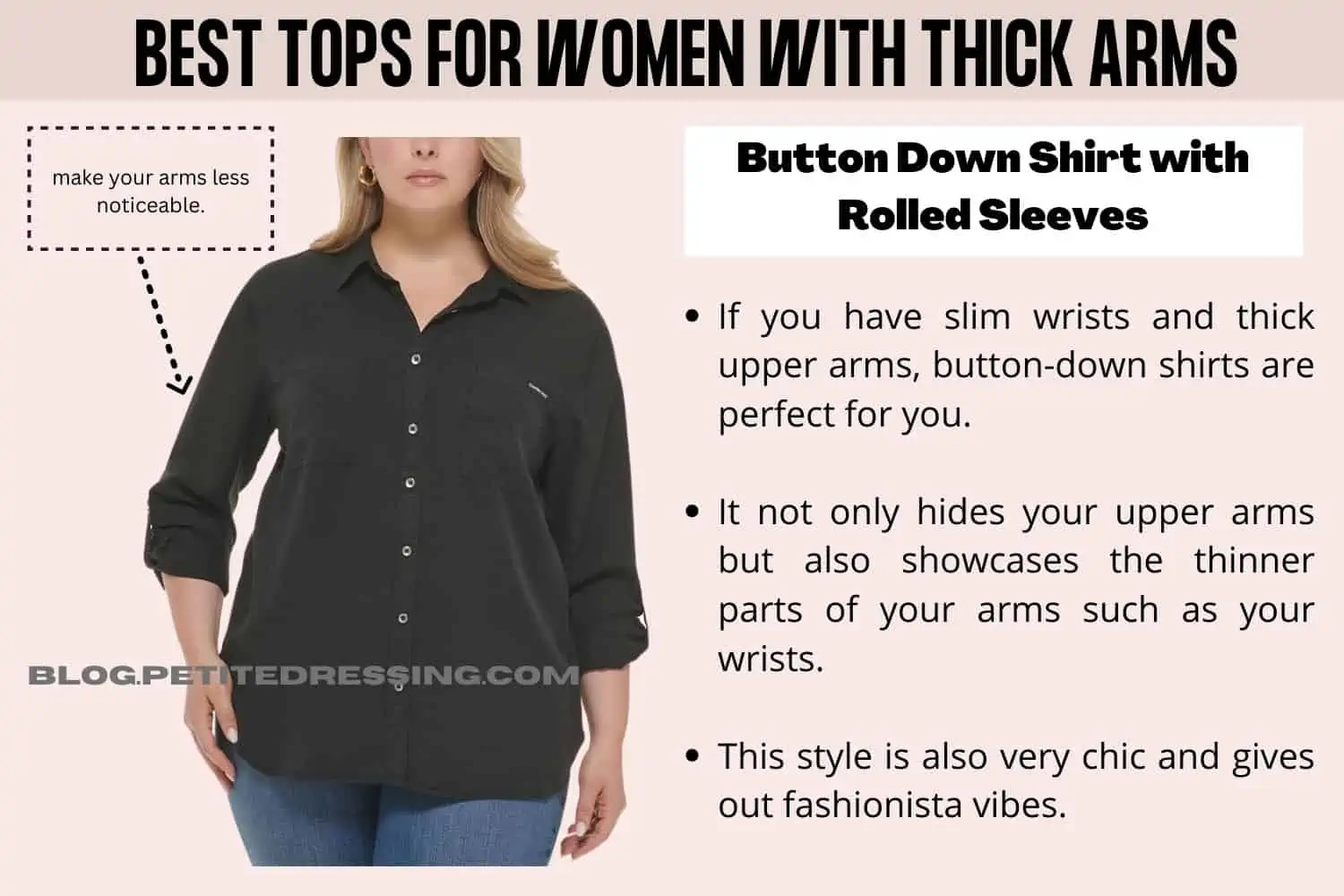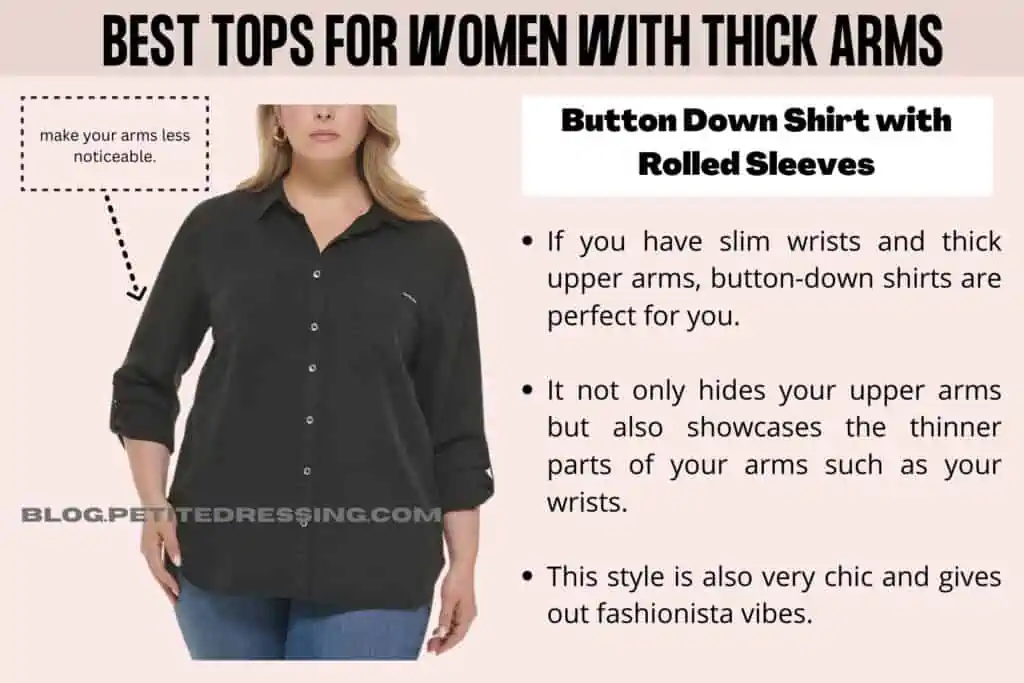 Tunic Tops with Flowy Sleeves
Tunic tops look amazing on people with chubby arms. But you have to make sure you choose the right length of sleeves. Flowy sleeves give room for your arm fat to settle in.
Sleeves that are too tight don't look flattering if you have thick arms. They accentuate the thicker areas and it's not what you are looking for.
Tunic tops are a great addition to your wardrobe as they can be worn in various ways. You can wear them with skinny jeans and heels for a stylish look.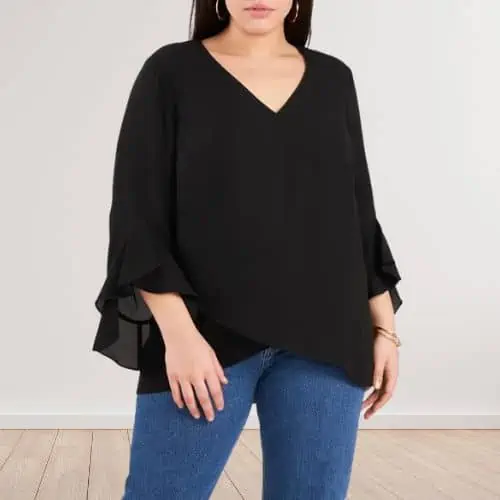 Lengths to consider when choosing flowy sleeves
If you have overall thick arms, choose ¾ length of the flowy sleeves.
If you only want to conceal your upper arms, choose sleeves that end at the elbows or slightly below them.
Wrap Around Tops
Wrap-around tops emphasize your waist more than any other body part. Choose a wrap-around blouse with flowy sleeves. Both full-length and ¾ length is good for such blouses.
Wrap-around blouses come in so many styles and designs that everyone can find a suitable one. They take away attention from your arms and make them look less noticeable. Therefore, such top styles are perfect for women with thick arms.
Wrap-around blouses keep everything in your upper body in proportion. The v-neckline of usual blouses with long sleeves and flowy designs – all of it is perfect for women with chubby arms.
Choose a solid color for a wrap-around top and pair it up with jeans and heels.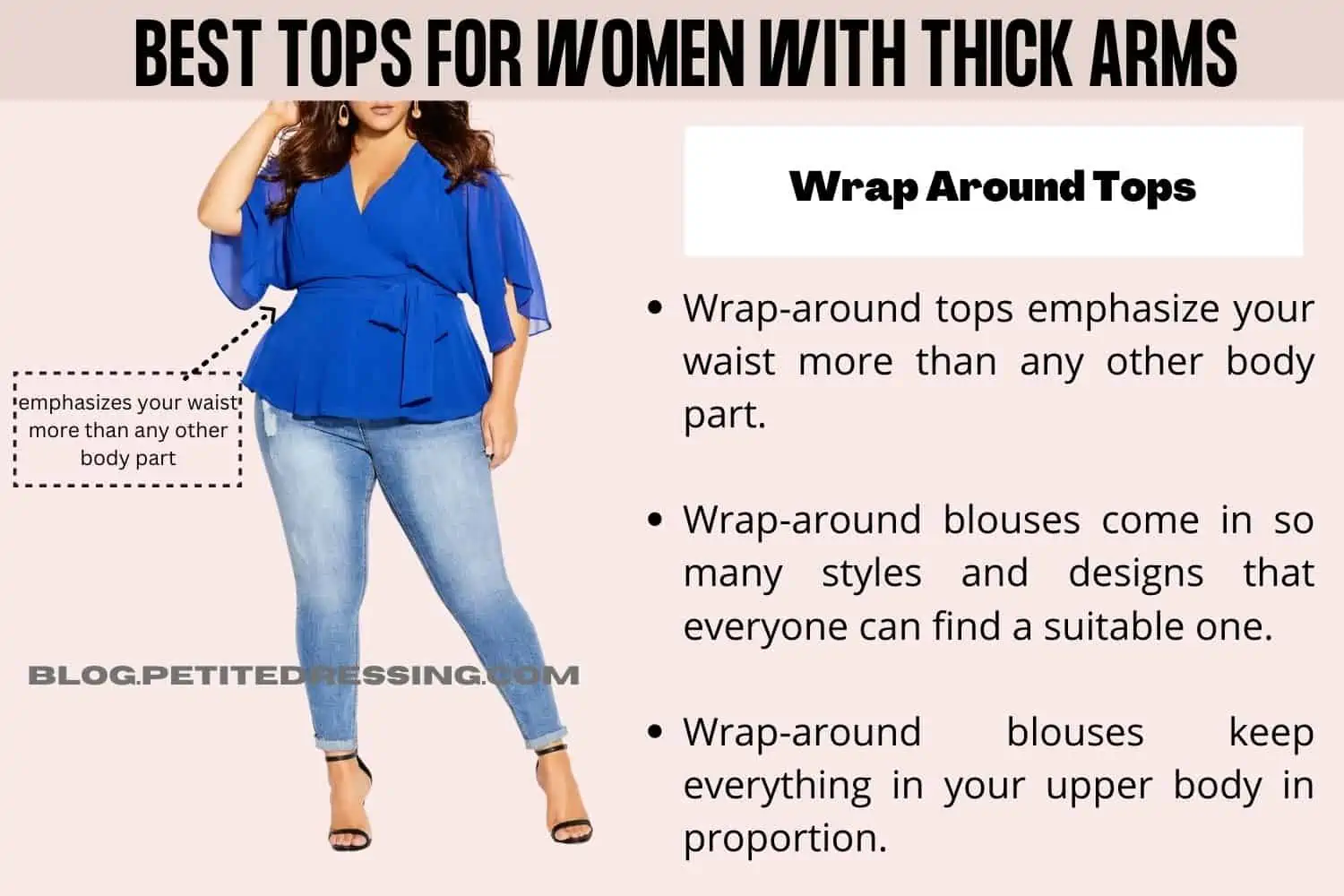 Off Shoulder Tops
You can choose sleeve length till the elbows or full length according to your preference. Both of them will look good on chubby arms as long as they don't end at the thickest part of the arms.
Be aware of off-shoulders with very short sleeves and tight sleeves if you want to conceal your upper arms.
Tight off-shoulder tops aren't flattering on chubby arms. The tightness where the sleeves start (below the shoulders) will accentuate your arm fat.
Keep in mind that off-shoulder tops make your shoulders and neck area broader. So, if it is something you aren't comfortable with, you should skip this style.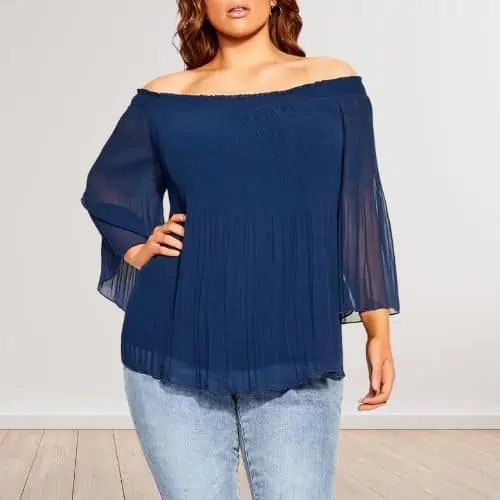 Off shoulder tops are the best, here's why:
Off shoulder, tops take away the attention from your thick arms and put it on your neck and shoulders.
The drooping sleeves hide the thick arms.
Ruffled Blouses
Ruffled blouses look luxurious and beautiful on women. They are a great way to conceal thick arms too. Such blouses are hard to style and aren't friendly for a casual outfit. But if you want a formal look, you can try out ruffled blouses.
Ruffled blouses come in various types. Which one should you go for?
Here's the thing:
If you want to conceal thick arms, go for ruffed blouses with frills near the sleeves that hide your upper arms.
The ruffles will cover the thick area of your arms while keeping the thin ones exposed.
Style ruffled blouses with pleated wide-leg trousers for a put-together look. It is a perfect outfit for dinner with friends or for dinner dates etc.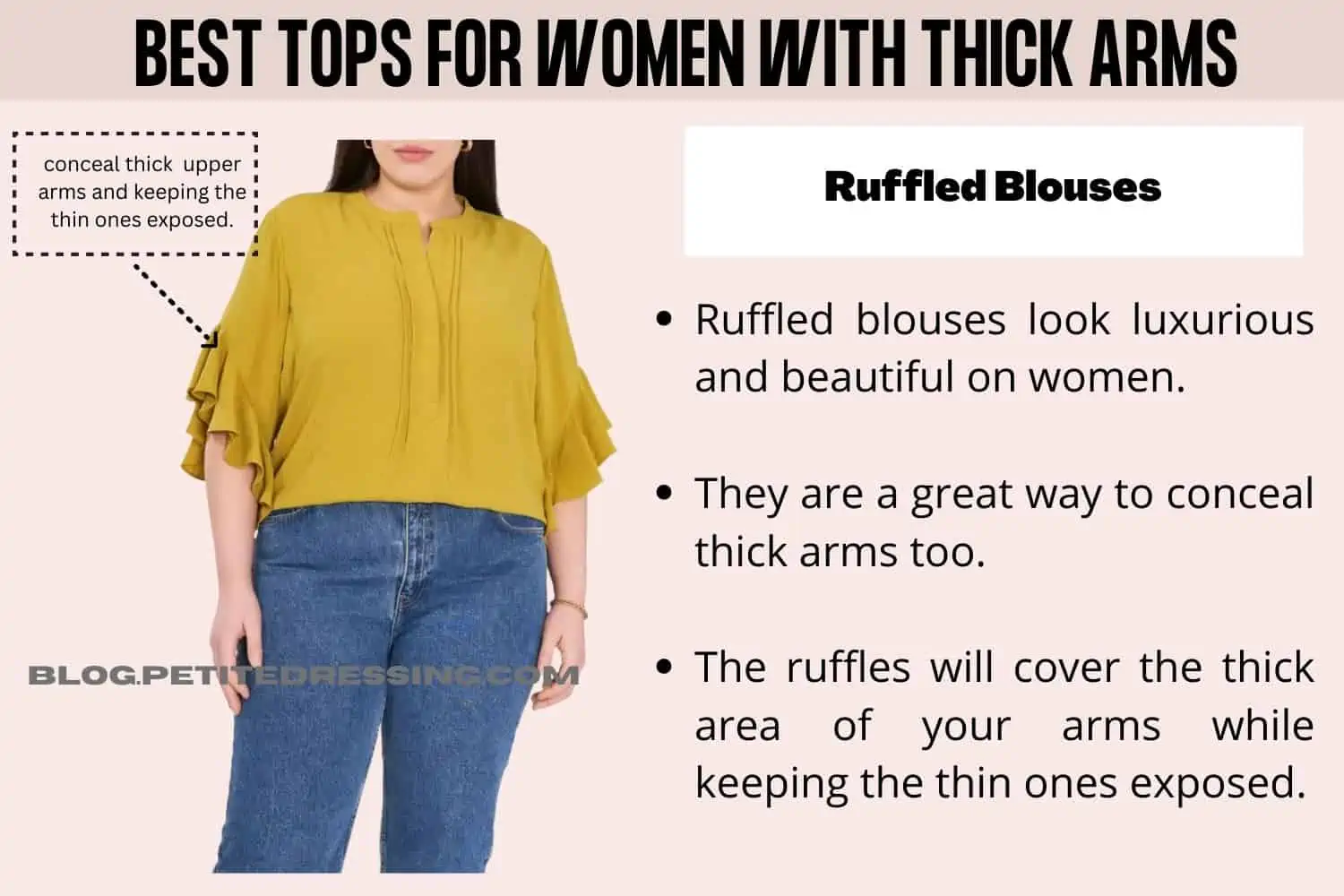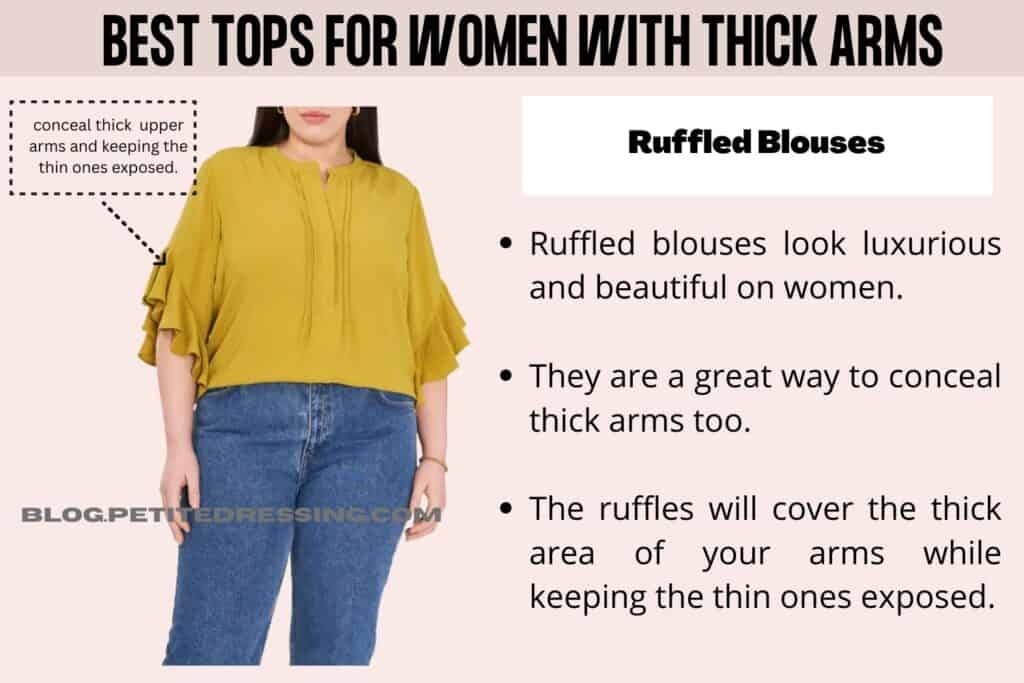 Sleeveless Tops with Wide Straps
You don't have to skip sleeveless tops altogether. Wearing full sleeves or any sleeves, in general, can be uncomfortable in summer. You get all sweaty in the underarms and it isn't a mesmerizing look.
So, what to do in this situation?
You can still flaunt in sleeveless blouses if you have thick arms. However, the right choice is to go for wide straps instead of spaghetti straps.
Spaghetti straps disturb the proportion of your upper body whereas wide straps keep everything in balance.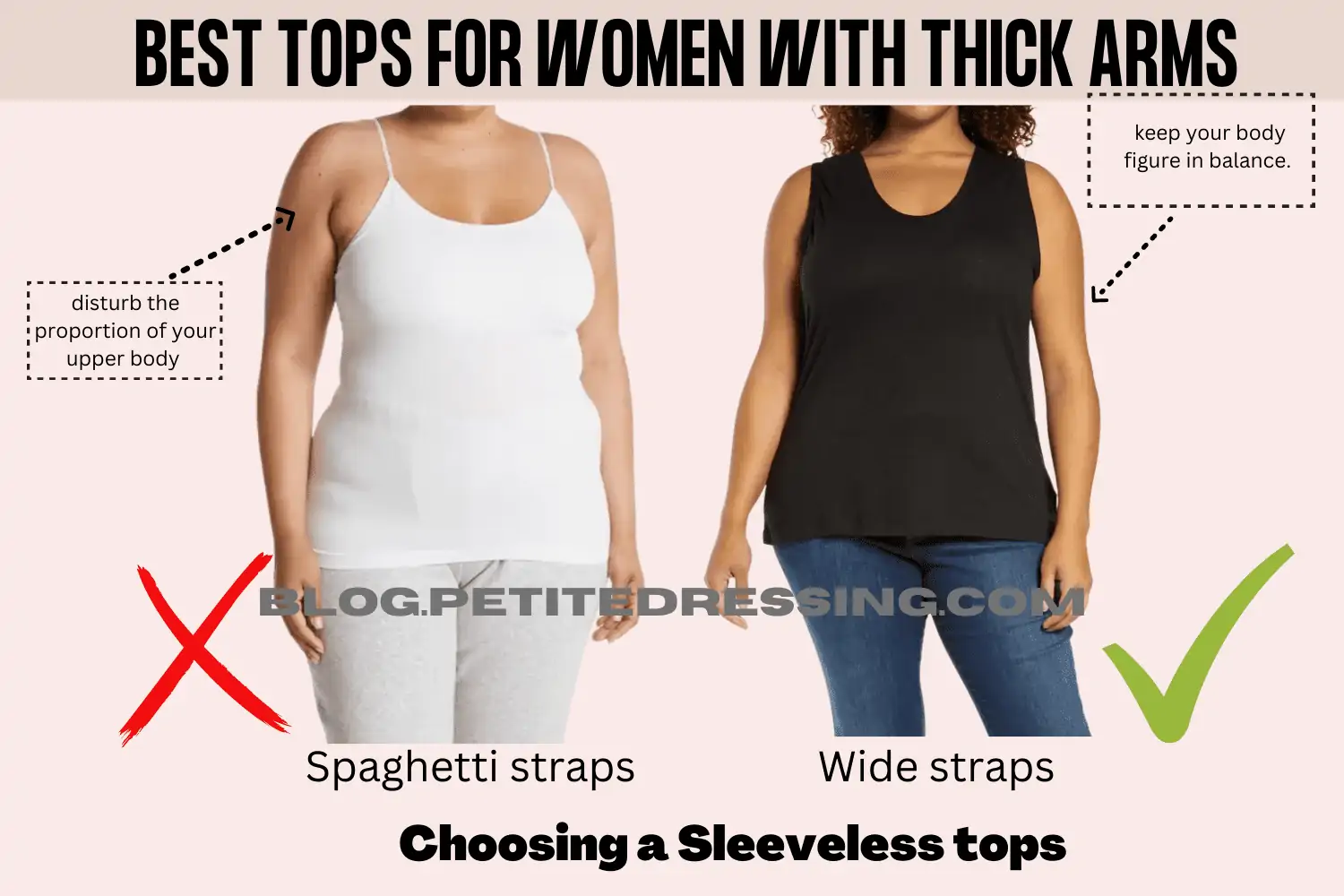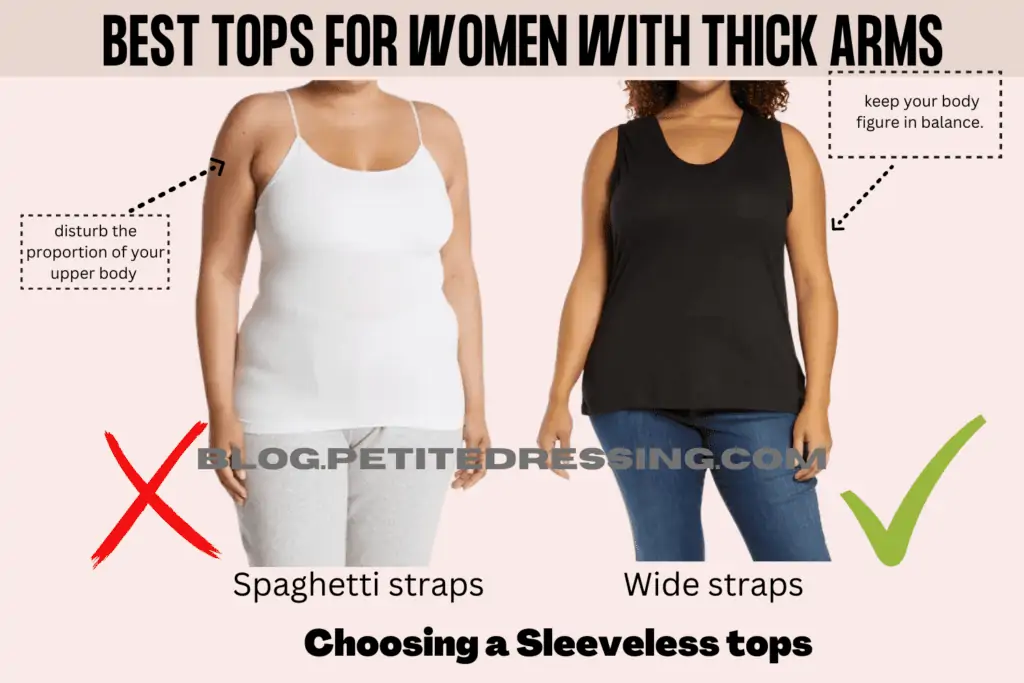 Solid Boxy Fit T-Shirts With Elbow Length Sleeves
Solid boxy fit T-shirts that run loose on your arms and have elbow-length sleeves are great for women with thick arms. This sleeve style covers the thick areas of your arms and gives the illusion of slimmer arms.
Pair boxy T-shirts with mom jeans for a casual look.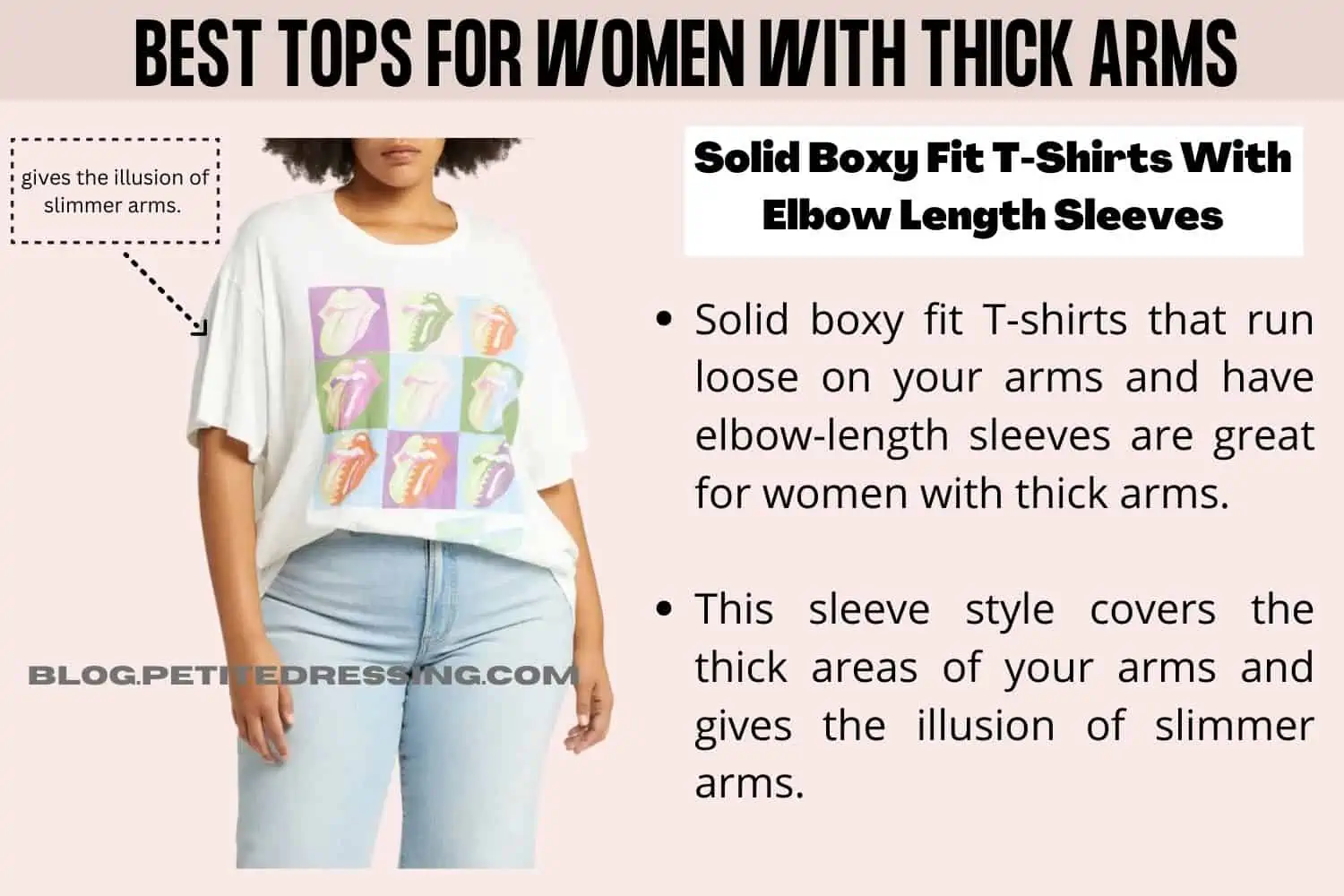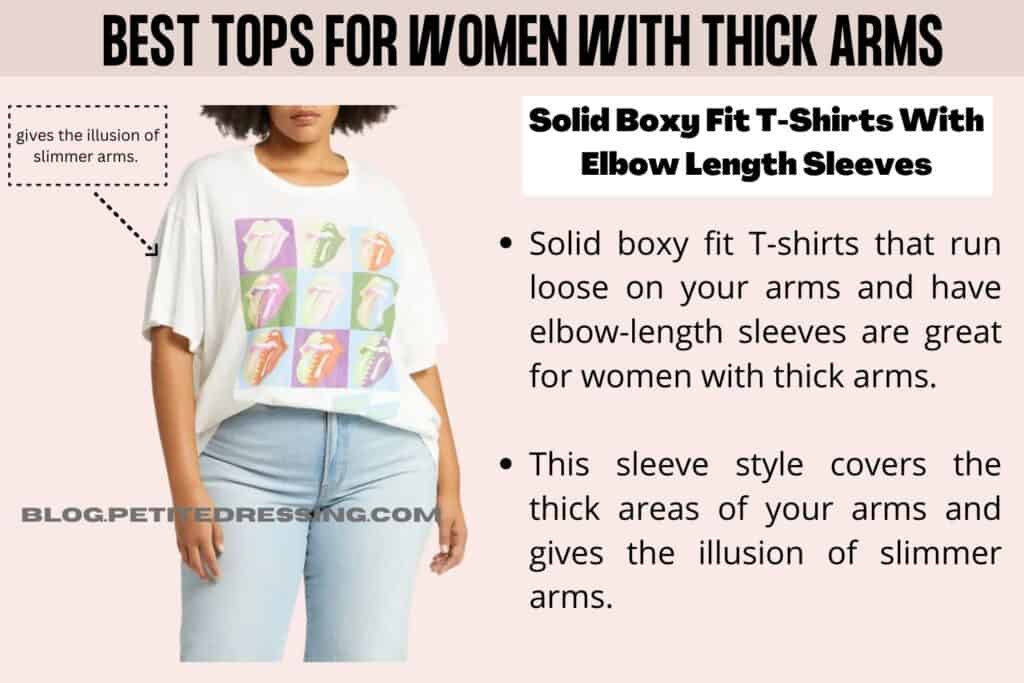 Puff Sleeve Square Neck Tops
Love to show off your neck area but want to conceal your big arms? Square neck tops with puff sleeves should be your go-to!
Puff sleeves provide ample room for your thick upper arms to adjust. This way you don't necessarily have to buy tops with overall loose sleeves. The puff sleeves at the top will be enough for your thick arms.
The square neck looks sexy and puts the focus on your neck more than your arms. They provide more femininity to your outfit.
Such blouses are good for both formal and casual days. You can easily style them up and down according to the occasion. A good way to style up puff sleeve square neck tops is to wear them with flowy trousers and statement earrings.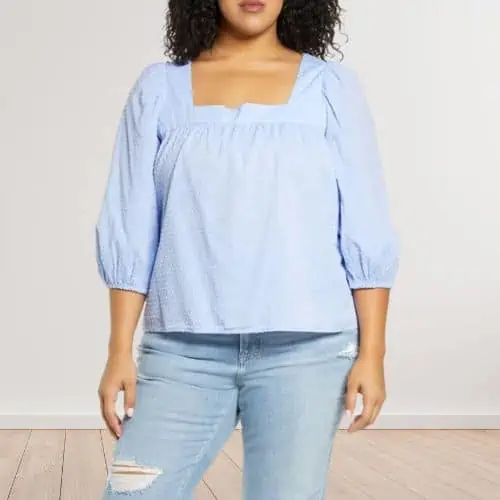 Why opt for puff sleeves when you have thick arms?
Puff sleeves provide ample room for your thick upper arms to adjust.
This way you don't necessarily have to buy tops with overall loose sleeves.
The puff sleeves at the top will be enough for your thick arms.
Blouses with Lace Sleeves
Lace looks elegant, delicate, and feminine. Any outfit with lace in it looks mesmerizing on women. Go for blouses with lace sleeves to conceal your thick arms. Choose a loose sleeve style so your arms don't feel trapped in the sleeves.
The best thing about this style is that you have so many options to choose from. You can go for an all-lace blouse or a solid blouse with lace sleeves. The length of the sleeves can also vary.
The lace puts more focus on the lace design instead of your thick arms.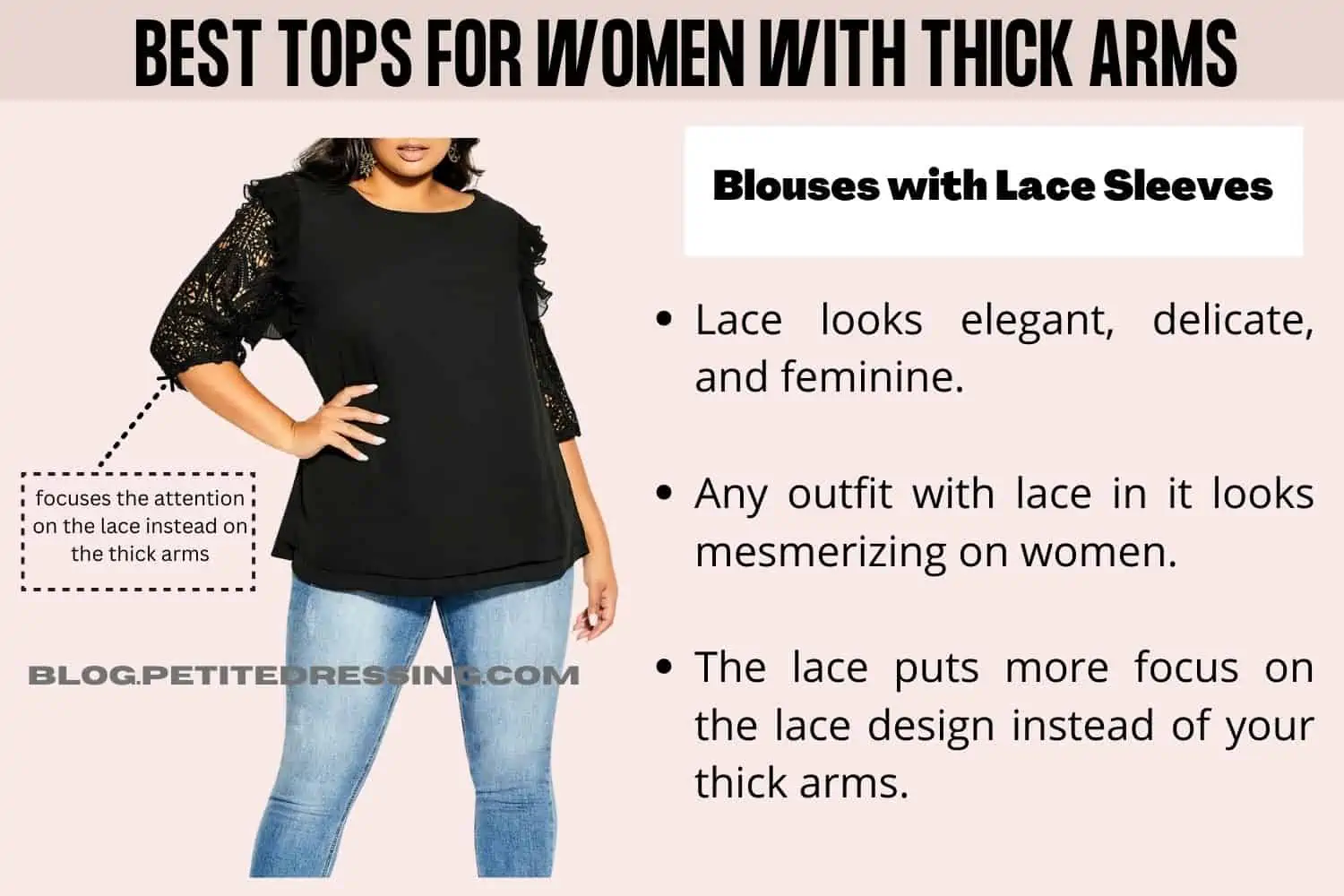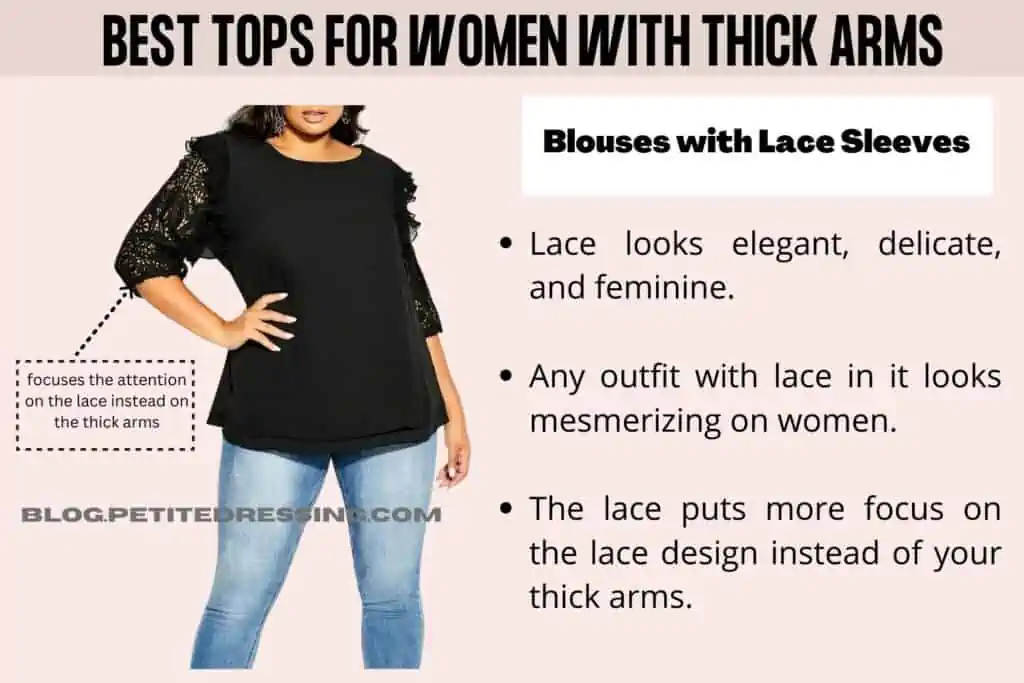 Steer Clear of Tight Sleeves
Tight sleeves aren't ideal if you want to hide your thick arms. They don't provide enough room for your arm fat to adjust and your arms end up looking thicker than they are.
Tight sleeves accentuate your thick arms. They make your arms look flabby instead of flattering. Going for a looser sleeve is always a good idea if you have thick arms.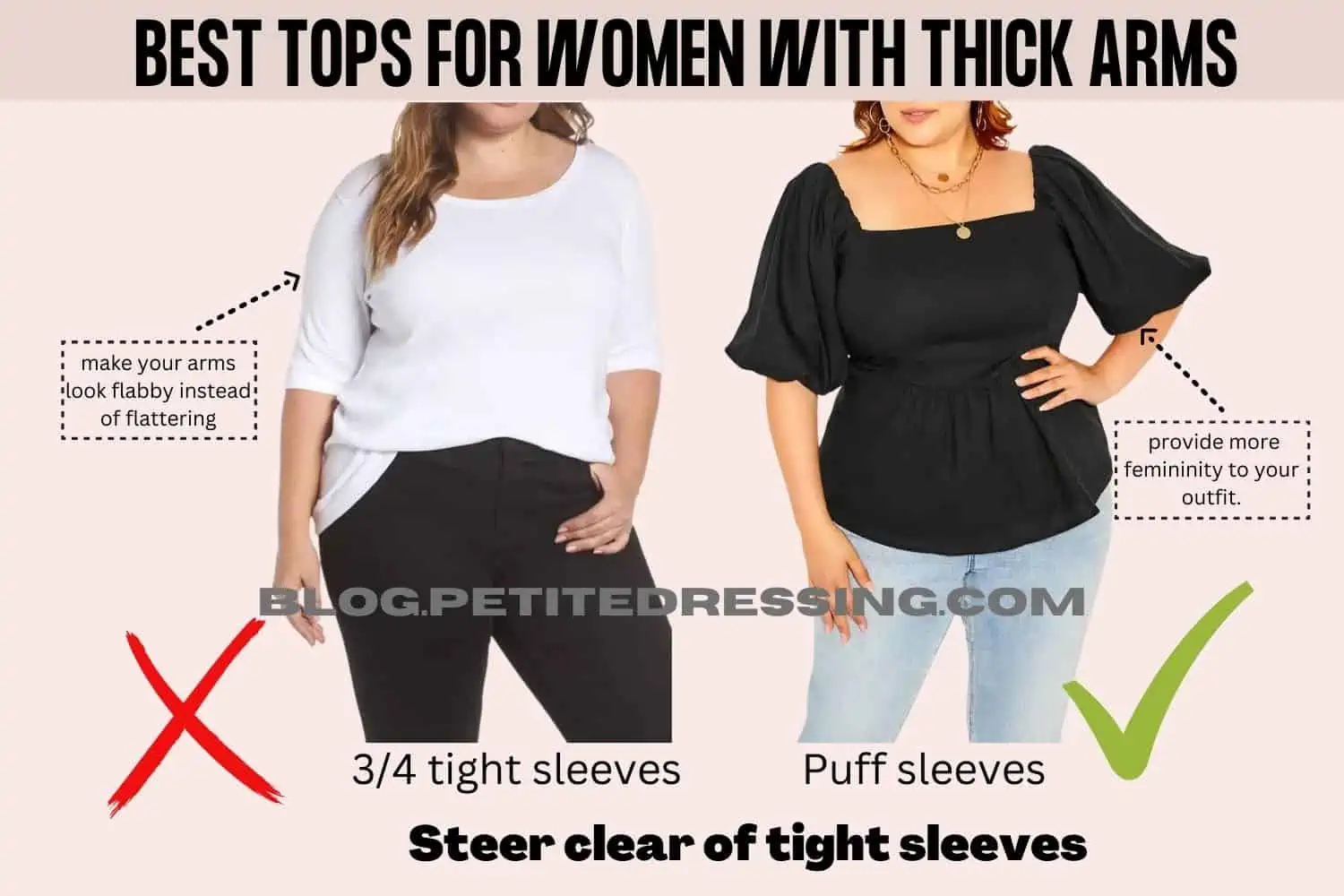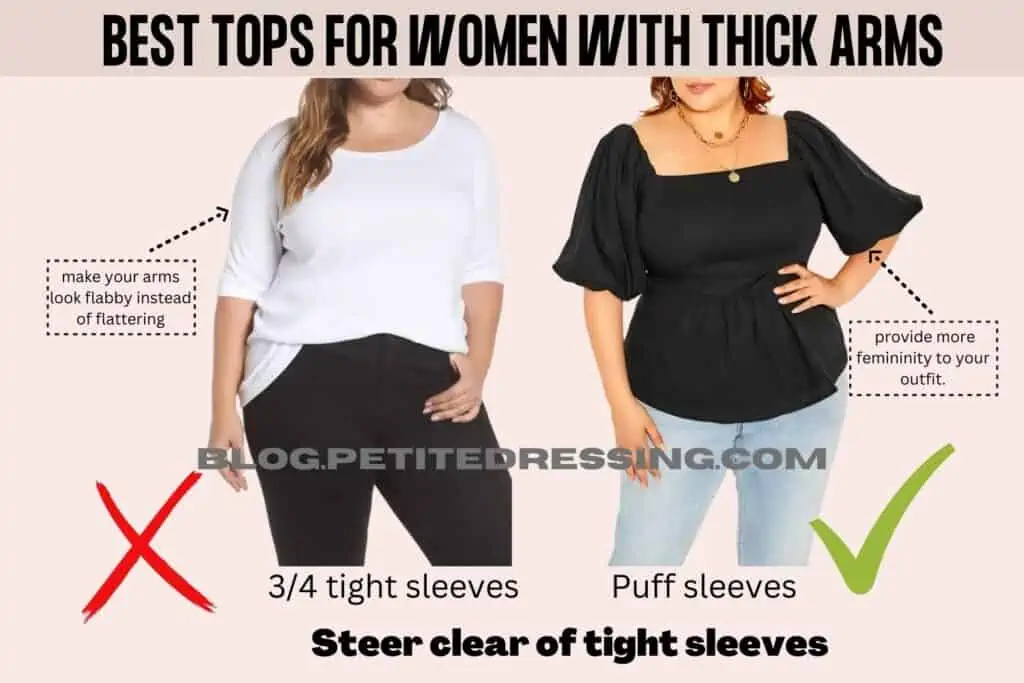 Avoid Overall Shirred Sleeves
Shirred sleeves sit tight on your arms and make them look bigger. Therefore, you should avoid such a style.
The shirred pattern on the cuffs might look good if you have thin wrists. But if the shirred is on the upper arms, it will accentuate your thick arms.
Moreover, sleeves with elastic (shirred style) in intervals aren't suitable for thick arms either. They provide an illusion of thicker arms. So, women with already thick arms won't feel flattered by this style.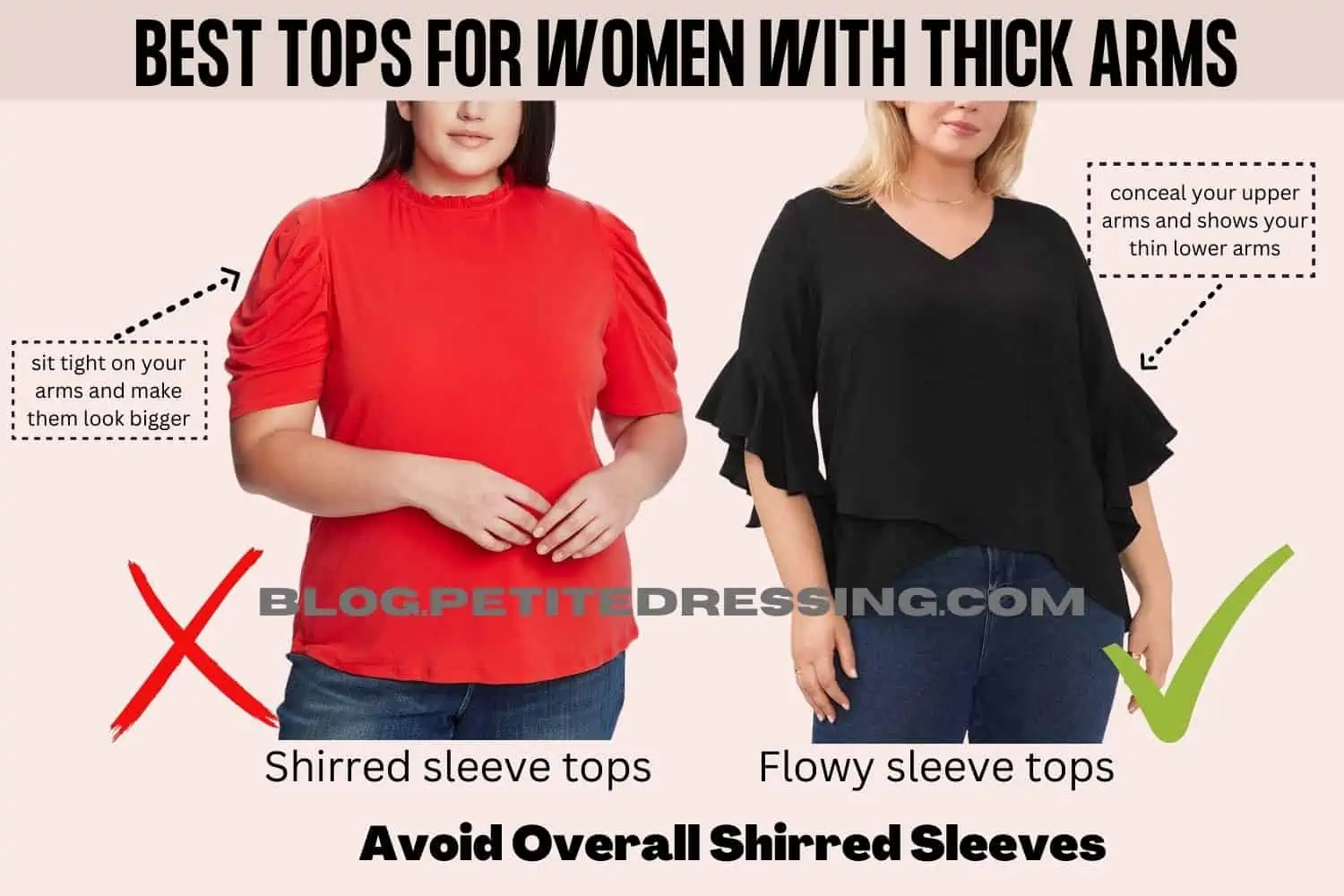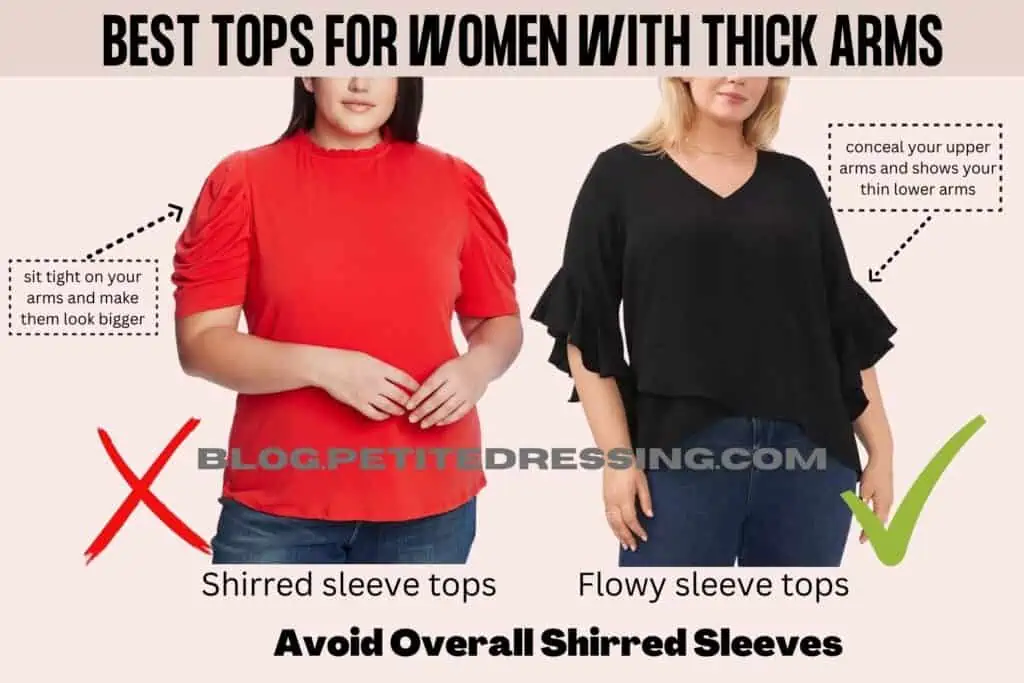 Avoid Cold Shoulder Blouses
Cold shoulders that sit right below the shoulder will put all the focus on your big arms. That area is the thickest and it is what people would like to conceal.
So, if you want to hide the thickest area of your arms, a cold shoulder top isn't going to help. Off-shoulder tops are better as they cover the thickest area and put the focus on your neck.
Usually, cold shoulder blouses have a spaghetti strap, and then comes the exposed part of your arms. This overall design puts more emphasis on the upper arm (exposed part).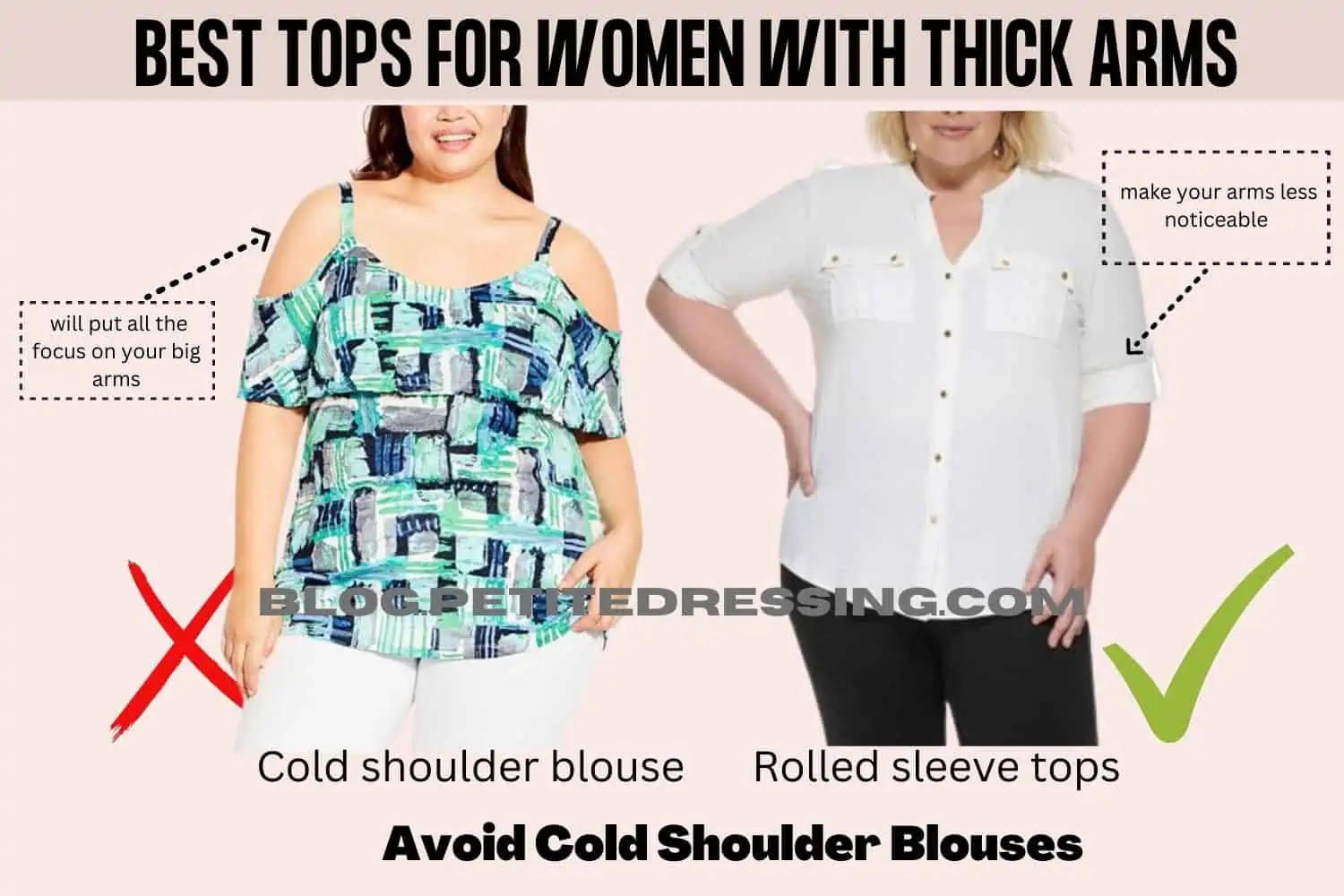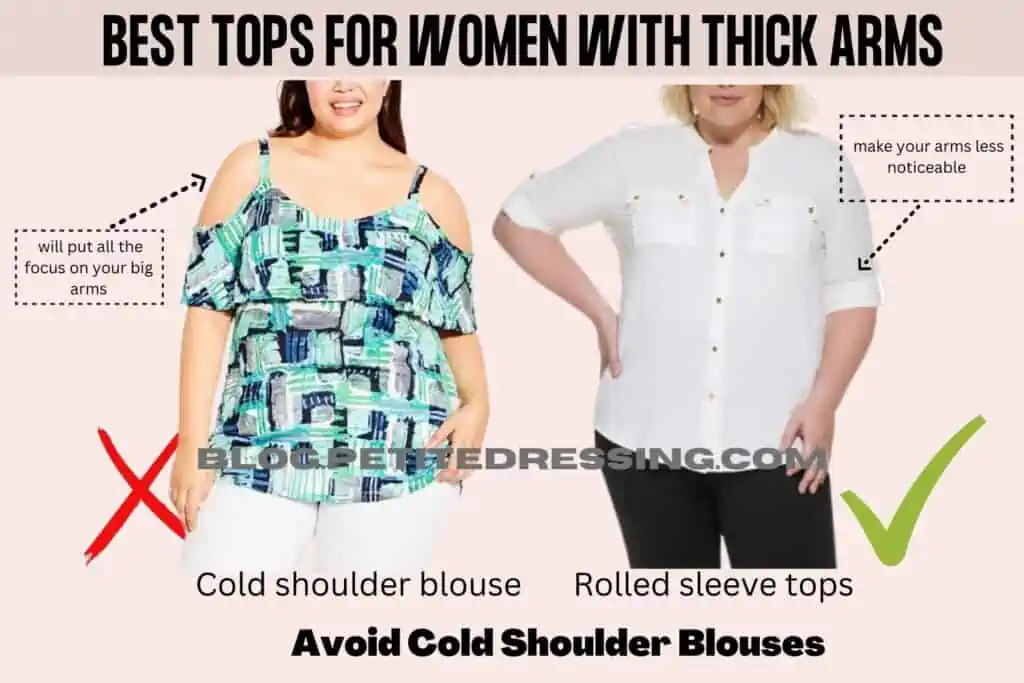 Avoid Stiff Fabrics
Flowy fabric like chiffon is great for thick arms. The fabric you choose for your tops makes a huge difference. Chiffon provides enough space for your thick arms without making them look bigger.
Something that makes your arms look big and stiff isn't going to help such as organza sleeves. Get sleeves with stretchy fabric so that your arm fat can settle in easily.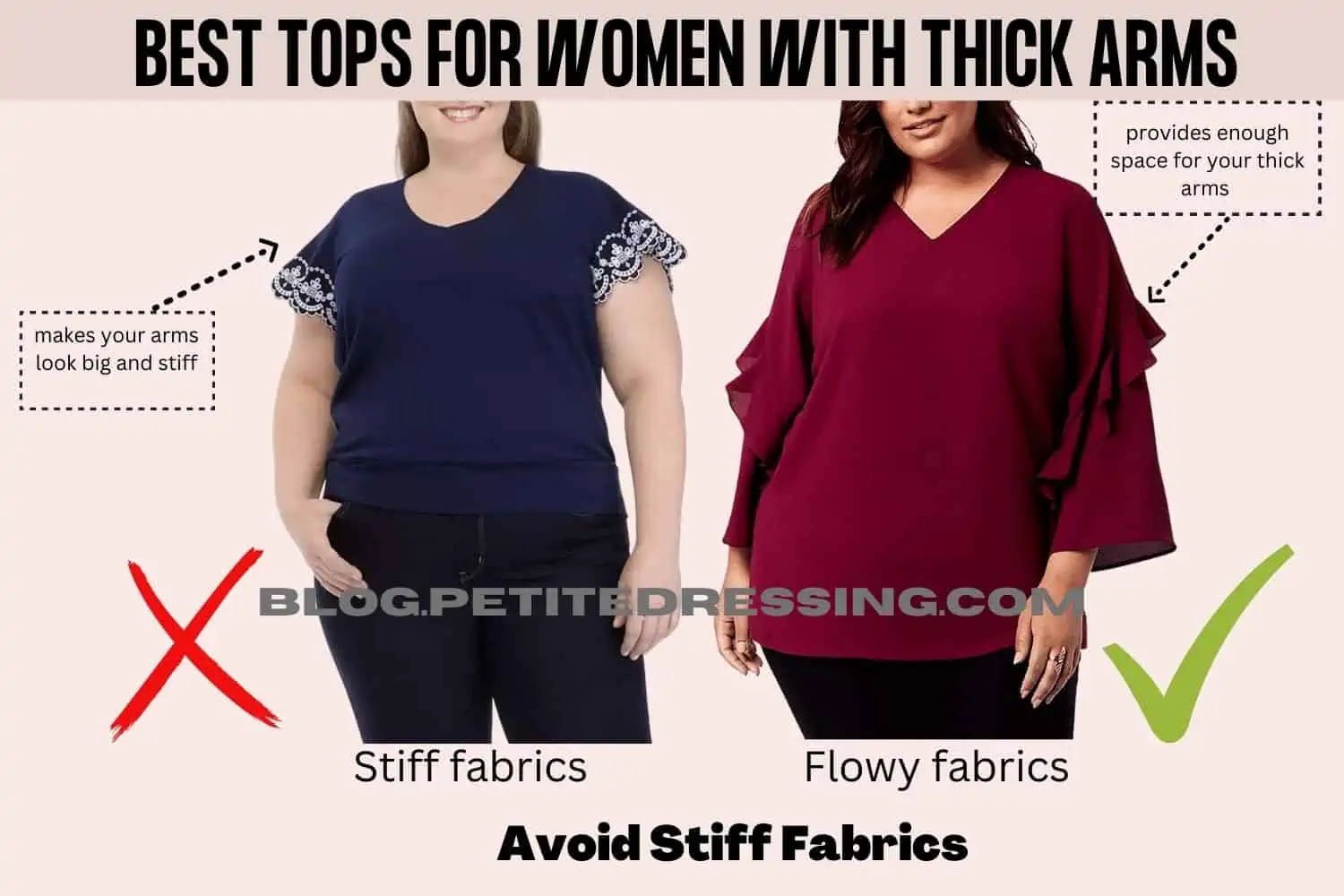 Final Thoughts
Now you know how to style tops if you have thick arms. Having thick arms doesn't mean you have to cover them all the time. All you have to do is choose suitable styles such as flowy sleeves, wide straps for sleeveless tops, and rolled up sleeves. Go for stretchy material and avoid tight sleeves if you want to keep the attention away from your arms. Lace sleeves and puff sleeves look beautiful on thick arms. With our detailed style guide, you will be able to flaunt your thick arms every day in every outfit!