Having a short and curvy figure sometimes can make it challenging to find the right skirts. Since I am 5'2″, and I have a petite clothing line, I understand the common issues for styling petites and the ins and outs when it comes to the skirts.
The key is to choose the right style that elongates your shape and pair with the right tops to create a long and lean silhouette. I've listed below the best styles for you as well as what you should avoid. It goes without saying that you should also understand how petite sizing works, in order to find the perfect skirts that fit you the best.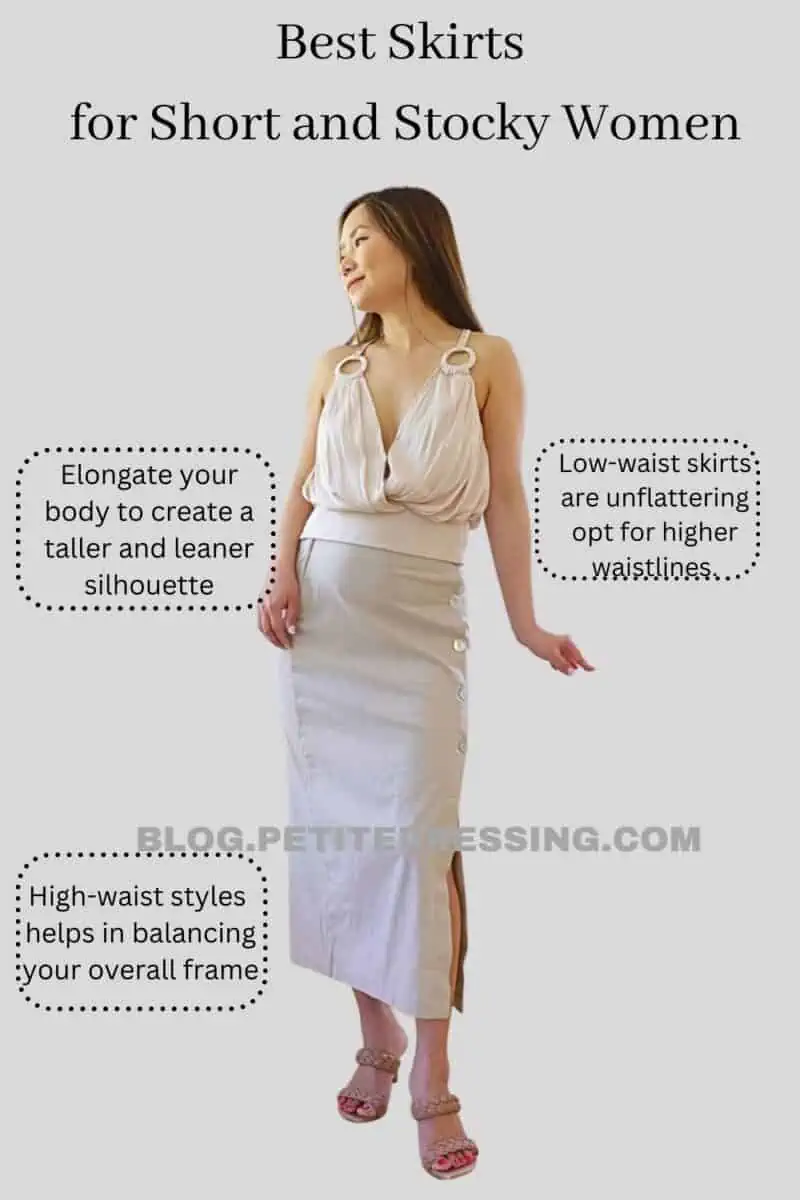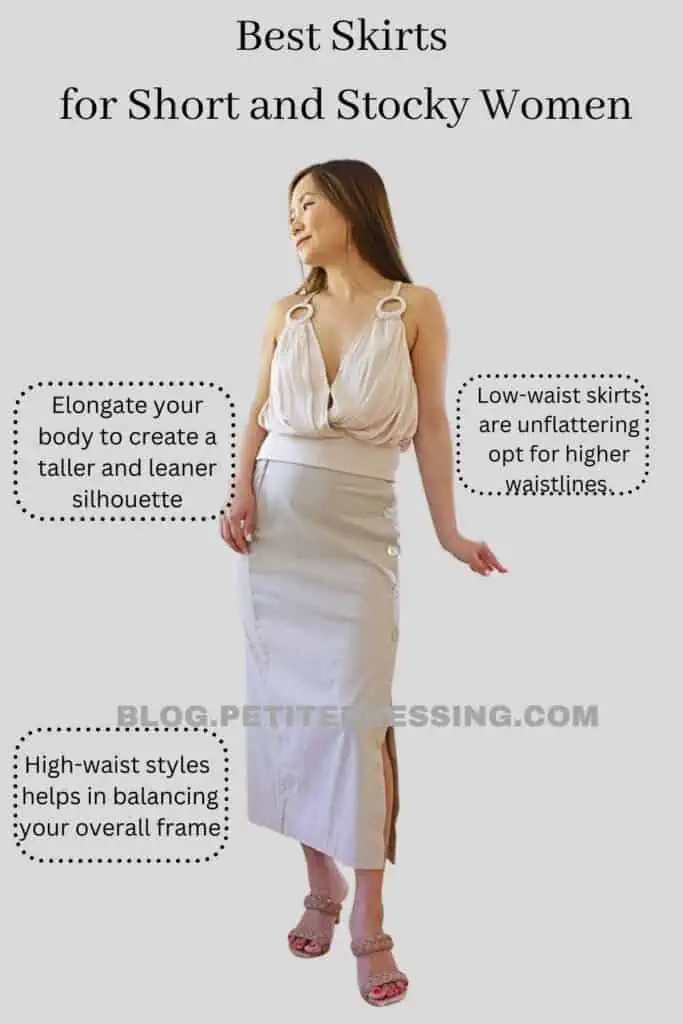 Flowy maxi skirt
Flowy maxi skirts are usually long, at least up to the ankles, while being lightweight with how it flows gracefully. Everything about this description is appealing and you're in luck, because this amazing style will look even more amazing on your body type.
Look out for flowy maxi skirts made with lightweight materials like cotton and chiffon, as this give a breezy and comfortable fit. No one wants to move around with clothing choices that can make the day unbearable, especially in warm weather.
The good news about this style of skirts is that they can be dressed up or down, depending on your choice of top. This makes maxi skirts great for casual and formal outings. This well-fitted flowy style creates the illusion of a longer silhouette which is great for short women.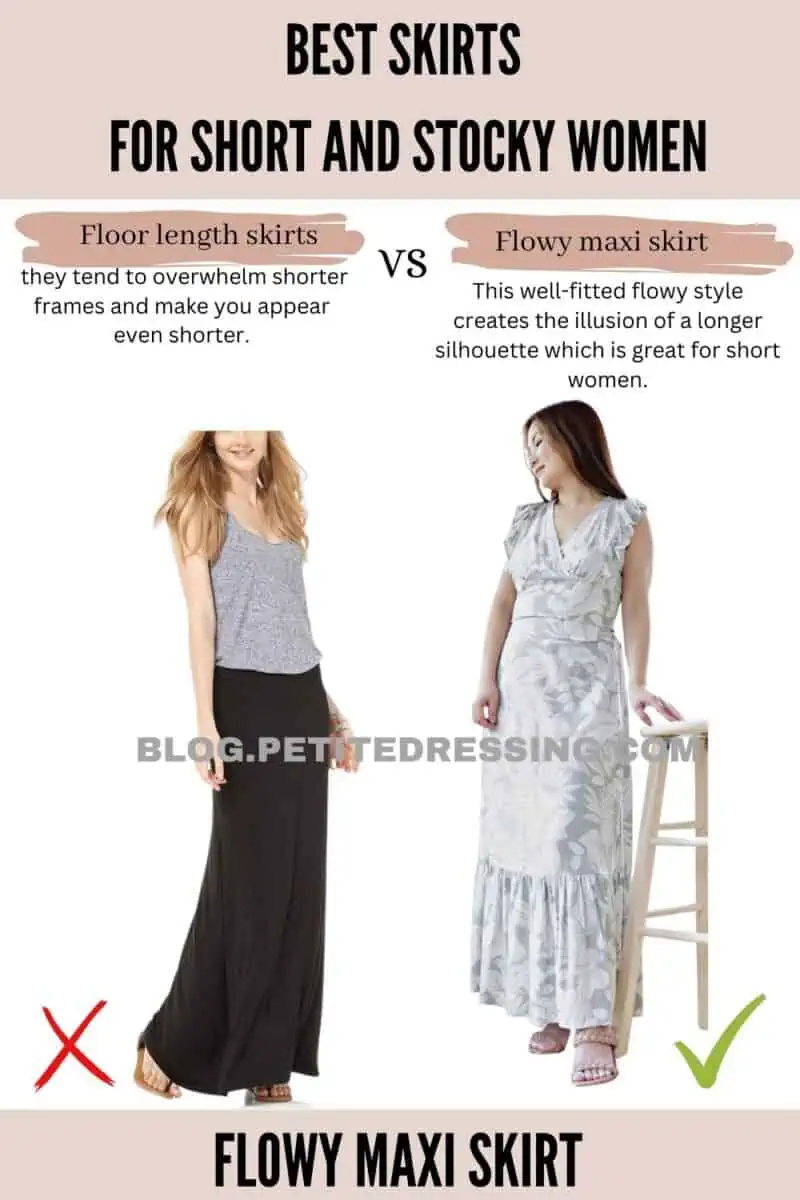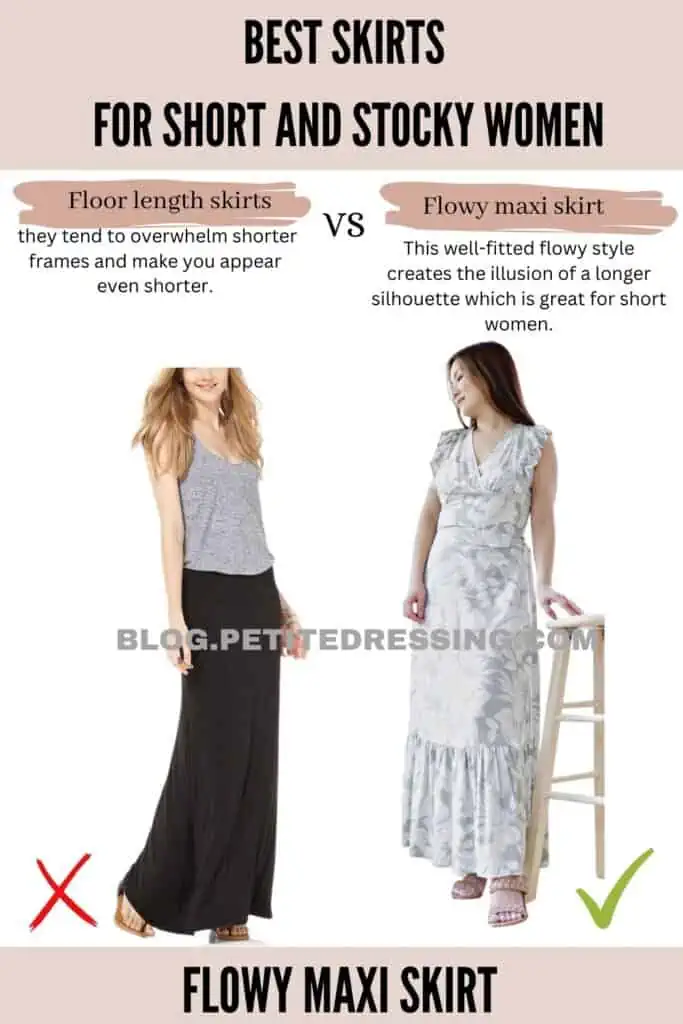 It elongates your lower body in a way that makes you appear taller. Meanwhile, you'll also love the easy movement that comes with this relaxed fit, especially on your stocky figure. One more thing to note is the balancing effect of flowy maxi skirts.
The length draws attention away from your upper body, which gives your overall body proportion a more balanced outlook. You can pair this with a fitted top to emphasize your assets or throw in a cropped jacket for a more defined silhouette.
High-waisted A-line skirt
Take your confidence level up several notches with high-waisted A-line skirts. These are one of the top choices for short and stocky women that want to look slimmer without going over the top. High-waisted skirt styles are great, especially for concealing muffin tops.
So, to really hit that slimmer silhouette, you should consider buying high-waisted A-line skirts in darker colors. Meanwhile, the A-line style contributes a lot to making your waist appear smaller, including a curvier outlook.
Overall, you'll definitely have a more beautiful silhouette that inspires confidence every time you step out. Another thing to look out for here is the length of your high-waisted A-line skirt. How long is too long? Well, the safest length here is knee-length as this is perfect for short and stocky women.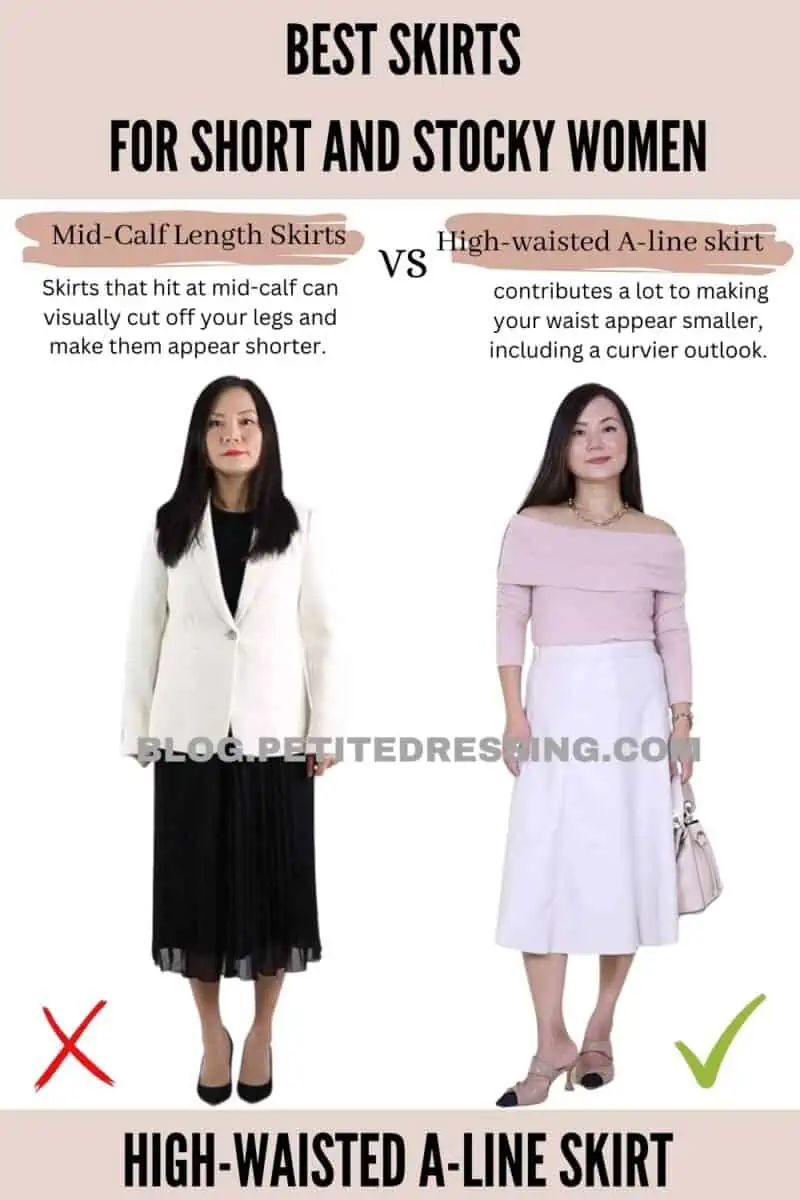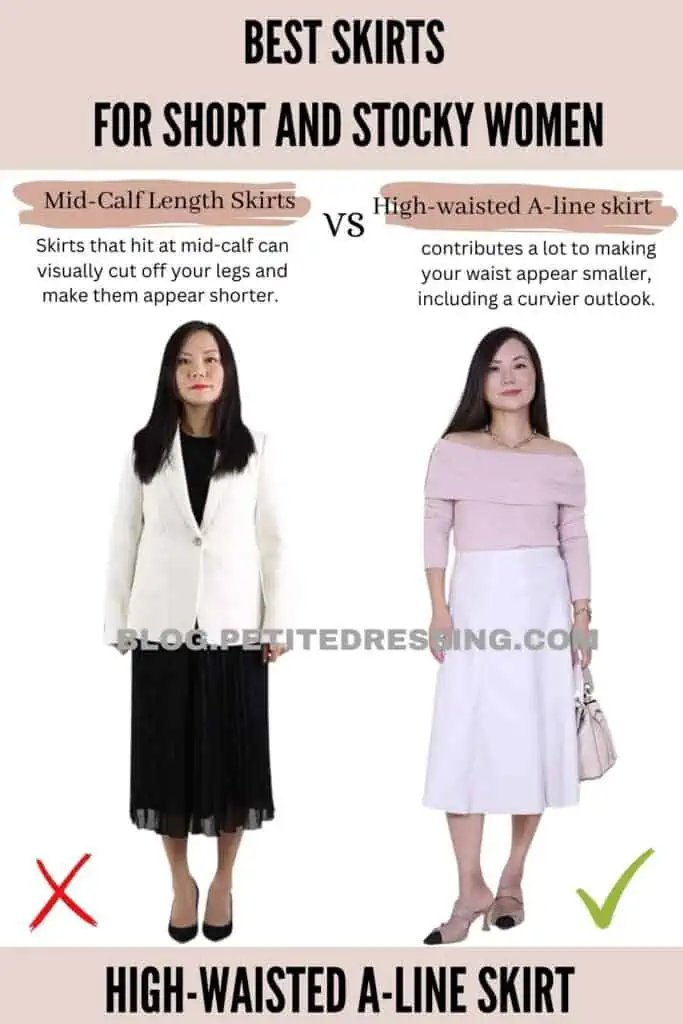 You don't have to worry so much about the style of tops to pair with this skirt because A-line skirts are not picky. You can look out for patterned tops that are simple yet classy. Remember that the patterns shouldn't be too huge or they will draw the wrong attention.
Skirts with a slit
Skirts with a slit are stylish and sexy for short and stocky women, and it's so easy to fall in love with this style of skirt. They look absolutely gorgeous because of how they seamlessly blend with your body shape without revealing so much.
This slit works even better on fitted skirt styles like a knitted skirt, especially during cold weather. There are different styles of slits but a favorite will always be the one that shows off your legs stylishly.
Since the skirt will be knee-length or a little below the knee, this is just enough to show off your ankles. This combination will make short women appear taller, especially when the skirt is not too loose or tight.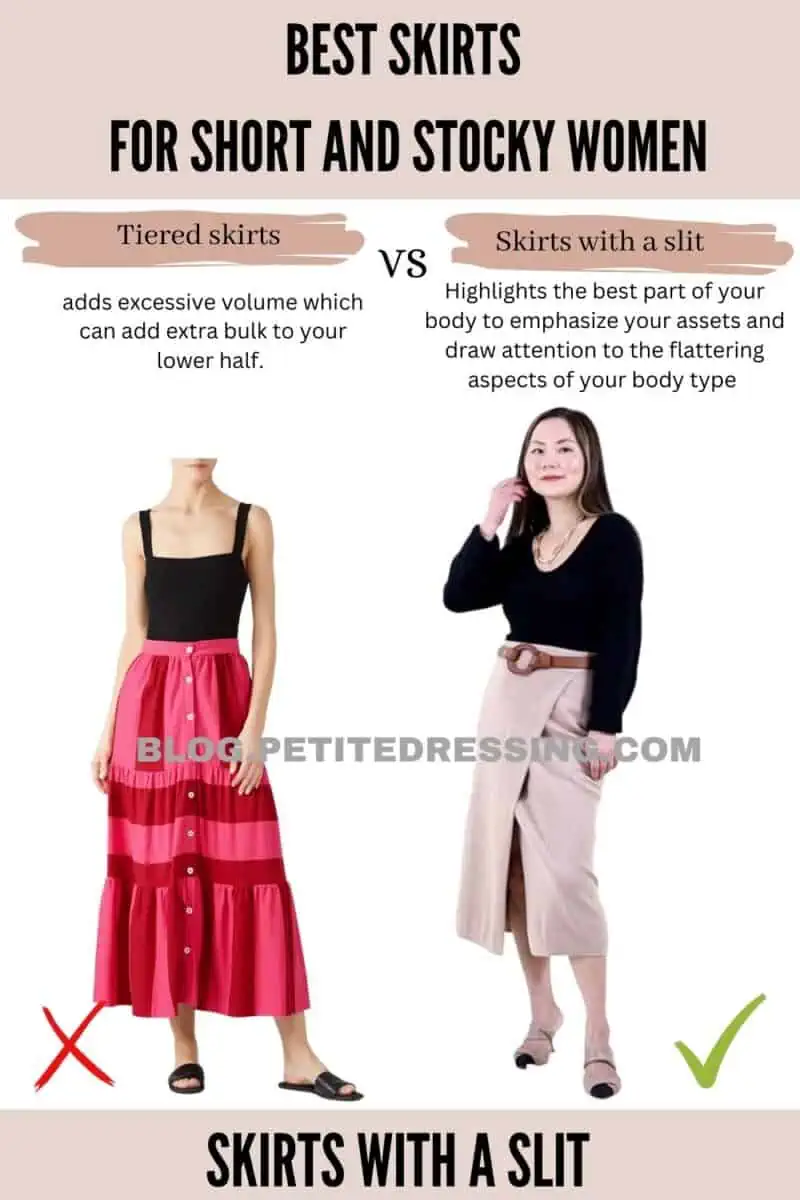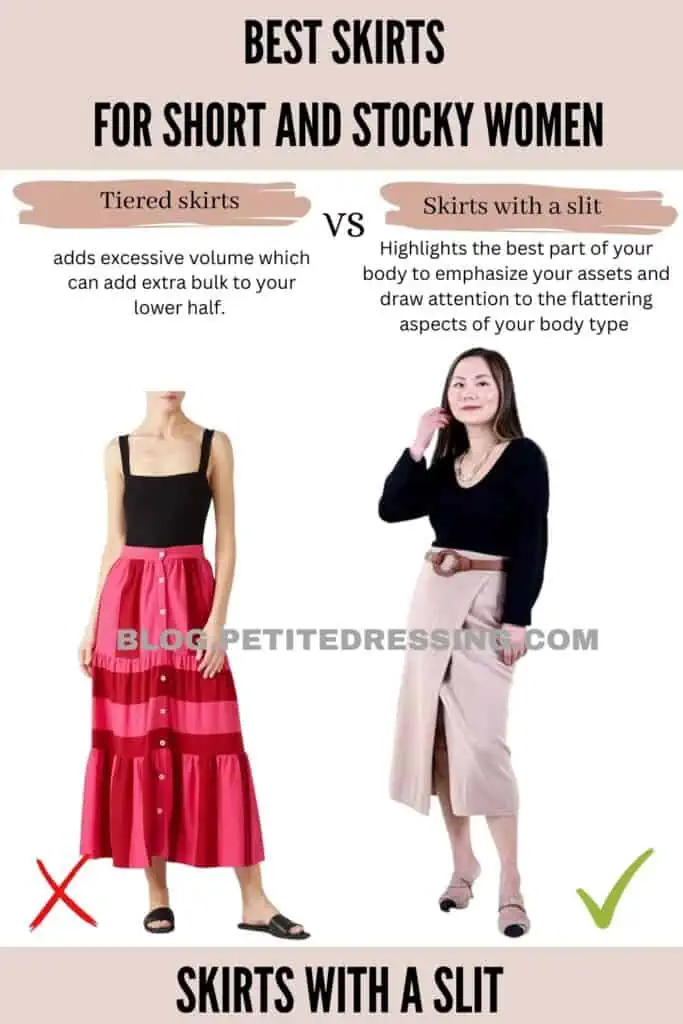 Highlighting the best part of your body to emphasize your assets and draw attention to the flattering aspects of your body type is easy with skirts that have a slit. So, magically increase your height with this style.
If you're feeling a little self-conscious about showing off your curves, you can pair this with a black A-line coat which increases your elegance to amazing heights as well.
Belted skirt in dark colors
How would you like to create the illusion of an hourglass figure using a top-notch skirt style? Well, all you have to do is go shopping for a belted skirt in dark colors and you'll be absolutely glad you did.
One of the most obvious effects of a belted skirt is how it gives your waist a cinching effect. This belted style makes your waist appear smaller and you have the liberty to adjust this to one that suits your preferences.
Of course, if you're one of many short and stocky women that has a little belly, this belted skirt will accommodate it nicely and comfortably without drawing so much attention to this part of your body.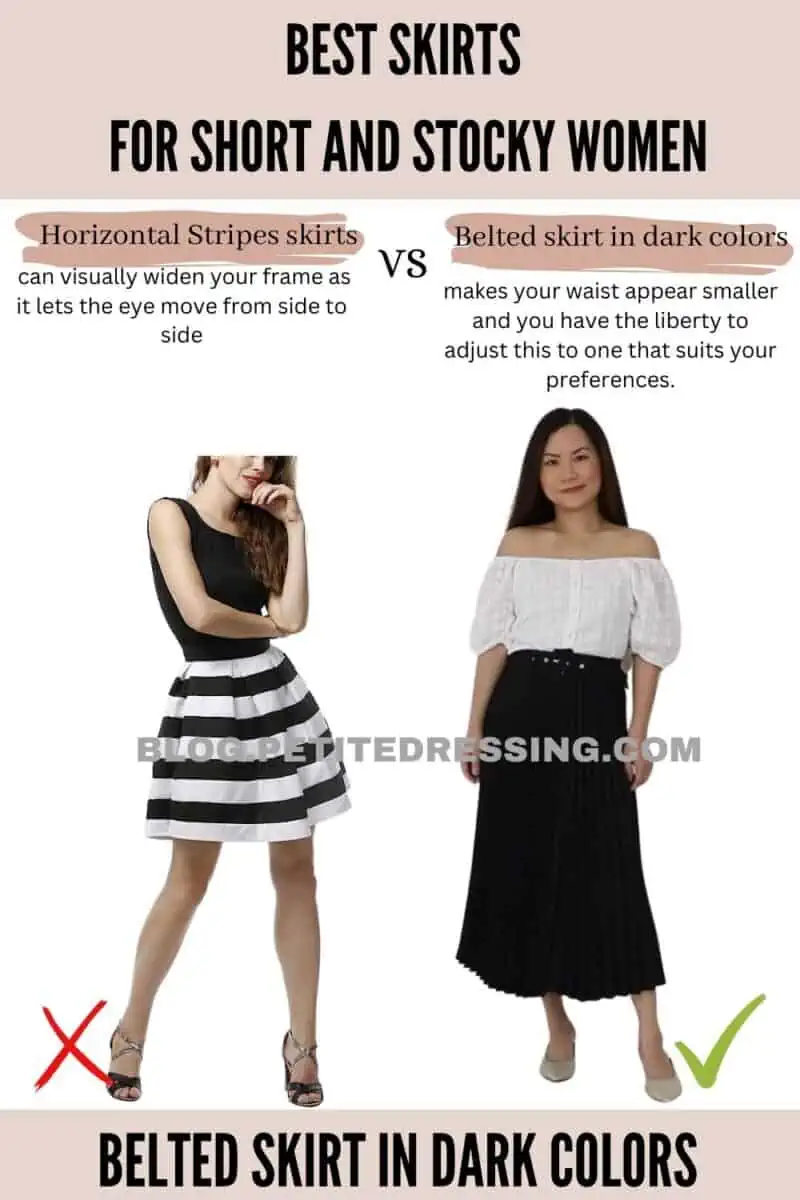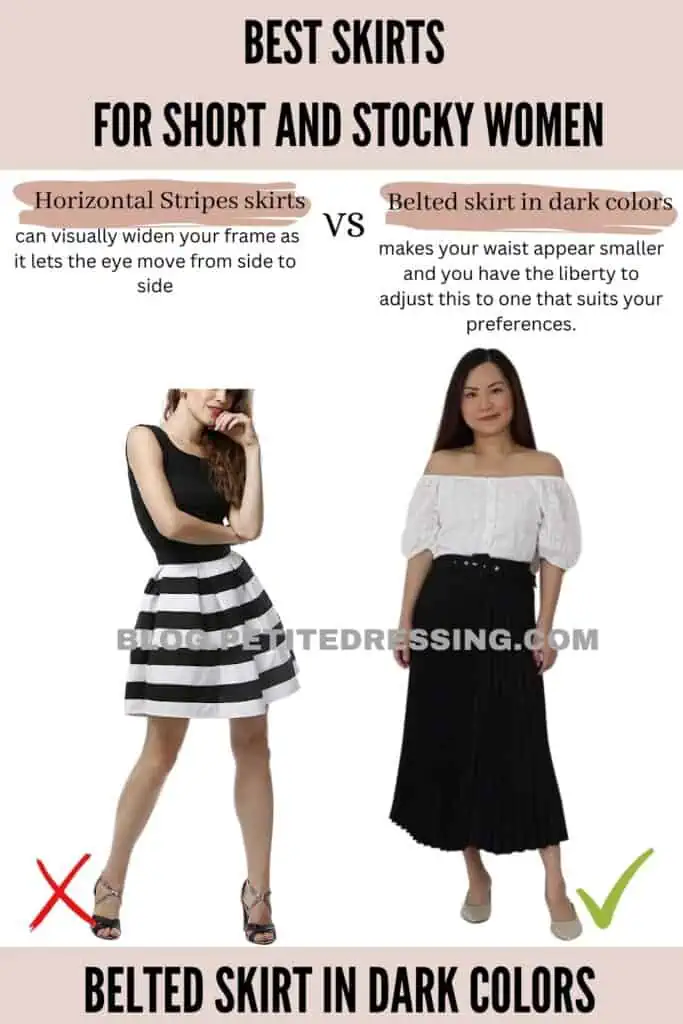 The hourglass figure a belted skirt creates on your body type conceals muffin tops and keeps you looking ravishing at any occasion. So, what tops will pair nicely with a belted skirt? My first recommendation is a button-down shirt which has a classy look. You can also opt for tops with a V-neckline.
Knee-length pleated skirt
A knee-length pleated skirt is another great option for your wardrobe as a short and stocky woman. Interestingly, there has been word going around that short and stocky women shouldn't wear short skirts, but that's absolutely not true.
A knee-length pleated skirt is just right for you, especially if you want to look taller and slimmer. Achieve a chic look with the sleek lining pattern of pleated skirts. This is the ultimate hack for short and stocky women.
So, if you're skeptical about how you think you would look in this skirt style, I recommend checking yourself out in front of a full-length mirror first before making any major decisions. There's a huge chance you'll love what you see.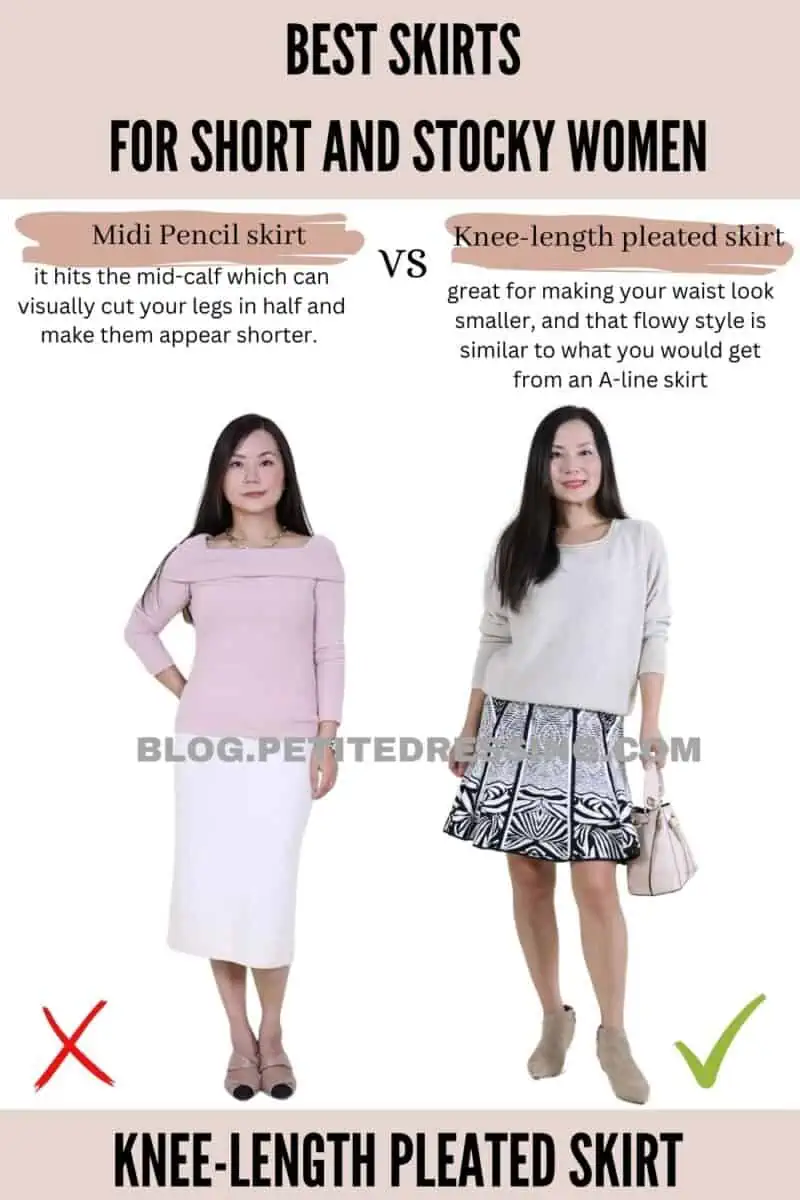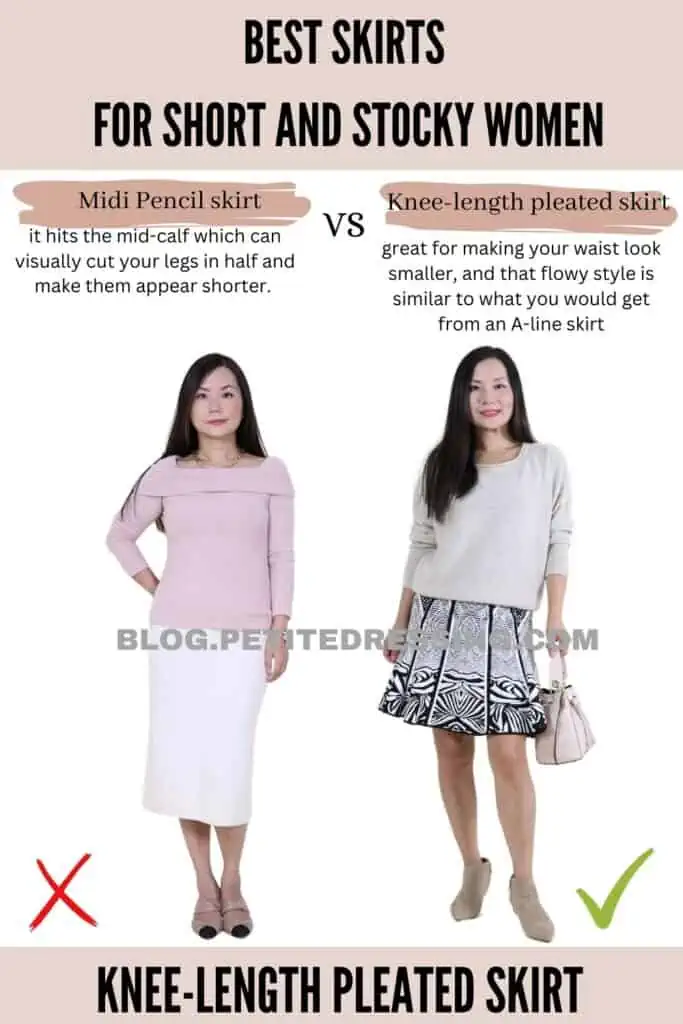 Pleated skirts are great for making your waist look smaller, and that flowy style is similar to what you would get from an A-line skirt. And everyone knows that A-line skirts are a chubby woman's best friend.
So, feel free to pair this up with a V-neck top that gives a subtle classy aesthetic to your entire outfit. This trendy style won't make you look short or heavier than you are. They are the perfect alternative to pencil skirts.
Avoid short pencil skirt
As a short and stocky woman, you'll inevitably have large thighs and it will be a bad idea to wear skirts that emphasize this. Short pencil skirts do exactly this and that's a major reason you should avoid them.
Most short pencil skirts will be tight around your thighs and not cover them comfortably. This makes your thighs appear larger and there's another huge downside to this. It's much more difficult to move around freely in a pencil skirt that draws attention to your thighs.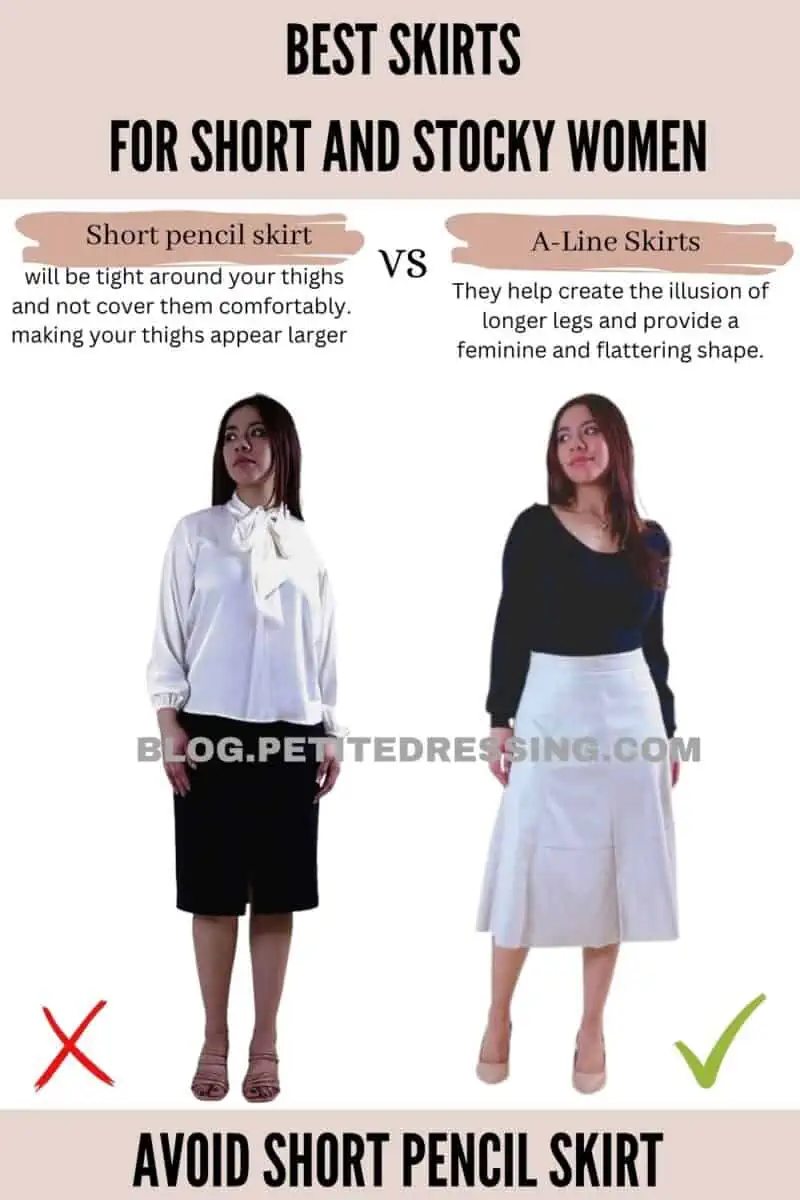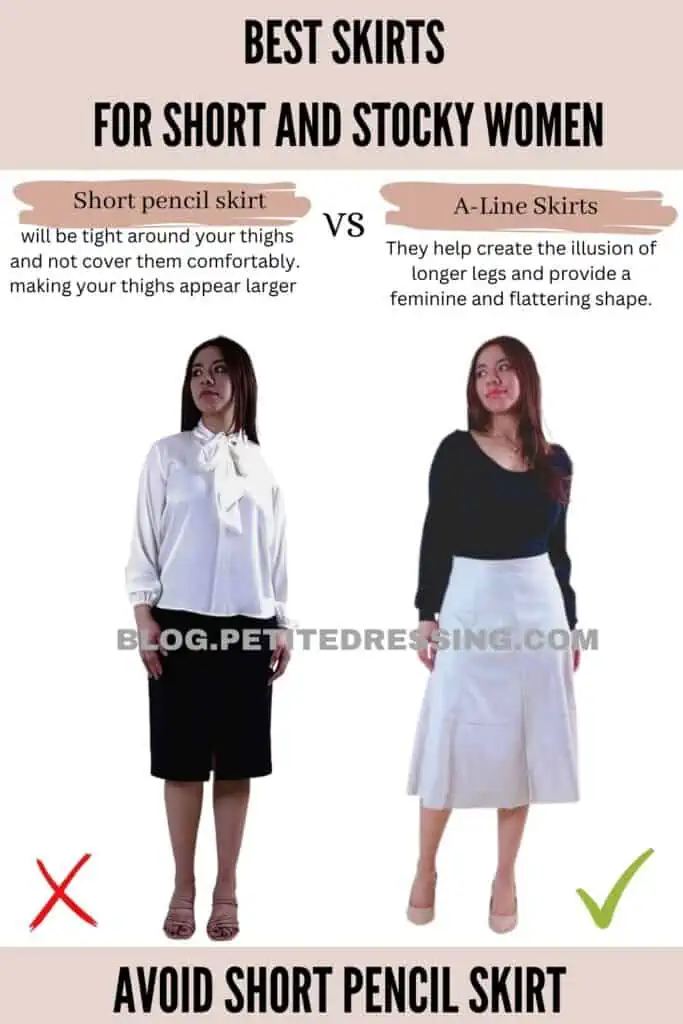 If you want to look slimmer, avoid short pencil skirts. A better alternative is a knee-length skirt rather than a mini as this will feel much more comfortable and fit your body shape better. Of course, choose darker colors to really enhance this silhouette.
Avoid low-waist skirt
By now, you would have noticed a common theme with my top recommendations. Many of these amazing choices help to create a slimmer and taller silhouette on short and stocky women.
However, you won't be getting any of these results with low-waist skirts. These skirts will instead make you appear several inches shorter than you actually are. They also give you a heavier bottom outlook which doesn't complement your body type.
Low-waist skirts are unflattering for short and stocky women, especially as they draw more attention to muffin tops. So, if you have tummy fat and want to conceal them in a stress-free way, it's best to avoid low-waist skirts.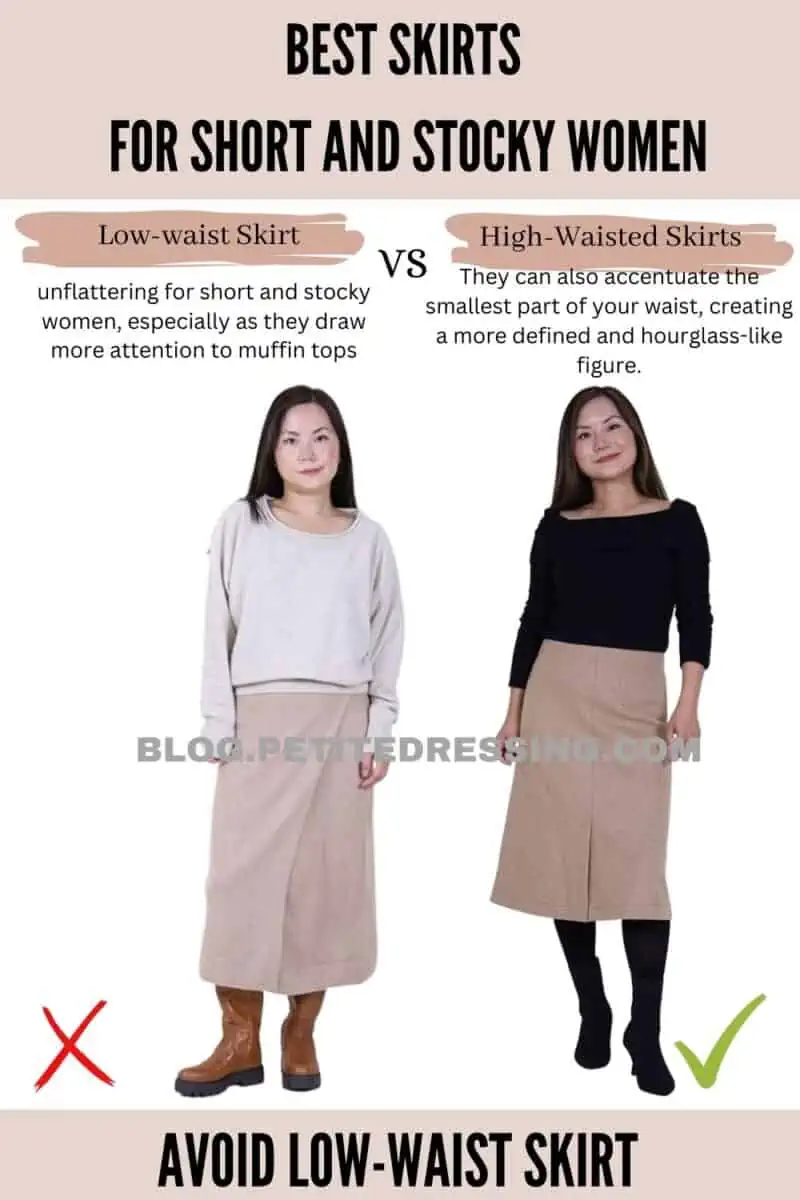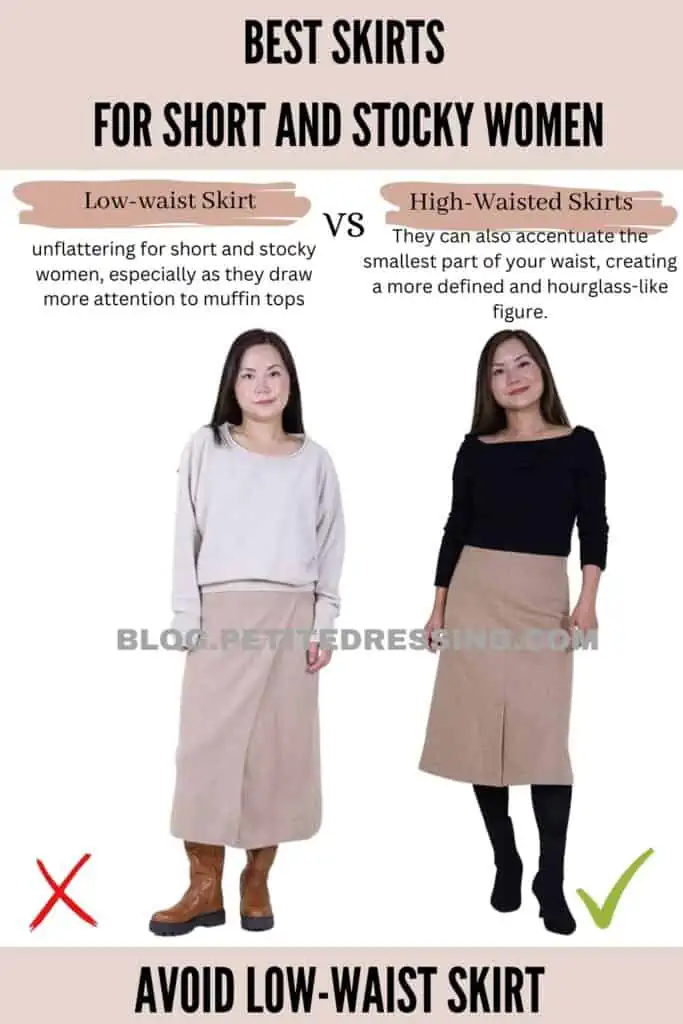 Instead, go for high-waist or mid-waist styles as they emphasize an hourglass silhouette that makes you appear curvier. High-waist styles also help in balancing your overall frame, so they are definitely a must-have.
Fall in love with skirts over and over again when you try out these styles.