Finding a pair of pants to match your legs and flatter your short torso can be a bit challenging because pants tend to be elongating. There are times that the elongating effect of the pants compromises the length of the torso by taking more space on the waistline.
With the right style and structure, you can definitely still give your legs a nice highlight without worrying that the length of your torso is going to suffer. Here's a thorough guide on how to choose a flattering pair of pants for your short torso.
Styling Goal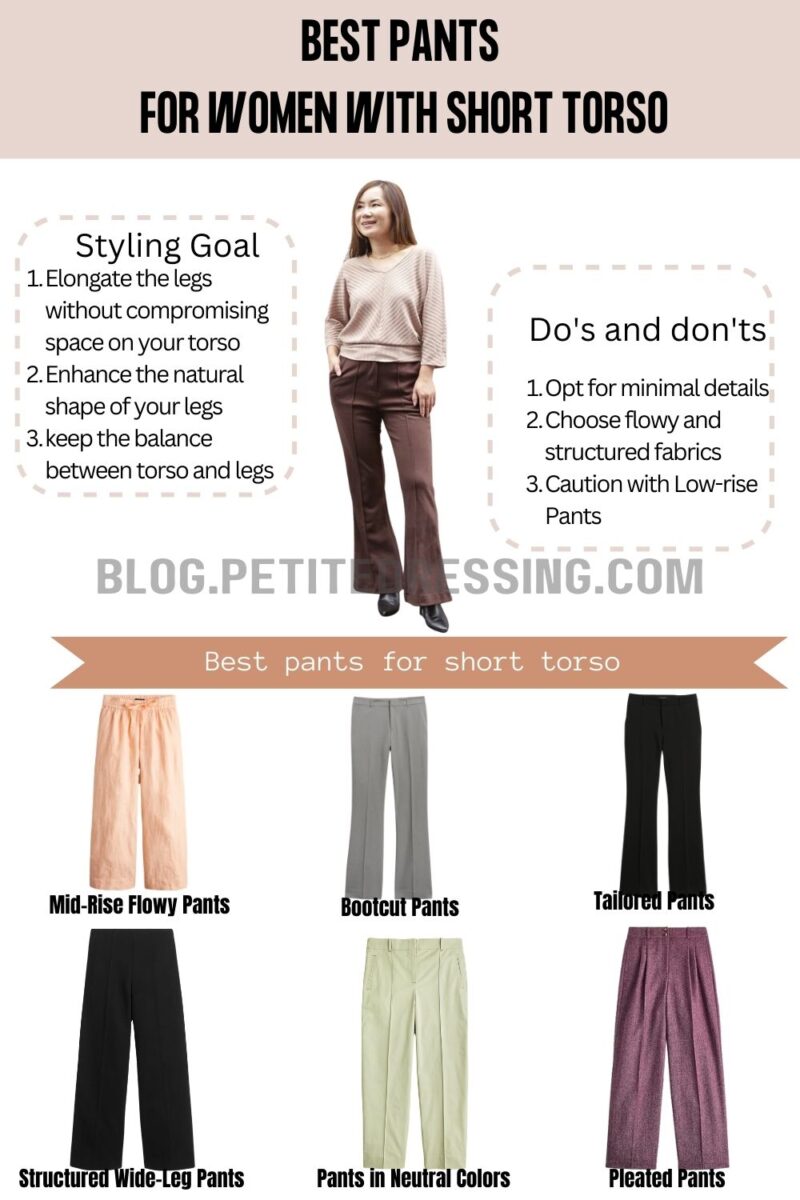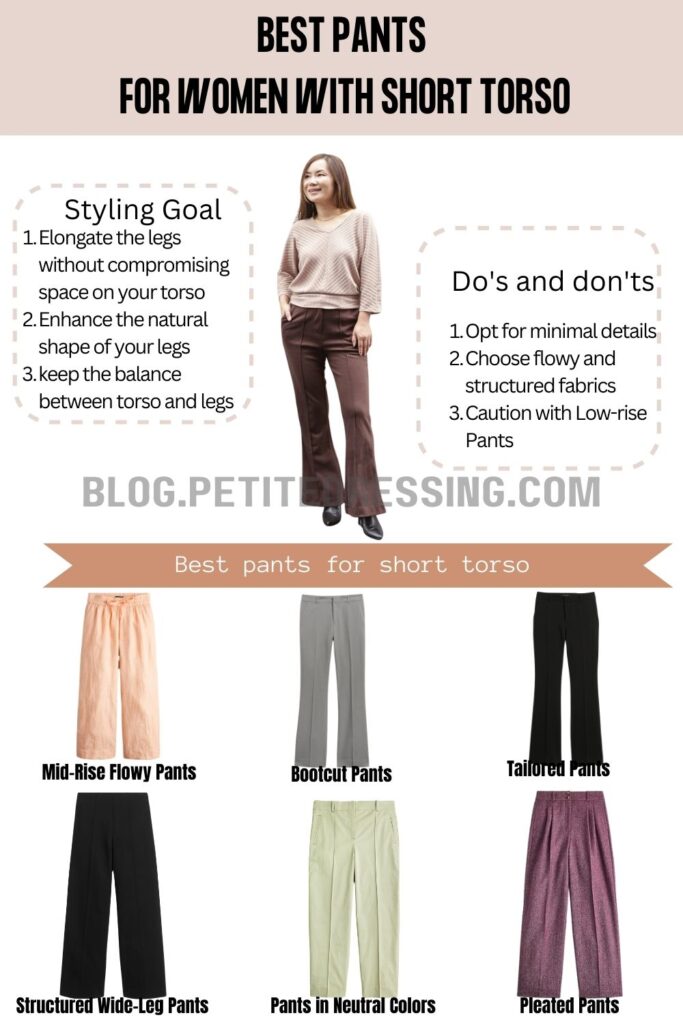 Elongate the legs without compromising space on your torso. Ultra-high waist pants are an example of a clothing piece that does this and so you have to avoid such types of structures.
Choose flowy and structured fabrics that will enhance the natural shape of your legs. Additionally, these types of fabrics that give a bit of movement create a continuous line flow from top to bottom, making you look leaner and taller.
Opt for minimal details for your pants by going for patterns and designs that aren't too distracting. The key is to keep the balance between the torso and the legs by having factors such as length, color, and patterns complement each other.
Now let's move on to the types of pants that you can fill your wardrobe in!
Mid-Rise Flowy Pants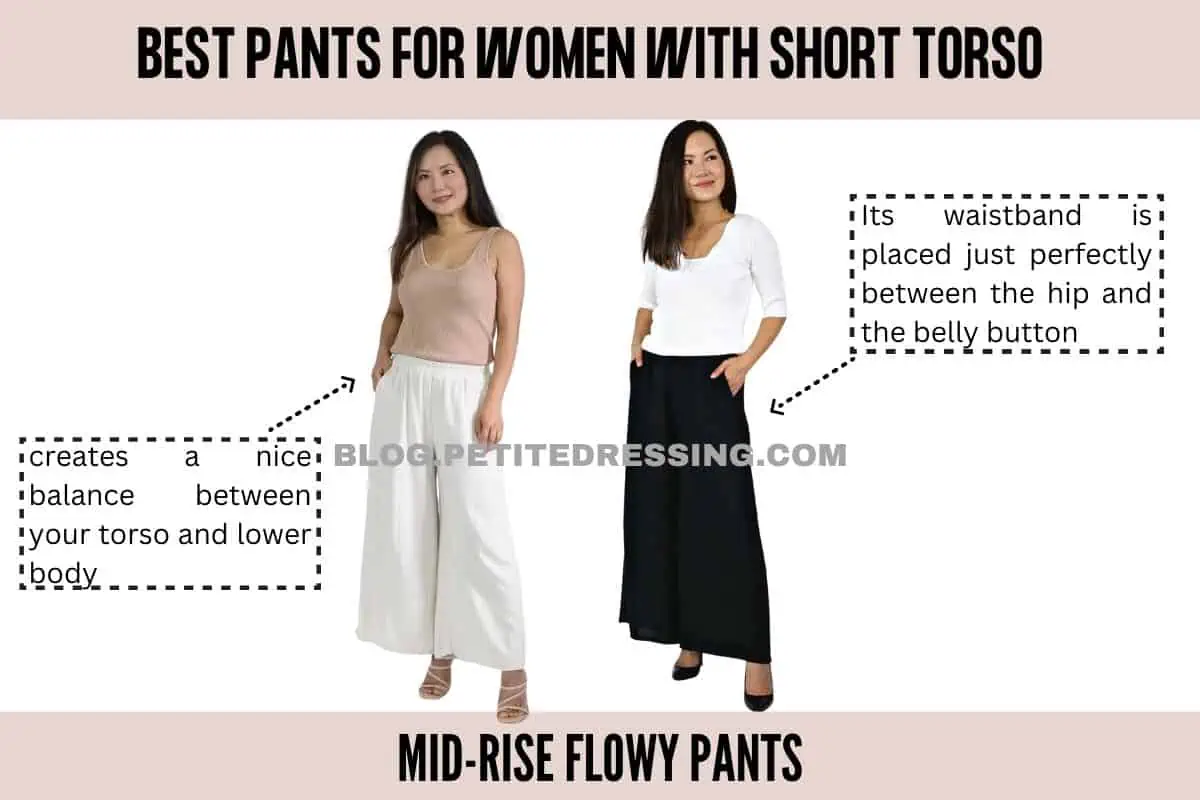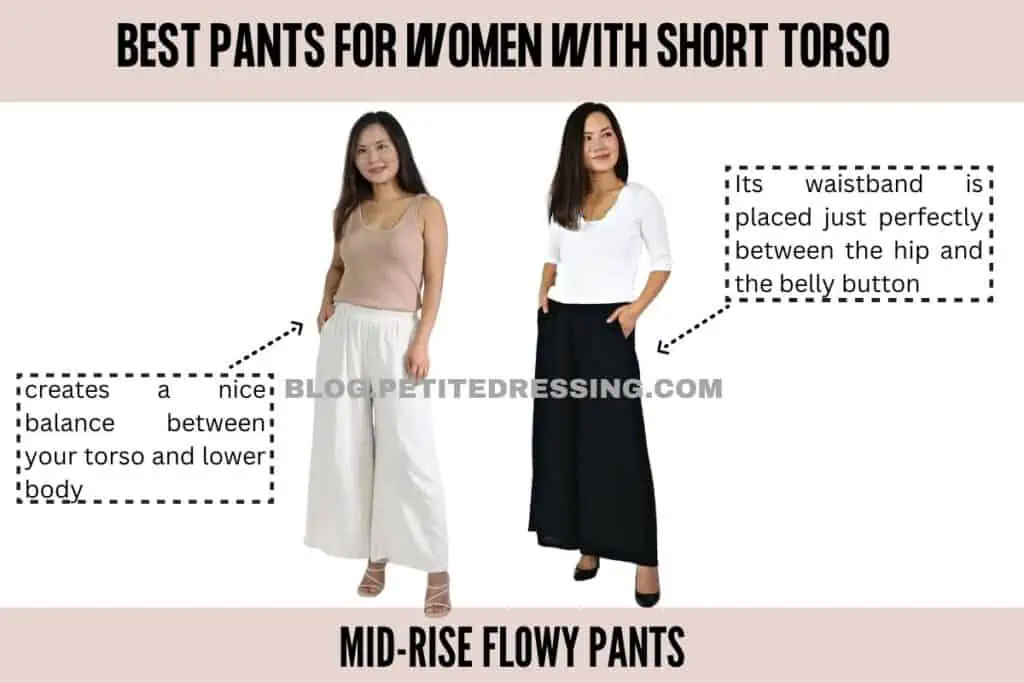 Basically, you'll see a lot of mid-rise types of pants in this list because this pants structure is the most flattering for ladies with short torsos. Its waistband is placed just perfectly between the hip and the belly button to create a nice balance between your torso and lower body.
Flowy fabrics feature subtle movements that help draw the eyes evenly from top to bottom and so this is why mid-rise flowy pants are good for women with short torsos. The effect flowy pants give is a nice way to give balance to the overall look without resorting to heavy details.
Bootcut Pants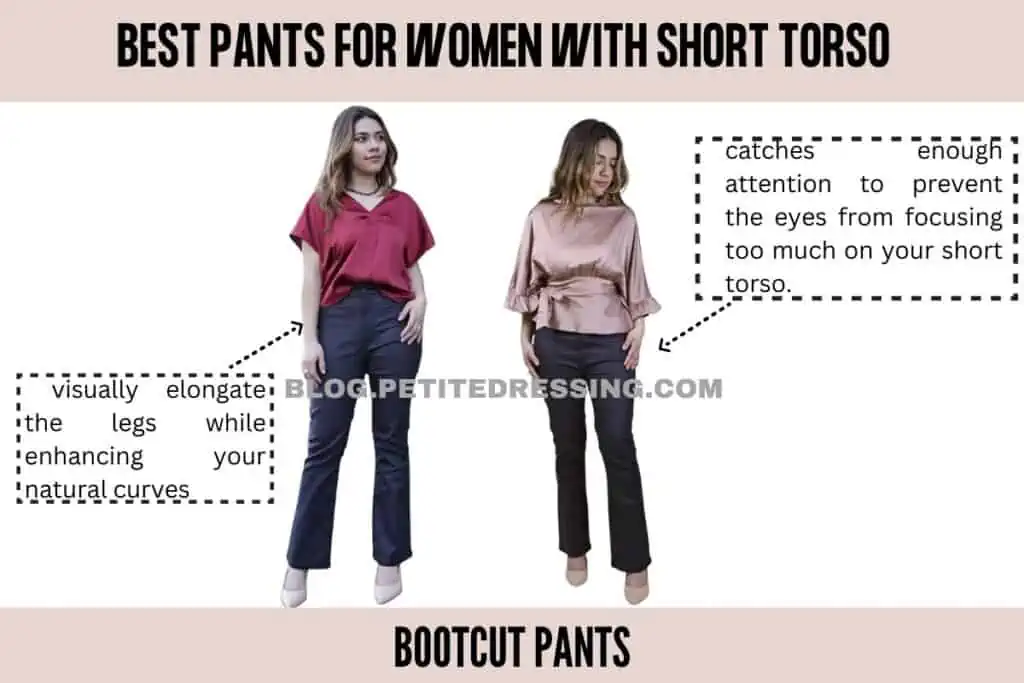 Bootcut pants feature a structure wherein the fabric is tapered in the thighs and then gradually widens out from the knees downward. This style catches enough attention to prevent the eyes from focusing too much on your short torso.
They also visually elongate the legs while enhancing your natural curves thanks to their structure. Bootcut pants will make a great pair for your medium-length button shirts and fitted tops!
Tailored Pants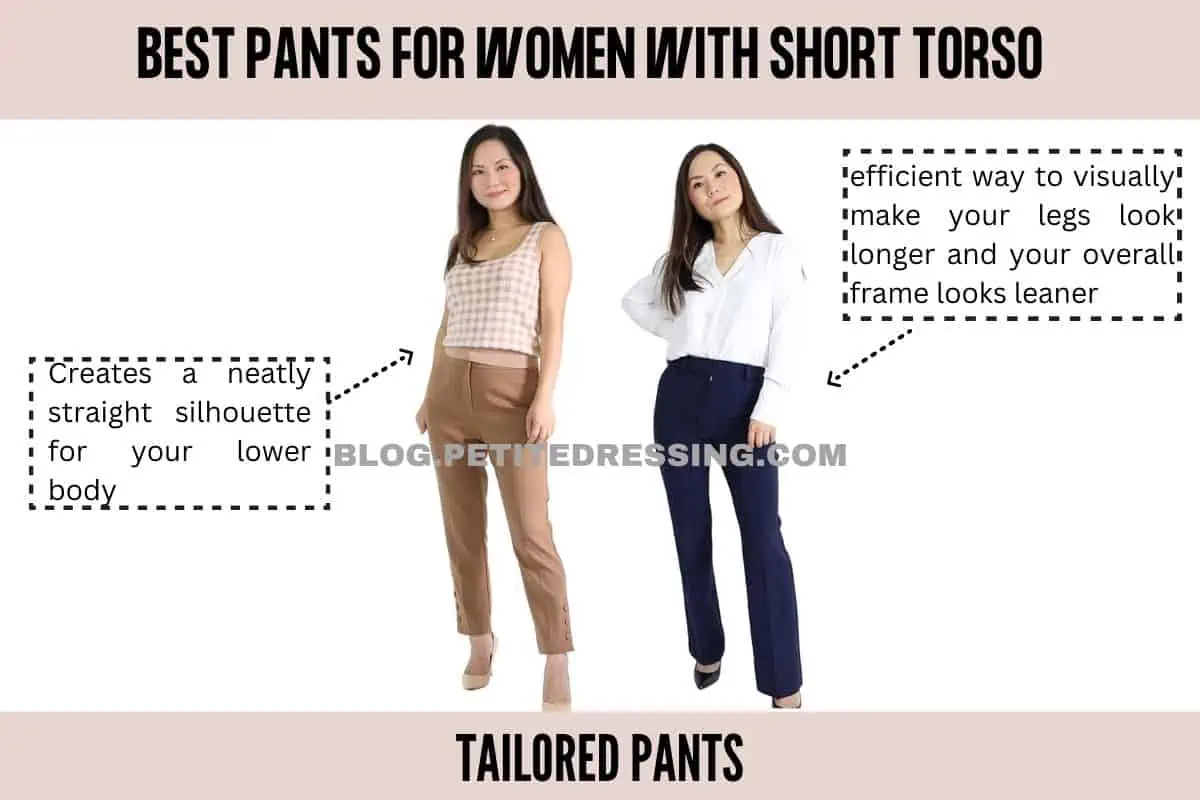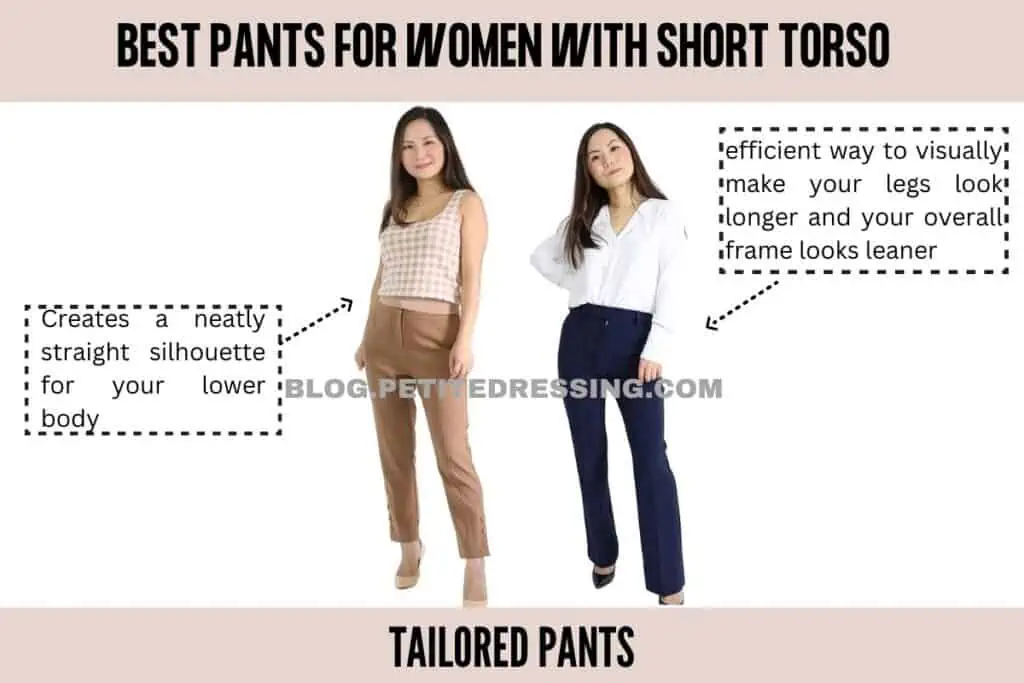 If you're looking for a pair of pants that will look good in your suits and corporate ensembles, then you can never go wrong with tailored pants. Tailored pants usually have a snug fit on the mid-waist and structured seams that create a neatly straight silhouette for your lower body.
This structure is an efficient way to visually make your legs look longer and your overall frame looks leaner without splitting too much attention from the upper body and lower body. The best thing about tailored pants is that they are very easy to style especially if you're into minimal coordinates.
Structured Wide-Leg Pants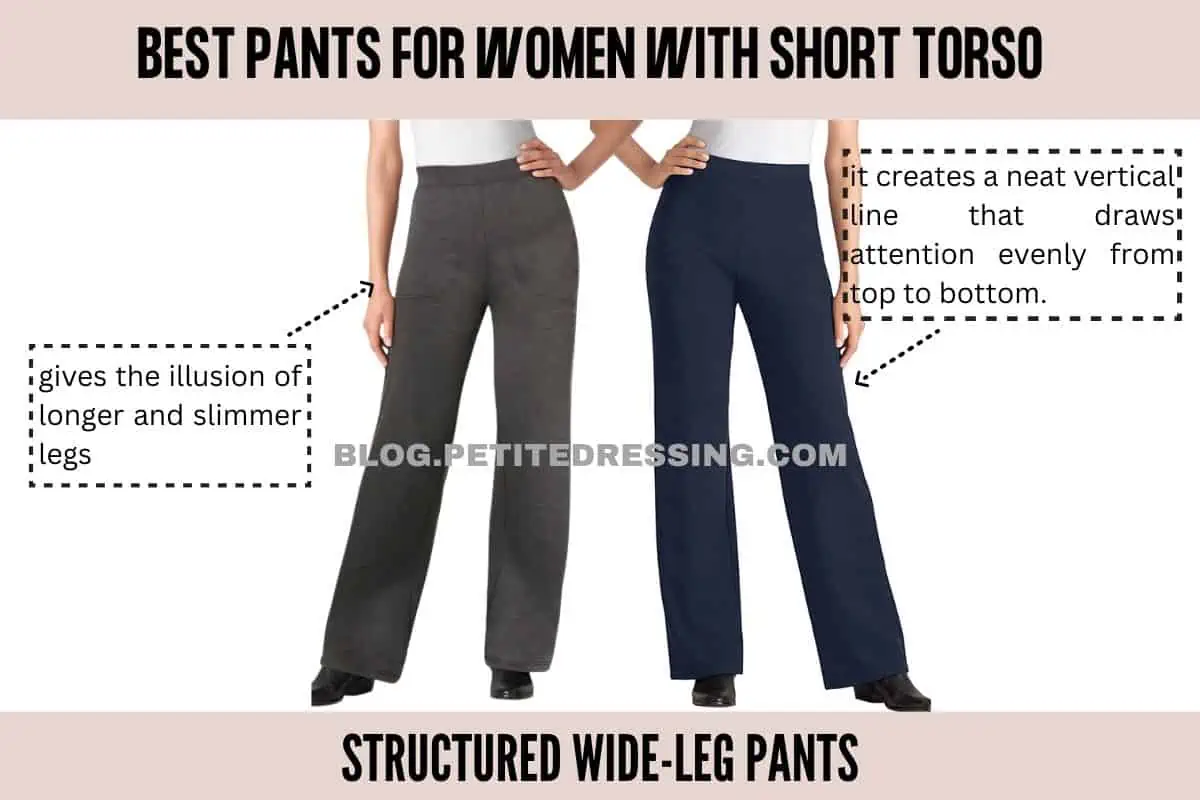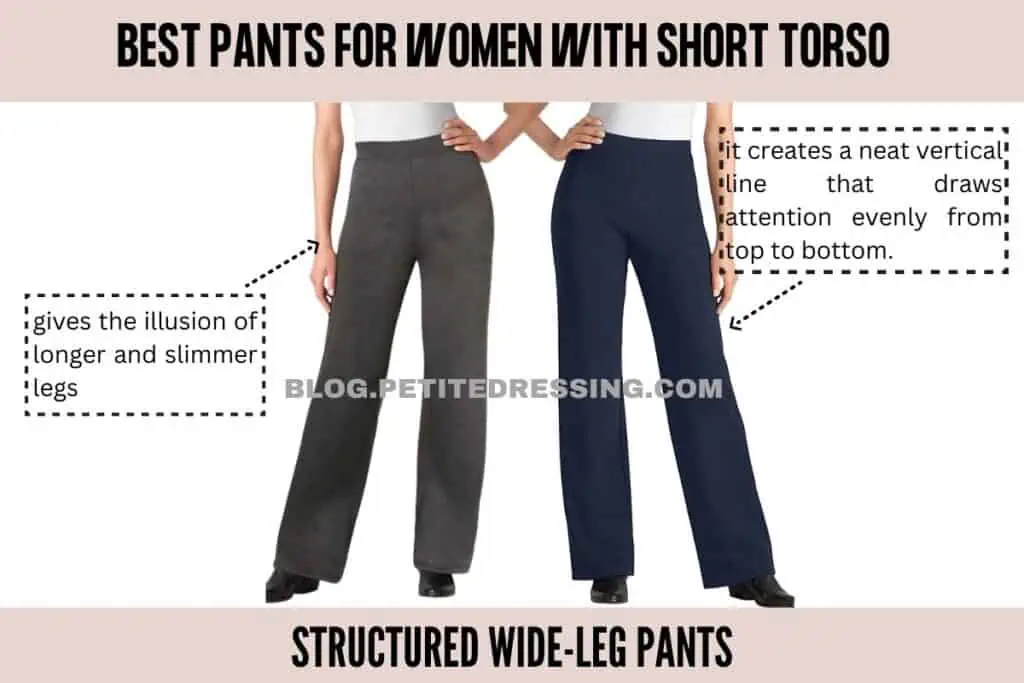 Another way to veer the eyes away from your torso is to wear structured wide-leg pants. This type of pants gives the illusion of longer and slimmer legs as it creates a neat vertical line that draws attention evenly from top to bottom.
Since they're structured, they are not too wide and they just give enough room so that the legs can comfortably move. This can suit almost any type of top for it features a universally flattering structure while also drawing proportion between your torso and legs.
Pants in Neutral Colors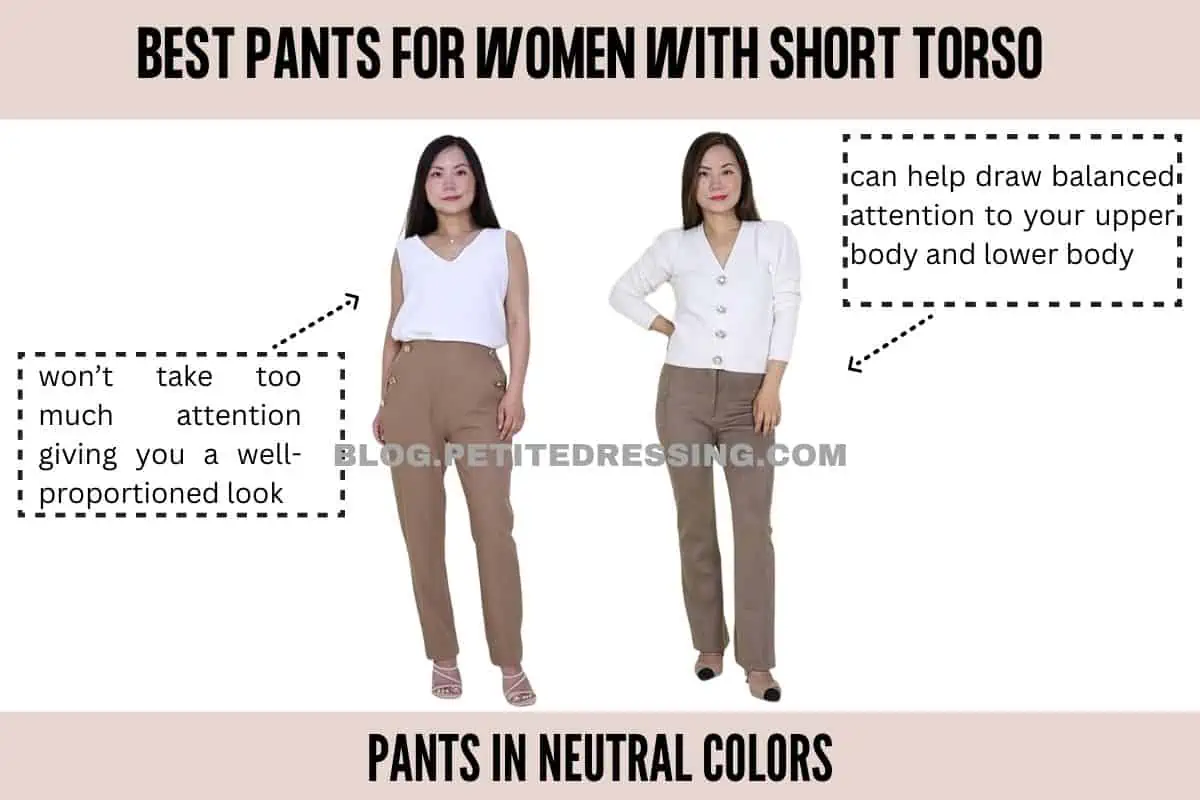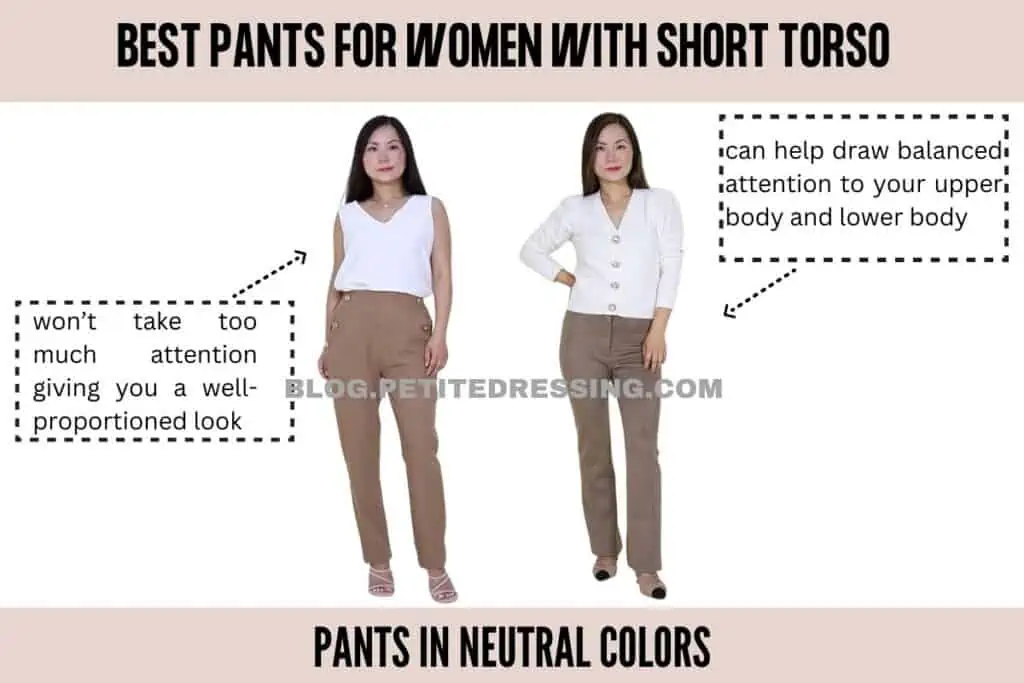 You can never go wrong with neutral colors! Going for neutral hues can help draw balanced attention to your upper body and lower body as long as you don't go for a top that is too contrasting.
Apart from their visually appealing aspect, pants that come in neutral colors are also very easy to work with. It won't take too much attention and so whichever wardrobe piece you pair it with, you can get a well-proportioned look.
Pleated Pants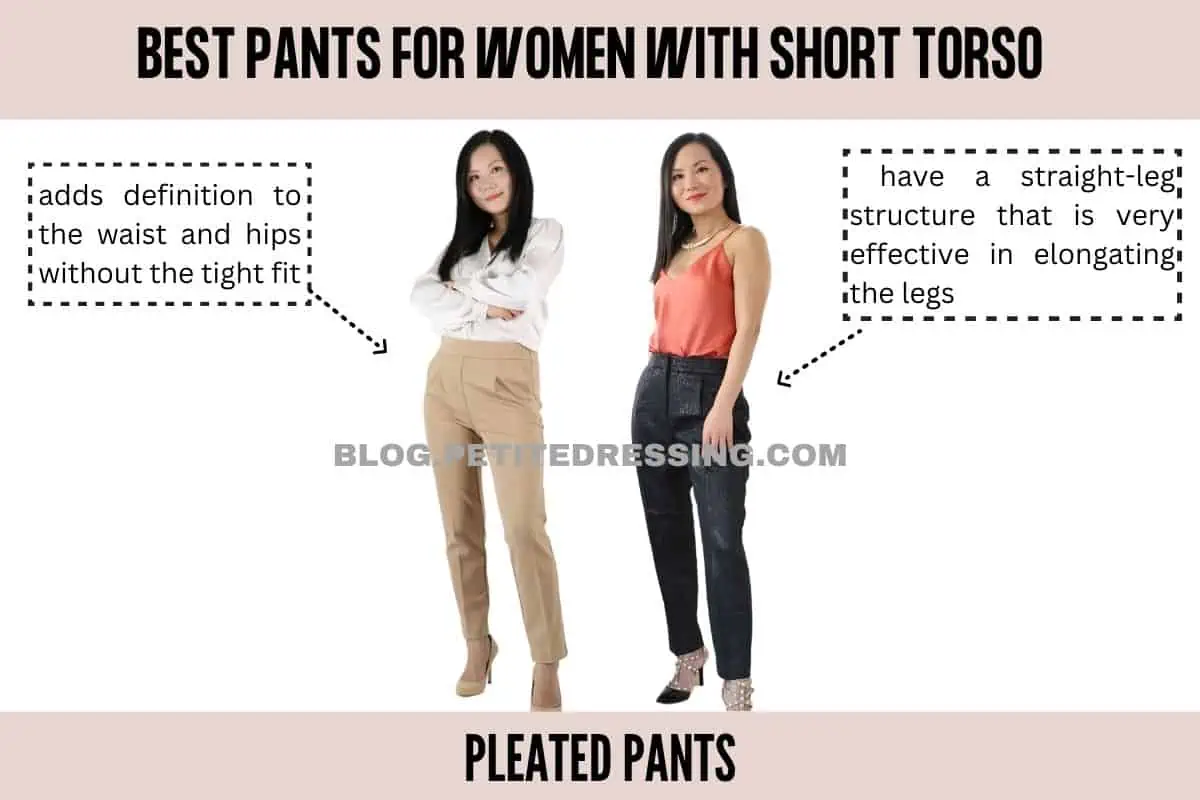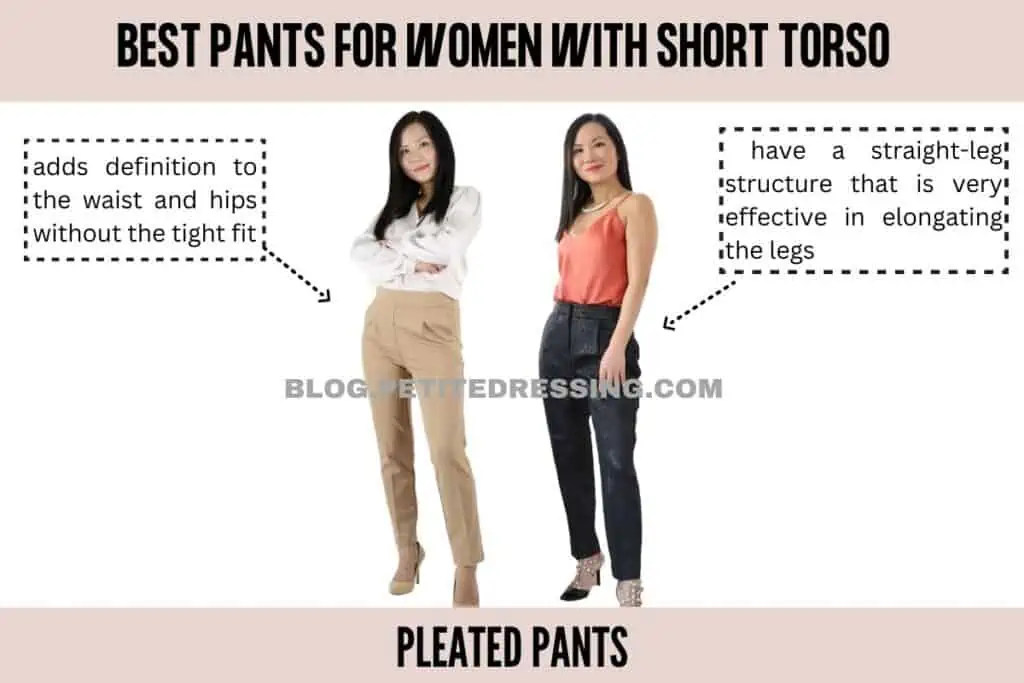 Pleated pants are also great for women with short torsos for they feature subtle pleats or folds along the waist that subtly adds definition to the waist and hips without the tight fit. Pleated pants usually have a straight-leg structure that is very effective in elongating the legs without taking too much space from your waist area.
It helps even out the line that separates your torso from your legs and therefore subtly tricks the eyes that your torso is longer. This gives a proper top-and-bottom ratio to enhance your entire figure in a structured manner.
Mid-rise Palazzo Pants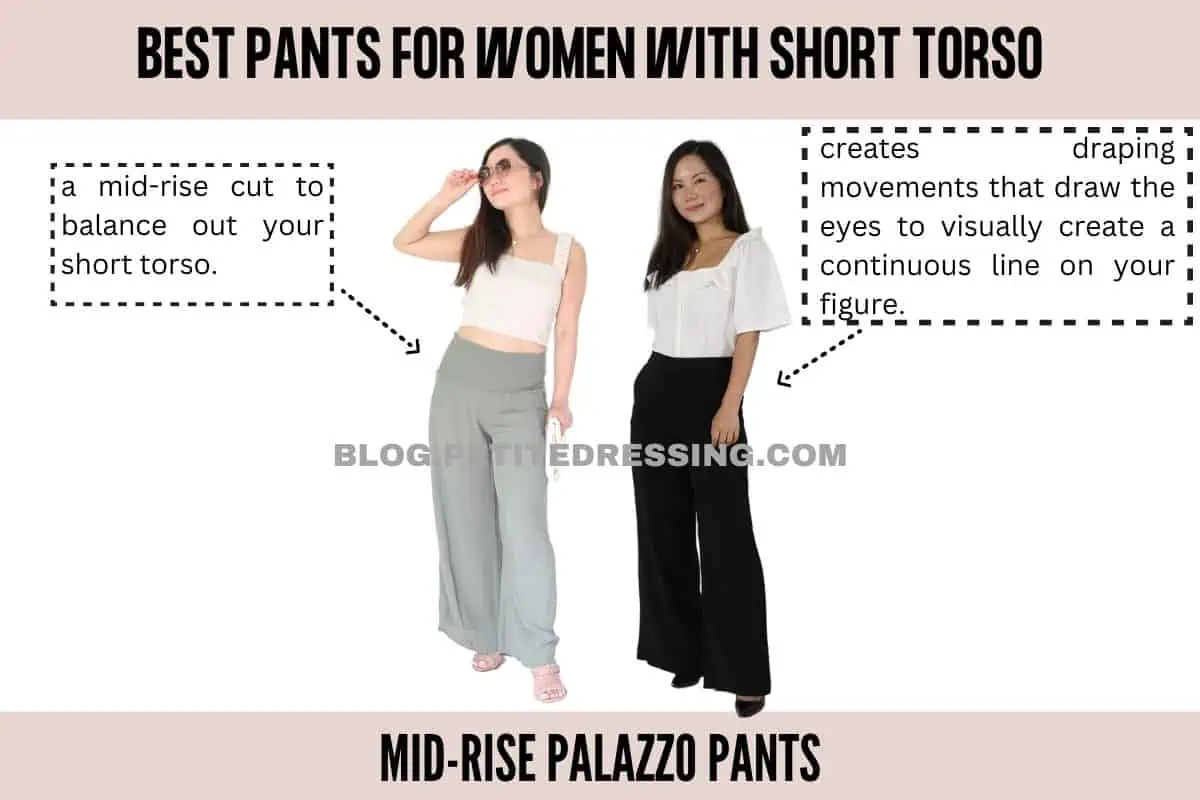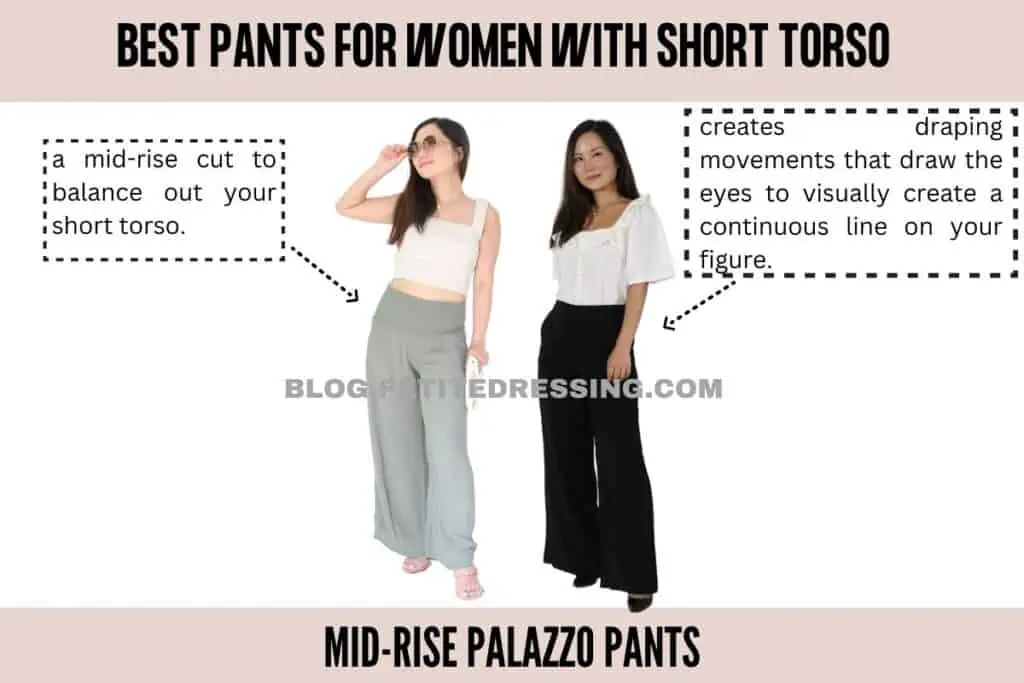 If you want something that's more fancy and eye-catching, you can definitely do that with a pair of palazzo pants! Just keep in mind that when you go for this dramatic pants style, you have to go for a mid-rise cut to balance out your short torso.
Think of a pair of wide-leg pants but twice (or even thrice) as wide and flowy! Just like the style principle we have discussed earlier in this article, flowy fabrics create draping movements that draw the eyes to visually create a continuous line on your figure.
These subtle draping movements also help diffuse the obvious line that distinguishes your torso from your lower body. This will confuse the eyes on where your waist starts or ends.
Caution with High-Waist Pants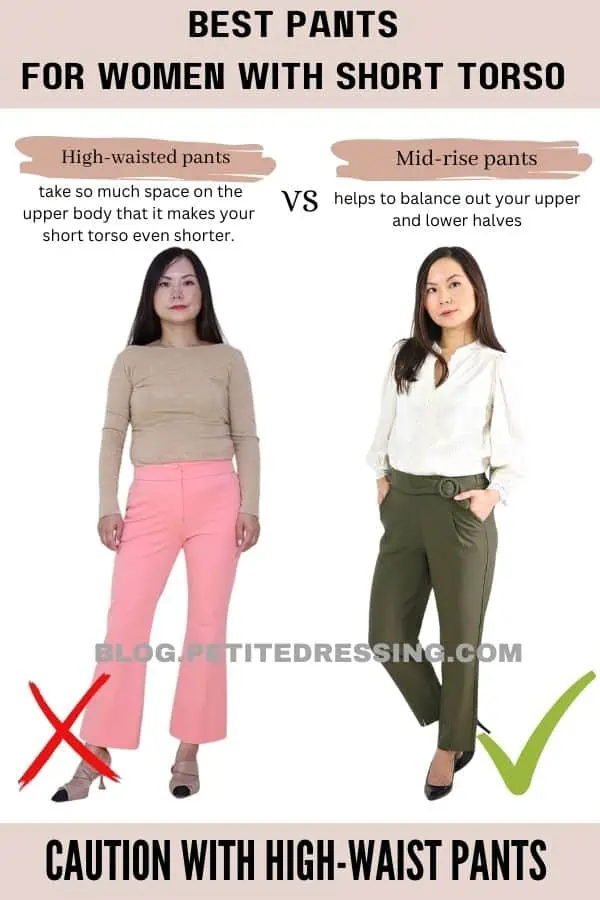 High-waist pants will always be a quick go-to especially if you're a petite girl. Since this style effectively makes you look taller by extending the length of your legs and is also very helpful in concealing a muffin top, it's only understandable to want them in your wardrobe.
However, it can be tricky for those who have short torsos because some types of high-waist pants take so much space on the upper bodythat it makes your short torso even shorter. To resolve this, just stay away from ultra-high-rise pants.
If you're going for high-waist pants, opt for a waistband that goes on the level of your belly button or maybe 4 to 5 centimeters higher at most. If it goes way more than this, you may end up shortening your torso even more.
Of course, there are also a number of different ways to make your high-waist pants work with your short torso and this is by choosing a top that nicely complements that. Some examples that would flatter your short torso would be drapey tops, button shirts, and medium-length tops.
Caution with Low-rise Pants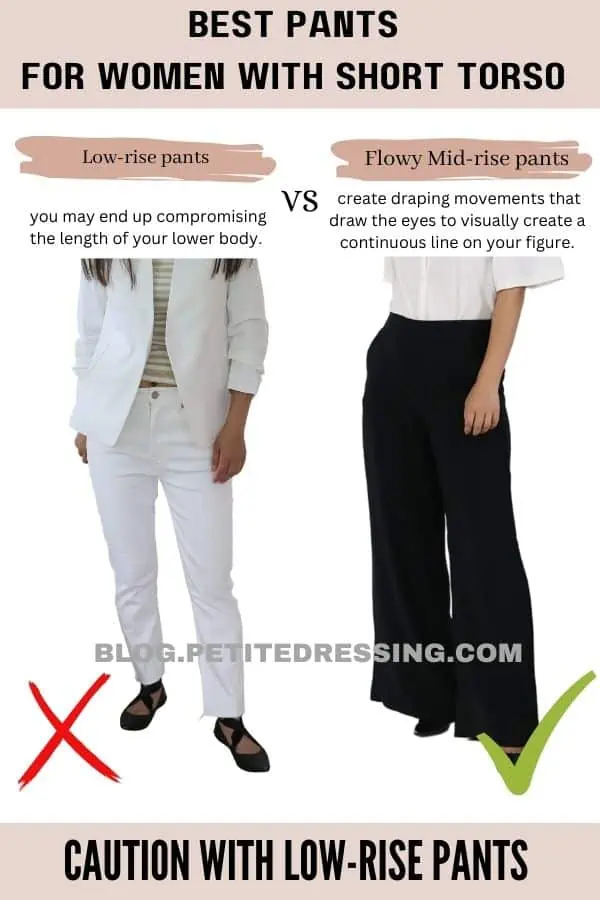 Low-rise pants are also some of the first things a girl with a short torso would quickly resort to. While it's true that low-rise pants help make your torso look longer, it can also be very tricky if you have short legs.
Low-rise pants are usually not a problem for women who have short torsos but long legs. However, it's not the same for women with shorter legs because by lengthening the torso, you may end up compromising the length of your lower body.
To resolve this, make sure that you understand your body proportions to see if this will work with your figure or not.
The Key Takeaway
Dealing with a short torso is just all about working with your proportions. Always be mindful of the structure of your pants and assess if it will give your figure a flattering upper and lower body ratio.