Shorts may sound easy, but when you have a short torso, it can also become tricky. Not all the trending shorts styles look equally good on your shape.
I know this from first-hand experience, since I am 5'2″ and my torso is shorter than taller women. Besides, having my petite clothing line gives me the opportunity of styling petite models of various body types and sizes.
Based on my own experiences, as well as feedback from thousands of my customers, I've put together this shorts guide for women with a short torso that will take you through everything you need to know about looking elegant in shorts. So, stick around with our top styles for you.
Same color shorts as your top
Wearing the same color of top and shorts may sound monotonous and boring but that's far from the truth. For women with short torsos, wearing the same color of top and shorts creates a visual continuity that helps to make the torso look longer.
Wearing a differently colored top and another color for the bottom creates a visual break in your silhouette. Therefore, this will only make your body appear broader and shorter, which is not a good look for a woman with a short torso.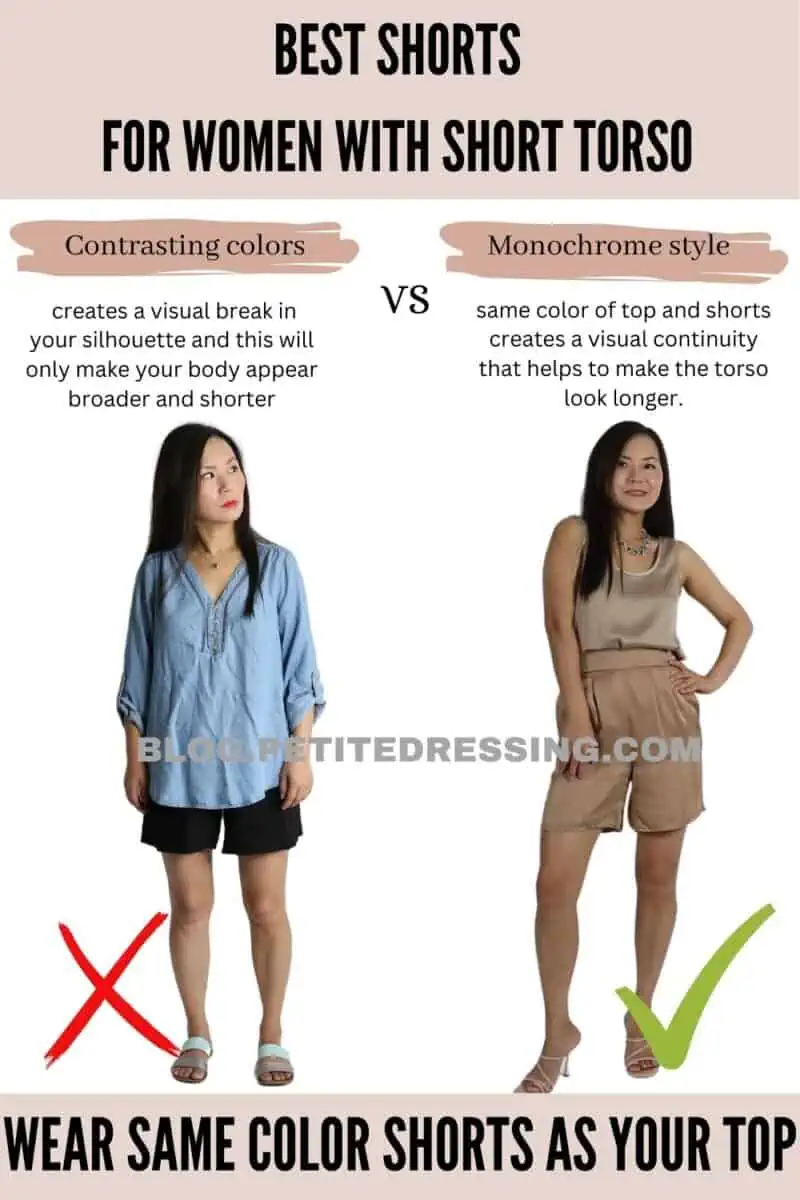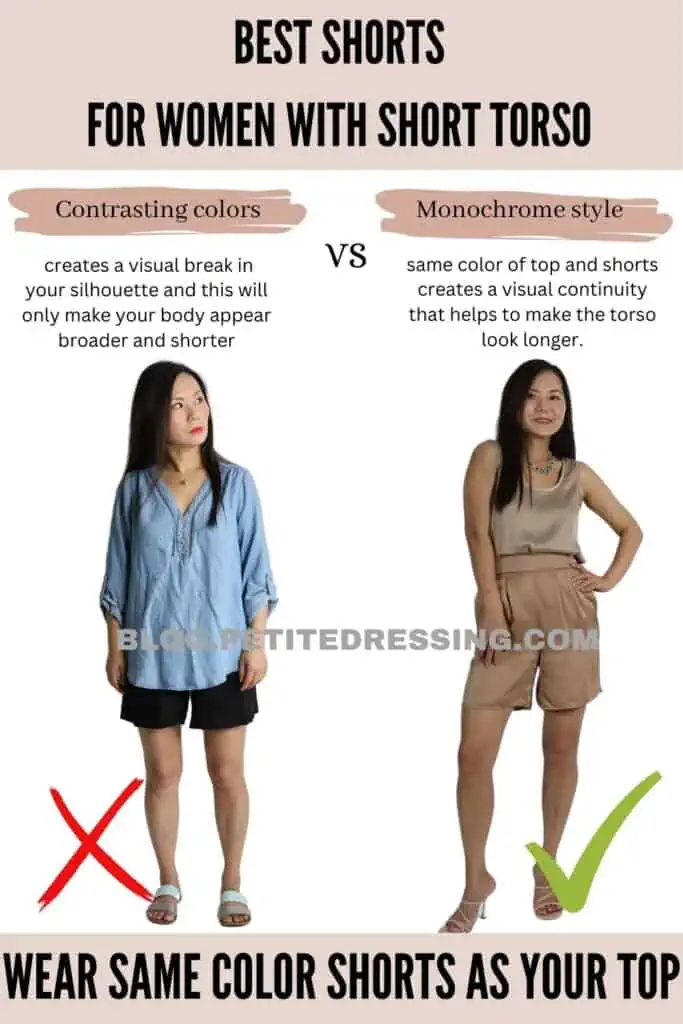 However, you can definitely tune it up a bit with better styling options, like including vertical stripes and choosing v-neck tops. This will add more to the illusion of a longer torso, adding a few extra inches to your height. This also creates a balanced silhouette that will make you step out looking amazing.
Untuck your top with shorts
Apart from wearing the right style of shorts that flatter your torso, you can also switch things up a bit by untucking your top when wearing shorts. Usually, tucking your top in shows exactly where your upper body ends, and this makes your short torso obvious.
Therefore, the visual break between your top and shorts can also shorten your torso. However, untucking your top creates a more streamlined look which elongates your overall body frame.
If you're also going for a relaxed and casual vibe, this is one of the best ways to go about it. Untucking your tops when wearing shorts gives off a less formal look that you can rock to not-so-serious events like a beach hangout or birthday party.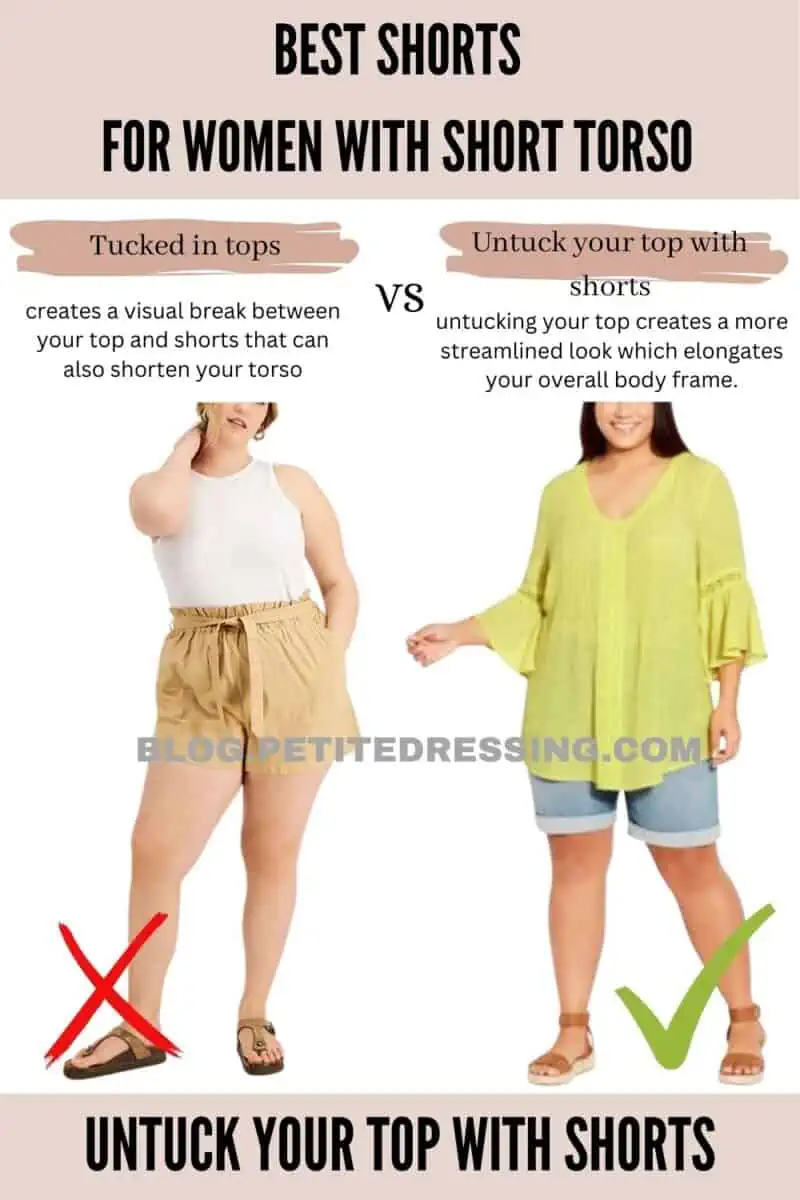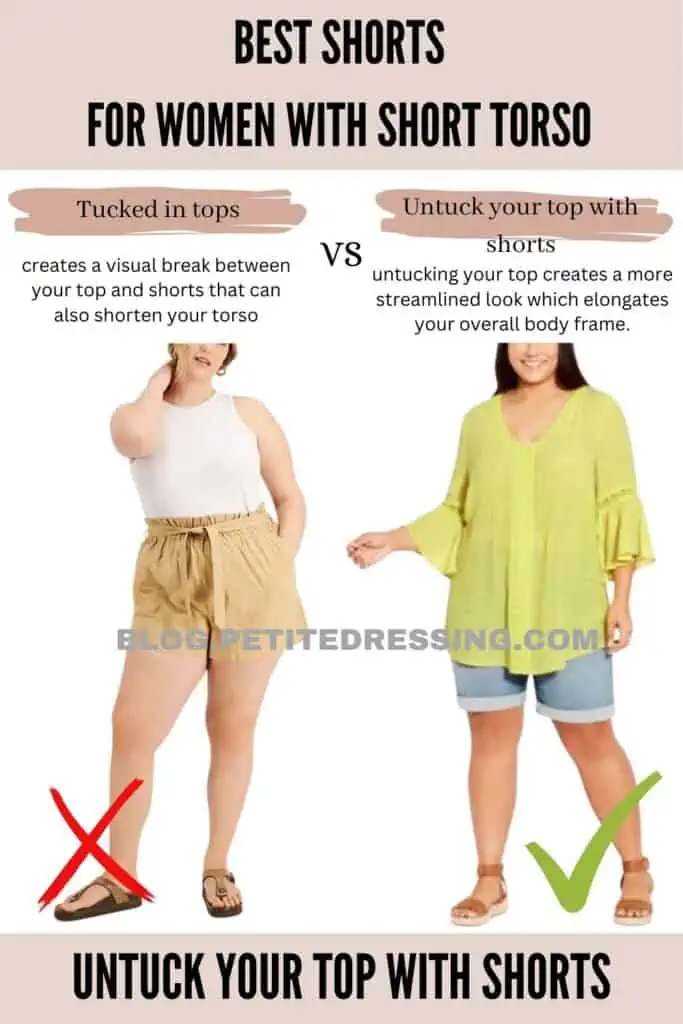 It's a good idea to choose tops that stop at the hip to add more to the illusion of a long torso. Most importantly, be sure to style this in a way that makes you feel super comfortable.
Mid-rise shorts
Mid-rise shorts are perfect for women with short torso as they add to the illusion of a longer torso. Unlike high-rise shorts that can visually make your torso too long compared to your legs, mid-rise shorts usually sit at the natural waistline which helps in creating an elongated and overall balanced look.
Choosing this style of shorts means that you'll be wearing clothing that creates a flattering feminine look, especially with how they make your legs look longer in proportion with the rest of your body.
To help this illusion, choose shorts with a longer inseam or vertical stripes, as these look really cool to wear while also elongating your torso.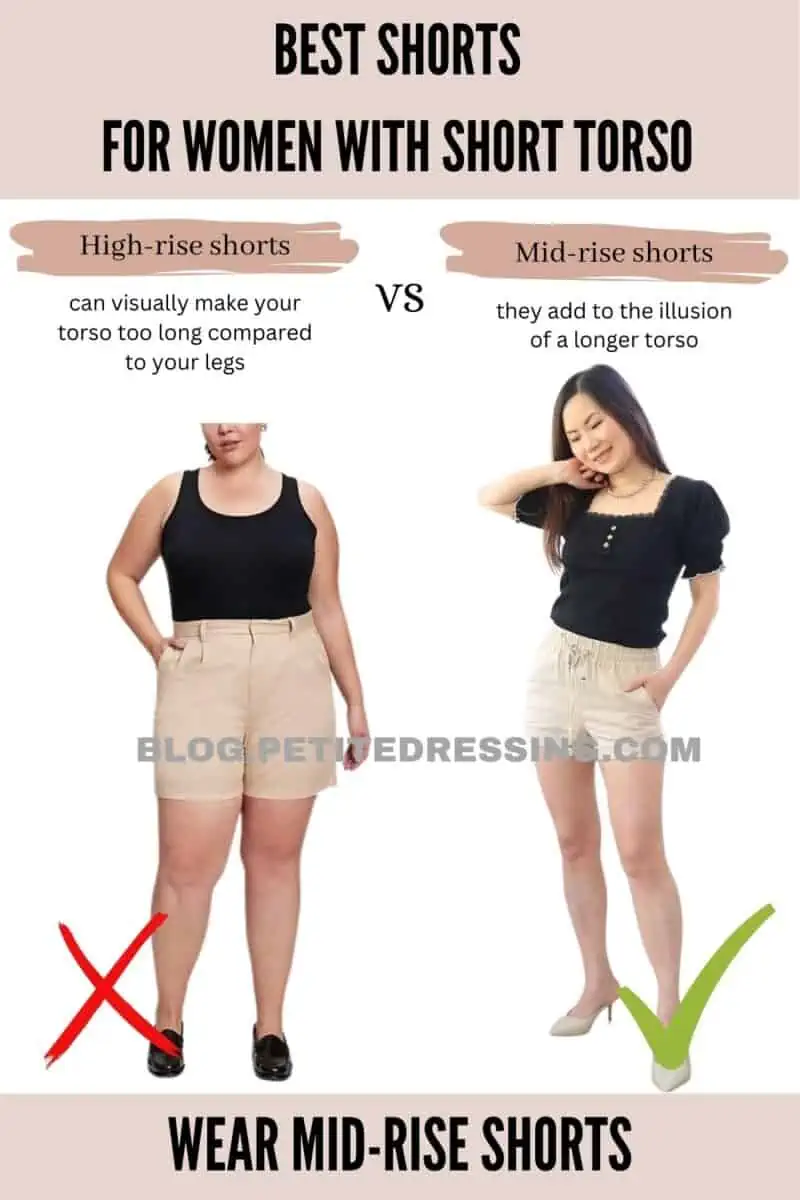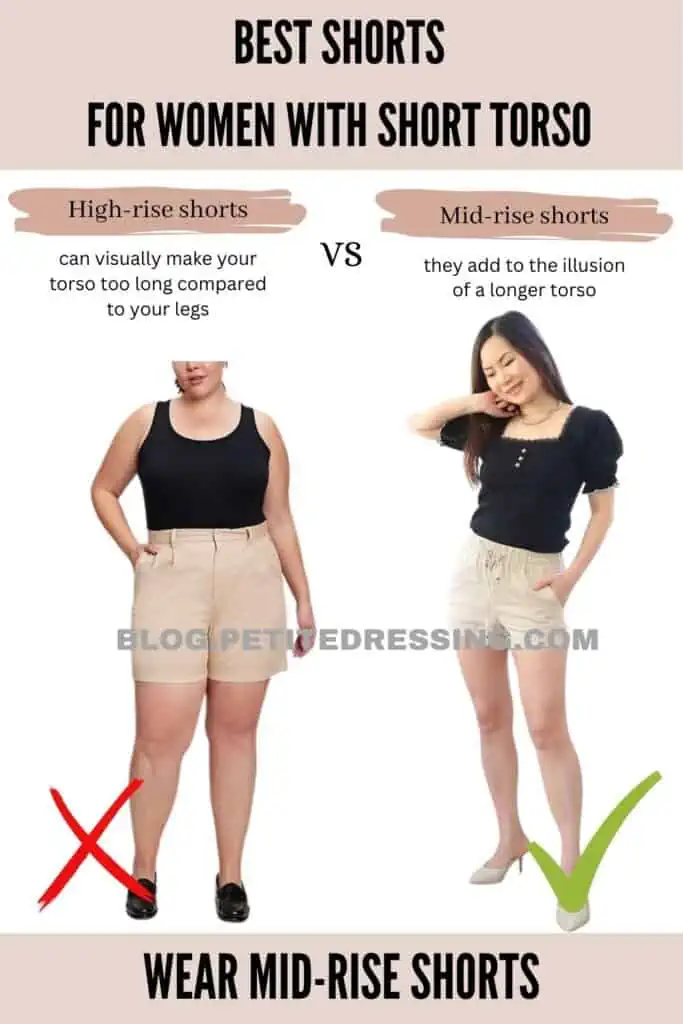 Fitted Shorts
There's a huge difference between shorts that are too tight and shorts that are fitted. Shorts that are too tight have a clingy feel that can also be quite uncomfortable on the body. However, fitted shorts are a more relaxed version that naturally hugs your curves and creates a streamlined silhouette.
This smooth and streamlined look also creates an elongated silhouette, with your torso and legs appearing longer. Fitted shorts are much better compared to loose and baggy shorts that are known for creating and unflattering and bulky look.
This extra bulk will make your torso appear wider while your legs look shorter. Fitted shorts will give you a more balanced look which is perfect for women with short torsos. However, the length of the shorts is also really important as you shouldn't go for extremely short shorts.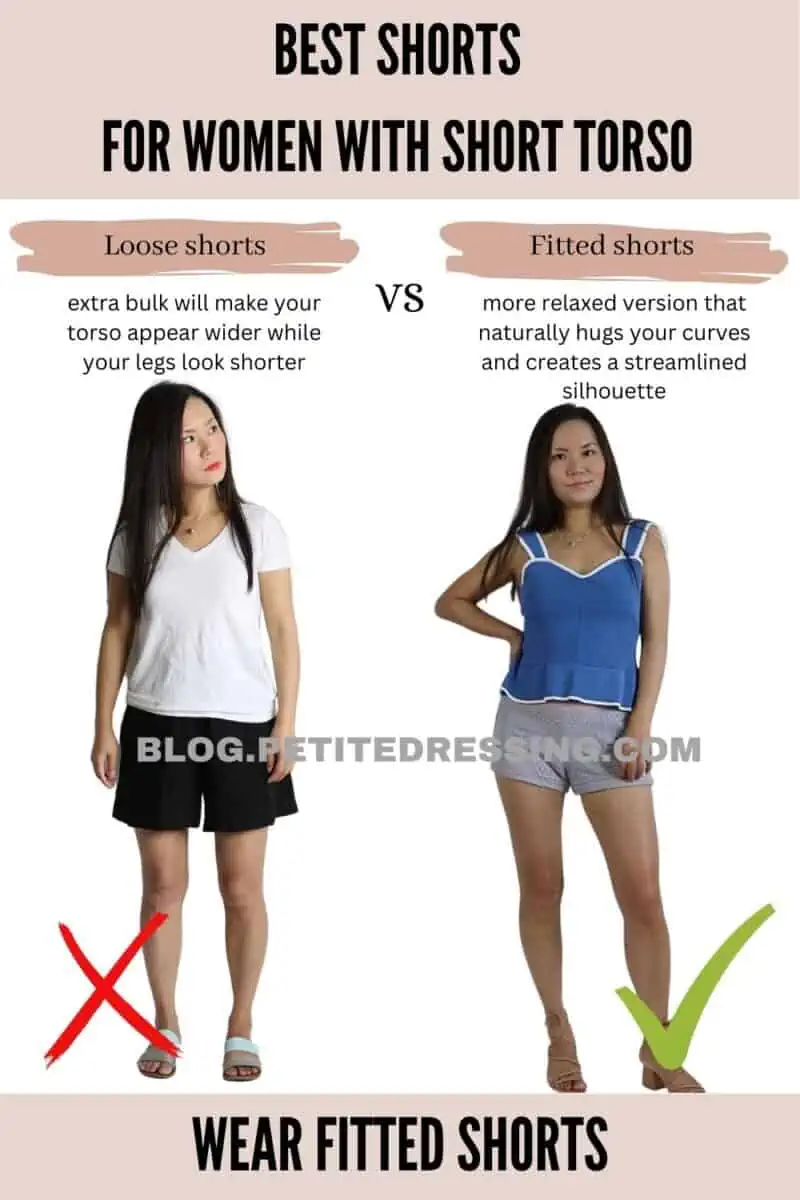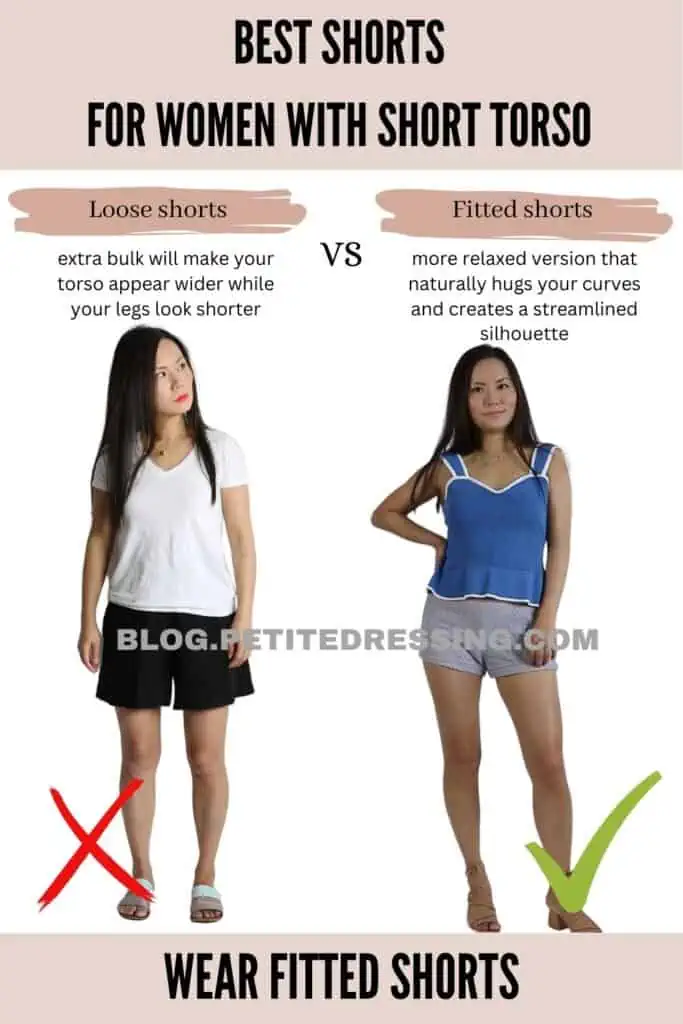 Avoid paper bag waist
Paperbag shorts are usually cinched or pleated at the waistline and flare into an A-line shape towards the legs. Most of these have elastic waistbands which can be comfy on the waist while the cinching is usually at the slimmest part of the waist. However, this is a high-rise style and that means it's not great for women with a short torso.
Paperbag shorts are a bad idea for this boy shape because they tend to make the torso appear wider and shorter. The cinched or plaited waistline adds more bulk to the midsection area, giving the visual appearance of a muffin top and this is quite unflattering for women with a short torso.
Therefore, it's best to avoid paperbag shorts since they don't provide a balanced overall outlook that will make you look great in shorts.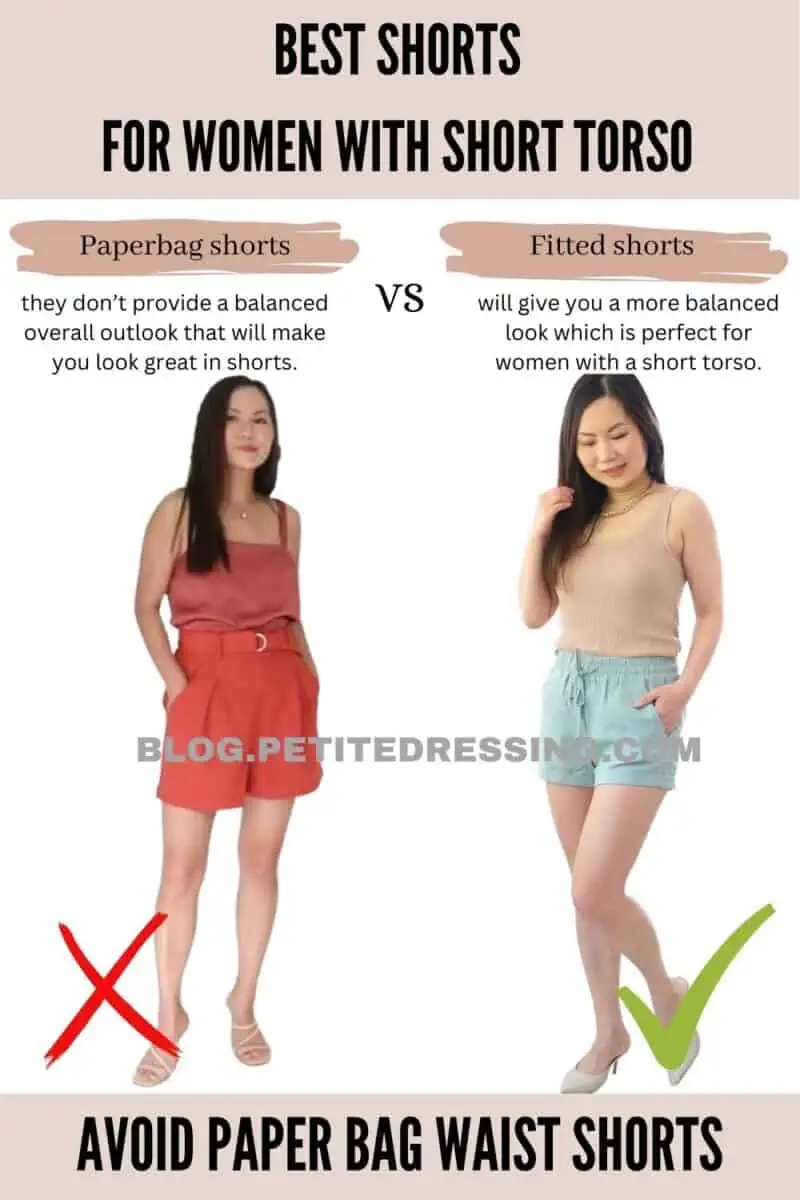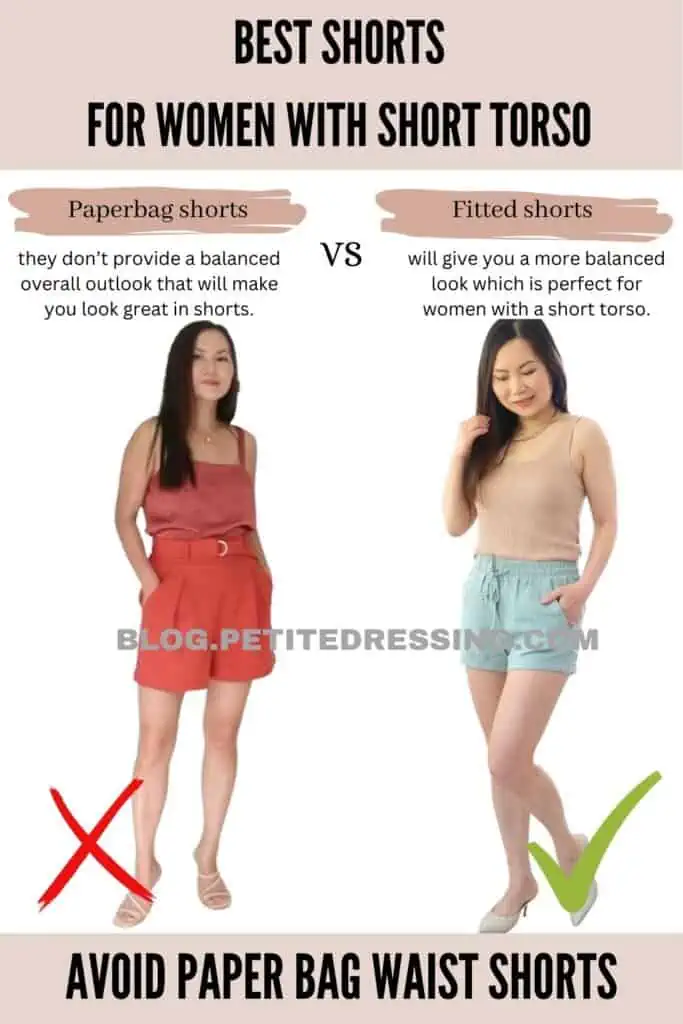 Avoid low-rise shorts
Women with short torsos should go for styles that sit at or above the natural waistline as this helps to create a more proportionate look with a visually elongated torso. Low-rise shorts don't fall into this category.
Instead, low-rise shorts sit at a spot lower or on the hipbone which cuts across the hip and ultimately gives the illusion of a shorter torso. For women who already have a short torso, this will create a stumpy look that's definitely not flattering.
Also, this style of shorts is known to create a muffin top effect due to how they constrict the midsection area. This extremely tight fit creates rolls or bulges that gives the illusion of a bigger tummy area.
This can be quite uncomfortable and unflattering. Rather than low-rise shorts, opt for mid-rise shorts that create a flattering and elongated silhouette. They also highlight your natural curves by accentuating your waistline.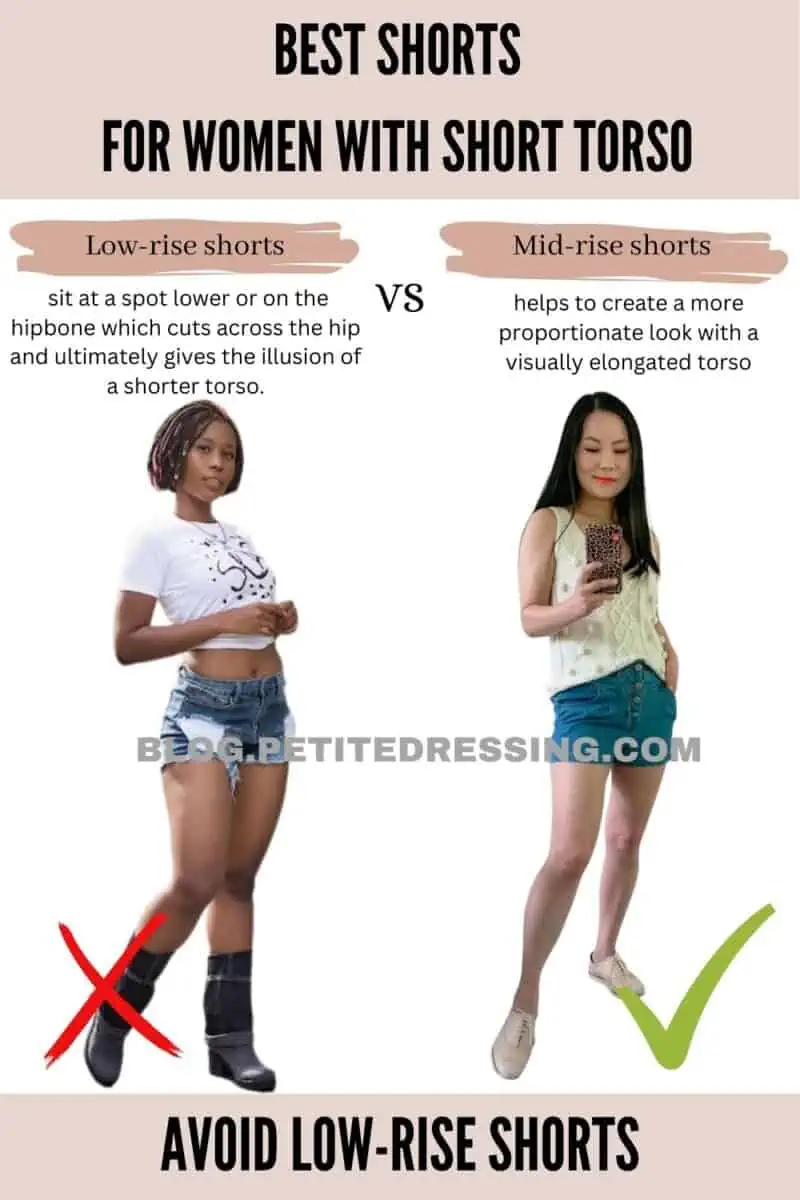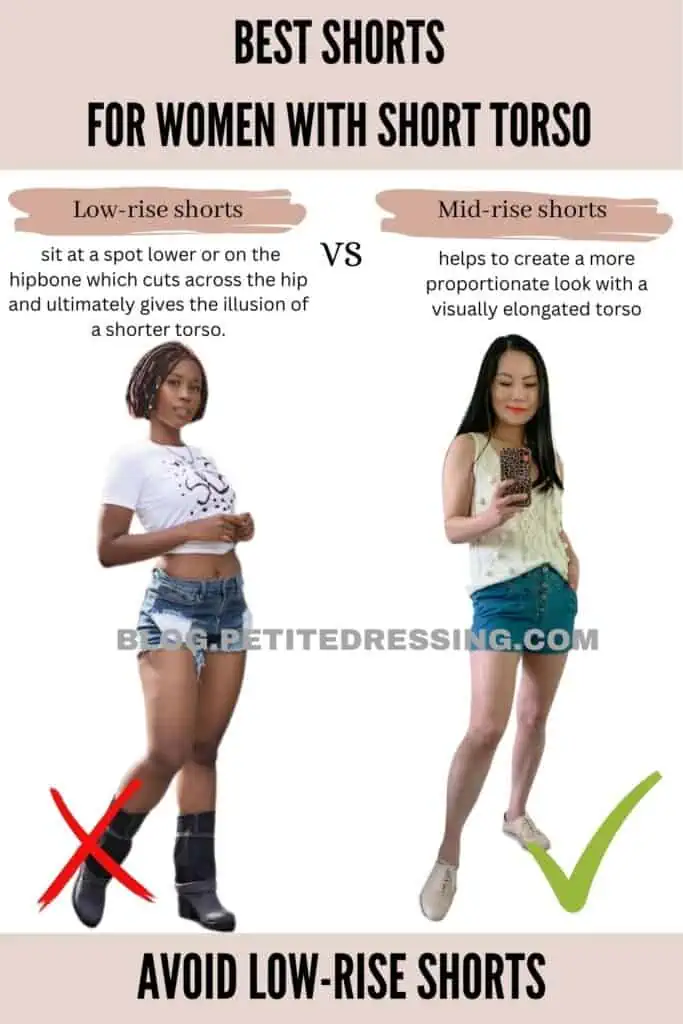 Avoid overly baggy shorts
Overly baggy shorts can add a lot of volume to the hip region, which gives the illusion of a wider torso. Overall, this will be unbalanced in proportion to your legs which will create a disproportionate overall look. This will give an unflattering silhouette for your body type.
This style of shorts will make the torso look wider while your legs have the visual impression of being shorter. Therefore, women with a short torso should avoid overly baggy shorts that add so much bulk to your body frame.
A better option is fitted shorts that are tailored to fit your body shape. This style will create an elongated and more streamlined silhouette which will offer a flattering look without being too tight on your body. Where baggy shorts will leave you feeling uncomfortable, fitted shorts will do the opposite. So, you should consider avoiding overly baggy shorts.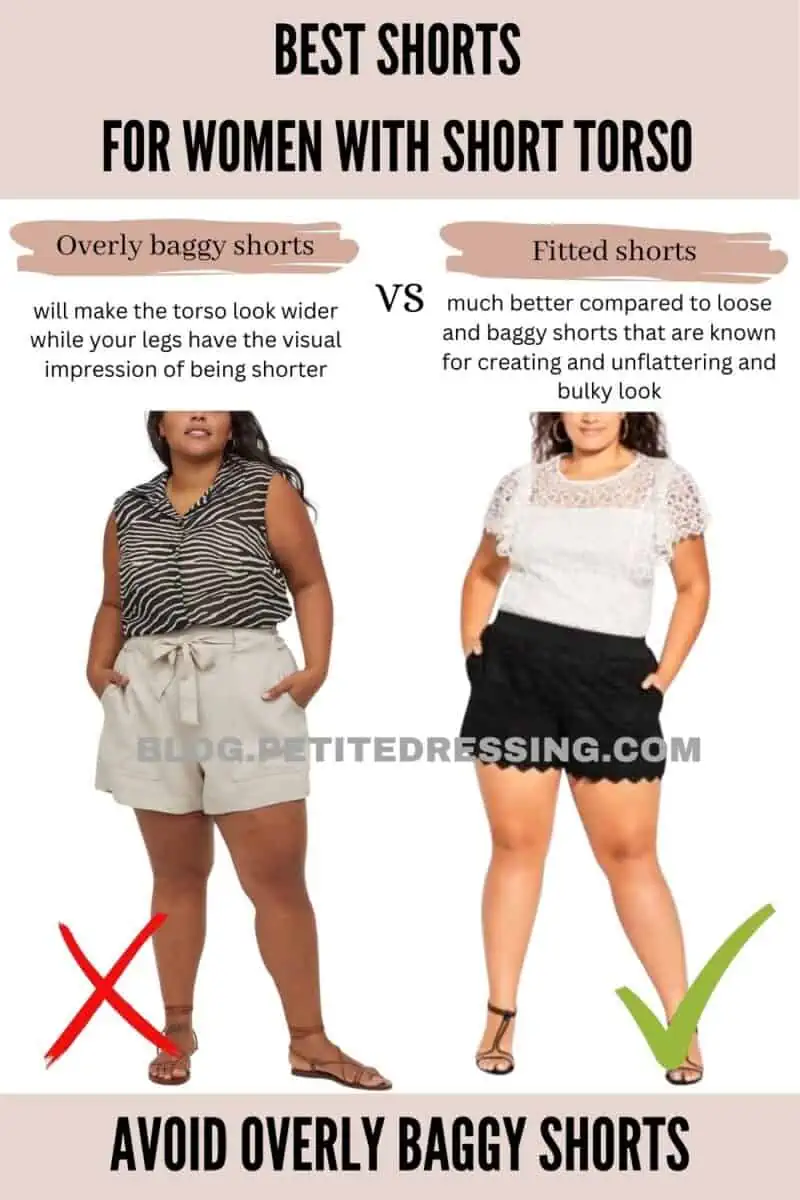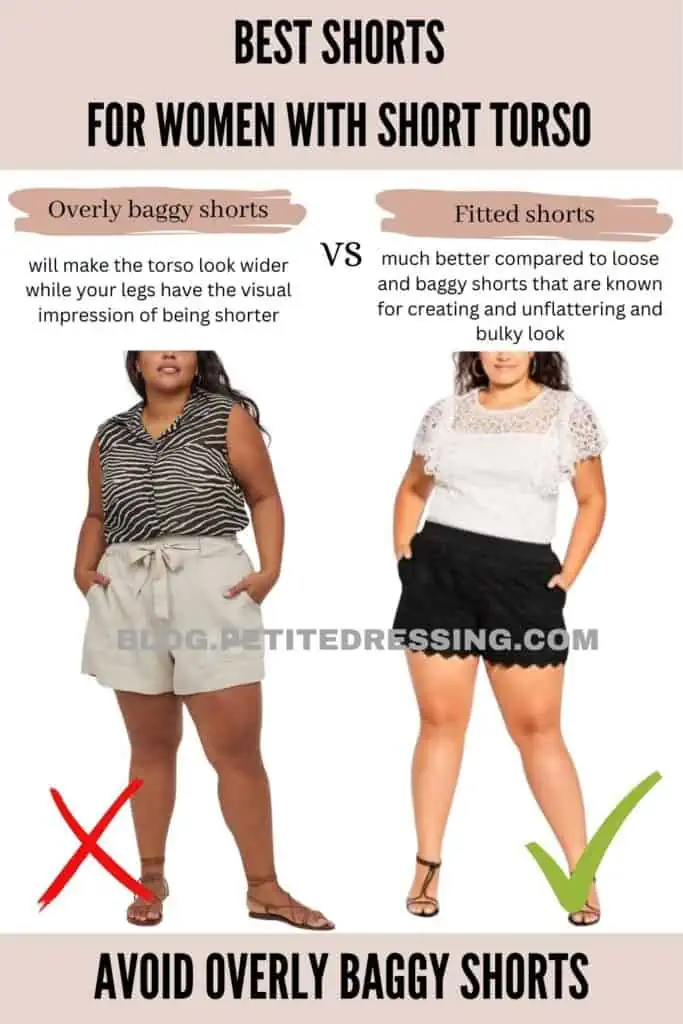 Caution with bermuda shorts
While some women can effectively pull off Bermuda shorts, it's not such a good idea for women with a short torso to wear them. The style of Bermuda shorts is such that they are long and usually fall just below the knee. This length and style create horizontal lines across your legs that don't add more to your overall height.
Instead, they can make women with short torso have legs that look shorter while their torso looks wider. Even with the right pair of shoes, this will do nothing to stop the overall disproportionate and unbalanced look that can result from wearing Bermuda shorts on a short torso.
You should look out for shorts that fall slightly higher than your mid-thigh, as this will help in creating an elongated and streamlined look. Still, don't hesitate to experiment with various lengths to truly see which one works best for your personal style.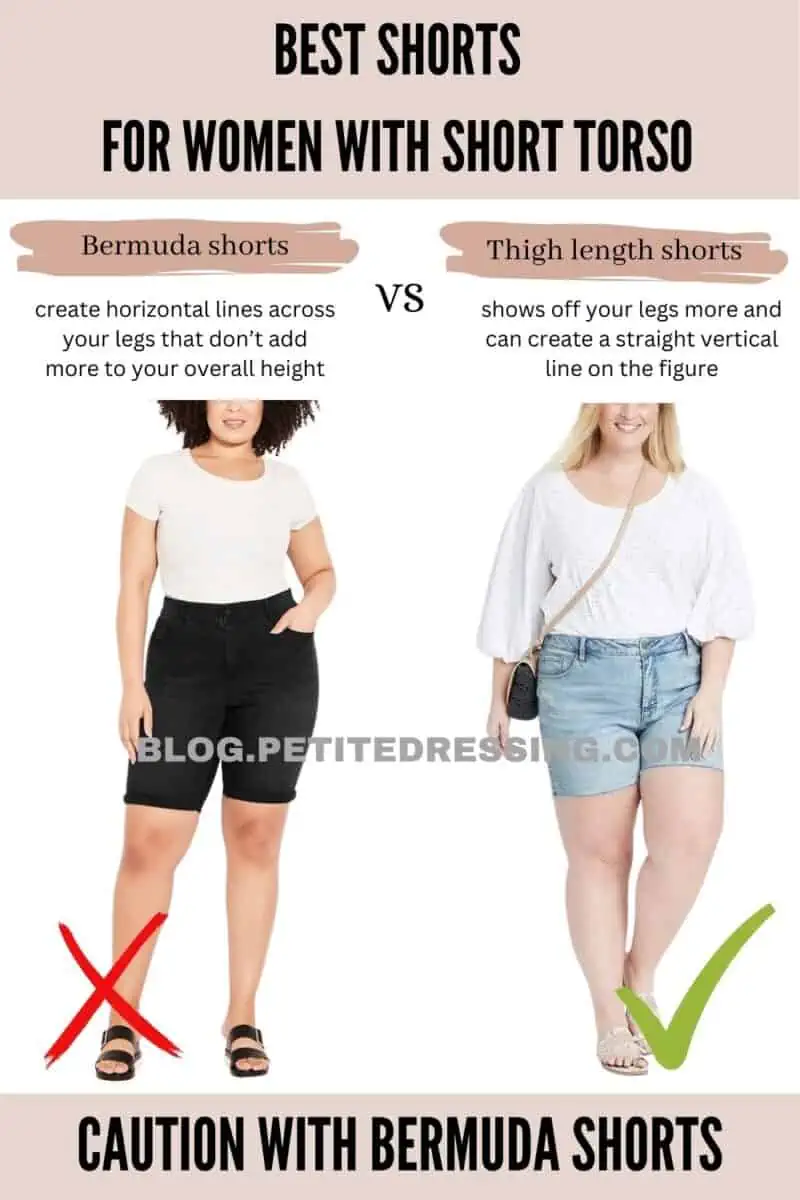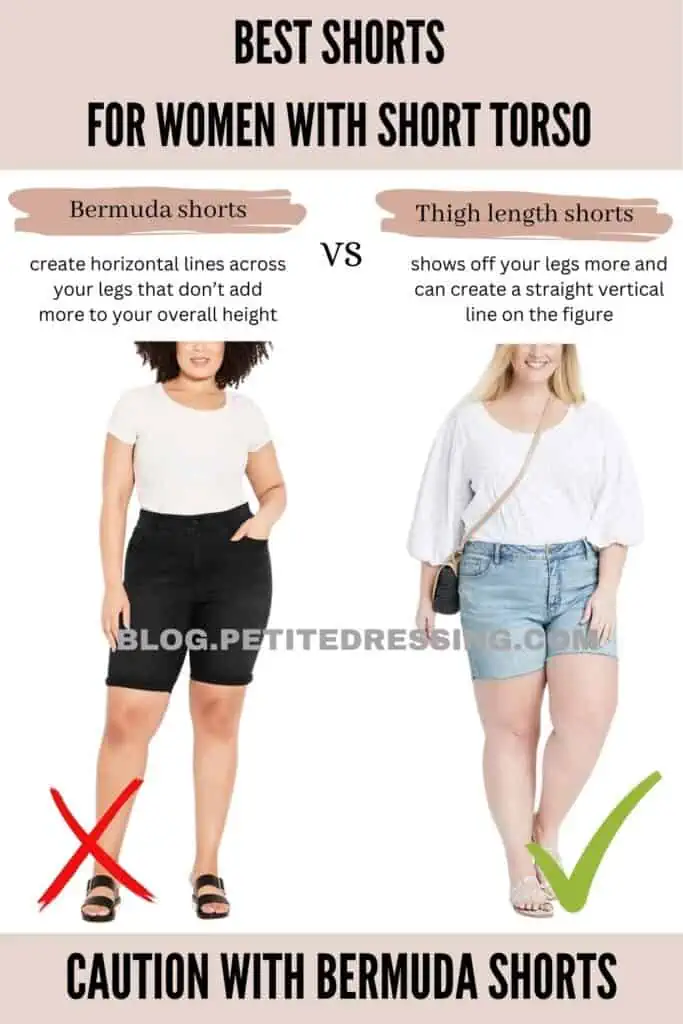 Caution with belted shorts
Wearing belted shorts should be done with caution because the wrong choice can create an unflattering look. Belts are known for adding bulk to the waistline and they also make the torso appear wider since they cut across it in a horizontal line.
Therefore, women with a short torso that wear belts can end up with a visually wide and shorter torso. Thick belts or those with bulky buckles also add volume to the waistline region.
However, if you're a huge fan of belts, we suggest that you choose those that are simple and slim as these have a more streamlined look that won't add so much bulk to your waistline. Instead, they help to create a balanced look.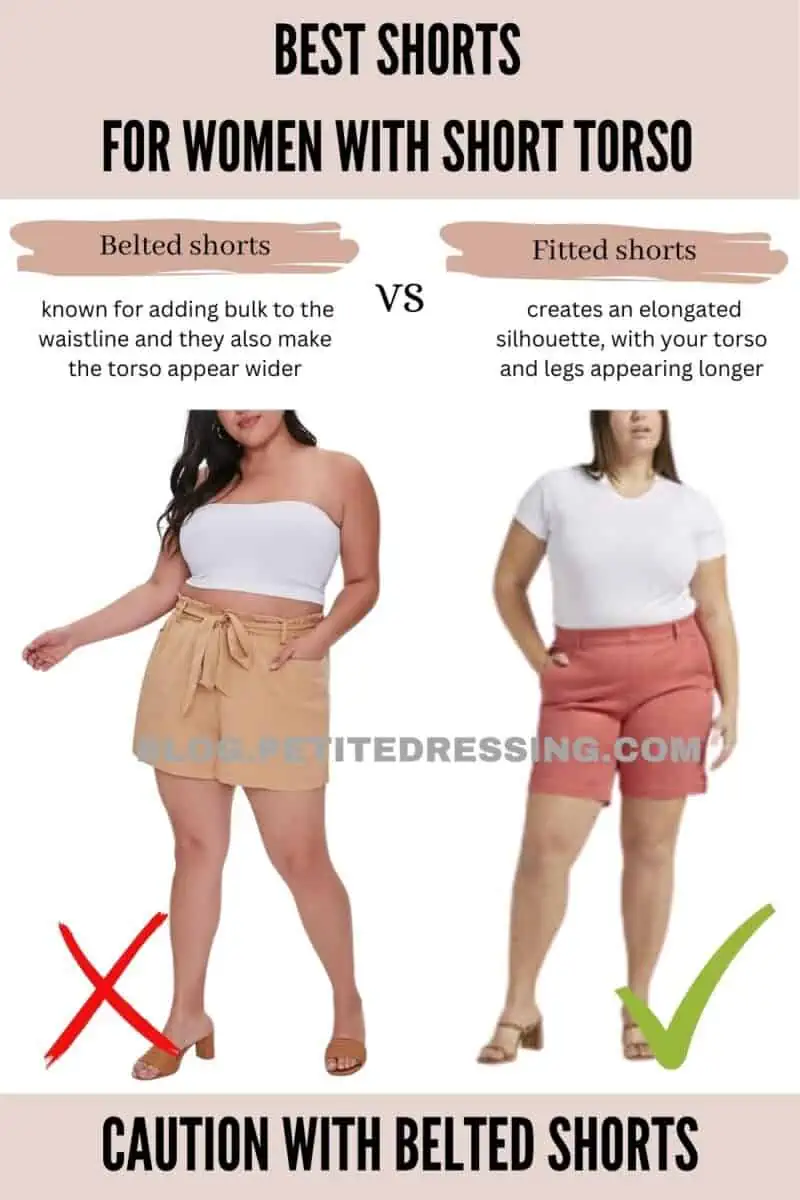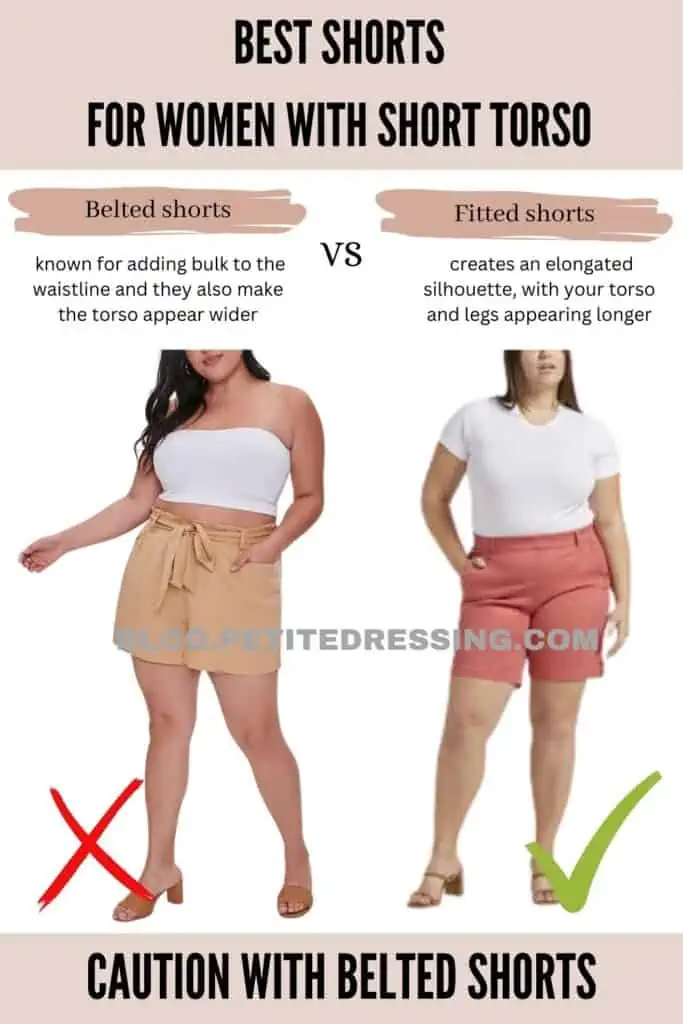 These short styles are perfect for any casual event when you need a relaxed style that fits your body structure. So, feel free to rock this with minimal accessories and a pair of sneakers that make you stand out.