Regardless of your height, you can still have a short torso and we all have to be honest that it's one of the trickiest types of body shape to style. Since you'd like to keep your overall figure well-balanced, choosing a style that will give you this visual proportion can be a bit challenging if you have a short torso.
Denim jeans are generally a safe choice whenever you'd want to highlight your legs and elongate your frame. However, you need to be extra cautious of the jeans structures you'll pick in order to prevent compromising the length of your short torso.
In this guide, we'll walk you through different types of jeans that will suit your short torso while also sharing quick tips on how to style them.
Styling Goal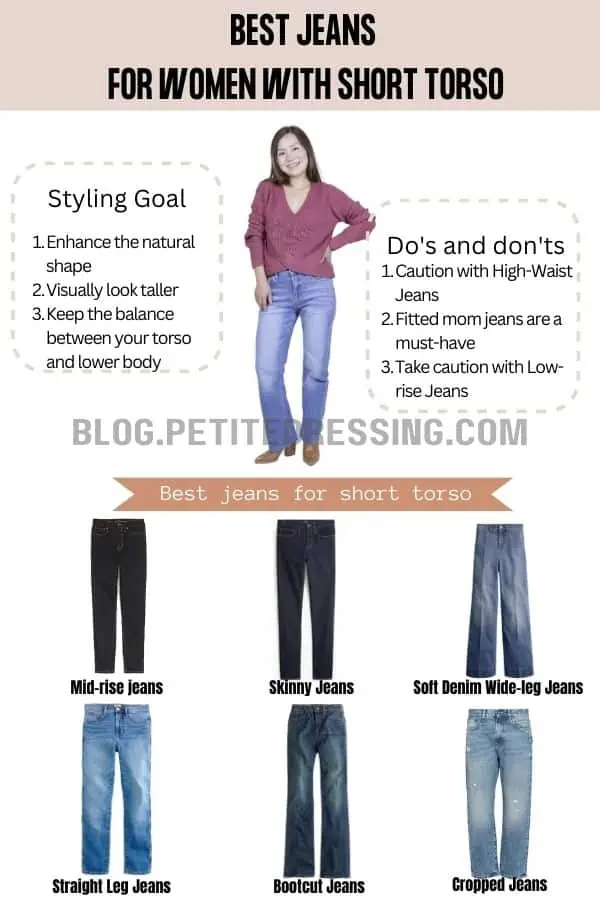 Always keep the balance between your torso and lower body. You can do this by going for jeans that don't go too high on your waist so you won't end up taking up so much space on your already short torso.
Enhance the natural shape of your legs by choosing cuts that flatter you. Whatever fit you prefer, the goal is for it to look well put together.
Your jeans should be able to make you look taller so try to avoid patterns that are too distracting such as heavily tattered jeans. 
Now let's move on to the different types of jeans that you should wear to complement your short torso.
Go for Mid-rise jeans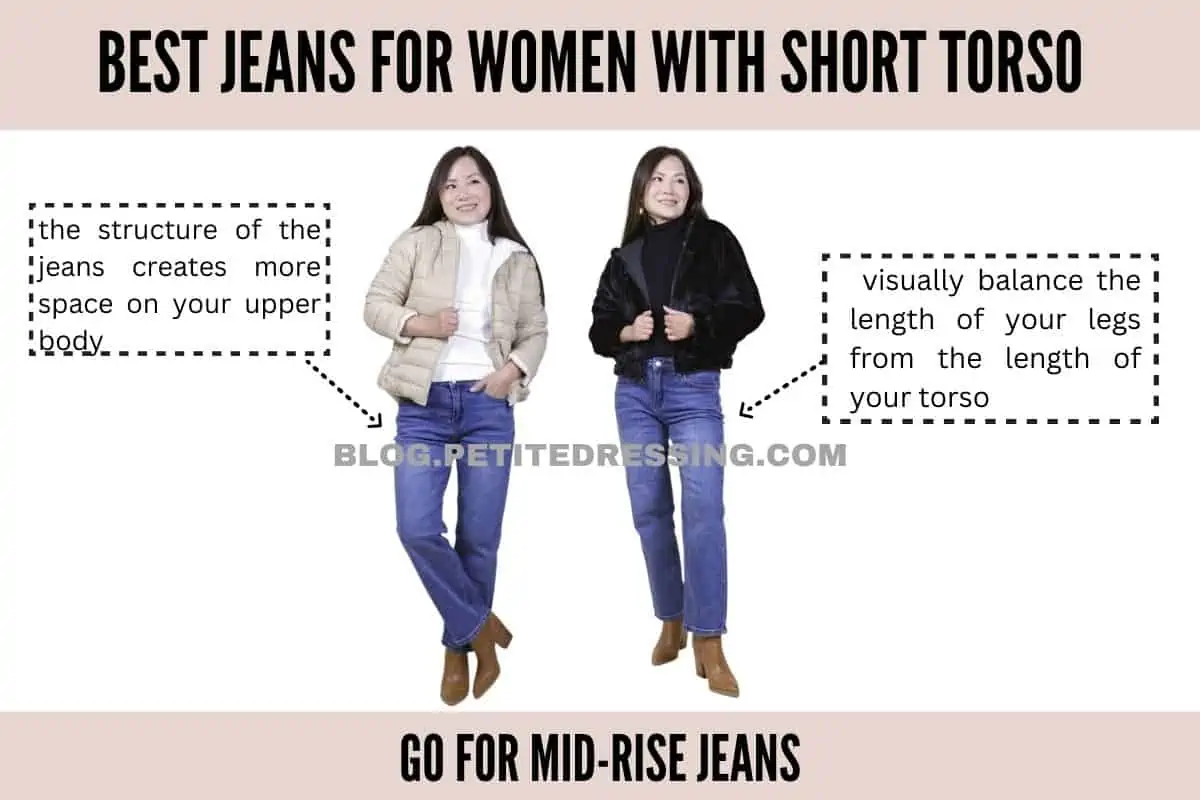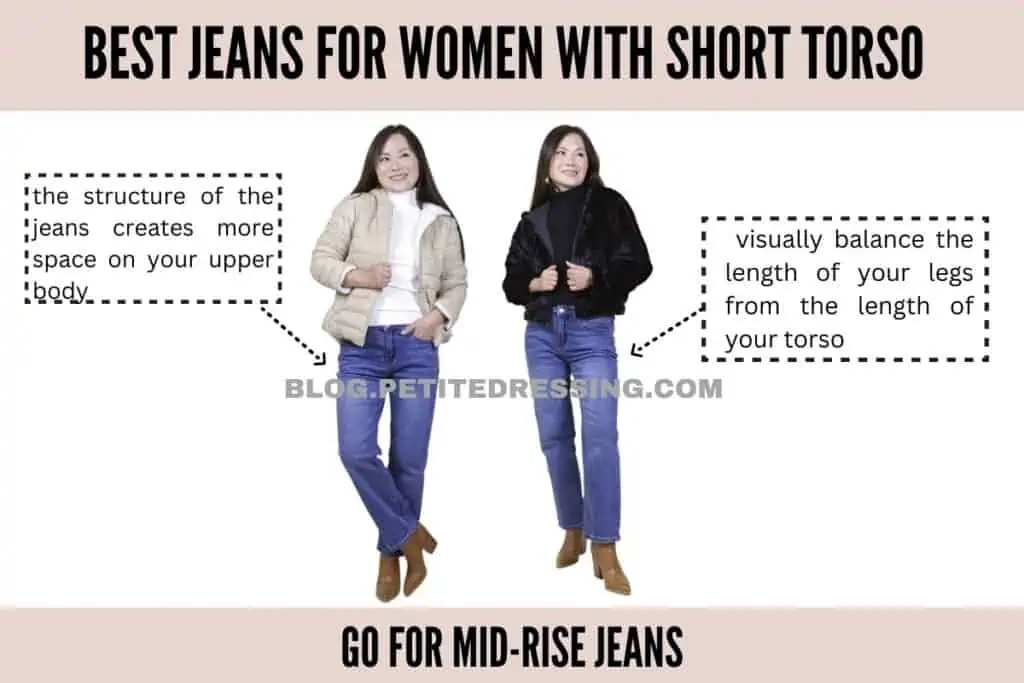 If you've got a short torso, mid-rise jeans will always be your easy go-to outfit. The waistband is placed right on the middle of the hip bone and belly button which creates more space on your upper body.
Mid-rise jeans visually balance the length of your legs from the length of your torso to make them quite proportioned. This is also very easy to style because whether you choose to tuck or untuck your top, it will still work with your mid-rise jeans.
Skinny Jeans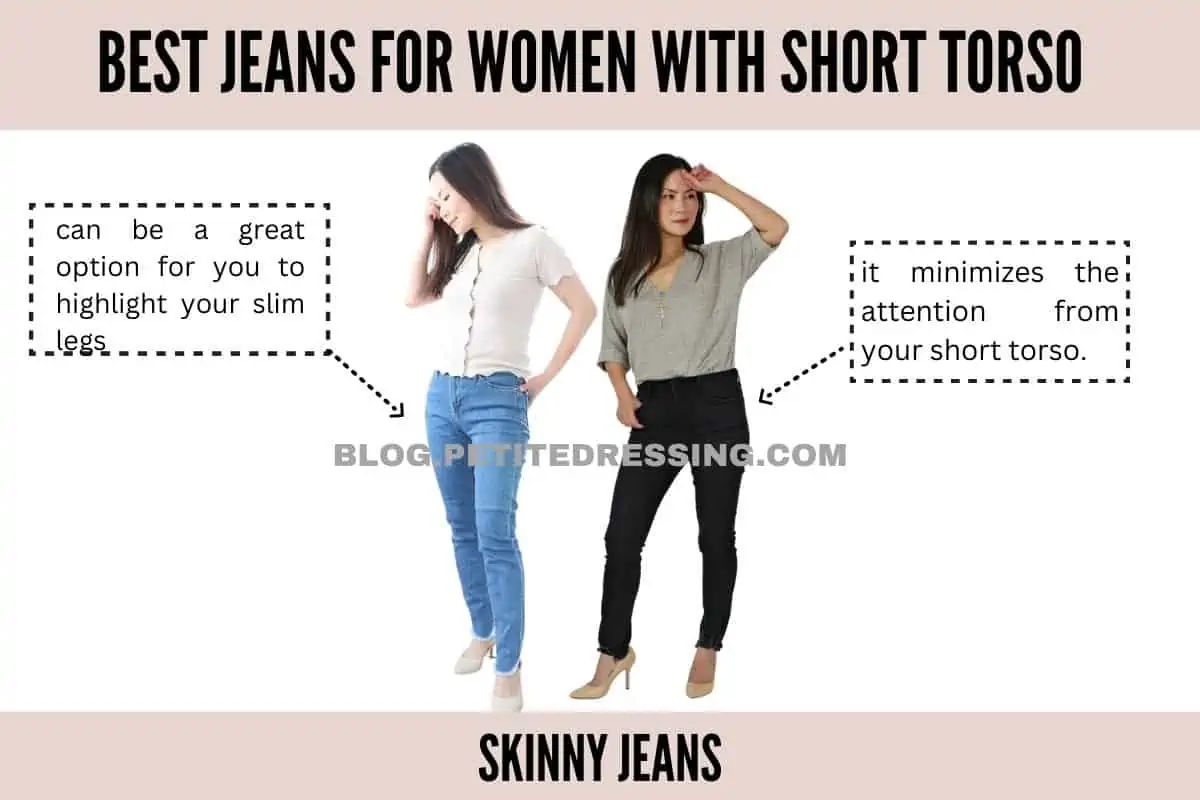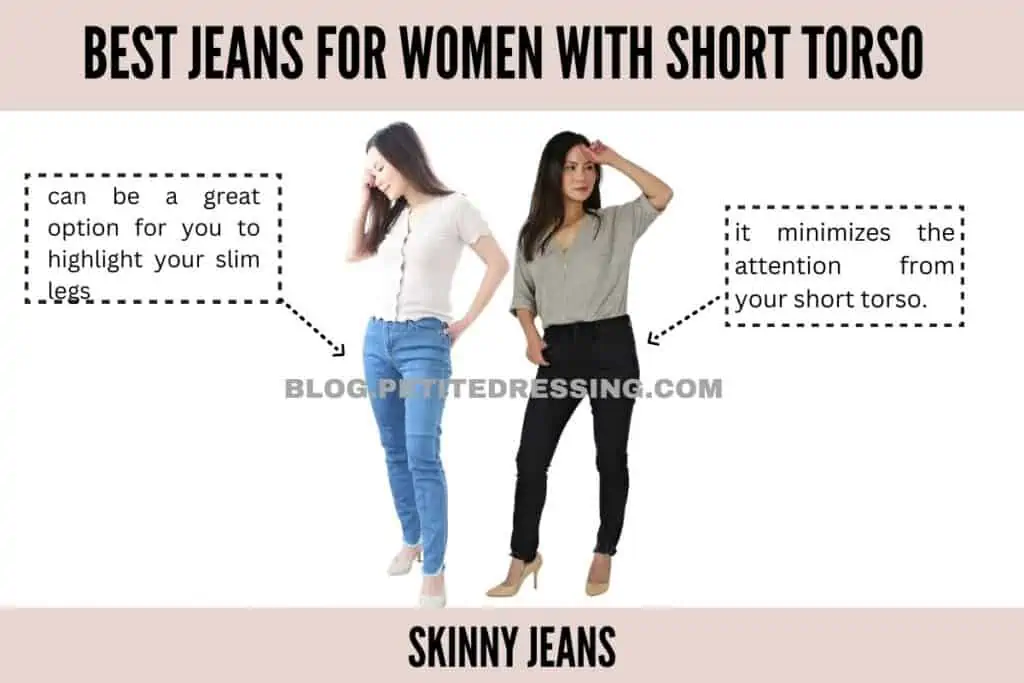 A pair of skinny jeans is also a great wardrobe piece for girls with short torsos. If you have slimmer legs, this can be a great option for you to highlight this part of your body and minimize the attention from your short torso.
It's also nice to go for skinny jeans if you're pairing them with loosely fitted or drapey tops since it makes the look more visually balanced. If you want a casual (but lowkey sexy) look, try going for a pair of mid-rise skinny jeans together with a plain white V-neck shirt!
In addition to this, the fit of skinny jeans frames the illusion of longer and leaner legs. This way, it also enhances your torso altogether to create a nice body ratio.
Soft Denim Wide-leg Jeans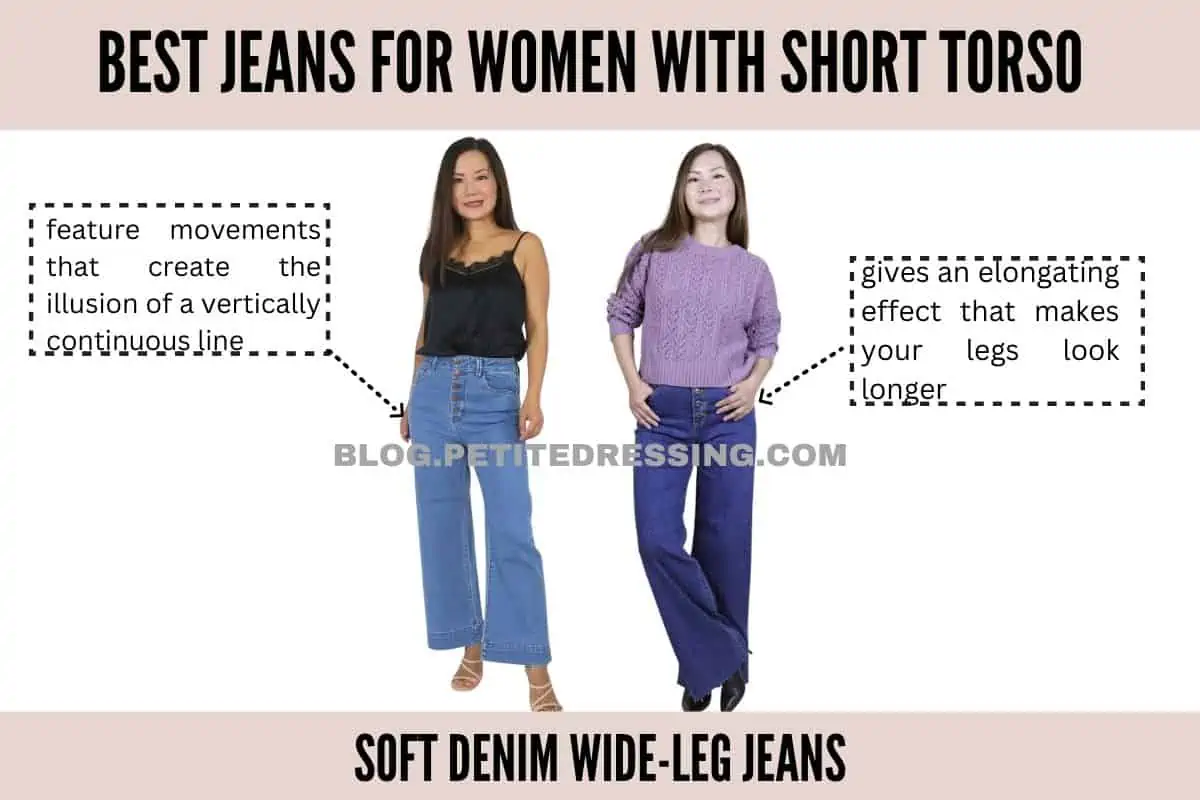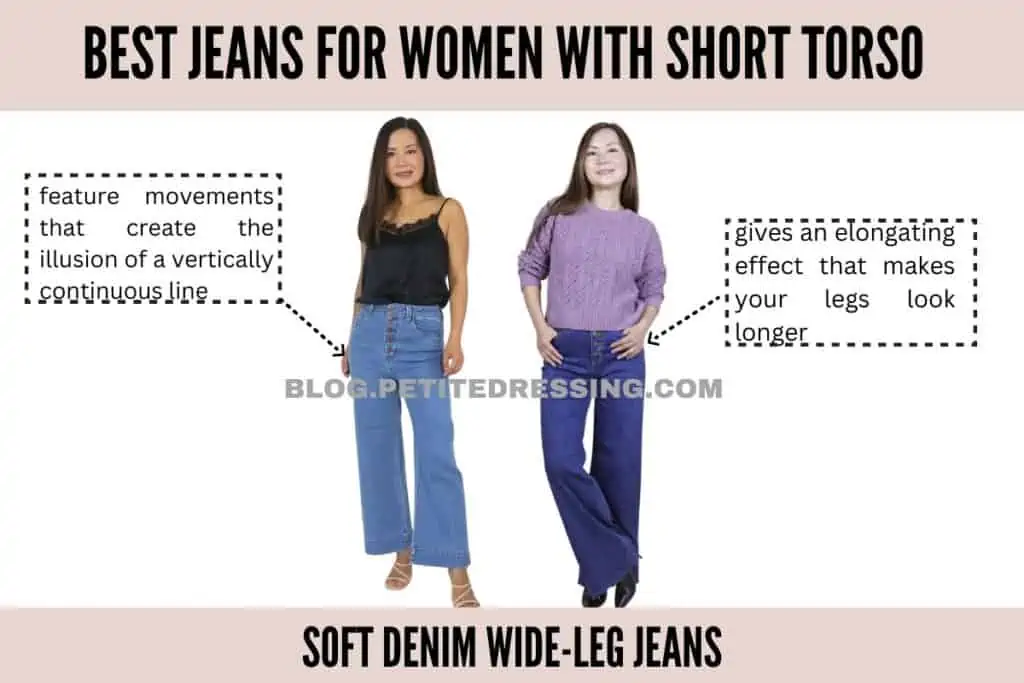 Softer fabrics work well with women with short torsos because they usually feature movements that create the illusion of a vertically continuous line. This invisible line gives you a leaner silhouette and therefore makes your torso look longer than it actually is.
Soft denim wide-leg jeans also give an elongating effect that makes your legs look longer. Since this type of jeans features a wider structure, it's great with fitted tops. This will create an even balance wherein the top has a tight fit and the bottom has a looser fit.
Wide-leg jeans can be quite an eye-catcher already on their own so this is where you should take extra caution not to overwhelm your figure too much by it. Avoid ultra high-rise types for wide-leg structures because they will take so much space on your torso and therefore make your torso look even shorter.
Straight Leg Jeans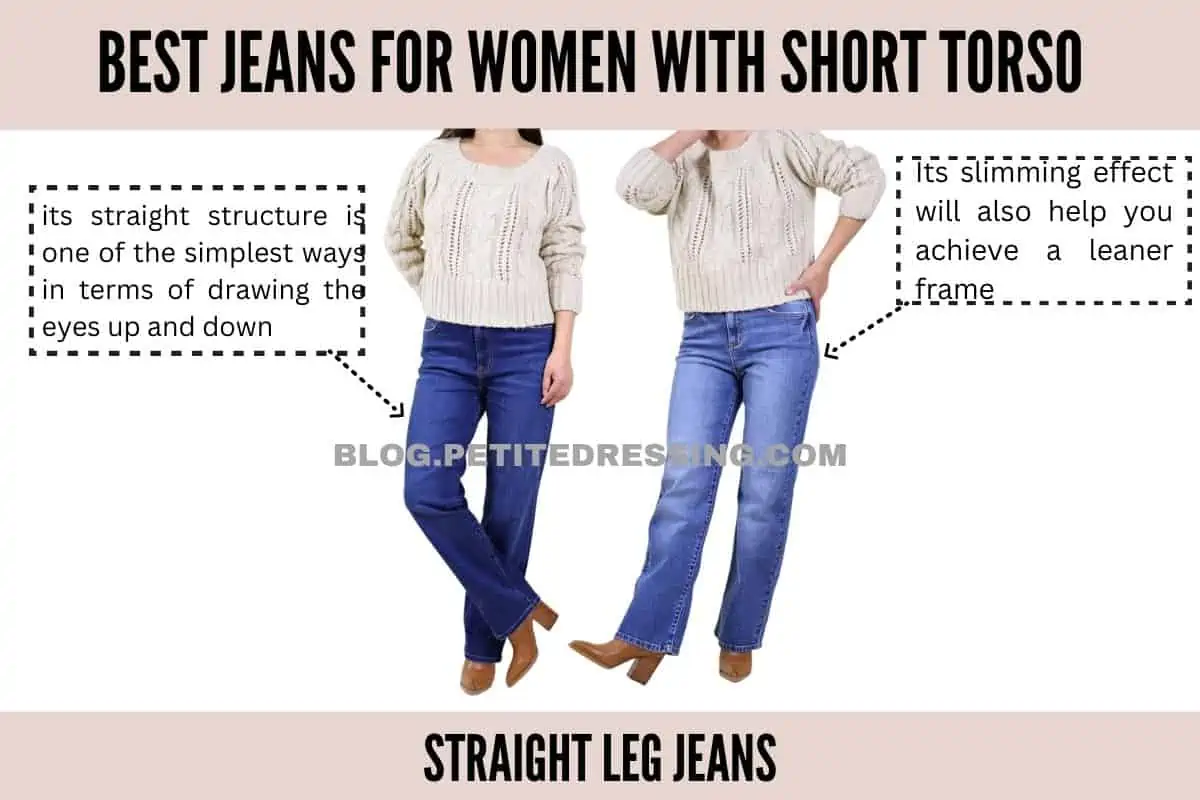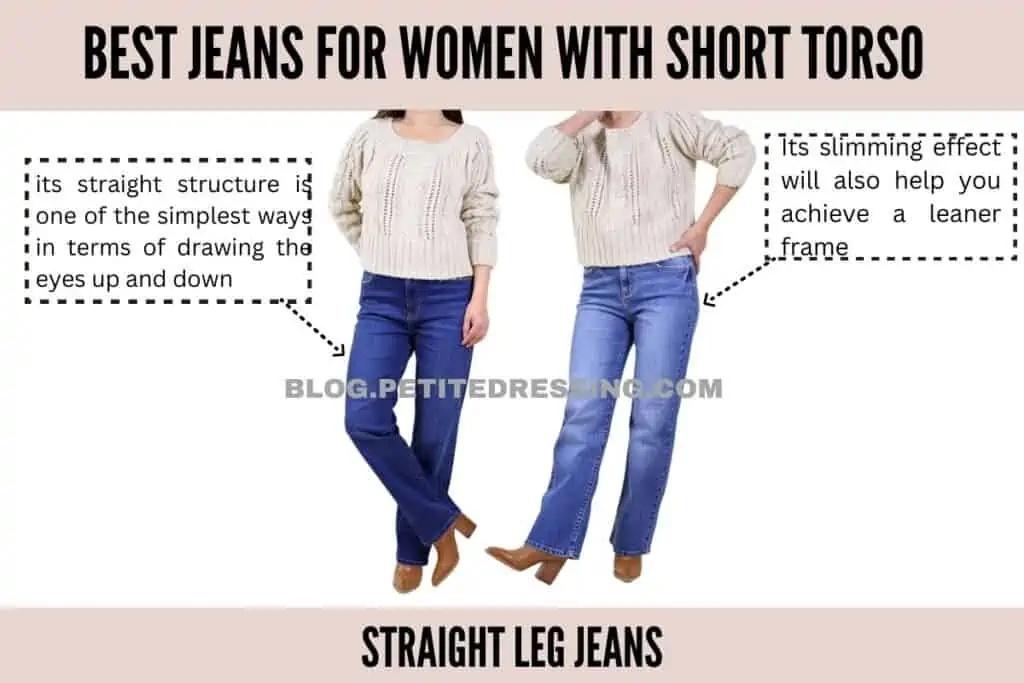 This is another best (and safe) choice for ladies with short torsos because its straight structure is one of the simplest ways in terms of drawing the eyes up and down. They are universally flattering and would look good with pretty much everything you want to pair them with!
Its simplicity makes it easier to style and it's a great choice if you're planning to go for something a bit more dramatic or colorful for your top. If you're wearing a top that elongates your torso then this enhancement will be strengthened by wearing straight-leg jeans.
Its slimming effect will also help you achieve a leaner frame. You can also try lighter colors especially if you're pairing it with a dark-colored top.
Bootcut Jeans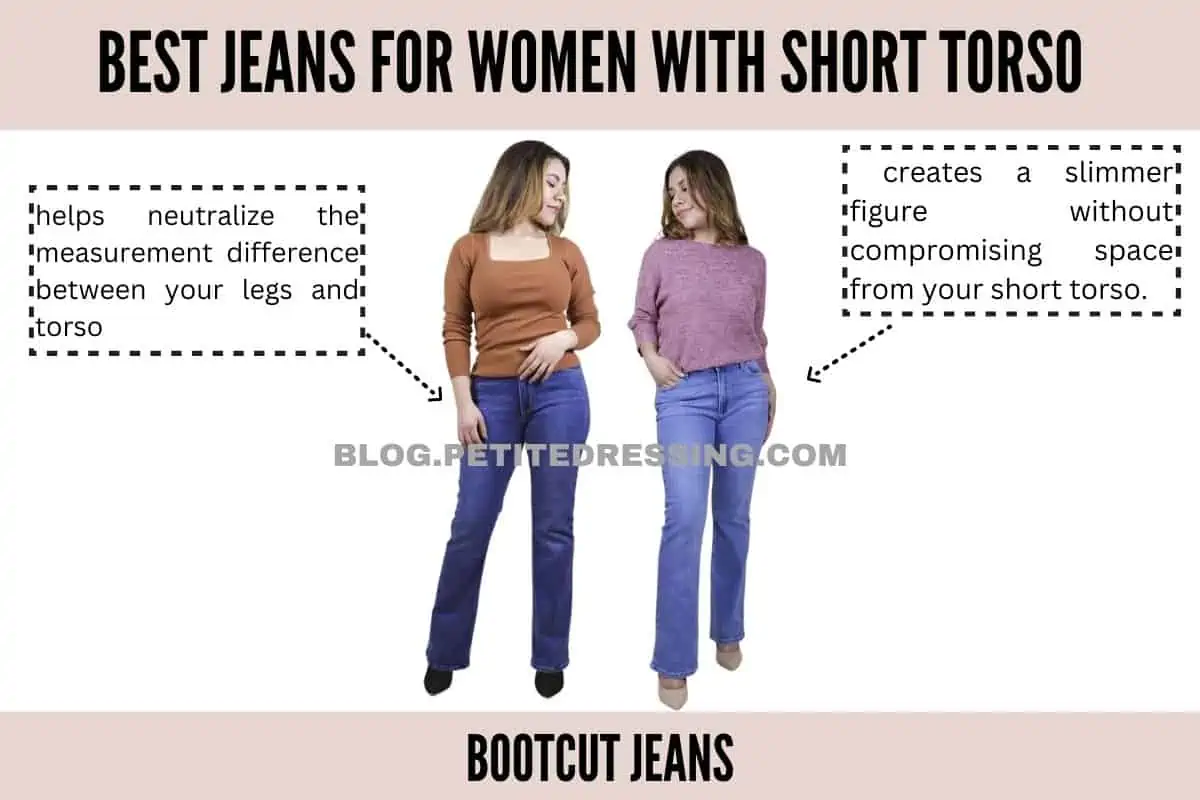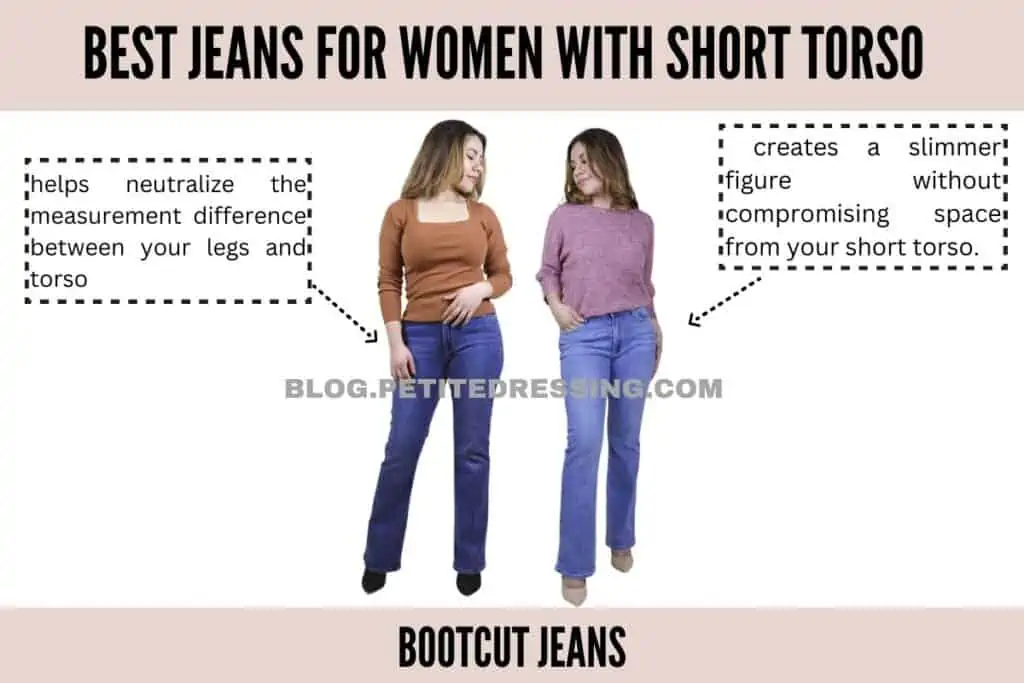 Since bootcut jeans feature a tapered snug fit on the thighs and gradually widen from the knees downward, it helps neutralize the measurement difference between your legs and torso. This visual effect creates a slimmer figure without compromising space from your short torso.
If you'd like to define the curves on your lower body and take some attention off of your short torso, this is what bootcut jeans can do. This is also a great pair of jeans to go for if you'd like to front-tuck your tops.
Cropped Jeans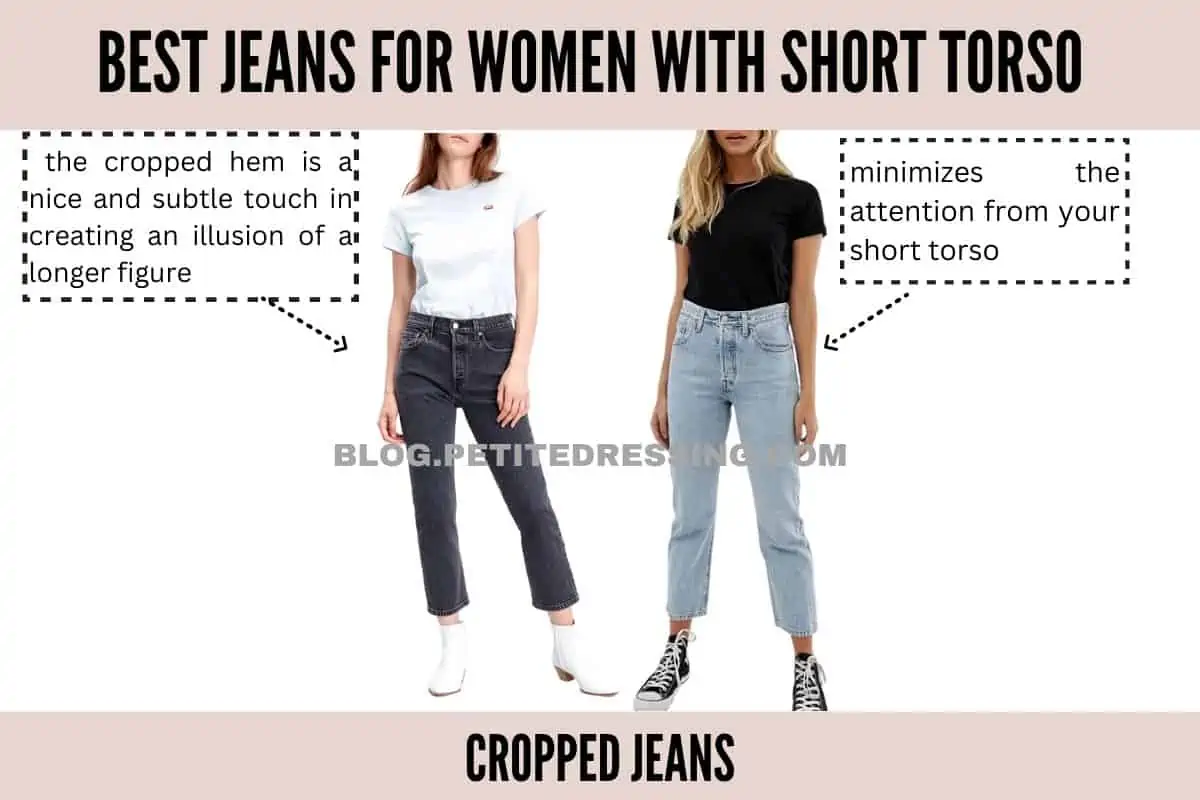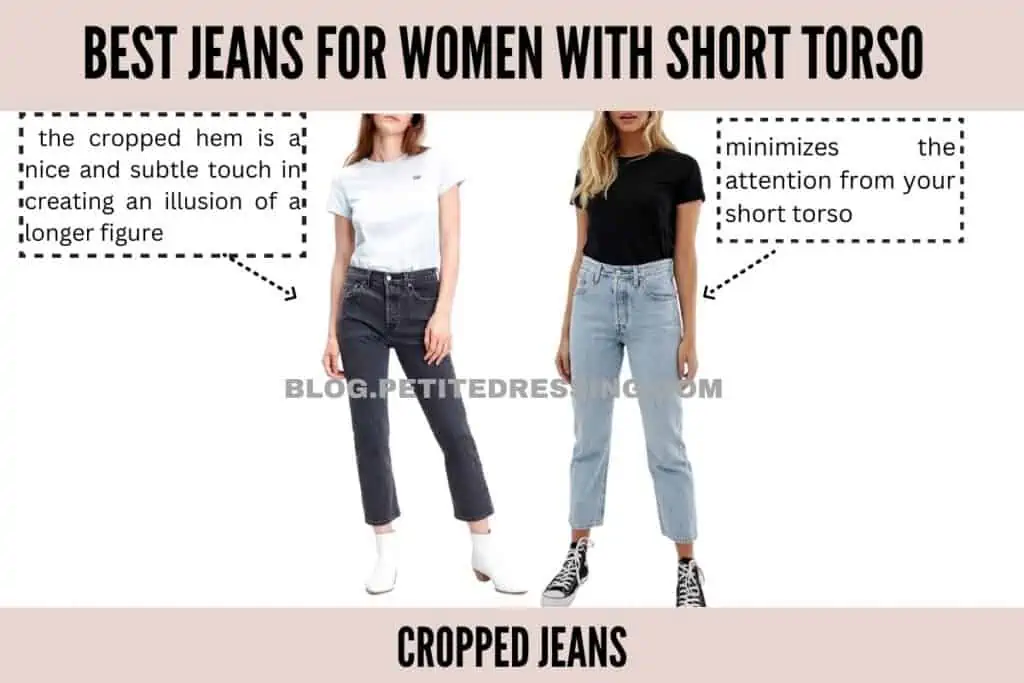 Cropped jeans can also be a trendy and at the same time, flattering, clothing choice for girls with short torsos. The cropped hem is a nice and subtle touch in creating an illusion of a longer figure by exposing a small part of your ankle area.
Most cropped jeans are either straight or slightly tapered and this style also works for pretty much any top you wish to pair it with. If you want to minimize the attention from your short torso, you can try wearing cropped jeans with small tattered details as long as it's nothing like dramatic rips that go horizontally.
Flared Jeans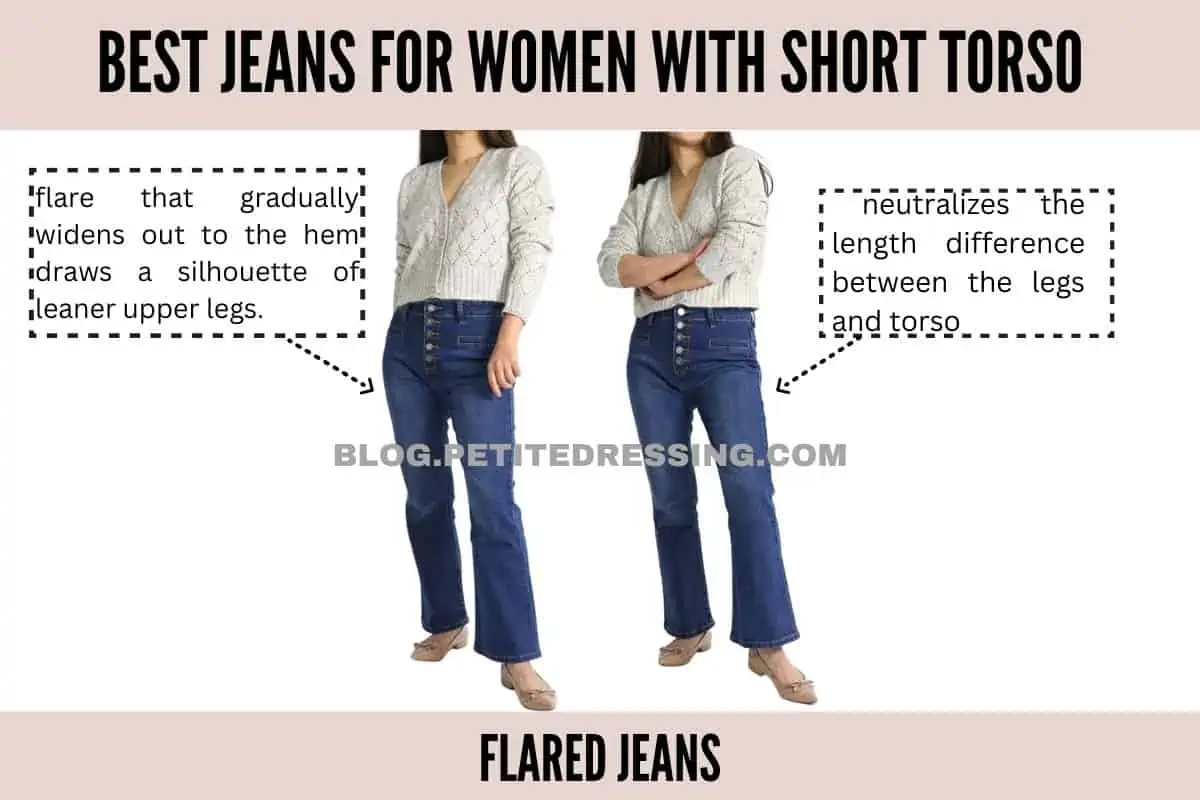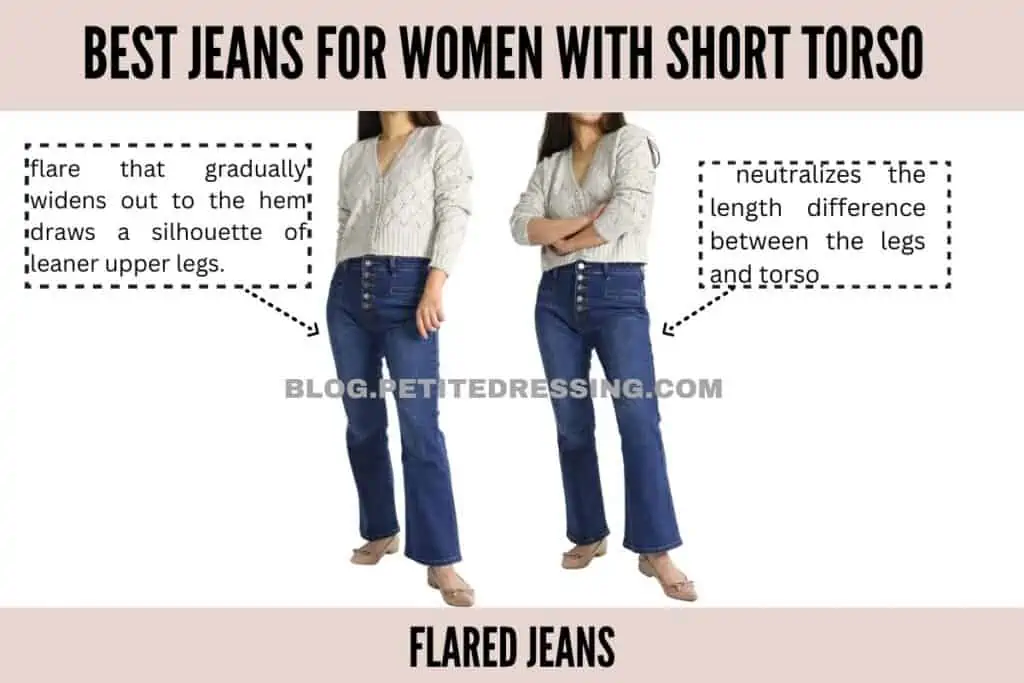 If you'd like a touch of retro vibe on your look while also effectively making your legs appear quite long, the structure of flared jeans would be a perfect match for you. The flare that gradually widens out to the hem draws a silhouette of leaner upper legs. 
It also neutralizes the length difference between the legs and torso so it gives a very balanced figure.
Fitted Mom Jeans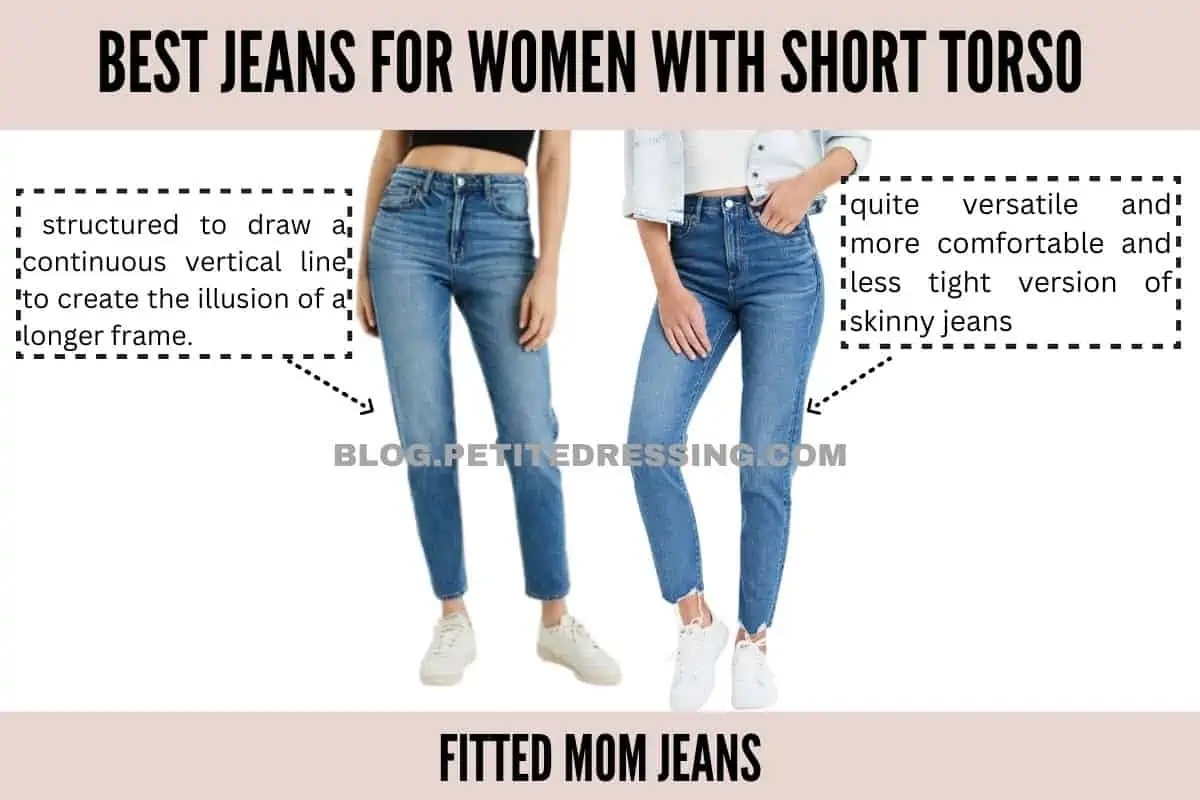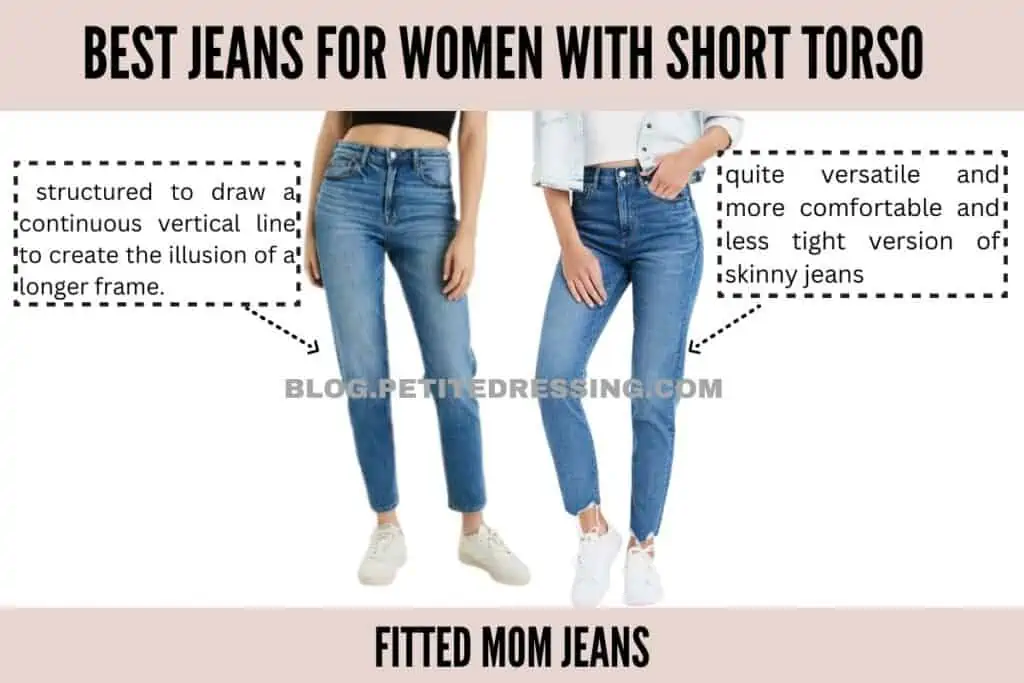 If you're looking for a more comfortable and less tight version of skinny jeans, then here's an option to consider – fitted mom jeans. Just like all the jeans in this post, they're also structured to draw a continuous vertical line to create the illusion of a longer frame.
Fitted mom jeans are quite versatile too when it comes to pairings because you can wear different types of tops and look good in them. Although, they look extra good with button shirts that are tucked in the front.  
Caution with High-Waist Jeans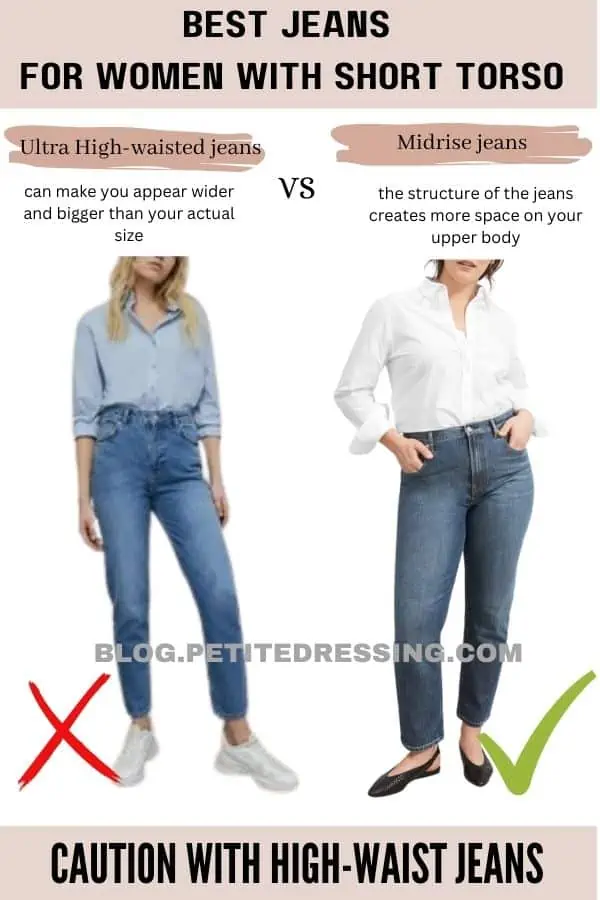 Many women with short torsos are usually petite as well and it's understandable how one would choose to go for high-rise jeans to look taller. High-waisted jeans can definitely work for short torsos, but not ultra-rise ones.
Ultra high-rise jeans would be something you'd like to avoid if you have a short torso because this will cramp up the space on your upper body. Such an uneven proportion will definitely look awkward and unflattering.
Caution with Low-rise Jeans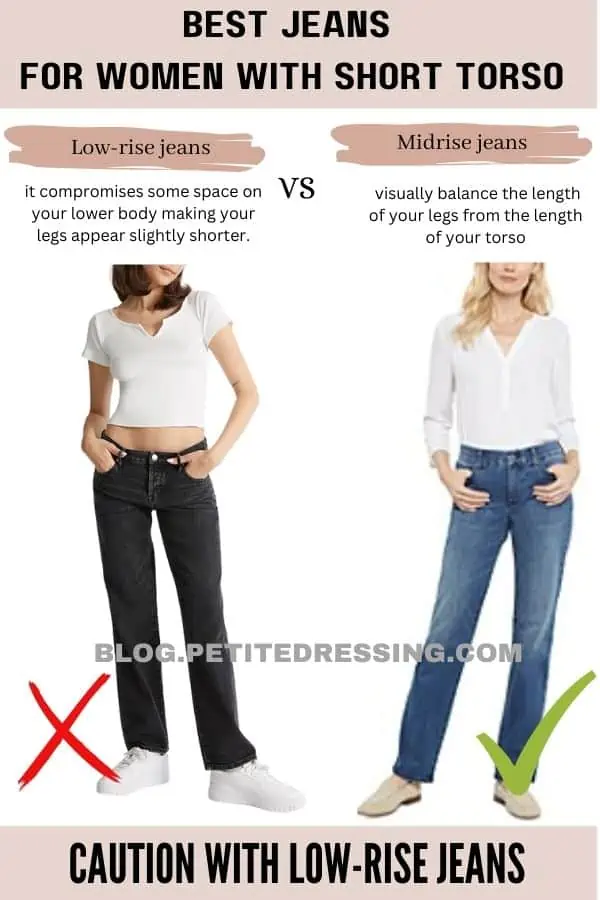 Low-rise jeans can work with ladies with short torsos only if you're tall. Because while low-rise jeans free up some space on your upper body for your torso to look longer, it compromises some space on your lower body making your legs appear slightly shorter.