Having a short torso is more common than you think and regardless of your size or height, you can still have a short torso. This is why this body shape can make a number of different clothing pieces a bit tricky to style.
The wrong proportion can make your entire ensemble look unflattering so we're here to guide you on the things that you need to avoid if you have a short torso. Before we move on to the types of wardrobe pieces you need to avoid, let's talk about what your styling concepts should be in order to flatter your short torso.
Styling Goal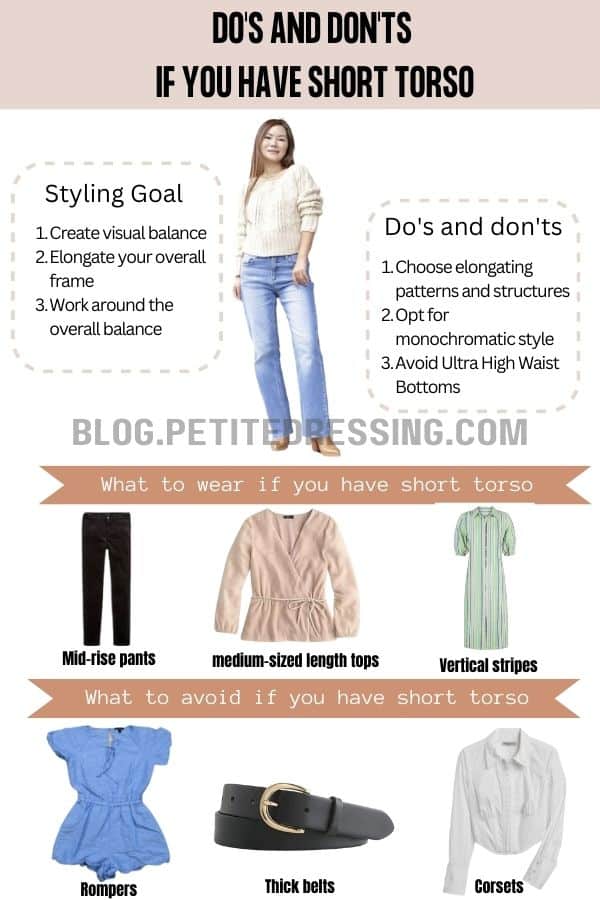 Choose elongating patterns and structures for your tops. May it be prints or seam lines, going for vertical patterns can help make your torso look longer.
Opt for monochromatic style pairings because this will create a continuous straight line that will elongate your overall frame.
Create visual balance in your upper and lower body by playing up with your proportions. Don't focus solely on elongating your torso but also work around the balance of your body frame overall.
Avoid Ultra High Waist Bottoms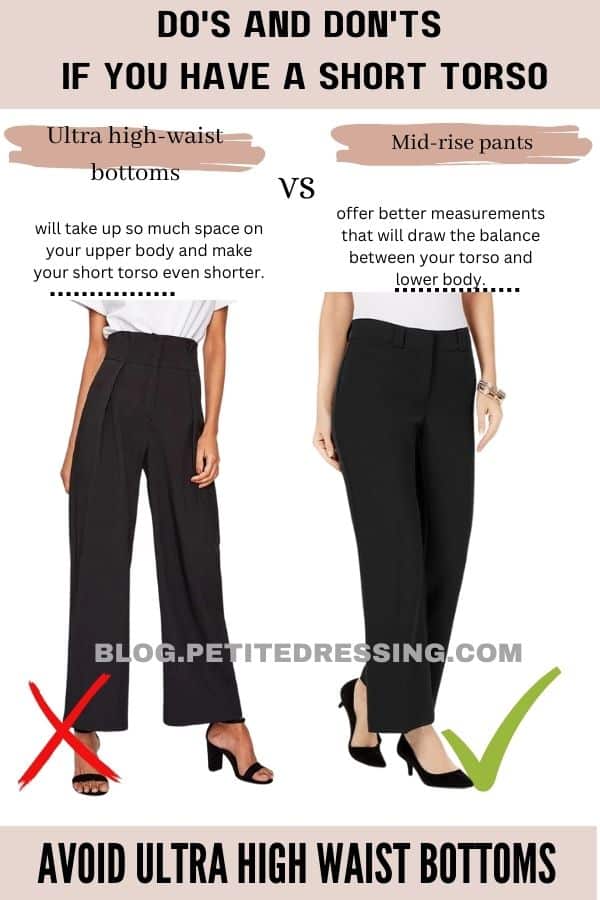 The aim of high-waist bottoms (most particularly jeans and trousers) is to make your legs appear longer. And while this is a good trick to make you look taller, this will compromise the length of your torso.
Ultra-high waist bottoms are basically those in which the waistband goes way past your belly button, some even almost reaching the midriff. This will take up so much space on your upper body and make your short torso even shorter.
Instead, you can go for mid-rise pants since they offer better measurements that will draw the balance between your torso and lower body.
Avoid Crop Tops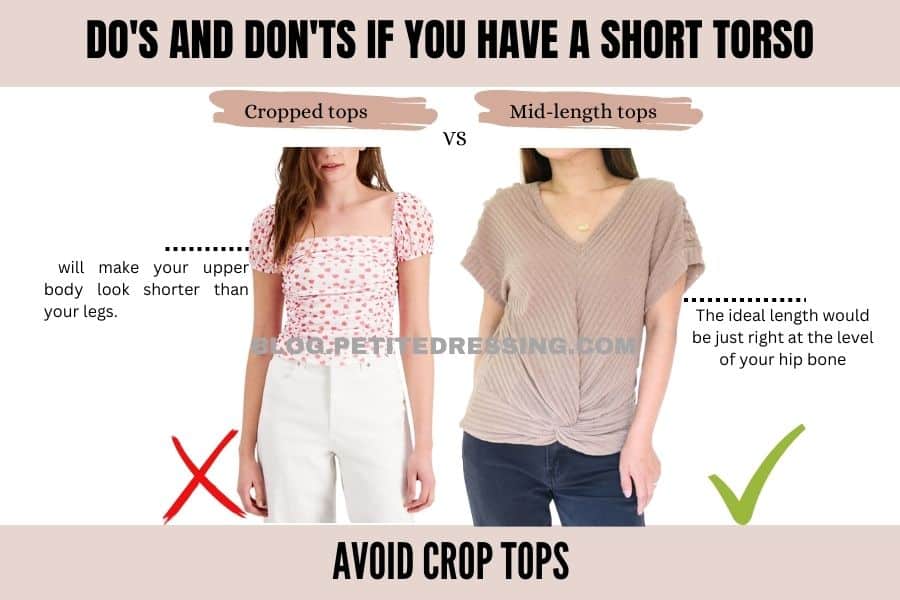 On top of being very trendy these days, crop tops are usually a go-to for petite women who wish to make their legs appear longer. However, if you have a short torso, crop tops will not look very flattering because they will make your upper body look shorter than your legs.
Your best alternative would be tops in medium-sized lengths. The ideal length would be just right at the level of your hip bone. Something longer than this may end up making your legs look shorter so you really need to be mindful when it comes to choosing the right length of top for your short torso.
Avoid Color-Contrasting Top and Bottom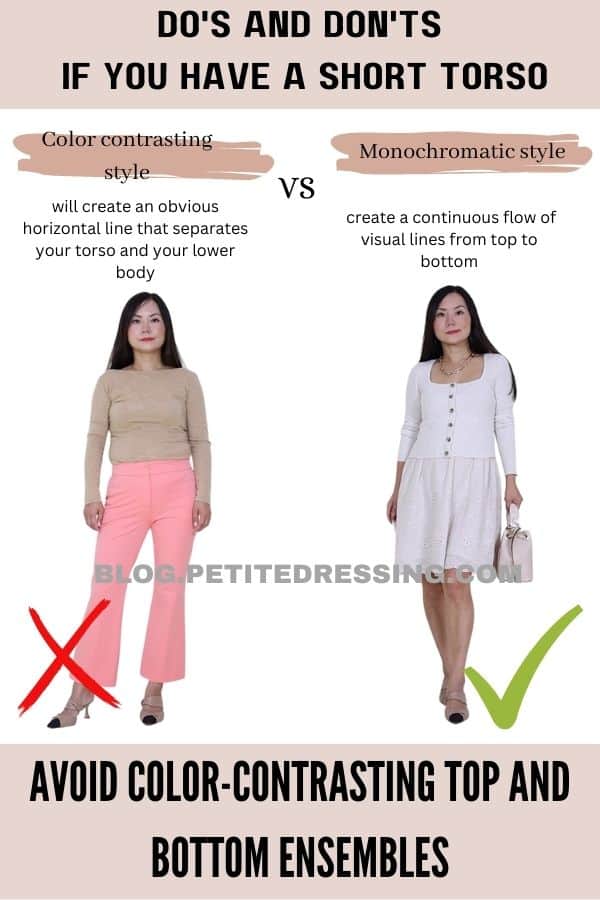 Generally, you'd like to avoid anything that will create an obvious horizontal line that separates your torso and your lower body. If the color of your top is too contrasting with your pants, skirt, or shorts, it will only make your short torso much easier to distinguish.
The best option is to dress monochromatically in order to create a continuous flow of visual lines from top to bottom. But this doesn't mean you can't be a bit adventurous with your color options!
If you'd like your ensemble to feature more colors, you can definitely do so! Just go for colors that belong in the same color palette. You can also go for colorful vertical prints that aren't too contrasting and distracting to look at.
Avoid Wide Belts
This is another way to draw a very distinguishable horizontal line separating your torso from your lower body. Thick or wide belts tend to draw more attention and so instead of taking the eyes away from your short torso, the visual effect of the belt will only make it more obvious.
Wide or thick belts, especially if they are in vibrant and contrasting colors, can break the vertical straight line that lengthens your frame from top to bottom. This is why you should avoid wide belts, in general, to prevent making your short torso look more apparent.
Avoid Corset Style Tops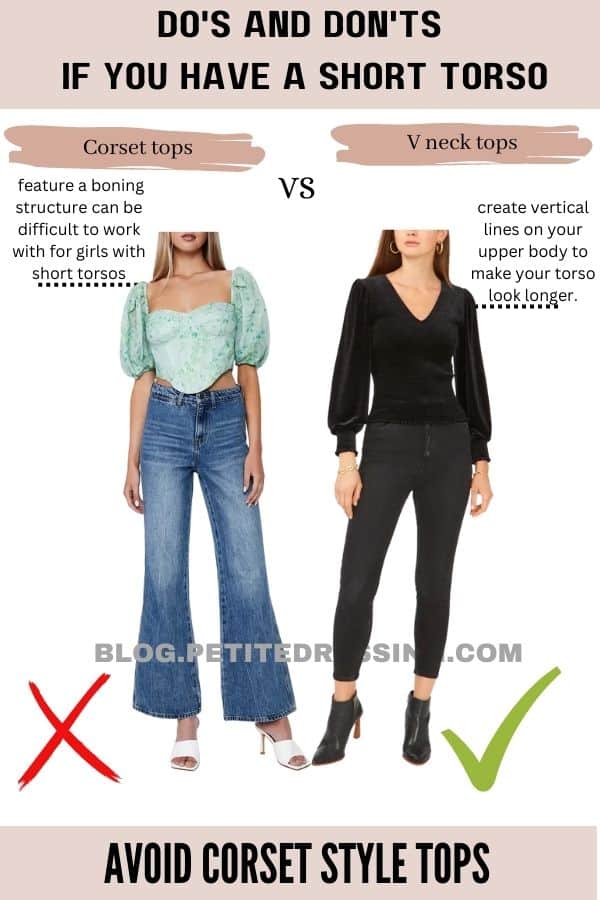 The structure of corset tops tends to be stiffly shaped and when it so happens that the corset is actually a tad longer than your actual torso, it may look uneven and unflattering. In addition to this, it may also feel uncomfortable since your short torso would ideally want more space.
Corsets and other types of tops that feature a boning structure can be difficult to work with for girls with short torsos. This is because it doesn't leave much room up and down so the part of the waistline where it hits can look very awkward.
But if you really like its shape and design and still badly want to give it a try, you still have the option to find ones that are designed for petite body shapes. While not all petite women have short torsos, you may still be able to find corsets that come in shorter measurements lengthwise.
Avoid Boat Neck Tops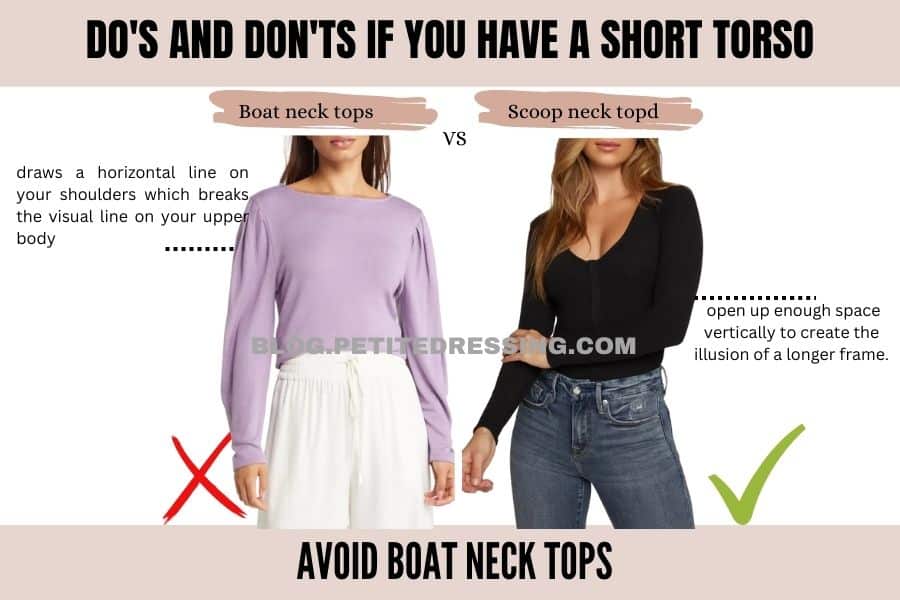 Boat neck, which is also known as the Sabrina neckline, draws a horizontal line on your shoulders which breaks the visual line on your upper body (neck to hip bone). This doesn't only highlight your short torso but makes it look even shorter.
The wide horizontal opening that goes from one point of the shoulder to another creates a shorter distance between your neck and waistline. If you're wearing a boat neck top with a defined waistline, this can even highlight your short waist and therefore make your overall look quite imbalanced.
Instead, look for necklines that create vertical lines on your upper body to make your torso look longer. Some examples would be V-neck or scoop necklines for they open up enough space vertically to create the illusion of a longer frame.
Caution with Rompers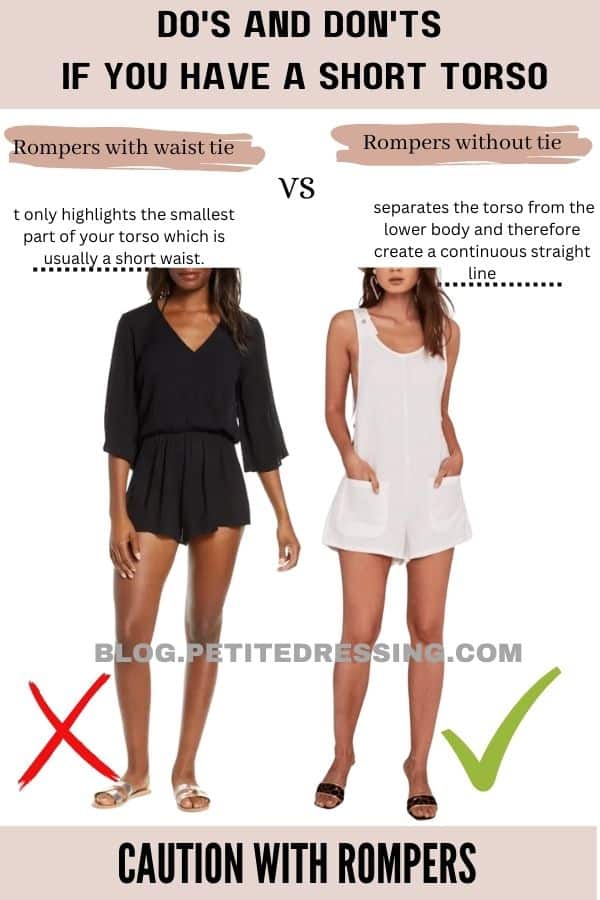 Rompers will always be trendy so it's normal to feel the need to have them in your wardrobe. However, rompers are generally not really meant for women with short torsos because of where the waistline is usually placed.
The waist tie or waist elastic usually falls on the hip bone for women with short torsos and this can make the lower part of the romper look awkward. When this happens, it only highlights the smallest part of your torso which is usually a short waist.
But then, wearing rompers isn't always a bad idea for girls with short torsos. What you need to do is to consider the ones that don't have a waist tie or waist elastic.
Rompers without this detail loosen up the invisible horizontal line that separates the torso from the lower body and therefore create a continuous straight line. Opting for the right length and design pattern can even help you look taller and leaner.
The Key Takeaway
Styling a body with a short torso is all about visual balance. By avoiding these clothing pieces we have mentioned and opting for more flattering alternatives, you are giving your figure proper proportions that can also help enhance your best features.
The best way to show how you're fully embracing your figure is to understand which wardrobe pieces flatter your natural shape. Having a short torso is totally okay and knowing your way around how to style it is one great approach to flaunting your figure!