Choosing the right kinds of tops is very important for someone who has a short torso. The length, structure, design, and all the other factors can be quite crucial as they can make or break your overall look!
The wrong choice of top can give you an unflattering body proportion and as a girl with a short torso, you'd like to avoid that at all costs. In this post, we'll walk you through some styling tips, as well as a full list of specific styles that will surely work with your short torso.
Styling Goal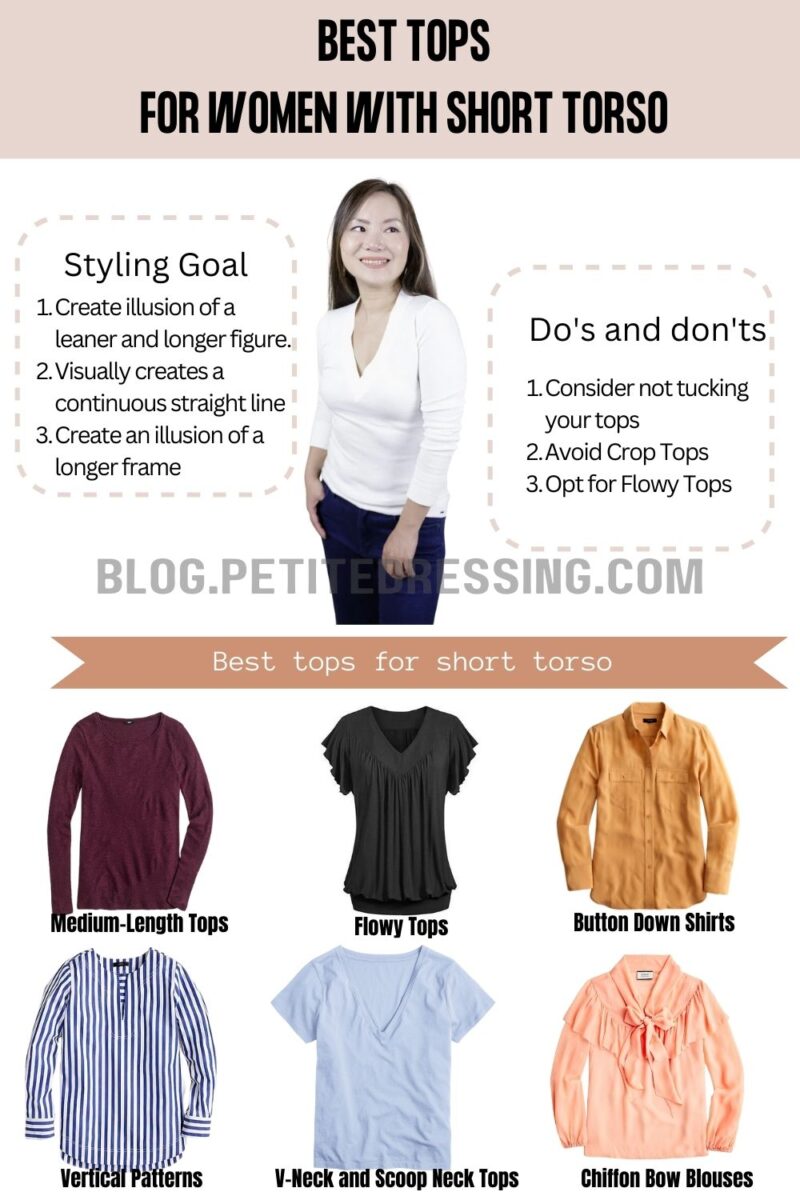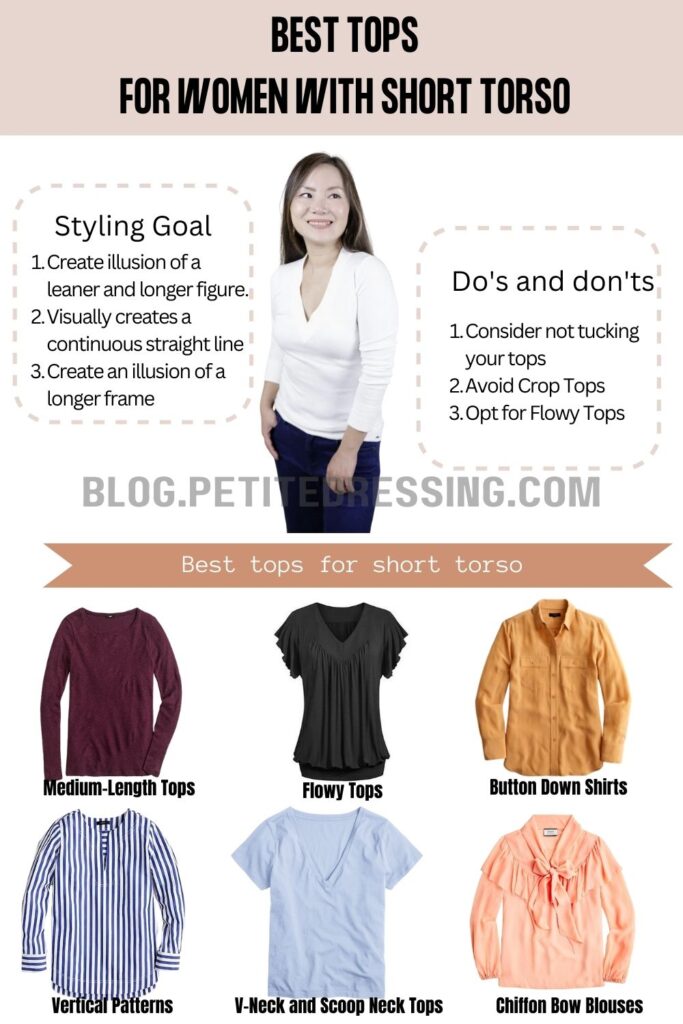 Having a short torso means that your figure is not naturally proportionate so this is why you have to always consider tops that will tweak their way around this concern. Go for tops that are a bit longer (but not too long), around the level of your hip bone to subtly elongate your torso.
Elongating patterns and soft, flowy fabrics will always be your short torso's best friends. Such details will help fade the distinguishable line that separates your torso from your lower body and therefore create an illusion of a longer frame.
The length of your tops is a very important factor when it comes to creating style coordinates for your short torso. A top that is too long or too short can give your body a look that's not properly balanced.
Let's start with the types of tops that you should go for! Remember that these are basically the tops' structures and you can always pick a specific design under these categories that suit your taste.
Medium-Length Tops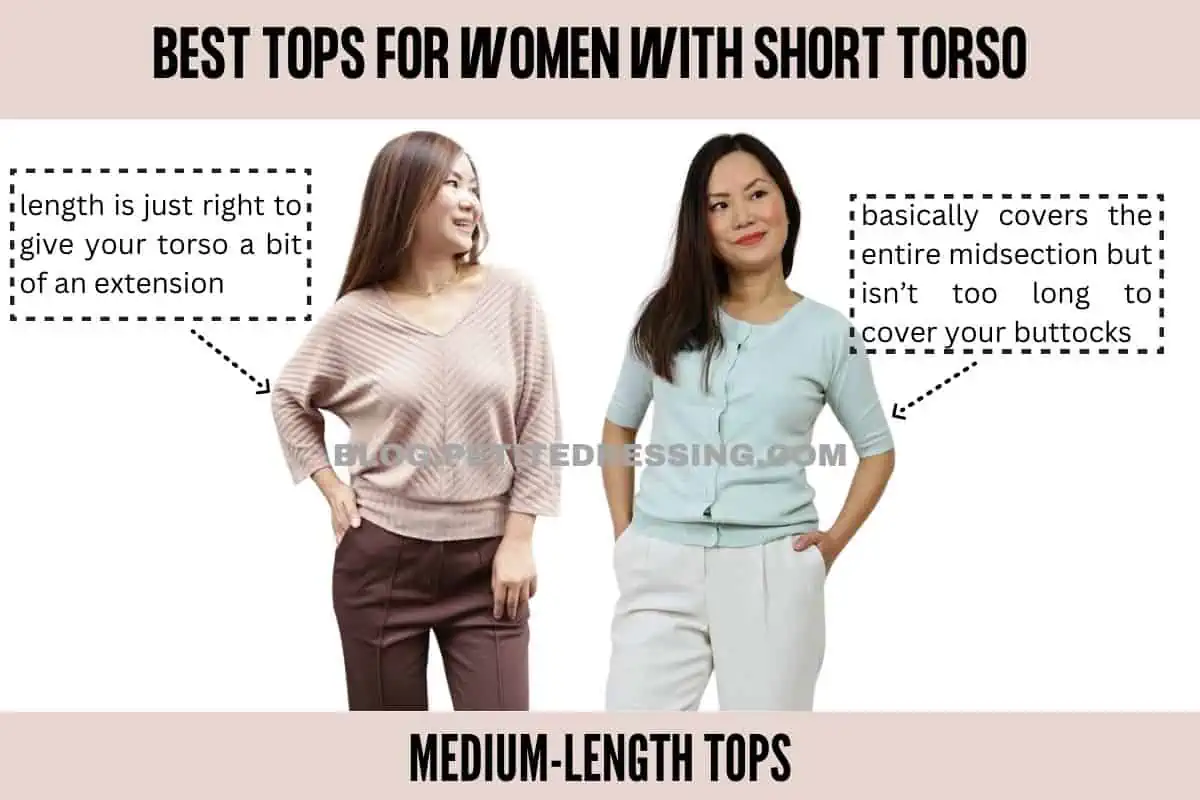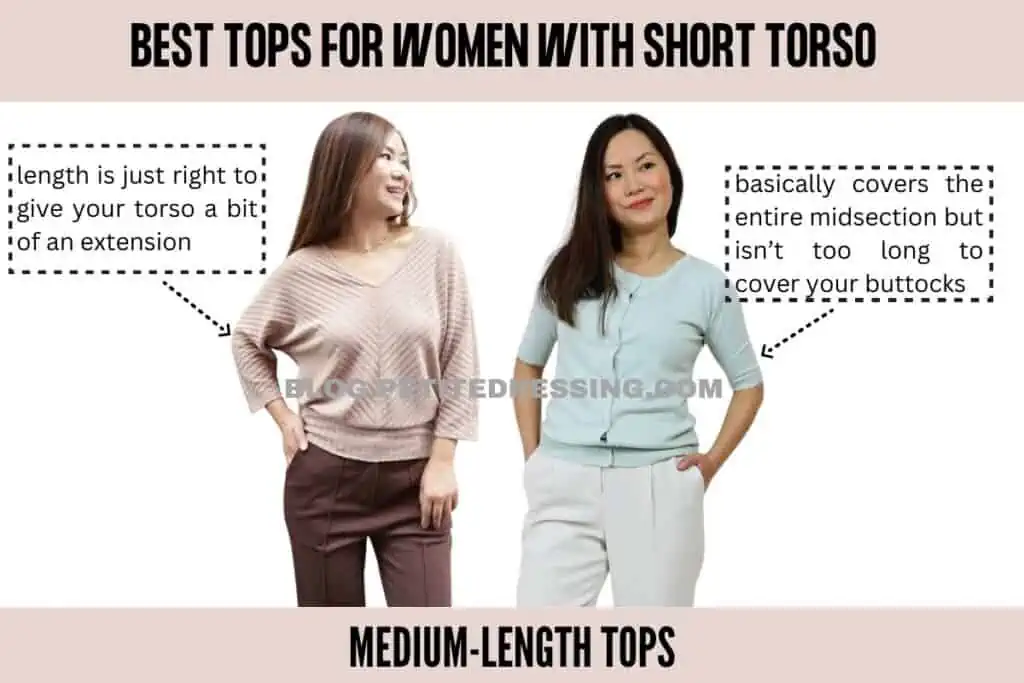 The best length that can flatter a short torso would be medium-length tops. So how long or how short are medium-length tops exactly?
Medium-length tops would be tops in which the hem falls on the level of your hip bone. So it basically covers the entire midsection but isn't too long to cover your buttocks. This length is just right to give your torso a bit of an extension without compromising the length of your legs.
Flowy Tops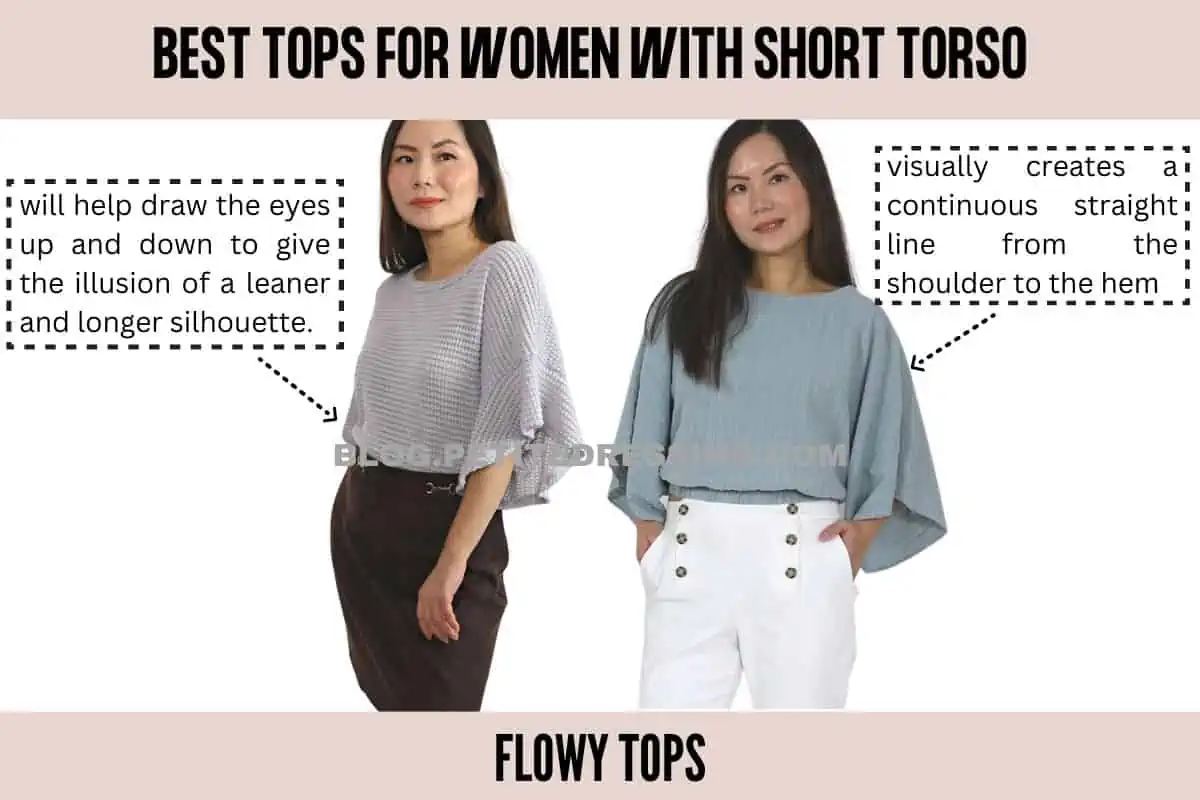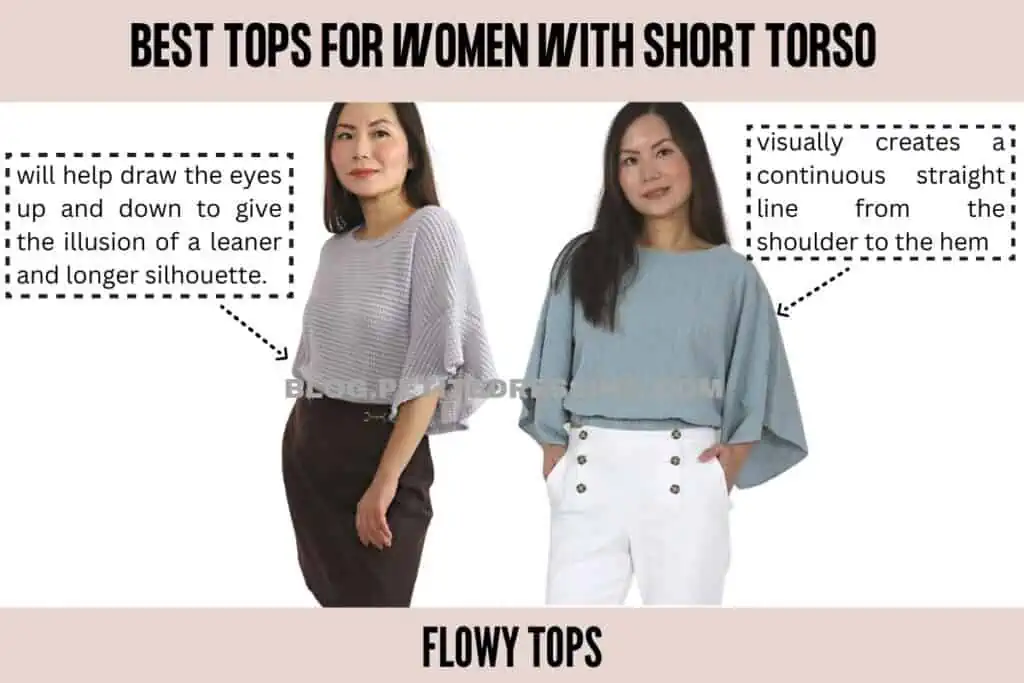 Flowy tops or drapery tops feature soft fabrics that create subtle motions whenever you make a move and this type of fabric movement visually creates a continuous straight line from the shoulder to the hem. This will help draw the eyes up and down to give the illusion of a leaner and longer silhouette.
Some of the best types of fabrics that can serve this purpose are chiffon, georgette, and rayon (viscose fabric). Because of how lightweight and flowy they are, they help subdue the line that separates the torso and the lower body in a subtle manner.
Button Down Shirts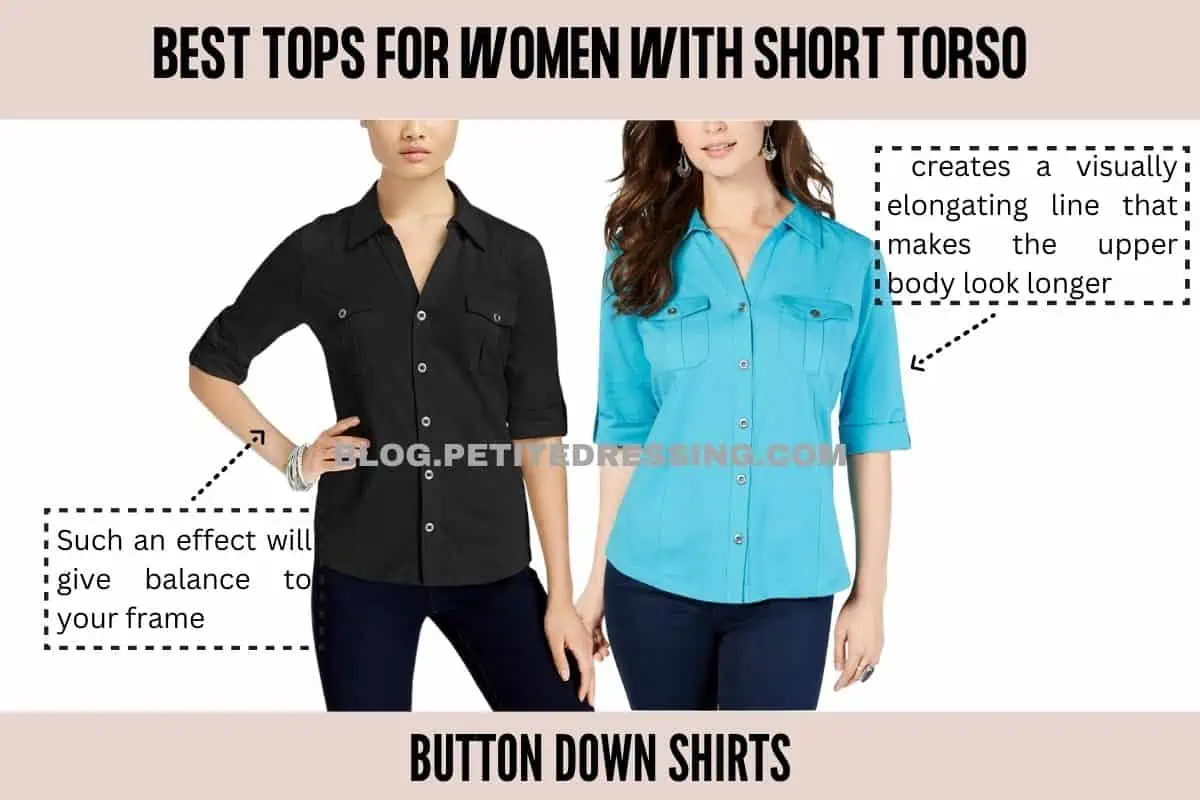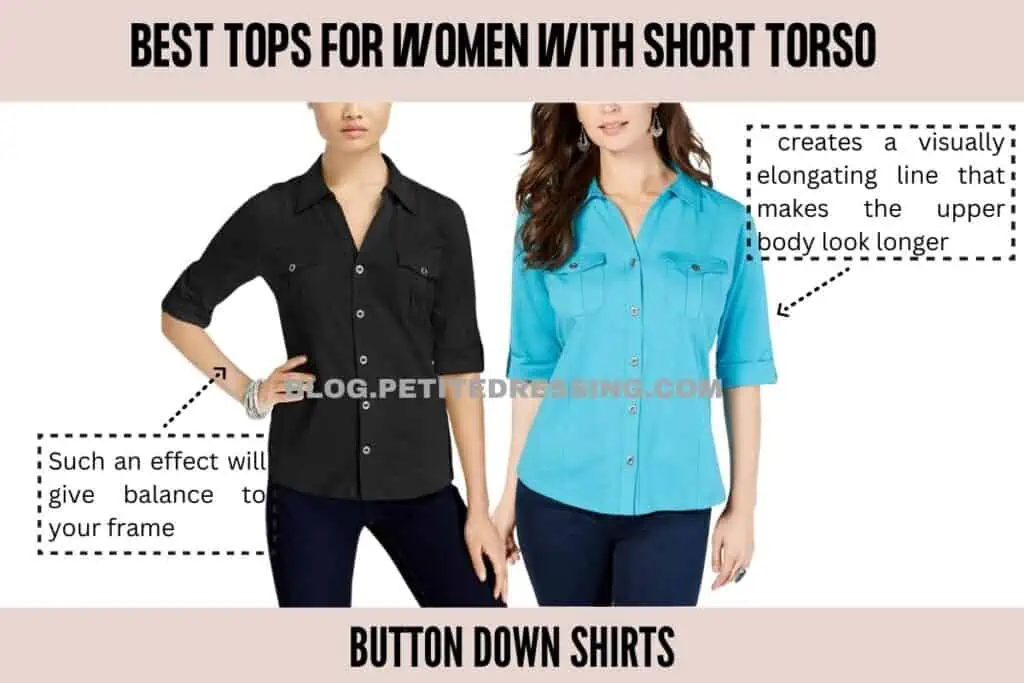 Button shirts will always be a classic choice as it's very flattering and versatile. You can wear your button shirts for your casual or corporate ensembles and they're quite easy to style.
For women with short torsos, the vertical placement of the buttons creates a visually elongating line that makes the upper body look longer. Such an effect will give balance to your frame.
Another great thing about button shirts is that there are many ways to style the hem edges. You can do a subtle front tuck or a half tuck and it will still look flattering on your short torso.
Vertical Patterns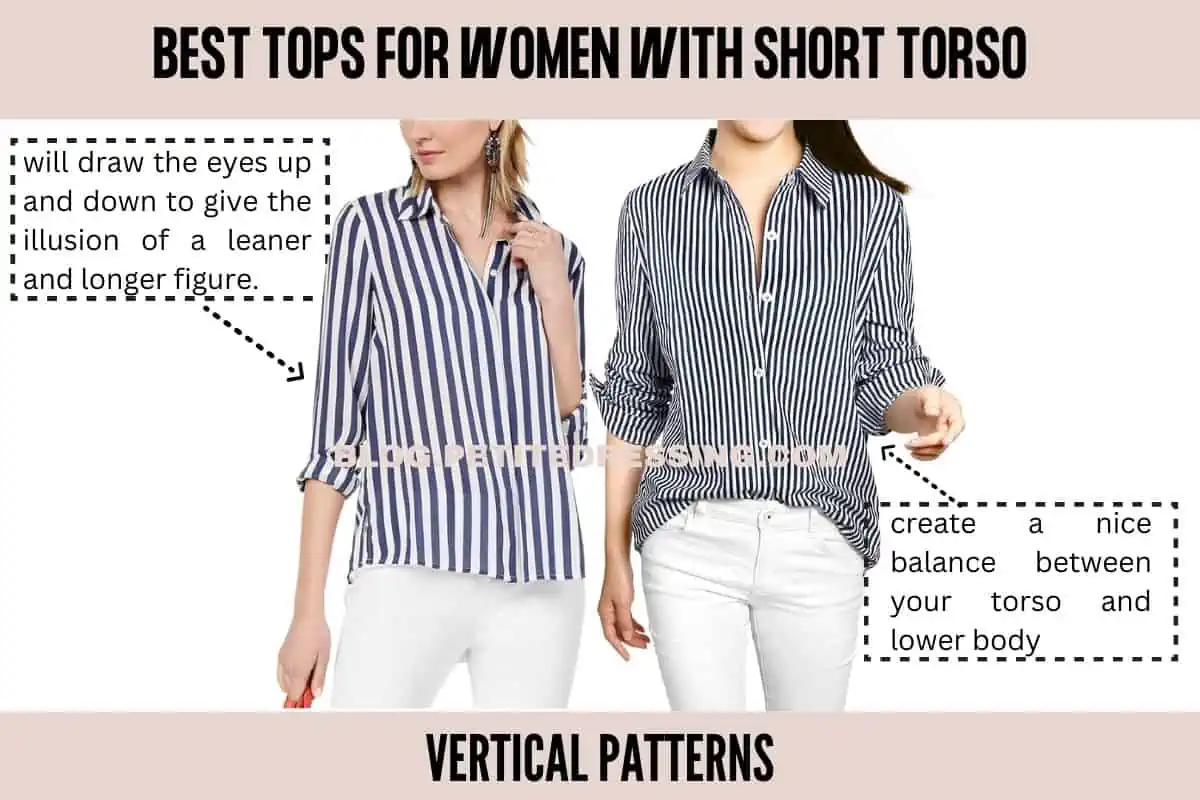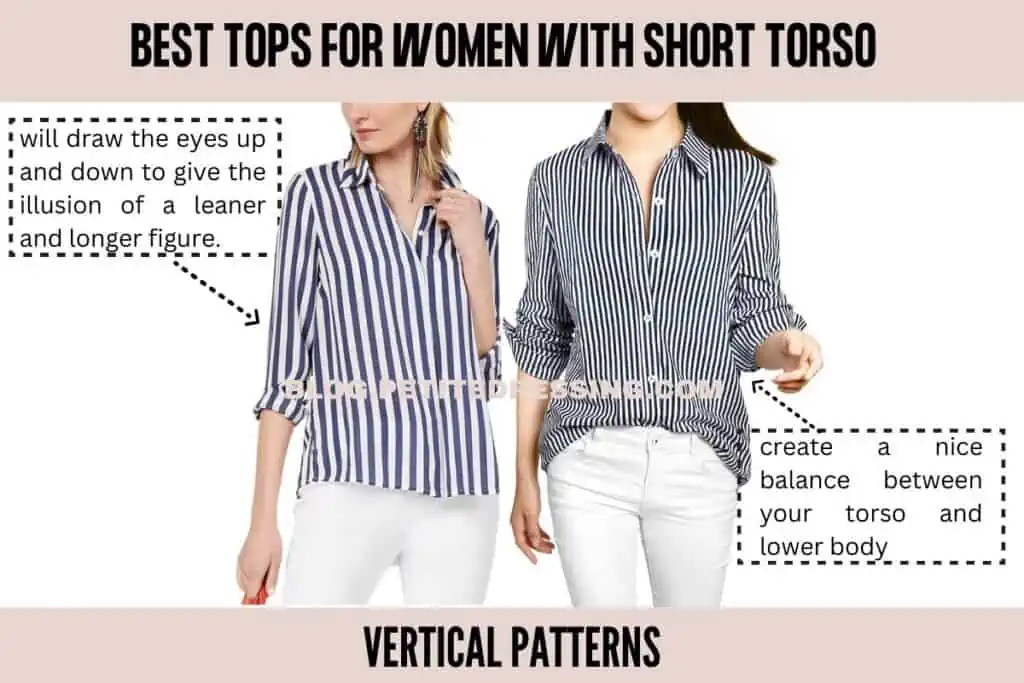 This still abides with the style principle of extending your frame vertically to create a nice balance between your torso and lower body. Vertical patterns and prints will draw the eyes up and down to give the illusion of a leaner and longer figure.
These vertical patterns can be some type of detail such as prints, soft ruffles, embroidery, and many more. The key is for such details to draw the eyes vertically.
V-Neck and Scoop Neck Tops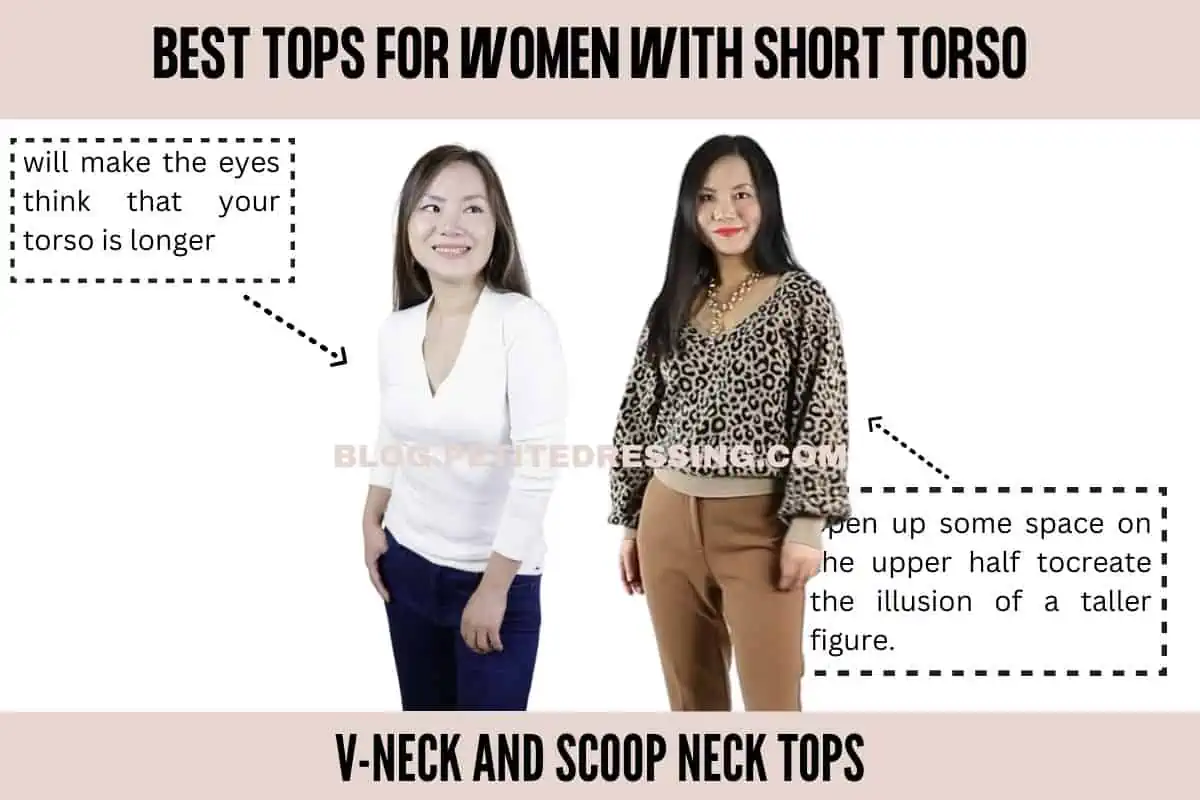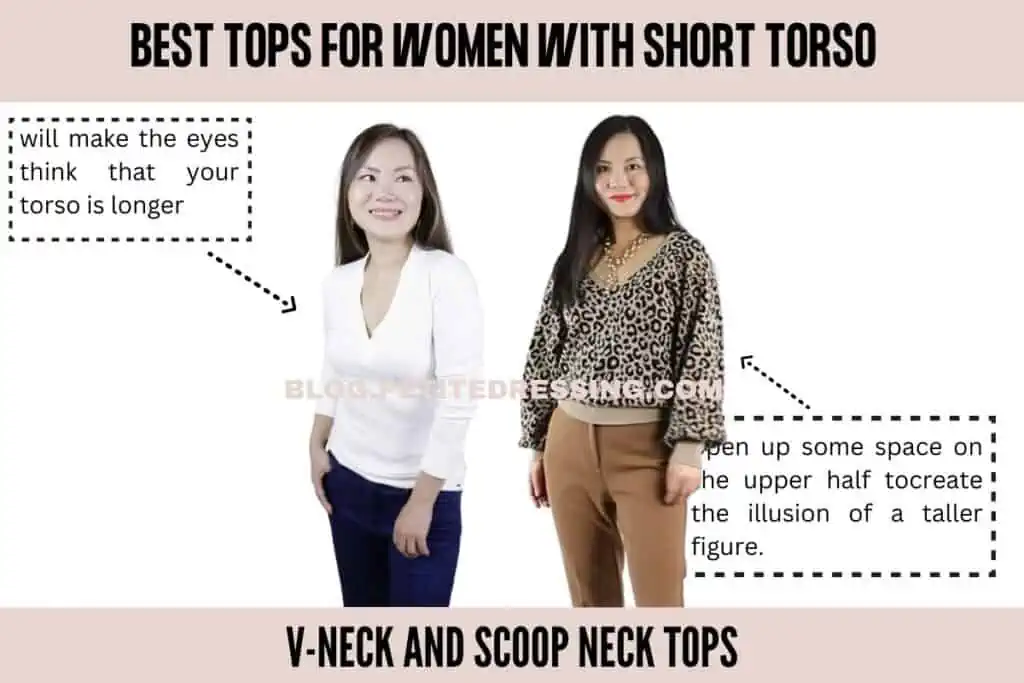 V-necks and scoop necks are the best types of necklines that your top can have in order to visually elongate your torso. These types of necklines vertically open up some space on the upper half of your body to create the illusion of a taller figure.
Tops that feature such necklines will help draw the eyes up and down to make the eyes think that your torso is longer than it actually is. You can even go for deeper or more plunging necklines if your bust size isn't too prominent.
Chiffon Bow Blouses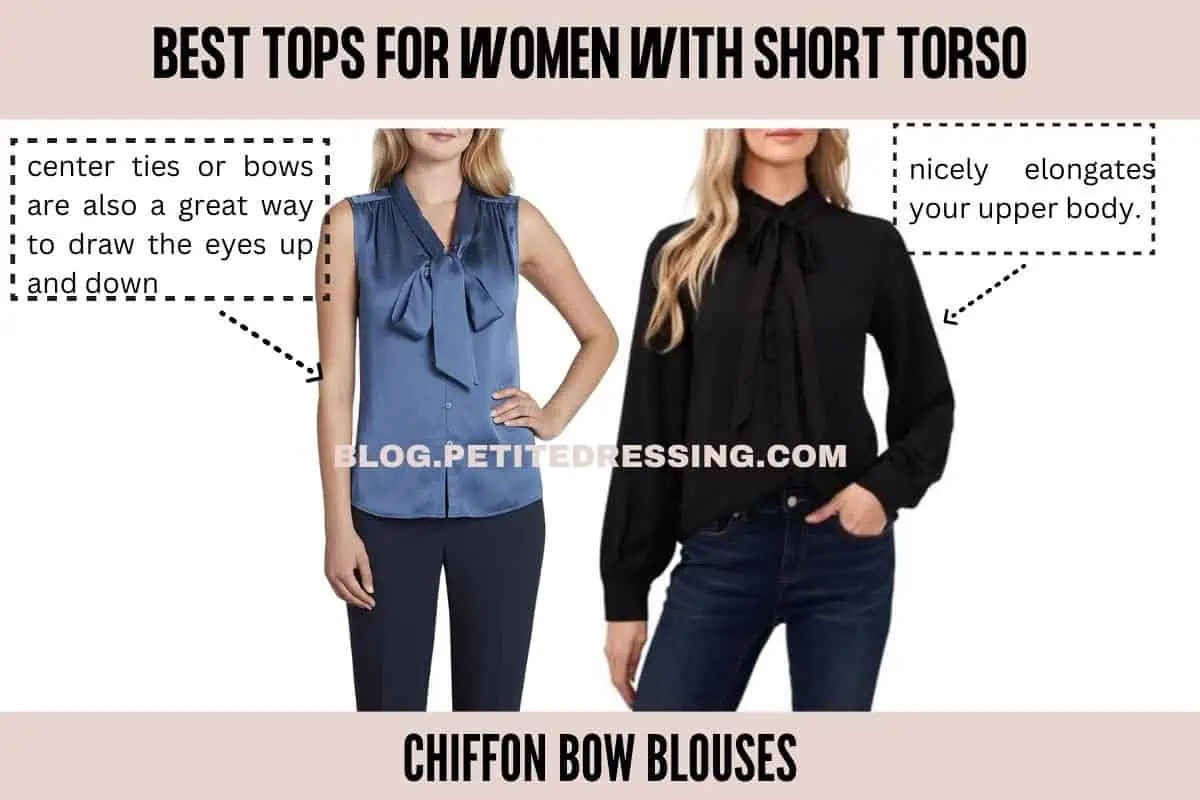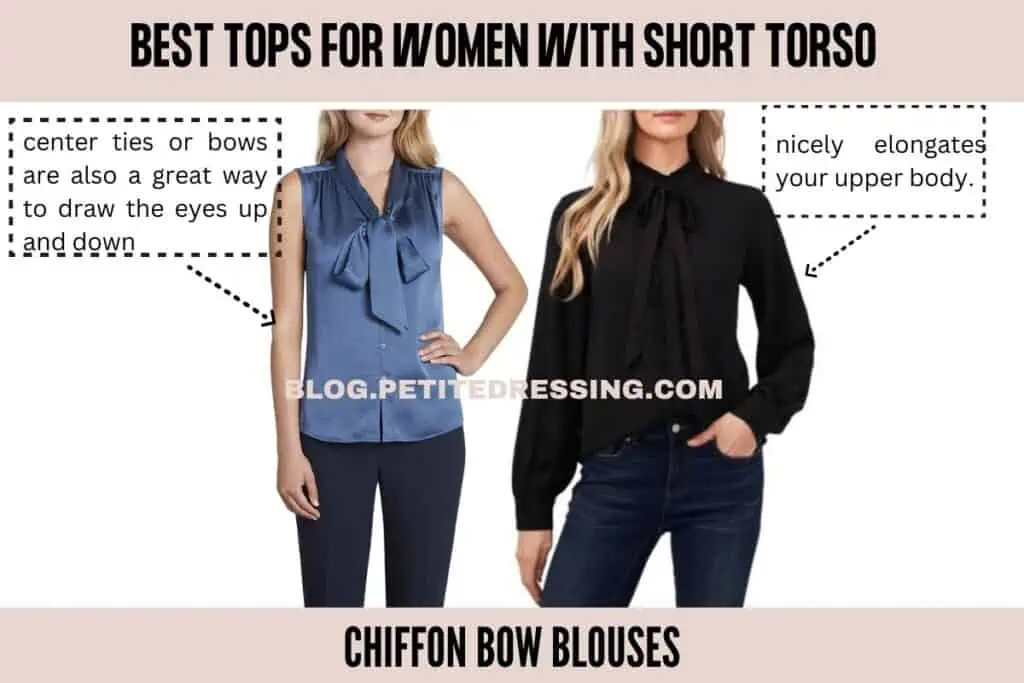 Blouses or tops with center ties or bows are also a great way to draw the eyes up and down. These types of blouses usually have two strips of cloth going down when tied to a bow which nicely elongates your upper body.
If you're into dainty and very feminine tops, this type of top will definitely look good with your short torso. It's ideal to tuck them in so that the attention will be evenly distributed in the center of your figure.
Tops with Long Bell Sleeves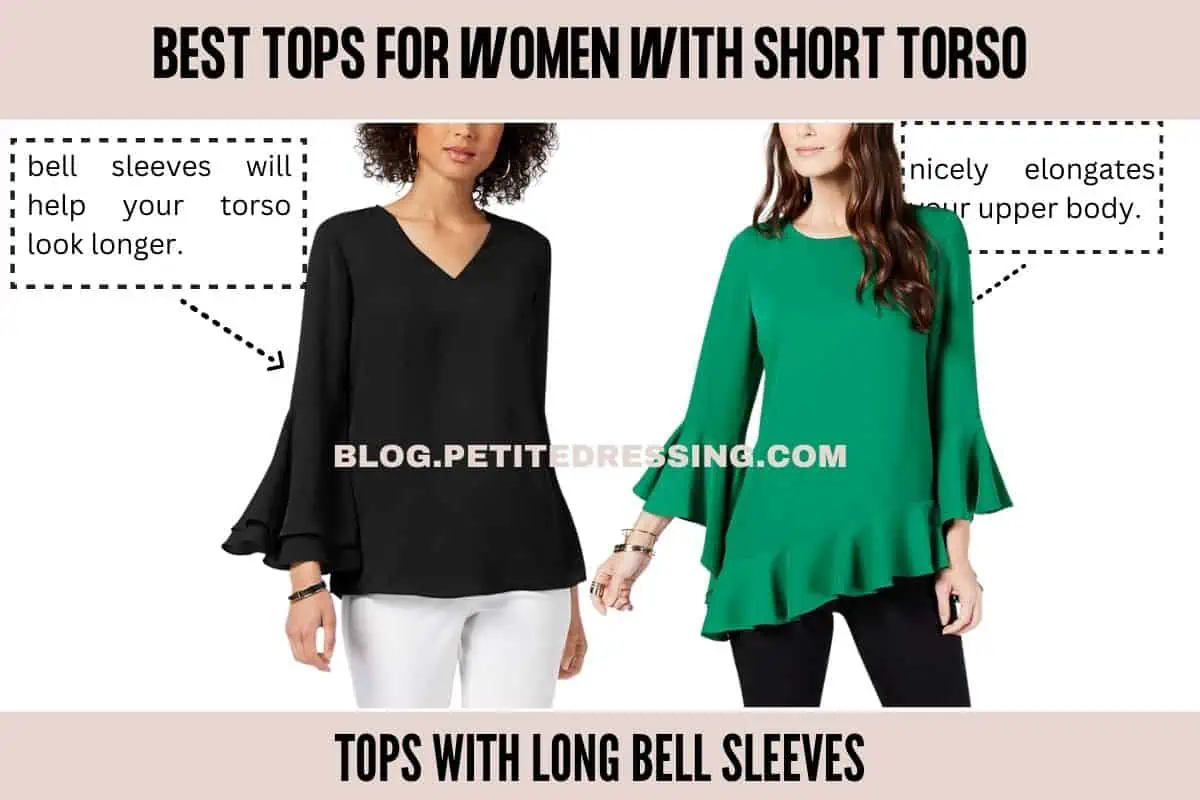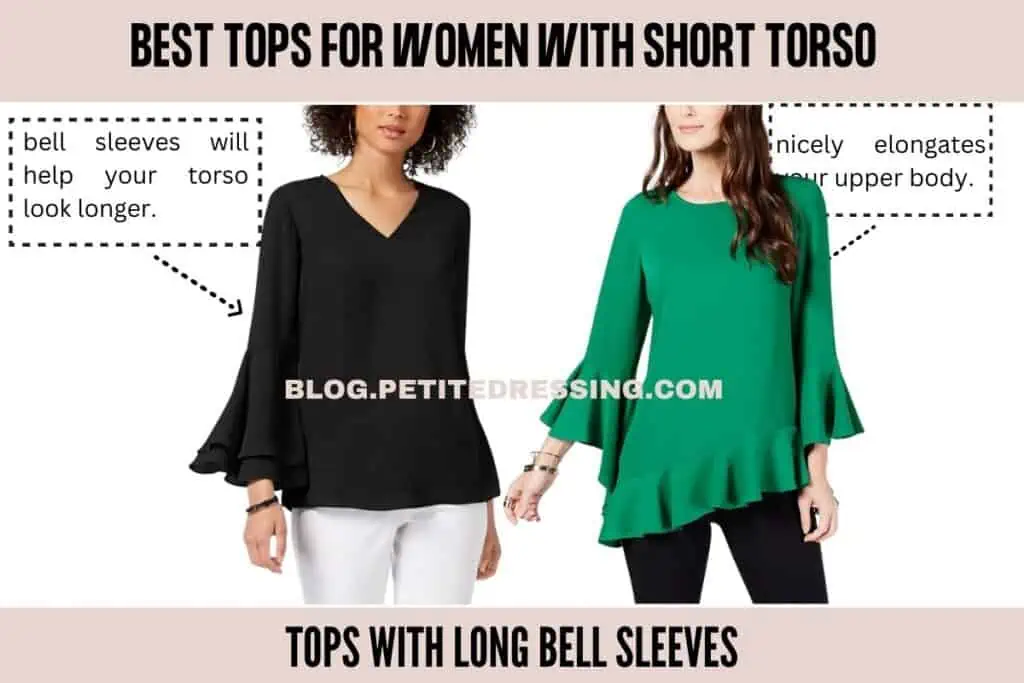 This may be a very obvious fact to state but no matter how short your torso is, your arms will always be longer and this is why bell sleeves will help your torso look longer.
When your arms are resting sideways, your wrist area will be around the level of your hips. If you're wearing a top with long bell sleeves, you can easily trick the eyes into having a longer and leaner torso.
Wrap Tops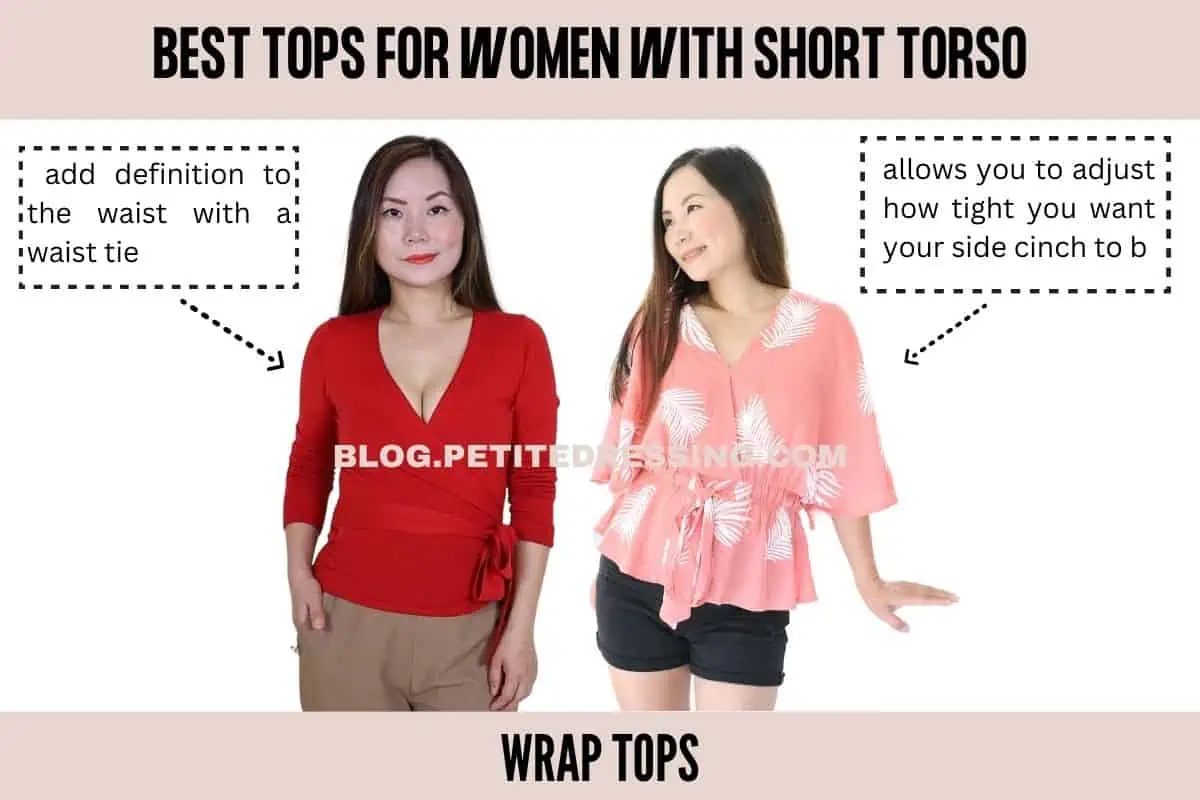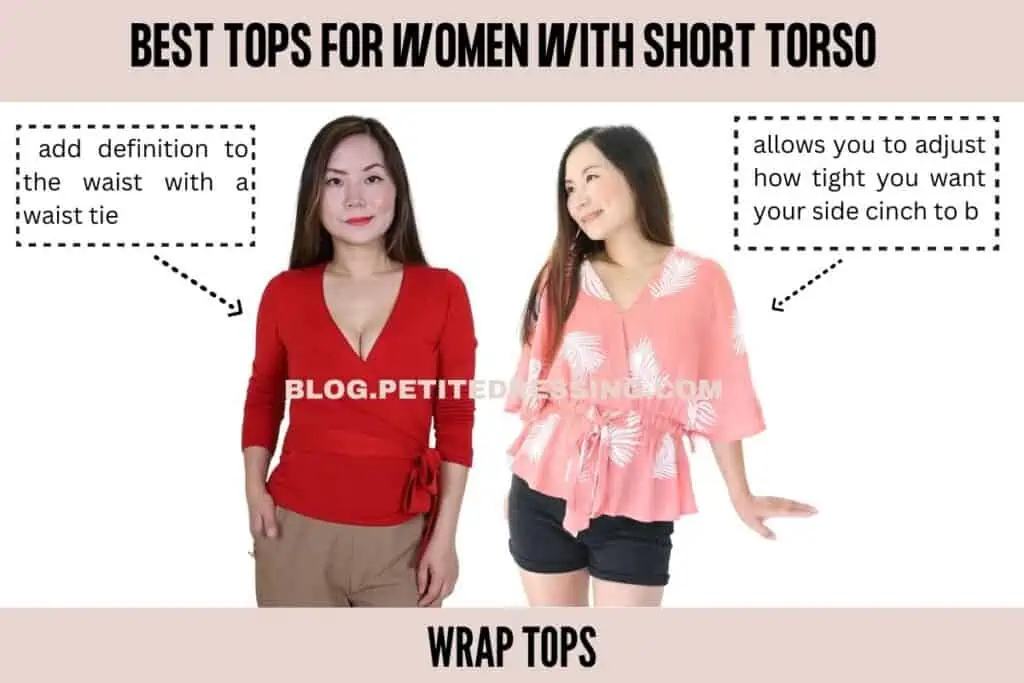 Wrap tops are universally flattering due to their subtle waist-cinching structure. Its ability to add definition to the waist with a waist tie will help draw attention to the one point on the side of your waist and not entirely on your torso.
What's great about wrap tops is that the waist tie allows you to adjust how tight you want your side cinch to be. Wrap tops are also much easier to style because they look good in many different types of bottom clothing pieces so it's much easier to mix and match your outfits to play with your proportions. 
Tops with Vertical Pintuck Pleats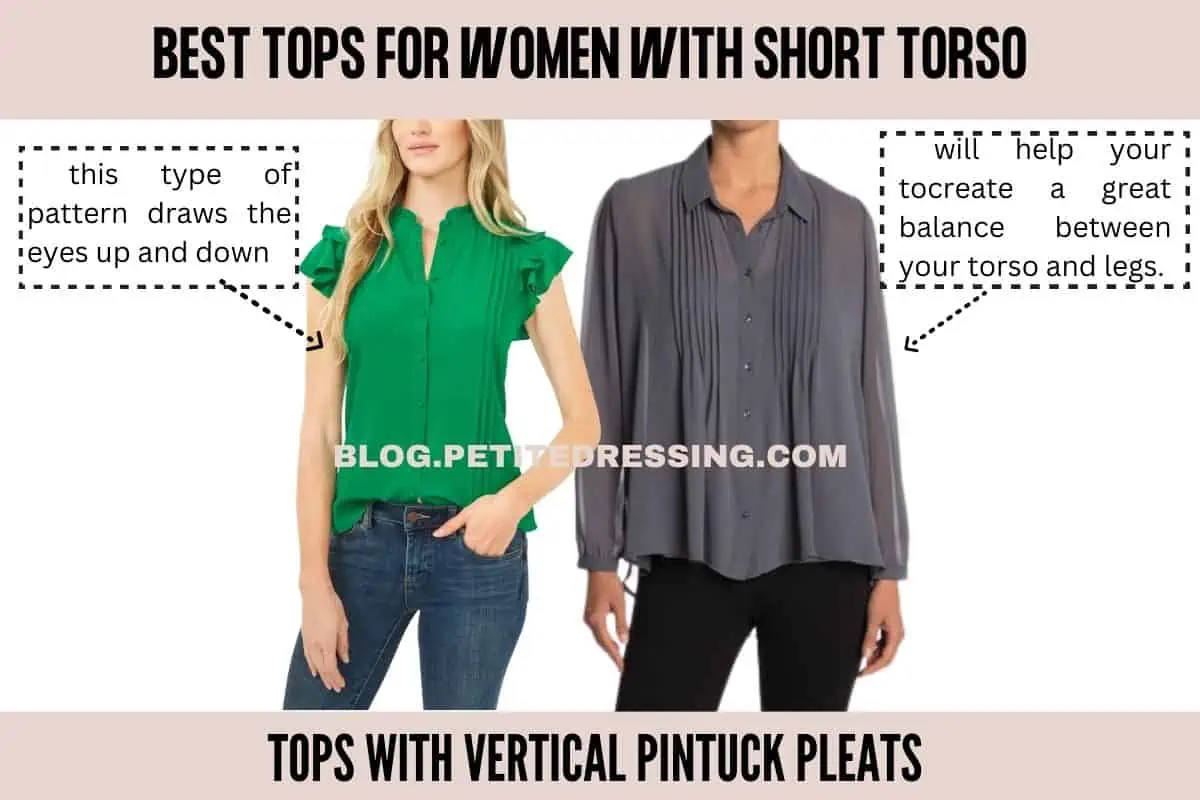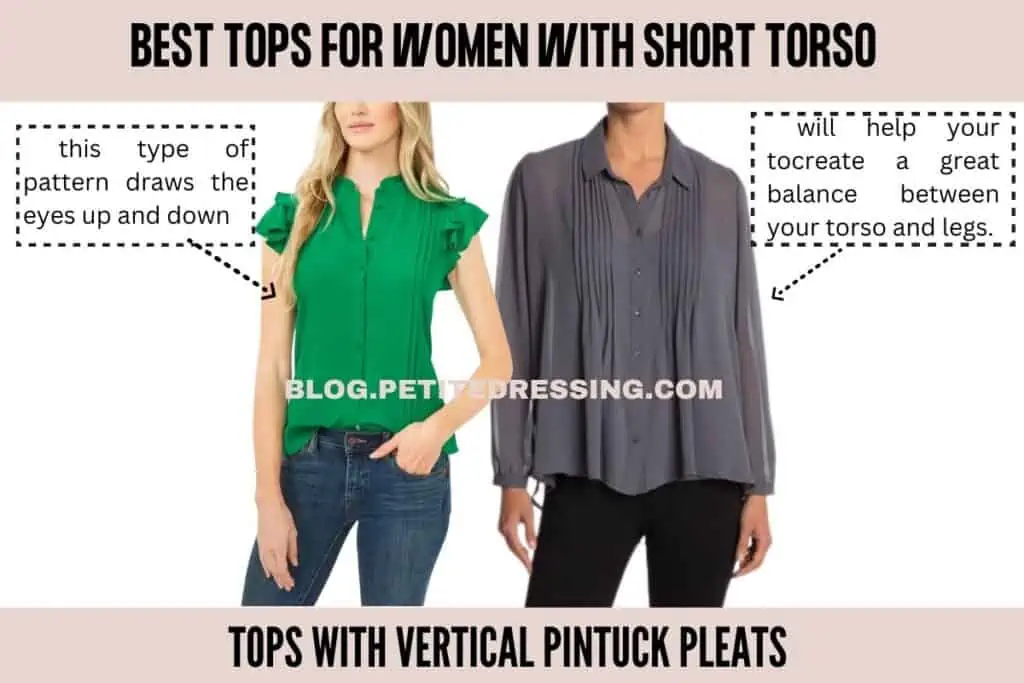 Pintuck pleats are not just cute but also extremely flattering for women with short torsos! This trendy pattern looks extra good with fancy fabrics such as velvet and Duchesse satin.
The vertical pintuck pleats also comply with the basic fashion principle of styling short torsos because this type of pattern draws the eyes up and down. This will help your torso look slimmer and longer to create a great balance between your torso and legs.
Consider not tucking your tops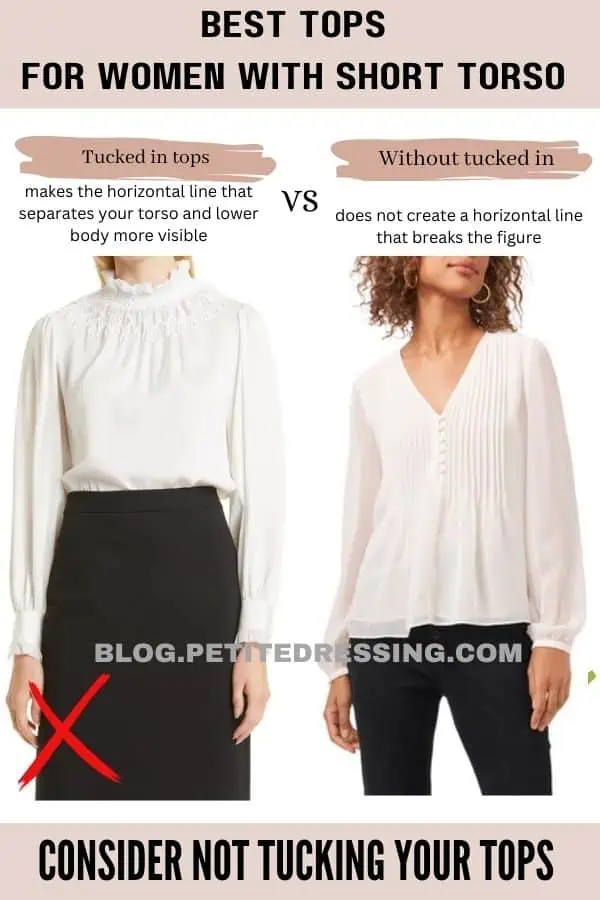 There are times that an obvious full tuck only makes the horizontal line that separates your torso and lower body more visible. As someone with a short torso, you'd like this line to fade out and that's what untucking your tops can do.
But then again, if you don't feel too comfortable not tucking your tops then you can opt for a simple front tuck. This works well for girls with short torsos without taking too much space off of your short torso.
Avoid Crop Tops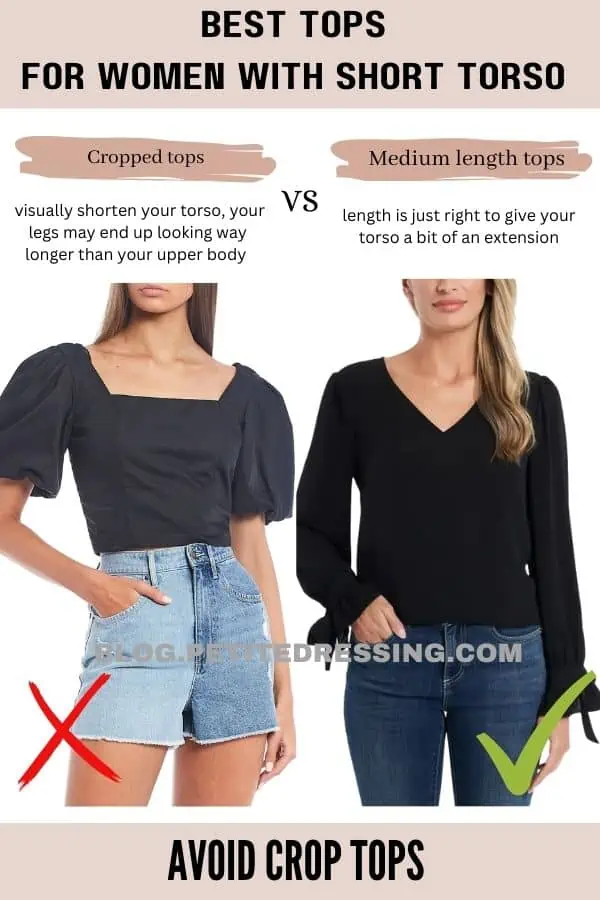 Crop tops, especially those that go up to the midriff area are not very advisable to those with short torsos. While crop tops are usually a petite girl's go-to, their short length will only break the continuous line of your figure and therefore make your torso look even shorter.
When crop tops visually shorten your torso, your legs may end up looking way longer than your upper body and it's not a very flattering look.
The Key Takeaway
Don't let your short torso top you from exploring different types of tops to mix and match your ensembles! You can absolutely embrace your figure just by keeping these style principles in mind.