As colder seasons roll around, it is officially time to break out the cardigans. Long cardigans may be daunting to petite women because of their short frames. The decision on whether or not a short woman can pull off a long cardigan comes down to a couple of pros and cons.
Pros
Look chic and trendy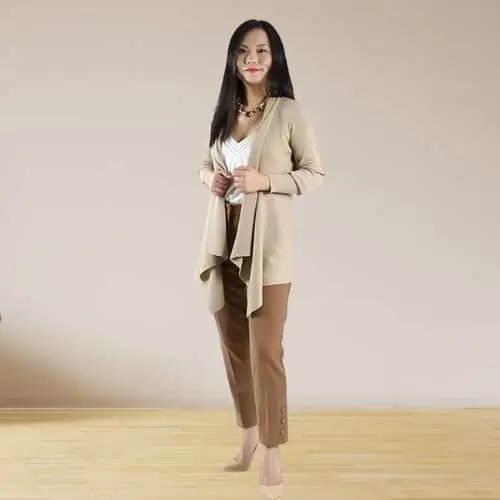 Cardigans have always been considered a chic addition to any outfit. Some long cardigans have cute buttons, others have big pockets, and many long cardigans add the perfect amount of coverage.
Long cardigans always remain a closet essential for any woman who wants to dress with what is trending.
They are fashionable and dependable and can be paired with many different types of outfits.
Comfort and warmth
Long cardigans are typically lighter than a jacket, but thick enough to keep you warm while looking classy and cute all at once. The extra length will add more coverage and keep you even warmer against chilly weather.
Long cardigans are made of a soft material that will definitely provide you with plenty of comfort. They are dependable and ideal to throw on with a casual or elevated outfit to add an extra layer.
Cons
Adds bulk to your silhouette
Adding another layer will only add more weight and bulk to the shape of your body. Many cardigans are made of a heavier thick material. This will only make you look wider, especially if the rest of your outfit is shapeless.
Long cardigans fall straight down. This means that they are loose and flowy enough to make your body look more rectangular. It can be challenging to show off curves when a long cardigan covers all of them up.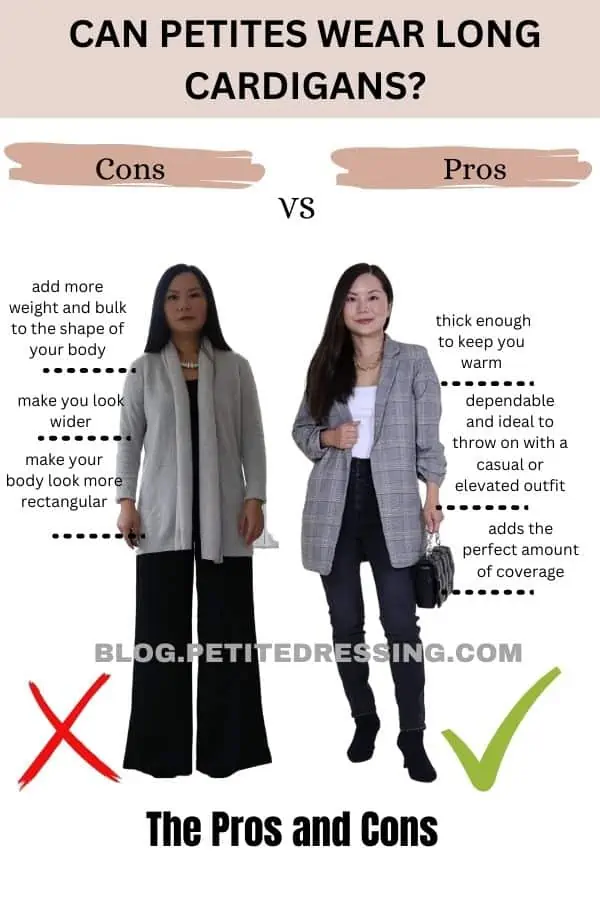 Can overwhelm a short woman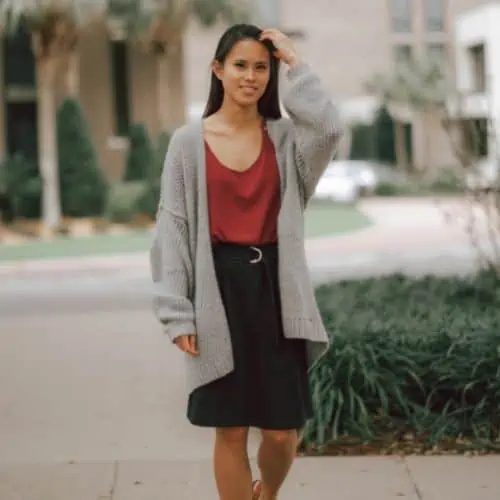 Some long cardigans will fall at the same place that capris do, which is right at the middle of your calves. This will highlight the thickest part of your legs and add width to your frame. The added width will only end up creating the illusion of a shorter silhouette.
Many cardigans may be designed to fit at an appropriate length, but your petite height ends up changing that. The long cardigan will end up looking even longer on you, which will in turn draw attention to how short you are.
There are a few things to look for when choosing a long cardigan.
The tips below will help you understand what to search for and how short women should style a long cardigan.
How to make long cardigan look good on a short person
Wear a cropped shirt
Since a cardigan creates a lot of bulk throughout your outfit, you should focus on creating more shape with the clothing underneath. Wearing a cropped shirt will allow you to show off your waist so that it is more defined.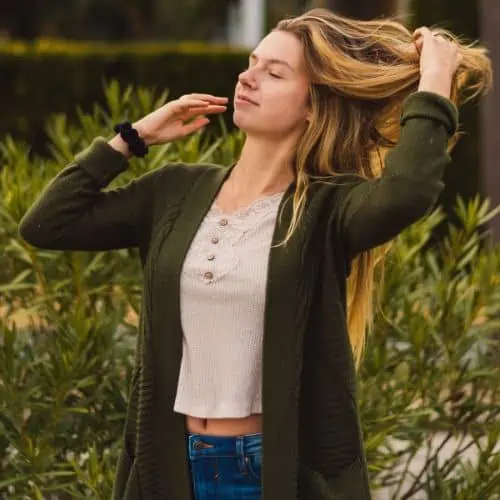 Styles with a cropped shirt
If you wear a short enough cropped shirt, you may also want to consider showing some of your stomach.
This will help to balance out the extreme coverage a long cardigan provides.
If you are confident enough, showing some skin will draw more focus to your waist and hips.
Wear a fitted outfit
It is important to balance out your outfit by wearing clothing that is more fitted.
A form-fitting shirt and a pair of pants will help you create a flattering silhouette.
As long as it is obvious that you have a body underneath the bulky cardigan, then you are styling things correctly.
If you wear an oversized shirt with baggy pants, you will end up completely hiding your shape and adding more weight to your silhouette.
Avoid too long
If you want to prevent a long cardigan from making you look shorter, you should choose a cardigan that is not too long.
You can go with a long cardigan that fall just above your knees.
If that style is still too long for you, try a cardigan that falls around the middle of your thighs.
Cuff the cardigan's sleeves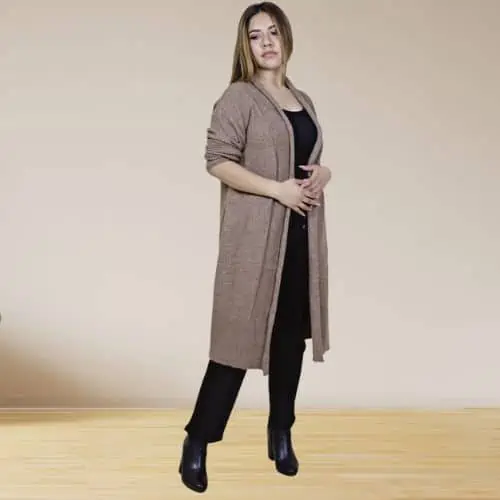 Cautions when folding your cardigans
Make sure that you don't overdo the cuffing.
You don't want the cuffs to be extremely thick and heavy. Try just folding the sleeves over a few times.
Long cardigans often have sleeves that are too long for petite women.
They end up flowing past your hands and making you look even more petite. To create a more polished look that will also help you avoid looking shorter, try cuffing the sleeves.
Pair with high-waisted pants
One of the best ways to combat a frumpy cardigan is to accentuate your curves.
High-waisted pants will cinch your waist and hug your hips so that you can add some shape to your body. This will help balance out the shapeless cardigan so that your silhouette is more flattering and feminine.