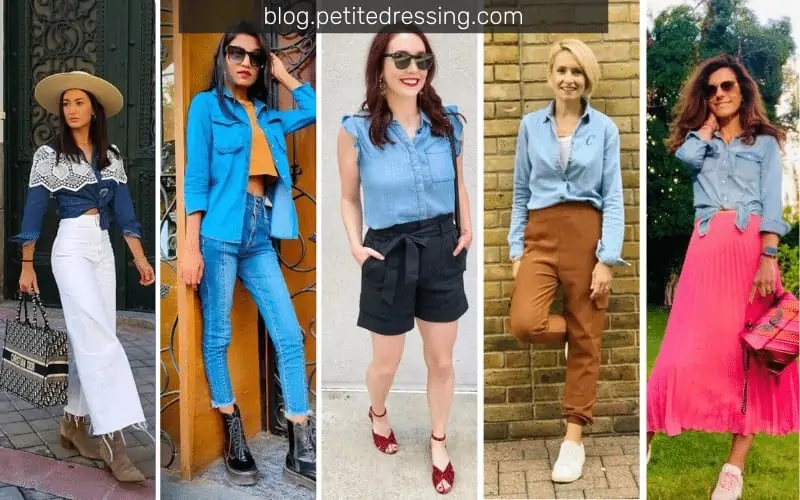 When it comes to casual style that's versatile and comfortable, nothing beats a denim shirt. The durable fabric effortlessly gives you a stylish appearance that's luxe and easy, perfect for the weekend. If you wear a fitted denim shirt with the right skirt or pants, chances are you can also wear them to the office.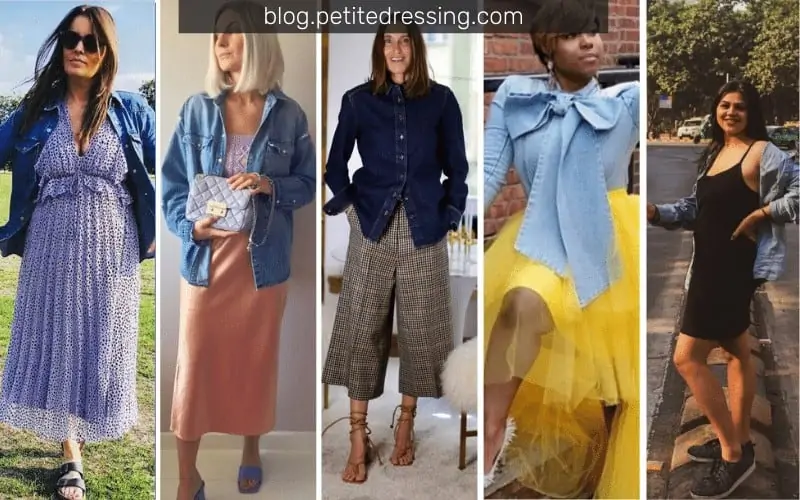 That is why you should add a classic denim shirt to your wardrobe, if you don't already own one. The best part is that regardless of the time of year, you can wear a denim shirt. If you're wondering what to wear with a denim shirt, here are the best outfit ideas to inspire you:
With an A-line Skirt
A-line skirts, aside from being cute, are also very flattering for women of different ages and different body type. They can be worn with different wardrobe pieces including a denim shirt.
Their shape is very forgiving since they tend to hide the not-so-favorite parts of your body and highlight your waist in the best way.
You can take this pairing a notch higher by dressing it up with heels, or tall boots or ankle booties. To make it a little more laid back, you can wear this look by choosing some sandals or sneakers instead.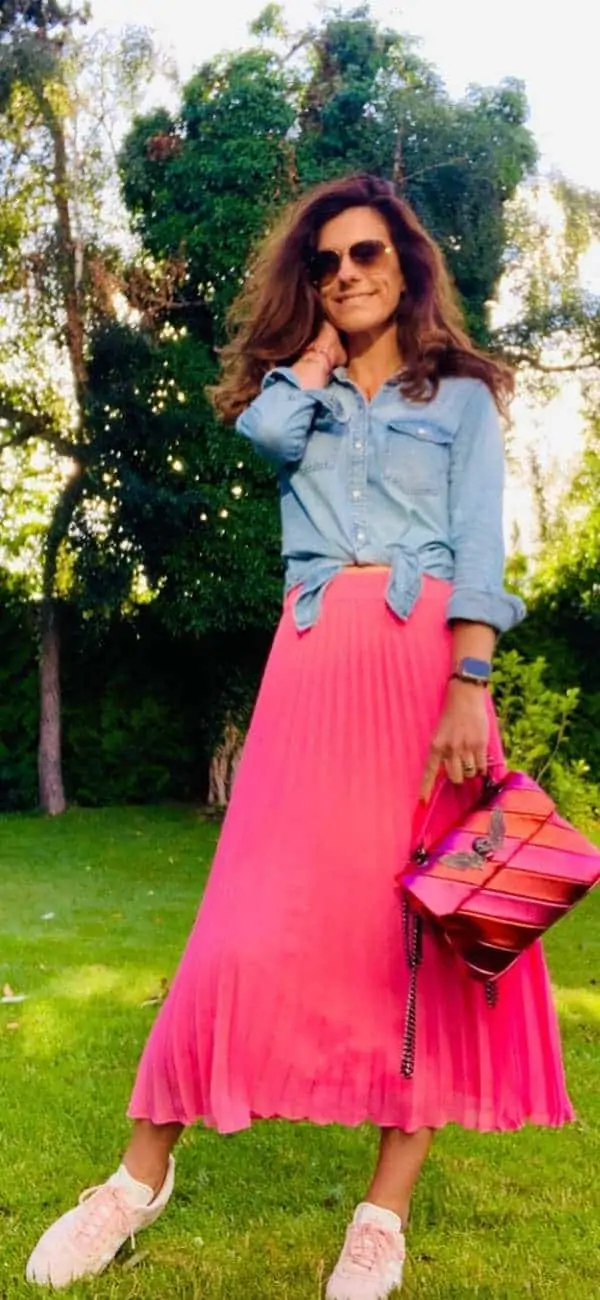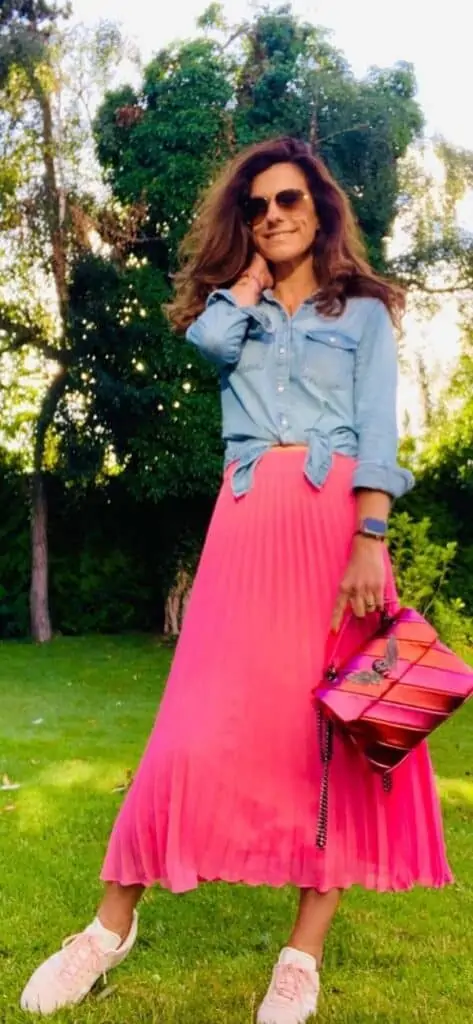 Vesna (above) styled her denim shirt with an A-line skirt and a pair of sneakers. The best part about a denim shirt is that it allows you to choose a bright colored skirt or a darker one.
With matching jeans
Different types of Jeans, just like a denim shirt, give you a casual, laid back and effortless look. You can definitely wear your jeans with a matching denim shirt. Ever heard of the Canadian tuxedo? This refers to a look that combines two matching denim pieces both at the top and for your bottoms.
This is one of the best outfits to create an amazing look that works great not only on a weekend, but also on those random days within the week that you have the luxury and freedom of wearing a fully casual look.
You can style this outfit with flats or just go for a pair of comfortable shoes to keep it all laid back. Whichever way you choose, it will definitely work out for the best as long as your pieces are of great quality.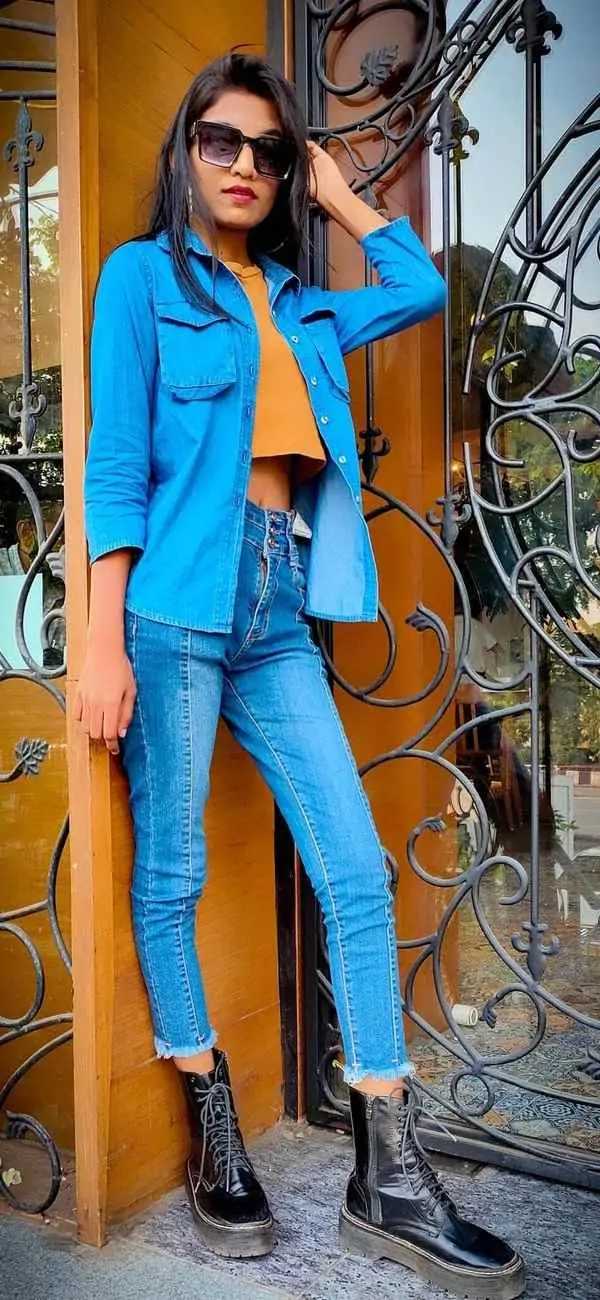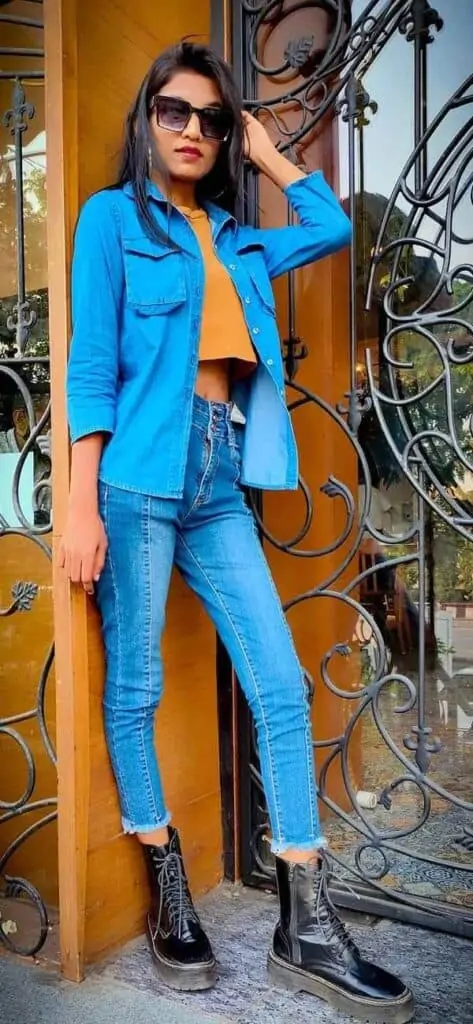 Neha (above) styled her denim shirt with a pair of jeans and a crop top then finished the outfit up with some combat boots.
For this type of outfit, you also have the option of buttoning your shirt all the way down and tucking it into your pants for a neater look.
With flared pants
You can wear flared pants with your denim shirt tucked in. Flared pants are well fitted around the waist and then flare out as the name suggests, which gives them a fun and flattering silhouette. They were worn back in the 80s but have managed to make a huge comeback in the world of fashion in recent years, and are definitely the pants you should be adding to your closet.
If you're particularly a fan of the rodeo look, you could go for the flared pants in denim. Aside from tucking in your shirt, you could also tie a knot at the front to make it cropped.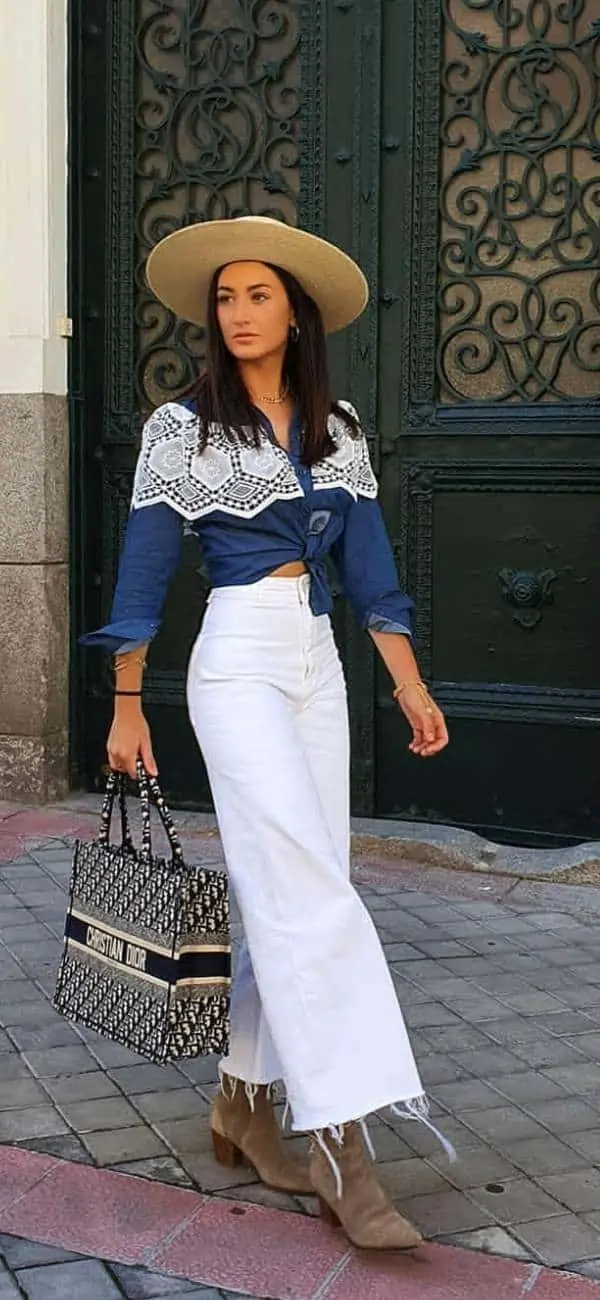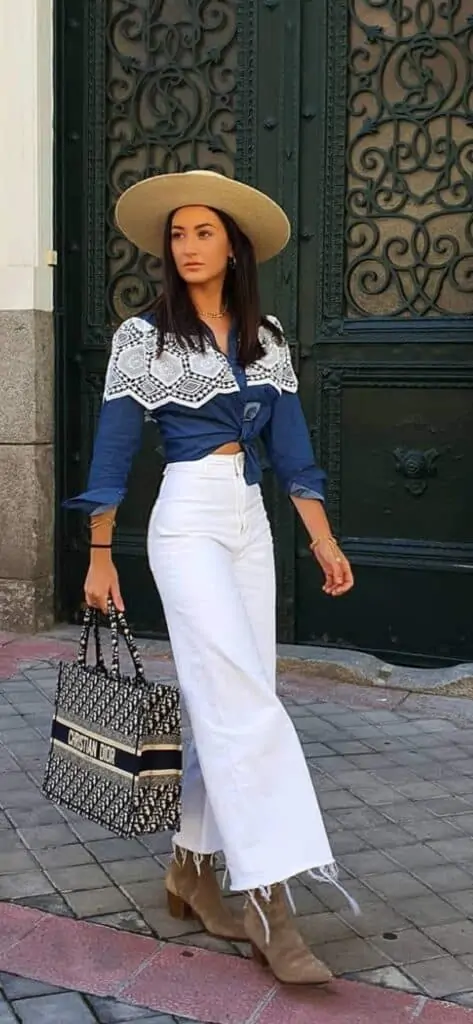 Miren (above) styled her denim shirt with some white flared pants, frayed at the bottom, and some boots.
Cropping the shirt makes your waist look smaller and instead of boots, you could also wear some strappy heels with the look or go for a pair of stylish sandals.
With a pair of shorts
If you're a big fan of shorts, you can wear them with your denim shirt too. A pair of shorts is great for a nice warm day. Shorts can come in different fabrics and can be dressed up or down with different shoes.
This pairing creates a fun summer outfit although in the colder days you could layer a coat over the shirt or go or a pullover to give the look a preppy feel.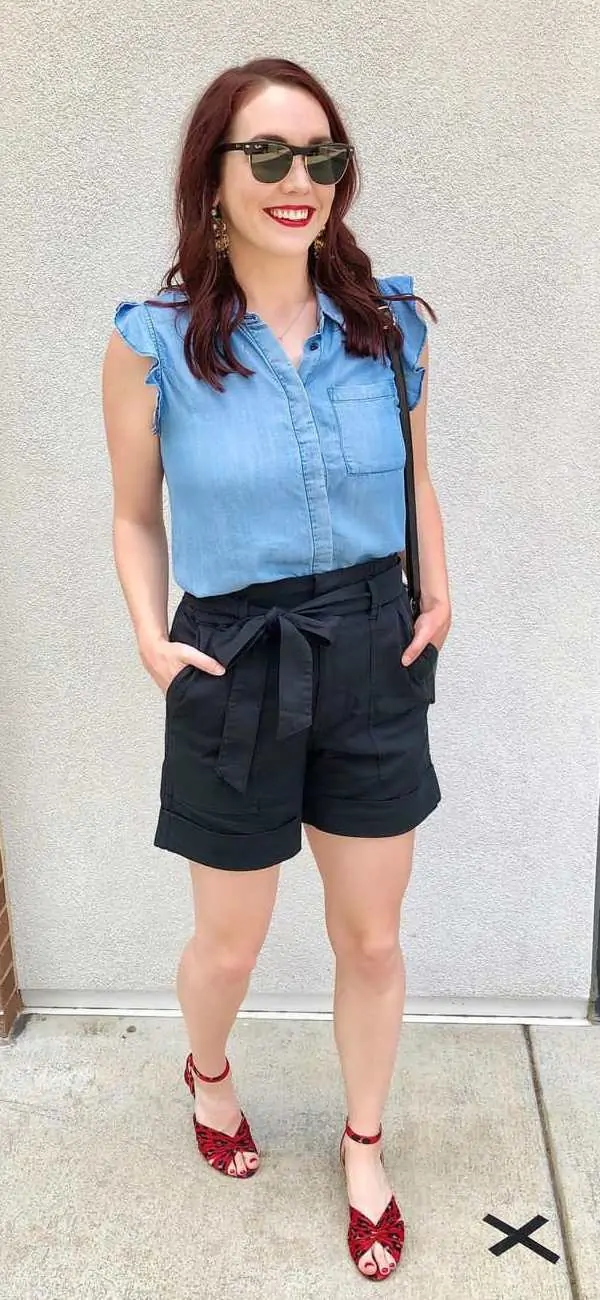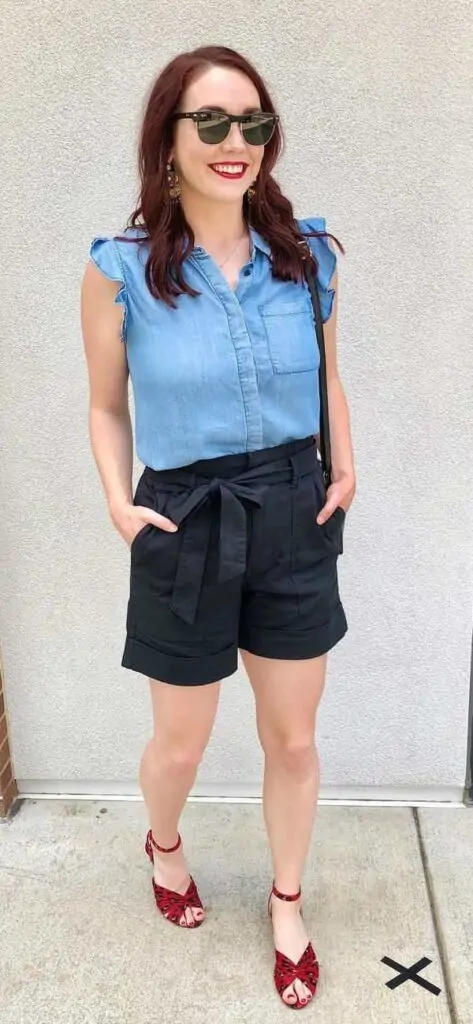 Hannah (above) dressed up her denim shirt with some dark shorts and a pair of red heels. If you want to look dressed up in shorts especially when you choose to pair them with a denim shirt, it's best to go for longer shorts like hers as opposed to short denim cut-offs.
With cargo pants
Cargo pants were actually a big hit in the 90s and today, they are a great alternative to jeans, since they are also very laid back and easy to wear. While most people will prefer to wear cargo pants with simpler, more fitted tops, you're not limited to these. You can wear a denim shirt with cargo pants for a casual yet chic outfit.
A denim shirt worn with your cargo pants will make you look both cool and stylish, which is a perfect outfit to wear if you want to look effortless, especially over the weekend.
It makes the most sense to finish up this combination with some sneakers or sandals but you can also go for heels, especially if your cargo pants are fitted around the ankles.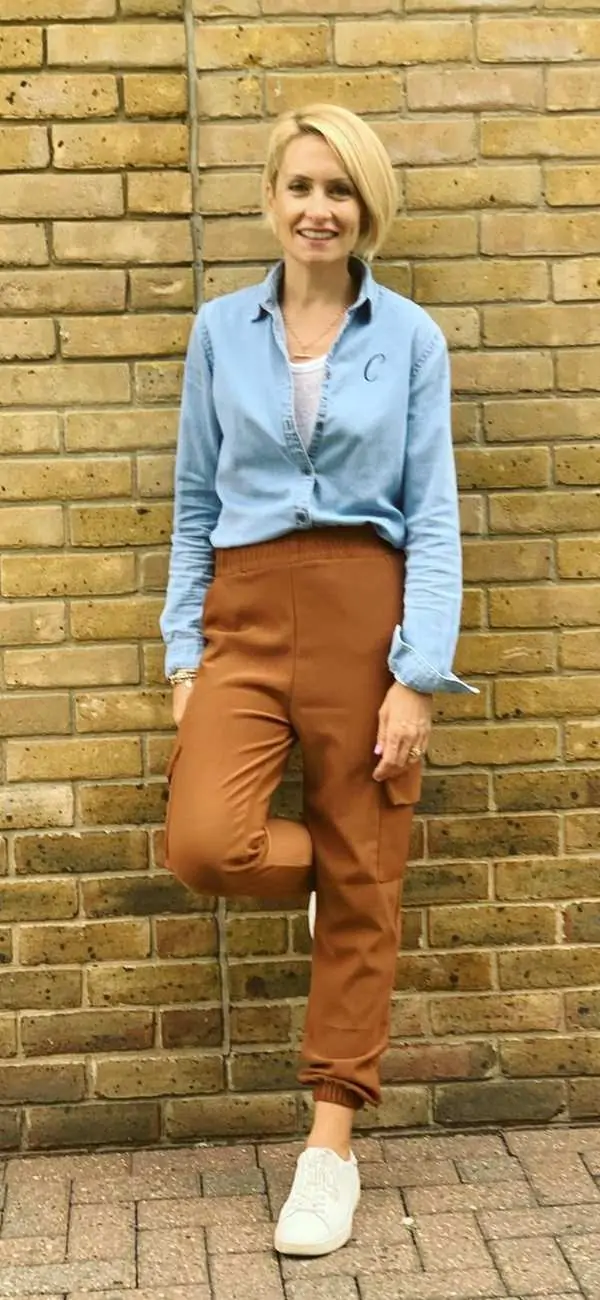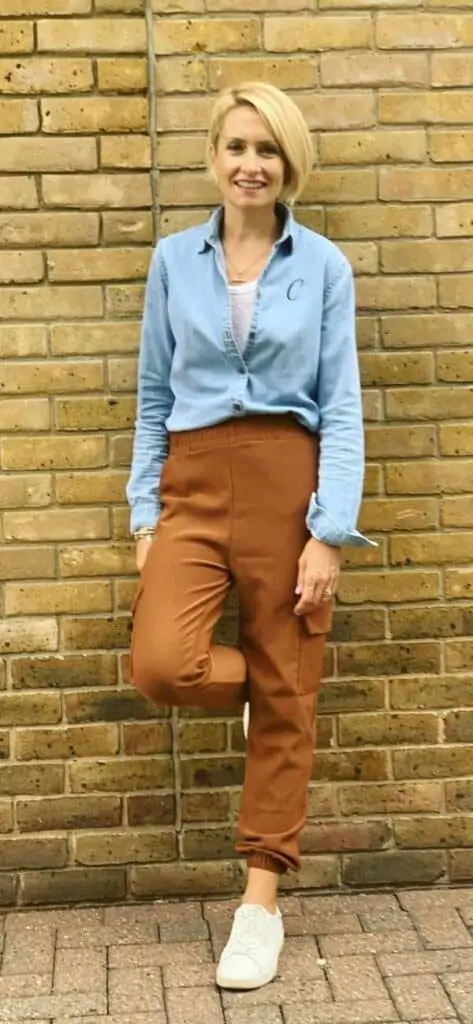 Clodagh (above) styled her denim shirt with some brown cargo pants and chose some simple white sneakers to finish the look. The fabric of the cargo pants will usually give a nice contrast to the denim fabric.
With a maxi dress
Denim shirt can also work as a layering piece, and wear on top of any summer items like a maxi. Maxi dresses are the ultimate summer pieces, especially because they are nice and flowy. Not only do they keep you comfortable but they also look very feminine.
Just like you would wear a denim jacket over your maxi dress, you could also wear a denim shirt over the dress. It's a great alternative to a denim jacket especially if it's too hot outside since a denim shirt is lighter, but you still get the same effect with it.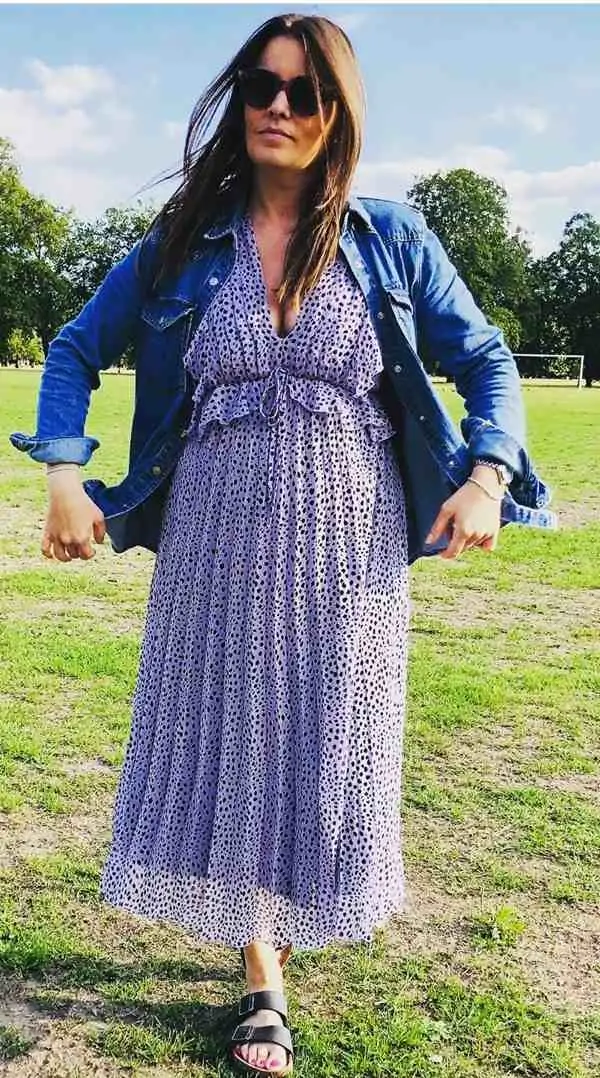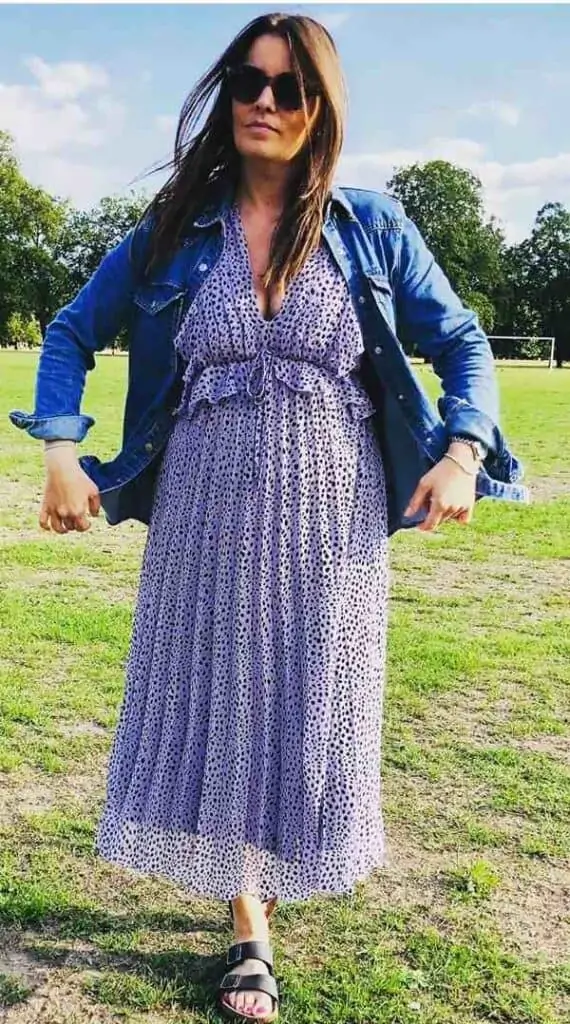 Jillian (above) styled her polka dot maxi dress with a denim shirt and some chunky sandals. If you're going for this look, you can also knot your denim shirt at the front and leave it unbuttoned so that your waist appears smaller.
With some culottes
You can style your culottes with a denim shirt just like you would with any other fitted top. Culottes may be wide in the leg, but they can give you a cinched waist. The fact that they are cropped and widest at the bottom makes your ankles look smaller too, something that a lot of women appreciate.
It makes the denim shirt look more sophisticated especially if you go for a pair of heels.
If you're not particularly trying to emphasize the small size of your waist, you could always leave the shirt untucked. However, for this, choose a well-fitted shirt to avoid looking clumsy.
If you are petite, any wide leg pants can be tricky. In general, I suggest you go with longer leg length and avoid cropped wide leg pants, to avoid making your legs look cut-off.
With a slip dress
You can wear your denim shirt over a slip dress on a nice warm day. Slip dresses are great for hot days. For a lot of people, the first thing that comes to mind when you mention slip dresses are the silky type, but they also come in other fabrics that are less delicate.
You also have the option of buttoning up your denim shirt and then layering the slip dress over the shirt for a more dressed up look.
This is a functional look that can be worn by anyone and you could drape one side of the shirt down so that your beautiful shoulder and collar bone can be seen.
With a midi skirt
A great way to dress up your denim shirt is to reach for a midi skirt. Wearing a midi skirt is a nice way to look like such a lady. There's just something about the midi skirts that makes them look so classy.
The fact that some women shy away from wearing midi skirts is because they hit you somewhere between the knees and ankles, which is a challenging length. That doesn't mean you need to stay away from midi skirts altogether, rather, you just need to be more selective and thoughtful about the top you wear with it.
You can tuck your denim shirt in or just layer it over a tucked in top, then complete the look with some sandals or heels.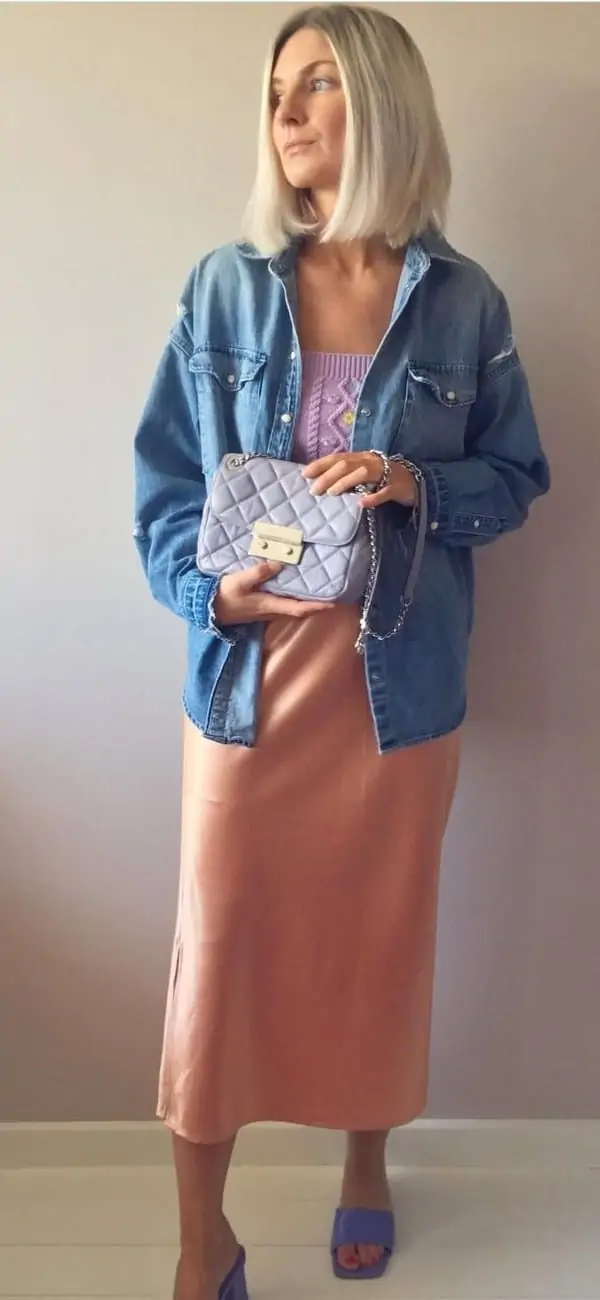 The Fashionbod (above) styled her denim shirt with a silk skirt, a tube top, and a pair of mules. Regardless of your skirt's fabric, a midi skirt will always look amazing paired with a denim shirt as long as you get the sizing correctly.
With a tulle skirt
One of the best ways to casually wear a tulle skirt is with a denim shirt tucked in. A tulle skirt might just be the girliest skirt you can find around. They were previously preferred for parties and other types of events, but you can make them suitable for everyday wear depending on what you pair the skirts with.
The shirt dresses it down in a subtle way. You could either go for some heels to complete the look or choose a pair of flats, sandals or sneakers for this.
While the denim shirt makes the look more casual, you can still wear this combination to a party or an event especially if your denim shirt also makes a statement.
So, head on out and get yourself a few denim shirts in different styles and feel free to try out any of the above looks. It's totally worth it!