There are a few reasons why a petite woman may be concerned about putting on a pair of high-waisted jeans.
The following list of pros and cons will help you, as a short woman, decide whether or not you can pull off high-waisted jeans.
Pros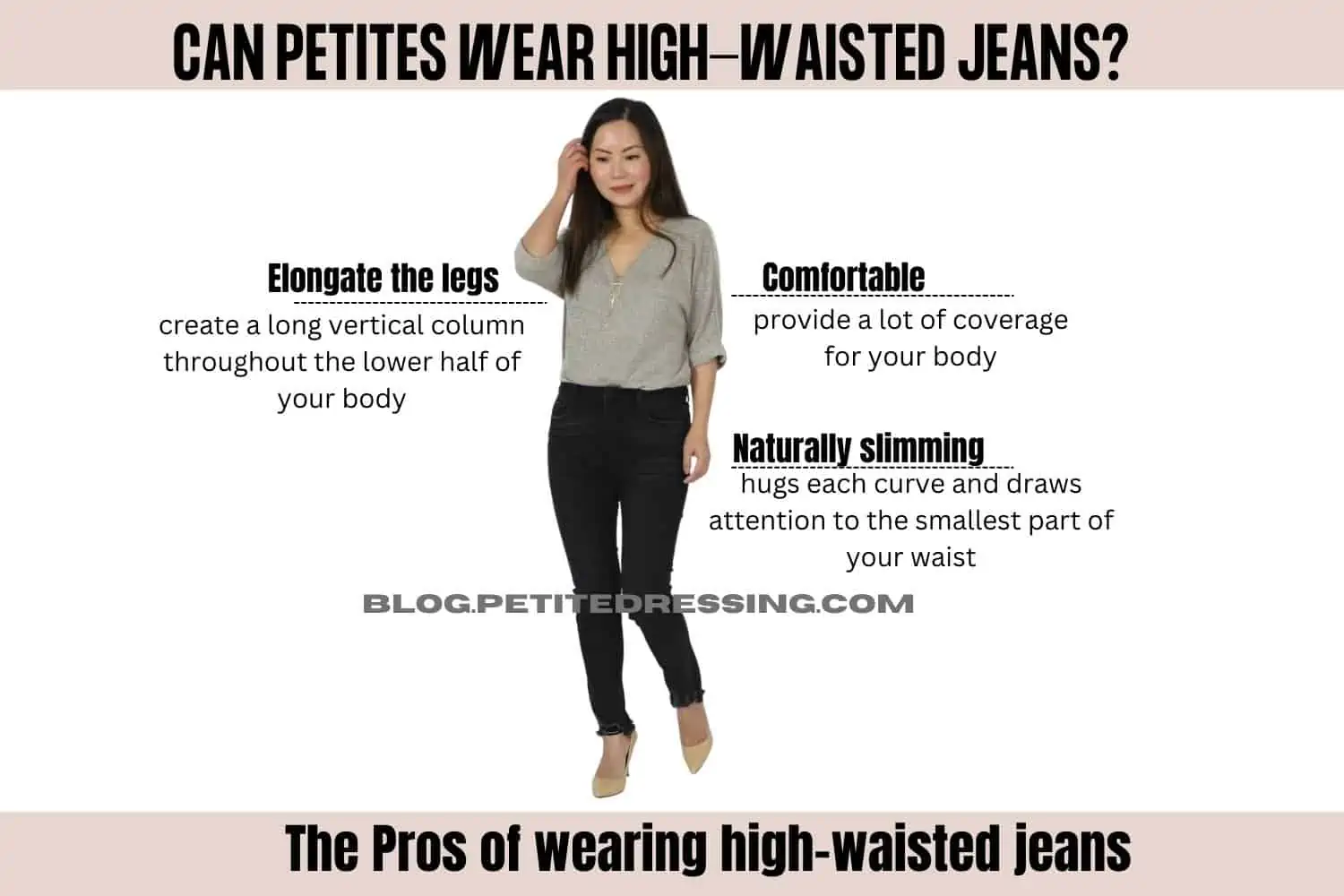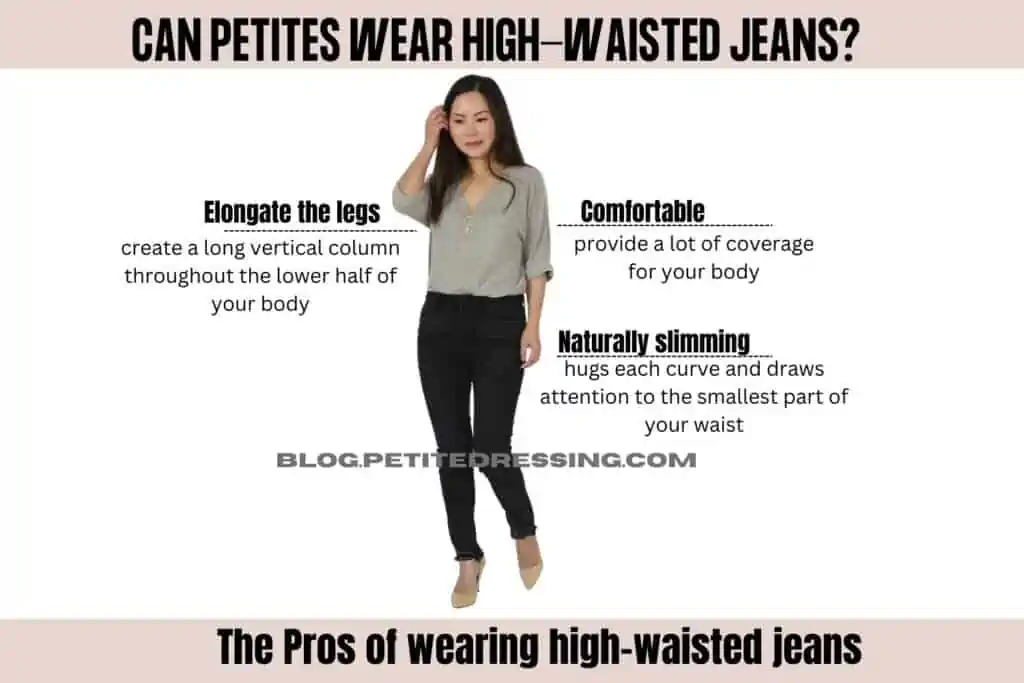 Elongate the legs
Since high-waisted jeans cover so much of the lower half of your body, they will automatically make your legs look longer than they are. Depending on how high of a waistline you choose, you get to decide how tall you want your legs to appear.
High-waisted jeans create a long vertical column throughout the lower half of your body, and that is how they are able to make you look so much taller.
Comfortable
High-waisted jeans provide a lot of coverage for your body. They help to keep your belly secure without constricting tightly against your stomach and hips. They are structured to provide comfort.
Naturally slimming
Due to the placement of the waistline, this style of jeans is incredibly flattering for women. It hugs each curve and draws attention to the smallest part of your waist. This will completely slim down the shape of your body.
Since high-waisted jeans will make you look curvier, they will distract from your belly and create the illusion of an hourglass figure.
Cons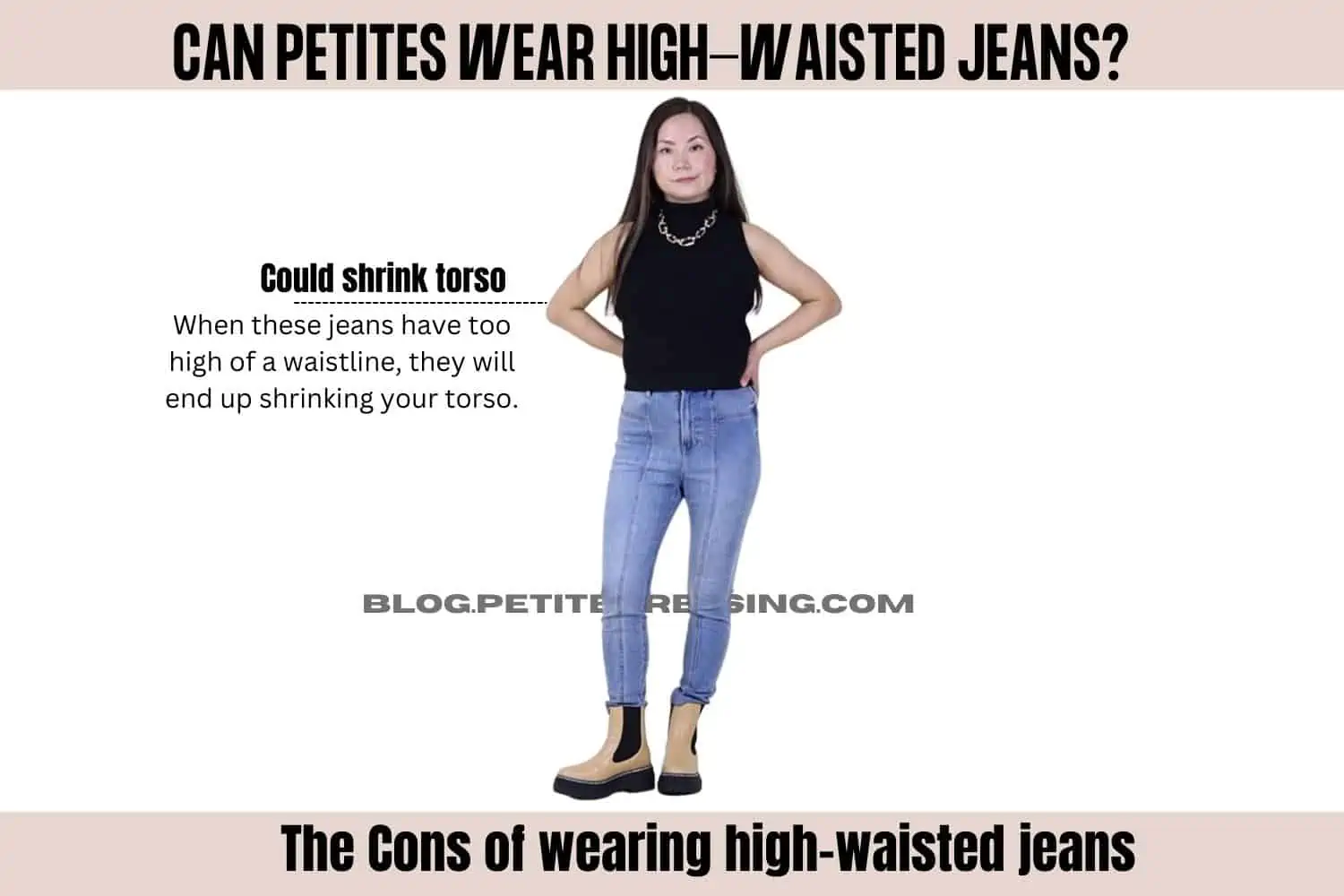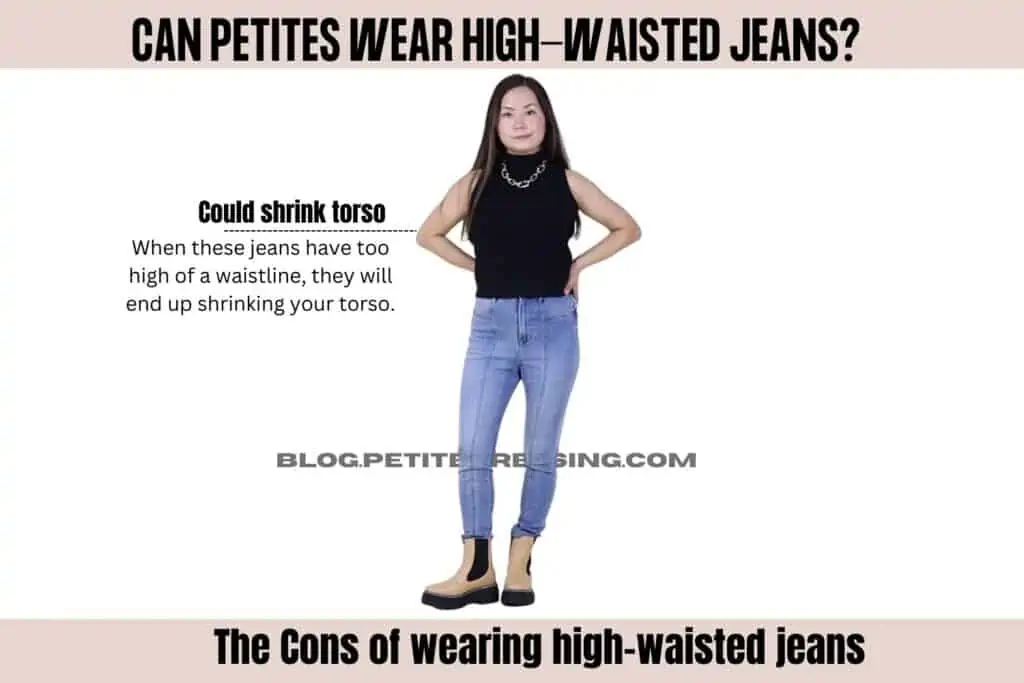 Could shrink torso
With the placement of the high-waisted jeans falling so high on your waist, it can end up skewing the proportions of your body. As a petite woman, you may have a smaller torso. When these jeans have too high of a waistline, they will end up shrinking your torso.
Even if you end up elongating your legs, you could end up creating the opposite effect with the upper half of your body. This is why you have to pay a lot of attention to the exact placement of the waistline.
If you have a large bust, this will also be more of a problem. Your chest will take up a lot of your torso, and the high-waisted jeans could make them it look even shorter.
Despite some of the cons, petite women can absolutely accomplish a chic outfit with a pair of high-waisted jeans. There are plenty of ways to combat any negative possibilities. These tips below will help you understand how to style high-waisted jeans in order to look your best.
HOW TO STYLE IF YOU ARE PETITE
Caution with short crop tops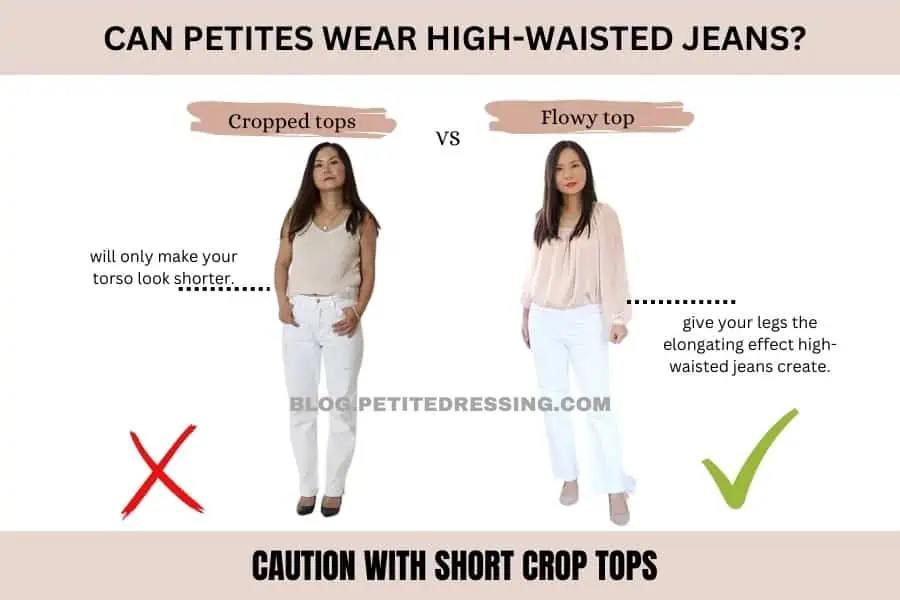 Crop tops typically look fantastic with high-waisted jeans. It is a great top to style with high-waisted jeans because you end up showing less skin than you would with lower-rise jeans.
But if the waistline of this style of jeans is too high, the crop top will only make your torso look shorter. It will draw attention to the skin in between the waistline and the hem of the top, which will not be a lot due to your petite frame.
Dark wash
If you are worried about too much attention being drawn to your hips and belly because of the way high-waisted jeans cling to your curves, there are ways to avoid that focus. Try wearing a pair of black or dark gray jeans to hide the shadows any of your unwanted curves may create. 
Black is a universally slimming color for women, and you can use that knowledge to your advantage. You can create the illusion of height and a slimmer frame by wearing dark-wash high-waisted jeans.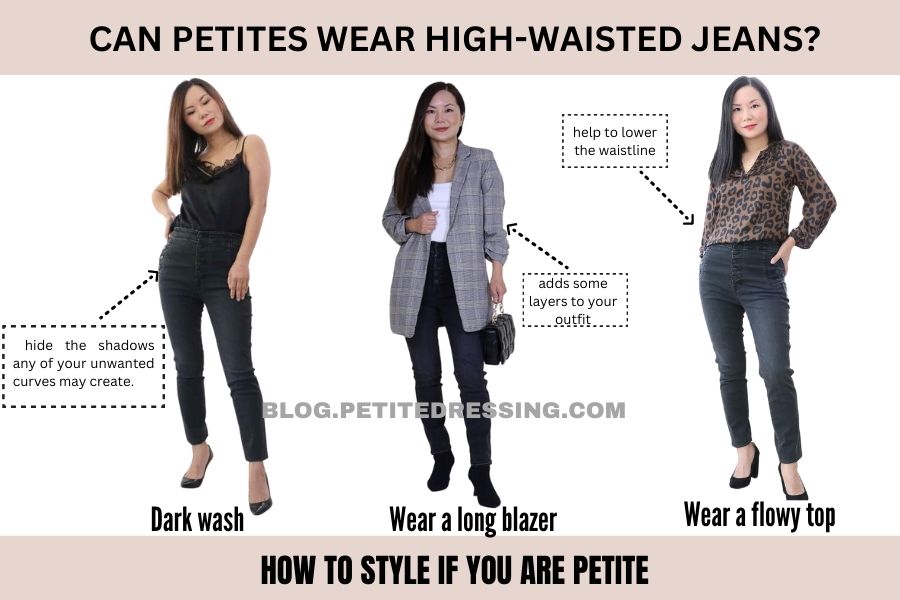 Wear a long blazer
If you want to add some layers to your outfit, a blazer or jacket would be an excellent choice. Try to go for a longer jacket in order to add some diversity to your silhouette. The form-fitting high-waisted jeans will still show off your waistline, but a jacket can add some extra coverage.
This is ideal if you have any insecurities or simply want to dress for colder weather. Try to avoid a jacket that is very bulky, since it may add extra weight or width to your body.
Add a belt
Many pairs of high-waisted jeans cover a lot of your body. With one piece of clothing covering so much, it can be slightly boring. When you add a thin belt, you can break up some of the colors and add some spice to your outfit.
You can also utilize a belt that's color contrasts the color of your jeans. This will draw extra attention to your waistline. Make sure that you don't wear a thick belt, as that will end up making your torso look shorter.
Wear a flowy top
Sometimes the high-waisted pants end up too high on your waist and make your torso look shorter.
If you want to break up this effect, you can wear a flowy top that falls just below that waistline.
This will help to lower the waistline but still give your legs the elongating effect high-waisted jeans create.