The plaid print is an absolute fall favorite because it's not only fun, but also flattering for different body types. A plaid skirt, in particular, is an amazing option for anyone interested in the current fashion trend of the prep-school look.
Even though plaid skirts are all in the plaid pattern, they can come in different lengths, cuts and styles, which give you plenty of options. That is what makes plaid skirt appealing to women of all age groups. If you're wondering about the styling, here are some of the best outfit ideas on what to wear with a plaid skirt:
With a turtleneck
Wearing a plain, simple style turtleneck with your plaid skirt gives a very stylish look.
Turtlenecks are a great way to stay warm during colder months. They come in lace and any other fabric and while they were mostly simple in design in the past, now they come in different styles.
The turtleneck follows the shape of your body and is great for anyone who love to show off their curves but in a subtle way that isn't too revealing.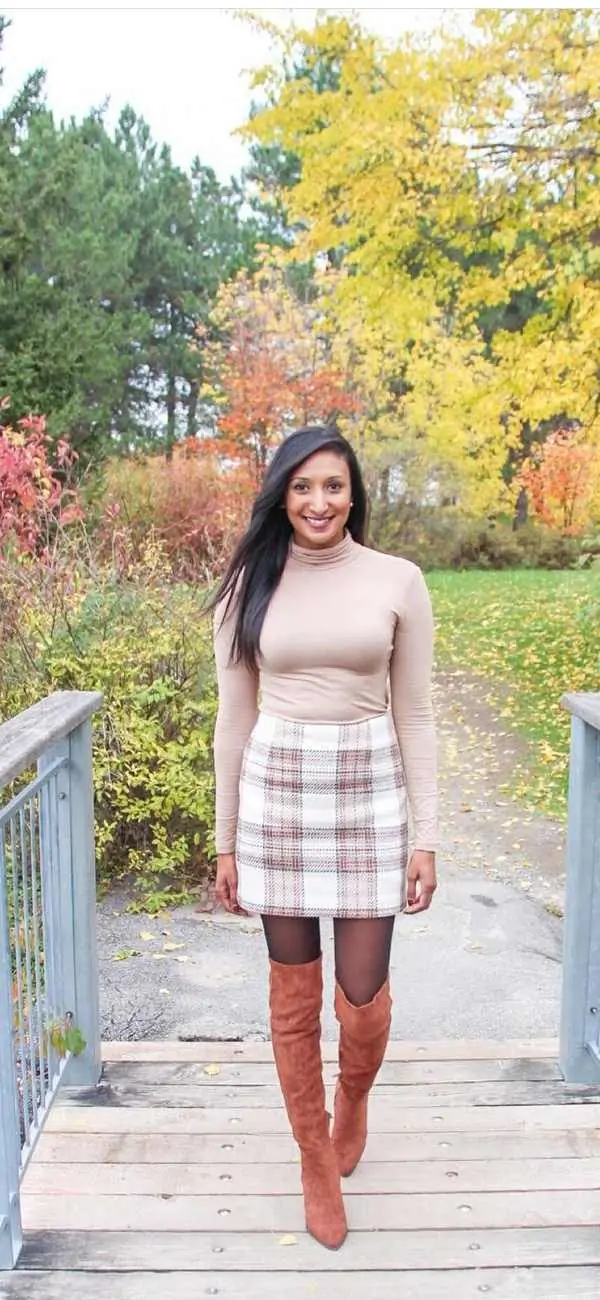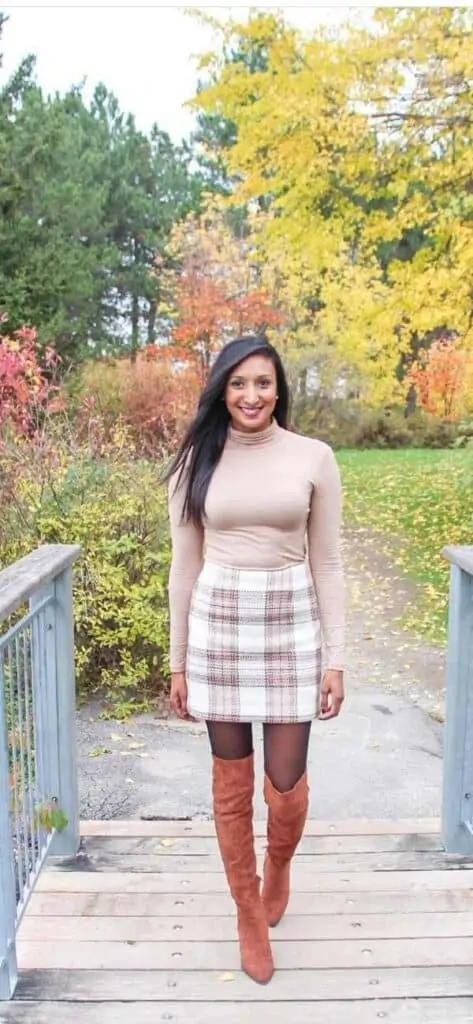 Praveeni (above) styled her turtleneck with a plaid skirt, and over-the-knee boots.
If your skirt is short, a pair of thigh high boots will not only spice up the look, but also give you more warmth, In case it's a little colder, you can always add a pair of tights under your skirt.
If your skirt is knee length or over the knee, then a pair of knee high boots work great for this outfit. If your skirt is somewhere in between your knee and ankle (the midi length), then ankle boot will be perfection.
With a coat
You can wear your coat over a plaid skirt outfit to make the look even classier.
Wearing a coat of any type is always a great way to look chic, regardless of what you're wearing it with underneath. It can make you stand out but will also keep you warm at the same time.
It's worth picking a coat in a color that's also on your skirt. This will not only make your look more well-coordinated, but also form a monochromatic outfit which flatters women of any body shape and height (especially if you are petite).
It's key to choose the right length of the coat to balance out the plaid skirt. If your skirt is above the knee or right at the knee, then your coat can be knee length or longer. If your skirt is midi length, then the best length for the coat is the longer coat which ideally should cover majority of the length of your skirt.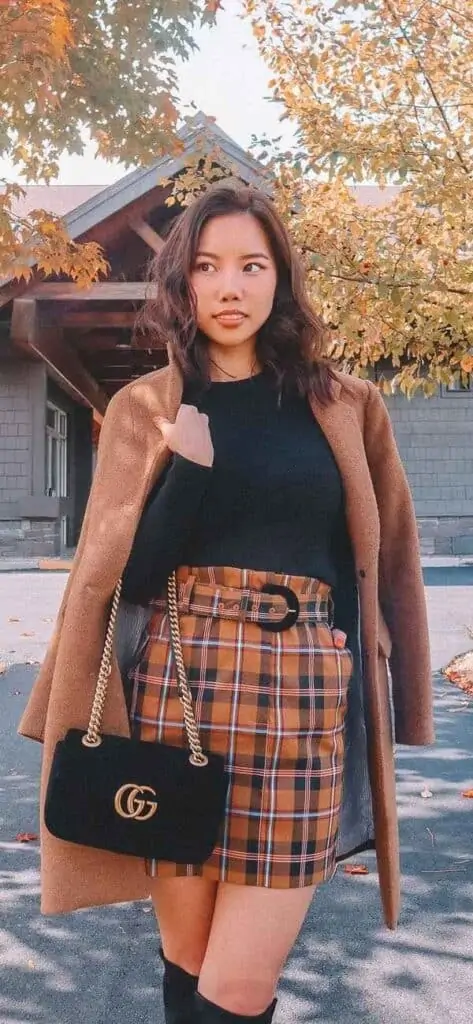 Charlene ( above) styled her plaid skirt with a brown coat.
With a sweater top
A classic and easy fall outfit is to wear a sweater with a plaid skirt. A sweater top falls between a top and a pullover, a fantastic option for days that are neither too hot nor cold.
Sweater tops can be styled with plaid pants regardless of the top's design. The key for this outfit is to go with a sweater in solid color to balance out the pattern of the plaid skirt.
This look can work with any style of sweater in your closet. If you want to have some fun with this outfit, choosing different necklines of the sweater will give you a fresh look, whether it's off-shoulders, cold-shoulders, plain ones or cut-out designs.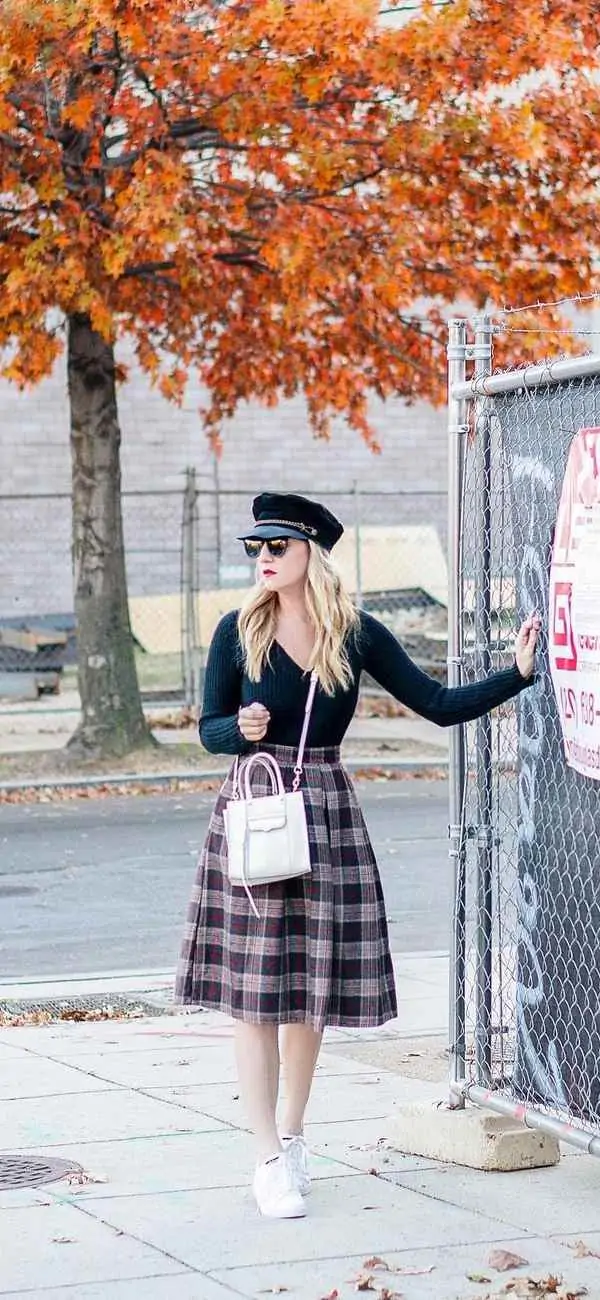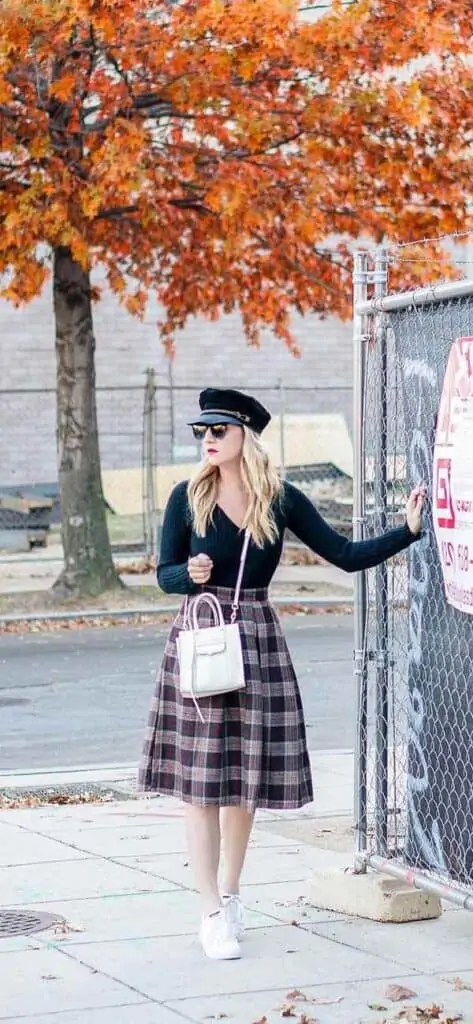 Lacey (above) styled her plaid skirt with a simpler black sweater top, a baker boy hat and a pair of sneakers. It's a simple pairing that can work with a pair of sneakers, boots, or heels.
With a plain blazer
A blazer just always has this way of dressing up a look. It instantly elevates a formal or casual outfit and luckily, blazers are meant for all women regardless of the shape.
A plain blazer is particularly great with a plaid skirt because it gives a sense of balance to your look.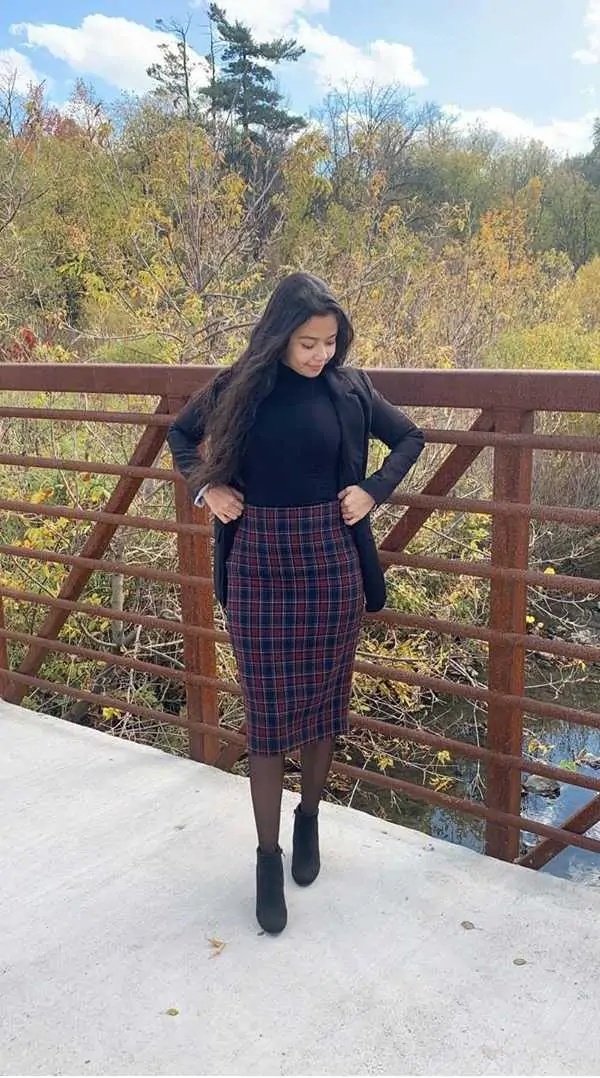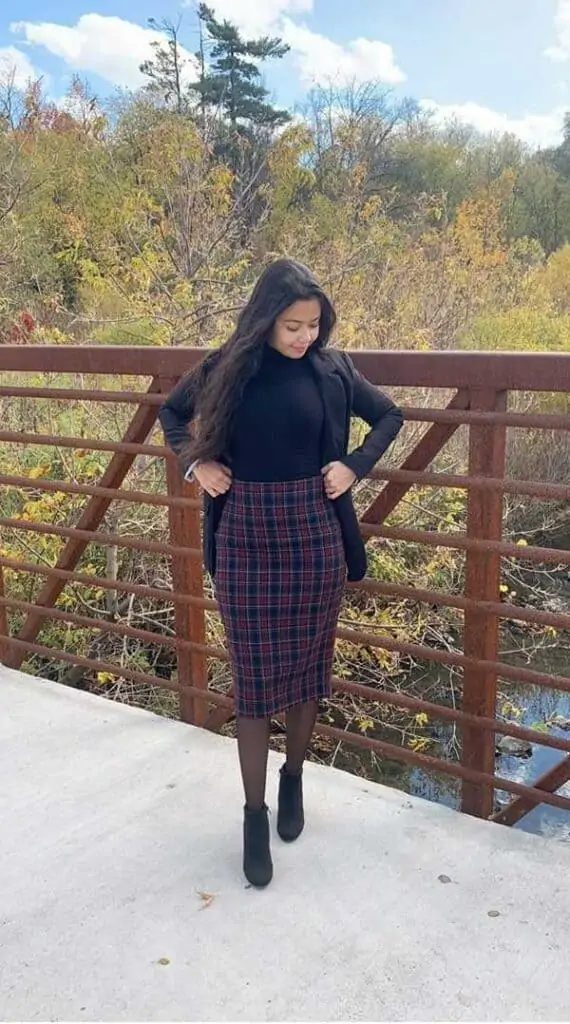 Abby (above) looks office-ready in her plain blazer and plaid skirt combination. It's an instant classy look. That works great for different places, especially the office.
With a silk blouse
You can style your silk blouse with a plaid skirt. There's something about a silk blouse that always looks so chic and feminine. These blouses are delicate, stylish and are a classic.
You can go for either a short or a long-sleeve blouse. Tucking in your silk blouse will give you a much smarter look and also make your legs appear longer and make you look taller.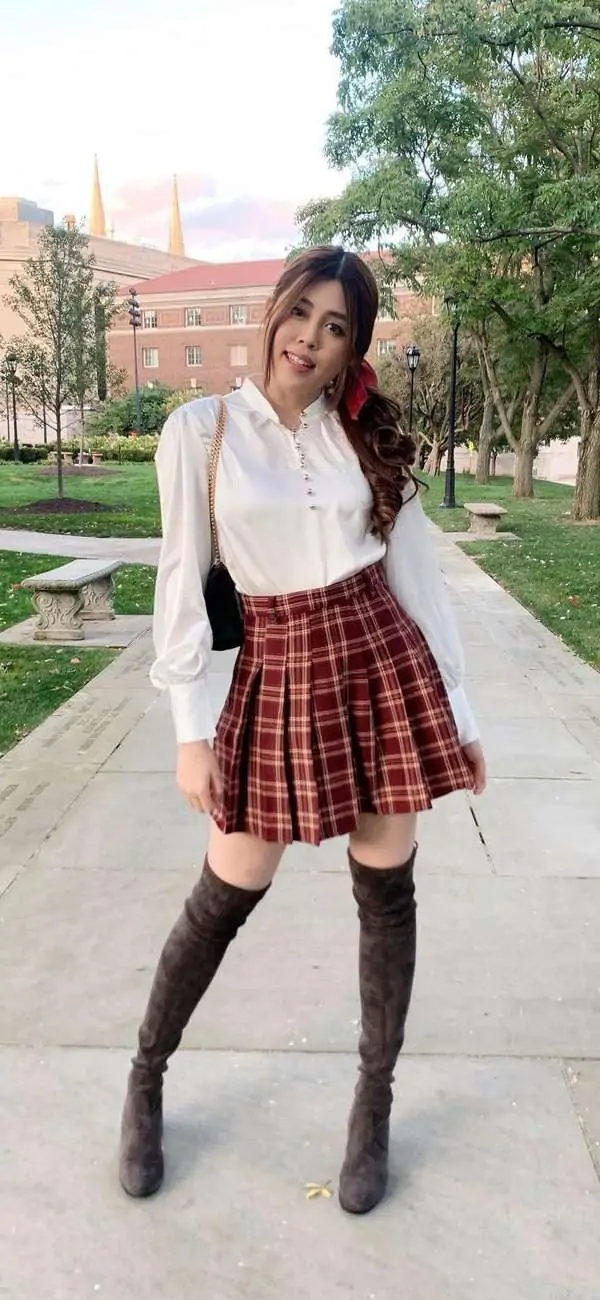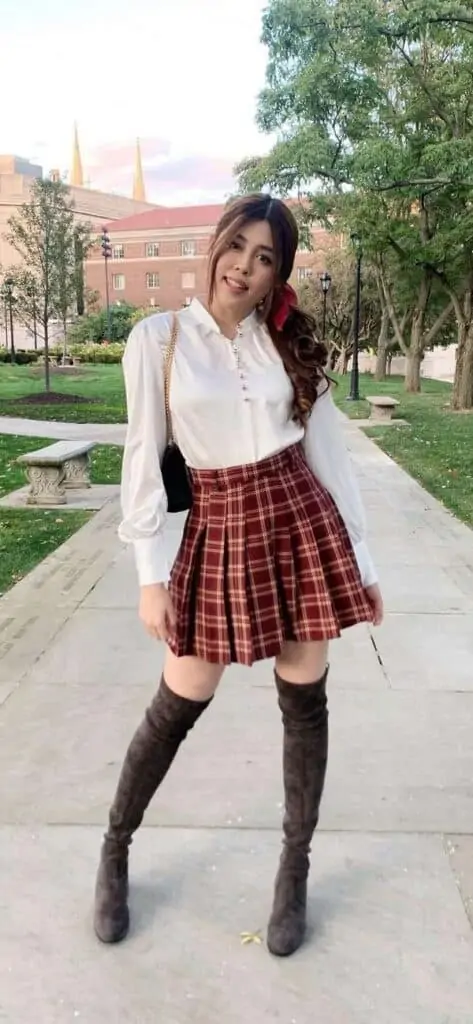 Meg (above) styled her silk blouse with a plaid A-line skirt and some boots for a nice fall look.
Choose the shape and length of the plaid skirt that suit you the best. Going for a shorter A-line skirt makes you look youthful, which is a fun look easy to pull off. If you want a classy outfit you can wear to the office, then a midi length skirt works the best.
With a sweater vest
Sweater vests were popular in the 80s, and now they are making a big come back as part of the "preppy" trends! These naturally go with with plaid skirts, since both are staple pieces for the "preppy" look. This is a wonderful outfit in the spring or the fall, when the weather is not quite warm.
With a suede jacket
Suede, or faux suede, jacket is the fall staple. They work so well with plaid skirts, since suede is in neutral colors which perfectly balance out the pattern of the skirt.
Not only is this look effortlessly chic, it is also very functional. When it's cooler outside during winter or even fall, this is one of the best outfits for some warmth and coziness.
You can always throw on a simple suede jacket, but they do not have to be basic. A jacket with a belt will define your waist and add a feminine touch to your outfit. You can also go with just a bit of embellishment to make it look more interesting. Different design details, such as faux fur, can also add interest to the look.
With a cable knit sweater
Wearing plaid skirt with a cable knit sweater in your closet will instantly elevate your outfit.
Everyone needs that simple cable knit top that just goes with every type of bottoms. Even though they may seem "too basic" on their own, the plain ones are the easiest ones to style, because a simple plain top will go with any pattern or print you love.
When your top is simple design and plain color, you can always accessorize your look up a bit.
With a pullover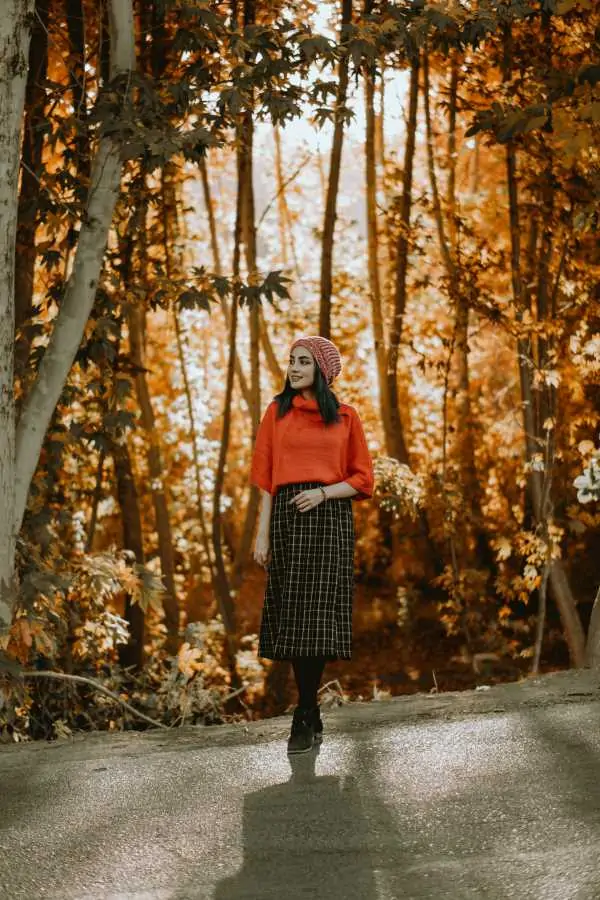 Pullovers can be worn with plaid skirts to give you a great functional outfit for fall.
A pullover is a nice wardrobe piece that always looks cute. You can get pullovers in different styles from halter necks to turtlenecks, round necks to boat necks, the choice is yours to make.
This is one of the favorite 60 degree weather outfits of many women, especially because these two, the plaid print and pullovers, are fall favorites.
Leather jacket
A leather jacket will look great worn with your plaid skirt, regardless of whether the skirt's plaid print is loud or subtle. This is a simple outfit to pull off as all the colors are neutral.
A leather jacket is definitely a must-have during the fall season and makes for a stylish and sturdy layering piece. They come in different lengths and can be either plain or with embellishments, but whichever you choose you'll surely look nice and edgy.
Bonus tip! You don't always have to wear your leather jacket, it looks quite trendy and chic if you just drape it on your shoulders. This is a favorite look by many fashion bloggers and trendsetters, especially in photos.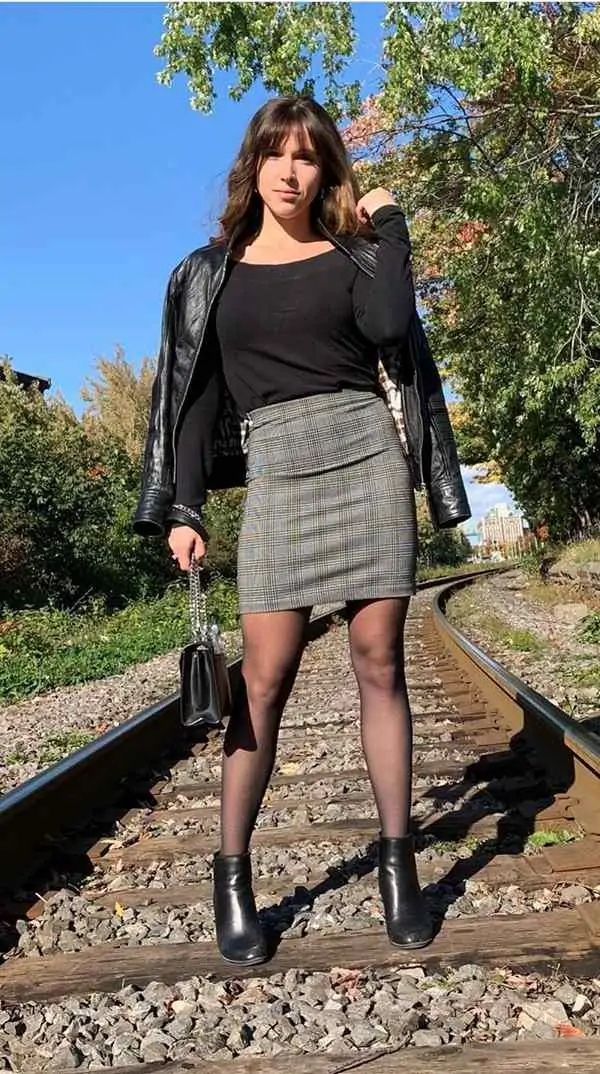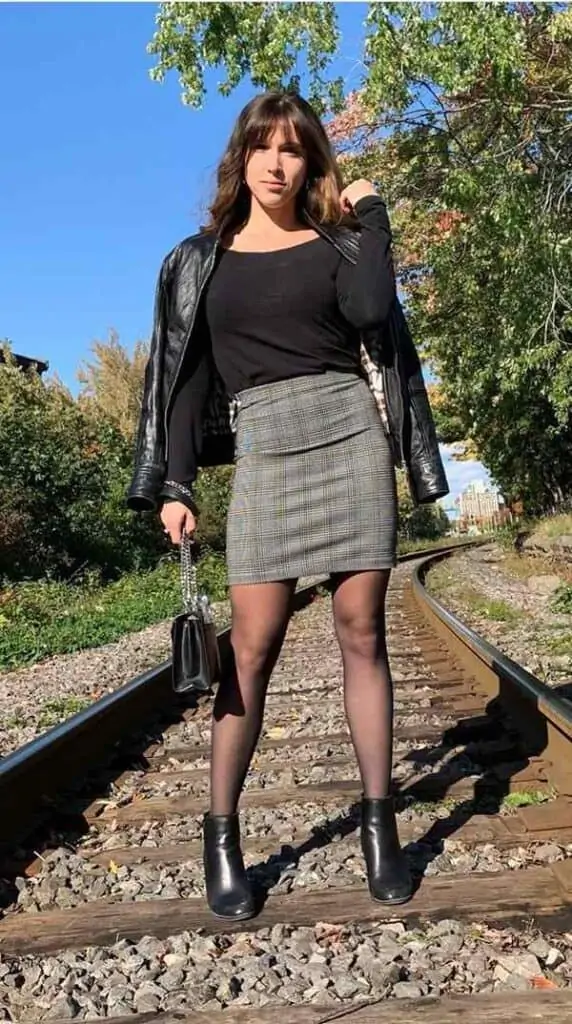 Julie (above) styled her leather jacket over an all black look and a grey plaid skirt.
With a denim jacket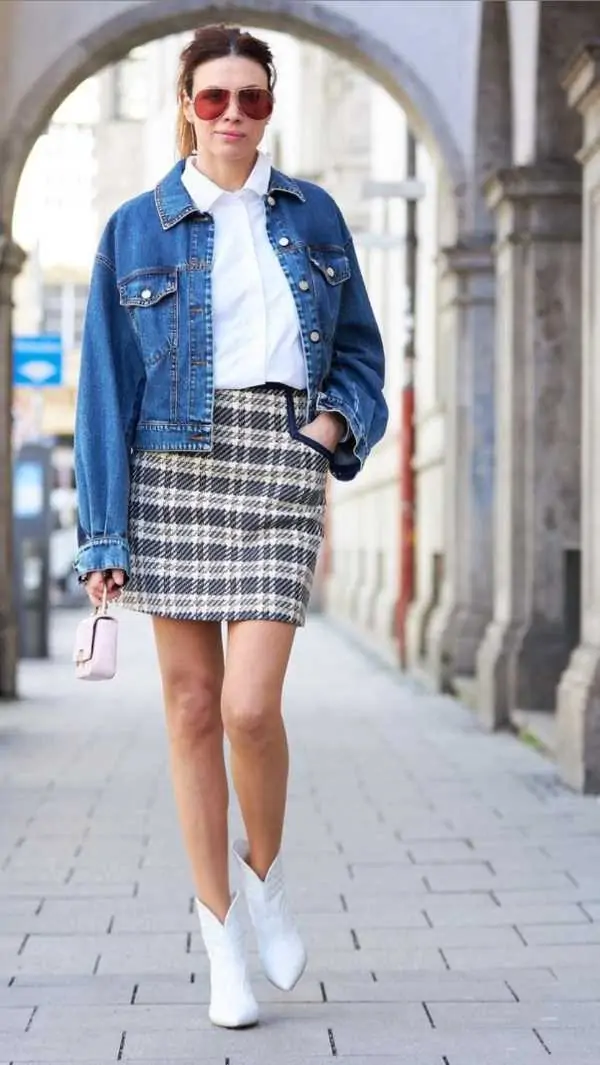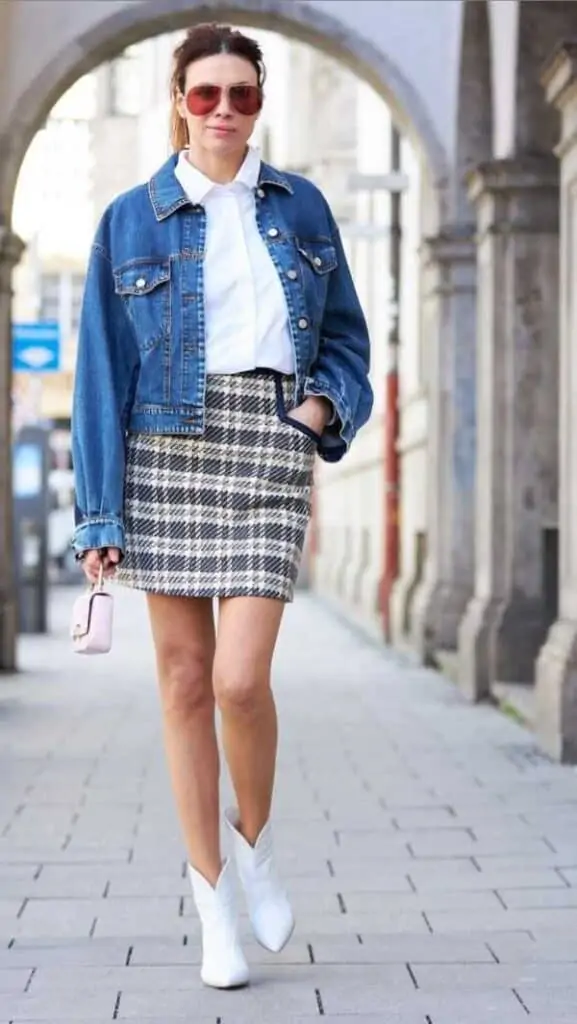 There are more than one way to wear a denim jacket with a plaid skirt.
A denim jacket is perhaps the most casual top there is and can be styled with a bunch of different wardrobe pieces. While it's mostly casual, it can also be dressed up.
Since it's a versatile piece, you can easily wear it unbuttoned over a button down shirt with your plaid skirt.
This is a casual pairing that looks great with sandals or sneakers and works for anyone.
With a graphic t-shirt
Despite the fact that a plaid skirt already has the pattern on it, it can be worn with a statement piece such as a graphic t-shirt.
Just like a plain one, a graphic t-shirt is comfortable to wear. The only difference is a graphic t-shirt is more expressive. This combination will make the look even more casual and fun.
To be on the safe side with this kind of pairing, go for neutral-colored graphics t-shirts. For brighter colors, just make sure they coordinate with the colors on your skirt.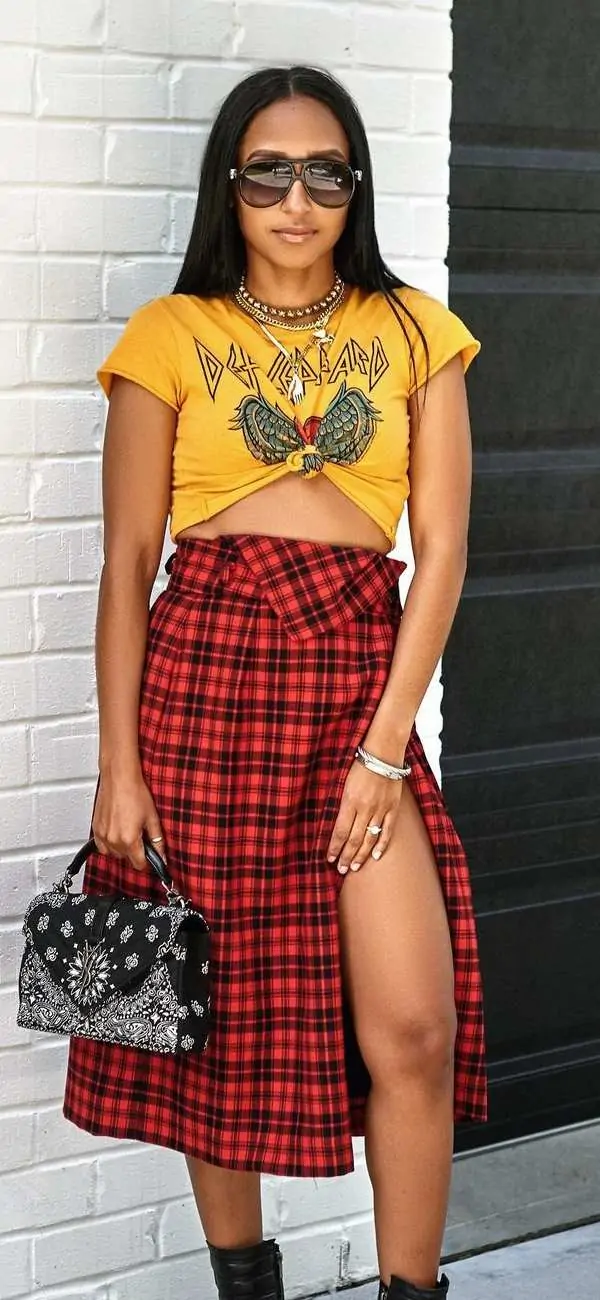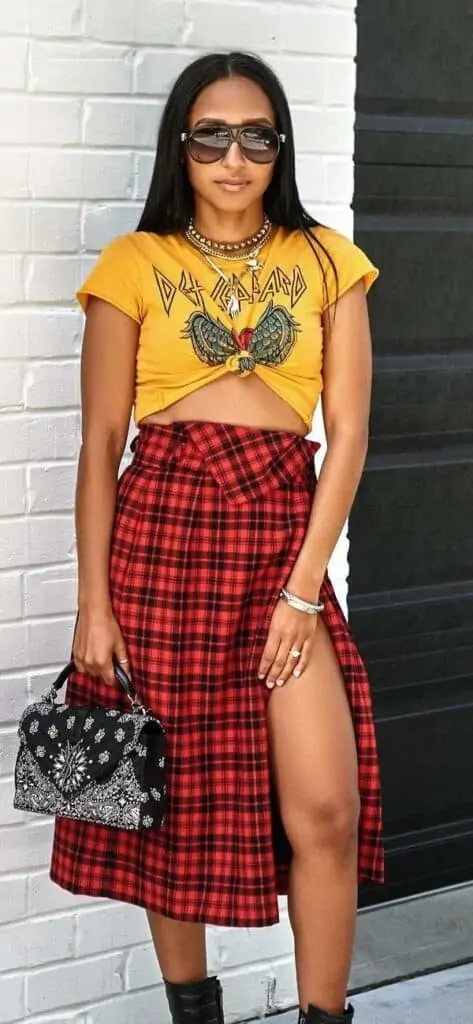 Kiarra (above) styled her graphic t-shirt tied as a crop top at the front with a plaid skirt for the ultimate casual style.
With a cardigan
Cardigans, just like pullovers, are nice and cozy and make you want to snuggle up already. They can also be worn with a plaid skirt, a pairing which is great if you love a nice preppy outfit that's still very fashion forward.
Back in the days, cardigans used to be great pieces to wear to school, whether you were a student or teacher but over time. They have grown into stylish wardrobe pieces worn by trendsetters all over the world nowadays.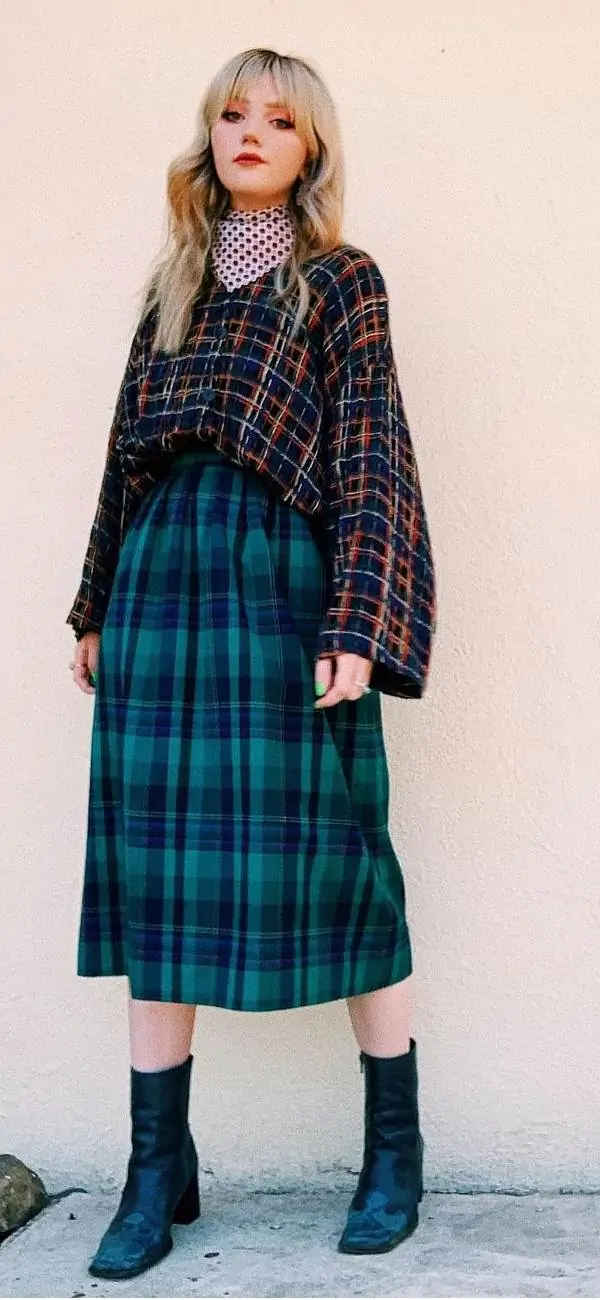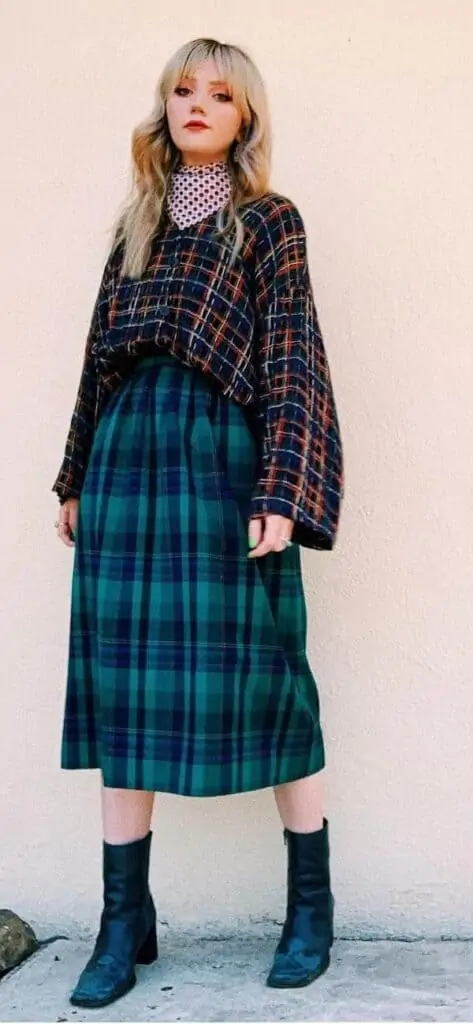 Amanda (above) paired her cardigan with a plaid skirt. While the cardigan is plaid and has flared sleeves, the colors on the skirt match her sweater and this is always a great direction to go with plaid patterns.
With a tank top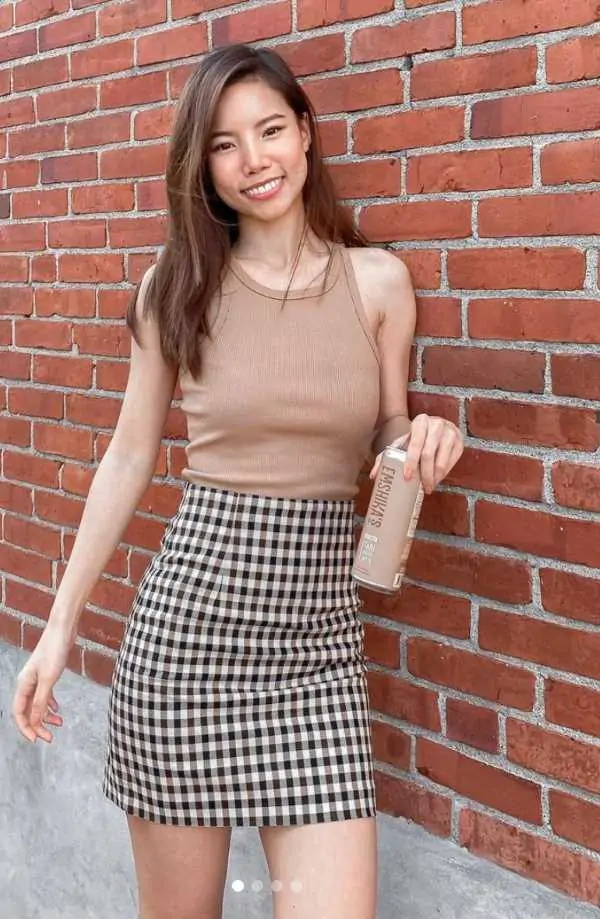 A plain black t-shirt is not only a comfortable and easy-to-wear piece, but it's also versatile.
It goes well paired with a plaid skirt because it's so minimal and allows the skirt's pattern to be seen.
Since this is such a nice and easy pairing, it allows you to accessorize in different ways such as going for simple pendants or necklaces.
With a matching top
A skirt with a matching top forms a co-ord set which is one of the easiest things to style. This is because you don't have to think too much about what to wear either pieces with as they come together.
A plaid skirt co-ord set is a great option to go for especially if you are a fan of a fun outfit that can be styled differently.
You can always add a plain coat if it's colder to your outfit for layering.
With a matching blazer
Leave the plain blazer out and find a plaid skirt that comes with a matching one instead, you get a full suit.
Plaid suits just have this way of looking so professional and have been worn by women for years, understandably. They are a nice way to avoid those boring old gray and brown suits.
Remember, just because you're wearing a suit does not mean you have to wear closed-toe pumps. Sneakers, boots, and strappy heels could also look great with the look.
So take out your plaid skirts and shop your own closet for the above tops. You'll enjoy the versatility.