Are you tired of packing away your beloved white pants once the fall or winter months roll around? Well, I'm here to tell you that there's no need to bid farewell to your crisp, white favorites just because the seasons are changing.
In this article, I'll share some fashion wisdom on how to rock those white pants with style, confidence, and a touch of cold-weather flair. It's all about embracing the right colors, textures, fabrics, and layering techniques.
Alright, it's time to pick up those white pants, and let's dive headfirst into the many fashionable ways for you to flaunt your white pants in the fall and winter seasons!
Wear with Leopard Tops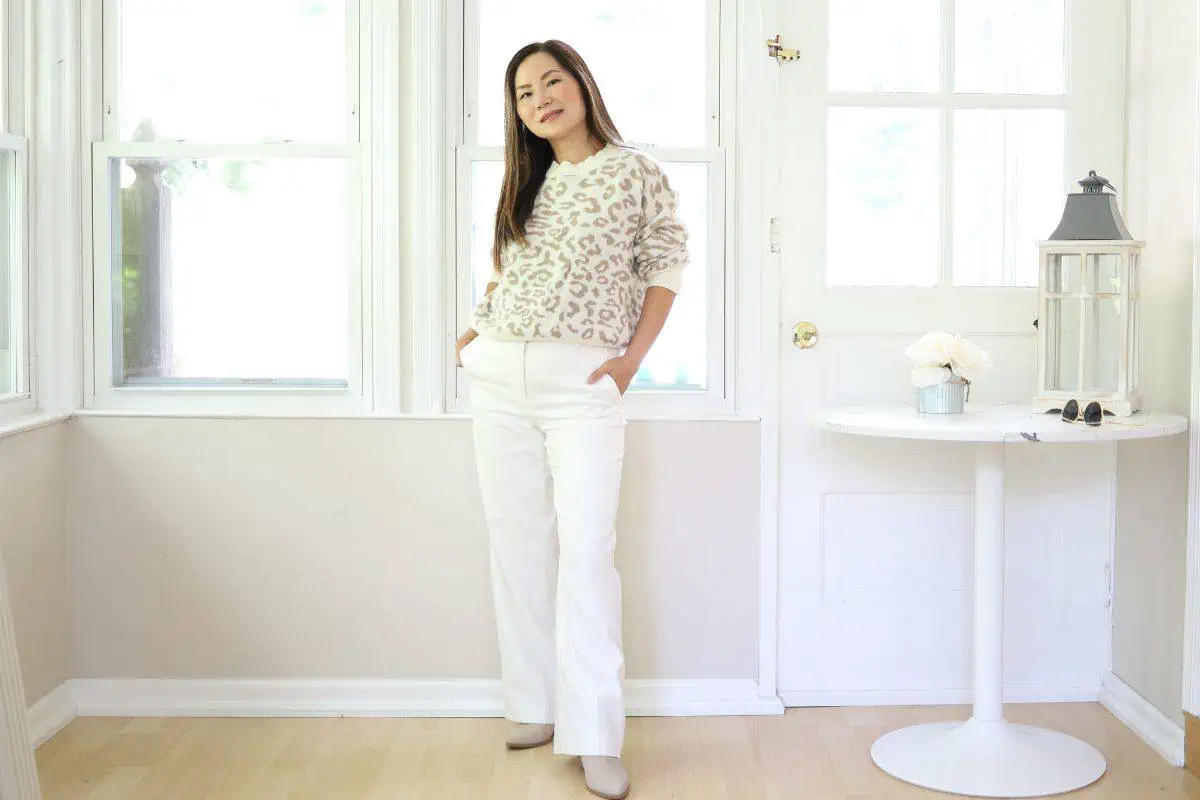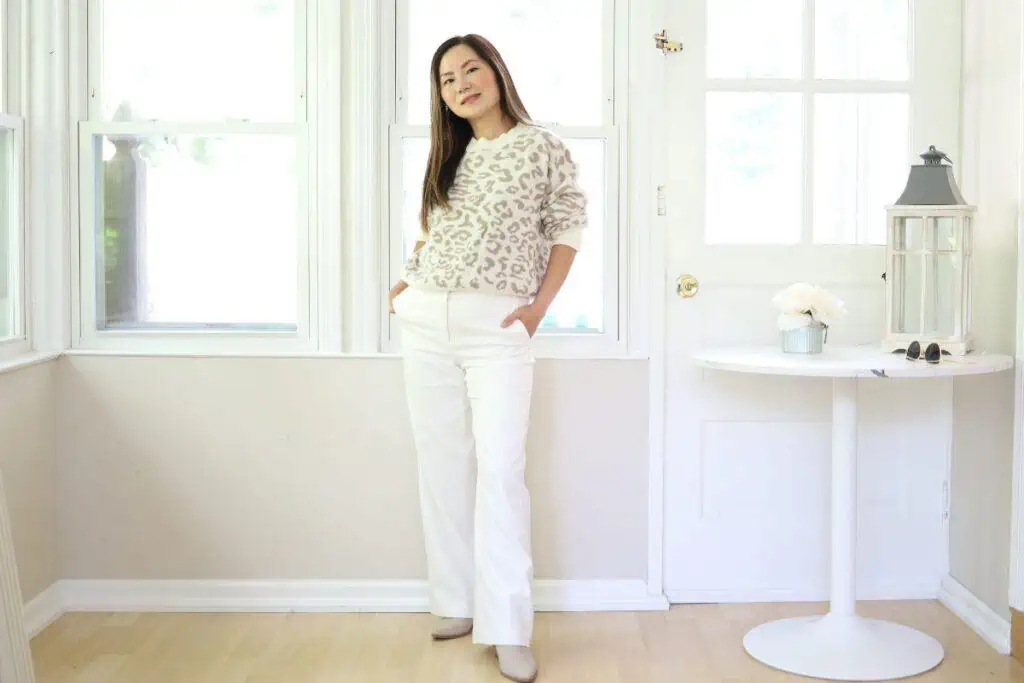 Let's kick things off with a tip that adds a dash of personality to your winter whites. Wearing white pants in the fall and winter can be daunting, but it's all about picking the right companions.
While pastels might initially come to mind when considering what to wear with your white pants, it's time to say goodbye to them for now because they're a bit too springy. Instead, think outside the box, and embrace more interesting designs, like the stunning light-colored leopard prints!
Lighter leopard prints impart a hint of nature's elegance, adding a dash of the wild without causing any conflicts with the fall or winter color palette. These prints effortlessly merge with the neutral, icy tones of the season, making them the ideal pick for your white pants.
Wear with Black Sweaters
Let me share the timeless secret to staying elegant during the chilly season: the classic black tops and white pants combo. It's a match made in fashion heaven, and it's not going out of style anytime soon!
Aside from black tops, deep jewel tones like emerald green, sapphire blue, or rich burgundy can also be show-stoppers when paired with white pants. These contrasting hues create a captivating contrast that's just perfect for those colder months.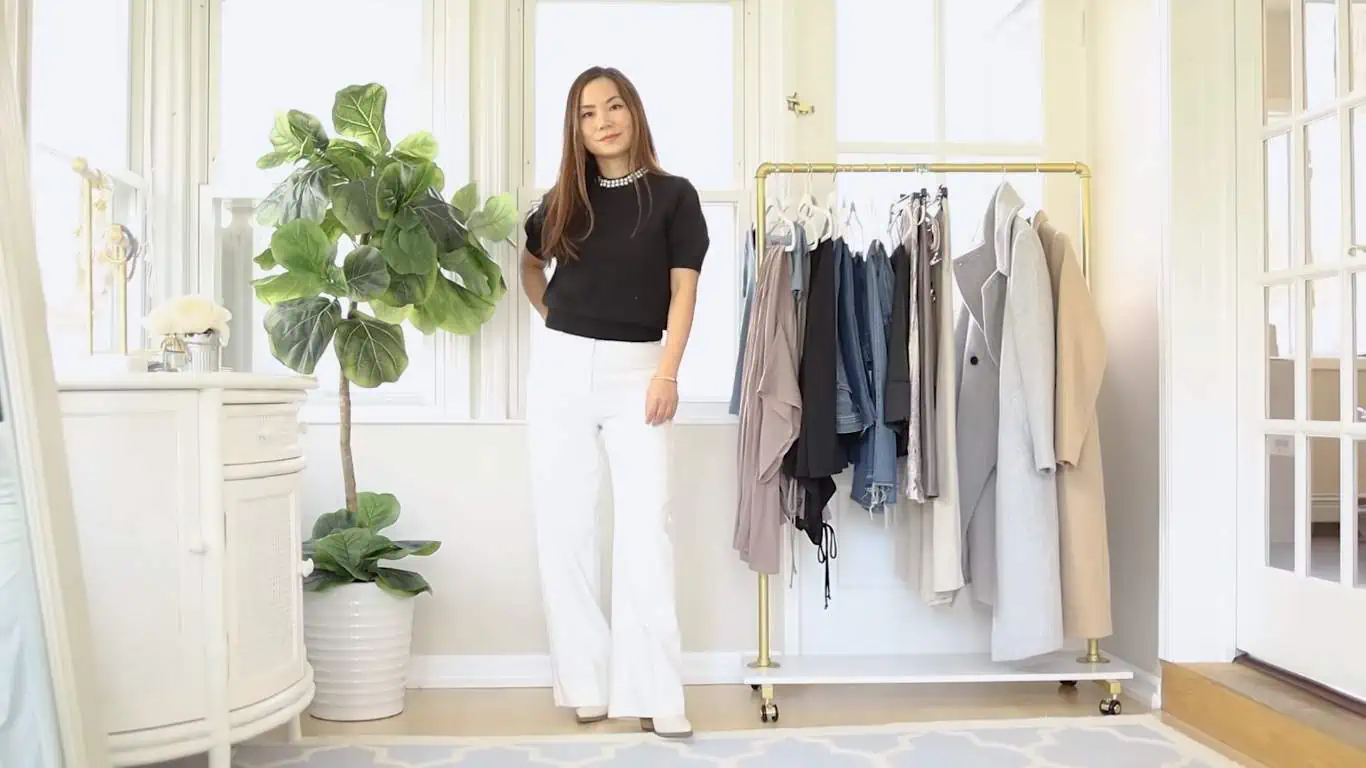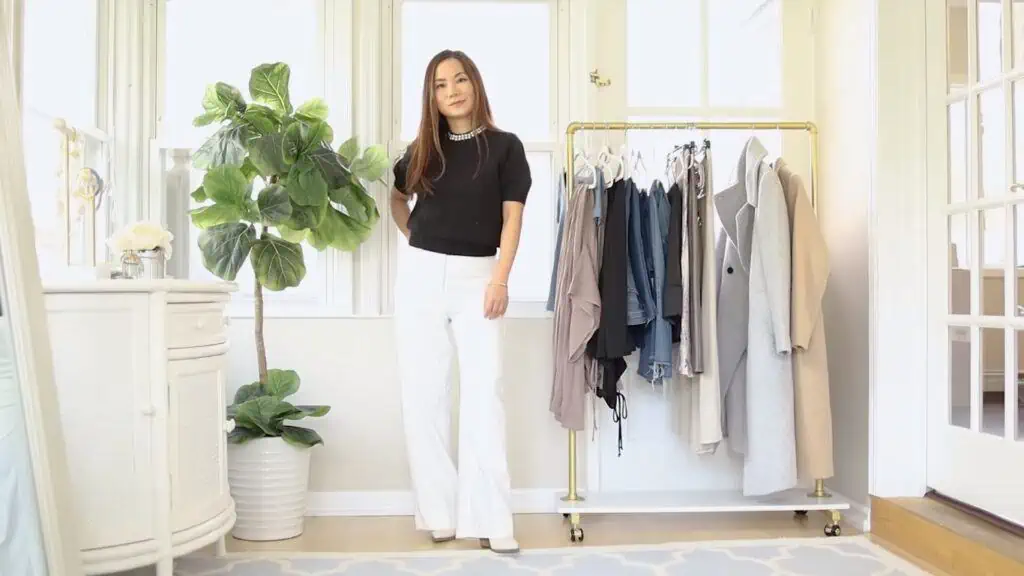 That's not all – chunky, oversized sweaters in solid dark colors like a warm charcoal gray or a heathered navy are all contrasting tops that do not just keep you toasty but also bring that comfy and laid-back vibe to your white pants. So you're not only warm but effortlessly stylish all through the fall and winter season!
However, the real magic here is not just about wearing mere contrasting tops with your white pants; you also have to look out for contrasting tops that feature contrasting trims! That touch of white or any light trim on a contrasting top is not just debonair; it's the key to a perfectly coordinated outfit.
Contrasting trims are the name of the game, and they elevate your look like nothing else. You'll be amazed at how this subtle hint of contrast perfectly complements your white pants, creating a look that's sophisticated and chic.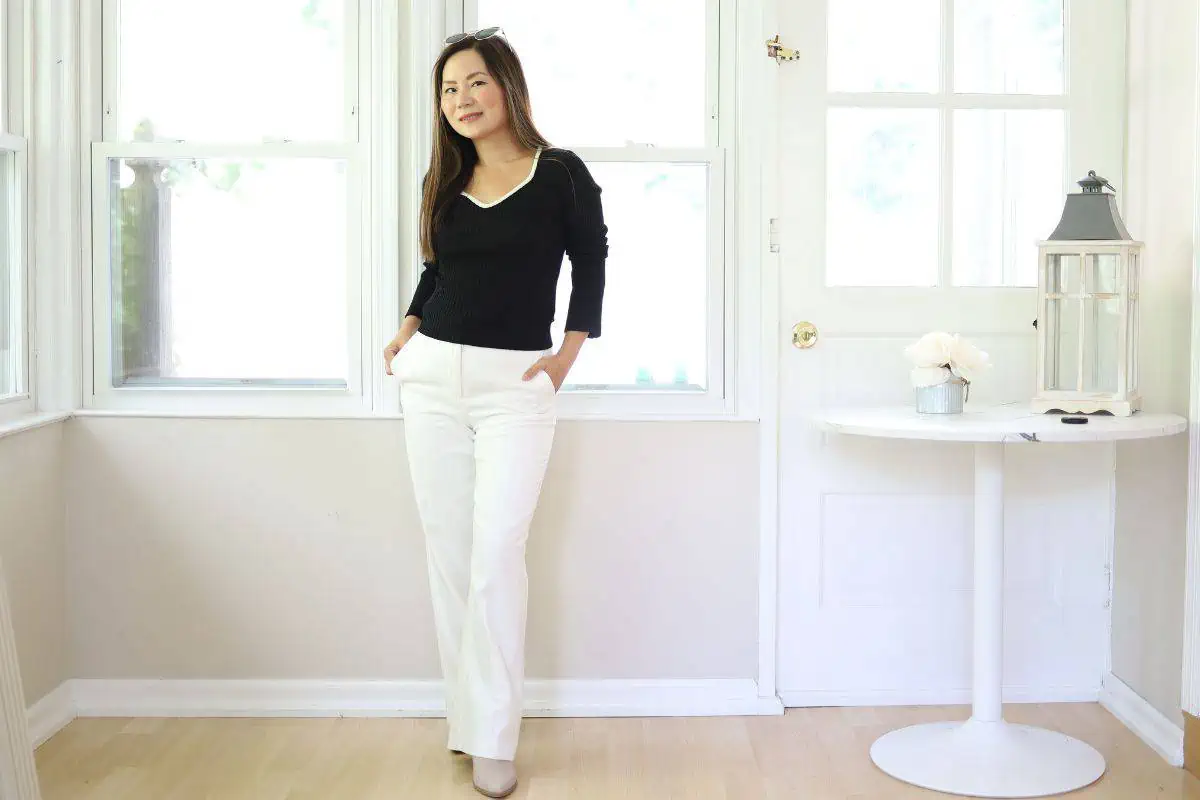 Believe me, this trend is on fire right now for all the right reasons. So, when you pair your white pants with those contrasting tops with these eye-catching trims, you're making a fashion statement that shouts, "I've totally nailed this winter look!"
Wear with Textured Tops
There is this little trick that I absolutely adore during the winter months – textured tops. Transitioning from chilly mornings to toasty afternoons can be quite the challenge, but your outfit doesn't need to be.
Lightweight white tops may seem out of place as the temperatures drop, making you feel like you're stuck in the summertime. But don't worry; I've got the solution.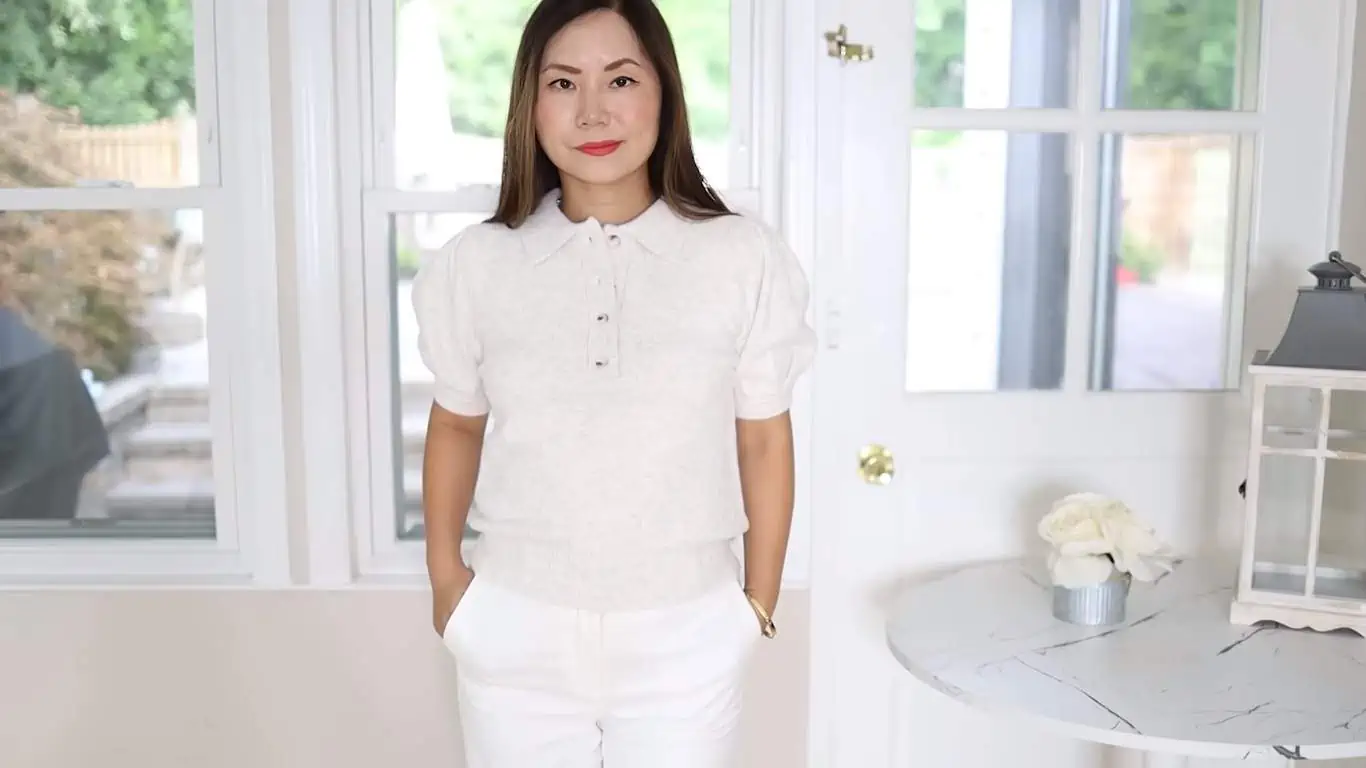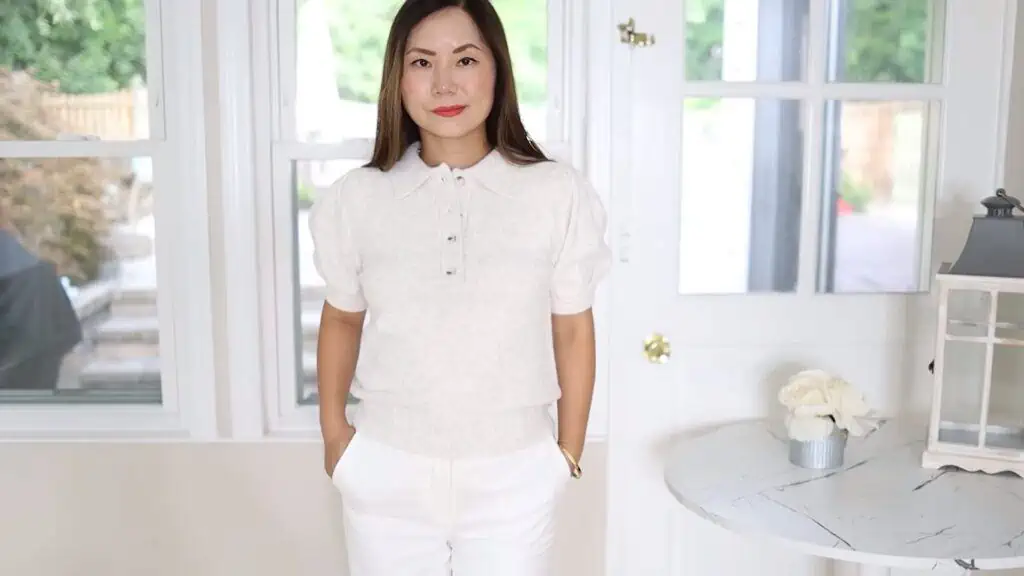 Short-sleeve, textured sweater tops – yes, they're your best buddies during this transitional weather, adding a layer of warmth without overwhelming you! Even so, when the weather turns even colder during fall or winter, you can always switch to a light-colored, textured, long-sleeve sweater top.
For me, oatmeal is the most stylish color of choice. It pairs beautifully with white pants, creating a cozy, yet stylish ensemble.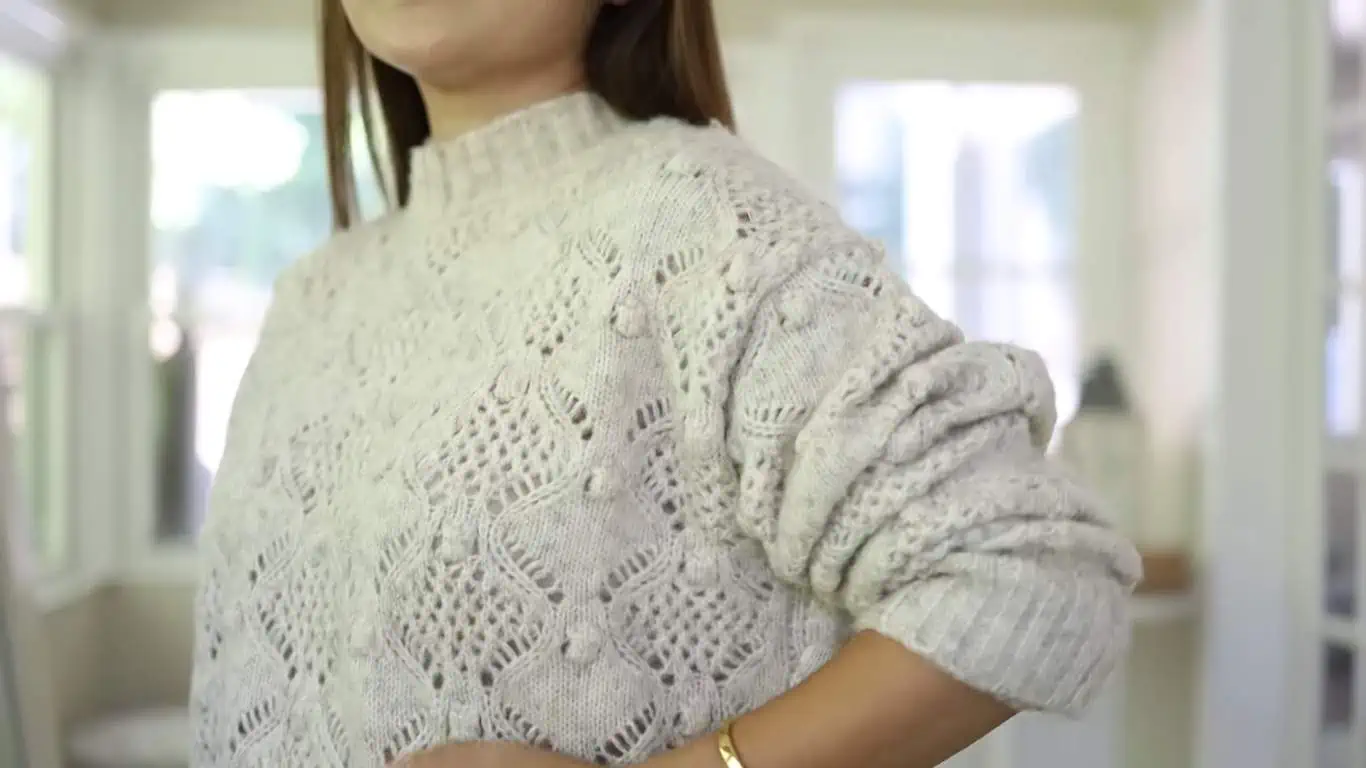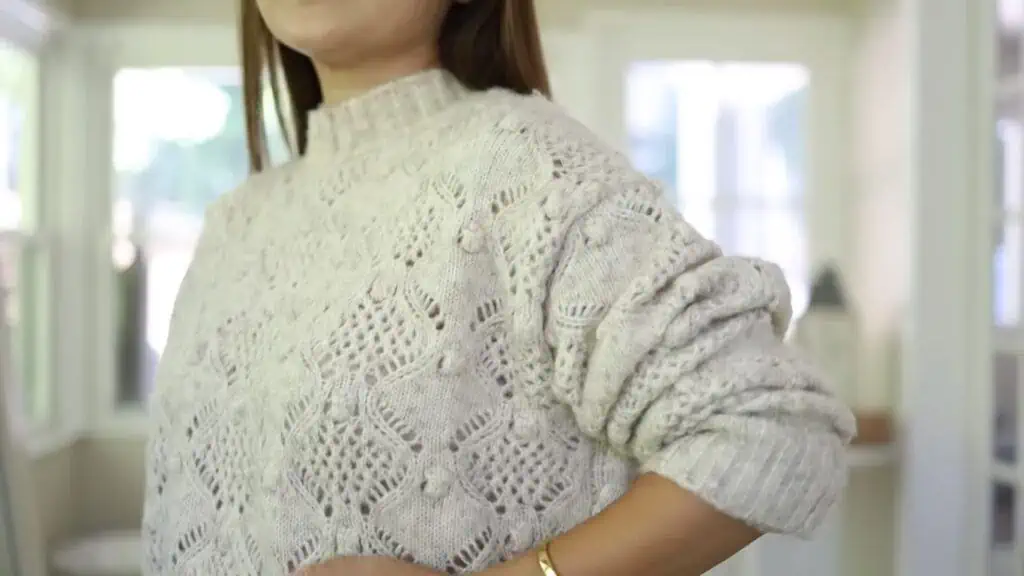 The subtle contrast between oatmeal and white infuses your look with texture and seasonal charm; it's like wearing a fashionable hug that keeps you looking fabulous and feeling toasty.
Wear Leather or Suede Jackets
When the cold weather sets in, anything linen should take a backseat to the fabrics that define the season. When the temperature drops during the fall and winter, linen's summery appearance and breezy quality can make you feel not only outdated but also cold and uncomfortable.
That's where leather and suede come into play – for me, these two materials are the embodiment of fall and winter. They're warm and stylish, and they're the perfect companions to transition your white pants into the colder months.
As you can see in the following photo, I've switched to narrow-leg white pants because they create a more flattering silhouette, especially when you're going for a more voluminous type of coat.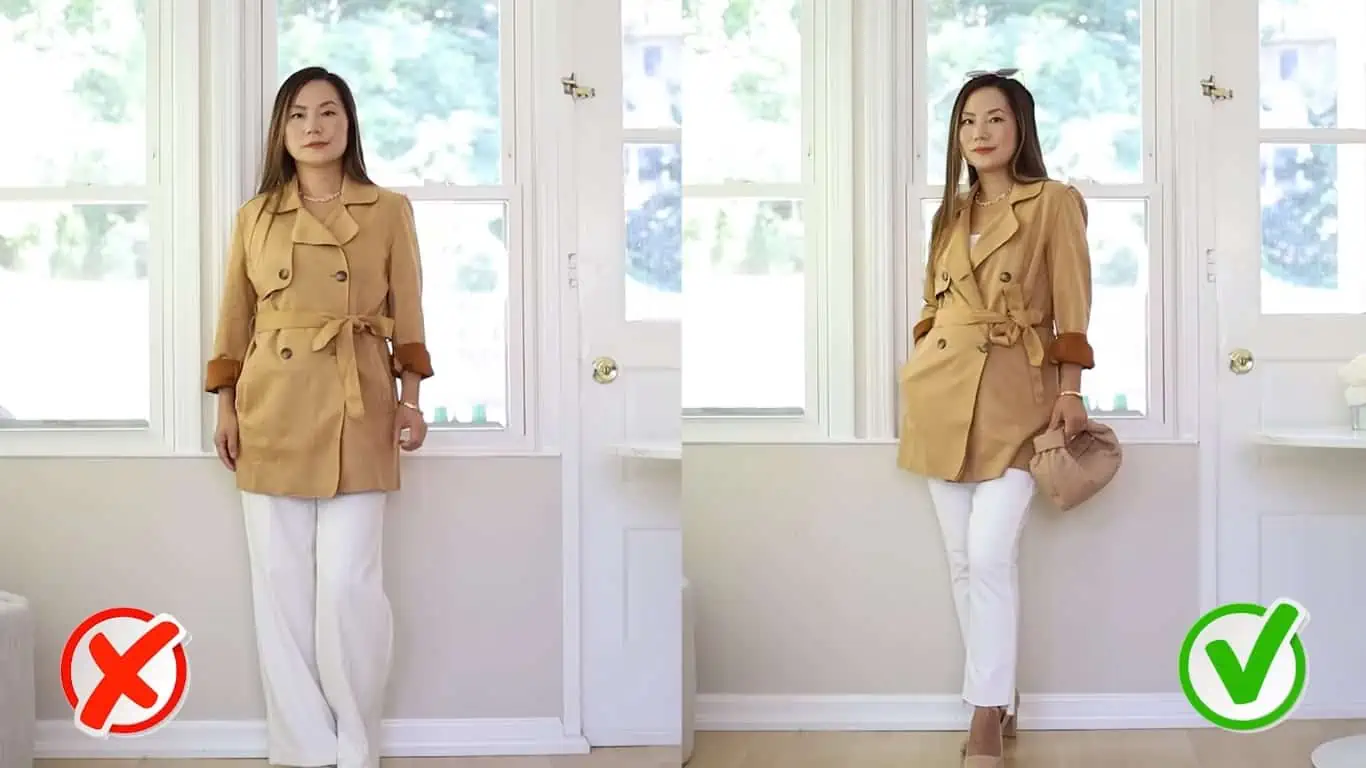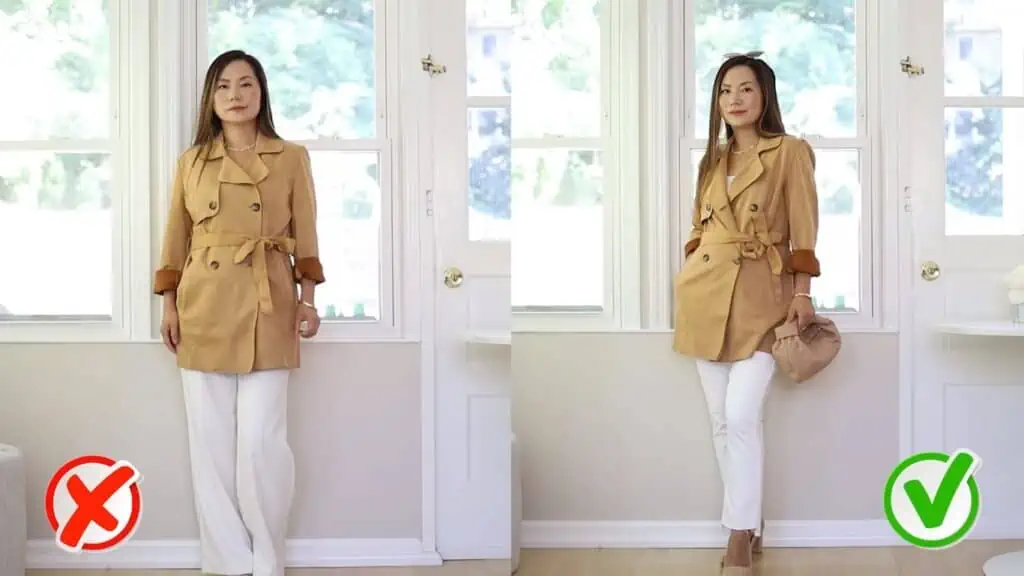 Leather and suede bring a fabulous twist to the clean canvas of white pants. Their textural richness adds an exciting and dynamic visual dimension that takes your outfit to a whole new level.
When you pair leather or suede tops with white pants, your ensemble exudes a classic quality that transcends seasonal trends. This timelessness ensures that your look remains fresh and relevant year after year.
Wear with Cropped Trench Coats
Let's talk about a winter white styling trick that's all about staying cozy and looking chic – the cropped trench coat. When it comes to layering, this little gem is your best friend.
The shorter length adds a modern twist to the classic trench, and it's perfect for pairing with your white pants. They also match very well with wide-leg white pants!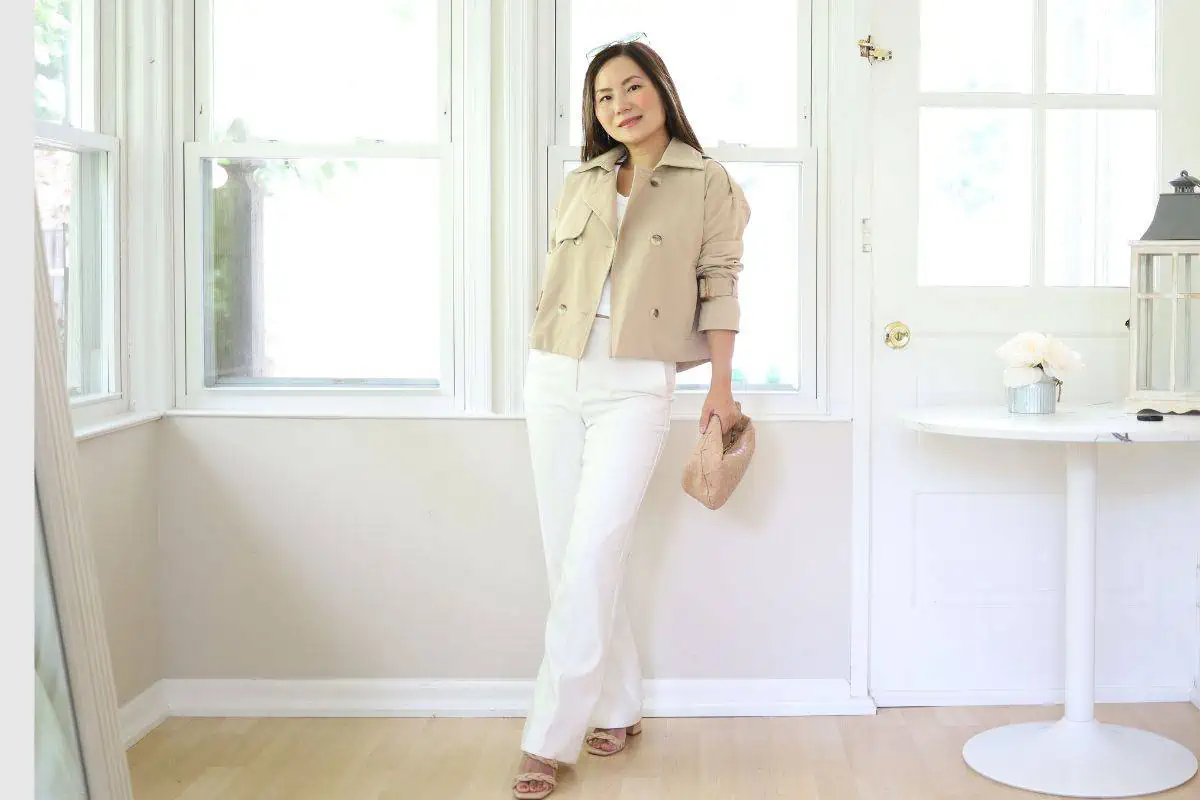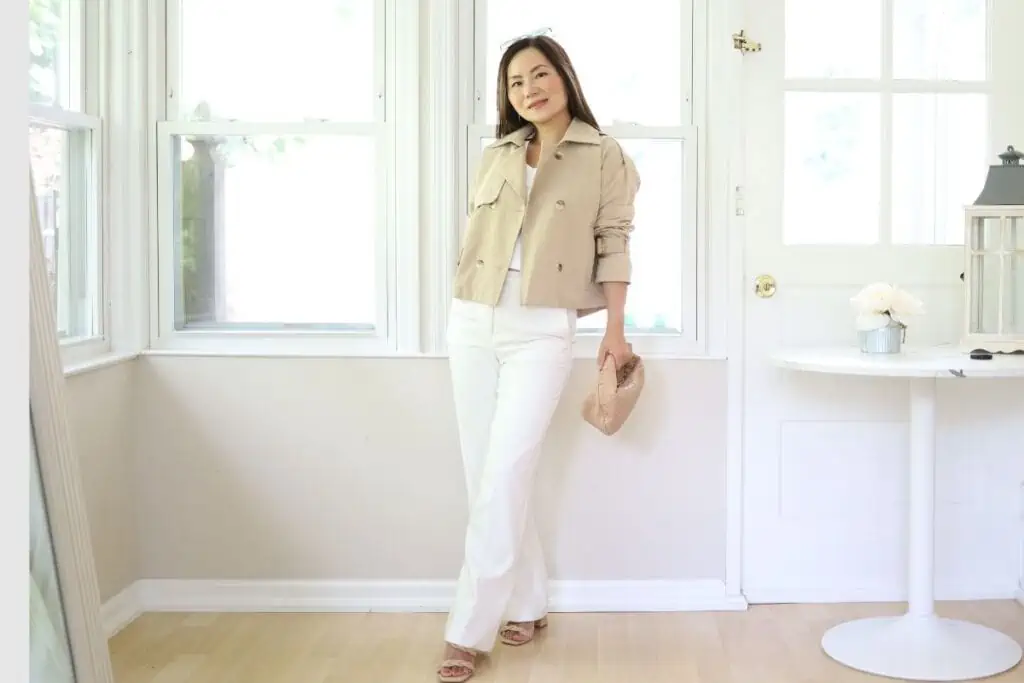 Cropped trench coats are all the rage this season, and they've truly become a fashion staple. So, whenever you're layering up with a trench coat and your white wide-leg or straight-leg pants, you're in for a double win.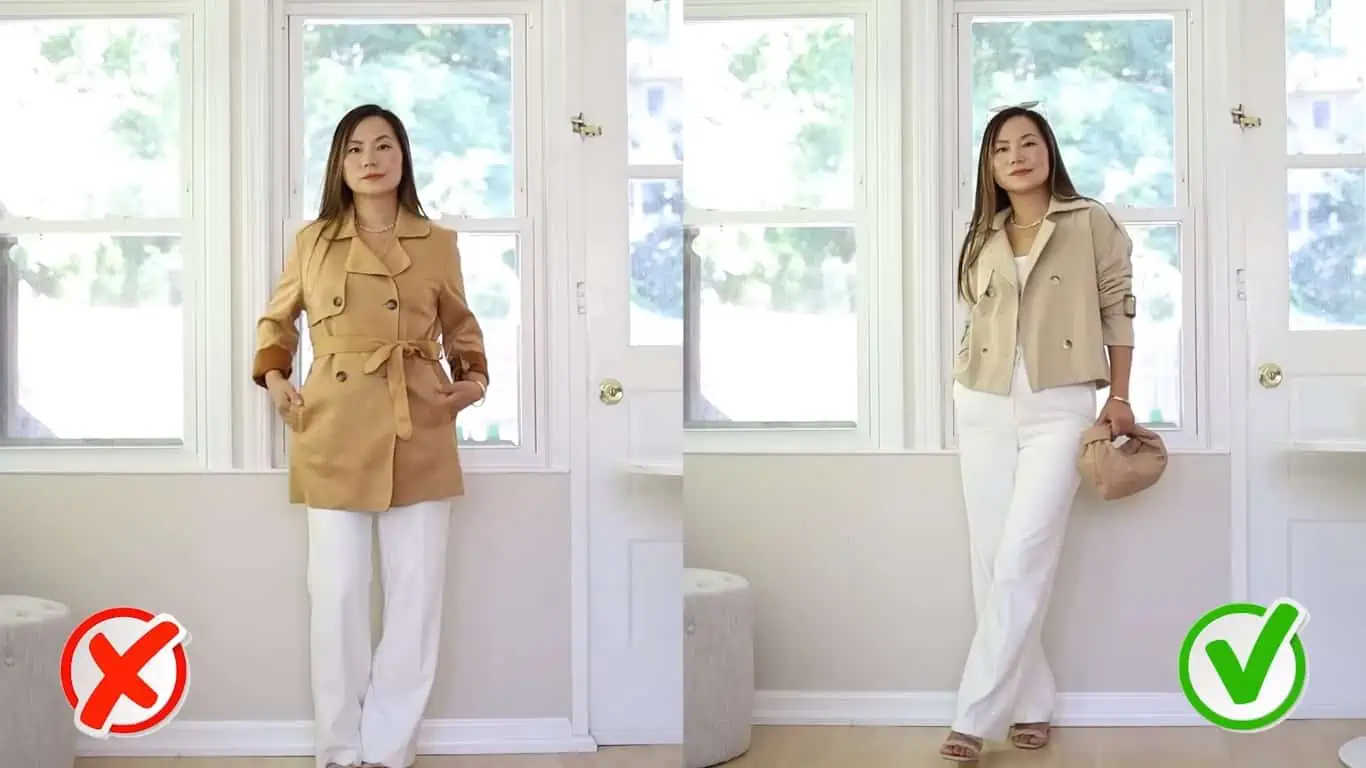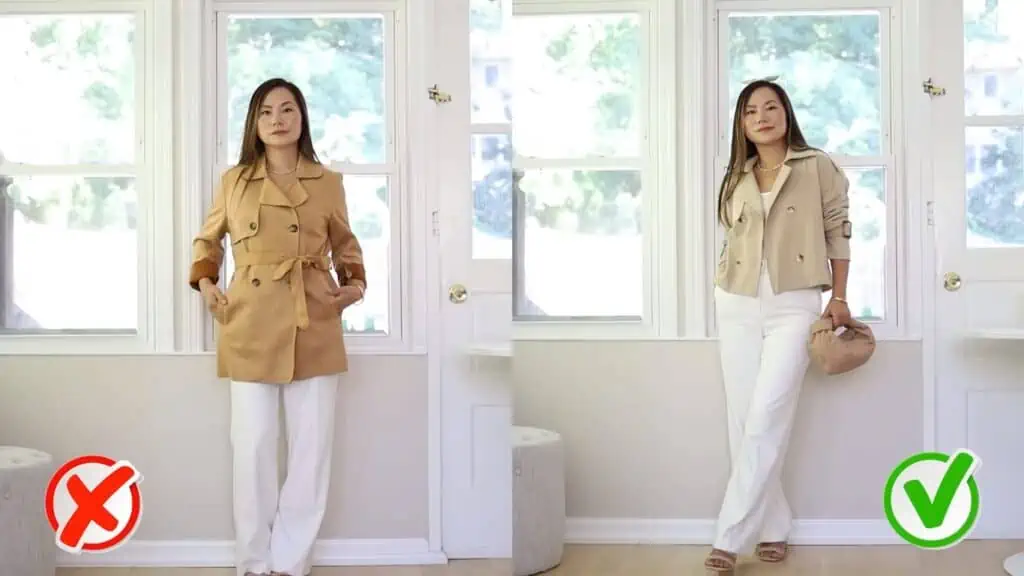 Not only do cropped trench coats make your body proportion look better, but the overall effect can also produce an exceptionally flattering silhouette. Winter whites meet cropped trench coats, and it's a match made in style heaven.
Avoid Pastel Tops
Even though pastel and white is a pretty combination, you should be cautious with in the winter.
Why? Because patels are always associated with the spring.
When you wear pastel tops with a pair of white pants, it is easy to give the impression you haven't had time to put away the clothes from last season!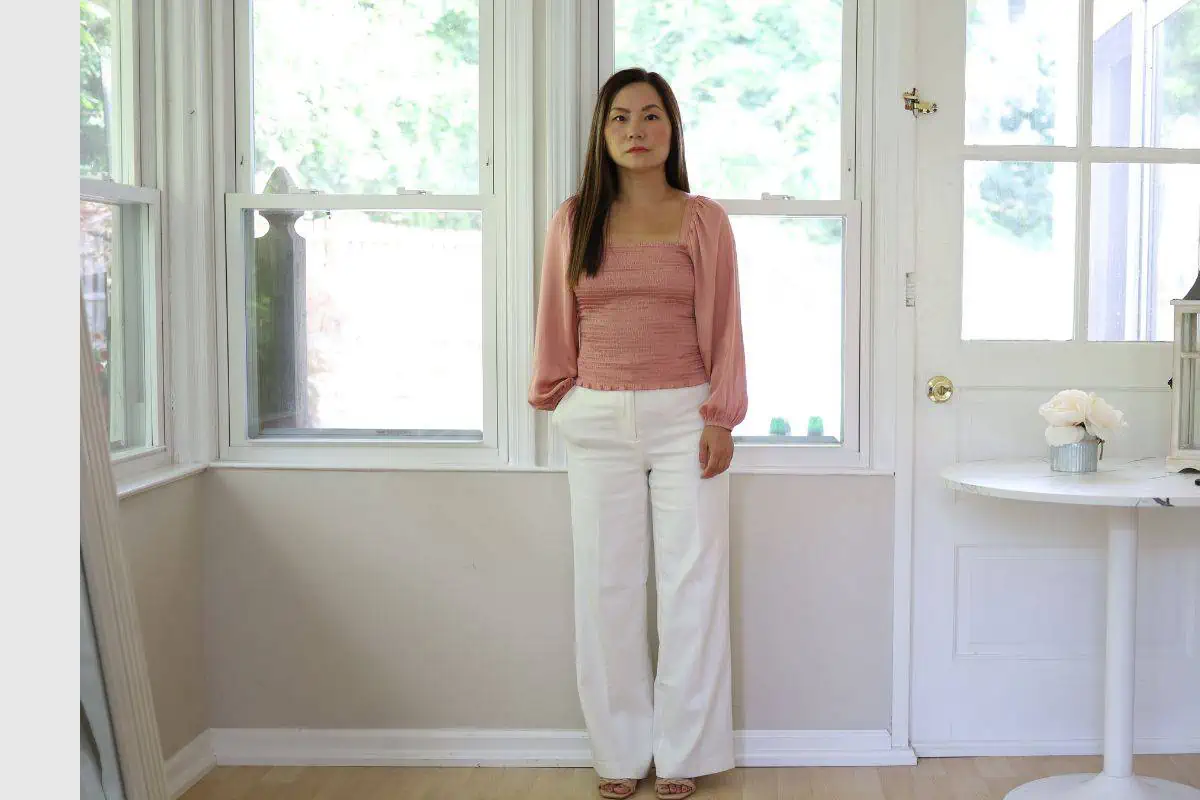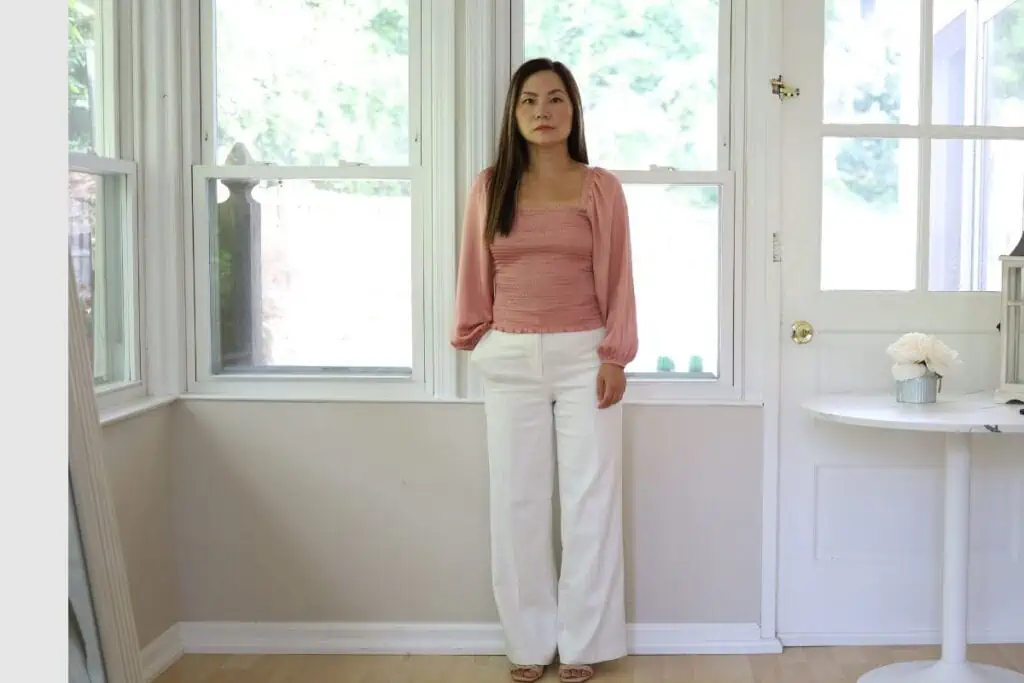 Avoid Dark Leopard Tops
Take note: Not all leopard prints go well with white pants especially for short girls like us – for instance, darker leopard prints tend to evoke a sultry, summery vibe, and this stark contrast can clash with the crisp, clean, and often neutral colors associated with fall and winter.
Once you try wearing darker leopards, you will notice that they don't play nicely with your white bottoms.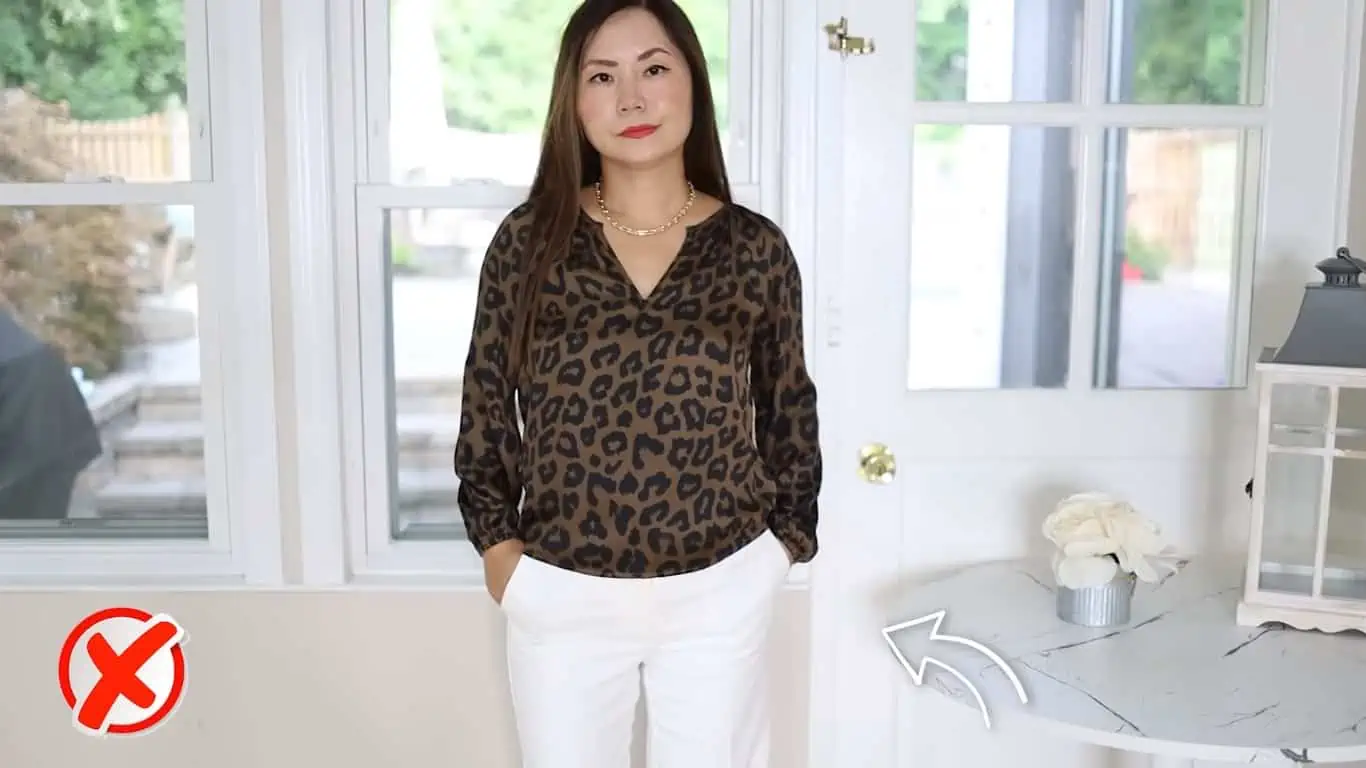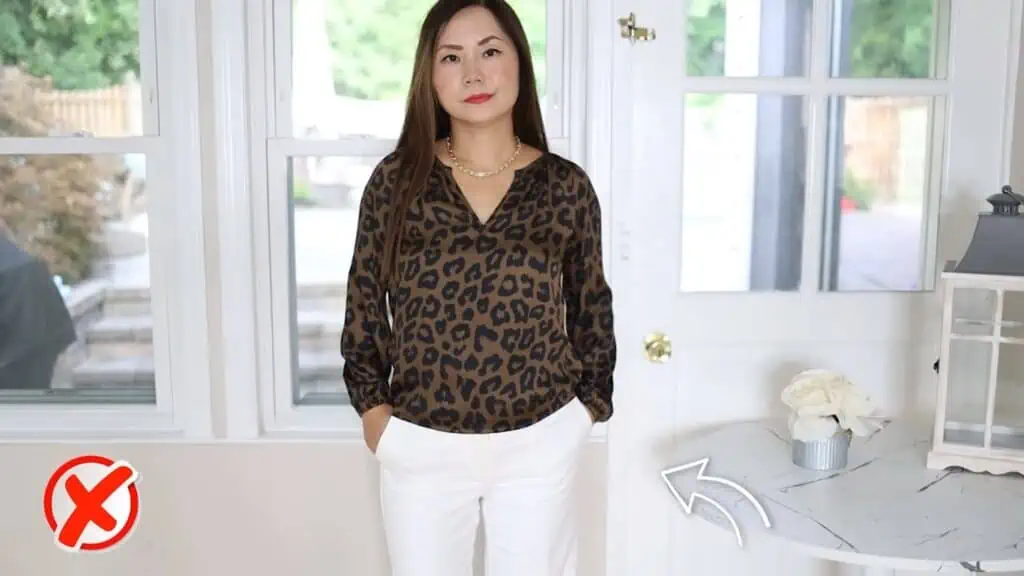 However, these lighter, more subtle leopard prints are a real game-changer. They create a harmonious and oh-so-cool partnership with your white pants, turning heads wherever you go.
Wear with Sandals
Sandals in winter – it may sound unconventional, but for me, it's still a fabulous choice, especially when your white pants are on the longer side. Here's why: When your pants are gracefully cascading over your shoes, whether it's wide-leg, straight-leg, or bootcut, sandals are a subtle detail that doesn't attract much attention.
If your pants are longer and cover most of your shoes, you can confidently rock those sandals. However, here's the twist – if you're sporting shorter white pants, especially ankle-length or cropped styles, sandals might not be your best bet – why?
Well, it's all about the vibe – sandals scream summertime, and pairing them with shorter white pants can create a bit of a seasonal identity crisis. You don't want to confuse Mother Nature, do you?
In a nutshell, sandals are a yes, but let's only save them for the longer white pants, which add a touch of casual elegance to your winter white outfit!
Wear with Nude Pumps
One pair of shoes can make or break your entire outfit during fall or winter. When it comes to styling your treasured white pants, the right shoes are your secret weapon, and let me tell you, pumps are a game-changer.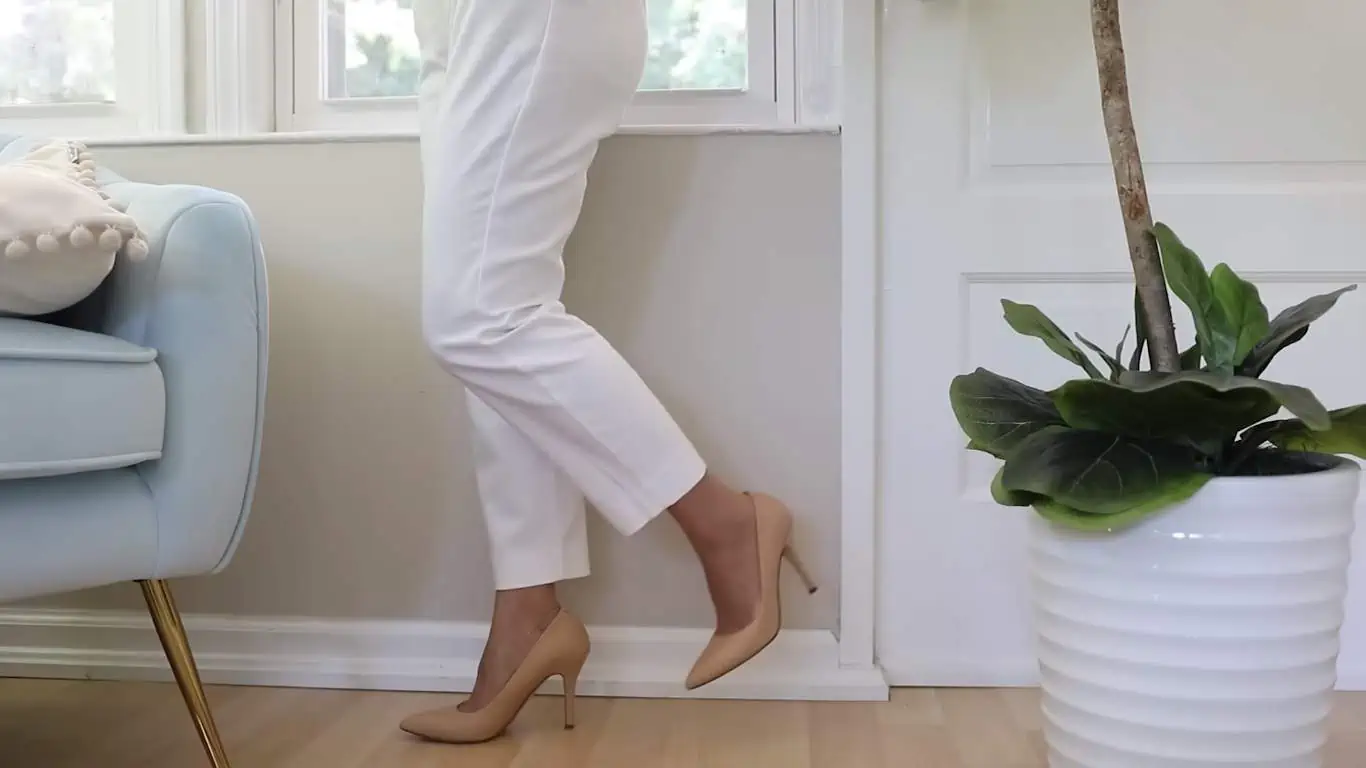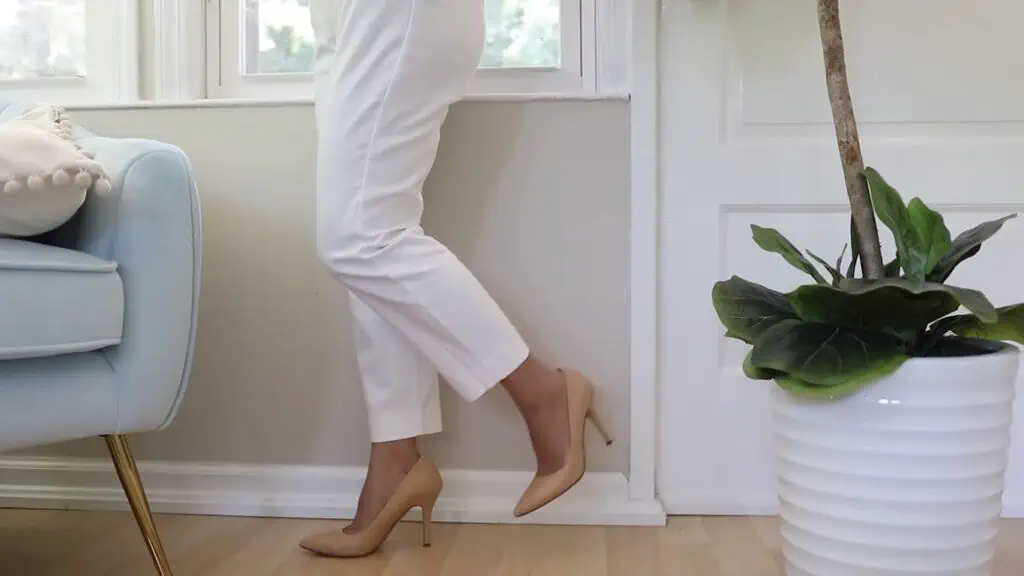 Pumps, those elegant, classic heels, are like the cherry on top of your fall or winter fashion masterpiece. They're the unsung heroes that seamlessly complement your white pants in the most delightful way.
Indeed, when you slip into a pair of long white pants with pumps, even if the heel is only on the modest side, it's like a major visual trick – suddenly, your legs seem to stretch on forever, giving you that taller and leaner look. Furthermore, pumps have this sleek and streamlined design that perfectly matches the clean and crisp vibe of white pants.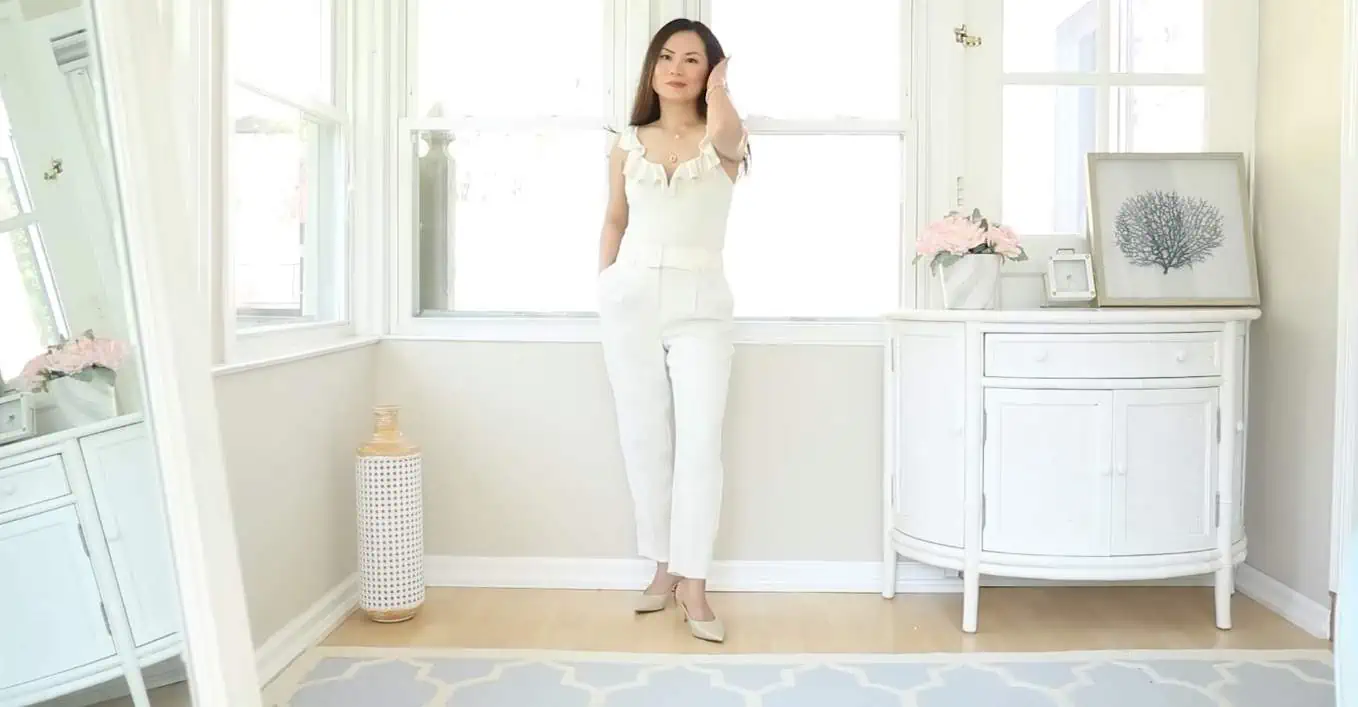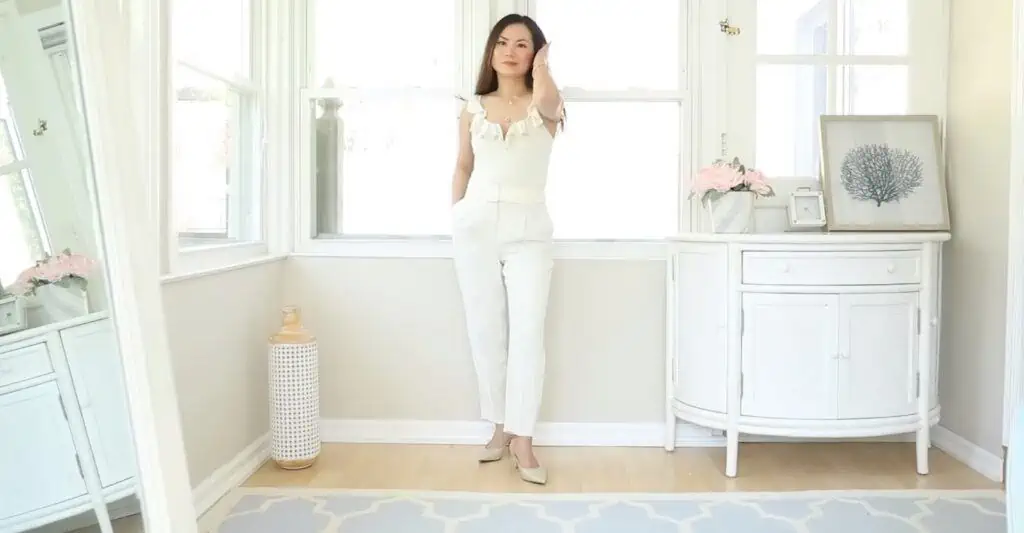 But to totally flaunt those pumps with your pants, here's the key: opt for nude or beige-colored pumps, and never – I mean, never – go for black. Black pumps with white pants can create a visually unflattering, bottom-heavy illusion, especially if, like me, you're on the shorter side.