Burgundy pants have been around for a while, and have recently grown further into a wardrobe staple. The color is quickly becoming the new neutral, which would explain why more and more pieces are coming in the color. Burgundy pants have become a must-have, because warm colors like burgundy work wonderfully as an addition to the neutral shades in your closet.
Here is some of the best outfit ideas on what to wear with burgundy pants:
With sweater top
A sweater top is a great wardrobe piece to have, since it's lighter than an actual sweater but is equally cute. You can wear a sweater top with a pair of burgundy pants for a nice cozy look.
Sweater top with burgundy pants is an outfit suitable for wearing even on some warmer days of fall. They are cozy and come in a lot of amazing colors that you probably already love.
Tailored dress pants will look more dressed up with a sweater top, while burgundy leggings or faux leather fabric will give a more casual feel. If you want to add a feminine touch to this look, wear a pair of heels.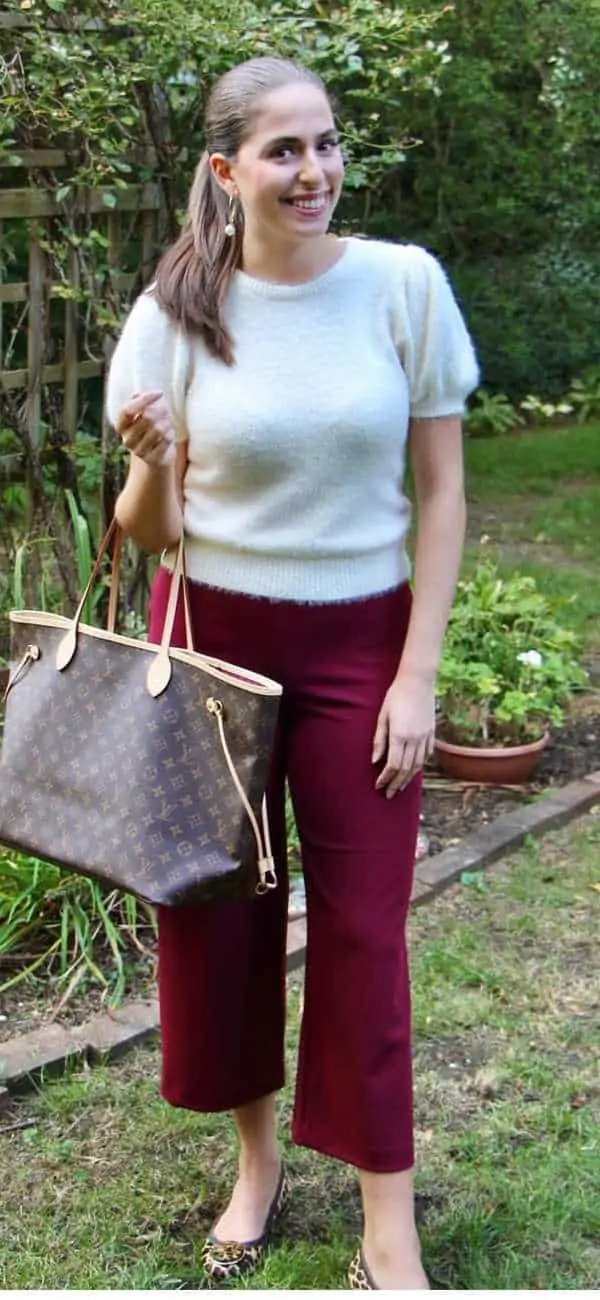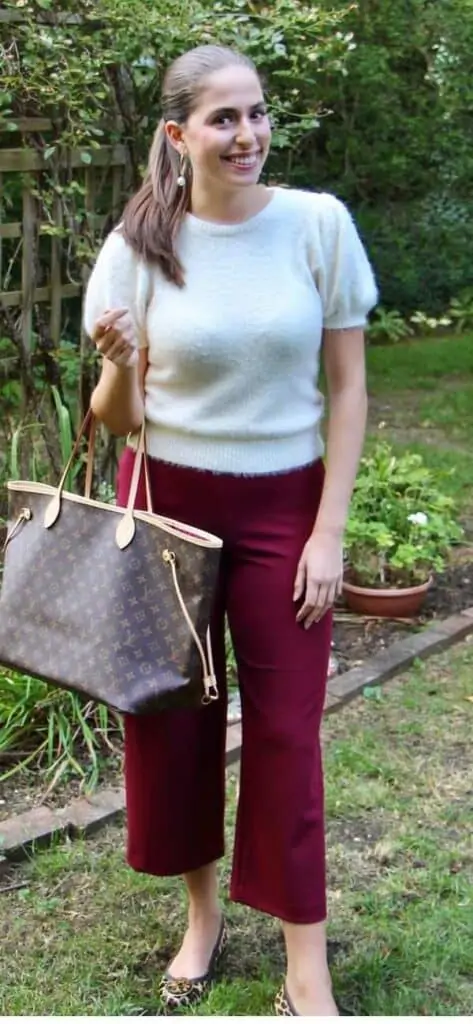 Elizabeth (above) styled her cropped burgundy pants with a simple, short-sleeve sweater top and went for some leopard print shoes.
As long as your sweater top and the pants are plain, you can play around with prints when it comes to shoes and accessories.
With an off-the-shoulder top
If you have a pair of burgundy pants, you could style them with an off-the-shoulder top. Of course, every woman needs to have a stylish top in their closet. They come in handy when you want to step out looking classy and fabulous. Off-the-shoulder is one of the most flattering necklines that can work on any body type.
Not only this outfit can give the that dressed up look, it also can make you feel feminine and will give you a confidence boost.  The best part is off the shoulder top can not only elongate your neck, but also balance out narrow shoulders, and highlight your collar bones.
The thing about such tops is that even if you pick a casual shoe, you still end up looking all dressed up.
This look is especially flattering, if you happen to have pear body shape, because the off-the-shoulder neckline creates a horizontal line to balance out the wider hips.
With a blouse
Of course, you want to invest in a blouse if you just love looking like a lady or have a thing for an outfit with a preppy feel. Wearing your burgundy pants with a blouse tucked into them will give you that great clean silhouette.
Blouses, aside from working so well for the office, can also be worn with more casual pieces like different types of jeans, and to more laid back places.
You'll look smart and classy in an effortless way. If your burgundy pants are simple, you could go for a statement blouse with a bow or ruffles.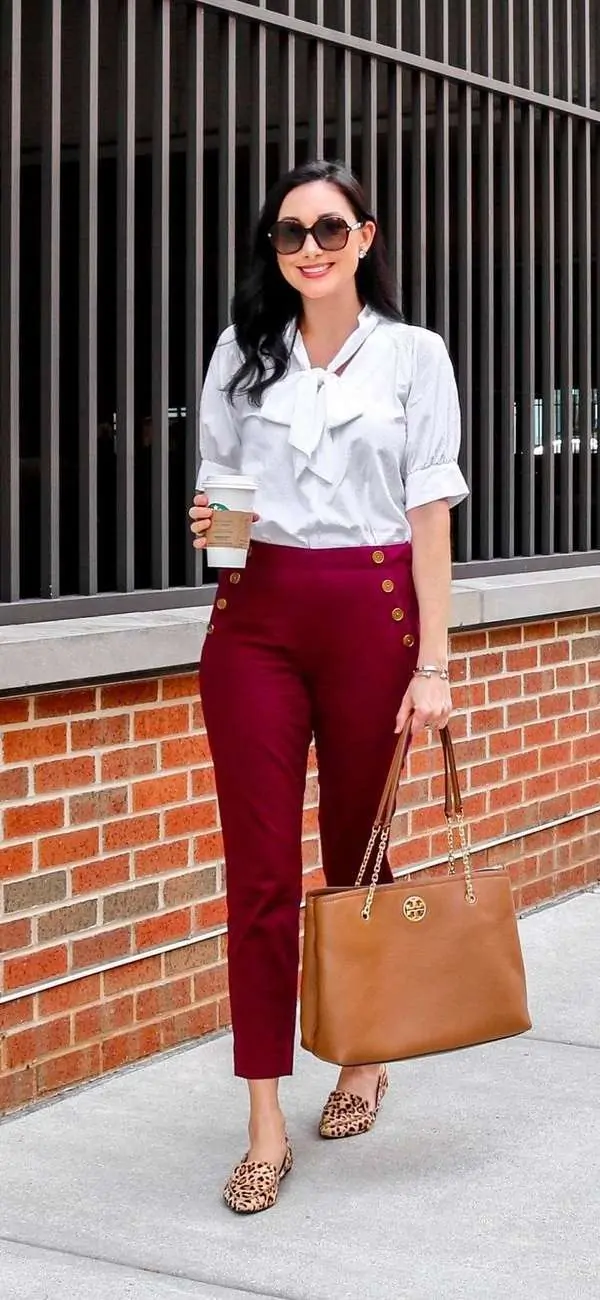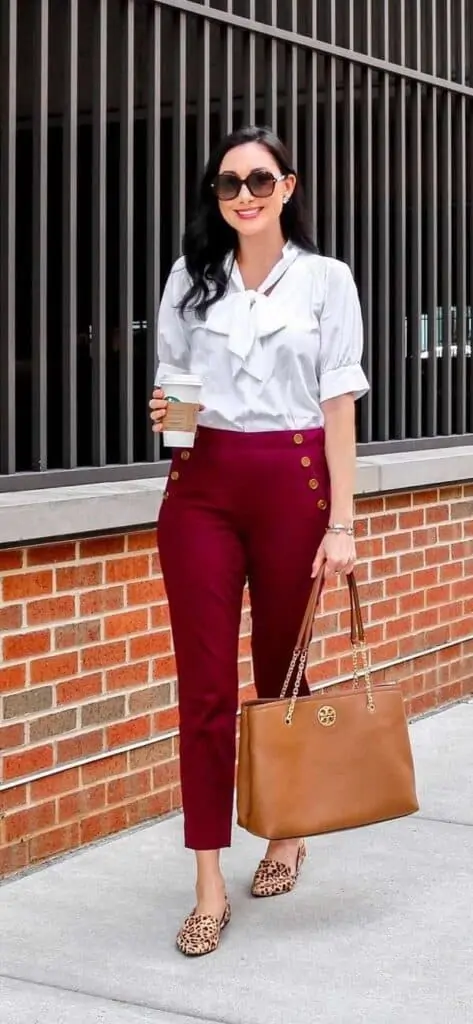 Taryn (above) styled her blouse with a pair of tailored burgundy pants and some simple loafers.
Your burgundy pants could have embellishments such as buttons or zippers even if they are simple, just to give them some extra pop.
With a puffer jacket
You can wear your burgundy pants with a puffer jacket too. Puffer jackets are one of the best winter coats for women because they are nice and fluffy and keep you warm especially in the coldest winter months. While they may be big and take up a lot of space, they can also be very stylish when worn right.
Just make sure you go with a jacket whose color coordinates well with the pants. It's also worth picking slimmer burgundy pants or even skinny ones to give your outfit balance, especially if you're petite.
If you're not too sure about the color of the puffer jacket to go for, you can pick a burgundy one for a monochromatic look.
With a denim shirt
Denim shirts can be paired with burgundy pants too. Denim shirts are some of the easiest wardrobe pieces to wear. The fact that they come in denim material as the name suggests makes them flattering for any figure and versatile too.
The light blue denim wash ones particularly give a great contrast to the burgundy color and with this pairing you are not limited to casual burgundy pants. You can go for the more tailored ones.
Tucking in the shirt or folding the front into a knot gives you a more stylish silhouette since the pants are wide-legged.
With a cardigan
Cardigans can go well with burgundy pants too. Long gone are the days when cardigans were considered fit for just teachers and students. In fact, they have evolved from simple styles to many designs, and trendsetters are wearing them in the most stylish ways.
Whether you choose a long cardigan or a short one, as long as you wear a top or tee that coordinates with your pants underneath, you're good to go.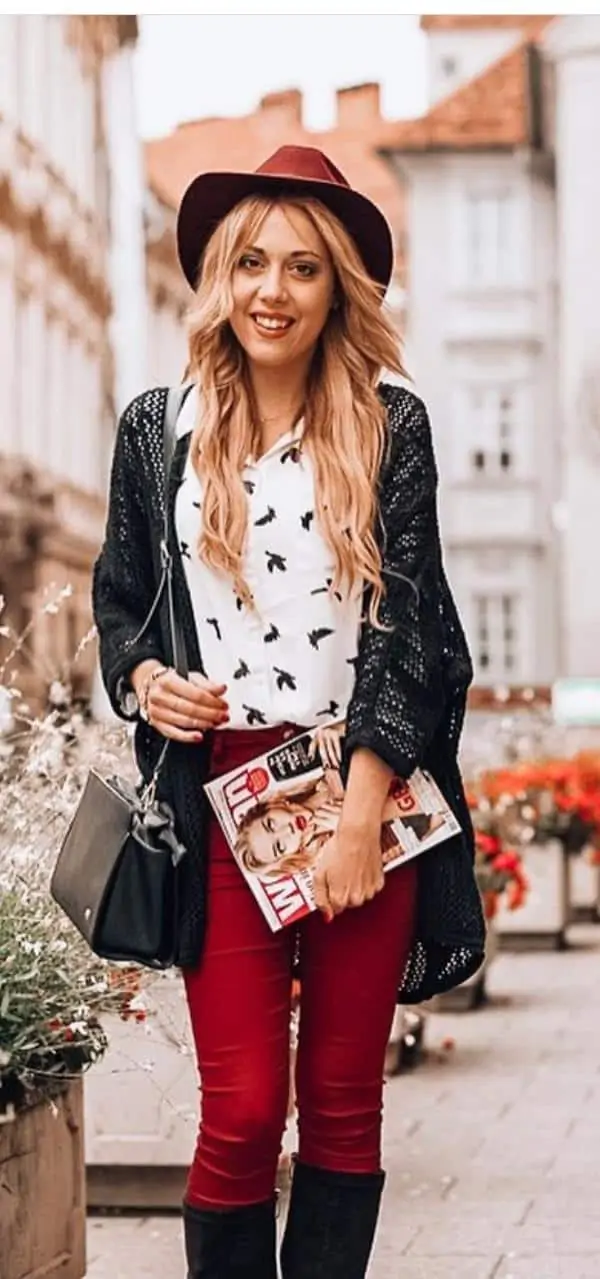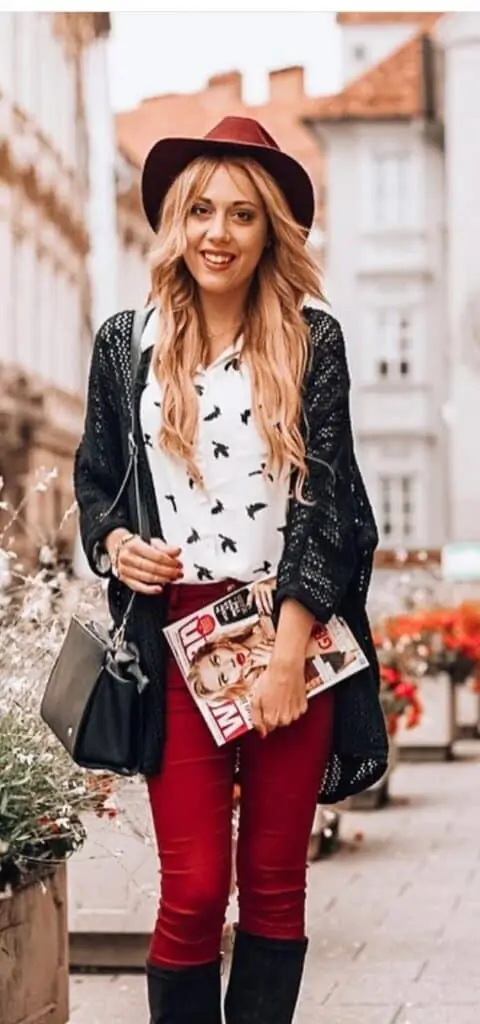 Lisa (above) styled her burgundy skinny pants with a printed top, a black cardigan, and some tall boots.
Burgundy pants go so well with subtle prints so as long as your cardigan is plain you can wear a slightly printed top underneath.
With a faux fur vest
If you're looking for the easiest way to make an outfit more chic and elevated, then faux fur is your best bet. Styling burgundy pants in the fall with a faux fur vest will make you look fashion week ready.
Faux fur vests are great not just because are trendy and very chic. This outfit is also very functional because they keep you warm, a perfect look for the transition weather when you are wondering what to wear in 60 degree weather.
This is an outfit you can have a lot of fun with, especially because faux fur is a look that commonly features during such high fashion events or calendars.
With this pairing, you can accessorize with printed belts, bold sunglasses, and even statement shoes.
With a crop top
You could go for a flared pair of burgundy pants and wear them with a crop top. Crop tops are an amazing option, especially for those women who don't mind showing just a peak of skin. They can be fun but if you want a classy look, you can go for a loose fitted, sleeved crop top.
You do not need 25 inch waist in order to look good in this outfit. If you have midsection concern, and you like the idea of extra height, you can pick high waisted flared pants.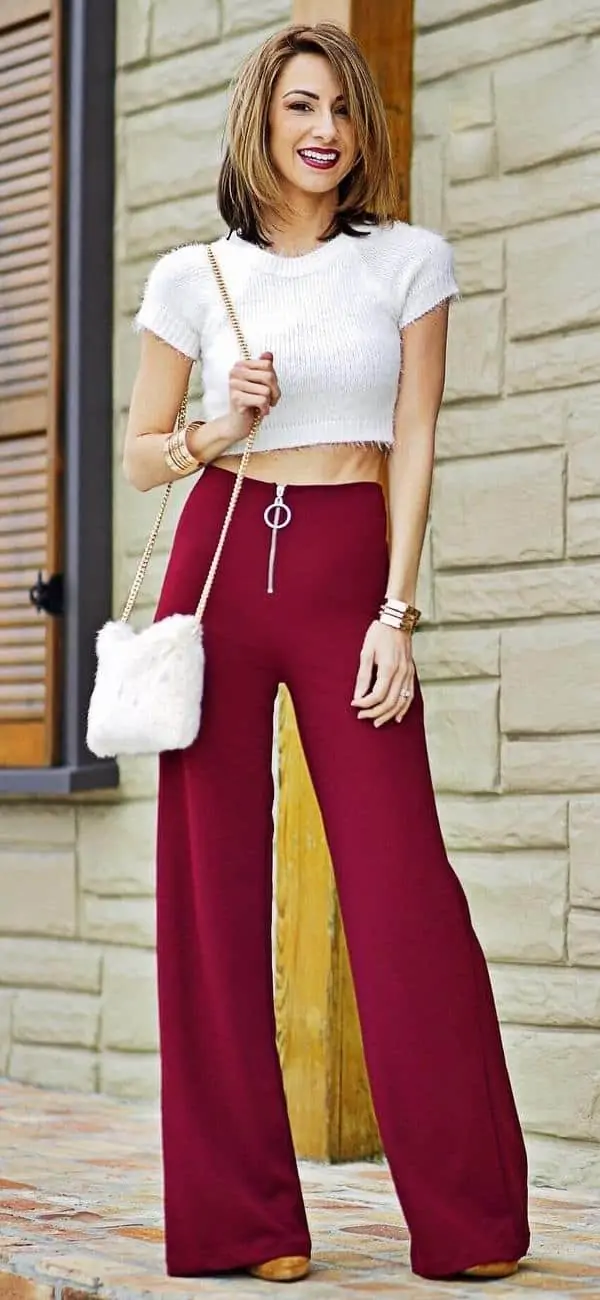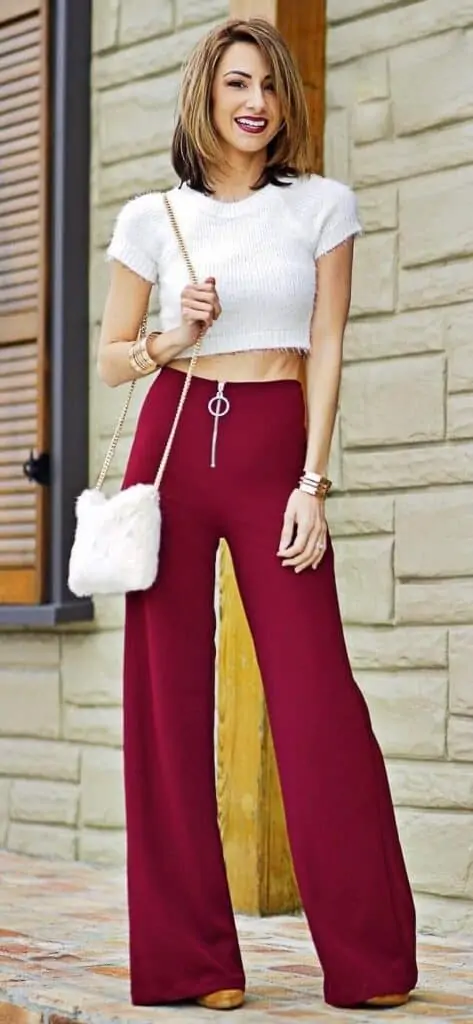 Michelle (above) wore a flared pair of burgundy pants with her simple short sleeve crop top. It's a look that works for different ages especially because both the crop top and the pants are not figure-hugging.
With a blazer
A great way to dress up your burgundy pants is to style them with a blazer. Blazers are perhaps the best items for those looking to achieve a smart outfit for the office, or just an all dressed up look on a random day. They come in different types and colors and regardless of your size, you can get a blazer best suited for you.
A black one in particular gives your look more character as it adds to it a touch of power. Completing this pairing especially if your burgundy pants are flared with some heels will have you looking like you run the world.
With a message t-shirt
Grabbing a simple white message t-shirt and pairing it with a casual pair of burgundy pants gives you an effortless casual look. Of course, a t-shirt is everyone's go-to especially if you're after a laid-back look because they are so easy to style. A message t-shirt in particular allows you to express yourself through the very few words on your t-shirt.
You can complete the outfit with a simple pair of sneakers although a pair of heels would also go well with the look.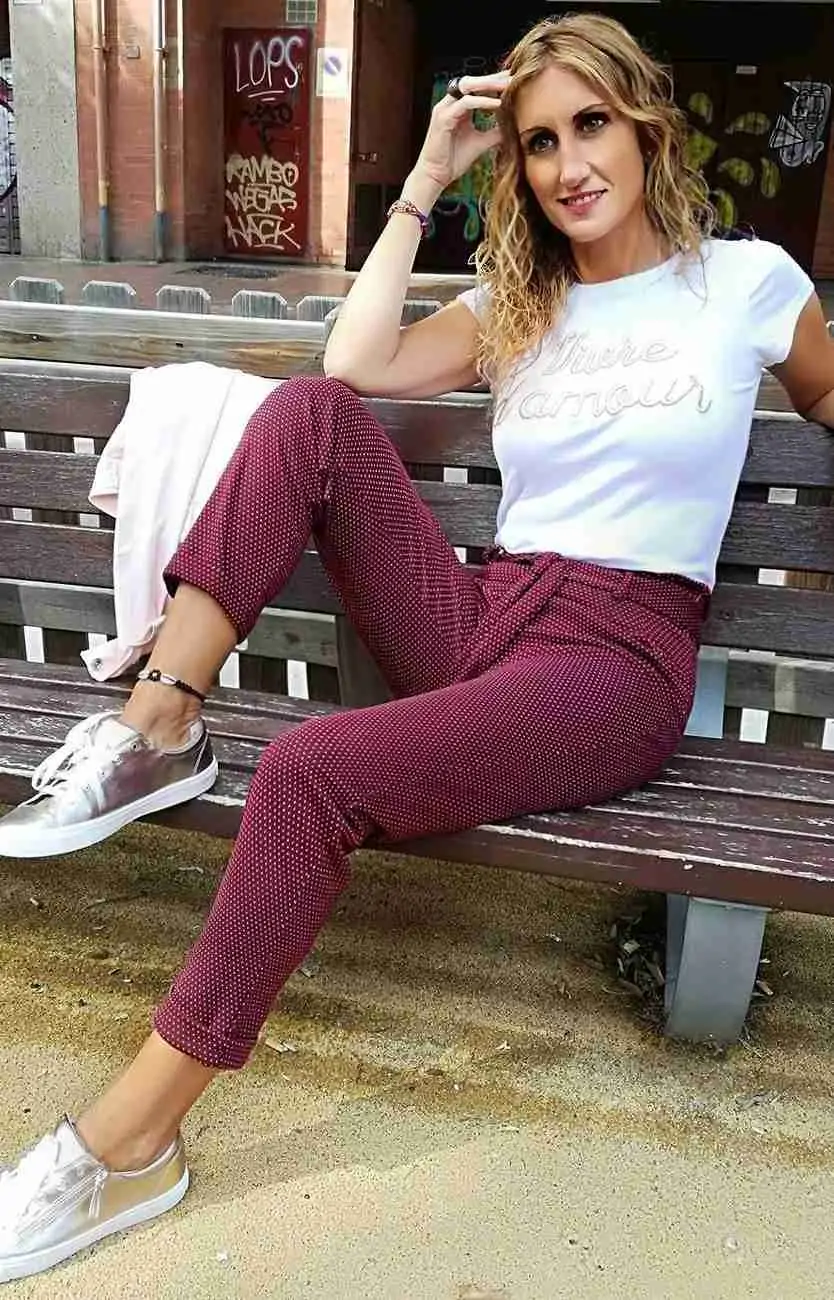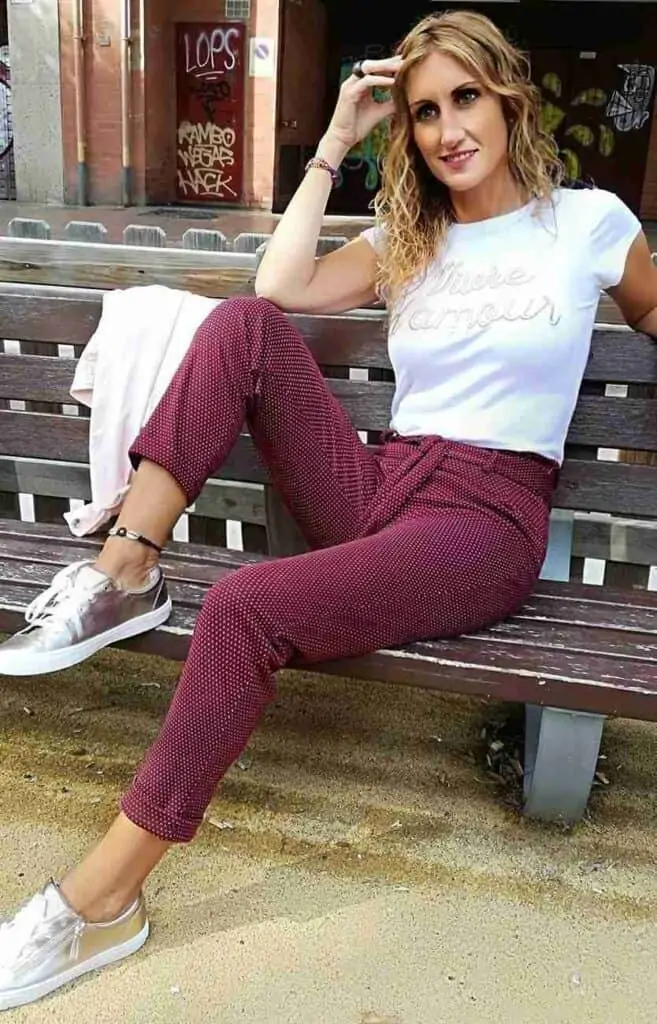 Sonia (above) styled her burgundy pants with a white message t-shirt and some silver sneakers. In case you want to look dressier but with your message t-shirt, you could swap the casual burgundy pants with a more tailored pair of burgundy pants.
From these outfits, it's easy to understand why burgundy is sort of the new neutral and why you need to get a pair of burgundy pants if not a few in different styles. They are highly versatile.