Chelsea boots is a staple for the fall and winter. They can help create a unique and chic outfit, or a cool casual look, a must have for every fashion lover out there. Not only do they look trendy and modern but they also look elegant and classy at the same time.
Chelsea boots are available in different materials such as suede, leather and in different prints too. Like any other ankle boots, they also come in different toe shape designs. The most flattering are those with pointy toe, which have the best leg elongating effect and create the most feminine and polished outfits.. Here are some of the best ideas on what to wear with Chelsea boots:
With a shift dress
A shift dress is one of your best bets when you are planning on stepping out looking great but still want to be comfortable while you're at it. A great styling idea would be to complete a shift dress look with a pair of Chelsea boots.
Shift dress fits every body type and it helps that it's not supposed to be figure-hugging, so it hides a lot of flaws and gives you that extra confidence.
Since these boots are often made very comfortable, you'll be ready to run around all day effortlessly in this outfit combination.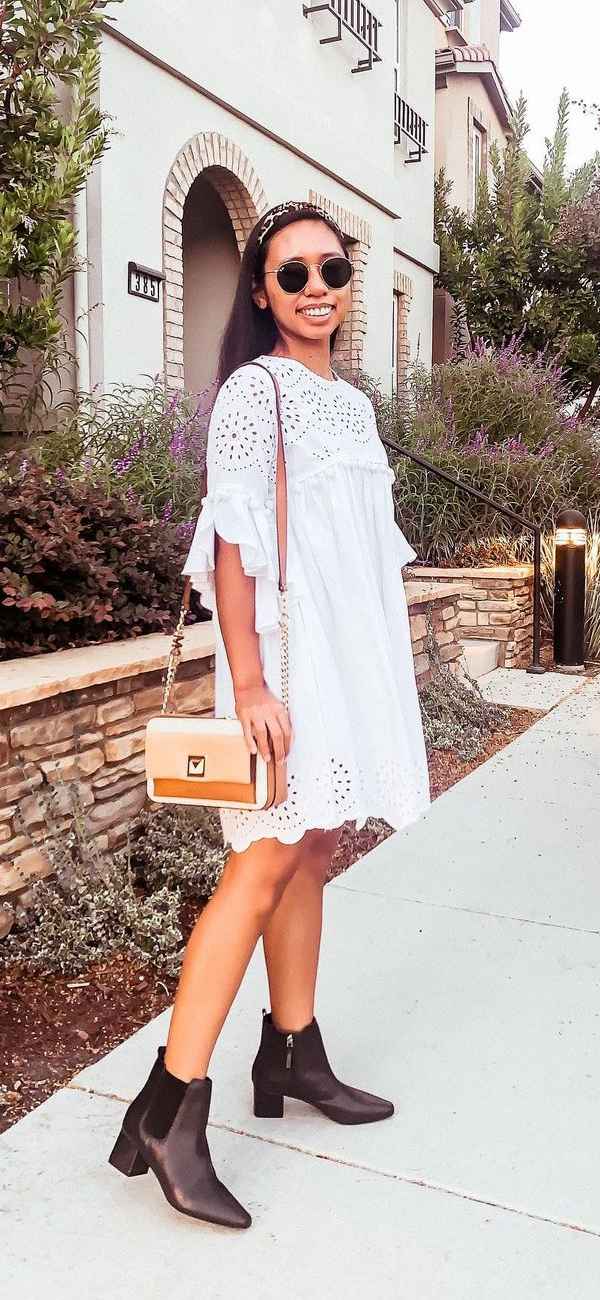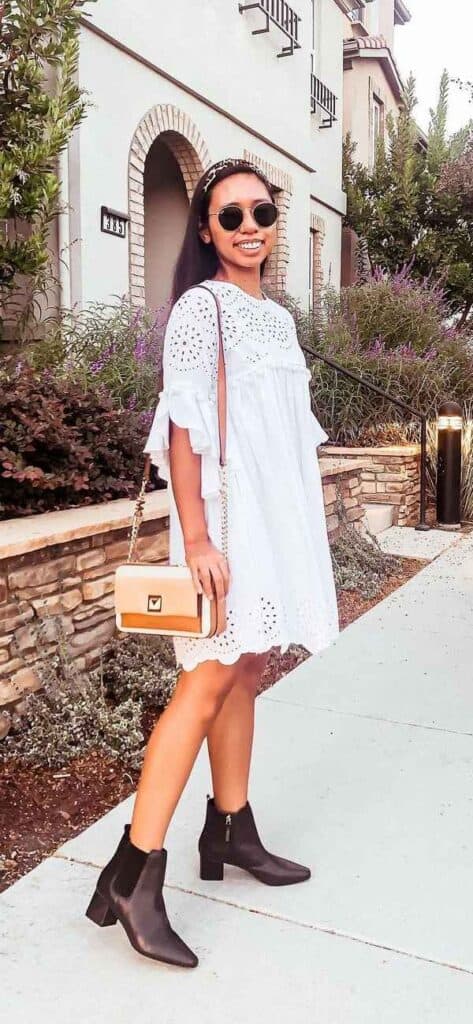 Anne(above) styled her Chelsea boots with a white shift dress. It's a nice, simple combination of black and white which never goes wrong. Wearing such an outfit allows you to add a pop of color with your bag or the accessories you go for.
With a midi skirt
You could really style your midi skirts with so many types of shoes out there, but styling it with Chelsea boots is a great way to make your outfit look easy.
Wearing a midi skirt is a great way of looking nice and chic. The skirt is of a decent length that doesn't show too much skin, but at the same time, allows a peak of it to show since it doesn't reach your ankles.
Plain Chelsea boots allow you to wear printed midis as well as plain ones so it's just a matter of preference.
With a sweater dress
Sweater dresses are for sure the most comfortable and warmest dresses you can get, and the best part is that they come in different lengths, colors, and designs. Styling them with Chelsea boots will ensure you remain warm and trendy at the same time.
Sweater dress with Chelsea boots outfit is so cozy and will make you feel like you want to snuggle up already. You'll be able to wear this look to a number of places depending on the type of sweater you choose.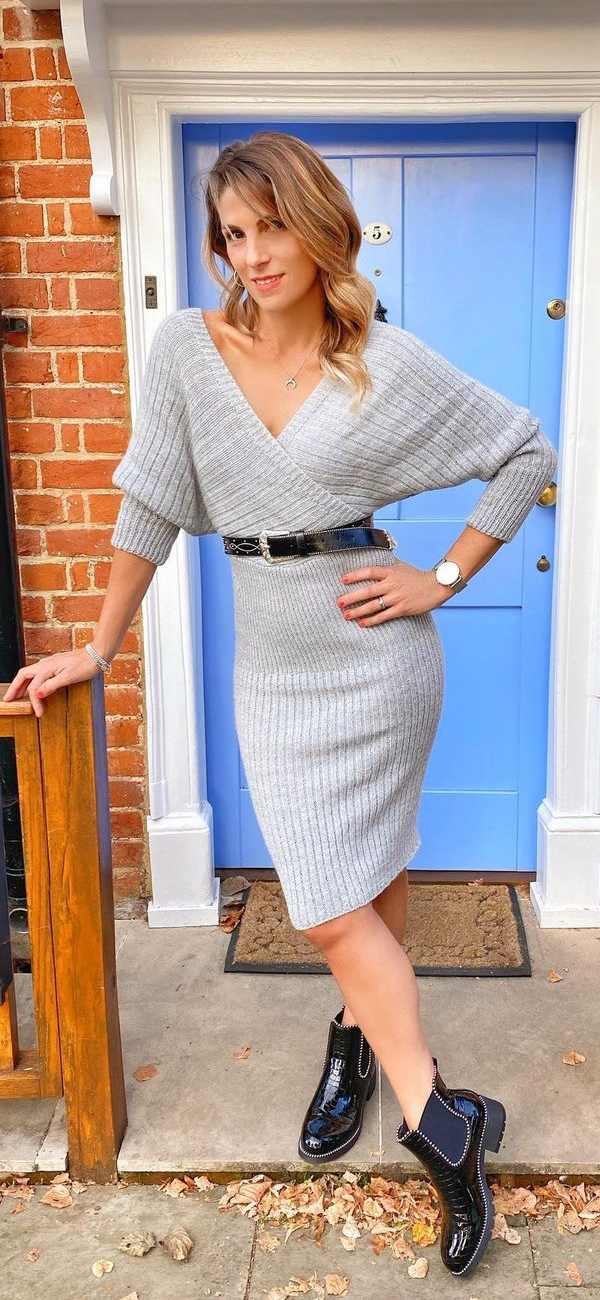 Hel (above) styled her grey sweater dress with a pair of black Chelsea boots.
A knee-length figure-hugging sweater dress such as this one is suitable for just about any environment from an office to a party, a date to church, you name it.
With a jumpsuit
Did you know that you can also wear your jumpsuit with Chelsea boots?
Jumpsuits are very easy to style especially because just like a dress, they come as one piece. So you really don't have to think too hard about what to pair them with.
Not the most obvious or common combination but it works so well.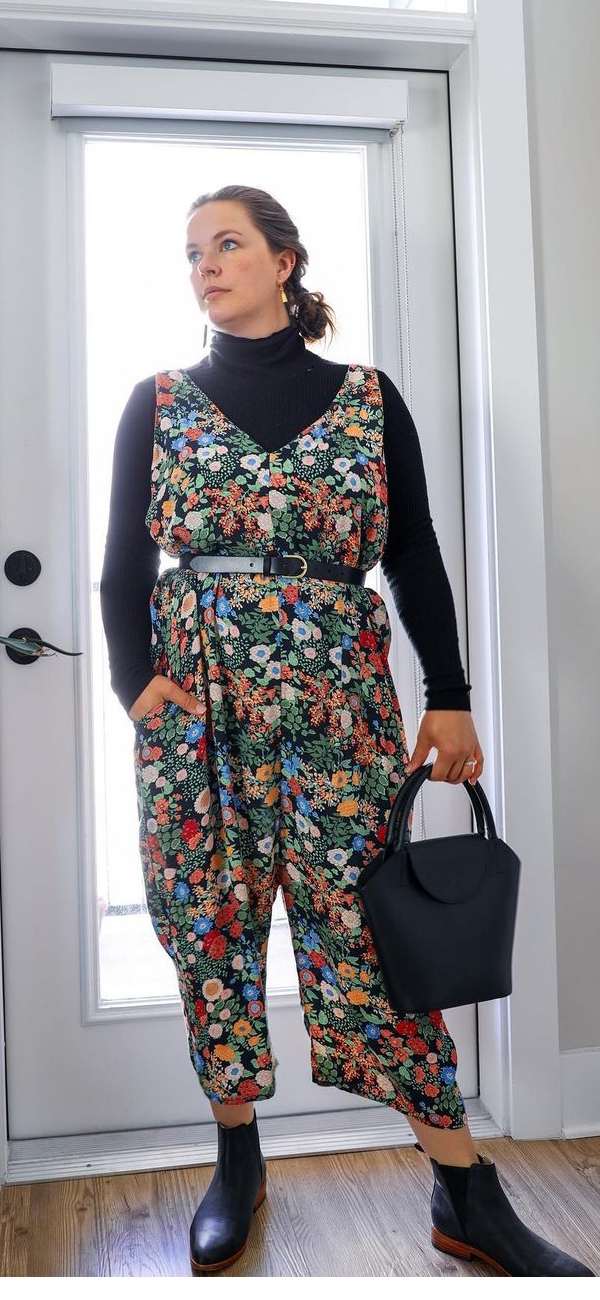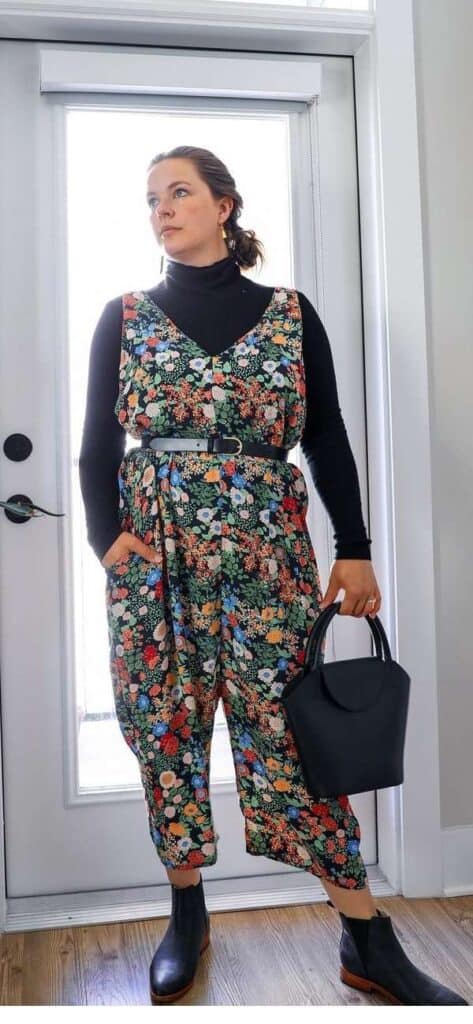 Addie (above) styled her floral jumpsuit with some Chelsea boots and a nice structured bag. She decided to layer a turtleneck underneath, which is a good way to go if you feel a bit cold or want to make a printed jumpsuit look more subtle.
When your jumpsuit has a loud print, Chelsea boots tone it down perfectly.
With an over coat
You can wear your Chelsea boots with literally any outfit and throw an over coat over it to make a statement.
When the weather turns chilly, we all need a winter coat to keep us warm, so that we can wear the chic outfits underneath despite the colder weather. Regardless of the type of coat you choose, it can take an outfit a step higher and the best part is, it does so ever so effortlessly.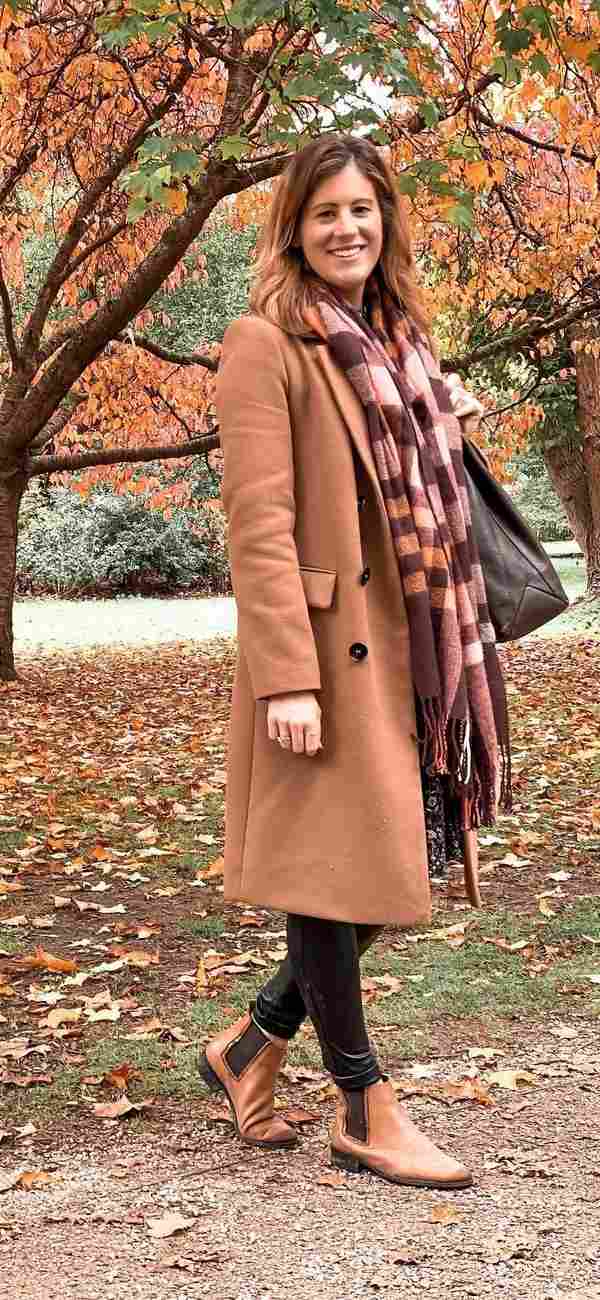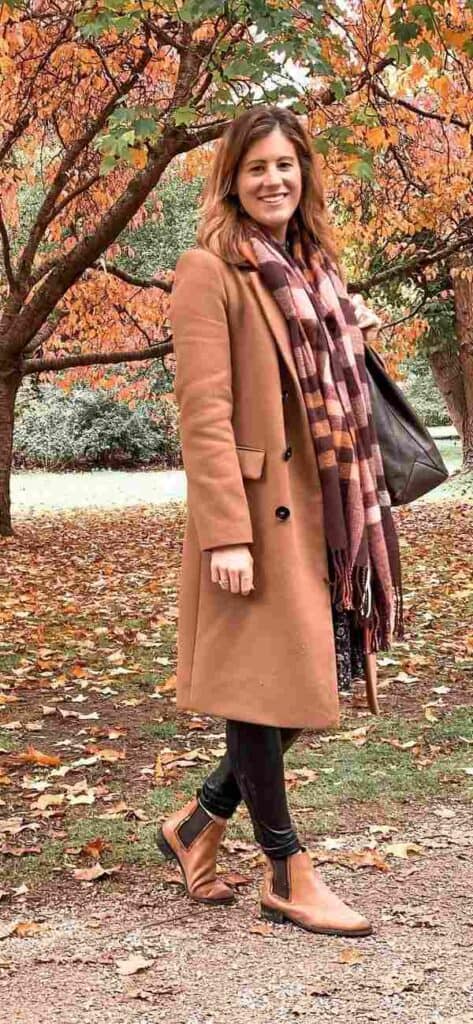 Sarah (above) styled her Chelsea boots with some pants then threw over a long brown coat that matches the shoes.
It's really a great direction to go especially on those days when you feel like your dress or skirt is too short or if you feel like your leggings or pants are too tight but you need some kind of "back-up" despite wanting them to be seen.
With mom jeans
Mom jeans were very popular back in the 90s but have in recent years made their way back into fashion and look very trendy. Mom jeans can be paired with some Chelsea boots to give you that nice, laid-back yet edgy look.
They give you that model-off-duty look perhaps because most of the time it's the high fashion models such as Kendall Jenner and Gigi Hadid who are photographed wearing such.
They are a nice breather from your ordinary sneakers or normal ankle boots that are often preferred when wearing mom jeans.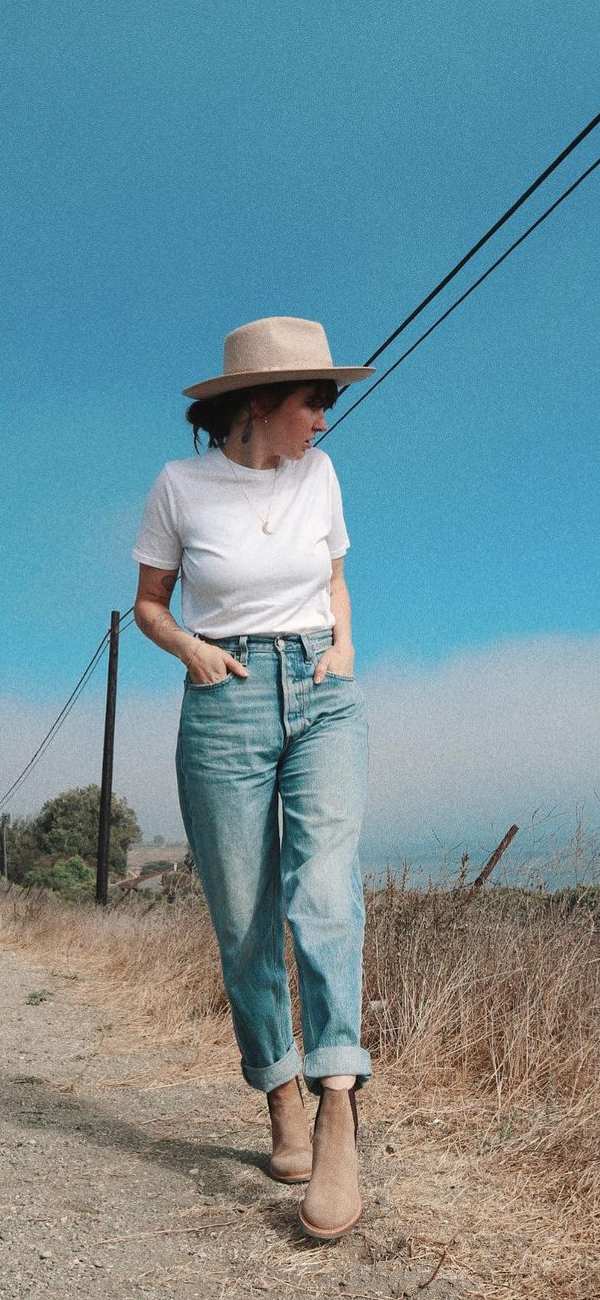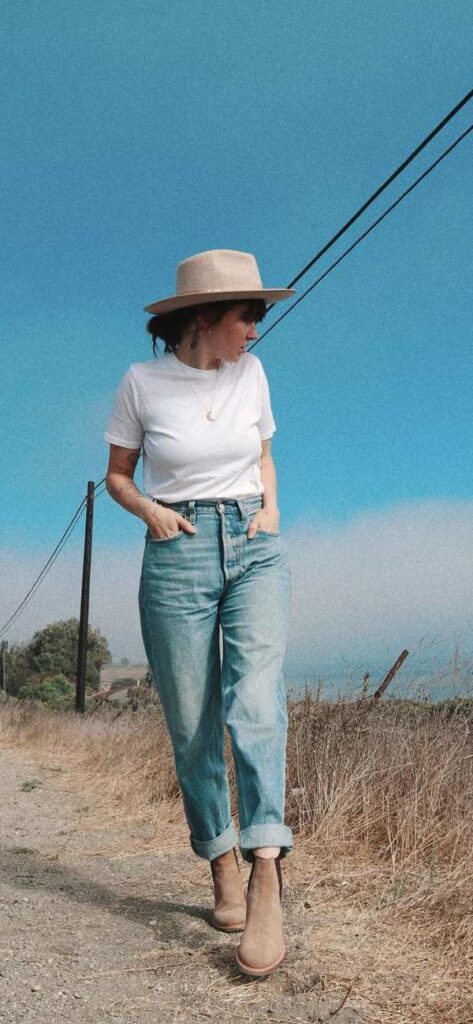 Nixie (above) styled her brown Chelsea boots with a simple white tee tucked into her mom jeans. This is the kind of look to go for if you want to elevate your simple everyday style.
With an asymmetrical dress
Adding an interesting pair of footwear such as the Chelsea boot to a dress with asymmetrical hem makes your outfit look unique. An asymmetrical dress can come in different lengths. It could be a shorter one or a longer one but it's the uneven hemline that makes it so stylish and interesting.
This is an outfit not a lot of people would think of, but they can be quite flattering.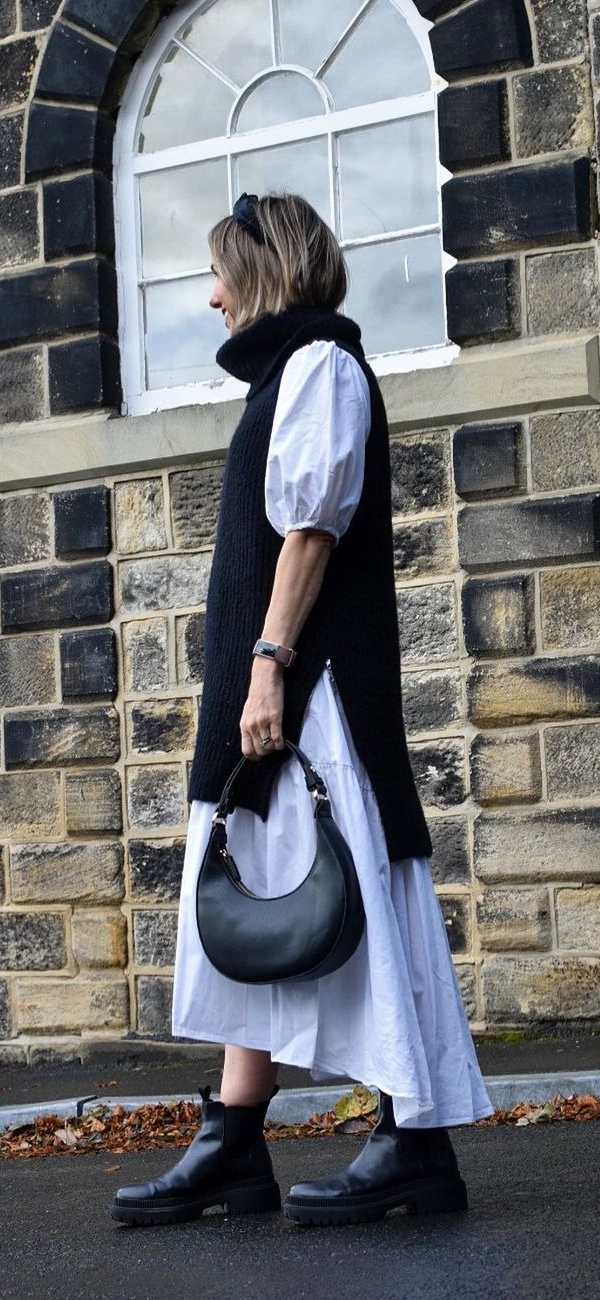 Lisa (above) wore a longer asymmetrical dress with some black Chelsea boots. If your asymmetrical dress is plain like hers is, you can play around with the look by adding a sleeveless turtleneck pullover, wearing a stylish jacket or coat.
With a shirtdress
You could pair your shirtdress with your favorite pair of Chelsea boots in the fall months, when you want to keep the cold at bay but still want to remain stylish.
A shirt dress always looks smart especially when paired with closed shoes, and can be dressy if you reach for a pair of strappy heels instead. They are versatile wardrobe pieces that everyone should have in their closet since you can wear them with different footwear to give different types of looks.
You can pick a shirtdress with buttons all the way down or go for one that's halfway buttoned.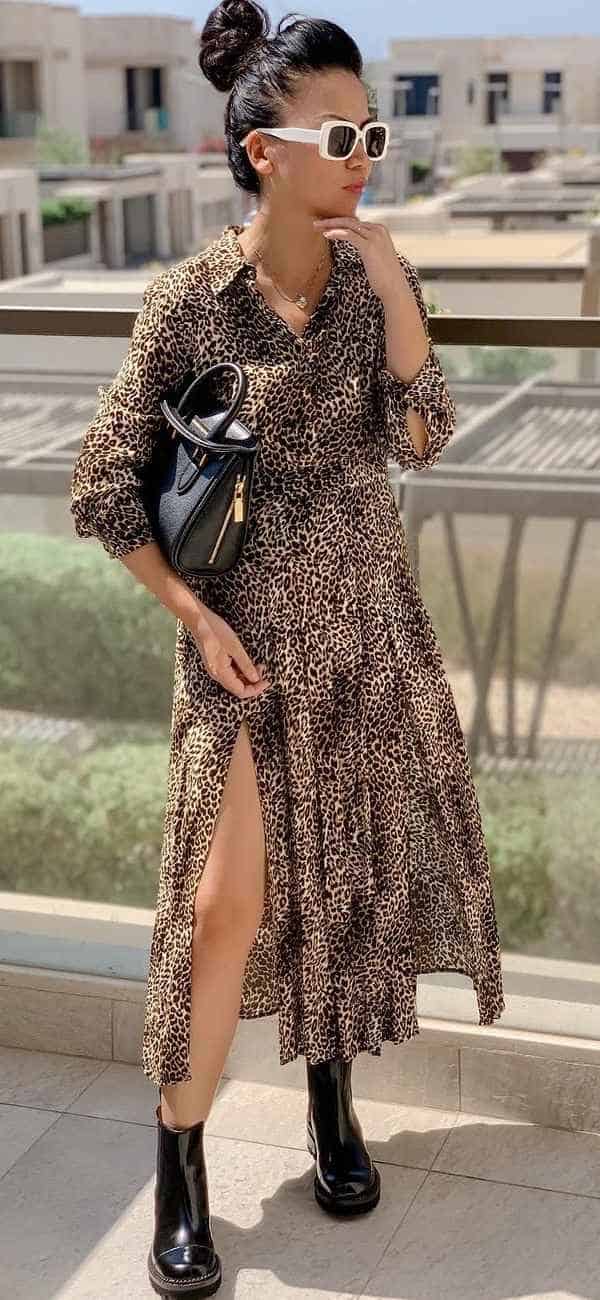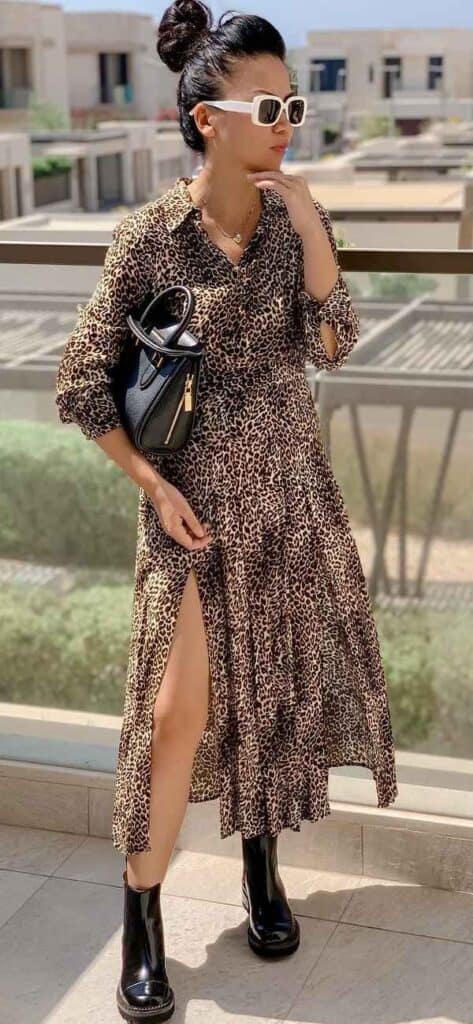 Van (above) styled her leopard-print midi dress with a plain black pair of Chelsea boots and accessorized with a simple black bag and some contrasting fun sunglasses.
With leather pants
Leather pants can be styled with Chelsea boots for that elevated everyday look. Leather pants are a great option for those who would never be comfortable in leather leggings or shorts, but would still like to rock the trend when it comes to bottoms in colder months.
It's a combination that works for women of different ages.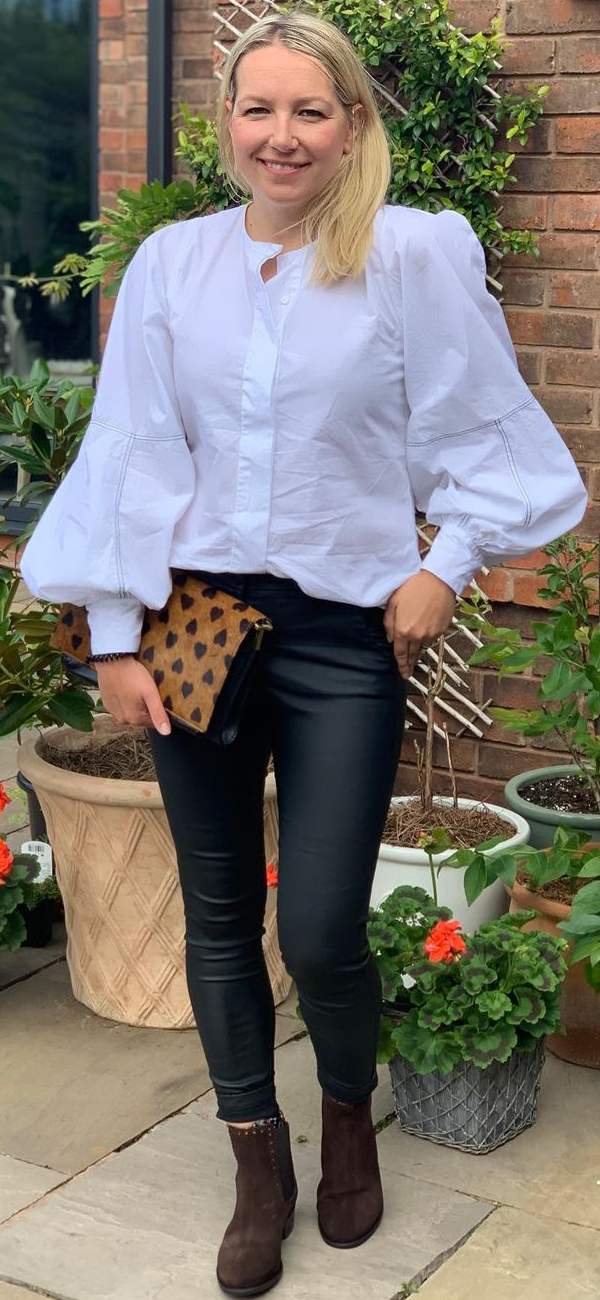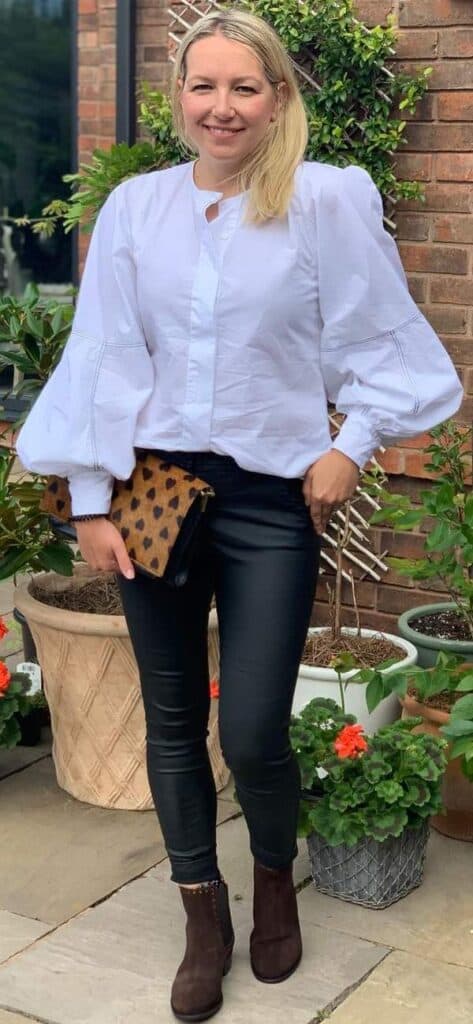 Eliza (above) styled her leather pants with some brown Chelsea boots and a white blouse.
If you'd like to have less focus on your pants and more of it on your boots and blouse, then a great way to go about it is to pick a statement top or blouse. The outfit will also look more demure if you choose classic colors.
With sweatpants
If you're all for the edgy yet comfortable look then how about reaching for your pair of Chelsea boots when you want to wear sweatpants?
Sweatpants were initially meant to be loungewear but things have definitely changed overtime, as these comfortable wardrobe pieces can be styled differently and worn outdoors. In fact you can actually make them look all dressy or even edgy.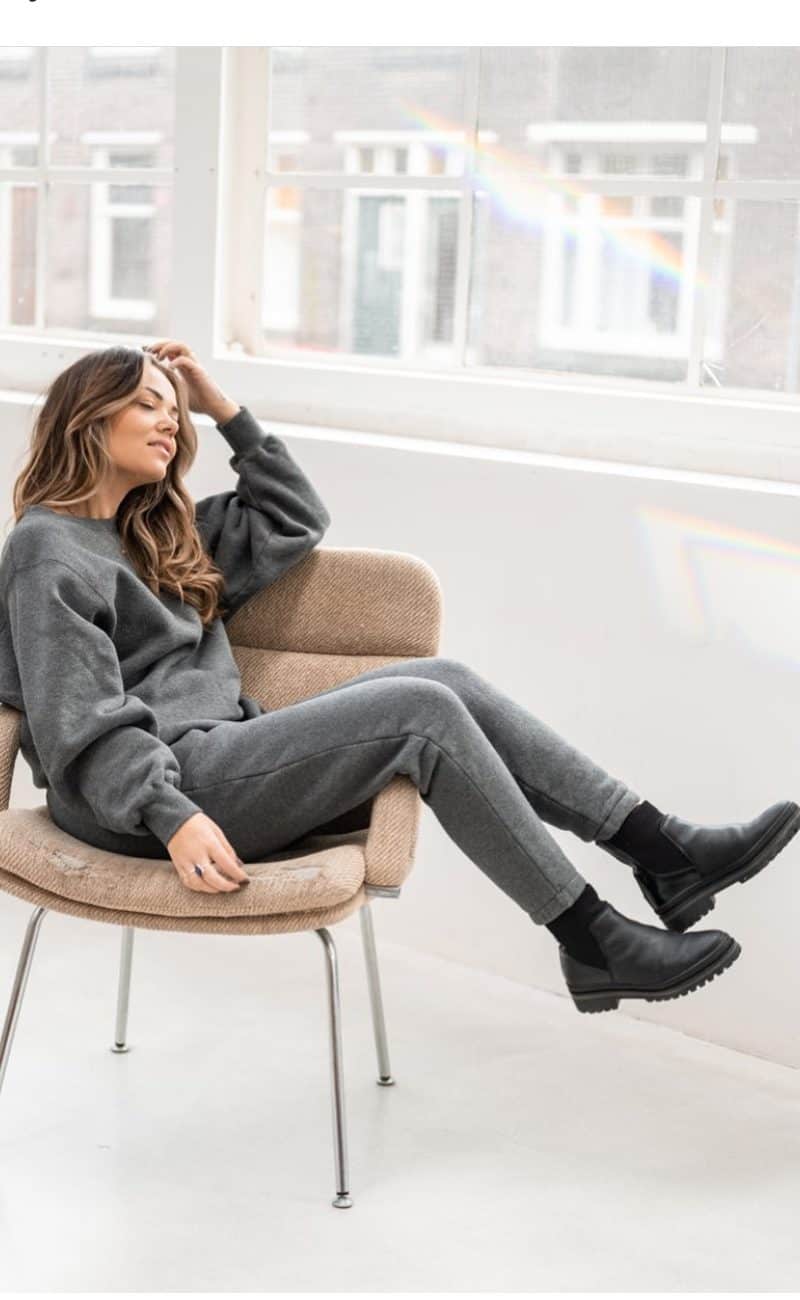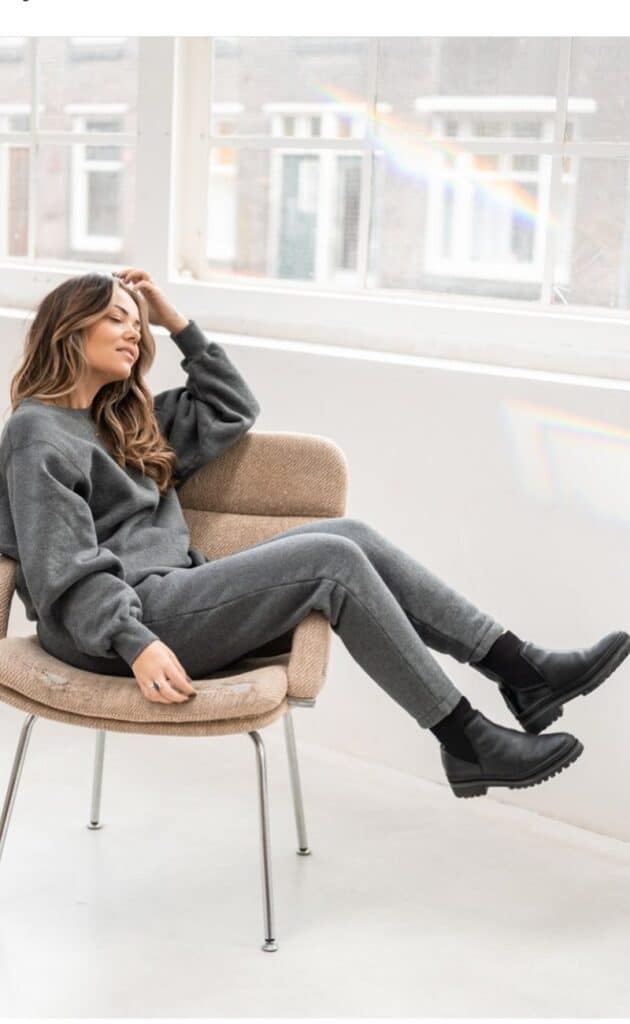 Faye (above) styled her sweatpants with a matching sweatshirt and a pair of black Chelsea boots. To make the look chicer, you can always throw on a long stylish coat in a color that goes well with your top and shoes.
With a suit
You can wear your Chelsea boots with a suit for a fun and out-of-ordinary combination.
Suits were traditionally made for men but have over the years been adopted by women, with designers and brands coming up with many different ones to flatter the female body. They are easily the best way to look sharp and as long as you find a flattering one, you can't go wrong with the styling. You can pick from different shoes.
While a suit already gives a strong look, the Chelsea boots add that extra touch of power to the outfit.
Printed suits with Chelsea boots make for a more interesting look although you could always pick a plain suit instead.
With a midi dress
Just like a midi skirt, a midi dress is very feminine and contrary to what a number of women think, they can actually be styled with so many different things if we're talking outerwear. They also go with a variety of footwear.
A midi dress can be paired with Chelsea boots if you want to get that amazing balance between something that's usually considered so ladylike and something considered a great option if you want a touch of masculinity in your look.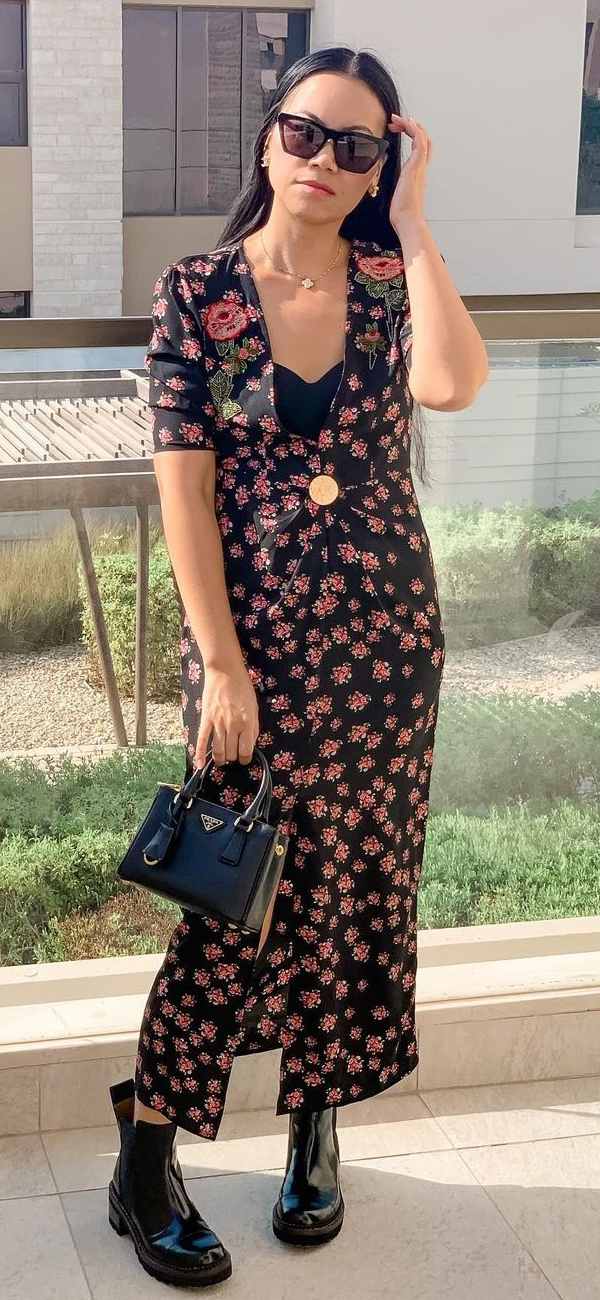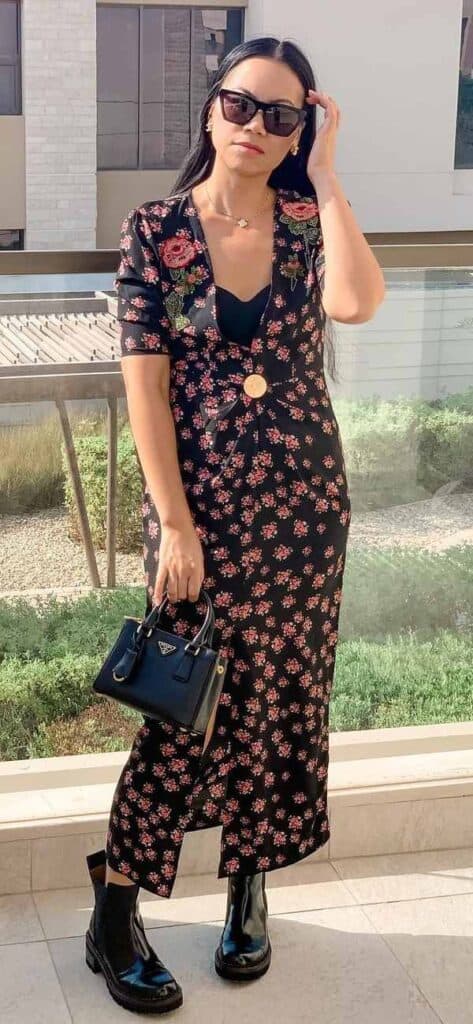 Van (above) is wearing a floral midi dress with a pair of Chelsea boots for a casual day out. You can always choose a dress with a side or front slit for that extra edge.
With a short skirt
Wearing your short skirt with a pair of Chelsea boots balances out the look by adding a sense of toughness to an otherwise hot feminine outfit.
Shorter skirts can be nice and fun especially if you choose to go for brighter colors. They are a great way to show off your legs and make them look even longer.
If you prefer a sophisticated look, pick a short skirt that isn't too tight so that you remain comfortable and still look age appropriate.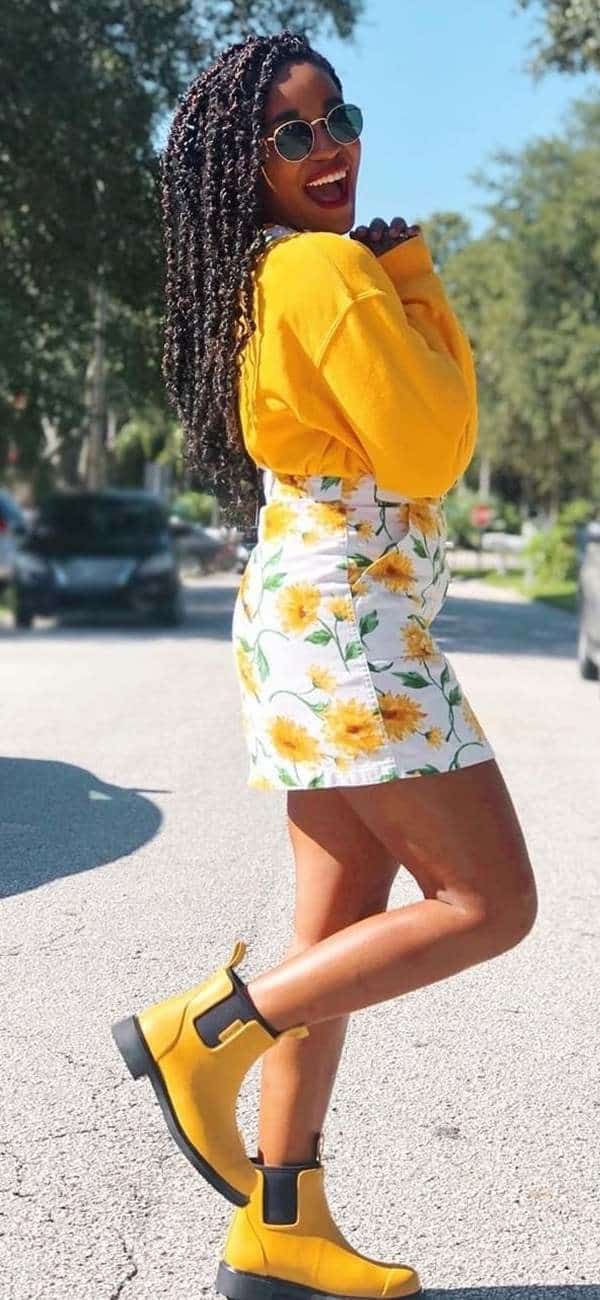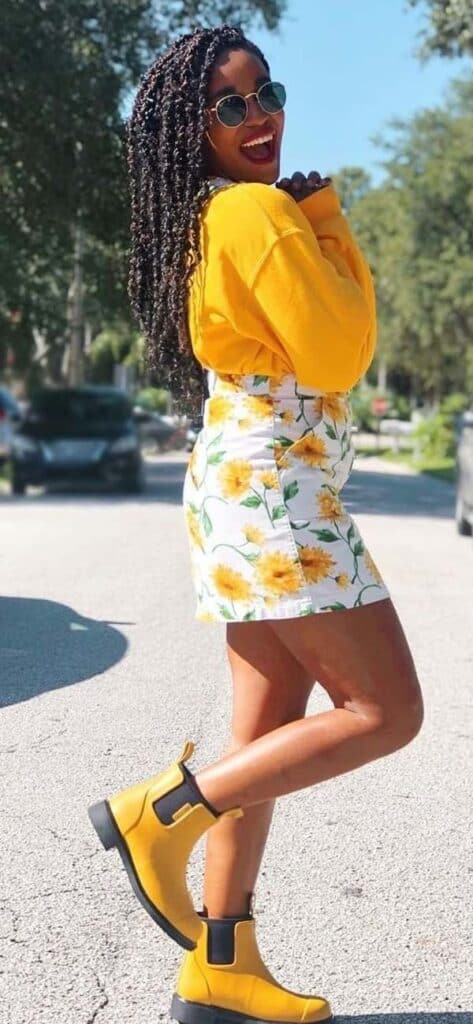 Mariah (above) went all bright with her outfit styling a mustard sweater with a floral print skirt and Chelsea boots. It's a girlie and colorful outfit.
Your Chelsea boots do not always have to come in black, white or brown, but can also come in brighter colors such as mustard, and others that can be found in shoe stores. As mentioned above, if the skirt seems a bit short, feel free to add a long coat and leave it open so that the skirt is still visible.
With cargo pants
Cargo pants when styled with some Chelsea boots creates that authoritative military look that can give you an instant confidence boost and well.
Cargo pants are the ultimate casual outfit go-to if you're after an easy look without necessarily having to wear jeans. The slouchy pants look amazing when styled with more fitted tops although you can still go on full baggy with them.
Going for pieces such as jumpers or sweaters help you look more dressed up in cargo pants but cropped or fitted tops give the pants a good balance since the pants are already slouchy.
With an oversize dress
Who said you had to wear a dress that's an exact fit for you every day? Well, it's become very stylish to size up on certain pieces of clothing including dresses for that extra comfort, especially during colder months.
You can go one or two sizes up on your dress and style it with Chelsea boots for a comfortable and edgy look.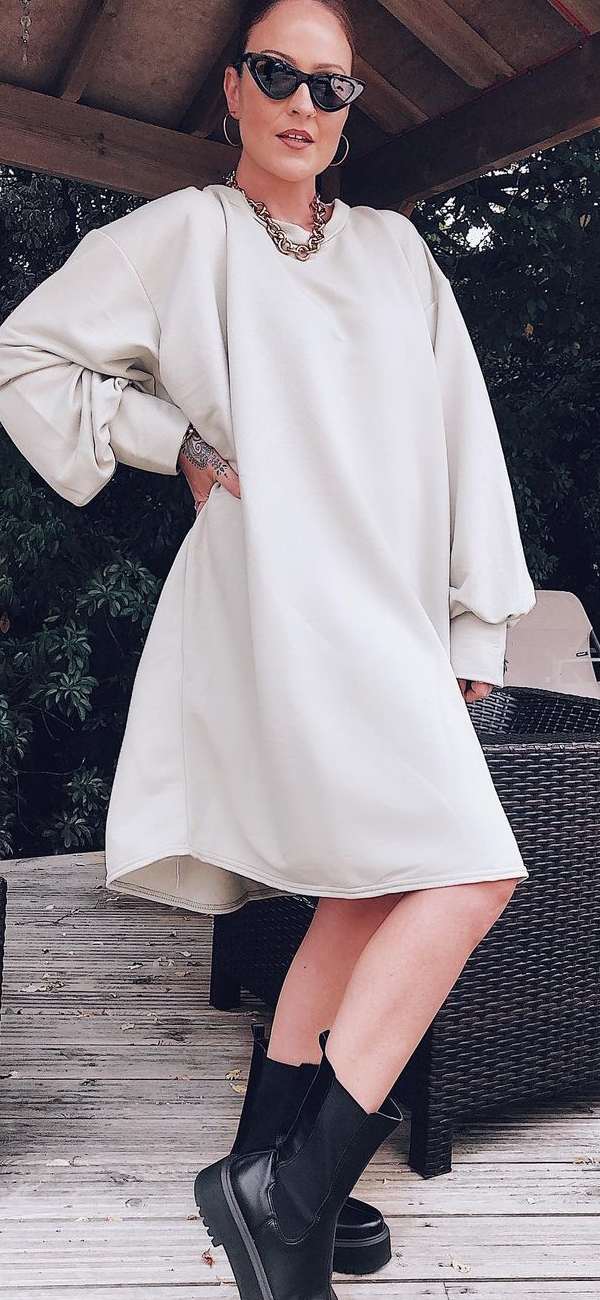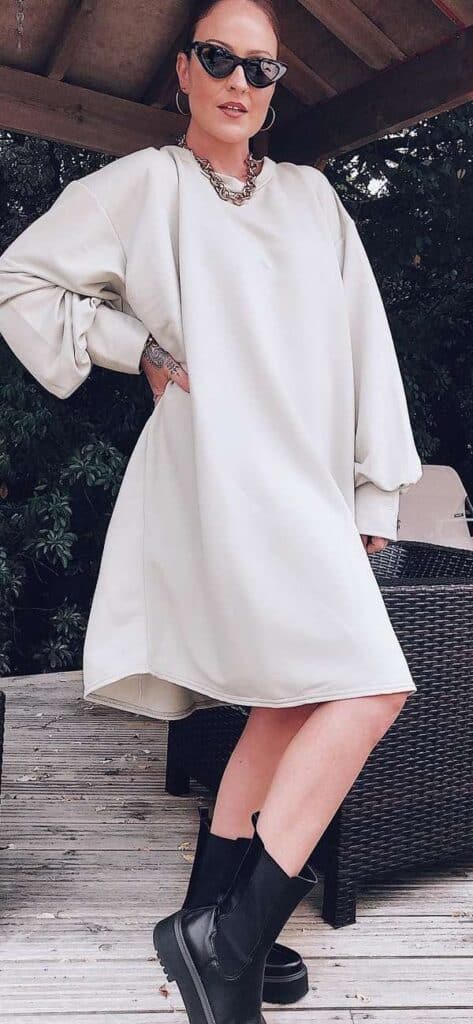 Joanne (above) wore her oversize dress with a pair of Chelsea boots, black in color. Feel free to accessorize with necklaces or statement earrings as the accessories make your outfit pop even more.
So there you go 15 great outfit ideas to show you that your Chelsea boots will work with the many things you already have in your closet.