If you happen to have narrow shoulders, it is most likely due to genetics. Having narrow or sloped shoulders is a common trait in women with pear shaped body, but it can certainly occur with women in other body types. A Many petite women tend to have narrower shoulders as well, due to the overall smaller bone structure. There are many exercises you can do to strengthen the muscles of your chest and shoulders to give them a wider appearance. If you want your shoulders to appear less narrow immediately, then the best way to follow these styling tips to achieve a visual balance of your body by making your shoulders appear broader.
In order to make narrow shoulders appear broader, the key is to wear tops that expand your shoulder area and therefore create a horizontal line around your shoulders. By doing so the eyes will be tricked into believing your shoulders are broader than they are. If your shoulders are narrower than your hips, then you should also stay away from any clothing designs that adds too much volume to your bottom to avoid the impression of bottom heavy.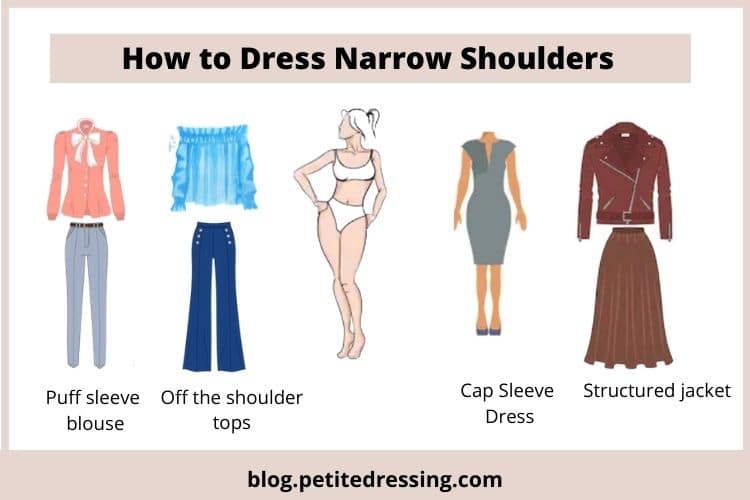 Wear off-the-shoulder pieces
Many women with narrow or sloped shoulders tend to have wider hips in comparison to their shoulders. Therefore, the key to dressing narrow shoulders to make them appear broader is to make them appear even with your hips.
Off-the-shoulder dresses and shirts are perfect for achieving this. Because the neckline rests around the shoulder and arm area, it brings a lot of emphasis to that part of the body which is ideal for narrow shoulders.
Off-the-shoulder design creates a horizontal line right around your shoulders, which will make your shoulders look balanced with your hips. If you happen to have narrow shoulders because you have a pear shaped body, this is the number one neckline to balance your body shape.
Wear Puff Sleeves
Puff sleeves are one of the best design to give narrow shoulders the boost they need. They are also quite on trend, which is a great option for women who wish to broaden their shoulders. You can opt for blouse or even coats with a puff sleeve design and they will always flatter your shape.
Wear Structured Jackets
Structured jackets refer to blazers or other jackets that are carefully tailored and are made of fabrics that hold up its shape. In other words, structured jackets like blazers typically have the feel and shape of a suit, but they do not have to be that formal. Wearing a structured jackets will greatly flatter women with narrow shoulders because they provides a solid frame for your upper body especially around your shoulders.
In the fall, opt for a motor jacket because these are designed with well defined shoulder shape and can flatter women with sloped shoulders
In the winter, choose jackets made of high quality natural fabrics such as wool or wool blend are a great choice. These jackets can typically define your upper body and make your shoulders appear less narrow or slopped.
Wear Cap Sleeve
The cap sleeve is a specific style of short sleeve that are cut and seamed to fit on the shoulder and taper to nothing underneath the arm. This style is usually not as loose as a standard short sleeve, but more like a small umbrella (or cap) covering the shoulder.
Whether it is cap sleeve tops or dresses, they can visually broaden your shoulders and make you look more balanced.
Wear Flutter Sleeve
Flutter sleeve is another great way to broaden shoulders, because of the extra volume created by the fluttered sleeves. This is also a very feminine design, since the ruffles on the sleeves looks romantic and womanly.
Choose Square Necklines
Choosing the right necklines are critical in defining the shape of our upper body and even our entire outfit. I already mentioned off the shoulder, but there are other neckline designs that can also flatter your shape.
Square necklines look good on women with narrow shoulders because widening the chest and shoulder area helps to balance out narrow shoulders. Square necklines offer a subtle widening effect when worn, thanks to the sharpness of the squared shape. It shows a touch of skin, further opening up the chest and shoulder space.
Wear Jackets with Shoulder Padding
It goes without saying that jackets with padded shoulders are the easiest way for women who want to broaden their shoulders. This style was extremely popular in the 80s, and there is a trend of it coming back to fashion in recent years.
If you happen to have narrow shoulders because you are petite, do make sure you wear jackets from the petite department to ensure the overall fit looks in proportion to your fame.
Generally you want choose shoulder pads that are light in order to achieve a natural look. You want to avoid anything with exaggerated shoulder padding because that will look out of proportion with the rest of your body shape.
Wear Horizontal Stripes on Top
Horizontal lines expand and that is why you want to wear tops with horizontal strips if you would like to make your narrow shoulders appear more balanced.
Because the goal is bringing more volume to the top half of your body, horizontal stripes are a fun way to style an outfit. Wear stripes just on the top half, keeping the bottom solid and neutral to give the illusion of an hourglass shape.
Wear Shoulder Accents
Another way to draw attention to your shoulders is by wearing pieces that have unique accents that rest right at the shoulder. These accents can be anything from sequins to bows and anything in between.
The reason shoulder accents are flattering to women with narrow shoulders is because they add volume and dimension to your shoulder area. You do not have to wear anything that i too exaggerated, because even a small accent can add balance to your body.
Opt for Voluminous Sleeves
In order to balance out your narrow shoulders, your strategy is not limited to choosing the right shoulder shape and design. In fact, anything that can add volume to your upper body can help achieve a visual balance and distract away from your narrow shoulders.
Fun, voluminous sleeves should be utilized by women with narrow shoulders. Garments that offer sleeves with built in volume to them bring more attention to the top half of the body, adding symmetry to the bottom half.
Avoid Shapeless Outerwear
The opposite of structured jackets are the outerwear that are made of flimsy fabrics and do not hold up their shape. By wearing the shapeless jackets, cardigans or coats, you would only highlight the fact that your shoulders are narrow.
Typically light weighted outwear tend to appear loose, unless they are extremely tightly and fitted. One example is the linen jackets, whch are very popular in recent years. Even though they are breathable and comfortable in the summer, they are not the best option if you want your shoulders to look more defined.
Show Off Your Shoulders
For women who are self-conscious about having narrow shoulders, sometimes they tend to think it's best to not bare the shoulders in order to not draw attention to that area. There is indeed no point to try to hide them. In fact, it is quite the opposite, i.e. you should show off your shoulders. The reason is when you show your shoulders, they will actually appear wider instead of narrower!
Focus on wearing tops and dresses that really highlight your shoulders. Because your shoulders are narrow the more attention to bring to them the more prominent they appear. Here are several great options you can show your shoulders
sleeveless
cold shoulder
halter
strapless
Avoid Thin Straps
Thin straps + narrow shoulders = not a great combination. In fact, this duo will further emphasize very narrow shoulders making your shape appear less balanced overall. Instead, stick with wide straps in dresses and tops. Wider straps add dimension and disguise narrow shoulders.
Wear Cap Sleeves
Broaden your shoulders gently with cap sleeves. The slightly longer sleeve gives the illusion that shoulders are wider than they actually are, and it's an easy sleeve style to embrace.
Stay Away From Puffy Skirts
If your shoulders are narrower than you hips, then you might come across as bottom heavy, even if when you are at your ideal weight. Therefore, narrow shoulders require adding dimension and volume to the top half of the body in order to balance out with your wider bottom, That is why it's best to avoid skirts with a lot of added volume to them.
Instead, sticking to skirts that fit close to the body, like pencil skirts, allow you to showcase your figure without adding more imbalance.
Wear Flowy Tops
Flowy tops aren't for everyone, but they are for women with narrow shoulders. Free flowing fabric ensures you aren't lost in your clothing, which can make you appear larger, but gives just enough focus to the top half of your body.