Anytime the weather is around that 60 degree mark, it can cause confusion around the right thing to wear. It's not cold yet, but you may feel a bit chilly – the in between zone that isn't the easiest to dress for.
The best outfits for 60 degree weather should have a simple layering to keep you warm outside, but is easy to put on and take off so that you can switch to a warmer indoor temperature. Underneath the layering, you can wear something either causal like T-shirt and jeans or polished like a long sleeve dress, depending on the occasion you are dressing for.
The wardrobe staple for the 60s weather
Here are the 9 staples for the 60 degree weather:
Suede booties
Tall boots
Motor jacket
Sweater skirt
Faux leather skirt
Merino wool sweater
Midi skirt
With the above chilly weather staples, here is some of the best style ideas on what to wear in 60 degree weather. You can use these outfit formulas to create simple yet chic outfits for everyday wear or dressed up looks, anytime its in the 60s outside.
Jeans, blazer and booties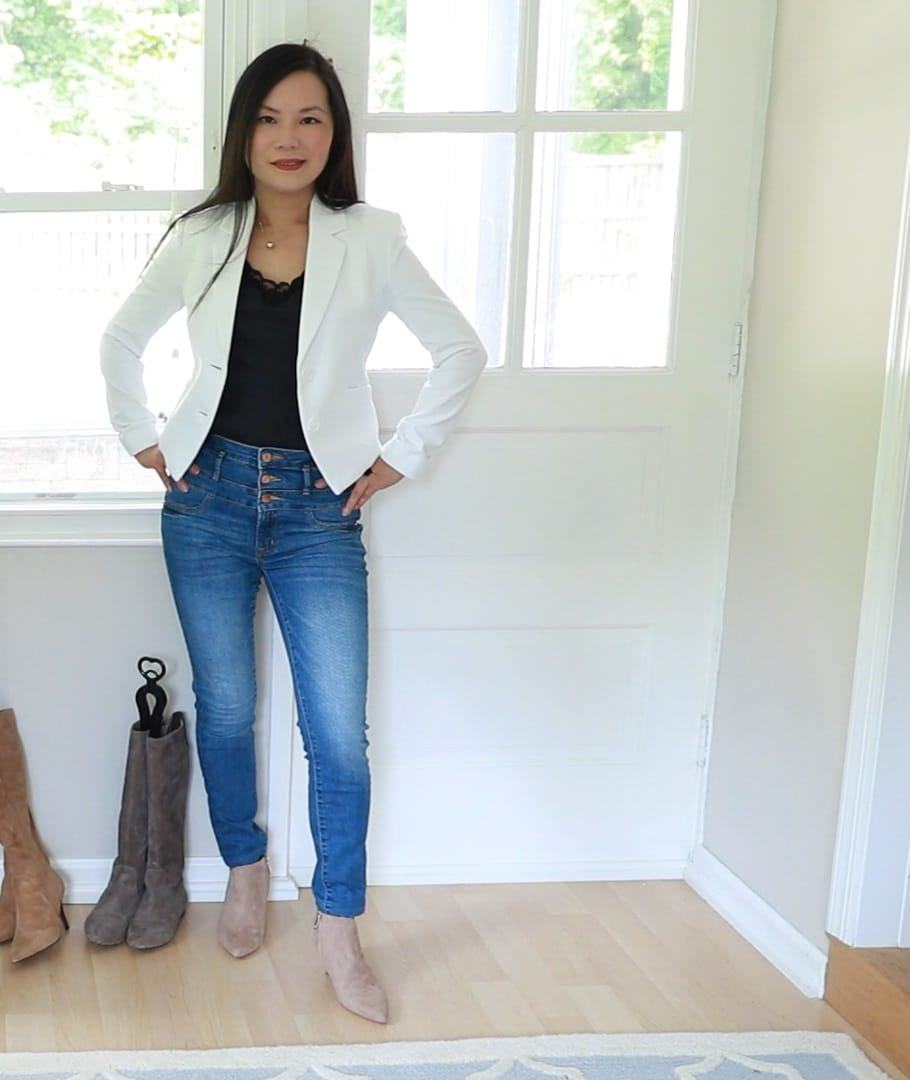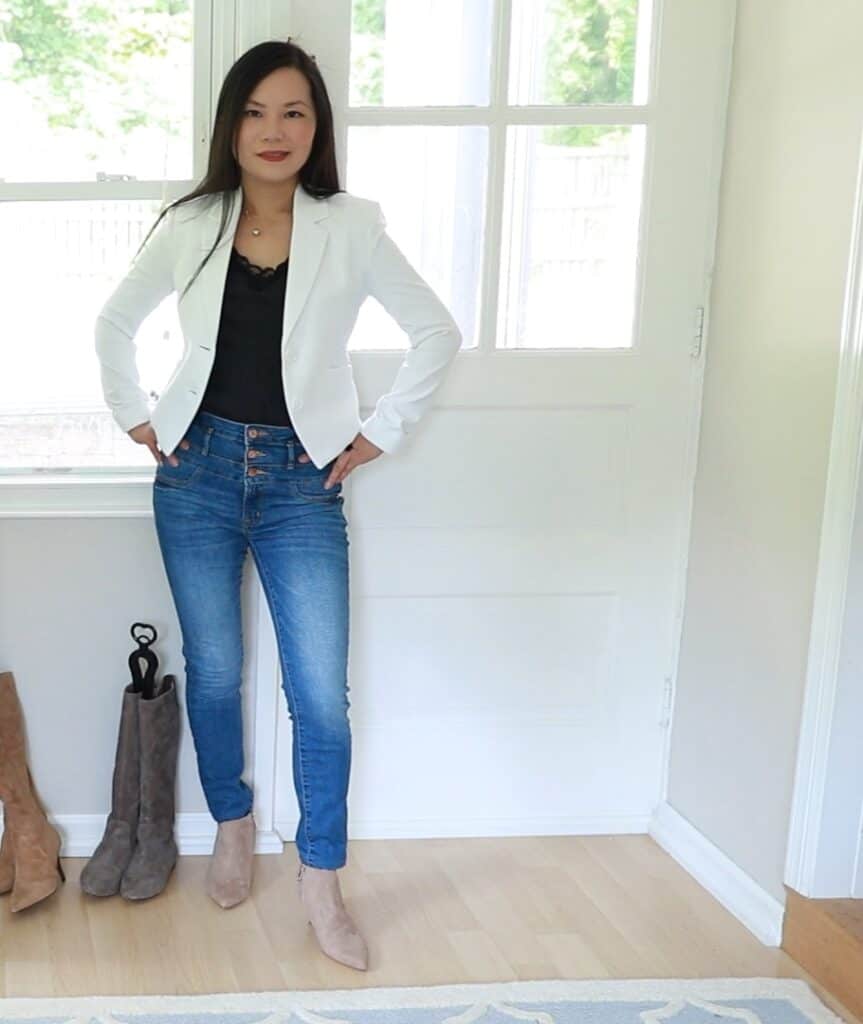 Starting with a classic outfit combination for the 60 degree weather you can always count on. Most likely you have all three of these items (jeans, blazer and booties) in your closet right now, which is why this is such an easy outfit to lean on when it's 60 degrees out.
You can pair the jeans with any top in your closet such as a t-shirt (graphic, striped, solid, etc) and complete it with a chic layering piece like a blazer. The suede booties is the staple for chilly weather in the 60s.
Layering a jacket or sweater over the t-shirt adds just enough warmth to the outfit, without making you feel too hot. Have fun with the layering element of this look. Since you're wearing jeans and a t-shirt, the layering piece gives you a chance to really showcase your personal style.
If you like a polished look, then go with a well tailored outer layer like the blazer, this can take you to any occasion that calls for "smart casual" dress code. If you want a more relaxed look, then swap the blazer with a relaxed fit cardigan.
A simple outfit like this also makes it easy to accessorize. Add a belt, necklace or earrings to elevate the look into a less than basic one.
Trench Coat+ cropped pants+ boots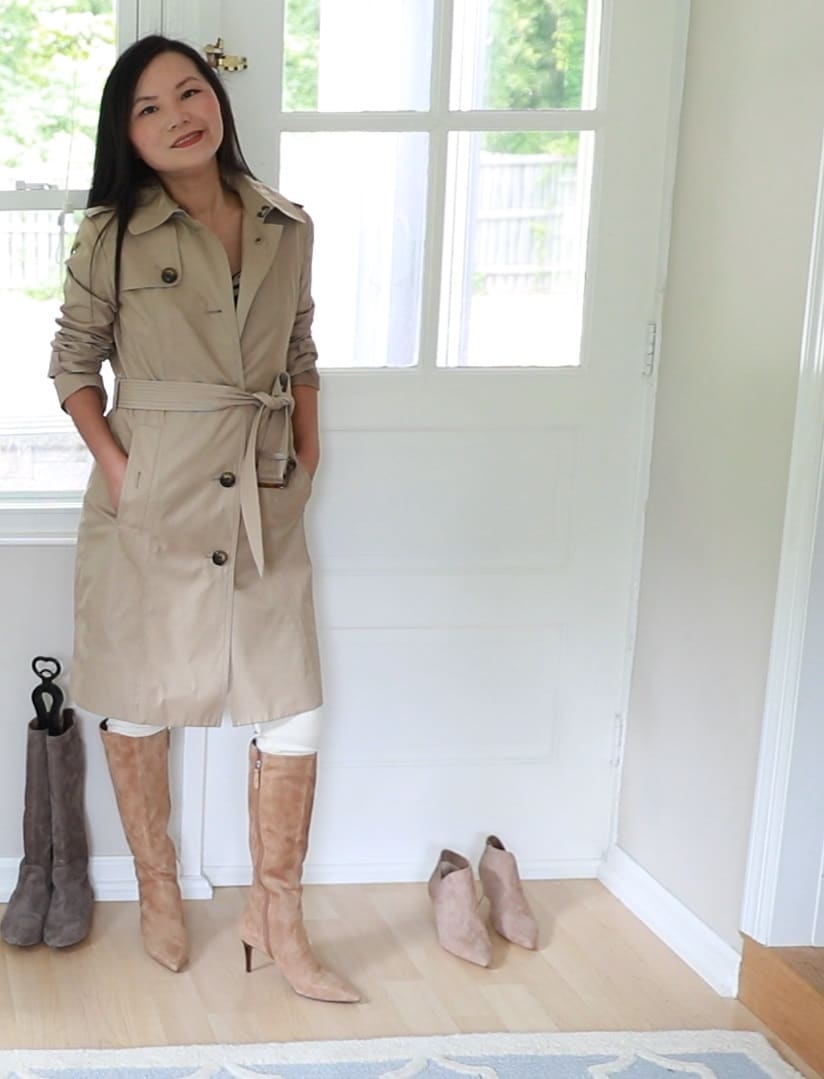 This is a classy and simple outfit if it's 60s outside. The key components are the trench coat and the boots.
Trench coats are always a great choice for 60 degree weather, especially if it's going to rain. But they aren't only functional for rainy days, because of their lightweight they're an obvious choice when you just need a light layer.
You have many options for the under layer. Styling a trench coat with a white shirt keeps your look classic and easy to wear. However, if you want to spice up your look, you can swap the white shirt out for a graphic tee, printed shirt, or even a cropped tee.
For those days when you want a modern twist to your look, cropped pants are perfect! Cropped pants give you the comfort and coverage of long pants. The slight difference in length really changes the entire vibe of an outfit, though. Since cropped pants are such a big trend right now- it's a fun option to try this year. Style your cropped pants with a shirt, like a white button down shirt, and a trench coat.
Boots are a critical element in this outfit. They can keep you really warm in the 60 degree weather. Depending on the color of your pants, you can choose the best colors for your boots. If you are wearing white or light color pants like me, then a pair of beige or brown tall boots are a great option. If you are wearing black pants, then go with black boots for the best leg elongating effect.
Denim Jacket + Sweater Skirt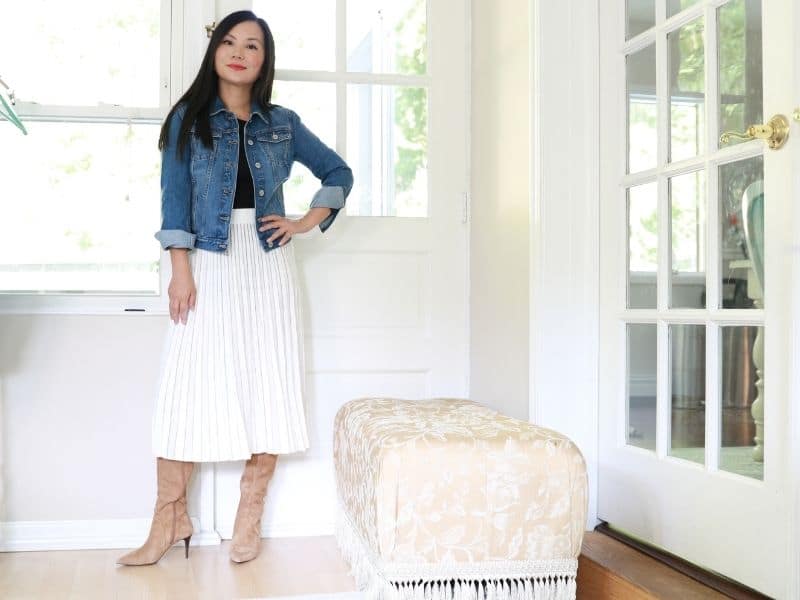 Sweater skirts are another wardrobe staple for chilly weather like the 60s. They keep you warm, especially when you go with longer length such as a midi or a ankle length, and they're easy to wear.
To keep the sweater skirt feeling appropriate for the weather, throw on your favorite denim jacket. It gives you that layering element, while still keeping things casual and cute.
Adding a simple layer, like a denim jacket, is a great way to transition your summertime outfits into the fall and springtime.
As for the shoes, you can go with anything. If you want a warmer outfit, pair it with tall boots, otherwise, you can also wear this outfit with flats for a comfortable daily look.
Midi Skirt + motor jacket
Motor jacket is another staple for the fall or spring, and they are one of the best options for 60 degree weather. The reason is a classic motor jacket is typically made of leather or suede, which is great when it gets colder, but meanwhile they are cropped length so they will not make you sweat.
Midi skirts aren't just a huge trend right now, they're also a great skirt style to wear for 60 degrees weather. The added length can make a huge difference when dressing for the weather that is chilly.
Since most midi skirts are in lightweight materials like silk, you'll want to pair it with a suede motor jacket to make sure you're warm enough.
The motor jacket gives you the flexibility to pair this look with a wide variety of shoes such as flats, booties or pumps! There really are a lot of shoe options that can work with this type of outfit – depending on the occasion you're dressing up for.
Sweater, Mini Skirt + Tall Boots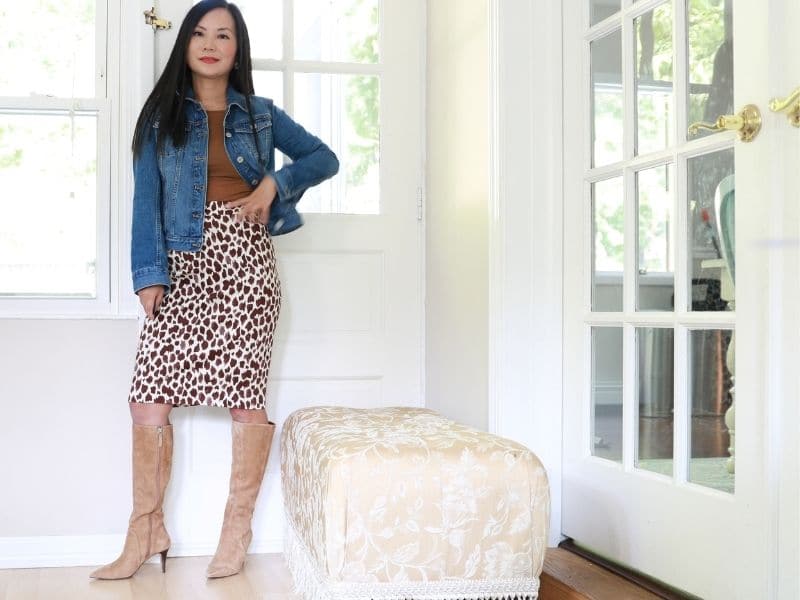 While midi skirts are a huge trend, they may not be everyone's favorite skirt style. If you prefer a shorter length, you can still wear a mini (or shorter) skirt when it's 60 degrees out without freezing. The key is to make sure you're adding the right elements in combination to the skirt. I recommend pairing a shorter skirt with taller boots when it's 60 degrees outside. The added length of the boot covers more of your leg, which is key to keeping you warm.
In addition to opting for a taller boot with your short skirt, layer your skirt with a cropped jacket (denim jacket, blazer or even a cardigan). These heavier top layers are going to further assist in transitioning a short skirt to being appropriate for cooler weather.
Wool sweater + leather skirt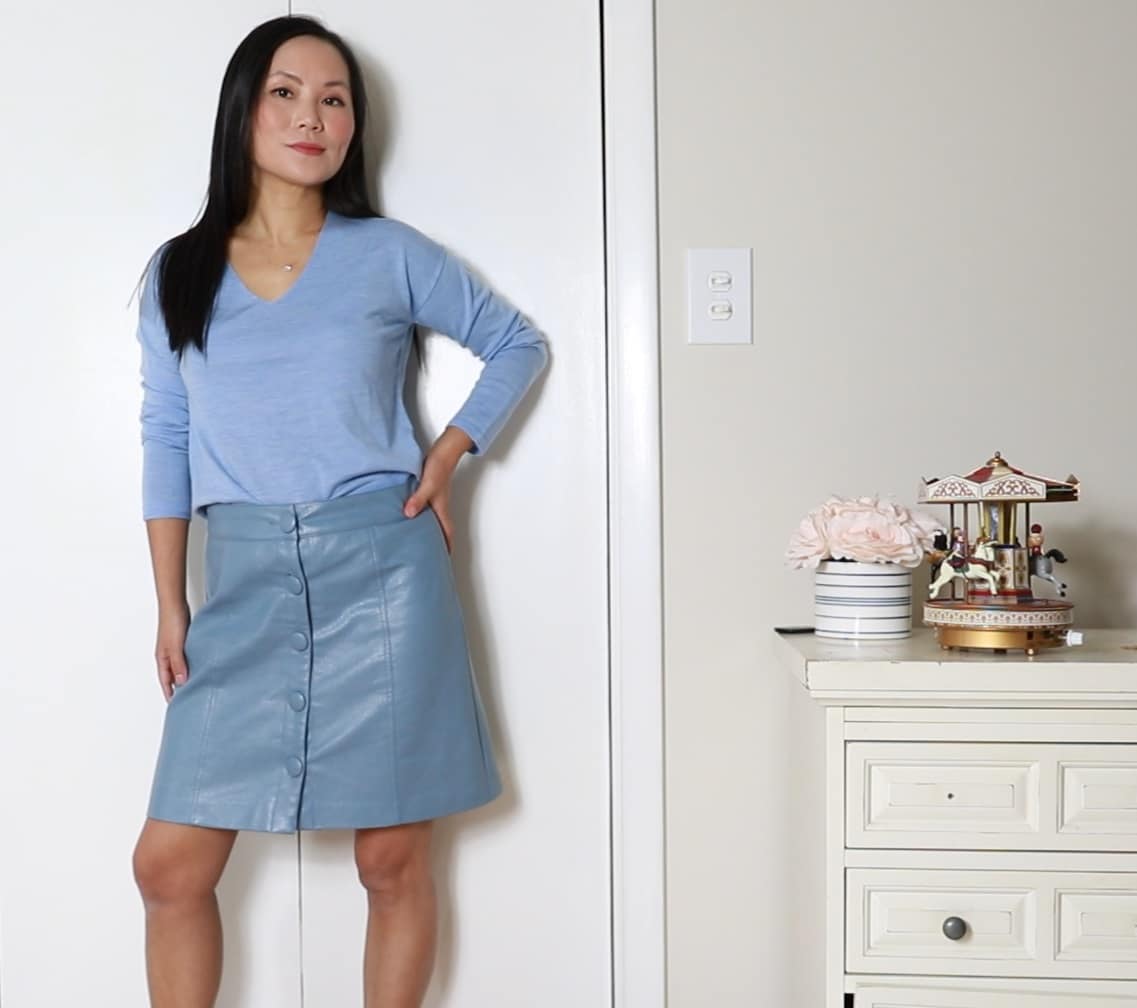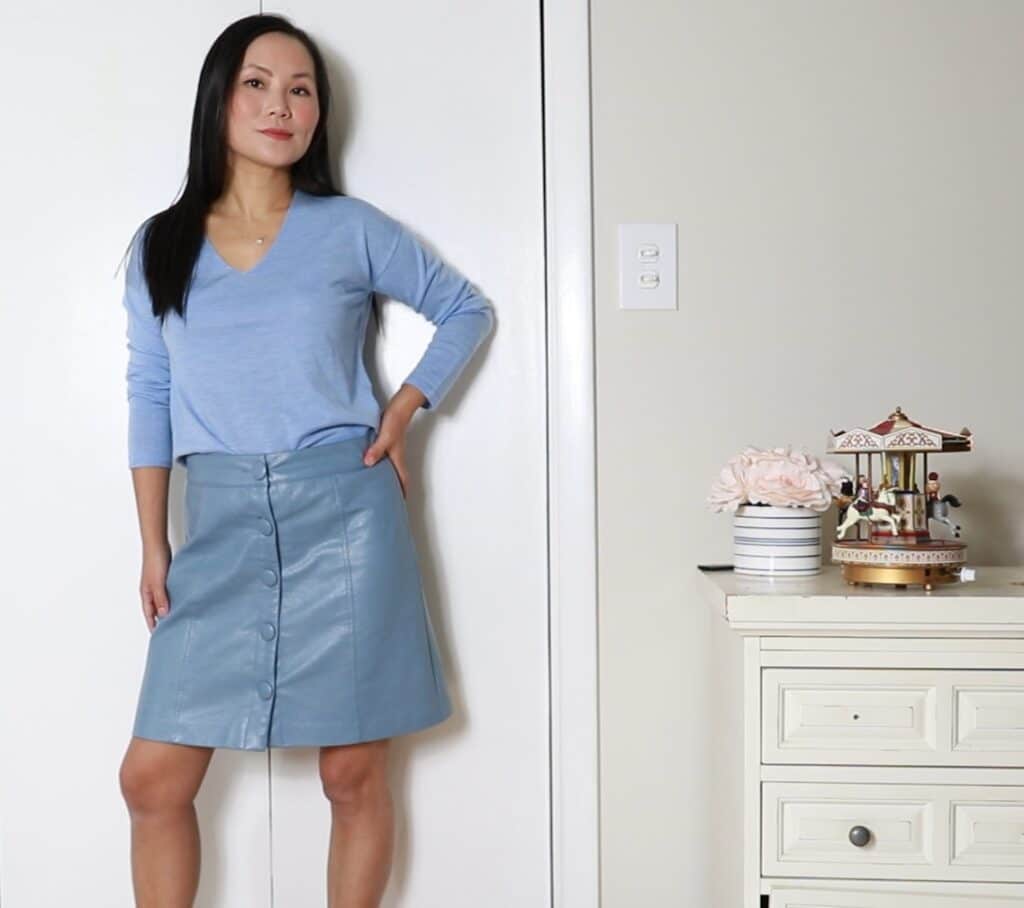 A merino wool sweater is a must have when the weather falls to the 60s. Typically these are made of thinner merino wool, which can keep you warm but will not feel like too hot.
Faux leather or faux suede skirts are a perfect choice to wear with the merino wool sweater for a chic outfit. Of course, you can opt for real leather or suede, if your area is colder. If you live in a warmer area, then a faux leather or suede fabrics are enough to keep you warm.
I suggest styling your sweater in a half tuck into the skirt so your waist and shape isn't lost in the outfit. This is especially key when you're wearing a longer, midi skirt.
Complete the look with closed toed shoes, these will also ensure you're warm enough – 60 degrees tends to be a bit too chilly for open toed options.
Midi Dress + Blazer/Cardigan
Anytime the temperatures start to rise and we reach that 60 degree mark, I start itching to wear dresses more often. They're easy and comfortable to wear!
You can definitely style a dress for a 60 degree day. I suggest opting for a midi dress, the added length gives you a bit more coverage so you'll be warmer since it's still a bit on the chilly side. Add a blazer or cardigan over your midi dress for additional warmth and style. If you want to add a bit of edge to the look, you can replace the blazer/cardigan with a leather moto jacket.
All of these outfits give you a general outfit formula that you can build from to create your own unique outfits. Mix and match different pieces in your wardrobe, that may be similar to what I've mentioned above. Even if you don't have the exact items, I'm sure you have something similar that will allow you to create an outfit that's just as stylish!