If you are like me, have a naturally thick waist, it is important to pay more attention to how you dress. The right outfits can make your waist look more slender, while the wrong outfits can make your lack of waist look even more obvious.
Since I have a petite clothing line, I receive feedback from thousands of my customers. Based on their feedback and my first hand experience, I've put together this detailed guide to help you find the most flattering styles.
The best way to dress a thick waist is to wear clothing that can hide your tummy, which has a slimming effect for your midsection to create the illusion of a waistline while drawing attention to your "assets" in the meantime.
Dresses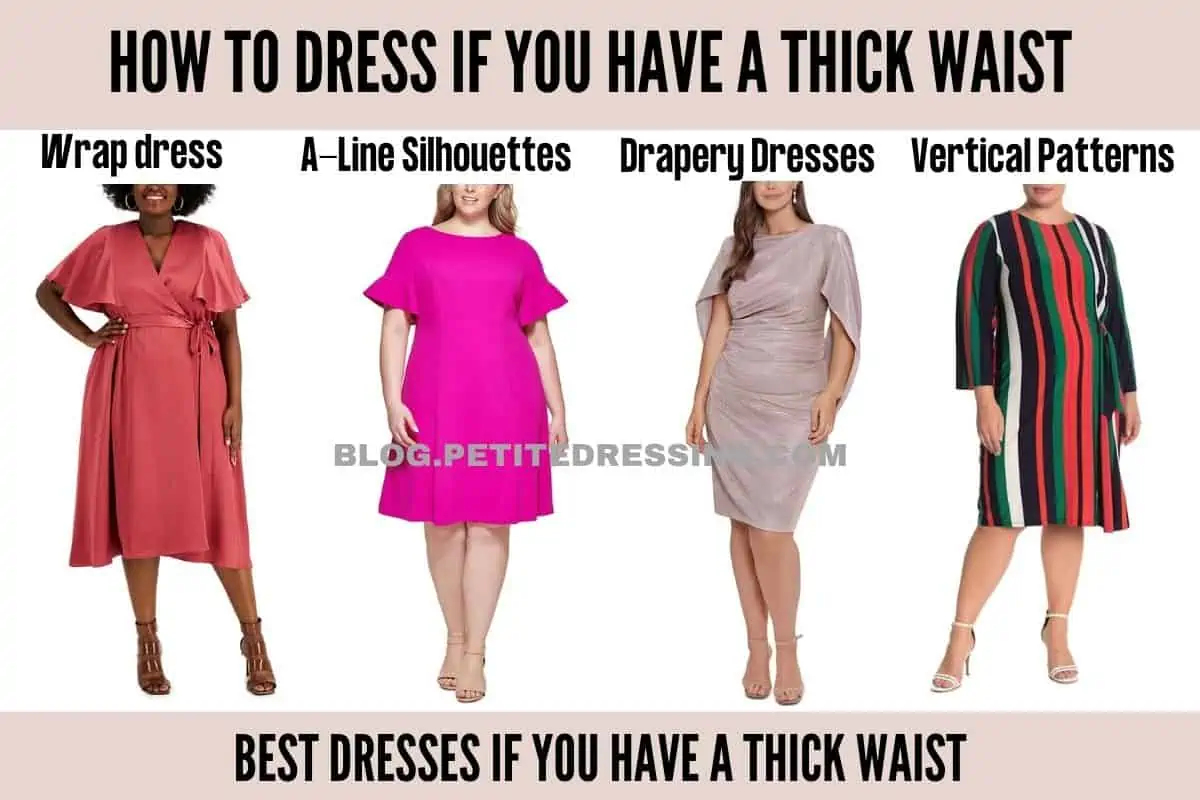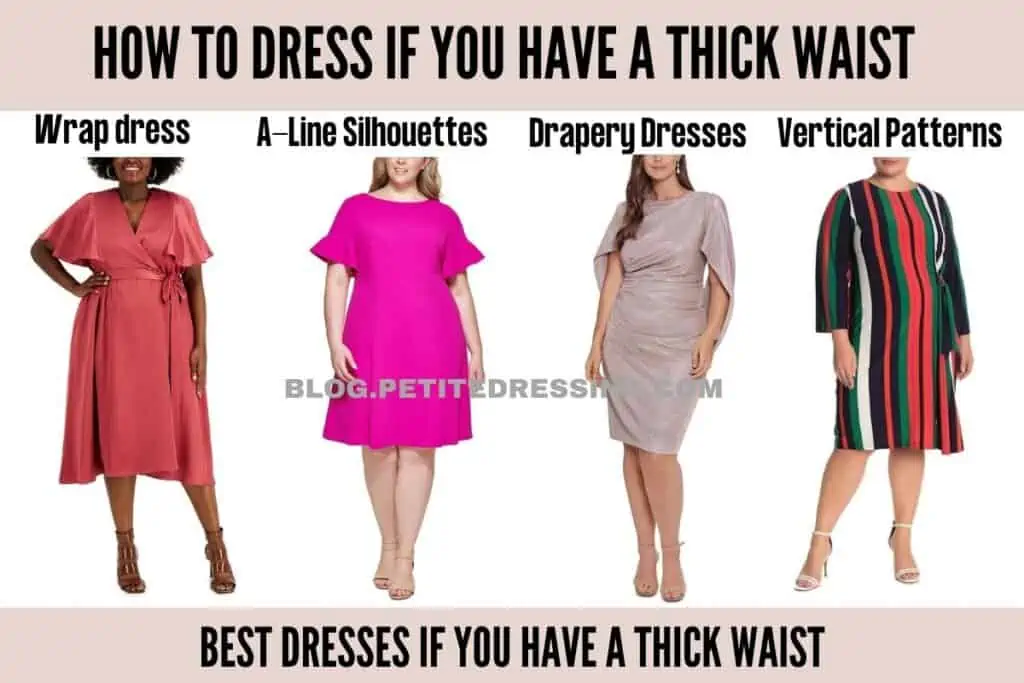 Wrap Dresses
Regardless of your body type, knowing a few styles that are guaranteed to flatter your shape is essential. When dressing a thick waist, wrap dresses and tops are essential.
Not only are they stylish to wear, they're incredibly flattering around the midsection, making them one of the best dresses for a big belly.
That is why wrap dresses are my all time favorite. I have an entire collection of DVF wrap dresses like this.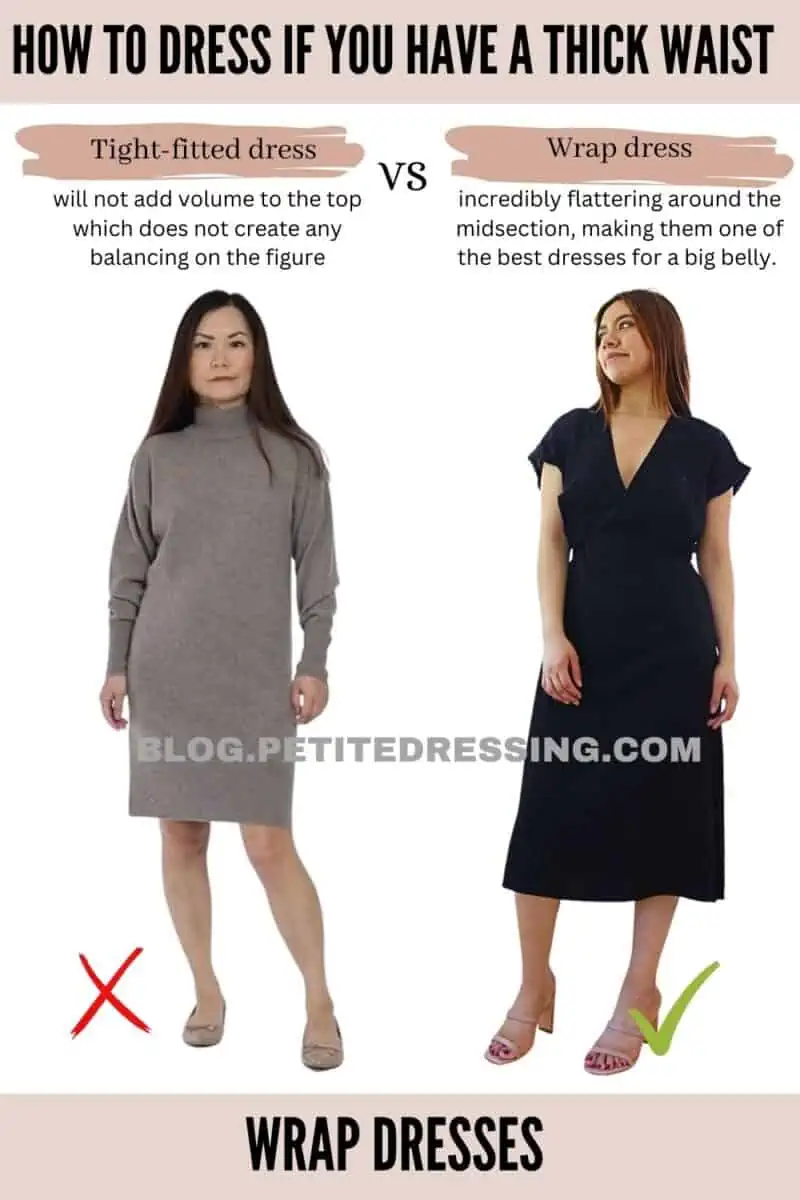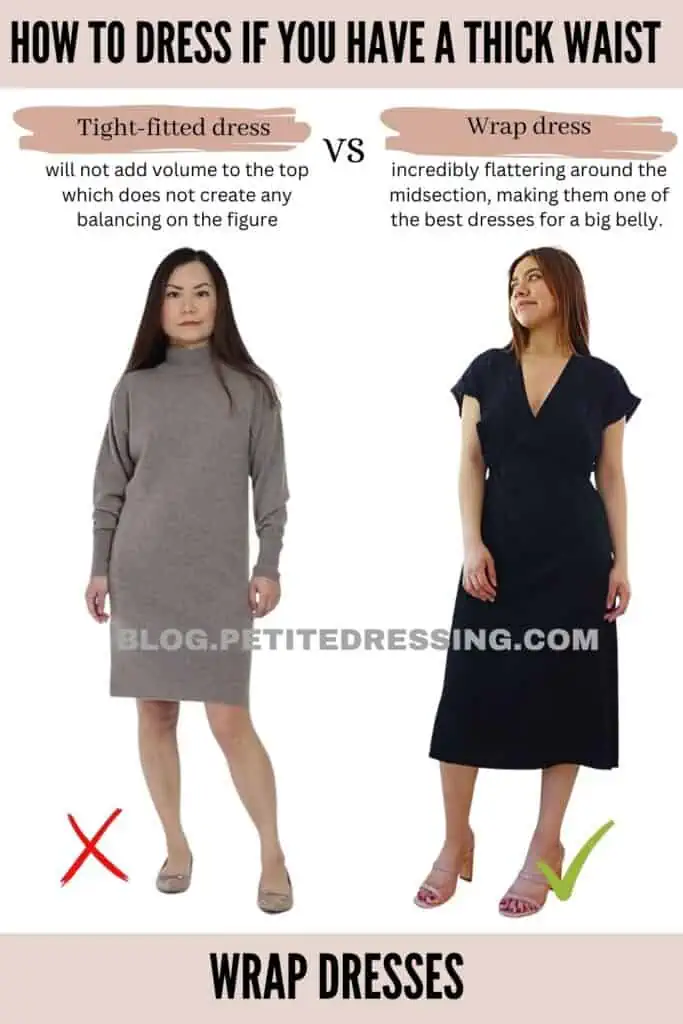 A-Line Silhouettes
The A-line silhouette is classic and tends to be quite flattering on a lot of body types. That being said, it's even more flattering with a thick waist. The reason this is such a great option to try out is because of the way the a-line structure gives the illusion of a smaller waist to the body.
Think of the shape of the actual letter A and how it starts off small and gradually gets a bit wider towards the bottom, that's exactly what an a-line silhouette does to the body. That's a good thing for a thick waist because it makes your waist naturally appear smaller while drawing the eye down toward the wider bottom portion of the dress.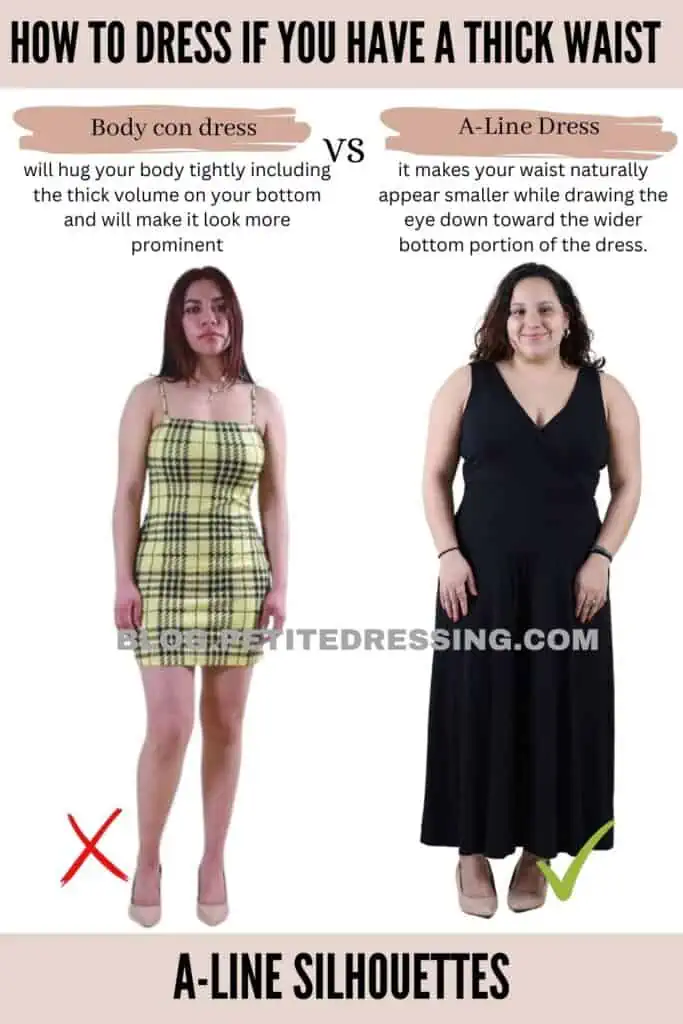 Drapery Dresses
A thicker waist doesn't have to mean wearing shapeless, boxy clothing. In fact, those are silhouettes that should be avoided with your body type. The problem with those shapeless garments is they make a thick waist look thicker and cause you to completely lose your body shape.
Instead of wearing things that are really shapeless, try to opt for pieces that offer some draping and subtle structure.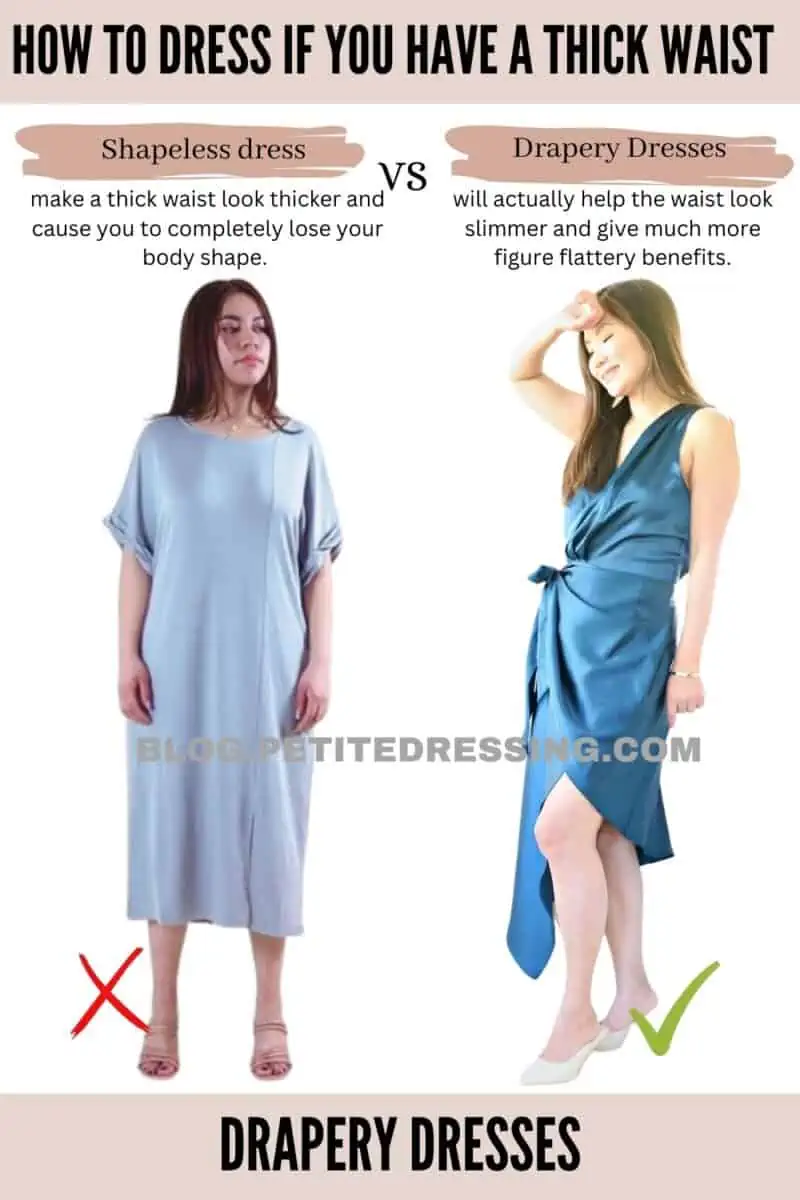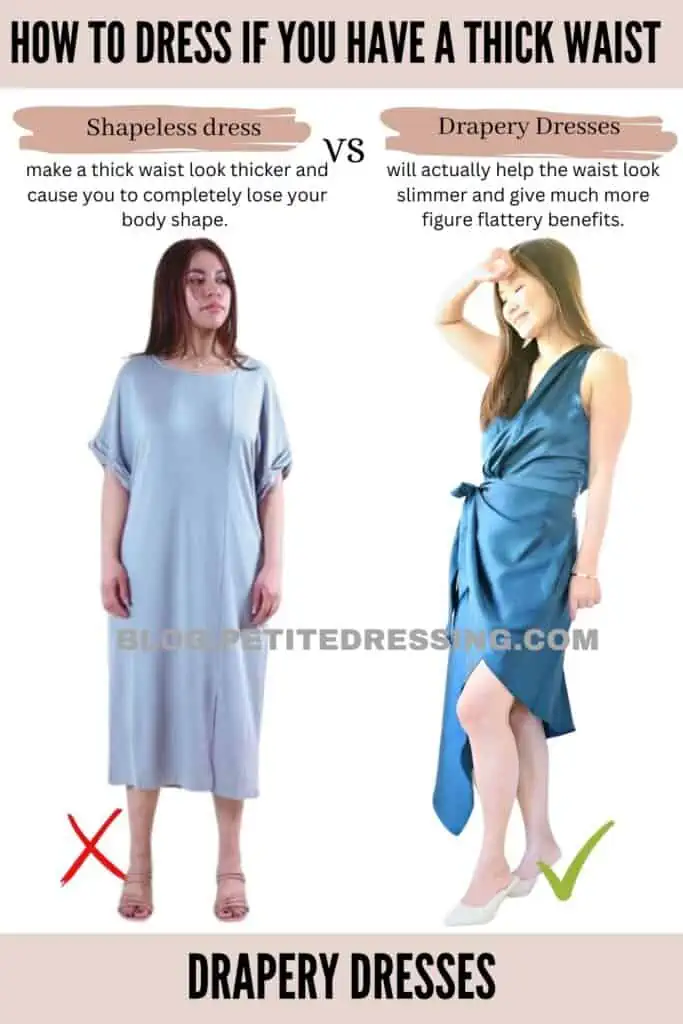 Anything that's draped tends to lay close to the body, without being too close. As tempting as it is to want to 'hide' a thick waist, it's actually very important that the clothes don't show that your shape is underneath there – this will actually help the waist look slimmer and give much more figure flattery benefits.
Vertical Patterns
As mentioned above in relation to asymmetric tops, vertical lines are something to favor when dressing a thick waist.
Everyone has heard the age-old fashion fear of horizontal stripes making us appear BIGGER than we are, but flipping the direction of lines to be vertical has the opposite effect to the body.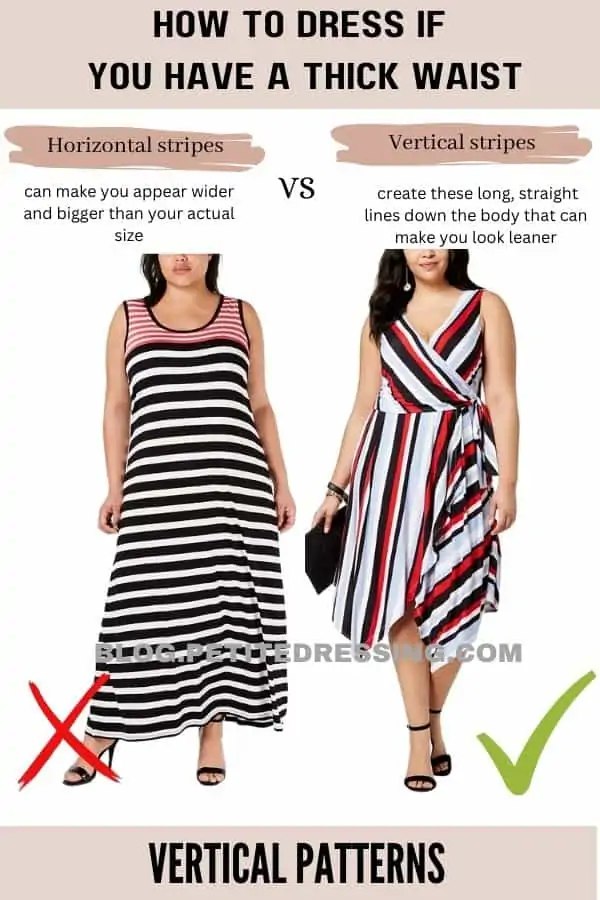 And this is why it's a great choice for a thick waist.
Vertical lines create these long, straight lines down the body which makes the body appear to be synonymous with those long, lean lines.
Whether it's a dress or a top, try to make it a point to bring vertical lines into your wardrobe more often.
Tops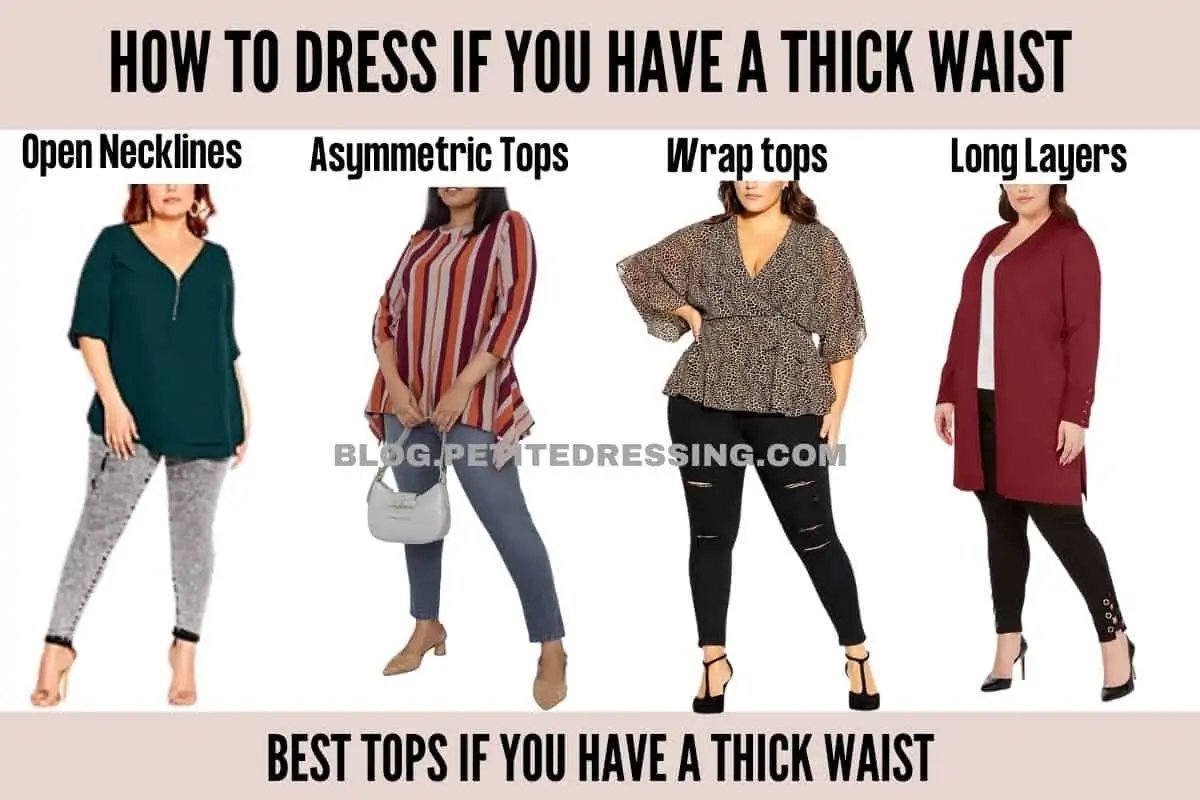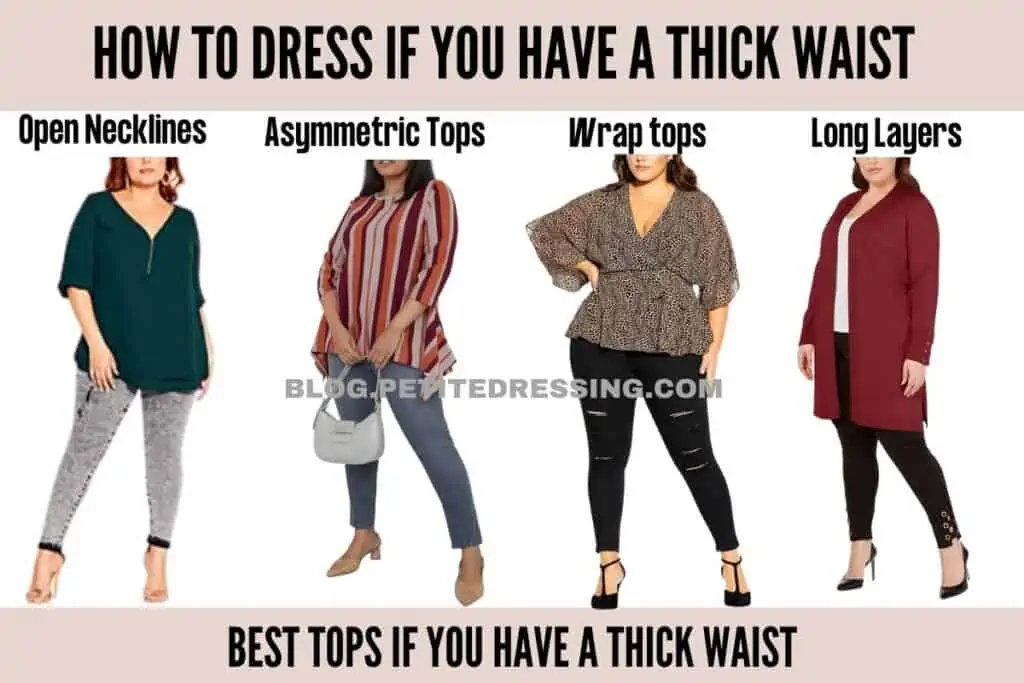 Open Necklines
Yes, even the neckline you choose can play a role in flattering your body. In the case of a thick waist, open necklines are going to be the best bet – specifically v-necklines. The benefit of a v-neck is that it creates an elongated effect on the top half of the body and also draws attention closer to the face rather than the waist.
See why it's such a great detail to favor? In general though, necklines that are a bit open are going to help bring more of the focus toward your face and chest which is something that instantly flatters a wider waist.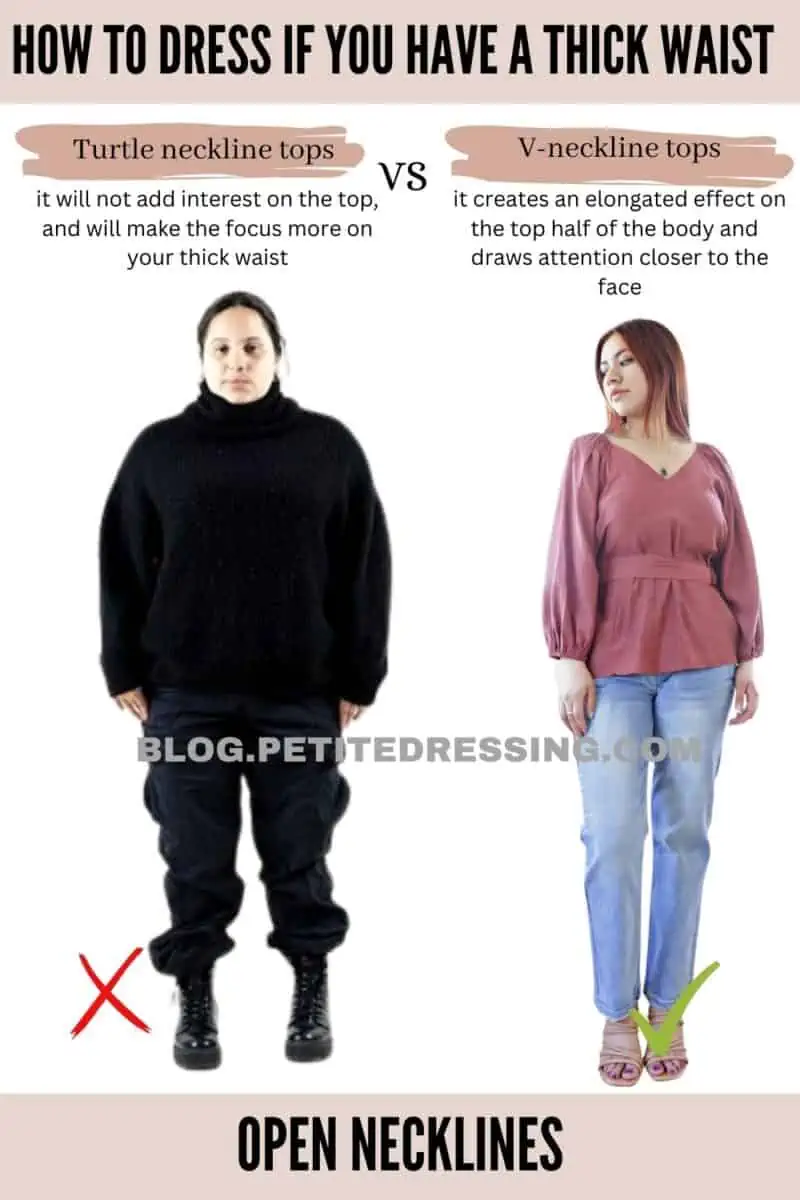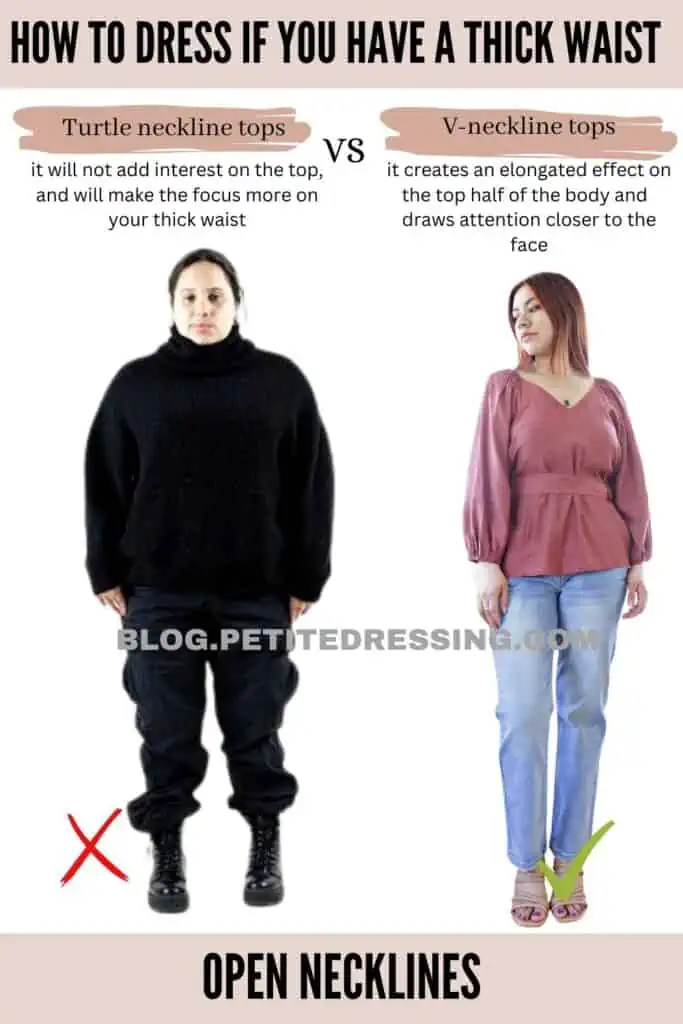 Asymmetric Tops
This tip may come as a surprise, but it's highly suggested by style experts to wear tops with asymmetric detailing when you have a thick waist.
Asymmetric tops have a way of creating this really subtle vertical line down the top half of the body, specifically around the waistline.
This is something to favor with a thick waist because vertical lines lengthen and slim.
Now when selecting an asymmetric top to try out, just make sure it's something that is going to give your shape this subtle vertical line, this can be achieved with an asymmetric print or pattern, the structure of the top itself, draping, etc.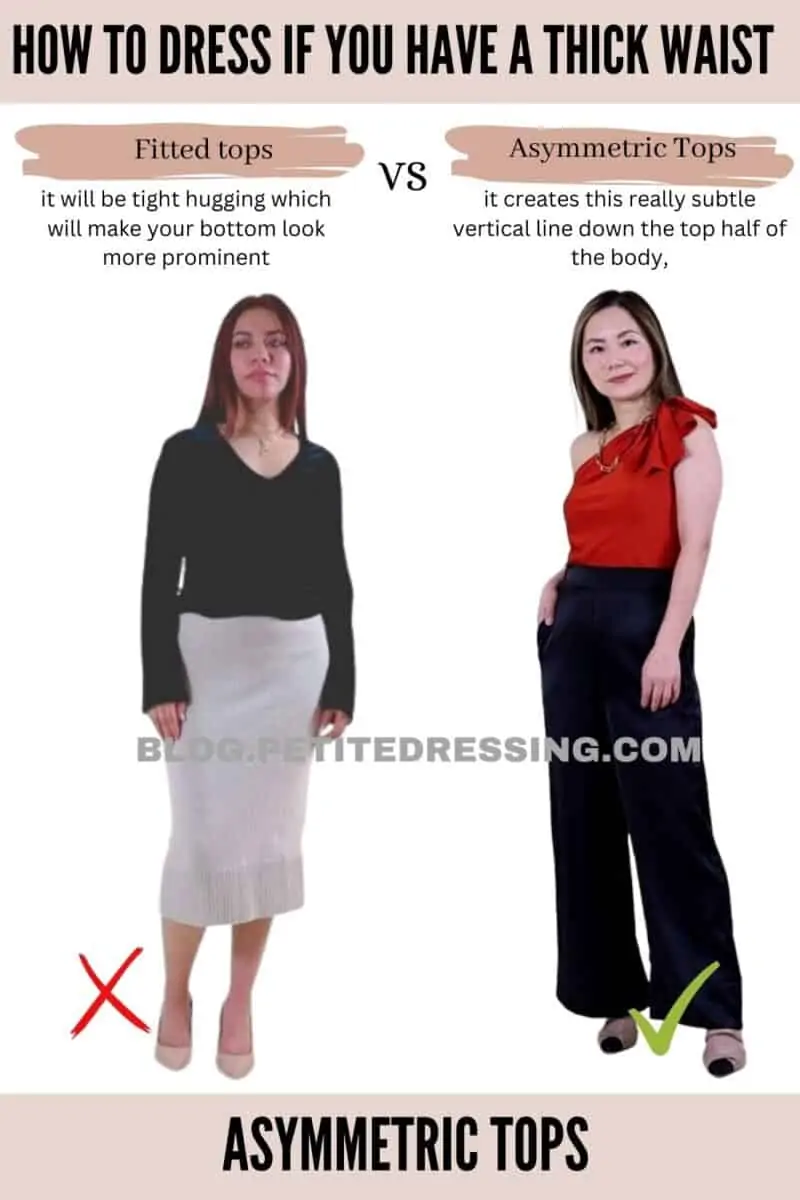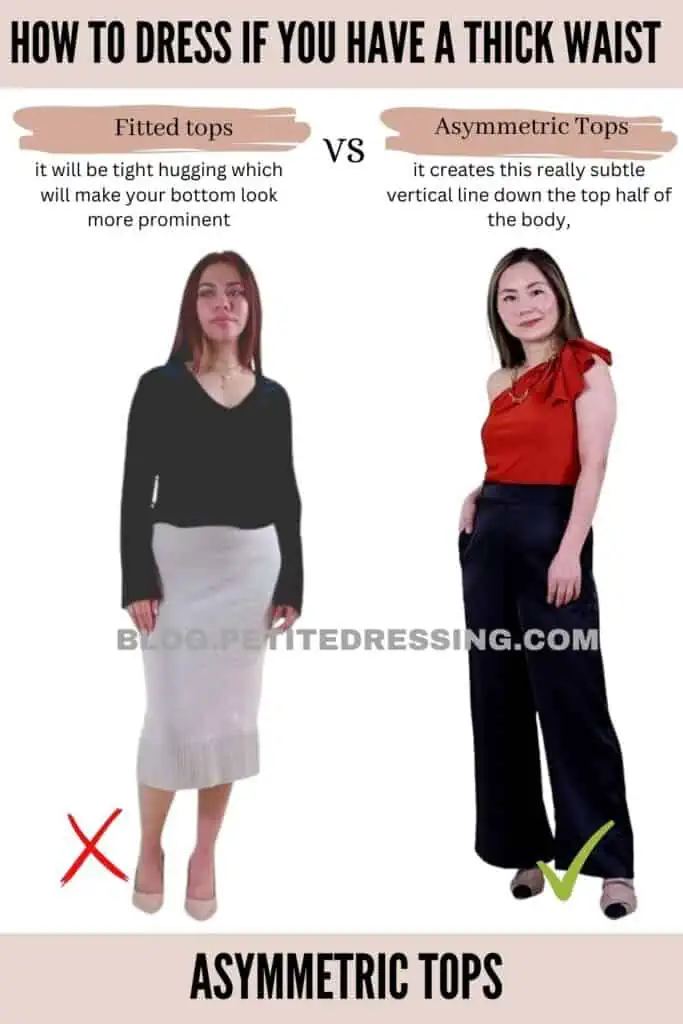 Wrap tops
Just like wrap dresses, wrap tops serve the same purpose of flattering women with thicker waist.
Because of the wrapped structure that rests around the waist, it creates this defined, structured effect to that area of the body that instantly slims and smooths.
It's true! In essence, a wrap silhouette gives the illusion of an hourglass shape whether you have one naturally or not.
So often women with a thick waist avoid garments that fit this way around the midsection but it's something to begin embracing.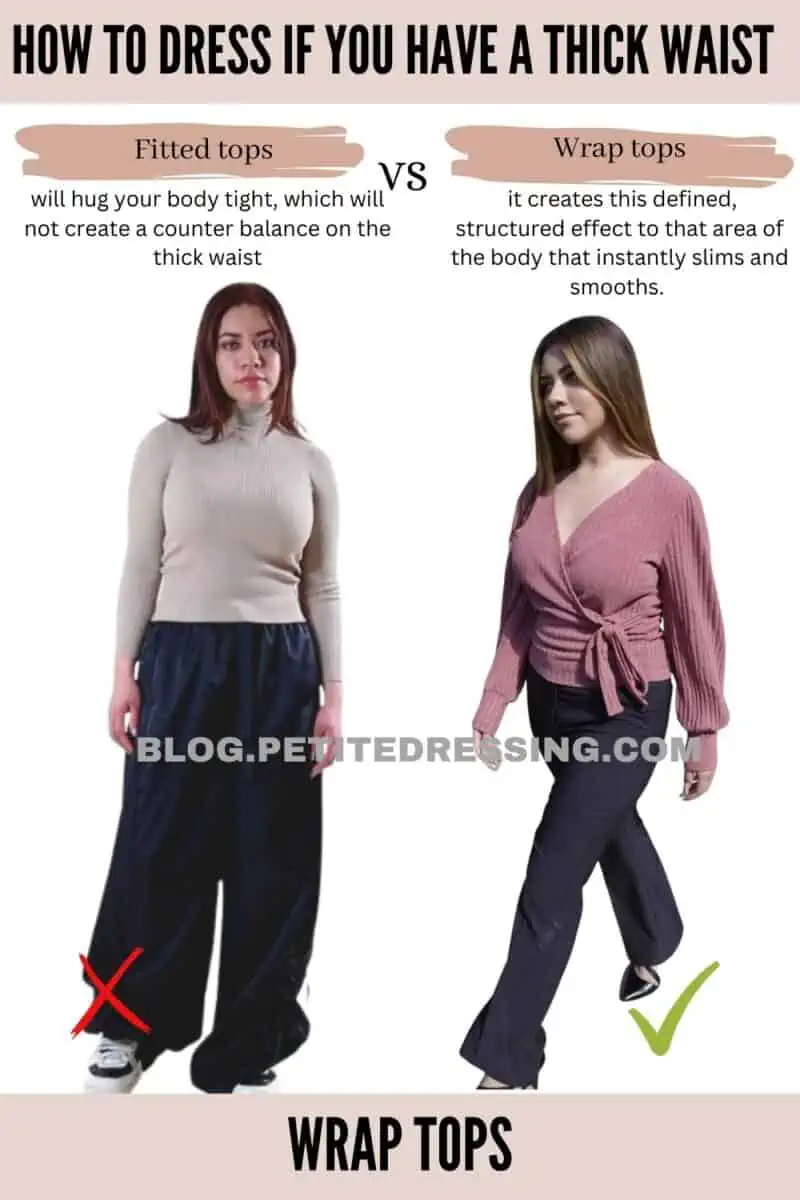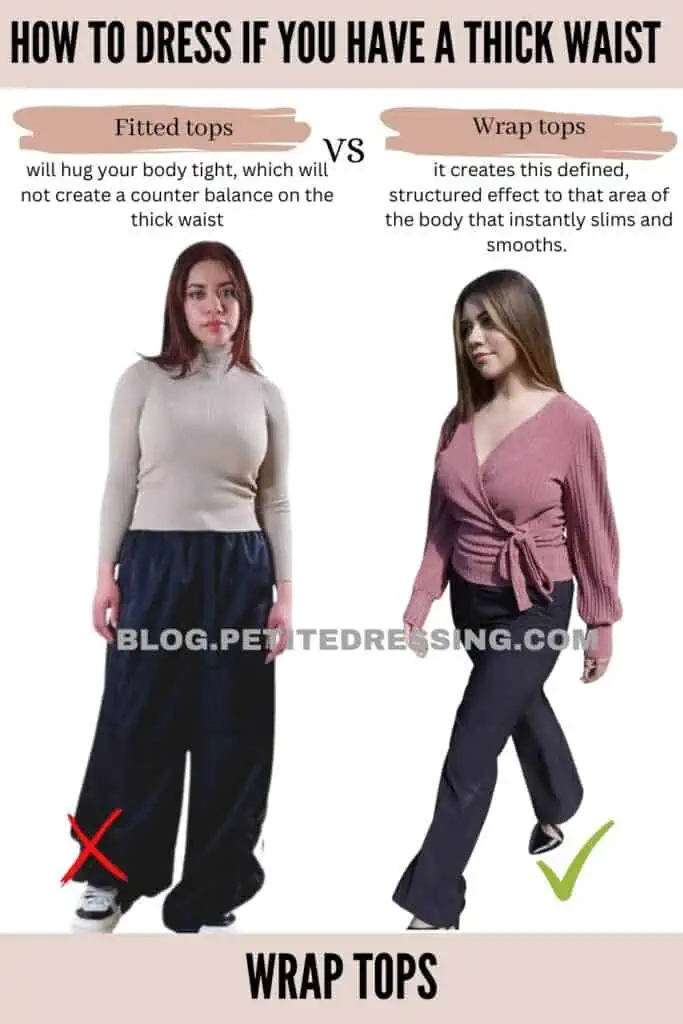 Long Layers
Clearly, giving the look of a vertical line to an outfit is a great way to style an apple body type (aka thick waist).
One trick to achieving this, that's often forgotten, is by utilizing layers. Adding pieces like long cardigans, structure blazers, jackets, etc. over the top of the rest of an outfit (and worn open) creates these very distinct vertical lines down the center of the body.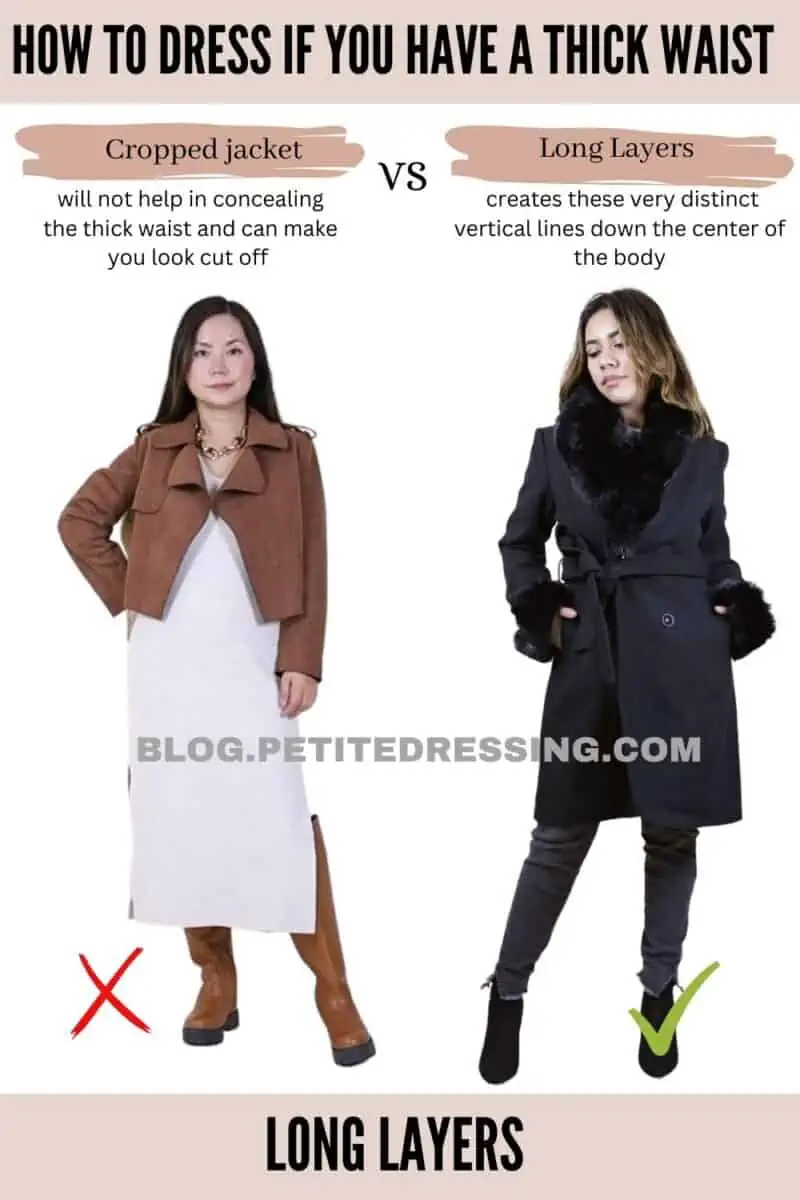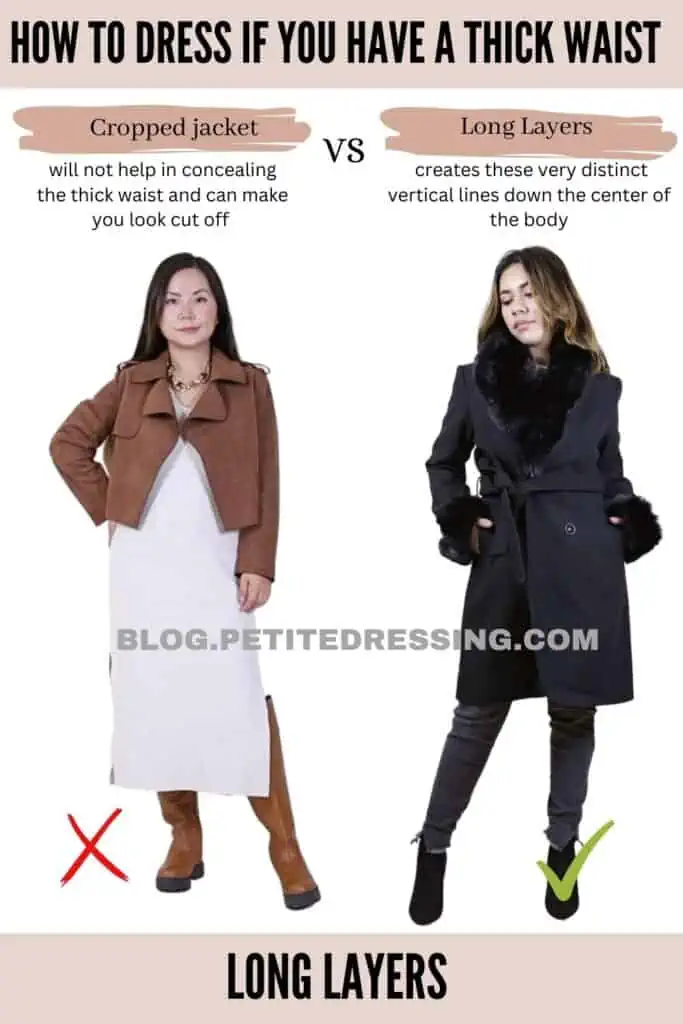 This is a great trick to use if you have an outfit that's fairly loose and doesn't offer a lot of structure as is, throwing on a layering piece instantly transforms the outfit into something that's incredibly figure flattering.
Not to mention it's also a great way to add texture, additional style and personality to an outfit so you can really make it your own.
Bottoms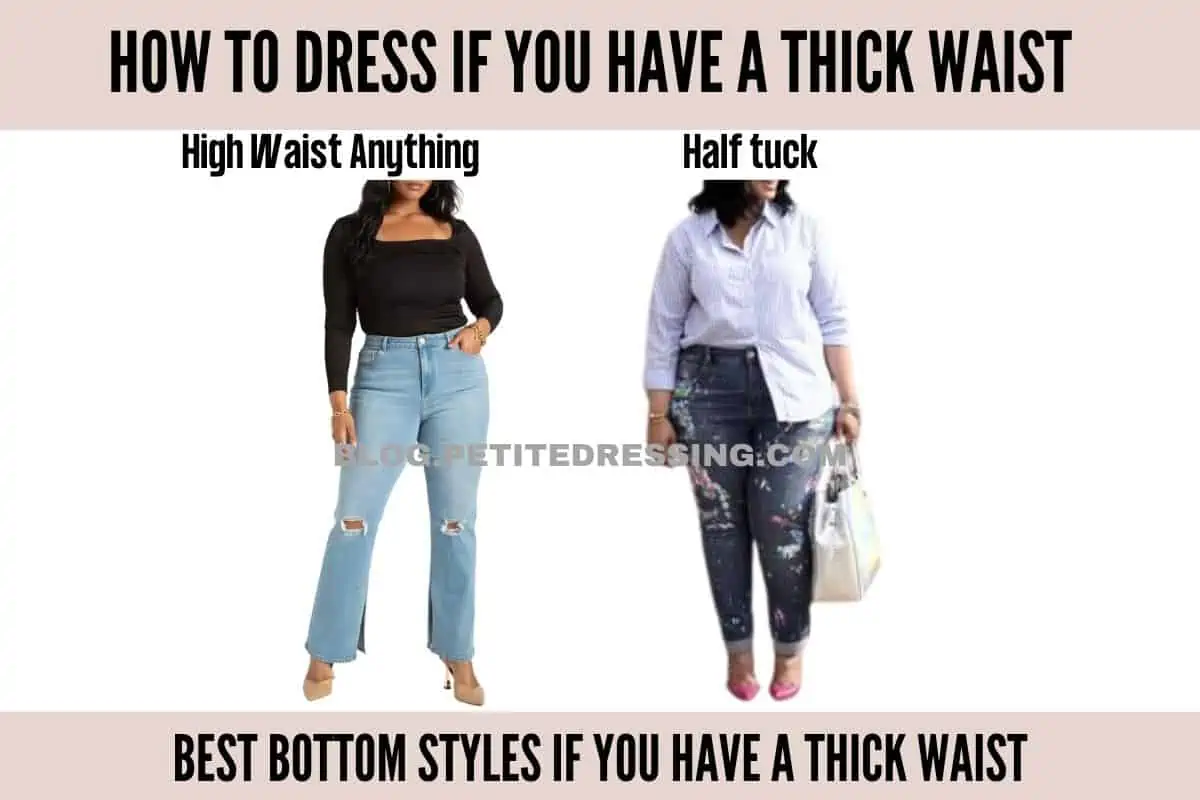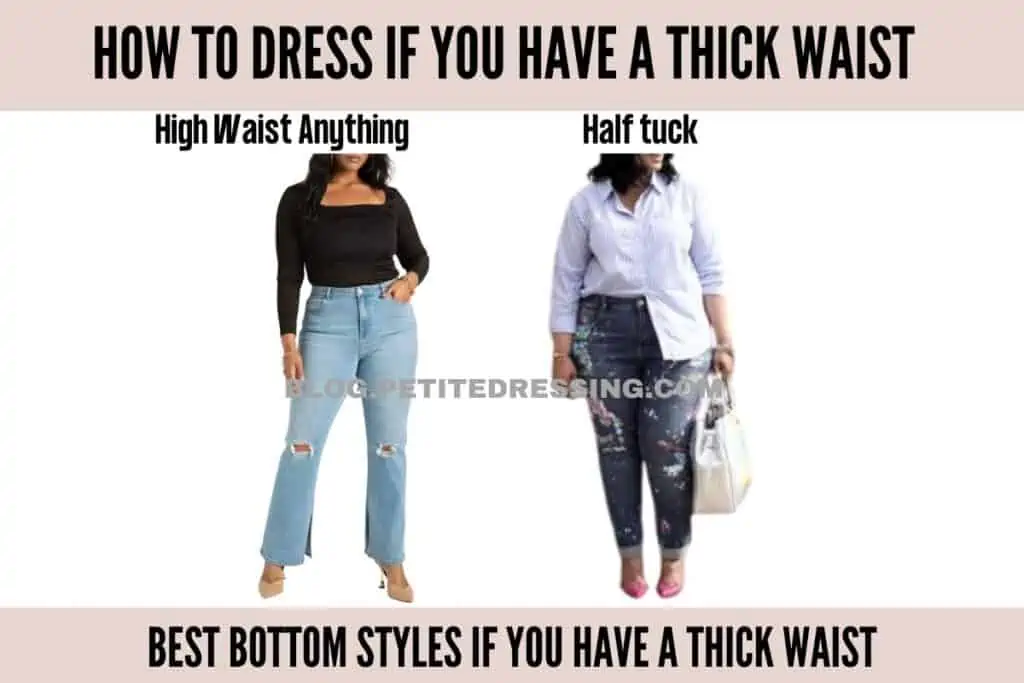 High Waist Anything
Believe it or not, when dressing a thicker waist, the more you wear pieces that create definition and 'cinch' the area the better. That 'cinching' detail gives the midsection (i.e. muffin top) a thinner appearance, even if it's subtle. This is why high waisted bottoms are the best choice.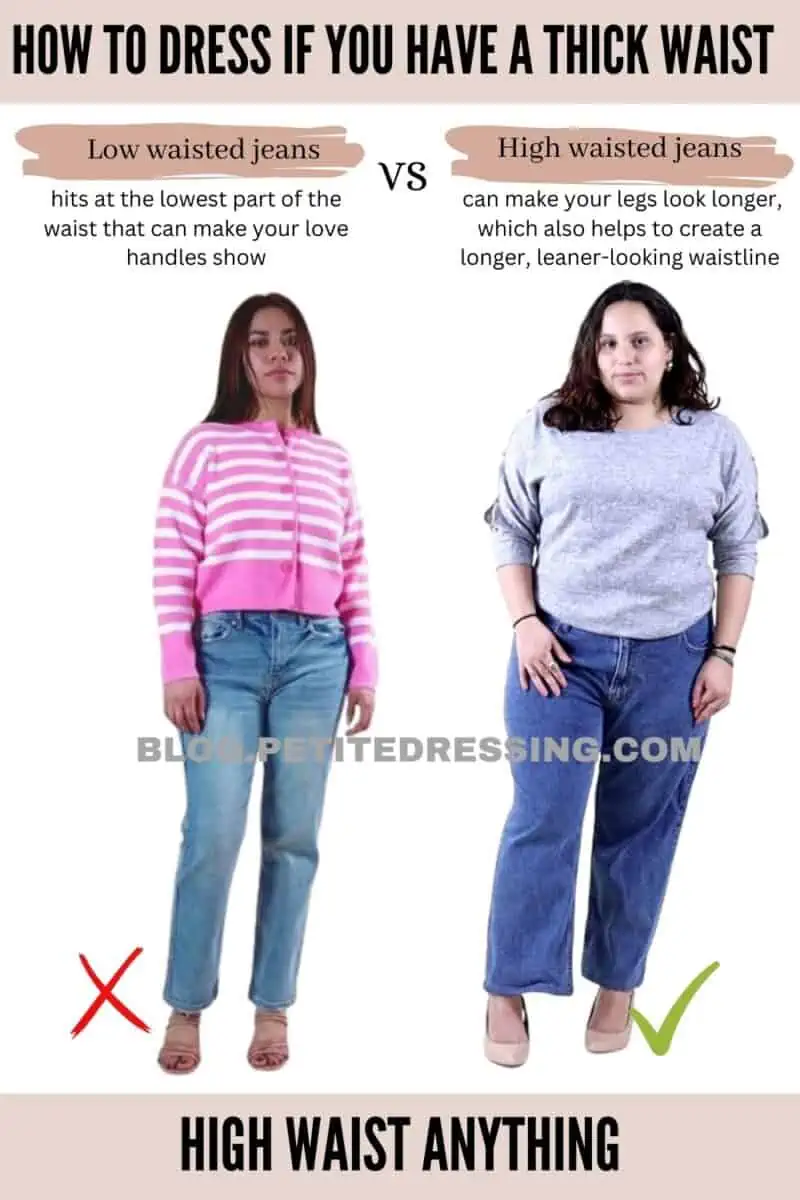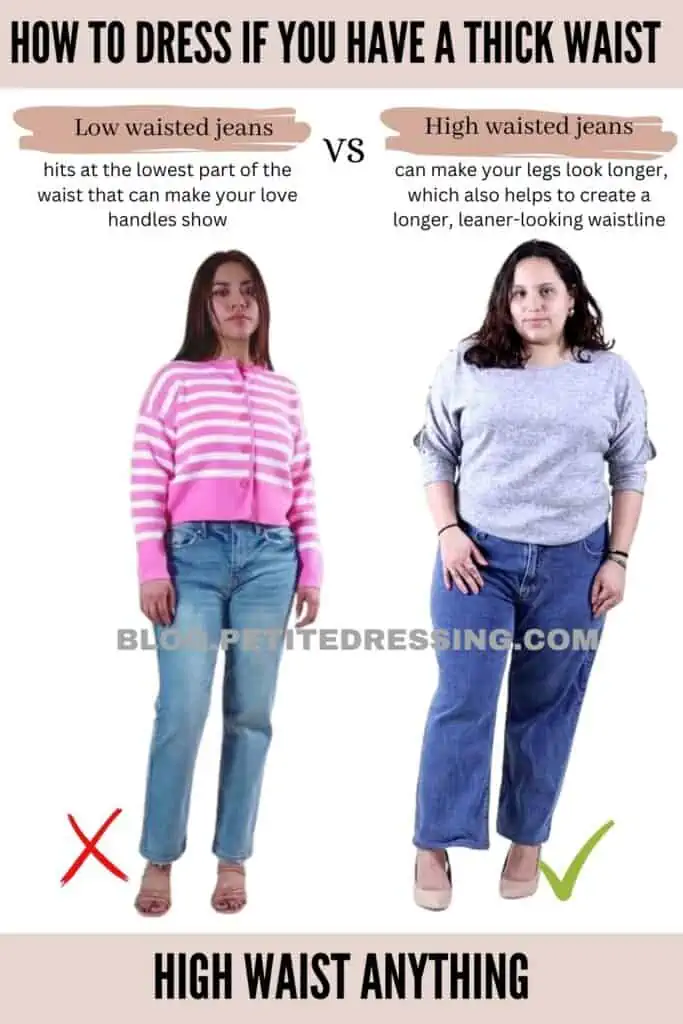 High-waist bottoms is my go-to. Most of my jeans, pants and skirts are high-waisted.
Because of the placement of high-waisted bottoms, they immediately draw the attention up, towards the smallest area of the waist to create this slimming effect. In addition, high-waisted pants can make your legs look longer, which also helps to create a longer, leaner-looking waistline. Win-win in the style books.
Avoid low-rise jeans
If your waist is thick, it's best to avoid low-rise jeans
Even if they begin trending again low-rise bottoms aren't the best style choice for a thick waist.
The problem with low rise is where it rests on the body, generally right at the widest part of the waist/hip area and that will often make that area appear thicker and more emphasized in a not-so-flattering way.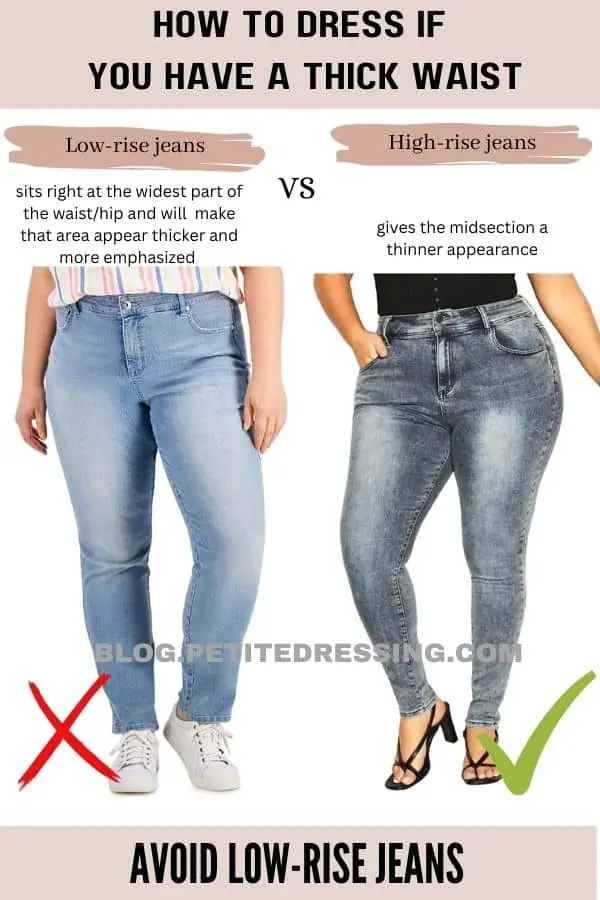 Half tuck
This is one that many women with thick waists tend to stay away from when in fact, it's a styling trick that's something to get into the habit of utilizing.
By now you've gathered that one of the main elements to dressing a thick waist is cinching the waistline, there are a handful of different ways to do this with clothing and another is to simply tuck your shirt in!
As tempting and easy as it is to just leave shirts untucked, doing a simple tuck (even a half tuck will do the trick!) gives just enough definition to the waist to cinch it and flatter a thick waist. This is something to do even more with tops that lack a lot of shape and structure, tucking them provides that shape to the body so you're not lost and appear bigger.
Avoid a Lot of Waist Detailing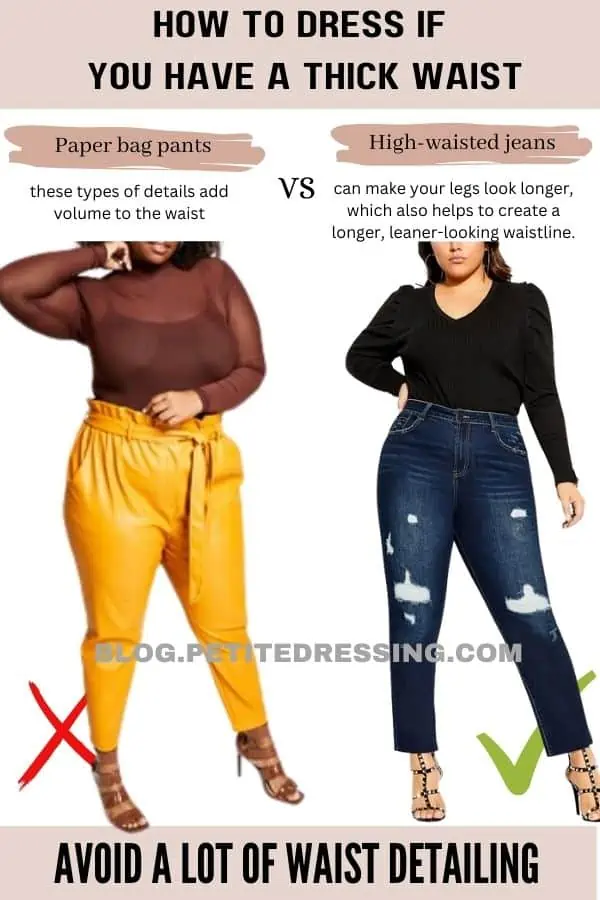 While cinching the waistline is flattering, wearing garments that have a lot of detailing to them isn't the best choice for an apple shape.
Detailing can include things like ruffles, pleating, and paper bag style bottoms – for example.
All of these types of details add volume to the area of the body they are worn on, which means if they're around the waist they will add volume there. Instead, keep things minimal around the midsection so your shape is flattered in the best way possible.
Accessories
Wear a Belt
Belts are a great accessory to use as an asset when getting dressed, no matter your body type.
But when dressing a thick waist, it's even more of a crucial accessory to make use of.
Anytime you notice an outfit looks really baggy, loose and even dowdy on the body – try to add a belt.
It's a great little stylist trick to instantly add definition and structure to the body to slim a thick waist. Again, it's all about adding some definition to that part of the body and belts are a really easy way to achieve this.
The key, however, is to use the right belt! When you have a thicker waist, the best belt is something that is similar to the color of your clothing. It is critical to create a subtle definition of waist, without drawing too much attention to your midsection.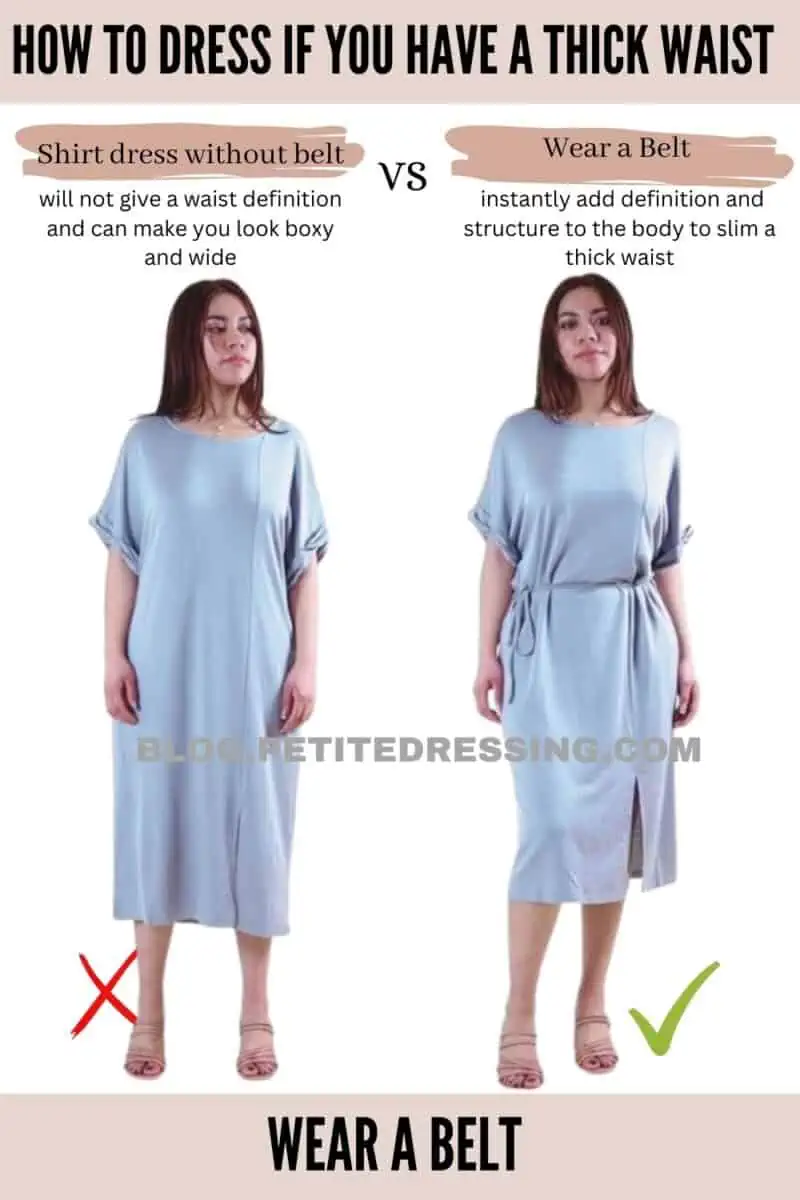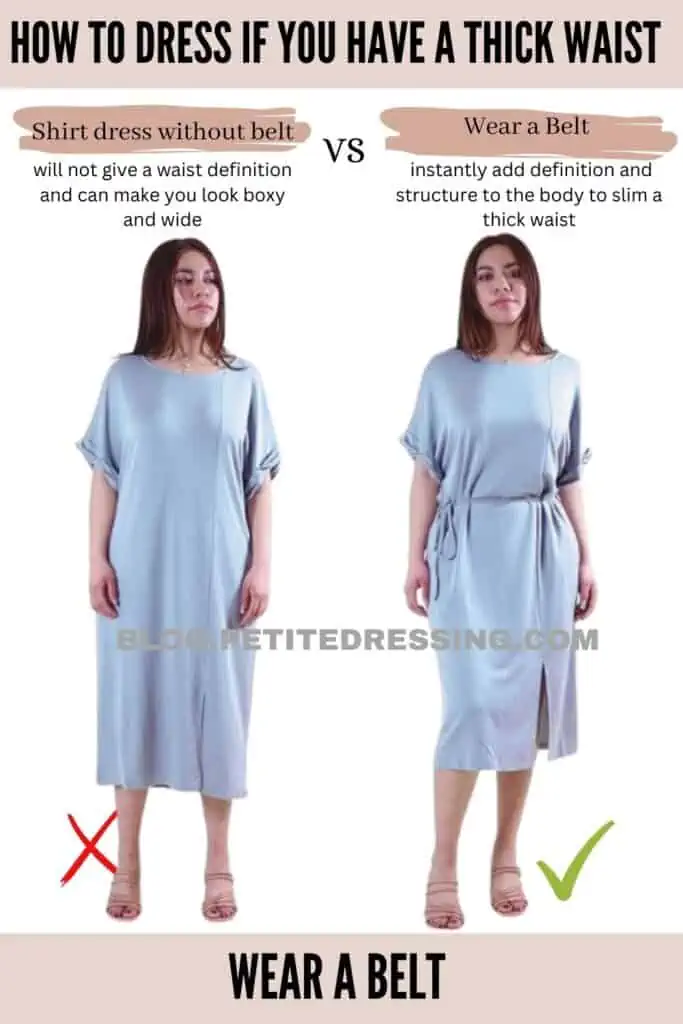 Caution with Wide Belts
It is important to mention you want to make sure the belt you choose is proportioned to the rest of your shape.
I like wider belts like this because I have a longer torso, relative to my height.
However, if you're have a short torso, you will want to stay away from belts that are very wide, as they tend to make the waist appear even shorter by taking up a lot of space on that part of the body.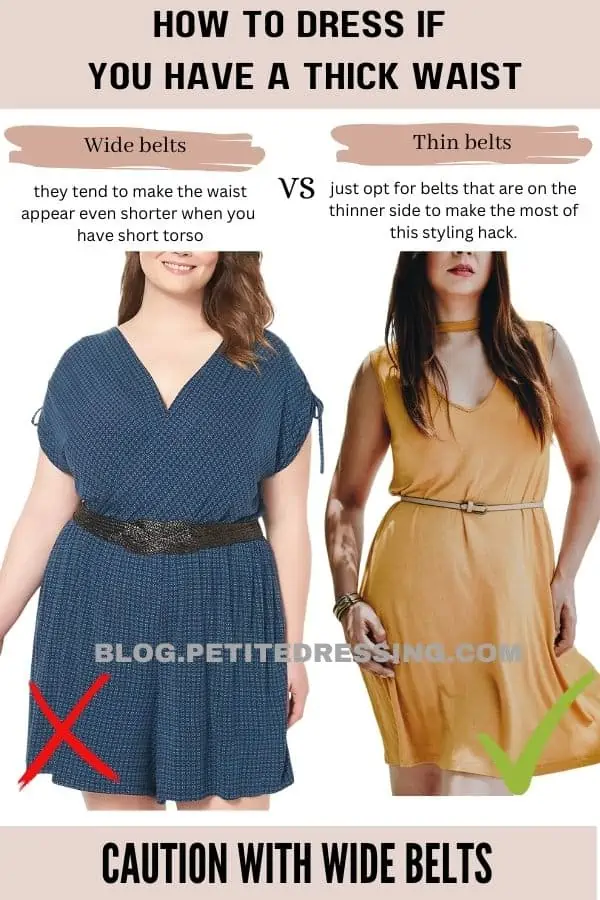 Thinner belts tend to be the most flattering universally so if you're unsure, just opt for belts that are on the thinner side to make the most of this styling hack.