Every once in a while, you need to step out in a prom dress that makes you look amazing and turn heads everywhere you go. However, as a woman with a thick waist, how do you know which styles are flattering to your body shape and will emphasize your curves in a subtle, sexy way? Here's our ultimate guide on the prom dresses that look good on women with a thick waists and those styles to avoid.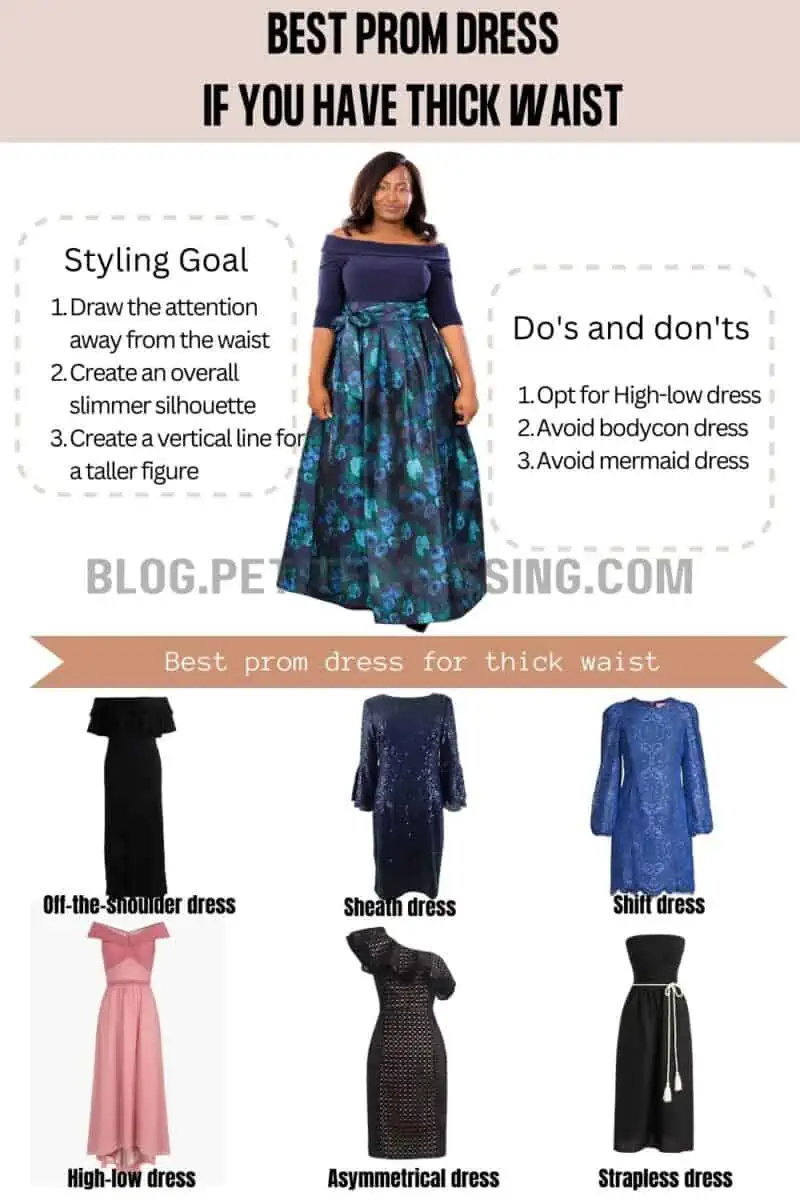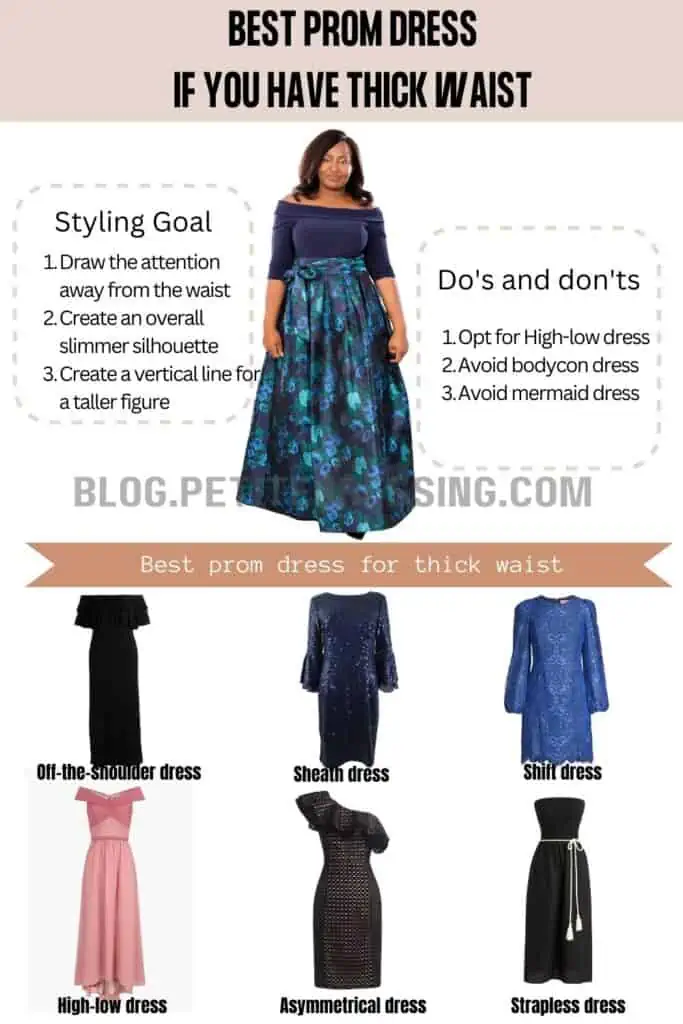 Off-the-shoulder dress
Off-the-shoulder dresses are an amazing choice for women with thick waists since this is a perfect way to draw attention away from the waist. Instead, there is more attention on the neckline and shoulders which leads to a balanced overall look.
It might seem like an off-the-shoulder dress that shows too much neckline and shoulders. However, this is far from the truth. The presence of your bare shoulders will create the illusion that you have a slimmer waist.
This will create an overall slimmer silhouette that will make your thick waist look more amazing than ever. Since this is a prom dress, you can style this with a classic pair of heels.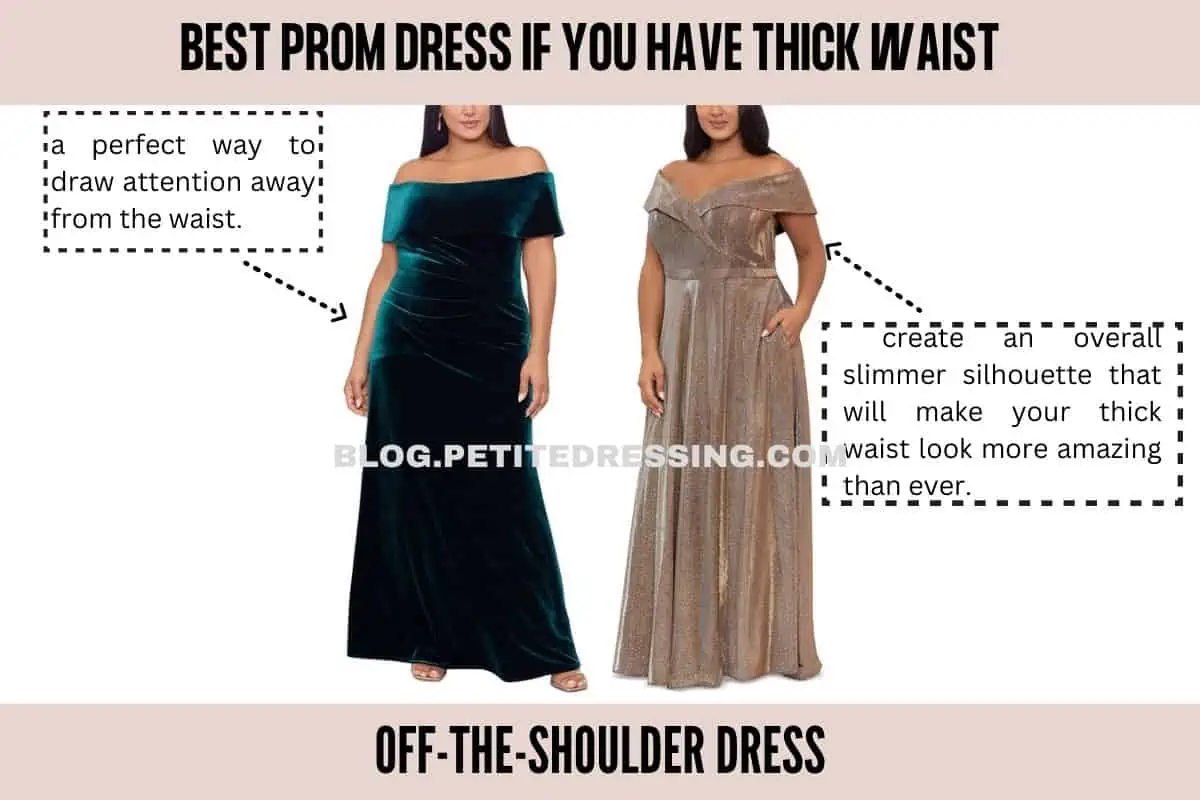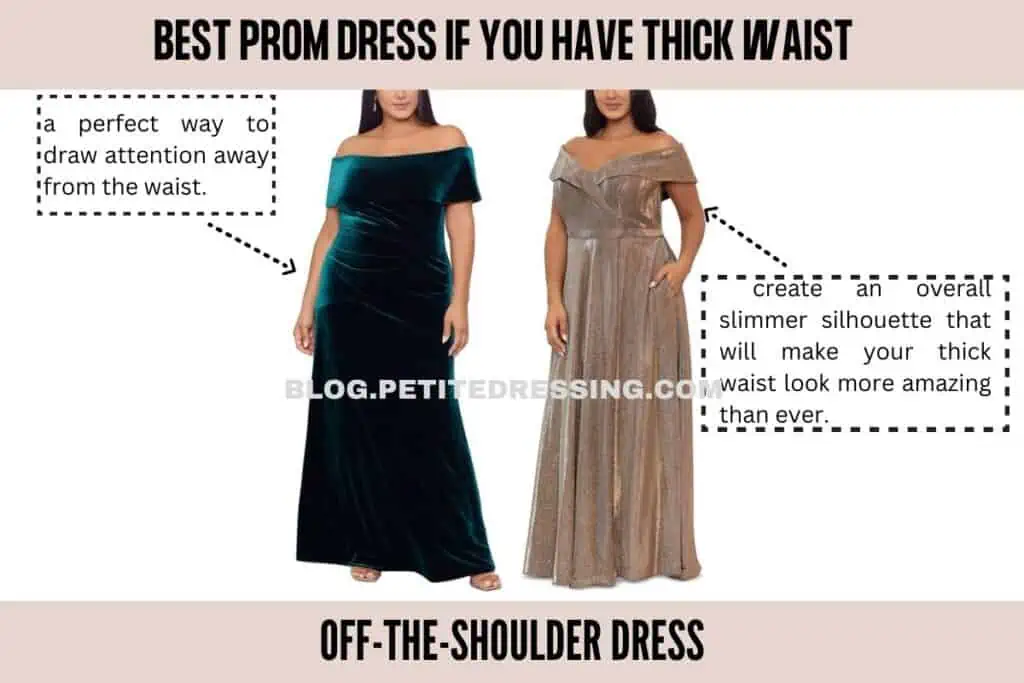 Sheath dress
The major feature of all sheath dresses is that they have a close-fitting silhouette that is not figure-hugging in an uncomfortable way. Instead, they skim around the curves beautifully, giving off a delicate feminine vibe that makes them perfect as prom dresses.
A sheath dress is also great for elongating your body frame, with a more balanced overall appearance as it draws the eyes away from the waist region. This works because most sheath dresses are made from stretch fabric which hugs the body without being too tight.
Women with thick waists can benefit from how sheath dresses smoothen and contour the body in a way that highlights the best parts. However, you're at liberty to style this with simple accessories that won't diminish the overall benefit of your prom dress.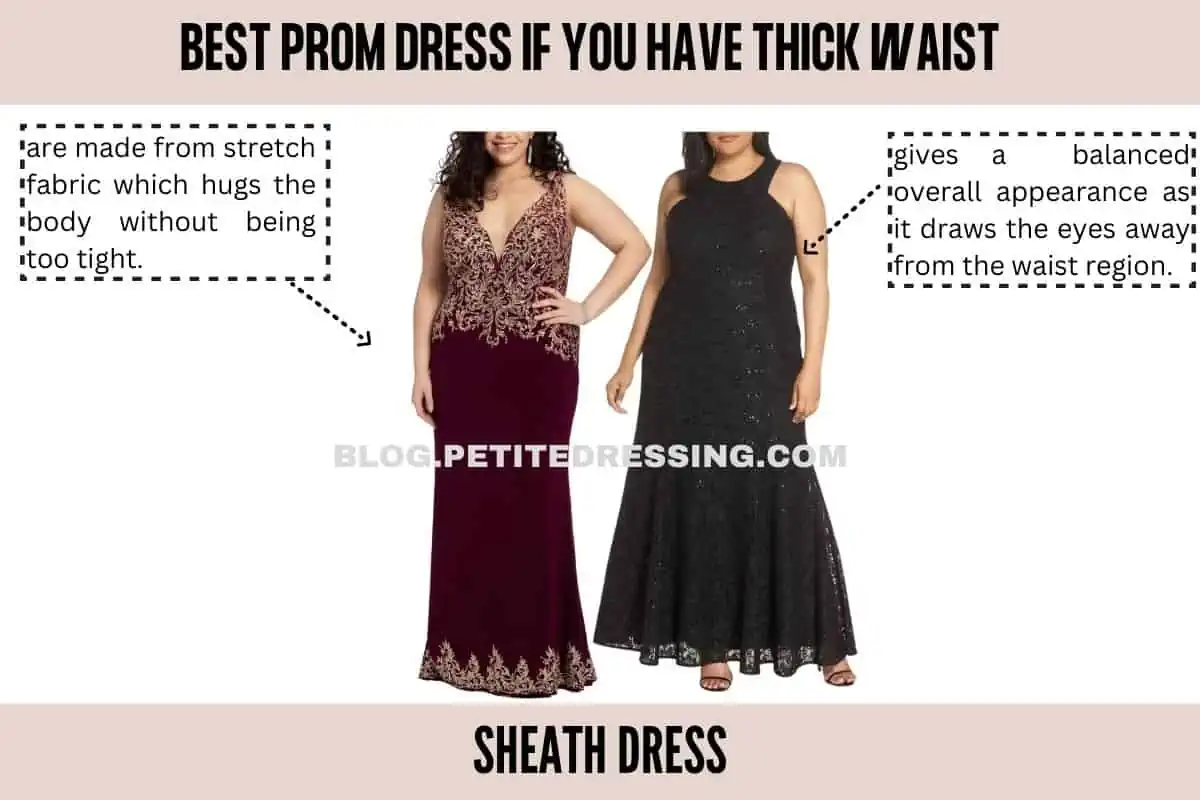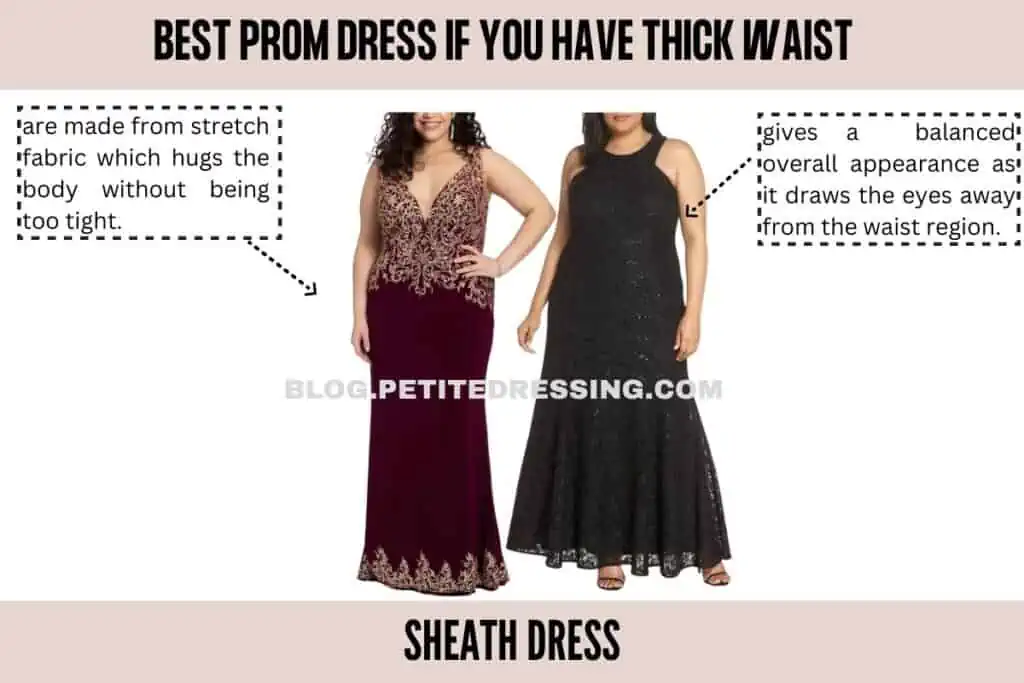 Shift dress
As a woman with a thick waist, it can sometimes be challenging to find an amazing prom dress that will highlight your best features, and you'll feel good wearing them. We bet you'll love how shift dresses make you feel, as this loose dress style can be extremely flattering.
Unlike a few other prom dress styles we've talked about earlier, shift dresses are not clingy or have a defined waistline. Instead, a primary benefit is to camouflage your thick waist such that it appears leaner and in perfect proportion with other parts of your body.
Shift dresses create a clean and simple line that creates an even shape throughout all aspects of the body. We recommend choosing this dress style with comfortable and lightweight fabric, so you will feel relaxed enough to wear this for a long time without feeling any discomfort. The goal is to feel elegant and comfy.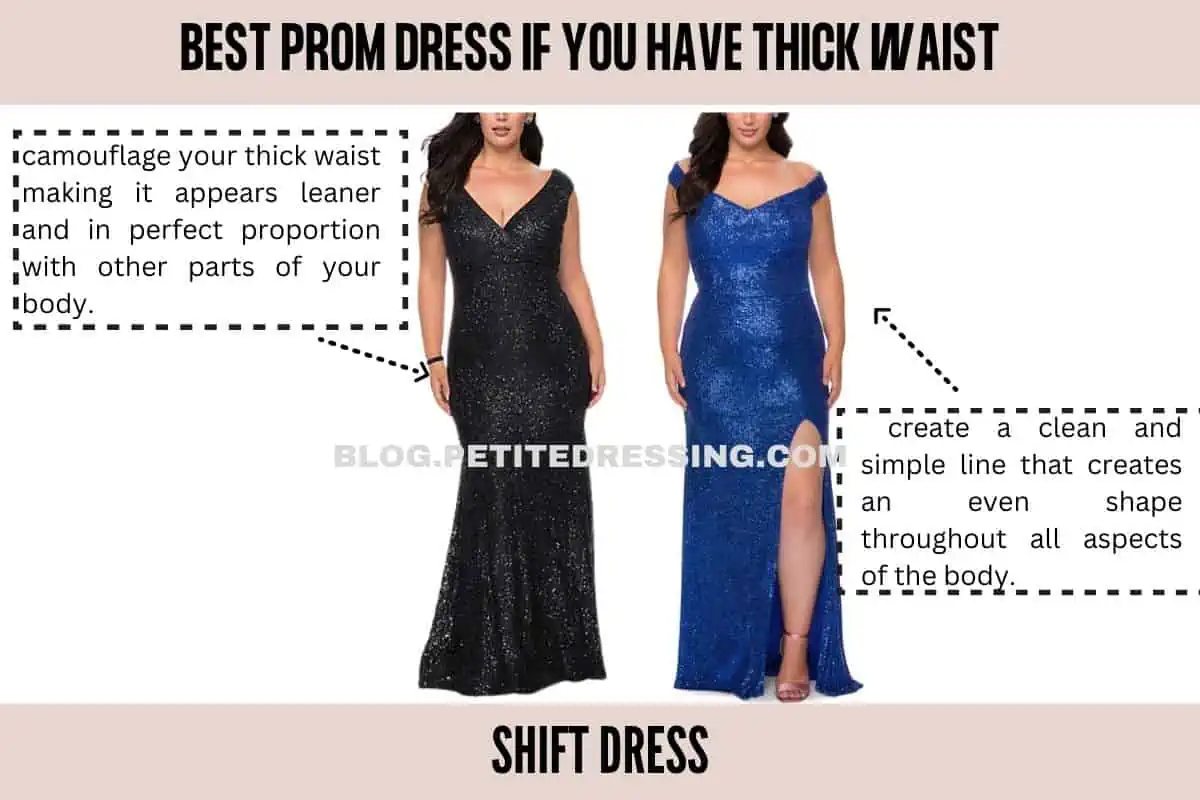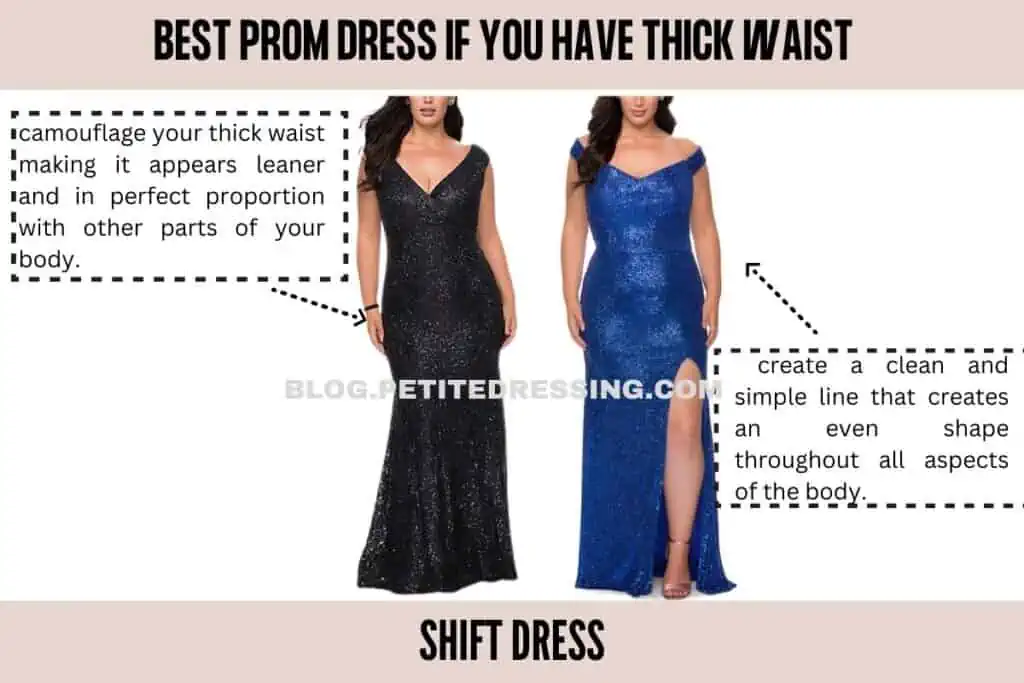 High-low dress
High-low dresses have a longer hemline at the back, while the hemline at the front is shorter. This unique style of dress can be worn to a variety of occasions, including as a prom dress for women with thick waists. So, what makes this dress style so great?
Well, with the longer back and shorter front, the first major feature of the high-low dress is that it makes your legs more visible. You can accessorize this with statement earrings or necklaces to make it perfect for a formal prom-like evening.
Since the hemline draws more attention to your legs, it automatically draws the focus away from your waist. The longer back hemline also doubles as a fantastic way to elongate your body so you appear taller than you actually are. This also creates a more streamlined look that every woman with a thick waist will love.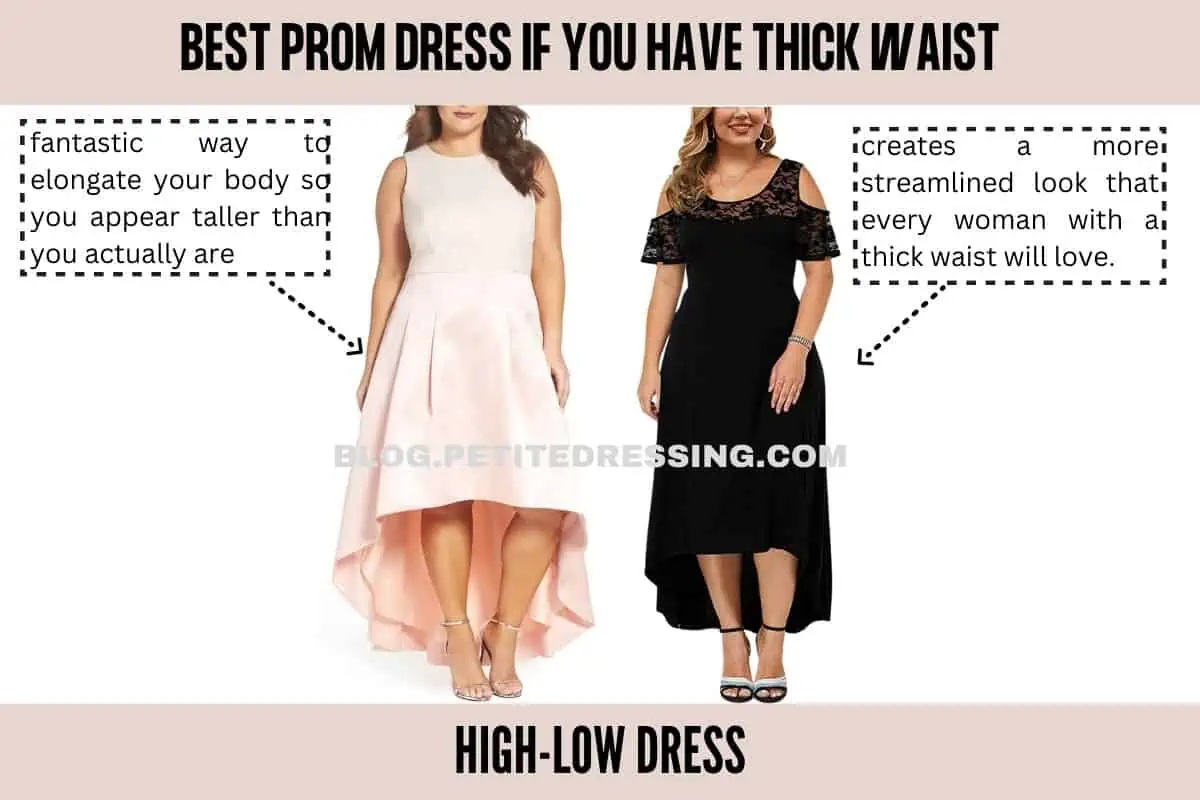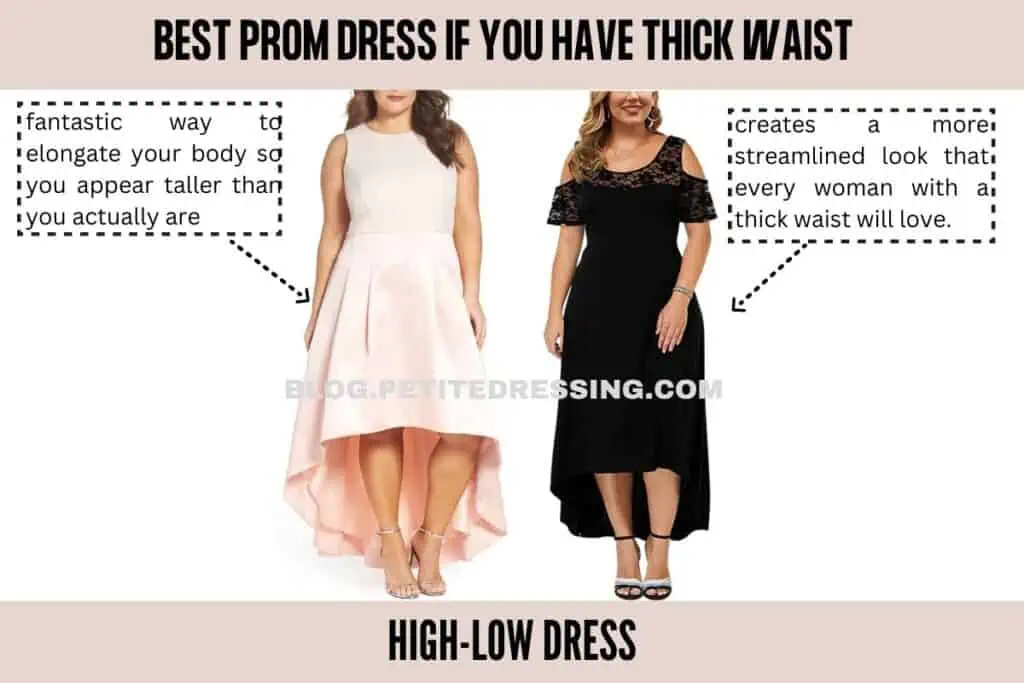 Asymmetrical dress
Asymmetrical dresses are a clever combination of the concept of stylish Grecian gowns and elegant cocktail dresses to create an eye-catching design that has been around for decades. You can tell an asymmetrical dress by the slanted neckline or hemline, and they usually come in a one-shoulder bodice style.
If it's a slanted hemline, this could be a subtle slant in one direction to several stylish slants. However, this is one of the few prom dress styles that work great for women with thick waists. They are fantastic at creating a proportionate and overall balanced look on the body.
The slanted hemline draws more attention to the legs while the slanted neckline draws more attention to the shoulders. Combined, this reduces the attention on the waist area, giving you a slimmer silhouette. You'll also appear taller as this dress has an elongated effect.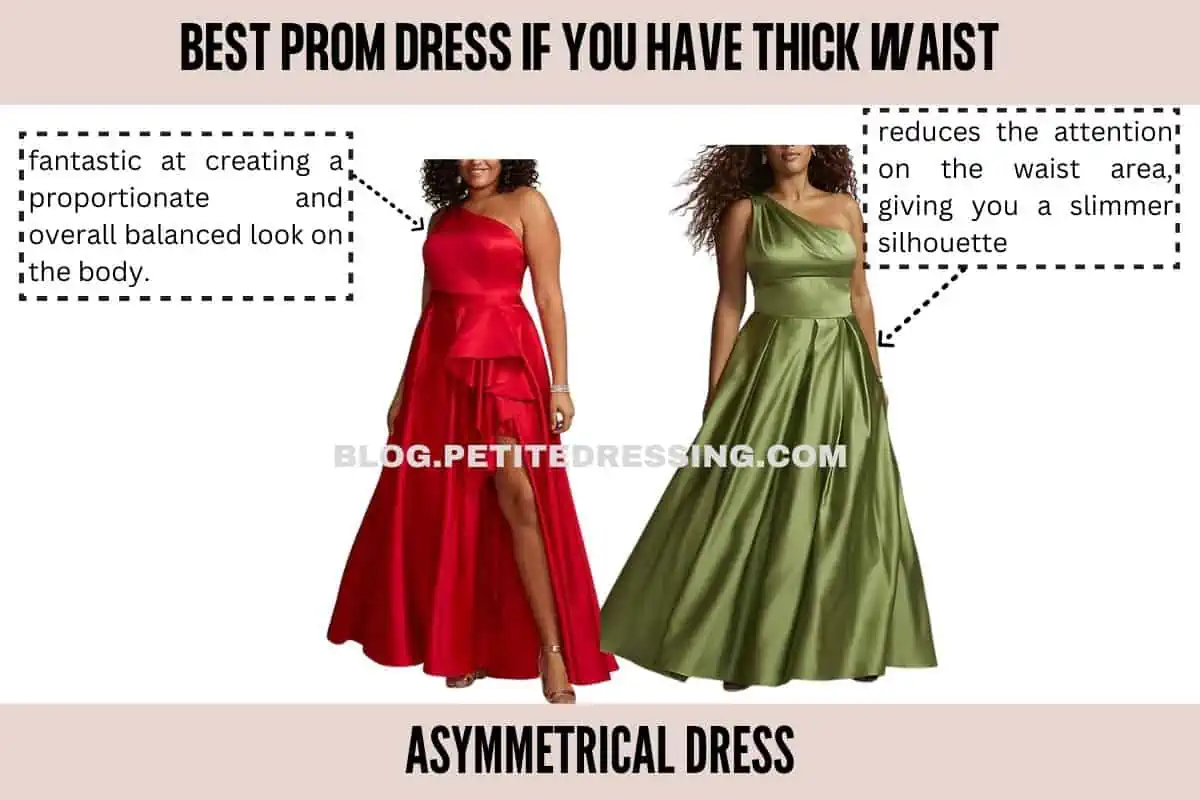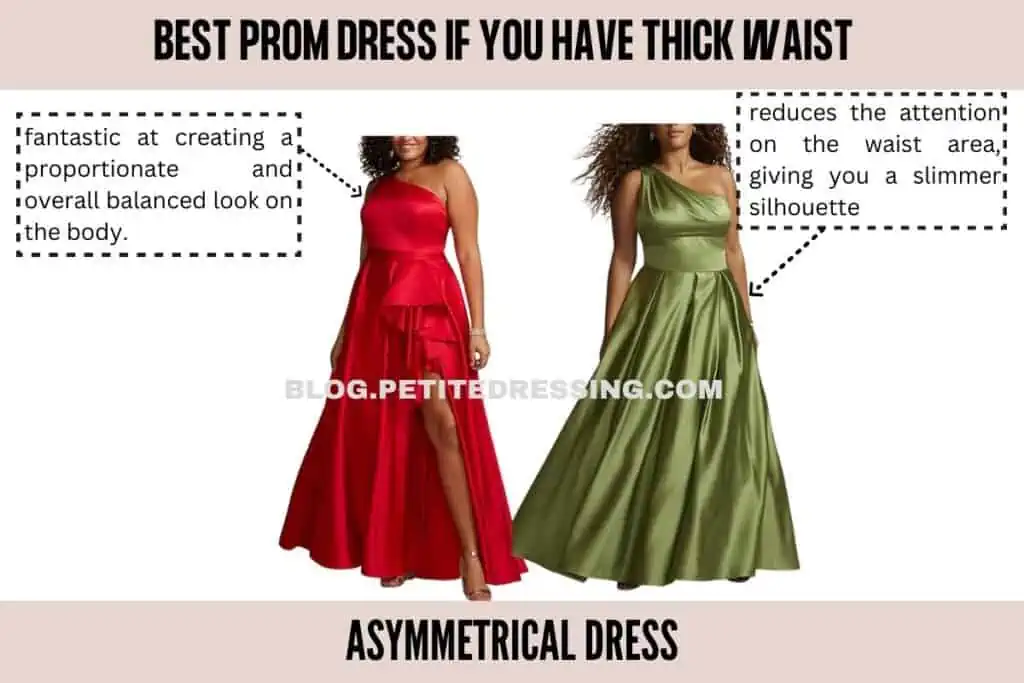 Strapless dress
Strapless dresses will naturally draw more attention to your arms, shoulders, and neckline since these are areas stylishly exposed by the strapless dress design. This is great because it draws attention away from your waistline and is perfect for hiding muffin tops.
So, if you have a bigger belly that you would love to conceal without wearing shapewear, a strapless dress is great for that purpose. Thanks to the design, you can elongate your body and create the illusion of a leaner waist.
This is a fantastic dress style for special occasions, summer, and as prom dresses. Strapless dresses are a huge win because they are comfortable and elegant. Of course, you can accessorize this based on your personal style, as the ultimate goal is to make sure that you feel good whenever you put this dress on.
Be sure to go for a dress that's your exact size, and look out for bust support to minimize the chances of discomfort. Don't go for smaller or larger sizes, as this won't highlight your curves as they should.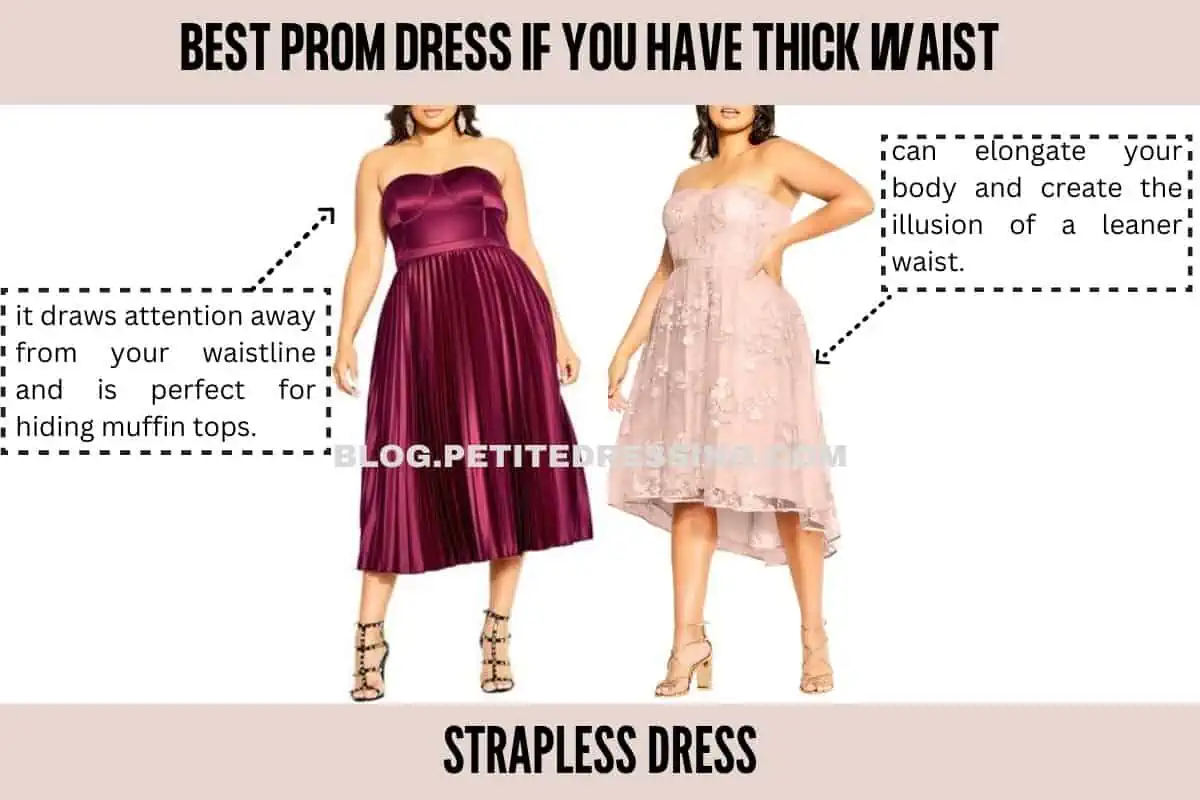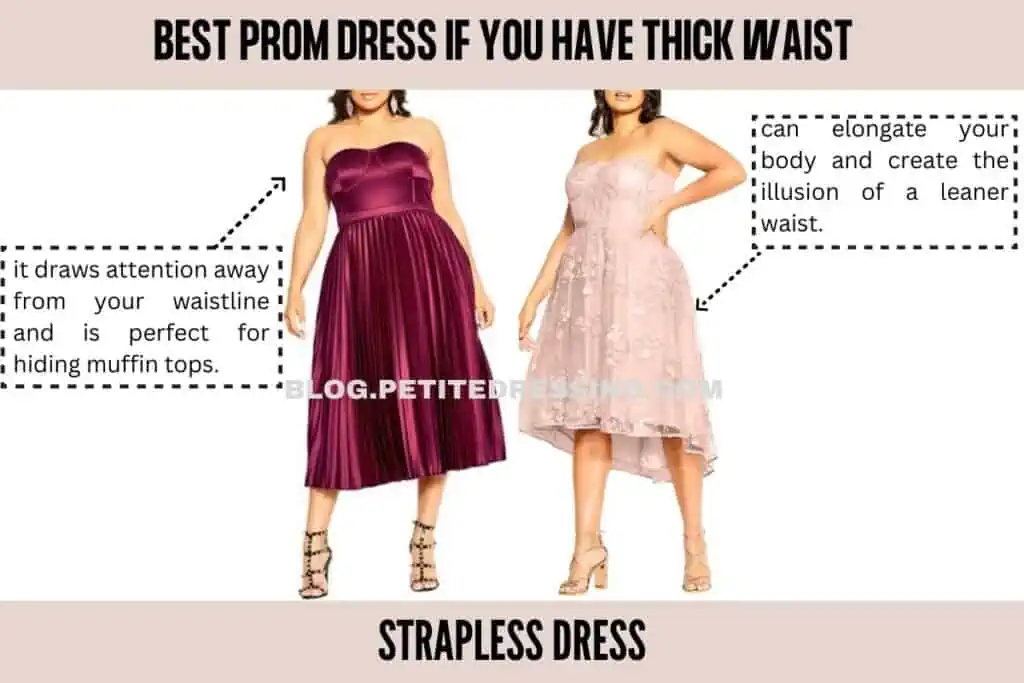 Avoid bodycon dress
While bodycon dresses are one of the best dress styles out there, they are not flattering for women with thick waists. This is because this style is tight-fitting and designed to conform to the shape of the body naturally.
Therefore, it emphasizes the waist, and the result is an unflattering silhouette that can sometimes be very uncomfortable due to restricted movement. This tight-fitting prom dress style makes women with thick waists appear to have a larger waistline, which can increase the wearer's level of self-consciousness and discomfort.
This is not a flexible style for women with a thick waist, as you need a little more room for your curves, and your dress should skim down this shape flawlessly. Therefore, you should avoid bodycon dresses and instead opt for those with a more relaxed fit. Better choices are wrap dresses, shift dresses, and A-line dresses which are all very comfortable and flattering to your body shape.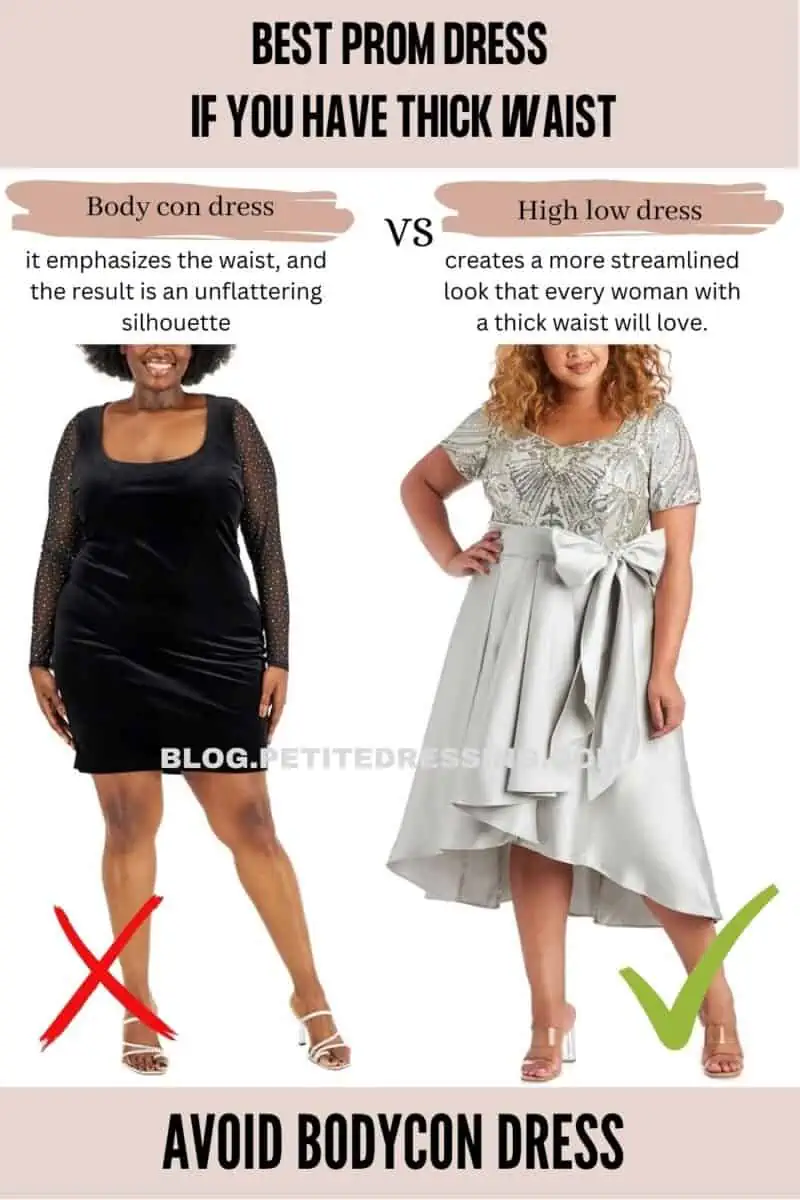 Avoid mermaid dress
Mermaid dresses usually have a fitted bodice but this style flares out at the hips until it drops to your ankle area. The major focus here is how it flares out, as this will emphasize your waist and make it appear larger.
Mermaid style dresses are unflattering for women with thick waists, as the tight fit of the bodice creates an uncomfortable silhouette for your body shape. Your lower body will appear larger, and you may experience movement restrictions too.
Imagine having to go a whole day without being able to sit or walk around comfortably. Nobody should have to go through that. Therefore, it's important to choose dress styles that make you feel confident and flatter your body shape while highlighting your best parts.
To achieve this, you should avoid mermaid dresses and opt for styles like A-line dresses instead.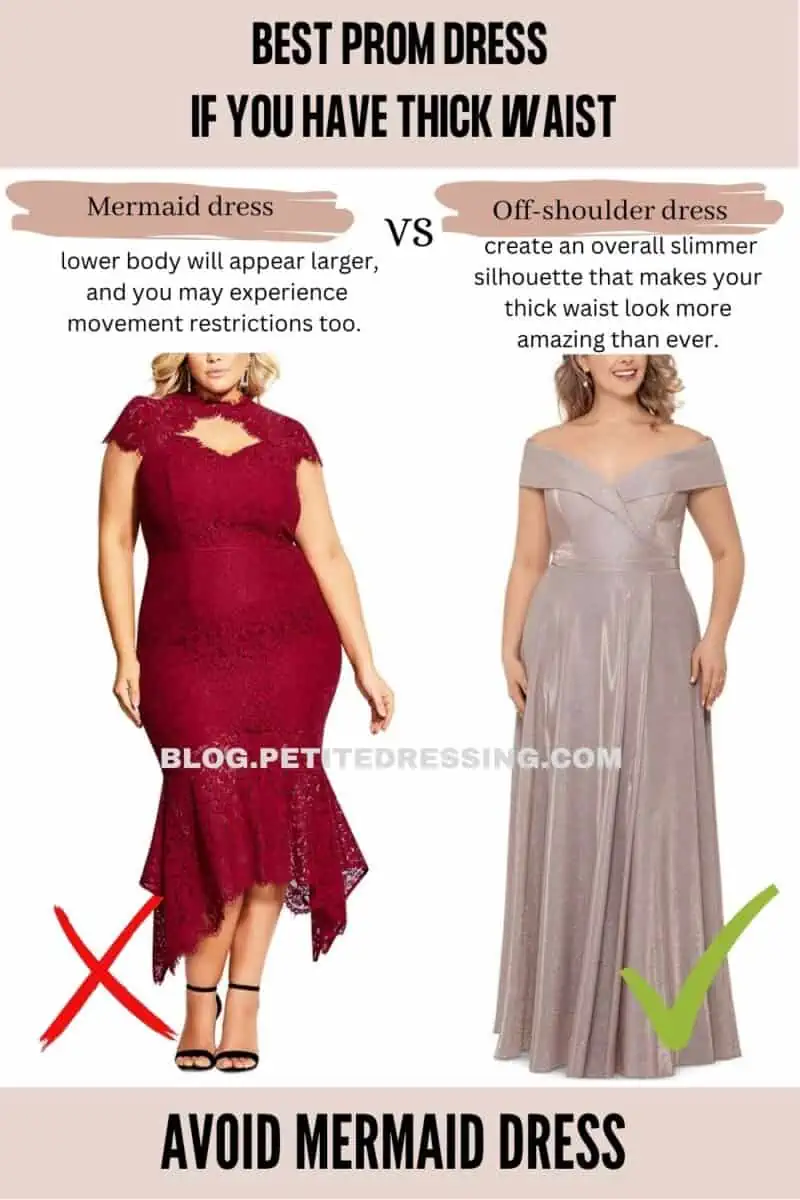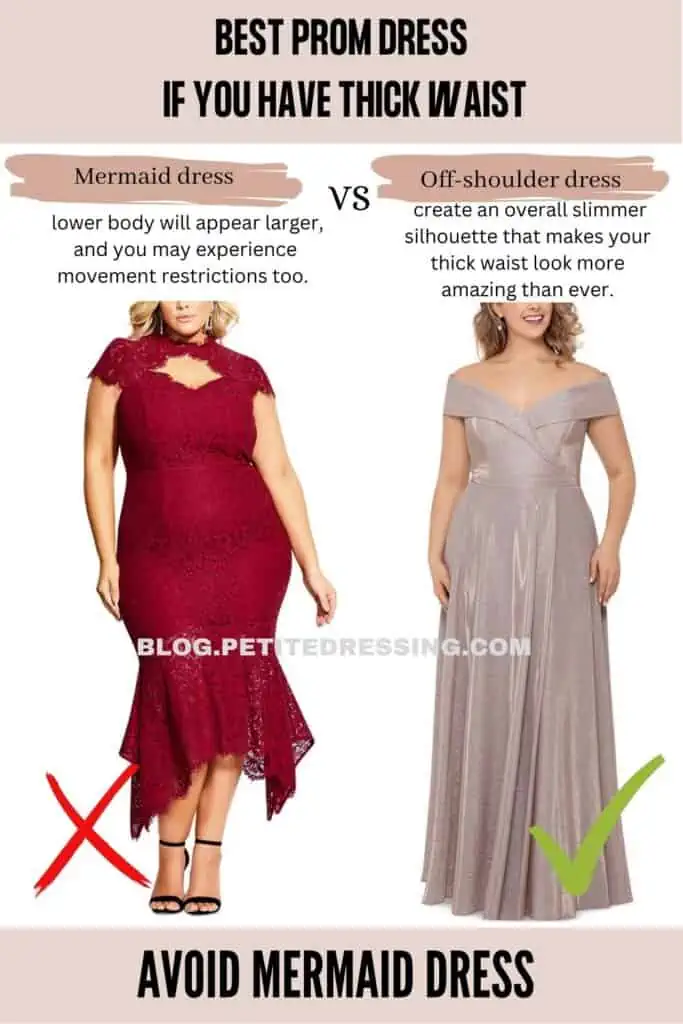 Avoid Tube dress
At first glance, tube dresses look similar to strapless dresses. However, they have key differences. The tube dress is also sleeveless and shoulderless, but it wraps around the upper torso of the body.
This dress style is usually tight around the bust area, while elastic bands are present at the top and bottom to ensure that it's a tight fit and doesn't fall off at any opportunity. However, there's a high chance you'll be spending a huge chunk of your day tugging uncomfortably at the dress.
Tube dresses are uncomfortably tight and create no defined waistline, which leads to an unflattering silhouette on women with thick waists. It will instead make your body frame appear shapeless, not to mention how restrictive this dress can be.
If you want a dress that you'll feel comfortable enough to wear all day long, with a relaxed fit and an overall structure that highlights your lovely curves, avoid tube dresses.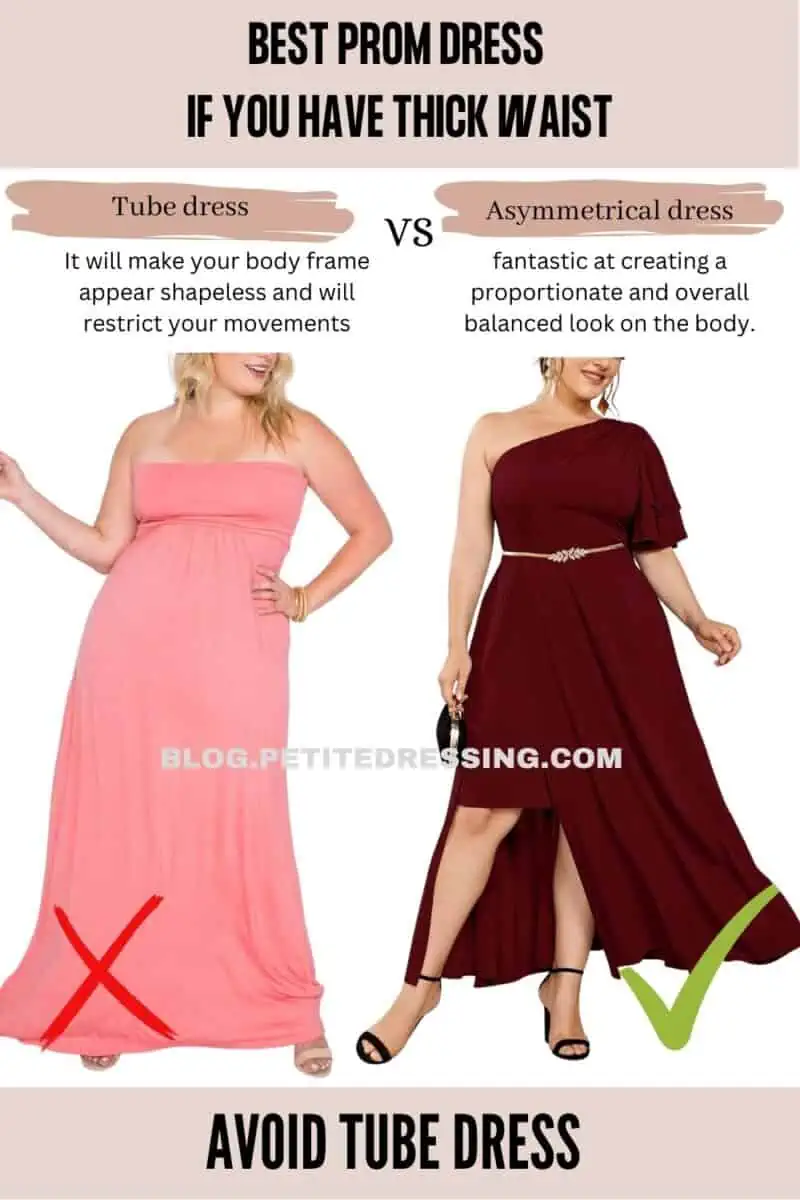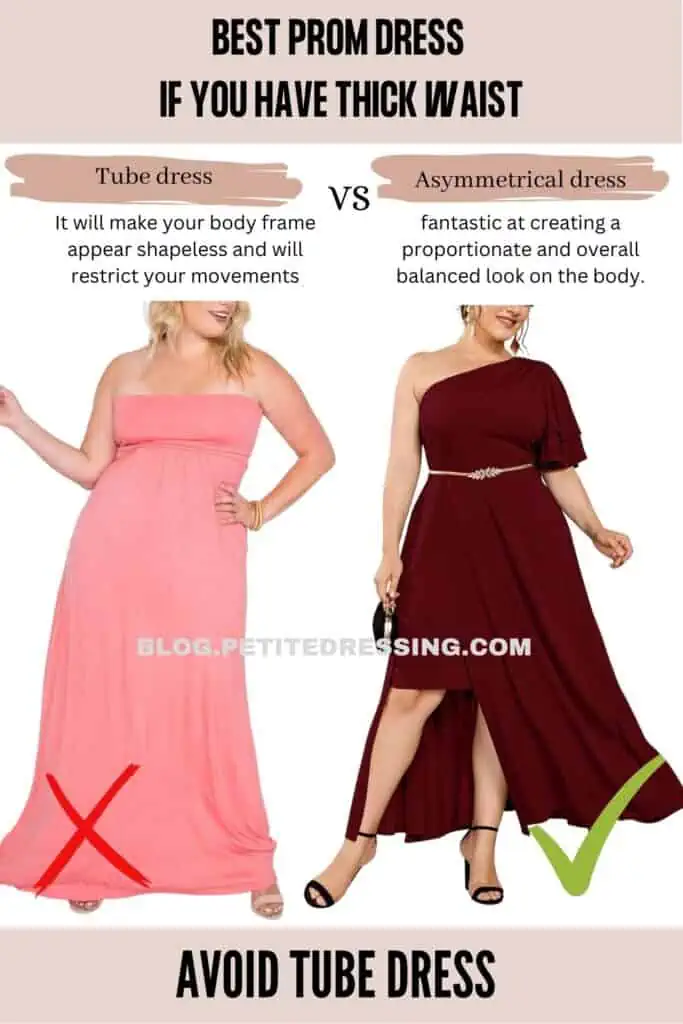 Here's a bonus tip. Your choice of shoes is just as important as the prom dress styles. For these prom dresses, we recommend peep-toe heels, as these are a sexy way to complete your formal attire. Peep-toe heels are stylish and comfortable, highlighting your curvy shape without overemphasizing. Of course, they also add a few inches to your height, so you can appear taller while they reveal your toes without causing any discomfort. With this, you're ready to step out in style with any of the dresses on our list, and you'll rock your world.