As someone with a thick waist, I've been looking for the suitable pants styles for over a decade.
If your waist is big like mine, finding the right types of pants is critical. The right styles can create the illusion of slimmer waist, and the wrong styles of pants will only make your waist look even bigger.
After years of trial and error, here's a complete guide with 6 best types for women with a thicker waist, and 6 types of pants that you need to stay away from.
Pleated pants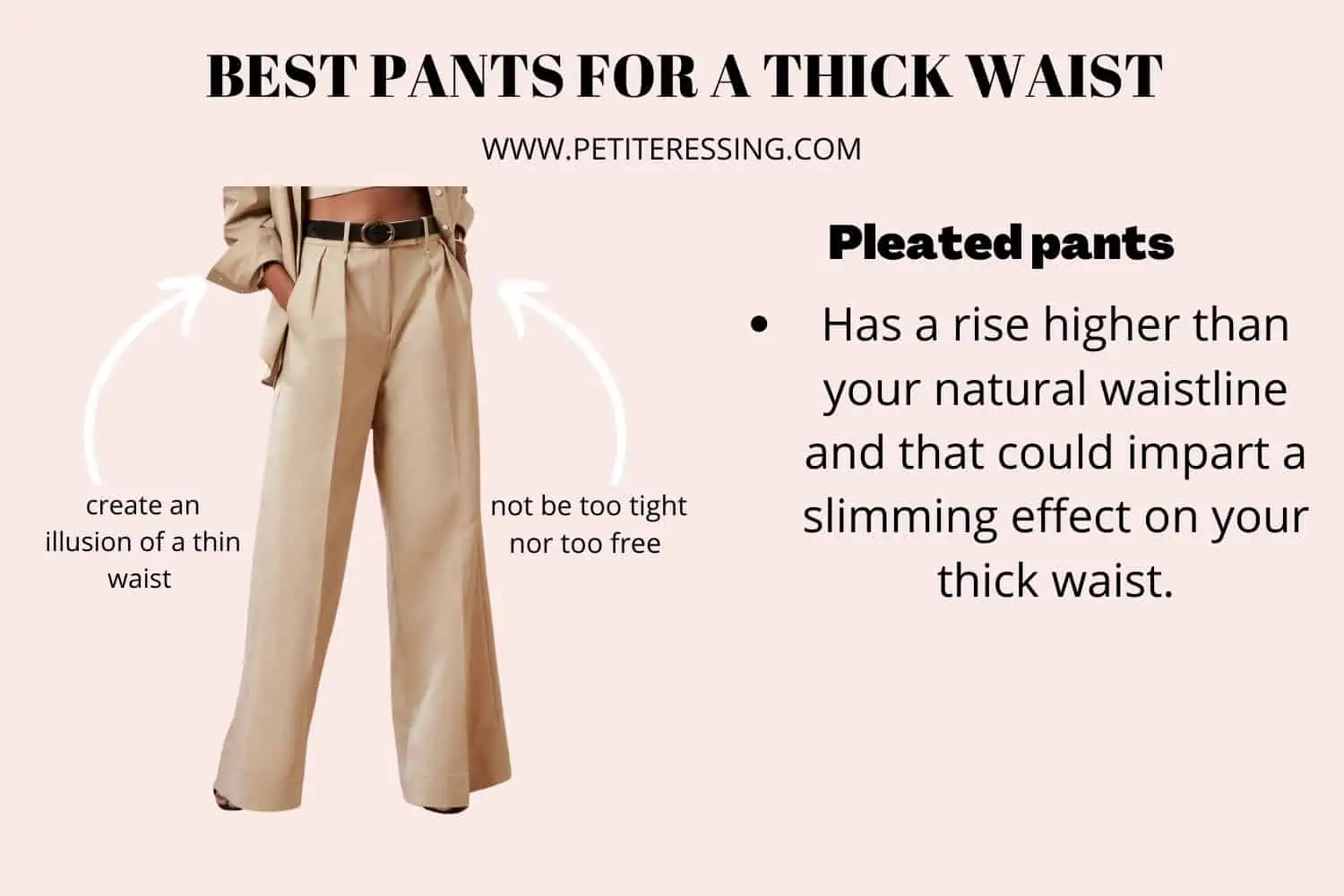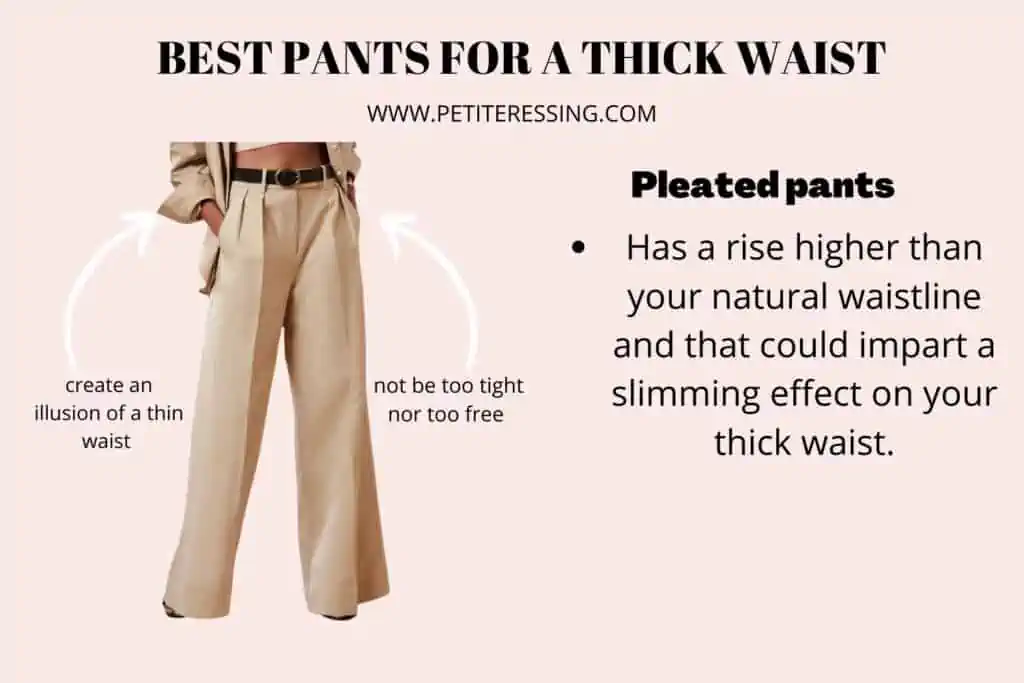 Adding pleats to your pants is a way to create an illusion of a thin waist because they have folds along the waist and towards the front. The pleats could shrink the waist so it does not appear thick to the eyes and that is advantageous to the figure.
It allows expansion that creates comfort in the pants so puckering pockets and unnecessary seam tensions can be eliminated from your frame. Most pleated pants have a rise higher than your natural waistline and that could impart a slimming effect on your thick waist.
Pleated pants are fashionable designs that are fitting for your shape so make them an essential pant style that could flatter your frame. They are aesthetically designed to not be too tight nor too free for your gracious shape.
High waisted pants
Another unique way to pull off a streamlined look that takes the eyes away from the thick waist is to simply style your figure with high-waisted pants. It creates the illusion that your waistline is above the belly button and that is a brilliant effect.
The placement of the high-waisted pant draws attention upwards and focuses it on the slimmest part of the waist rather than on the widest section of the waist. It is a classic silhouette that helps you achieve a flattering fit for any occasion especially if you have a thick waist.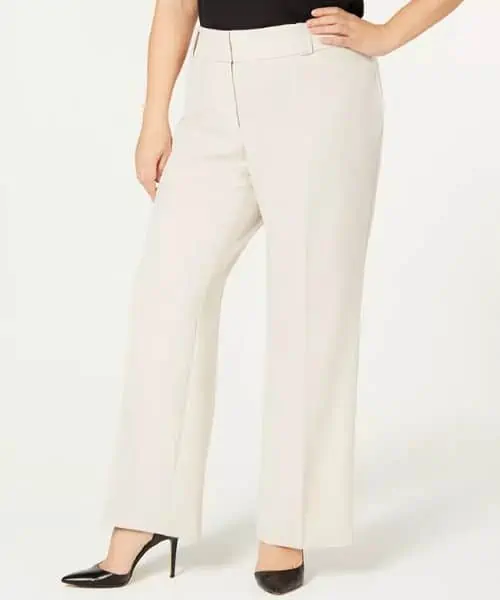 What to expect when using high-waisted pants
The high-waisted pant has a slimming effect on the midsection and that is a way to feel less conscious about the thickness of your waist.
It effectively elongates your legs by reducing the torso and lengthening your lower half.
Dark colored pants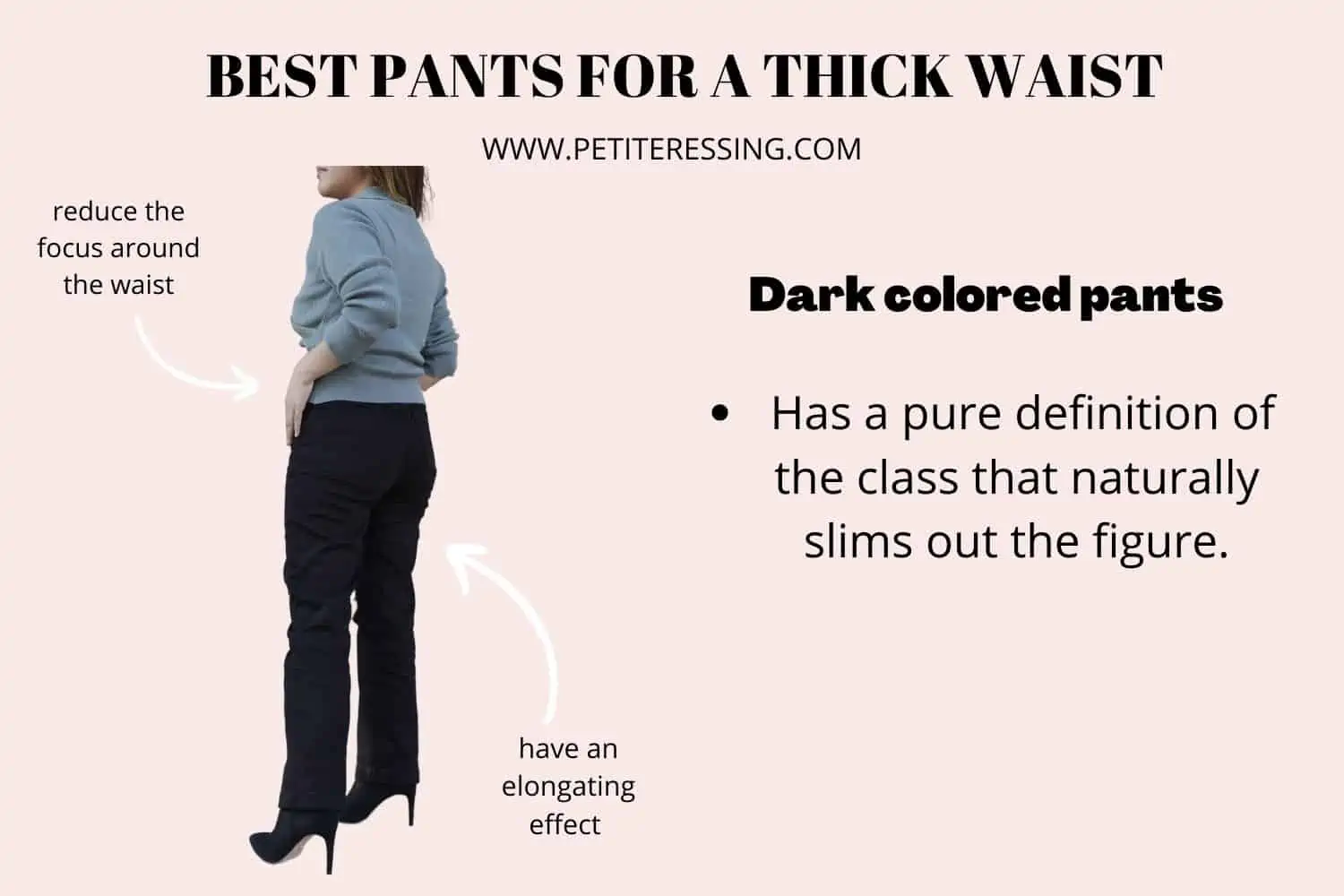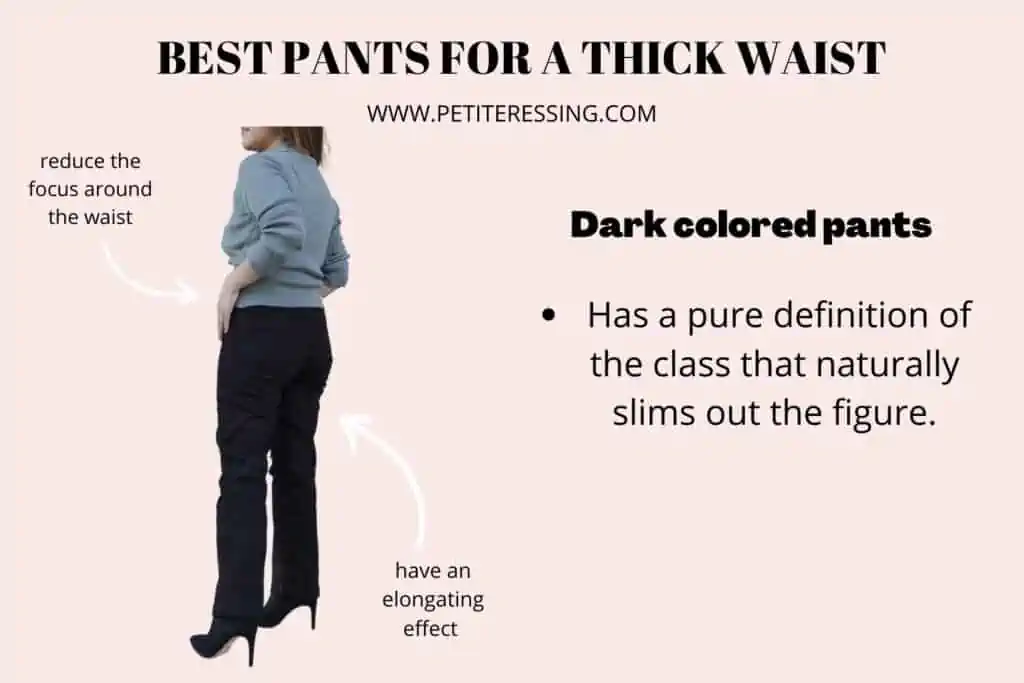 The versatility and class that dark-colored pant gives to any body shape can never be ruled out and this makes them a suitable option of pant for your thick waist. Dark colors do not only reduce the focus around the waist but they also have an elongating effect on your body frame.
Try out a series of dark colors and style them in ways that are suitable for you. You can further play around with the dark-colored pant by selecting those with a tone that is similar to your skin color.
You should try out the dark-colored pant because they are also a pure definition of the class that naturally slims out the figure. It would be most efficient on your shape if you have a thick waist and you can further style them with a heel that would make you feel less heavy in your lower half.
Pants with elastic waistband
Pair your tops with elastic waistband pants if you have a thick waist because it's more comfortable and accommodating for your shape.
Pants with elastic waistbands stretch over the waist and minimize the thickness around it.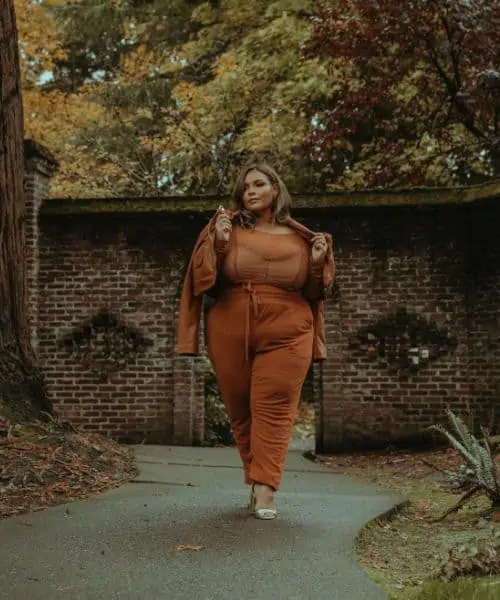 How pants with elastic waistbands help cover your thick waist
This type of pant does not attract the attention of the eyes towards the concerned area so you can feel very confident with it.
They are very simple pant designs that flatter your shape and that is advantageous.
Pants with elastic waistband act as a perfect replacement for different forms of embellishments that could accentuate the thick waist.
Pants with this type of waistband act as a concealer for flaws around your shape.
Well tailored pants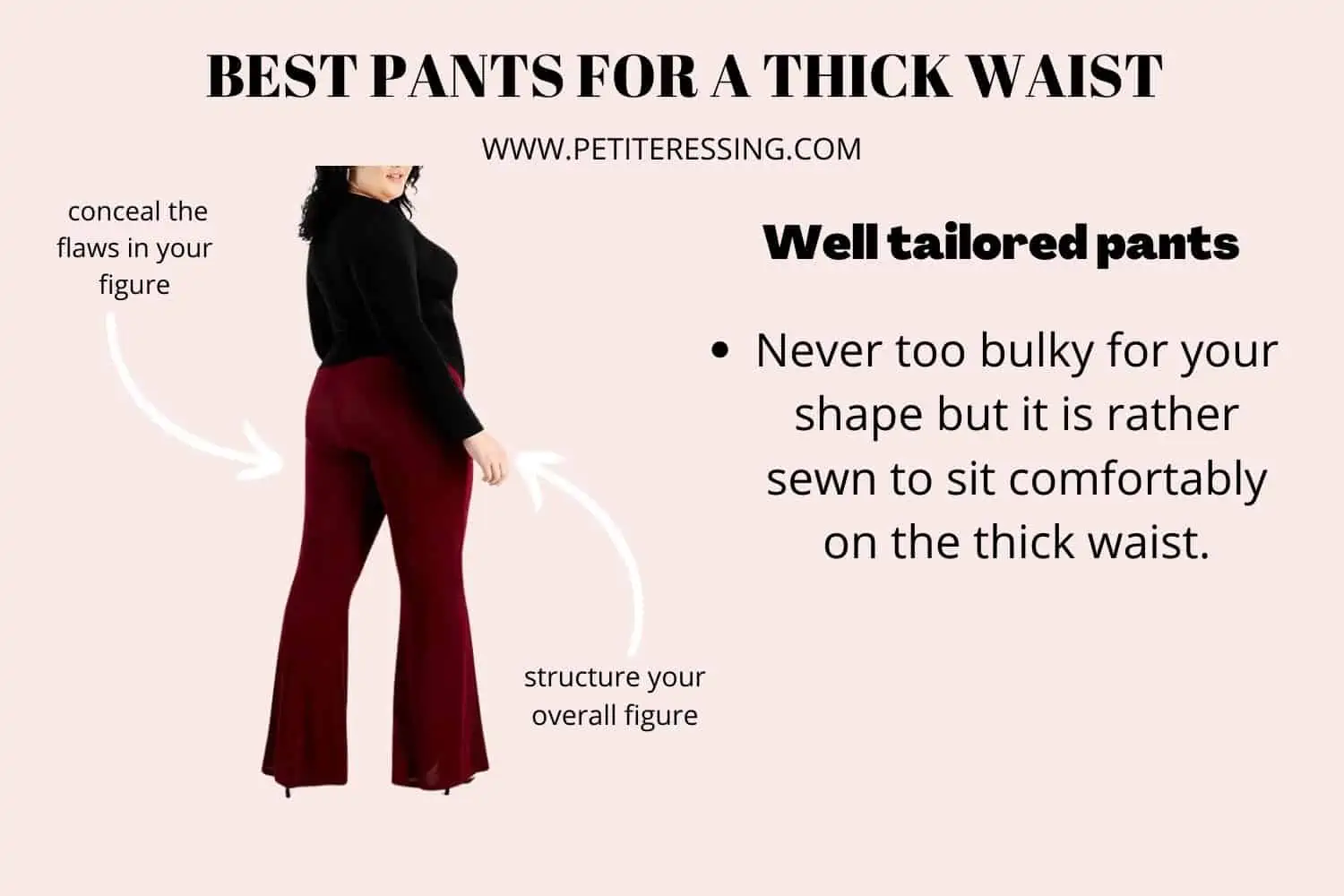 Style your thick waist with a pant that is well tailored so they could properly accommodate your frame. A well-tailored pant is never too bulky for your shape but it is rather sewn to sit comfortably on the thick waist.
Select pants that are well-tailored to conceal the flaws in your figure and still structure your overall figure. Designs of this sort would add class and brighten up your whole figure so stock them up in your wardrobe.
Take your oversized pants to the tailor so it could be adjusted to your exact shape. A well-tailored pant helps you embrace your shape and that is why they are recommended for a woman with a thick waist.
Pants with structured fabrics
The type of fabric used for your pants also has an effect on your overall figure that's why structured fabrics should be chosen over light fabrics.
Pants with light fabrics would reveal your concerned area and that wouldn't balance your figure visually.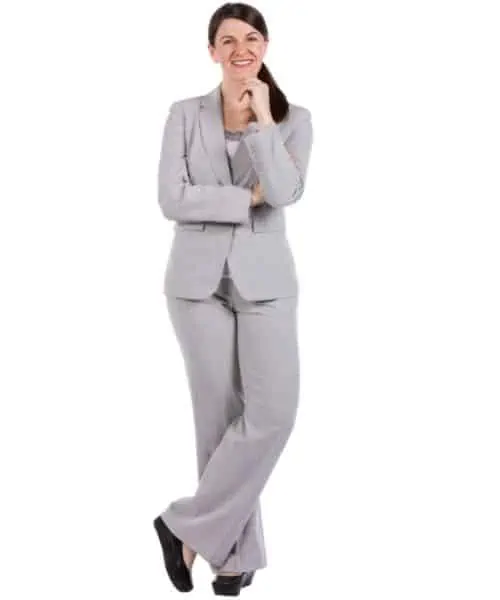 Opt for structured fabrics pants
On the other hand, if your pants are made with well-structured fabrics, it would not emphasize the thickness of the waist.
It would also divert the eyes from the waist and balance out your body proportion.
They do not stretch out unnecessarily and would make you appear expensive for any occasion.
Pants with structured fabrics are designed to effortlessly shrink your midsection by not adding volume to the thick waist.
Avoid low-rise pants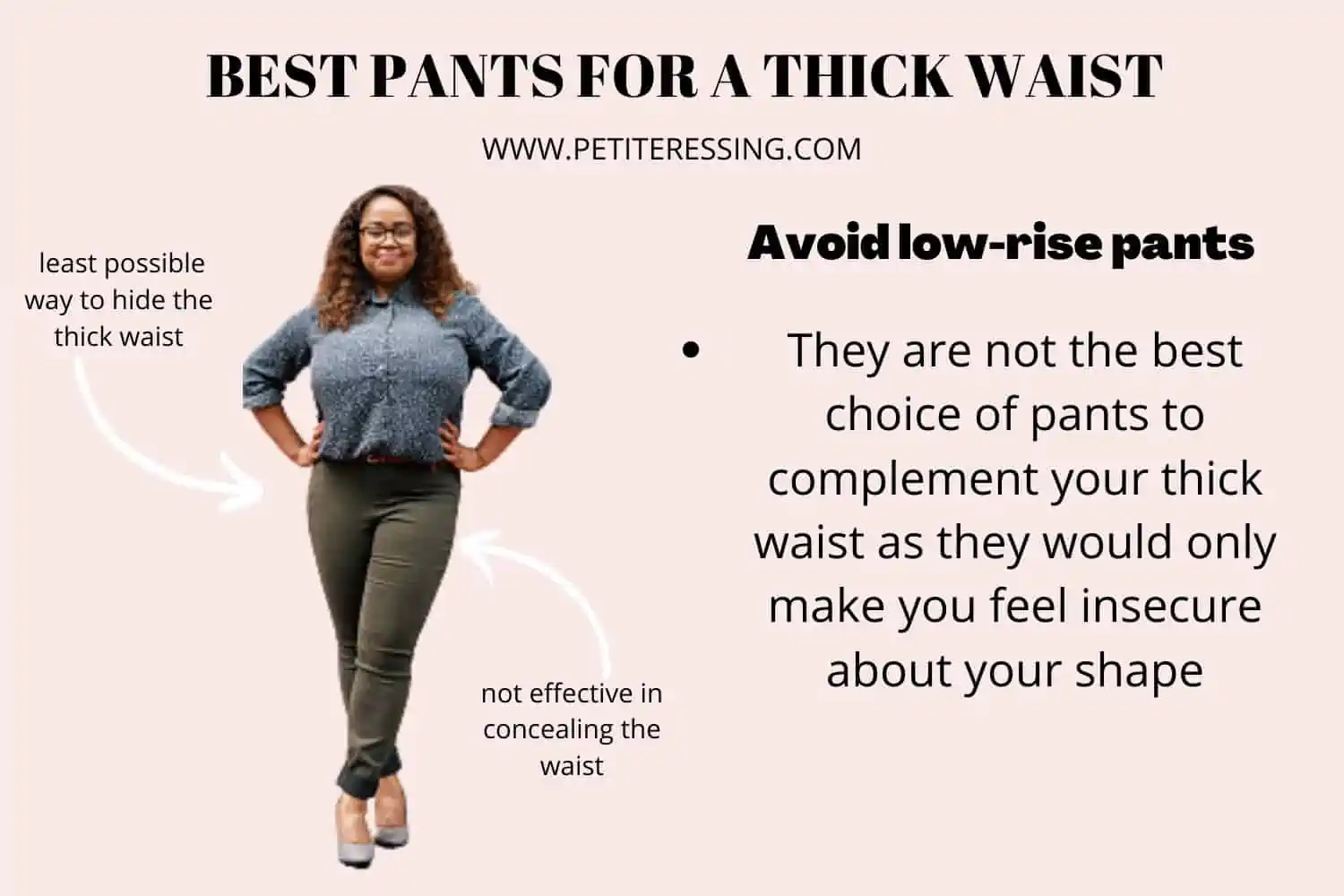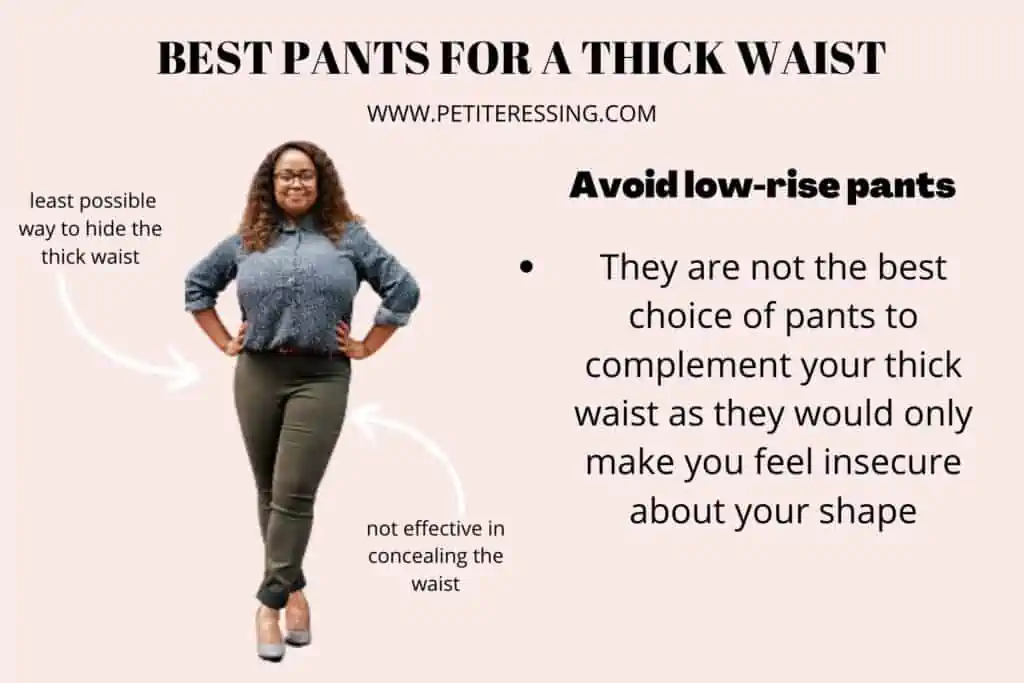 The least possible way to hide the thick waist is by styling your figure with low-rise pants. This type of pattern would create more emphasis around the waistline and make the thick waist bulge out of the pant.
Low-rise pants have their waistline situated below your natural waistline and having them on your figure would only make the thick waist more obvious. It is not a fashionable way to dress up if you are trying to conceal the bulginess around the waist region.
They are not the best choice of pants to complement your thick waist as they would only make you feel insecure about your shape. There are certainly other pants that can rightly fit your frame but the low-rise pant is not one of those few great pant choices.
Avoid wearing leggings
Leggings are skinny pants that are known to show off the exact body shape of a woman. It certainly does less in hiding the thick waist which is a major concern in your figure and that is not a great fashion style for you.
Avoid wearing leggings because they would not fit your shape appropriately and further create the illusion of a larger waistline. If you want to conceal your thick waist then you should avoid wearing leggings on your body frame.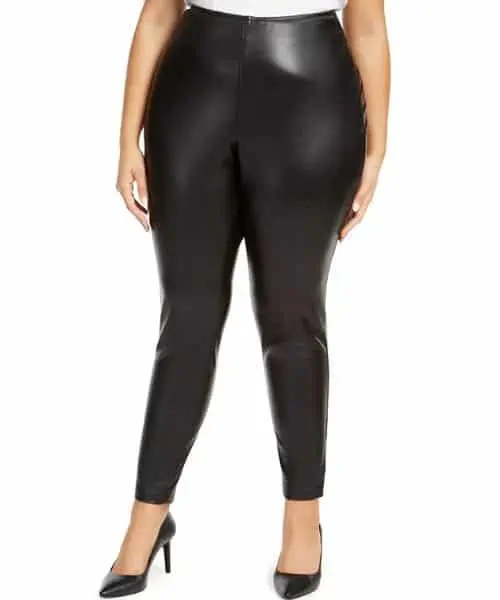 Reasons to avoid leggings when you have a thick waist
Wearing pants like leggings is a way to make the eyes notice the thick waist easily and give you reasons to be super conscious about the way your figure seems to appear in your outfit.
They would emphasize the lumps in your waistline by making your shape less structured.
Avoid paper bag pants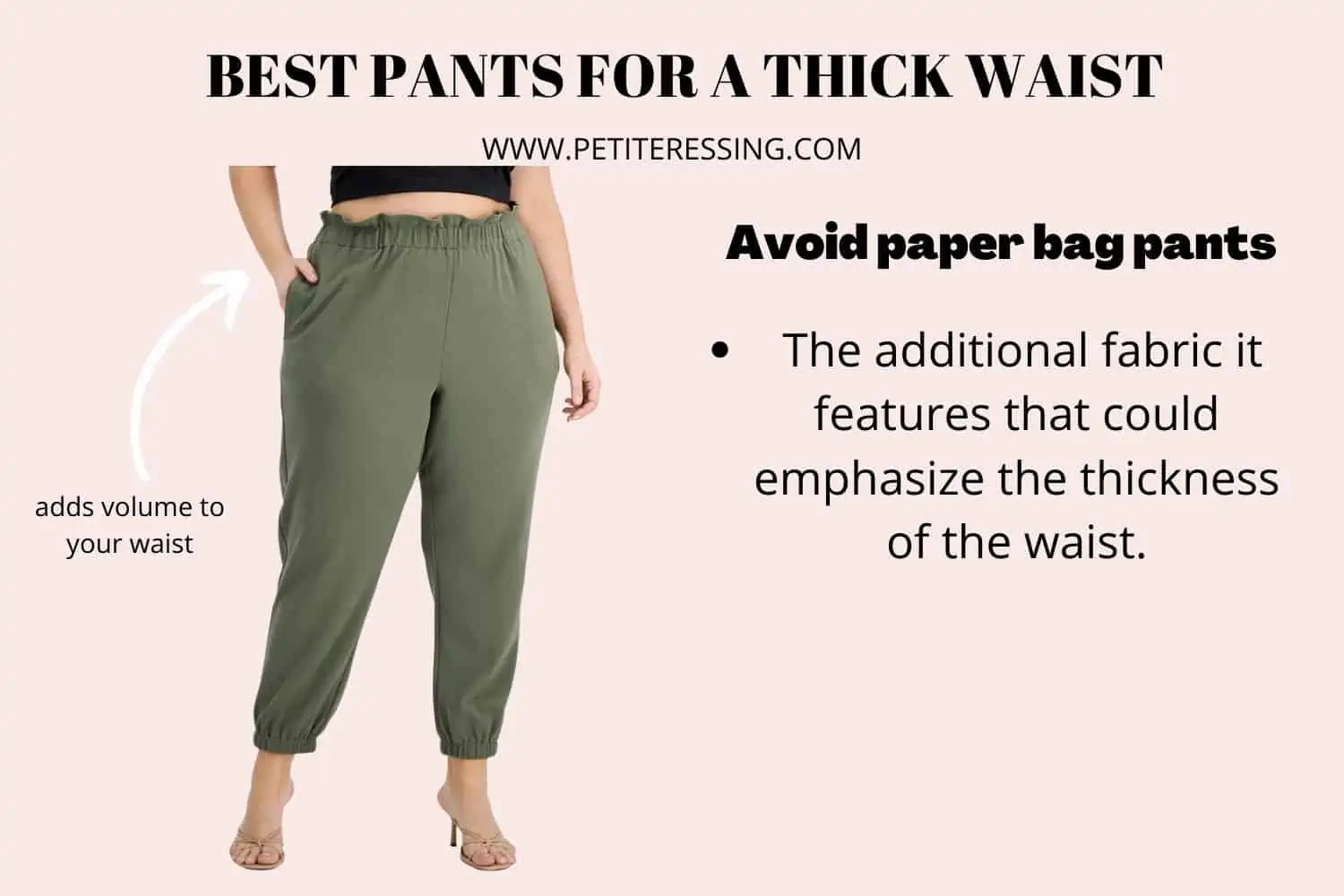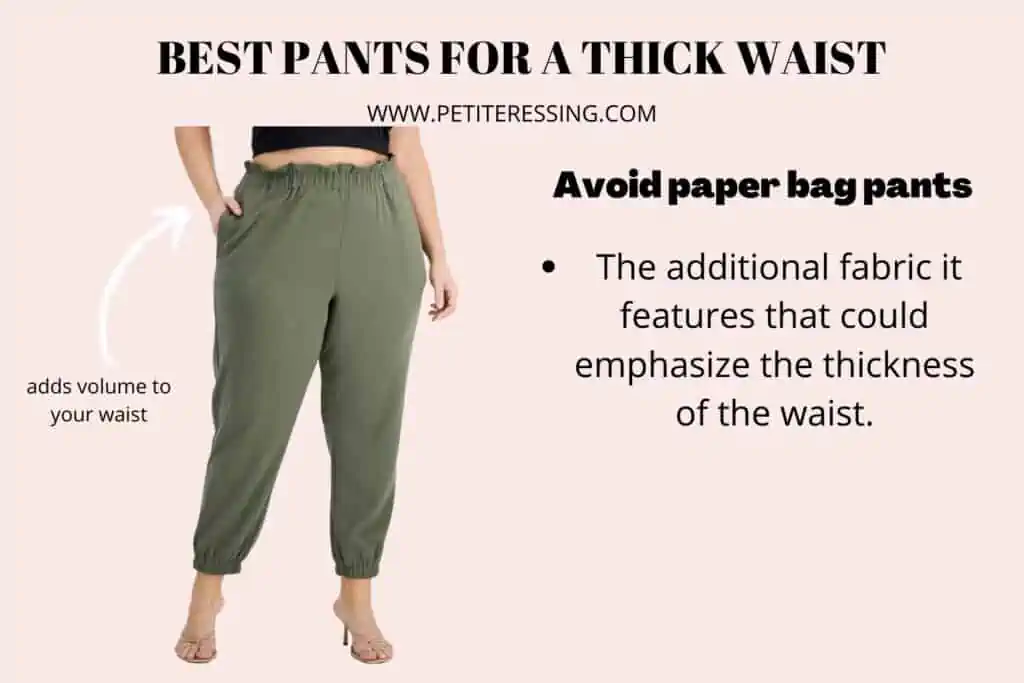 Every shape has a design that suits them better and you should go for those specially designed for a thick waist. Paper bag pants are not for your shape because of the additional fabric it features that could emphasize the thickness of the waist.
Recommending structured fabrics for your shape does not mean you should wear pants with additional fabrics on your waist. Volume in the pants you are choosing for the waist adds up to nothing so avoid the paper bag pants.
Understand your shape before selecting just any pants to wear so you could avoid looking shapeless in them. Paper bag pants should not make it to your wardrobe and your figure so they do not create an illusion that your waist is thicker than normal.
Caution with belted pants
You do not need to wear belts on your waist especially if the waist is a concerned area in your shape. A belted pant would only highlight the thick waist and act as a bold statement for the eyes to keep its focus.
Belts are very fanciful and if you attach them to your pants, you would only end up creating a wrong impression of your shape. Belted pants are not the most exclusive pant style for a thick waist and would make you feel too insecure.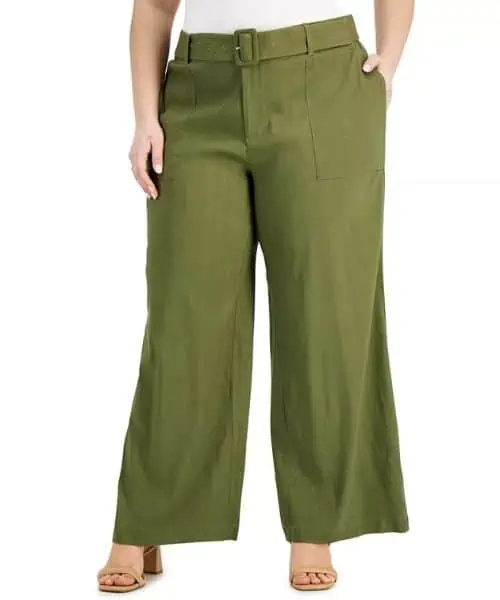 Here's why you should avoid belted pants
These pants might work for other shapes but the statement it gives to your figure is not favorable for you.
Make sure you avoid styling your shape with belted pants of whatever size and color because they are not designed for a thick waist.
Caution with skinny jeans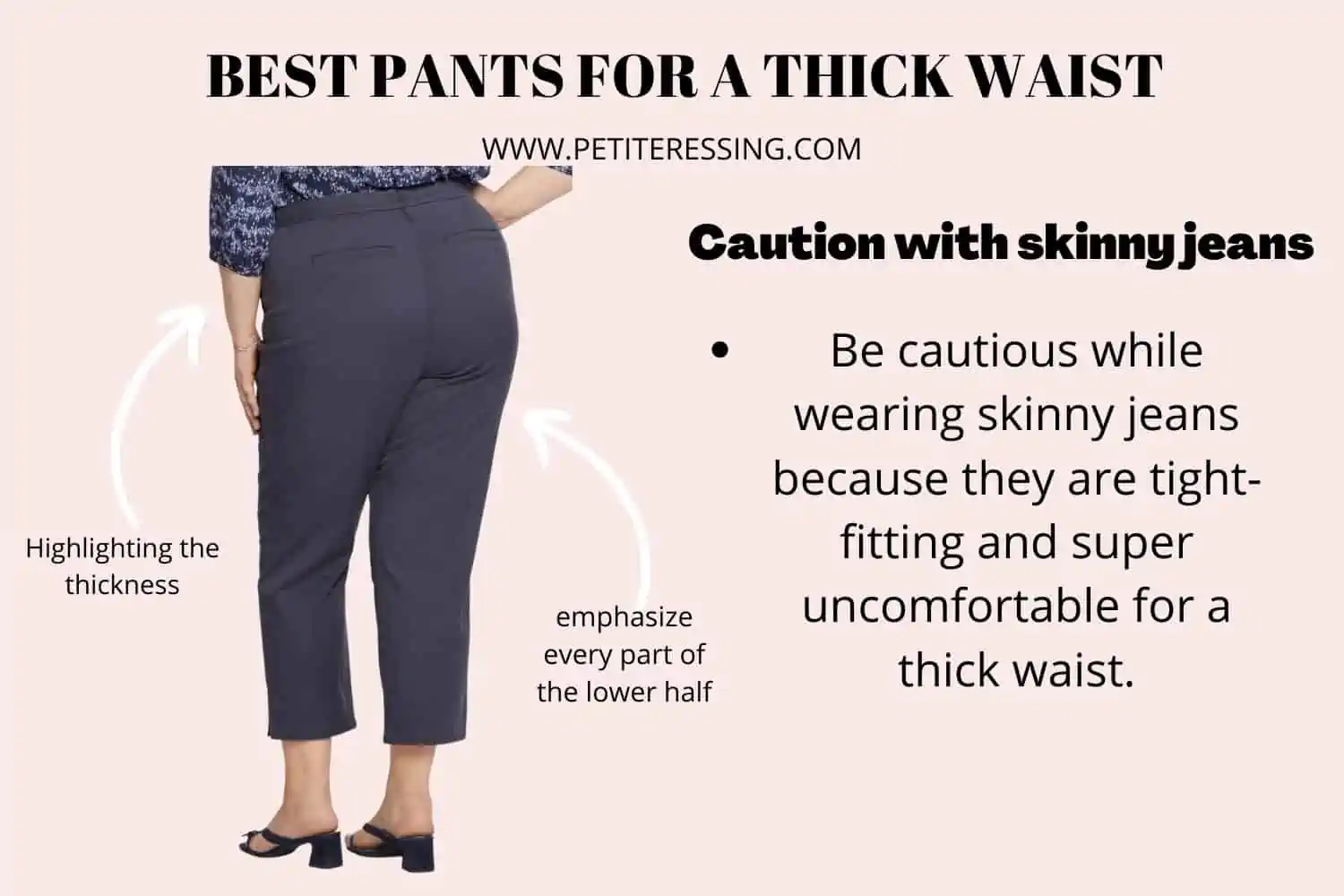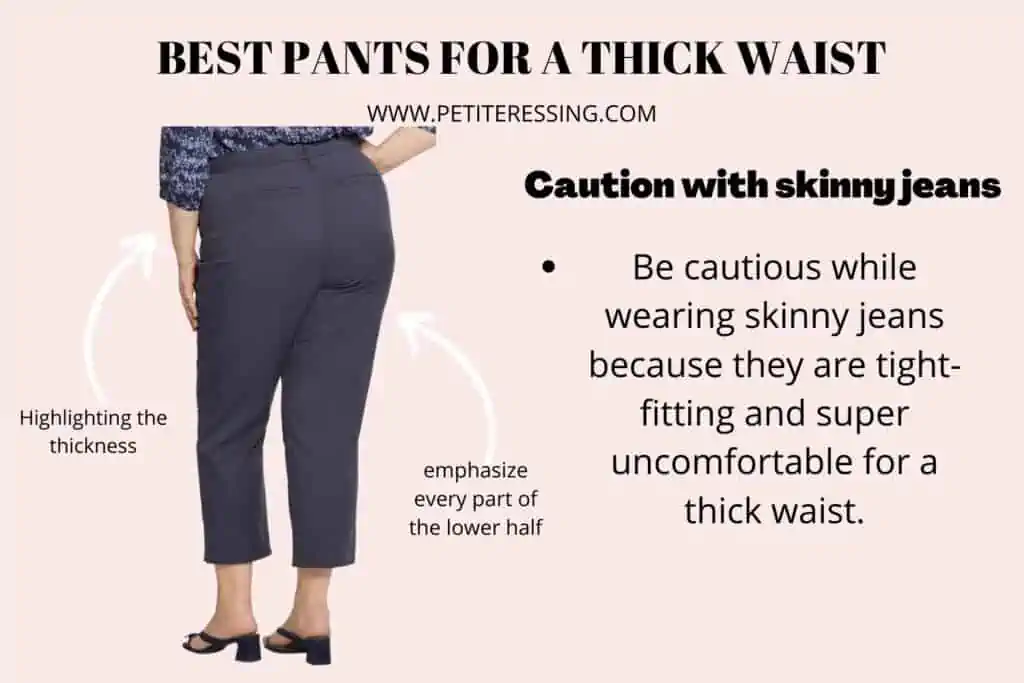 Be cautious while wearing skinny jeans because they are tight-fitting and super uncomfortable for a thick waist. Camouflaging the thickness around the waist does not mean you should snuggle yourself with skinny jeans.
Skinny jeans are used to emphasize every part of the lower half so they could appear more visible to the eyes. Highlighting the thickness around your waist is not a fashionable way to dress up your shape.
Caution with skinny jeans if you desire a cut that should rightly flatter and boost your confidence in summer. There are different pant designs exclusively made to suit your shape and skinny jeans are not a part of the few designs, so trash them out of your wardrobe.
Avoid bright-colored pants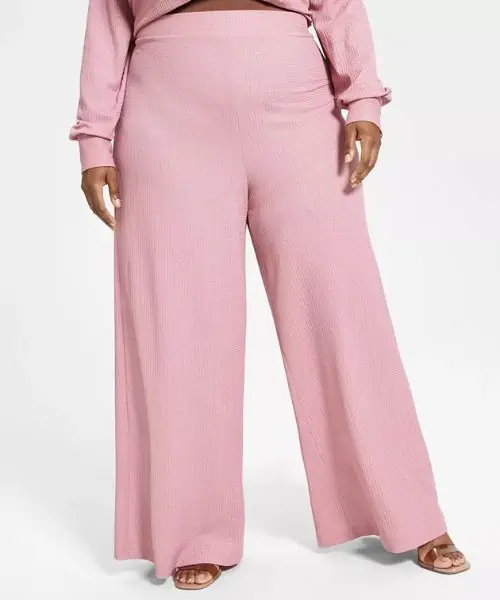 Bright colored pants is a no-no
You should be conscious of the color of pants you wear if you have a thick waist.
Avoid wearing bright-colored pants because they would highlight the waist.
They do not visually correct the figure and are not the best pants to complement your shape.