Swimsuit season is definitely a nerve-wracking moment for many of us! Sometimes, we just get a little too conscious about showing more skin whenever we're in our swimwear and this especially gets a bit more real when you have a thick waist.
Of course, this doesn't mean that you should always fully cover up just because you have a thicker waist than others! If you want to show some skin in your dazzling swimsuit, you can definitely do so – all you need is to find the best swimsuits to flatter your figure.
If your concern is having a thick waist, then we're here to walk you through styling tips and the specific types of swimsuits that embrace your natural figure.
Styling Goal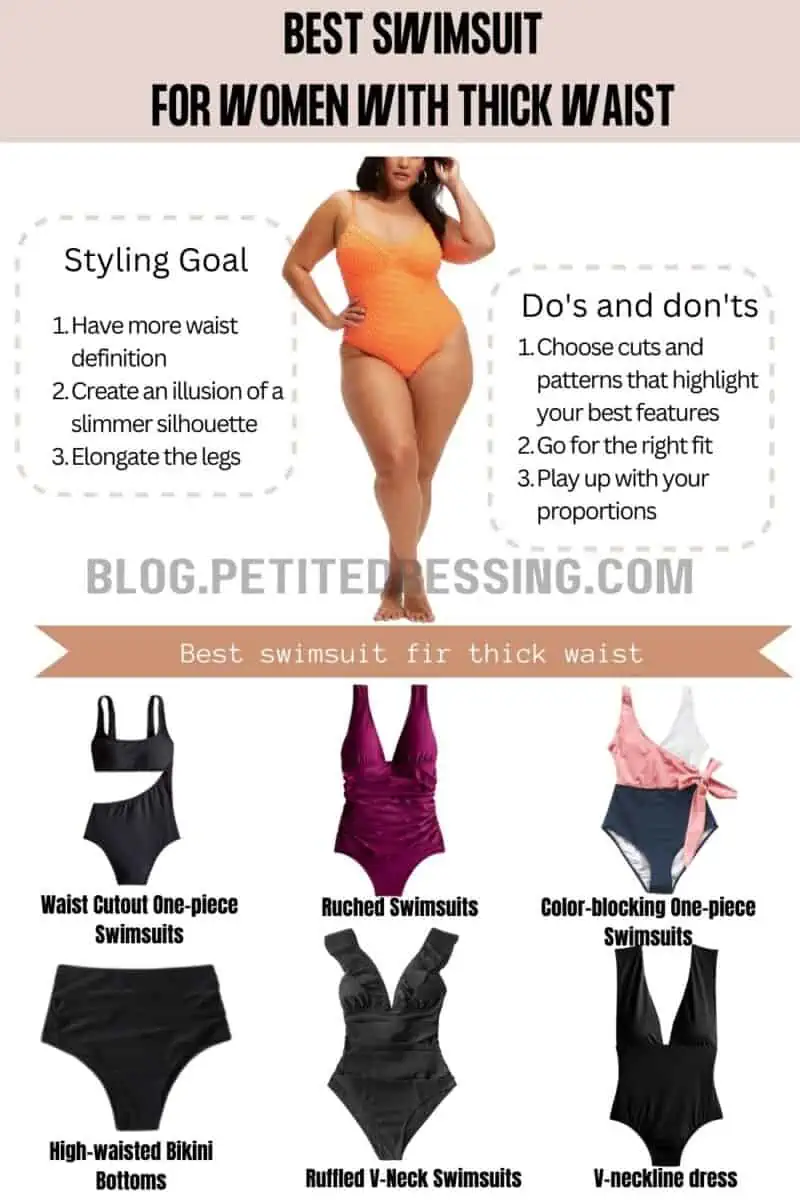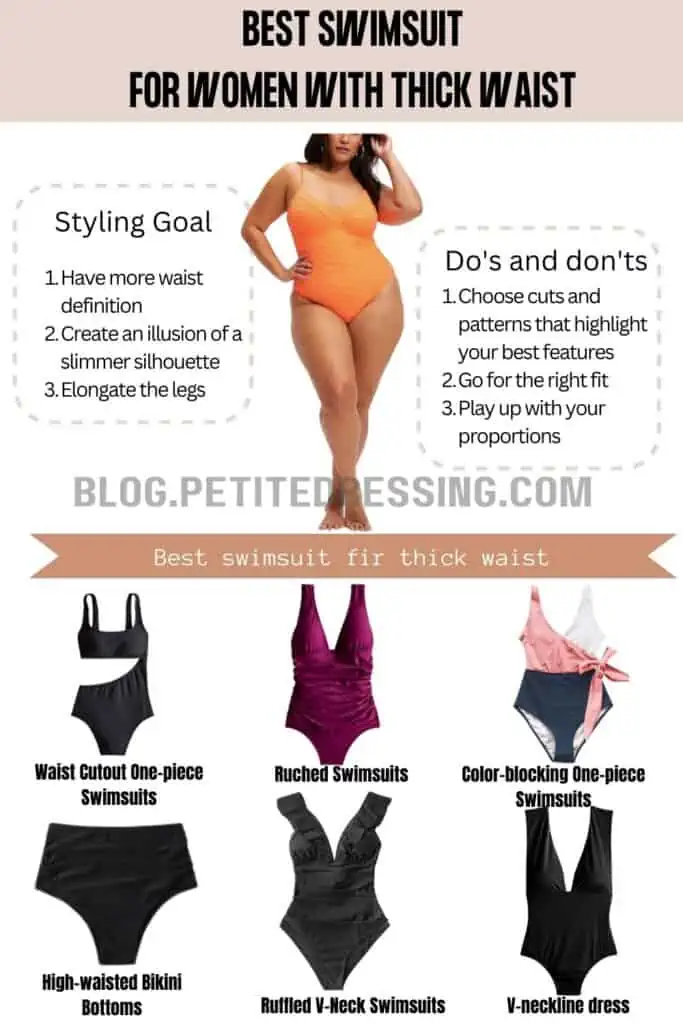 Choose cuts and patterns that highlight your best features to veer the eyes away from your thick midsection area. It's much better if you can go to the ones that also have visually slimming effects to make you look leaner.
Go for the right fit and don't settle for a swimsuit that's a little too tight or a little too loose! The perfect fit makes a huge difference in defining your figure so make sure you go for the right silhouette that matches your figure.
Play up with your proportions by mixing and matching your hues. For someone with a thick waist, darker bottoms would help visually minimize the size of your waist subtly.
If you're worried about wearing swimsuits because of your thick waist, we've got you covered! Now get your fashion shopping list ready and make sure to include some of these swimsuit styles in your list.
Waist Cutout One-piece Swimsuits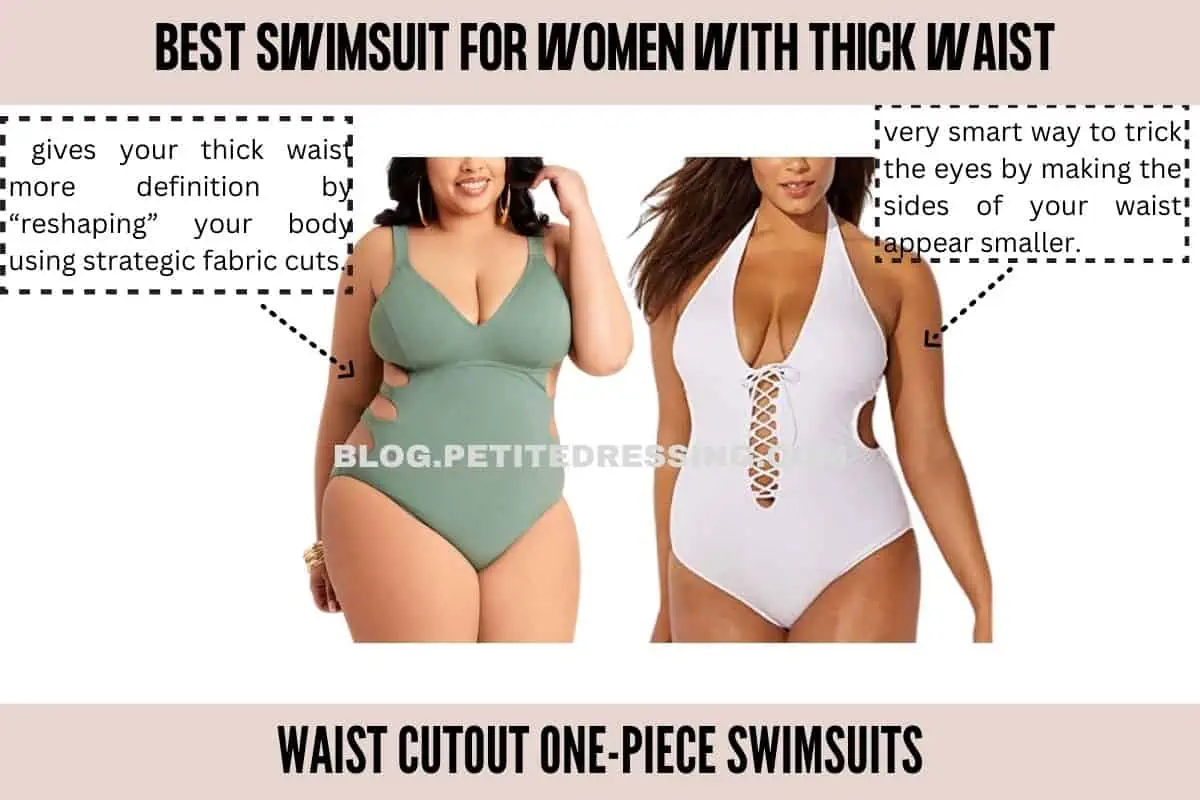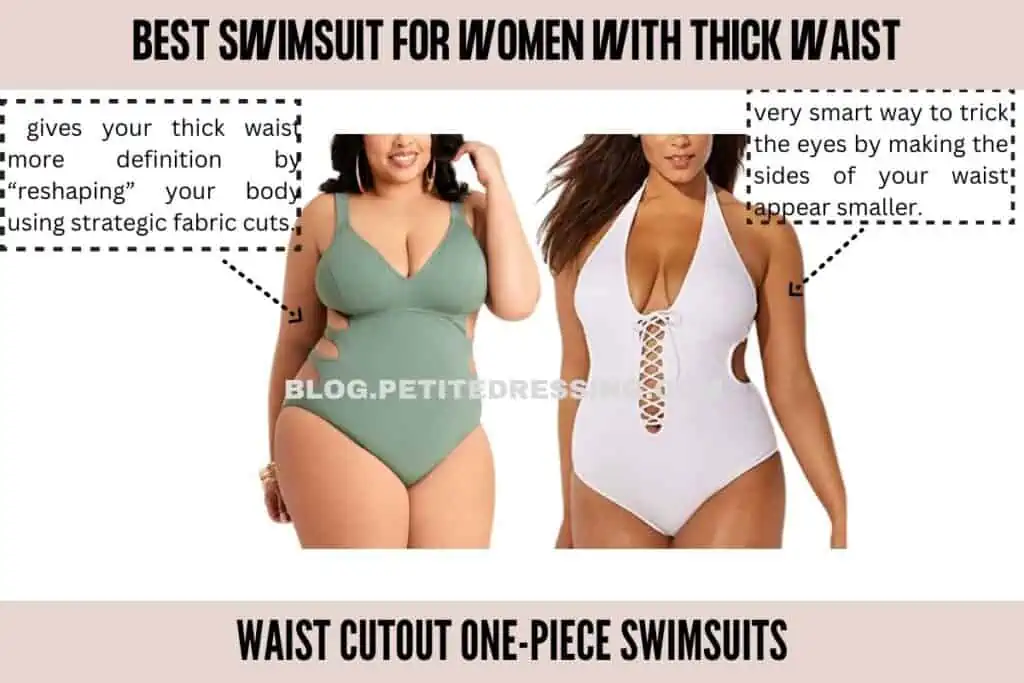 Swimsuits with waist cutouts can be a very smart way to trick the eyes by making the sides of your waist appear smaller. The cutout can be placed on one side or both sides depending on your personal preference since any of the two can serve the same visual effect anyway.
Waist cutout swimsuits not only bare the sides of your waist but also cover the midsection area which is quite efficient for tummy control. This type of swimsuit silhouette gives your thick waist more definition by "reshaping" your body using strategic fabric cuts.
Ruched Swimsuits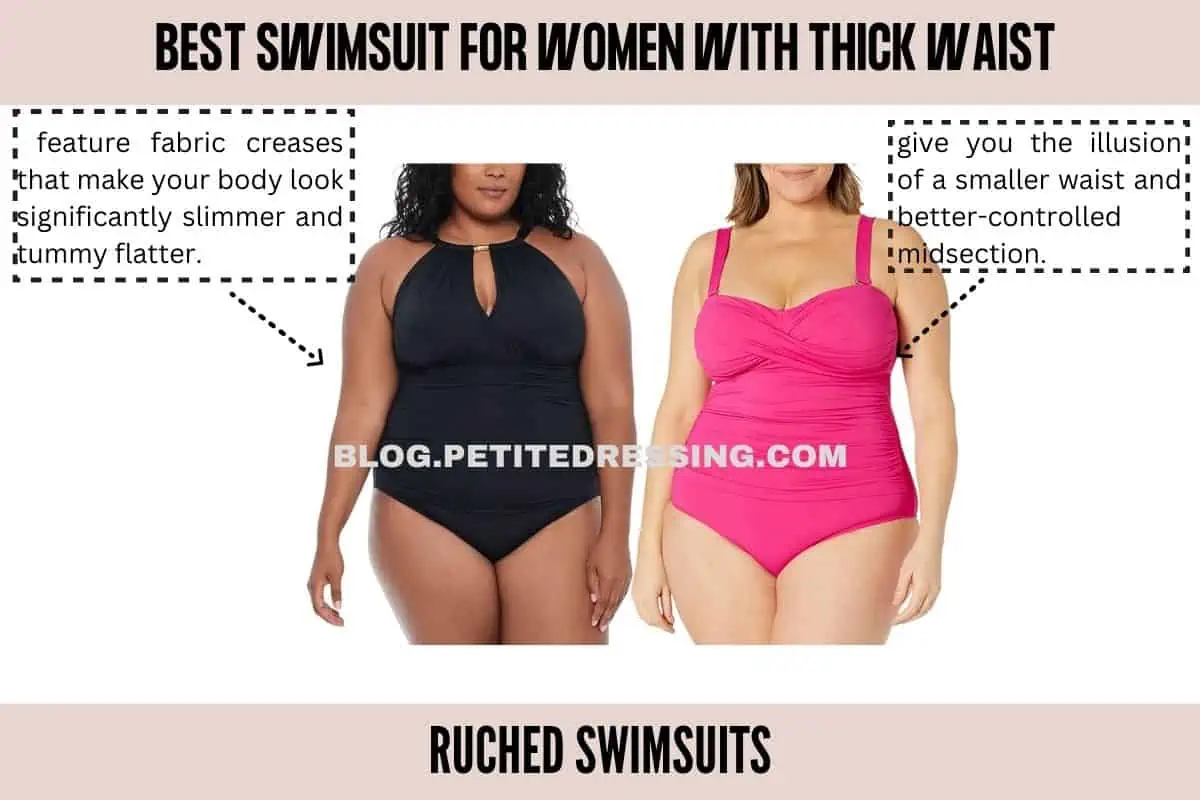 The ruched details on swimsuits, which may be placed on the sides or all throughout the midsection, feature fabric creases that make your body look significantly slimmer and your tummy flatter. 
The ruching doesn't necessarily have to be too dramatic just for it to serve its styling purpose. These ruched designs can be as minimal as you'd like and can still give you the illusion of a smaller waist and better-controlled midsection.
The creases from the ruching design lessen the attention from your midsection and therefore make the rest of your body features stand out. The ones with side ruches are also very efficient in accentuating the waist for additional shape definition.
Color-blocking One-piece Swimsuits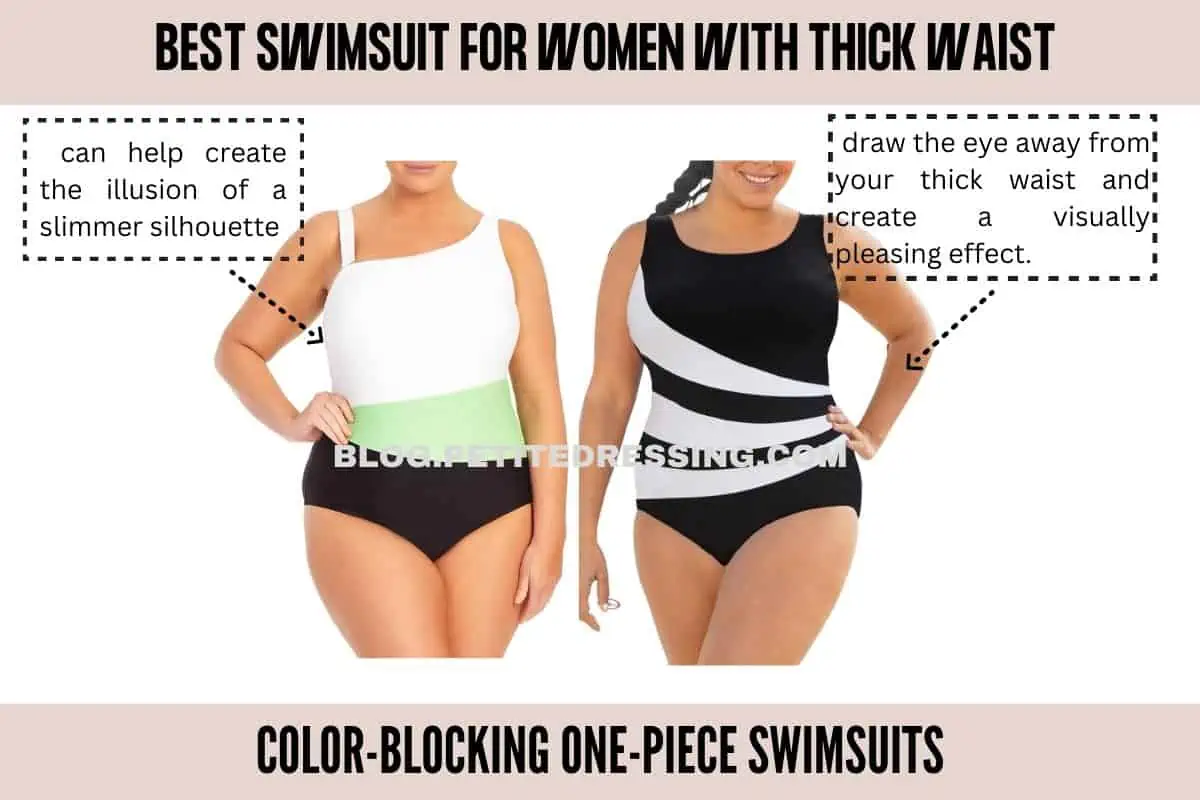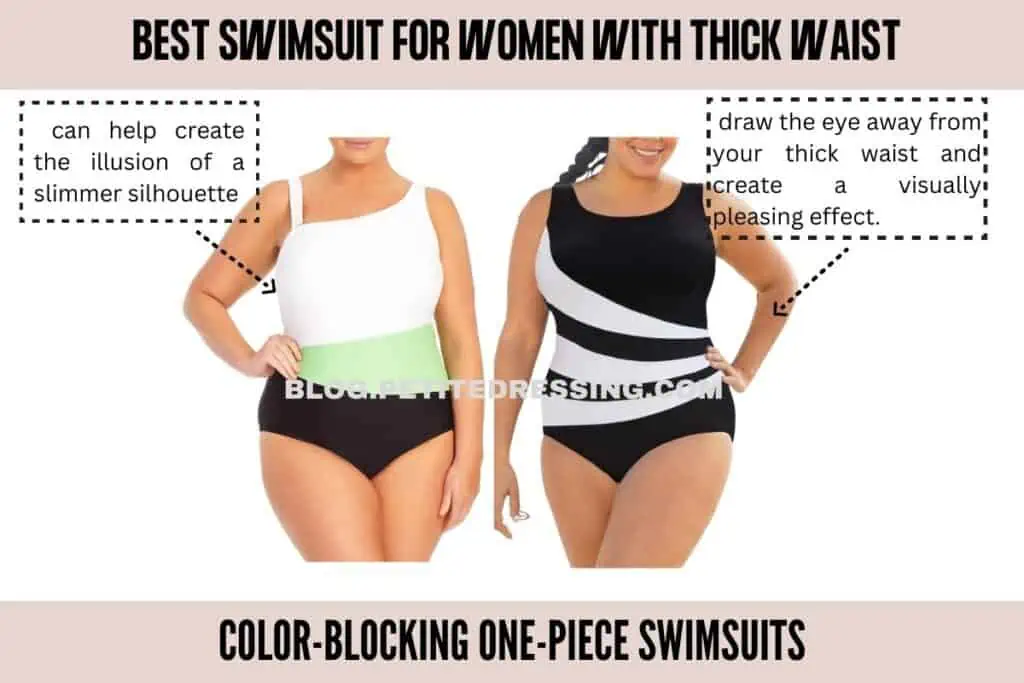 The color-blocking technique can help create the illusion of a slimmer silhouette by splitting attention through the effect of contrasting colors. The contrast in colors can draw the eye away from your thick waist and create a visually pleasing effect.
For this to effectively work, go for color-blocking swimsuits that feature a darker color right around the waist area since dark colors can give the effect of a slimmer figure. Remember to choose highly-contrasting colors and be mindful of the color placement so you'll have a visually balanced figure.
High-waisted Bikini Bottoms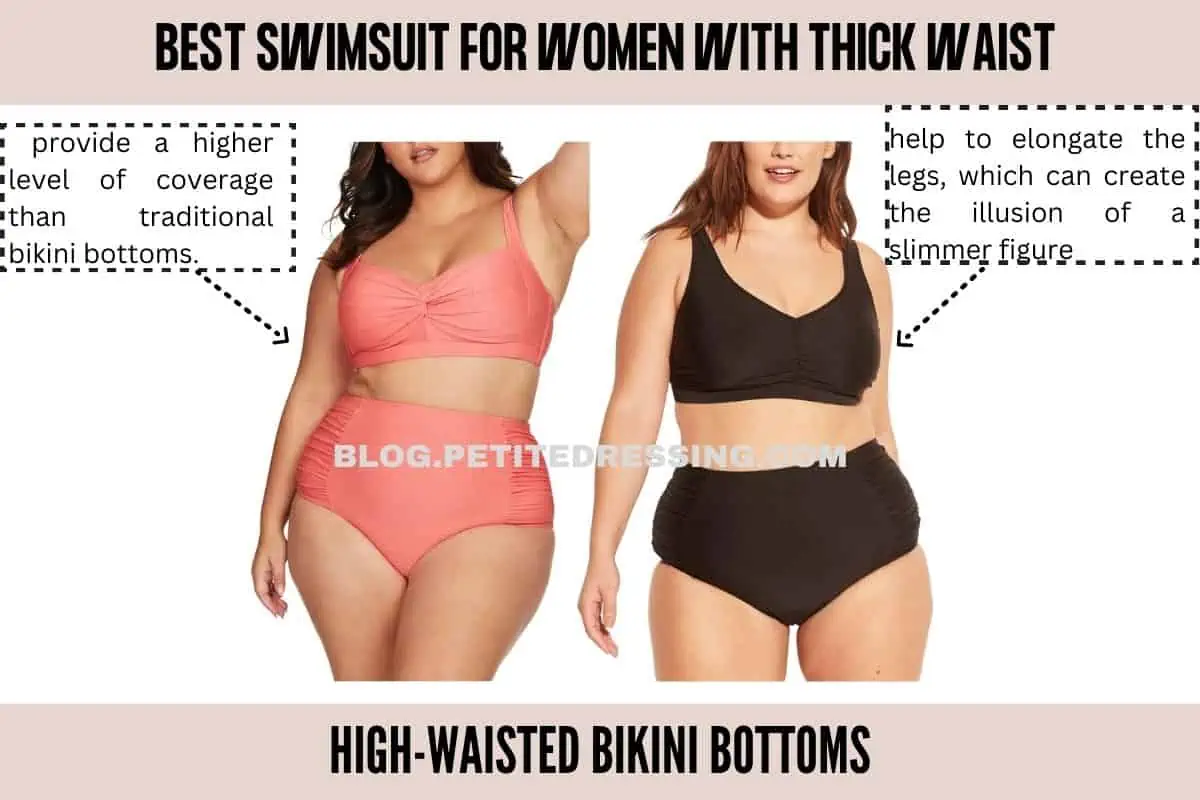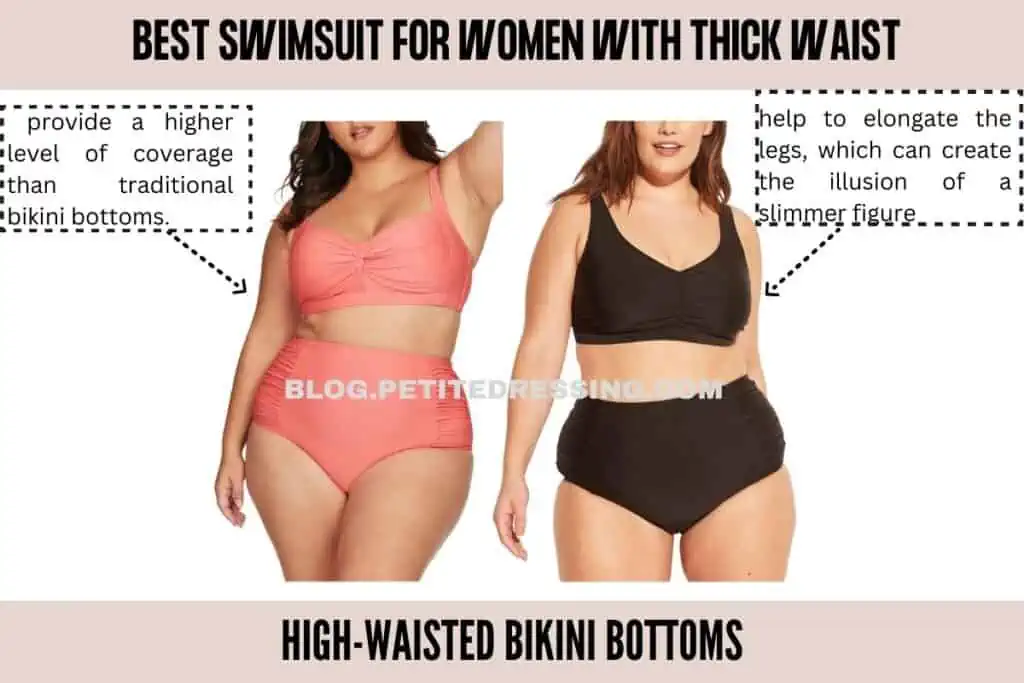 High-waisted bikini bottoms have always been considered to be very flattering on women with thick waists because they provide coverage and support to the abdominal area. They sit at the natural waistline (or a bit higher) and provide a higher level of coverage than traditional bikini bottoms. 
This helps to smooth out and flatten the tummy area, making it less noticeable. Additionally, high-waisted swimsuits can also help to elongate the legs, which can create the illusion of a slimmer figure overall.
The key to a nicely flattering high-waisted bikini bottom is to choose the right fit. You'd like a bikini bottom that's snug enough to efficiently hold your midsection in place and cinch your waist area for additional definition.
Ruffled V-Neck Swimsuits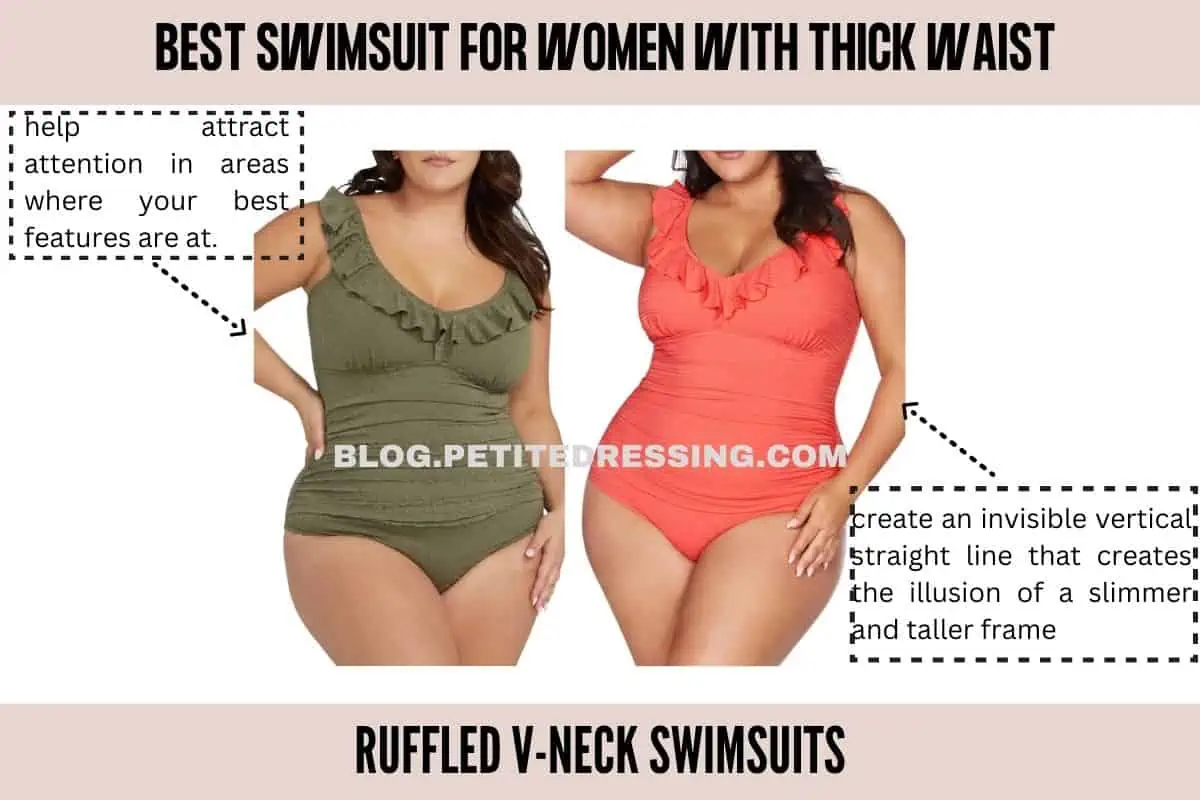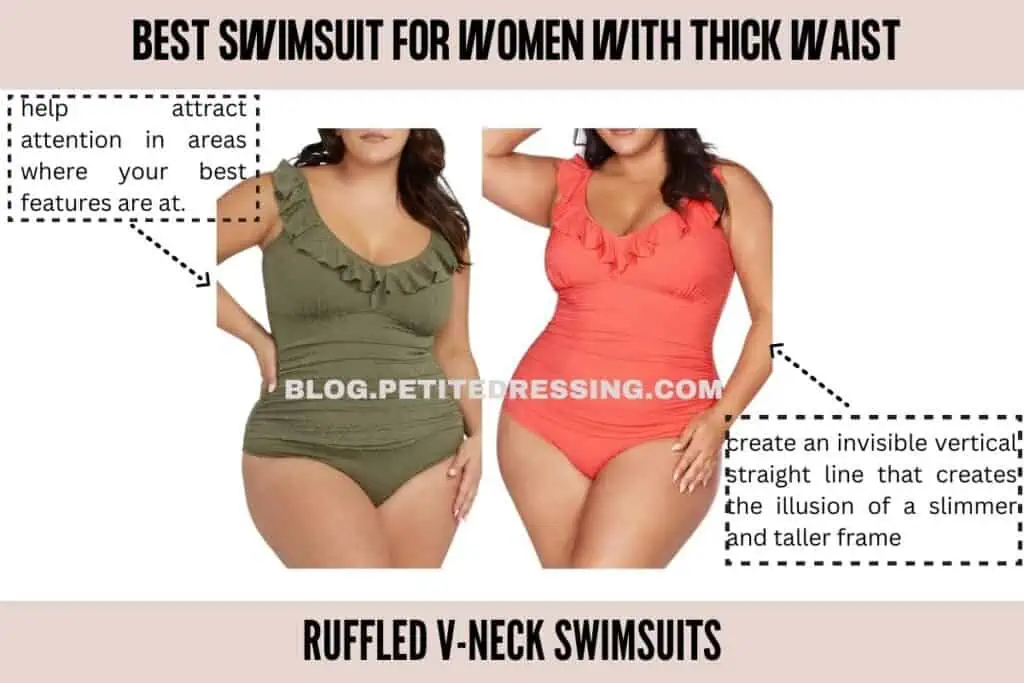 Don't you love the dainty vibe of ruffles on pretty much every piece of clothing? While ruffles can be a bit tricky to work with, it's something that can help attract attention in areas where your best features are at.
So in this case, if you're quite conscious of your thick waist and would like to "hide" it, an efficient way to distract the eyes from your waist area is to go for ruffles on the bust line. If you think your bust area deserves the spotlight, then you'll love ruffle details that follow a V-shaped neckline.
V-necklines effectively elongate your body as they naturally draw the eyes up and down to create an invisible vertical straight line that creates the illusion of a slimmer and taller frame. Add ruffles along this V-shaped hemline and it will instantly make your bust line the focal point of your look and not your thick waist.
Plunging Neckline Swimsuits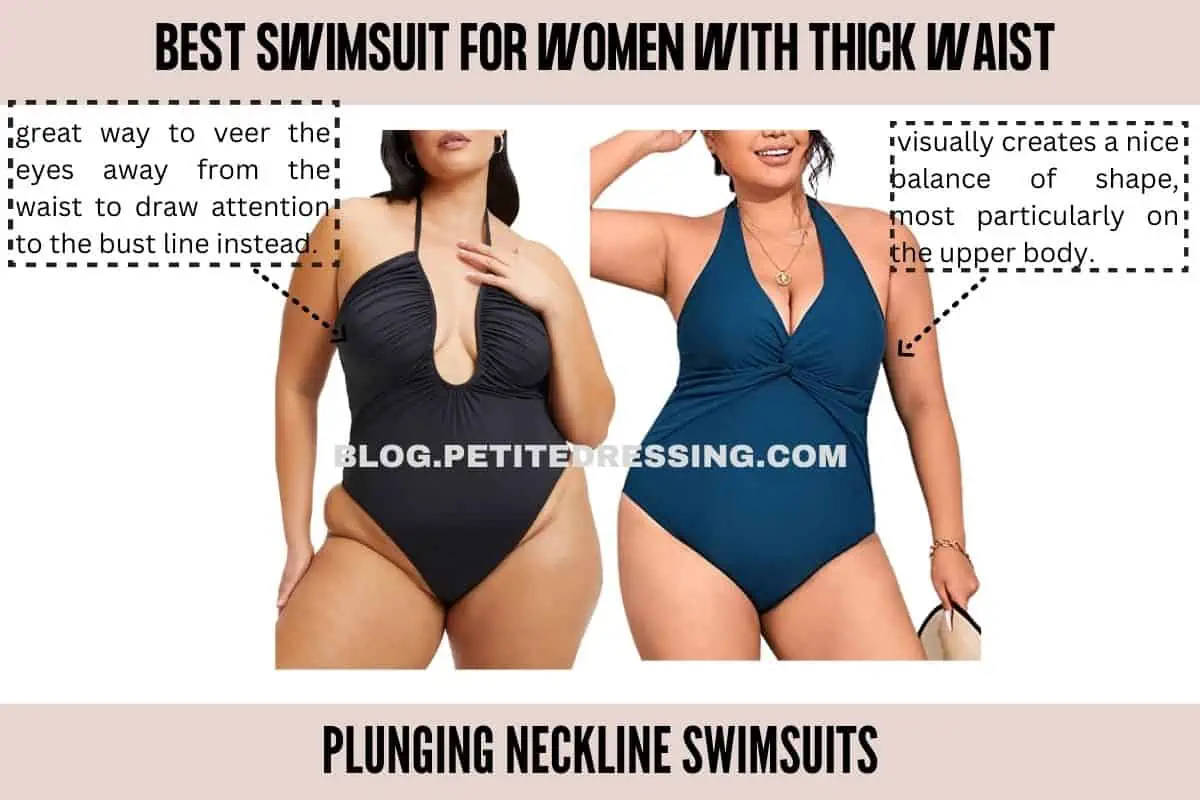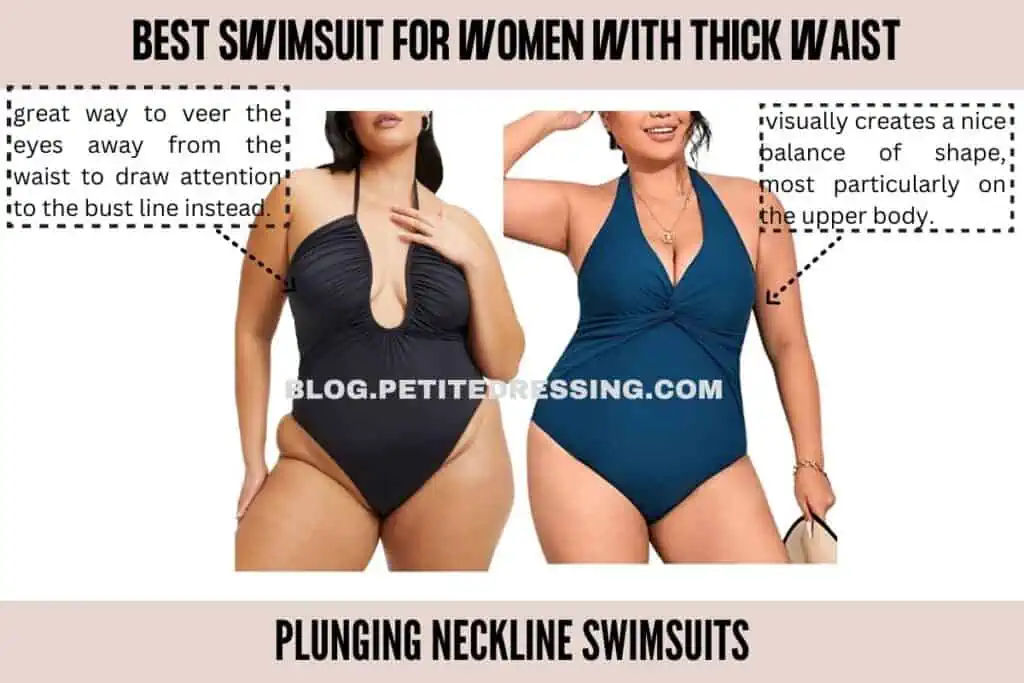 This shares pretty much the same style principle of V-neck swimsuits, only that plunging necklines show more skin. Going for swimsuits with plunging necklines is also a great way to veer the eyes away from the waist area as they help draw attention to the bust line instead.
This swimwear silhouette, just like the V-neck, also elongates your body as it makes your neck long and your overall frame much leaner. This visually creates a nice balance of shape, most particularly on the upper body.
Just remember that a plunging neckline swimsuit can make you more prone to exposure to make sure you find the best pieces that fit your body perfectly. If you're a busty girl, then you would want to find ones that provide additional support to the breasts.
Printed One-Piece Swimsuits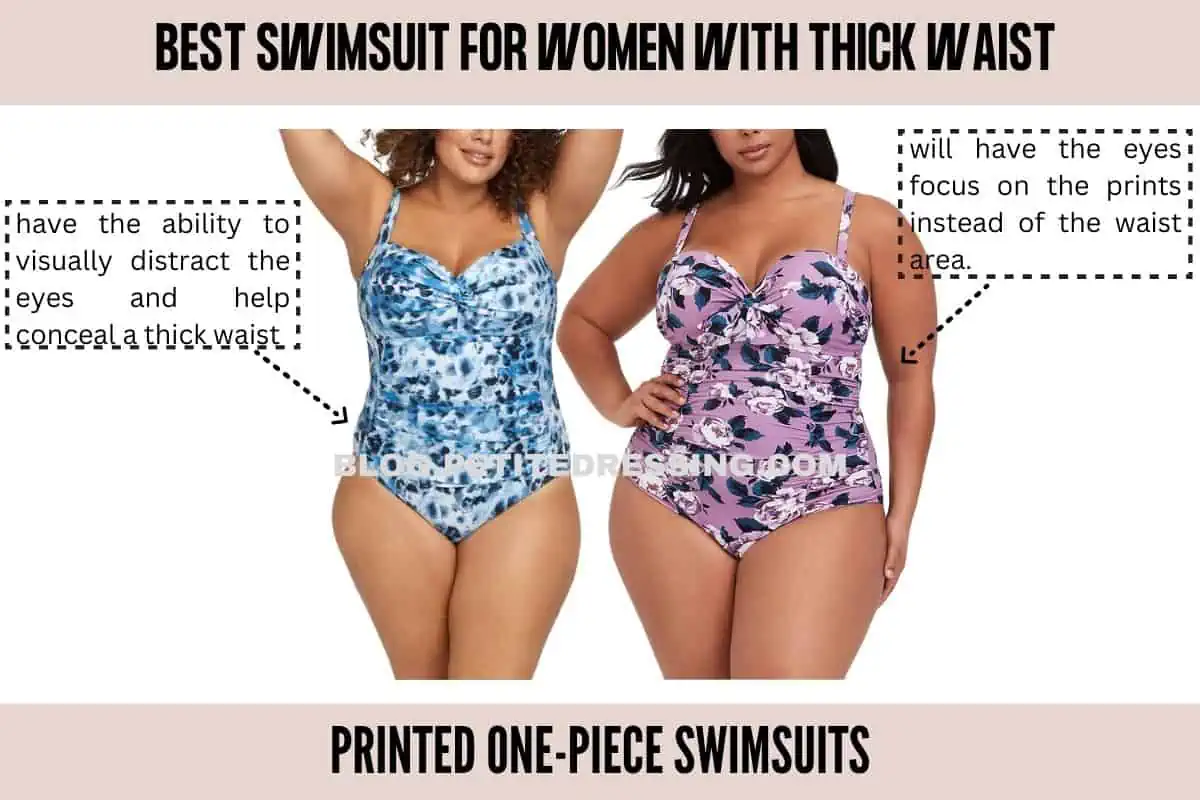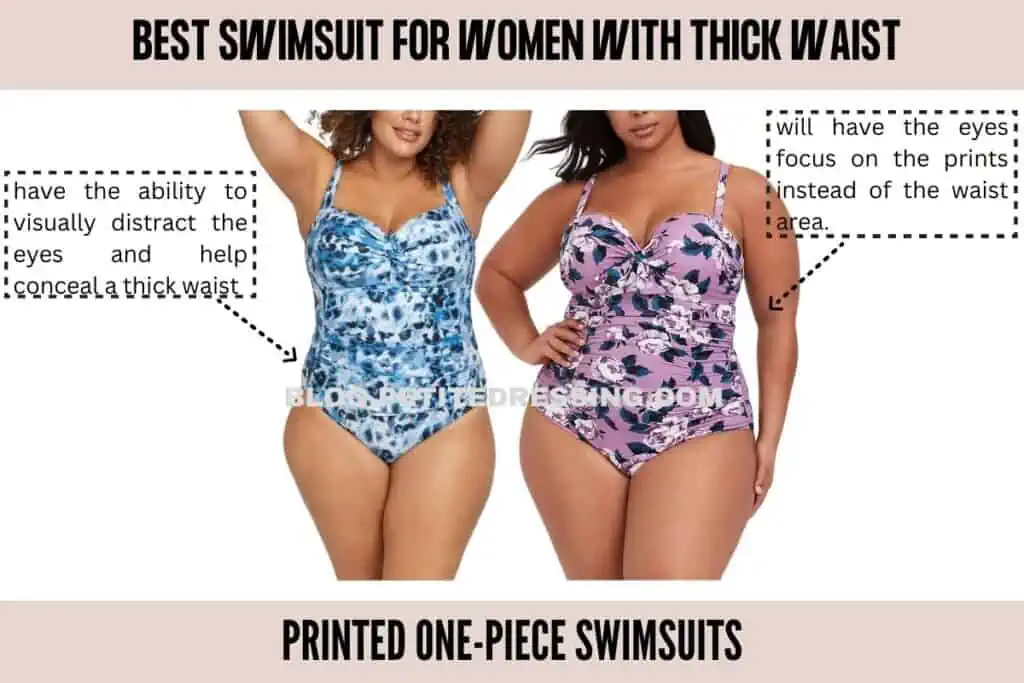 Prints have the ability to visually distract the eyes and therefore help conceal a thick waist. To efficiently camouflage your thick waist, wearing a one-piece swimsuit that is printed all over will have the eyes focus on the prints instead of the waist area.
Smaller and more detailed prints are much better in terms of visually distracting the eyes away from your thick waist. You just have to be careful not to go for extremely bulky and large prints since these can only make your body look wider.
Floral, vertical stripes and abstract patterns are just some of the ideal examples of flattering prints that would look beautiful on someone with a thick waist.
Avoid Low-cut Bikini Bottoms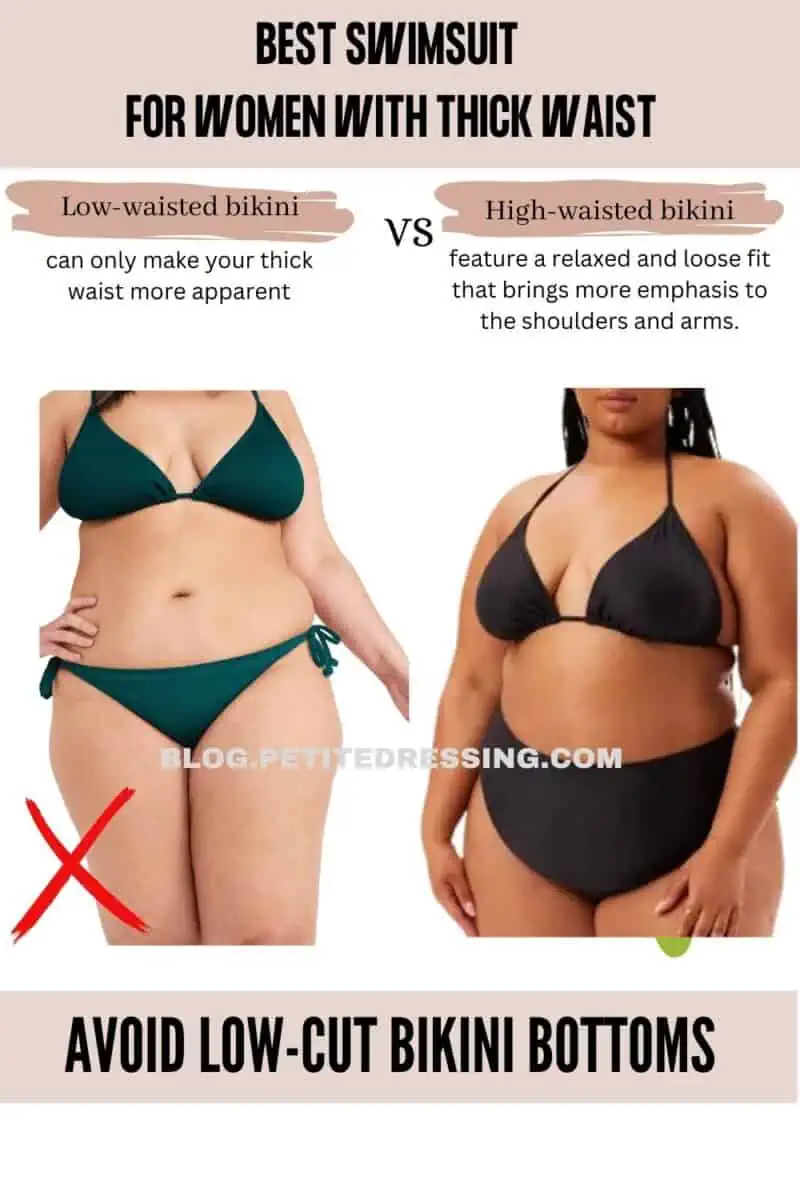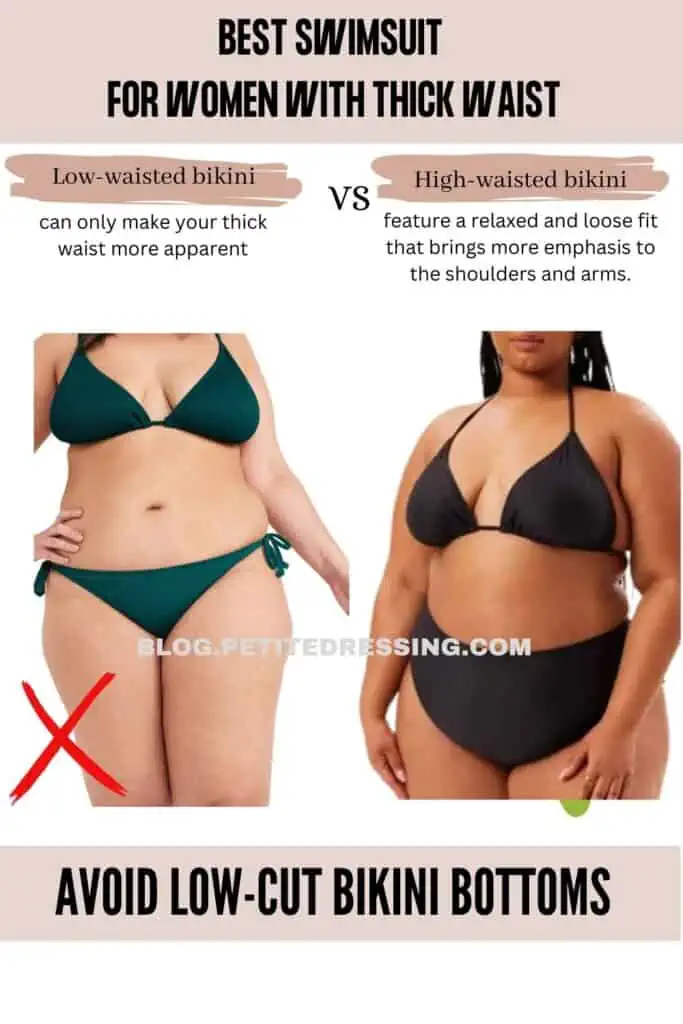 Some tend to go for low-cut bikini bottoms due to the misconception that the "scoop" that goes by the low cut of the bikini will help you look curvier. However, this is totally contrasting because low-cut bikinis can only make your thick waist more apparent!
In addition to that, this can also make your tummy bulge as ladies with a thick waist usually have a muffin top as well. So instead of low-cut bikini bottoms, opt for either high-waisted bottoms or one-piece swimsuits as we mentioned earlier in this blog post.
The Key Takeaway
Now that you have learned which swimsuit styles would embrace your natural figure, it's much easier to feel more confident in your own body! Settle for the right fit and be extra mindful with the cuts and patterns you choose for your swimsuit.
But of course, this list of swimsuits shouldn't limit you with your options as this only serves as a guide for you to expand according to your personal preference. After all, confidence is always the major key to perfectly flaunting a rocking swimsuit.