I am 5'2" and I have a petite clothing line for women 5'4″ and under. I think most petite women would agree with me that is very important for shorter ladies to have our legs appear longer!
Even if you are not petite, most women still want to know what kind of pants make legs look longer and therefore make you look taller and leaner! That is what has prompted me to put together this list today so that you know what to look for.
Based on my own experience, as well as feedback from thousands of my petite customers, I've put together this detailed guide to help you!
Wear high-waisted pants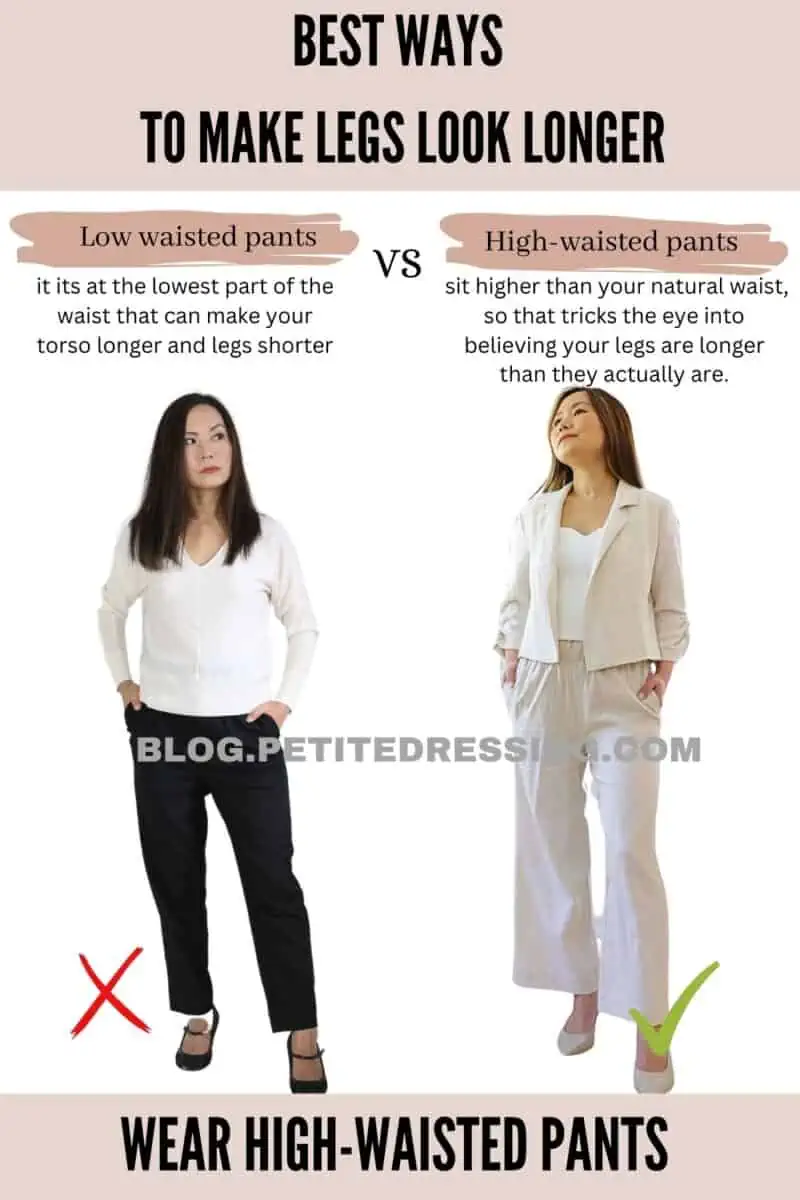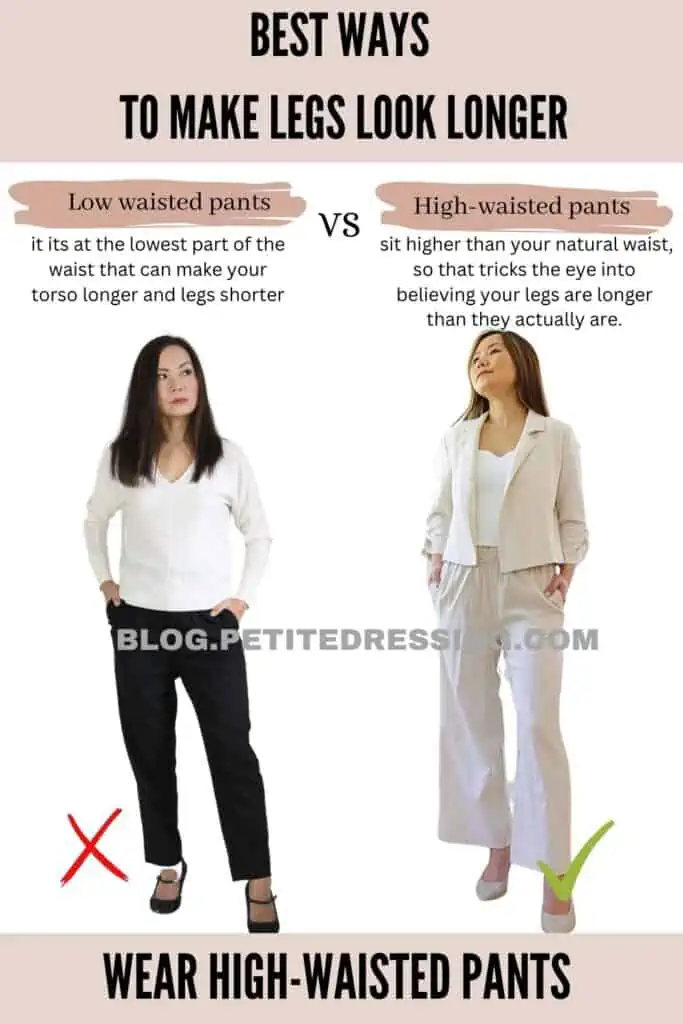 If you have read my other styling advice or watched me on YouTube, you'll know I'm all for high waisted style! High waist design is the easiest way to elongate your legs, and it should be your wardrobe staple for any women looking for pants to make legs appear longer.
The reason behind this is that high-waisted pants sit higher than your natural waist, so that tricks the eye into believing your legs are longer than they actually are.
That explains why high waisted pants is the favorite pant style of almost every petite actresses from 5'3″ Victoria Beckham to 5′ Kourtney Kardashian.
My personal wardrobe reflects my belief- I own numerous high waisted pants, jeans and skirts. They are my go-to when it comes to the bottoms.
Another reason why high waisted pants are so flattering is also because they can smooth out your mid section pretty nicely. If you are concerned about a heavier mid riff and want to know how to hide your belly, then high waisted pants should be your number one choice.
Now, as much as I love high waisted style, here comes one caveat.
If you already have a short torso, then you need to be careful with it. Some petite ladies are under 5'4″ but they have a long leg ratio, which means their legs are relatively long and their torso is short. In that case, if you wear high waisted pants, most likely it will make your torso look even shorter. So, for a more balanced look, you probably want to go with a mid waisted pants instead.
Wear flare leg jeans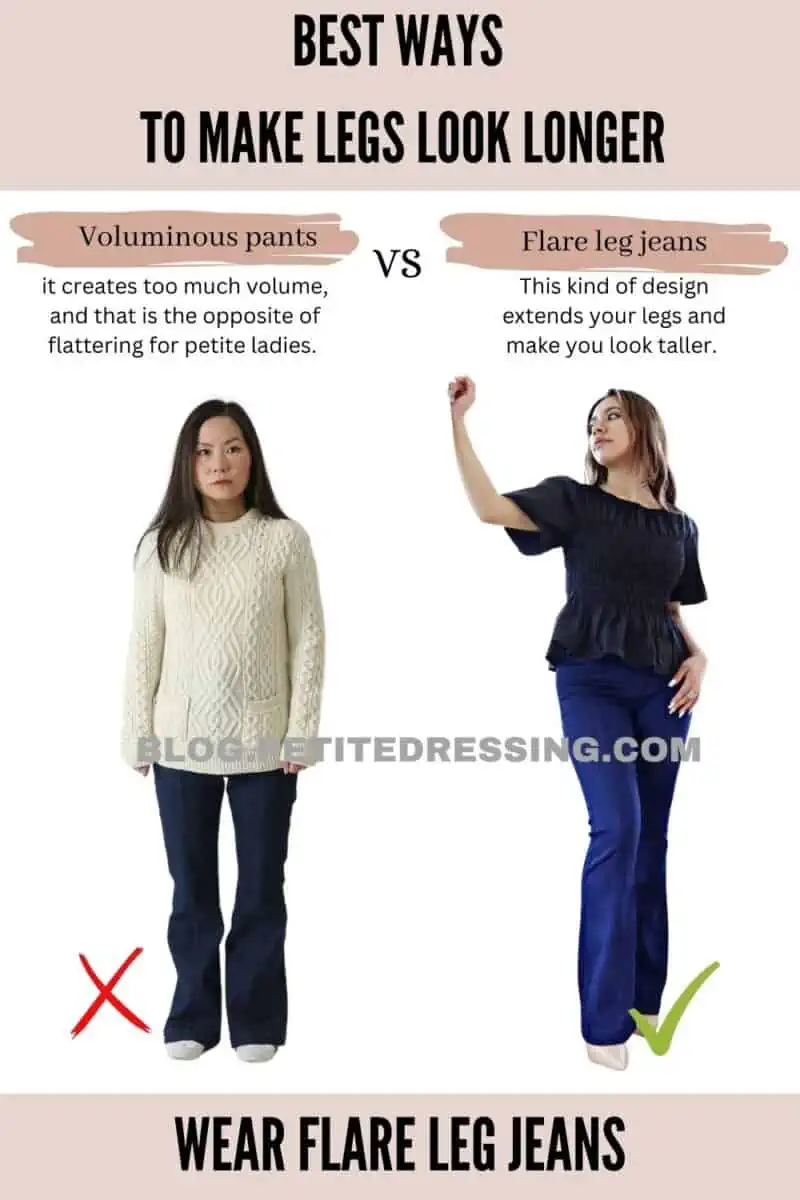 The flare leg is a heaven sent for ladies looking for pants to make your legs look longer! They are tight on your thigh and flares out under your knees. This kind of design extends your legs and make you look taller.
Every time I put on a pair of flared leg pants or jeans, I just notice that my legs instantly look longer! If I wear black color flare leg pants, they also make my legs look leaner. It works like magic.
Not all flare leg pants are created equally. Some pants have more exaggerated flare than others. If you are petite, make sure you go with a modest flare leg. If the pants legs are too dramatic, it creates too much volume, and that is the opposite of flattering for petite ladies.
The best way to wear flare legs pants to elongate your legs is to pair them with heels.You want to make sure your flared pants are long enough to cover part of your heels so that your shoes look like an extension of your legs. I will elaborate on this point next.
Wear full-length pants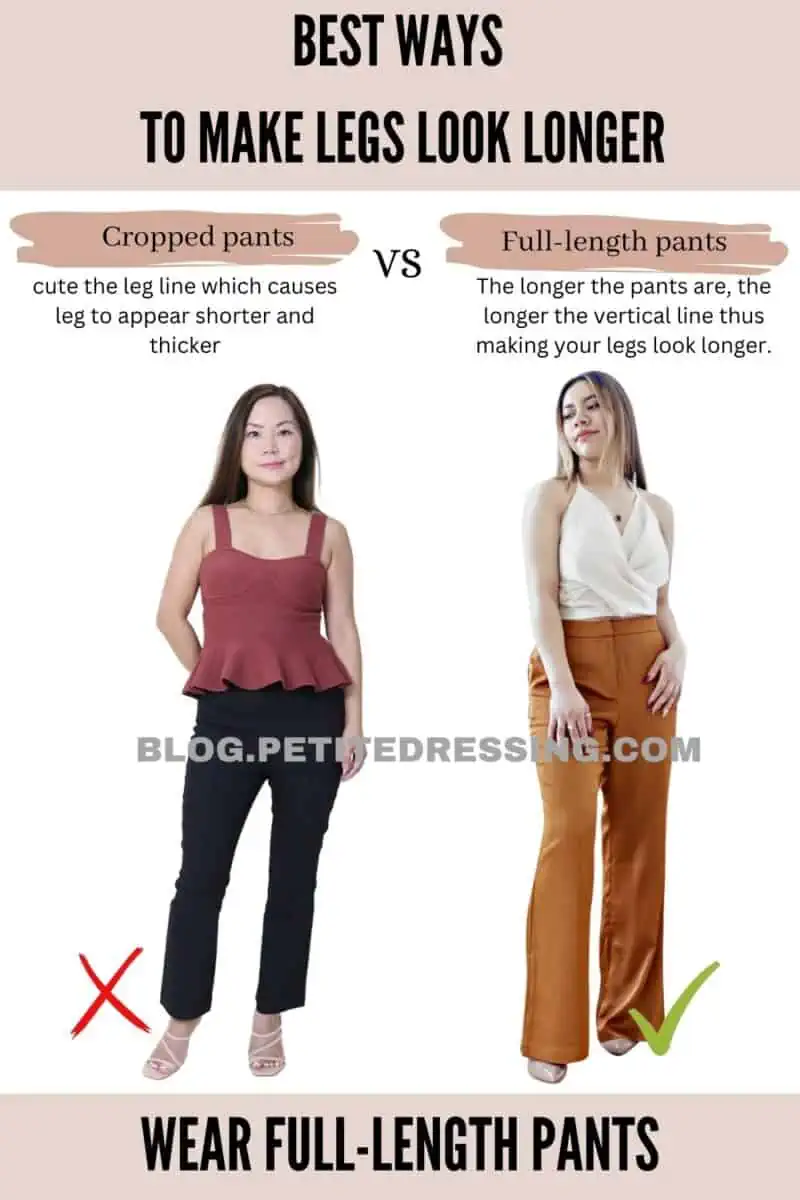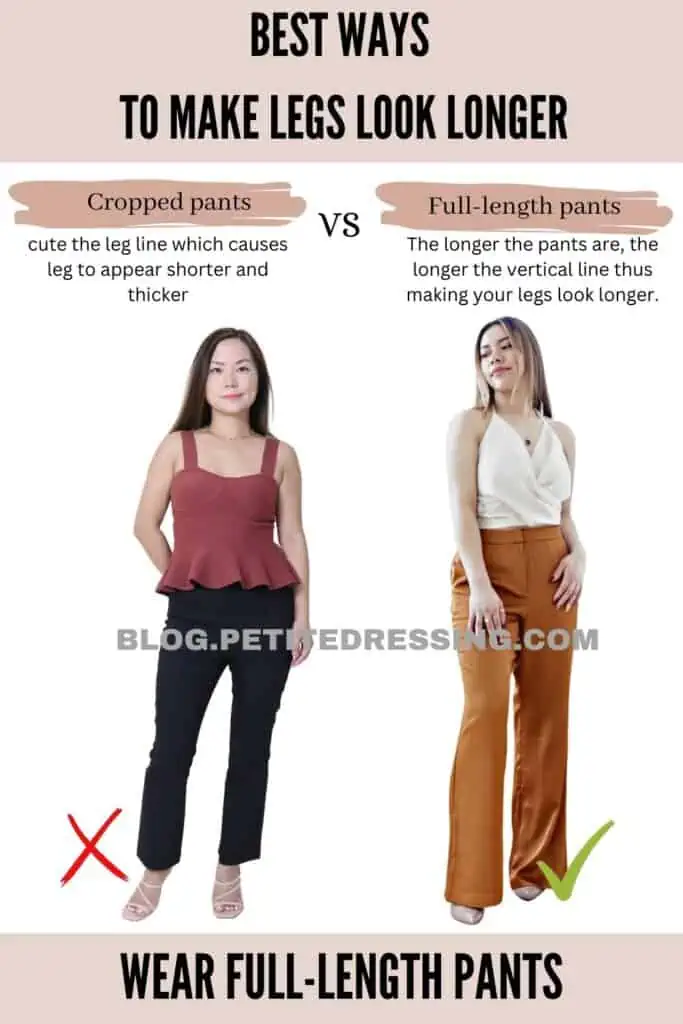 The best pants to make your legs appear longer are those with full length, ie long hem. There's two reasons behind that.
First, full-length pants form an unbroken vertical line. The longer the pants are, the longer the vertical line thus making your legs look longer.
Second, when you wear full length pants,,especially if they have flare leg (combining the previous point I made), they can wear high heels and they will be covered by the pants. People will only notice your legs look longer, and won't be able to tell the additional length comes from your heels!
So, whatever leg shape your pants have, whether they are straight leg, flare leg or even skinny leg, the best are those at full length in order to make our legs appear longer.
In comparison, pants with shorter inseam do not work as well to elongate your legs. If you are wearing ankle length pants, then your legs look as long as the hem of your pants. I am not saying ankle pants is a bad design, but it just doesn't do what full length pants do to extend our legs.
If you are are looking for the most leg elongating pants, you should especially stay away from ankle length wide leg pants. The reason is not only the ankle length makes your legs look cut off, but also the wide legs really accentuate that horizontal line at ankle, making things twice as bad!
Wear black jeggings with black booties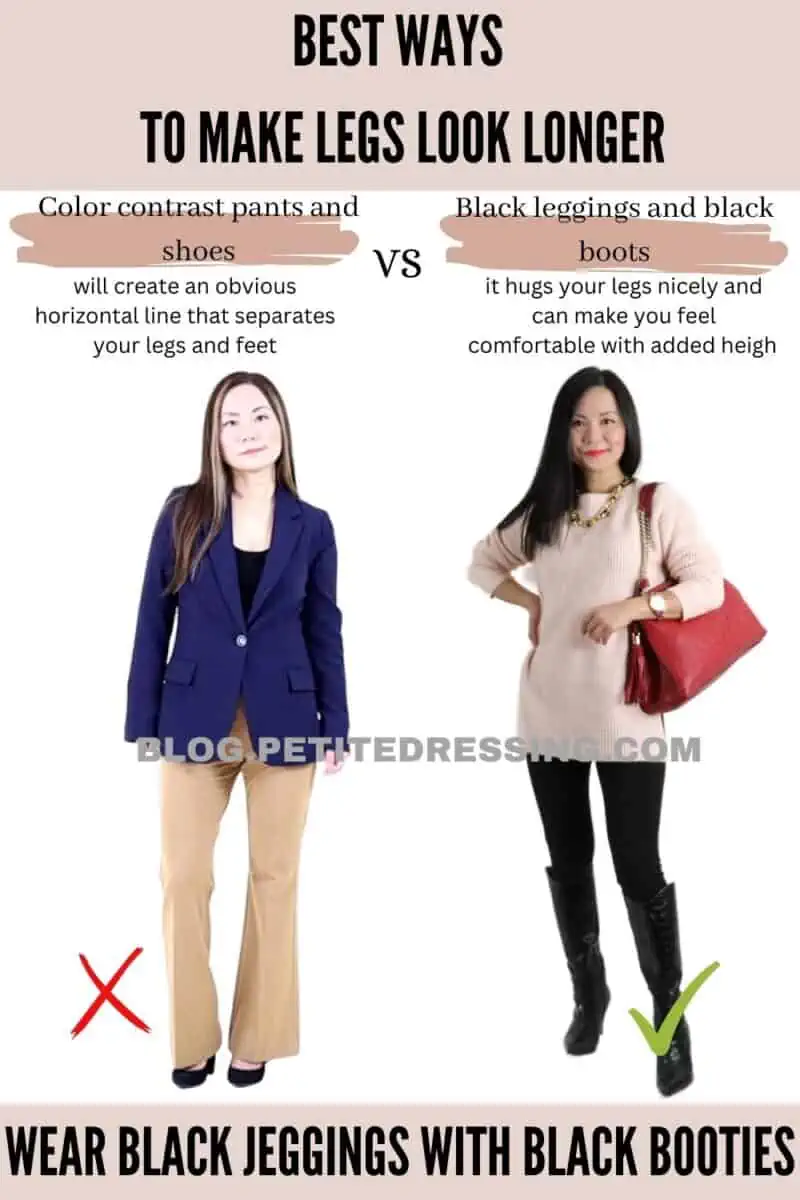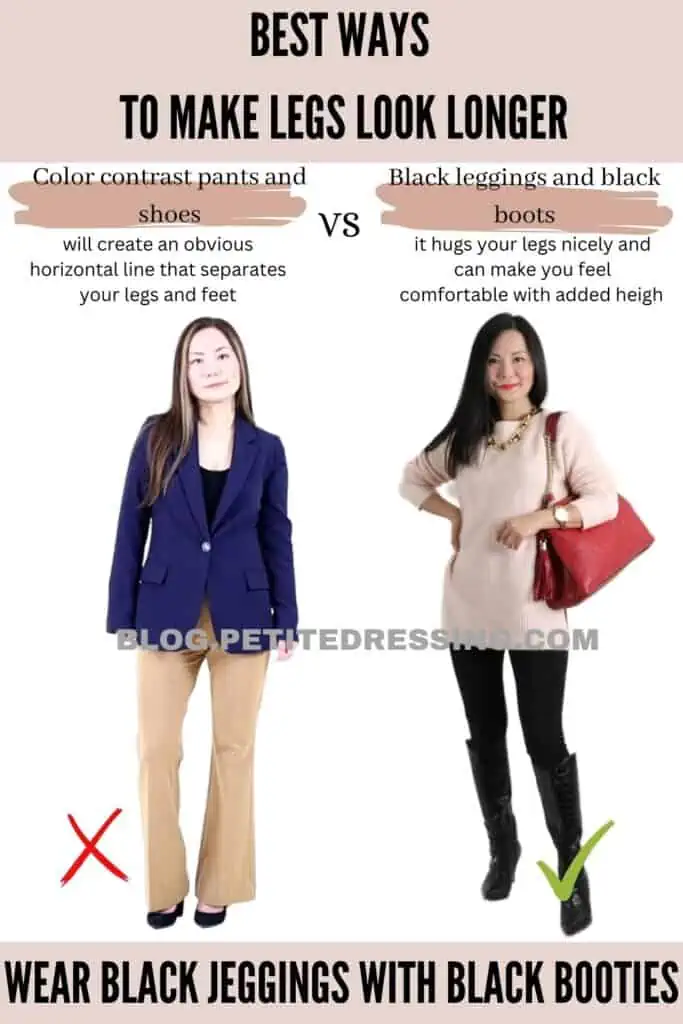 Jeggings are quite on trend in recent years. Although they could be made of denim, they don't have to. One thing the jeggings have in common is they are normally made of stretchy fabrics so they hug your legs nicely. Typically jeggings also have pull-on style, which makes them very comfortable both at home and when you go out.
The reason I highly recommend jeggings, especially the black color, is that they are the best bottom to pair with boots in the winter. Jeggings plus high heel boots is every short girl's best friend in the winter time!
Pants and shoes work together and form our bottom half.So, if you wear the right shoes, then you can easily double the effect of elongating your legs.This applies not just to jeggings or jeans. If you wear black pants, wear them with black shoes.The way it will look like your heels are an extension of your legs- your legs will effortlessly look longer!
Wear OTK boots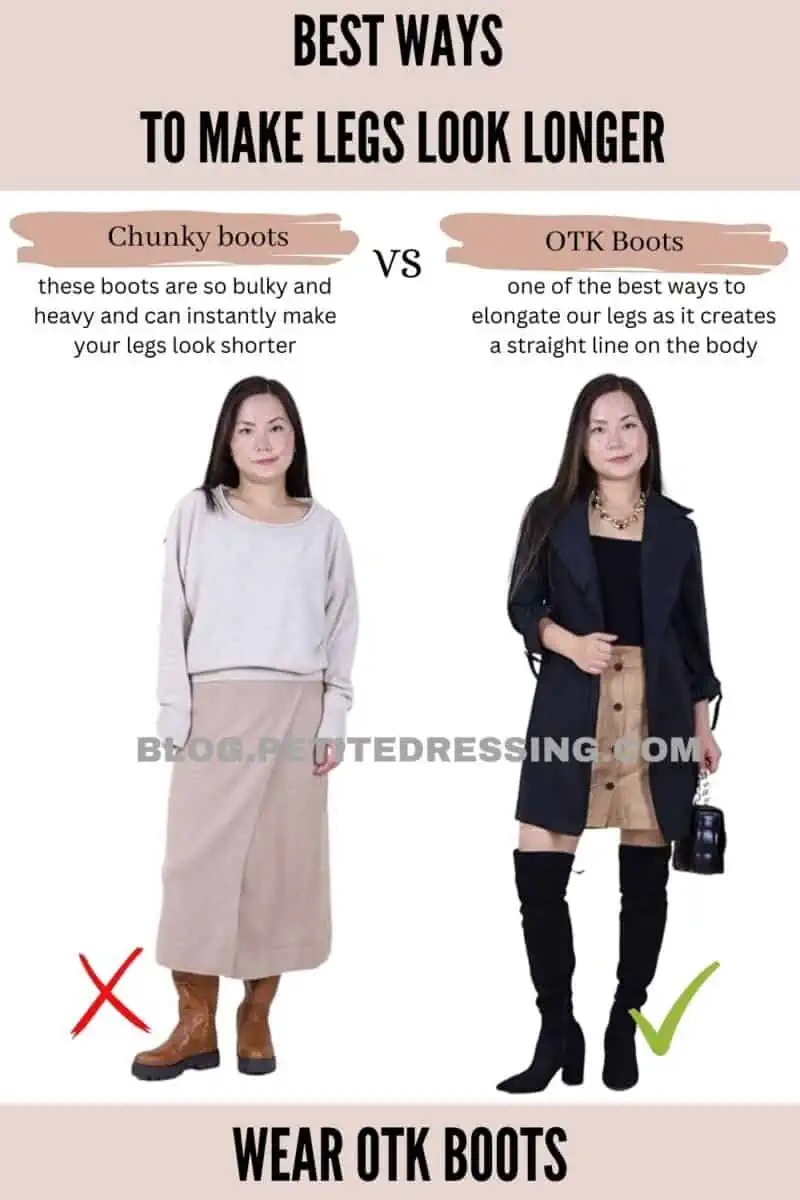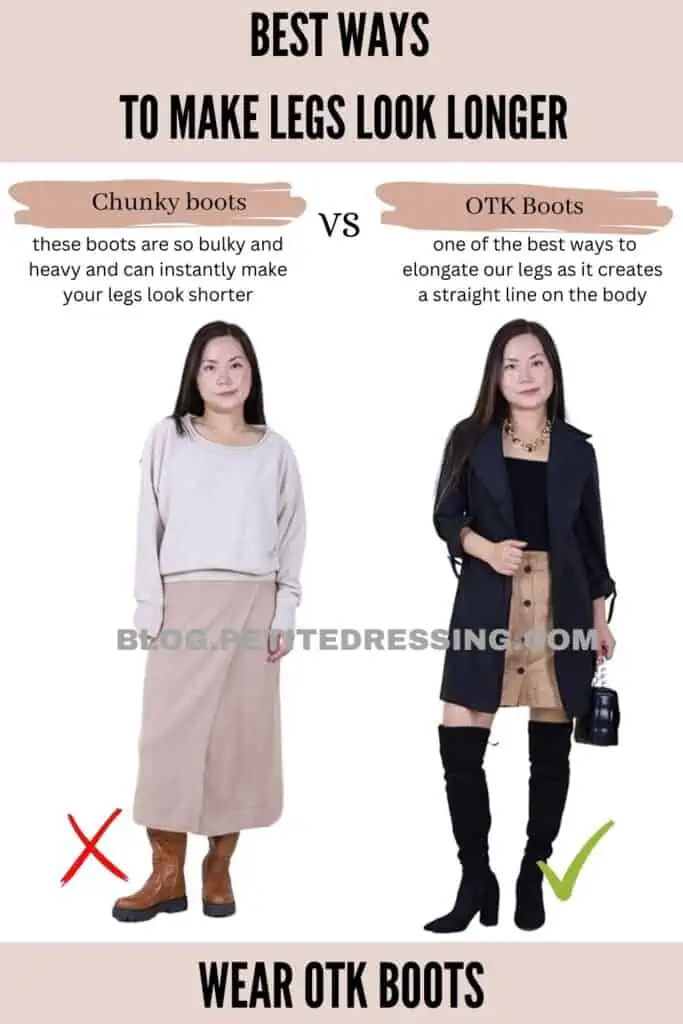 Over the knee (OTK) boots are one of the best ways to elongate our legs, if you are petite like me!
Even though it sounds intimidating to a lot of short women, OTK boots can be highly flattering. The reason is, they form an unbroken vertical line for your legs. Nothing is more leg lengthening if you wear the right OTK boots!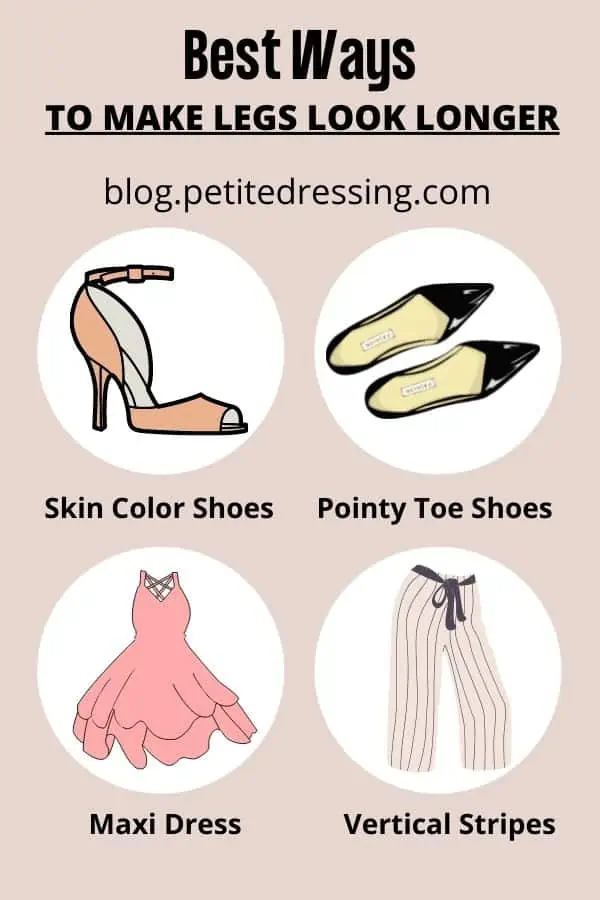 Not only can they make us look taller, but also I have found them easier to shop for. What makes it very difficult for petite women like us to look for tall boots is the shaft height. Since most brands are made for women over 5'5″ and above, they are most likely too long for our short legs. That is why I always struggle to find knee high boots that won't be too long for me. The problem is solved, when you go for OTK boots, because, well, they are meant to be over the knee! From my own experience, it is much easier to find OTK boots that fit me than to find knee high boots that fit my legs.
If you wear dresses or skirts a lot in the fall and winter like me, then OTK boots are must have.
Wear skin color shoes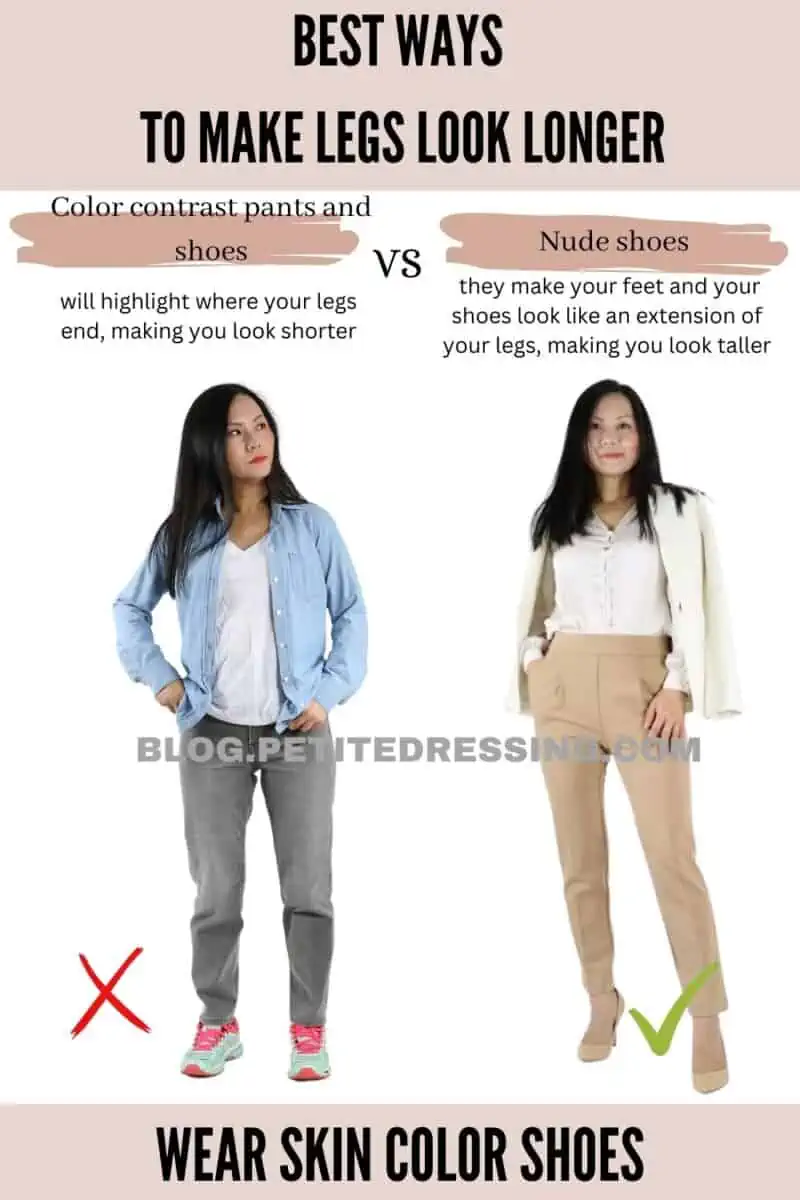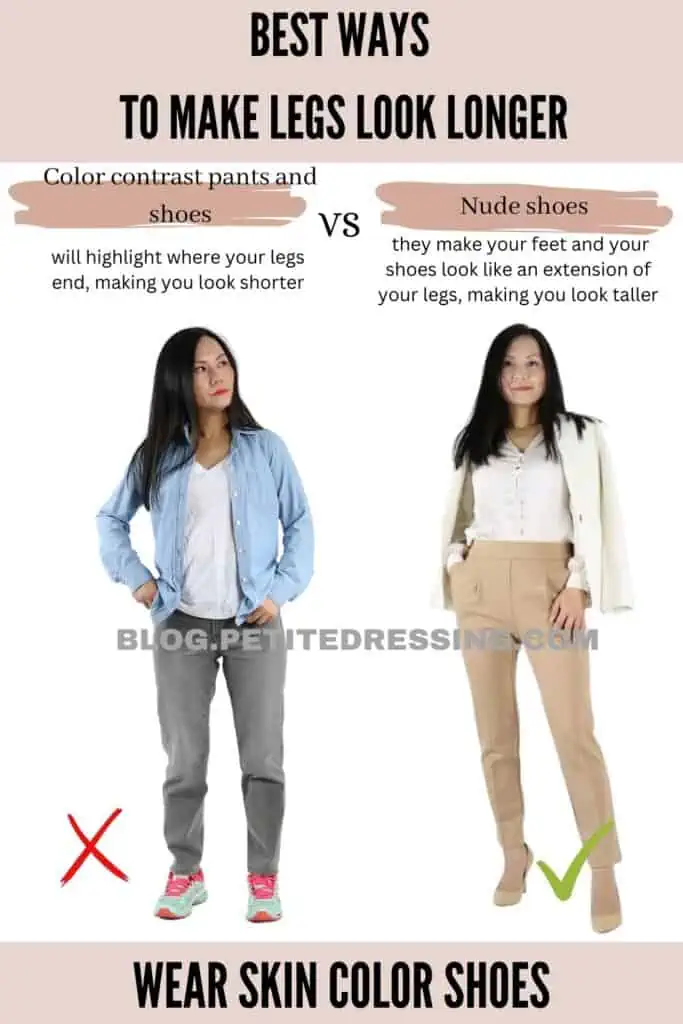 Skin color shoes is one of the best ways to make you legs look longer! Almost all my spring and summer shoes are nude colors, because I have found them have the incredible leg elongating effect on shorter girls like us.
When you wear skin color shoes, they make your feet and your shoes look like an extension of your legs.That is exactly why they are our best friend!
This is especially the case in the spring and summer, when you wear dresses or skirts a lot. But, of course you can wear nude shoes year round, even when you wear jeans or pants in the fall and winter.
Wear pointy-toe shoes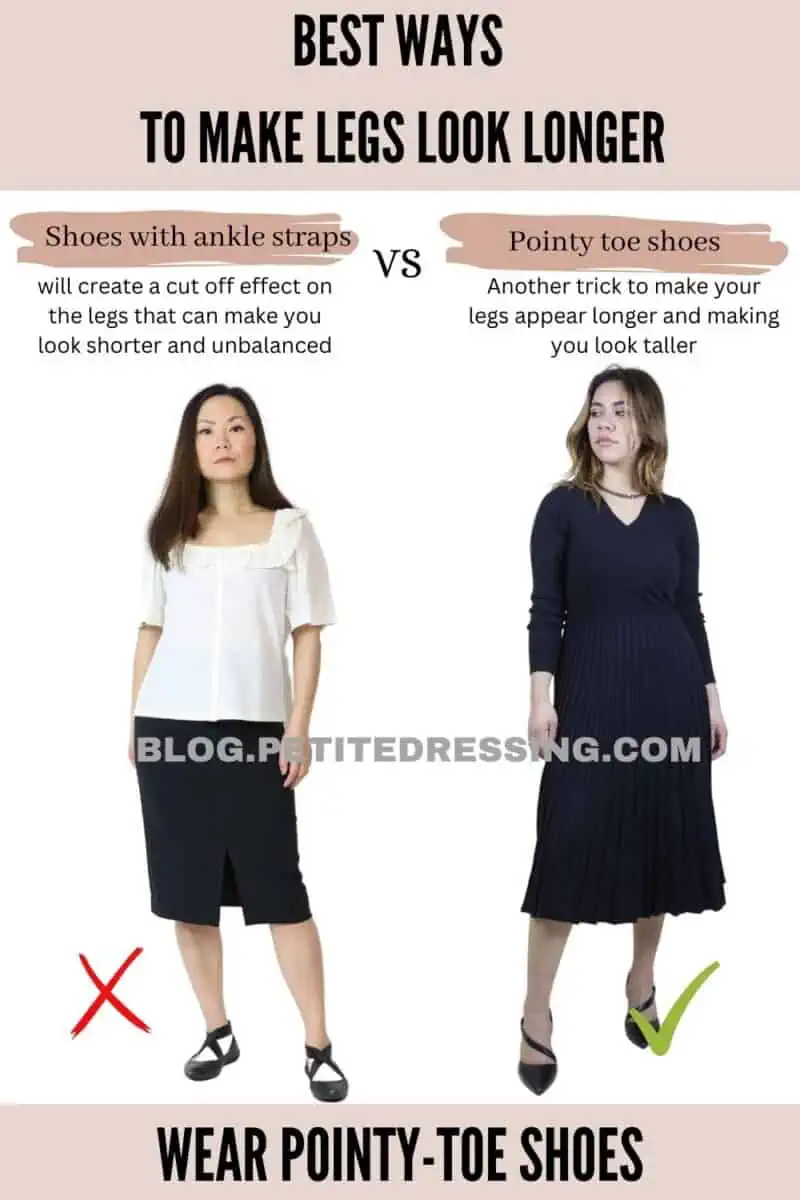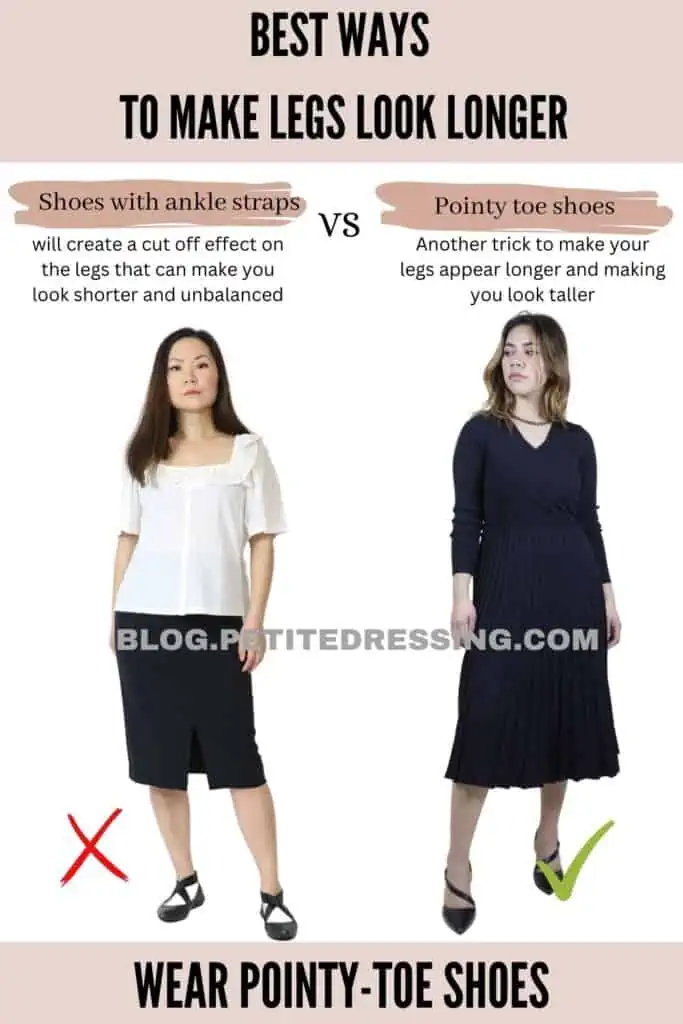 Another trick to make your legs appear longer, is to wear pointy toe! If you have not tried them already, I highly recommend you have at least one pair of pointy toe shoes in your closet.
It may sound like the toe shape of your shoes is minor, after all, we are talking about just about 1 inch difference. However, do not understand the importance of this 1 inch! I have found the right toe shape, like pointed toe, can immediately make your legs appear longer.
Meanwhile, the wrong toe shape, such as the square toe which is very on trend right now, is much less flattering. I noticed they actually make my legs look shorter. That is why I have donated all my square toe booties and tall boots, ever since I discovered they does the opposite of making my legs look longer.
Wear a maxi dress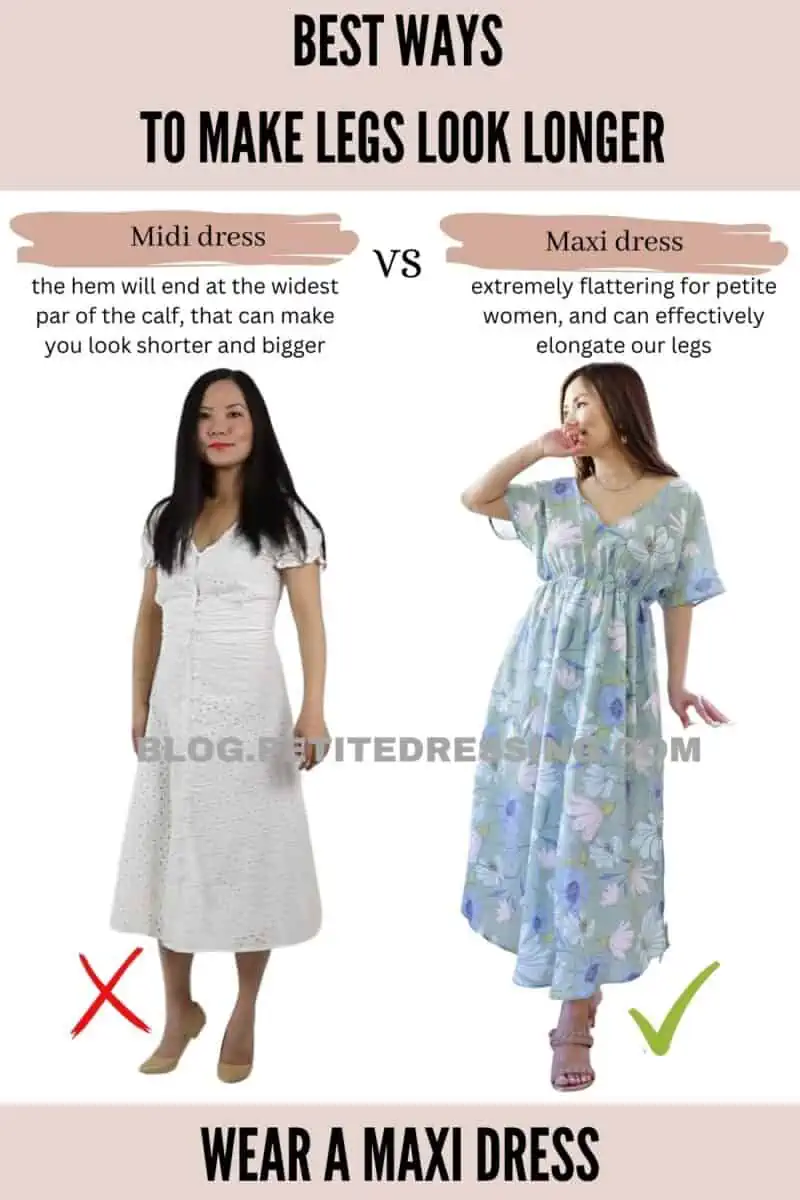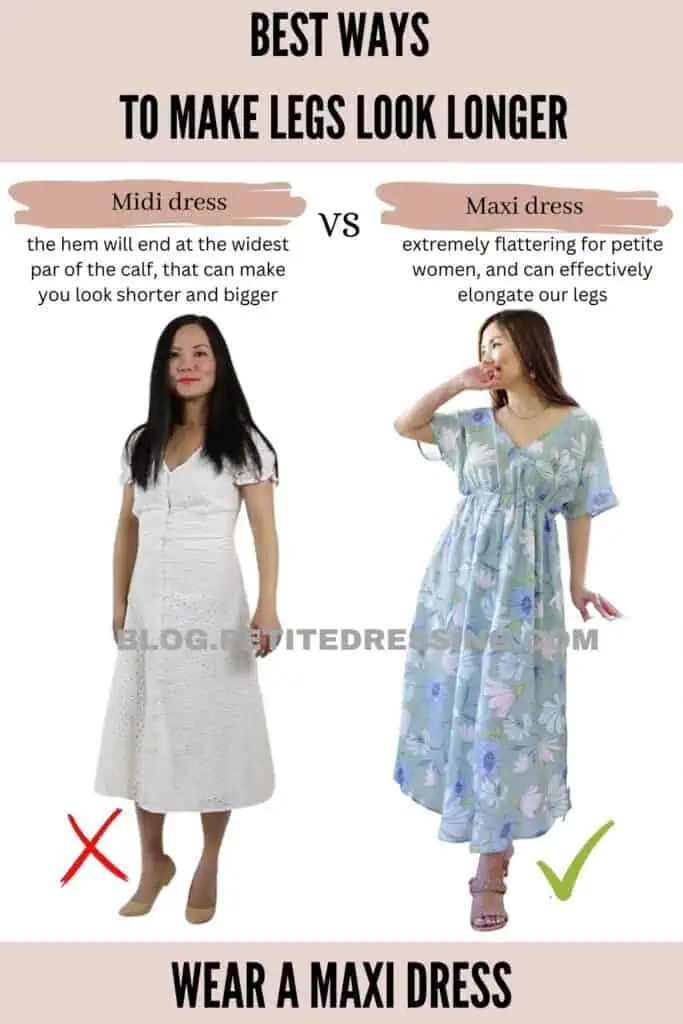 I know this may sound surprising to a lot of girls, especially if you happen to be short like me. Most of the time we are told that short girls look better in shorter dresses, and you probably are under the impression that long dresses are only for taller girls not us.
I have discovered quite the contrary- maxi length dresses are extremely flattering for petite women, and can effectively elongate our legs!The reason is that they form an unbroken vertical line for your body from head to toe, which create the illusion of a longer frame therefore longer legs as well.If you have not tried any maxi-length dress, try it yourself today and you will notice your legs magically look longer!
Wear vertical stripes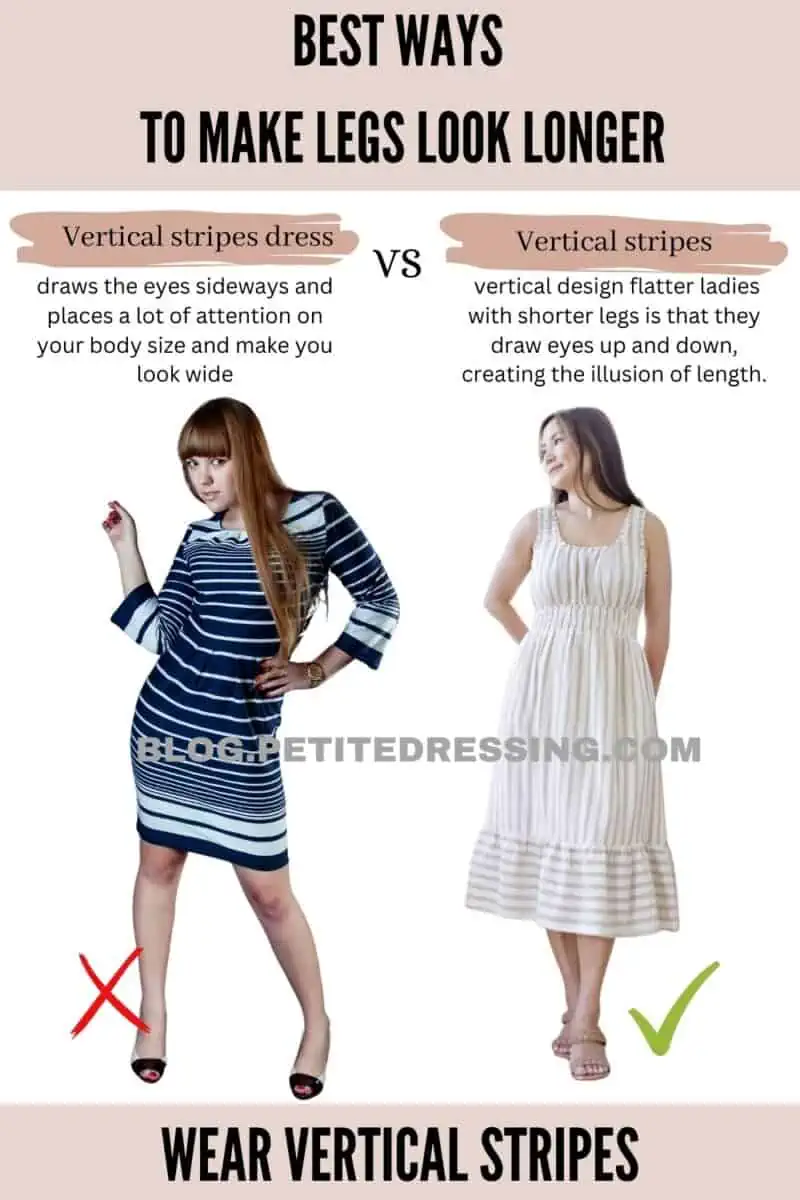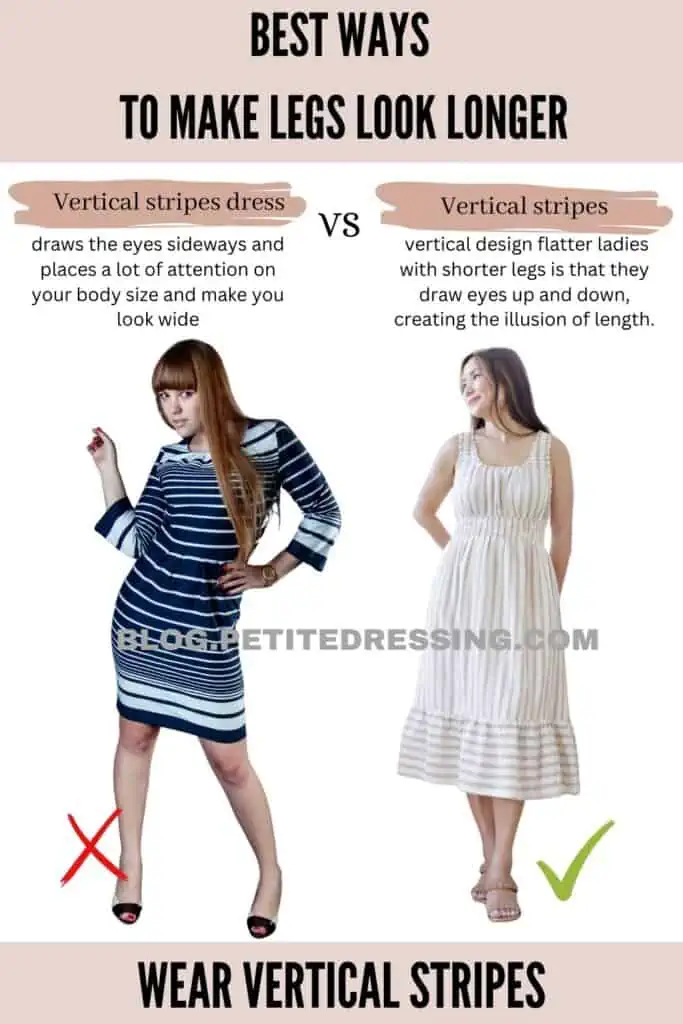 The reason pants with vertical design flatter ladies with shorter legs is that they draw eyes up and down, creating the illusion of length.
When we talk about vertical design, perhaps the first thing that comes to mind naturally is the vertical stripes. Well, that does work, but it is not limited just to that. Any vertical design, such as a vertical hem or vertical pattern, can achieve the same result of leg elongating.