When you need dress styles to wear to formal events, it can be tricky to find one that accentuates your figure and creates a streamlined appearance at the waist region. We've put together a list of formal dresses that look good on women with thick waist. Also, be sure to look out for the styles that you should avoid, as they will make you look bigger.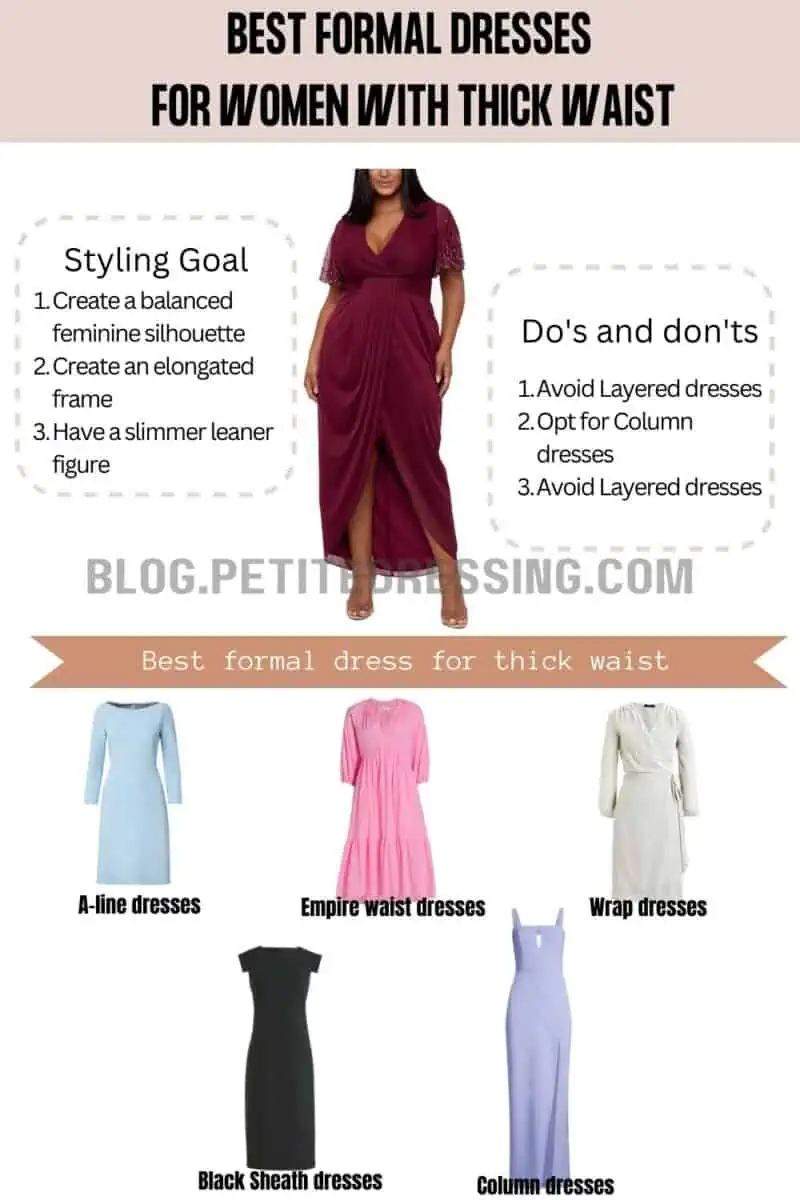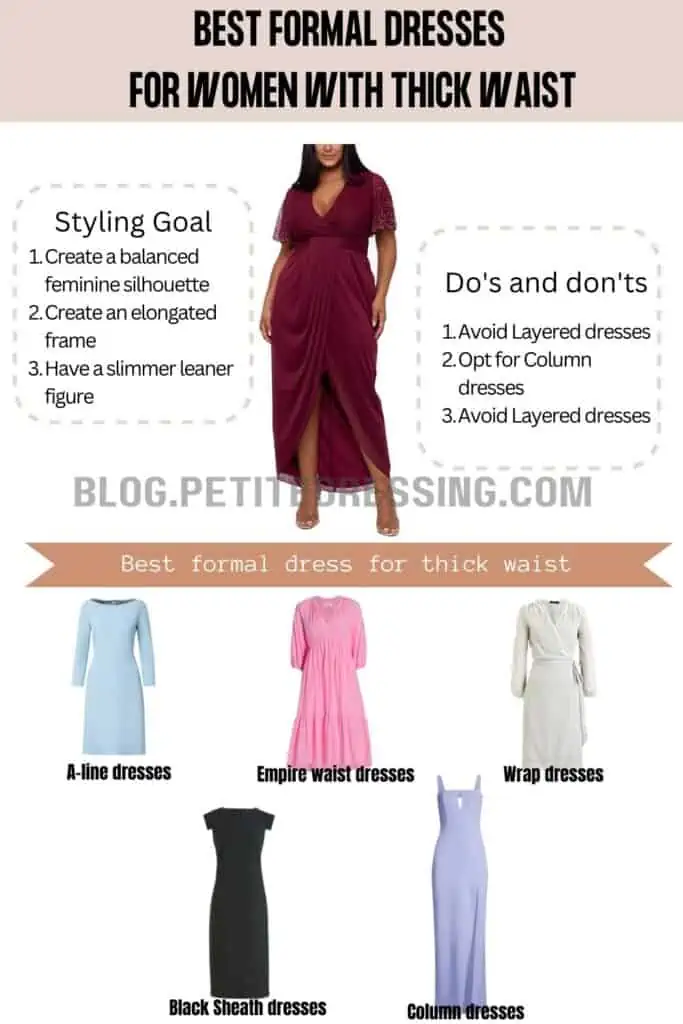 A-line dresses
While A-line dresses work perfectly for casual events, you can also switch this up to make it the perfect wear for a formal occasion, and you would absolutely stand out in style. Women with thick waists will love how A-line dresses create a balanced feminine silhouette that flares out from your waist stylishly while emphasizing a curvy shape.
Rather than hide the best parts of your body, A-line dresses will highlight them while still giving an overall slimmer silhouette that will make you feel incredibly beautiful. Do you know what would look amazing on your A-line dress? Nude heels.
Of course, you shouldn't forget to spice things up with jewelry, but don't go over the top with this. A few statement pieces should get the job done.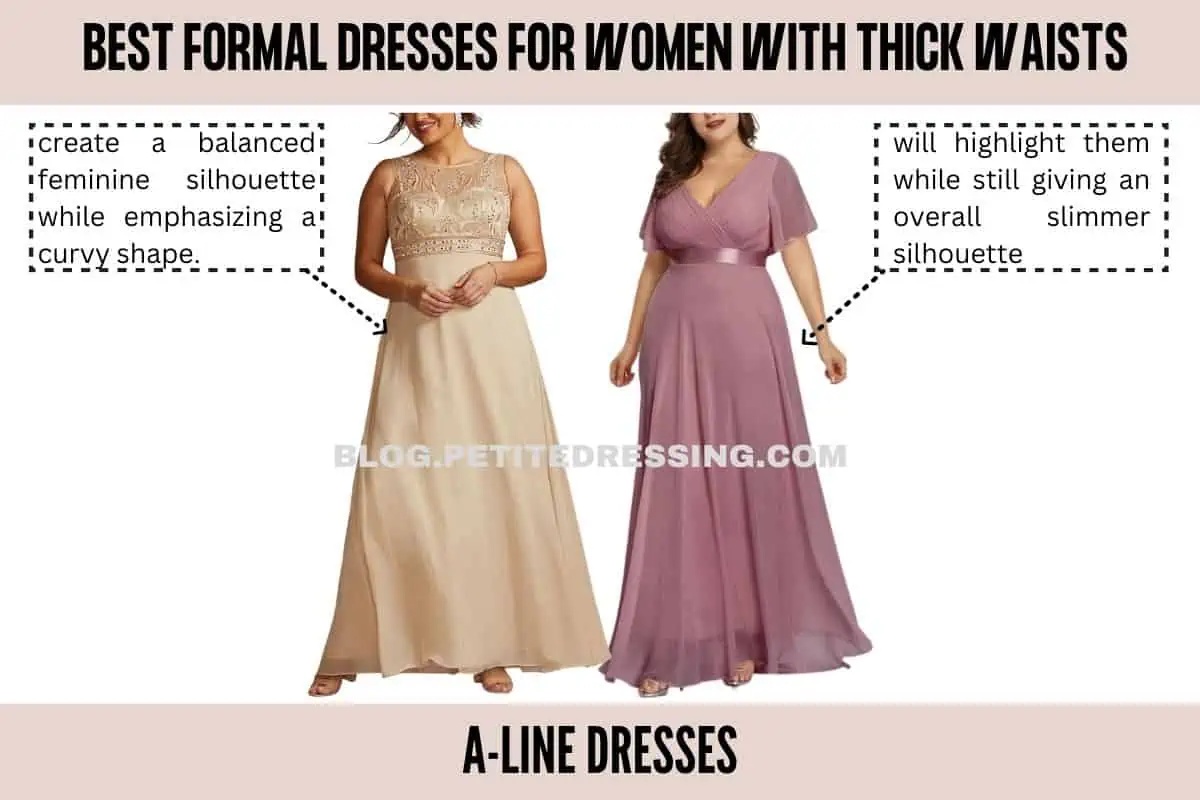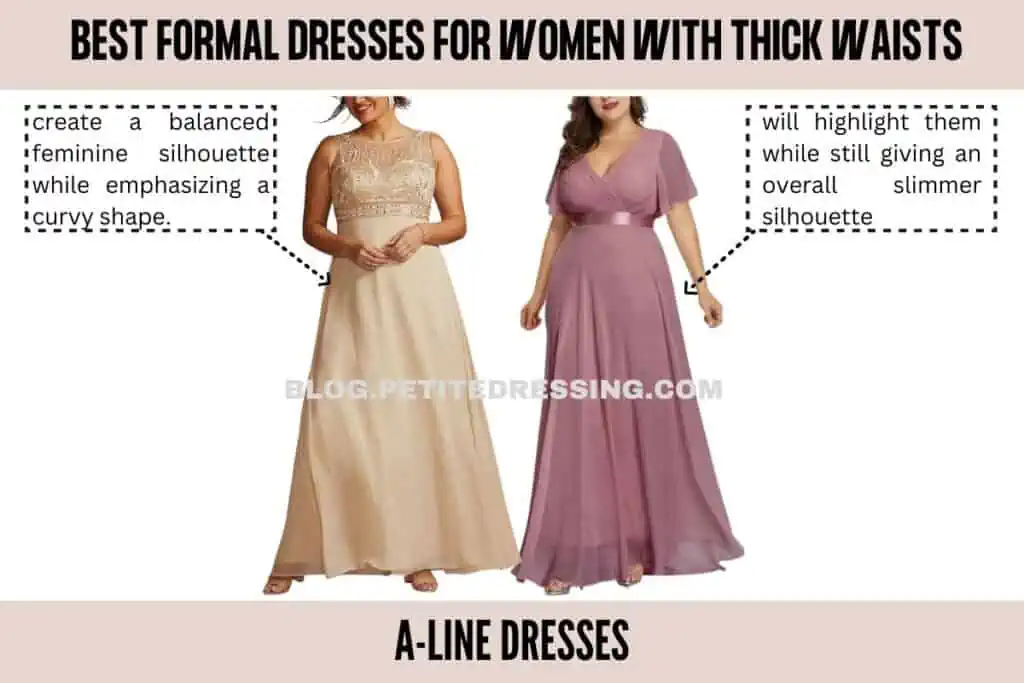 Empire waist dresses
Women with thick waists should also consider wearing an empire waist dress to formal events. At first glance, you may think that this is a boring dress style that would make you look plain, but that's so far from the truth.
One of the few flattering dresses for women with a thick waist is the empire waistline, which gives a flattering silhouette as it draws attention more towards the upper body and away from your thick waist.
It's also great at hiding your extra belly, especially if you don't feel comfortable wearing shapewear all the time. With this simple yet stylish dress, you can reveal a delicate feminine shape while still looking sophisticated enough for formal events.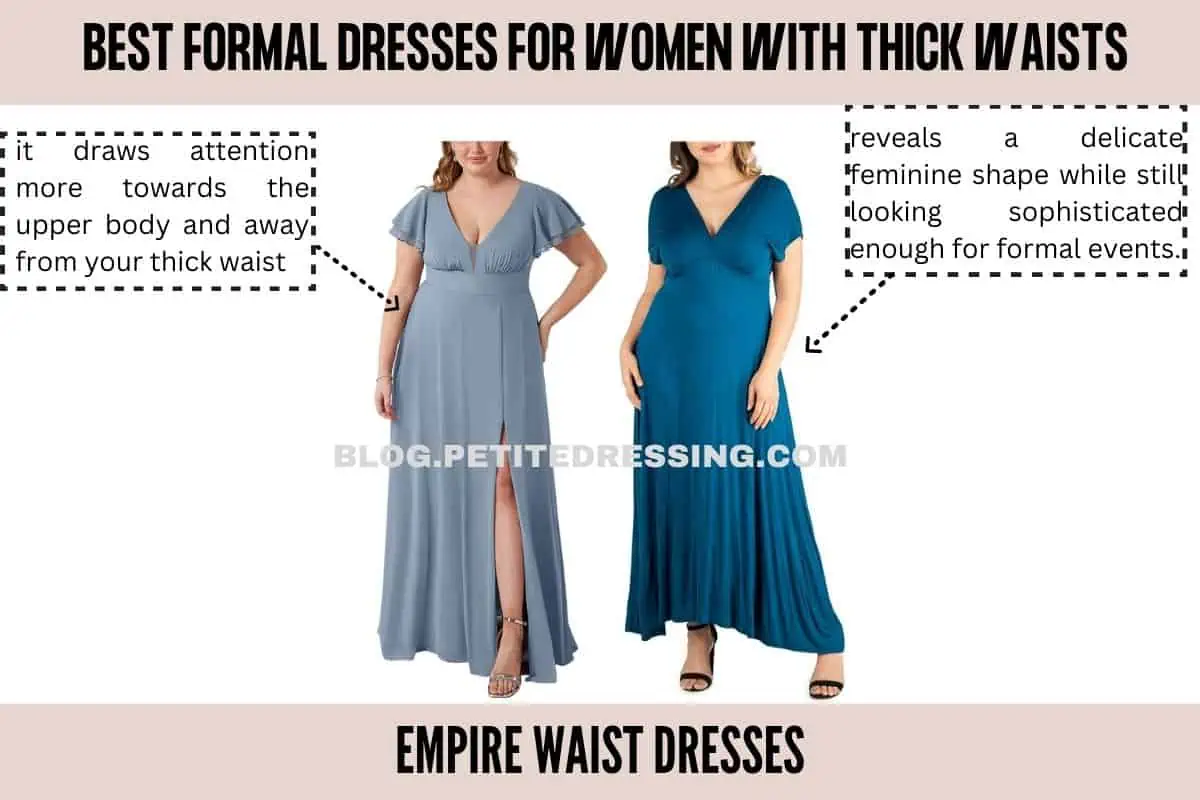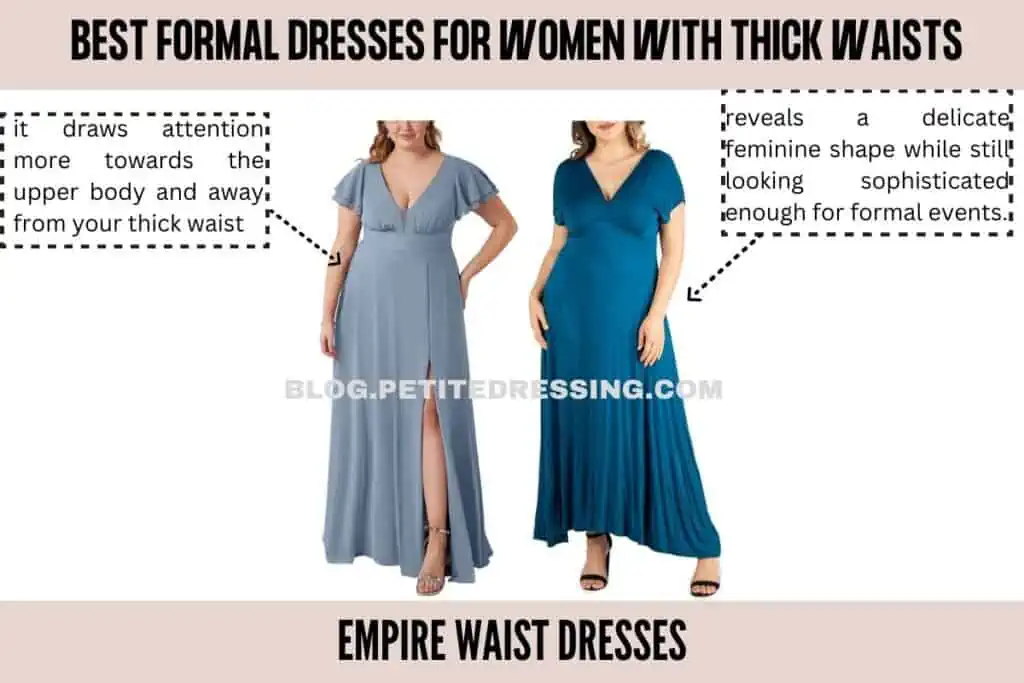 Wrap dresses
Wrap dresses define the waistline, and for women with a thick waist, this will create a flattering silhouette that ensures that your curves form that pretty hourglass shape you'll love. 
Since the wrap dress is customizable, you can adjust freely to get a fit that you believe is perfect for you. With this, you can choose a style that highlights your curve while minimizing your waistline in the best possible way.
Wrap style dresses are incredibly cool because this is not a rigid clothing style. It also creates an elongated frame that draws the eyes up and down, and a great pair of heels will compliment your look perfectly.
For a dress like this, the neckline also matters. We would recommend going for a v-neckline that accentuates your shoulders and draws attention to your bust.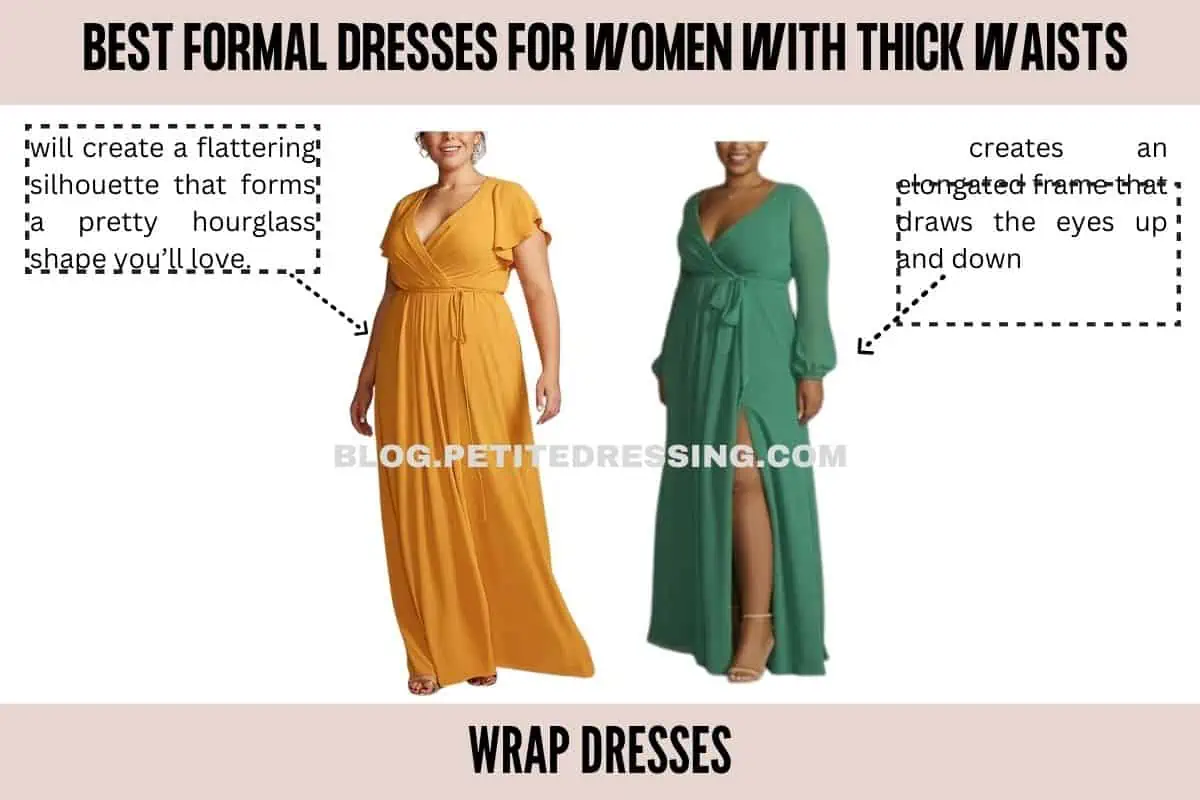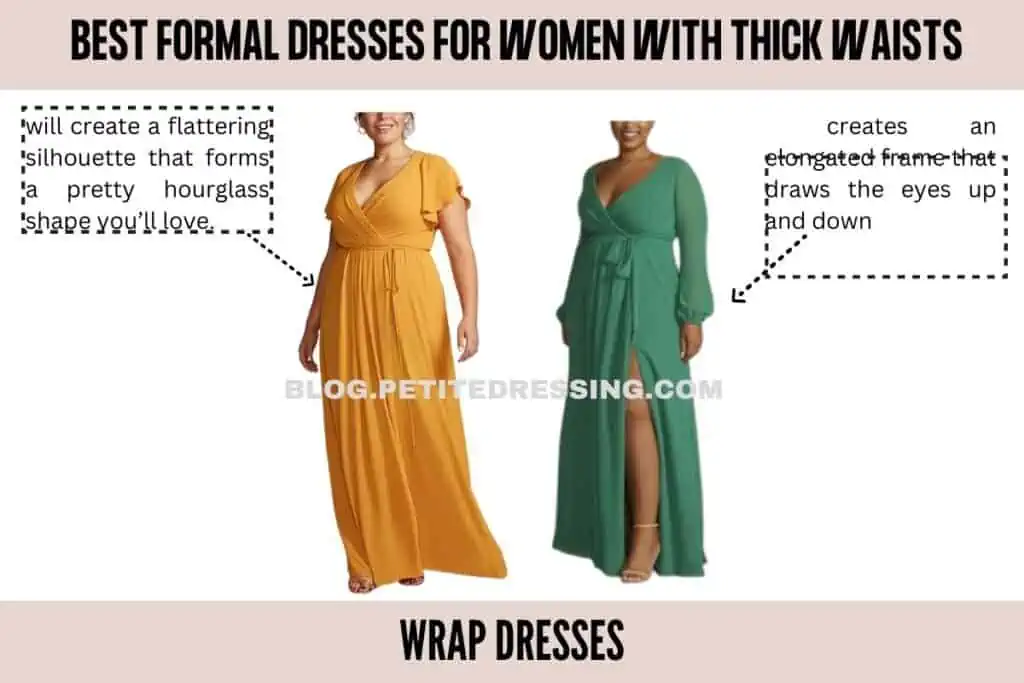 Black Sheath dresses
Sheath dresses are known for creating a proportionate silhouette on women with thick waists where the dress skims over their hips and thighs but cinches perfectly at the waistline. The result is a completely natural fall of the dress as it drapes beautifully on your thick waist.
This style of dress also creates a clean, elongated line starting from your neck region to the hemline of the sheath dress. With this look, you'll appear slimmer than you actually are. Unlike some styles of dresses that draw too much attention to the hips, sheath dresses do the opposite.
The elongated effect makes you appear taller, and you can use a lovely pair of heels to add some extra height if you wish. A black sheath dress will be a lovely addition to your closet as it will make you look amazing at any formal event.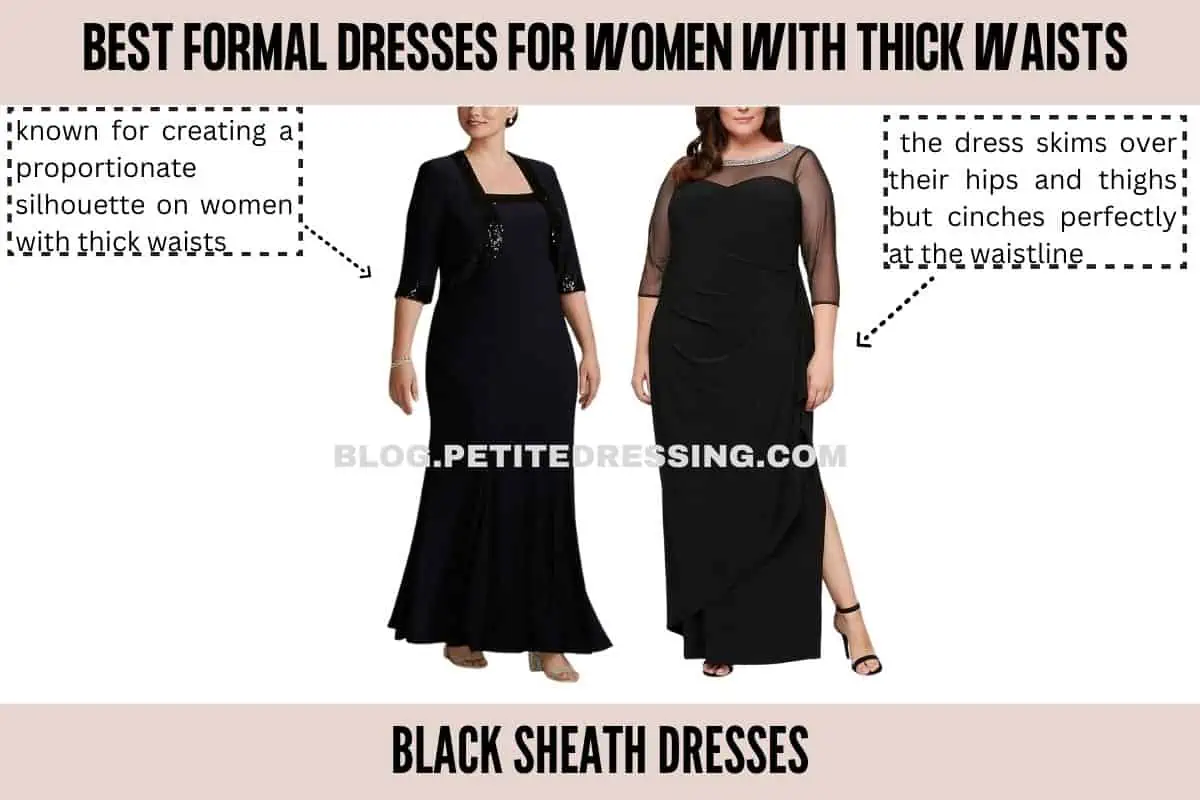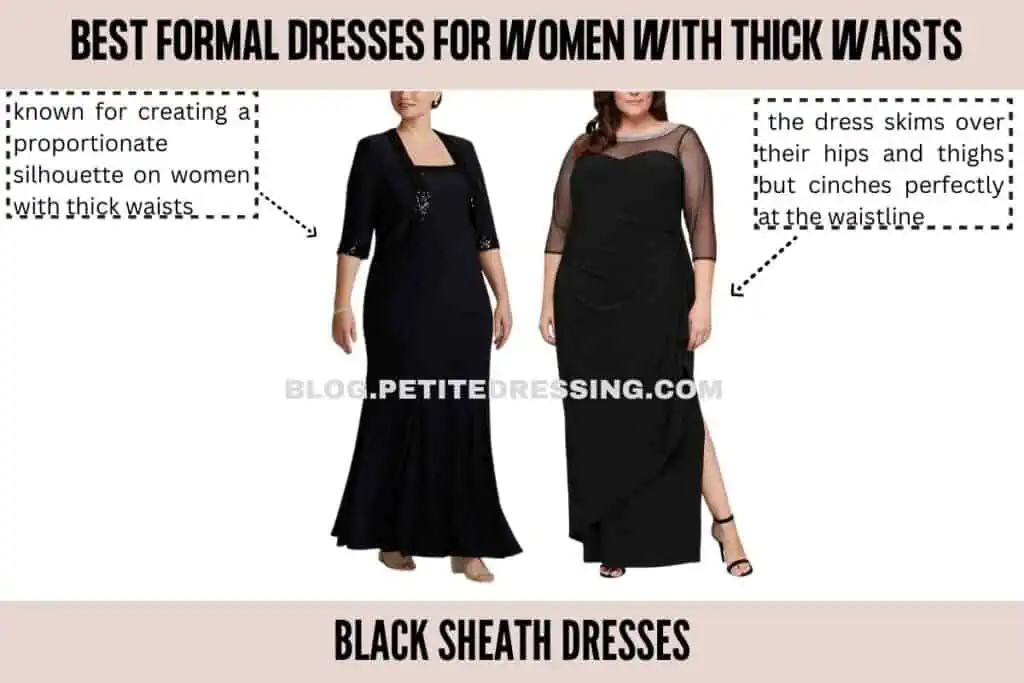 Column dresses
The amazing thing about column dresses for women with thick waists is that they have a slimming effect which is all thanks to the straight, vertical silhouette they create on the female body. 
So, with this style of dress, your body will appear more streamlined while your thick waist blends perfectly with the rest of your body. It is perfect for creating that illusion of a slimmer and longer figure, making you look like you've added a few inches in height.
The column dress doesn't have any flare as it falls freely from the shoulders to the hemline, creating a smooth and streamlined appearance that won't be possible with dresses that have exaggerated flare styles.
Overall, this is great for flattering your amazing hourglass figure without worrying about drawing too much attention to areas that you want to conceal. You don't have to worry about your muffin top being visible in this dress, either.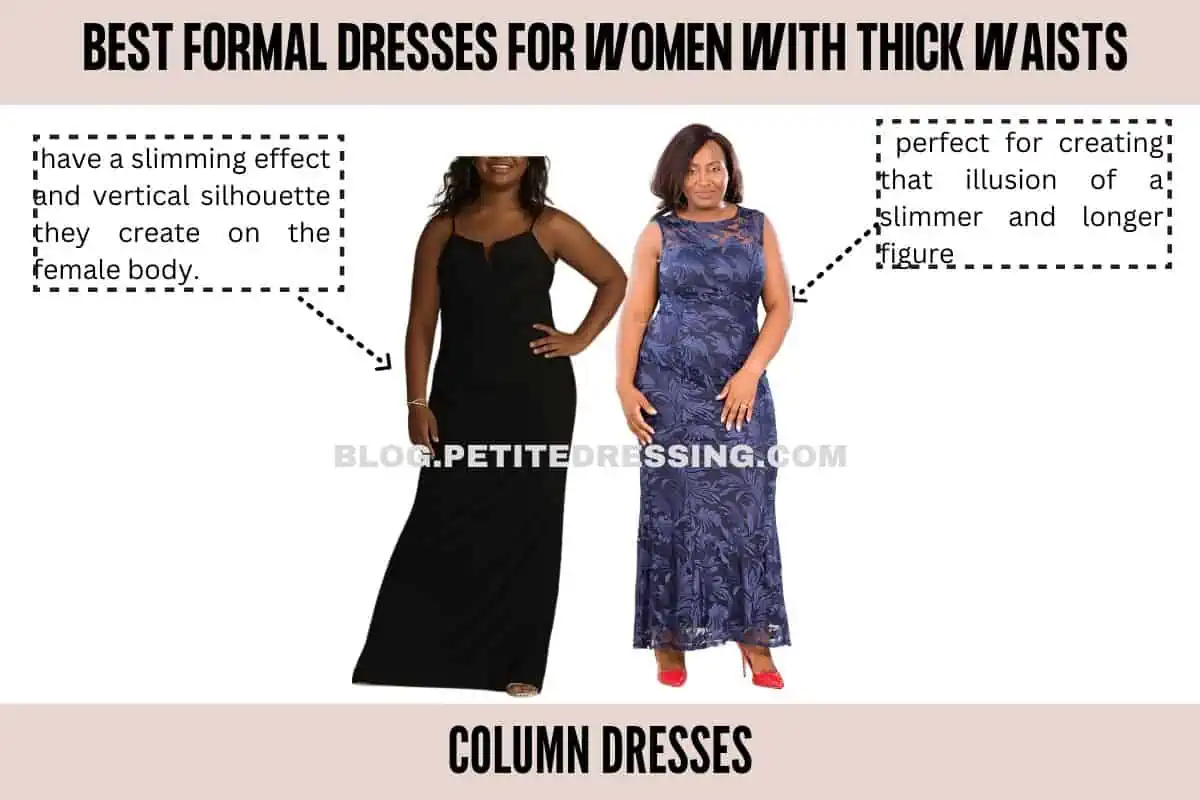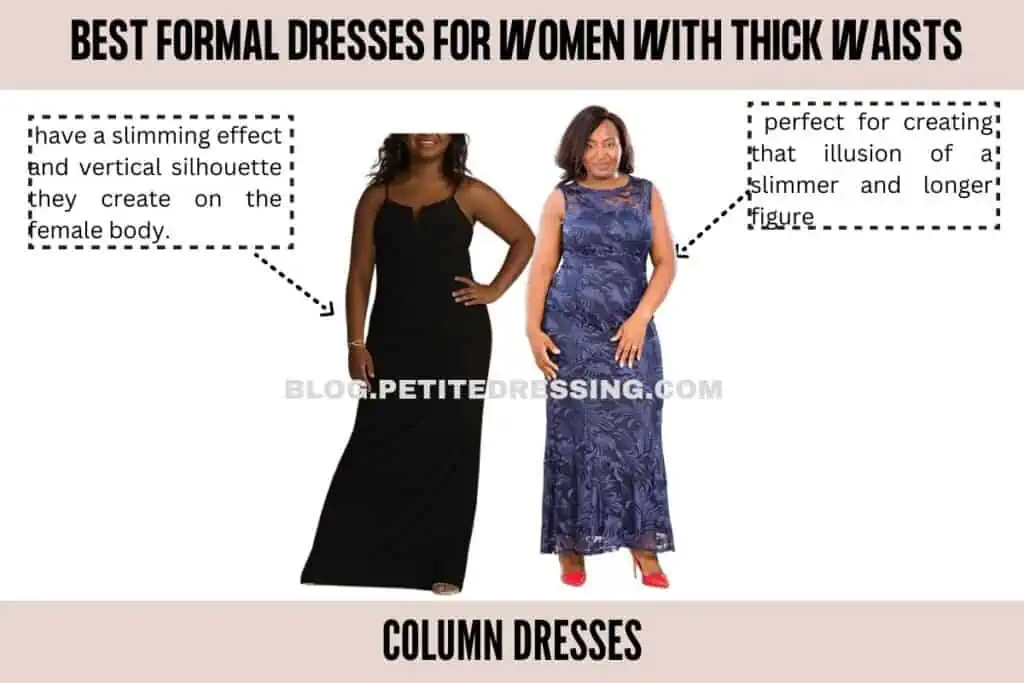 Avoid Layered dresses
Layered dresses are not great for women with thick waists, and it's best to avoid them completely. So, what's so bad about layered dresses? Well, let's start with the extra volume that layered dresses add to your body frame.
It's no secret that layered dresses can look huge on the body. For women with a thick waist, this will make you appear bigger while also drawing more attention to your waist region. Since most of the layers would be on the lower half of your body, they will add more bulk to this area.
Overall, this will create a less proportionate silhouette that can make you extremely uncomfortable at outings. The multiple layers can also create a loose fit around your body, where your waistline is less defined than it should be. 
Your best bet is to go for dresses with a cleaner silhouette which will give you an overall more balanced look with a waistline that looks cinched.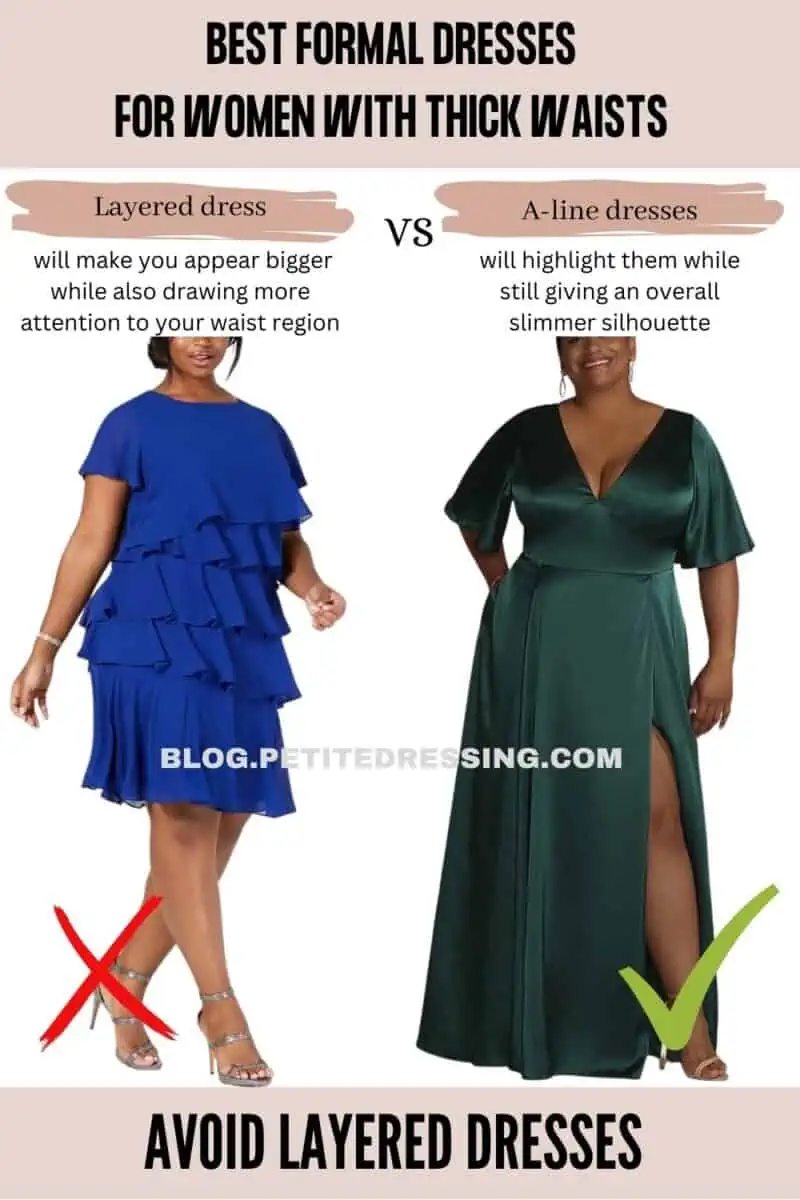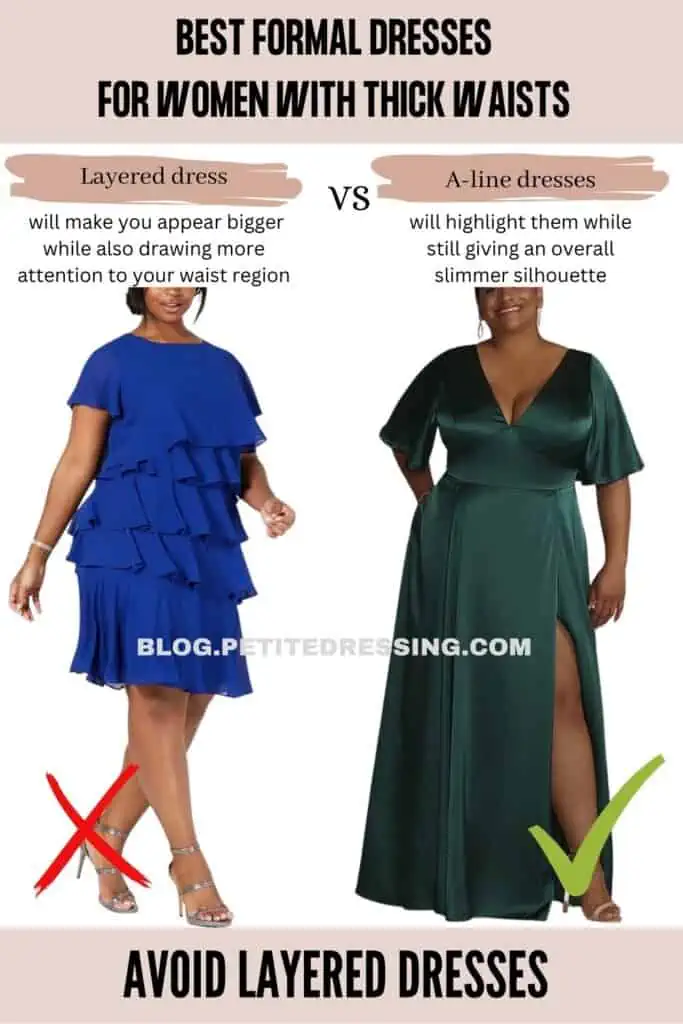 Avoid tight-fitting dresses
Tight-fitting dresses can be extremely clingy on the body, which creates a tacky outlook that will make you look odd at formal events or anywhere, to be honest. Dresses don't have to look extremely tight on your body frame for you to look good.
Instead, they won't flow naturally with your curves, as the tight fit will end up highlighting areas of your body that you don't want a lot of attention drawn to. Tight-fitting dresses can make your thick waist appear larger and make your muffin top prominent too.
If you're going to be wearing this all day, we bet you'll be uncomfortable in a tight-fitting dress within a few hours. They will restrict your movement and make it more difficult to breathe freely. Therefore, tight-fitting dresses are not good choices for formal dresses for women with thick waists.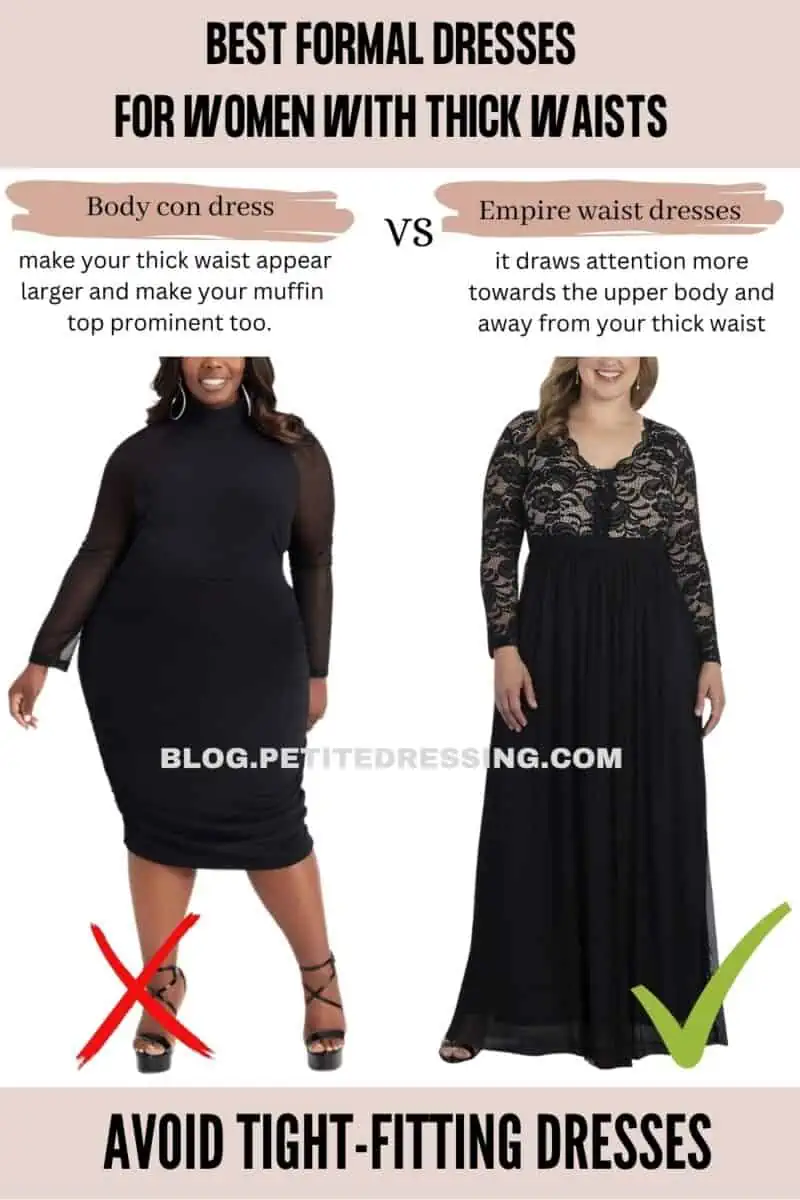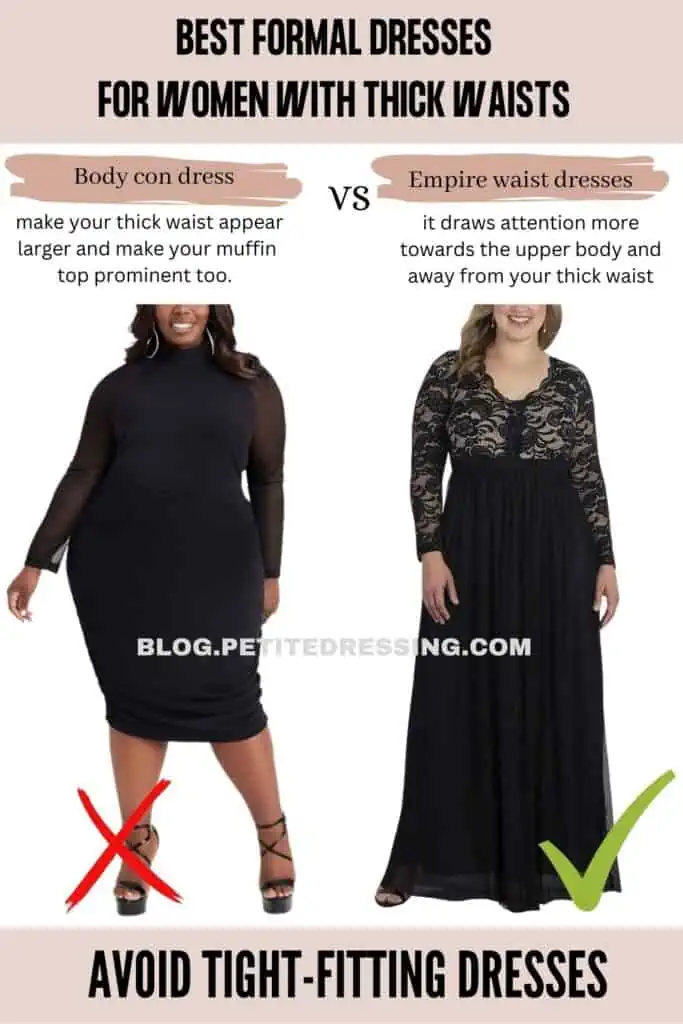 Avoid Horizontal-striped dresses
Horizontal-striped dresses are a huge no for women with thick waists. This is because they'll make you appear wider, and as a thick-waisted woman, this will only add more bulk to your overall frame.
The goal is to wear a dress that will minimize the attention on your thick waist but without completely concealing your beautiful curves. Instead, horizontal-striped dresses will create an unflattering effect that emphasizes your belly.
If you have a muffin top, this will look worse. With the direction of the eyes drawn across your body, this will disrupt the natural lines of your body, making it appear uneven. Therefore, it's way better to avoid horizontal-striped dresses if you want to look good as a woman with a thick waist.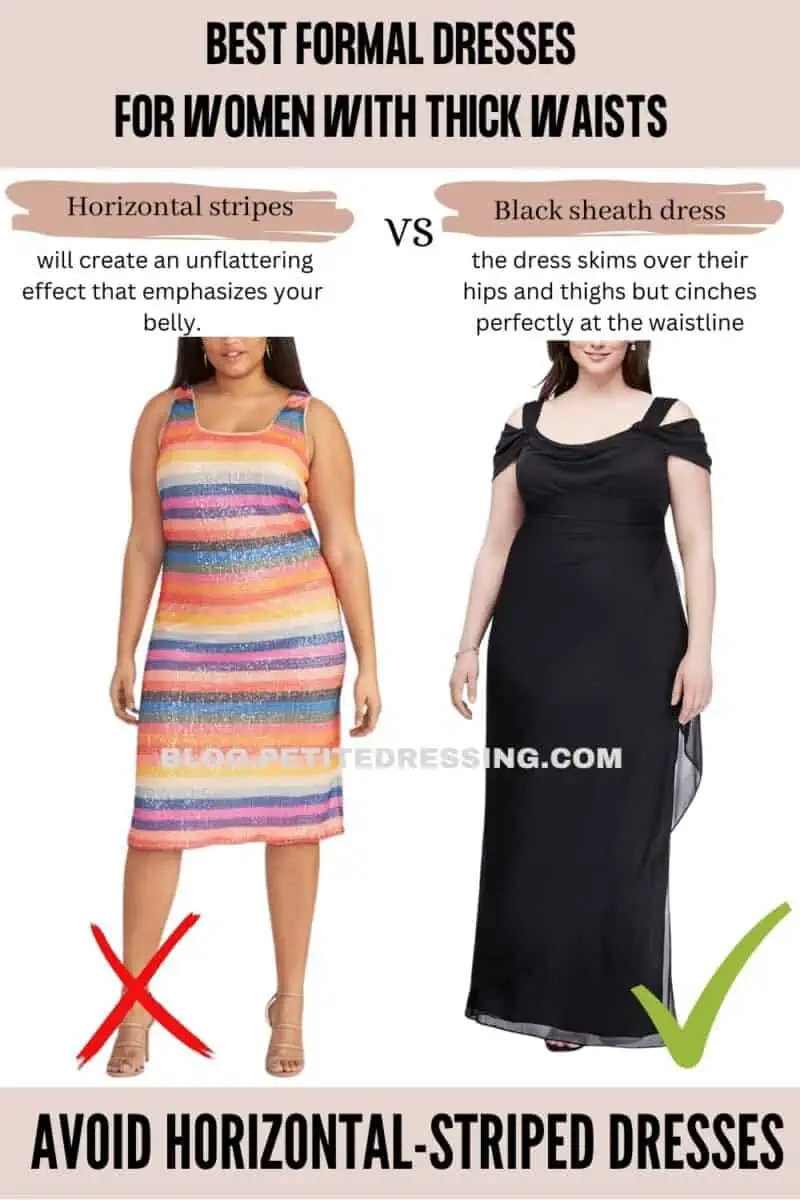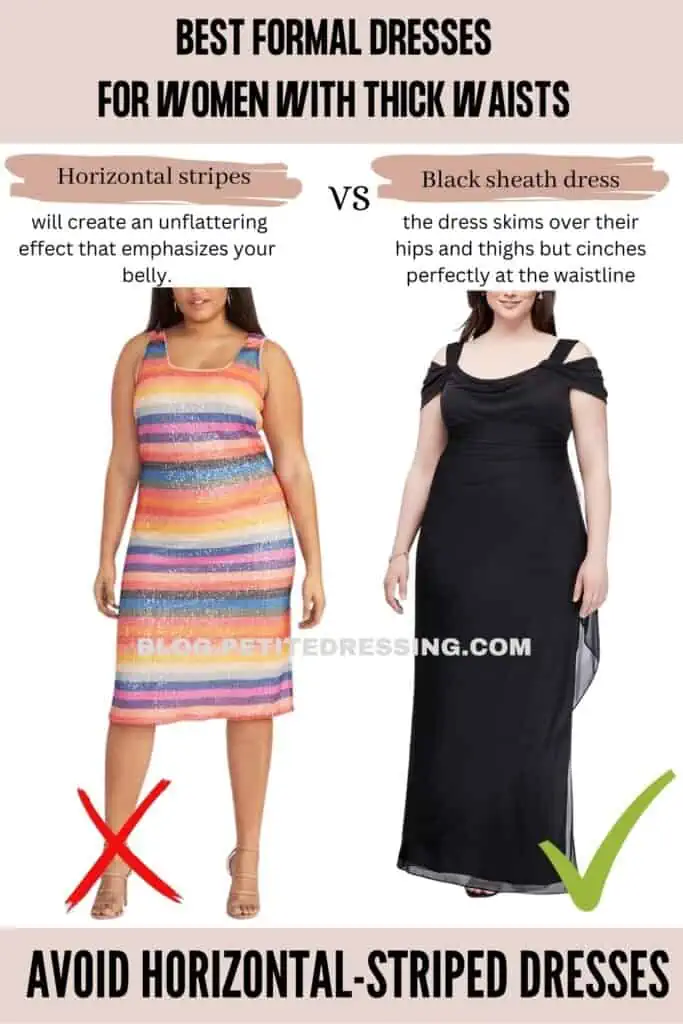 Avoid Pleated dresses
Pleated dresses can make your thick waist appear larger as they add more width and volume to your waist area, which is a terrible effect. Your waistline will also appear bulkier as the pleats will sit around the waist.
The position of the pleats also matters, but it's common in most dresses for this to be around the tummy area. This will give a loose fit that will create a less defined waist region. The pleated dress is not a great choice because it doesn't skim over your hips and thighs.
It doesn't cinch at your waist, either. Instead, you'll have a bigger appearance that is not flattering for women with thick waists.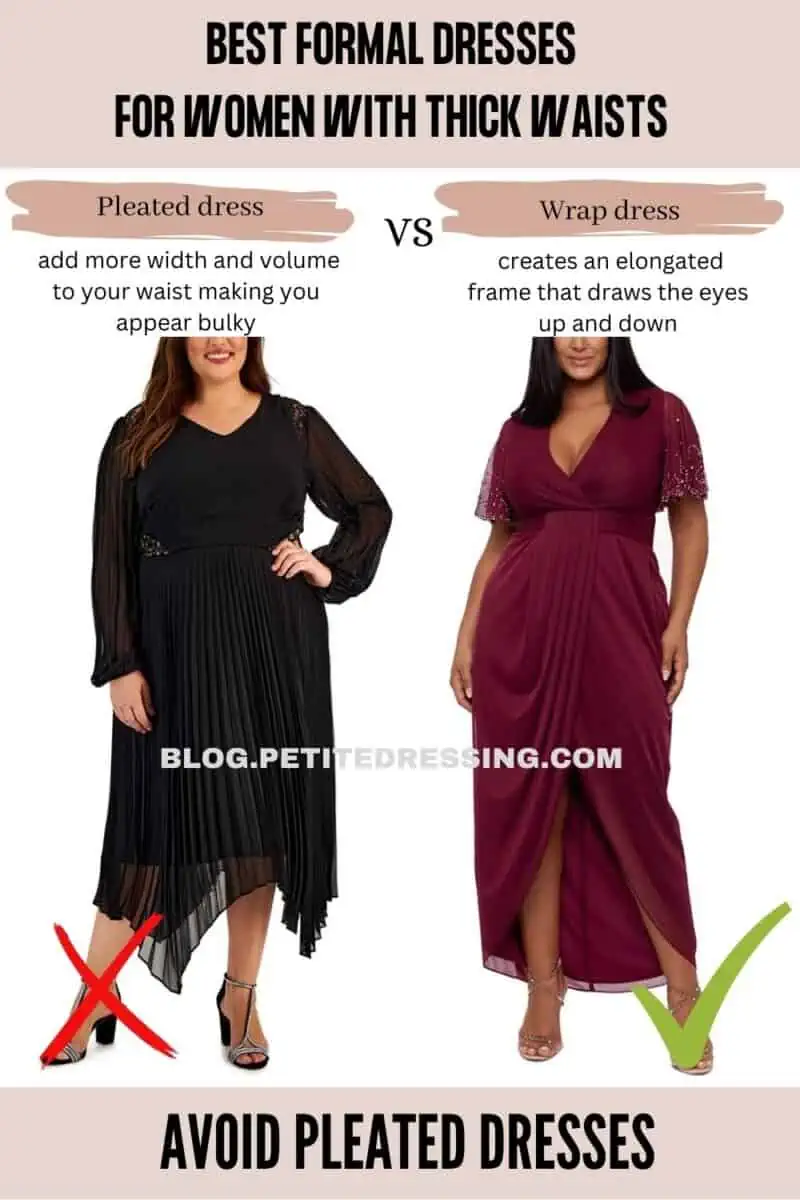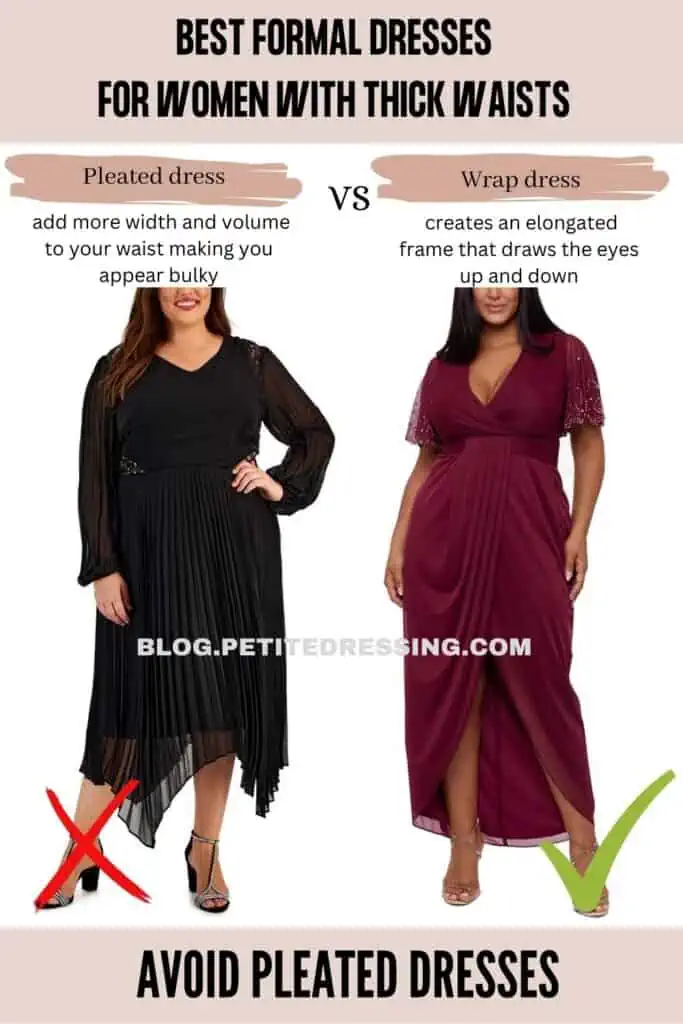 Avoid Corseted dresses
A picture of women in the 70s who had to wear corsets looked a lot like their air supply had been cut off from their bodies. This gives you a good idea of just how uncomfortable corseted dresses can be.
Women with thick waists should avoid corseted dresses as these can be both uncomfortable and restrictive. Corseted dresses can be too tight around the waist, which will eventually restrict your movement, cause discomfort and sometimes lead to breathing issues.
Corseted dresses can also create a defined waistline that is not proportionate with the rest of your body, so your waist appears bigger. All these combine to give a very poor appearance that will not make you look elegant on various occasions. Rather than corseted dresses, stick with dresses with a more flattering silhouette, like empire waist dresses and A-line dresses.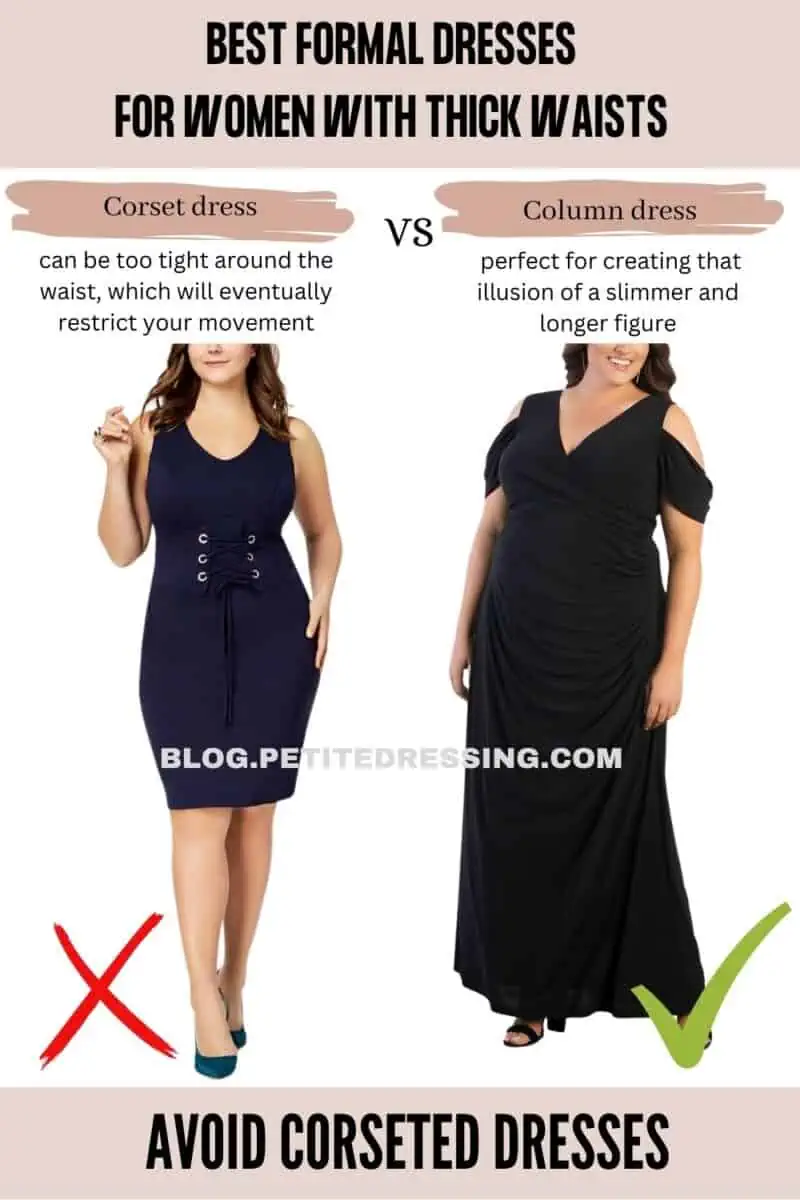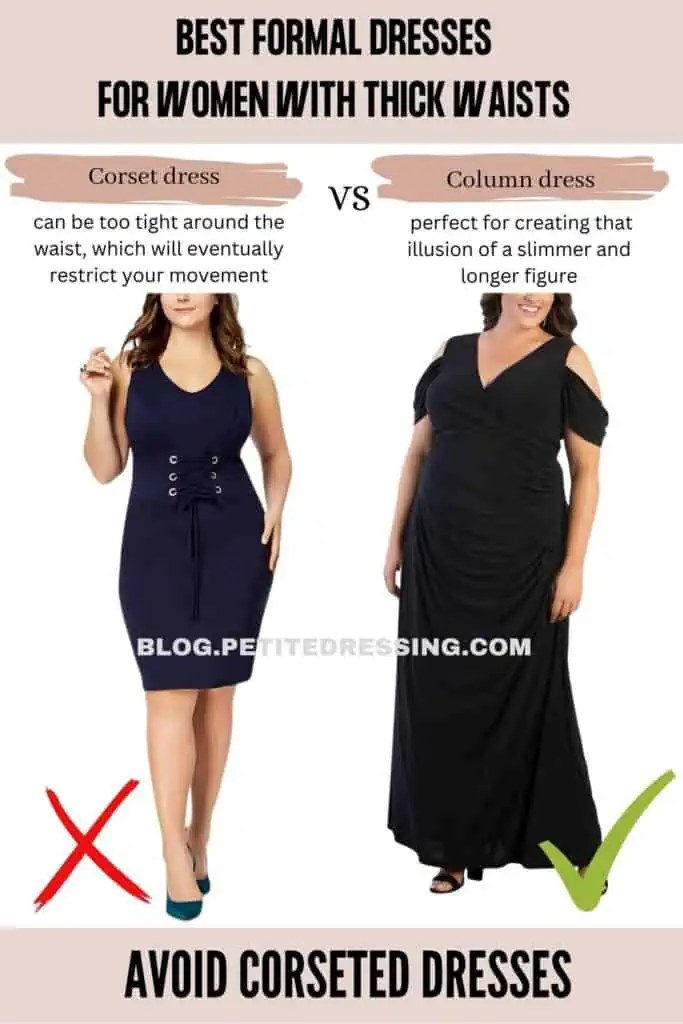 With these styles and tips, you're ready to shop for clothes that are perfect for your unique body frame. You don't have to feel self-conscious about your muffin top or extra belly, as these dress styles will conceal them, and make you look amazing all day, every day.