If you carry weight on your waist like me, finding jeans to fit your shape can be a challenge. Even though I am overall skinny, I always problem finding the right jeans that fit my thick waist without looking too loose on my legs.
Besides, I also have a petite clothing line, so I hear feedback from thousands of my customers of all shapes and sizes on a daily basis.
After many years of trial and error and based on feedback from my customers, I've put together this comprehensive guide of how to choose the right types of jeans to flatter women with bigger waist like myself.
High waisted jeans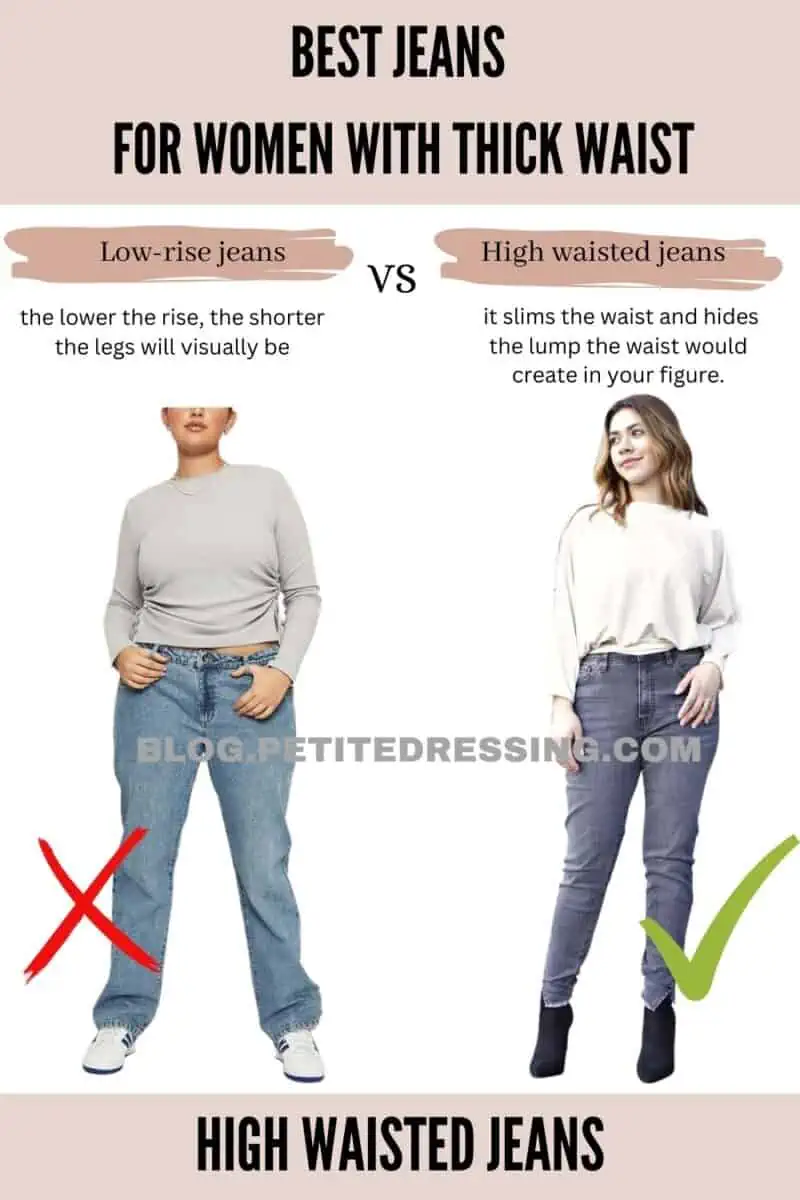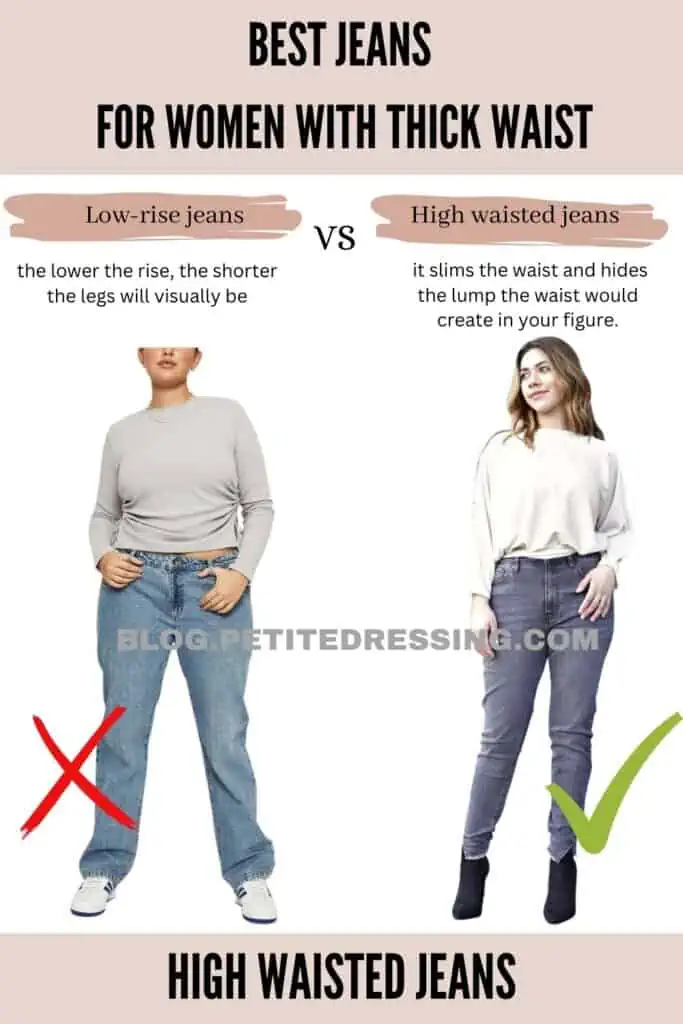 The most flattering and highly recommended choice of jean for any body shape remains the high-waisted jean because it rises above the natural waistline. It is an excellent choice of jeans for a thick waist because it slims the waist and hides the lump the waist would create in your figure.
If you are troubled about the right jean for your thick waist then go ahead and purchase the high-waisted jean. It can shorten the torso while slimming your figure and lengthening your bottom half.
High-waisted jeans give your frame a better shape so make sure you style them appropriately if you want them to work effectively on your thick waist. This jean is the best way to divert attention from the thick waist and allow you confidently flaunt your shape.
Jeans with elastic waistband
Rock and appreciate your shape in jeans with elastane because they have a better fit and are more flattering. Jeans with an elastic waistband are a better replacement for zippers and a series of buttons at the front of your jean.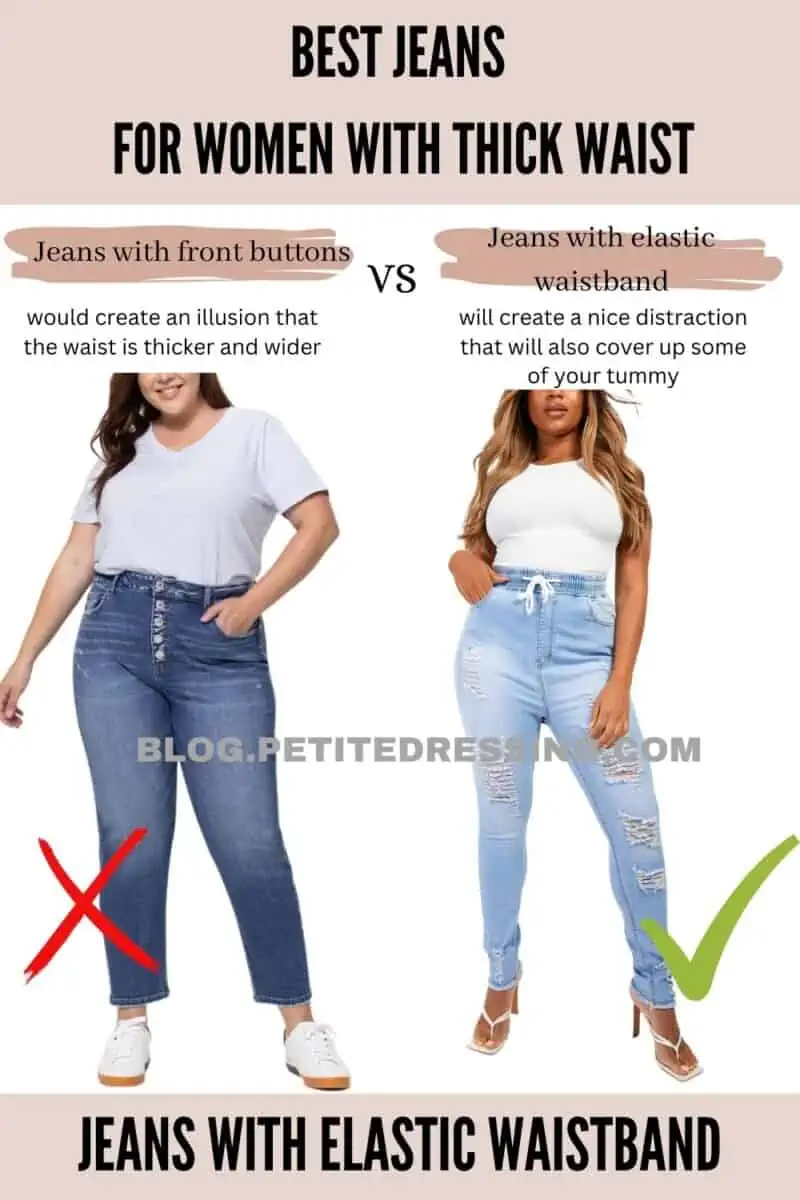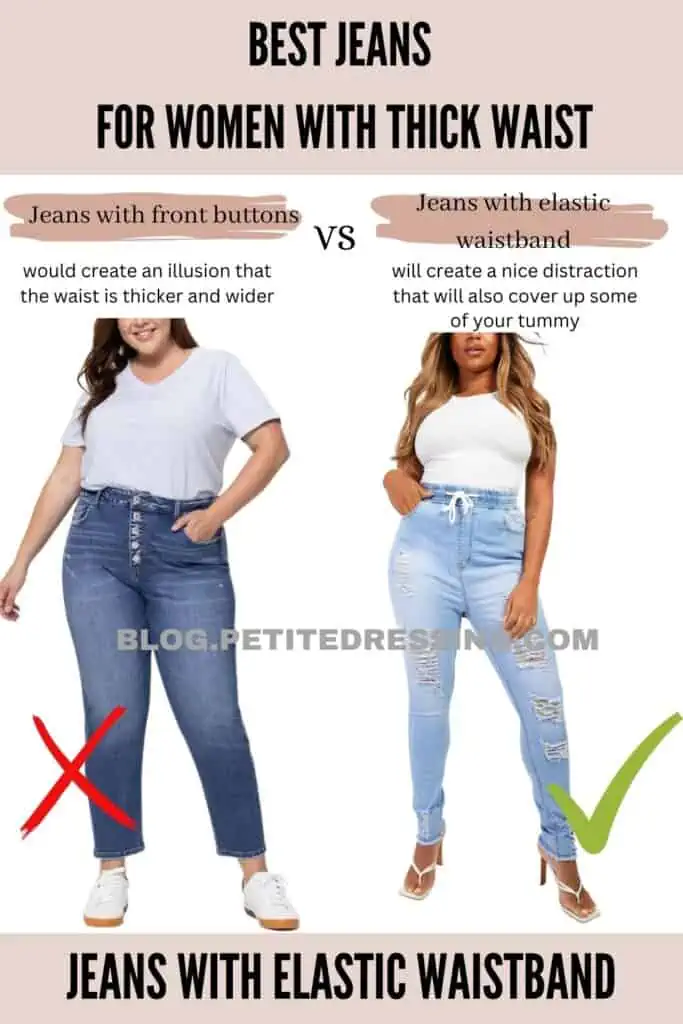 Always select jeans that have an elastic waistband without settling for jeans with unflattering cuts. This type of jeans should make up a major part of your wardrobe if you have a thick waist because they would fit you better.
This jean comfortably helps to conceal the thick waist by slimming it out to give a chic appearance. Elastic waistband has come a long way in fashion and they have proven over time to be the most preferred design for a thick waist.
Dark wash denim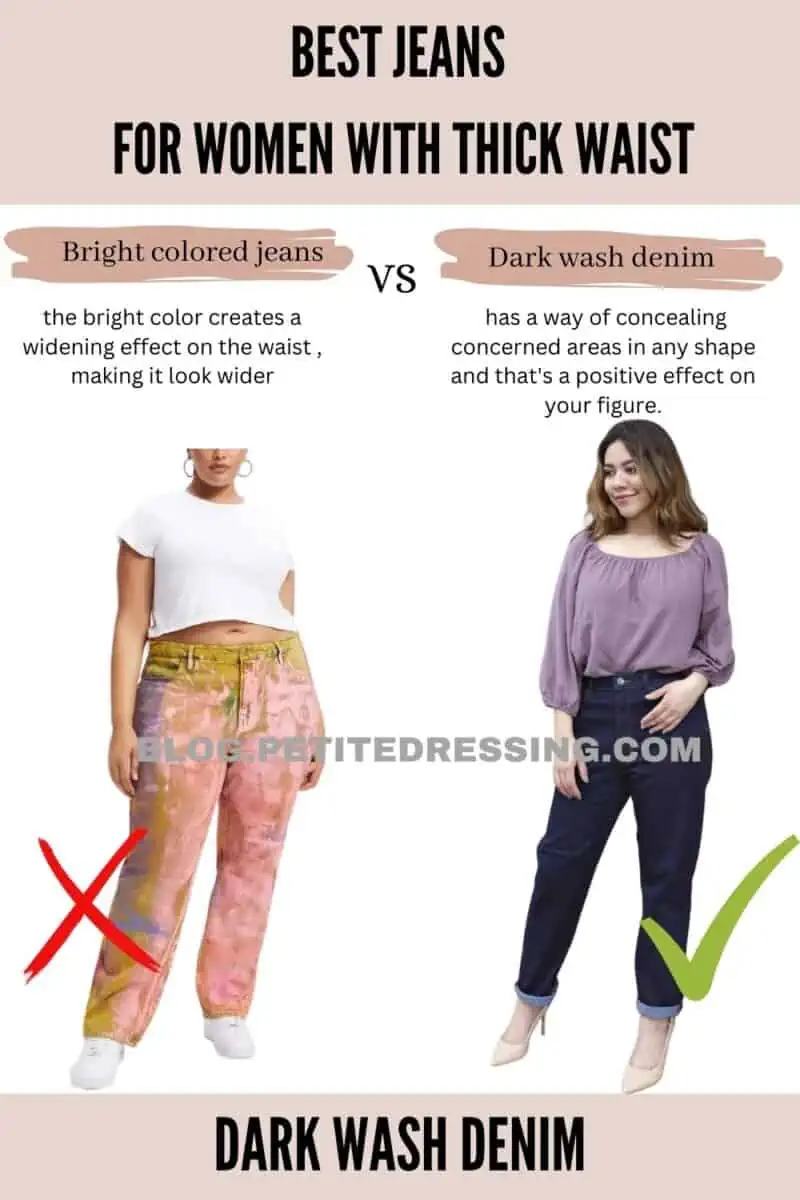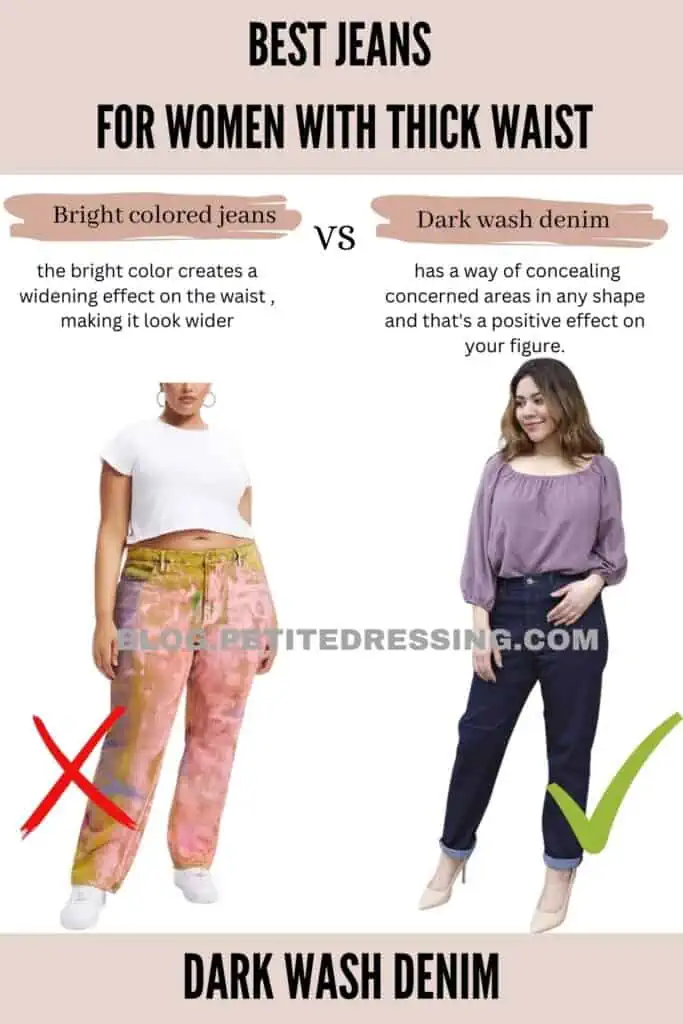 An easy and stylish way to disguise thickness around the waist is to simply try out dark-wash denim. There is always an added feel of elegance and class in dark color shades.
Dark wash denim has a way of concealing concerned areas in any shape and that's a positive effect on your figure. This jean has a slimming effect on your thick waist so style them on your body frame without being too conscious about your overall appearance.
The dark wash denim is special with details your thick waist would rightly appreciate so style them to suit your taste. Dark wash jeans are uniquely designed to elevate your looks and make you fashionable for any occasion.
Criss-crossed jeans
The crisscrossed jean is a very stylish jean design that can be used to conceal your thick waist. The jean is very unique because it doesn't have a regular pattern but the waistline is sufficient to give you comfort and flatter your figure.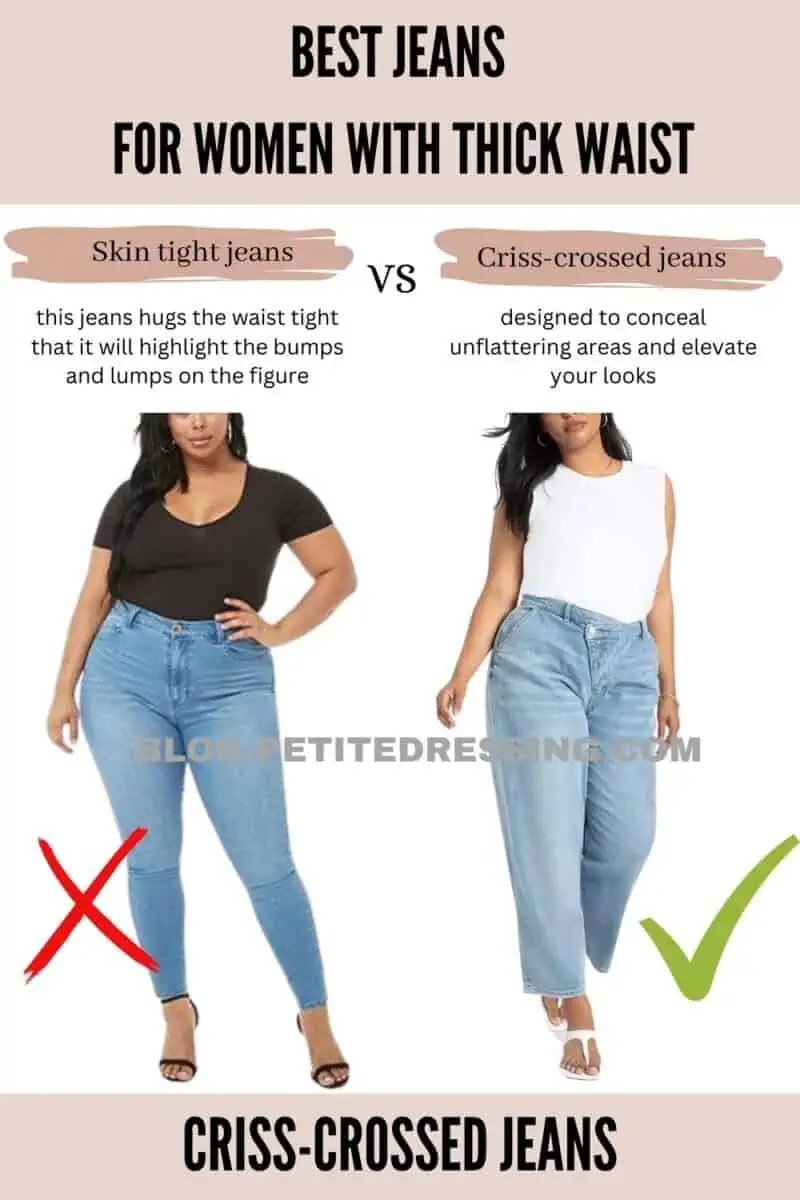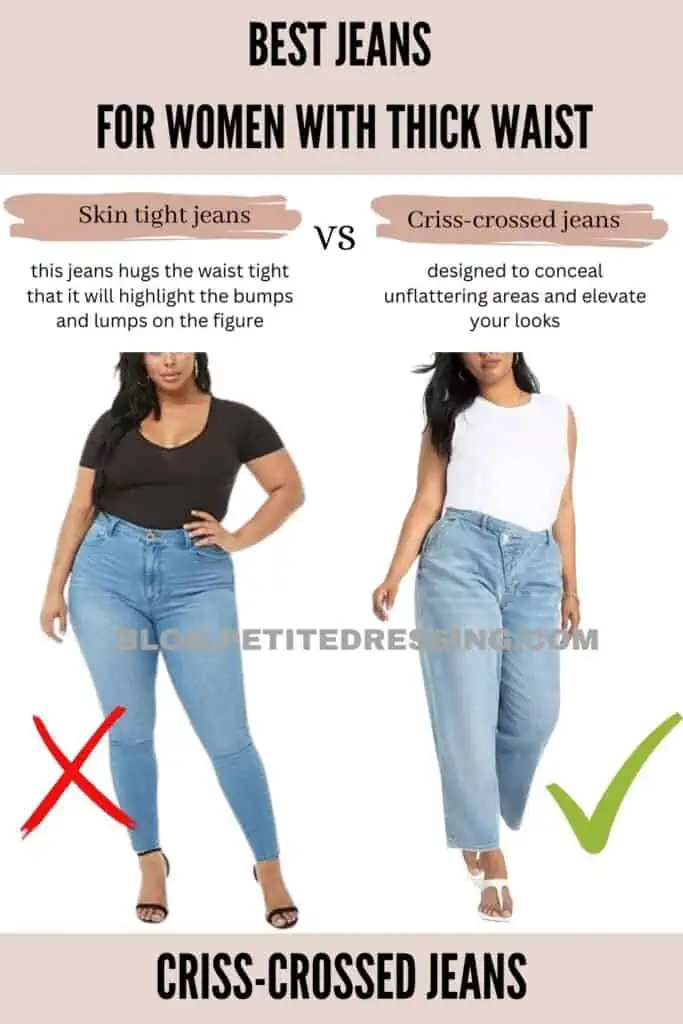 It is loose-fit jeans featuring a crossover waistband that rightly cinches the waist and complements your figure. The crisscross jean is an exceptional jean that provides room for variety and versatility in fashion.
So, try looking edgy and stylish in a jean if you have a thick waist by opting for a crisscrossed pattern. You can style them in ways that you find pleasing and be certain they would properly work to add the illusion of length to your figure.
Jeans with built-in waistband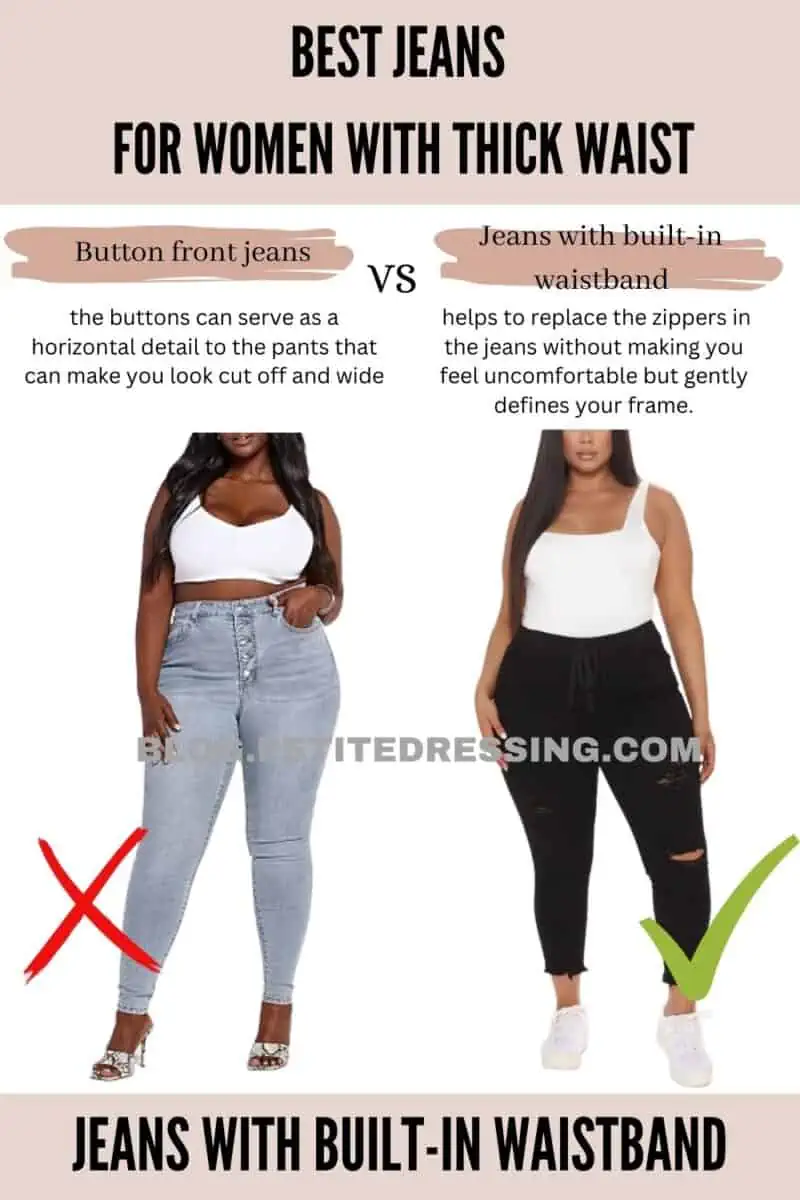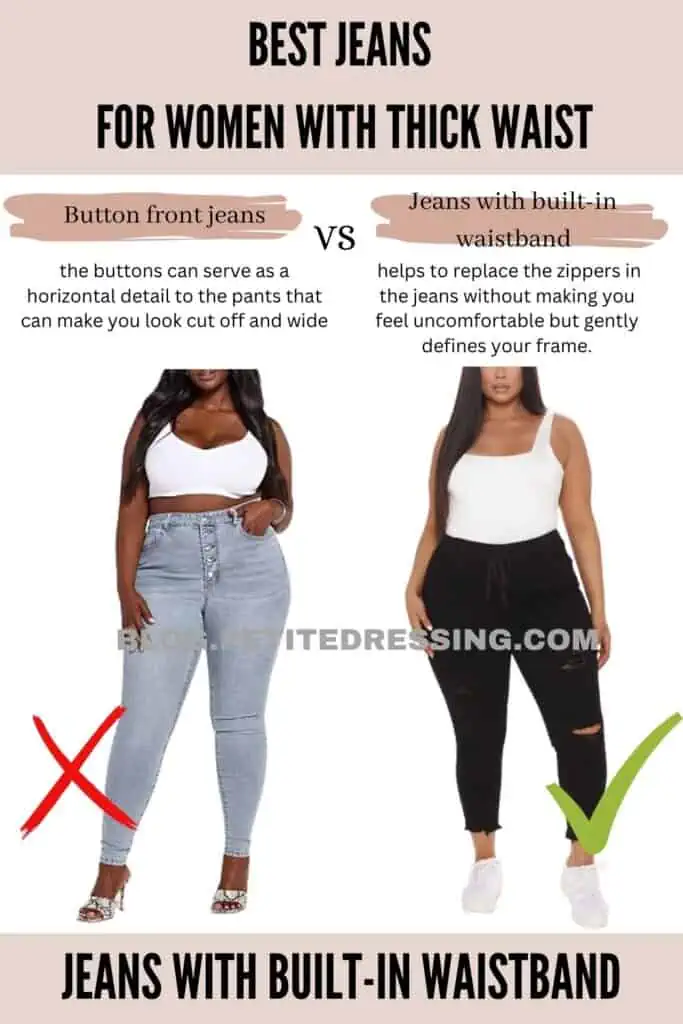 This jean with a built-in waistband helps to replace the zippers in the jeans without making you feel uncomfortable but gently defines your frame. They also help to easily conceal the waist area by smoothing it out so you won't have to feel bothered about the look the waist gives you.
The jean has a unique feature that makes it act as shapewear in the jean without it having to draw attention to the thick waist of the woman It is a simple way to avoid the trouble of selecting the most comfortable waistband and struggling to style it to fit the thick waist.
Jeans with a built-in waistband should be a go-to jean option for women with a thick waist because it also helps to visually minimize the thickness in the waist. The built-in waistband jean also carries out the task of figure balancing which is a unique feature for every jean that fits the thick waist.
Avoid low-rise jeans
This is the worst type of jeans for a woman with a thick waist so do not attempt rocking them to any occasion because they would push out your thick waist and reveal them to peering eyes. Low-rise jeans may appear to be trendy but are not the best fit for your waist.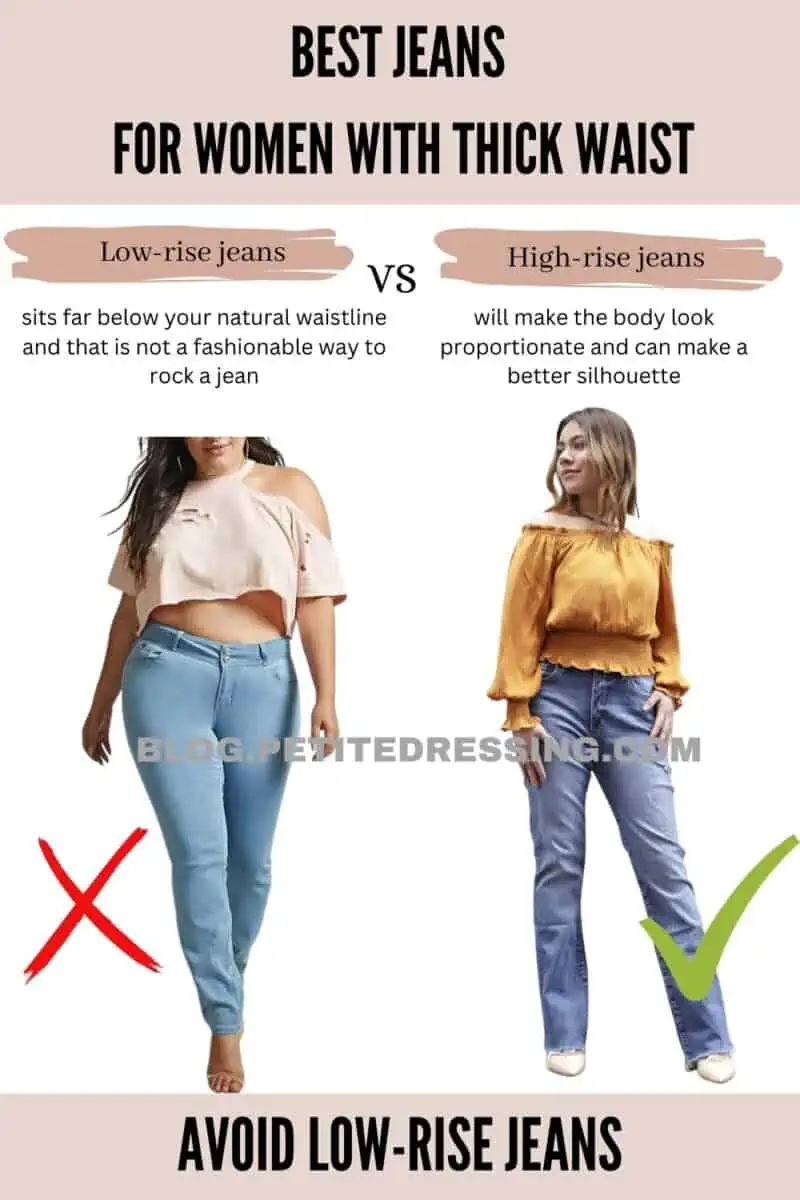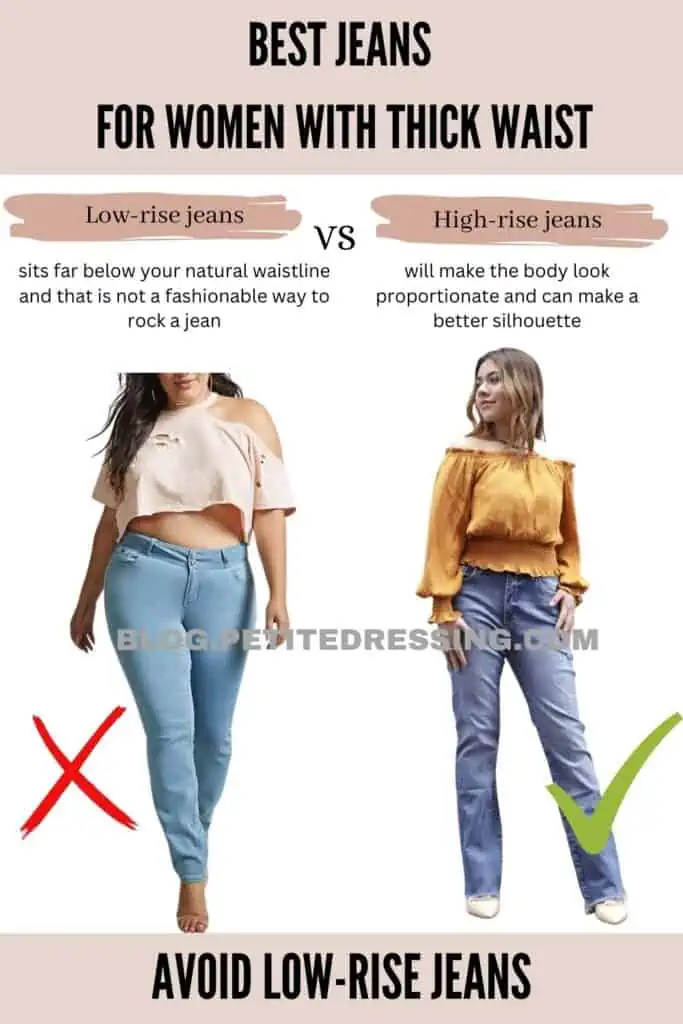 This means if the rise of your jean is low, your legs would not only appear to be shorter but the thick waist would rise above the jean and that is not good. This type of jeans sits far below your natural waistline and that is not a fashionable way to rock a jean, especially on a thick waist.
The rise of jean is important because it determines where the jean sits on your figure which in turn helps to determine your perceived waistline.Avoid low-rise jeans if you have a thick waist as it is not just the perfect way to appear elegant.
Avoid skinny jeans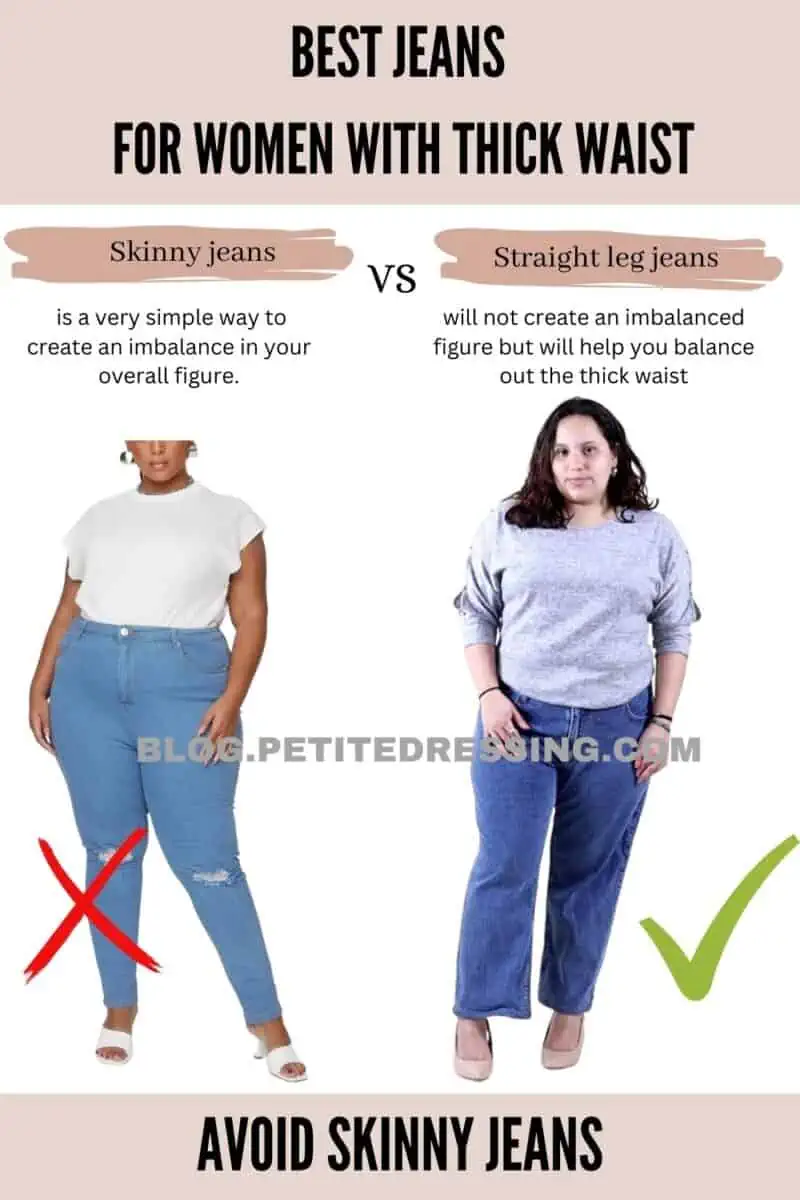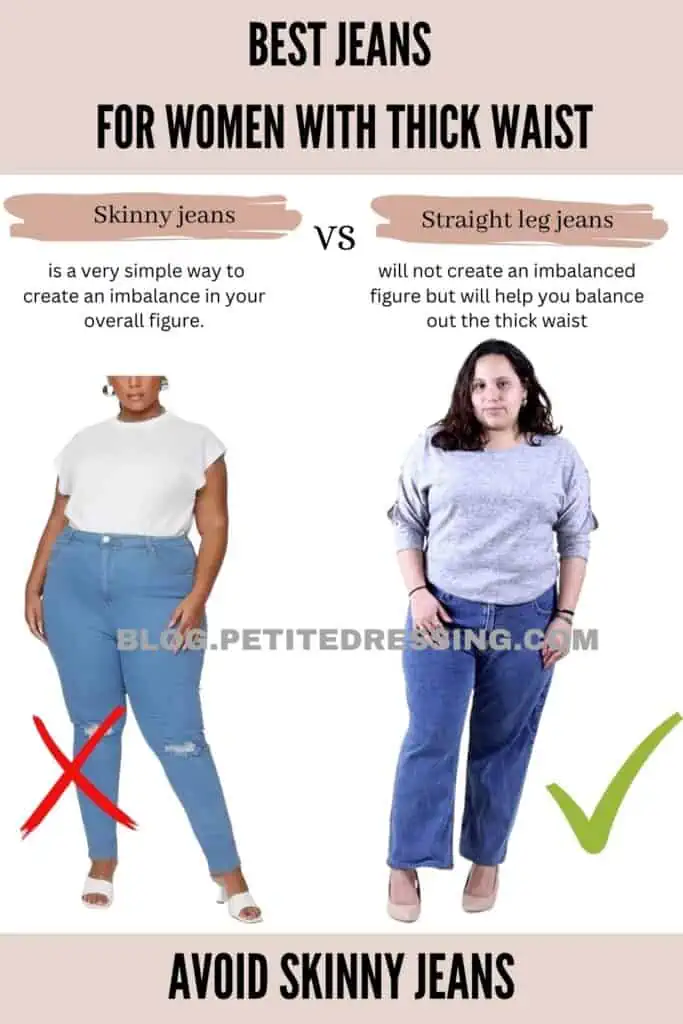 Skinny jeans are not for your thick waist so avoid them if you want to feel comfortable wearing jeans on any occasion because they would effortlessly accentuate the concerned area. This type of jeans is not flattering and no matter how you try to style them, they would make the concerned area visible.
You can look great in certain jeans but skinny jeans are not one of them because they would not help to conceal the thick waist. Wearing skinny jeans is a very simple way to create an imbalance in your overall figure.
A unique way to own your shape is by trashing out skinny jeans from your choice of jeans to avoid making the concerned area more pronounced. Do not try to show off your shape in skinny jeans as they could make your figure appear shapeless.
Caution with white jeans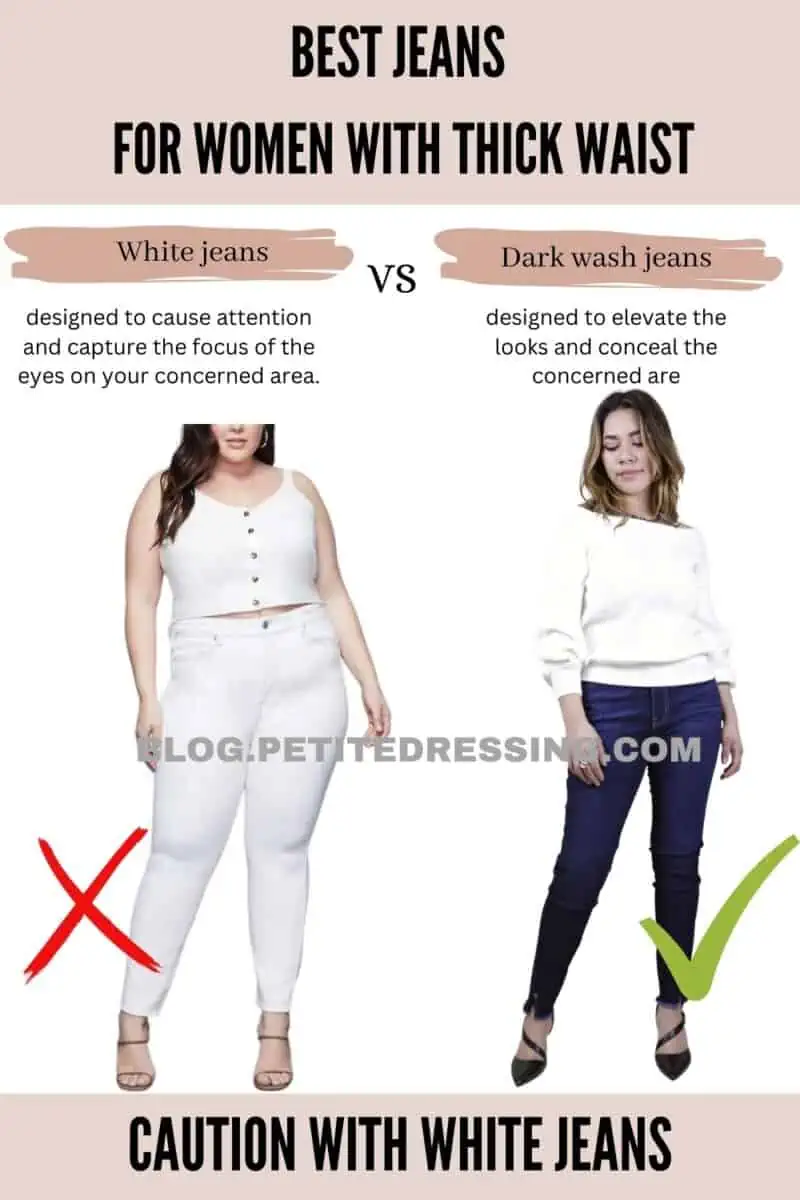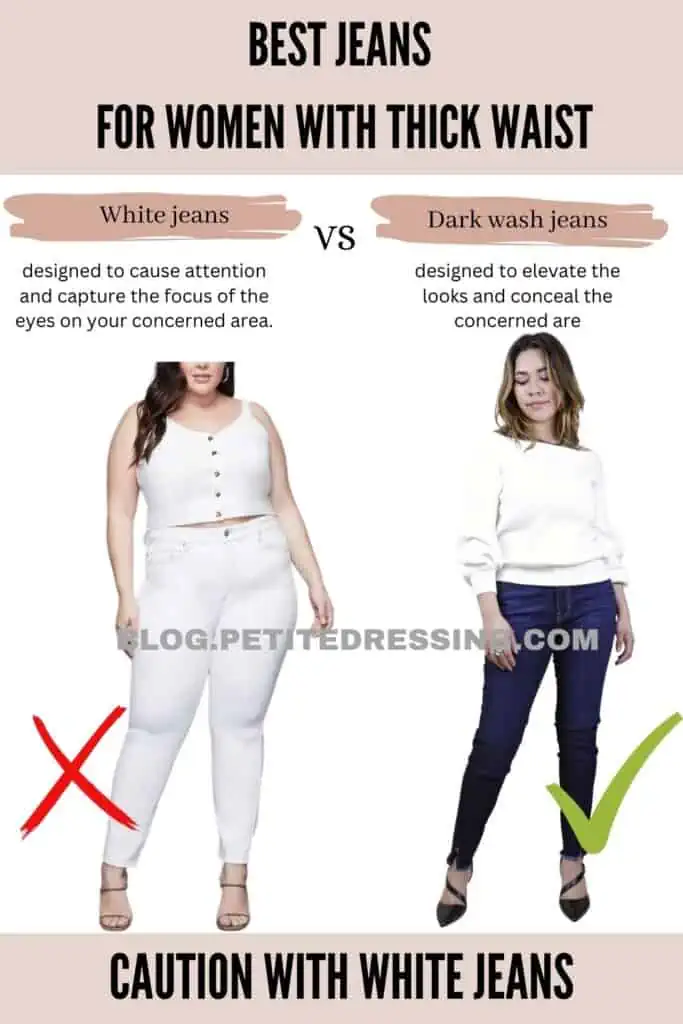 Do not expect to appear stylish in white-colored jeans if your waist is thick because it would be a total fashion wreck. This type of jeans is designed to cause attention and capture the focus of the eyes on your concerned area.
White jeans would certainly make the thick waist noticeable and that is not great for your figure. Be cautious with white jeans because they would not suit your thick waist.
Most preferably, style your figure with bright tops that would help divert the eyes from your half as that is a better way for you to achieve a visual balance.
White jeans are not the best fanciful jeans for you to rock on your thick waist so it is best to rule them out of your wardrobe.
Avoid paper bag jeans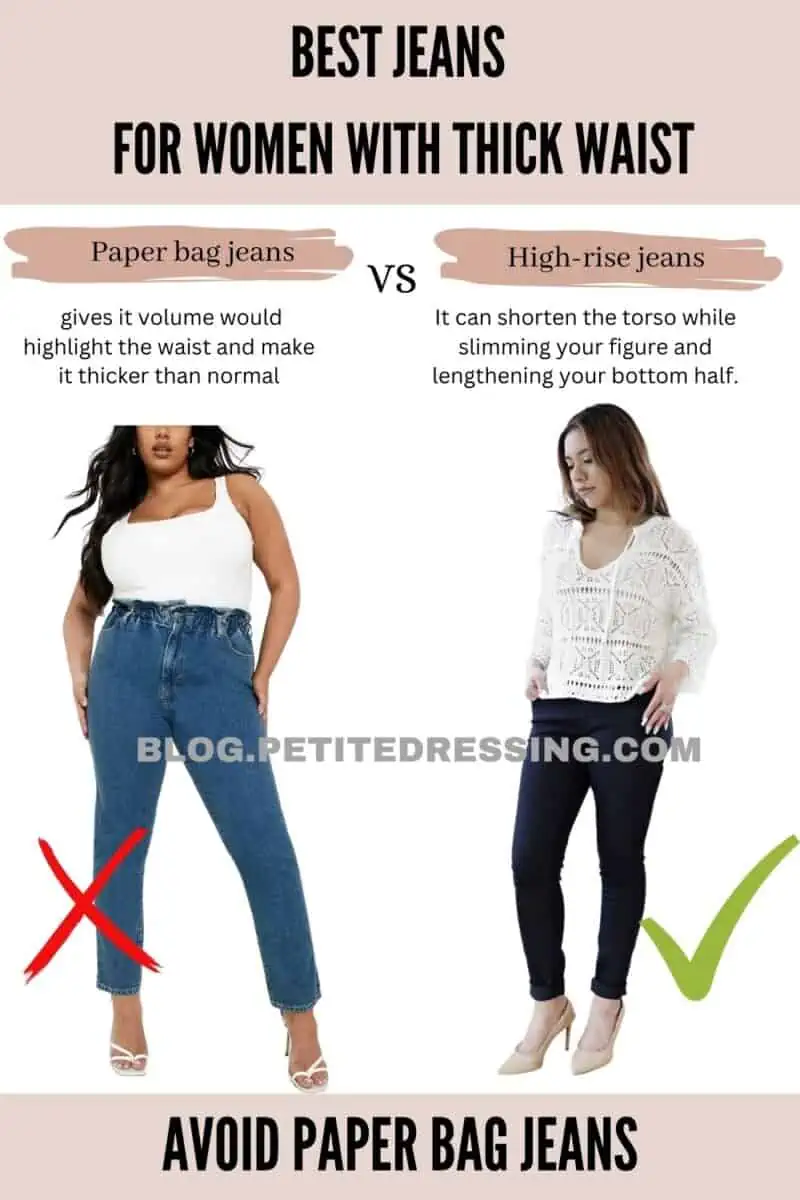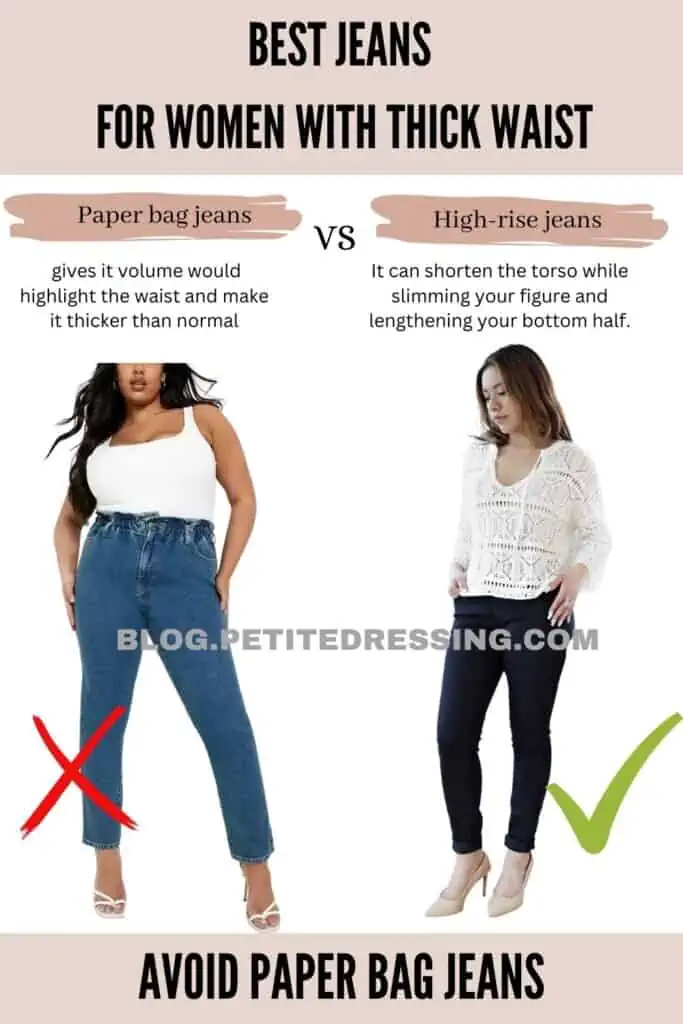 The idea of jeans for your shape is never to have a volume attached to your lower half through designs with added fabrics. It is therefore important that you understand that paper bag jean is inefficient in minimizing the thickness around the waist.
The added fabrics in the jean that gives it volume would highlight the waist and make it thicker than normal. Paper bag jeans should have no place in your wardrobe because they are not designed to work well for your shape.
If you have a thick waist, paper bag jeans should not be a favorite jean style for your figure as they would not give you the best structure. Opt for jeans designed with less fabrics in them so they could help you feel less insecure about your body shape.
Avoid jeggings
Jeggings are not the most unique jean styles that could rightly accommodate your shape especially if you have a thick waist. They would cling tightly to your legs and your waist to cause you discomfort while in motion.
Disguising the concerned area by wearing jeggings is a wrong option because it would further highlight the thickness around the waist. Right-fitting jeans like jeggings are not perfect designs for your shape.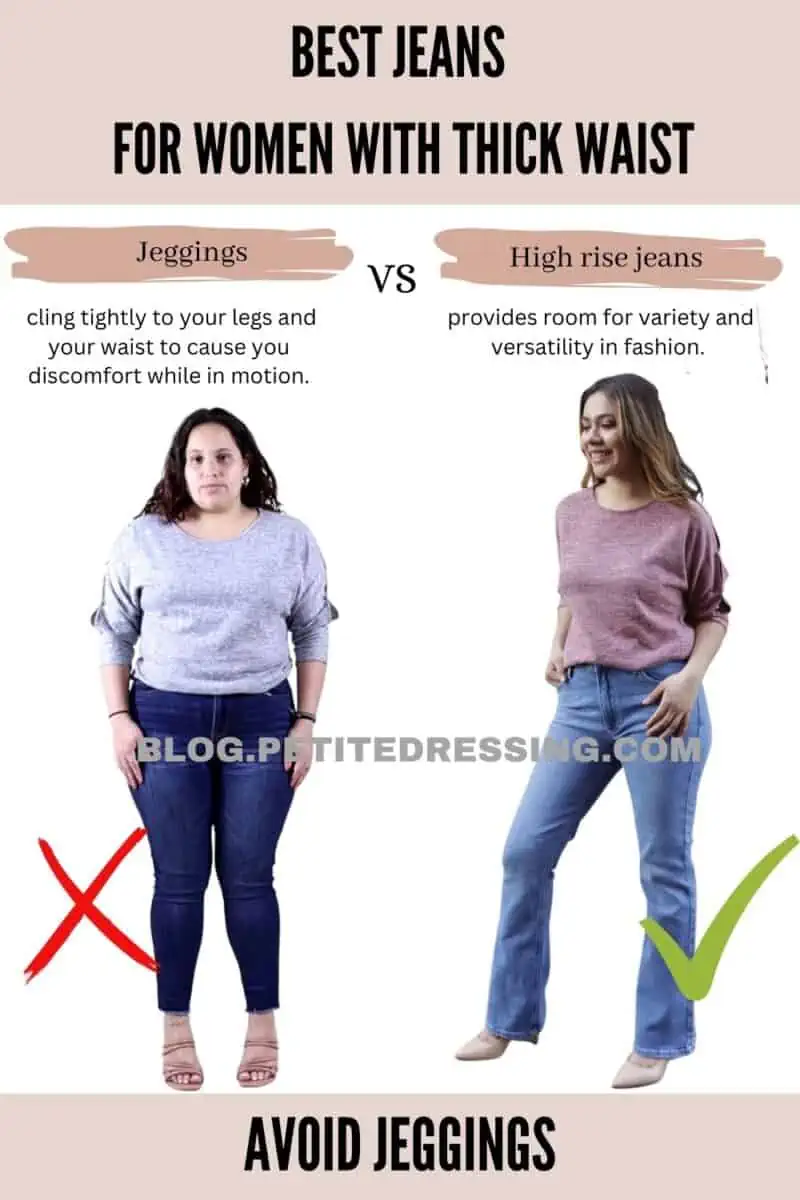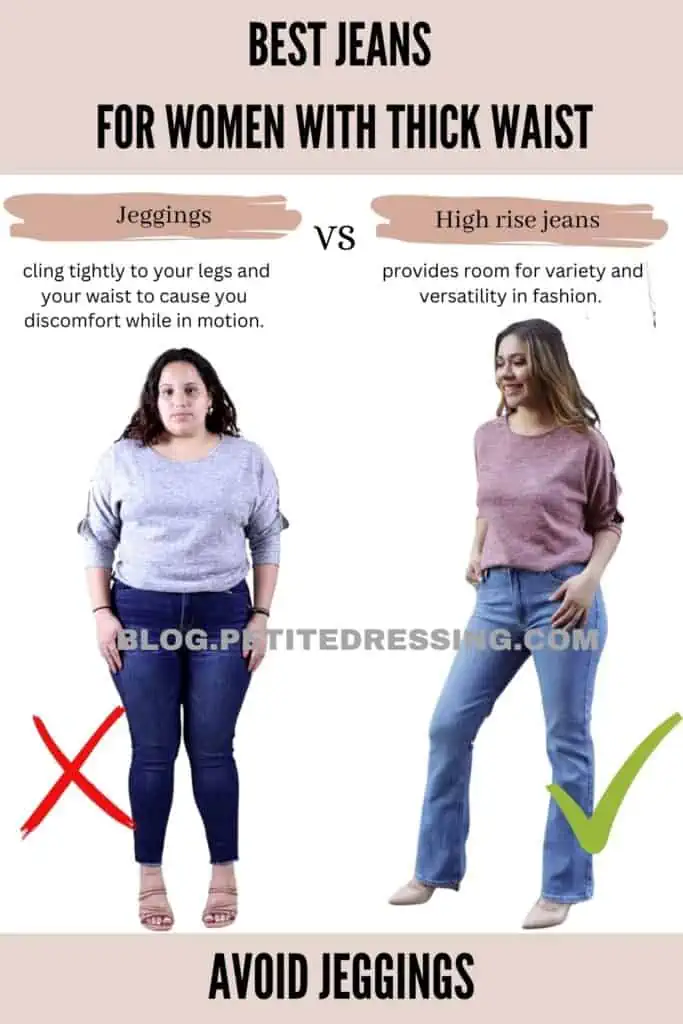 These type of jeans has no flattering effect on a woman with a thick waist so it's best to exclude them from your best jean styles. Jeggings are not fitted for your shape and would not complement your looks so avoid wearing them on your figure.
Avoid jeans with front buttons
Whenever the lower half is mentioned, any form of embellishment around it should be kicked against because it becomes an attention seeker. Front buttons on your jean are not flattering for the thick waist so do not wear jeans designed with them.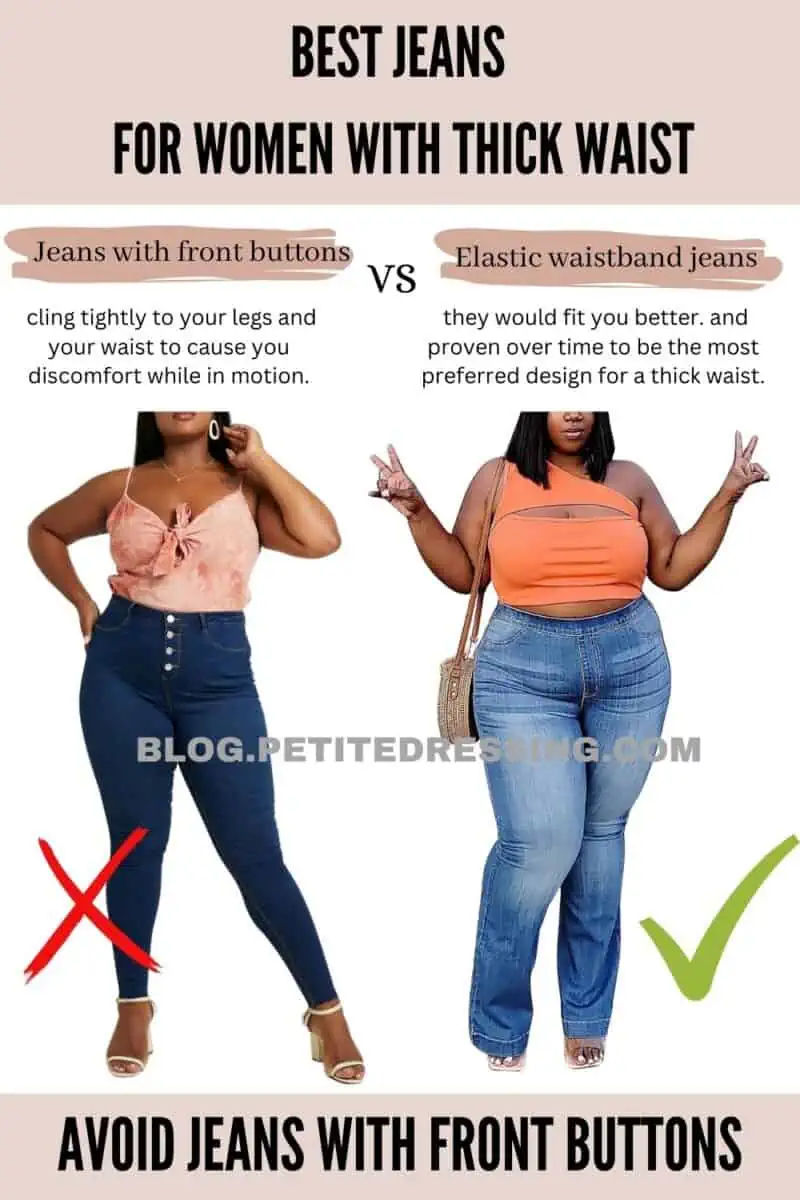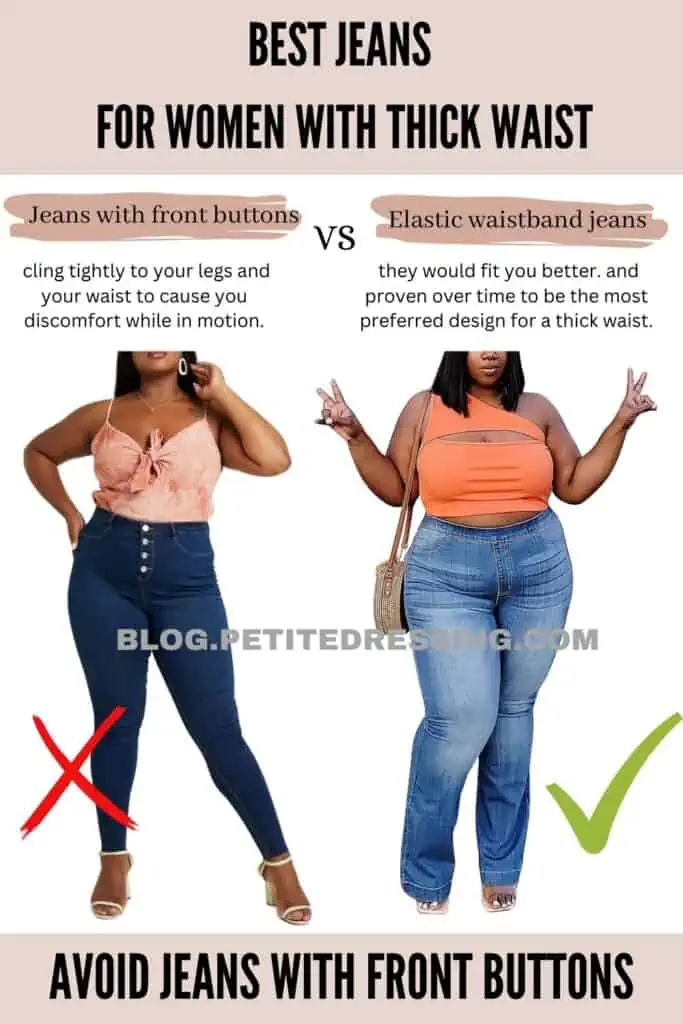 Buttons on jeans that are attached to the front would create an illusion that the waist is thicker. Do not try to go fanciful with this type of jeans because would not make the best picks that would suit your shape.
Once the eyes find their focus on your waist, your confidence gets lost and you would not feel elegant as expected. Not all jeans style works for your shape, so avoid going for designs with front buttons.