Shopping for shorts that look good on women with a thick waist can seem complicated if you don't know what to look out for. The good news is that this guide contains everything you need to know about the perfect shorts for women with thick waists and those shorts that you should avoid. These are all tested and trusted tips.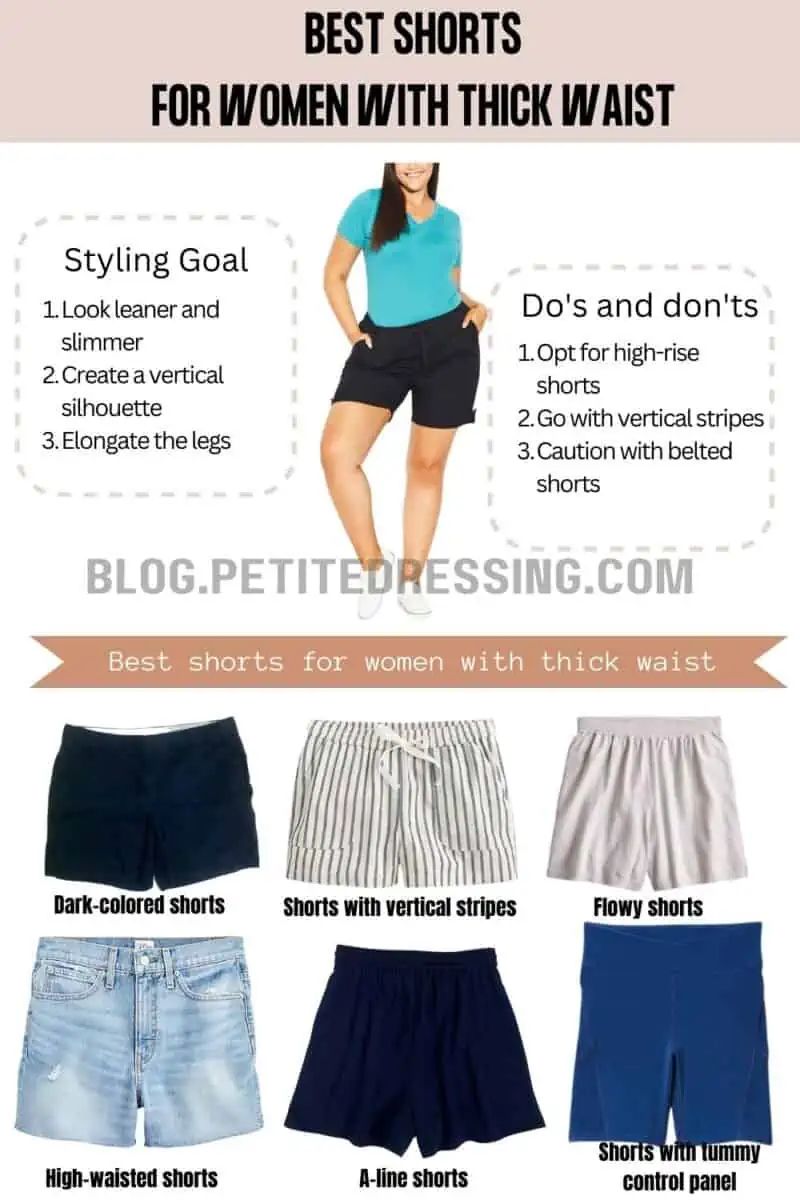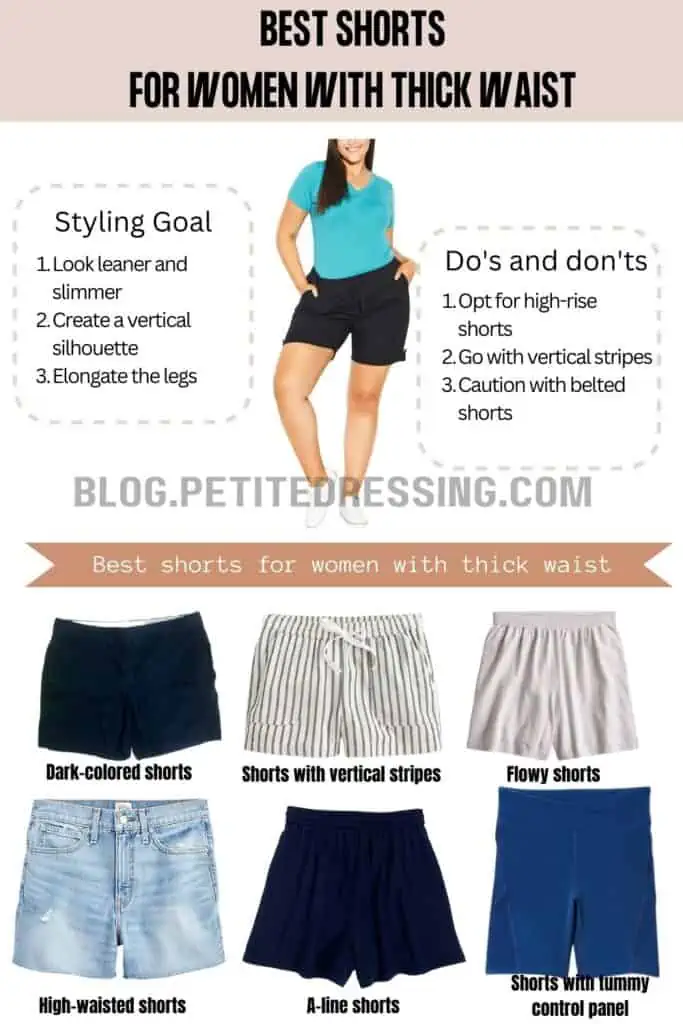 Dark-colored shorts
For women with thick waists, wearing dark-colored shorts is an amazing way to create the illusion of a slimmer waist. This is great if you want to stop your waist from looking too big in shorts.
While dark colors on shorts usually tone down your waist area, lighter colors will emphasize this area more instead. So, if you want to create a more flattering silhouette on your body by choosing the right shorts, we completely recommend going for dark-colored shorts.
However, the bottom line here is that everyone is different and unique, and the important thing is to choose styles that work for you. Your dark-colored shorts should ideally stop at your knee cap, but ensure that it makes you feel confident and comfortable.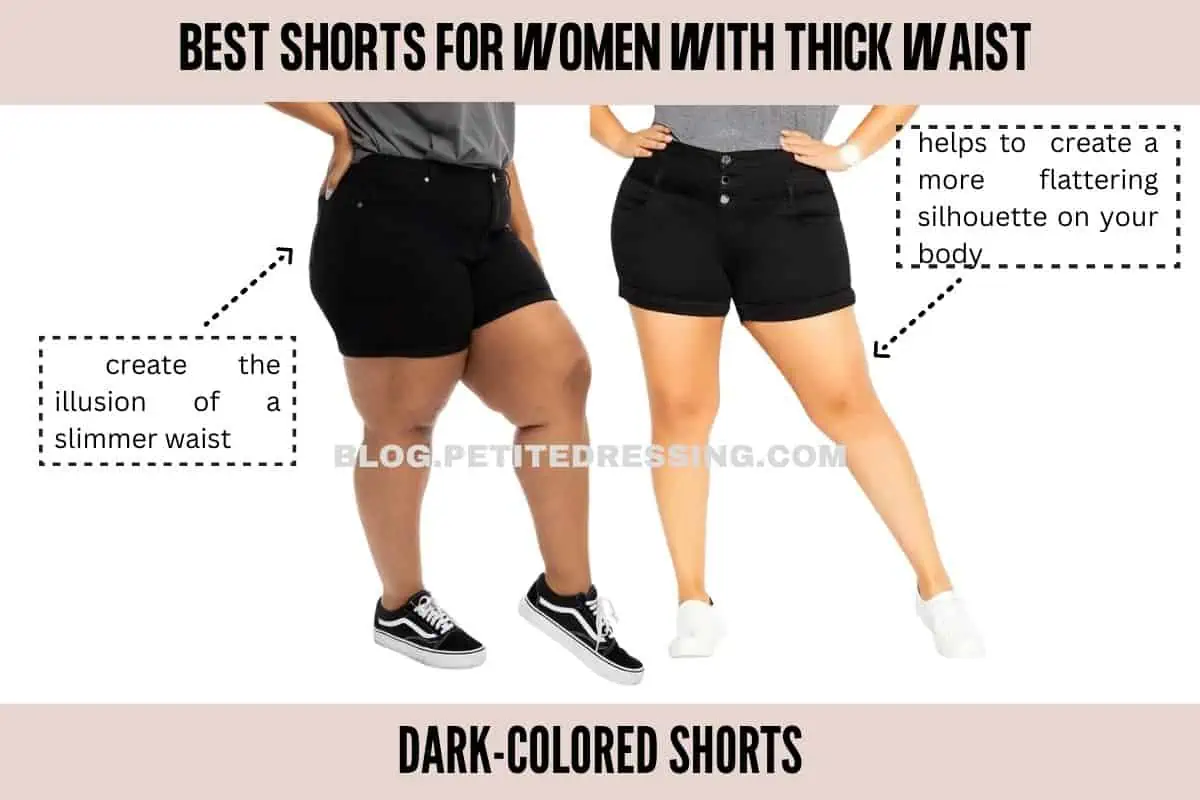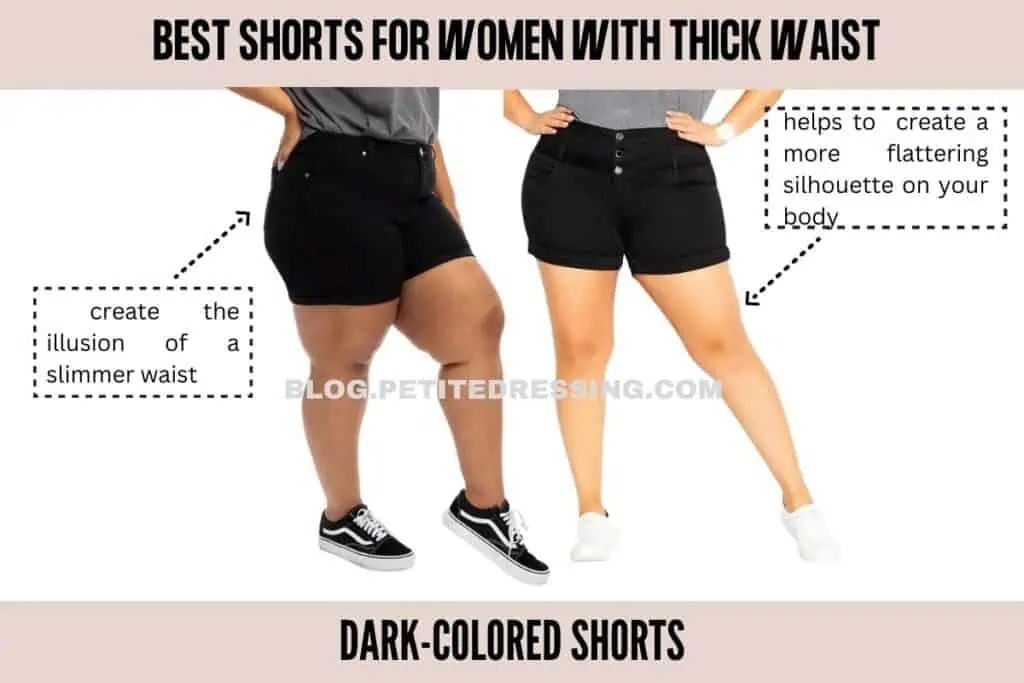 Shorts with vertical stripes
Another perfect method to create the illusion of a slimmer waist is to wear shorts with vertical stripes. Similar to how dark-colored shorts make your thick waist appear smaller, vertical stripes on shorts can help to elongate the appearance of your torso and legs.
With this, you'll have a longer frame while your waist appears slimmer than it actually is. You'll love how the vertical stripes draw the eyes up and down rather than sideways, which helps this illusion a lot.
However, you should know that the style of the shorts matters. If you wear shorts with vertical stripes that appear too busy or haphazard, this will not have the same flattering effects as vertical stripes that look clean all through. So, be sure to pick shorts that incorporate this style.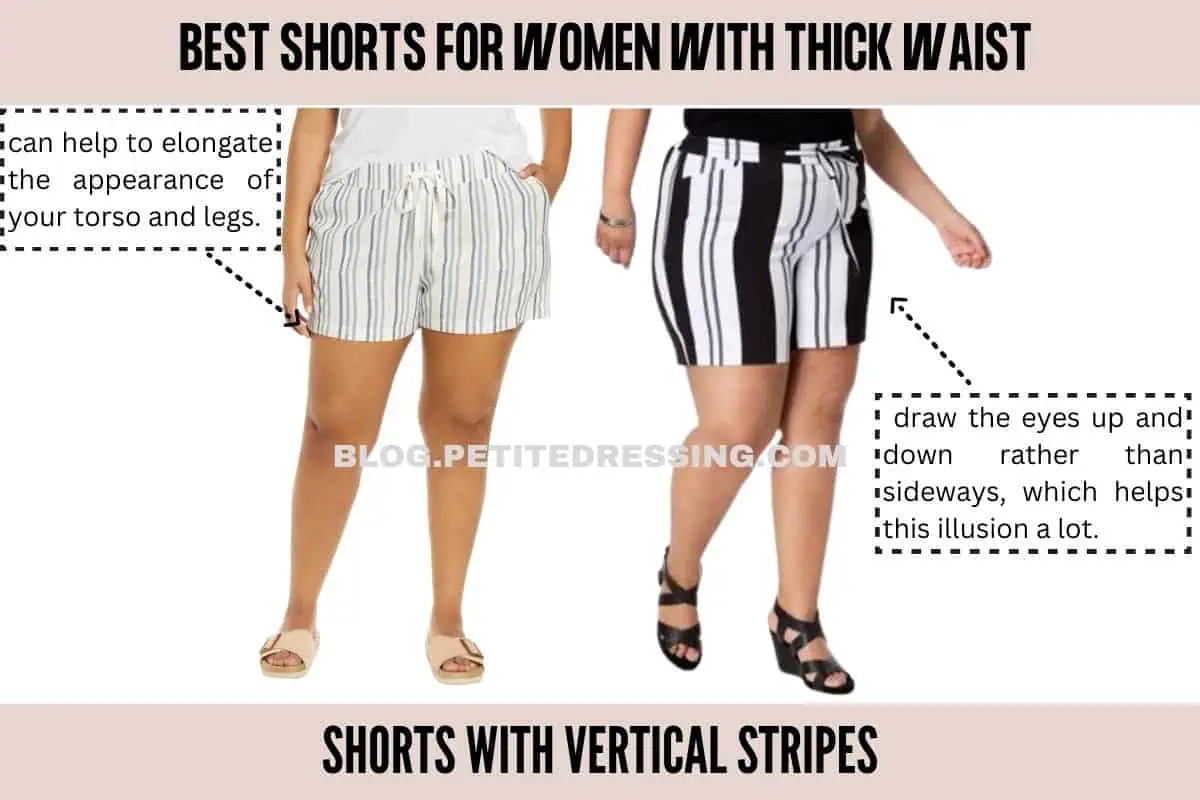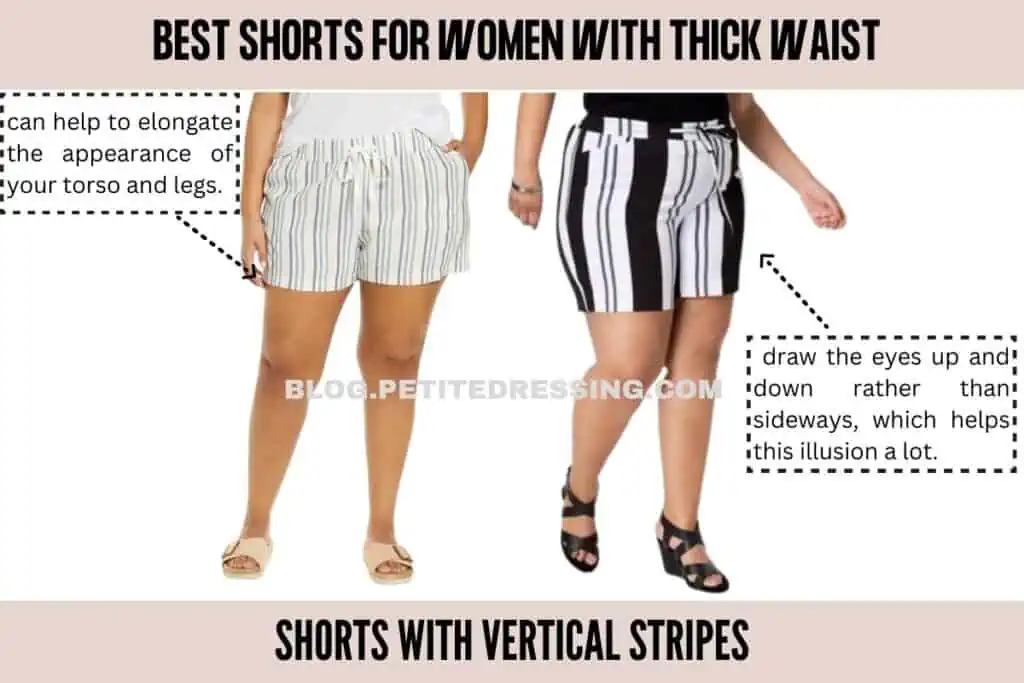 Flowy shorts
Women with thick waists can benefit a lot from flowy shorts as they help in creating a silhouette that's proportional and balanced all through. The goal with this style of shorts is to make sure you have a streamlined silhouette where your thick waist doesn't appear larger compared to the rest of your body.
The lightweight style of flowy shorts makes them drape naturally around your waist area, creating a stylish camouflage and an overall relaxed look. This is perfect for a casual day at the beach or even a lighthearted evening with friends.
Flowy shorts create a sense of flow and movement, which moves the eyes away from those areas of your body that you don't want a lot of attention on. You'll also love how comfortable they are on the body, making them great for everyday wear.
You should also remember that some flowy shorts may not be flattering on your body. In this scenario, length and size matter a lot. So, don't go for overly baggy shorts as you search for the one that works best for you.
High-waisted shorts
The beauty of high-waisted shorts on women with thick waists is that they create the illusion of a slim waistline as they sit on your natural waist and produce a cinching effect. This is completely different from the effects that clingy shorts have on the body, as they won't define your waist properly.
Rather, high-waisted shorts will help you feel more confident and comfortable anywhere you go as they conceal muffin tops perfectly. If you're worried about showing your extra belly, high-waisted shorts are the way to go.
Even better, this style of shorts elongates your legs, so you appear much taller. However, you should avoid shorts that are too tight if you want to enjoy these benefits. High-waisted shorts shouldn't be too short either, but you should ultimately pick the style that reflects your personality without going over the top.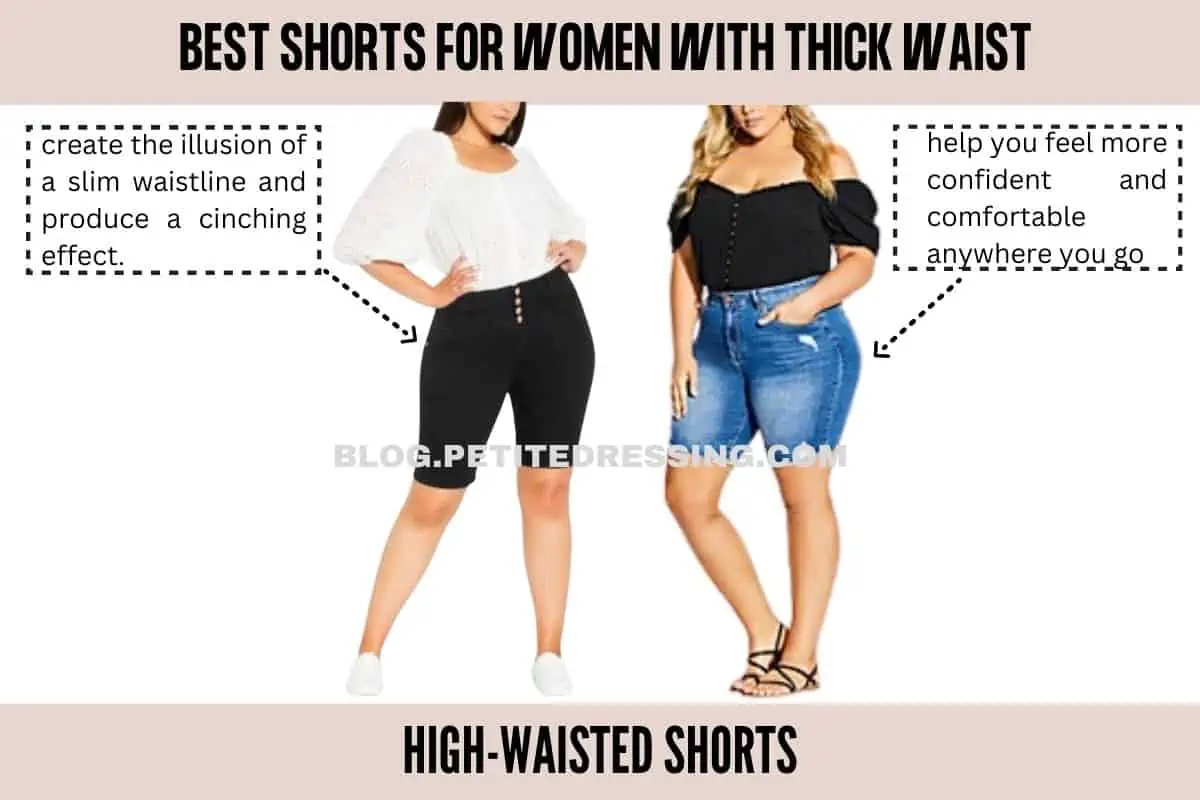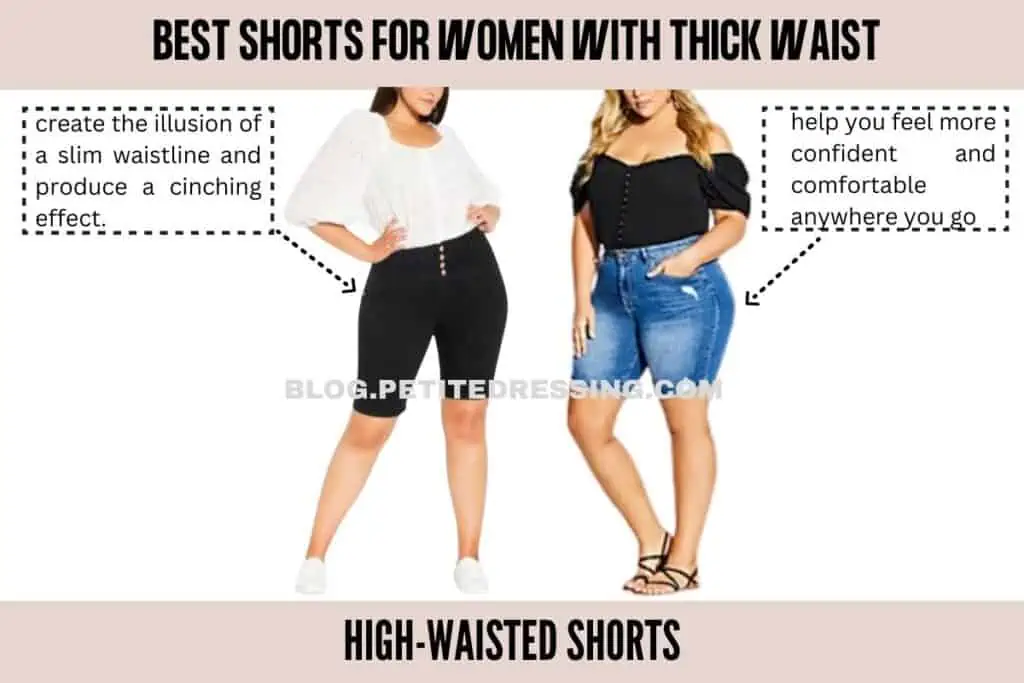 Shorts with tummy control panel
Tummy control panels could be made out of spandex or stretchy mesh material. The purpose of this is to help to shape and smoothen your midsection by providing compression effects and extra support to your belly area. 
Shorts with tummy control panels are perfect for women with thick waists, as the smoothening effect helps to conceal muffin tops. There's also the extra benefit of creating a smoother and more defined waistline where there are no bumps or lumps on your body.
Creating a streamlined look doesn't have to be complicated, especially when you wear shorts with tummy control panels. They provide that secure and comfortable fit that will help you step out in elegance all day long.
However, be sure to look out for shorts that are not too tight, as they can make breathing or movement more difficult. Choose shorts with tummy panels that are a bit loose on your body, so you have the freedom to move around without restrictions.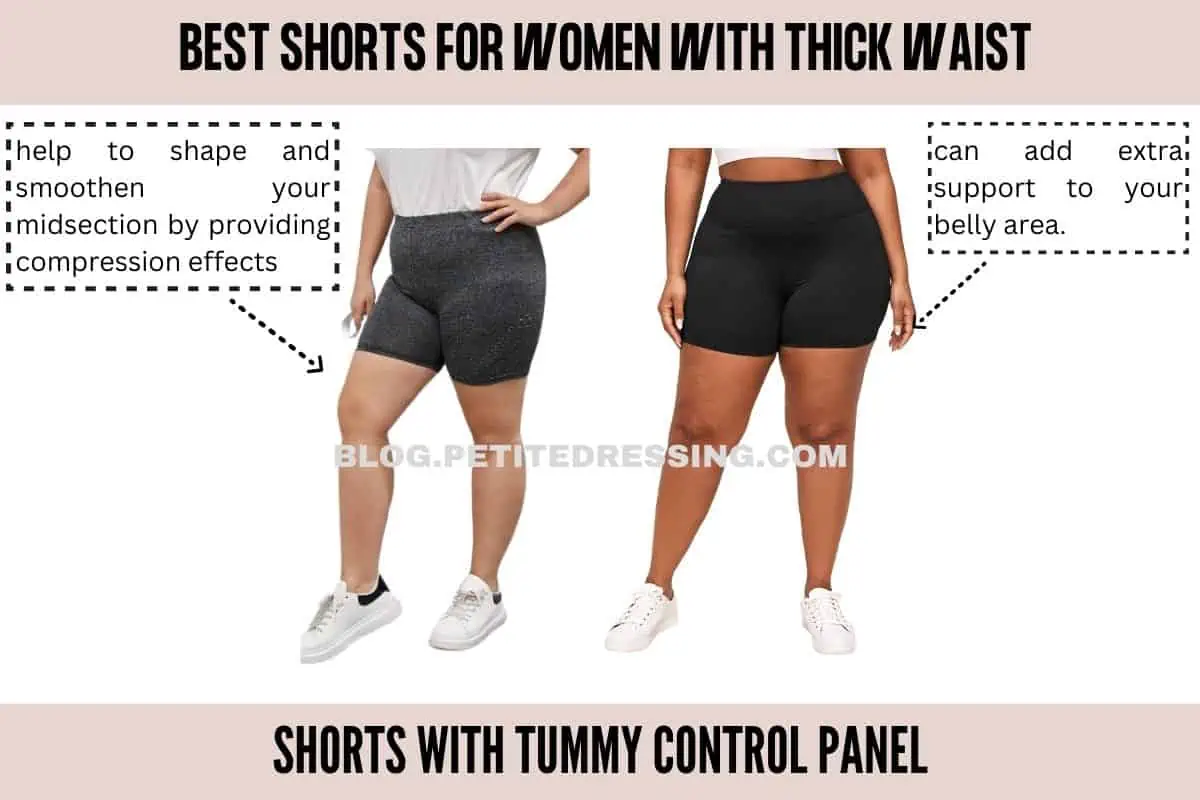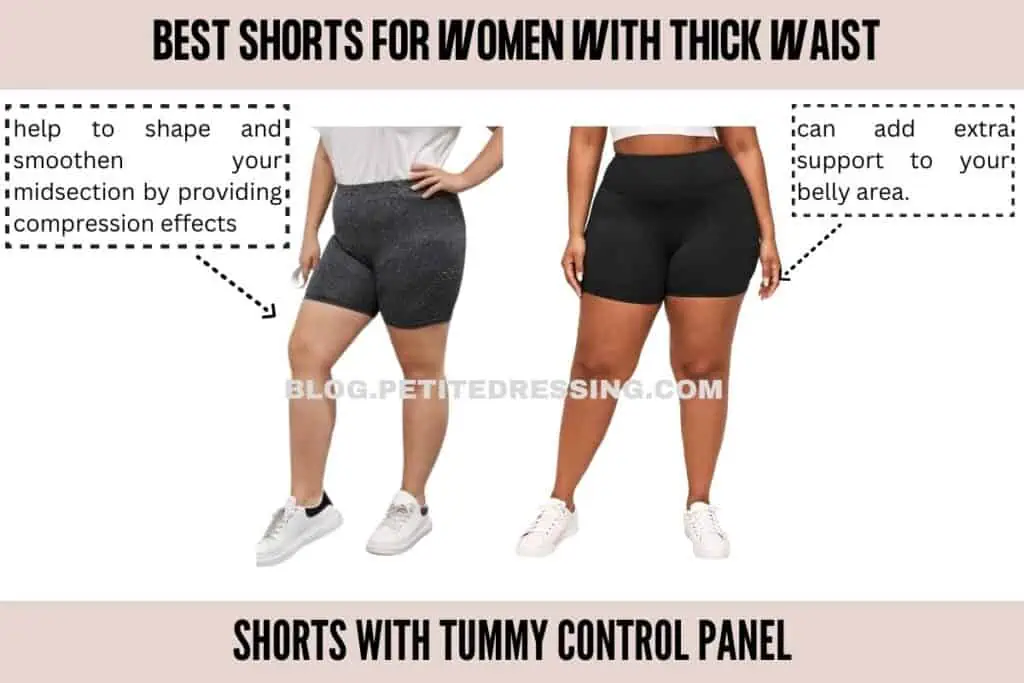 A-line shorts
The style of A-line shorts is such that they flare out from the waist and hip region in an effortless and relaxed manner. With this, women with thick waists can have a proportionate and balanced silhouette with a camouflaged waist area.
The flare of a-line shorts helps to distract the eyes from your muffin top, and they are extremely comfortable to wear. With A-line shorts, you can create your unique look without sacrificing comfort.
You can choose to pair this with flats or sneakers, and this will create different looks for various occasions. Ultimately, find the style that works for you but be careful of the length of the shorts.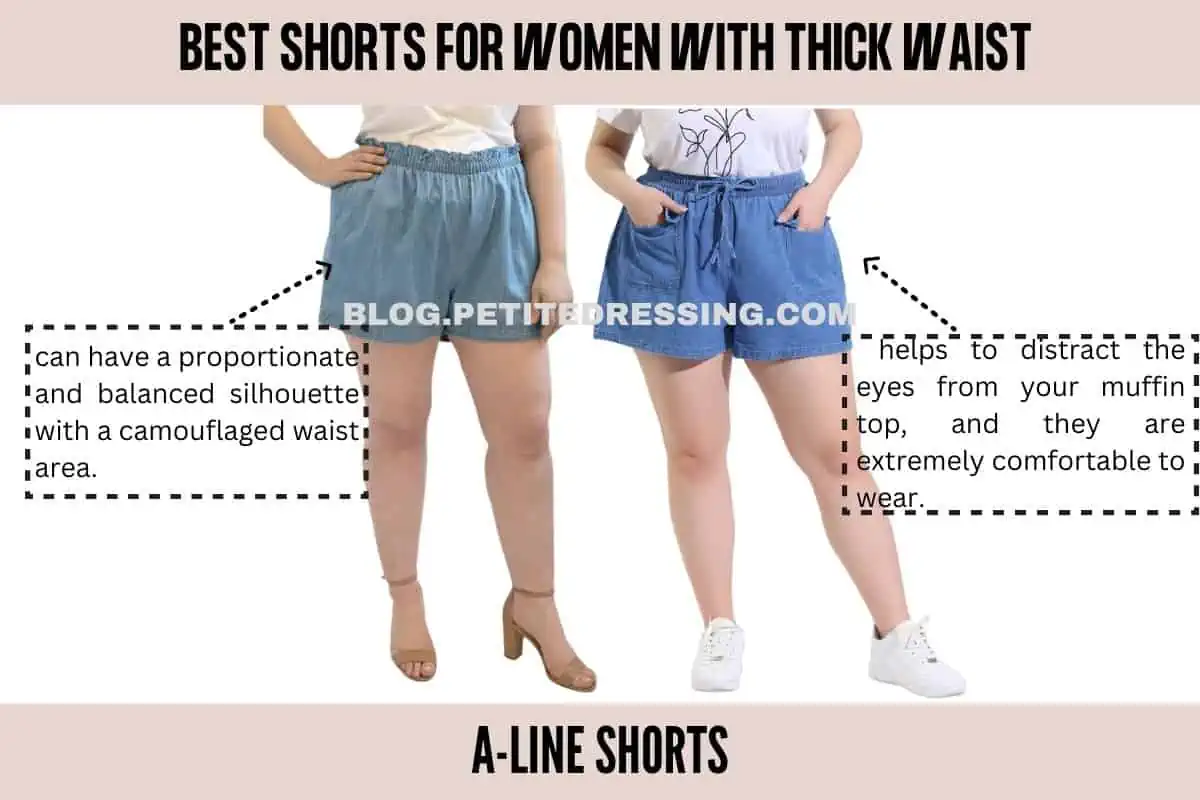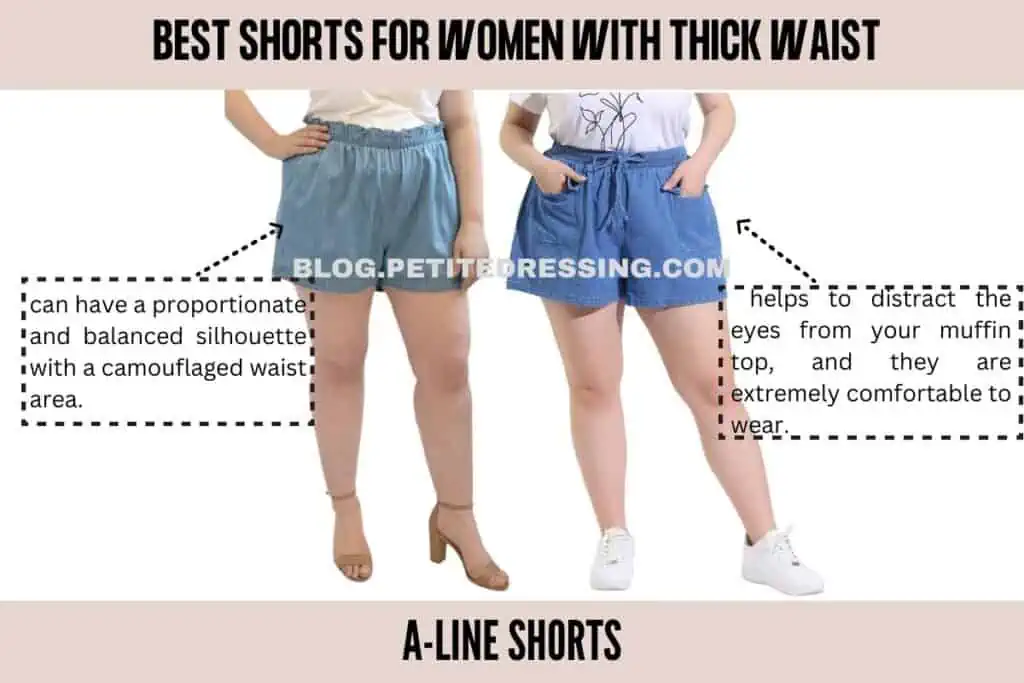 Caution with belted shorts
Belted shorts can make a thick waist more obvious, and this is one reason why women with thick waists should avoid this style of shorts. They create a cinched effect on the waistline, which makes it appear thicker compared to the rest of the body.
Another disadvantage of belted shorts for women with thick waists is that they may end up looking so tight that you'll be uncomfortable in them. When the belt is too tight on your waistline, this will create an obvious effect of love handles on your body.
This is when extra flesh bulges at your side due to clothes that are too tight on the body. If you must wear belted shorts, don't choose large belts, and be sure to limit just how tight this will be around your waistline.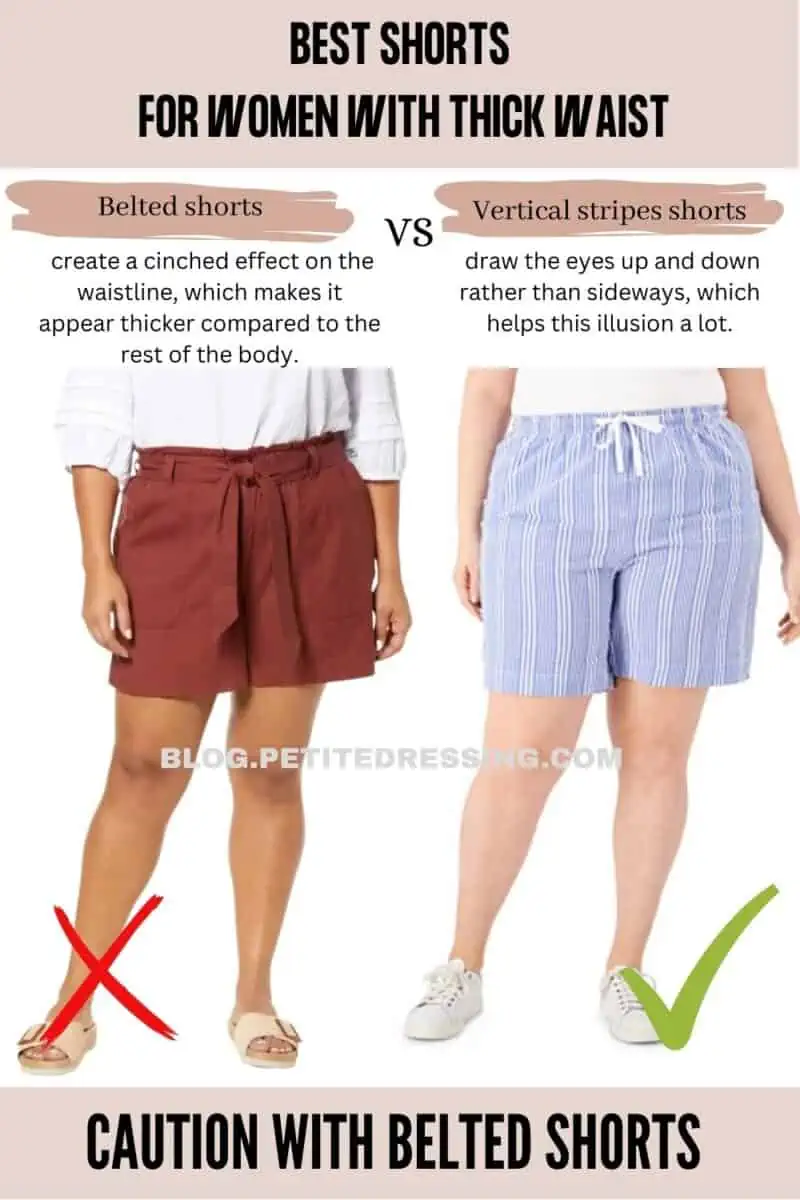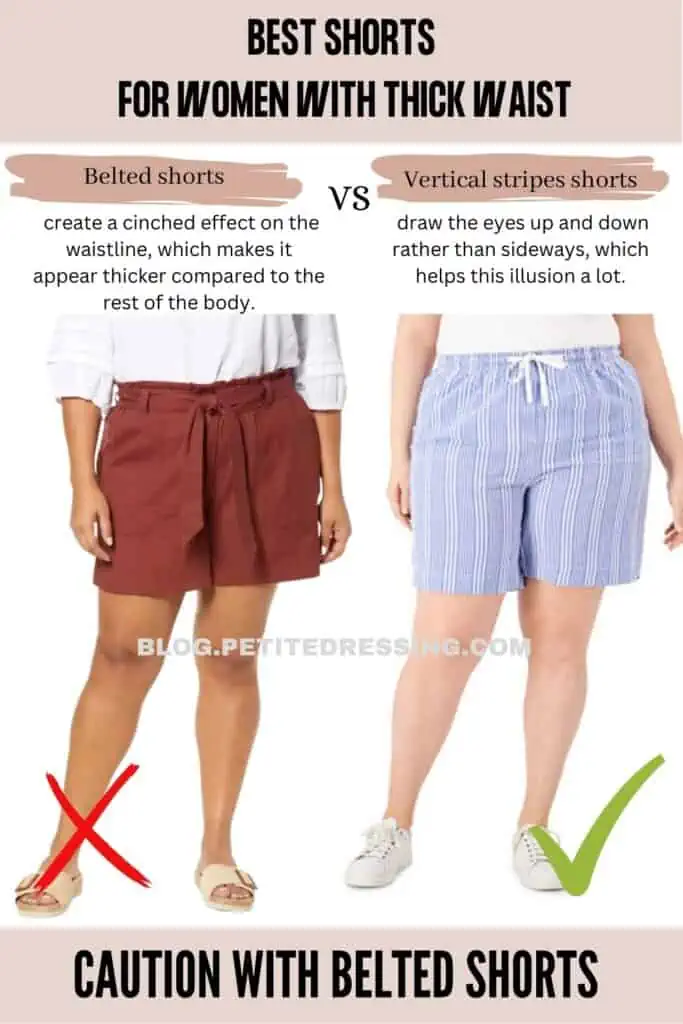 Avoid tight-fitting shorts
Tight-fitting shorts are not a good idea for women with thick waists. This style of shorts draws more attention to the bumps around your belly area as they cling excessively to the body.
If you're feeling very self-conscious about your muffin top, then you should avoid tight-fitting shorts. They can also be quite restrictive as you can't move around freely to carry out your daily activities.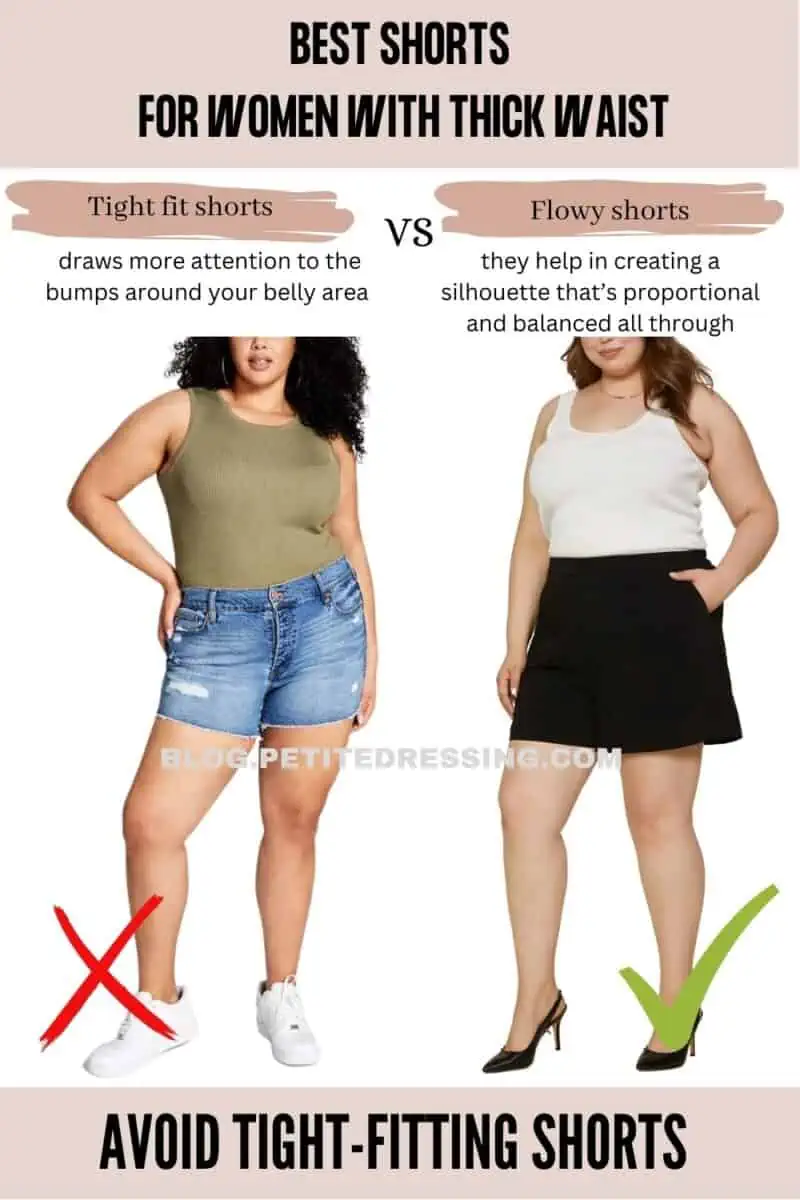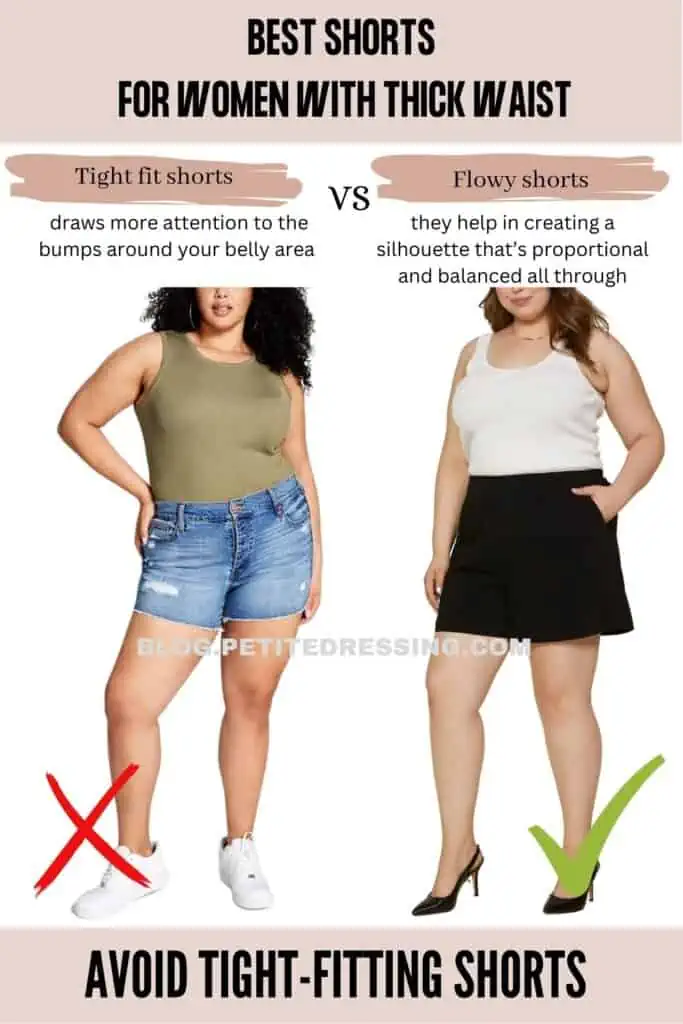 Caution with Shorts with front buttons
Shorts with front buttons are known for creating an unflattering and bulky look on the body. Most times, they add bulk to the tummy region, and on women with thick waists, this will make your waist appear thicker compared to other parts of your body.
When the shorts are not properly buttoned, this will look a lot like there's a gap at the waistband, adding more effect to the overall unflattering look. We can't rule out the fact that buttons can be quite uncomfortable when they dig into the skin.
So, your best bet is to find well-fitted shorts with a single button or hook. This will look inconspicuous as it will be completely unnoticeable on your waistline.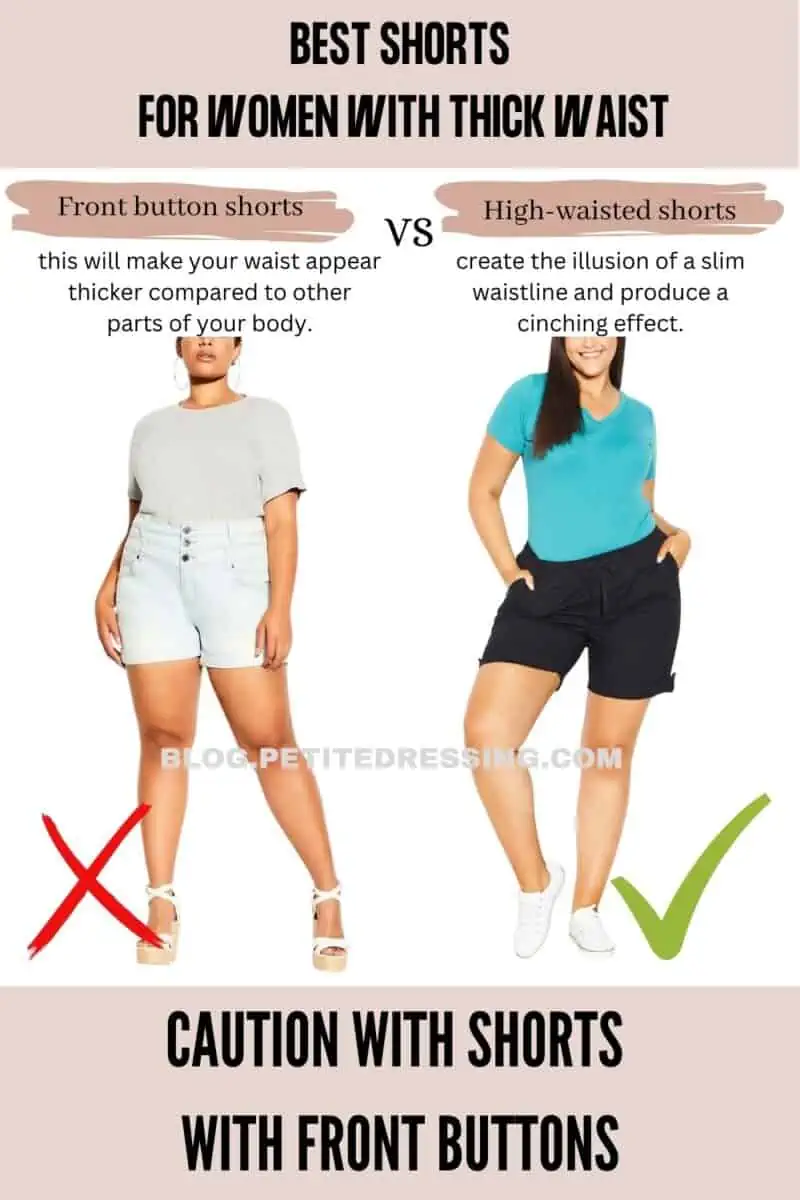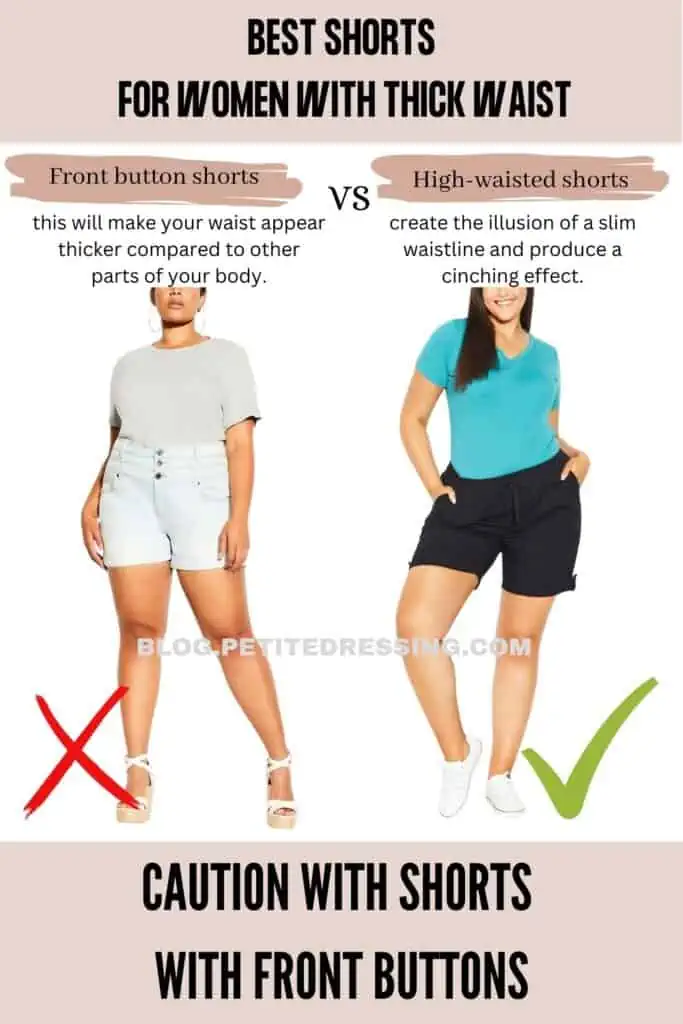 Avoid Shorts with horizontal stripes
Horizontal stripes on shorts create an unflattering look where your thick waist appears wider than it actually is. This is possible because the horizontal stripes draw the eyes sideways across your midsection.
If you wear shorts with horizontal stripes in bold or contrasting colors, this will create the illusion of a heavier waist, which is very unflattering to your body frame as a woman with a thick waist.
Play around with several patterns and widths to find the one that fits your unique style. However, be sure to pick the ones that are not so bulky on your shorts.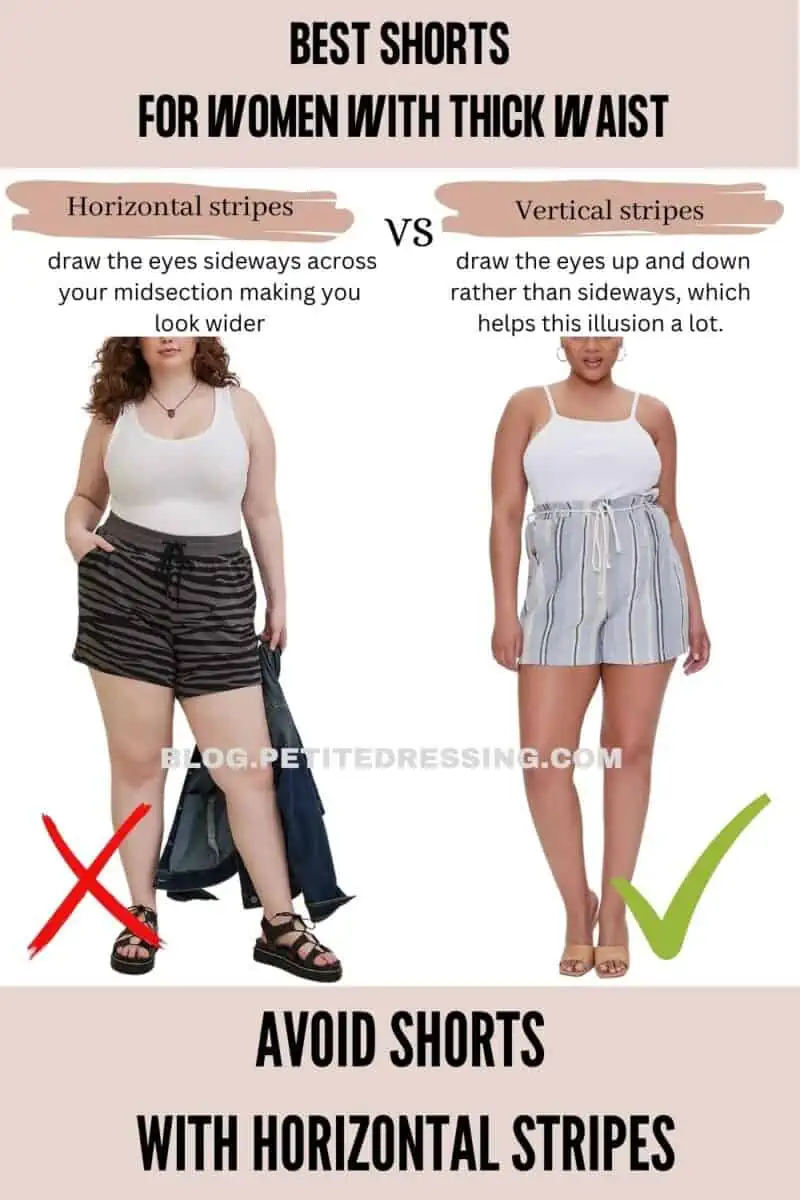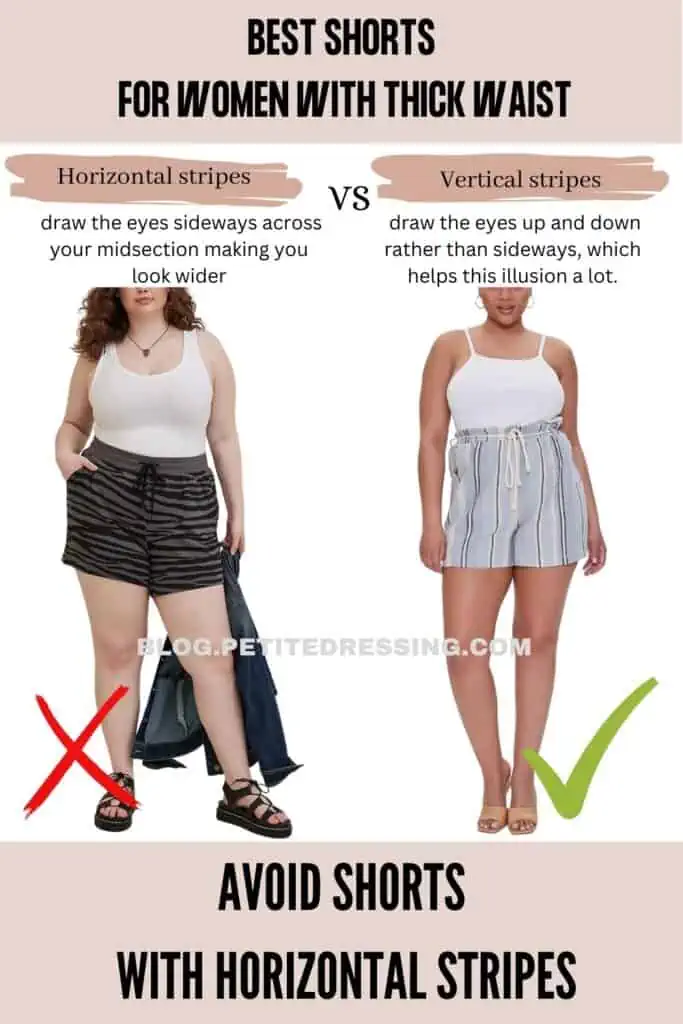 Avoid Too Short
Shorts that are too short draw a lot of attention to your midsection, which is unflattering to the feminine silhouette. These short shorts will also ride up and expose the upper part of your thighs, making your waist appear thicker while your legs appear shorter.
Shorts that are too short also leave you with excess flesh spilling out of your waistband, while your muffin top appears more prominent. This becomes much worse if the shorts are tight-fitting too.
It's a good idea to completely avoid shorts that are too short, especially if you want to appear slimmer and taller while making your thick waist appear leaner too.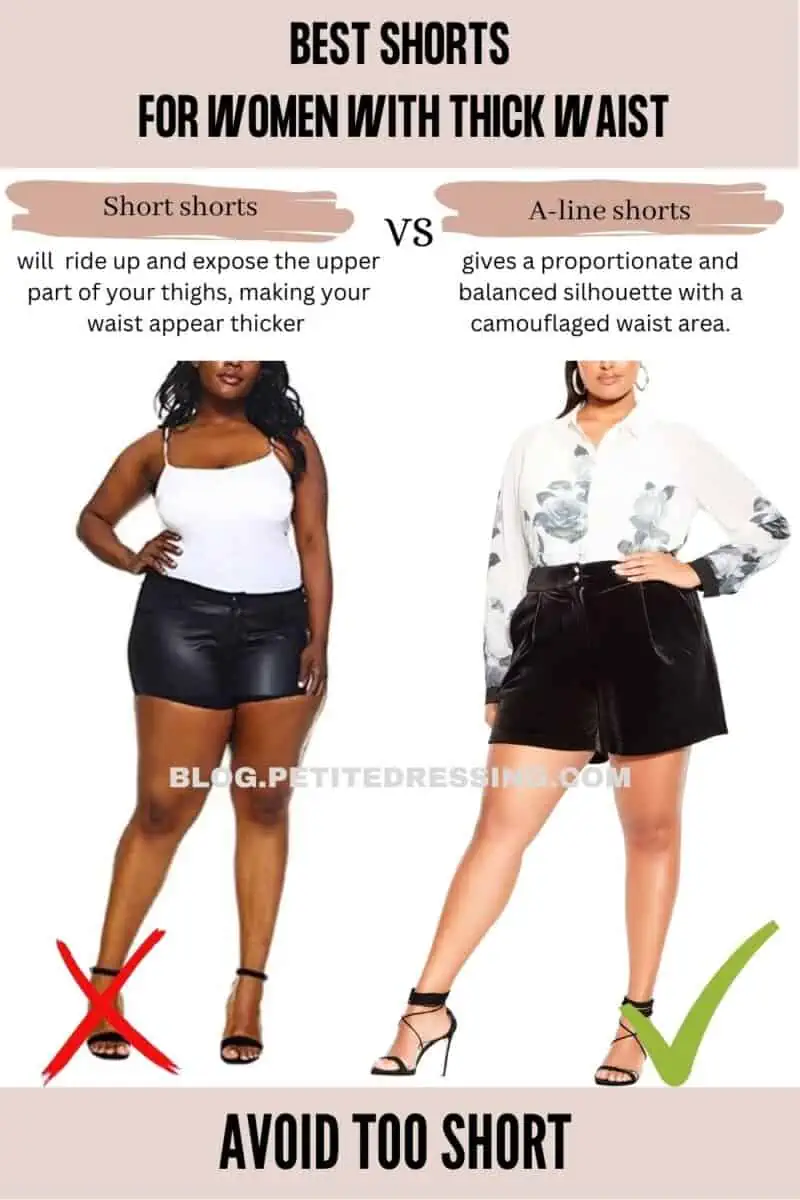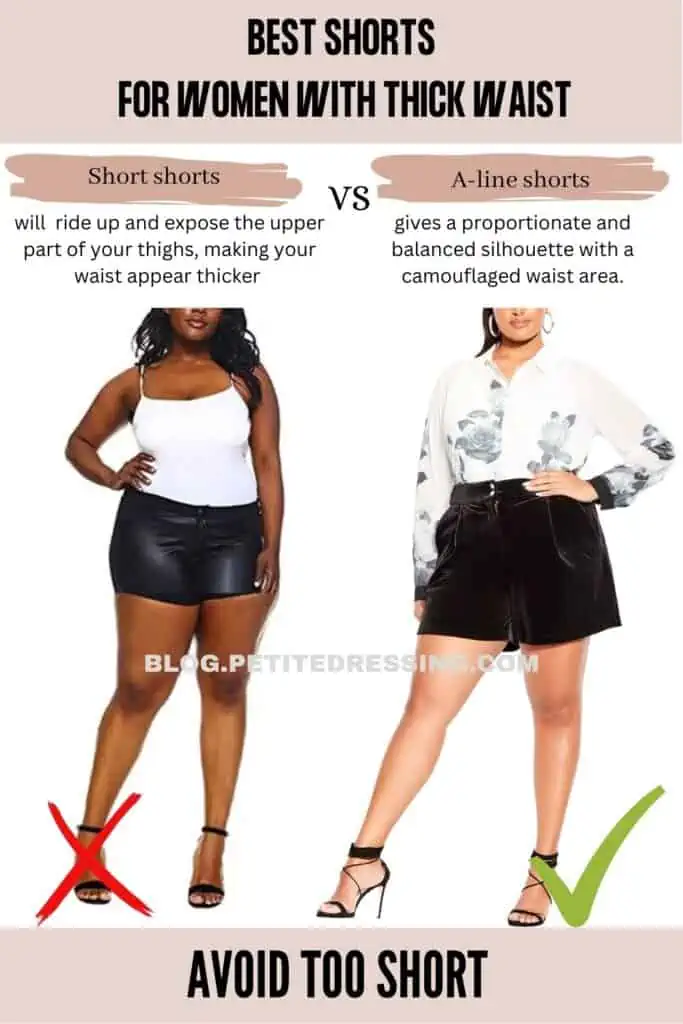 Shorts are a must-have in your wardrobe, especially for occasions when you want to relax in a casual atmosphere. Start with these tips, and you'll definitely love the results.