Do you have an hourglass figure? Lucky you! An hourglass shape is what most consider as an ideal figure. While every other girl wants to have your body type, finding the right dresses for hourglass figure is not as easy as it sounds.
The reason an hourglass shape is so admired by women all over the world is because it's a proportioned body shape. In other words, your chest measurement is even with your hips and you have a defined waist.
Look back at some of the most iconic celebrities and women throughout time, and you'll notice that the hourglass figure has been admired for many, many years.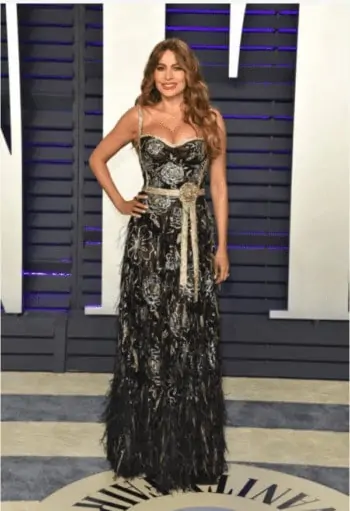 Ok, so let's get into some style tips on choosing the dresses for the hourglass shape, because that's why you're really here!
Before we get into dresses, I suggest you watch my video on how to style the hourglass figure overall. After you watch the video, read the full article on the best dresses specifically for the hourglass shape.
Grass is always greener on the other side…while dressing an hourglass shape is often supposed to be 'easy' (well, don't we all want to dress to look like an hourglass?), you are the only one who know the frustration that sometimes comes with the curves like yours. In fact, dressing hourglass shape casually is a proven challenge, because of your luscious curves.
The truth is, regardless of a woman's personal body shape, there can be grey areas making it confusing. Knowing how to choose dresses that flatter your shape is essential for ALL women. Because, let's face it – we all want to wear clothes that are figure flattering!
As we get ready to welcome back dress season (warm weather, we're waiting for you!), I thought it was a great time to get you some tips on how to choose dresses for an hourglass figure to make it a little easier for you. Let's get into all the details – keep reading!
What you should Avoid as an Hourglass
Before I get into what kinds of dresses look the best on an hourglass, let's first talk about what you should not wear.
First, boxy shape is a no-no.
This is KEY when choosing a dress for an hourglass figure. Whether you're petite or not, boxy shaped dresses should be avoided when you're an hourglass.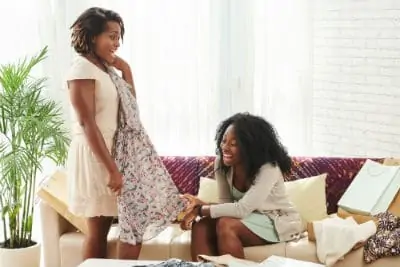 The reason this is such an important style tip to keep in mind is because boxy shapes cause you to completely lose your natural shape. Furthermore, when wearing a boxy silhouette over an hourglass figure, it can often cause you to appear bigger than you actually are.
Interesting, right? This is a tricky element for many women to really wrap their head around, because many of us think if we wear clothes that "hide" our shape it will make us appear smaller.
As an hourglass figure, the smallest measurement within your shape is your waistline. Boxy shapes completely mask and hide that smallest area which is what causes you to appear bigger.
If you want to dress to flatter your hourglass figure, skip the boxy + shapeless dresses!
Rule of Thumb in Choosing Dresses for Hourglass Body Type
If you haven't gathered by now, the main thing to keep in mind when choosing a dress for an hourglass shape is to focus on your curves. I don't mean to hide your curves, or mask them in any sort of way. In fact, it's the exact opposite.
I am about to tell you several dress shapes most flattering for the hourglass. What they all have in common is they focus on flattering your natural curves.
It's hard to come up with an exhaustive list of best dresses for the hourglass, but, one rule of thumb you should keep in mind is that any dress you do choose to wear is one that is form-fitting to your body.
Now of course, not all form fitting dresses are going to be THE MOST flattering. You also need to ensure that the dress is sitting on your body in the right places.
I know my petite ladies know what I'm talking about. Length and waistline placement of dresses is just as important as form fitting.
If you're a petite hourglass, make sure the length of your dress isn't too long on you (just above the knee is typically great placement for petites). In addition to the length, you always want to be sure the waist of the dress is sitting at your body's natural waistline. If it's "off" I can end up looking less than flattering.
Best Dress Silhouette for Hourglass Shaped Women
Body Con Dresses
Don't panic here! I know a lot of women tend to worry when they hear the words body con, so let me explain. Body con dresses are a major win for our hourglass figured ladies for a couple of reasons.
The first reason is simply because it's a stunning way to showcase your naturally balanced body shape. Body con dresses don't have to me you can't breathe or walk – just to clarify here! In general, a body con dress simply means it fits closely to your body.
Wearing a dress that fits this way, especially when you have an hourglass figure, is such a simple way to flatter your shape. Body con enhances your natural curves PLUS it's often lends to creating an elongated shape.
This is particularly ideal for our petite hourglass ladies out there – hello more length!
Wrap Dresses
If you're ever struggling to find a dress that's flattering your hourglass figure, a wrap dress is ALWAYS going to be a winning selection for you.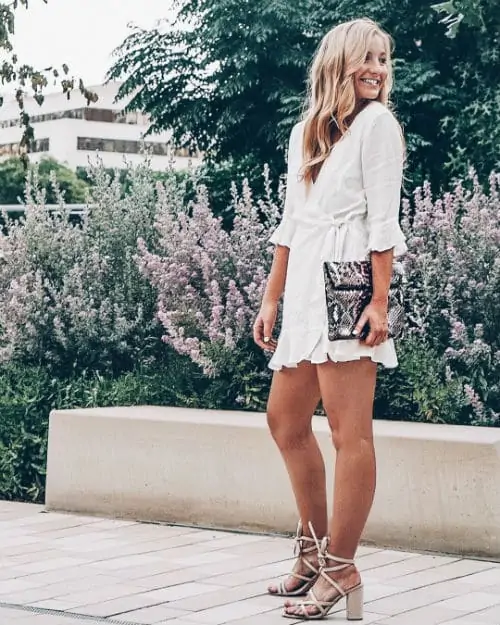 Seriously, if you're ever in doubt just go for a wrap dress. This style dress is something every hourglass woman should have in her wardrobe.
I don't say that lightly, either. Simply put, wrap dresses are a guaranteed way to accentuate the smallest part of your body – your waistline! This is all thanks to the wrapped detail that, well…wraps around the waist of the dress.
Typically, wrap dresses have gorgeous details at the top and bottom of the dresses as well which add even more emphasis to highlighting the natural balance in your hourglass figure. Another winning attribute from the wrap dress!
Belted Dresses
Other than the wrap dress which comes with a belt, any dresses with a belt will also accentuate your small waistline and bring out the hourglass goddess in you!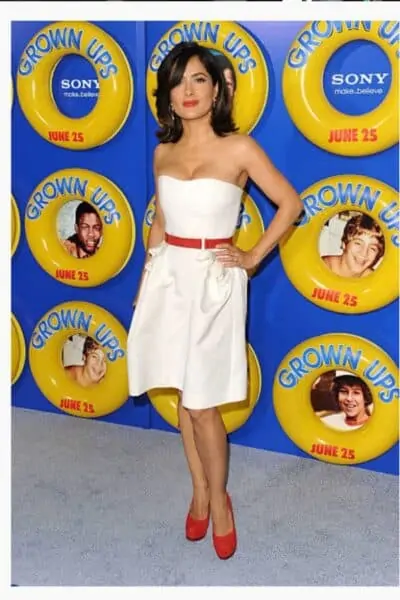 A line Dresses
The A line dresses are well fitted on top and flares out at the hips. They are not as sexy as the body con dresses, but they still highlight your curves nicely. They still show off your full chest and the tiny waist.
Structured Dresses
Because of your pronounced curves, you need a very structured dress to hold it all in! This is not necessarily a silhouette, because a structured dress can come with any shape.
The structured dress will not add bulk to your shape, which is why it's most flattering to the hourglass figure. When the dress is well structured, it provides enough support to your full chest, highlights your waist and hugs your hips nicely.
How to Revamp the Hourglass Closet with One Simple Trick
By now I'm sure you've grasped the concept of sticking with dress styles that fit closely to the body to flatter your hourglass figure. What are you going to do with some of the loosely fitted dresses in your closet?
Don't throw them all away! I have an easy trick to help you wear it AND make it flattering on your shape.
Simply put: add a belt!
Adding a belt to the waistline of a shapeless dress is one of the easiest ways to transform a dress that isn't flattering into one that is. Not to mention, when you're an hourglass woman, adding a belt (or any detail at the waist for that matter) is always going to be a style hack to lean on. Anytime you feel like dress feels off and isn't as flattering as you'd like – try adding a belt at the waist.
Best Dress Neckline for the Hourglass Shape
Believe it or not, the neckline of a dress can really make or break how flattering it is on your figure.
Hard to believe? If you think about it, the neckline really changes the aesthetic of a dress. Consider how a halter neckline looks compared a scoop neck. Totally different vibes! That's why it's essential you're keeping the neckline in mind when choosing a dress to flatter your shape.
Now as an hourglass shape, you're able to experiment with quite a few different necklines and still have a dress that's going to be quite flattering to your figure. The main attribute to keep in mind is that whatever neckline you select, it's on the narrow side. A neckline that fits wide on the body can cause an hourglass figure to look much wider than it is.
While you can definitely style a range of necklines, a few favorites I recommend giving a try as you try one some different dresses are:
Deep v-neck
Sweetheart
Scoop
Similar to the way a wrap dress is guaranteed to flatter your hourglass figure, these three necklines are pretty much always going to be a solid choice. All three of these have a bit more open space at the neckline to offer a more narrow structure that will be a great choice for your shape.
It might sound counter intuitive, but these low necklines (not high necklines) actually break up your full breasts, which is why they are the most flattering designs for the hourglass.
In addition, when you instead stick with a narrow neckline it adds even more focus and highlight to your small waistline. Yes, it all goes back to showing off your natural curves!
Now, what neckline does not work for the hourglass?
I suggest you stay away from higher necklines, especially the turtle neck. The high neckline adds bulk to your shoulder area, and they actually make your breasts look even bigger!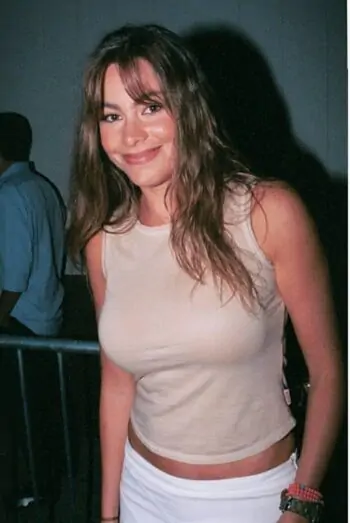 How to Choose Fabrics for Hourglass Figure
Yes, the type of fabric a dress is made of can also make a difference in how flattering it is on your body!
First, given the hourglass is fleshy instead of bony (you still got the curves even when you are most skinny), the hourglass shape will look best in fabrics with enough weight so that it has the structure to support your curves.
Now, on the hand, similar to what boxy silhouettes do to an hourglass shape, very heavy and bulky fabrics will do the same, i.e. add bulk to your figure. Ever notice how bulky fabrics make you feel overwhelmed? That's because that's exactly what they do.
So, you need to balance it out.
Now, you may ask what about the lightweight fabrics?
Sticking with lightweight fabrics will allow the fabric to lay on your body and enhance your natural curves. You just need to make sure the dress itself has enough structure like I mentioned earlier, i.e. has a belt and is not loosely fitted.
Everything else you need to know about the hourglass
I highly recommend you read my other posts on styling the hourglass shape: