If your waist is thicker, finding the right types of dresses to flatter your shape is critical. I know this first hand experience, as I have a thick waist myself. Besides, I have a petite clothing line, so I hear from thousands of my customers of all sizes and shapes on a daily basis.
The goal is to find the dress styles that emphasize your feminine figure without drawing too much attention to your waist.
Below is a complete guide of 9 best types of dresses for women with thicker waist, and 3 types of dresses you should stay away from or use caution.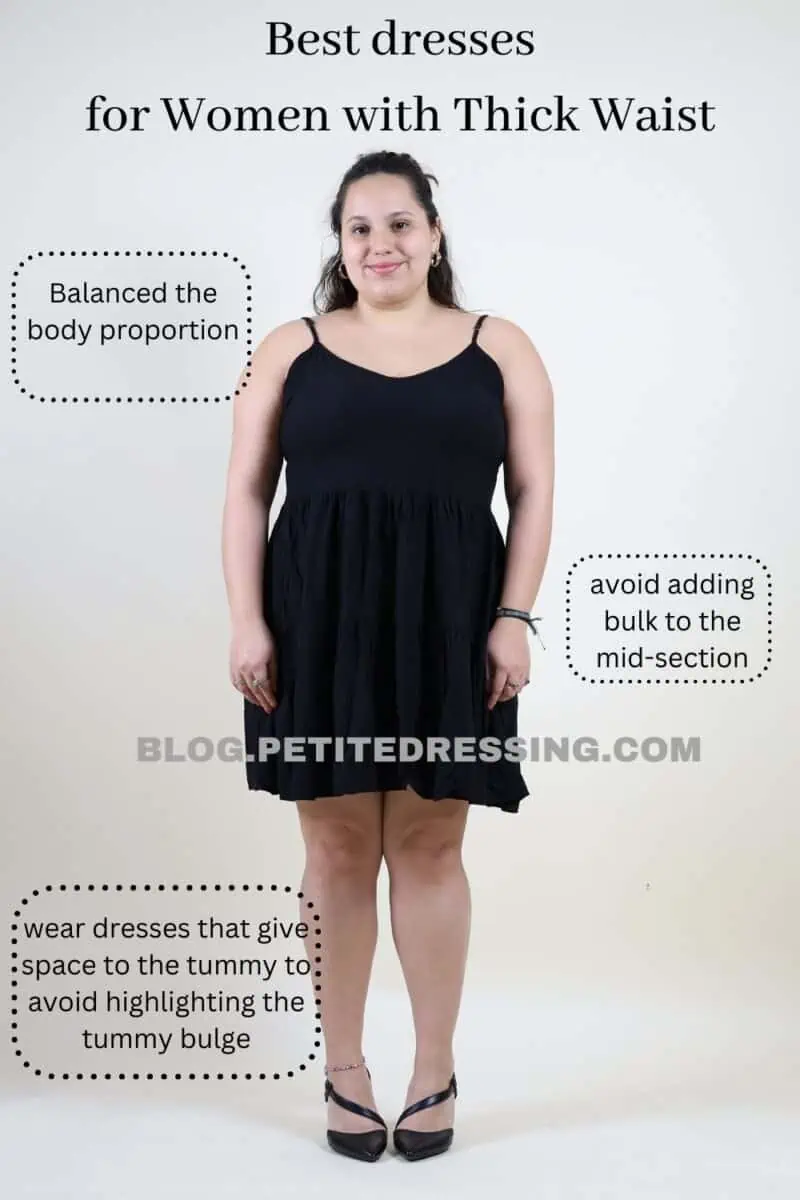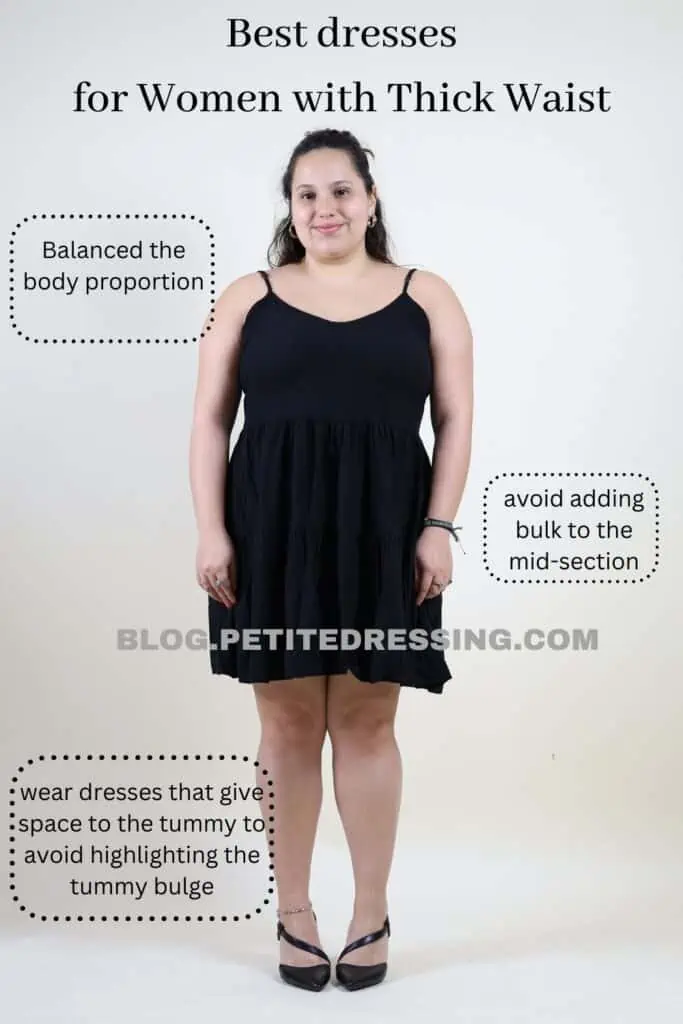 A-line dress
In search of a dress that would accentuate your shape and disguise the thickness in the waist, then the A-line dress is exclusively designed for you. This skirt is designed to fit at your natural waist and help you visually reduce the midsection.
A balance in body proportion can best be balanced using an A-line dress on your thick waist because it evenly spreads attention around the body. The simplicity of the dress is sufficient to flatter your whole figure so feel gracious in the dress style.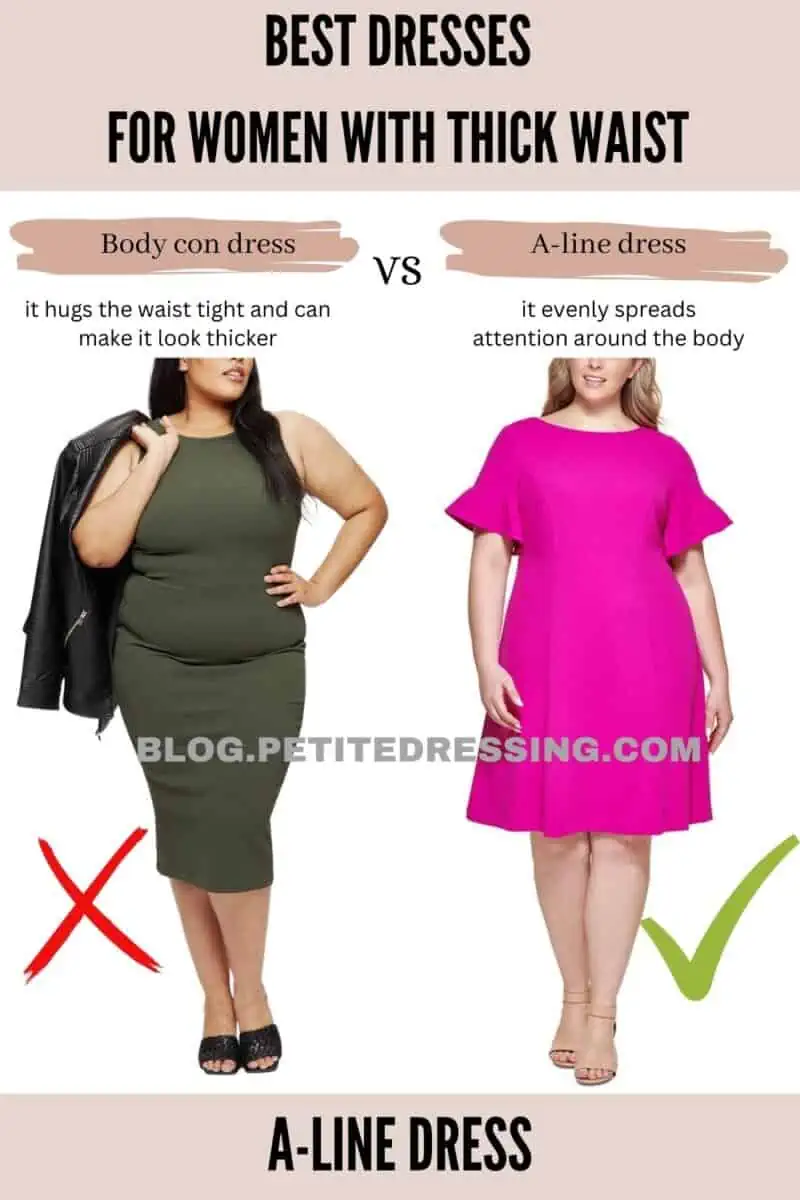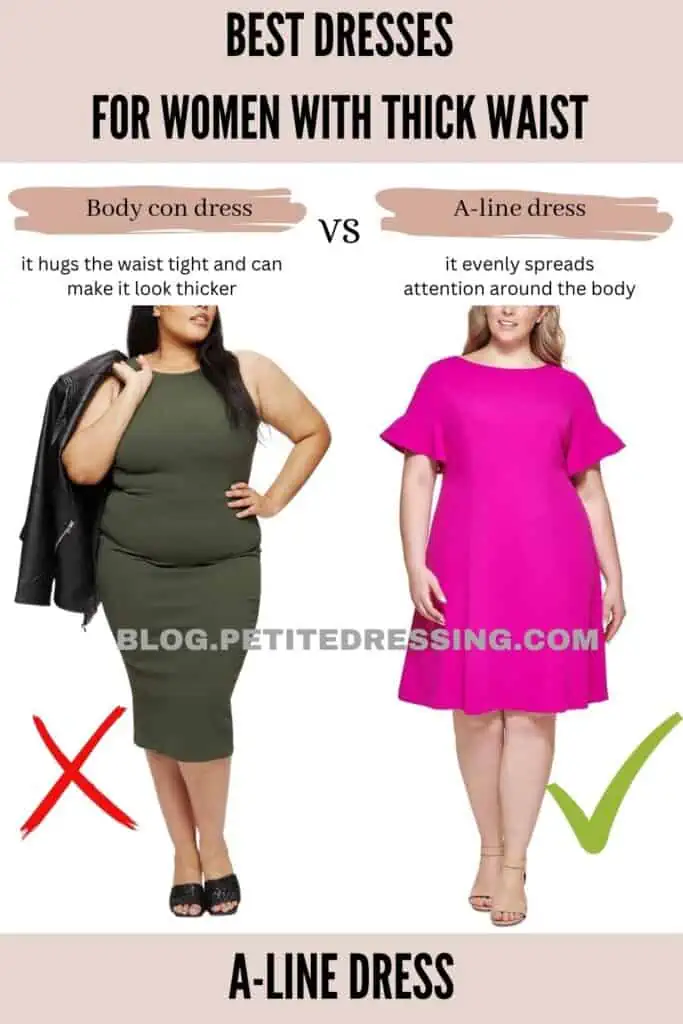 Since cinching of the waist is an important point to note when choosing a dress for your thick waist, then roll on the A-line dress for your shape. This dress has a taste of class and maturity that gets you set for any occasion.
Fit and flare dress
You should love the flared dress for your thick waist because it has a structure that visually corrects your figure. Flared dresses cinch the waistline then flares out to conceal the thick waist.
Flared dresses are great figure-definition silhouettes that you must own if you want to gladly appreciate your shape. Wear this dress with confidence because it has a slimming effect on the overall structure of the woman with a thick waist.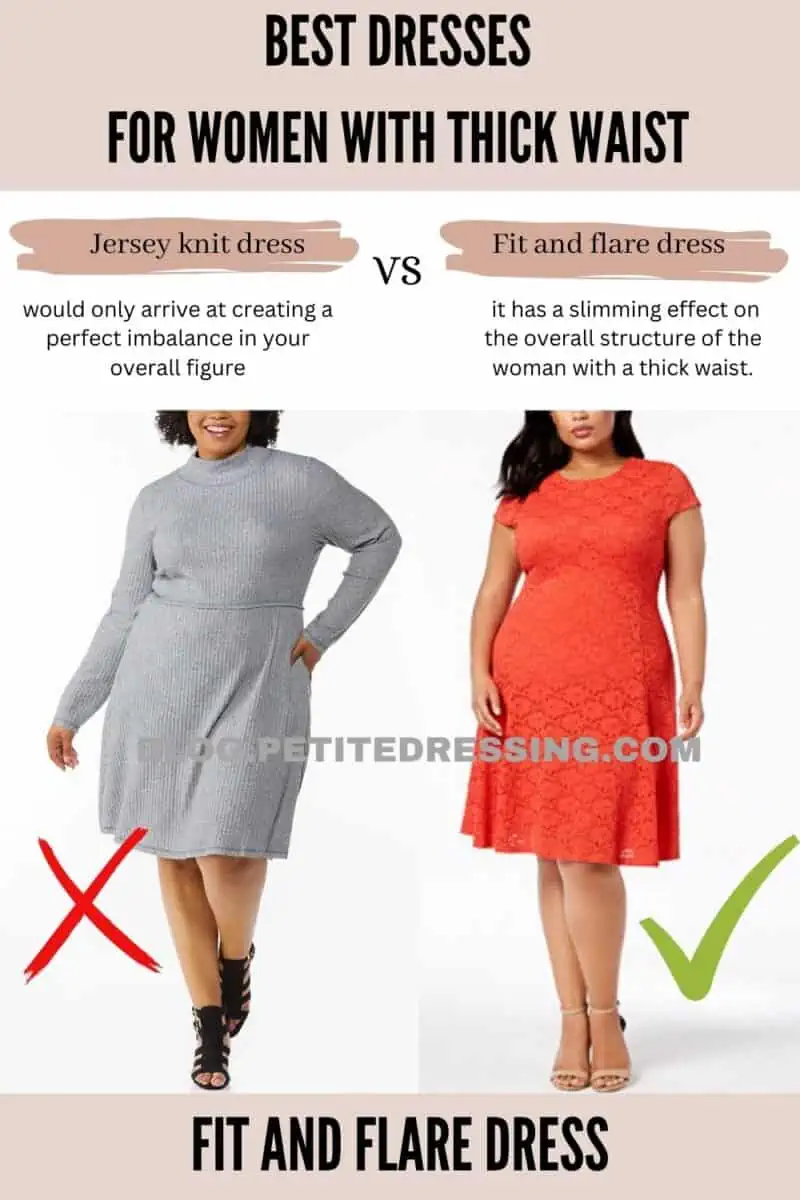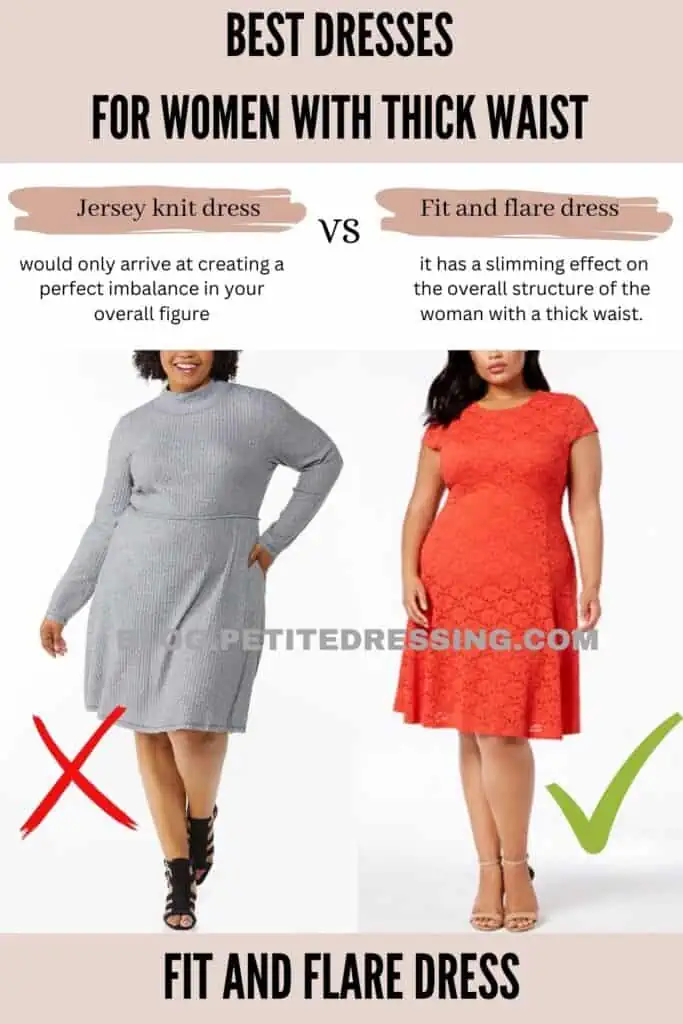 Owning a flared dress is an excellent dress style that rightly complements your shape and balances your body proportion. This dress works well for a thick waist because the best dresses for your shape are those that hold onto the concerned area.
Ruched dress
With a ruched dress, the thickness around the waist is hardly visible because the designs are structured to act as a camouflage for the shape. The ruched dress has a gathered overlay of fabric strips that creates a ripple-like effect around the body.
This dress is flattering and unique because it hugs the thick waist and at the same time it conceals any form of imperfection on your figure. They are stretchy and comfortable to give you the perfect summer appeal.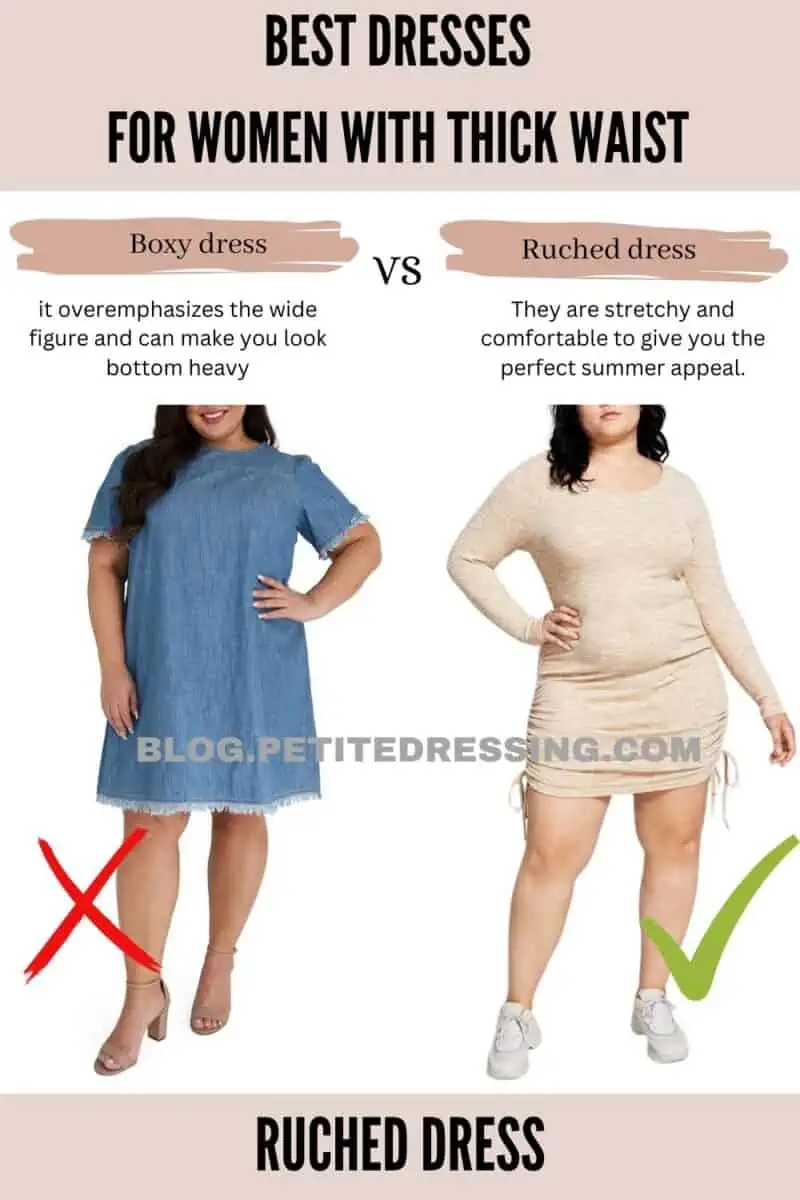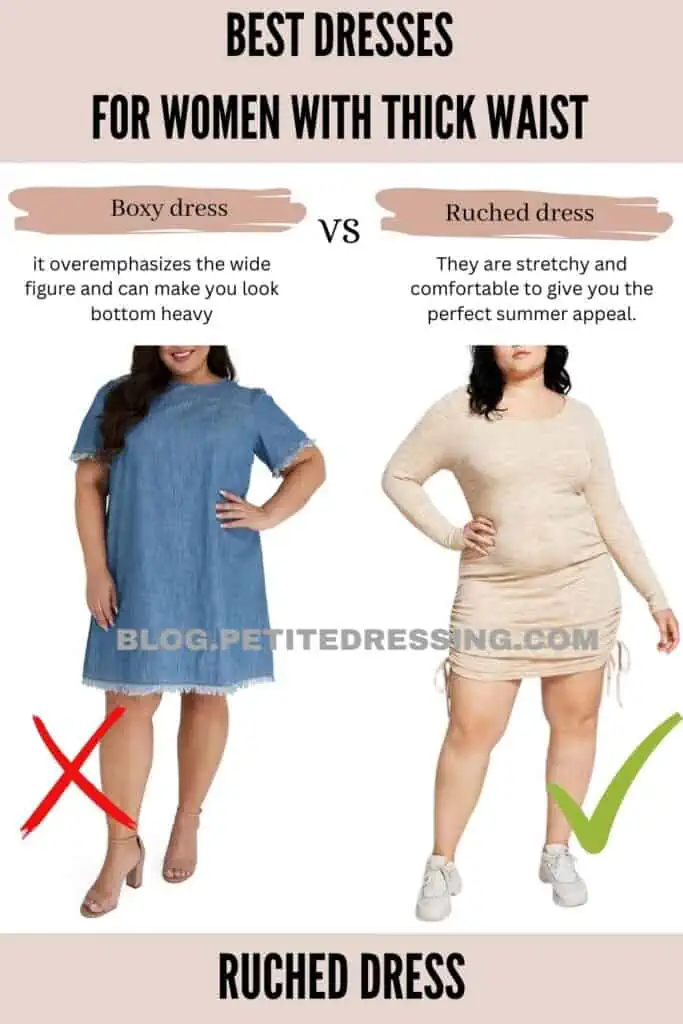 The stretch in the dress gives it an added advantage for you to make them an essential part of your wardrobe staple. They are stylish and versatile dresses that would not add any form of width or emphasis on the thick waist.
Draping dresses
Dresses that drape are a sure way to dress up and hide your thick waist because they are not tailored to stay fit on the figure. Draped dresses are flattering and versatile on your figure making them a unique dress choice.
Style them in different ways that would best suit your body frame as that is a simple way to prevent you from staying too conscious about your concerned area. The dress would beautifully fall on your figure and give a structure that would be appealing to you.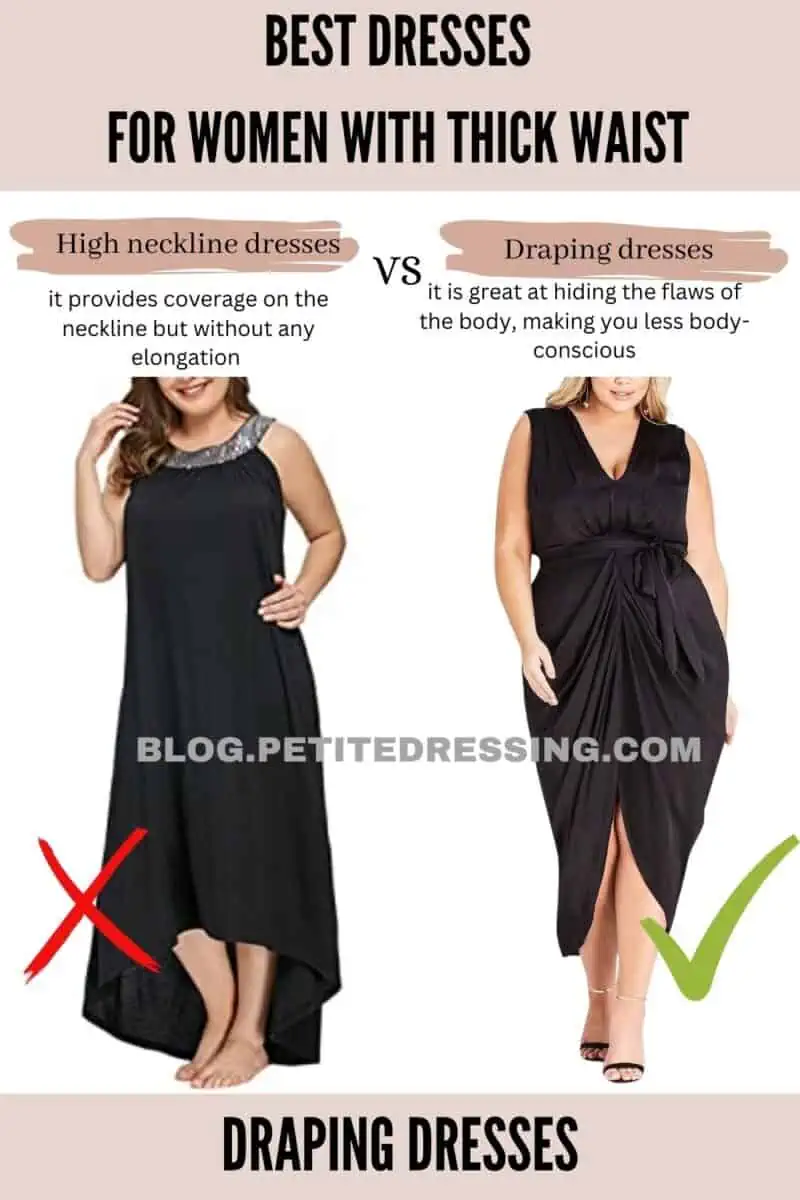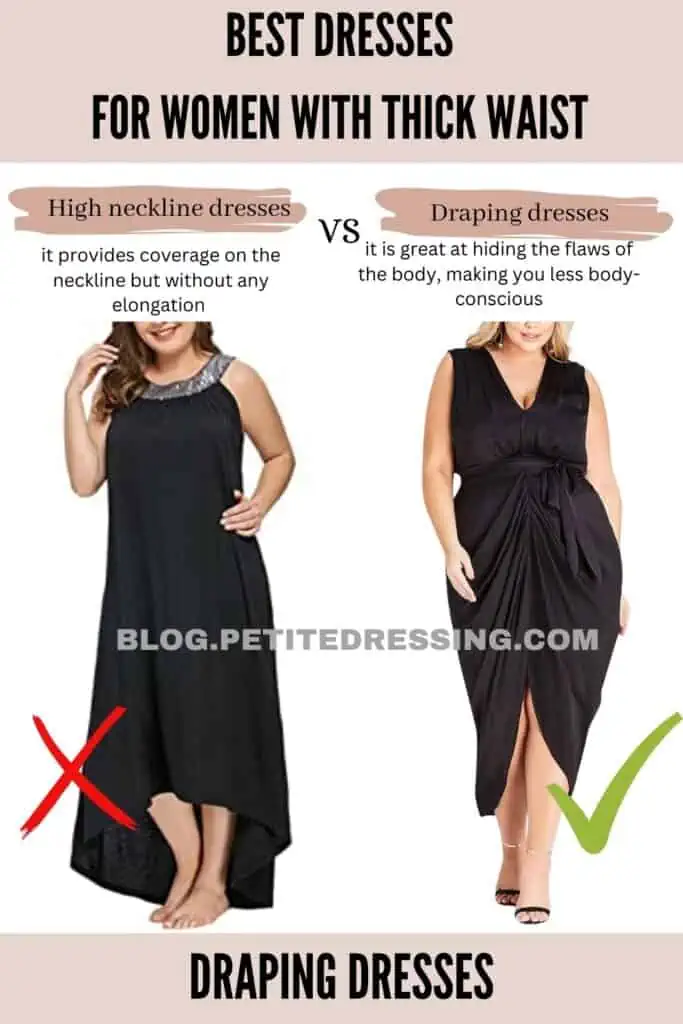 The draped dress is a very comfortable dress that is useful in hiding the flaws in the body so you don't have to be super conscious about the thick waist. Balance in body proportion can be attained because the draped dress does not lay emphasis on a particular part of the body.
Flowy dresses
You can feel more relaxed in a flowy dress and be sure of rocking it elegantly to any occasion if you have a thick waist. This dress automatically shields the waist from drawing attention toward it and that is a key point to note.
It is good that you understand that flowy dresses are not voluminous dresses so don't be scared of trying them on your body. They are very beautiful pieces that would not highlight the thick waist yet still present you with a unique feeling of warmth and elegance.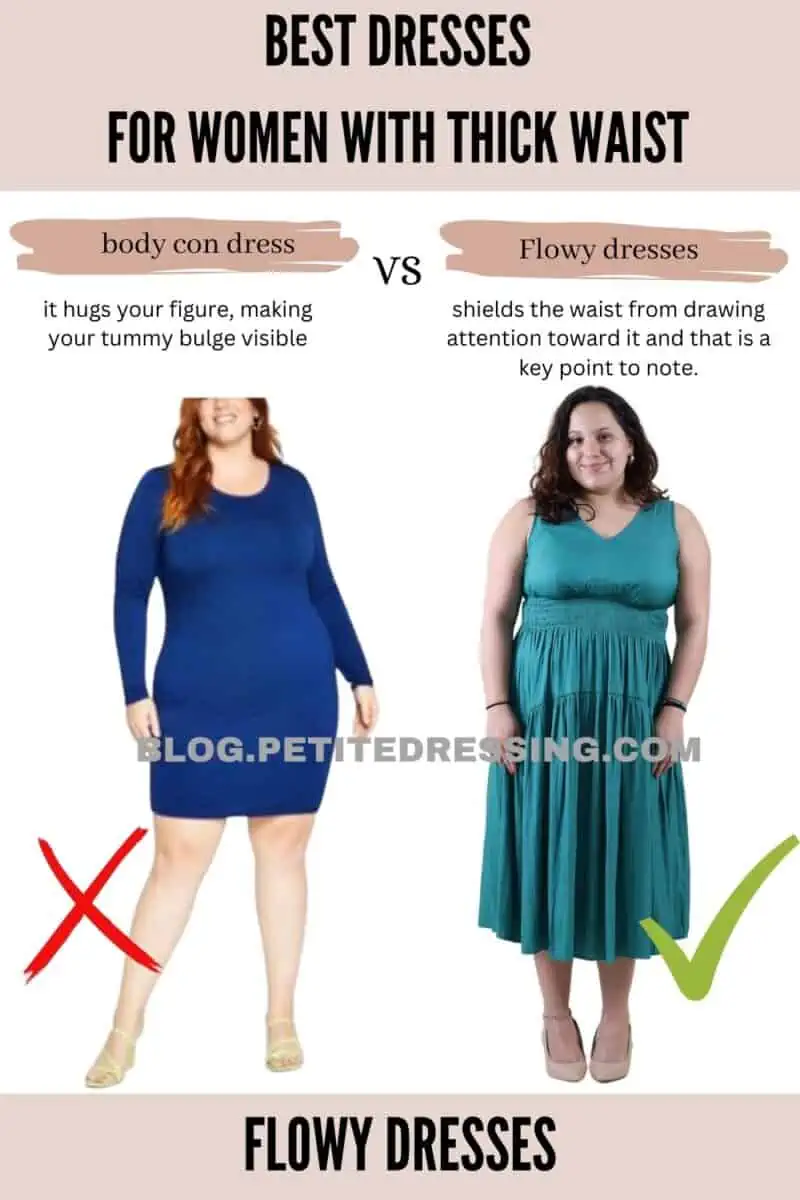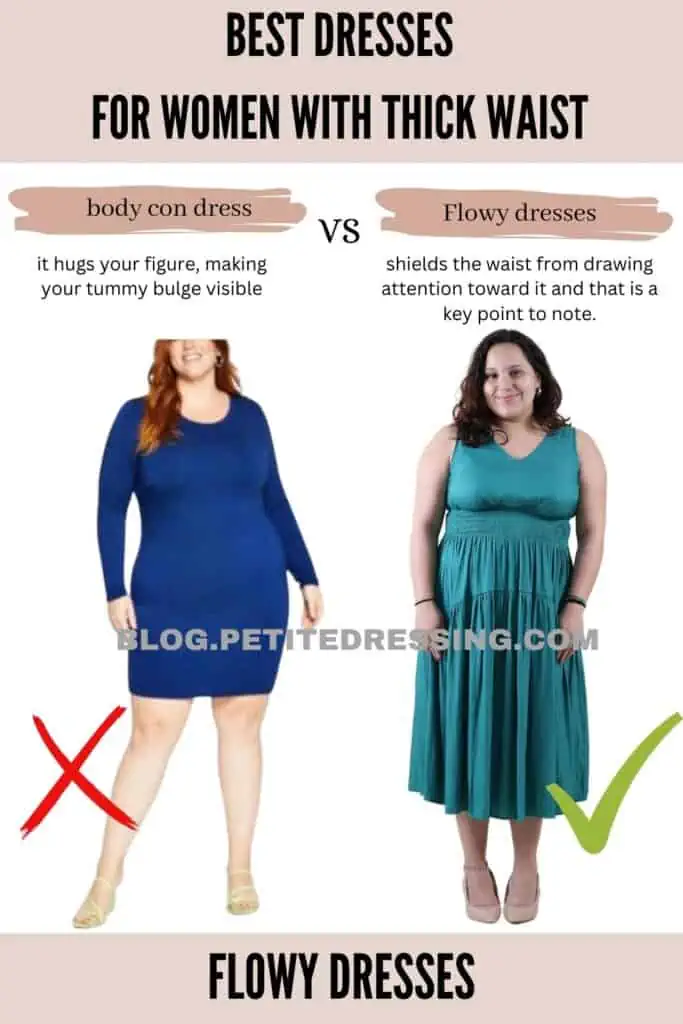 Most flowy dresses are made of light fabrics that your figure would find pleasing and they should be a desirable dress choice for your shape. The flowy dress is a very simple dress that could help you appear classy and utter sophistication all round summer.
Wrap dresses
This is an incredibly flattering dress that you should own to help smoothen out the thick waist and give the feeling necessary for you to embrace your shape. The wrap in the dress is a feature essential to define and structure your figure.
The wrap dress must make up an essential part of your wardrobe if your waist is thick. It is not a too complicated design that is difficult to style, so you are encouraged to have them for a thick waist.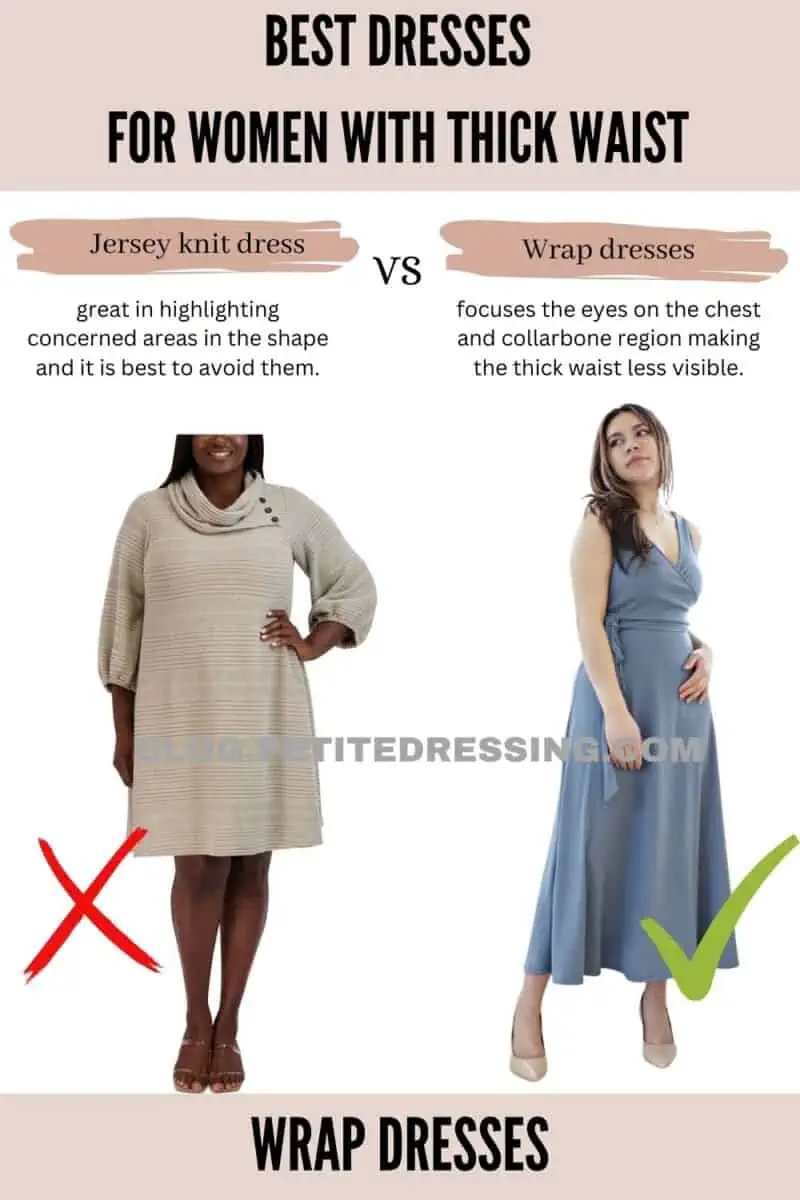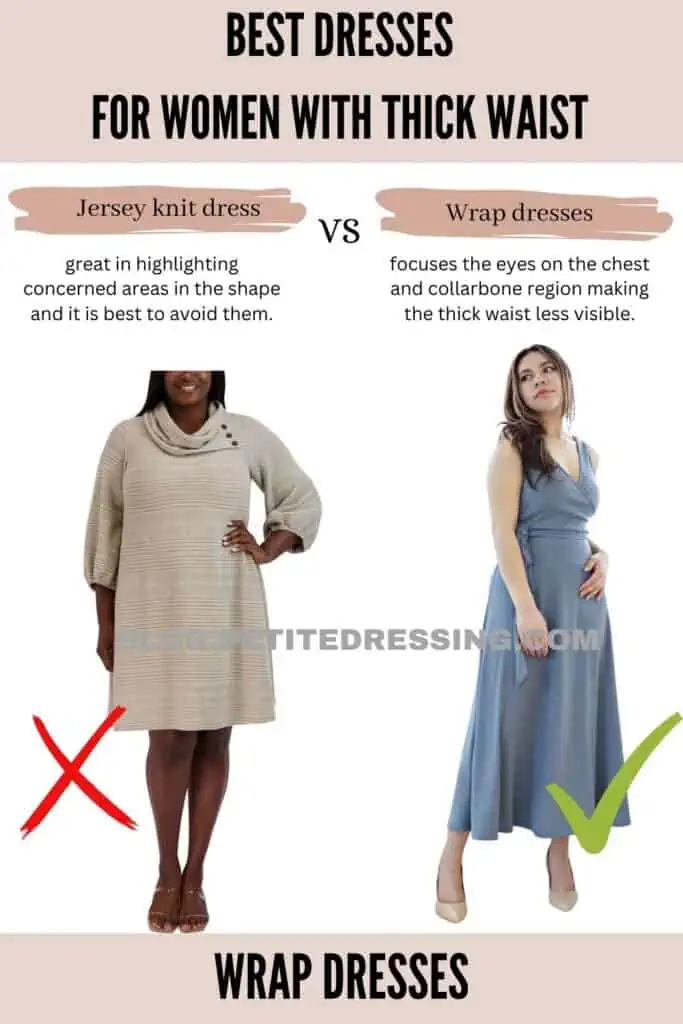 You should wear the wrap dress the right way so attention could be elevated from the concerned area to the upper part of the body. The dress has a neckline that focuses the eyes on the chest and collarbone region making the thick waist less visible.
Vertically striped dresses
Try out the vertically striped dress on the thick waist because this type of stripe has a visually elongating effect on any body shape. With the eyes moving up and down your body frame, the thickness in the waist is made less noticeable.
Vertically striped dresses are stylish and can properly slim down the concerned area of any shape so lay them beautifully on your body. They are always in fashion and would remain the most cherished striped dress for any shape.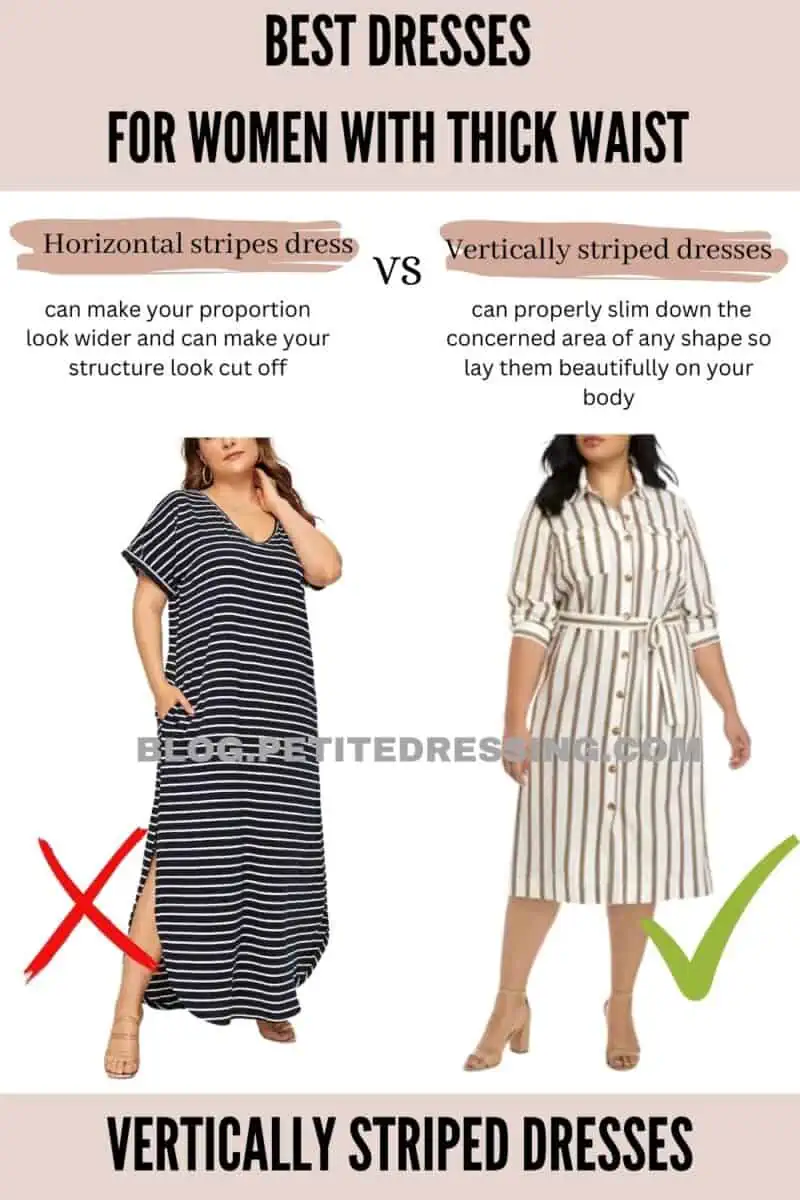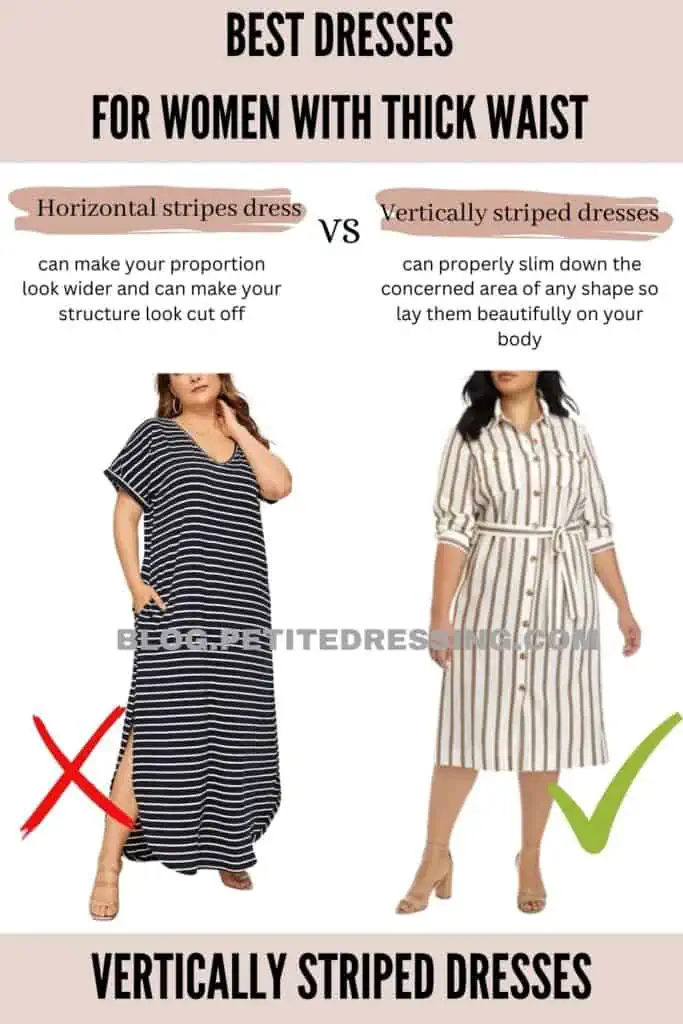 Going for the contrasting horizontal stripe would only make the thickness in the waist visible to the eyes. There's no better way to style your figure with a striped dress than to wear a vertically striped dress.
Kimono Dress
A kimono dress is a type of wrap dress with rectangular sleeves that is worn and wrapped from the left side over the right side. It is another breathable dress design for a thick waist that defined and structures your shape.
The dress has a flowy silhouette that helps restrain the eyes from noticing the thickness in the waist. Kimono dresses also allow you to layer your dress in ways that would excite you and compliment your figure.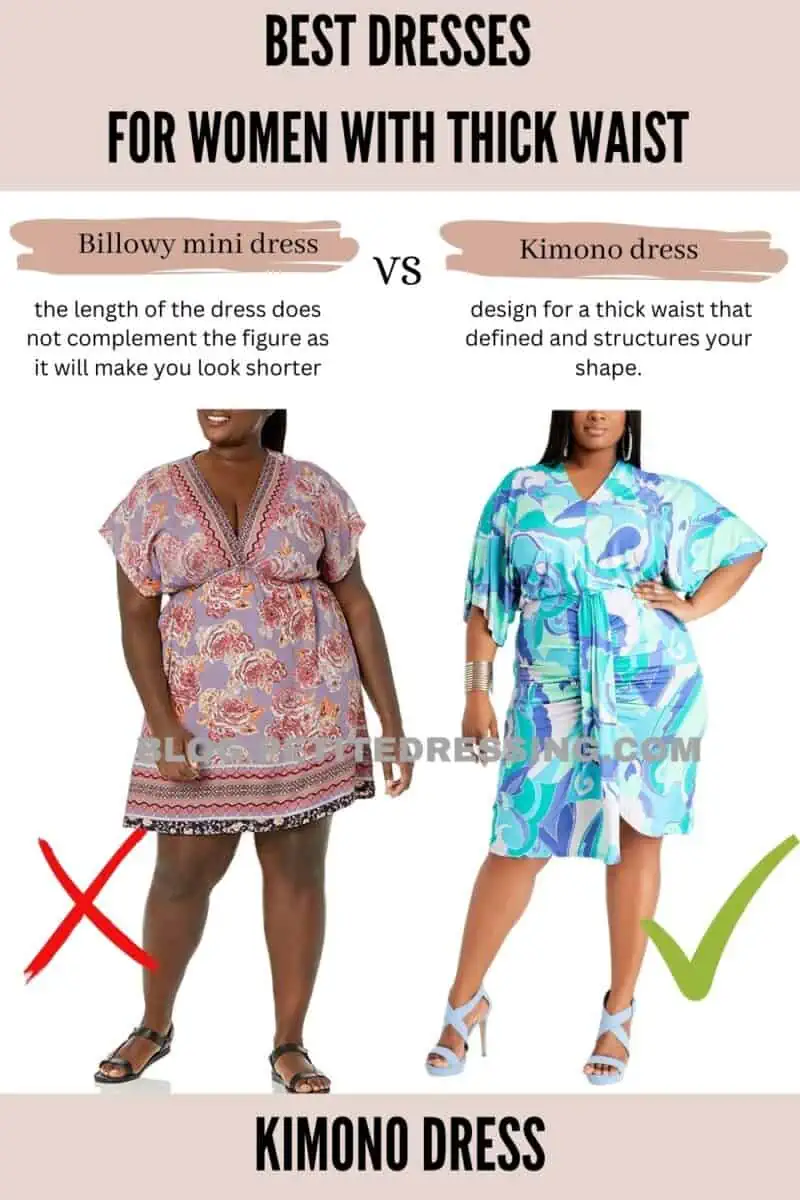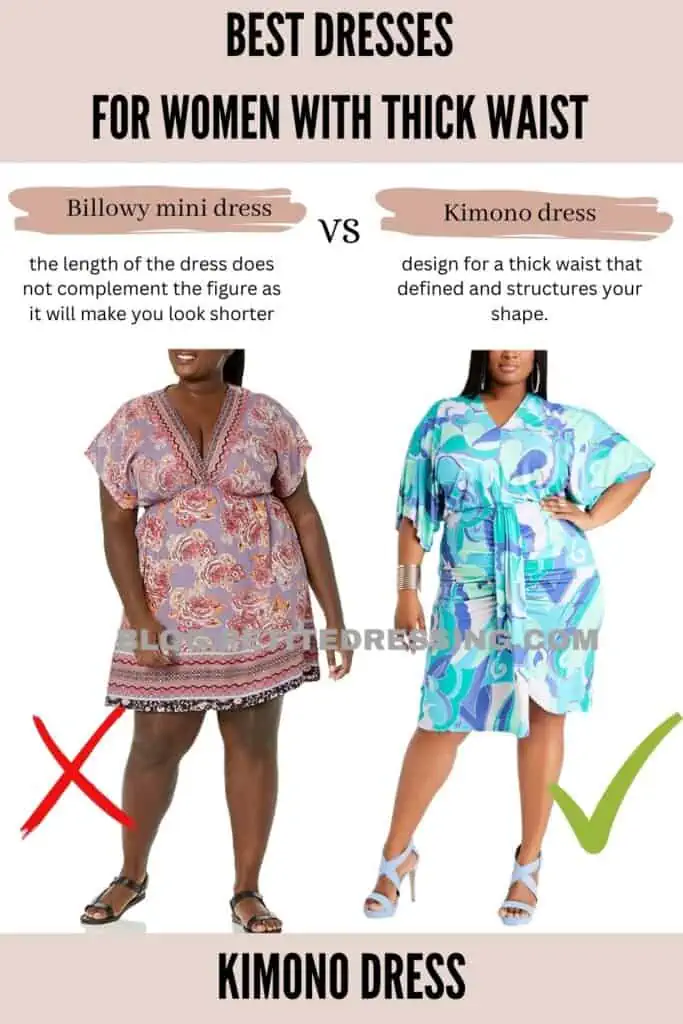 Kimono dresses have various designs ranging from the patterns to the colors but most importantly, make sure you settle for those that flatter you the most. They could also make you appear rich, elegant and sophisticated, so explore with them.
Empire waist dress
The empire waistline dress works as perfectly as you would desire for your shape so make them a part of your favorite dresses. The dress pattern is designed to not only suit you but also flatter your overall figure even with the thick waist.
It is a very comfortable and an easy to style kind of dress that gently conceals the thick waist. When styled with an empire waist dress, you have no reason to become too conscious about your waist and its effect on your body frame.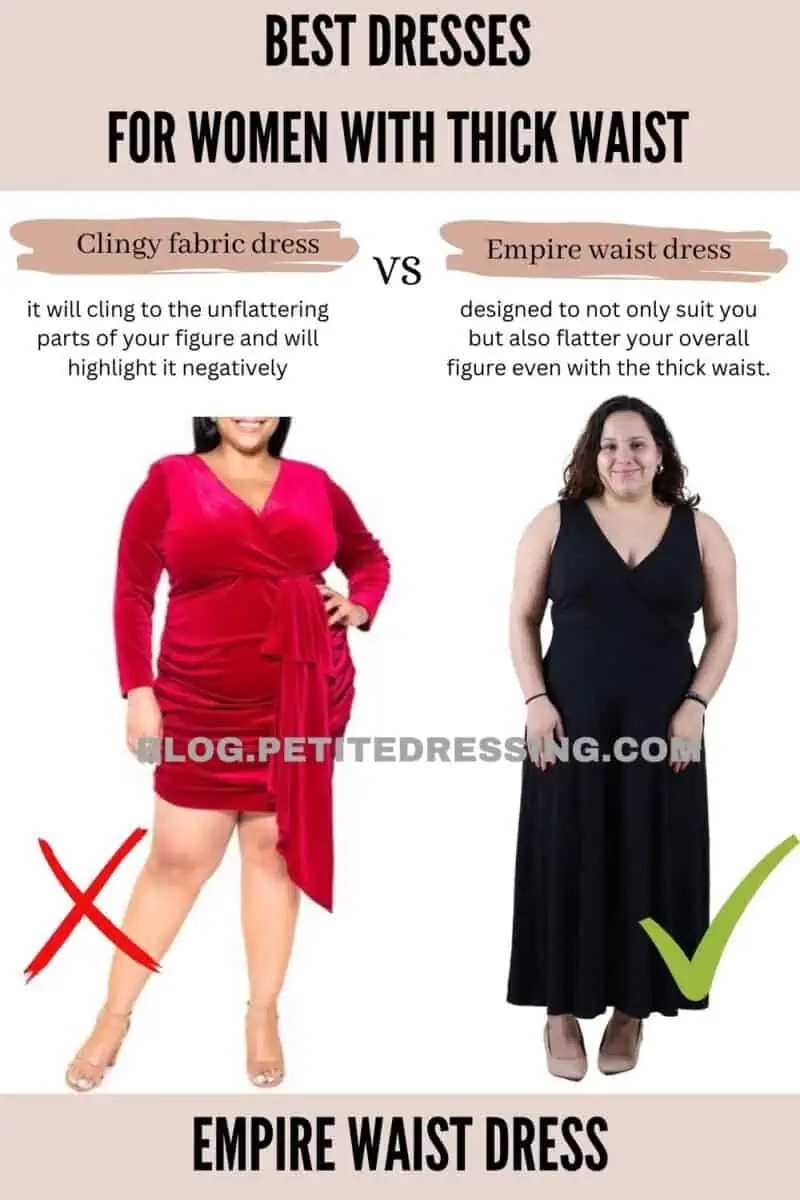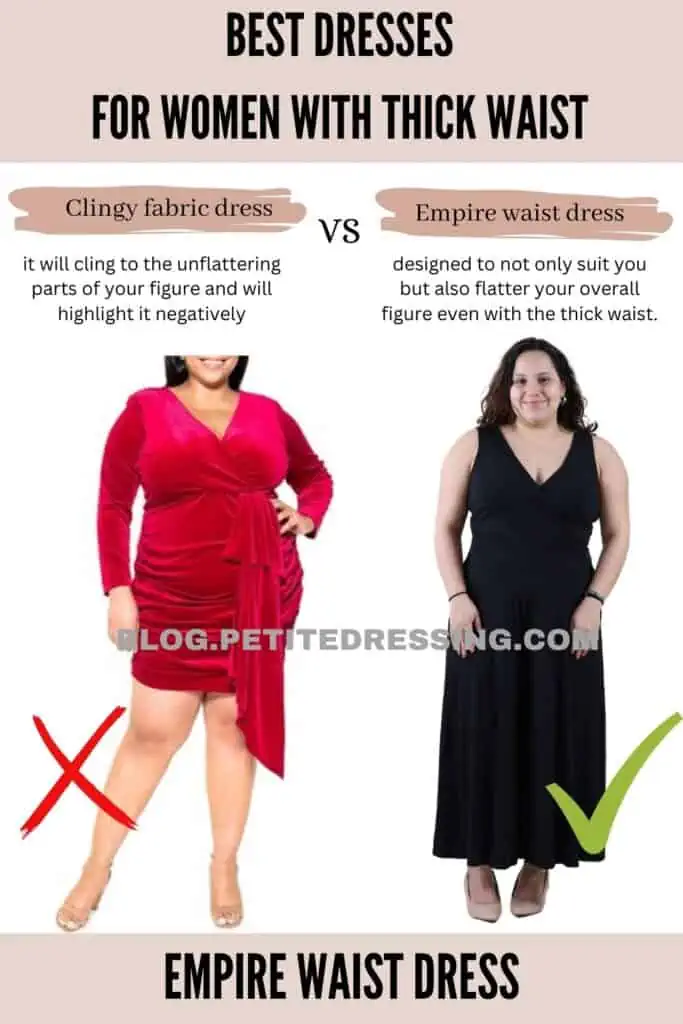 The dress cinches below the bust before flaring out over the natural waistline to reduce the attention of the eyes on your waist. An Empire waist dress is a unique style of dress that should make its way to a major part of your wardrobe essential.
Avoid jersey knit dress
This dress has a stretch that does not fit the shape of the woman with a thick waist so she should not wear them on her figure. Jersey knit dresses are great in highlighting concerned areas in the shape and it is best to avoid them.
Jersey knit dresses would never sharpen your look nor would they present you with a more elegant appearance. You can't be in your best look if you style your thick waist with a jersey knit dress for any occasion.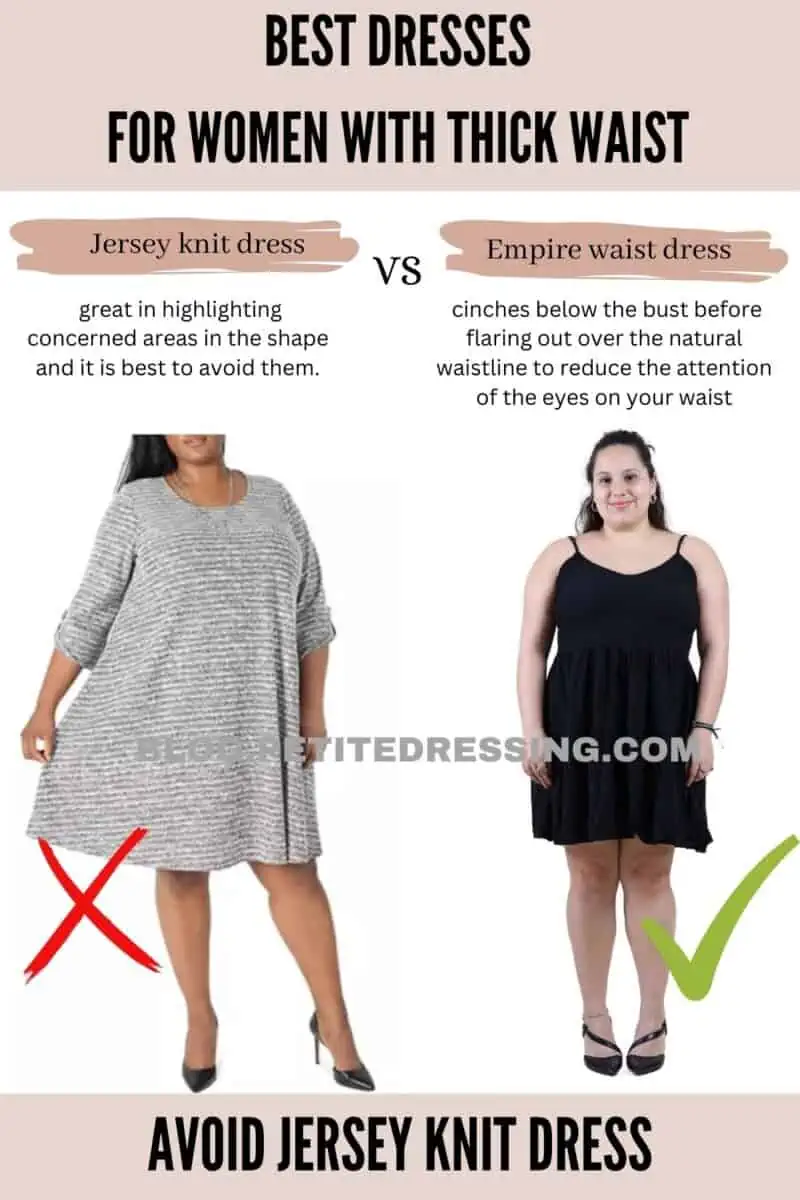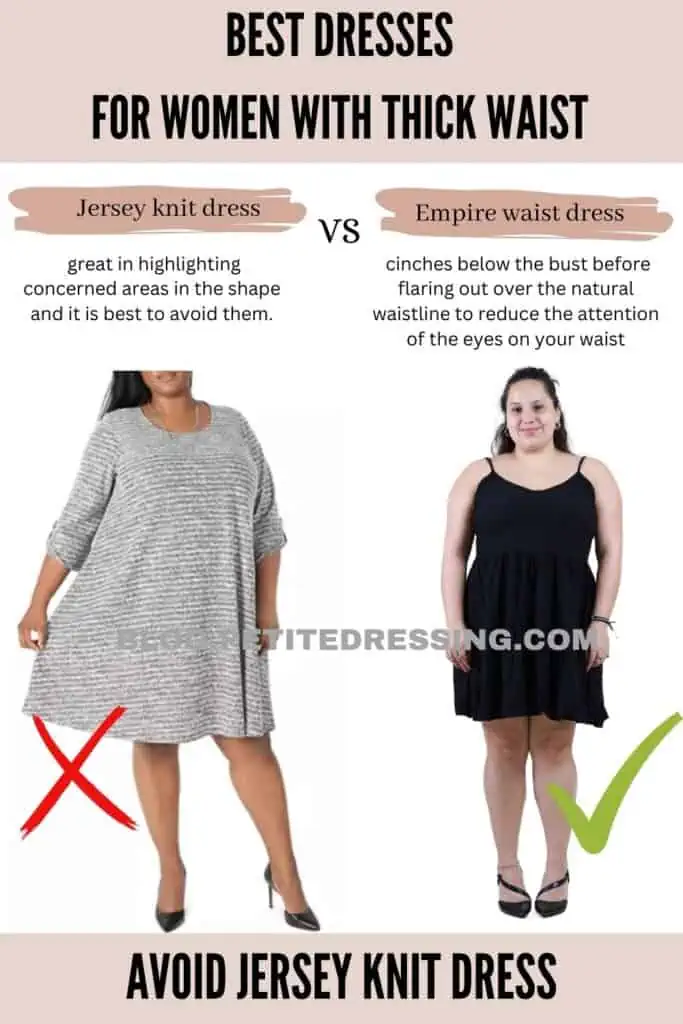 They are not the most comfortable dress used to style the thick waist and would only arrive at creating a perfect imbalance in your overall figure. It is not proven to be among the flattering dress style for the thick waist so do not settle for them.
Avoid bodycon dress
You must understand that any dress that tightly hugs your figure is not designed for your shape and should never be worn. Your thick waist does not need to be flattered by wearing a bodycon dress on your body shape.
The dress would be uncomfortable and effortlessly reveal all the lumps that runs through your figure to the eyes. It would also maximize the thickness around the waist and this is not a fancy way to appreciate your figure.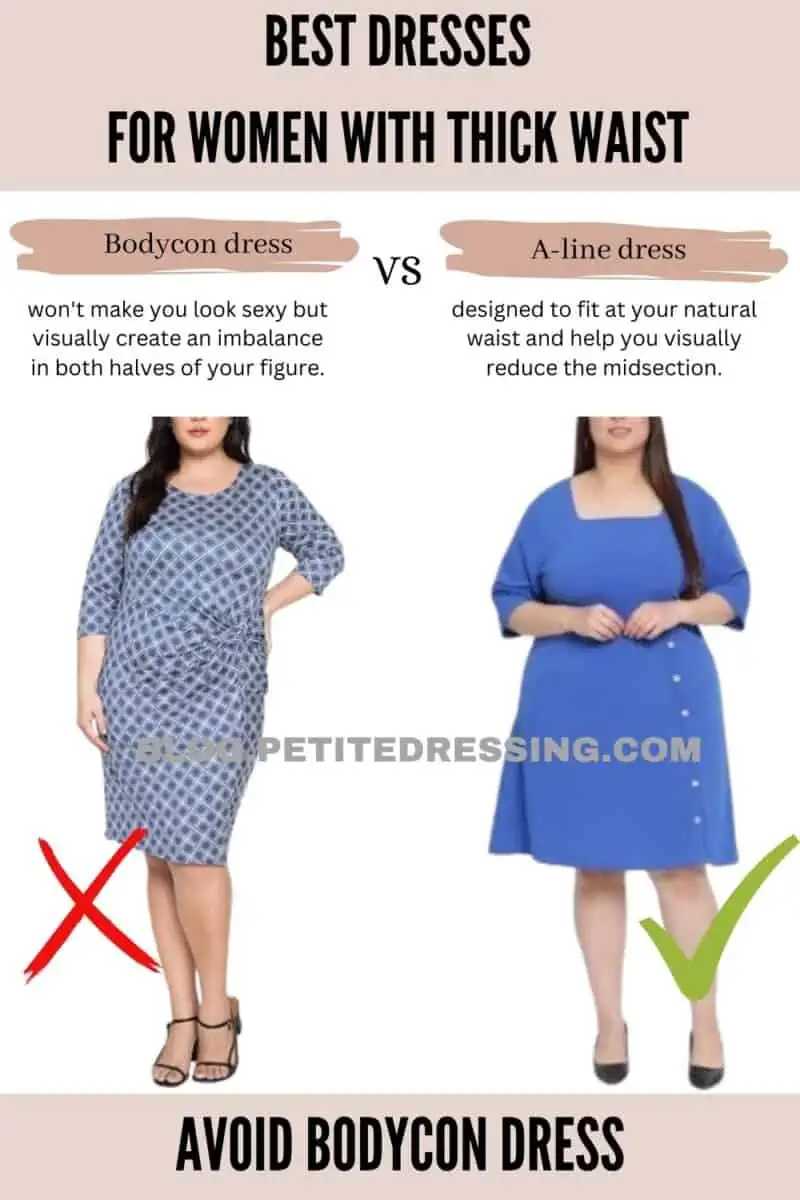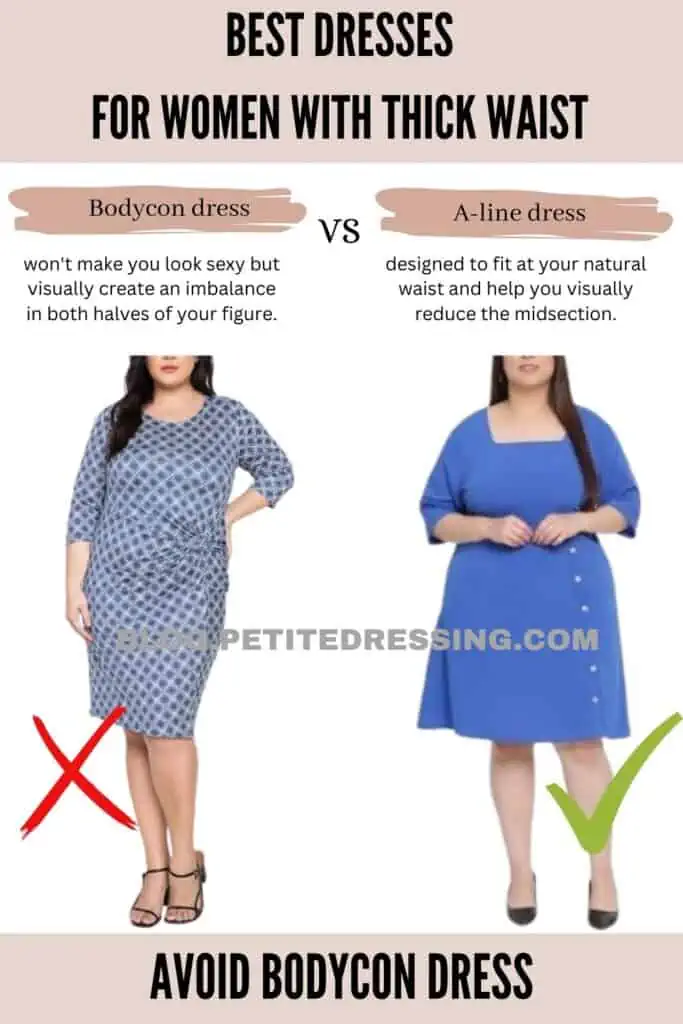 Bodycon dresses are not the real deal for a woman with a thick waist because it is never a design essentially for her body frame. They won't even make you look sexy but visually create an imbalance in both halves of your figure.
Avoid horizontally striped dresses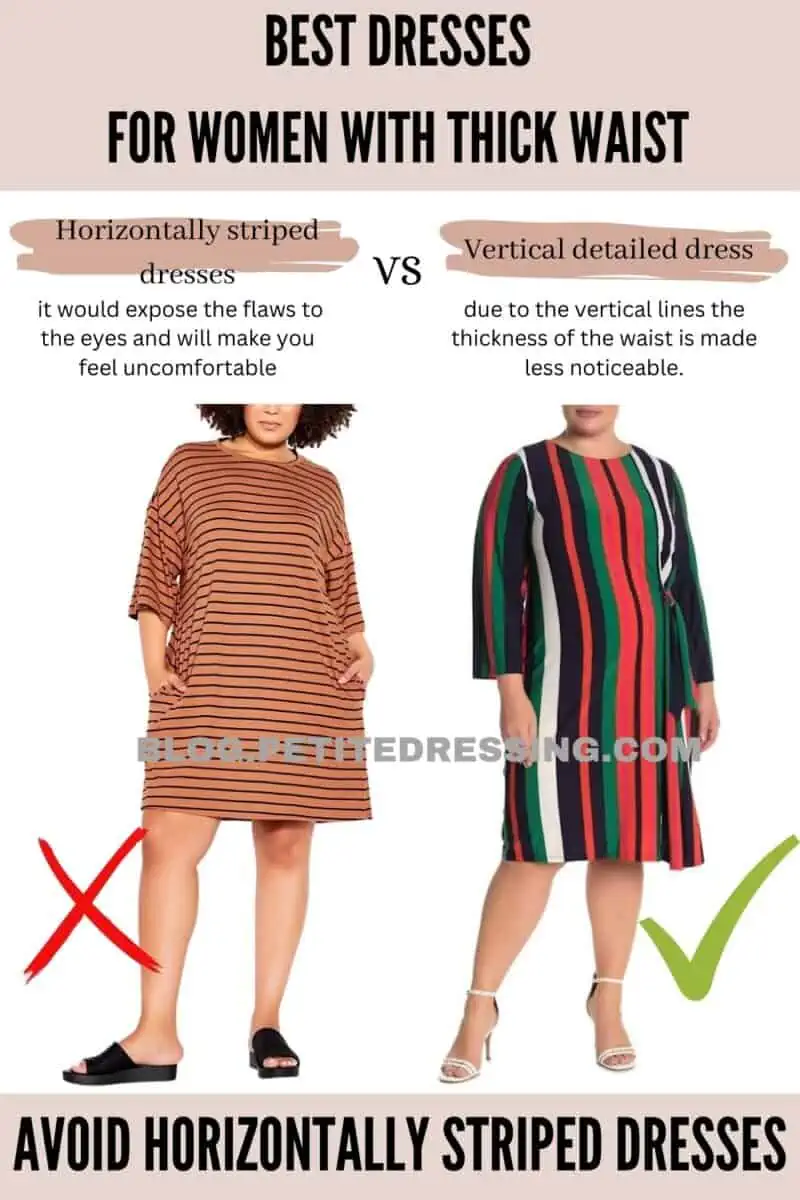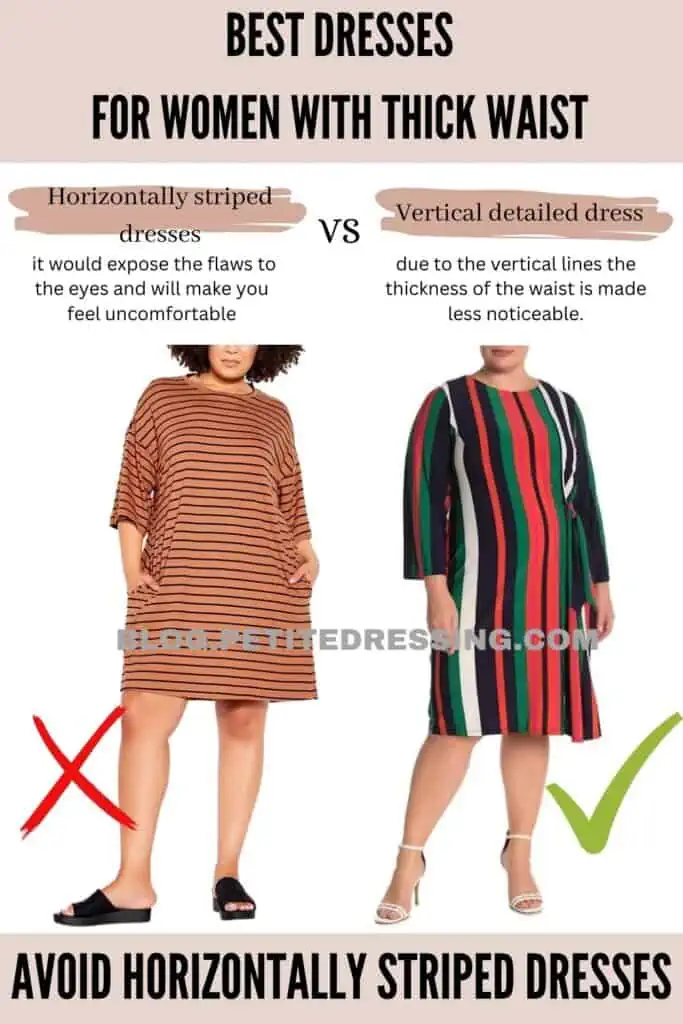 A thick waist should not be styled with the horizontal striped dress because it would expose the flaws to the eyes. The effect it offers the shape is very uncomfortable for the woman having a thick waist.
The dress is not a desirable dress to flatter your figure so do not try to find ways to style your shape because it isn't fashionable.