If you are a skinny pear, you tend to have smaller chest, and wider hips and thighs. Since a typical pear body shape carries weight in the bottom half, you probably noticed that too even if you are overall thin.
Since I have a petite clothing line, I work with models of all body types and sizes. Besides, I also receive feedback from numerous customers, many of whom have the thin pear body shape.
Based on the feedback from my customers, I've put together this guide to help you find the right style for your shape.
Styling Goal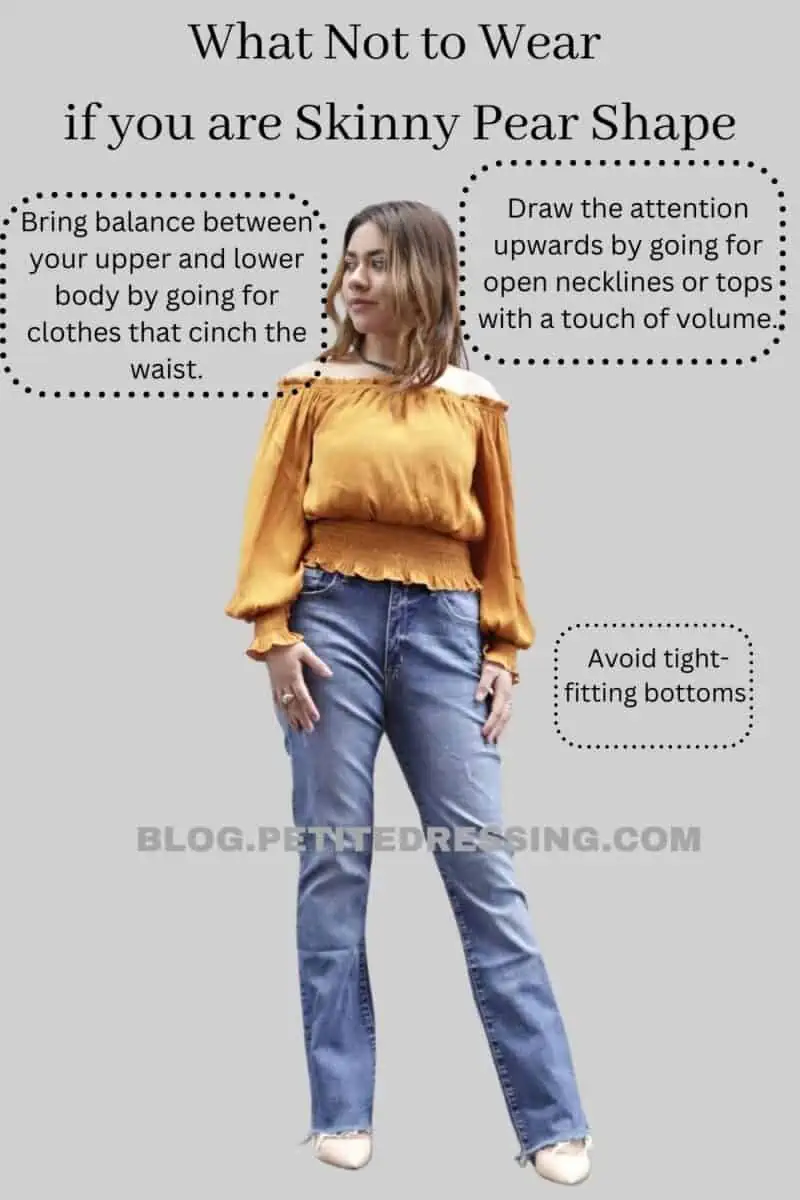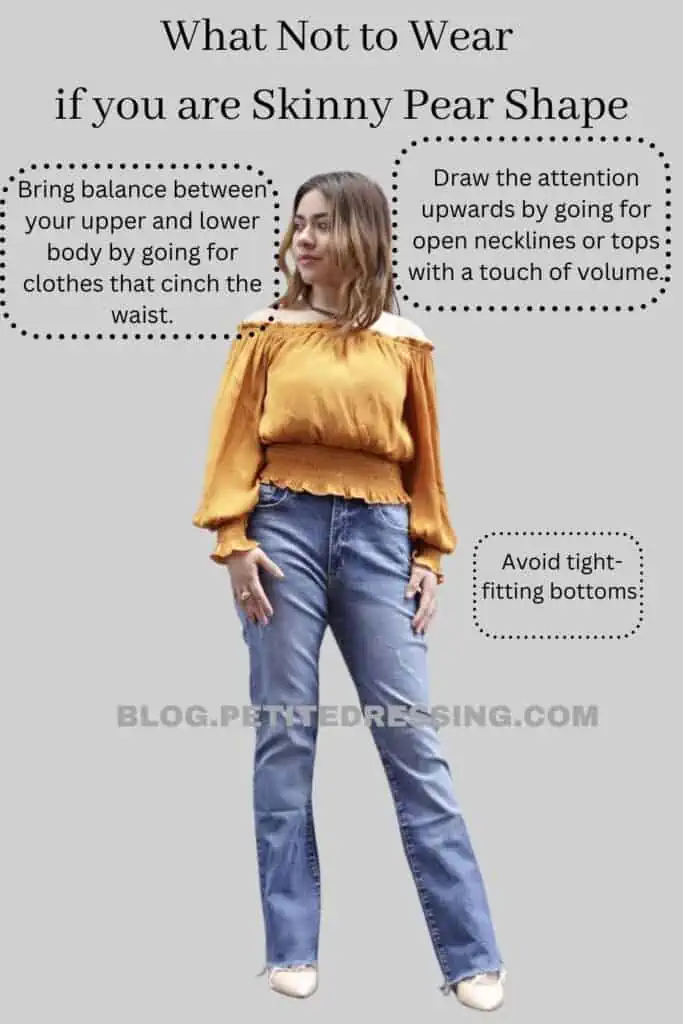 Draw the attention upwards by going for open necklines or tops with a touch of volume.
Avoid tight-fitting bottoms because they will highlight your area of concern.
Bring balance between your upper and lower body by going for clothes that cinch the waist.
Now that we have briefly tackled our styling goals in dressing up a skinny pear-shaped body, let's then discuss the specific types of clothing styles that you should avoid. The following styles are not always the most flattering and I'll explain why exactly.
Bodycon Dresses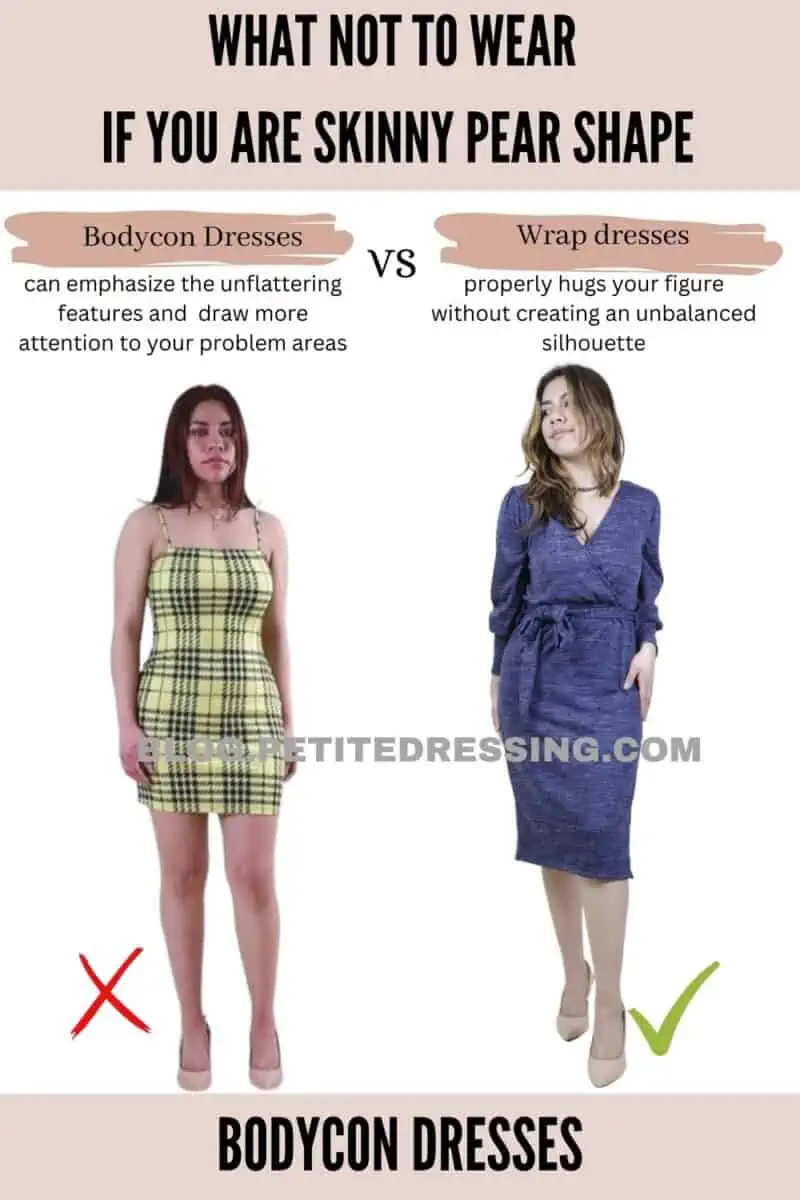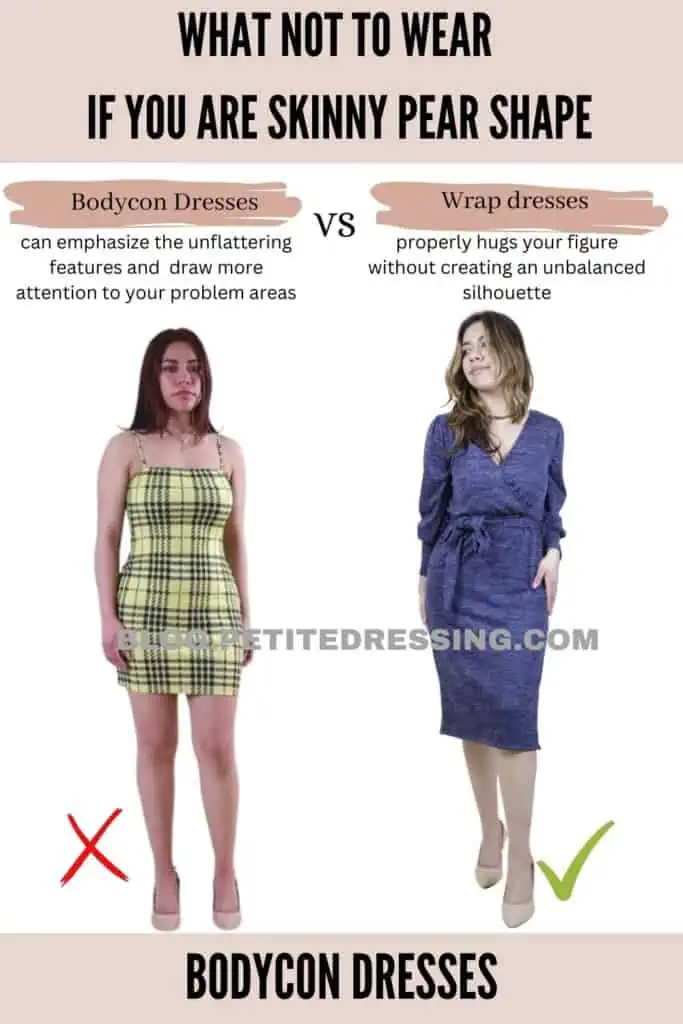 Confidence plays a huge part in fashion and if you feel great in rocking a bodycon dress, then why not! However, if we're talking about maintaining visual proportions here, wearing a bodycon dress can only highlight the significant size difference between your upper half and waist, and thighs.
Skinny pear-shaped girls may have narrow shoulders and tight long sleeves will only highlight that. Wearing a bodycon dress can emphasize these features and also draw more attention to your problem areas like your hips and thighs.
Since you are a skinny pear-shaped woman, you may not have many curves other than your hips and thighs so wearing a bodycon dress will highlight this and may make your silhouette look awkward. Instead, go for fit and flare dresses as their structure being fitted at the top and then flared out at the waist, gives the illusion of curves
Bias Cut Dresses in Satin Fabrics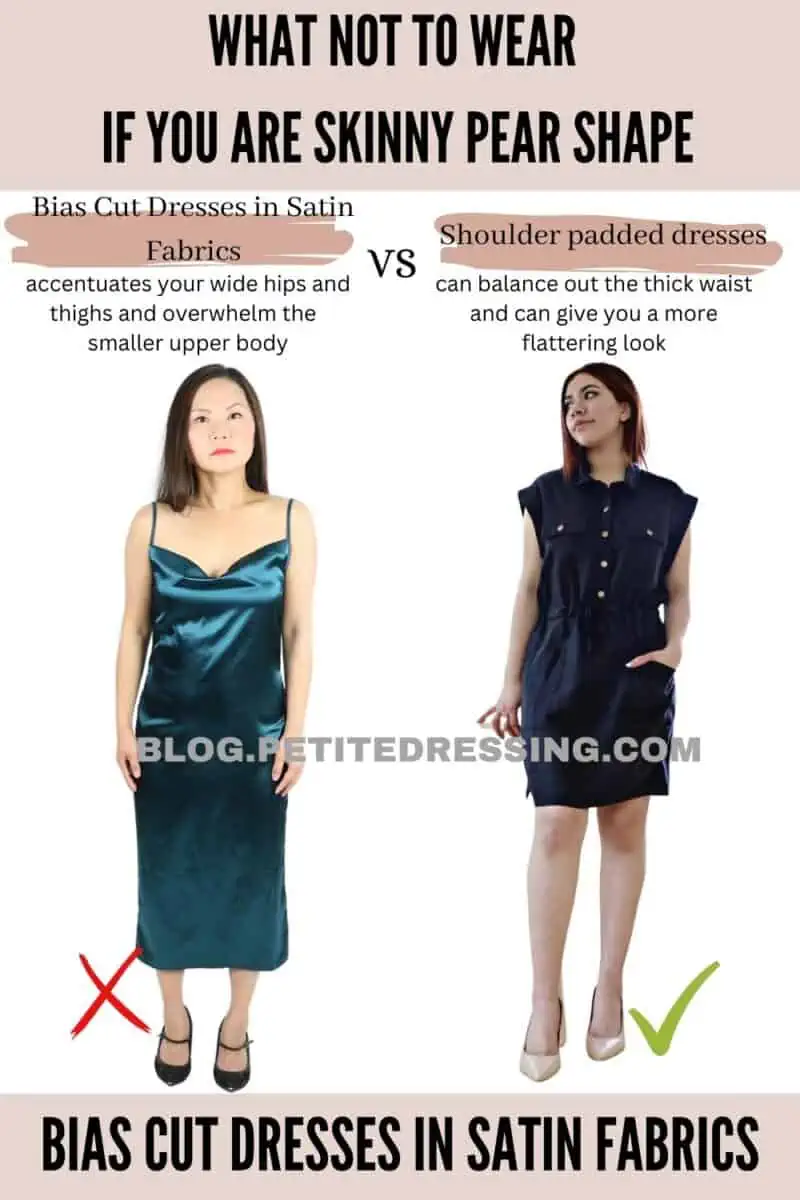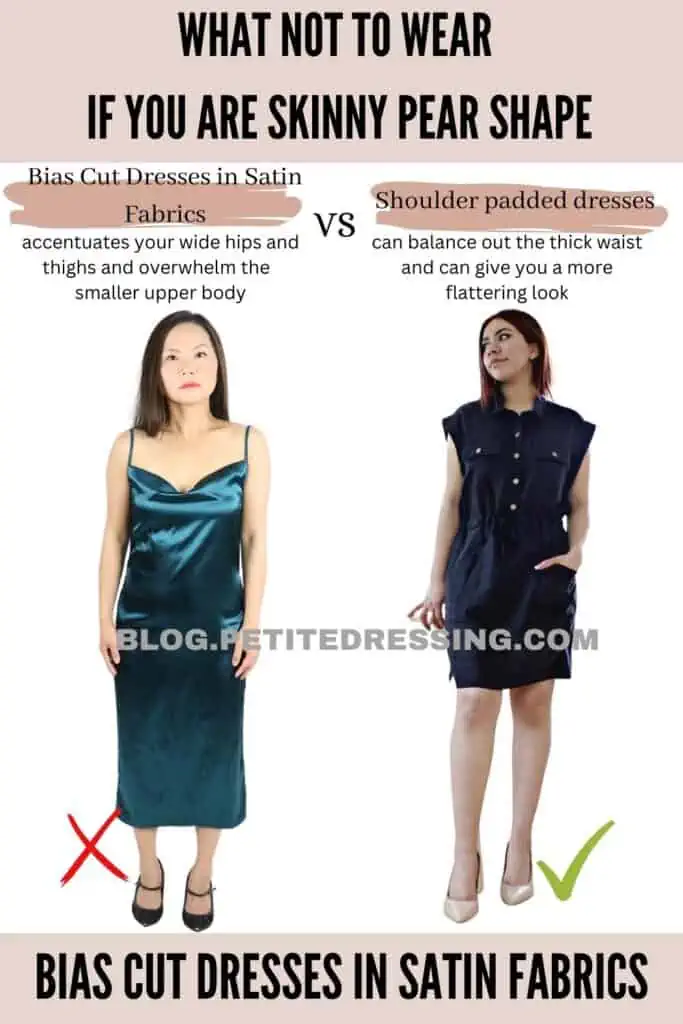 Bias cut dresses are designed to hug the curves of the body, but they can be tricky to wear for women who are skinny pear-shaped. The bias cut refers to a technique where the fabric is cut diagonally instead of straight across the grain and so this allows the fabric to drape and flow but at the same time, tight around the hips and thighs.
One disadvantage of wearing a bias cut dress for women who are skinny pear-shaped is that it can accentuate your wide hips and thighs and overwhelm the appearance of your smaller upper body. This can be especially problematic if you have a long, thin frame, as the dress may not add any definition to your silhouette.
And since being a skinny pear-shaped woman also means that your body is naturally unbalanced, bias cut dresses can be difficult to fit properly because the fabric is cut diagonally, and it can be challenging to get the dress to hang correctly on the body. This can lead to issues with fit and sizing, which can be frustrating if you're trying to find a dress that flatters your body shape.
Plain Bandeau Tops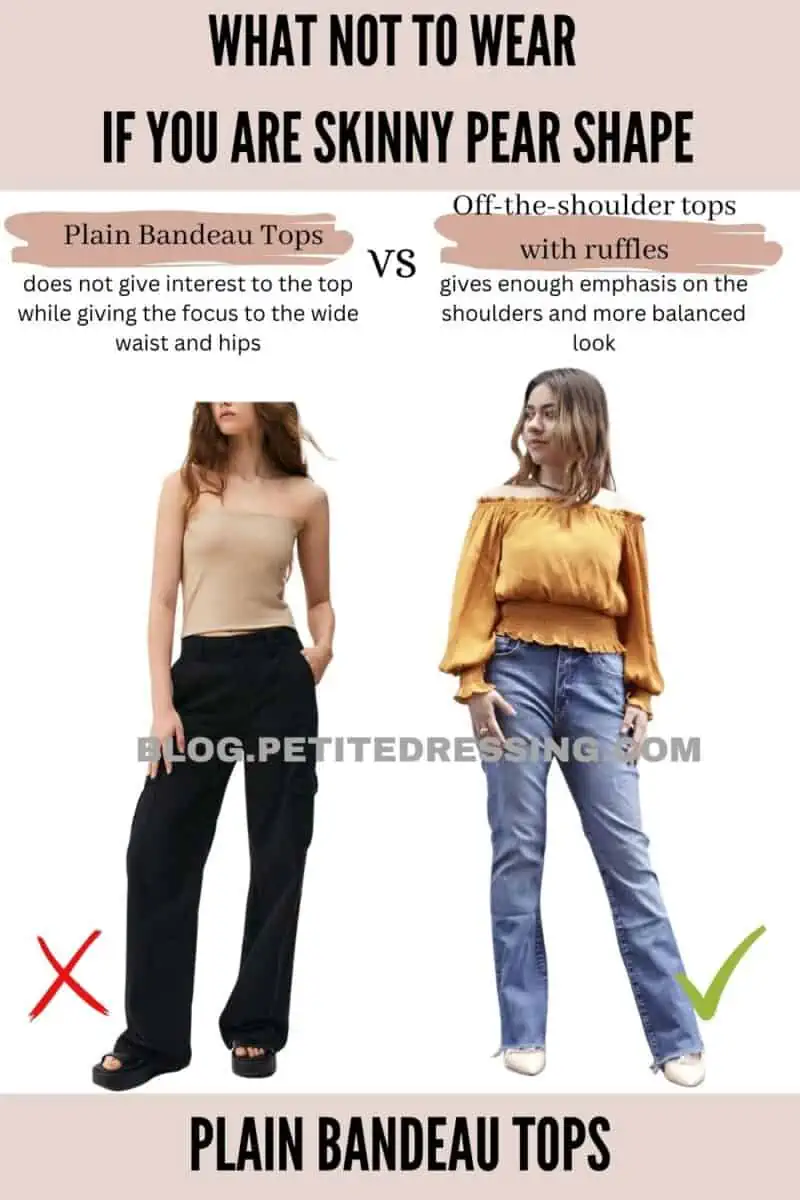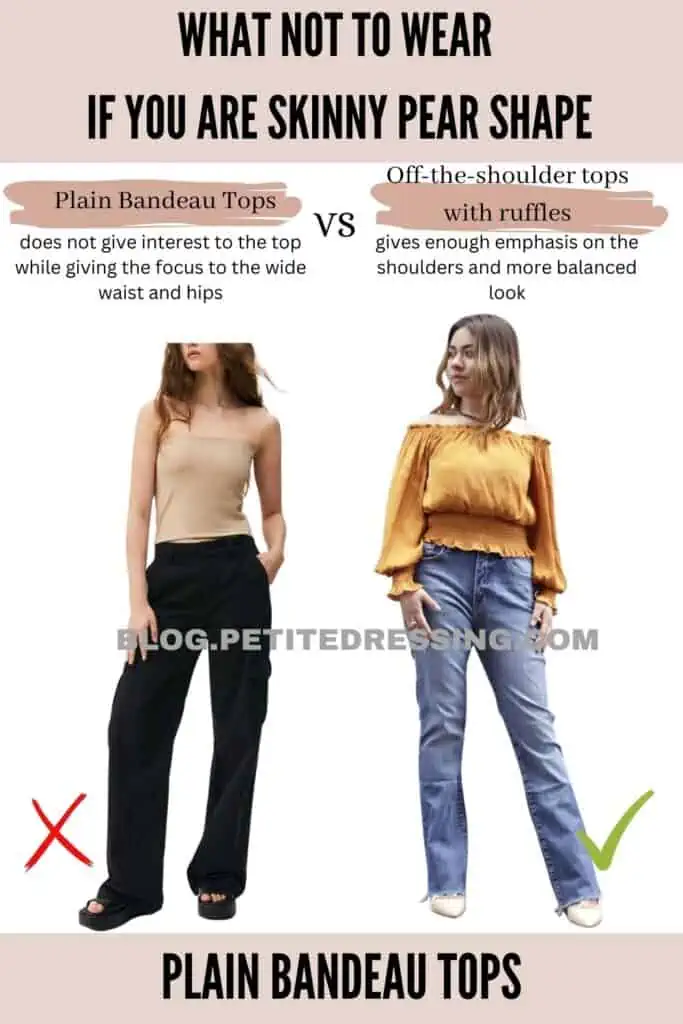 Skinny pear shapes usually have nicely shaped busts, although they are significantly smaller compared to the size of your hips. This is why a bandeau top won't be that flattering as they tend to "flatten" the bust and make them look even smaller.
A bandeau top is designed to cover the bust area, usually in a strapless, tube-like style. It's often made from stretchy materials like spandex or elastic which explains why it's quite body-hugging and tight.
This style of top provides little support and it can flatten out the chest and create a straight line from the shoulders down to the waist. This can be quite unflattering as you should be trying to create the illusion of more curves but instead, killing the curves on your upper body with its plainness and drawing attention to your wide hips and thighs.
Midriff Crop Tops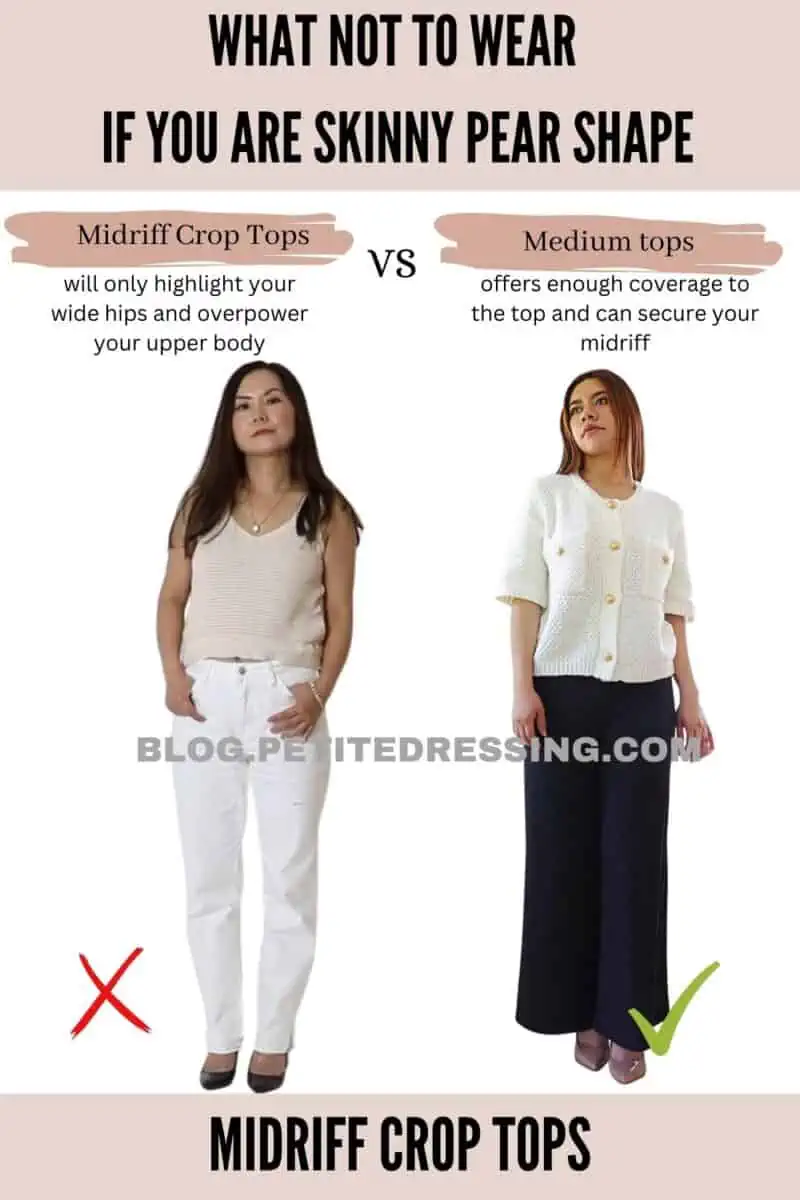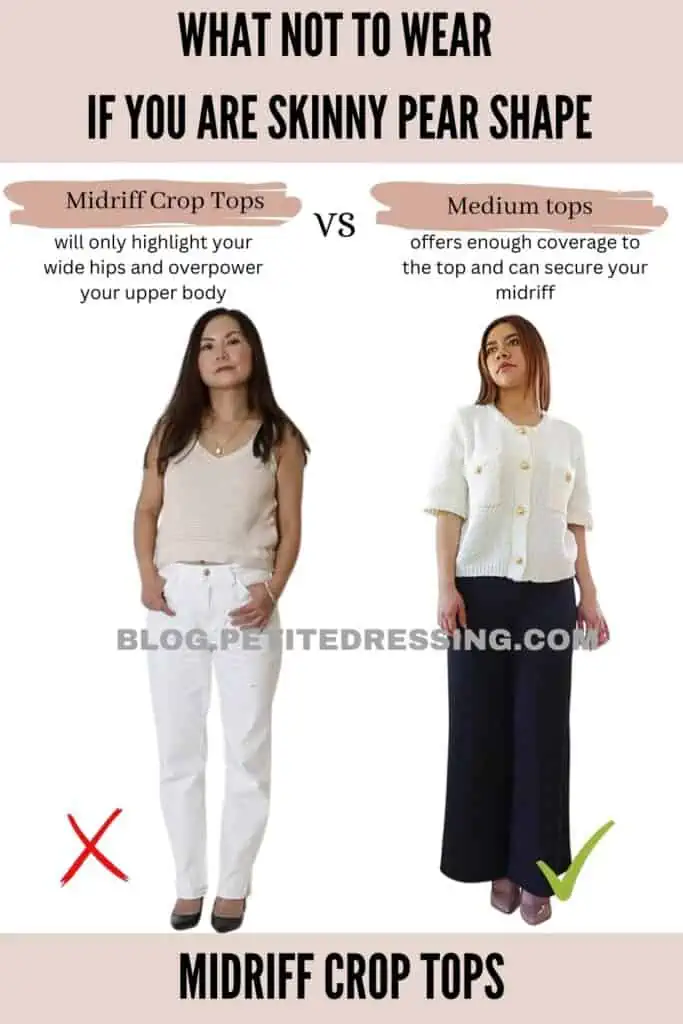 Skinny pear shapes usually have long, narrow waists and while that can totally be an asset, a crop top can only make your visual proportions more awkward. This is because crop tops end at the midriff or at the waistline, therefore drawing the eyes from that point downwards.
This will only highlight your wide hips and overpower your upper body. Another issue with crop tops for skinny pear-shaped women is that they can make the torso look longer and the legs look shorter – a problem already apparent for many skinny pear shapes regardless of their heights!
Instead, look for tops that feature a medium length such as those that end slightly lower than the hips. Choosing the right length and fit for your tops can make a huge difference in enhancing your body shape's best features.
Tunic Tops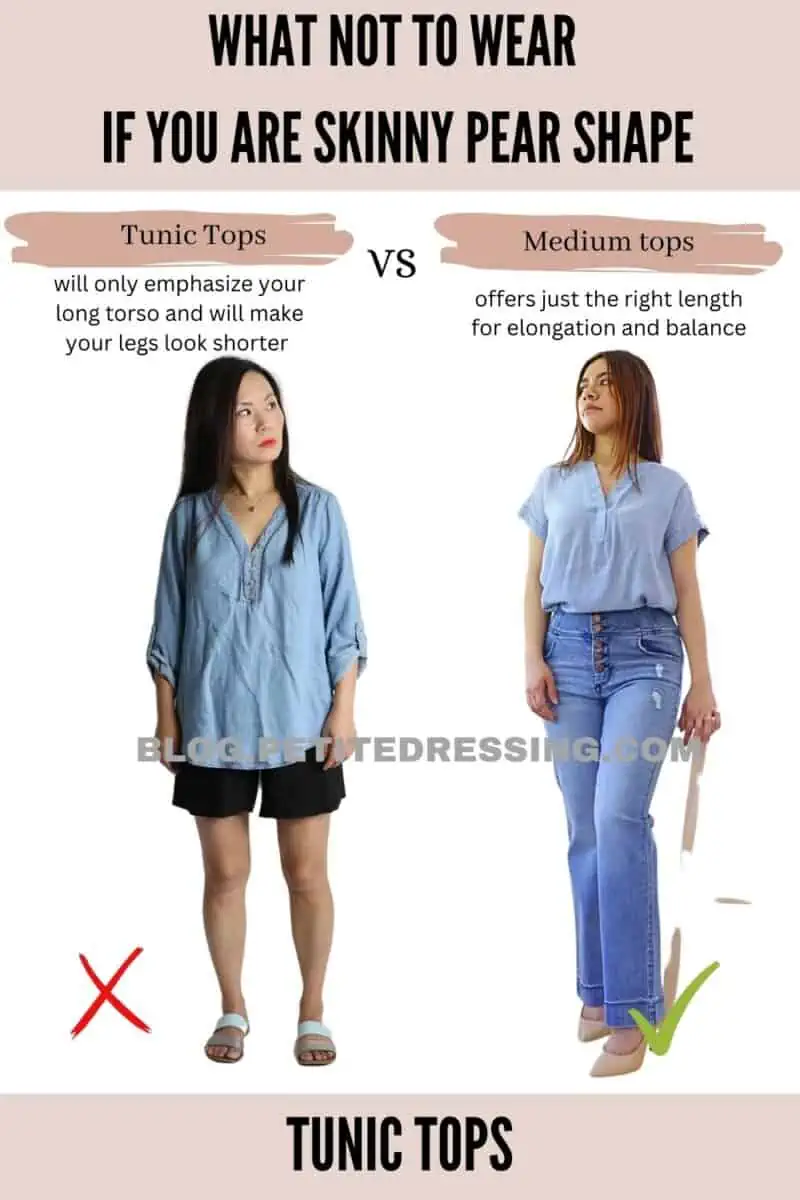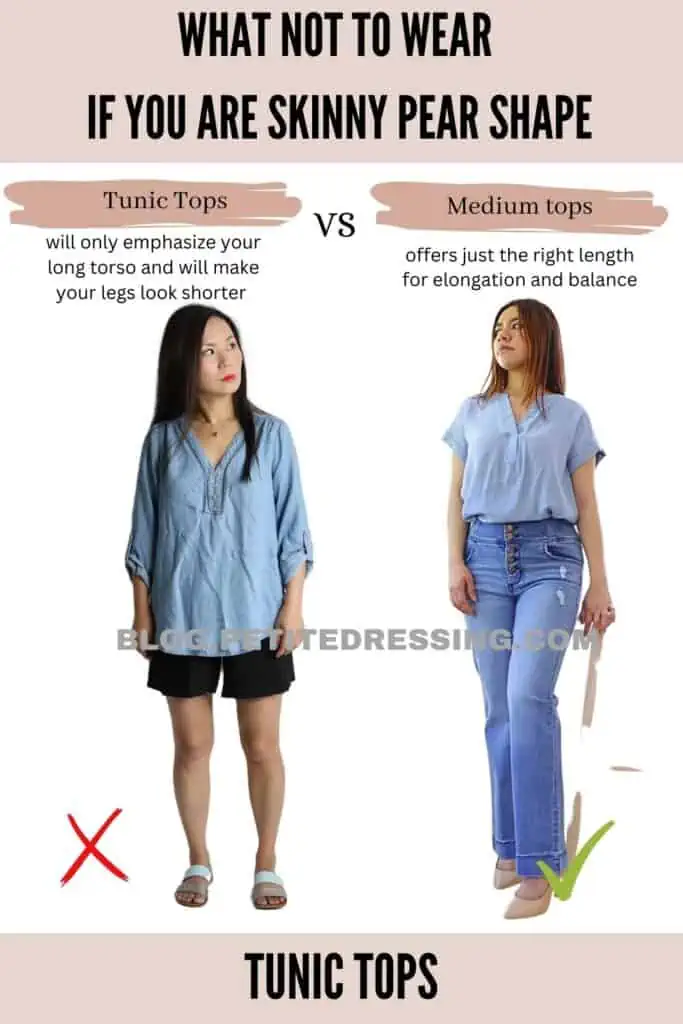 Tunic tops are long and loose-fitting, often with a flowing silhouette that drapes over the body and ends right at the hips. While tunic tops can be a comfortable and practical style choice, they may not be the most flattering option for those with a skinny pear-shaped body type.
This is because skinny pear shapes usually have long torsos and tunic tops will only emphasize that. They will also make your legs look shorter because of where the hem ends.
A good style alternative for skinny pear-shaped women instead of tunic tops is to choose more fitted tops that highlight the waistline and create a streamlined, proportional look. Tops that have a defined waistline, such as belted tops or anything with a cinched waist, can help create the illusion of more curves and emphasize your best features.
Light-colored Tapered Pants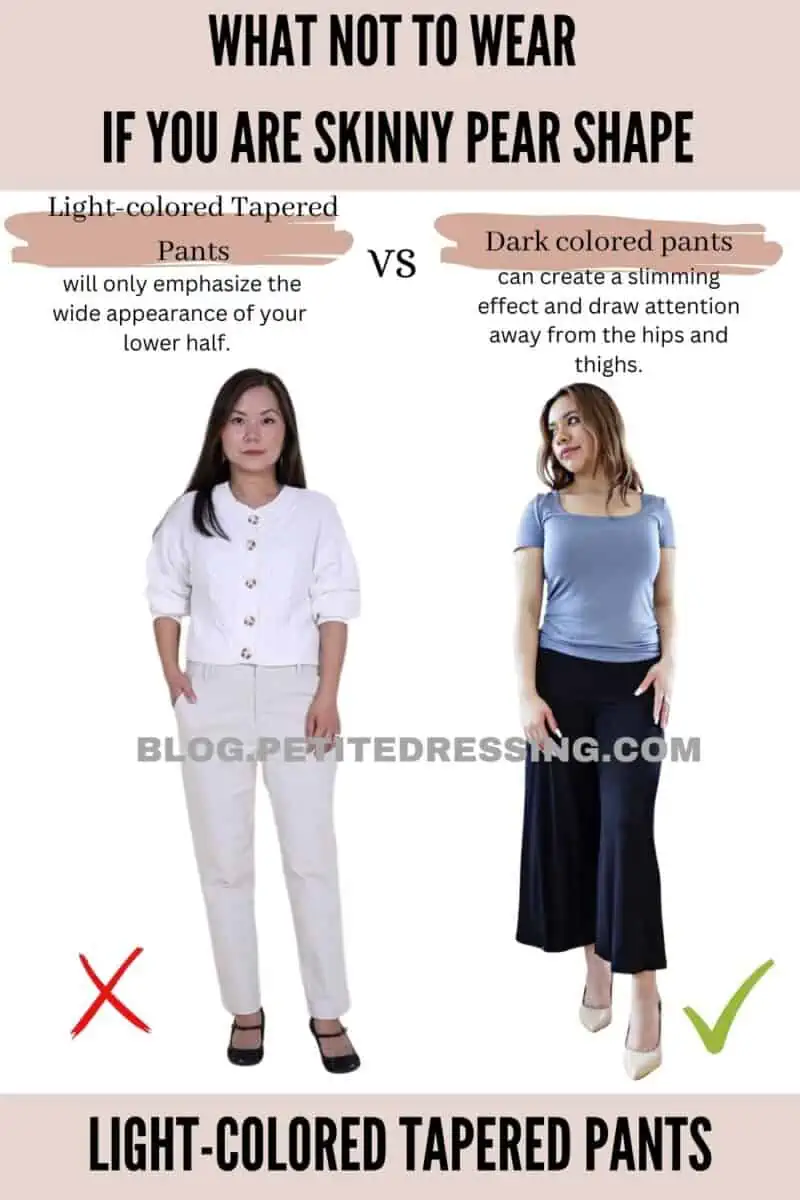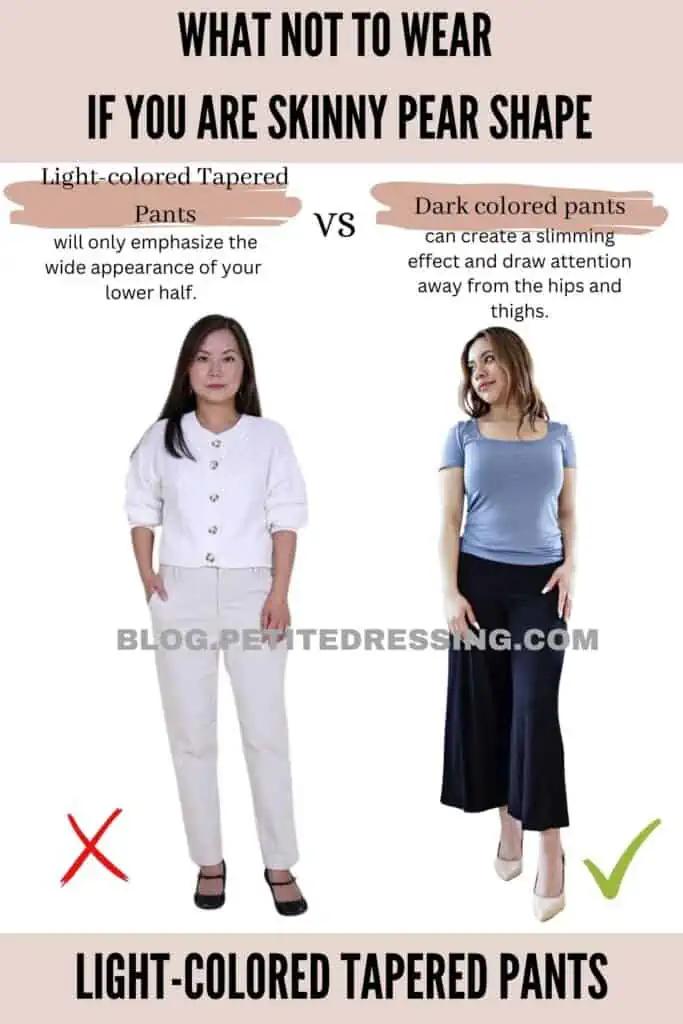 Light-colored tapered pants refer to a style of pants that are narrow at the ankle and have a lighter color, usually in shades of white, beige, or pastel colors. They are generally tight-fitting which is not a very friendly choice for your wide hips and thighs.
In addition to this, light colors tend to make things look bigger, and with that said, light-colored pants will only emphasize the wide appearance of your lower half. The tapered shape of the pants can also make the size difference between your upper and lower body very apparent.
Skinny pear-shaped women may benefit more from wearing pants with a straight leg or a wide leg, as these styles can balance out the proportions of their bodies and create a more even silhouette. Darker colors can also be more flattering, as they can create a slimming effect and draw attention away from the hips and thighs.
Caution with Skinny Jeans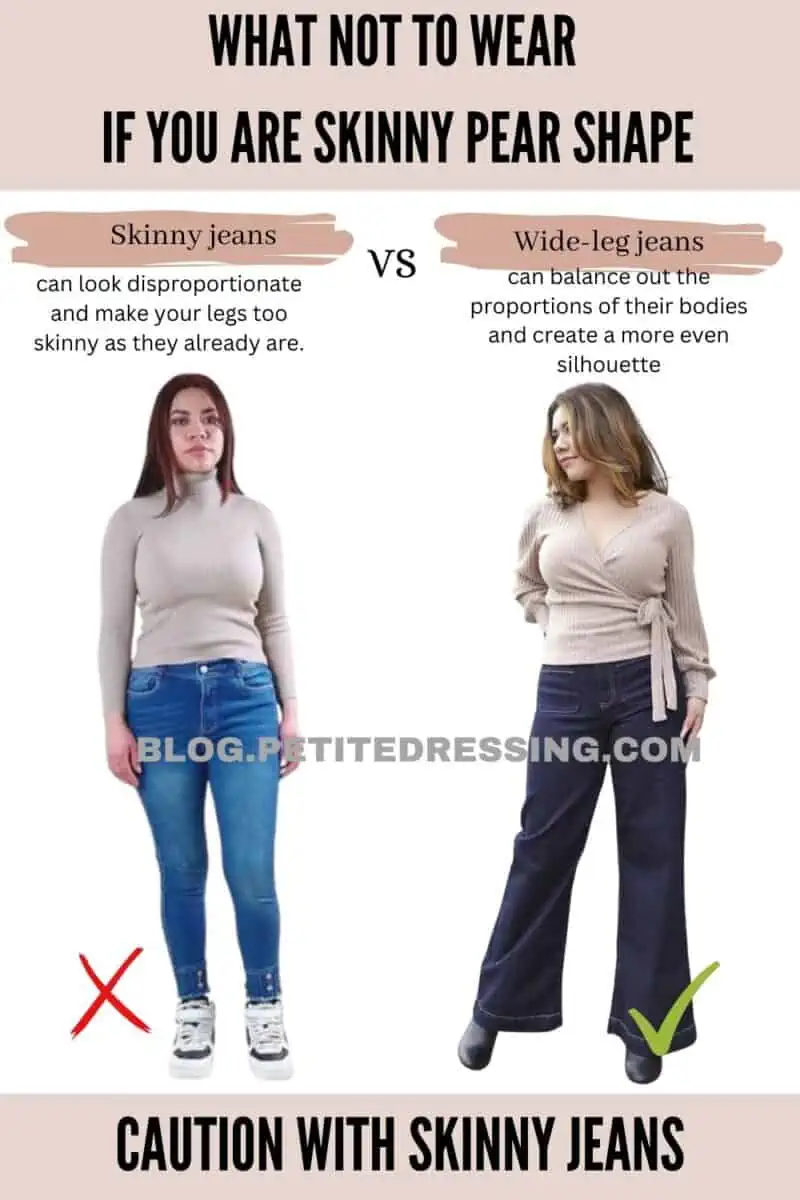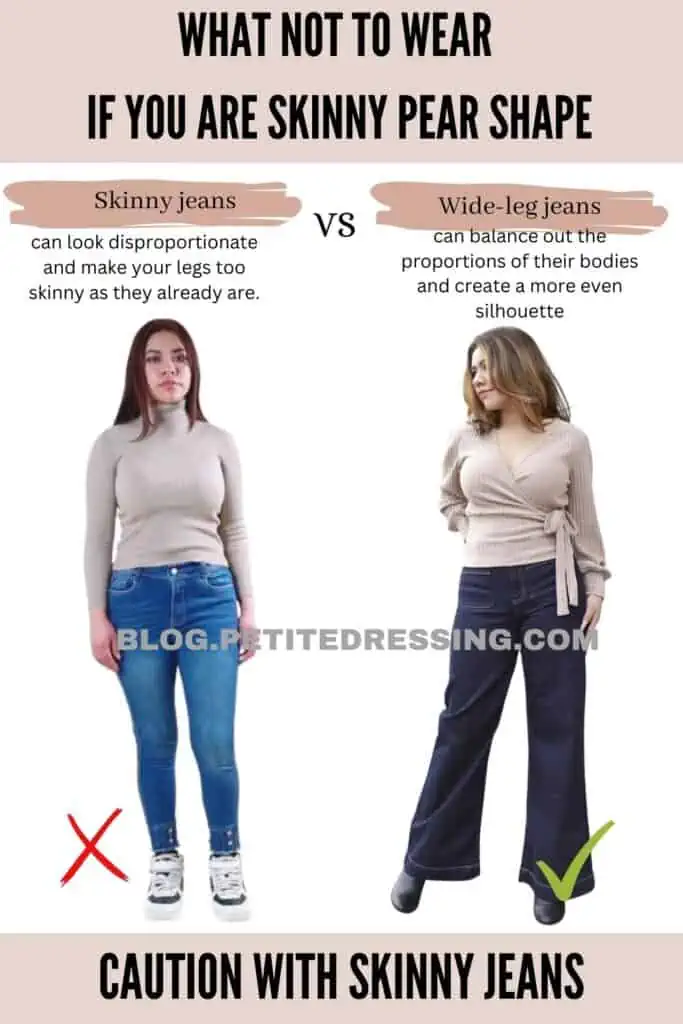 Skinny jeans are designed to fit snugly from the waist down to the ankles, which means they can highlight the widest part of the hips and thighs. This can make a skinny pear-shaped woman feel like her lower body is too prominent, and it can draw attention to areas she may not feel comfortable showing off.
With this said, they create an unbalanced silhouette on a skinny pear-shaped woman. With the slim fit on the bottom half of the body, the wider upper body can look disproportionate and make your legs too skinny as they already are.
As an alternative, you can opt for straight-leg jeans as they provide a balanced silhouette and do not emphasize the hips and thighs like skinny jeans can. Straight-leg jeans also tend to be more comfortable as they do not hug the body as tightly as skinny jeans.
Low-rise Jeans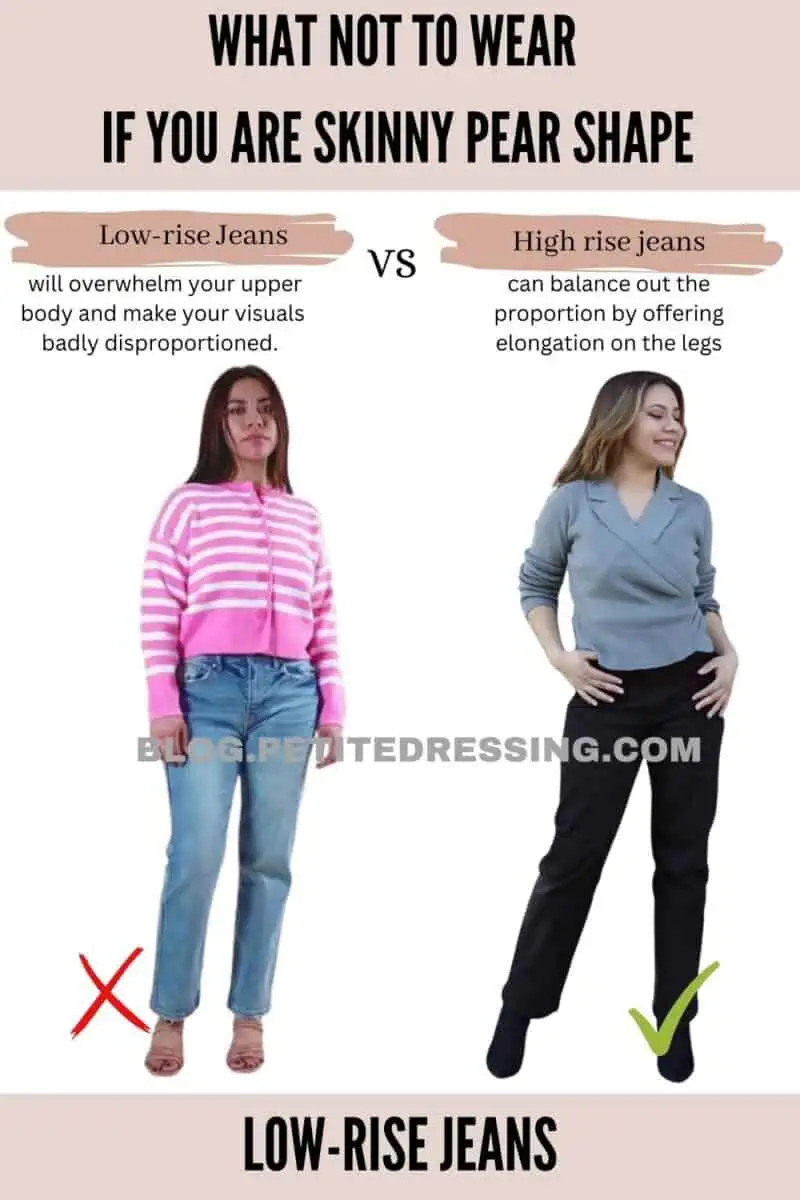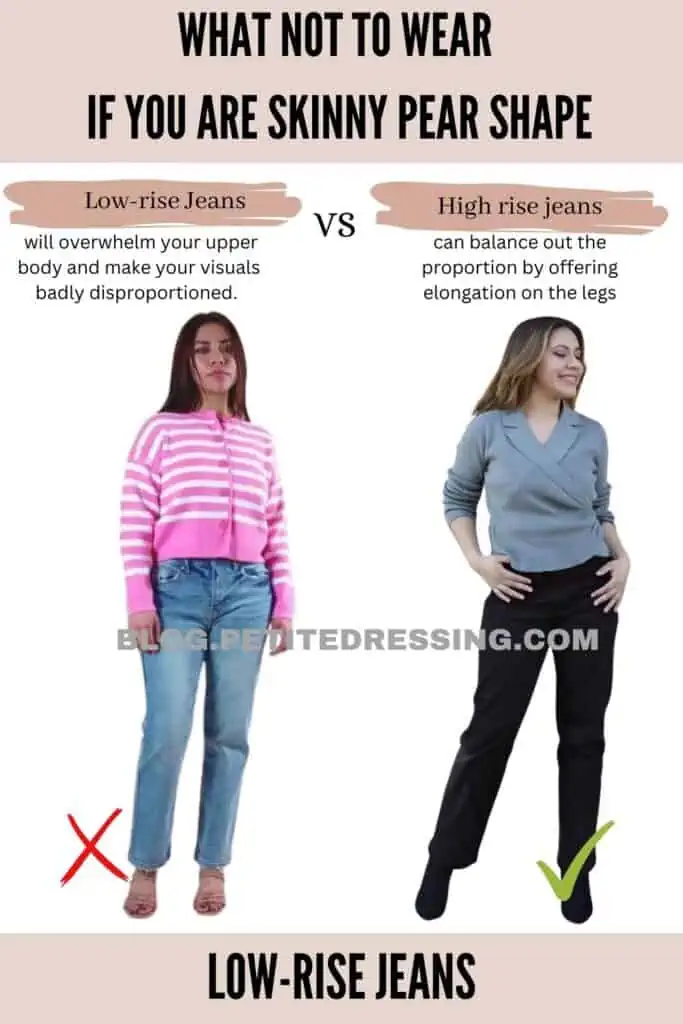 Tattered low-rise jeans can instantly give you a major fashion faux-pas if you're a skinny pear shape! Its low waistband and horizontal denim rips will easily highlight your figure's problematic areas.
Tattered low-rise jeans feature distressing or rips in the thigh area, which can draw attention to the wideness of your hips and thighs. This will overwhelm your upper body and make your visuals badly disproportioned.
Low-rise jeans sit below the waistline and can make the legs appear shorter and your torso relatively longer than it already is. This can be especially unflattering for skinny pear-shaped women who may already feel that their legs are proportionally shorter than their upper body.
Mini Pencil Skirts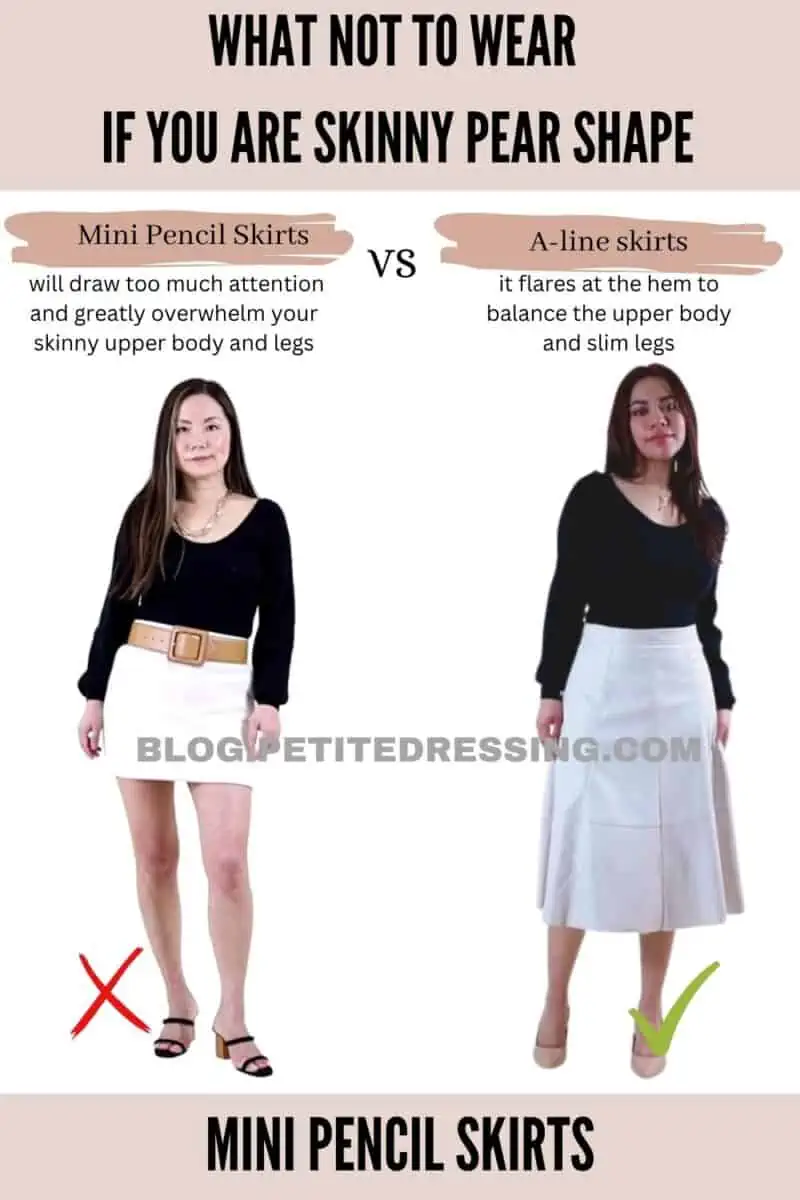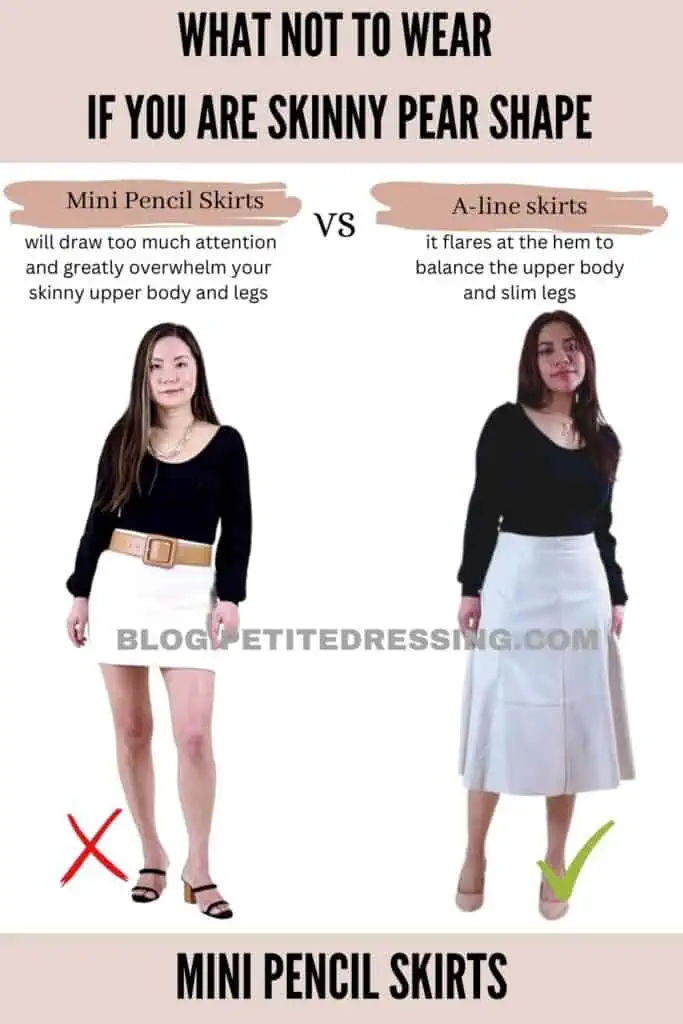 Skinny pear shapes will have relatively thin legs and an upper body that's way smaller than the rest of the body. With this said, mini pencil skirts land on neither of these areas but instead, on the widest area of your body – your hips and thighs.
This will draw too much attention and greatly overwhelm your skinny upper body and legs. This will result in creating a visually imbalanced look.
The Key Takeaway
Having a pear-shaped body can already be tricky as it is and the fact that you're also skinny can make styling a little more complicated. But then, by truly understanding your body shape, you can definitely work around your proportions so you have better visual balance with your choices of clothing.