Wedding season is about to be in full effect! Do you have weddings on your calendar? While it's always exciting to celebrate love with the people you care about on their wedding day, knowing what to wear to said wedding can cause some anxiety. Now when you add a beach wedding to the mix…it causes even more confusion. What's a woman supposed to wear to a beach wedding? No need to worry, I'm going to break down some tips to consider to help you know exactly what to wear to a beach wedding so you're fully prepared if/when you get invited to celebrate nuptials on the beach.
We also have other posts on "What to Wear to Weddings if you are Petite" which talks about the common mistakes you should avoid as a wedding guest, and how to choose the "Best Wedding Guest Dresses for Short Girls" .
Know the Dress Code of the Beach Wedding
Beach weddings are, obviously, different from a more traditional wedding venue because of this the dress codes vary a bit. Once you receive an invitation to a beach wedding you're going to want to get an understanding of the expected dress code for the occasion. Yes, just like any other wedding beach wedding dress codes can range. The invitation should specify the dress code to help you avoid major confusion when figuring out what to wear to a beach wedding.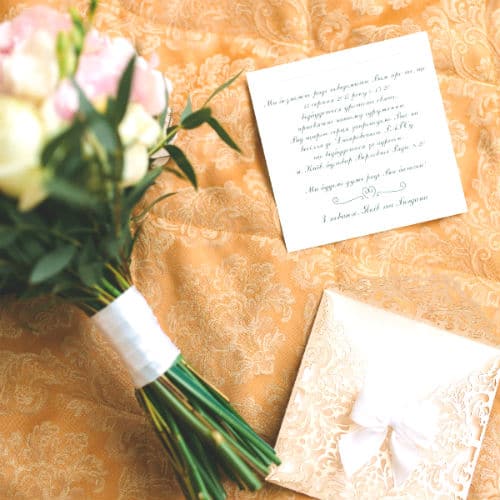 I'll break it down for you to make it easy:
Formal – this is the most 'dressed-up' dress code for a beach wedding. When dressing for a formal beach wedding you should stick with long gowns. If your invitation says formal, be sure to read our post on how to choose evening gowns for short women.
Semi-formal – this dress code is often the most confusing for attendees because it can seem unclear. Since a beach wedding is located on, well…the beach I suggest opting for a more formal cocktail length dress or a long dress that isn't quite as formal as a traditional gown. This will give you a good happy medium. The bonus of a shorter length dress for a beach wedding is you won't have to worry about the dress dragging in the sand!
Casual – while this is the most relaxed dress code, I always stress to remember you are still attending a wedding so make sure you aren't TOO casual. I know it's easy to feel like you can go total vacation mode when it's a beach wedding but resist the urge. Great options for a casual dress code are maxi dresses and/or shorter dresses that aren't quite as dressy as your cocktail attire.
Rethink the Fabric
When you're deciding what to wear to a beach wedding one factor many forget to consider is the fabric of the dress they wear. Beach weddings are outside, often in warm weather. This means you aren't going to want fabric that's very heavy. Wearing heavyweight fabrics to a beach wedding is a recipe for disaster. Not only will you be uncomfortable but chances are you'll be sweating up a storm.
To be comfortable in the dress you wear, and appropriate for the beach location stick with lightweight fabrics. Think fabrics like cotton, chiffon, linen and lace. These are all breathable fabrics so you won't have to worry about overheating while you're enjoying the ceremony and they all match the beach aesthetic.
Consider the Fit of the Dress
I often talk about the silhouette of dresses, and choosing the best options for petite women. But when it comes to deciding what to wear to a beach wedding you have to take some other fit factors into consideration. Think about it this way…when you're at the beach there's a lot of wind. Catch my drift? (pun intended) Ok, ok I'll just get into it – you don't want to wear a dress that's too loose in fit or flowy so you don't get caught in the wind. There's nothing worse than feeling like you're on guard the whole day worrying about whether or not your dress will fly up from the wind.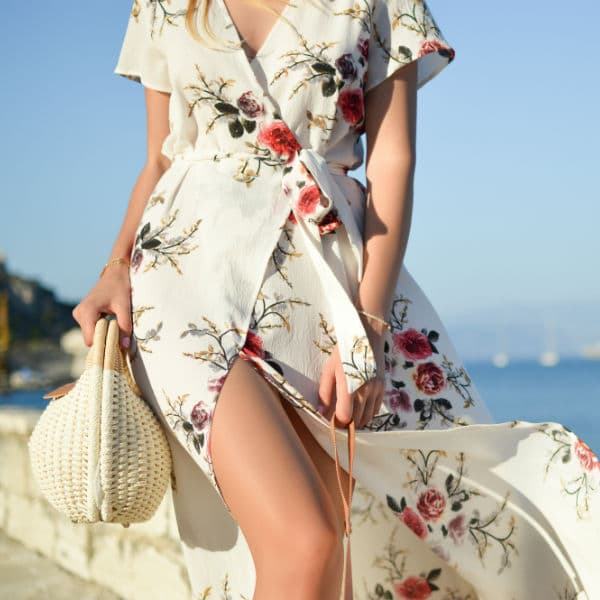 Since you are going to want lightweight fabrics for the beach wedding, it's important to find a balance with the fit of the dress you choose. As you try on different dress options make sure the wind factor is in the back of your head.
Bonus tip: don't forget to follow the classic petite style tips when choosing a beach wedding dress! Avoid anything that's too overwhelming for your shape.
Swap Your Color Story
Most of us tend to stick with black and other dark colors when choosing a dress for a wedding. However, when you're attending a beach wedding those dark colors aren't always the best choice. In fact you will probably want to avoid those classic dark hues. Why? Well think about it, when you're dressed in dark colors and spending time outdoors you get pretty hot – right? Yeah, that's why you will want to skip that black dress for this particular wedding.
Since you're going to skip the go-to dark colors you wear to most weddings, for a beach wedding you're going to lighten it up! Just like with the fabric you choose you want lighter and brighter colors. Not only are they warm weather friendly but they also feel so much more appropriate for the beach setting.
Of course you won't want to go TOO light and wear white to the wedding…unless there's a particular dress code/color restriction in place that allows for it. It's tradition for the bride to be the only one in white at a wedding. Like I said, unless it's otherwise specified.
The good news is when you're deciding what to wear to a beach wedding it's an opportunity to mix things up a bit. If you ALWAYS wear dark colors, it's a chance to step outside the norm and go for something bright and light.
Think About Footwear
Footwear is another factor to think about differently when knowing what to wear to a beach wedding. To help ensure that you select the right footwear for the wedding it's helpful to know exactly where the wedding will be taking place. Some beach weddings take place on grass near the beach, some in the actual sand at the beach, or elsewhere. I don't have to tell you each place calls for different shoe requirements so try to get the inside scoop to help you out.
If the wedding is taking place in the sand at the beach, flat sandals are perfectly acceptable. Honestly, you probably won't want to try to attempt to wear heels in this situation. I know as a petite you're used to sticking with heels but sand + heels = disaster. Do yourself a favor and stick with flat sandals. Instead of traditional flip flops which are really (too) casual, opt for dressy flat sandals. The key to make your flat sandals more stylish and appropriate for the celebratory occasions like wedding is the go with metallic colors, jewel accents and skinny straps.
On the other hand, if the beach wedding is taking place in grass or somewhere else near the beach you can go with a heel. That being said, the terrain is still going to be a bit rocky (most often). In this situation I recommend going with wedge heels if it's a casual dress code, and block heels or something thicker than a stiletto for a semi-formal or formal dress code beach wedding.
Whichever dress code and/or location the beach wedding resides, light neutrals are often the best bet for beach wedding shoes. Plus, they're super flattering for a petite – they elongate your leg line to help you look longer and taller!