Being petite and deciding on a casual dress style? Not so easy! We understand your struggles and have an extensive guide for you that will help you choose suitable casual dresses for petite women. We have styles that look best on short women and what to avoid. This way, you can wear casual dresses confidently and look your best. So, let's get started!
What to Look For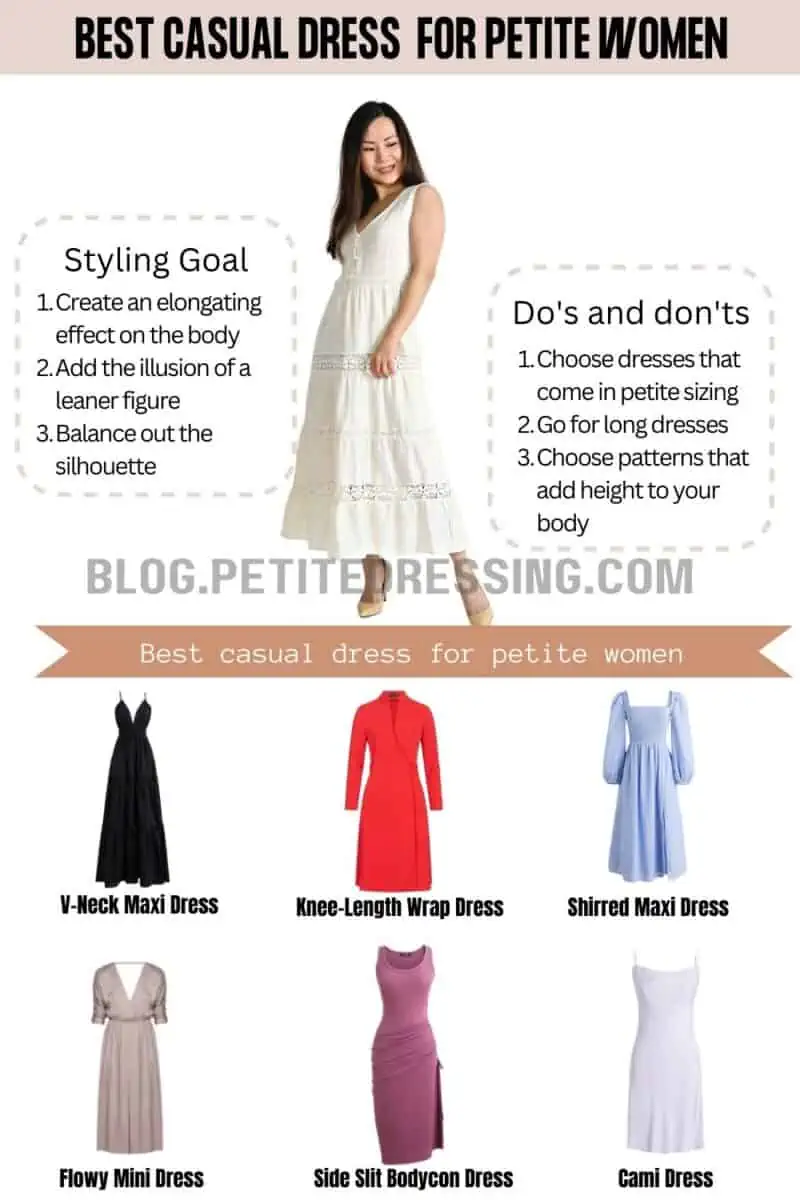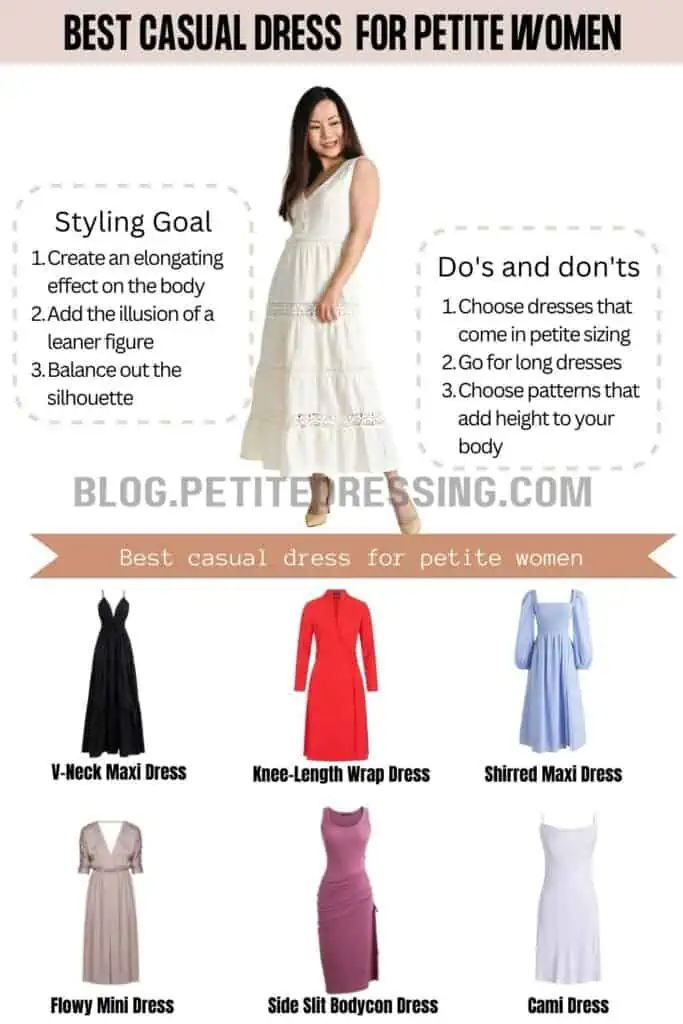 Dresses that look effortless on tall women might not look good on petites. Therefore, it is important to learn what style of casual dresses look good on petite women. Here are a few tips that can help petite women style casual dresses better!
Choose dresses that come in petite sizing. Their fitting and length suit short women properly.
Fitted dresses and dresses that make your waist look smaller are great for petites.
For women with short legs, go for long dresses to make yourself look leaner.
Choose patterns that add height to your body such as vertical stripes.
Deep V-necks are great to make your torso look longer.
V-Neck Maxi Dress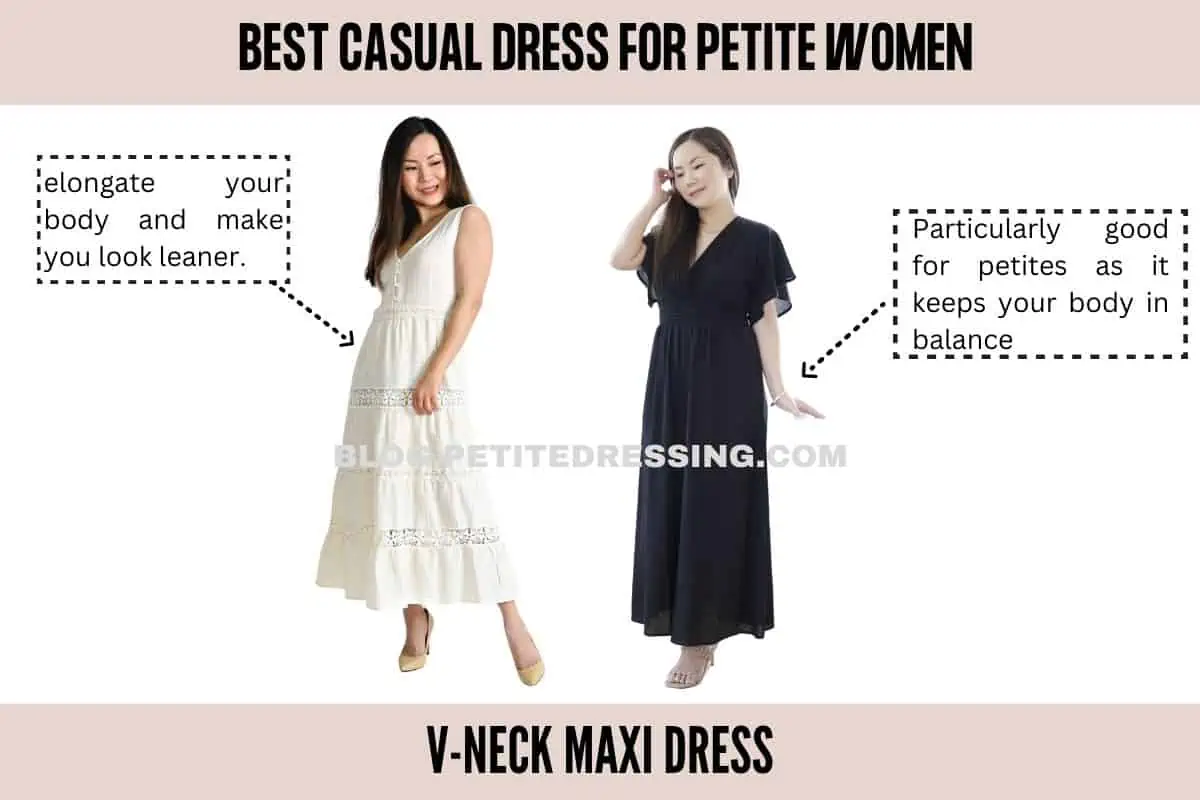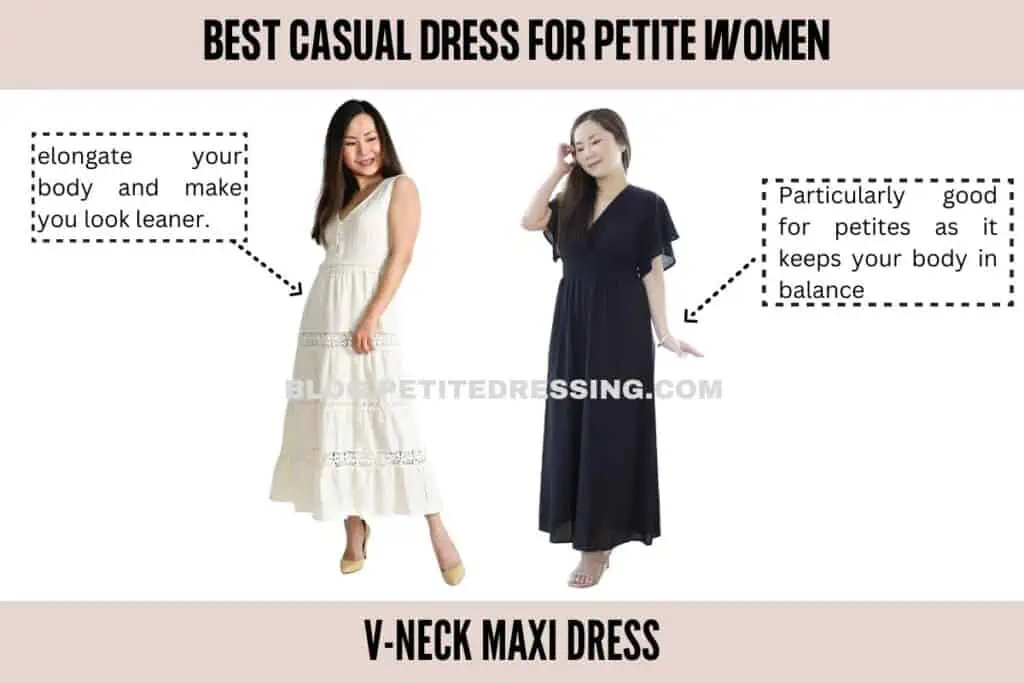 V-neck maxi dresses are a great choice for petite women. They elongate your body and make you look leaner. Petite women come in every size and maxi dress suits all of them.
Maxi dresses come in different patterns such as florals, animal prints, stripes, etc. They are perfect for a summer day out.
The V-neck style is particularly good for petites as it keeps your body in balance. Heavy fabric on the neck and shoulder area can make you look shorter. Therefore, we recommend going for a V-neck. It is an effortless way to achieve a lean body.
Pair the maxi dress with heels to look taller.
Knee-Length Wrap Dress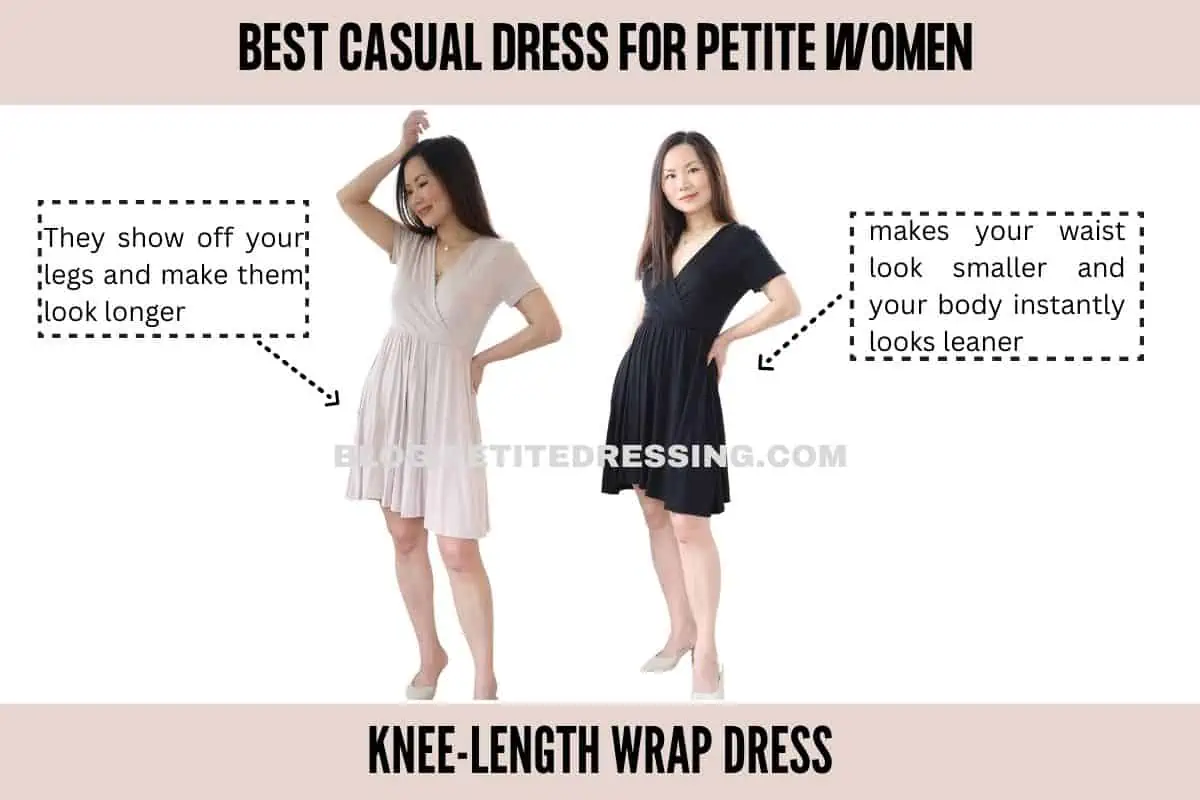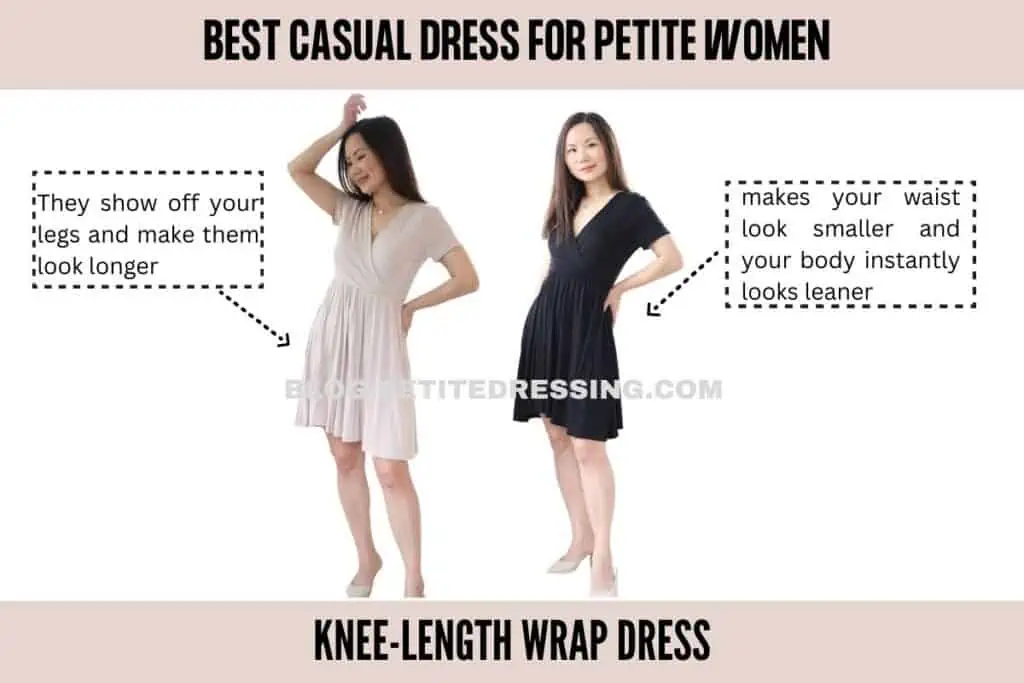 Knee-length dresses are the best for petite women. They show off your legs and make them look longer. They suit short women like magic so you must give them a try.
In knee-length dresses, the wrap-around style is quite trendy nowadays. It looks amazing on a casual day out and makes you look fashionable.
Another perk is that it makes your waist look smaller and your body instantly looks leaner. The fashion goal for petite women is to look leaner effortlessly. With a wrap-around, you achieve this fashion goal in no time.
Choose big floral patterns or solid colors for a wrap-around dress. They will suit your body type a lot.
Pair the wrap-around dress with wedges for a casual day out. They will be comfortable to walk in and make you look tall as well.
Shirred Maxi Dress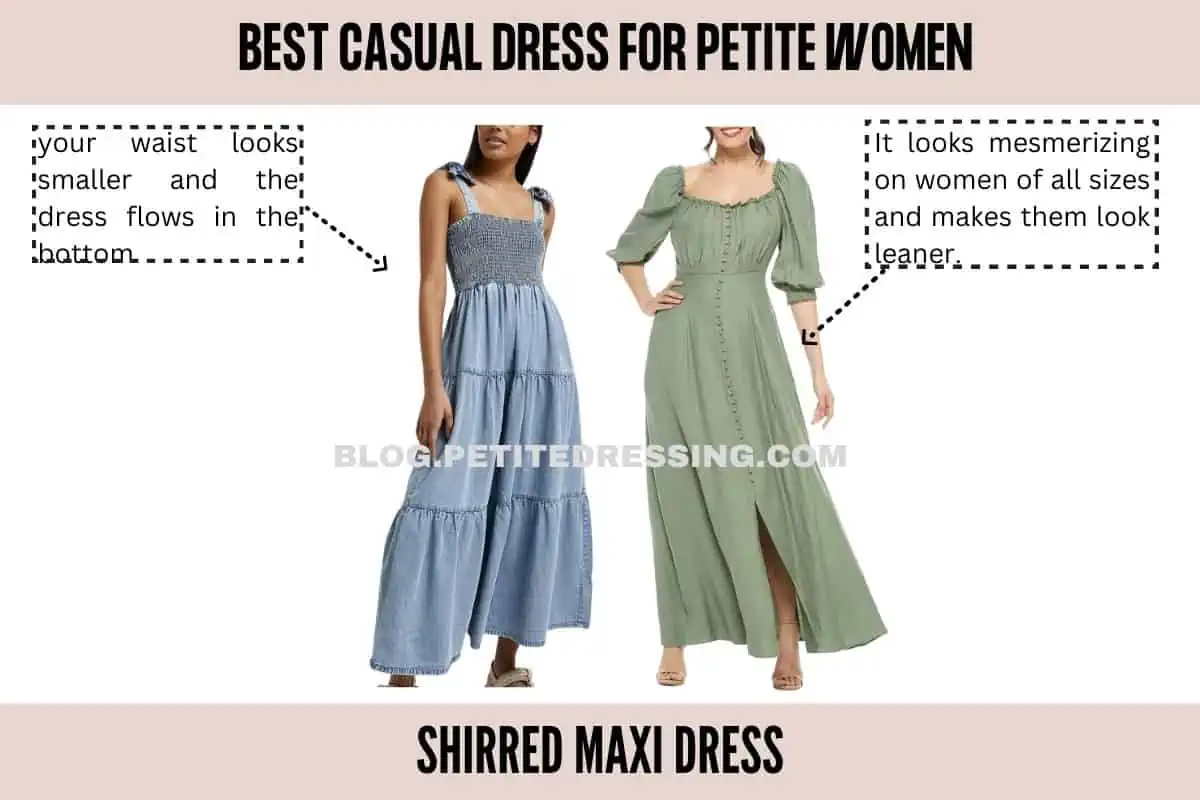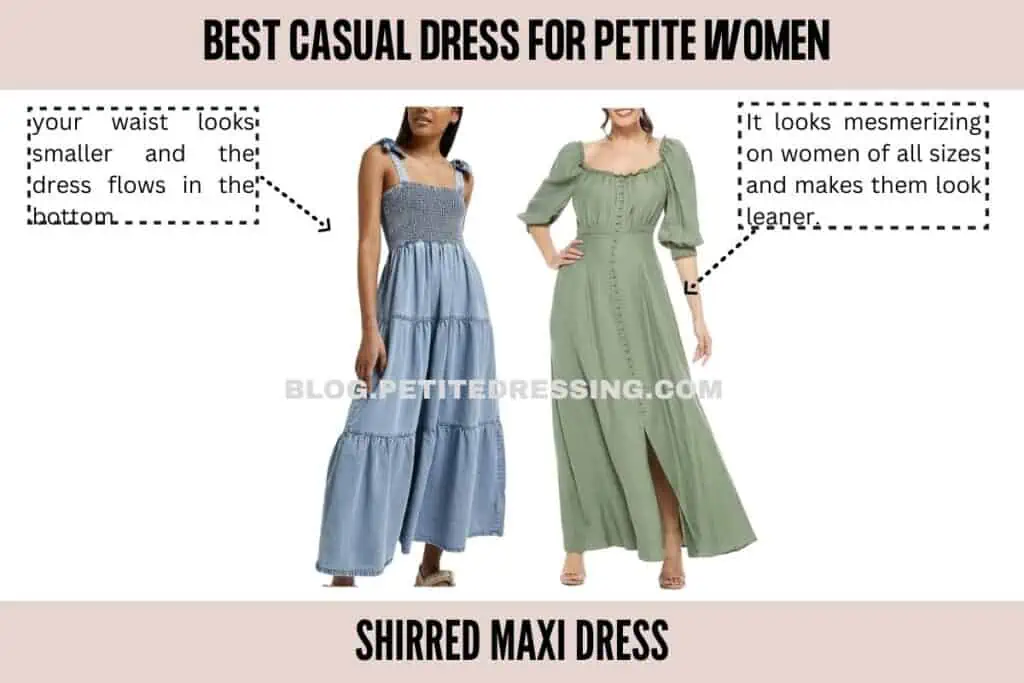 Shirred styles fit your body perfectly. It makes you look put-together and chic. Shirred sleeves and upper body in maxi dresses are the talk of the town. We have seen such dresses in Vogue magazine multiple times as well. So, why not go for this style and rock your fashion game?
The maxi dress with a shirred upper body is suitable for petite women. It looks mesmerizing on women of all sizes and makes them look leaner.
Your upper body gets more attention, your waist looks smaller and the dress flows in the bottom. This way, you get the illusion of a leaner body and long legs.
Pair the maxi dress with simple high heels to complete the look.
Flowy Mini Dress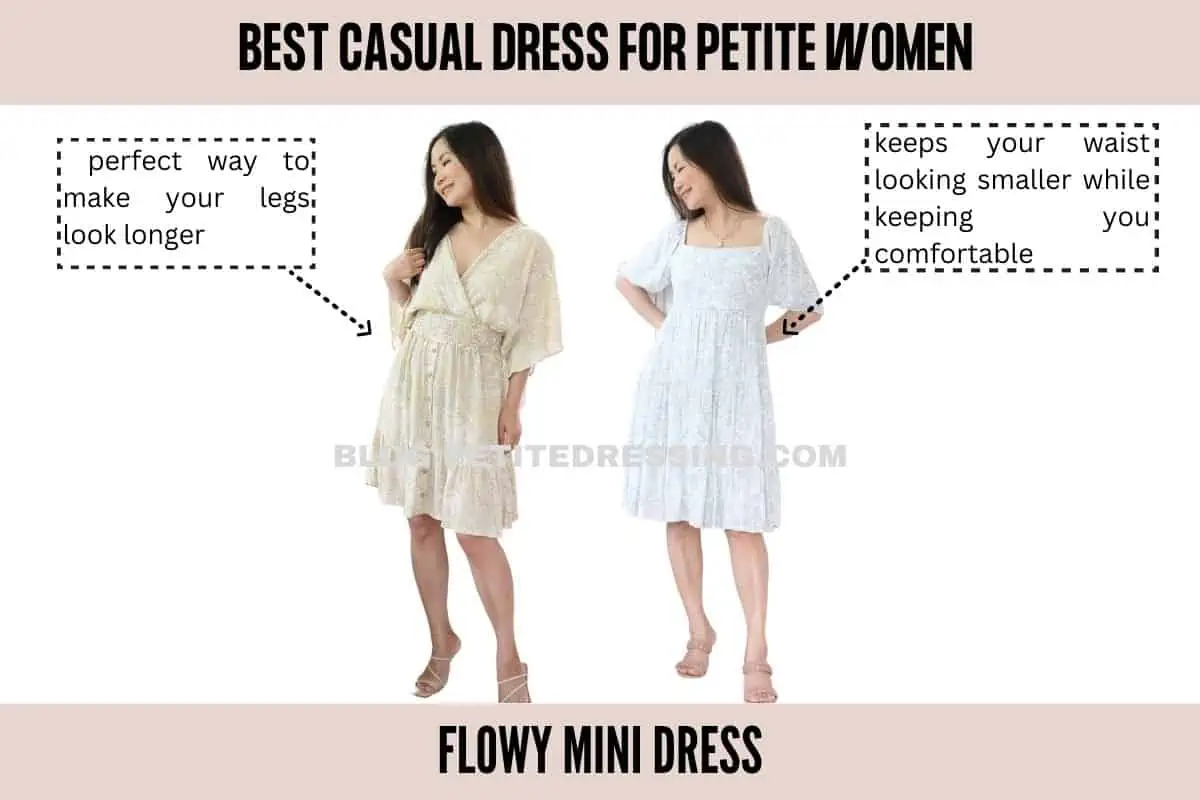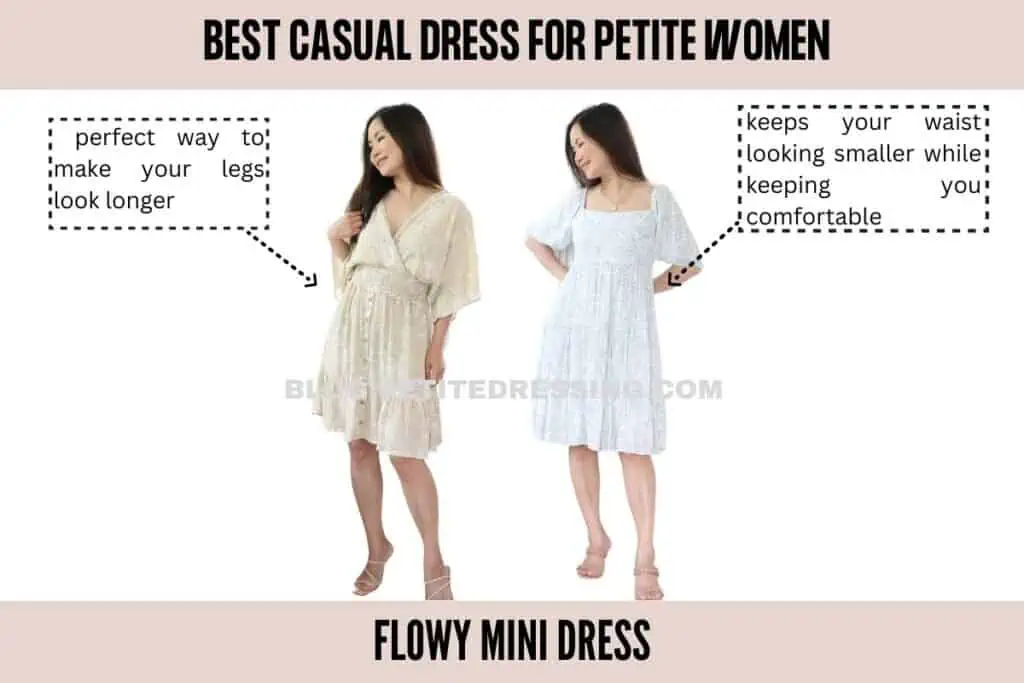 Mini dresses are the perfect way to make your legs look longer. They lie right above your knees and you get the chance to show off your legs.
The sleeveless style in a mini dress is great for a casual day out in summer. It makes petite women look leaner as well so what's better than that? Bulky designs on the neck and shoulder area are not flattering on petite body types. That's why you should give sleeveless dresses a try.
The flowy design keeps your waist looking smaller while keeping you comfortable. Being comfortable in a casual dress matters a lot as it makes you look confident as well. This casual dress style is a must-have in summer.
Go for floral prints for a beach day or solid colors for a casual hangout. Both of them look mesmerizing on petite women.
You can pair the dress with heels or sandals according to the occasion.
Side Slit Bodycon Dress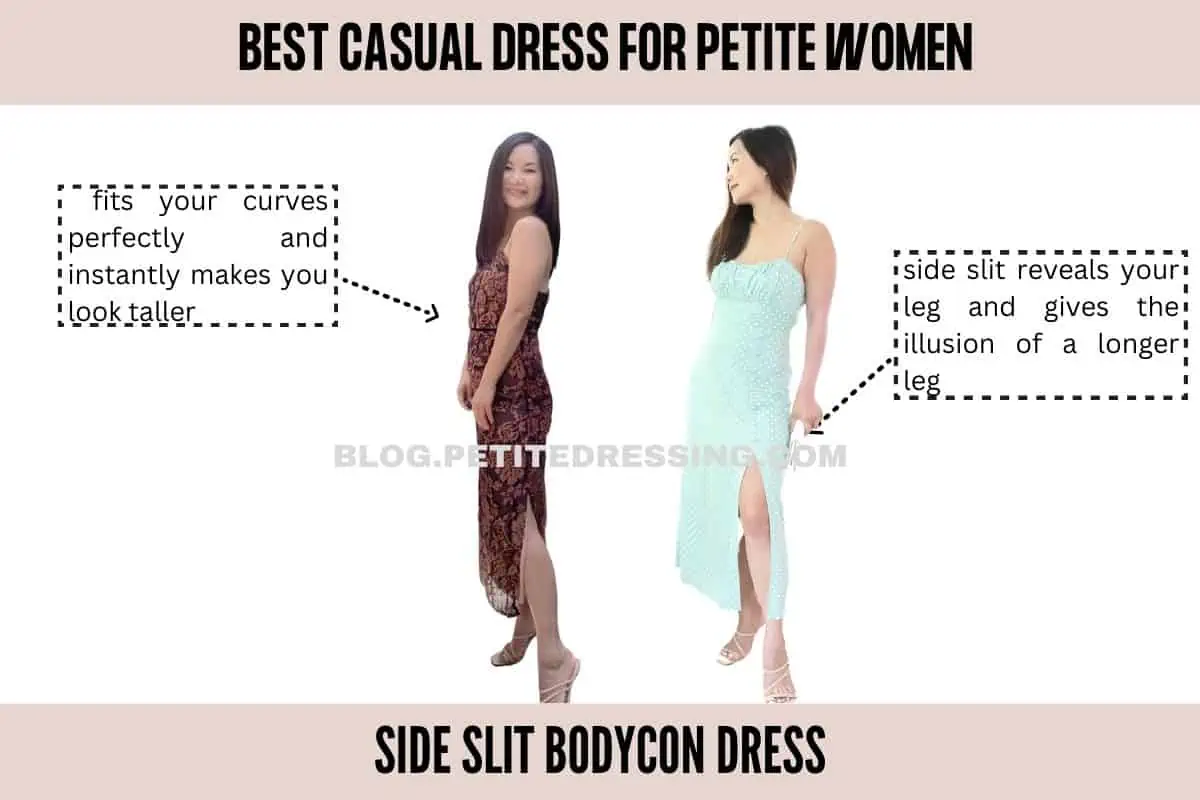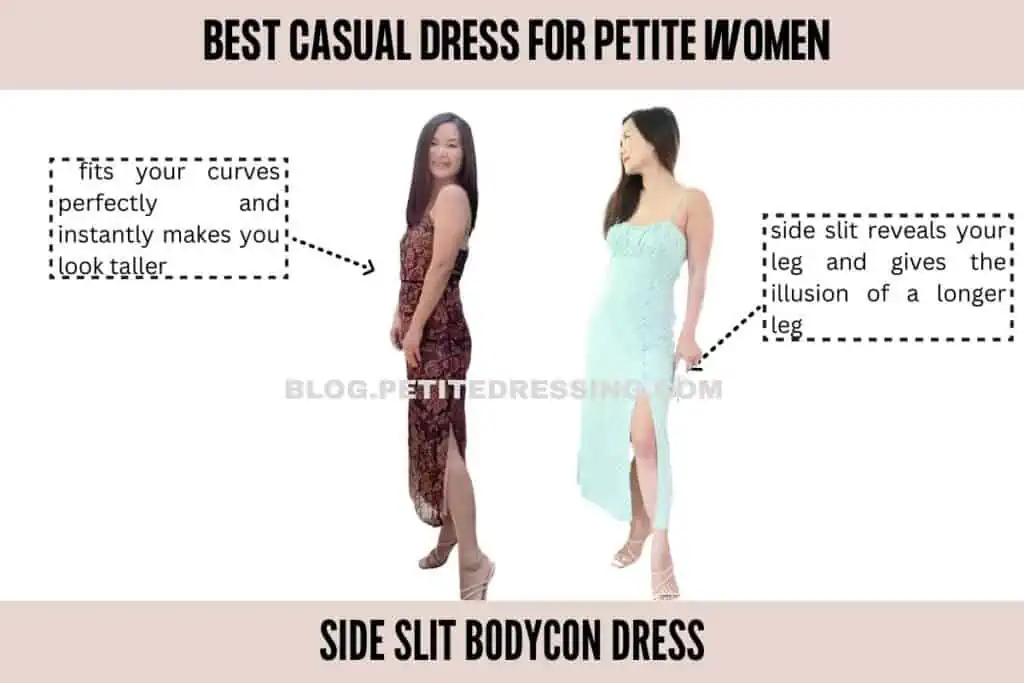 Want to up your fashion game? Then try out a side-slit bodycon dress. It will surely turn everyone's heads toward you and make you look alluring.
Full-length bodycon dresses with side slits look absolutely gorgeous on petite women. They will make you look confident in your body type. Bodycon style fits your curves perfectly and instantly makes you look taller.
The side slit reveals your leg and gives the illusion of a longer leg. This way, you instantly add height to your body.
Choose dark colors for a side slit bodycon dress. It will suit you like no other and make you look elegant, chic, and stylish in no time.
Simple strappy heels will look perfect with a side slit bodycon dress. This outfit is your best bet for a night out or a date night.
Cami Dress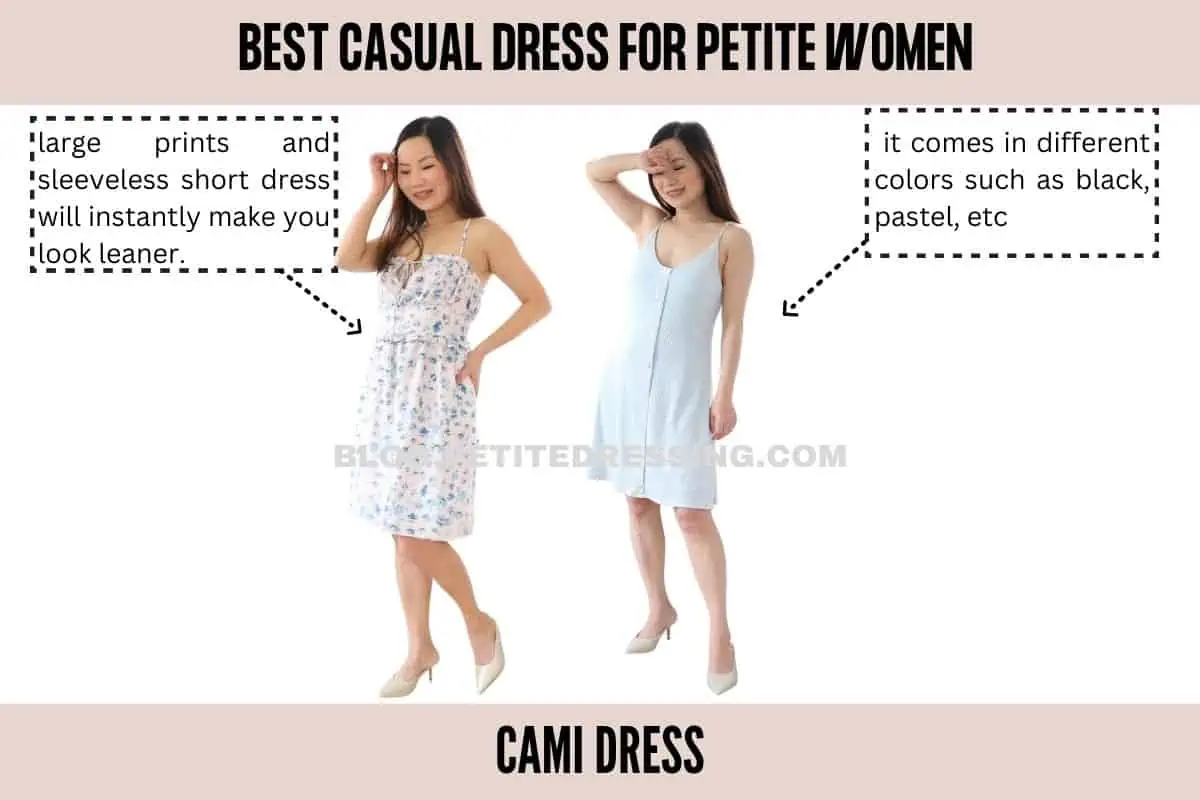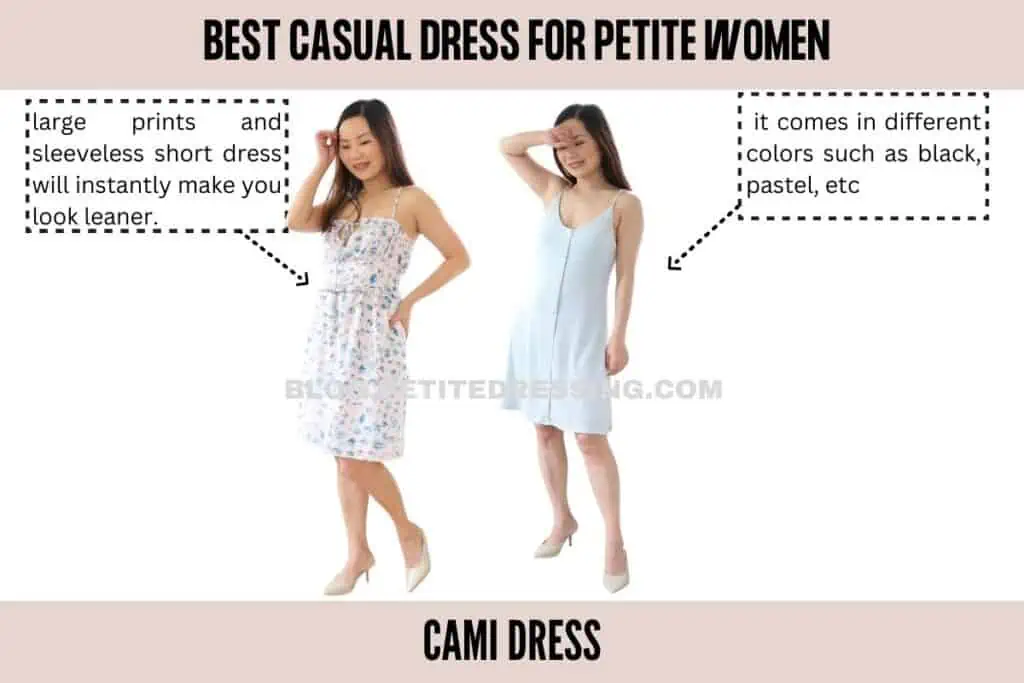 The gingham style in dresses is very trendy nowadays. We have seen different petite celebrities rocking this style such as Vanessa Hudgens. So, why shouldn't you go for it?
The gingham cami dress style is perfect for petite women. The large prints and sleeveless short dress will instantly make you look leaner.
The best thing about gingham is that it comes in different colors such as black, pastel, etc. You can choose any color you like. Pastels look gorgeous in summer for a casual day out. Whereas, black is good for nighttime.
Complete your look by pairing the dress with wedge sandals and you are good to go.
Side Ruched Dress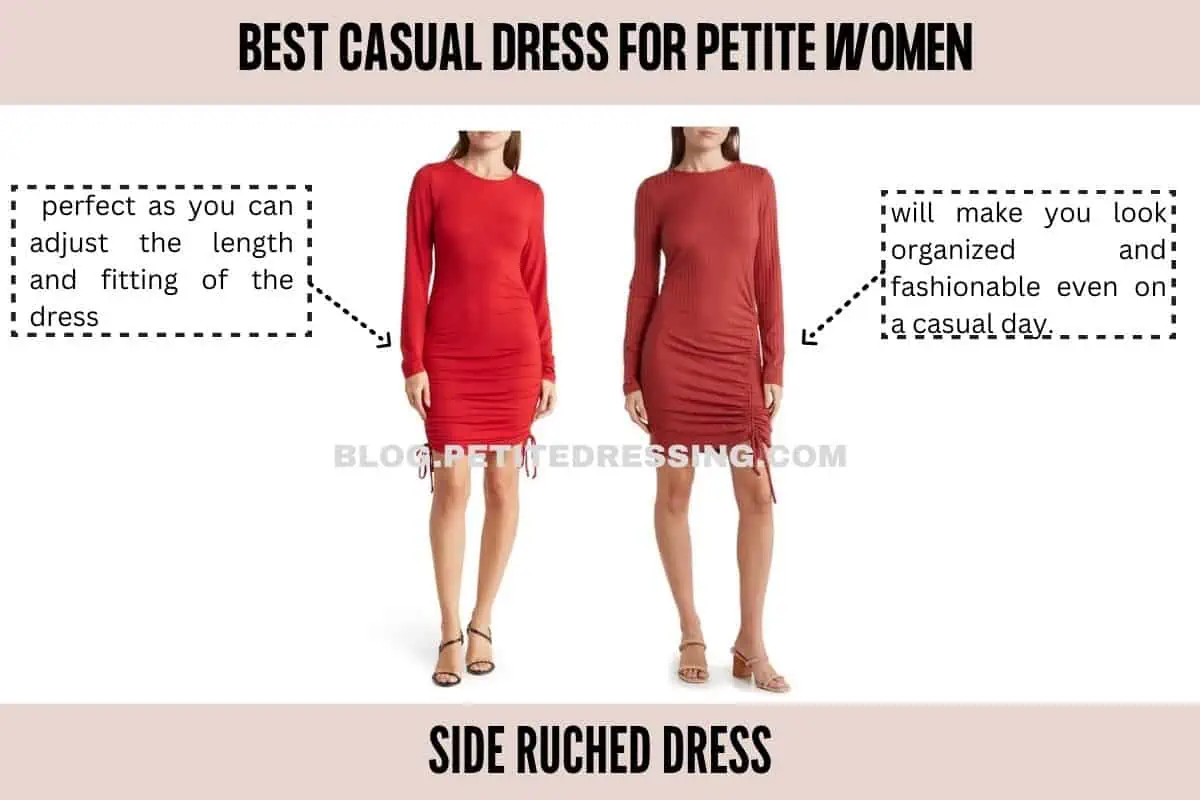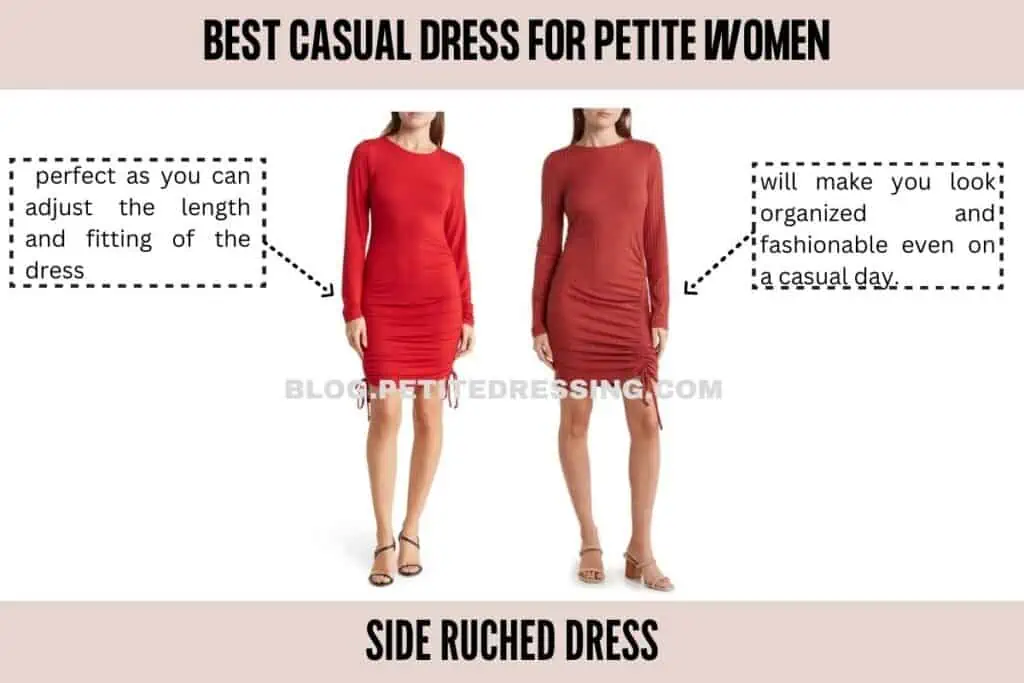 Any ruching details on a mini dress are extremely flattering on petite women. You might find ruched dresses not so casual but they are a must-have for short women. You can style them up and down in various ways.
Pair the dress with heels and you are good to go for a date night. Whereas you can wear the dress with flats and a denim jacket for a casual look. This dress will make you look organized and fashionable even on a casual day.
The side ruching is perfect as you can adjust the length and fitting of the dress. You can keep it as mini or long as you want according to your body. This way, you achieve a leaner look suitable for your body type.
Solid T-Shirt Dress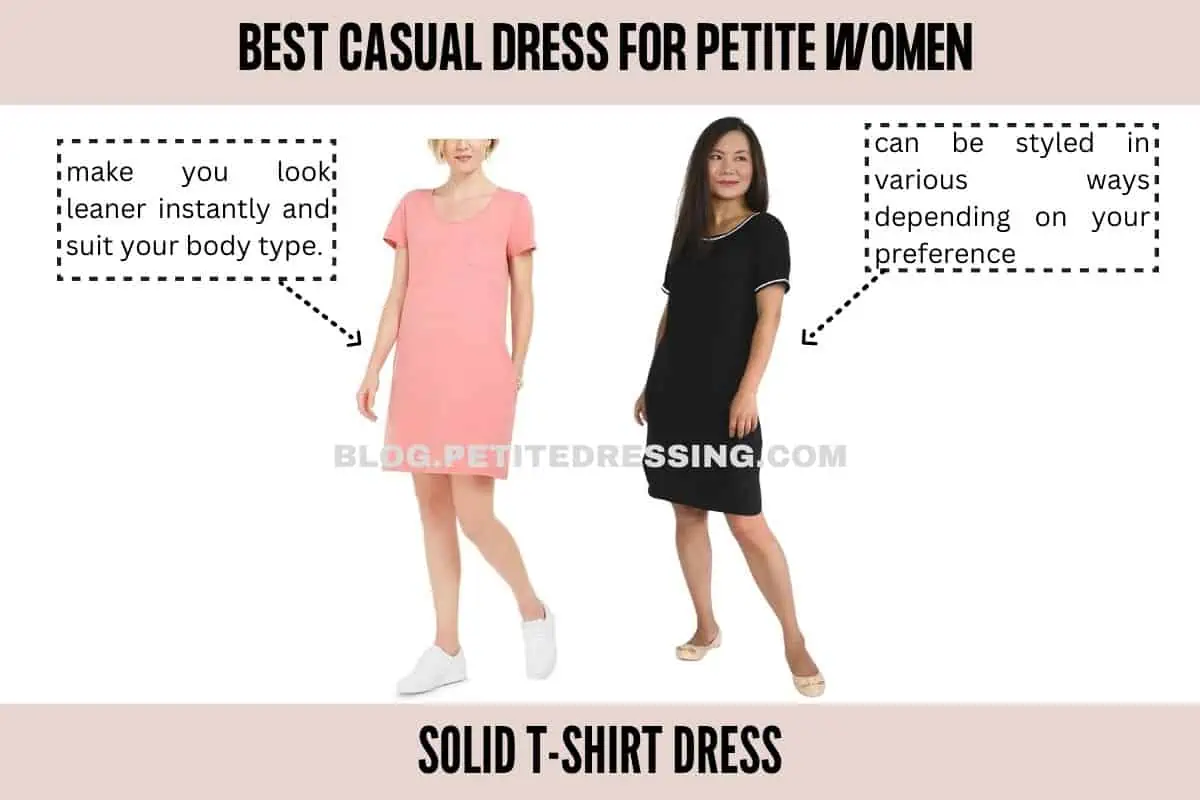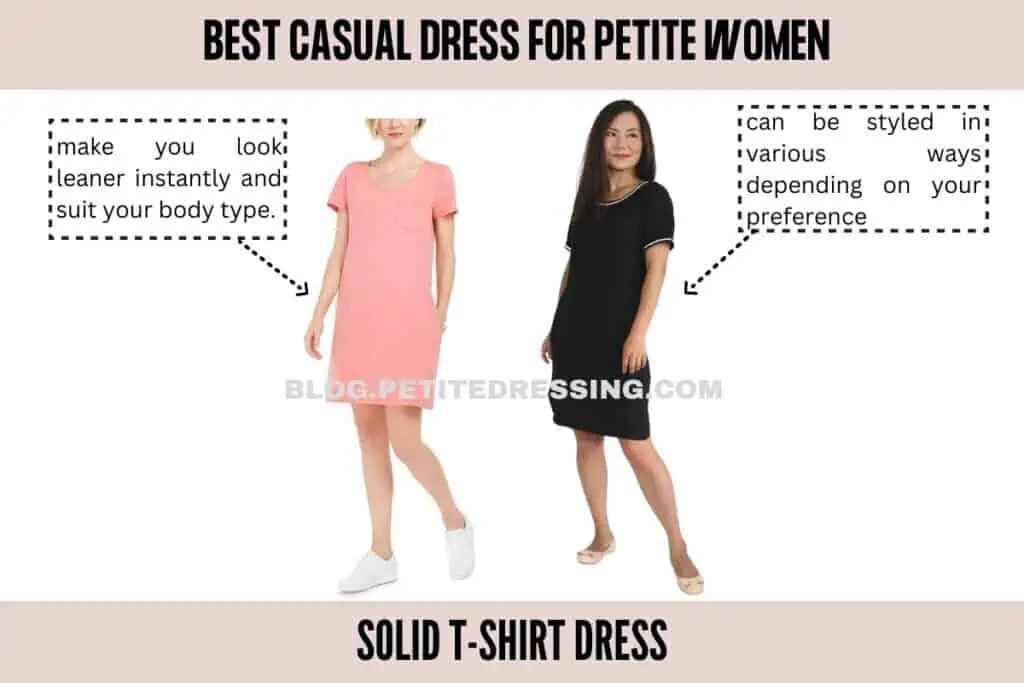 What's more casual than a t-shirt dress? T-shirt dresses are extremely comfortable and they look cute as well. They are a perfect choice for a casual day out or to run some errands. You can style t-shirt dresses in various ways.
The T-shirt dress length is perfect for petite women. They make you look leaner instantly and suit your body type.
Choose solid colors for a t-shirt dress such as gray, black, dark blue, etc, and look mesmerizing in no time.
You can wear a blazer over it to dress up. Complete the look with white sneakers and you will look super chic.
Avoid Calf Length Dresses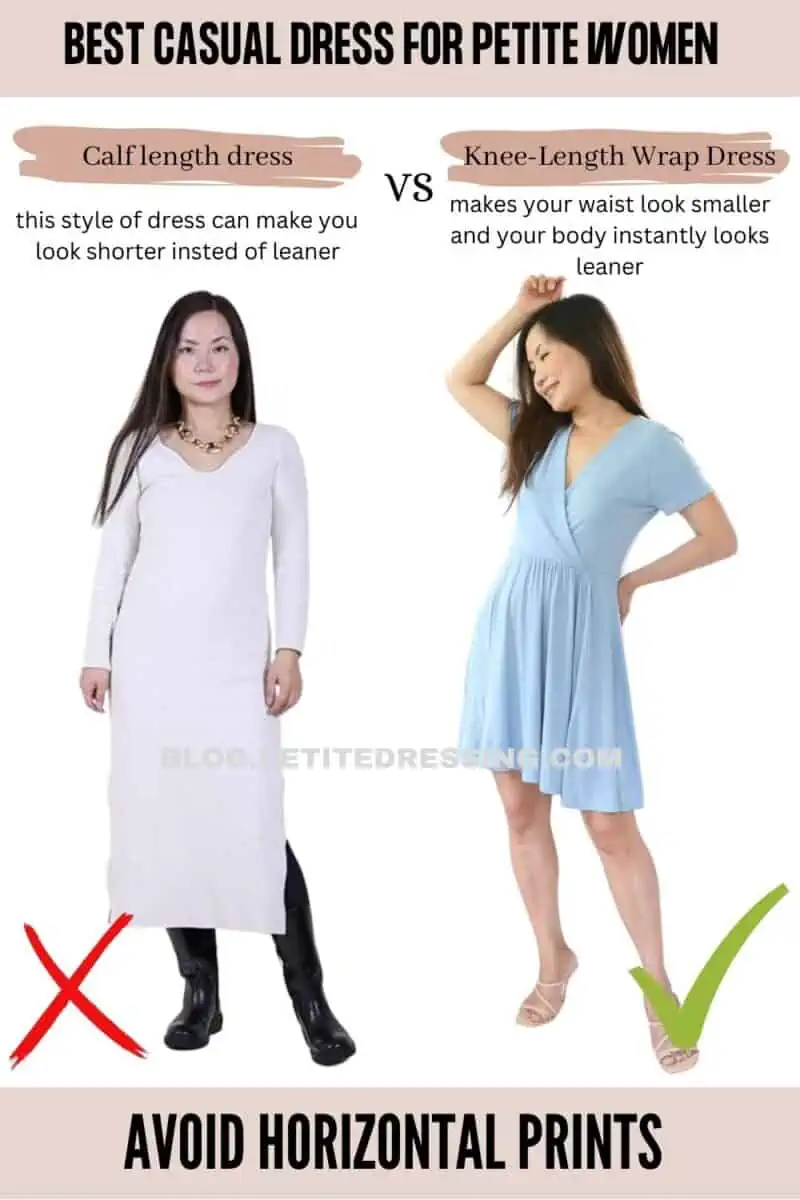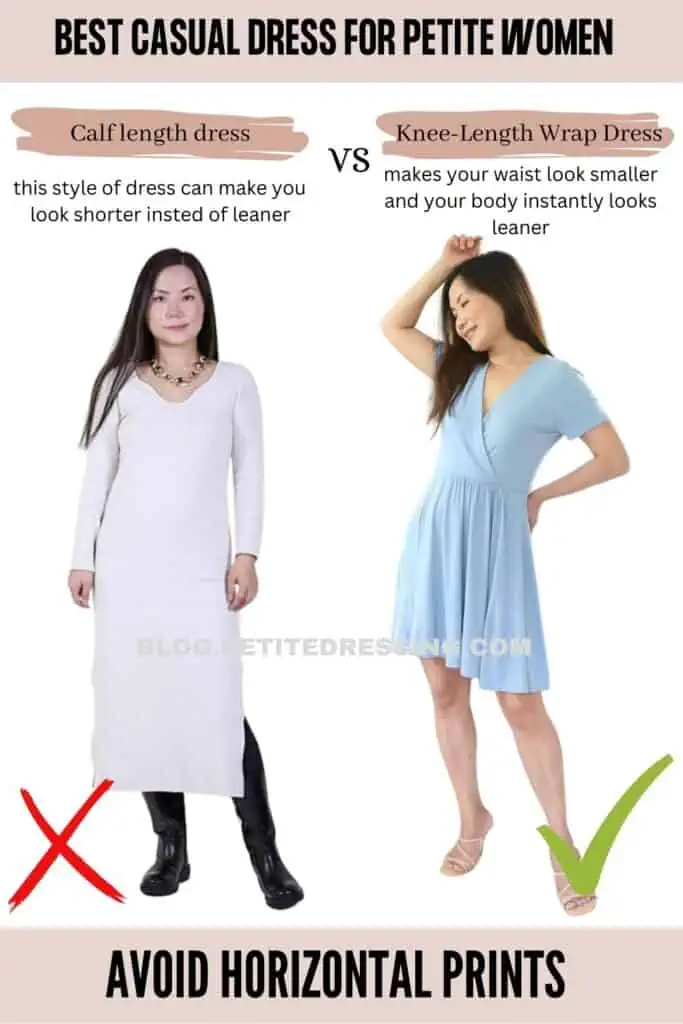 Calf length dresses will make your legs look shorter. Therefore, they aren't suitable for petite women. Petite women should go for styles that make them look leaner instead of shorter. The length of the dress matters a lot when choosing one for yourself.
Calf length might seem like a perfect length for a casual look but it isn't flattering on a petite body type. No matter what size you are, if you are petite, it is better to stay away from this length. Rather go for short dresses, knee-length dresses, and full-length dresses.
Either show off your legs entirely by wearing short dresses or cover them up with a maxi dress. If you want to show off your legs in a maxi dress, choose a side-slit dress. It will not make you look short like calf length dresses.
Avoid Horizontal Prints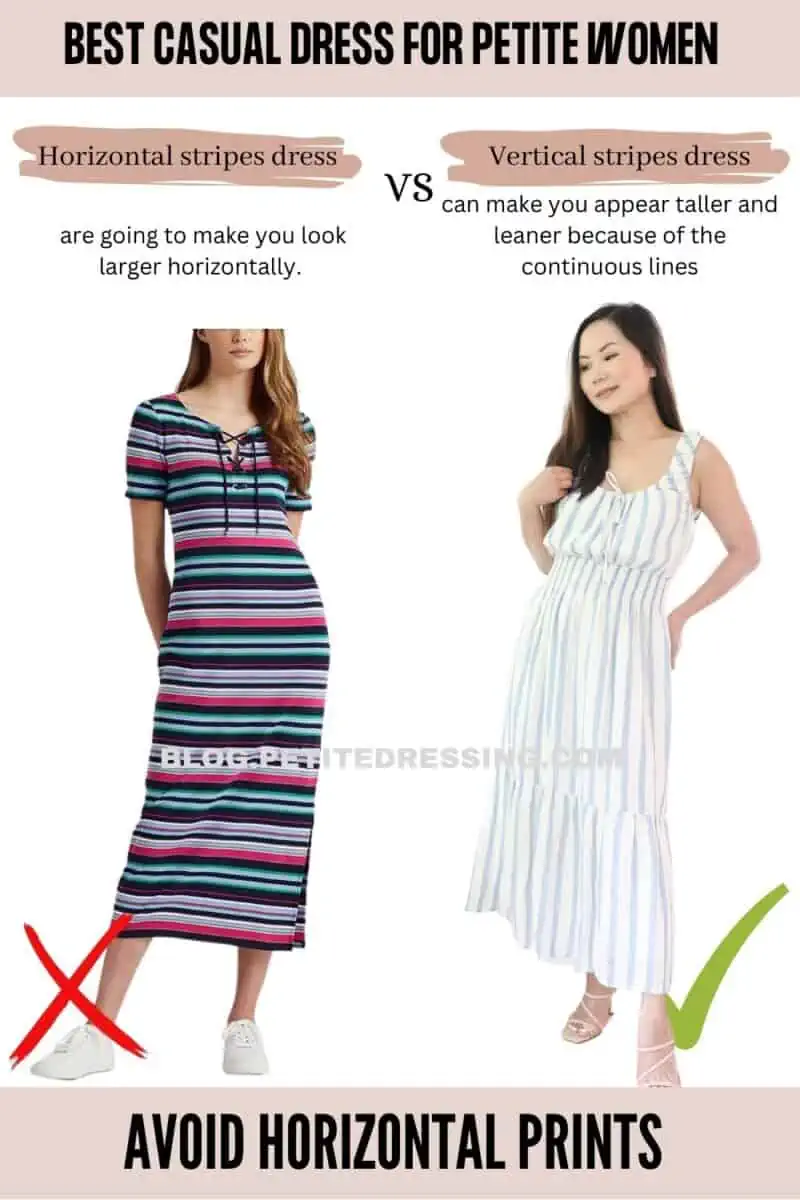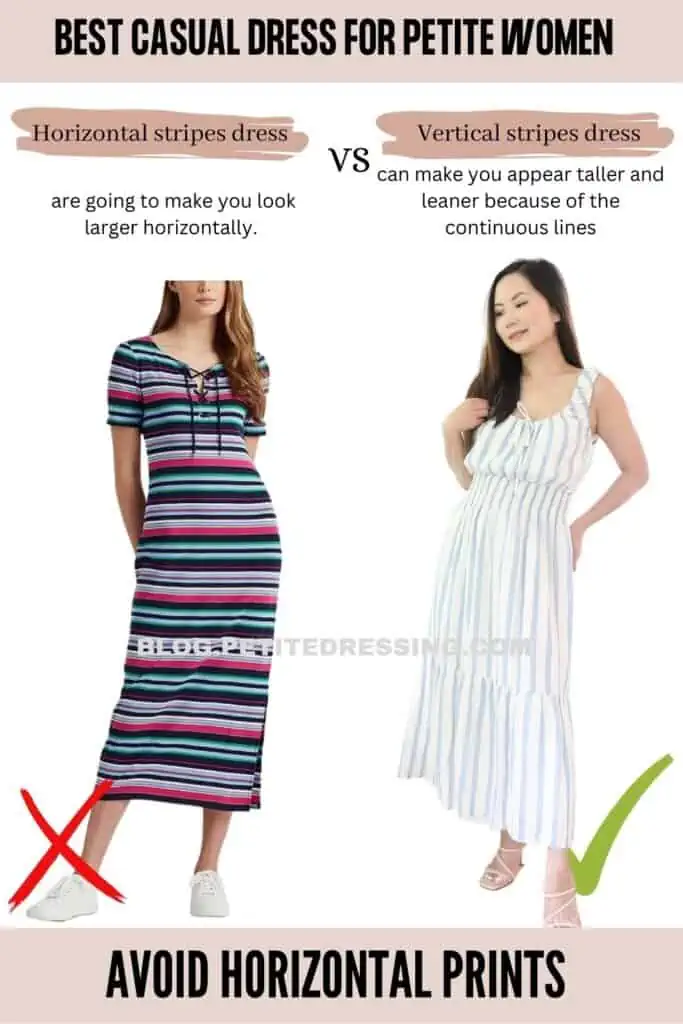 Not all prints look equally good on petites. For example, large horizontal prints are going to make you look larger horizontally.
Your goal should be to add length to your body instead of width. Adding width by choosing such dress styles will make you look shorter.
Final Thoughts
Now you know what kind of casual dresses look good on petite women. Being petite isn't easy because you have to find styles that complement your body. Getting dresses that make you look lean isn't an easy task. It takes a lot of hits and trials before you figure out what style of dress is suitable for you. You should always look after the length of a dress before choosing it. The length is what is going to make you look tall or short. And as a petite woman, getting outfits that bring out your length instead of width is what's ideal.