Fashion for short women is never easy! Don't you agree with me?
I am 5'2″ and I certainly have had a lot of frustration over the years. After many trial and errors, I was finally about to get a hang of it and that's why I want to share this post with you on what works and what doesn't when it comes to petite fashion.
Knowing what looks good on short women is certainly important, but knowing what to avoid as a petite girl is critical. That's why I want to talk to you about the good and bad of the fashion trends in this post, so that you can be wiser with what trends to follow and what to avoid.
I have summarized the key points of the mistakes in petite fashion that a lot of us make (myself included). I suggest you watch this video and then read the full article to get all the tips!
[adthrive-in-post-video-player video-id="Dud2Sajn" upload-date="2020-01-18T16:13:55.000Z" name="Petite Style Tips for Short Women- Top 10 Mistakes to Avoid" description="Every short girl should avoid these 10 mistakes in their fashion choices and build a wardrobe flattering to petite body frame. These are the best petite style tips for women under 5'4. " player-type="default" override-embed="default"]
Be Selective
First, we all live in the world where we are bombarded with information about fashion trends from numerous media such as magazines, TV, facebook, Instagram, and even subway and taxi advertisements. Whether you admit it or not, you are under their influence.
After you see them and hear them enough times, their impact on you could be happening in your subconscious mind without you even realizing it. You may be convinced to accept their definition and standard of what looks good and what doesn't and what is in and what should be out this season.
Hollywood stars, super models, million-follower bloggers such as Kendal Jenner, Gigi Hadid, Rhianna, Olivia Palermo and so on and so forth are the so called trend setters, and you might be listening to them and mimicking them without even realizing it.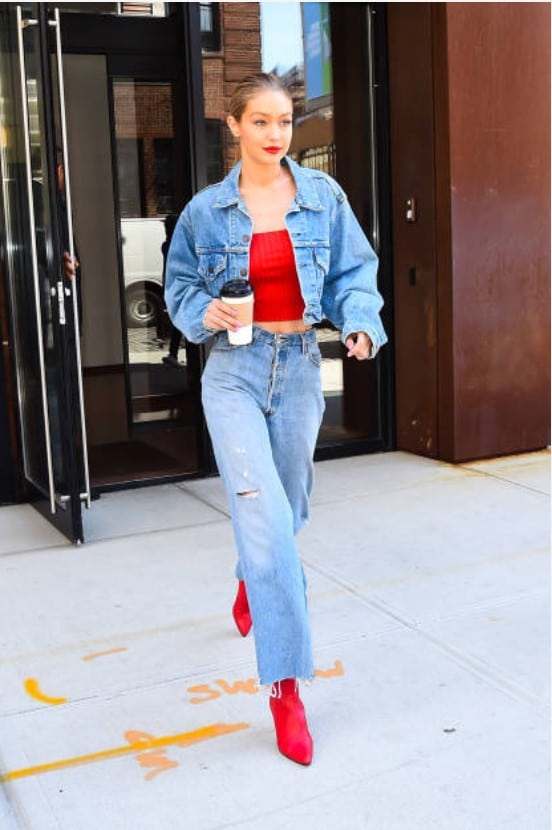 But, wait a second, did you realize most of these trend setters are 5'8″ and above? Should you follow them?
A lot of times, many people don't realize the clothes look good on the trend setters because of them, not because of the clothes themselves. What looks fabulous on models with gazelle like legs could be a total disaster on a petite woman who is 5'2″!
Focus of Petite Style
So, what is it about petite styling that makes it so different (or difficult)?
Many petites feel like their biggest complain is pants are too long or it's hard to find clothes for shorter women that doesn't require alteration.
That certainly is true, but there's more to that.
The key is that we have a shorter frame to work with. What that implies is not just we need to wear shorter clothes. The more important implication is petites need to be more selective on what we CAN wear with a focus on proportion.
Yes, proportion is the key word on fashion for petites!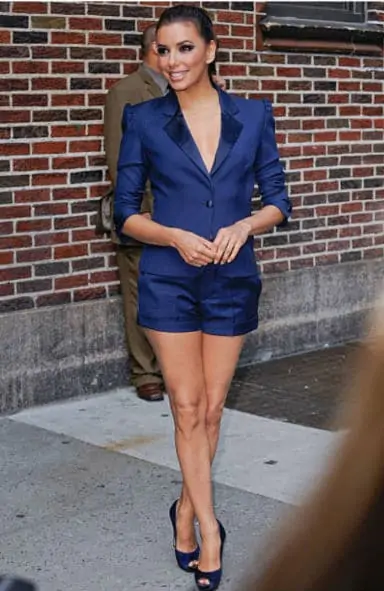 If you are petite, your styling focus should be always be to create the illusion of height and length through what you wear. Like in this picture, wearing cropped jacket with shorts create a wonderful body proportion of 2/3 and 1/3 for a petite woman like Eva Longoria.
Proportion, however, is never an issue with those super models and probably never a focus for them.
In order for any clothes to look good on short women, it should be carefully designed with the goal of optimizing the body proportion in mind. Once you find those styles that flatter you, they should become your wardrobe staples that you should always go back to despite the current trends of this season set by the tall girls.
What to Avoid in Petite Fashion
Now, let's take a look at the trends that are not the best choices for petite women. Everything I'm about to mention here is tied to the concept of proportion I mentioned.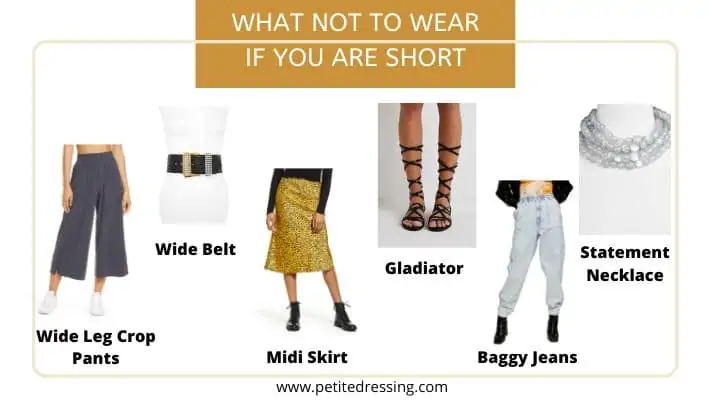 Gladiator sandals
Gladiator sandals have been extremely popular in recent years, thanks to all the celebrities and fashion bloggers in the wake of the block buster Hollywood movies.
Although they can look very trendy and fashionable, they are not a flattering style to girls with short legs.
If you are petite, any horizontal straps will make your legs look cut off, let alone gladiator sandals with numerous straps.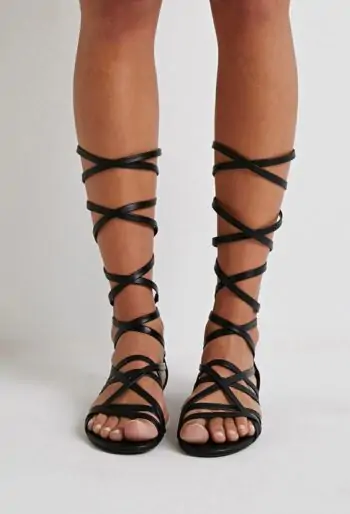 The worst for short girls is the tall gladiator sandals which look are normally the height of tall boots but they have straps all over. They will make your legs a lot shorter than they are.
The best shoes for short girl style include nude pumps, shoes with pointy toes and heels with low vamps. (Read our guide on "The Best and Worst Shoes for Petite Feet.")
Midi skirts
For those of you not familiar with the term, "midi" is a dress or skirt length that is halfway between the knee and ankle (mid-calf).
The hem is at an awkward length and they make your legs look cut off, because they also draw attention to the widest part of your lower legs and make your legs look shorter.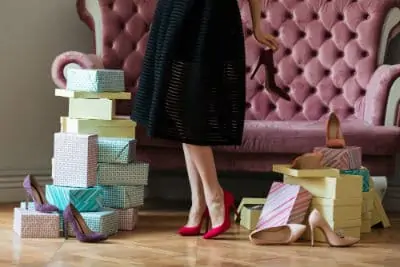 Midi skirts are not the most flattering style to girls with short legs. If you are petite, you are much better off with skirts either longer or shorter than the midi length, i.e. skirts that end 4 inches above your knees or a full length maxi skirt that covers your ankles.
Either way your proportion will look better and your legs will look a lot longer . (Read How Can A Short Woman Rock Maxi Skirts).
Baggy Boyfriend Jeans
Short girls should in general go for figure-conscious clothing and stay away from baggy clothes, especially the bottoms.
There has been an increasing buzz about boyfriend jeans in recent years, as they are comfortable to wear because of the relaxed fit. However, they are not a flattering style for short women, if the fit is TOO relaxed.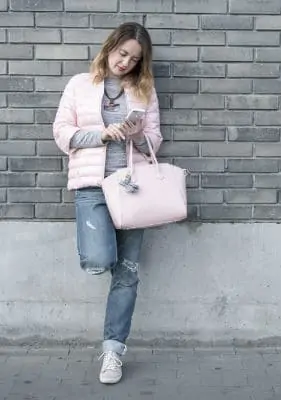 It is important for petite women to wear well-fitted bottoms, which will effectively elongate the legs and make your overall proportion look better.
If you think skinny jeans is only flattering for certain body types, go for bootcut jeans, which is universally flattering for any body type. It is not as tight as straight leg jeans or skinny jeans, so it is very forgiving. In addition, the straight A line at the bottom makes your calves and thighs look skinner.
Flared jeans is another most flattering styles for women. The flare adds a graceful, curved silhouette which are very feminine. Flared jeans is actually my personal favorite, because every time I wear them I noticed my legs look instantly longer!
For short girls, the flare legs adds length to by extending your legs, as they do not stop at your ankle like skinny jeans. For a complete guide of how to pick the best jeans, click to read "Best Jeans for Your Body Type".
Cropped Palazzo Pants
Wide leg pants have been gaining some ground in the fashion scene in the last seasons, however, they are better suited for tall or average height ladies.
If you are short, wearing wide leg pants is not flattering in general. The width in the legs goes horizontal, and that makes you look shorter than you actually are.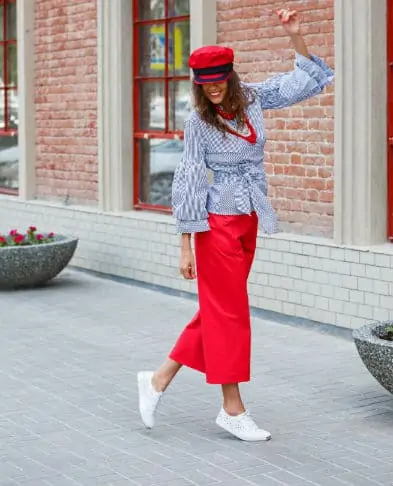 I do understand however that wide leg pants could be the most comfortable for many people, especially for mature ladies.
If wide leg pants is your thing, make sure you pick out a pair that is long enough. Avoid cropped wide leg pants by all means, as they are hardly flattering to short girls no matter how you wear them.
For petite women, palazzo pants should never be at your calf or ankle, which will be the most unflattering length. Carefully choose a vertically inspired pattern and make sure to wear them with slim heels to make up for the vertical line much needed by short girls.
I highly recommend you read my guide on "How to Wear Petite Palazzo pants if You are short", and watch my video on this topic.
Wide Belts
Wide belts have been the signature looks for many high fashion brands in recent years. It is not hard to understand why they are getting the attention from every one because they are sexy, cool and edgy.
Even though I myself absolutely love wide belted looks, I have to admit they are not the best trends for short girl style.
Since most petite women have shorter torso, it is easy for them to look overwhelmed by the wide belts. The worst thing is to wear a wide belt at the waist, which would visually cut your body into halves and that is absolutely not flattering!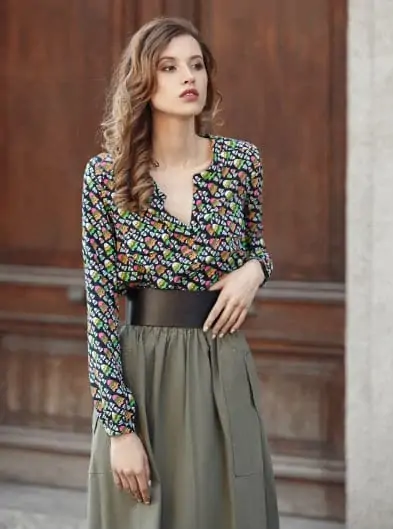 If you are petite height but a die hard fan of wide belts (like myself), there are still ways to wear them without looking overwhelmed by the belts.
The key is to wear them in a monochromatic color as your outfit, or at least your top. That way, the focal point will not be purely on your wide belt, while at the same time adding interesting dimension to your outfit. Read our guide on "How to Smartly Style your Accessories if you are Petite Height".
Giant Statement Necklaces
Statement jewelry has been super popular, and you see them on celebrities all the time. Despite the current trend of wearing a bold and chunky statement necklace, they are not the best styles for petite girls.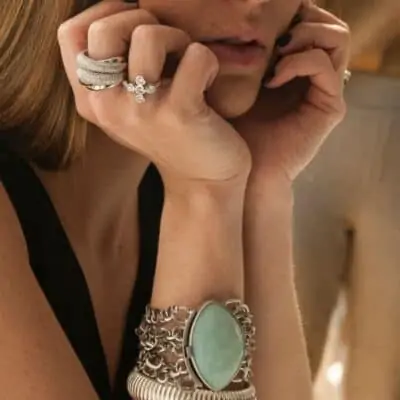 Petite women can look overwhelmed by a giant necklace, unless you are petite and plus size. If you are petite and curvy, then a delicate chain may look lost on you and you are better off with a medium sized necklace (still, it should not overwhelm your petite height).
If you love the bib-shaped statement necklaces, which is trending right now, opt for one designed to hit lower on your frame which has a medium to small airy design. Always avoid enormous statement necklaces that sit high on your clavicle.