There's almost nothing quite as important as wearing the right pair of shoes. You can have the perfect outfit but ruin it with the wrong shoes.
This shoe guide for women with short legs will give you all the information you need to find shoes that not only look great on your feet but create the illusion of elongated legs.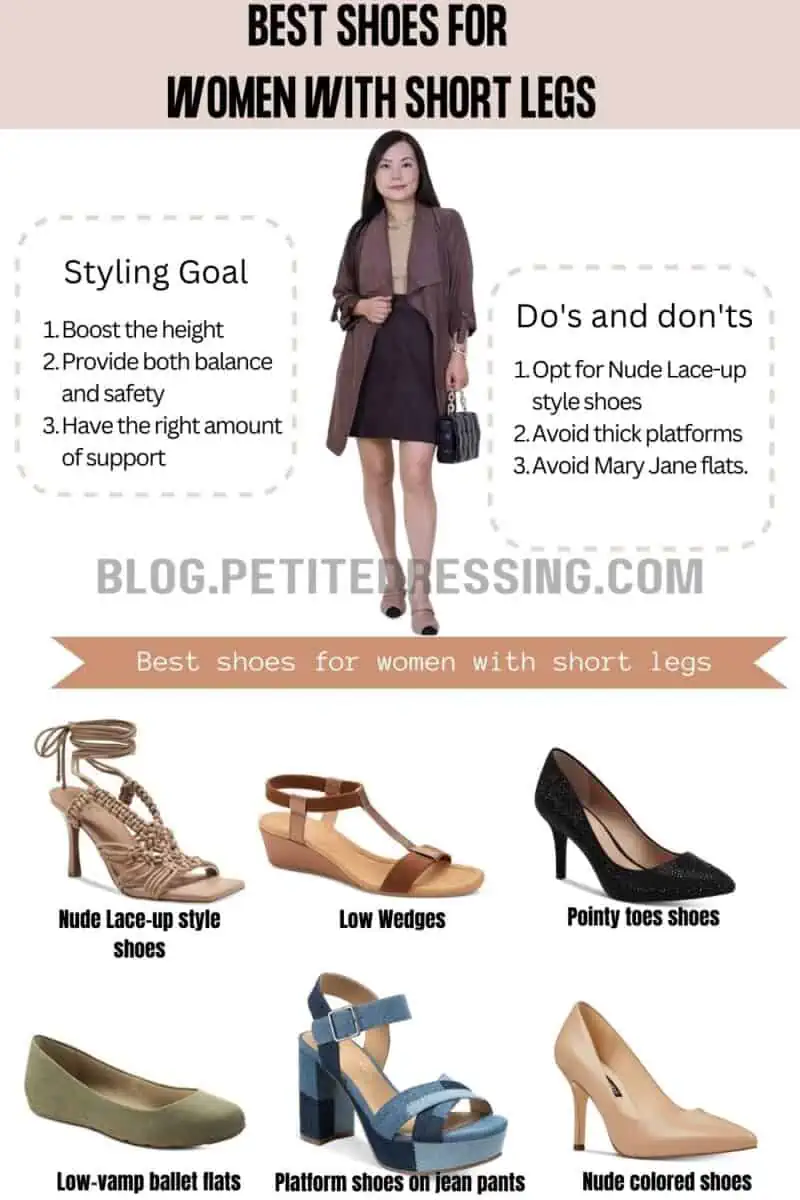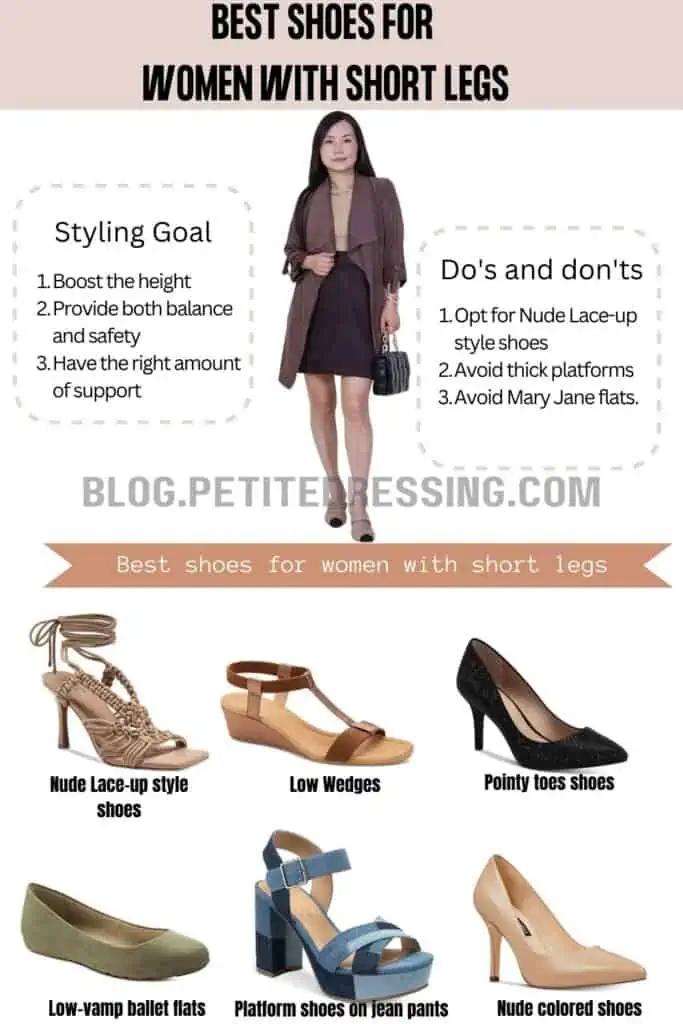 In this guide, we'll check out top shoe styles and how you can style them to maximize the elongation effect. Whether you're looking for shoes for formal events or casual wear, we've got you covered.
Nude Lace-up style shoes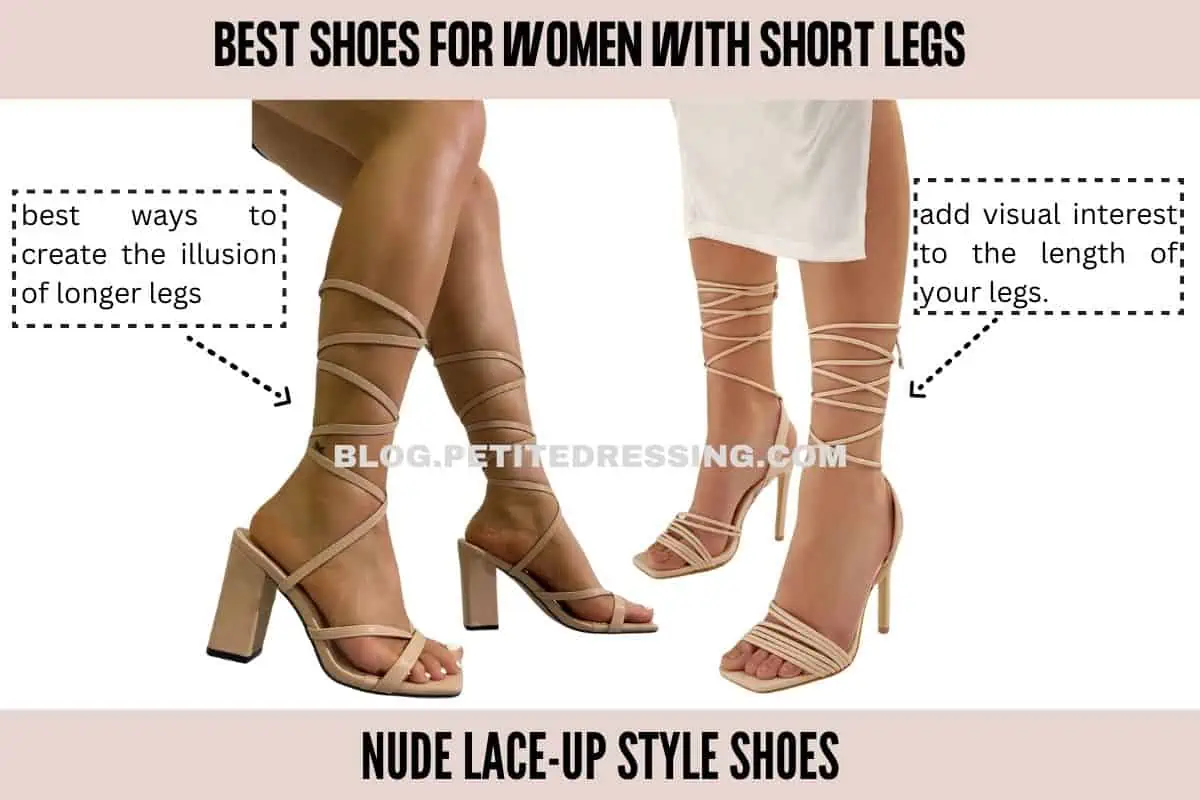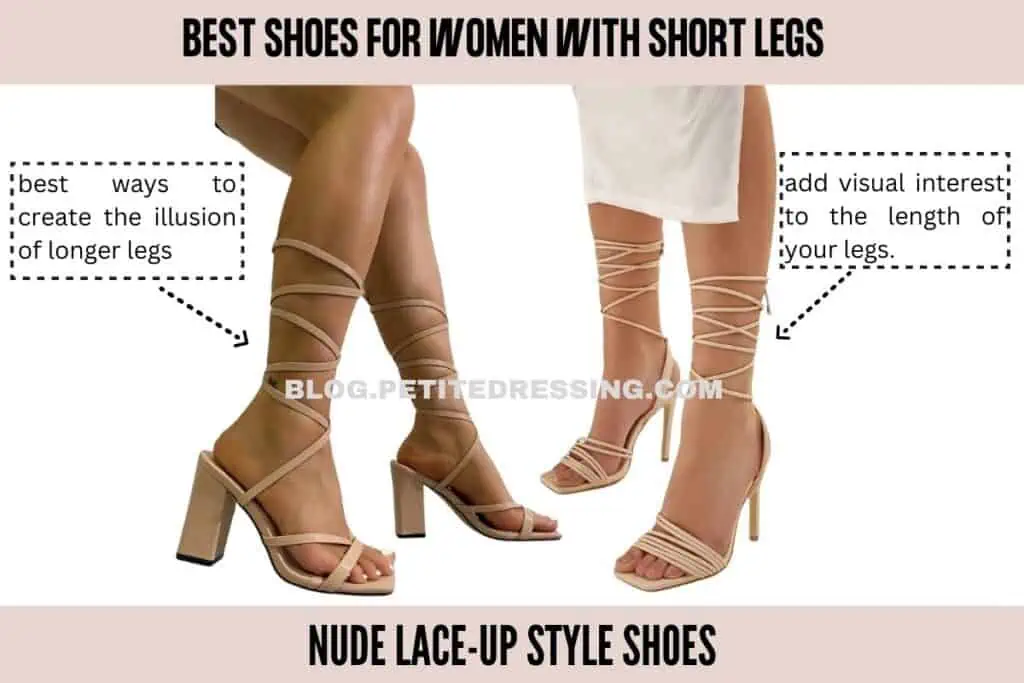 One of the best ways to create the illusion of longer legs is to wear nude lace-up style shoes. This works great because the nude color of the shoes blends in perfectly with your skin tone. So, naturally, your short legs will appear more slender and longer.
For women with short legs who are conscious of their height, this is a quick solution. Another advantage of the nude lace-up style shoes is that they draw the eye upward, and this is how they add visual interest to the length of your legs.
These versatile shoes can be paired with various outfits, from formal dresses to the casual jean and shirt combo. Since this is a lace-up style, you have the freedom to have a custom fit. For skirts or dresses, wear those that fall above the knee, as they work best with this lace-up style shoe. 
Low Wedges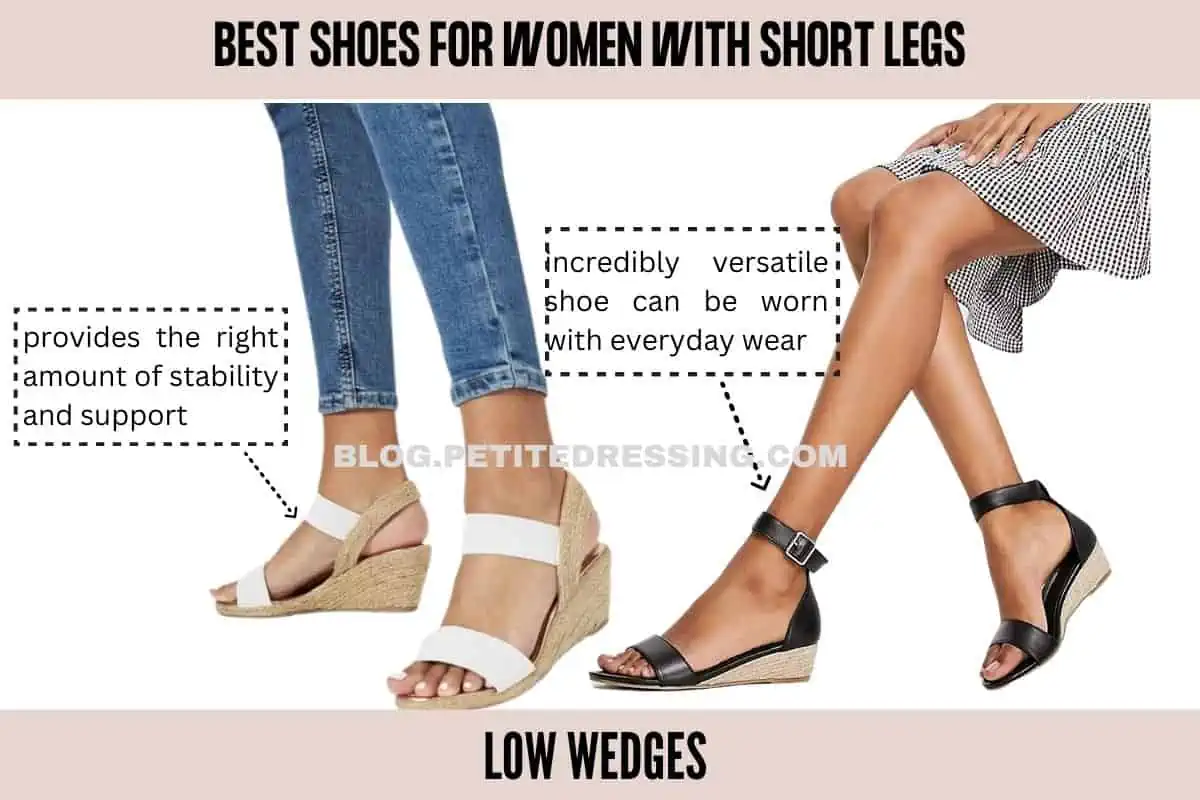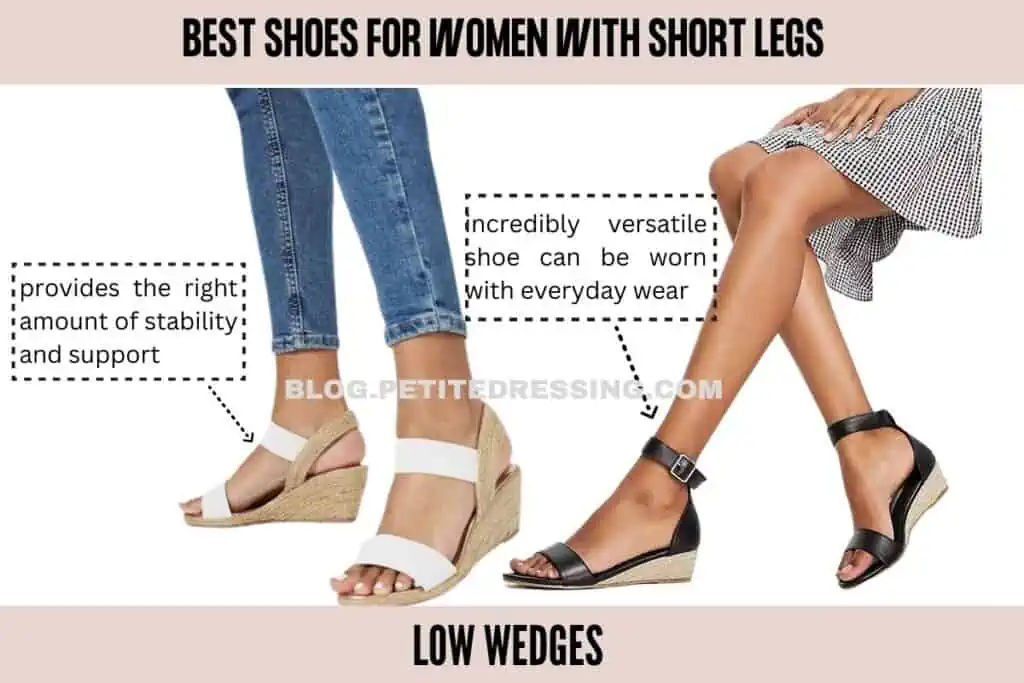 A subtle lift in your height is possible when you wear low wedges. The good news is that you don't have to be limited to some boring styles, as low wedges come in a wide variety of colors and styles.
So, feel free to choose whoever suits your personal style best, from neutral colors to trendy leather. Low wedges are easy to walk in as they have a solid wedge-shaped heel which provides the right amount of stability and support.
Compared to stiletto heels, they are both comfortable and stylish. Women with short legs can easily add about 2 inches with low wedges without hurting their feet. This incredibly versatile shoe can be worn with everyday wear, and you can switch them up for formal events too.
Don't search too far for the perfect practical shoe to add some elegance to your style, not to mention how they can make you look taller for several hours.
Pointy toes shoes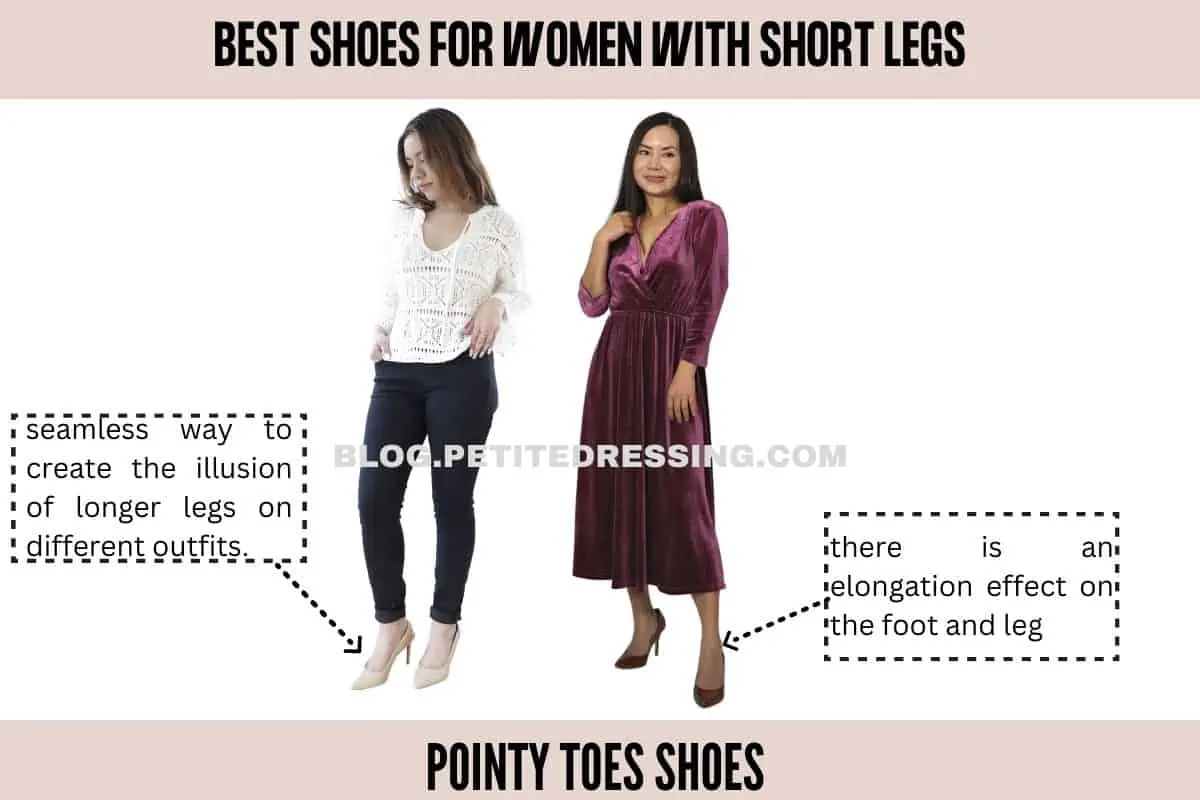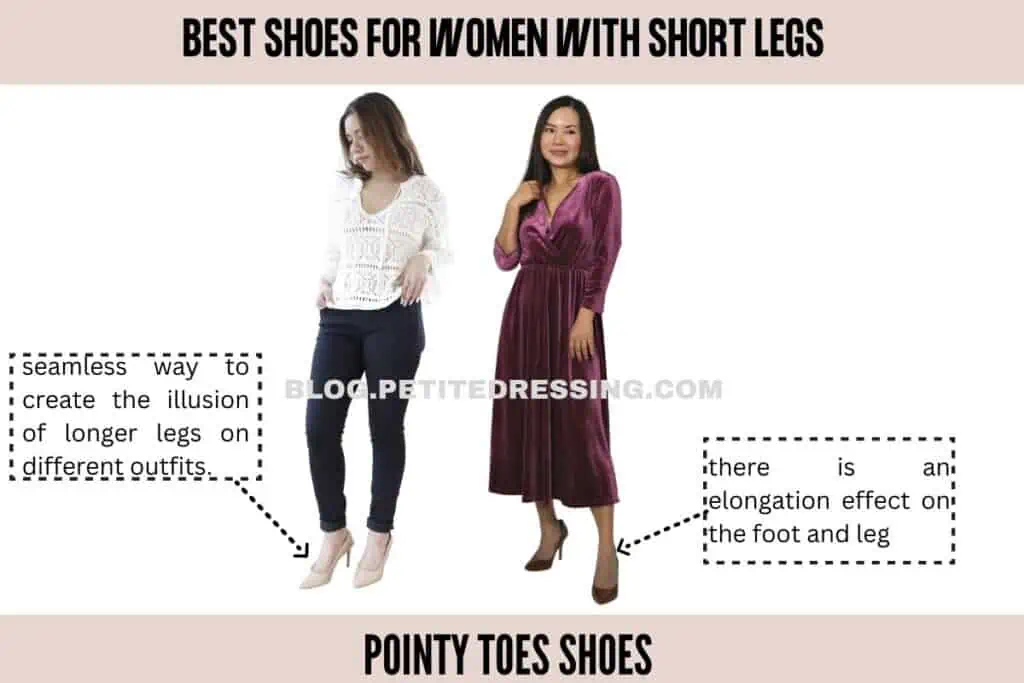 Wearing pointy-toe shoes is a seamless way to create the illusion of longer legs on different outfits. Since this style of shoe comes in different heel heights, you can experiment with a few until you find the perfect fit for you.
Thanks to the pointy toe design, there is an elongation effect on the foot and leg, so they end up appearing more delicate and slimmer. Wear this with a fit-and-flare sundress, and your outfit will truly stand out. 
The pointy design is not the only one responsible for making your legs appear longer. The higher heels also have a role to play here. You don't need too many inches on your shoes to get the necessary result.
With this classic design, you can add sophistication to your outfits, whether the occasion is formal or casual. On a relaxed day, wear this with full-length straight jeans, and you'll absolutely love it.
Low-vamp ballet flats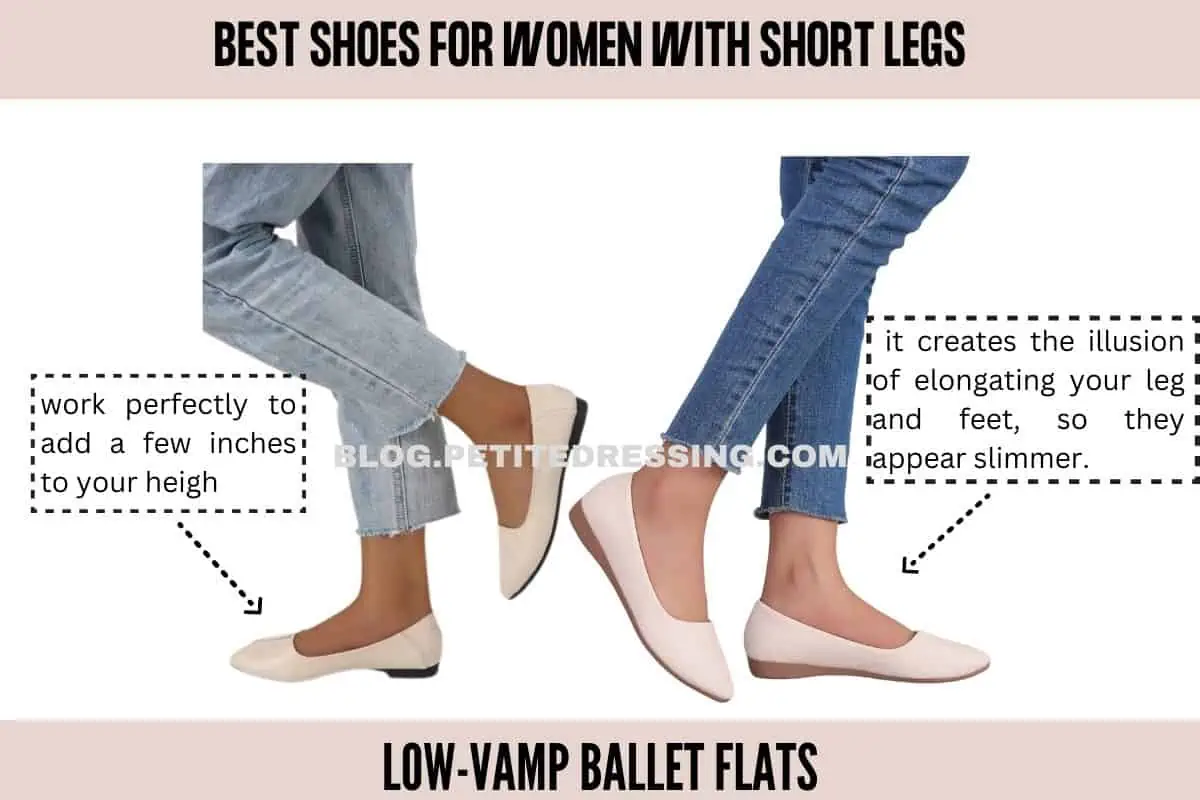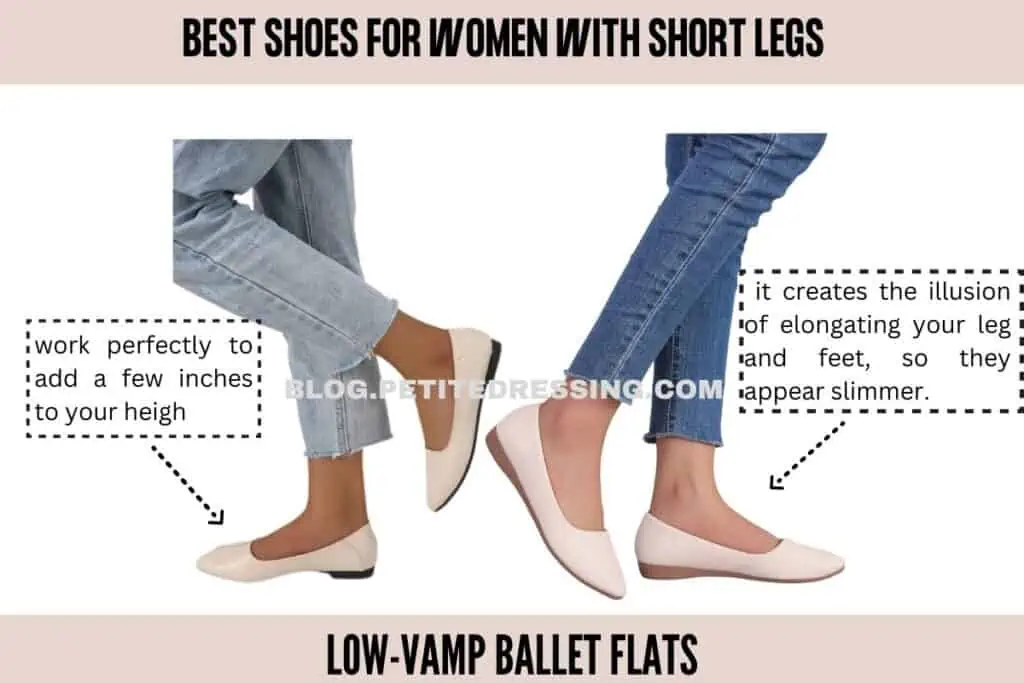 The flat heel on low-vamp ballet flats makes them super comfy on the feet while they still work perfectly to add a few inches to your height. For women with short legs, it's not just about the heels.
The low vamp design of the ballet flats has a cut-out on the top of the shoe. With this stylish exposure of your foot, it creates the illusion of elongating your leg and feet, so they appear slimmer.
This cleverly-created design works seamlessly to make your feet look super good, and we would recommend you try this in black colors. Even when you wear this shoe for a long time, you have the right dose of stability and support, so your feet don't feel like they're on fire after a few hours of putting the shoes on.
Platform shoes with jeans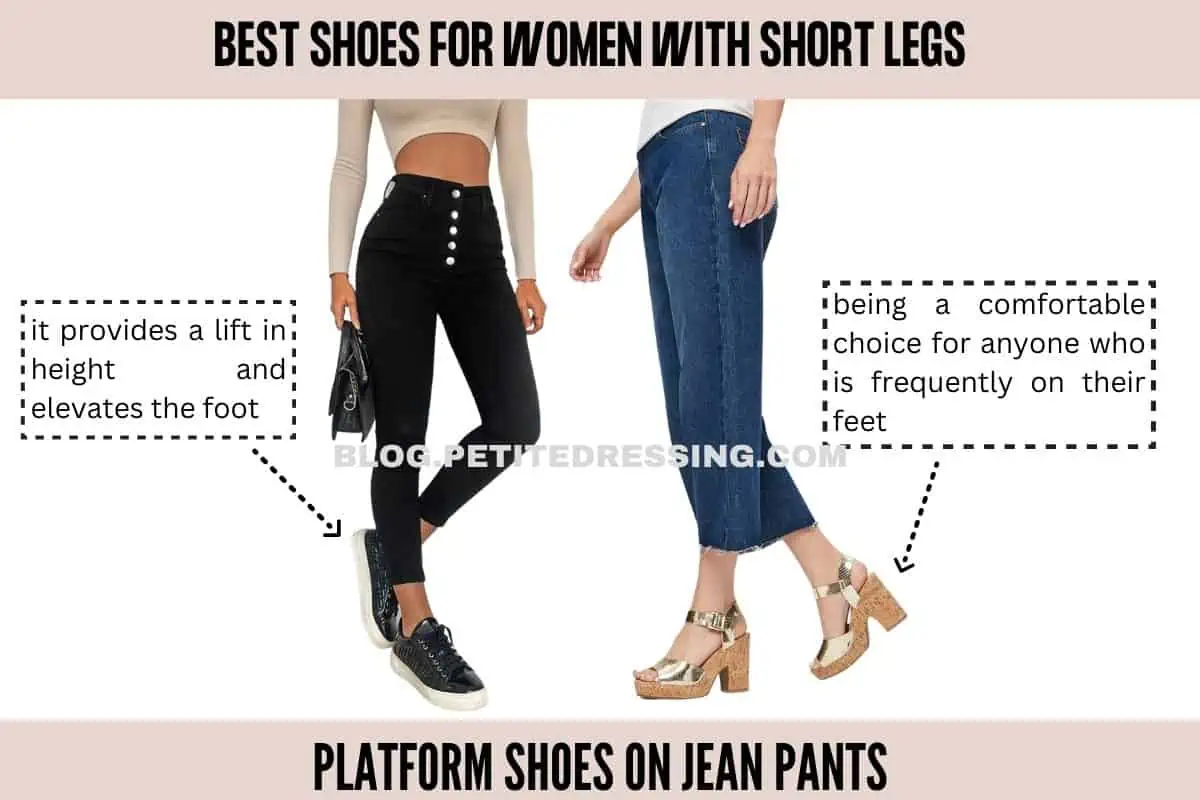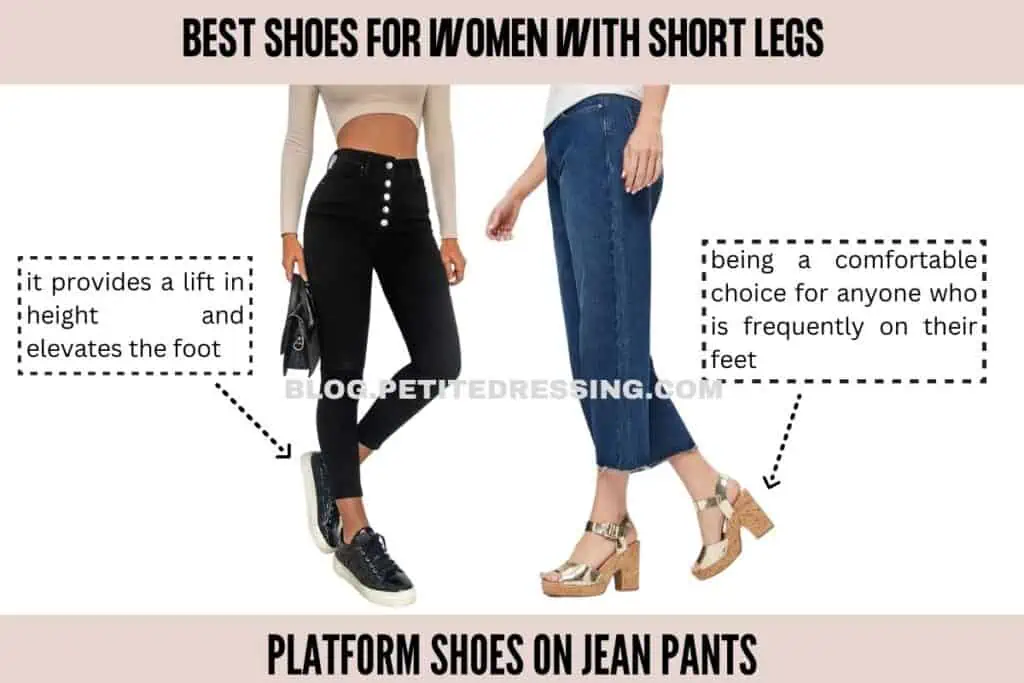 Platform shoes on jean pants are a great choice for women with short legs for several amazing reasons. Let's start with the shoes. They have a thick sole that provides a lift in height and elevates the foot while still being a comfortable choice for anyone who is frequently on their feet.
Paired with jeans, they are just right for elongating your legs and making them appear longer. Pairing your platform shoes with jean pants is great for creating a long and lean look. This is a classic and timeless look that will make you look absolutely amazing at any event.
Jeans are usually worn to relaxed events, and you can rock these platform shoes. However, they won't be out of place in several other events as well. Choose accessories that are not overwhelming, and we recommend going for platform shoes in black, brown, or white. 
Avoid black ankle straps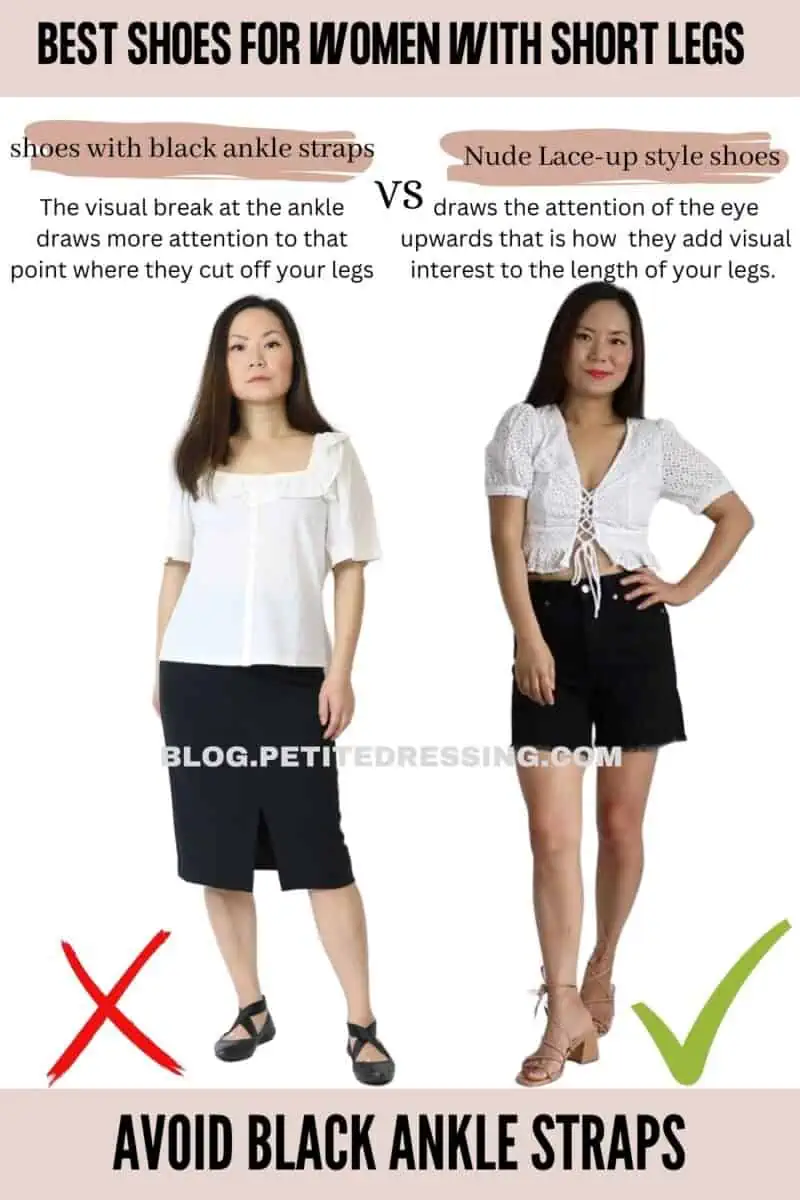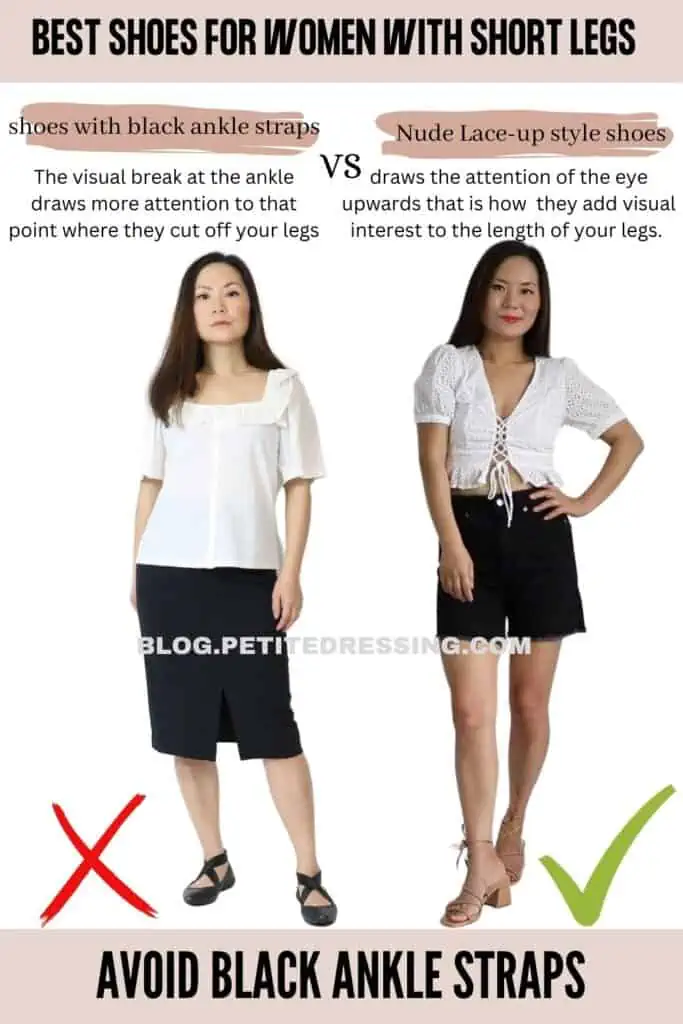 Any shoe that cuts off your leg at the ankle is not a good choice for women with short legs. A great example of this is black ankle straps. Since these cut off the leg at the ankle, they will make your legs look shorter.
The visual break at the ankle draws more attention to that point where they cut off your legs, and that's not good aesthetically for short women. If you want to create the illusion of longer legs, you should completely avoid black ankle straps.
They also create a strong visual line that makes your feet look heavier, and this is awful for women with small feet. Instead of going for shoes that make your feet look disproportionate in comparison with other parts of your body, choose shoes that have straps in the same color as the shoe. 
Alternatively, wear shoes without straps or those that expose more views of your foot, like in a low vamp design. Transparent straps are also a good choice.
Avoid chunky shoes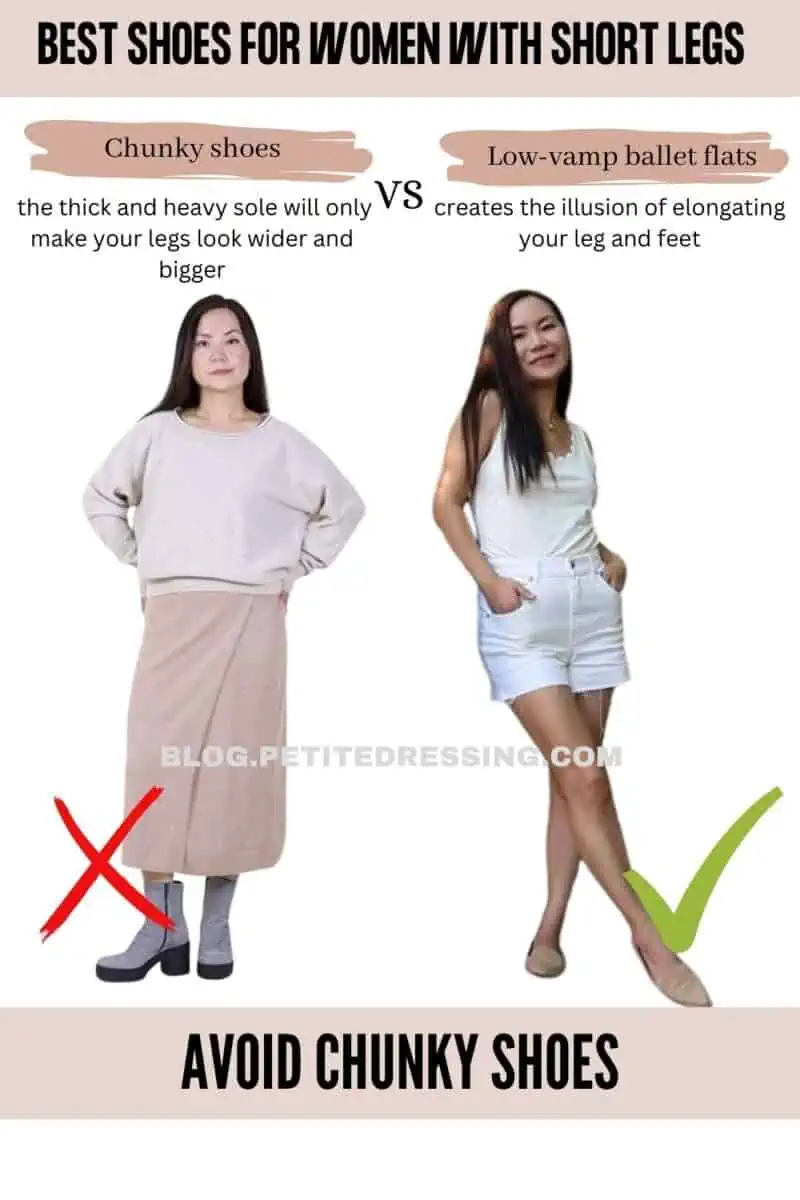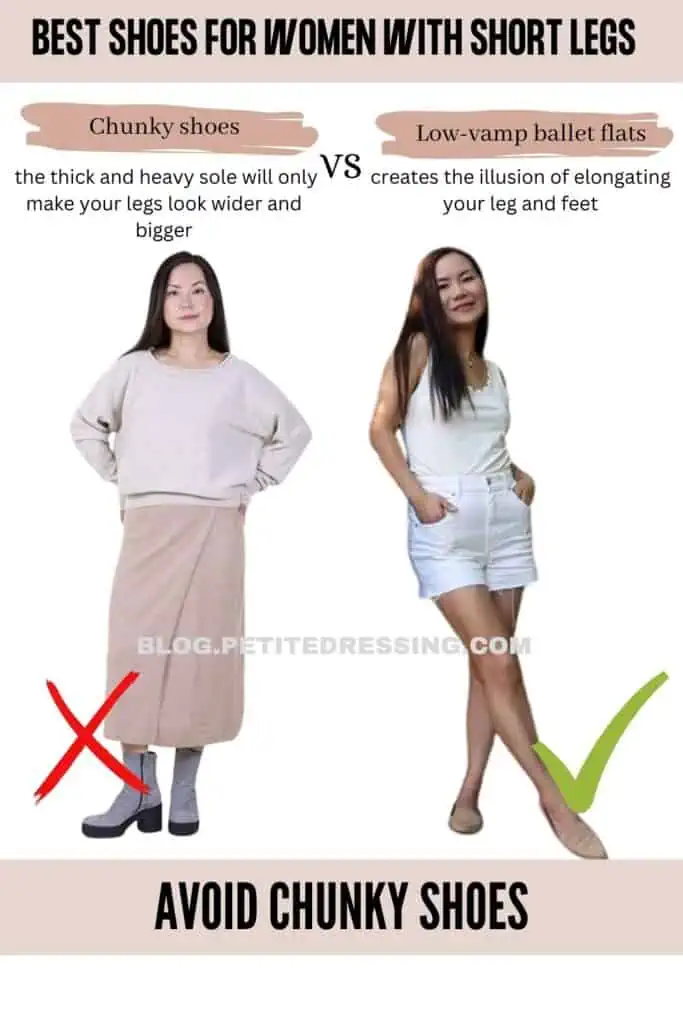 Chunky shoes are another bad choice of shoes for women with short legs. Due to the large, bulky design of chunky shoes, the thick and heavy sole will only make your legs look wider and bigger.
This style of shoes will not create a flattering silhouette on your body. Instead, your silhouette will appear disproportionate and boxy. This bulky shoe also makes your leg appear heavier, which is the exact opposite of the sleek and slender look that you want to achieve.
So, avoid chunky shoes completely and be more familiar with shoes that have a more streamlined design with thinner soles. Better choices are flats or low-heeled shoes that are easy to walk in for a long time.
With this, you can completely rule out the discomfort that comes with wearing higher heels. Women with short legs shouldn't wear chunky shoes as they will only add more weight to their legs.
Avoid Birkenstock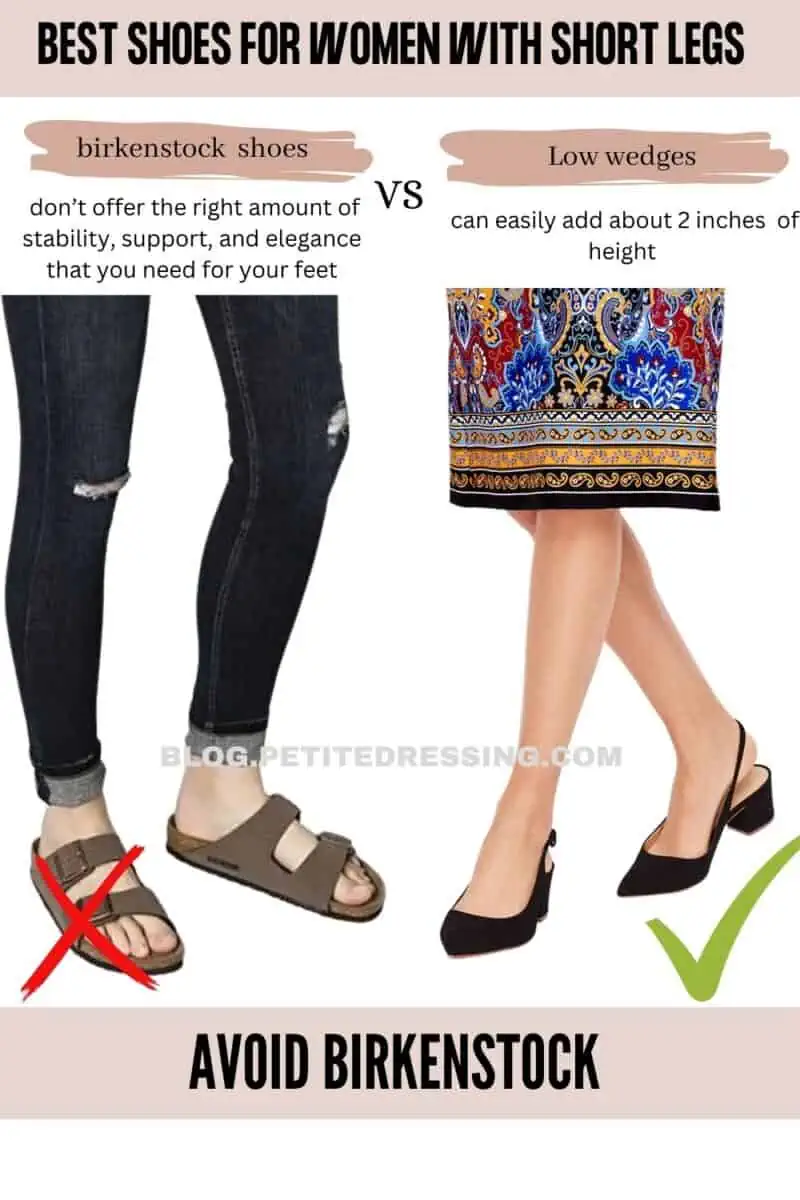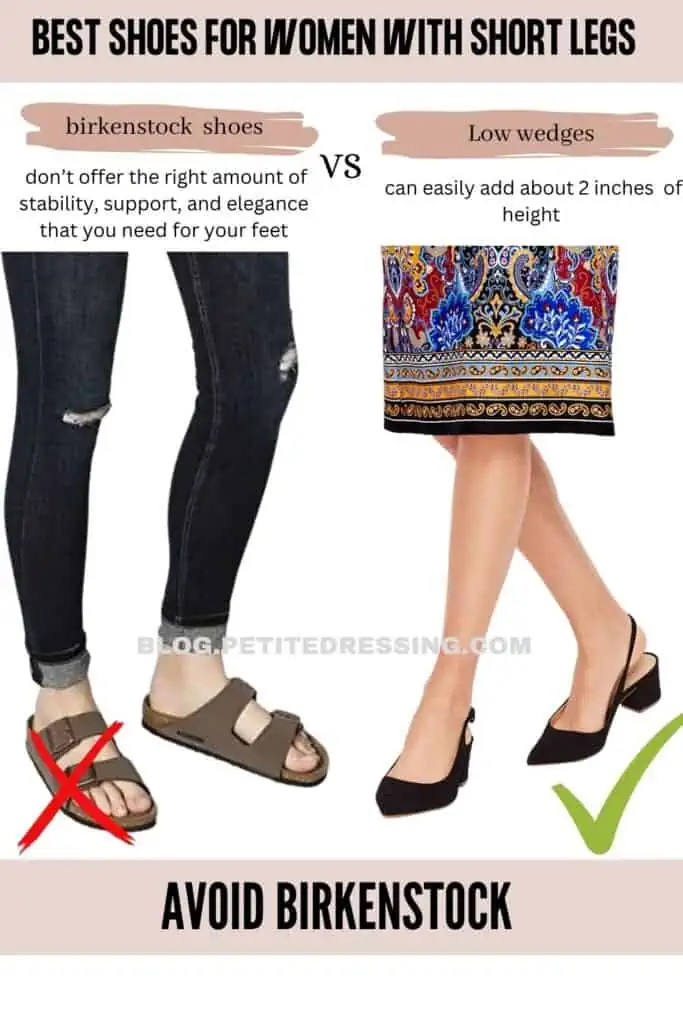 Birkenstock sandals have a chunky design due to the thick sole, and just like we said earlier about chunky shoes, they are a no-no for women with short legs. The chunky design and thick soles on Birkenstock sandals don't have a flattering appearance on your body.
Also, these are very casual shoes, so you wouldn't want to wear them to formal events. Rather than wear this chunky shoe, go for low wedges or pointy-toe shoes. Birkenstock sandals don't offer the right amount of stability, support, and elegance that you need for your feet as a short woman.
Avoid Mary Jane flats.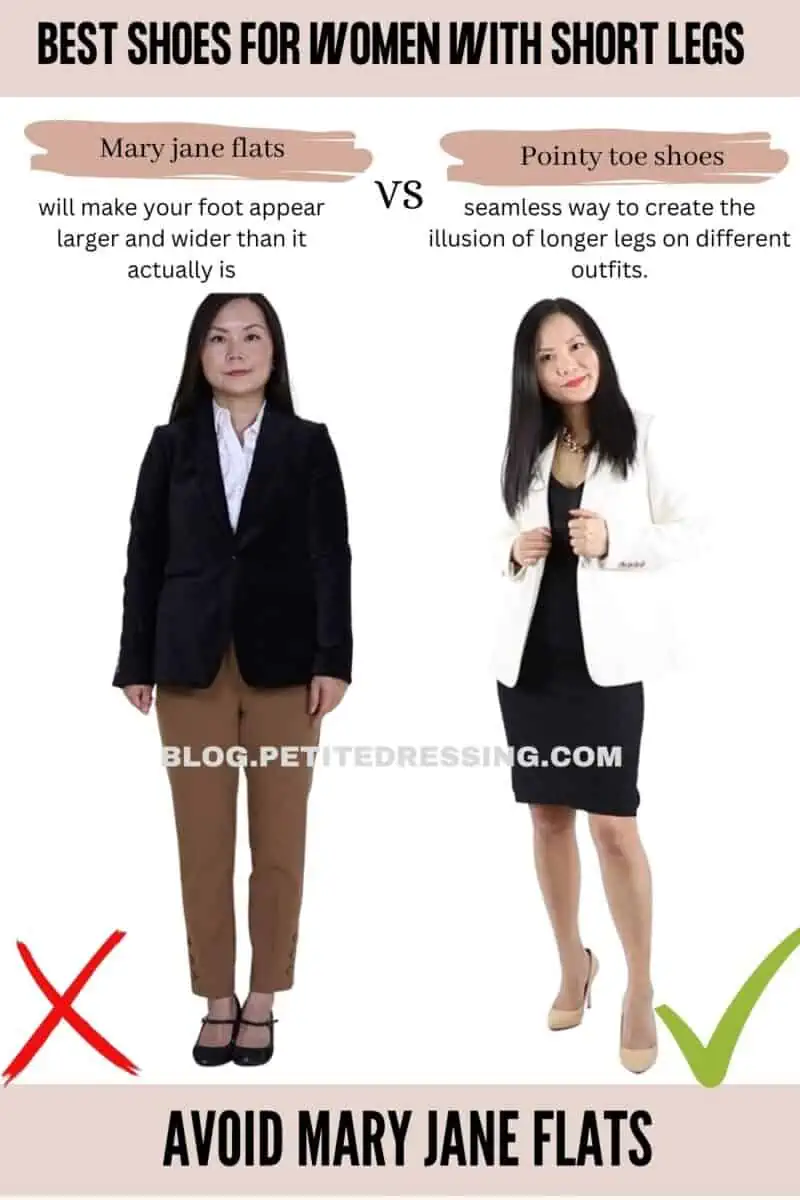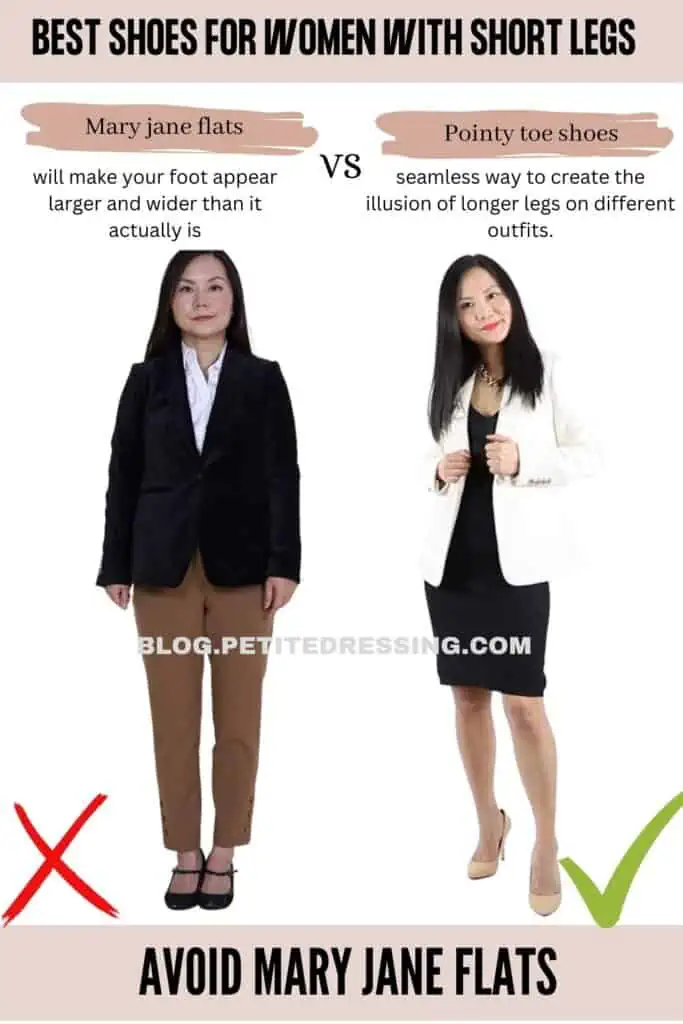 Mary Jane flats have an ankle strap design that will make your legs look shorter. Remember that ankle straps create an unflattering visual break at the ankle, which doesn't create the illusion of elongated legs.
Also, the round toe on Mary Jane flats will make your foot appear larger and wider than it actually is. For short women, this creates a disproportionate appearance. Better choices are shoes with a pointed toe to make your foot appear slimmer. It's always a great idea to avoid straps if you can.
Avoid thick platforms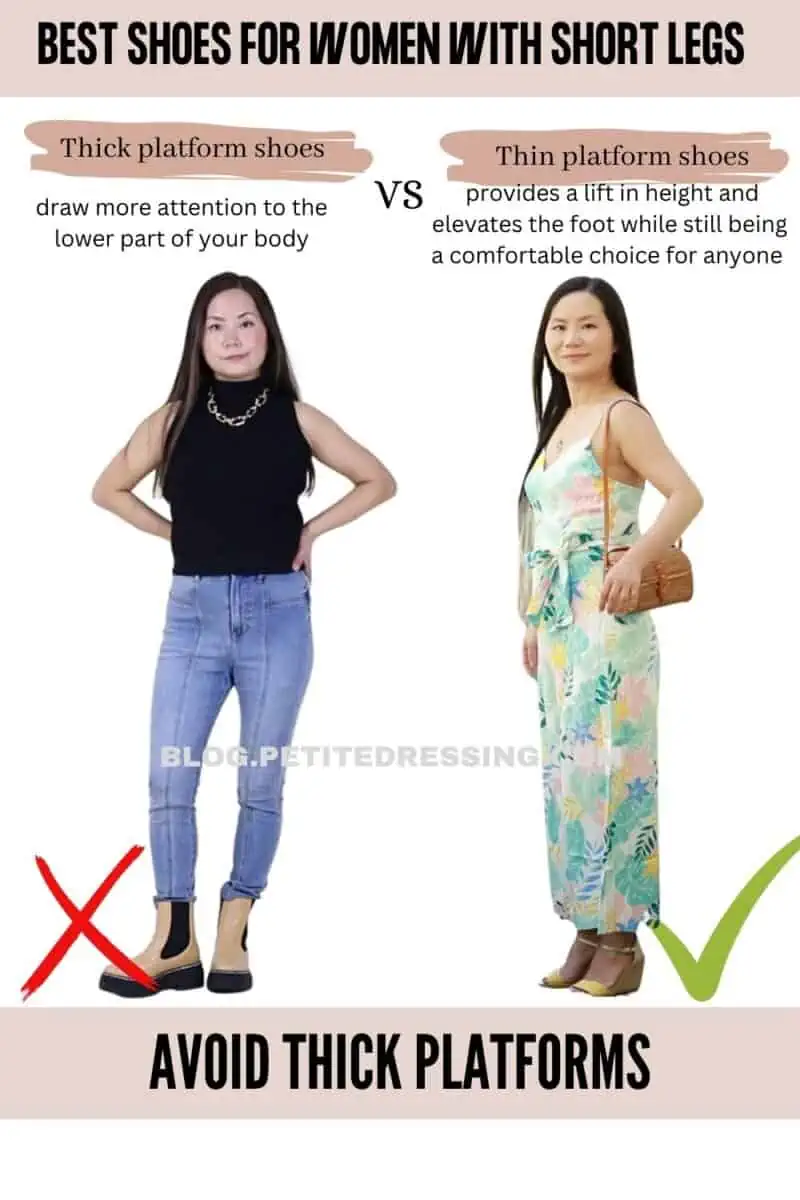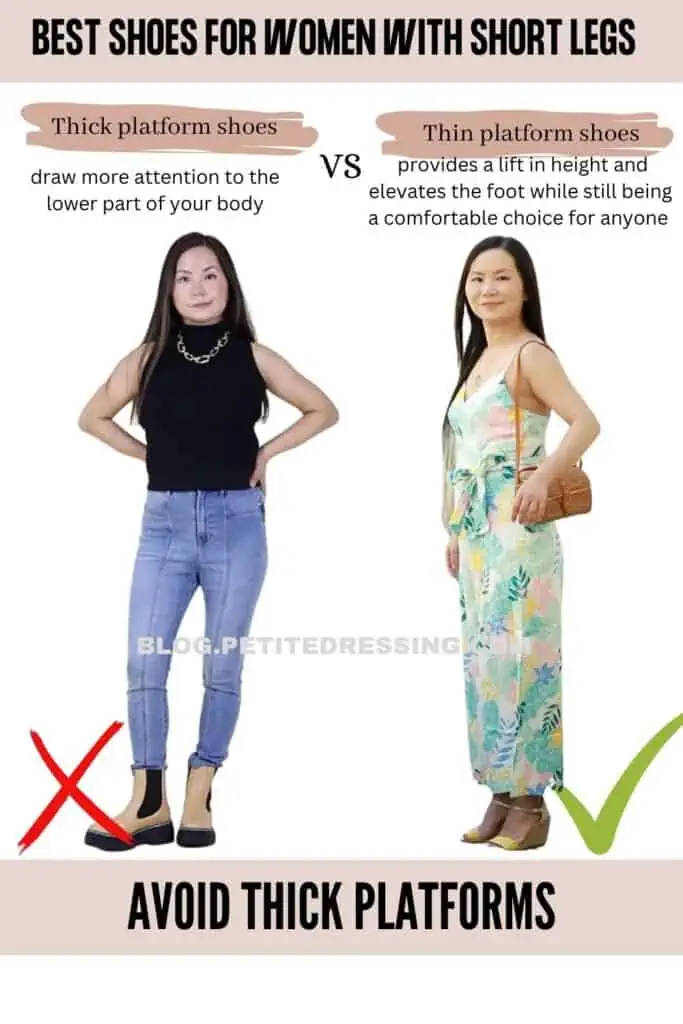 Thick platform shoes have the chunky design that women with short legs should avoid. The last thing you want is a shoe that makes your feet feel heavier and look boxy. To achieve a more balanced look, thick platform shoes shouldn't make it to your closet.
On dresses, they draw more attention to the lower part of your body, making you feel self-conscious as your feet appear shorter. Thick platforms can also get really uncomfortable. So, if you want to successfully create the illusion of height, avoid thick platforms. 
Your feet can look beautiful, and with the right choices, you can seamlessly trick the eyes into thinking your legs are longer than they are. The shoes on this list have all earned a reputation for flattering the legs of short women, and they'll work great for you too.